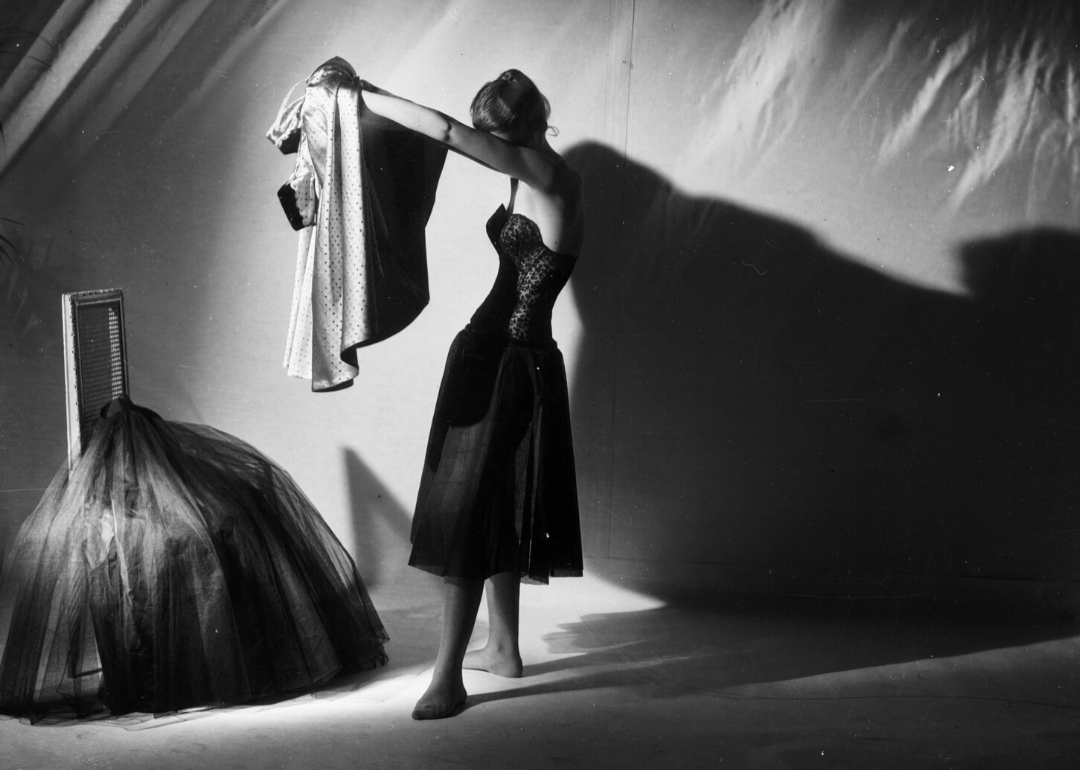 Women's fashion trends from the past 100 years
Chaloner Woods // Getty Images
Women's fashion trends from the past 100 years
Fashion is so much more than a "cute outfit"—it's a major reflection of the times and a big part of American history. Since the inception of the fashion industry, womenswear trends have always been driven by culture, events, popular music, and celebrity influence. In the last 100 years alone, there have been some big changes in women's fashion.
At the beginning of the 20th century, styles were proper and demure, with high-necked dresses and hemlines that brushed the floor serving as the look of choice. By 1920, though, women began to feel empowered and experiment with short flapper dresses and modern, boyish haircuts. Over the next century, fashion continued to evolve: War-rationed fabrics and gloves disappeared once women joined the workforce—first in boiler suits, then eventually in power suits. The disco era brought sensual silhouettes and vibrant colors and paved the way for pop princesses like Britney Spears, who made the crop top a part of everyday street fashion.
From clothing to accessories, undergarments to shoes and even haircuts, cultural shifts, and societal movements over the past century have brought American women on a wild style ride. Some looks, like the feminine A-line silhouette and cool leather jacket, are quite perennial; other unique fads (JNCO jeans and matching velour tracksuits, anyone?) have stayed in the past. There are even some trends, like capri pants and pleated skirts, that had a moment early on and came back again decades later. Currently, chunky dad sneakers are a thing, although the shelf life of this fad is still to be determined.
In celebration of American fashion, Stacker compiled a list of 50 women's fashion trends from the past 100 years that left their marks on history. We've gathered our looks and information from other reputable style-oriented sources and blogs.
You may also like: Men's fashion trends from the past 100 years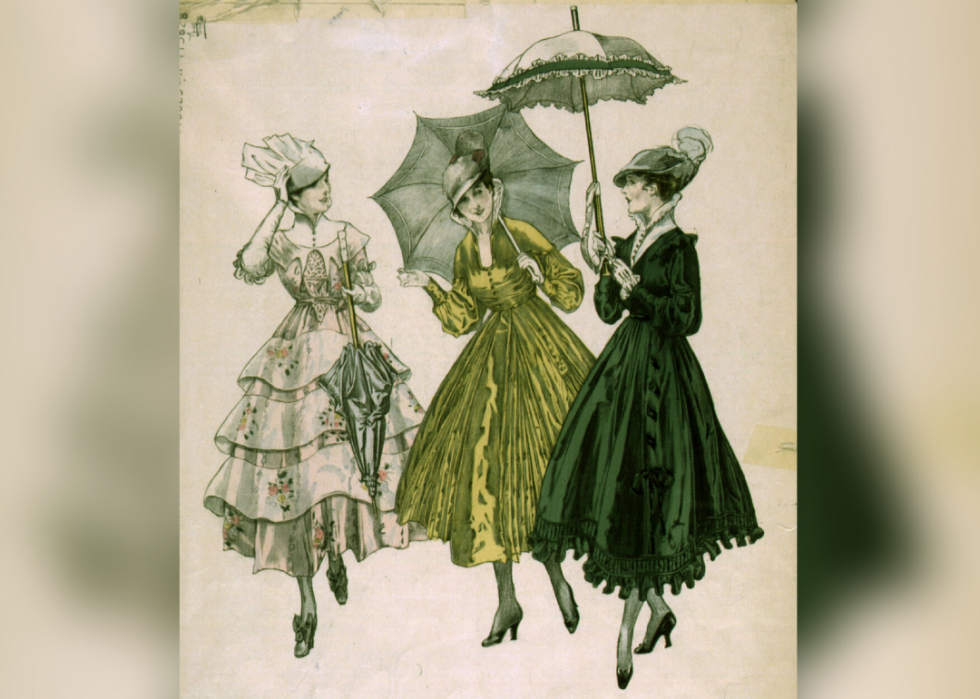 1 / 50
Hulton Archive // Getty Images
Edwardian dresses
At the beginning of the century, women's fashion was very romantic and feminine, and, most importantly, modest. Think garden party-chic gowns designed with puffy sleeves and ladylike silhouettes, in fabrics such as cotton, chiffon, and lace. Hemlines covered the ankle and stiff, high-boned collars the neck. A parasol accessory completed the look.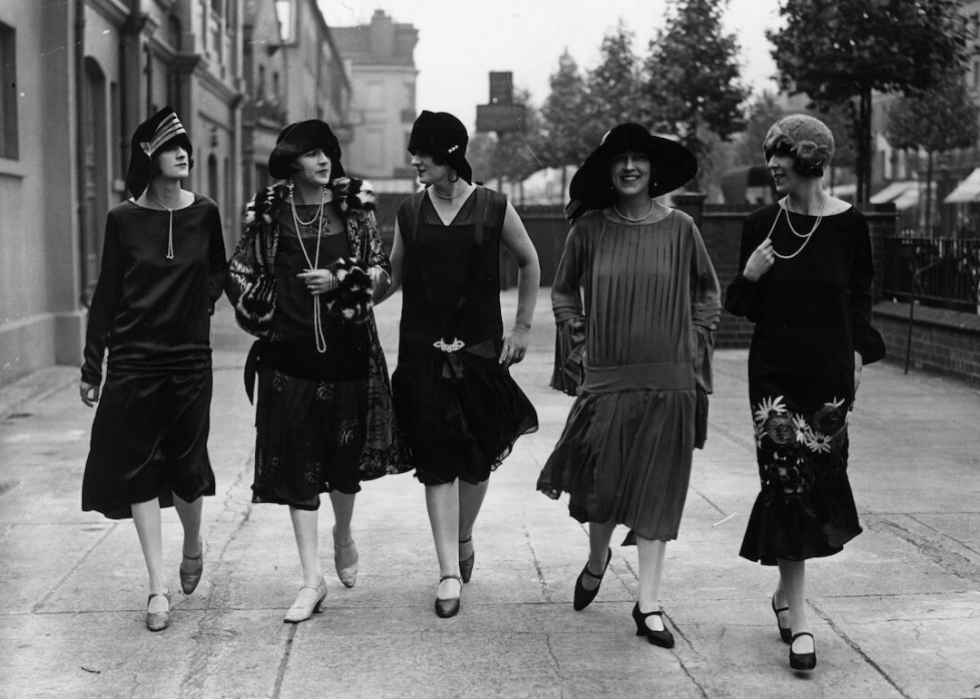 2 / 50
Topical Press Agency // Getty Images
Flapper dresses
After World War I, female fashion swung in the opposite direction. Women felt empowered as they gained the right to vote. Additionally, jazz music and prohibition were cultural milestones in the 1920s. During this shift, women broke out of the mold in a sartorial fashion with the flapper dress—a drop-waisted shift dress with decadently beaded fringe. Hemlines rose to the ankle and then above it, and women sported sleek short hairstyles.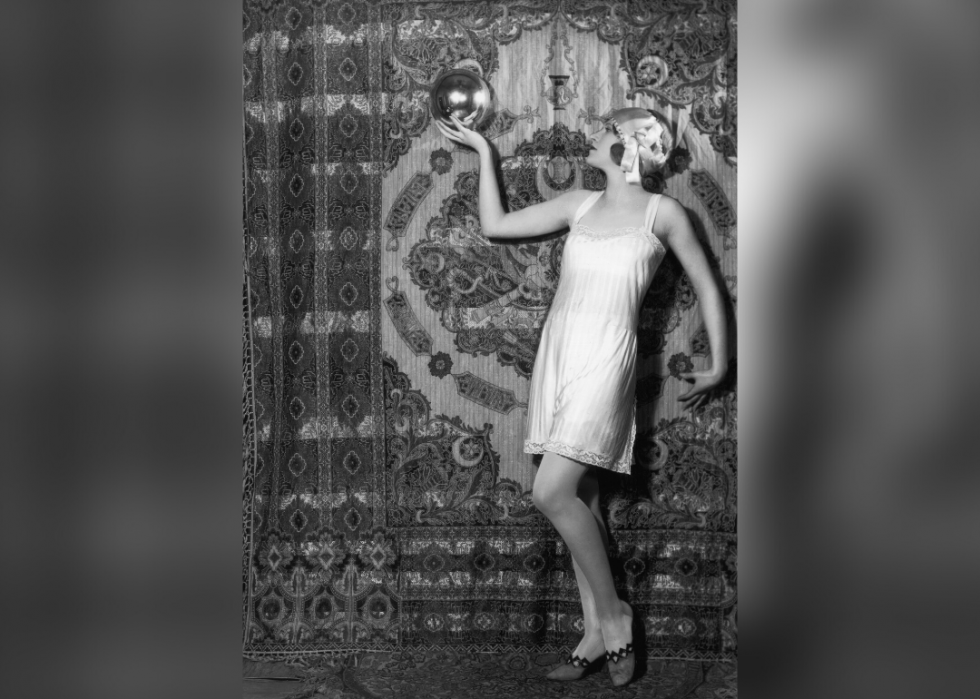 3 / 50
One-piece lingerie
By the same progressive token, the '20s marked the decade when women began freeing themselves of restrictive corsets. With the newly celebrated boyish figure (and flatter chest) en vogue, one-piece lingerie like silky chemises, thin camisoles, and panties became the undergarments of choice, since they fit very comfortably under flapper dresses.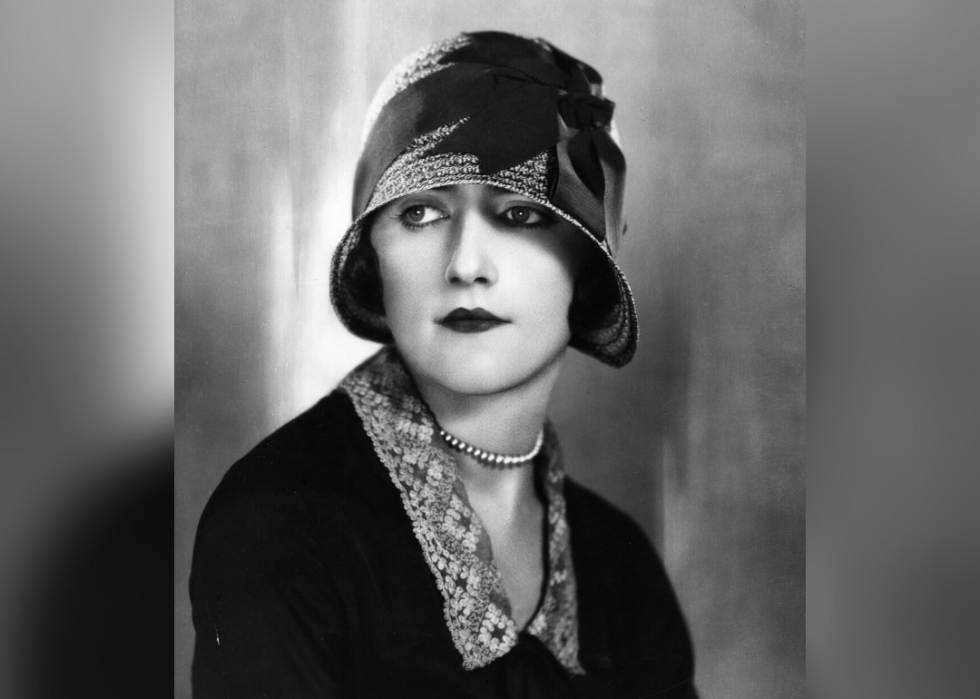 4 / 50
Cloche hats
Fashion over function: The cloche hat was a wardrobe staple throughout the 1920s. It featured a distinctive round top and a low brim that made it difficult for most women to see without tilting their heads back. That said, the hat's accentuating decorative flower or bow made up for it by providing feminine flair.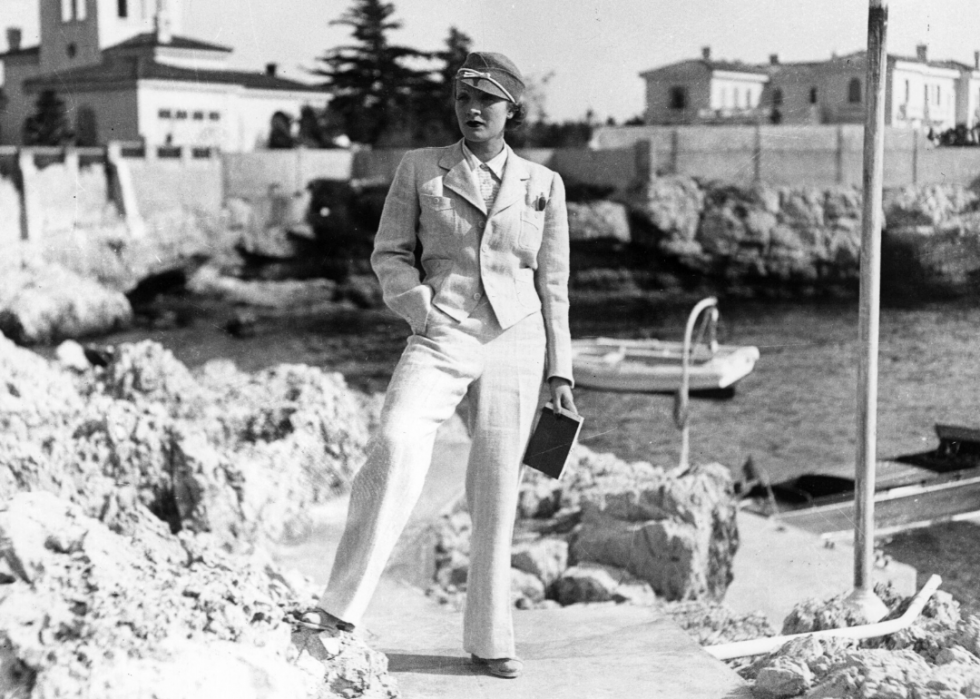 5 / 50
Central Press // Getty Images
Indomitable pantsuit
Although female pantsuits were still uncommon in the '30s, a few daring women embraced the look of pants in a brash attempt at abolishing gender roles. Italian designer Elsa Schiaparelli frequently dressed actresses like Marlene Dietrich and Katharine Hepburn in chic pantsuits. Dietrich even wore pants onscreen in the Oscar-winning film "Morocco," proving a woman can indeed wear the pants if she wants to.
[Pictured: Marlene Dietrich wearing a signature look in 1932.]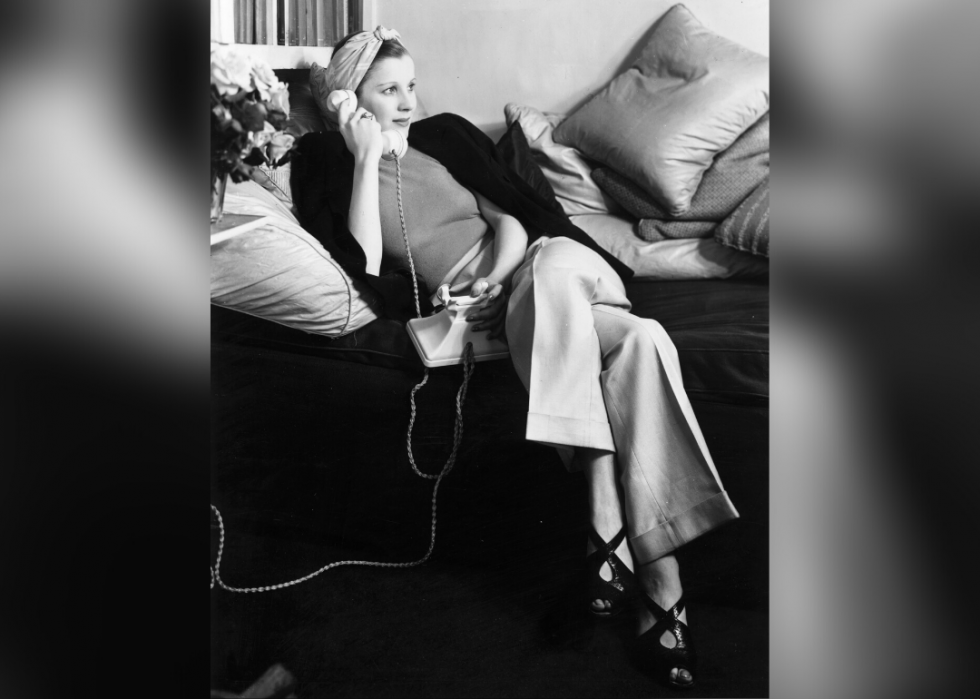 6 / 50
Wide-leg pants and trousers
Although the U.S. was plagued by the Great Depression during the 1930s, it was still a noteworthy time for fashion. Continuing the trouser trends that appeared earlier in the decade, Actress Katharine Hepburn showed women everywhere how to borrow style from the boys, pairing wide-leg trousers with a chic blazer and oxfords.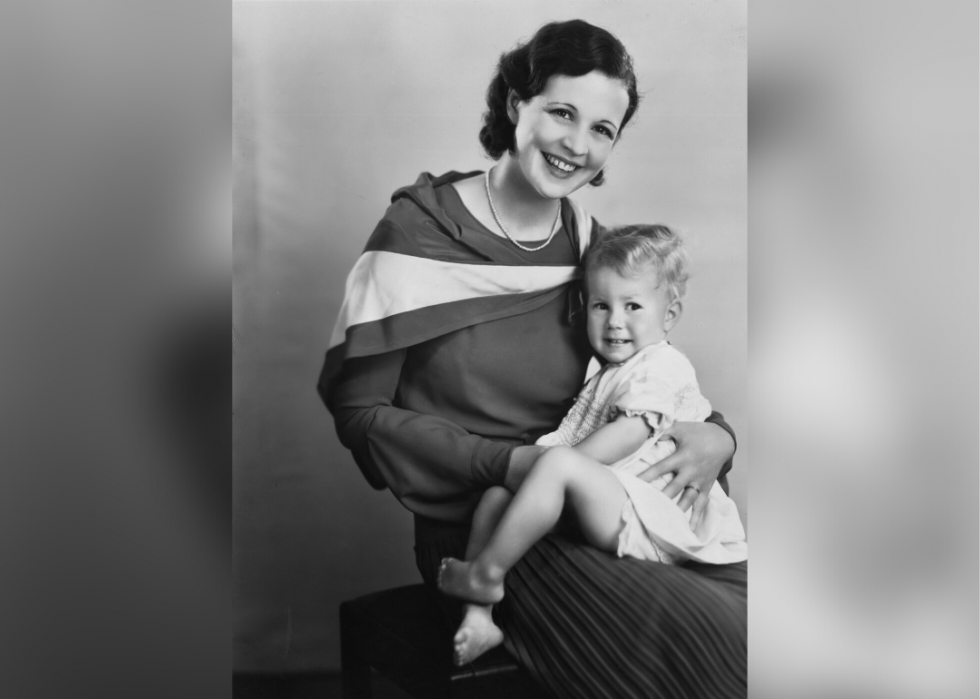 7 / 50
Draped scarves
While smaller scarves tamed hair and larger ones added warmth around the chest, draped scarves, fastened with scarf buckles and clips or tied in a knot, complimented clothes by adding a pop of color to otherwise bland outfits. Spacial and patterned designs, particularly polka dots, were popular during the '30s. Later, the 1940s saw visual artists like married couple Zika and Lida Ascher turning out patterned scarves, which they used as a medium for their work.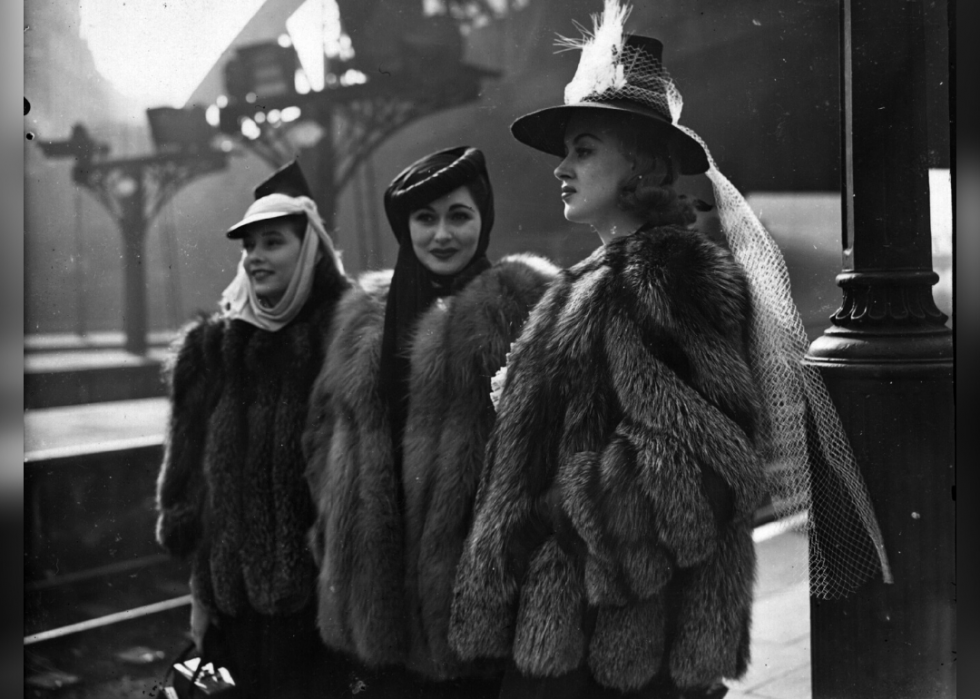 8 / 50
David Savill/Topical Press Agency // Getty Images
Fur accessories
Suitable for both daytime and evening affairs, fashionable fur was a status garment to own and wear in the 1930s. In the 19th century, fur was a necessity for men and women who lived in colder climates. By the mid-20th century, it was almost exclusively worn by women. Once fur coats and stoles were seen as high fashion items of luxury, the price of fur began to rise.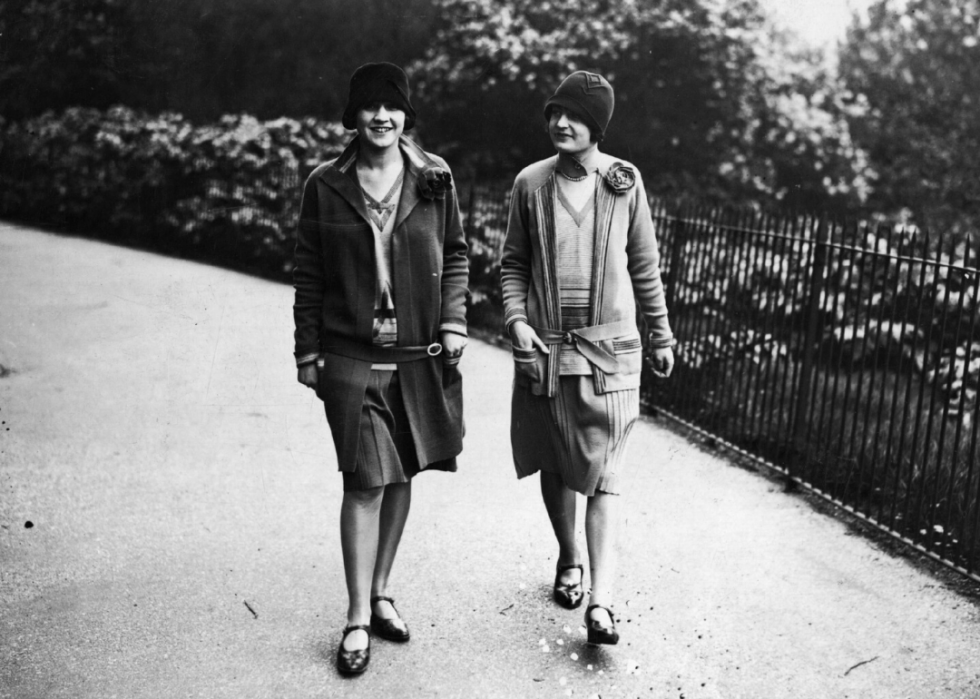 9 / 50
Brooke/Topical Press Agency // Getty Images
Mary Jane shoes
A staple in every little girl's wardrobe, Mary Jane shoes were born in 1902, modeled after a Buster Brown comic book character of the same name. Since then, the flat shoe with a small leather strip has been shaped into heels, paired with little white socks, and bedazzled in sequins. Mary Janes were a favorite of '60s supermodel model Twiggy and are often worn by contemporary fashionistas, proving that Mary Janes are one style that has stood the test of time.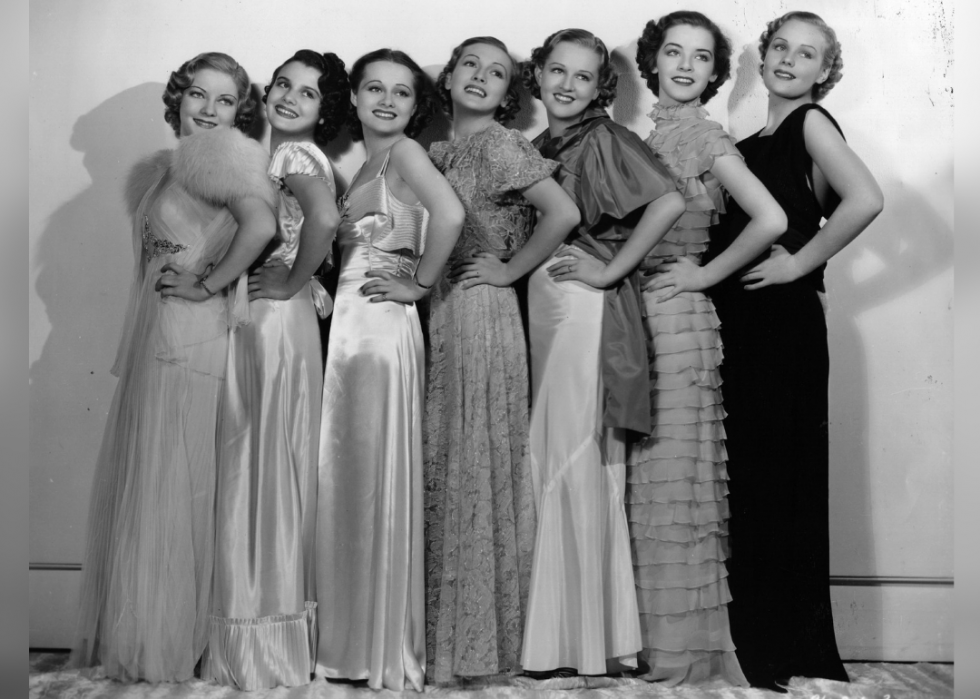 10 / 50
Hulton Archive // Getty Images
Evening gown
Form-fitting, floor-length dresses inspired by Hollywood glamour gave everyday women in the '30s a taste of elegance. Speaking of Tinsel Town, red carpet events, including the Academy Awards, inspired some of the most notable evening gown silhouettes of all time, many of which are still popular today. The biggest difference between the original dresses and today's versions is that you can now rent gowns through companies like Rent the Runway, giving any woman the opportunity to look like a star.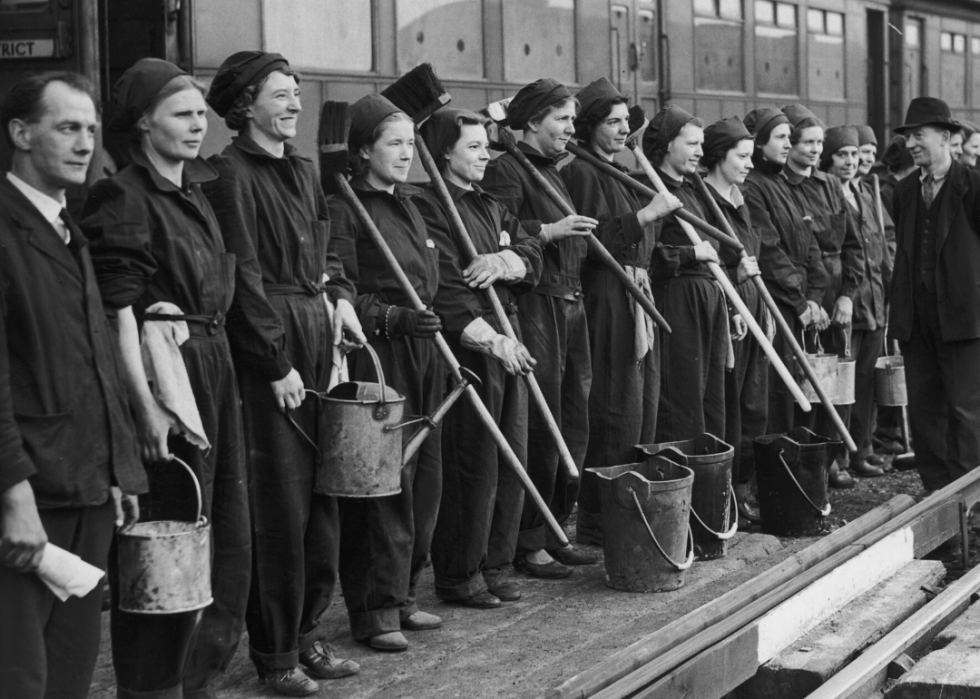 11 / 50
Reg Speller/Fox Photos/Hulton Archive // Getty Images
Boiler suits
The U.S. officially entered WWII in 1941. With thousands of men drafted into the war, women began entering the workforce—often taking on industrial factory jobs that were previously held by men. These physically demanding jobs called for women to wear loose-fitting boiler suits made of denim or heavy canvas that buttoned down the front. Rosie the Riveter posing in a denim boiler suit quickly became an iconic image of the time.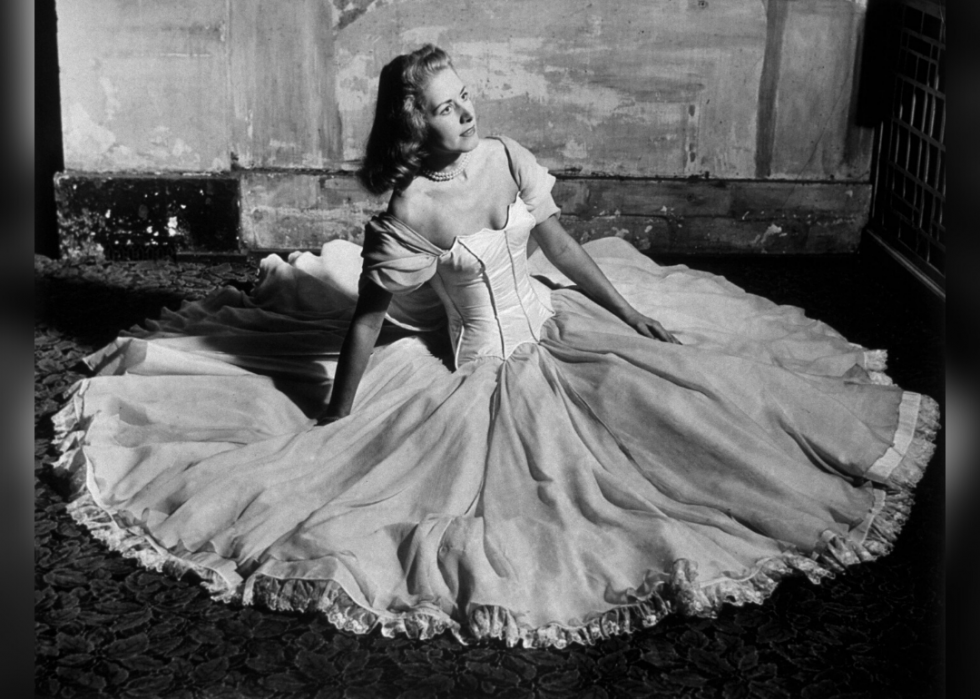 12 / 50
Fox Photos // Getty Images
Ruffled everything
The popular ruffles and frills fad took inspiration from 15th-century military regalia, which featured ruffled collars and sleeves. By the end of the 19th century, this romanticized feature was strictly for females. The 1950s saw an end to wartime fabric rationing, and designers celebrated by adding voluminous layers to both daily and evening wear designs. By the end of the 20th century, the ruffled blouse made television history when a "Seinfeld" episode centered around one particularly puffy shirt.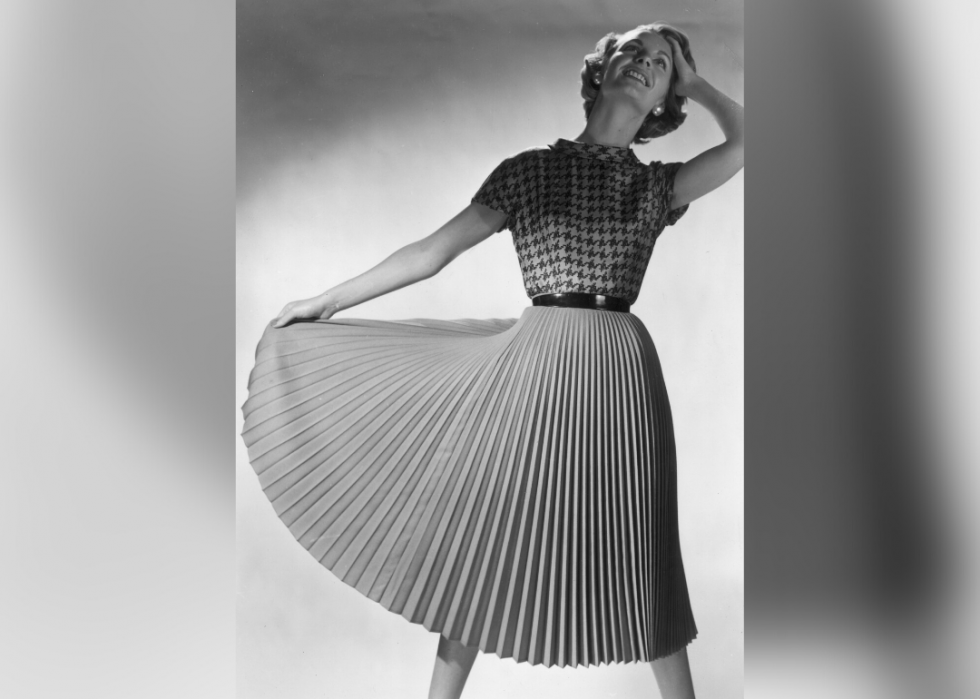 13 / 50
Chaloner Woods // Getty Images
Pleated knee-length skirts
Circa 1944, any rationing restrictions that were put on fabrics during the war were finally lifted; with that, playful design elements like pleats came back onto fashion, giving women a little more pep in their step. All-around pleats and knife pleats were common in skirts, as were bright colors, which signaled a cultural celebration of the war's end.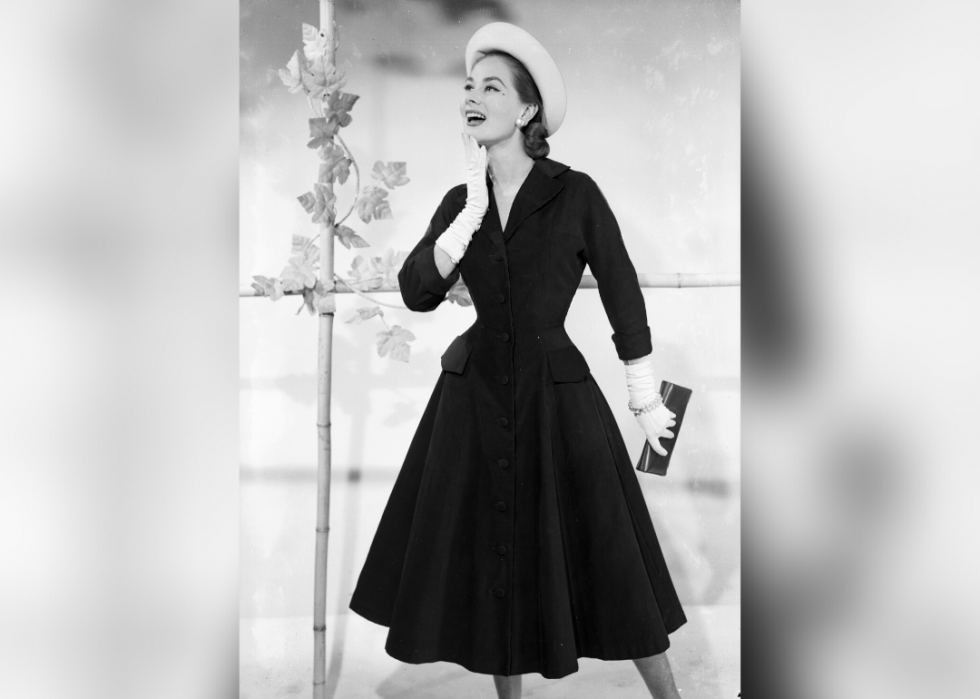 14 / 50
Chaloner Woods // Getty Images
A-line silhouette
In 1947, fashion mogul Christian Dior debuted his "New Look" that would quickly take the world by storm. The feminine A-line silhouette boasted a full, flowy skirt and an accentuated waistline that was designed to highlight a woman's hourglass figure—a distinct contrast to the masculine looks from pre-WWII.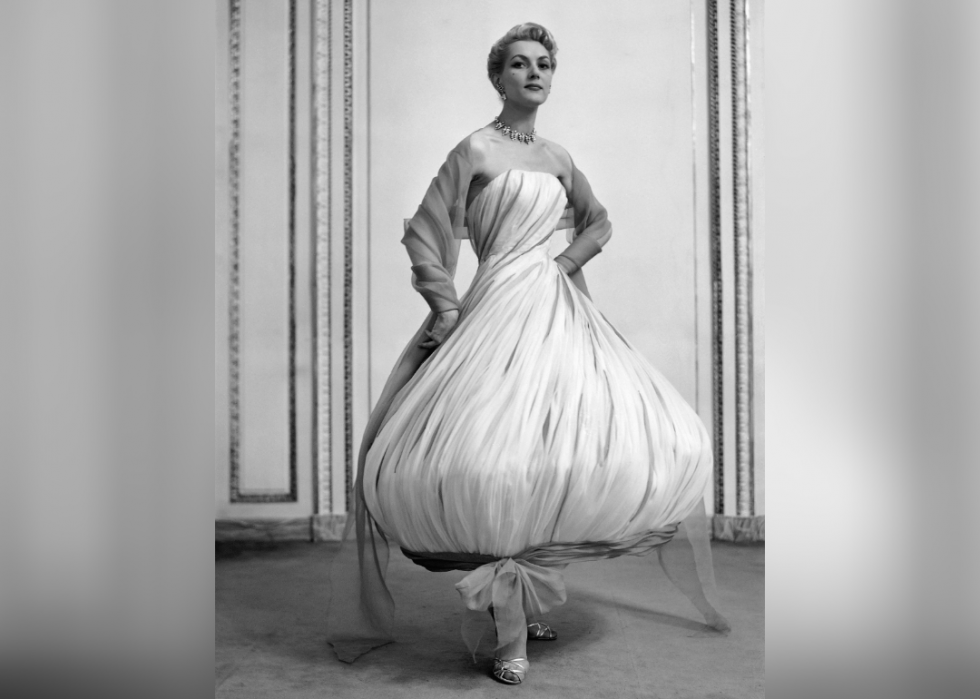 15 / 50
The bubble hem
Called a distant relative of the harem pants, the bubble hem was born in 1949 and created a whole new type of tailoring. By the '50s, the bubble hem turned into the bubble dress and bubble skirt, which tapered in at the waist and flared at the bottom. The look, popularized by designers Pierre Cardin and Hubert de Givenchy in the mid-19th century, hit the runways again in 2019, specifically seen in the 2020 Louis Vuitton's Cruise 2020 collection.
16 / 50
Philip Turner/Hulton Archive // Getty Images
Leather and suede gloves
Gloves were another item of clothing that had been rationed during the war. Come 1950, gloves experienced a renaissance as a popular and ultra-femme accessory (with, of course, a matching bag and hat). For daytime appearances, many women stepped out wearing wrist-length gloves in neutral hues.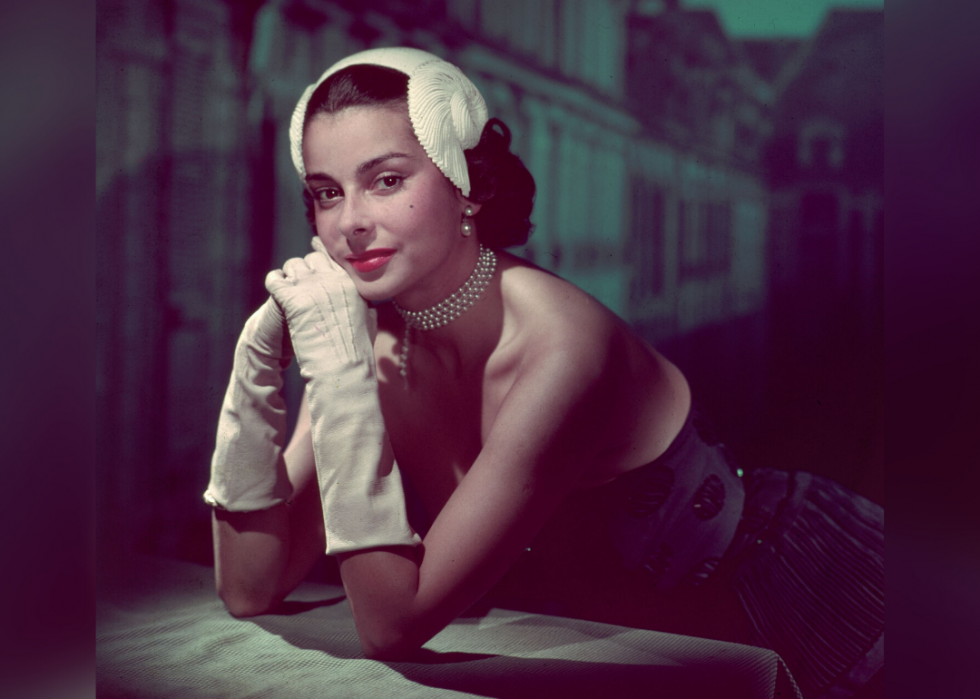 17 / 50
Pearl jewelry
In the 1950s, the easy elegance of pearl jewelry became synonymous with post-war domesticity. With the men back from war, women were expected to go back to keeping house and looking well-kempt while doing so. Pearl stud earrings and necklace strands added a touch of chicness to any outfit—from afternoon frocks to little black dresses. Grace Kelly, a big pearl-wearer, made the look iconic.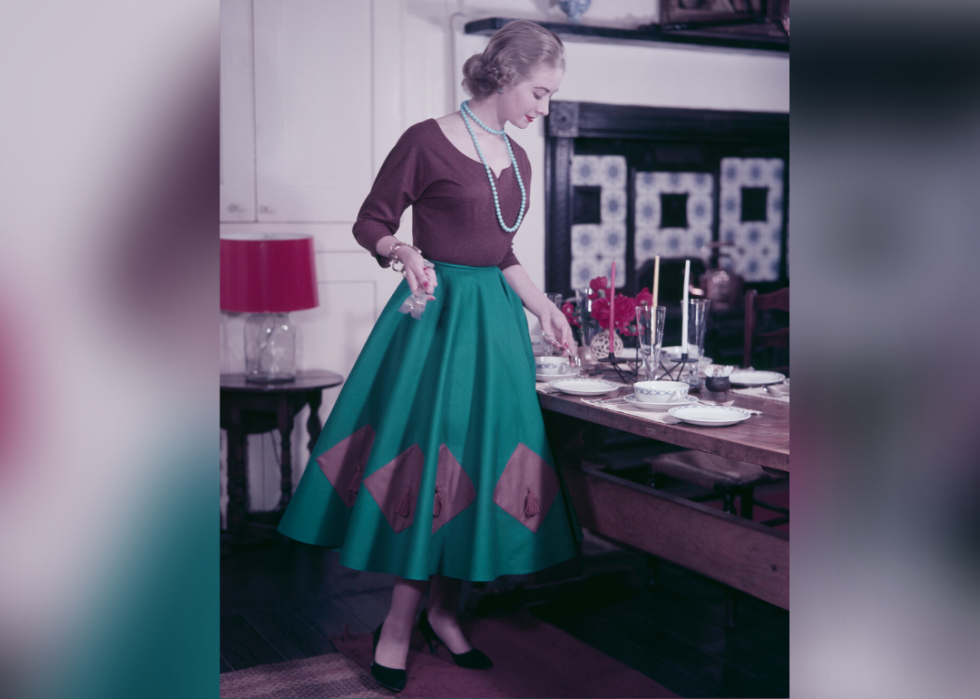 18 / 50
Hulton Archive // Getty Images
Swing skirts
Is any item of clothing more quintessentially 1950s than a poodle skirt? Circle skirts could make a statement by way of bright colors, polka dots, and other novelty prints. To complete the look, all you needed was a cropped cardigan, Buddy Holly playing on the jukebox, and a chocolate malt in hand.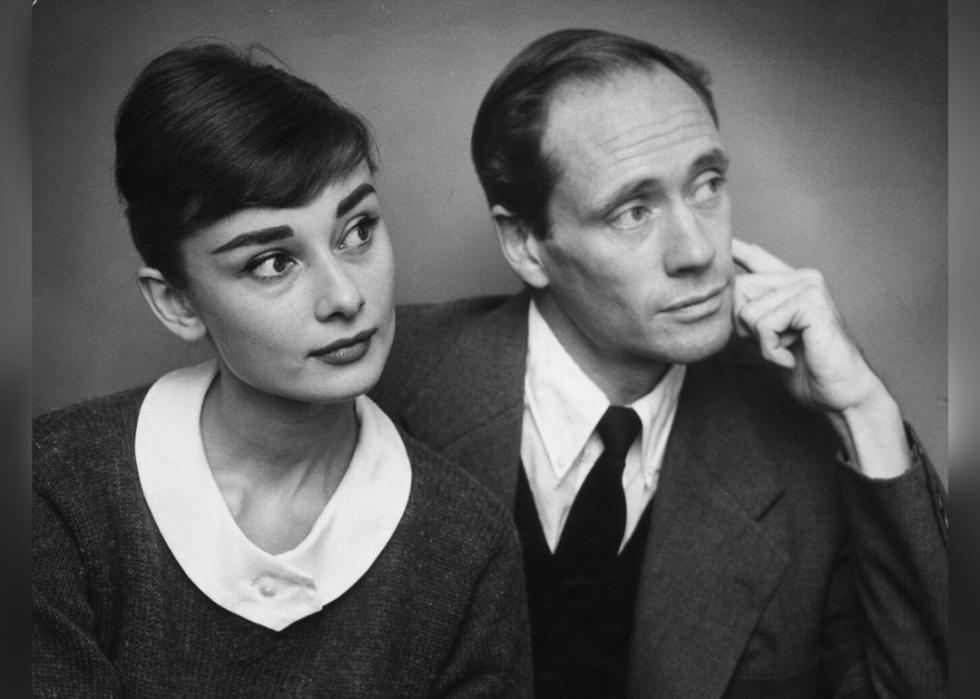 19 / 50
Peter Pan collars
This popular look from the 1950s garnered its name from the costume designs of the original "Peter and Wendy" theatre production in New York City. The stylish collar features rounded corners and is designed to lay flat against the neckline; it was added to many types of garments over the years, including big, swinging dresses.
[Pictured: Audrey Hepburn beside her husband Mel Ferrer.]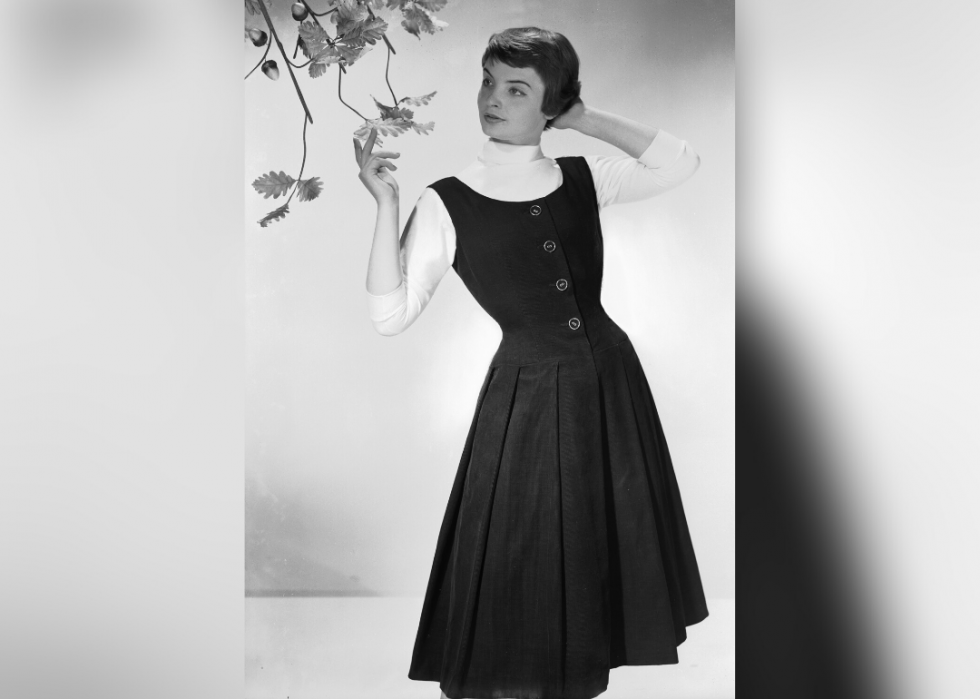 20 / 50
Chaloner Woods // Getty Images
Schoolgirl-inspired clothes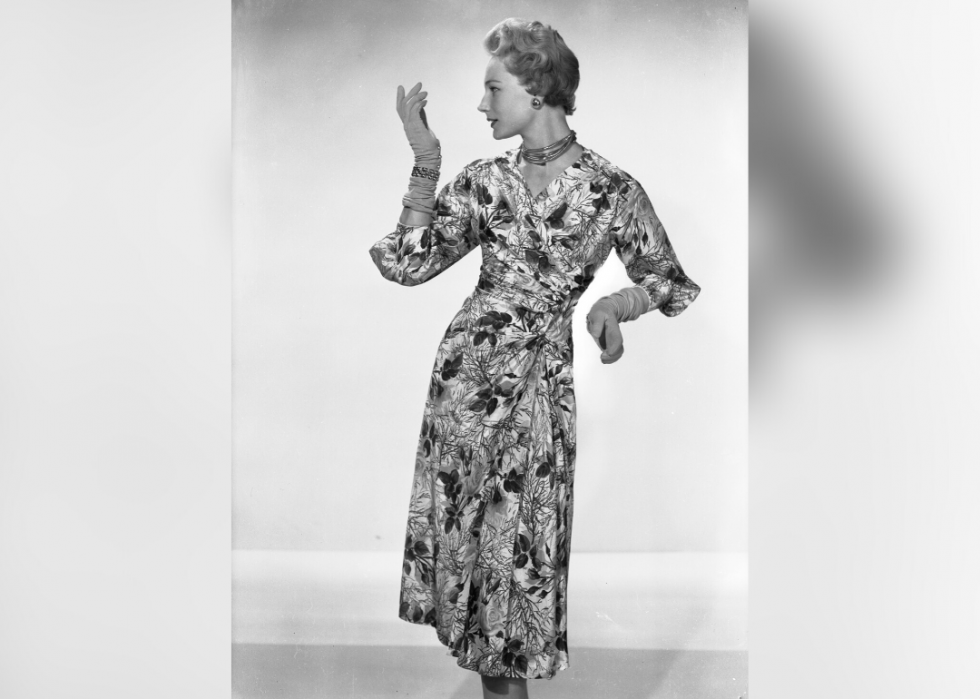 21 / 50
Chaloner Woods // Getty Images
Printed wrap dress
Unlike the swing, coat, or shirt dresses of the '50s, the mid-century printed wrap was more modern, made of colorful patterns that swathed the body. Polka dots, florals, checks, and stripes, and even more far-out themes like science and western patterns, were popular at the time. The populary of the wrap dress endures today, thanks to the style's flattering sihoullette on women of all shapes and sizes.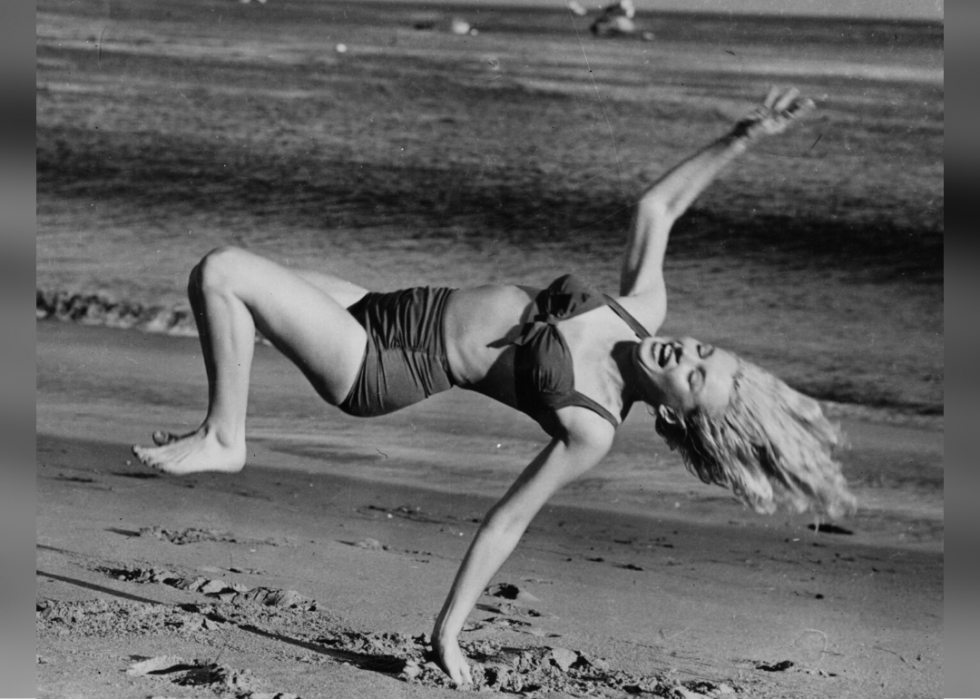 22 / 50
L J Willinger // Getty Images
The bikini
Pinup girl Jayne Mansfield dared to bare in bikinis—and many regular women followed suit, but in a slightly more modest fashion. Two-piece bathing suits made a sexy splash in the '50s with high-waisted bottoms, skirts, and playful patterns.
[Pictured: Marilyn Monroe photographed on the California coast in 1950.]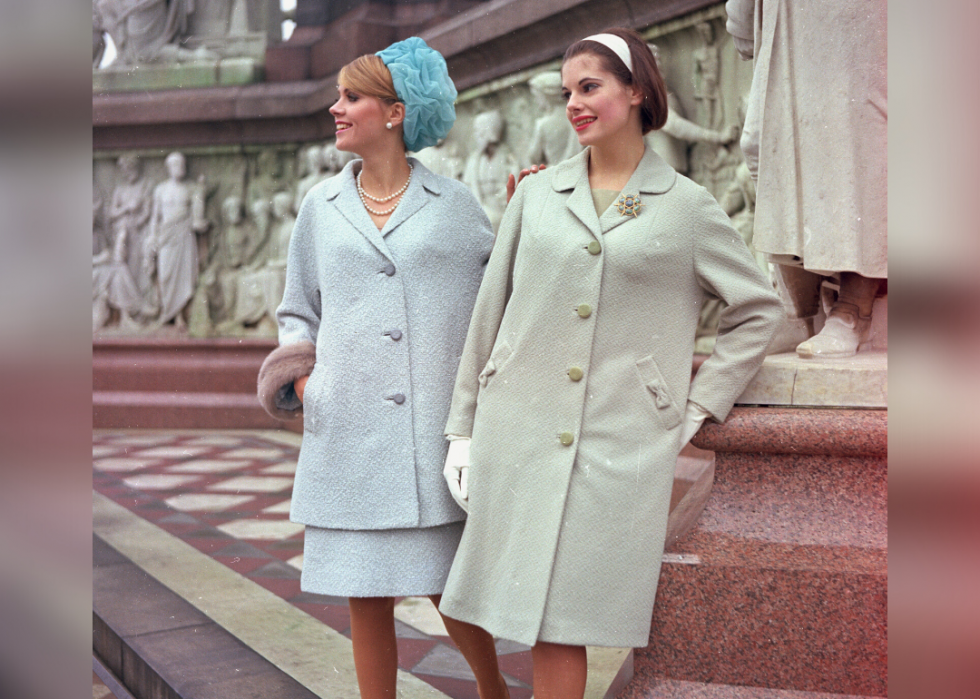 23 / 50
Chaloner Woods // Getty Images
Pillbox hat
In the early 1960s, First Lady Jacqueline Kennedy became a top style idol for women. She was the epitome of sophisticated elegance with outfits that always looked flawless from head-to-toe—this included her signature pillbox hat, which quickly made its way into many women's everyday looks.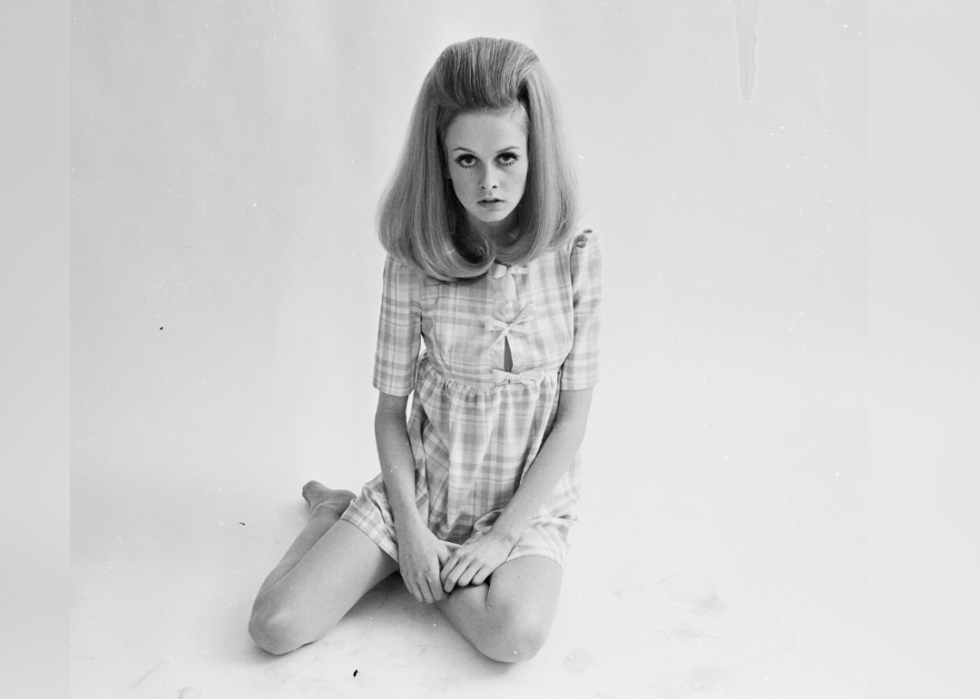 24 / 50
McKeown/Express // Getty Images
Babydoll dresses
The second wave of feminism during the 1960s empowered women to continue expressing themselves, both ideologically and stylishly. Hemlines got shorter and colors got brighter with the babydoll dress—a go-to look of liberation for ladies. This bold, moderately shapeless silhouette was a favorite of supermodel Twiggy and was revived in the '90s by grunge rockers like Courtney Love.
[Pictured: British fashion model and '60's icon, Twiggy (Lesley Hornby) wearing a checked baby doll style mini-dress in 1967.]
25 / 50
Roy Jones/Evening Standard // Getty Images
Mini skirts
The miniskirt was said to be born in 1964 in designer Mary Quant's London boutique, Bazaar. Quant was inspired by street fashion, which led her to create a micro-skirt with a hemline that hit well above the knee. The style (and length) was considered daring at the time but took off nonetheless.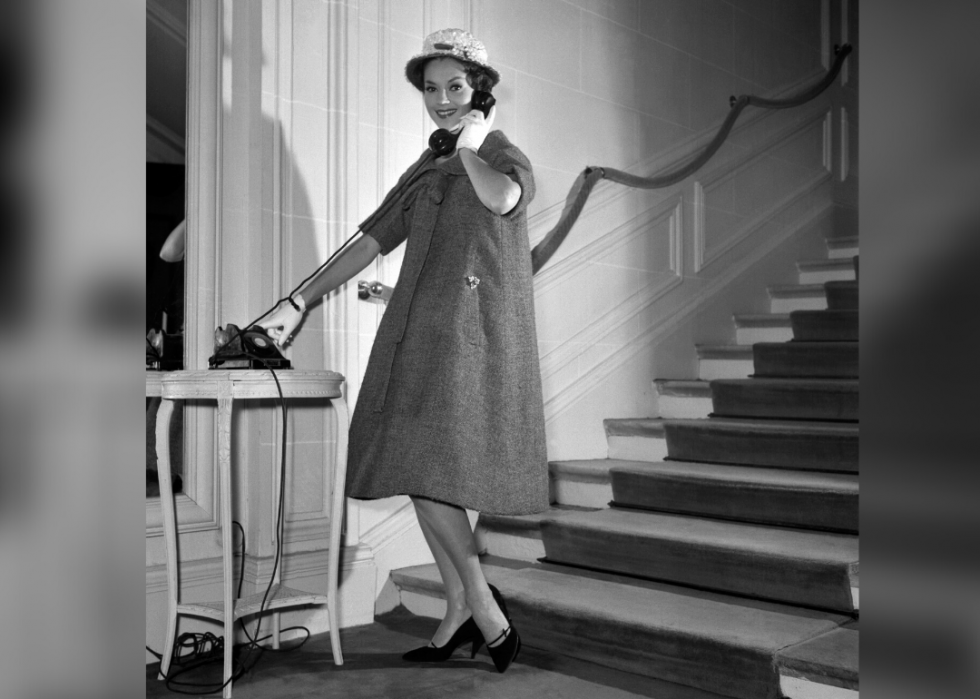 26 / 50
Trapeze silhouettes
The '60s waistless trapeze silhouette was often seen on Audrey Hepburn. The London-inspired style, which dates back to Louis XV, came to life when Yves Saint Laurent began designing dresses to flare out from a fitted shoulder line. As the antithesis to Christian Dior's A-line, which cinched the waist and puffed at the bottom, Saint Laurent's silhouette still managed to give women a sexy appeal.
27 / 50
Chaloner Woods // Getty Images
Peacoats
By the '60s, sailors were not the only ones wearing peacoats, a short, double-breasted coat made of heavy wool. Rather than protecting sailors from a harsh sea climate, beatniks began sporting the style during the hippie age. The oversized collar was often seen on actors Robert Redford and James Dean at the time.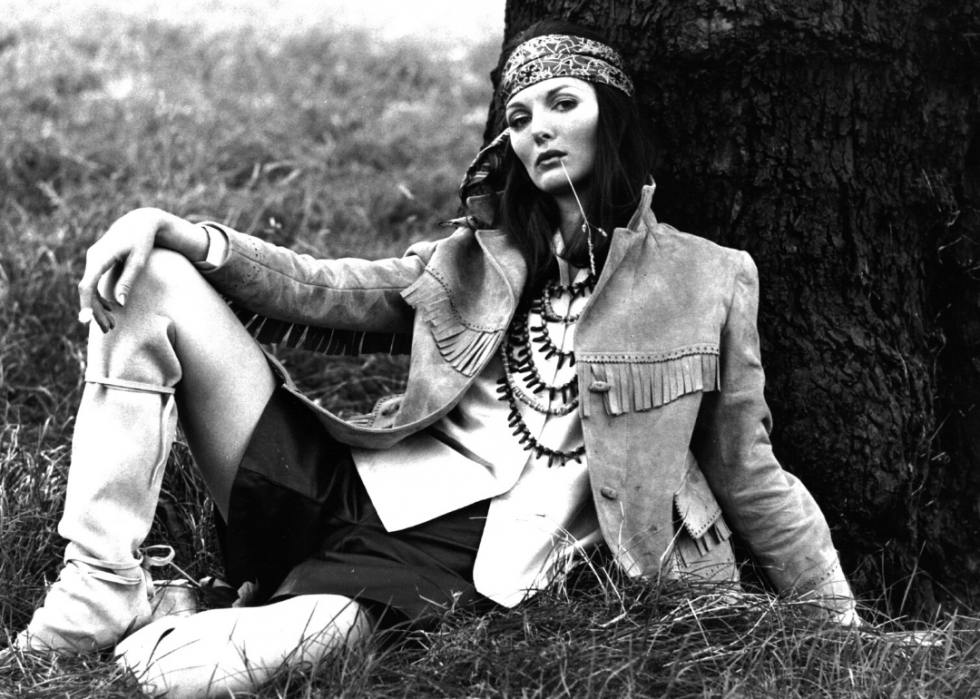 28 / 50
Evening Standard // Getty Images
Suede fringe vests
Hippie subculture made its mark during the late 1960s. This style exuded a very laid back bohemian vibe and pulled inspiration from cultures and countries all over the world, including India, Bali, Morocco, and Africa. Buck-skin vests with fringe were very popular pieces by the end of the decade.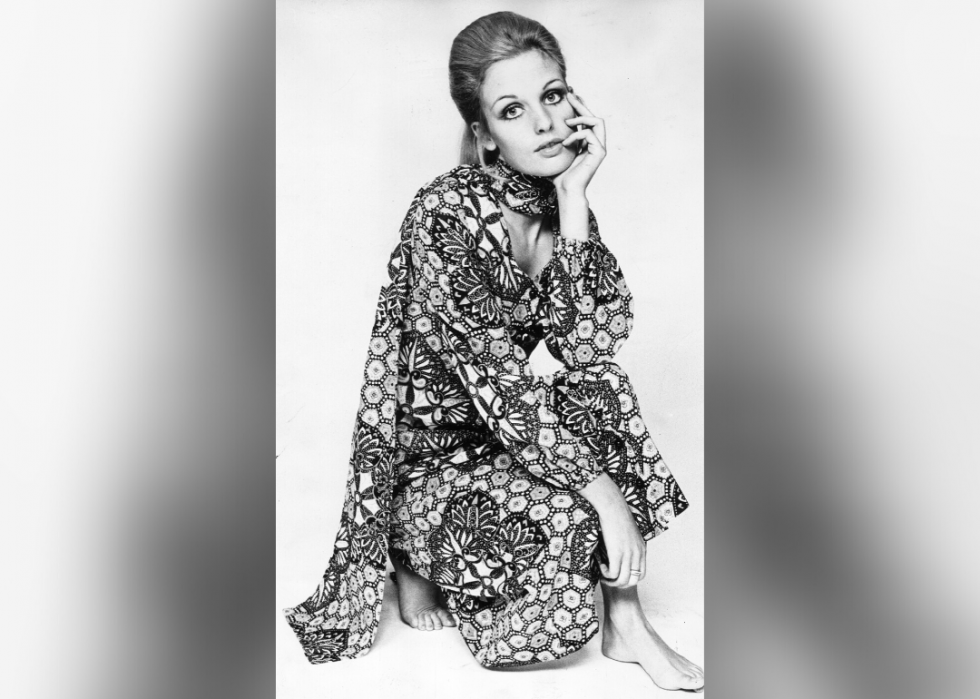 29 / 50
Gordon Carter // Getty Images
1970s Psychedelic prints
Burgeoning between 1966 to 1972, psychedelic prints became the staple clothing pattern for the peace movement. The bold, flower-power colors mixed together were often worn by hippies to symbolically reflect an open, LSD-fueled state-of-mind. Nowadays, Bohemian-style fashion is frequently found at musical festivals.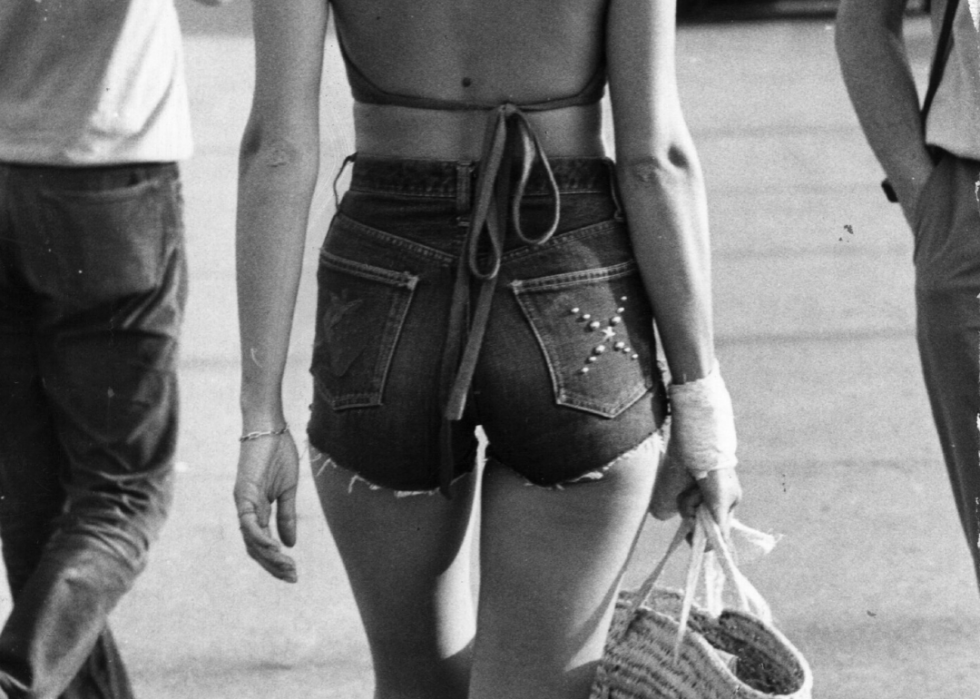 30 / 50
Roy Jones // Getty Images
1970s Daisy Dukes
The short, tight, denim cut-offs inspired by "The Dukes of Hazzard" television character of the same name, played by Catherine Bach, are still hot today. Since the Southern belle started the fashion craze, celebs like actress Jessica Simpson—who played Daisy Duke in the 2005 movie remake—have kept it alive. The fashion statement even inspired the 1993 song "Dazzey Duks," a one-hit-wonder by rapper Duice.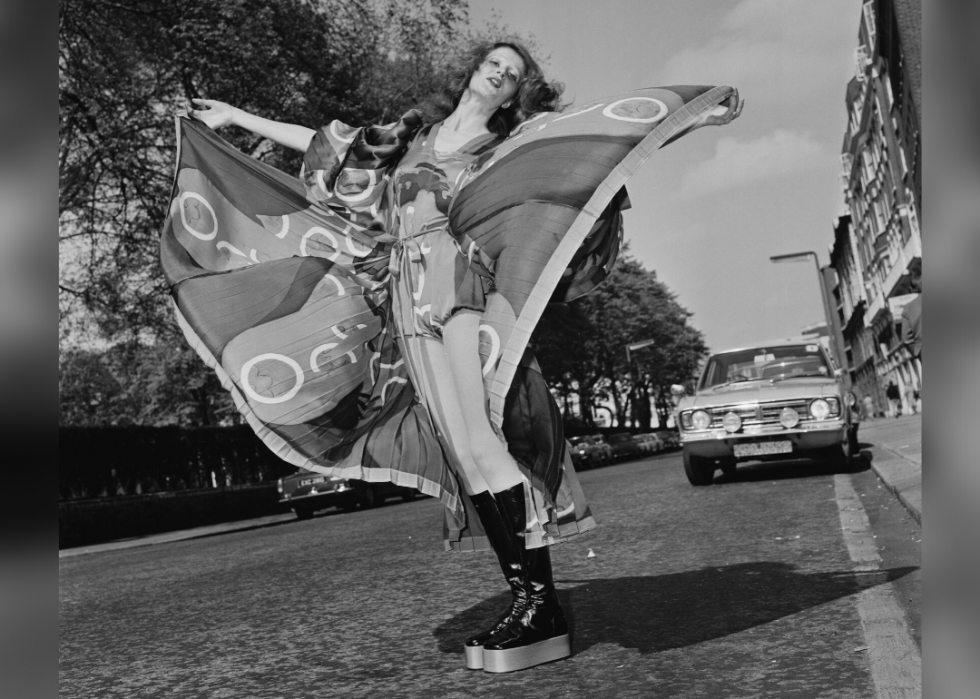 31 / 50
Blackman/Daily Express // Getty Images
Platform heels
Platform heels were synonymous with the decade of disco. As outfits got bolder, brighter, and more expressive in the 1970s, women's high heels and platforms rose to new heights. Wood, cork, and synthetic materials were common.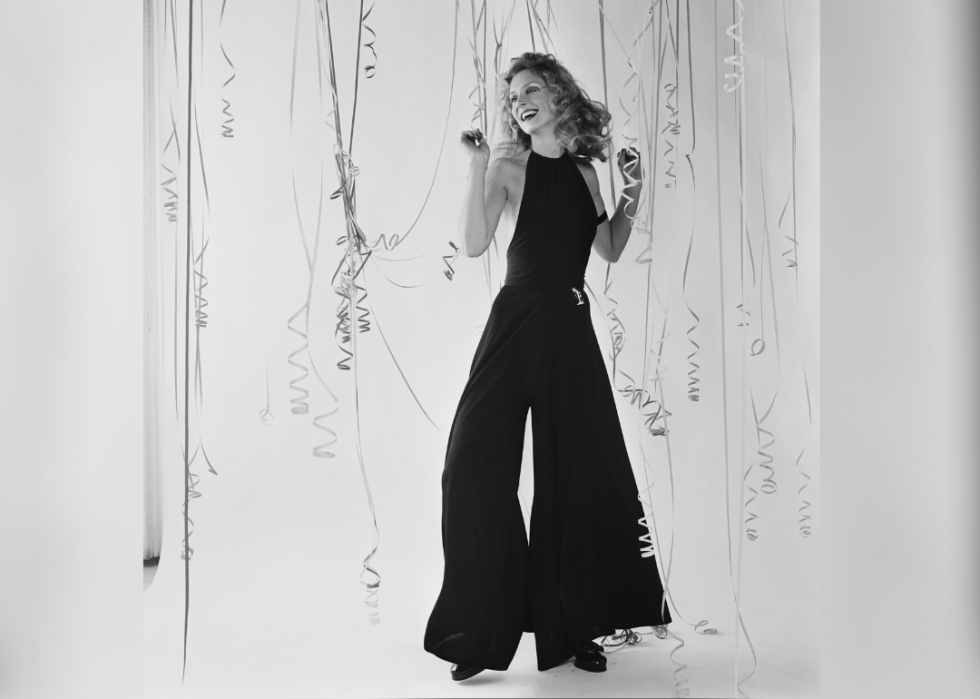 32 / 50
Mike McKeown/Daily Express // Getty Images
Bell bottoms
Flared pants—be it casual denim or splashy patterns for the disco—were a big look in the late '60s and early '70s. Interestingly enough, bell bottoms were originally worn by sailors during the War of 1812, before they resurfaced during the '70s as a trend for women.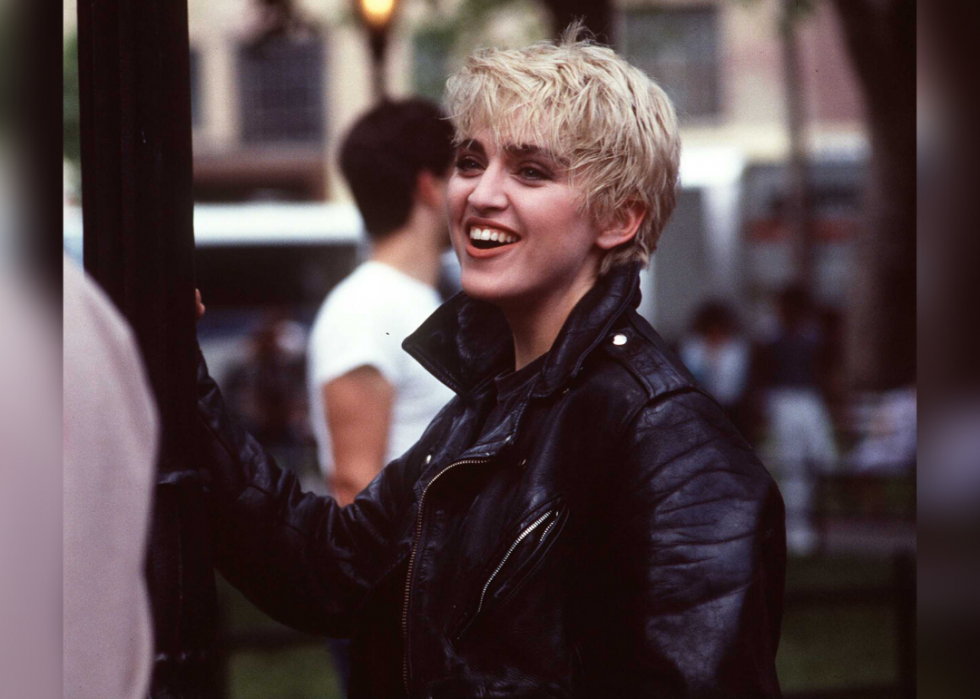 33 / 50
Brenda Chase/Online USA Inc./Stringer // Getty Images
Leather jackets
The vibrant colors and florals of disco began to fade away in the 1980s when metal music came in with a bang. Fashion also swayed towards the opposite end of the spectrum, with black leather jackets and looser fits rising in popularity—a la Madonna in her "Papa Don't Preach" music video.
[Pictured: Madonna wearing a leather jacket in 1986.]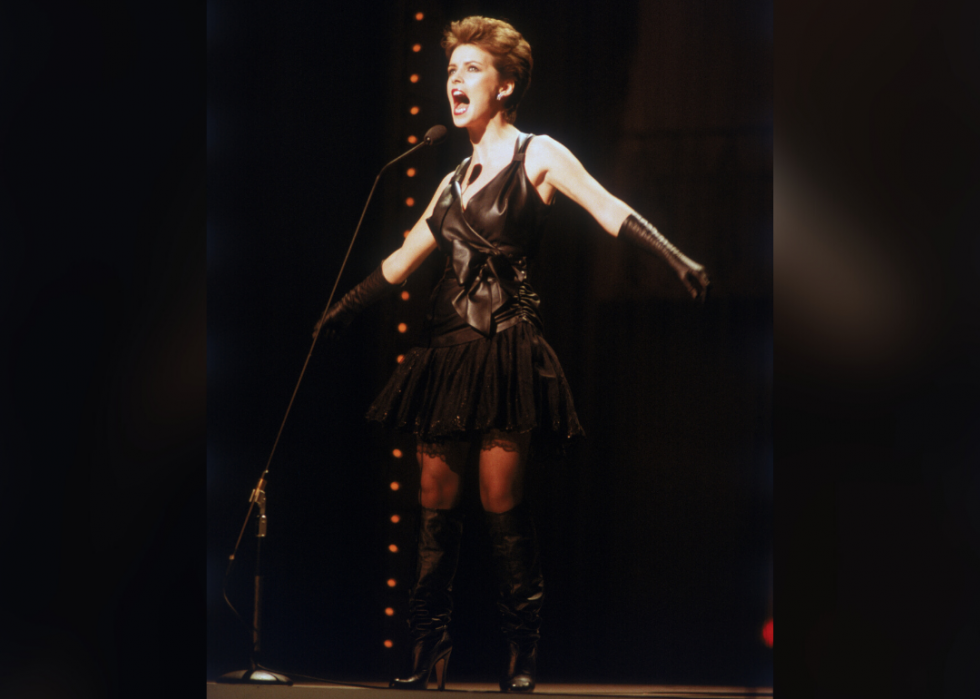 34 / 50
Keystone/Hulton Archive // Getty Images
1980s pleather
Genuine imitation leather, aka pleather, gained fame in the '80s when pop culture icons like Michael Jackson and Eddie Murphy wore the real garb from head to toe. Unlike celebrities who could afford actual animal skin clothing, fashionistas at the time settled for the fake stuff, mostly in the form of mini-skirts and shorts. The once-popular trend is new again, making a comeback on the 2019 catwalk.
[Pictured: Pop singer Sheena Easton performing in 1982.]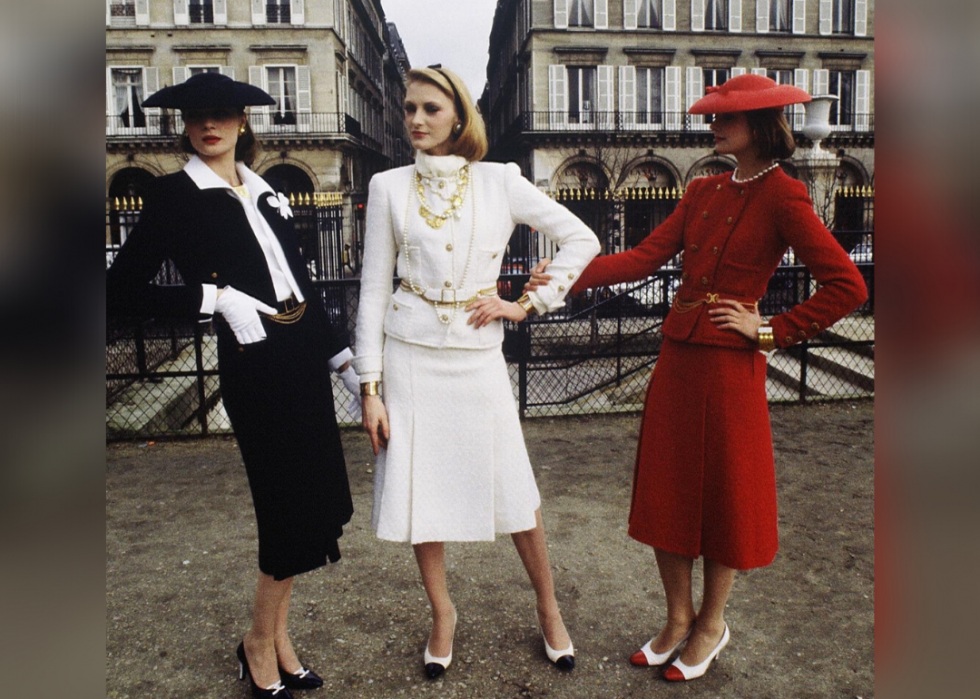 35 / 50
PIERRE GUILLAUD/AFP // Getty Images
Shoulder pads
A new wave of women began entering the workforce en masse in the '80s, which kickstarted the power dressing movement. Blazers, suits, and even dresses boasted shoulder pads to create a structured menswear-inspired look for women in the office.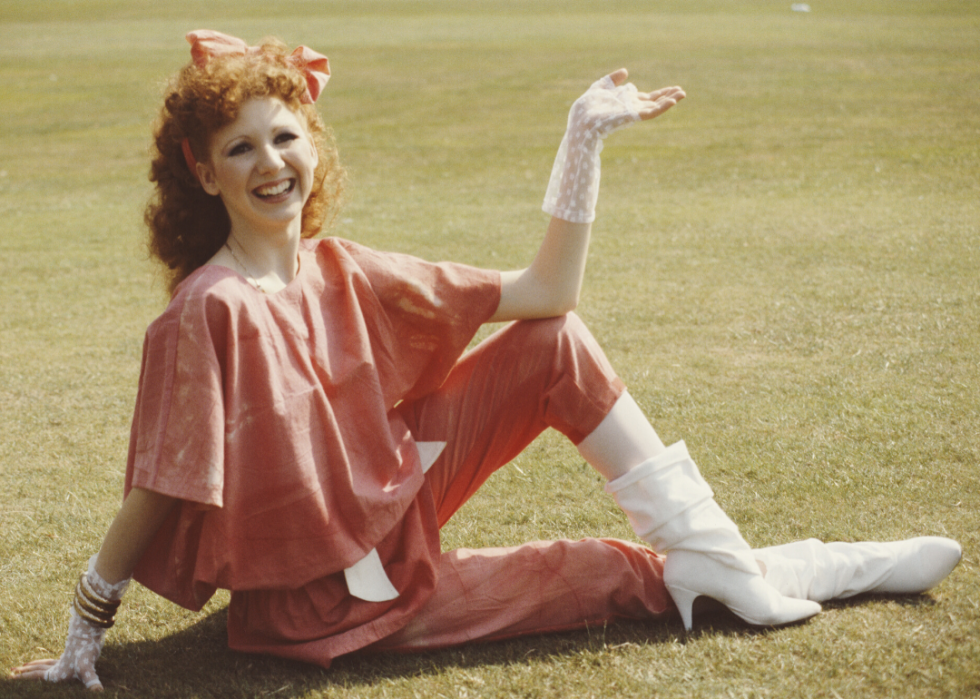 36 / 50
Fox Photos/Hulton Archive // Getty Images
Lace gloves
Most popular on the hands of Madonna fans, lace gloves were an '80s staple along with shoulder pads and big hair. This look became symbolic of a certain kind of cool girl at the time.
[Pictured: English actress Bonnie Langford in 1984.]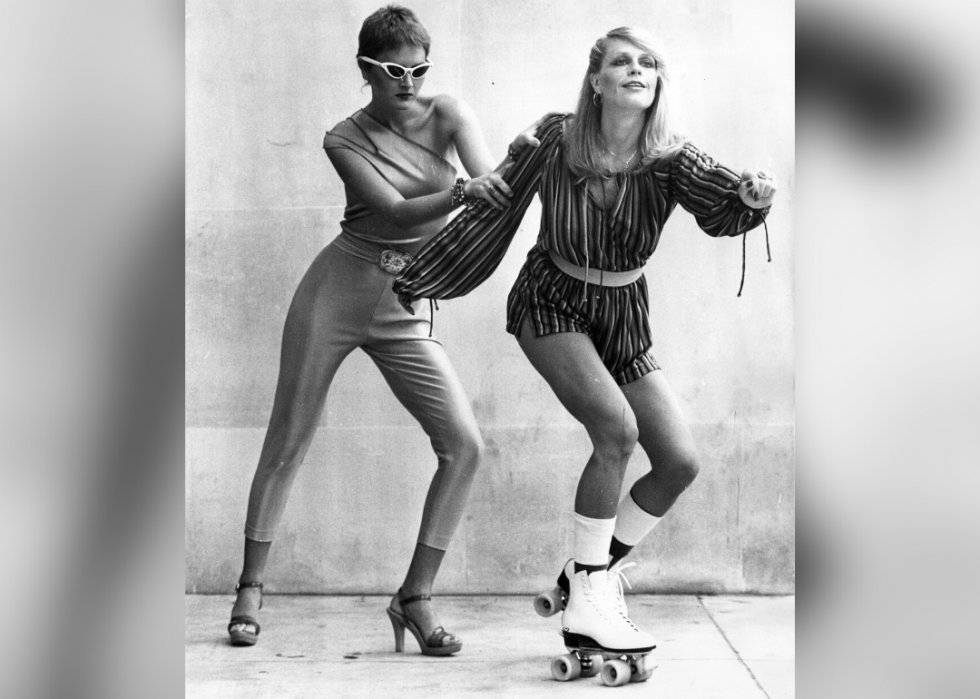 37 / 50
Wesley/Keystone // Getty Images
Leggings as pants
Leggings have come in and out of the style many times, but the look really peaked during the '80s, also known as the Jane Fonda workout era. These spandex bottoms came in any and all colors (including neons) and could be worn with T-shirts, leotards, and off-the-shoulder sweatshirts.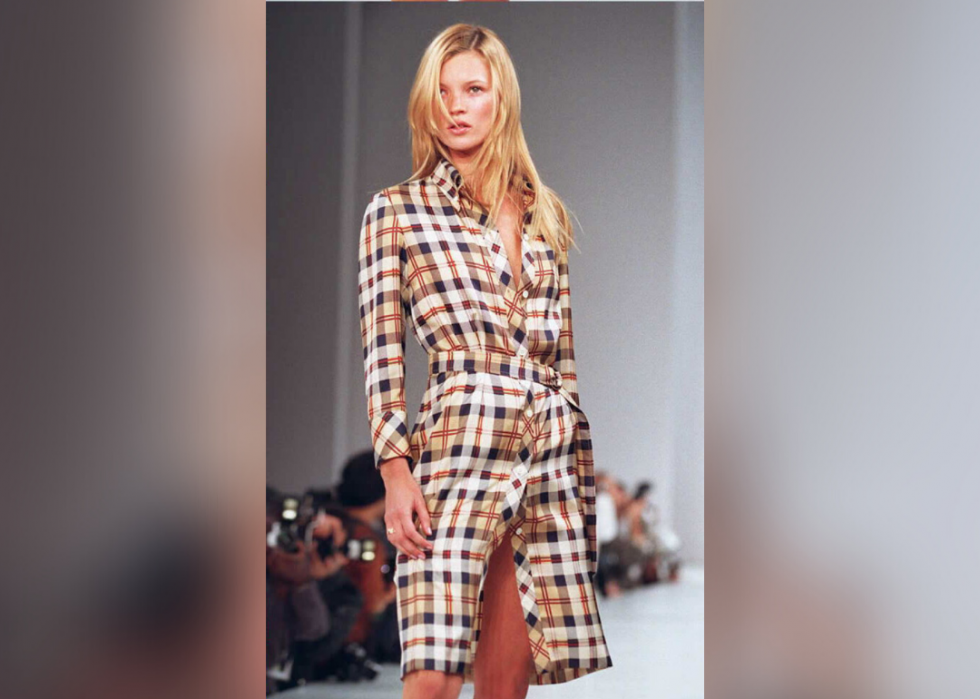 38 / 50
TIMOTHY CLARY/AFP // Getty Images
All-out plaid
Women of the early 1990s were mad for plaid—from grungy flannel shirts to preppy skirt-and-blazer ensembles a la Cher from "Clueless" (1995). Designers like Alexander McQueen, Vivienne Westwood, and Marc Jacobs helped make this cross-hatched pattern mainstream.
[Pictured: Kate Moss models a shirtdress by Victor Alfaro in 1996.]
39 / 50
Jon Kopaloff // Getty Images
1990s Acid-washed jeans
Though first seen in the '60s, acid-washed jeans became most popular after Guess released the first designer pair of bleach-splattered pants in 1981. A decade later, heavy metal band members and Hollywood starlets were clad in acid-washed jeans, which made a 2019 comeback, with Kendall Jenner and Bella Hadid seen sporting a pair.
[Pictured: Christina Aguilera attends a film premiere in 2002.]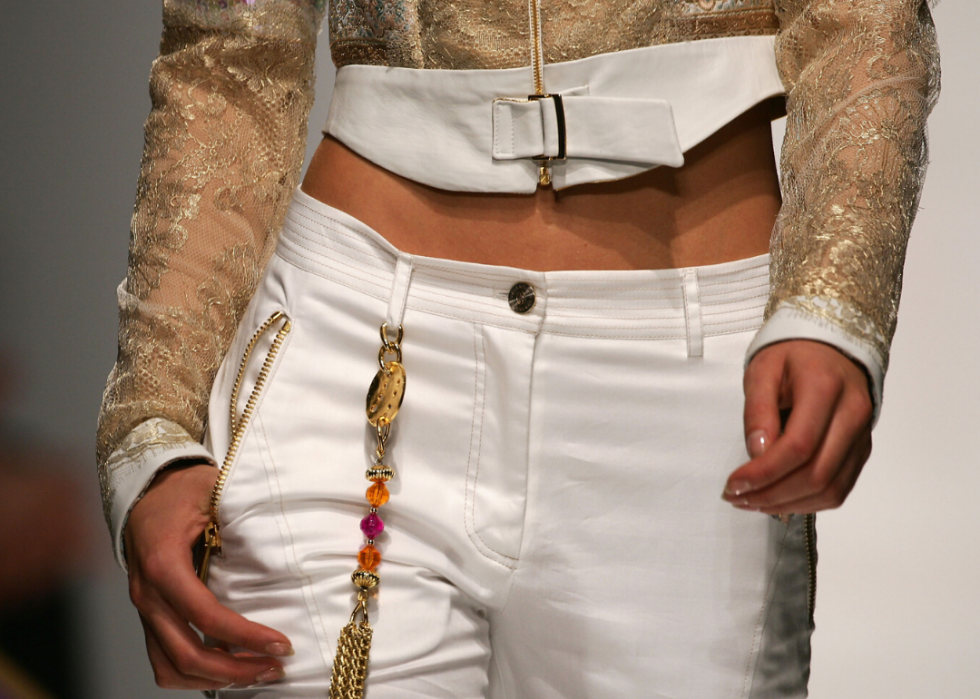 40 / 50
Pascal Le Segretain // Getty Images
Belly shirts
Belly-baring babes of the 1990s included Gwen Stefani, the Spice Girls, and Christina Aguilera. With pop music at its peak, this was the first time crop tops experienced a major moment in fashion, though come 2018, the exposed midriff was back in full force.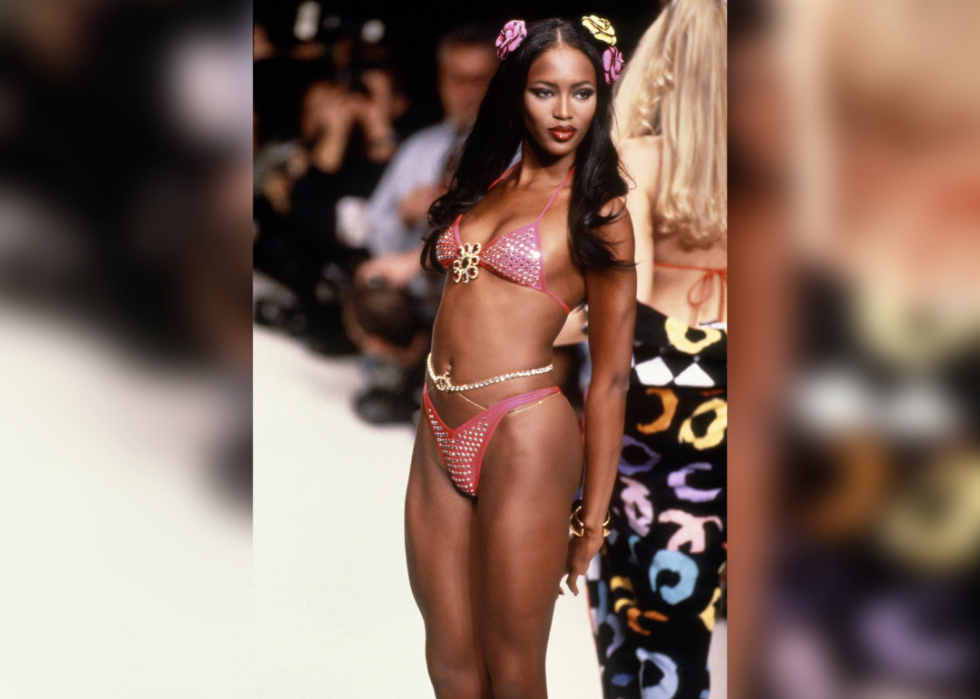 41 / 50
PL Gould/IMAGES // Getty Images
1990s V-hip swimsuit
Above the hip, or V-hip, swimsuits popular in the '90s are still riding the fashion wave, with the Zoe Report boasting a comeback in 2017. The cut of the swimsuit, known for accentuating the legs and cinching the waist, is popular with models Chrissy Teigen and Bella Hadid. However, '80s model/actress Morgan Fairchild may be the most famous V-hip swimsuit model to date.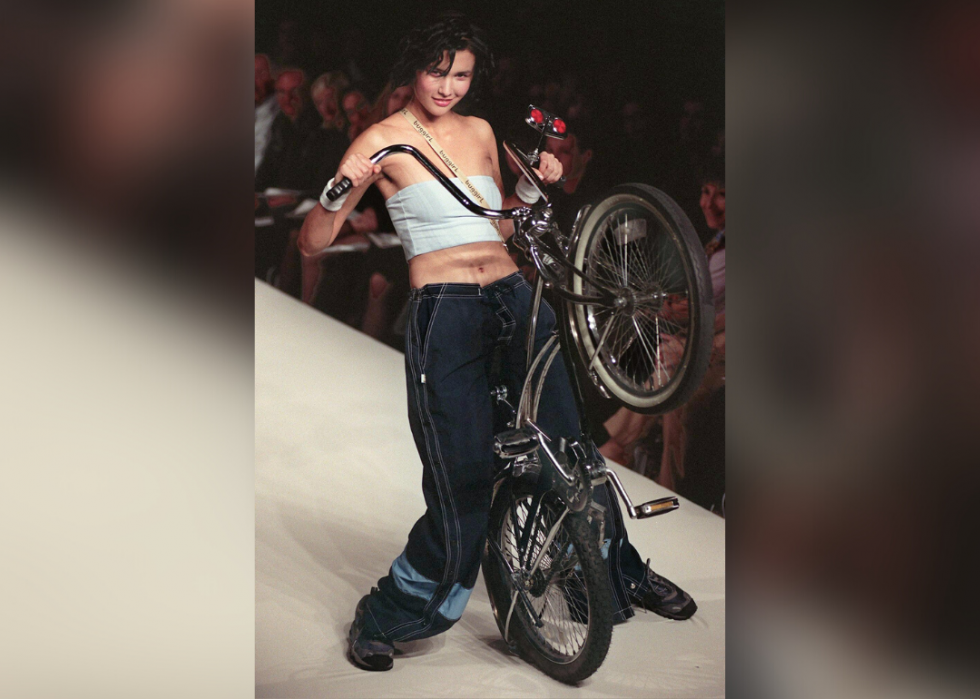 42 / 50
STAN HONDA/AFP // Getty Images
JNCO jeans
During the late '90s, women and men alike rocked this unique extra-wide pants trend, mainly if they were looking to achieve that punk rock aesthetic. Bonus points if you added a wallet chain and your pant leg circumference was wide enough to totally cover your skate sneakers.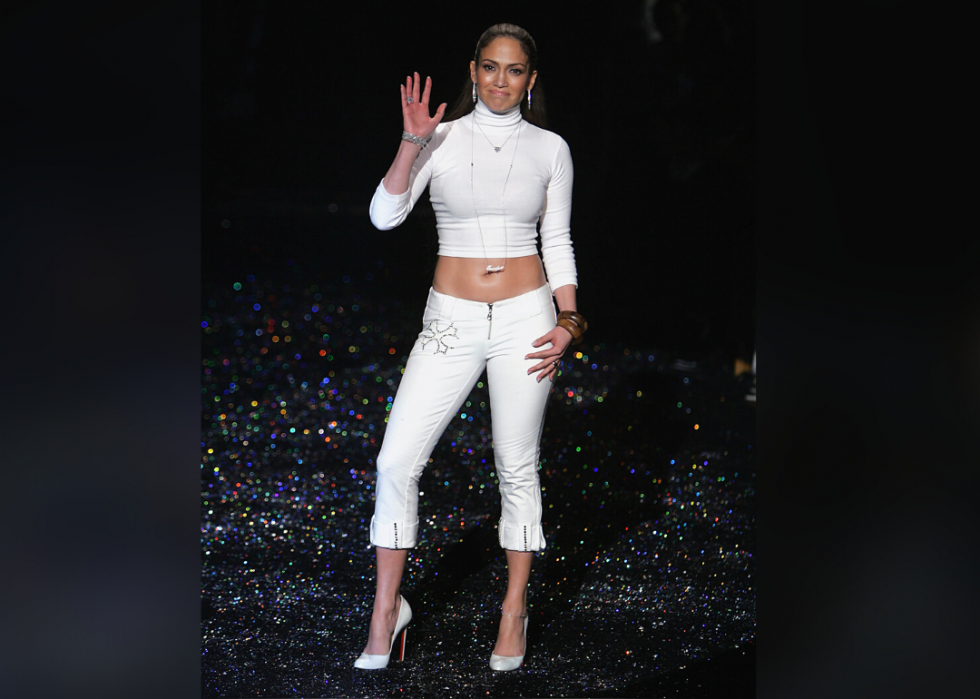 43 / 50
Mark Mainz // Getty Images
Pedal pusher pants
A close cousin of capris, these calf-length pants (also called "clam diggers") first became popular in the 1950s but showed up again in many young women's closets circa 2000. They were usually worn tight and cuffed below the knee.
[Pictured: Jennifer Lopez waves at the close of her fashion show in 2005.]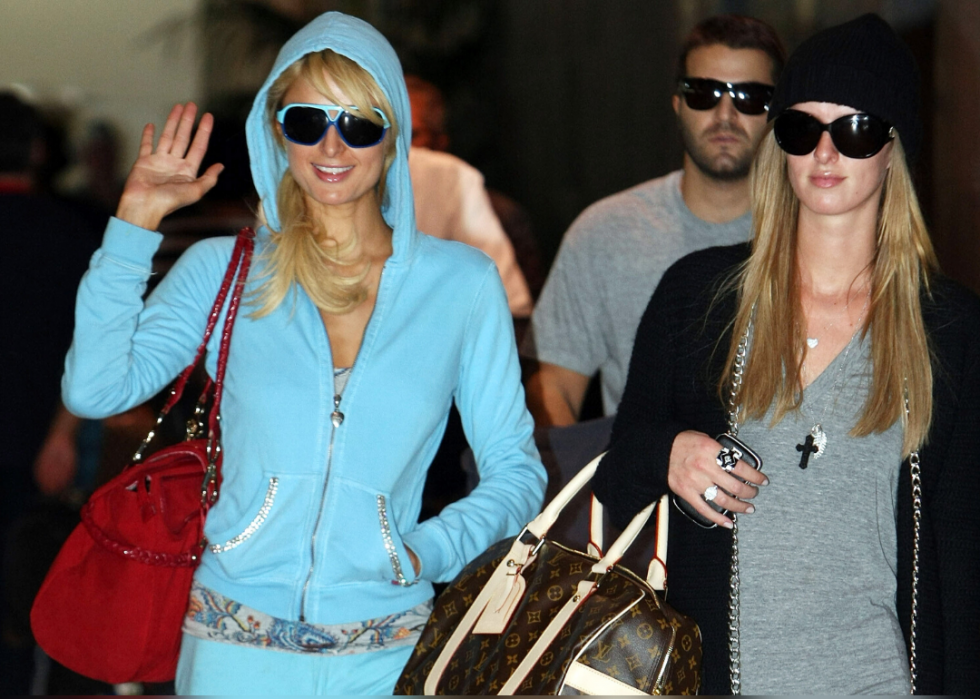 44 / 50
Kristian Dowling // Getty Images
Tracksuits in every color
Matching velour and terry cloth tracksuits were a phenomenon throughout the late '90s and the '00s, thanks to big celebs like Paris Hilton, Lindsay Lohan, and J.Lo. To achieve the full look, one needed the zip-up top that showed midriff, the matching drawstring bottoms, and to accessorize with an oversized bag and trucker hat.
[Pictured: Paris Hilton (L) waves as she walks the airport in 2008.]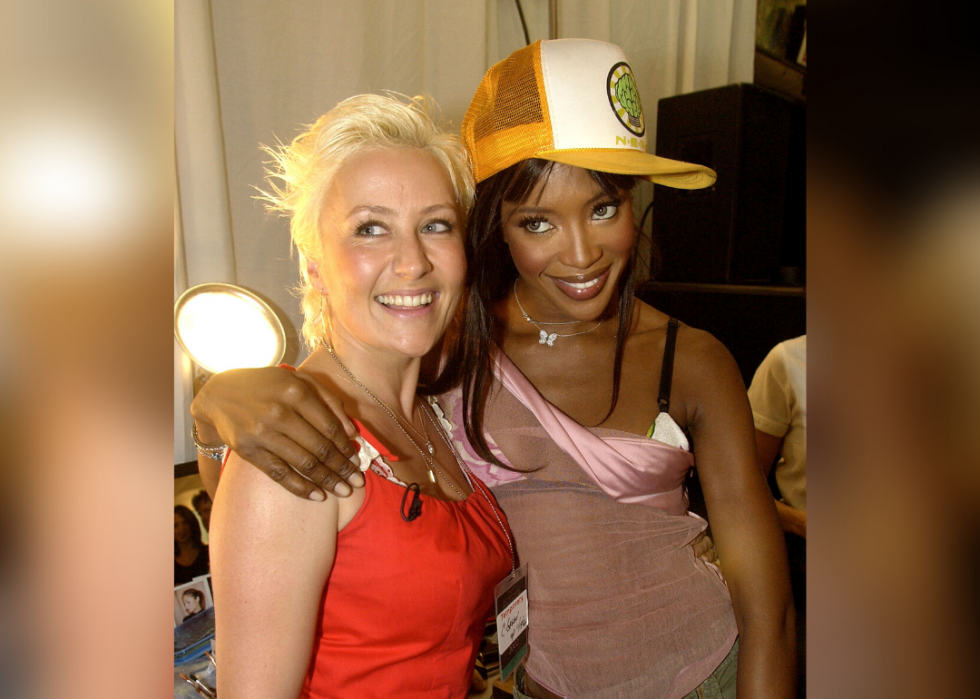 45 / 50
Mark Mainz // Getty Images
2000s trucker hats
Made of mesh and foam, and worn by the rich and famous, trucker hats hit the scene in 2000 and remain headwear today. Though Ashton Kutcher, famous for modeling the hat, is chucking out his collection, Kylie Jenner and Justin Beiber still wear the topper.
[Pictured: Charlie Green (L) and model Naomi Campbell pose for a photo in 2002.]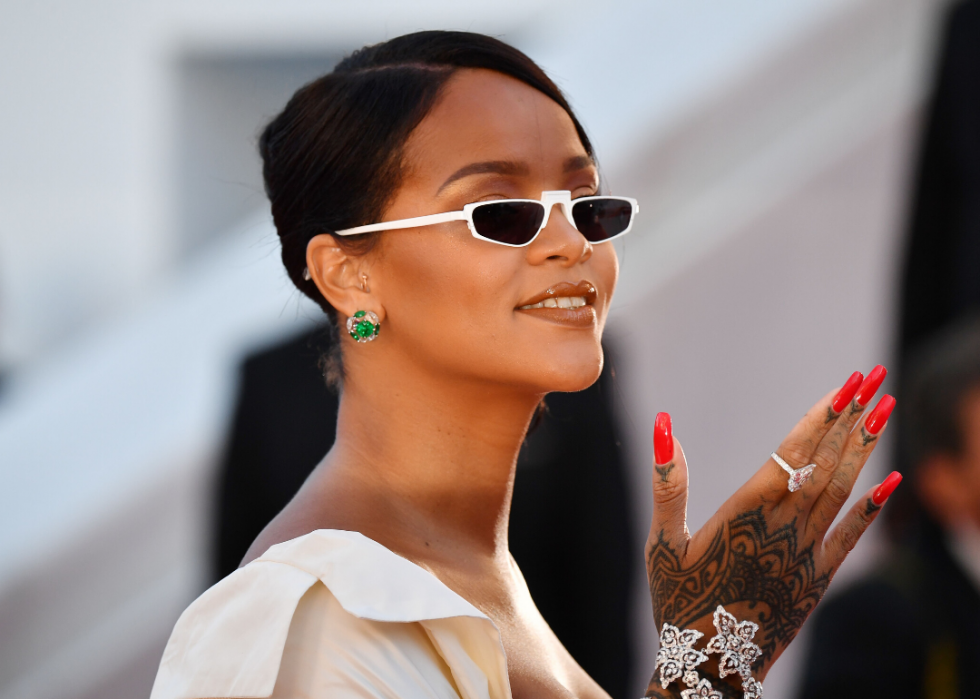 46 / 50
ALBERTO PIZZOLI/AFP // Getty Image
2010s Tiny sunglasses
Though popular in 2010, the tiny sunglass trend featured on the rim of John Lennon's nose in the '60s hasn't necessarily stood the test of time, with comedian Mindy Kaling and actress Anne Hathaway frowning on contemporary interpretations. However, Kendall Jenner, Bella Hadid, and Rihanna see the matter differently—all have been seen in tiny sunglasses on multiple occasions.
[Pictured: Rihanna walks the red carpet in Cannes in 2017.]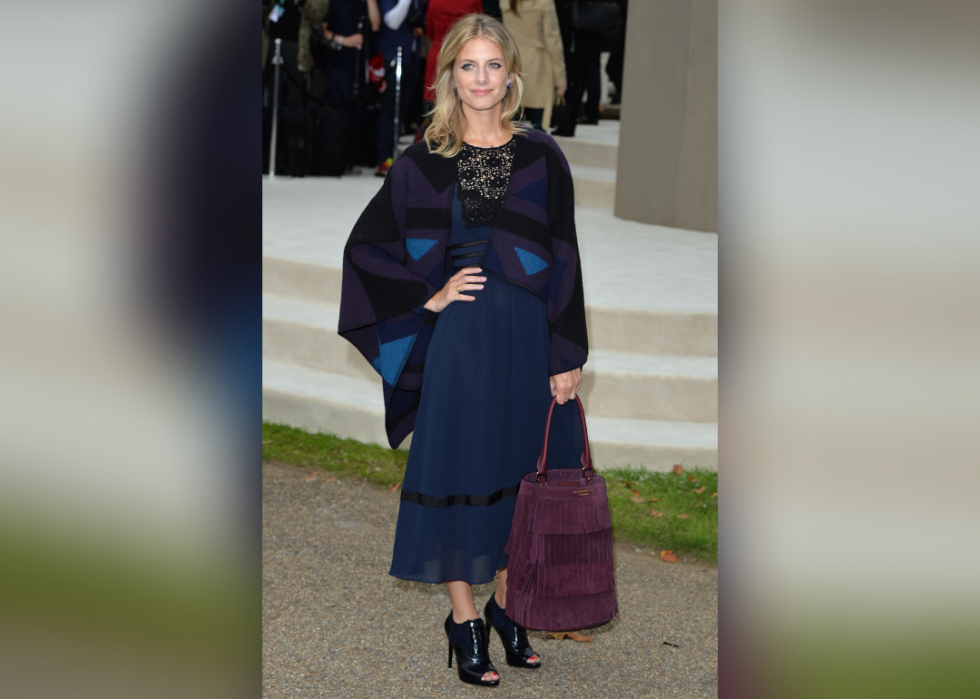 47 / 50
Anthony Harvey // Getty Images
2010s Booties (ankle boots)
The Guardian predicted this 2010 fashion trend a year earlier, specifically calling out the many shapes and sizes it would come in. As reported, 2010 was the year of the spiked-heel, open-toed booties, which originate from the 1800s. A-listers Emma Stone and Jennifer Lawerence sport the short boots alongside Rihanna and Hailey Baldwin, aka, Mrs. Beiber.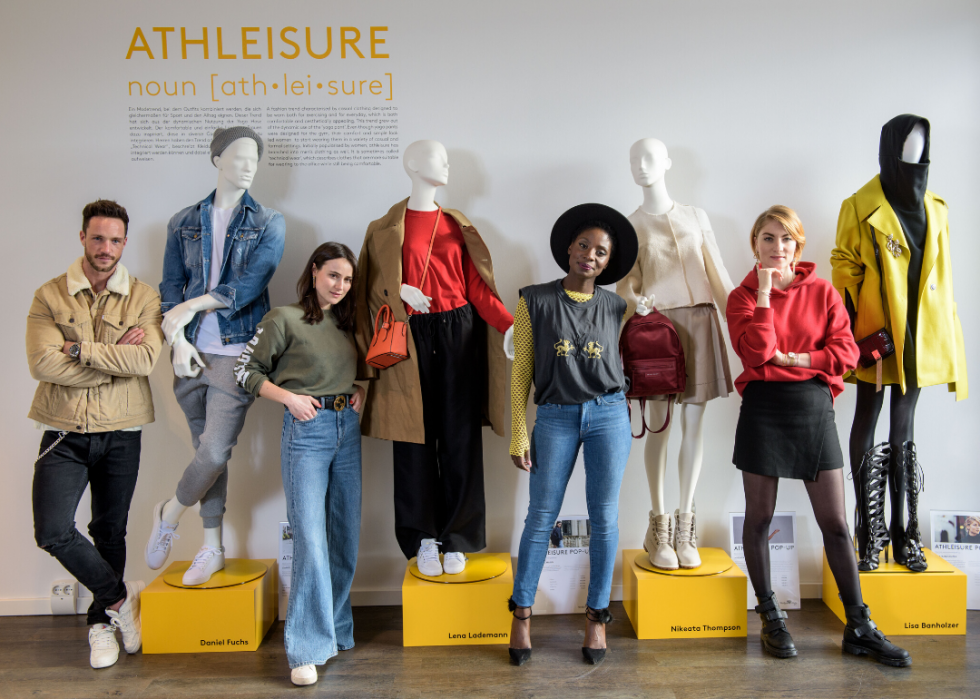 48 / 50
Thomas Lohnes // Getty Images for Wertheim Village
Athleisure for everyday
Athleisure refers to exercise clothing that can also transcend into social activities like brunch, shopping, and school. Athleisure is where comfort meets style and was one of 2018's biggest fashion movements. Celebrities, bloggers, and regular women alike all jumped on board, often choosing to wear joggers and leggings over denim.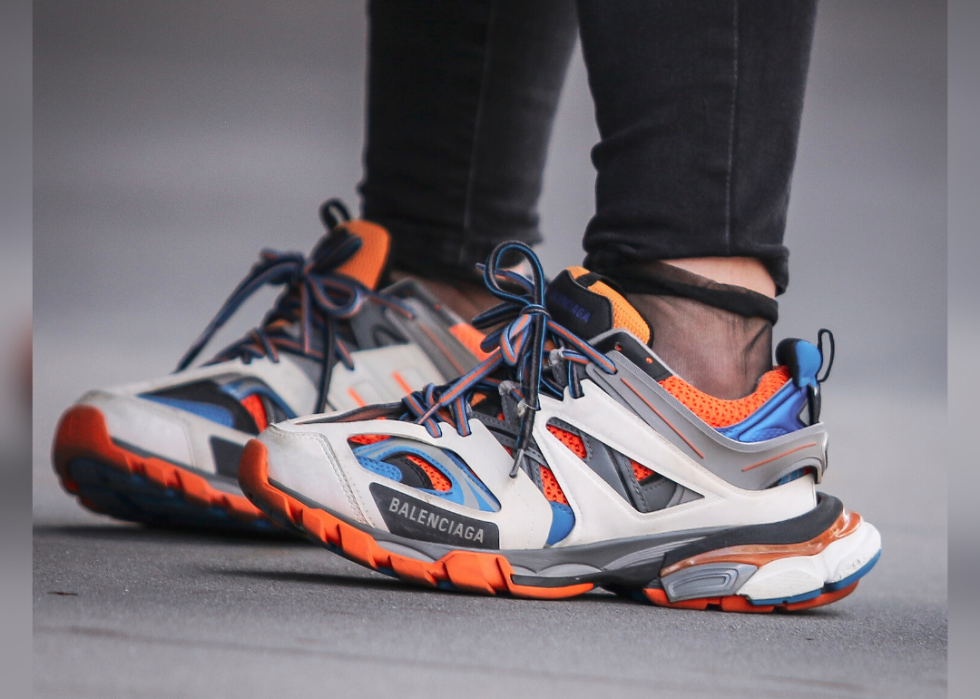 49 / 50
Arturo Holmes // Getty Images
Chunky sneakers
2019 marks the year that ugly dad sneakers became a legitimate fashion trend. Designer Balenciaga spearheaded the lewk on the runway at 2018 Spring/Summer Paris Fashion Week. Soon enough, A-listers like Bella Hadid and Kendall Jenner were seen pairing their chunky statement sneaks with blazers, trench coats, jeans, silk slips, you name it.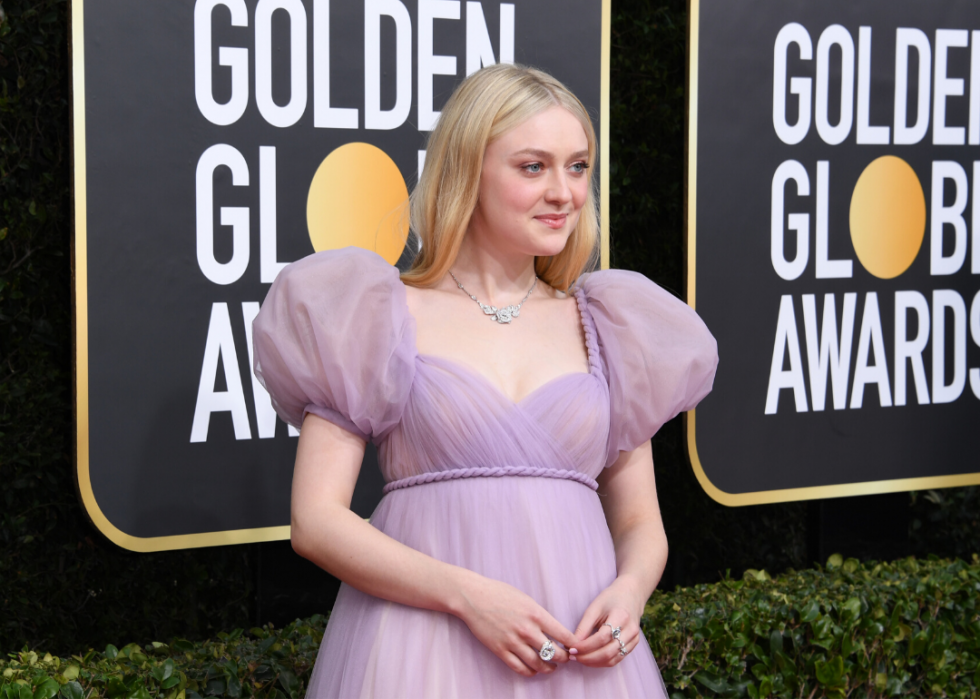 50 / 50
Jon Kopaloff // Getty Images
2020 oversized victorian sleeves
The TrendSpotter saw this one coming, calling out oversized Victorian sleeves as the next big thing at the Spring/Summer 2020 Fashion Week. Similar to the '80s puff sleeve, the oversized Victorian was all the roar at this year's Golden Globes, with everyone from Beyonce to Dakota Fanning wearing the style well.
[Pictured: Dakota Fanning attends the Golden Globe Awards in January 2020.]