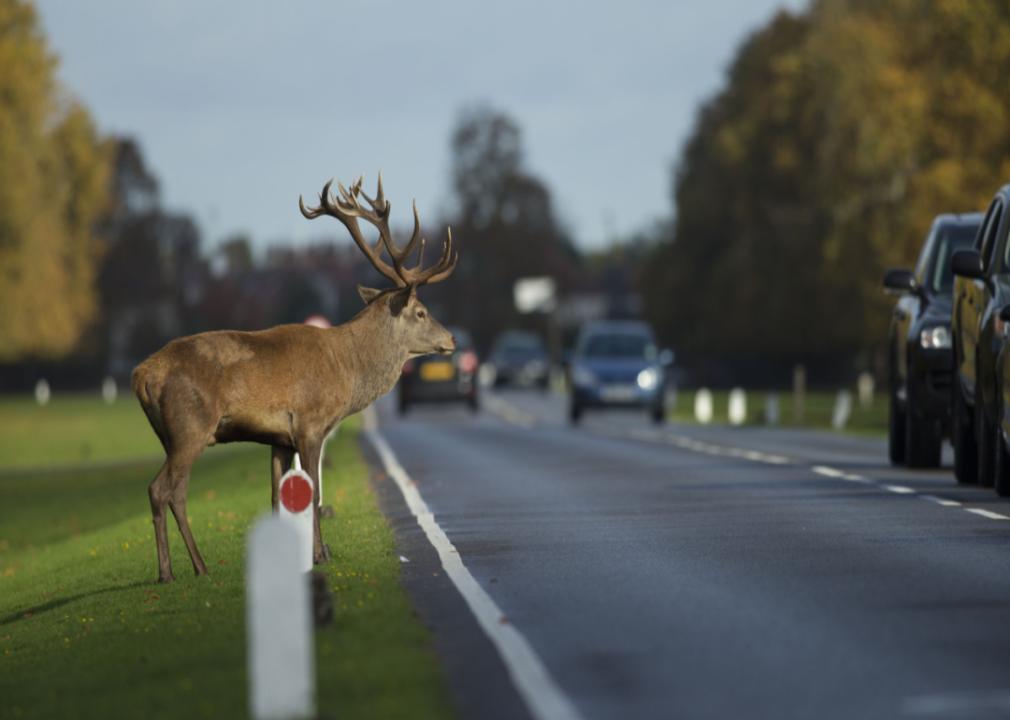 America's ambitious bet on wildlife crossings
Jamie Hall // Shutterstock
America's ambitious bet on wildlife crossings
On March 23, 2022, a young male mountain lion bearing a thick black tracking collar was struck and killed on California's Pacific Coast Highway.
This animal was part of a 20-year study of the indigenous mountain lion population in the Santa Monica Mountains. The Santa Monica Mountains Recreation Area service, which operates within the National Park Service, posted an announcement of the unfortunate event on social media, stating that this was the 25th large cat and eighth within the study group to be killed by an auto collision since the study began in 2002. The young lion had been tagged for tracking only two weeks before its death.
Collisions between vehicles and wildlife attempting to cross major thruways have been ongoing problems in the state of California since the construction of the PCH and U.S. Highway 101—both of which skirt the Golden State's coastline—during the postwar boom of the 1940s and 1950s. The California Highway Patrol logged more than 44,000 traffic incidents involving wildlife statewide between 2016 and 2020 alone. Large byways such as U.S. 101 have effectively bifurcated native wildlife habitats, stunting animals' ability to seek food and grow their territory. Mountain lions, a protected species in California, are also wandering animals that constantly seek new territory and shelter away from man's encroachment.
Mountain lions are but one species expected to benefit from the construction of the Wallis Annenberg Wildlife Crossing near the city of Agoura Hills in Los Angeles County, the ground for which was broken on April 22 of this year (Earth Day).
When completed in 2025, the crossing will be 210 feet long and nearly 175 feet across—wide enough for as many as 12 lanes of traffic, were it being constructed for vehicular travel—making it the largest wildlife crossing in the world. It will be a vegetated bridge, planted with the area's native flora and designed to blend seamlessly into the surrounding area, standing 17 feet above the 10-lane bidirectional U.S. 101 below.
When asked about the structural and aesthetic benefits of choosing a vegetated bridge design, Michael Comeaux, public information officer for the California Department of Transportation (Caltrans - District 7), told Stacker, "Designing a vegetated bridge structure has a number of differences from vehicular and pedestrian structures… We are accommodating a different type of loading. This structure must play host to several feet of soil and drainage media, and, in doing so, the [weight of the permanent structure of the bridge] becomes a distinct design factor. In addition, we are introducing water atop the structure for irrigation. We designed a drainage system and waterproofing for the necessary protection of the new structure and the freeway below, as well as for capturing the water that passes through the soil and routing it into the adjacent habitat areas, thereby reducing the potential impact on the local stormwater drainage system and providing a beneficial function beyond the immediate irrigation application."
More than 60% of the project's $88 million budget is coming from private investors, with the rest being publicly funded. The project is also receiving unanimous public support, notably from local Indigenous communities who have a long history of harmonious cohabitation with local wildlife.
A great number of native species will benefit from the crossing. Caltrans is developing a monitoring and evaluation plan in advance of actual construction that, according to Comeaux, "includes more than 50 individual species ranging from the California mountain lion to harvester ants." But while Caltrans will have a series of target species associated with its monitoring plan, the ultimate goal is "a comprehensive ecosystem reconnection over the freeway that is inclusive of wildlife and native plant communities. While the structure will indeed be a crossing, it is predicated on the overarching goal of connection, [and] connectivity is important not just for mountain lions."
Comeaux pointed to the aforementioned National Park Service study as a useful source of data in this regard. "National Park Service data has shown that bobcats and coyotes are also exhibiting significant genetic effects since [U.S. 101] was built," he said, "Research continues to show that smaller species including lizards and birds are affected by the habitat fragmentation caused by roads and urban development. Without a safe and sustainable wildlife crossing, movement between these remaining areas of natural habitat is severely restricted and wildlife within the Santa Monica Mountains is essentially trapped."
In recent years, studies for the crossing identified eight target species: mountain lion (Puma concolor); bobcat (Lynx rufus); coyote (Canis latrans); dusky-footed woodrat (Neotoma fuscipes; Neotoma lepida); western fence lizard (Anaxyrus boreas); western toad (Anaxyrus boreas); mule deer (Odocoileus hemionus); and wrentit (Chamaea faciata). It is expected that further species will be identified via continual analysis throughout the construction phase of the crossing.
While this crossing is an important investment, it is limited to a single location. To ensure similar projects happen across the state, Gov. Gavin Newsom signed a budget in June of 2021 that earmarked $61 million toward highway wildlife crossing development (including nearly $7 million for the Wallis Annenberg). Wyoming, Texas, Virginia, Florida, Oregon, and Massachusetts are also funding wildlife-crossing research.
With the Biden administration's infrastructure package devoting approximately $350 million toward animal-focused infrastructure development, the continued design and construction of crossings such as the Wallis Annenberg have a renewed chance of increasing safety for wildlife and highway travelers. Stacker used news and government reports to look at how other wildlife crossing efforts have affected human and wildlife communities.
You may also like: Highest-paid employees in the White House