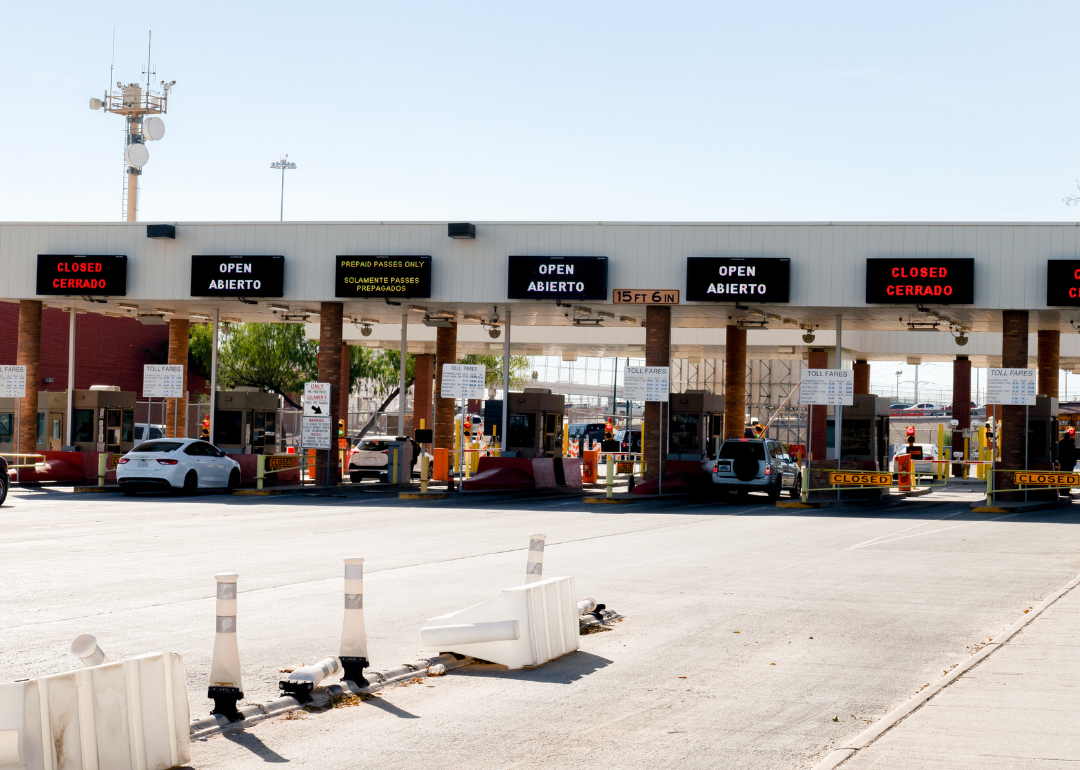 Busiest border crossings for entering the U.S
Busiest places for crossing the U.S. border
In 2018, the total number of pedestrians and passengers that crossed into the U.S. was 199,973,924. Although the nation's border traffic has become linked with the polarizing issue of illegal immigration, individuals cross into and away from the United States for a variety of reasons—including work, school, and tourism.
Using the data collected by U.S. Customs and Border Protection (CBP) at the U.S.–Canada and U.S.–Mexico borders at port level, the Bureau of Transportation Statistics (BTS) releases a yearly summary tallying up the pedestrians, personal vehicles, buses, trucks, and trains crossing a border into the United States. To be clear, this data only reflects border crossings into the country; the data for outbound crossings is unknown. Furthermore, the data does not uniquely identify people crossing the border, meaning that someone who crosses the border each day is counted every time. The legal status of an incoming pedestrian or passenger is also unknown, as are factors such as types of freight being transported via rail or truck, as well the number of passengers per vehicle.
Taking the 2018 data summary released by the BTS, Stacker created a list of the busiest border crossings—ranked by the number of pedestrians, with ties broken by the number of personal vehicles. Texas, Washington, and Maine all have seven cities that fall on this list, but all of the Texas border cities fall in the top 15. Whatever the motivation is for someone to traverse the U.S. border, here's a look at the overall numbers and the stories they may tell.
You may also like: Could you pass the U.S. citizenship test?
#50. Metaline Falls, WA
- Pedestrians: 24
- Personal vehicles: 28,865 (passengers: 61,695)
- Buses: 88 (passengers: 1,100)
- Trains: 0 (passengers: 0)
- Trucks: 5,731 (containers: 5,761)
#49. Norton, VT
- Pedestrians: 57
- Personal vehicles: 31,225 (passengers: 49,249)
- Buses: 7 (passengers: 241)
- Trains: 193 (passengers: 411)
- Trucks: 12,112 (containers: 12,158)
#48. Boundary, WA
- Pedestrians: 64
- Personal vehicles: 31,907 (passengers: 52,897)
- Buses: 4 (passengers: 82)
- Trains: 284 (passengers: 568)
- Trucks: 365 (containers: 365)
#47. Frontier, WA
- Pedestrians: 81
- Personal vehicles: 42,527 (passengers: 82,958)
- Buses: 121 (passengers: 2,261)
- Trains: 0 (passengers: 0)
- Trucks: 21,357 (containers: 23,292)
#46. Skagway, AK
- Pedestrians: 107
- Personal vehicles: 54,010 (passengers: 109,466)
- Buses: 11,647 (passengers: 204,573)
- Trains: 322 (passengers: 102,946)
- Trucks: 2,795 (containers: 4,109)
#45. Northgate, ND
- Pedestrians: 121
- Personal vehicles: 12,911 (passengers: 26,207)
- Buses: 6 (passengers: 227)
- Trains: 182 (passengers: 426)
- Trucks: 12,739 (containers: 12,851)
#44. Porthill, ID
- Pedestrians: 162
- Personal vehicles: 125,665 (passengers: 221,655)
- Buses: 13 (passengers: 367)
- Trains: 0 (passengers: 0)
- Trucks: 3,664 (containers: 3,754)
#43. Jackman, ME
- Pedestrians: 260
- Personal vehicles: 146,717 (passengers: 283,680)
- Buses: 89 (passengers: 3,295)
- Trains: 229 (passengers: 489)
- Trucks: 73,256 (containers: 73,307)
#42. Houlton, ME
- Pedestrians: 274
- Personal vehicles: 221,606 (passengers: 432,423)
- Buses: 289 (passengers: 10,284)
- Trains: 0 (passengers: 0)
- Trucks: 91,984 (containers: 92,165)
#41. Massena, NY
- Pedestrians: 274
- Personal vehicles: 875,942 (passengers: 1,508,508)
- Buses: 3,275 (passengers: 43,383)
- Trains: 0 (passengers: 0)
- Trucks: 26,856 (containers: 26,909)
#40. Van Buren, ME
- Pedestrians: 287
- Personal vehicles: 144,164 (passengers: 218,022)
- Buses: 3 (passengers: 111)
- Trains: 275 (passengers: 762)
- Trucks: 17,213 (containers: 18,581)
#39. Derby Line, VT
- Pedestrians: 299
- Personal vehicles: 489,978 (passengers: 963,896)
- Buses: 1,793 (passengers: 64,407)
- Trains: 0 (passengers: 0)
- Trucks: 91,591 (containers: 91,754)
#38. Baudette, MN
- Pedestrians: 307
- Personal vehicles: 167,753 (passengers: 295,431)
- Buses: 76 (passengers: 1,937)
- Trains: 0 (passengers: 0)
- Trucks: 6,247 (containers: 6,250)
#37. Alcan, AK
- Pedestrians: 310
- Personal vehicles: 49,836 (passengers: 131,772)
- Buses: 182 (passengers: 4,087)
- Trains: 0 (passengers: 0)
- Trucks: 6,271 (containers: 6,292)
#36. Oroville, WA
- Pedestrians: 405
- Personal vehicles: 208,781 (passengers: 371,846)
- Buses: 134 (passengers: 4,468)
- Trains: 0 (passengers: 0)
- Trucks: 28,162 (containers: 28,536)
#35. Eastport, ME
- Pedestrians: 430
- Personal vehicles: 139,546 (passengers: 229,908)
- Buses: 44 (passengers: 1,371)
- Trains: 0 (passengers: 0)
- Trucks: 2,714 (containers: 2,716)
#34. Roosville, MT
- Pedestrians: 686
- Personal vehicles: 151,568 (passengers: 310,543)
- Buses: 45 (passengers: 1,111)
- Trains: 0 (passengers: 0)
- Trucks: 11,188 (containers: 11,295)
#33. Raymond, MT
- Pedestrians: 773
- Personal vehicles: 24,558 (passengers: 49,329)
- Buses: 16 (passengers: 373)
- Trains: 0 (passengers: 0)
- Trucks: 17,687 (containers: 21,589)
#32. Fort Kent, ME
- Pedestrians: 947
- Personal vehicles: 110,204 (passengers: 159,852)
- Buses: 4 (passengers: 104)
- Trains: 0 (passengers: 0)
- Trucks: 15,449 (containers: 15,447)
#31. Dalton Cache, AK
- Pedestrians: 1,073
- Personal vehicles: 18,225 (passengers: 39,799)
- Buses: 53 (passengers: 1,423)
- Trains: 0 (passengers: 0)
- Trucks: 1,385 (containers: 1,385)
#30. Ketchikan, AK
- Pedestrians: 1,076
- Personal vehicles: 2,330 (passengers: 4,272)
- Buses: 11 (passengers: 276)
- Trains: 0 (passengers: 0)
- Trucks: 1 (containers: 1)
#29. Lynden, WA
- Pedestrians: 1,188
- Personal vehicles: 583,003 (passengers: 1,128,860)
- Buses: 46 (passengers: 1,688)
- Trains: 0 (passengers: 0)
- Trucks: 44,916 (containers: 45,312)
#28. Madawaska, ME
- Pedestrians: 1,432
- Personal vehicles: 381,306 (passengers: 558,597)
- Buses: 15 (passengers: 123)
- Trains: 0 (passengers: 0)
- Trucks: 2,270 (containers: 2,270)
#27. Portal, ND
- Pedestrians: 1,834
- Personal vehicles: 72,703 (passengers: 145,016)
- Buses: 137 (passengers: 5,716)
- Trains: 1,876 (passengers: 5,628)
- Trucks: 89,912 (containers: 94,406)
#26. Eastport, ID
- Pedestrians: 2,242
- Personal vehicles: 92,342 (passengers: 204,630)
- Buses: 68 (passengers: 2,260)
- Trains: 1,207 (passengers: 2,412)
- Trucks: 54,084 (containers: 56,086)
#25. Sweetgrass, MT
- Pedestrians: 2,628
- Personal vehicles: 197,672 (passengers: 409,282)
- Buses: 145 (passengers: 5,137)
- Trains: 352 (passengers: 2,037)
- Trucks: 130,484 (containers: 142,308)
#24. Champlain-Rouses Point, NY
- Pedestrians: 4,176
- Personal vehicles: 1,019,403 (passengers: 2,284,298)
- Buses: 8,561 (passengers: 333,279)
- Trains: 1,147 (passengers: 36,135)
- Trucks: 308,400 (containers: 316,977)
#23. Calais, ME
- Pedestrians: 6,719
- Personal vehicles: 663,606 (passengers: 1,124,985)
- Buses: 191 (passengers: 6,941)
- Trains: 158 (passengers: 296)
- Trucks: 64,347 (containers: 64,644)
#22. International Falls-Ranier, MN
- Pedestrians: 10,685
- Personal vehicles: 372,614 (passengers: 699,787)
- Buses: 248 (passengers: 6,286)
- Trains: 4,287 (passengers: 7,984)
- Trucks: 17,529 (containers: 17,553)
#21. Detroit, MI
- Pedestrians: 13,770
- Personal vehicles: 4,012,246 (passengers: 6,717,364)
- Buses: 7,710 (passengers: 85,669)
- Trains: 1,840 (passengers: 5,520)
- Trucks: 1,581,443 (containers: 1,591,329)
#20. Point Roberts, WA
- Pedestrians: 26,839
- Personal vehicles: 1,011,812 (passengers: 1,518,676)
- Buses: 400 (passengers: 8,994)
- Trains: 0 (passengers: 0)
- Trucks: 14,050 (containers: 14,053)
#19. Lukeville, AZ
- Pedestrians: 46,499
- Personal vehicles: 411,228 (passengers: 1,061,111)
- Buses: 532 (passengers: 2,874)
- Trains: 0 (passengers: 0)
- Trucks: 298 (containers: 298)
#18. Sumas, WA
- Pedestrians: 47,810
- Personal vehicles: 928,363 (passengers: 1,622,954)
- Buses: 314 (passengers: 8,301)
- Trains: 173 (passengers: 519)
- Trucks: 156,083 (containers: 166,238)
#17. Santa Teresa, NM
- Pedestrians: 145,702
- Personal vehicles: 528,894 (passengers: 1,175,504)
- Buses: 232 (passengers: 2,270)
- Trains: 0 (passengers: 0)
- Trucks: 114,988 (containers: 116,072)
#16. Naco, AZ
- Pedestrians: 152,162
- Personal vehicles: 310,106 (passengers: 565,907)
- Buses: 22 (passengers: 675)
- Trains: 0 (passengers: 0)
- Trucks: 2,997 (containers: 2,995)
#15. Roma, TX
- Pedestrians: 229,267
- Personal vehicles: 772,760 (passengers: 1,519,765)
- Buses: 401 (passengers: 7,909)
- Trains: 0 (passengers: 0)
- Trucks: 8,111 (containers: 8,120)
#14. Presidio, TX
- Pedestrians: 252,011
- Personal vehicles: 718,792 (passengers: 1,504,059)
- Buses: 1,246 (passengers: 2,071)
- Trains: 0 (passengers: 0)
- Trucks: 8,829 (containers: 8,838)
#13. Columbus, NM
- Pedestrians: 278,133
- Personal vehicles: 351,723 (passengers: 826,452)
- Buses: 1,261 (passengers: 17,090)
- Trains: 0 (passengers: 0)
- Trucks: 14,502 (containers: 16,992)
#12. Calexico East, CA
- Pedestrians: 300,463
- Personal vehicles: 3,560,187 (passengers: 6,505,560)
- Buses: 2,602 (passengers: 104,080)
- Trains: 246 (passengers: 246)
- Trucks: 376,079 (containers: 379,526)
#11. Buffalo-Niagara Falls, NY
- Pedestrians: 358,652
- Personal vehicles: 4,972,344 (passengers: 10,676,497)
- Buses: 16,925 (passengers: 467,767)
- Trains: 2,081 (passengers: 19,342)
- Trucks: 941,574 (containers: 957,551)
#10. Eagle Pass, TX
- Pedestrians: 703,659
- Personal vehicles: 2,798,712 (passengers: 5,893,825)
- Buses: 2,688 (passengers: 62,010)
- Trains: 3,452 (passengers: 0)
- Trucks: 173,105 (containers: 173,407)
#9. Douglas, AZ
- Pedestrians: 847,568
- Personal vehicles: 1,727,192 (passengers: 3,098,512)
- Buses: 2,501 (passengers: 25,339)
- Trains: 0 (passengers: 0)
- Trucks: 27,804 (containers: 27,806)
#8. Hidalgo, TX
- Pedestrians: 2,170,334
- Personal vehicles: 4,427,285 (passengers: 9,126,478)
- Buses: 20,026 (passengers: 263,682)
- Trains: 0 (passengers: 0)
- Trucks: 647,157 (containers: 648,739)
#7. San Luis, AZ
- Pedestrians: 2,640,907
- Personal vehicles: 3,257,990 (passengers: 5,854,901)
- Buses: 169 (passengers: 169)
- Trains: 0 (passengers: 0)
- Trucks: 28,211 (containers: 28,520)
#6. Brownsville, TX
- Pedestrians: 2,893,455
- Personal vehicles: 4,742,355 (passengers: 10,043,076)
- Buses: 6,239 (passengers: 46,609)
- Trains: 937 (passengers: 0)
- Trucks: 255,169 (containers: 255,502)
#5. Otay Mesa, CA
- Pedestrians: 3,391,349
- Personal vehicles: 7,708,214 (passengers: 13,318,027)
- Buses: 29,533 (passengers: 42,389)
- Trains: 204 (passengers: 408)
- Trucks: 962,577 (containers: 956,045)
#4. Nogales, AZ
- Pedestrians: 3,422,816
- Personal vehicles: 3,603,601 (passengers: 7,153,600)
- Buses: 9,569 (passengers: 194,827)
- Trains: 737 (passengers: 2,887)
- Trucks: 337,179 (containers: 345,213)
#3. Laredo, TX
- Pedestrians: 3,701,135
- Personal vehicles: 5,157,945 (passengers: 10,597,928)
- Buses: 38,996 (passengers: 816,696)
- Trains: 4,251 (passengers: 0)
- Trucks: 2,313,967 (containers: 2,318,008)
#2. El Paso, TX
- Pedestrians: 7,218,420
- Personal vehicles: 12,383,403 (passengers: 22,225,563)
- Buses: 15,977 (passengers: 195,808)
- Trains: 1,379 (passengers: 6,895)
- Trucks: 810,935 (containers: 812,097)
#1. San Ysidro, CA
- Pedestrians: 9,435,611
- Personal vehicles: 14,505,306 (passengers: 25,182,134)
- Buses: 32,058 (passengers: 53,634)
- Trains: 0 (passengers: 0)
- Trucks: 0 (containers: 0)