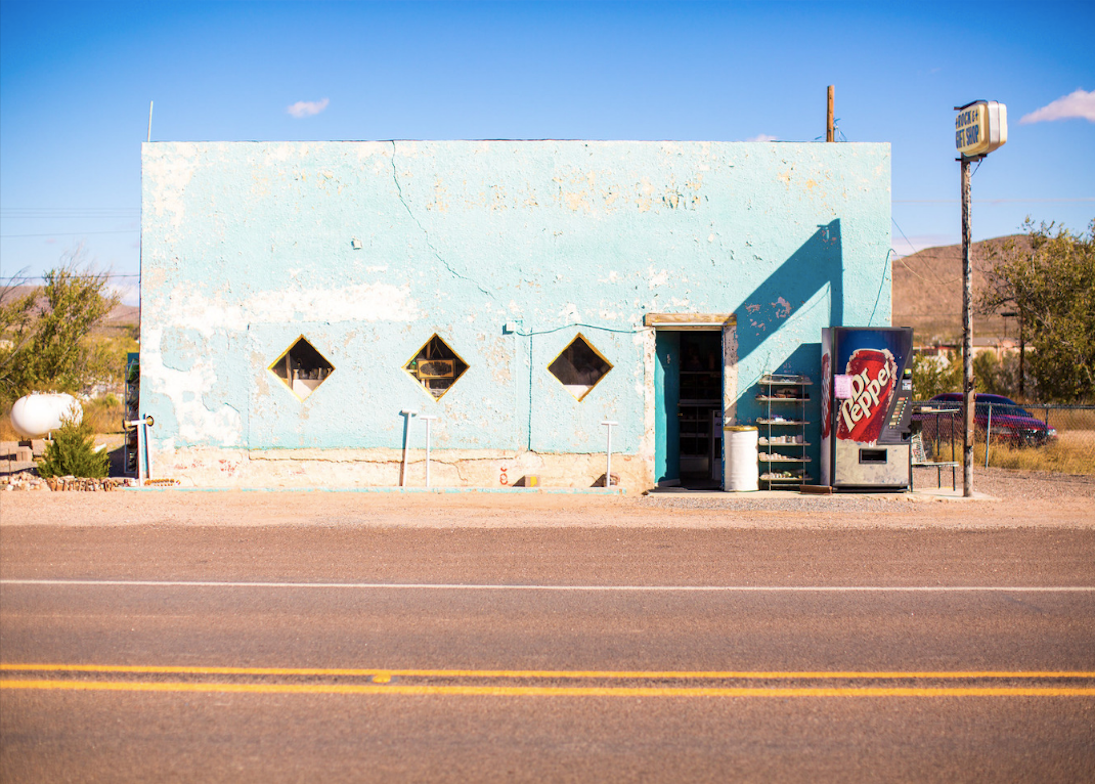 Counties with the highest rate of food insecure children
Counties with the highest rate of food insecure children
The federal poverty level (FPL) for a family of four in the contiguous United States in 2019 is a combined income of $25,750, according to the Assistant Secretary for Planning and Evaluation. Each year, those numbers— which indicate the minimum income a family is determined to need in order to pay for necessities such as food, shelter, clothing, and basic transportation—are examined to help determine who is eligible for certain federal benefits or programs.
Based on the FPL, it is possible to estimate how many people in the United States experience food insecurity, and to break those numbers down into counties and congressional districts. Feeding America's Map the Meal Gap does just that; utilizing public data from the U.S. Census Bureau and the Bureau of Labor Statistics as they relate to food insecurity. Those points may include unemployment, poverty, and a number of other household characteristics. The organization next estimates average meal costs along with how much need there is among those who are considered food insecure (local numbers are gleaned from Nielsen and national survey data from the Census Bureau).
Food insecurity hits children particularly hard. The USDA puts estimates of children in the U.S. living in food-insecure households at more than 12 million as of 2017—or one in every six children. Not having consistent access to enough food can affect cognitive abilities, overall health, moods, and attention spans—not to mention the psychological effects of living with a sense of scarcity.
To determine the 50 U.S. counties with the highest rates of food insecure children, Stacker turned to Feeding America's 2019 data, ranked here by child food insecurity rate. Ties were broken by the total child population. These numbers can provide communities with the hard data required to create more robust strategies for facing such a complex issue head-on.
Keep reading to find out which U.S. county has almost 40% of its children living with food insecurity—and where in the country children are living in households with incomes below 185% of the FPL.
1 / 50
Idawriter // Wikimedia Commons
#50. Ziebach County, South Dakota
- Child food insecurity rate: 29.7%
--- Total child population: 956
--- Number of food insecure children: 280
- Percentage of children in households with income below 185% FPL: 84%
- Percentage of children in households with income above 185% FPL: 16%
- Overall food insecurity rate: 21.6%
[Pictured: Eagle Butte, South Dakota a city in Ziebach County]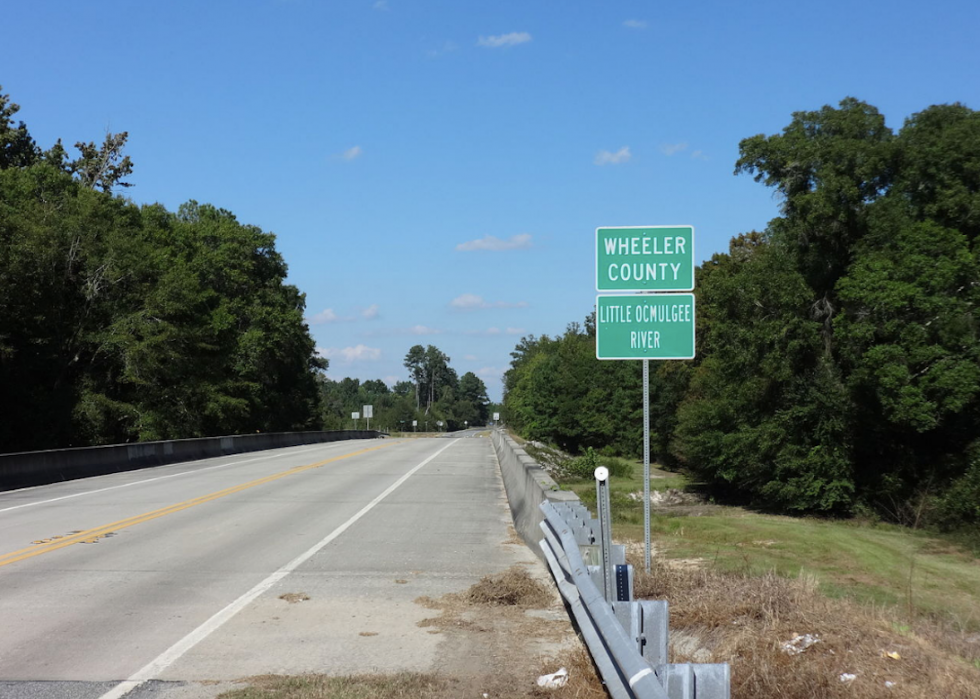 2 / 50
Michael Rivera // Wikimedia Commons
#49. Wheeler County, Georgia
- Child food insecurity rate: 29.7%
--- Total child population: 1,347
--- Number of food insecure children: 400
- Percentage of children in households with income below 185% FPL: 96%
- Percentage of children in households with income above 185% FPL: 4%
- Overall food insecurity rate: 22.4%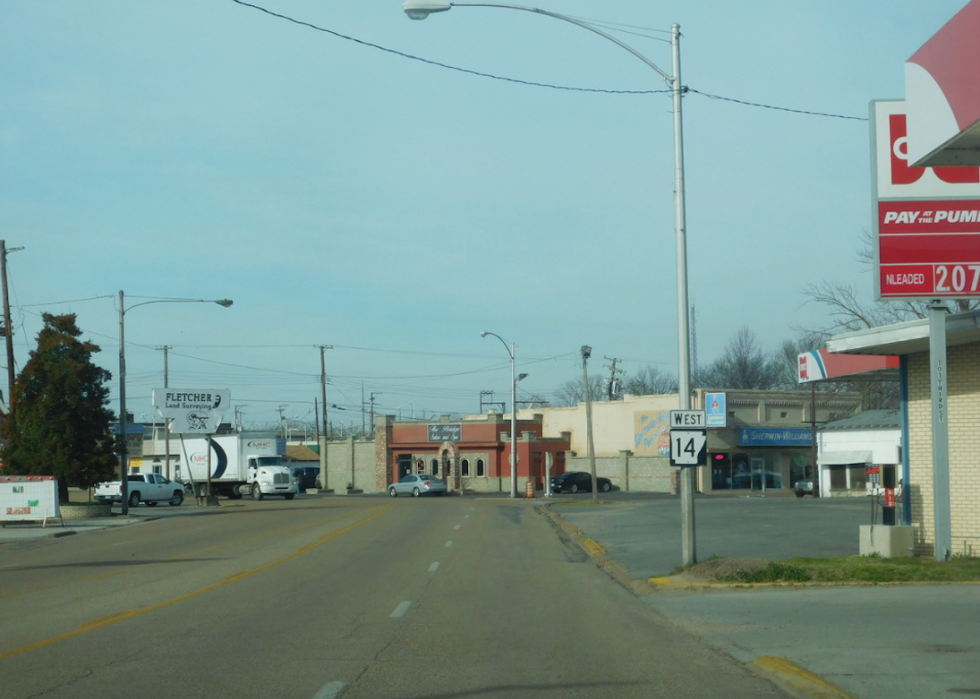 3 / 50
#48. Jackson County, Arkansas
- Child food insecurity rate: 29.7%
--- Total child population: 3,526
--- Number of food insecure children: 1,050
- Percentage of children in households with income below 185% FPL: 80%
- Percentage of children in households with income above 185% FPL: 20%
- Overall food insecurity rate: 20.4%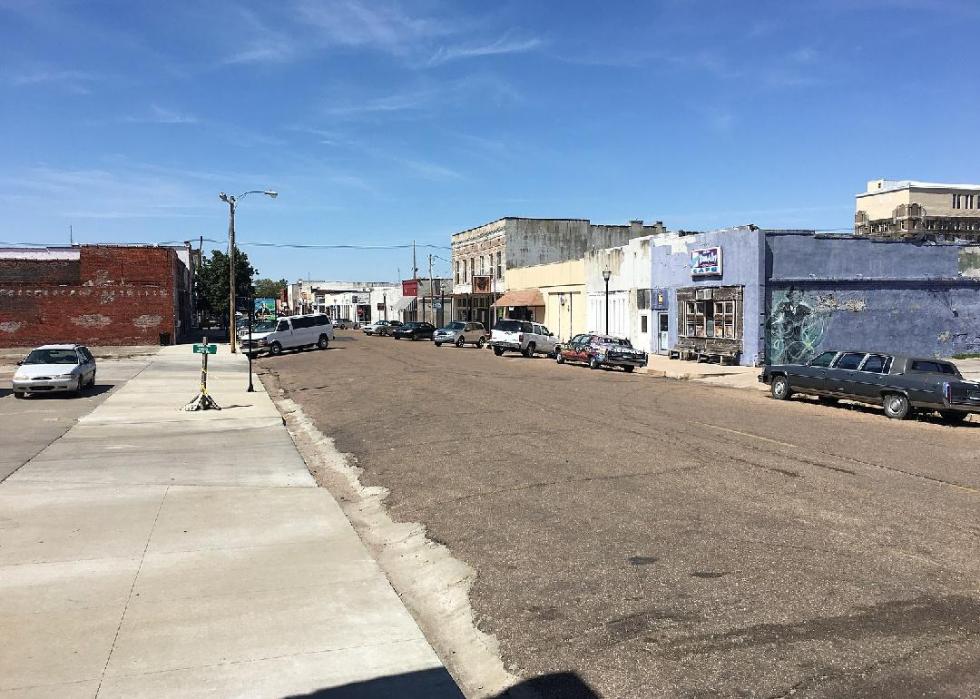 4 / 50
Fredlyfish4 // Wikimedia Commons
#47. Coahoma County, Mississippi
- Child food insecurity rate: 29.7%
--- Total child population: 6,755
--- Number of food insecure children: 2,010
- Percentage of children in households with income below 185% FPL: 71%
- Percentage of children in households with income above 185% FPL: 29%
- Overall food insecurity rate: 29.9%
[Pictured: Clarksdale Mississippi, a city in Coahoma County ]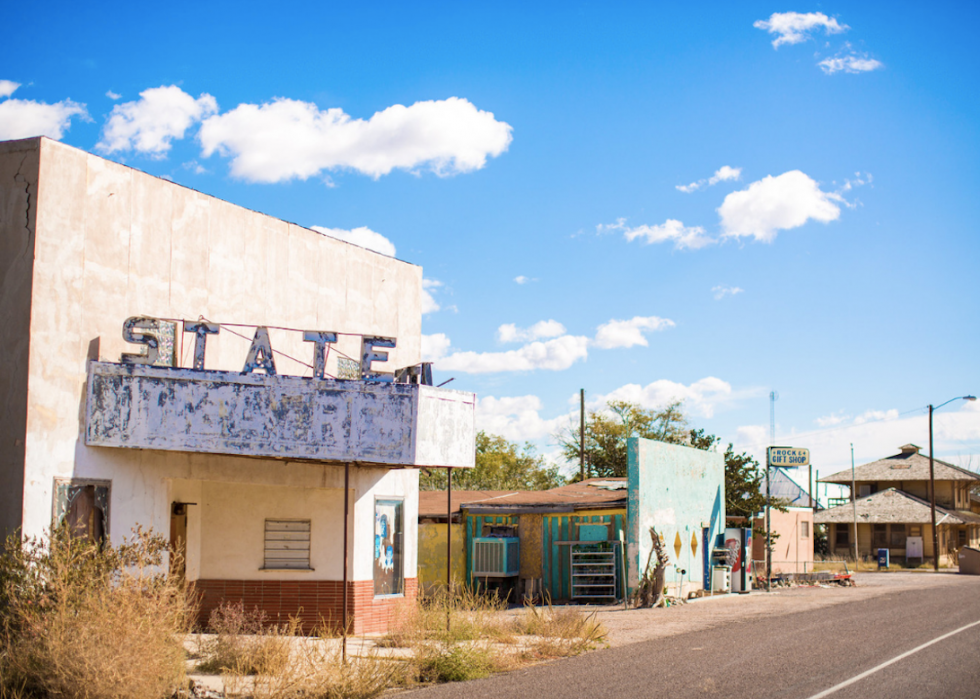 5 / 50
#46. Hudspeth County, Texas
- Child food insecurity rate: 29.8%
--- Total child population: 904
--- Number of food insecure children: 270
- Percentage of children in households with income below 185% FPL: 73%
- Percentage of children in households with income above 185% FPL: 27%
- Overall food insecurity rate: 13.4%
[Pictured: Sierra Blanca which is a city in Hudspeth County]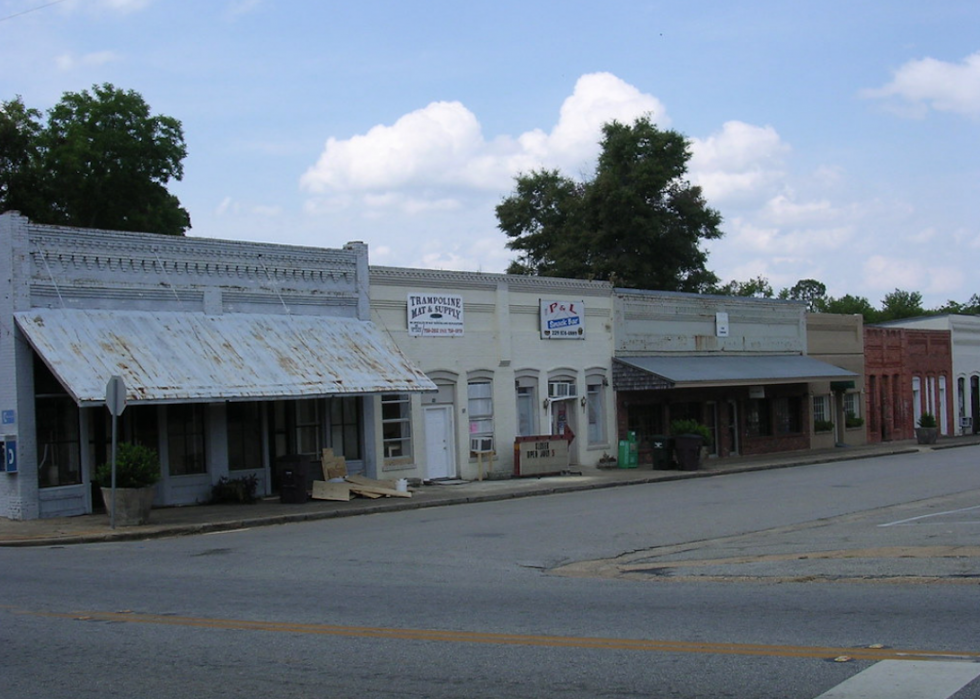 6 / 50
#45. Sumter County, Georgia
- Child food insecurity rate: 29.8%
--- Total child population: 7,212
--- Number of food insecure children: 2,150
- Percentage of children in households with income below 185% FPL: 74%
- Percentage of children in households with income above 185% FPL: 26%
- Overall food insecurity rate: 23.5%
[Pictured: Leslie, GA is in a city in Sumter County]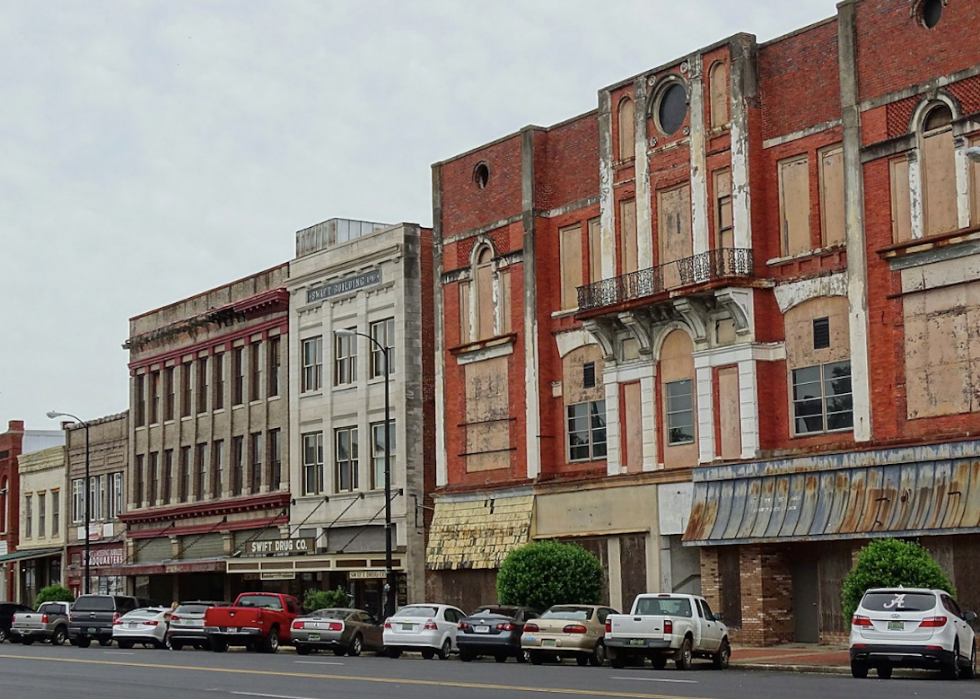 7 / 50
Adam Jones // Wikimedia Commons
#44. Dallas County, Alabama
- Child food insecurity rate: 29.8%
--- Total child population: 10,078
--- Number of food insecure children: 3,000
- Percentage of children in households with income below 185% FPL: 76%
- Percentage of children in households with income above 185% FPL: 24%
- Overall food insecurity rate: 27.2%
[Pictured: Selma, AL is in Dallas County]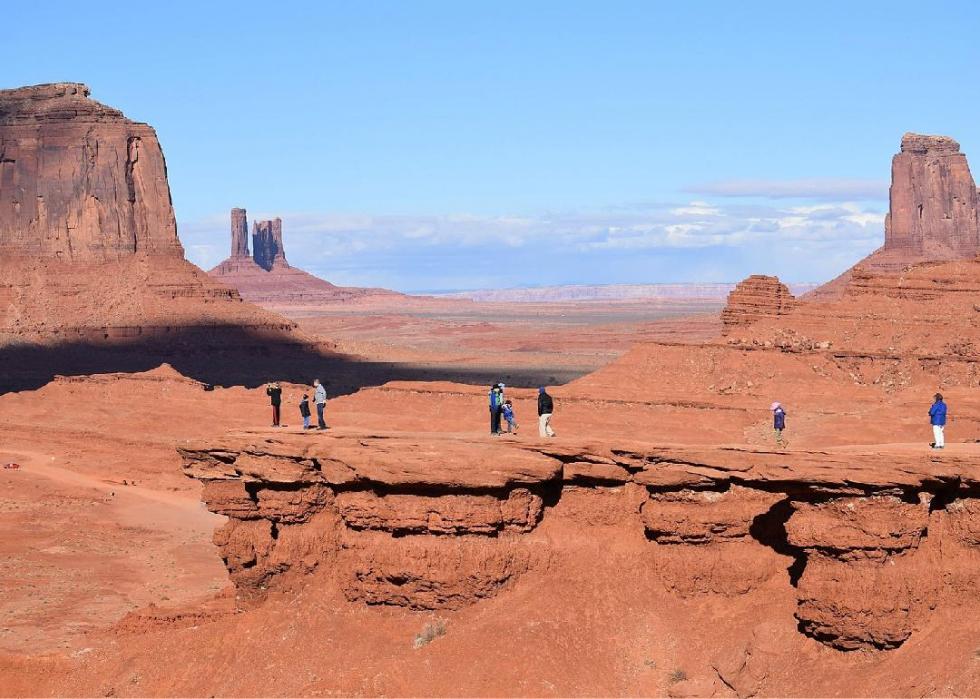 8 / 50
Annette Teng // Wikimedia Commons
#43. Navajo County, Arizona
- Child food insecurity rate: 29.9%
--- Total child population: 29,813
--- Number of food insecure children: 8,910
- Percentage of children in households with income below 185% FPL: 83%
- Percentage of children in households with income above 185% FPL: 17%
- Overall food insecurity rate: 20.9%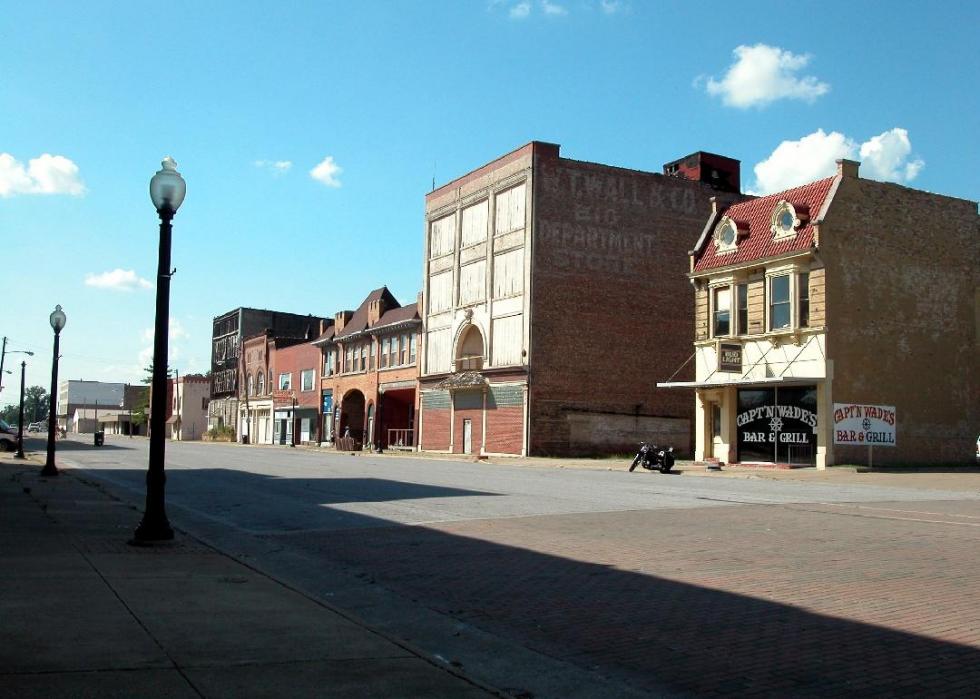 9 / 50
#42. Alexander County, Illinois
- Child food insecurity rate: 30.1%
--- Total child population: 1,646
--- Number of food insecure children: 490
- Percentage of children in households with income below 185% FPL: 84%
- Percentage of children in households with income above 185% FPL: 16%
- Overall food insecurity rate: 22.2%
[Pictured: an aerial view of of Cairo, IL which is the county seat of Alexander County]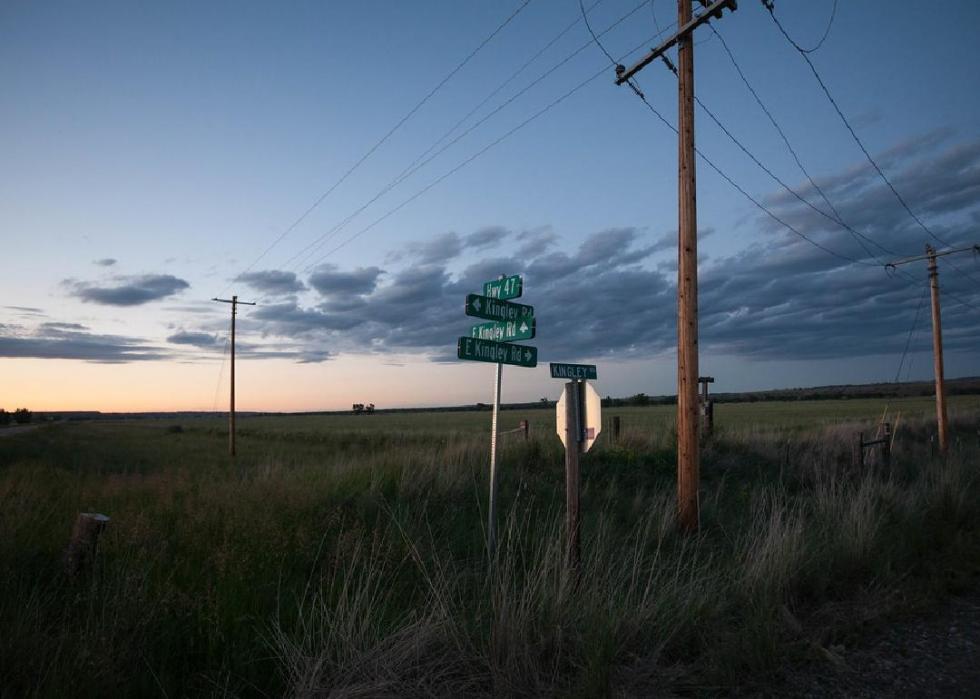 10 / 50
#41. Big Horn County, Montana
- Child food insecurity rate: 30.1%
--- Total child population: 4,461
--- Number of food insecure children: 1,340
- Percentage of children in households with income below 185% FPL: 77%
- Percentage of children in households with income above 185% FPL: 23%
- Overall food insecurity rate: 20.2%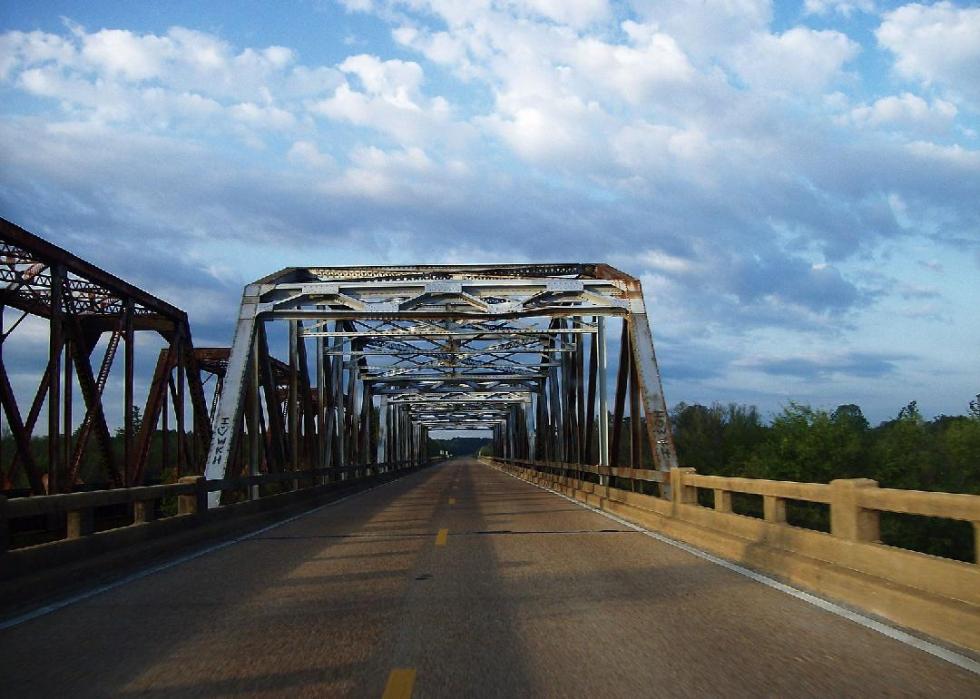 11 / 50
Gary Bridgman // Wikimedia Commons
#40. Leflore County, Mississippi
- Child food insecurity rate: 30.1%
--- Total child population: 8,387
--- Number of food insecure children: 2,520
- Percentage of children in households with income below 185% FPL: 71%
- Percentage of children in households with income above 185% FPL: 29%
- Overall food insecurity rate: 30.4%
[Pictured: Mississippi Central Railroad bridges at the Lafayette-Marshall county line in Mississippi]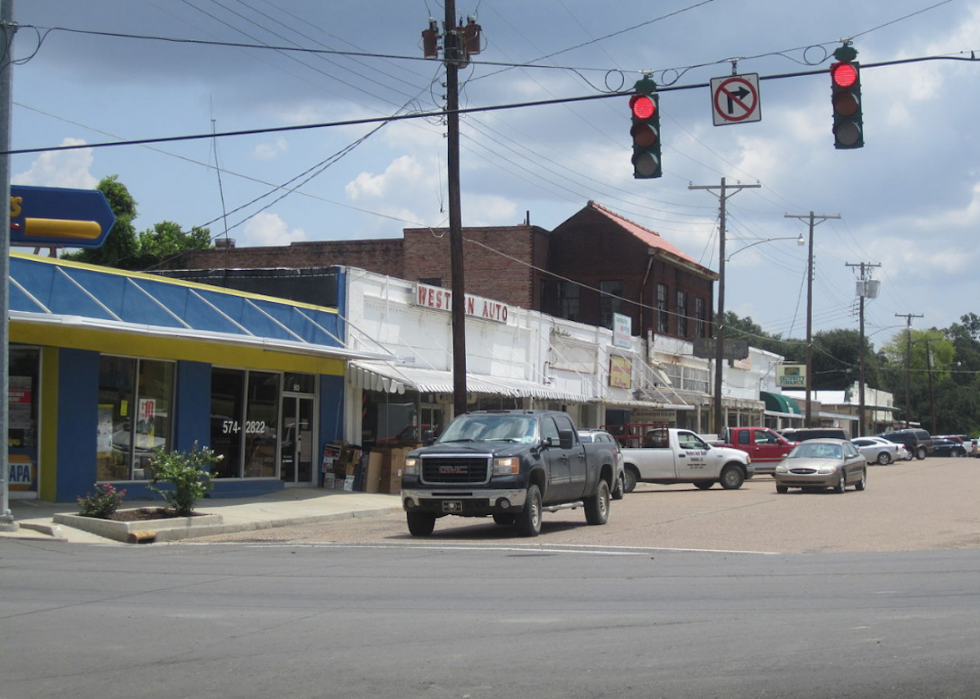 12 / 50
Billy Hathorn // Wikimedia Commons
#39. Madison Parish, Louisiana
- Child food insecurity rate: 30.2%
--- Total child population: 2,821
--- Number of food insecure children: 850
- Percentage of children in households with income below 185% FPL: 72%
- Percentage of children in households with income above 185% FPL: 28%
- Overall food insecurity rate: 26.3%
[Pictured: Tallulah is a city in Madison Parish County, Louisiana]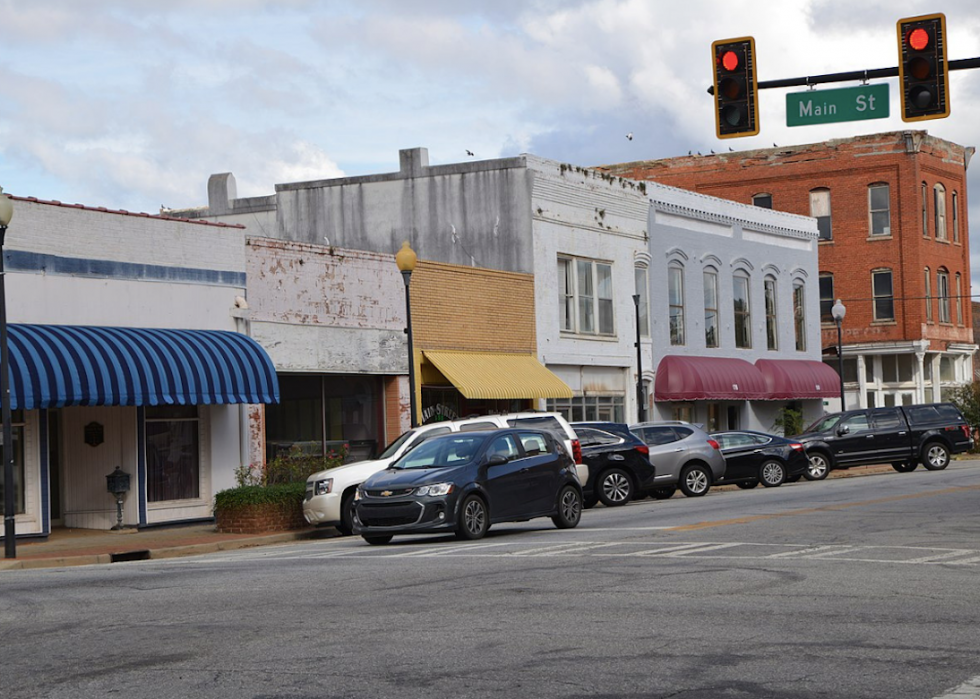 13 / 50
Bubba73 // Wikimedia Commons
#38. Terrell County, Georgia
- Child food insecurity rate: 30.3%
--- Total child population: 2,172
--- Number of food insecure children: 660
- Percentage of children in households with income below 185% FPL: 65%
- Percentage of children in households with income above 185% FPL: 35%
- Overall food insecurity rate: 24.8%
[Pictured: Dawson, GA is in Terrell County]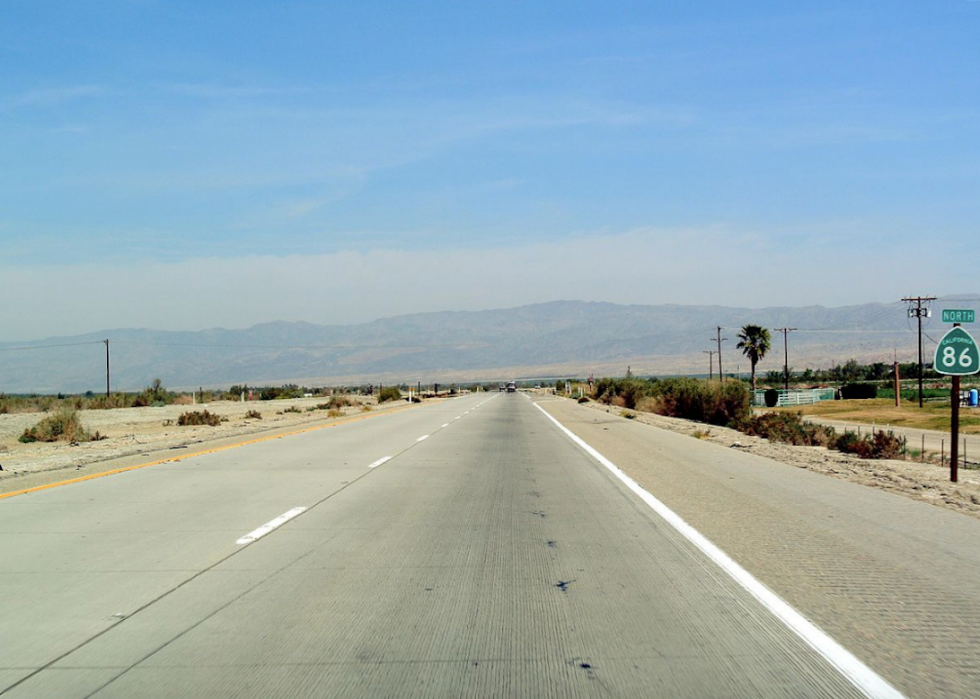 14 / 50
Adbar // Wikimedia Commons
#37. Imperial County, California
- Child food insecurity rate: 30.3%
--- Total child population: 51,734
--- Number of food insecure children: 15,660
- Percentage of children in households with income below 185% FPL: 72%
- Percentage of children in households with income above 185% FPL: 28%
- Overall food insecurity rate: 14.2%
[Pictured: Salton City, CA is in Imperial County]
15 / 50
#36. Stewart County, Georgia
- Child food insecurity rate: 30.4%
--- Total child population: 832
--- Number of food insecure children: 250
- Percentage of children in households with income below 185% FPL: 74%
- Percentage of children in households with income above 185% FPL: 26%
- Overall food insecurity rate: 21.8%
[Pictured: Richland, GA which is in Stewart County]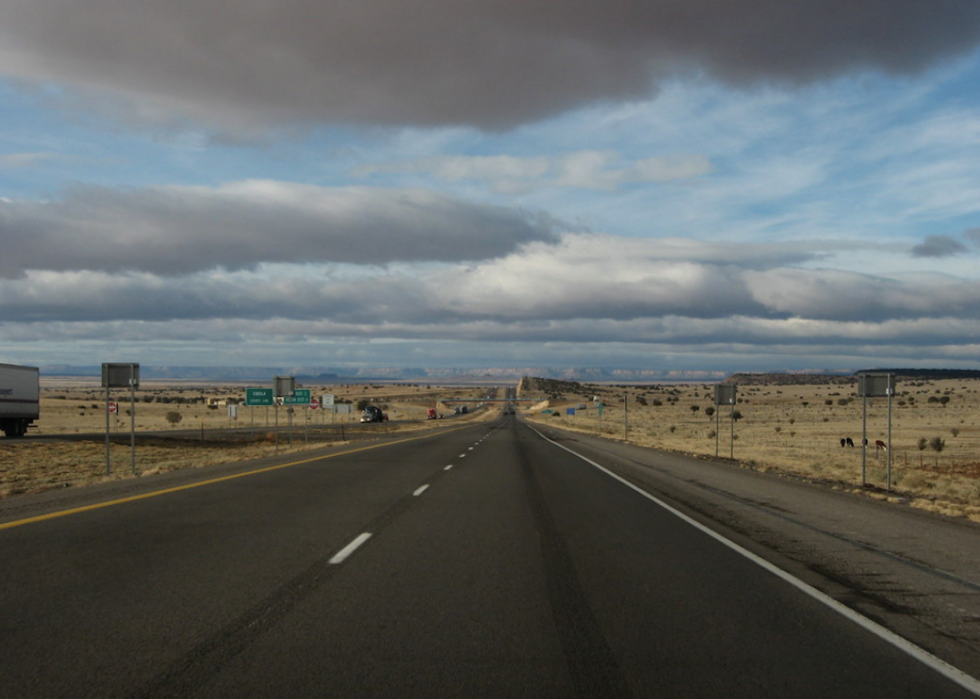 16 / 50
#35. Cibola County, New Mexico
- Child food insecurity rate: 30.4%
--- Total child population: 6,519
--- Number of food insecure children: 1,980
- Percentage of children in households with income below 185% FPL: 82%
- Percentage of children in households with income above 185% FPL: 18%
- Overall food insecurity rate: 19.8%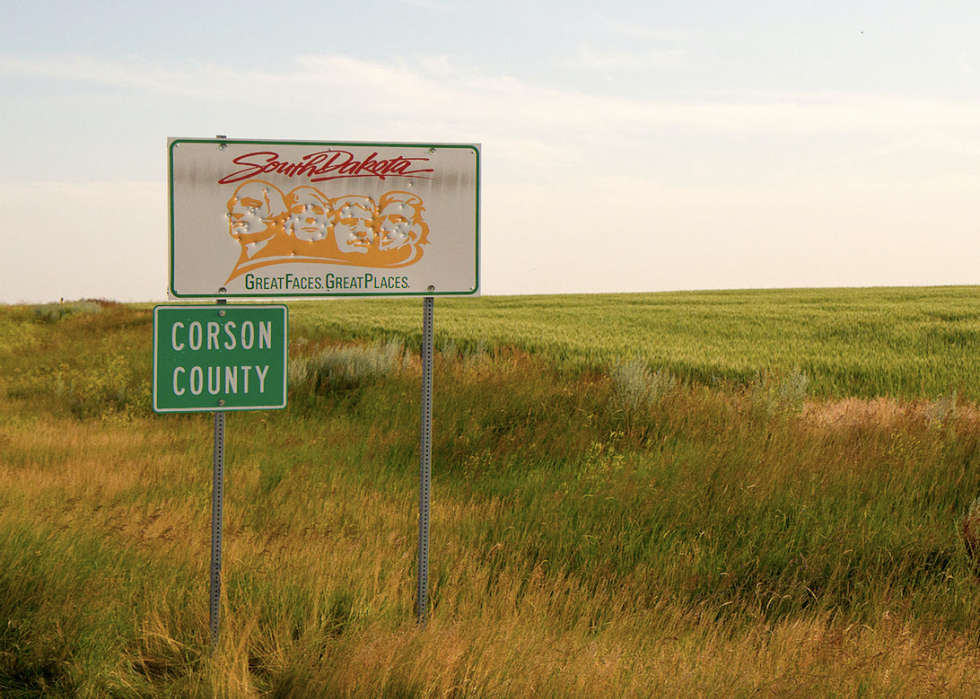 17 / 50
Josh Grenier // Wikimedia Commons
#34. Corson County, South Dakota
- Child food insecurity rate: 30.5%
--- Total child population: 1,474
--- Number of food insecure children: 450
- Percentage of children in households with income below 185% FPL: 79%
- Percentage of children in households with income above 185% FPL: 22%
- Overall food insecurity rate: 22.4%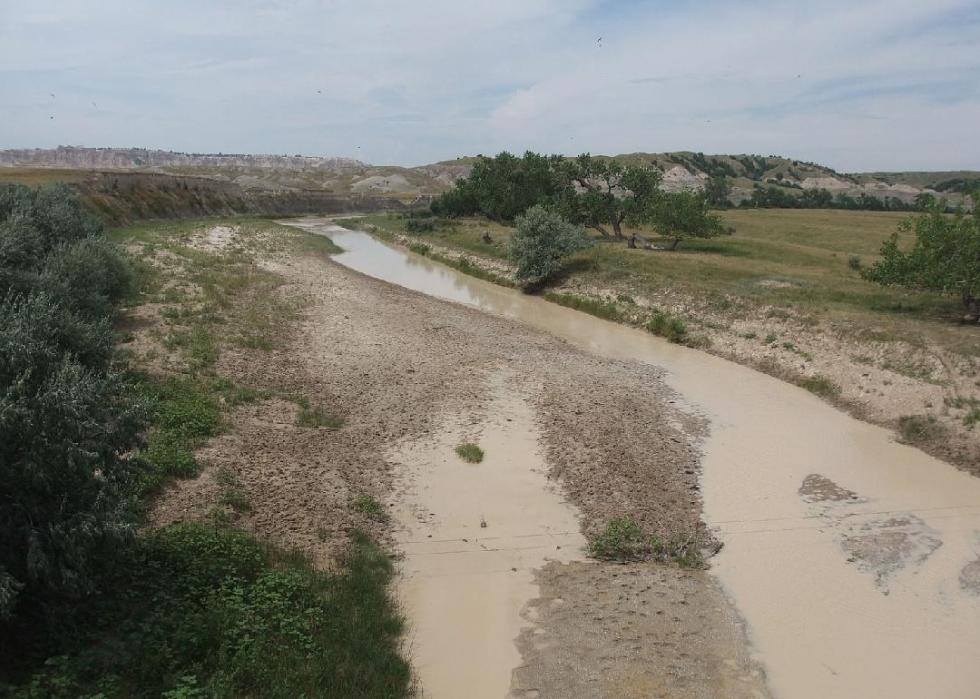 18 / 50
Claudine R. // Wikimedia Commons
#33. Mellette County, South Dakota
- Child food insecurity rate: 30.6%
--- Total child population: 632
--- Number of food insecure children: 190
- Percentage of children in households with income below 185% FPL: 74%
- Percentage of children in households with income above 185% FPL: 26%
- Overall food insecurity rate: 19.6%
[Pictured: White River - Badlands National Park in Mellette County]
19 / 50
U.S. Department of Agriculture // Flickr
#32. Wilcox County, Alabama
- Child food insecurity rate: 30.6%
--- Total child population: 2,701
--- Number of food insecure children: 830
- Percentage of children in households with income below 185% FPL: 80%
- Percentage of children in households with income above 185% FPL: 21%
- Overall food insecurity rate: 29.3%
[Pictured: Camden, AL which is in Wilcox County]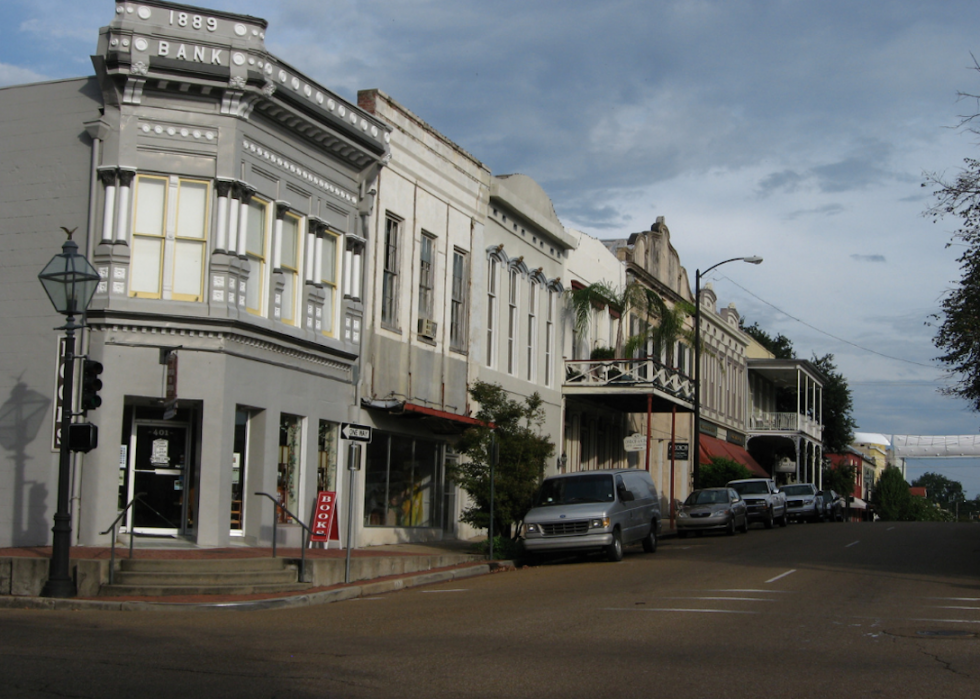 20 / 50
#31. Adams County, Mississippi
- Child food insecurity rate: 30.6%
--- Total child population: 7,307
--- Number of food insecure children: 2,240
- Percentage of children in households with income below 185% FPL: 70%
- Percentage of children in households with income above 185% FPL: 30%
- Overall food insecurity rate: 24.7%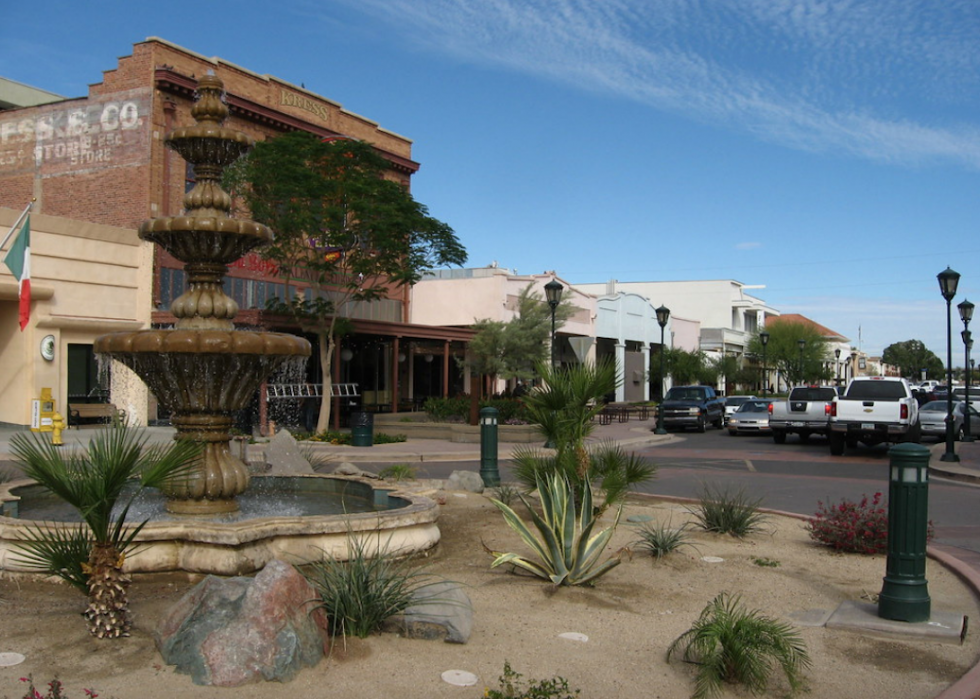 21 / 50
#30. Yuma County, Arizona
- Child food insecurity rate: 30.7%
--- Total child population: 52,971
--- Number of food insecure children: 16,260
- Percentage of children in households with income below 185% FPL: 78%
- Percentage of children in households with income above 185% FPL: 22%
- Overall food insecurity rate: 16.1%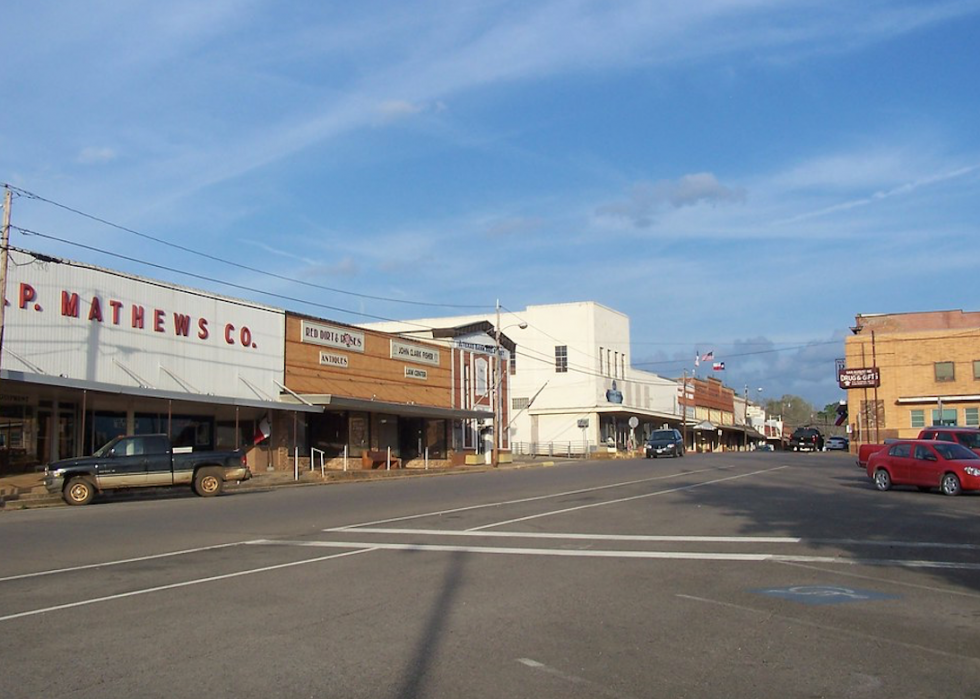 22 / 50
J. Stephen Conn // Flickr
#29. San Augustine County, Texas
- Child food insecurity rate: 30.8%
--- Total child population: 1,701
--- Number of food insecure children: 520
- Percentage of children in households with income below 185% FPL: 72%
- Percentage of children in households with income above 185% FPL: 28%
- Overall food insecurity rate: 23.5%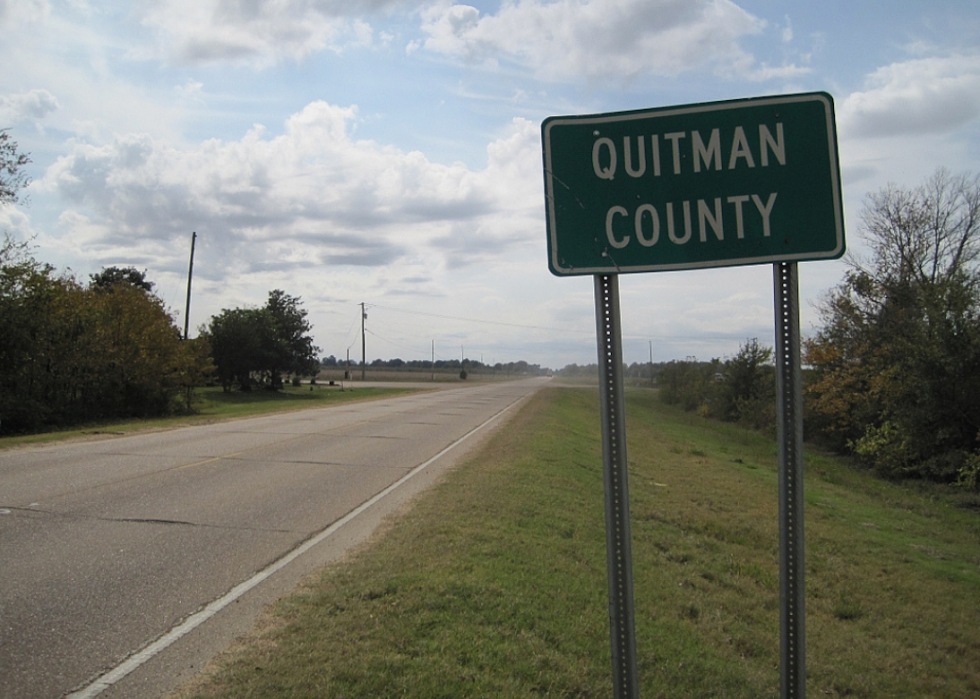 23 / 50
Thomas R Machnitzki // Wikimedia Commons
#28. Quitman County, Mississippi
- Child food insecurity rate: 31.0%
--- Total child population: 1,858
--- Number of food insecure children: 580
- Percentage of children in households with income below 185% FPL: 86%
- Percentage of children in households with income above 185% FPL: 14%
- Overall food insecurity rate: 29.0%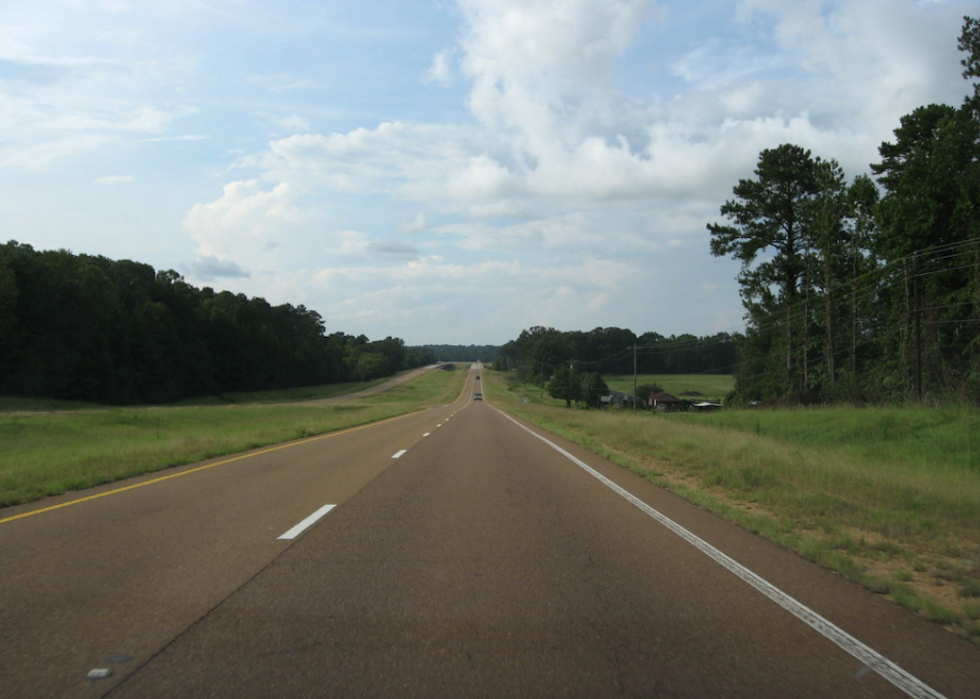 24 / 50
#27. Wilkinson County, Mississippi
- Child food insecurity rate: 31.3%
--- Total child population: 1,976
--- Number of food insecure children: 620
- Percentage of children in households with income below 185% FPL: 77%
- Percentage of children in households with income above 185% FPL: 23%
- Overall food insecurity rate: 28.2%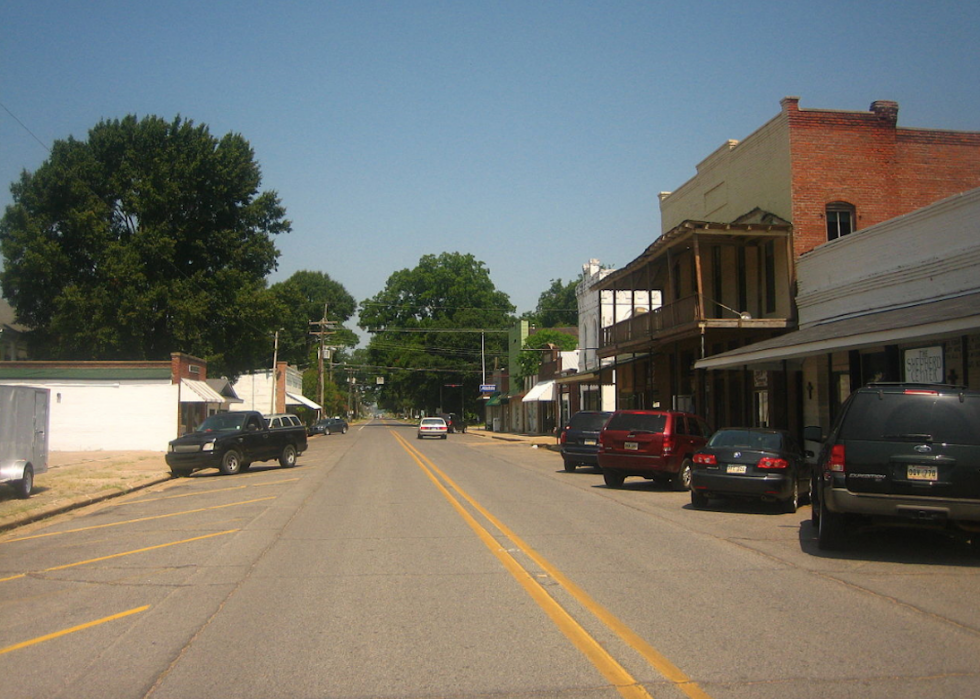 25 / 50
Billy Hathorn // Wikimedia Commons
#26. Tensas Parish, Louisiana
- Child food insecurity rate: 31.5%
--- Total child population: 1,171
--- Number of food insecure children: 370
- Percentage of children in households with income below 185% FPL: 87%
- Percentage of children in households with income above 185% FPL: 13%
- Overall food insecurity rate: 25.7%
[Pictured: Downtown St. Joseph, LA is in Tensas Parish County]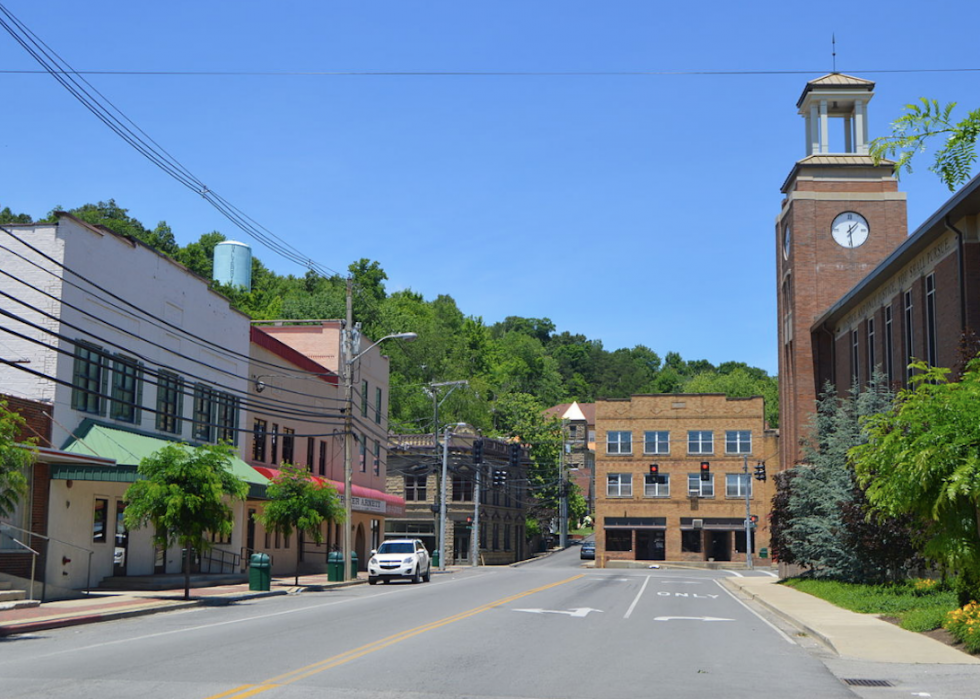 26 / 50
Nyttend // Wikimedia Commons
#25. Magoffin County, Kentucky
- Child food insecurity rate: 31.5%
--- Total child population: 2,970
--- Number of food insecure children: 940
- Percentage of children in households with income below 185% FPL: 86%
- Percentage of children in households with income above 185% FPL: 14%
- Overall food insecurity rate: 22.5%
[Pictured: Salyersville, KY is in Magoffin County]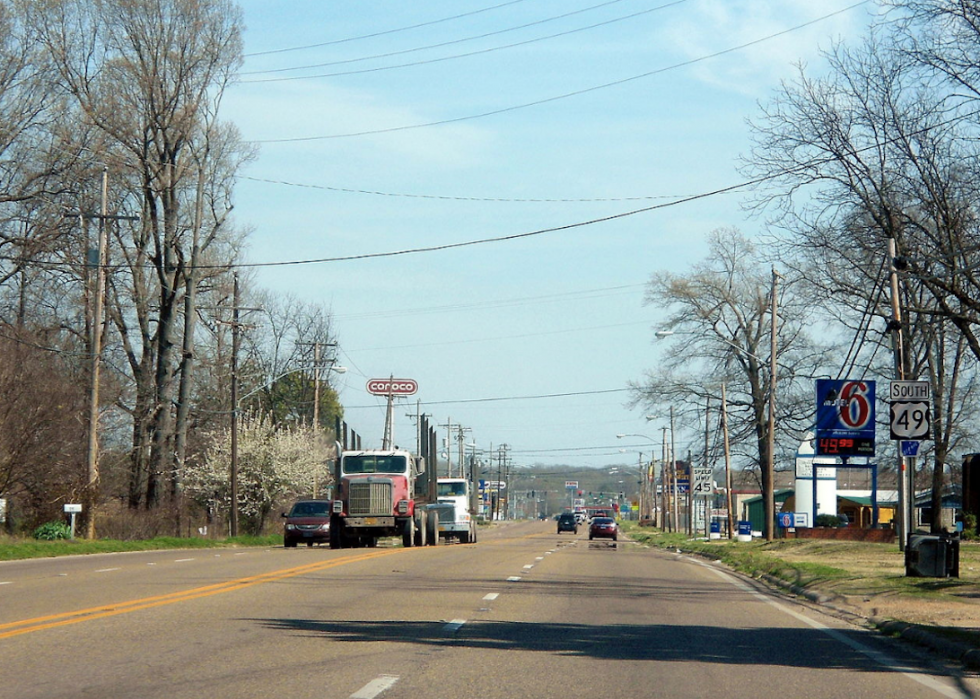 27 / 50
Brandonrush // Wikimedia Commons
#24. Phillips County, Arkansas
- Child food insecurity rate: 31.6%
--- Total child population: 5,149
--- Number of food insecure children: 1,630
- Percentage of children in households with income below 185% FPL: 68%
- Percentage of children in households with income above 185% FPL: 32%
- Overall food insecurity rate: 29.5%
[Pictured: Helena, AR is in Phillips County]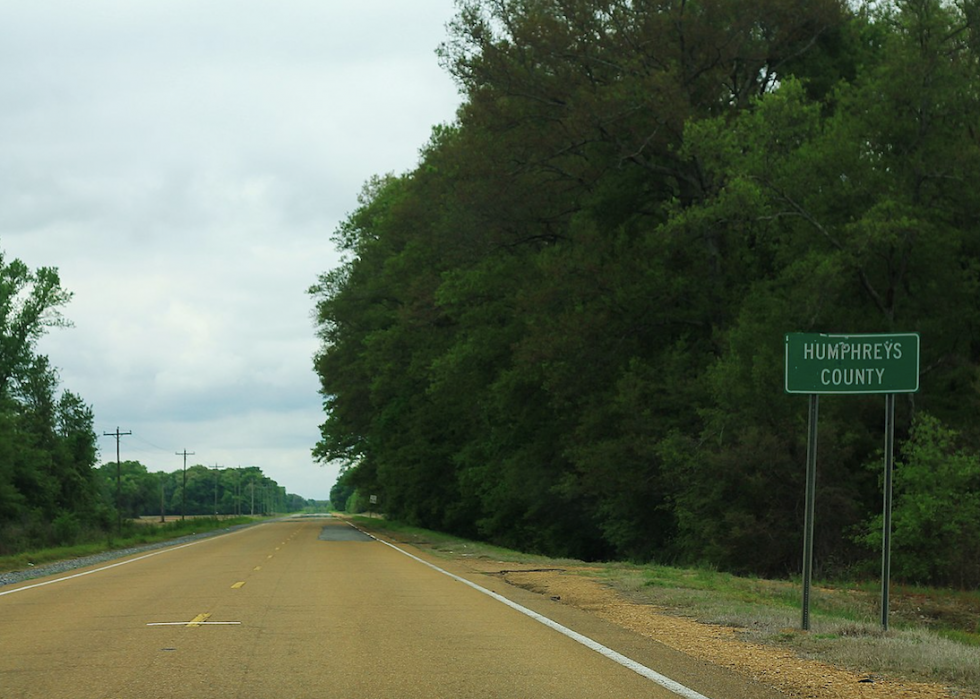 28 / 50
formulanone // Wikimedia Commons
#23. Humphreys County, Mississippi
- Child food insecurity rate: 31.7%
--- Total child population: 2,353
--- Number of food insecure children: 750
- Percentage of children in households with income below 185% FPL: 76%
- Percentage of children in households with income above 185% FPL: 24%
- Overall food insecurity rate: 30.8%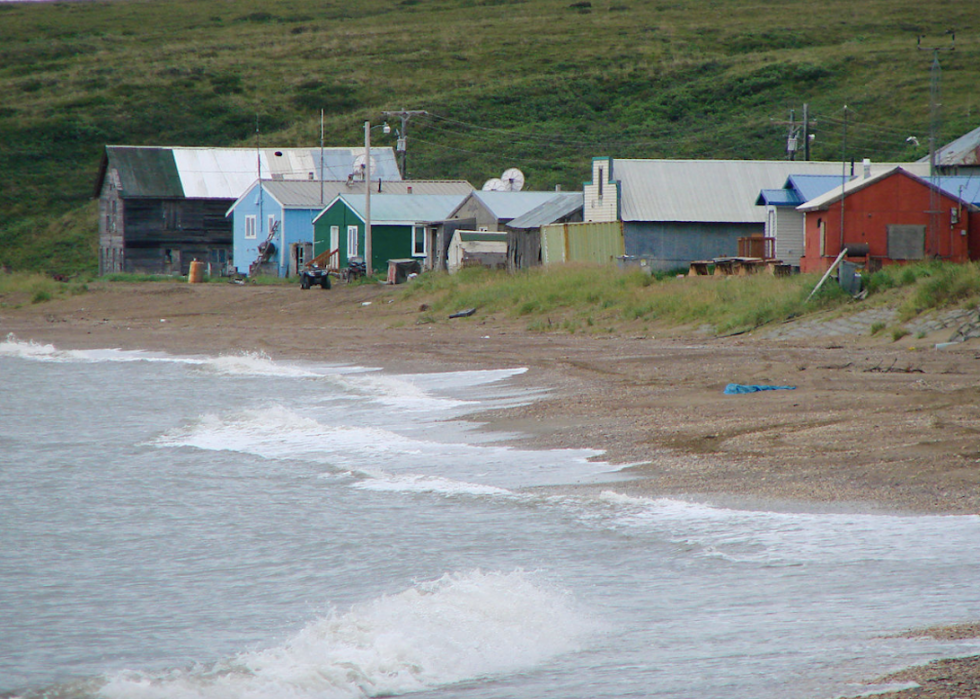 29 / 50
Bering Land Bridge National Preserve // Wikimedia Commons
#22. Northwest Arctic Borough, Alaska
- Child food insecurity rate: 31.9%
--- Total child population: 2,694
--- Number of food insecure children: 860
- Percentage of children in households with income below 185% FPL: 82%
- Percentage of children in households with income above 185% FPL: 18%
- Overall food insecurity rate: 22.9%
[Pictured: Deering, AK is in Northwest Arctic Borough]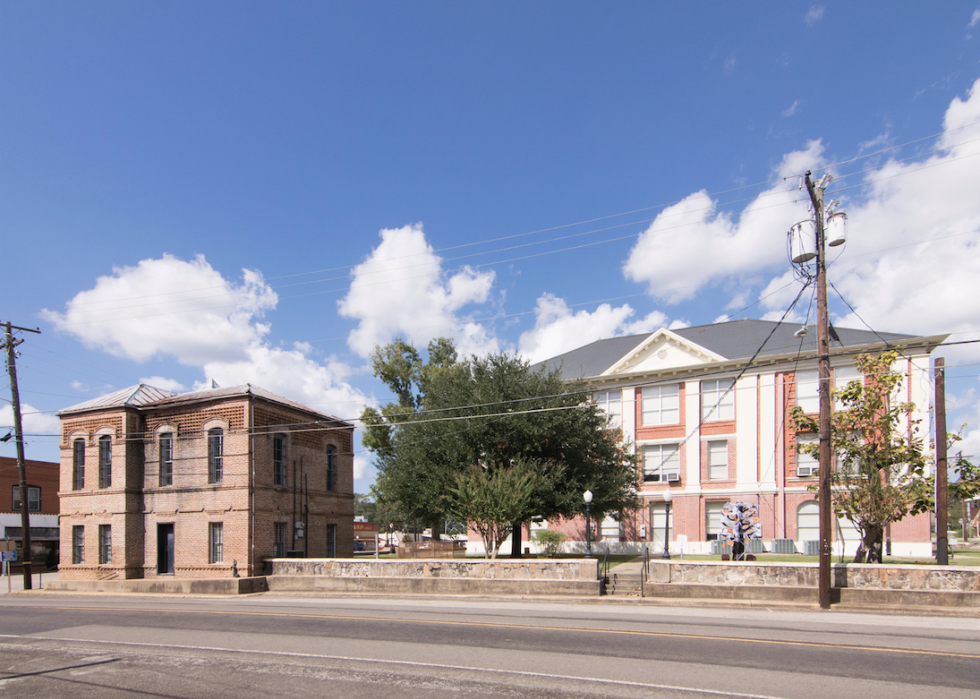 30 / 50
#21. Sabine County, Texas
- Child food insecurity rate: 32.1%
--- Total child population: 1,871
--- Number of food insecure children: 600
- Percentage of children in households with income below 185% FPL: 81%
- Percentage of children in households with income above 185% FPL: 19%
- Overall food insecurity rate: 21.2%
[Pictured: Sabine County Courthouse]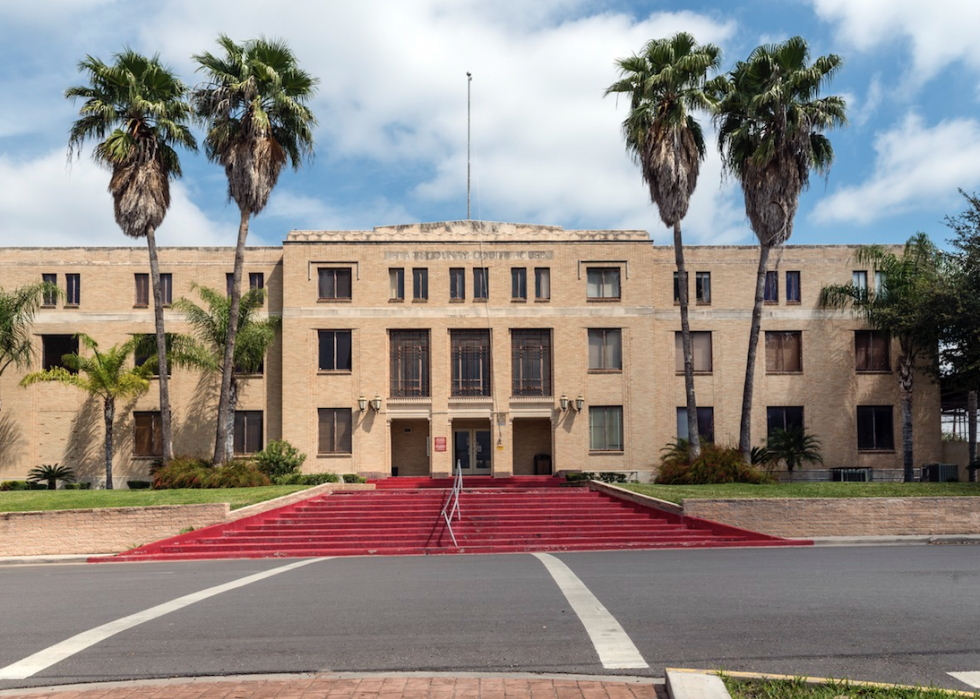 31 / 50
Carol M. Highsmith // Wikimedia Commons
#20. Starr County, Texas
- Child food insecurity rate: 32.1%
--- Total child population: 21,097
--- Number of food insecure children: 6,770
- Percentage of children in households with income below 185% FPL: 78%
- Percentage of children in households with income above 185% FPL: 22%
- Overall food insecurity rate: 12.9%
[Pictured: Starr County Courthouse]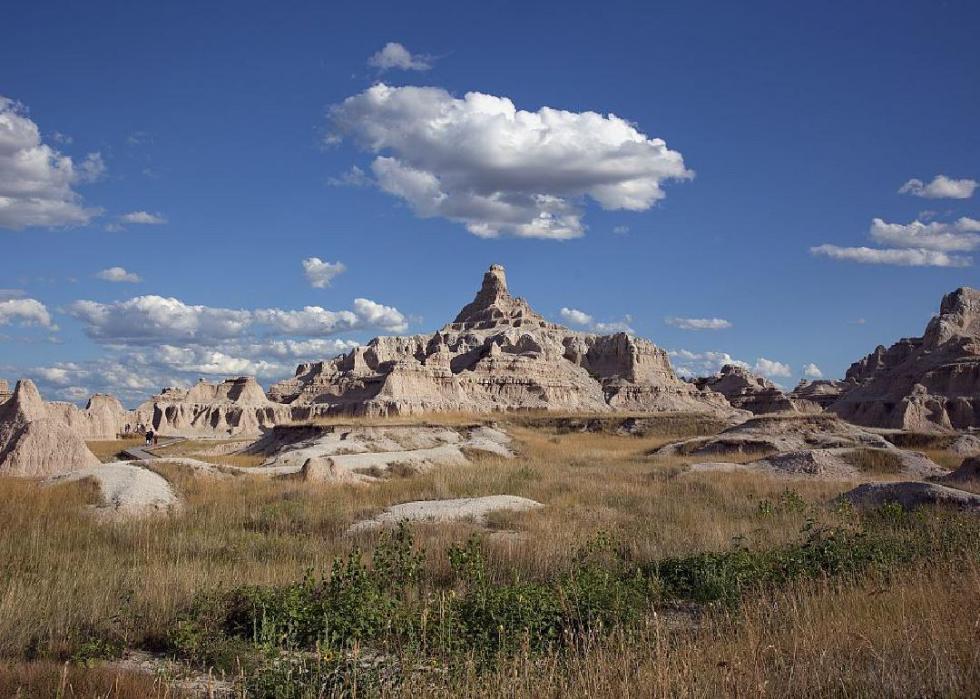 32 / 50
GPA Photo Archive // Flickr
#19. Todd County, South Dakota
- Child food insecurity rate: 32.3%
--- Total child population: 4,017
--- Number of food insecure children: 1,300
- Percentage of children in households with income below 185% FPL: 79%
- Percentage of children in households with income above 185% FPL: 21%
- Overall food insecurity rate: 25.4%
[Pictured: Badlands National Park located in southwestern South Dakota partly in Todd County]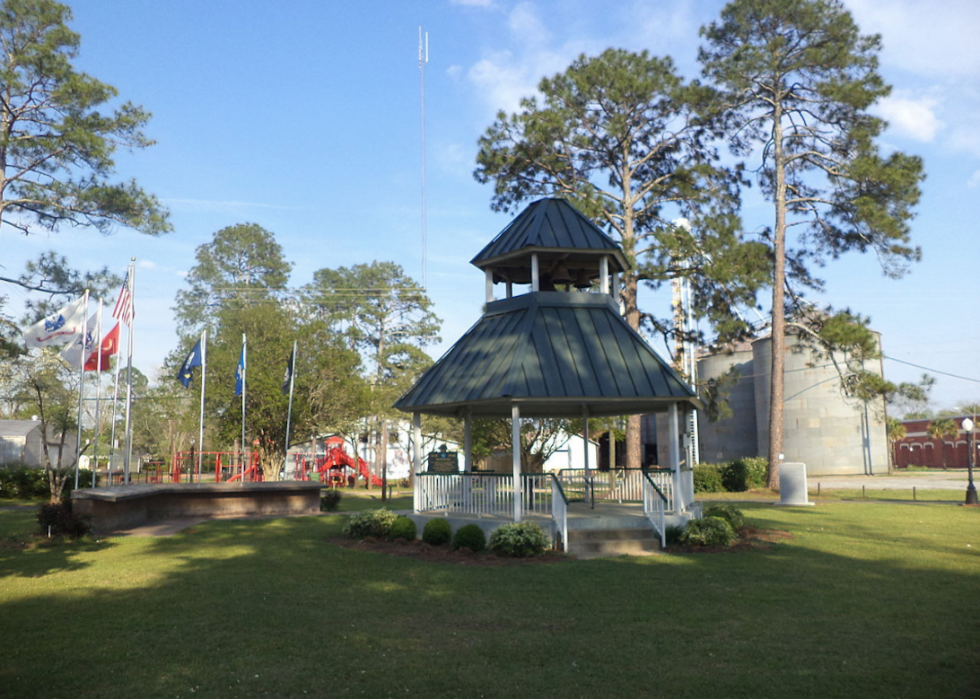 33 / 50
Michael Rivera // Wikimedia Commons
#18. Randolph County, Georgia
- Child food insecurity rate: 32.5%
--- Total child population: 1,654
--- Number of food insecure children: 540
- Percentage of children in households with income below 185% FPL: 74%
- Percentage of children in households with income above 185% FPL: 27%
- Overall food insecurity rate: 24.9%
[Pictured: Randolph County Veterans Memorial Park]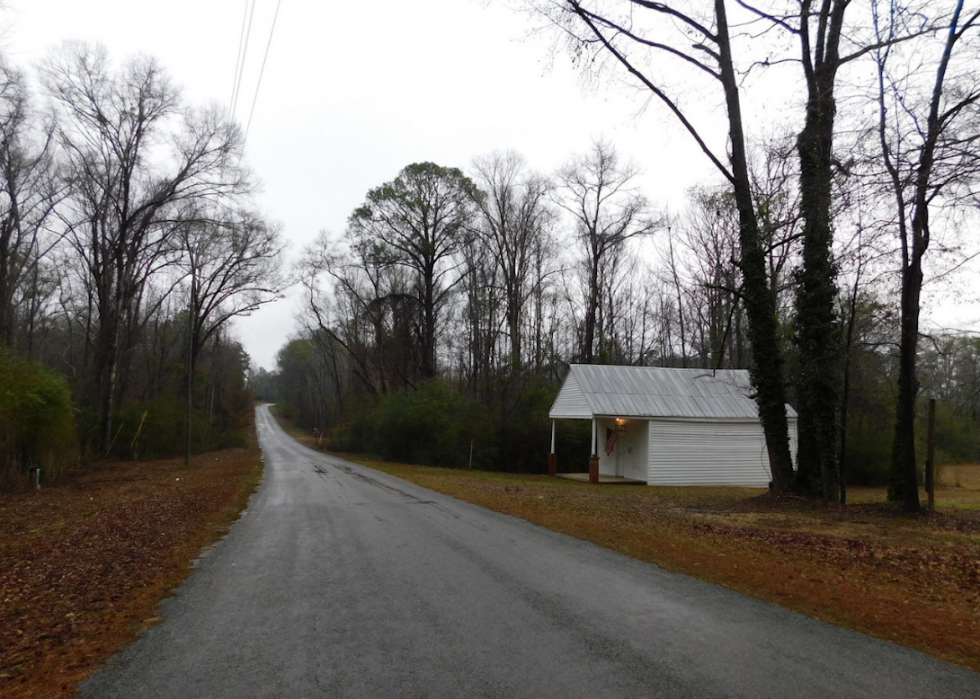 34 / 50
#17. Perry County, Alabama
- Child food insecurity rate: 32.9%
--- Total child population: 2,151
--- Number of food insecure children: 710
- Percentage of children in households with income below 185% FPL: 81%
- Percentage of children in households with income above 185% FPL: 19%
- Overall food insecurity rate: 28.6%
[Pictured: Heiberger, Alabama is in Perry County]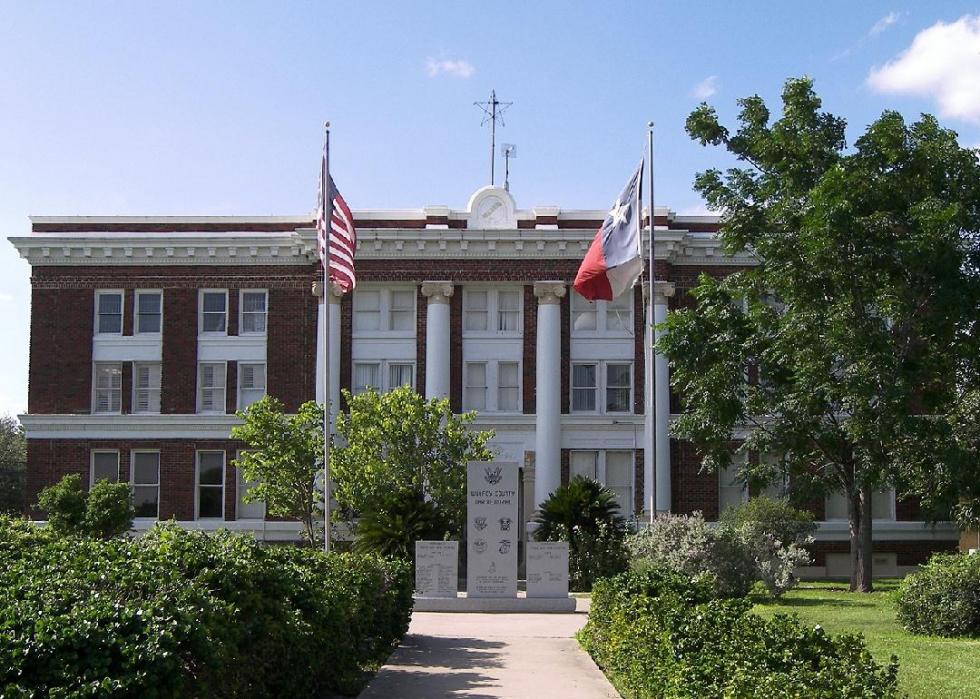 35 / 50
Larry D. Moore // Wikimedia Commons
#16. Willacy County, Texas
- Child food insecurity rate: 32.9%
--- Total child population: 5,382
--- Number of food insecure children: 1,770
- Percentage of children in households with income below 185% FPL: 75%
- Percentage of children in households with income above 185% FPL: 25%
- Overall food insecurity rate: 14.1%
[Pictured: Willacy courthouse]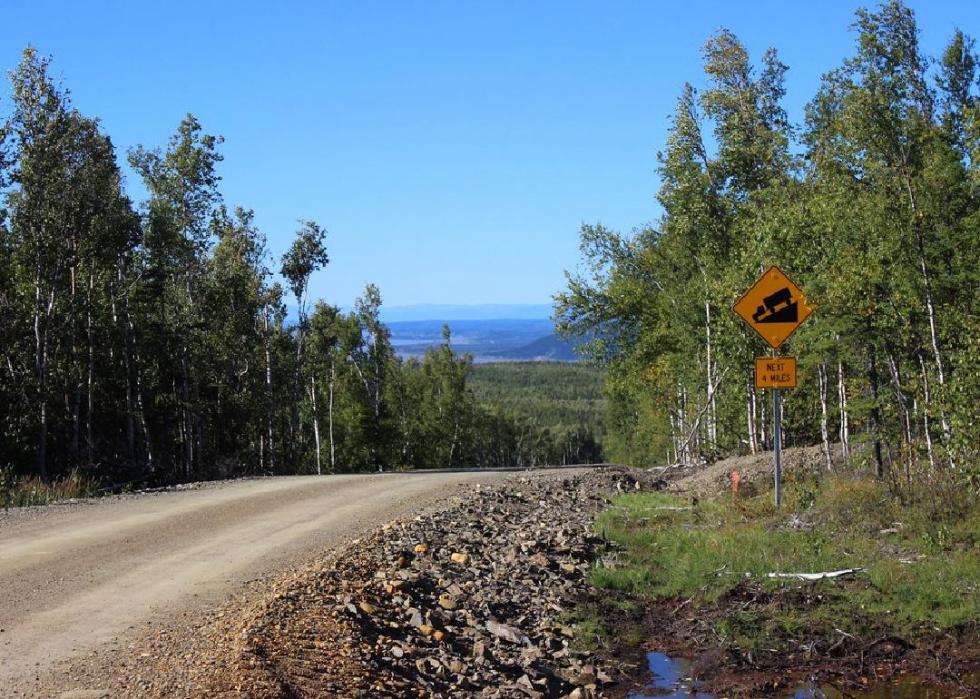 36 / 50
#15. Yukon-Koyukuk Census Area, Alaska
- Child food insecurity rate: 33.3%
--- Total child population: 1,522
--- Number of food insecure children: 510
- Percentage of children in households with income below 185% FPL: 80%
- Percentage of children in households with income above 185% FPL: 20%
- Overall food insecurity rate: 23.2%
[Pictured: Tanana is in the Yukon-Koyukuk Census Area in Alaska ]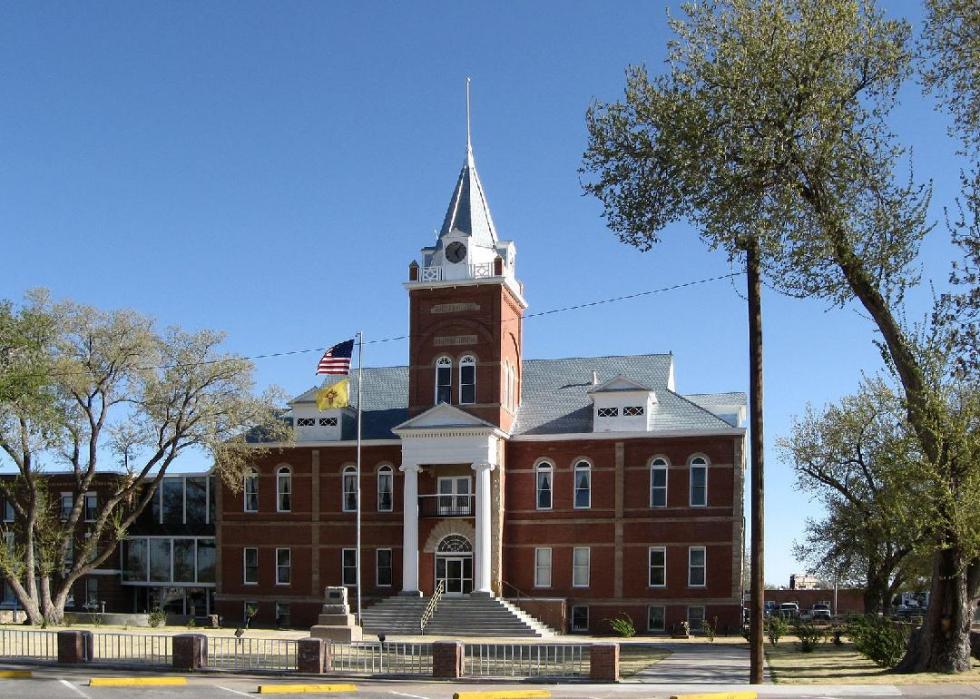 37 / 50
AllenS // Wikimedia Commons
#14. Luna County, New Mexico
- Child food insecurity rate: 33.4%
--- Total child population: 6,431
--- Number of food insecure children: 2,150
- Percentage of children in households with income below 185% FPL: 86%
- Percentage of children in households with income above 185% FPL: 14%
- Overall food insecurity rate: 20.7%
[Pictured: Luna County Court House]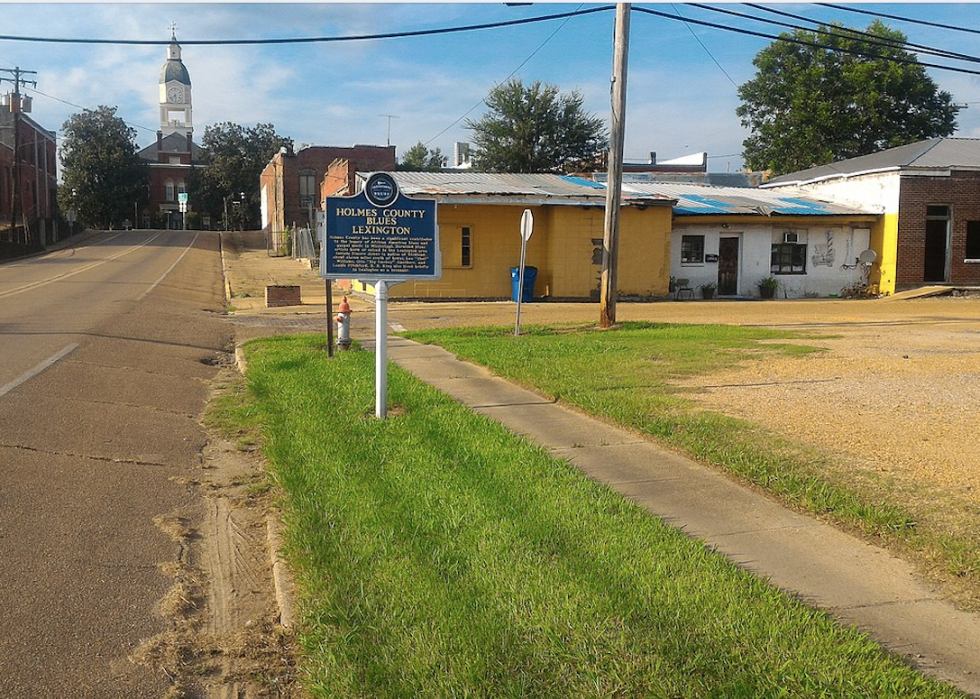 38 / 50
Chillin662 // Wikimedia Commons
#13. Holmes County, Mississippi
- Child food insecurity rate: 33.5%
--- Total child population: 4,853
--- Number of food insecure children: 1,630
- Percentage of children in households with income below 185% FPL: 79%
- Percentage of children in households with income above 185% FPL: 21%
- Overall food insecurity rate: 33.5%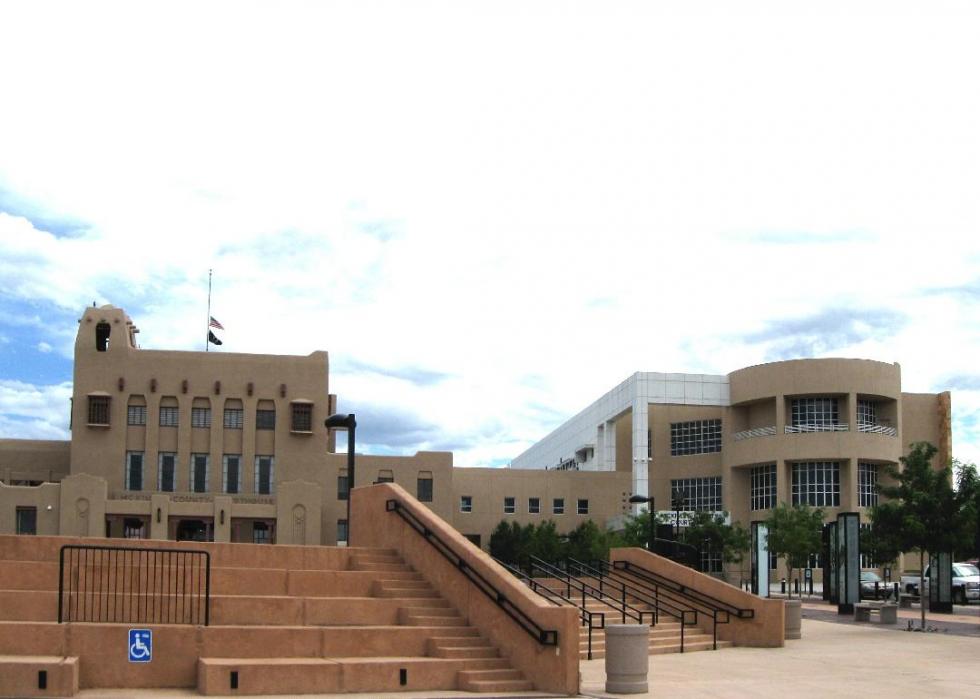 39 / 50
AllenS // Wikimedia Commons
#12. McKinley County, New Mexico
- Child food insecurity rate: 33.5%
--- Total child population: 21,593
--- Number of food insecure children: 7,240
- Percentage of children in households with income below 185% FPL: 86%
- Percentage of children in households with income above 185% FPL: 14%
- Overall food insecurity rate: 26.0%
[Pictured: McKinley County courthouse]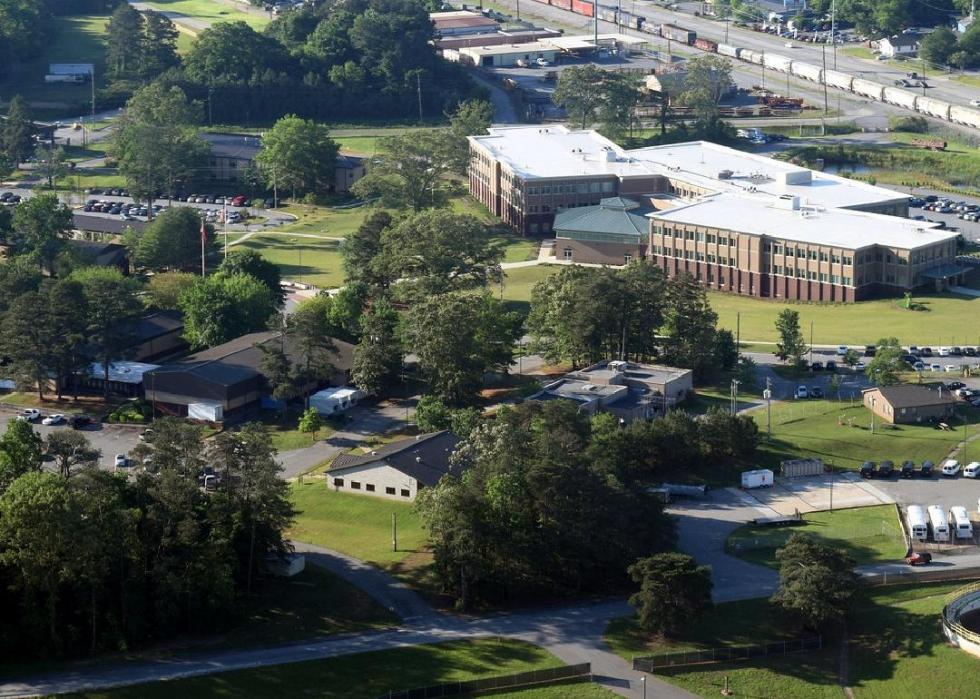 40 / 50
Georgia National Guard // Flickr
#11. Clay County, Georgia
- Child food insecurity rate: 33.9%
--- Total child population: 712
--- Number of food insecure children: 240
- Percentage of children in households with income below 185% FPL: 82%
- Percentage of children in households with income above 185% FPL: 18%
- Overall food insecurity rate: 27.4%
[Pictured: Clay National Guard Center]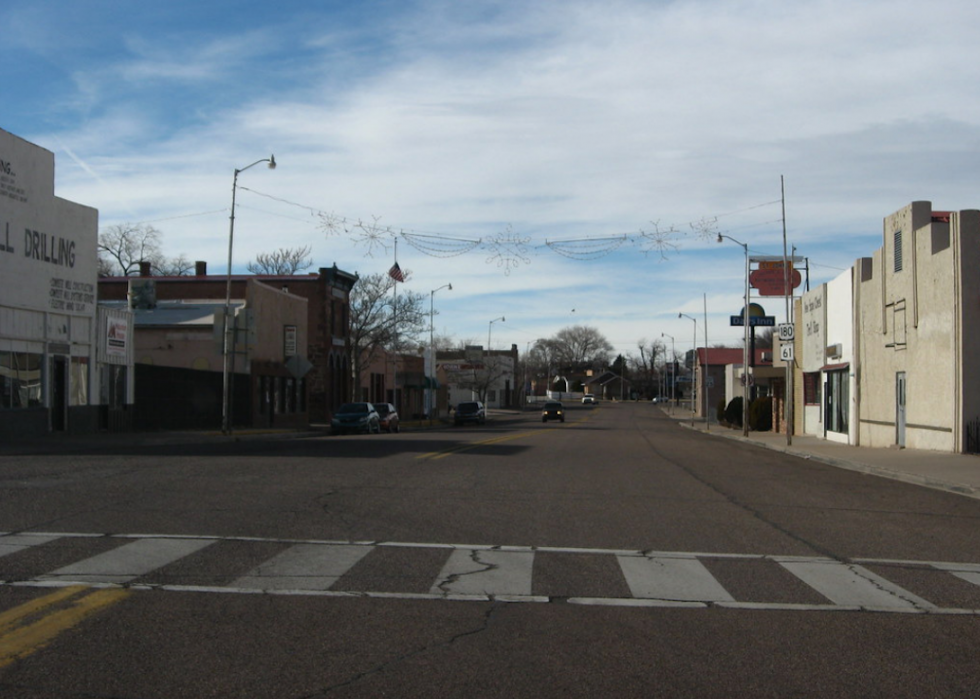 41 / 50
#10. Apache County, Arizona
- Child food insecurity rate: 34.2%
--- Total child population: 20,340
--- Number of food insecure children: 6,950
- Percentage of children in households with income below 185% FPL: 94%
- Percentage of children in households with income above 185% FPL: 6%
- Overall food insecurity rate: 24.2%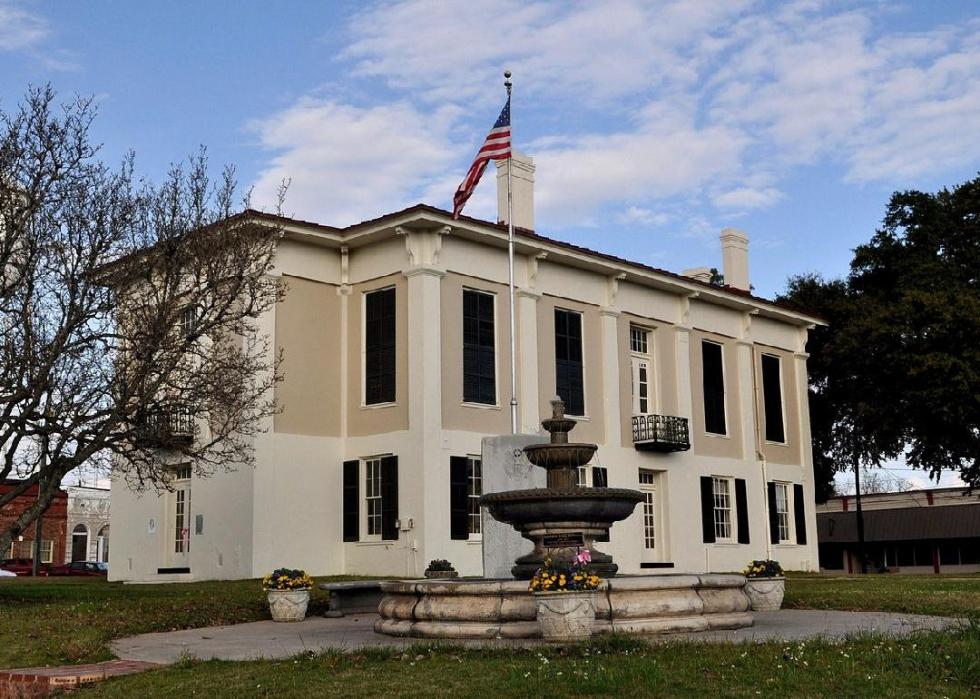 42 / 50
RuralSWAlabama // Wikimedia Commons
#9. Greene County, Alabama
- Child food insecurity rate: 34.4%
--- Total child population: 1,999
--- Number of food insecure children: 690
- Percentage of children in households with income below 185% FPL: 79%
- Percentage of children in households with income above 185% FPL: 21%
- Overall food insecurity rate: 29.7%
[Pictured: Old Greene County Alabama Courthouse]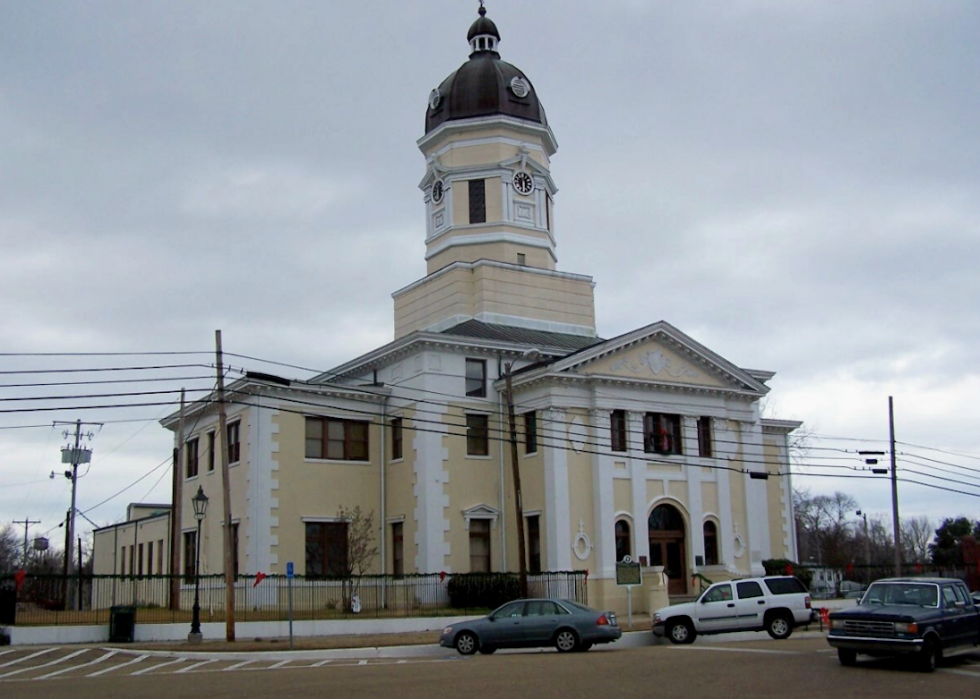 43 / 50
J. Stephen Conn // Flickr
#8. Claiborne County, Mississippi
- Child food insecurity rate: 34.8%
--- Total child population: 1,980
--- Number of food insecure children: 690
- Percentage of children in households with income below 185% FPL: 70%
- Percentage of children in households with income above 185% FPL: 31%
- Overall food insecurity rate: 33.2%
[Pictured: Claiborne County Courthouse]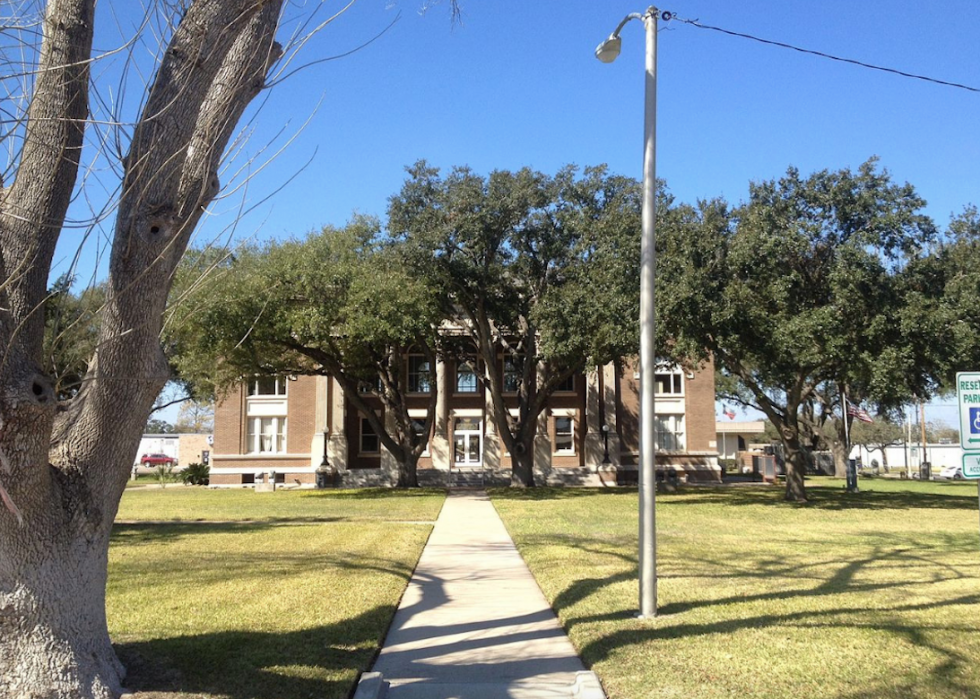 44 / 50
25or6to4 // Wikimedia Commons
#7. Brooks County, Texas
- Child food insecurity rate: 34.8%
--- Total child population: 1,985
--- Number of food insecure children: 690
- Percentage of children in households with income below 185% FPL: 69%
- Percentage of children in households with income above 185% FPL: 31%
- Overall food insecurity rate: 14.7%
[Pictured: Brooks County Courthouse]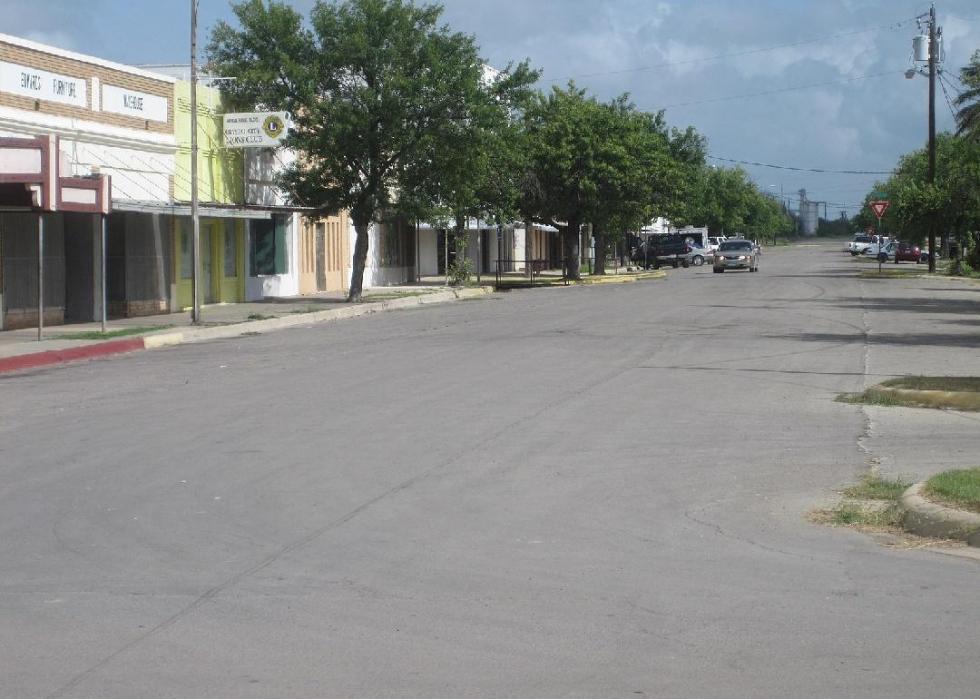 45 / 50
Billy Hathorn // Wikimedia Commons
#6. Zavala County, Texas
- Child food insecurity rate: 35.0%
--- Total child population: 3,643
--- Number of food insecure children: 1,280
- Percentage of children in households with income below 185% FPL: 81%
- Percentage of children in households with income above 185% FPL: 19%
- Overall food insecurity rate: 14.3%
[Pictured: Crystal City, TX is in Zavala County]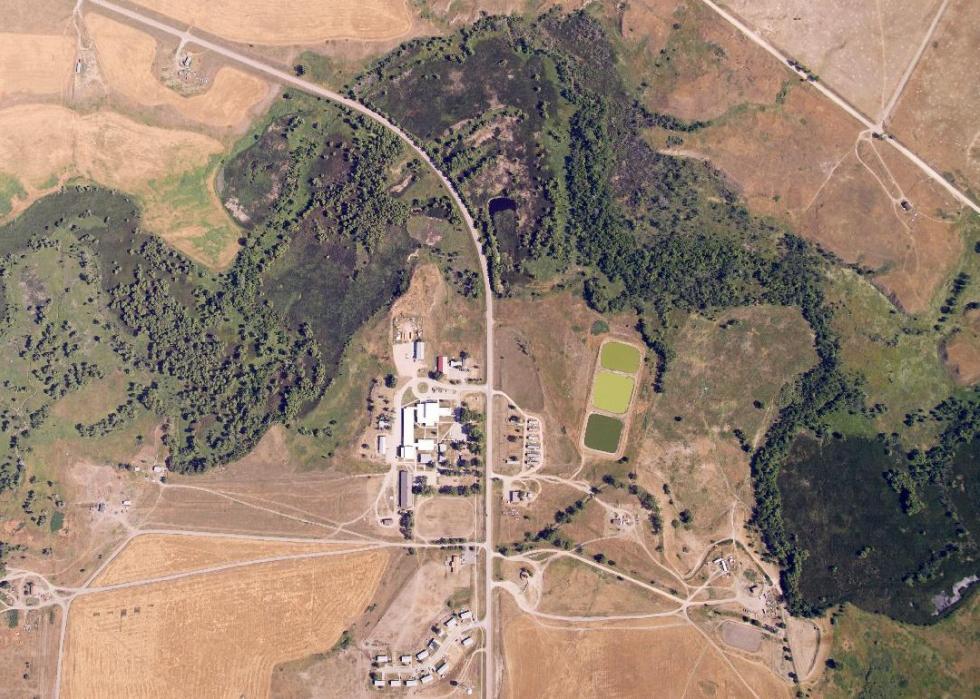 46 / 50
J Sidle // Wikimedia Commons
#5. Oglala Lakota County, South Dakota
- Child food insecurity rate: 35.8%
--- Total child population: 5,337
--- Number of food insecure children: 1,910
- Percentage of children in households with income below 185% FPL: 90%
- Percentage of children in households with income above 185% FPL: 10%
- Overall food insecurity rate: 27.0%
[Pictured: Partial aerial view of Oglala Lakota County]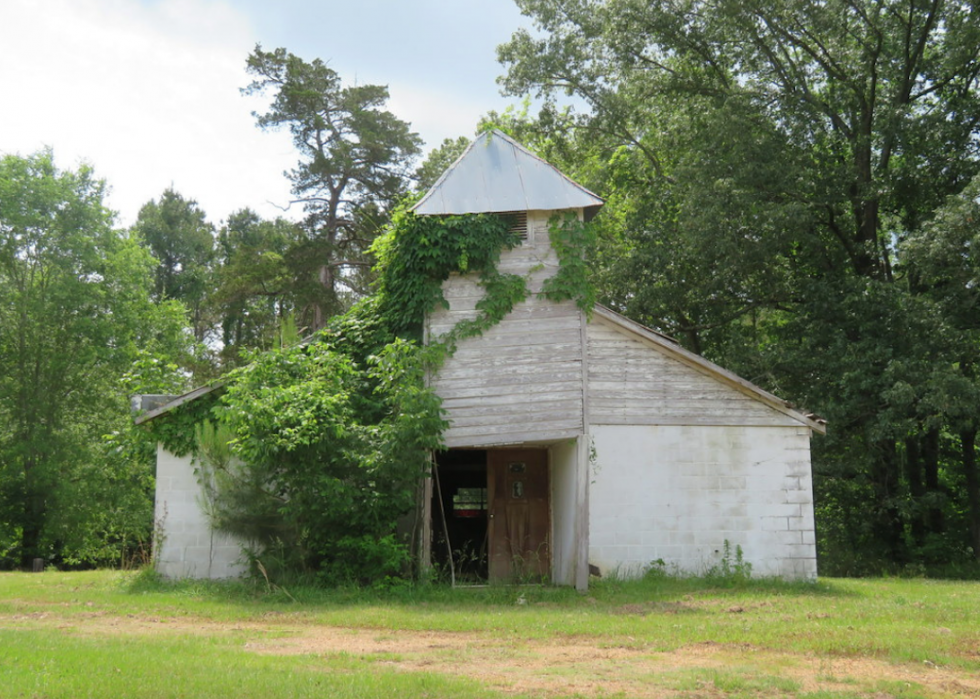 47 / 50
#4. Jefferson County, Mississippi
- Child food insecurity rate: 35.9%
--- Total child population: 1,857
--- Number of food insecure children: 670
- Percentage of children in households with income below 185% FPL: 81%
- Percentage of children in households with income above 185% FPL: 19%
- Overall food insecurity rate: 36.3%
[Pictured: Abandoned shed in Jefferson County, MS]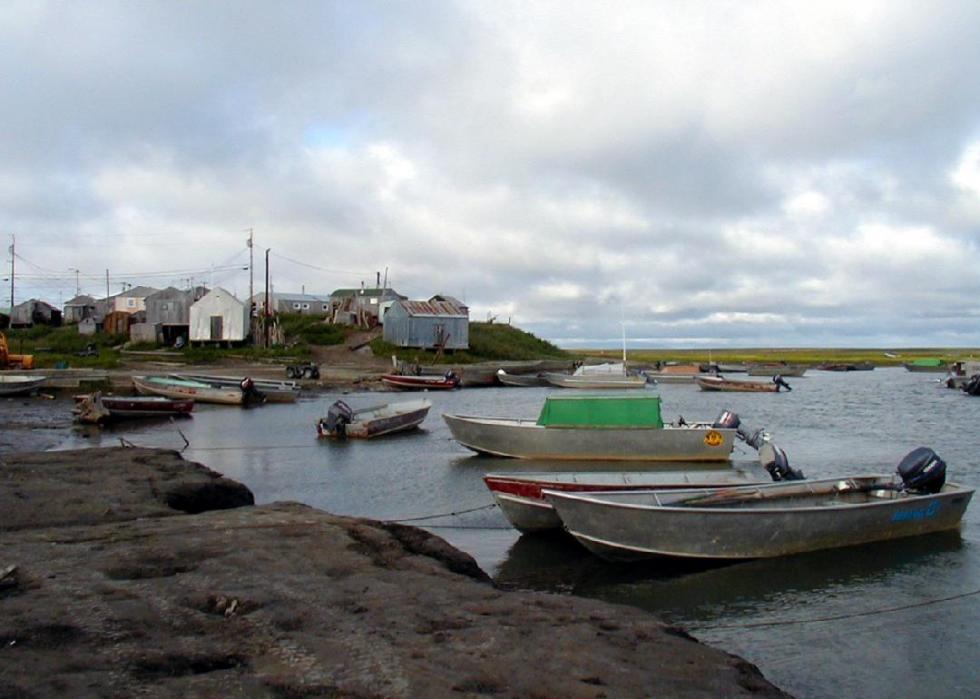 48 / 50
Seabix // Wikimedia Commons
#3. Kusilvak Census Area, Alaska
- Child food insecurity rate: 38.1%
--- Total child population: 3,229
--- Number of food insecure children: 1,230
- Percentage of children in households with income below 185% FPL: 100%
- Percentage of children in households with income above 185% FPL: 0%
- Overall food insecurity rate: 27.4%
[Pictured: Aerial View of Hooper Bay which is in the Kusilvak Census Area in Alaska]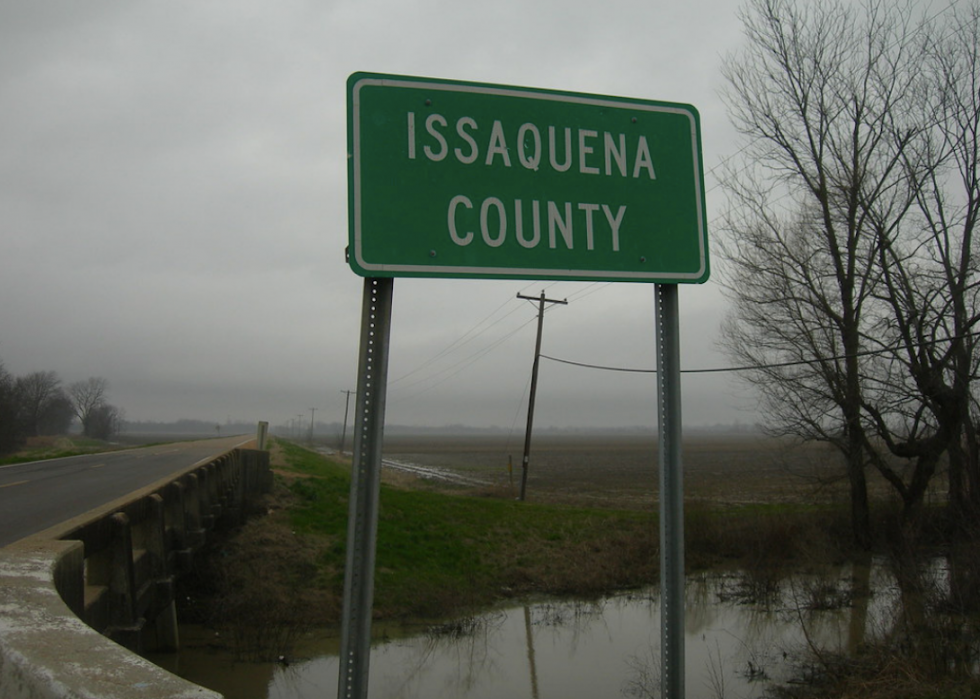 49 / 50
#2. Issaquena County, Mississippi
- Child food insecurity rate: 38.3%
--- Total child population: 181
--- Number of food insecure children: 70
- Percentage of children in households with income below 185% FPL: 90%
- Percentage of children in households with income above 185% FPL: 10%
- Overall food insecurity rate: 32.1%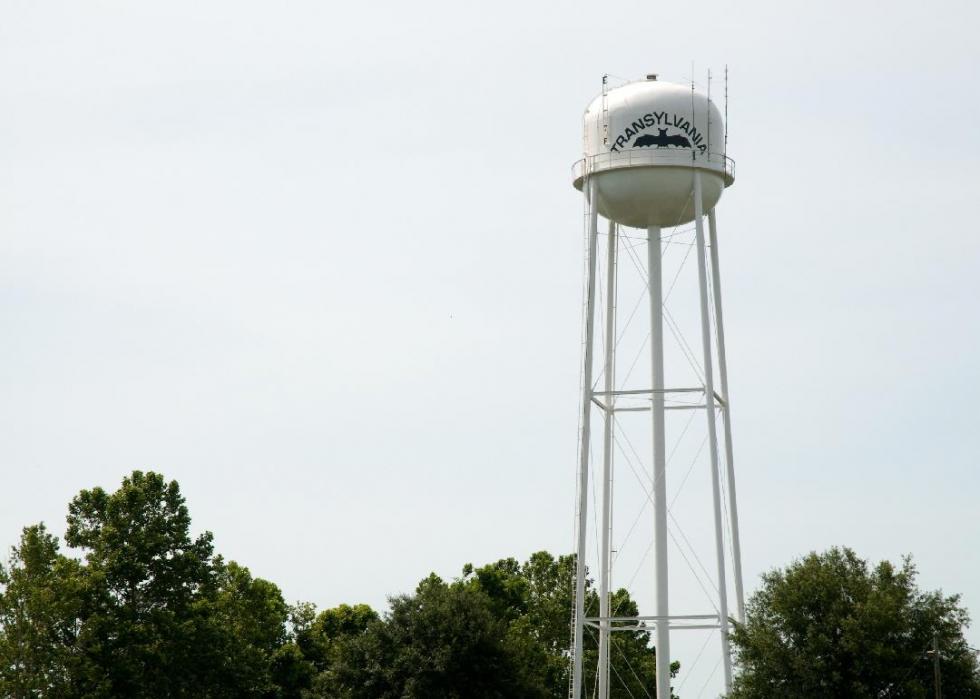 50 / 50
Zack Frank // Shutterstock
#1. East Carroll Parish, Louisiana
- Child food insecurity rate: 39.6%
--- Total child population: 1,350
--- Number of food insecure children: 530
- Percentage of children in households with income below 185% FPL: 75%
- Percentage of children in households with income above 185% FPL: 25%
- Overall food insecurity rate: 33.1%
[Pictured: Transylvania water tower located in East Carroll Parish County ]