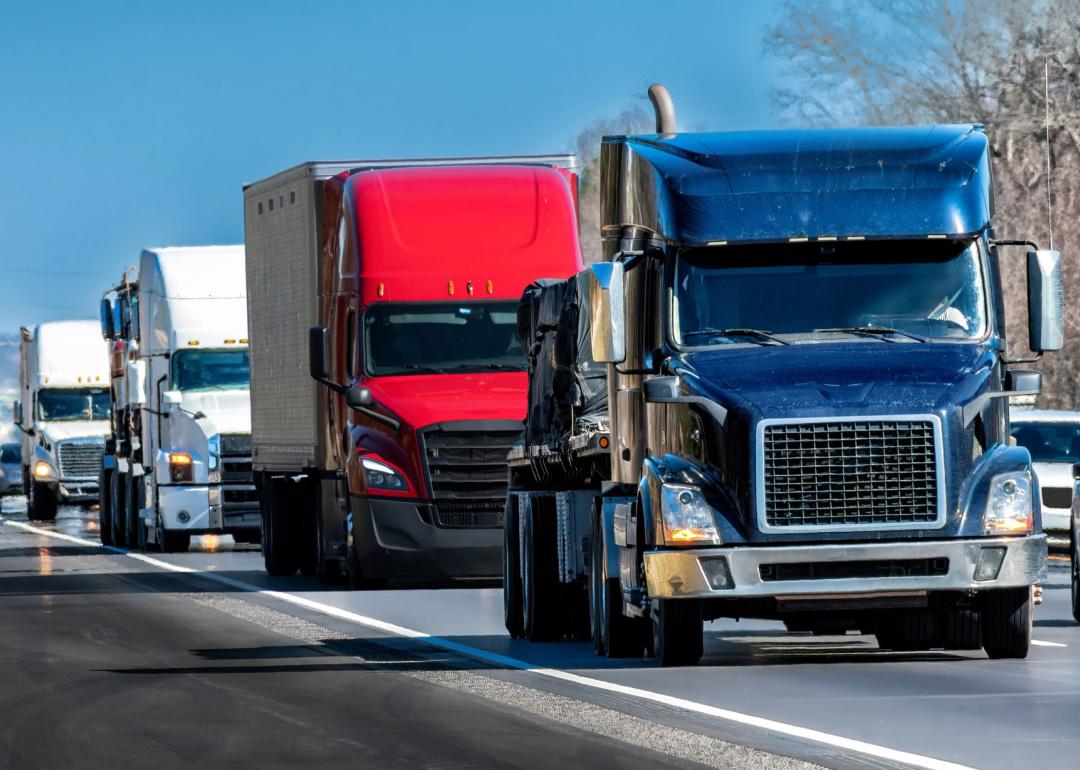 Stacker Studio
A decade of semitruck accident data
Carolyn Franks // Shutterstock
A decade of semitruck accident data
Midwestern roadways are at the epicenter of a 26,000-pound public health hazard that's grown over the last decade. Semitrucks have been involved in an increasing number of fatal injuries on U.S. roadways since 2011, according to the National Highway Traffic Safety Administration. A column of states spanning from Texas to North Dakota, as well as Wyoming and Idaho, see the most of these types of wrecks.
Nearly three out of every four large trucks involved in fatal crashes in 2020 weighed more than 13 tons—the aforementioned 26,000 pounds. Semis—heavy commercial trucks also referred to as 18-wheelers when hauling a trailer—are an important form of freight transit for goods across the U.S. In 2020 alone, the vast majority of all freight by tonnage in the country—more than 72%, or 10.23 billion tons to be precise—was transported by truck across U.S. highways. The drivers behind the wheels of these massive machines can earn a lucrative income with little training or education, but they also face pressure to deliver goods as fast as possible in an industry that's been coming to terms with its own inefficiencies in recent years.
About 9% of all fatal crashes in the country in 2020 involved a large truck, according to NHTSA data. This comes after a decade in which shipping firms struggled to get enough trucks on the road to meet demand. Today, the U.S. has a greater need for truck drivers than ever. It's a dilemma that Google- and Amazon-backed startups are attempting to solve with driverless vehicles that can operate autonomously, either individually or in convoy, eliminating the need for a human driver.
For now, booming demand for goods and an insatiable appetite for rapid gratification coupled with declining wages and a retiring workforce are exacerbating an existing labor shortage. The American Trucking Association estimates the trucking industry, and by extension, the broader U.S. economy will need 160,000 additional drivers by 2030. And that shortage of drivers is now contributing to emergency conditions that have pushed the U.S. to waive some safety measures for drivers.
The Federal Motor Carrier Safety Administration has extended an emergency declaration intended to keep essential goods like PPE, food, and fuel flowing throughout the country five times since the start of the COVID-19 pandemic. The declaration also tweaked some safety requirements in favor of wringing the most out of America's existing trucking labor force, including giving truck drivers the green light to drive longer than 11 hours in a single day.
In order to take a more focused look at the depth and breadth of the impact semitruck accidents have on both the national infrastructure and the traveling public, The Fang Law Firm, P.C. analyzed 2011-2020 data from the National Highway Traffic Safety Administration, released in April 2022, on crashes involving large trucks. For the analysis, a large truck is defined as any truck exceeding 10,000 pounds (5 tons) at its heaviest safe weight, excluding buses and motor homes.
This story originally appeared on The Fang Law Firm, P.C. and was produced and distributed in partnership with Stacker Studio.