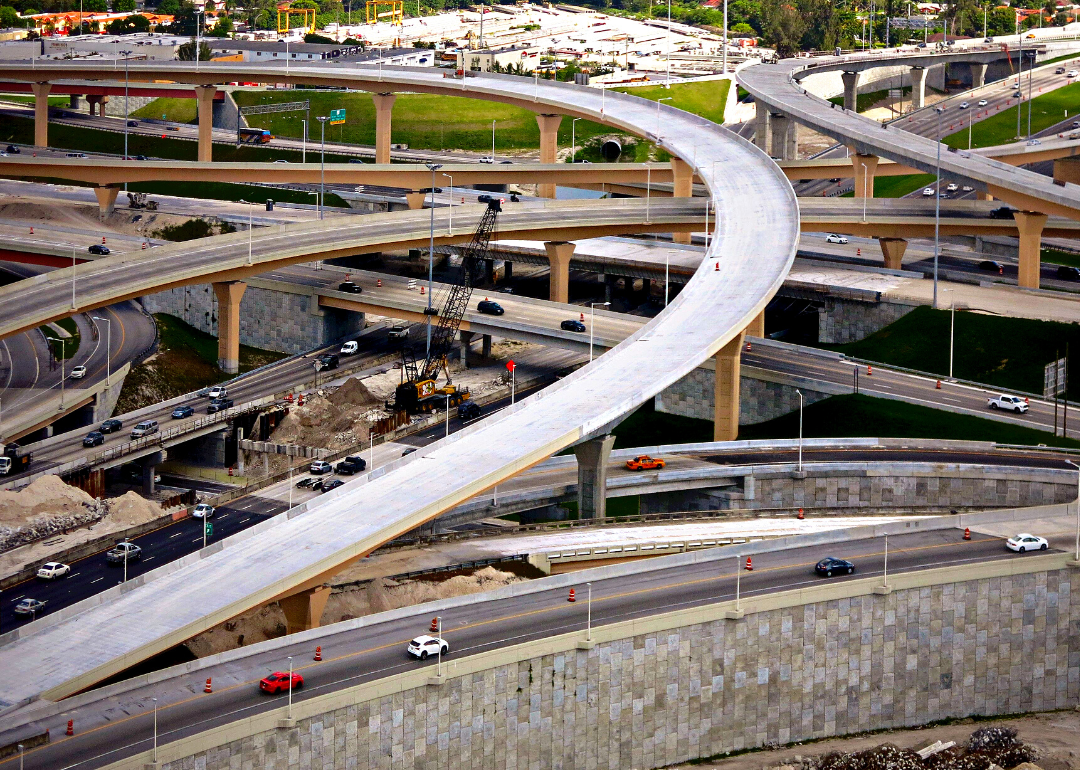 How car infrastructure is changing cities
Juliette JEDRYSZEK/Gamma-Rapho via Getty Images
How car infrastructure is changing cities
In 1956, President Dwight D. Eisenhower passed the Federal-Aid Highway Act, which authorized the construction and funding of 41,000 miles of interstate highways. The rhetoric surrounding this massive public works project was of post-war progress and protection. Today, the Biden administration is working to rewrite the legacy of that legislation.
In many ways, the highway system accomplished precisely what it set out to, connecting American cities across north-south and east-west routes and moving traffic more efficiently. But it came at a steep cost to the country's communities of color. Across the U.S., entire neighborhoods—primarily those inhabited by nonwhite residents—were razed, split, or isolated in the name of efficiency and urban renewal.
Concrete highways were lofted on trestles above vibrant communities like Tremé, Louisiana, rich with history and purpose, casting literal and figurative shadows over their future prosperity. In other cities like Rochester, New York, freeways were sunken, acting like moats to isolate the neighborhoods around them.
Intended or unintended, these new hulking highways literally cemented racial segregation and created divides along racial and socioeconomic lines—a physical manifestation of prominent sentiments across a country still roughly a decade away from legally ending segregation.
In some cities, deliberately routing highways through neighborhoods that policymakers considered blighted—those already disadvantaged by racist housing policies and practices of the time—was a slum clearance tactic. These city sections were often viewed as the path of least resistance, as residents of color were deprived of the opportunity to voice their concerns or lacked the social capital to be heard. Despite the odds, hundreds of freeway revolts took place across the U.S. and, in some cities, successfully halted or altered construction to preserve communities.
More than 1 million people were displaced by highway construction following the passage of the Federal-Aid Highway Act, according to estimates by the U.S. Department of Transportation. The vast majority of low-income housing demolished was never replaced. For those who remained, property values tanked, foot traffic disappeared, and businesses shuttered. Residents now faced an additional, disproportionate burden of circumnavigating highway infrastructure to access jobs, schools, and community resources. For decades, the socioeconomic problems created by highway construction, such as record-high poverty and incarceration rates, went unnoticed by the people outside of those communities.
Today, the Reconnect Communities pilot program established in President Biden's 2021 Bipartisan Infrastructure Law is helping to rectify these injustices. The program allots $1 billion in federal funding, primarily construction grants, to reconnect neighborhoods bisected or cut off by highways.
Stacker reviewed historical records, news reports, and government documents to create a sample of cities significantly impacted by car infrastructure throughout the 20th century.
You may also like: The most financially damaging cybercrimes in your state