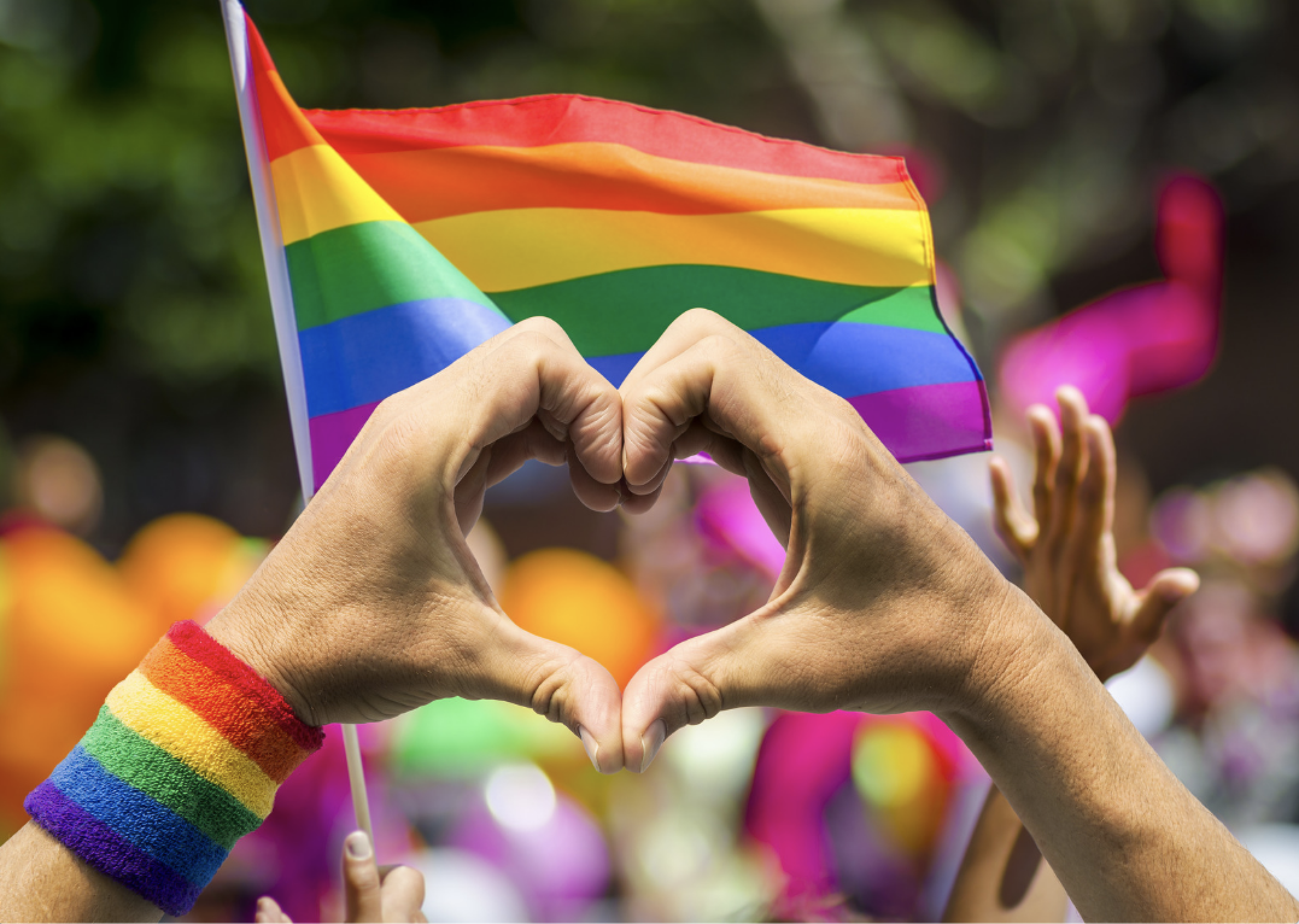 How Pride is celebrated around the globe in 25 photos
lazyllama // Shutterstock
How Pride is celebrated around the globe in 25 photos
In the early morning hours of June 28, 1969, New York City police raided Greenwich Village gay bar the Stonewall Inn. It wasn't the first time—the dive bar was running without a liquor license and was a known gay bar at a time when same-sex relations were still illegal—but this time patrons had had enough. The true story of what happened that night is hard to know for sure. Stacker's history of it comes from a patchwork of accounts; there was only one picture taken of the patrons' clash with police. However, one thing is for sure: the days-long uprising became the foundation of the modern LGBTQ+ movement.
A year after the riots, in 1970, the first Pride event was held in New York City. Initially, Pride was a political demonstration that voiced the LGBTQ+ community's demands for equal rights and protections. Throughout the next 20 years, especially through the AIDS epidemic, more parades and demonstrations of a similar nature surfaced around the city and throughout the country.
Then, in 1991, Pride began to resemble what many people know it to be today. Parties, concerts, and other events started to spring up around the public demonstrations and marches, giving the protests a significantly more celebratory and joyful vibe. Pride slowly began transforming into "a celebration of queer life and sexuality in addition to a political and social demonstration," according to The Human Rights Campaign.
In 2019, the International Gay & Lesbian Travel Association reports that 172 Pride Parades and Festivals would take place in more than 50 countries around the world.
To get a closer look at how Pride is celebrated around the globe, Stacker compiled a gallery showcasing 25 photographs from around the world to help readers get a better understanding of how each country, from Taiwan and India to Israel and South Africa, honors Pride.
You may also like: Looking back at 50 years of Pride festivals
Japan
Celebrating its 25th anniversary this year, the Tokyo Rainbow Pride Parade will take place from April 27 to May 6. The first iteration of the festival drew in only 1,000 marchers, but 2019 saw 52 groups register to take part in the parade and record-setting attendance was expected. The family-friendly festival is of the utmost importance to the country's queer community, which is still fighting an uphill legal battle to be granted the same rights given to heterosexual couples.
France
On June 29, Paris will hold its 41st annual Marche des Fiertés LGBT. Organized by hundreds of volunteers, the parade is expected to last over four hours, traveling from the Place de la Concorde to the Place de la République. Second only to New York and Brazil in the size of its queer community and Pride parade, the Marche des Fiertés LGBT will be one of the biggest Pride Month events in the world.
Thailand
1999 saw Phuket, Thailand's first Pride Week. The event has grown significantly over the last 10 years, and 2019's Phuket Pride festival is poised to be among the biggest yet. Most of the activities will take place on Patong beach from April 27 to April 30, and will include beauty contests, beach volleyball tournaments, and cabaret shows.
England
London is home to England's biggest Pride festival—in 2018, there were over 1 million people who marched, celebrated, and advocated for equal rights and visibility. While events are organized for the entire month of June, this year's parade will take place near the end of the festivities on July 6. The festival's 2019 theme, #PrideJubilee, is focused on remembering the moments and the people behind them that have brought the LGBTQ+ community the most pride.
Korea
On June 1, 2019, some 70,000 South Koreans, including Democratic Party leaders, wound through downtown Seoul for the 20th annual gay rights march. While gay and other LGBTQ+ identities aren't illegal in South Korea, there are no laws against discrimination, which means that many individuals find their fundamental human rights challenged regularly. The organizers have typically kept the event's date a secret until the last minute to keep the strong opposition of anti-gay activists at bay.
Brazil
Considered the world's biggest and best Pride parade, the Sao Paulo Brazil Gay Pride Parade holds the Guinness World Record title for "largest pride" parade. The official event is five days long, and this year it will run from June 18 to June 23. However, the party generally lasts closer to three weeks with events like plays, debates, and concerts leading up to it. Around 3 million people participate in the parade each year. The event takes over four hours to complete, making this a once-in-a-lifetime experience for many LGBTQ+ supporters.
United States
New York City hosts one of the largest Pride celebrations in the world, which seems fitting as the city is home to the original Stonewall Riots of 1969. With events spanning the entire month of June, the biggest event, the NYC Pride March, will take place on June 30. This year it's estimated that 4.5 million people will march and attend the event, as NYC is also the official host of WorldPride 2019, carrying the spirit of Stonewall with them and marching right past the former mafia-run gay bar.
South Africa
Cape Town hosts South Africa's largest Pride festival, which takes place much earlier than other country's celebrations, typically near the end of February. This year's Pride festivities ran from Feb. 23 to March 2: a 10-day whirlwind of parties, parades, and protests. Cape Town Gay Pride also formed a new partnership with the Cape Town Carnival, who loaned out several of their costumes to make this year's march even more memorable.
India
India's 2019 Pride Parade in Mumbai was of particular significance as it was the first march since the Supreme Court decriminalized same-sex relations near the end of last year. Mirror Now reported that hundreds of people showed up to march and celebrate the February event and that the turnout was larger than previous years.
Romania
While sexual orientation protections have been in place since 2000, LGBTQ+ people in Romania still face an enormous amount of challenges in the socially conservative country. Bucharest hosts one of the country's most notable Pride celebrations, and many of its events are dedicated to education and outreach. From community meetings to exhibitions, debates, and conferences, the events at Bucharest Pride take on a markedly different tone than those in Brazil or the United States.
Ukraine
In 2018, it was reported that around 5,000 LGBTQ+ pride supporters were able to march in Ukraine's capital for about 20 minutes. It was the first year a Pride parade had ended without violence in that country. Last year's events have given supporters hope that this year's Pride, which will be held from June 14 to June 23, will see a bigger turnout (they're expecting 10,000 attendees) and face less resistance.
Italy
Rome is historically a Catholic city and is home to both the Vatican (the headquarters of the Roman Catholic Church) and the Pope. As such, LGBTQ+ people have faced more challenges or resistance in Italy than in many other parts of Western Europe. Rome, the country's capital, has only hosted Pride marches since 2013, and this year the Roma Pride event fills an entire week, culminating in a parade on June 8.
Mexico
Mexico City's Pride Parade was called "one of the largest, wildest, and crazy gay pride events" in Latin America by Misterb&b, a global gay travel community. The first Pride parade was held in 1978, and Mexico City's Pride festival is well rehearsed and well-attended. On average, 1 million LGBTQ+ activists march and party their way through the city. This year's event will happen on June 29.
Ireland
In 1983 the first large scale march for LGBTQ+ rights in Ireland started at Dublin's Liberty Hall. 2019's Pride parade will bring 7,000 people by that exact spot, giving participants a moment to reflect on how far the country has come. After the march, revelers can kick back at Pride Village or keep the party going at the adults-only Pride Block Party.
Belgium
On May 18, 2019, 24 diplomats from countries around the world marched in the Belgium Pride Parade as "Diplomats for Equality," according to The Brussels Times. One of the most advanced countries in Europe as far as LGBTQ+ equality and inclusivity, Belgium legalized same-sex marriage in 2003, but the community realizes life isn't as easy for LGBTQ+ people everywhere else. The diplomats march for LGBTQ+ rights everywhere. 
Israel
Another deeply religious country, Israel's Pride celebrations, while joyous, tend to face a lot of opposition. The Times of Israel reported that far-right extremists vowed to protest and disrupt the Jerusalem Pride Parade, and Tel Aviv's parade also faces similar threats. Even still, organizers planned massive parades and beach parties to be held in each city on June 6 and June 14.
Canada
Canada hosts several large Pride events each year, but one of the biggest is Vancouver's Pride Week Festival. Running from July 29 to Aug. 5, this year's festival will be held in Vancouver's West End neighborhood, and the parade, which is generally attended by hundreds of thousands of supporters, will take place on Aug. 4. In the past, Prime Minister Justin Trudeau has made an appearance to demonstrate his support—attendees would do well to keep their eyes peeled for him again this year.
Taiwan
Revelers at Taiwan's Taipei Pride Parade have a lot to celebrate this year: on May 17 the country legalized same-sex marriage, making it the first country in Asia to do so. Taipei's parade will be one of the last Pride events of the year, taking place on Oct. 26 when temperatures have finally cooled off.
Iceland
The "biggest small Pride in the world" Reykjavik's Pride festival will be celebrated in August. In 1993, Icelandic LGBTQ+ supporters gathered in the city center to demand freedom and equal human rights, an instance which became an official event in 1999. Over 100,000 guests from all over the world are set to attend and will be greeted with a program of more than 40 official events.
Germany
In Berlin, LGBTQ+ supporters celebrate Christopher Street Day. The holiday marks the Stonewall Inn riots (which occurred on Christopher Street in New York City) and was first observed in 1979, 10 years after the riots. This year's Christopher Street Day parade will be held on July 27, and attendance is expected to be around 500,000.
Amsterdam
Amsterdam has a unique Pride celebration—the city's massive parade winds through the famous UNESCO World Heritage site canals as thousands watch from boats docked along the shores. From Aug. 2 to Aug. 4, revelers will come from all over the world to party and celebrate, making Pride weekend one of the city's busiest of the year.
Lithuania
Lithuania decriminalized same-sex relations in 1993, but the cultural attitude towards LGBTQ+ people remains mostly negative and oppressive. The country didn't throw their first Pride parade until 2010, and even then it was sparsely attended. This year the country's capital, Vilnius, hosted Baltic Pride from June 4 to June 9, an event that has become the largest LGBTQ+ human rights festival in the Baltic states.
Australia
In 2018, Sydney's Pride Festival contained over 100 events—this year the organizers seem to have set out to top that number. The festival's theme, "RIOT 69" will commemorate both the brave protestors at the Stonewall Inn in 1969 and the people who marched in the first Sydney Mardi Gras (Sydney's near-riotous call for the end of discrimination against LGBTQ+) in 1978. Join the celebration down under from June 6 to June 30 this year.
Greece
Greece is known for its partying (especially in locations like Athens, Mykonos, and Santorini), and as a result, its Pride celebrations are always over the top. This year Athens' pride week will took place from June 1 to June 8. The parade marched through the downtown heart of the city, past the Parliament building, and a special moment was held in memory of Zak Kostopoulos, a young Greek LGBTQ+ activist who was beaten to death in central Athens in 2018. 
New Zealand
Auckland, New Zealand, which held its Pride events Feb. 1 to Feb. 17 this year, took a more low-key approach than many of the other countries on this list. For example, they ditched their typically extravagant parade for a walk that ran entirely without uniformed police officers. The Auckland Pride Festival chair told NewsHub that this move, among others, was intended to "to get back to having Pride with more of a community focus."