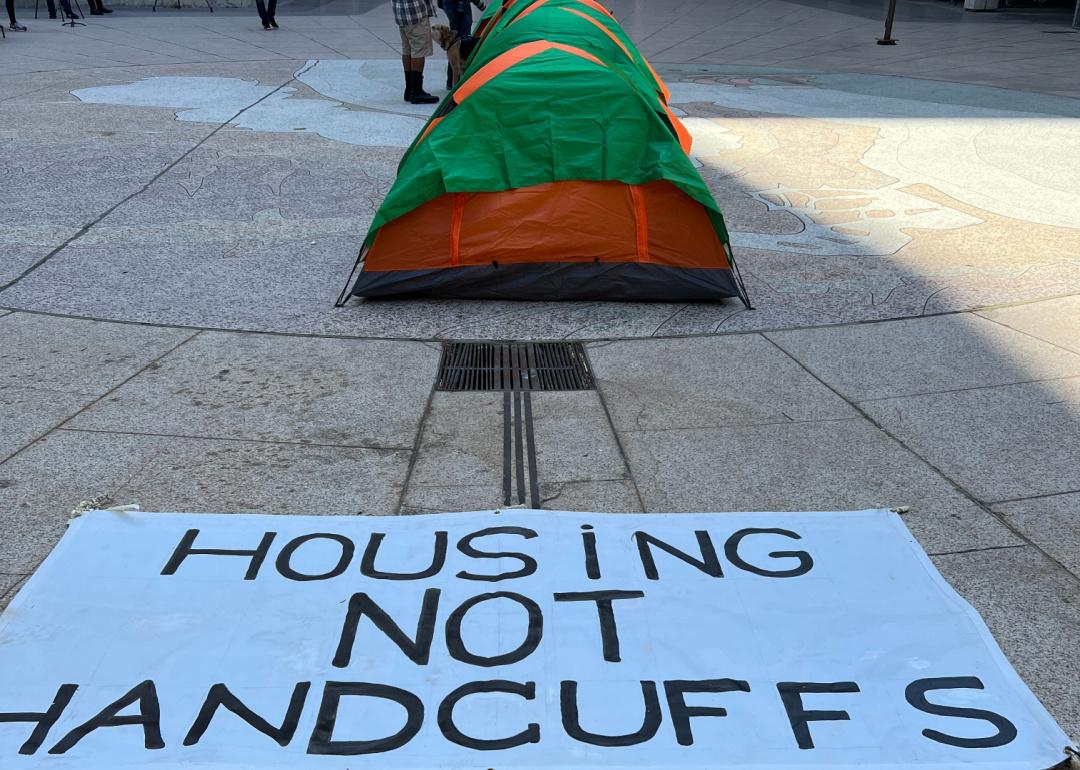 Stacker Studio
How the US compares to other countries on policies that could mitigate homelessness
Roaming Panda Photos // Shutterstock
How the US compares to other countries on policies that could mitigate homelessness
In late February 2023, the Department of Housing and Urban Development announced it was allocating $5.6 billion in grants to finance community programs, including affordable housing development plans and assistance for people experiencing homelessness or who are at risk. The grants benefit all 50 states, the District of Columbia, and the five U.S. nonstate territories.
According to HUD, the Biden administration has exceeded its annual goals for mitigating homelessness by 25% until 2025, an ambitious objective outlined in the federal strategic plan launched in December 2022.
Despite the government's efforts, the U.S. does not consistently rank well compared to other member nations of the Organization for Economic Cooperation and Development regarding policies to resolve homelessness, particularly when measured against countries of comparable economic stature.
The problems, though similar, differ widely among nations due to population, public policy, geographical and weather conditions, income inequality, and health care systems. The same applies among the states; two densely populated states, New York and California, rank alongside one of the least populous states, Hawaii, making up the top three states in people experiencing homelessness. In 2020, they were the only three states with more than 40 people without homes out of every 10,000 inhabitants. The homelessness rate in D.C. far surpasses that oven even the worst-off states, with more than 90 people in 10,000 without a home.
The COVID-19 pandemic slowed down the already lethargic progress of the U.S. in addressing the homelessness crisis, though it is still uncertain how much the pandemic truly affected the situation.
While Congress, HUD, and local governments handed over billions of dollars in emergency aid to properly quarantine and protect the unsheltered, even demanding that hotels provide temporary accommodation for hundreds of persons, data gathering became a distinct challenge. Eviction prompted by rental nonpayment was halted thanks to policies such as the federal eviction moratorium and parallel programs at local levels, yet any change in the number of unsheltered homeless remains nebulous due to insufficient data gathering and the general difficulty in tracking individuals with no constant point of origin.
Experts agree on one thing: The pandemic exposed the brittleness of existing sheltering resources and the long road ahead toward finding a lasting comprehensive solution. The aim is to provide not only affordable housing, but also sustainable answers to the many factors that force people into homelessness, including social reintegration programs, mental health care, substance abuse treatments, and a safe haven for domestic violence victims.
Foothold Technology cited data from OECD to visualize how U.S. housing stock and policies compare to other countries and what that means for reducing rates of homelessness.
This story originally appeared on Foothold Technology and was produced and distributed in partnership with Stacker Studio.