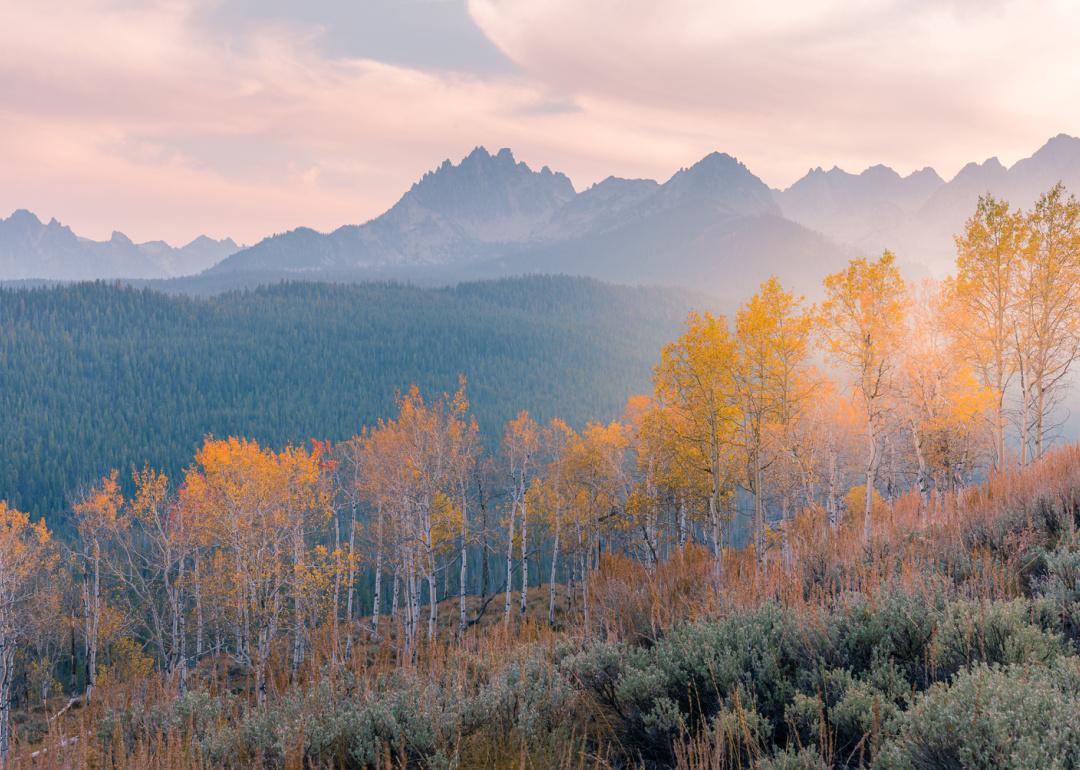 States that are conserving the most land
States that are conserving the most land
Yellowstone, Yosemite, the Grand Canyon, Niagara Falls—every state in the nation boasts another natural marvel; land carefully protected from development to preserve its beauty and ecosystem. The United States boasts a whopping 59 national parks and 8,565 state parks, plus countless other national forests and protected areas. Thanks to the government's dedication to preservation, Americans can still discover natural wonders from sea to shining sea.
With that in mind, the amount of land preserved does vary widely from state to state. Using data from the U.S. Department of the Interior's National Inventory of Protected Areas, Stacker ranked all 50 states—plus the District of Columbia and Puerto Rico—by the percent of total protected state acres. The amount of each state's land classified as protected with the designation GAP 1, GAP 2, or GAP 3 was calculated using digital mapping software.
Read on to see where your home state falls on the list, and learn each state's most notable large park. Environmentalists might even consider it a road trip bucket list.
#52. Kansas
Percent of total state area protected: < 1% (498,206.1 out of 52.7 million acres)
Notable large park in this state: Fall River State Park
#51. District of Columbia
Percent of total state area protected: < 1% (118.1 out of 43,734 acres)
Notable large park in this state: Lincoln Park
#50. Iowa
Percent of total state area protected: 1.69% (607,083.6 out of 36 million acres)
Notable large park in this state: Brushy Creek State Recreation Area
#49. Nebraska
Percent of total state area protected: 2.20% (1.1 million out of 49.5 million acres)
Notable large park in this state: Fort Robinson State Park
#48. Illinois
Percent of total state area protected: 3.19% (1.2 million out of 37.1 million acres)
Notable large park in this state: Hennepin Canal Parkway State Park
#47. Texas
Percent of total state area protected: 3.25% (5.6 million out of 171.9 million acres)
Notable large park in this state: Big Bend National Park
#46. Indiana
Percent of total state area protected: 3.26% (759,520.2 out of 23.3 million acres)
Notable large park in this state: Brown County State Park
#45. Oklahoma
Percent of total state area protected: 3.52% (1.6 million out of 44.7 million acres)
Notable large park in this state: Lake Murray State Park
#44. Ohio
Percent of total state area protected: 3.70% (1.1 million out of 28.7 million acres)
Notable large park in this state: Cuyahoga Valley National Park
#43. Alabama
Percent of total state area protected: 4.38% (1.5 million out of 33.5 million acres)
Notable large park in this state: Oak Mountain State Park
#42. Puerto Rico
Percent of total state area protected: 4.73% (161,310.4 out of 3.4 million acres)
Notable large park in this state: El Yunque National Forest
#41. Kentucky
Percent of total state area protected: 5.16% (1.3 million out of 25.9 million acres)
Notable large park in this state: Mammoth Cave National Park
#40. Georgia
Percent of total state area protected: 6.39% (2.4 million out of 38 million acres)
Notable large park in this state: F. D. Roosevelt State Park
#39. North Dakota
Percent of total state area protected: 6.47% (2.9 million out of 45.2 million acres)
Notable large park in this state: Theodore Roosevelt National Park
#38. Missouri
Percent of total state area protected: 6.48% (2.9 million out of 44.6 million acres)
Notable large park in this state: Gateway Arch National Park
#37. Mississippi
Percent of total state area protected: 6.96% (2.2 million out of 31 million acres)
Notable large park in this state: Clarkco State Park
#36. Tennessee
Percent of total state area protected: 7.32% (2 million out of 27 million acres)
Notable large park in this state: Great Smoky Mountains National Park
#35. South Carolina
Percent of total state area protected: 7.66% (1.6 million out of 20.5 million acres)
Notable large park in this state: Congaree National Park
#34. Connecticut
Percent of total state area protected: 7.68% (272,368.8 out of 3.5 million acres)
Notable large park in this state: Mohawk Forest/Mohawk Mountain State Park
#33. South Dakota
Percent of total state area protected: 8.43% (4.2 million out of 49.4 million acres)
Notable large park in this state: Badlands National Park
#32. Maryland
Percent of total state area protected: 8.73% (693,081.3 out of 7.9 million acres)
Notable large park in this state: Gunpowder Falls State Park
#31. Louisiana
Percent of total state area protected: 9.03% (3 million out of 33.5 million acres)
Notable large park in this state: Chicot State Park
#30. Rhode Island
Percent of total state area protected: 9.22% (91,165.5 out of 988,728 acres)
Notable large park in this state: Burlingame State Park
#29. North Carolina
Percent of total state area protected: 9.32% (3.2 million out of 34.4 million acres)
Notable large park in this state: South Mountains State Park
#28. Virginia
Percent of total state area protected: 10.08% (2.8 million out of 27.4 million acres)
Notable large park in this state: Shenandoah National Park
#27. Delaware
Percent of total state area protected: 10.36% (165,045.1 out of 1.6 million acres)
Notable large park in this state: Cape Henlopen State Park
#26. West Virginia
Percent of total state area protected: 10.96% (1.7 million out of 15.5 million acres)
Notable large park in this state: Watoga State Park
#25. Maine
Percent of total state area protected: 11.15% (2.5 million out of 22.6 million acres)
Notable large park in this state: Acadia National Park
#24. Arkansas
Percent of total state area protected: 11.49% (3.9 million out of 34 million acres)
Notable large park in this state: Hot Springs
#23. New York
Percent of total state area protected: 13.37% (4.7 million out of 34.9 million acres)
Notable large park in this state: Allegany State Park
#22. Wisconsin
Percent of total state area protected: 13.79% (5.8 million out of 41.9 million acres)
Notable large park in this state: Devil's Lake State Park
#21. Michigan
Percent of total state area protected: 14.04% (8.7 million out of 61.9 million acres)
Notable large park in this state: Isle Royale National Park
#20. Vermont
Percent of total state area protected: 14.64% (901,321.6 out of 6.2 million acres)
Notable large park in this state: Camel's Hump State Park
#19. Massachusetts
Percent of total state area protected: 15.14% (1 million out of 6.8 million acres)
Notable large park in this state: October Mountain State Forest
#18. Pennsylvania
Percent of total state area protected: 15.68% (4.6 million out of 29.5 million acres)
Notable large park in this state: Pymatuning State Park
#17. New Jersey
Percent of total state area protected: 21.62% (1.2 million out of 5.6 million acres)
Notable large park in this state: Elephant Butte Lake State Park
#16. Minnesota
Percent of total state area protected: 22.6% (12.6 million out of 55.6 million acres)
Notable large park in this state: Voyageurs National Park
#15. New Hampshire
Percent of total state area protected: 24.58% (1.5 million out of 6 million acres)
Notable large park in this state: Pisgah State Park
#14. Florida
Percent of total state area protected: 25.11% (10.6 million out of 42.1 million acres)
Notable large park in this state: Biscayne National Park
#13. Hawaii
Percent of total state area protected: 31.32% (2.2 million out of 7 million acres)
Notable large park in this state: Hawaii Volcanoes National Park
#12. New Mexico
Percent of total state area protected: 31.56% (24.6 million out of 77.8 million acres)
Notable large park in this state: Carlsbad Caverns National Park
#11. Montana
Percent of total state area protected: 36.51% (34.4 million out of 94.1 million acres)
Notable large park in this state: Glacier National Park
#10. Washington
Percent of total state area protected: 37.5% (17.1 million out of 45.6 million acres)
Notable large park in this state: Olympic National Park
#9. Arizona
Percent of total state area protected: 38.42% (28 million out of 73 million acres)
Notable large park in this state: Grand Canyon
#8. Colorado
Percent of total state area protected: 41.42% (27.6 million out of 66.6 million acres)
Notable large park in this state: Mesa Verde National Park
#7. California
Percent of total state area protected: 50.74% (53.2 million out of 104.8 million acres)
Notable large park in this state: Joshua Tree National Park
#6. Wyoming
Percent of total state area protected: 54.83% (34.3 million out of 62.6 million acres)
Notable large park in this state: Grand Teton National Park
#5. Alaska
Percent of total state area protected: 55.4% (235.9 million out of 425.8 million acres)
Notable large park in this state: Wrangell–St. Elias
#4. Oregon
Percent of total state area protected: 56.02% (35.3 million out of 63 million acres)
Notable large park in this state: Crater Lake National Park
#3. Idaho
Percent of total state area protected: 67.34% (36 million out of 53.5 million acres)
Notable large park in this state: City of Rocks National Reserve
#2. Utah
Percent of total state area protected: 68.5% (37.2 million out of 54.3 million acres)
Notable large park in this state: Canyonlands National Park
#1. Nevada
Percent of total state area protected: 80.44% (56.9 million out of 70.8 million acres)
Notable large park in this state: Great Basin National Park