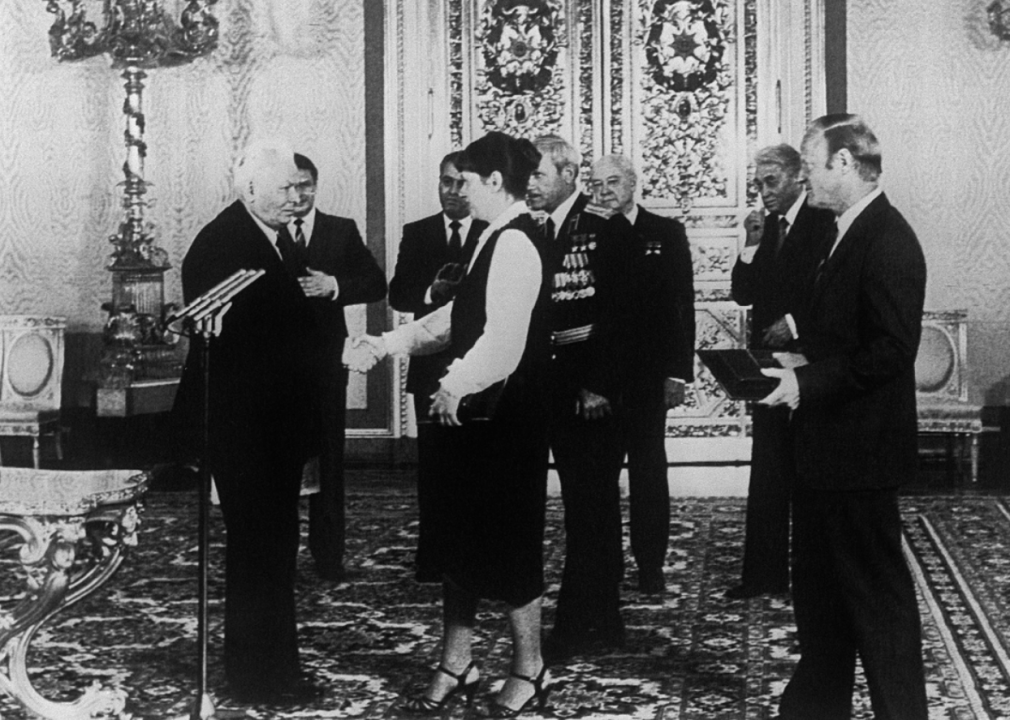 History of women in space
History of women in space
Every year on May 26, Americans celebrate Sally Ride Day, a national holiday dedicated to the country's first woman in space. The holiday, which falls on Ride's birthday, pays tribute to the woman who paved the way for other female space explorers when she entered orbit June 18, 1983, aboard NASA's STS-7 mission. After the mission, Ride said she was aware of its significance. "I did feel a special responsibility to be the first American woman in space," she said. The holiday is meant to celebrate the contributions that women have made to space exploration and to encourage young girls interested in careers in science, math, and other STEM disciplines to pursue their dreams.
Women have been contributing to space exploration since its early days, both as astronauts and as scientists. The United States currently has the highest running tally of women in space, although Russia accomplished this first, sending Valentina Tereshkova into orbit in 1963 aboard the Vostok 6 mission. Today, three nations have space programs in which women regularly take part in including China, Russia, and the U.S.
Yet even with these advances, there are still plenty of challenges for women in this field. In 1978, for example, when NASA's Astronaut Corps graduated its first class that included women, the six women astronauts who took part were referred to as "Glamornauts," at one point called "eye-popping space gals." More than 40 years later, the agency still struggles with gender equality, a fact that was evidenced in March 2019 when an all-women space mission—meant to be a historic moment—had to be canceled because the agency didn't have enough space suits for them. The first all-women spacewalk did end up happening seven months later.
Among the missteps, however, are obvious leaps forward. In 2013, NASA's new astronaut recruits were split down the middle with four men and four women joining the program. The space agency's style guides have also been updated to eliminate gendered phrases such as "manned spaceflight" (calling it a "human spaceflight" instead). Jim Bridenstine, the current head of the agency, has been quoted several times saying his organization is committed to fostering diversity. And in a keynote speech by Bridenstine at the International Astronautical Congress in October 2019, he said the next astronauts on the moon in 2024 will likely include multiple women.
Read on to learn about the history of women in space.
You may also like: Women who broke barriers throughout military history
1961: Katherine Johnson
U.S. mathematician Katherine Johnson was an influential figure throughout her 35-year career with NASA, which began when the agency was a fledgling organization called NACA (National Advisory Committee for Aeronautics). Her first major contribution came in 1961 when she successfully calculated the flight trajectory for the first American in space. Other contributions made by Johnson, who was featured in the 2016 movie "Hidden Figures," included ushering in the agency's uses of computers, aided in large part by her sharp knack for manual calculations.
1963: Valentina Tereshkova
In 1963, Soviet cosmonaut Valentina Tereshkova made world history when she piloted the Vostok 6 solo mission, becoming the first ever woman in space. Prior to her involvement with the Russian space program, the bold cosmonaut was an amateur skydiver. More than 50 years later, she remains the only woman to have flown a solo space mission.
1982: Svetlana Savitskaya
After Tereshkova's solo mission, it was nearly 20 years before another woman went into space. That occurred in 1982 when another Soviet cosmonaut, Svetlana Savitskaya, flew aboard the Soyuz T-7 mission, making her the second woman in space. Two years later, she earned herself a second title as the first woman spacewalker on her third flight when she welded metal outside the spacecraft during the Soyuz T-5 mission.
1983: Sally Ride
The following year, the United States caught up with the Soviet space program in terms of women's participation when NASA astronaut Sally Ride joined the STS-7 mission to deploy communications satellites, a mission that later earned her the namesake holiday. One of the satellites she helped set up was the Anik C2—the first in a series of satellites that were three times more powerful than any of their predecessors. Ride's historic mission occurred aboard the Challenger, the same spacecraft that exploded three years later due to a structural failure.
1984: Kathryn Sullivan
U.S. astronaut Kathryn Sullivan came close to becoming the first woman to walk in space but Svetlana Savitskaya, mentioned earlier, beat her by about 80 days. Instead, she became the second women spacewalker when she carried out her EVA Oct. 11, 1984. During that spacewalk, which was part of NASA's STS-41-G mission, Sullivan spent more than three hours illustrating how a satellite might be refueled while in orbit.
1986: Judith Resnik
Among other accomplishments, NASA engineer and astronaut Judith Resnik was the first Jewish woman in space. Throughout the course of her career, which included working as a NASA electrical engineer, she logged a total of 145 hours in space. Resnik was killed in 1986 during the Challenger explosion that killed all seven crew members on board when the spacecraft burst into flames less than two minutes after takeoff.
1990: Nancy Grace Roman
In 1990, NASA executive Nancy Grace Roman saw two decades of work come to fruition when the historic Hubble space telescope—the first ever of its kind—was launched into orbit. Roman, who joined NASA in 1959, six months after the agency launched, was known as the "Mother of Hubble." In addition to being the agency's first chief of astronomy, as well as the first woman to hold an executive position, she was instrumental in getting the project off the ground during Hubble's formative years.
1991: Ellen Ochoa
Among numerous accomplishments during the course of her career, NASA astronaut Ellen Ochoa was the first Hispanic American woman to join NASA's space program in January 1991. Two years later, she made history again when she became the first Hispanic American to go into space. In 2013, Ochoa was appointed the director of the Johnson Space Center, becoming the second woman ever to hold the title.
1991: Helen Sharman
British astronaut Helen Sharman made history in 1991, five months after Ochoa joined the space program when she as a part of Project Juno, a private British space program backed by the Soviet Union that flew to the Mir space station. She was one of four civilians selected of 13,000 applicants who responded to a series of ads in British newspapers, one of which read "Astronaut wanted. No experience necessary."
1992: Roberta Bondar
Canadian astronaut Roberta Bondar joined the ranks of many of the other women on this list in January 1992 when she joined mission STS-42 as a payload specialist aboard shuttle Discovery, becoming the first Canadian woman in space. The accomplished astronaut worked as a physician prior to her space mission and was also the first neurologist in space of any gender. She has been a recipient of the NASA Space Medal and was honored with a special Canadian coin in 2017.
1992: Mae Jemison
In 1992, U.S. astronaut Mae Jemison became the first African American woman to fly in space aboard NASA's shuttle Endeavor. The pioneering astronaut, who has a background in chemical engineering from Stanford, is also a trained doctor who served as a medical officer in the Peace Corps prior to joining the space agency. Jemison was reportedly afraid of heights early in her career, but attributed her tenacity to the "strength of her ego," according to Fast Company.
1994: Chiaki Mukai
The first Japanese woman in space was Chiaki Mukai, a celebrated physician who accomplished the historic feat in 1994 as part of mission STS-65. At the time, she set a record for having the longest flight duration of any woman, though it's since been broken. As a trained cardiovascular surgeon, she helped the mission conduct several medical experiments regarding the cardiovascular and autonomic nerve systems, among other experiments.
1996: Claudie Haigneré
Following just two years behind Japan, France sent Claudie Haigneré to the Mir space station in 1996, making her the first French woman in space. She was known by her maiden name, Claudie André-Deshays, at the time. During the Cassiopée mission, as it was called, Haigneré carried out experiments in physiology, biology, and other scientific disciplines.
1996: Shannon Lucid
U.S. astronaut Shannon Lucid was part of NASA Astronaut Corps' first class of women in 1978—part of a diversity campaign that was linked to emerging antidiscrimination laws. Lucid was one of six women chosen for the program and the only mother in the group. Her most famous voyage came in 1996 when she logged 188 days in space, largely due to a series of delays that kept her there six weeks longer than planned.
1997 to present: Huy Tran
In 1997, NASA engineer Huy Tran led special heat shield testing for the agency's groundbreaking Mars Pathfinder mission which deployed the first ever successful rover on another planet. The space engineer, who was responsible for the creation of its back interface plate, called it the "happiest moment" of her career. "I realize how lucky I am," she wrote of the accomplishment.
1998 to present: Madhulika Guhathakurta
Astrophysicist Madhulika Guhathakurta, who works with NASA's Heliophysics Science Division, is a contemporary scientist who has contributed an enormous body of knowledge to the field of heliophysics (an area that studies the effects of the sun on the solar system). The prolific NASA researcher has written more than 70 publications on the subject and acted as a coinvestigator aboard five Spartan 201 missions studying the solar corona. She is currently the lead program scientist for NASA's "Living with a Star" initiative.
1999: Eileen Collins
NASA astronaut Eileen Collins made history in 1999 when she acted as the first woman commander of a U.S. space shuttle. The feat took place aboard the STS-93 shuttle mission that deployed the Chandra X-Ray Observatory space telescope, an apparatus that could detect X-ray sources 100 times fainter than that of any previous telescope. Prior to this historic accomplishment, Collins achieved another first when she piloted a space shuttle mission in 1995—the first woman to do so.
2002: Gwynne Shotwell
On the space tourism side of things, one of the most influential women has been Gwynne Shotwell, the president and chief operating officer of SpaceX who's been called the organization's "secret weapon." The COO was listed by Forbes as the 55th most powerful woman in the world in 2019.
2007: Sunita Williams
Among other accomplishments, NASA flight engineer and U.S astronaut Sunita Williams was the first person to run a marathon in space. This impressive feat occurred in April 2007 when she competed in the Boston Marathon while in orbit, circling the Earth twice in the four hours and 24 minutes it took her to complete the race on a space treadmill. At one time, she also held the record for the most spacewalks by a woman, having completed seven.
2008: Peggy Whitson
U.S astronaut Peggy Whitson is famous for many things, but perhaps most notable was her 2008 flight when she became the first female commander of the International Space Station (ISS). She accomplished this during Expedition 16 aboard Soyuz TMA-11, which was also famous for having Sheikh Muszaphar Shukor on board, a male astronaut who became the first Malaysian in space. In addition to Whitson's title as the first female ISS commander, she broke another record in 2017 when she became the oldest woman to have flown in space at age 57, aboard her eighth mission.
2014: Samantha Cristoforetti
Two years after Liu Yang, Samantha Cristoforetti became the first Italian woman to go to space via her Nov. 23, 2014, flight aboard the Soyuz TMA-15M, a mission that launched from Kazakhstan's Baikonur Cosmodrome. Interestingly enough, Cristforetti is almost equally as well known for being the first person to brew an espresso in space. This quirky first came as the result of a partnership between Italian coffee manufacturer Lavazza and engineering firm Argotec.
2019: First all-women space walk
Expedition 61 Flight Engineers Christina Koch and Jessica Meir of NASA completed the first all-women spacewalk on Oct. 18, 2019. The pair spent seven hours and 17 minutes on the task at hand: replacing a broken battery charge-discharge unit, or BCDU. It was the 221st spacewalk; such missions allow for the maintenance of equipment in space without having to bring the equipment back to Earth for repairs.
2030: ... first person on Mars?
Although it's unclear exactly when a manned spaceship will successfully land on Mars (NASA currently predicts 2030), when it does, it's very likely that the first person out the door will be a woman, at least according to the current head of NASA. When asked on International Women's Day if the space agency was considering putting a woman on the moon, NASA administrator Jim Bridenstine took it one step further: "The answer is absolutely. In fact, it's likely to be a woman, the first next person on the Moon. It's also true that the first person on Mars is likely to be a woman."