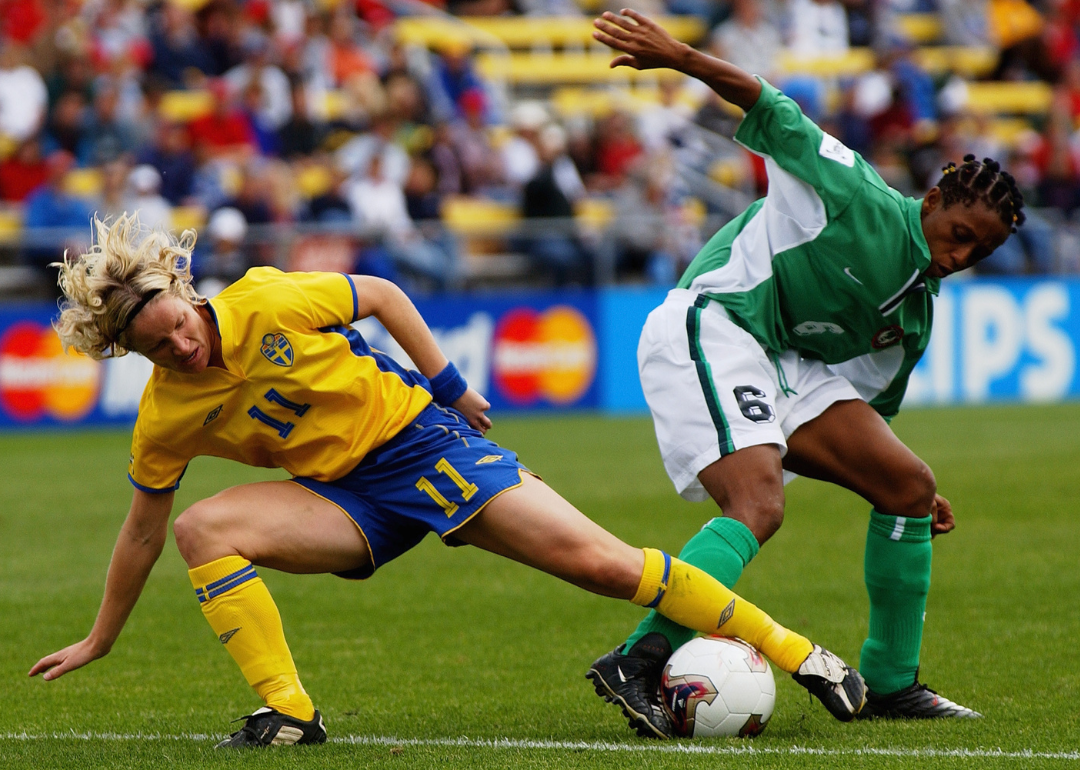 Stacker Studio
10 of the biggest upsets in FIFA Women's World Cup history
Mark Lyons // Getty Images
10 of the biggest upsets in FIFA Women's World Cup history
The wide, wide world of sports is no stranger to upsets. A team faced with adversity listed as the underdog suddenly comes out of nowhere to shock the world and pull off what the fans—and the odds—would have considered impossible. A proverbial plot twist played out across the court, the field, or in the case of the FIFA Women's World Cup, the pitch.
Every four years, the gaze of the globe falls upon 32 qualifying teams pitted against each other in at least 90 grueling minutes of blood, sweat, and tears that are often required to earn championships. And every four years, millions of watchful eyes are laser-focused on the stats, matchups, and odds that play into or against the favor of their favorite team—whether they're the top-ranked pick to win or the down-and-out underdog.
So what is an upset? Where does the term even come from? Depending on who you ask and, more importantly, who their team is—any and all games can be looked at as an upset if your team is losing. But where the term came from is actually steeped in sports lore. Though the first mention of an "upset" originated from a racing news blotter in New York, its popularization came from the well-known (and only) defeat of champion thoroughbred racehorse "Man o' War" in 1919 by a horse named—you guessed it—Upset. While the term itself came from racing, the concept spread throughout the sports world, and generation after generation have found themselves facing "upsets" of their own.
In honor of this year's FIFA Women's World Cup, OddsSeeker looked back at some of the biggest upsets in the competition's history. To compile the list, various data points were compared with a focus on final score as well as matchups where underdogs prevailed against tough opponents in knockout rounds.
This story originally appeared on OddsSeeker and was produced and distributed in partnership with Stacker Studio.