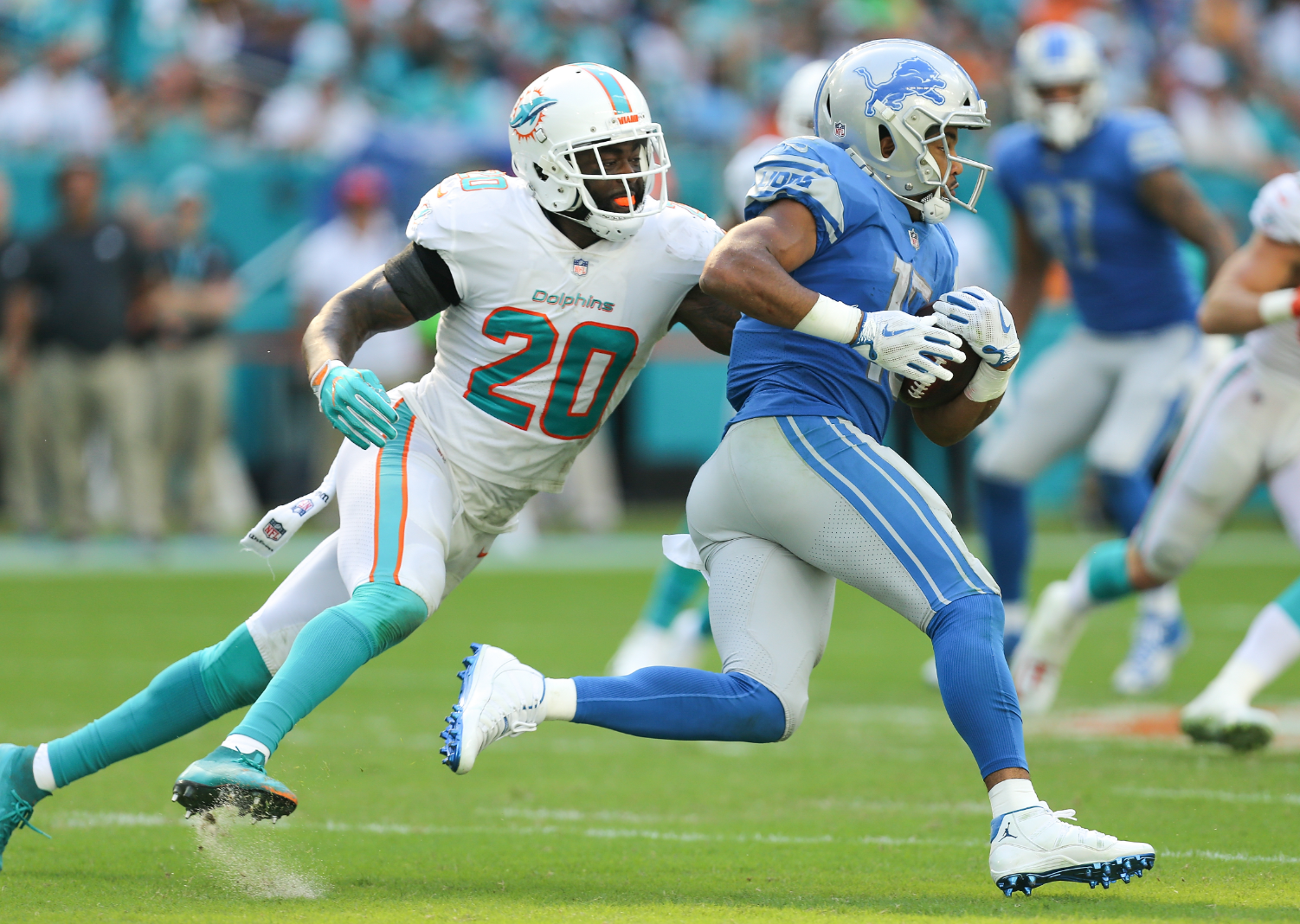 15 ways analytics has changed sports
Michael Reaves // Getty Images
15 ways analytics has changed sports
Analytics has become a major part of the modern sports landscape; whether in emphasizing commonly held beliefs like the importance of sleep in athlete performance or promoting counterintuitive ideas like the benefits of ceding control, analytics provides valuable insight into sports. Bill James is widely credited as the founder of advanced statistics in baseball, and his sabermetrics concept started gaining more attention with the release of the movie "Moneyball" in 2011. Since then, a number of small-market teams have employed some form of James' original strategy, which emphasizes on-base percentage above all else.
The NBA's use of analytics has produced a complete change in the way basketball is played, rendering the mid-range jump shot almost obsolete in favor of the 3-point shot. Players sitting out games has become commonplace, but the expected results of reducing injury and increasing performance come playoff time aren't necessarily proven. Football is also becoming increasingly reliant on sports analytics, with the NFL doing everything from evaluating talent to tracking players' energy levels during games through data analytics, a method that was overlooked by many just a few years ago.
Viewers of the 2018 Winter Olympics in Pyeongchang, South Korea, saw firsthand how analytics helped produce a sweeping change in curling after the Swedish women's team captured gold using a system that requires teams to give up control of the hammer in the final end. However, Formula One may use more statistical analysis than any other sport, with teams compiling around three terabytes of data during any given race. 
The field of sports analytics field is expected to grow to $4.5 billion in revenue by 2024 at an astounding compound annual growth rate (CAGR) of 43.5%, according to ResearchandMarkets.com. With that in mind, Stacker scoured multiple resources including MIT Sloan, Forbes, and NFL to show how analytics has altered the sports landscape. Read on to discover 15 ways analytics has changed sports.
You may also like: Famous baseball players from every state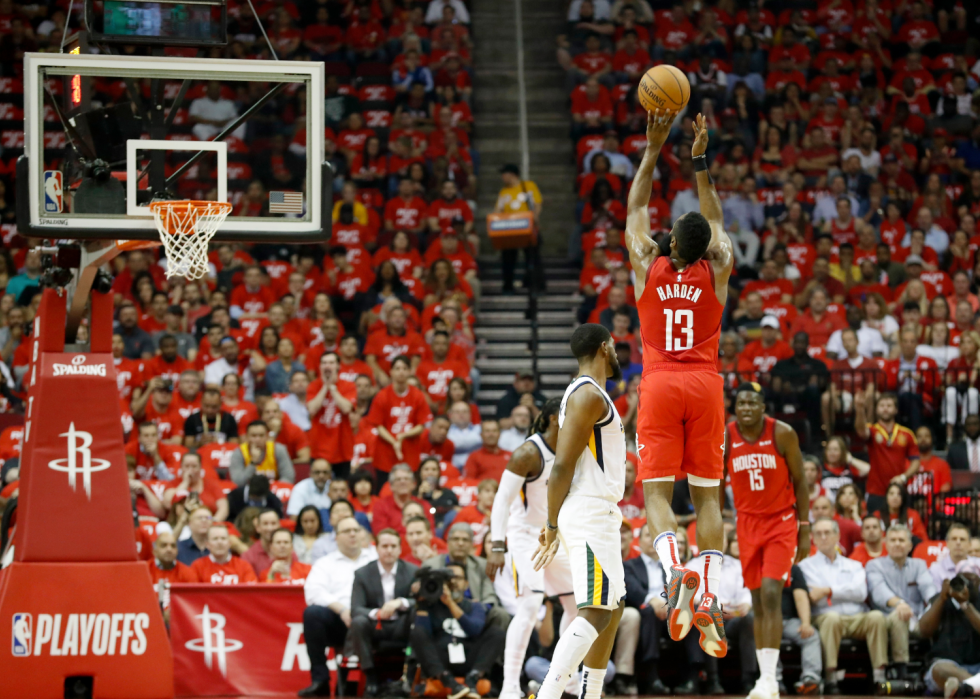 1 / 15
Tim Warner // Getty Images
NBA: Rise of 3-pointers
The use of the 3-point shot has risen dramatically in recent years, with NBA teams attempting 32 shots from behind the arc per game during the 2018-19 season, up from 29 the previous season. The 3-point shot has essentially supplanted the mid-range jump shot due to statistical analysis, which reveals a team has better odds of winning by shooting more 3-pointers and fewer 2-pointers. The NBA has seen less defined roles for players, with centers and power forwards shooting from beyond the arc, something almost unfathomable 20 years earlier. Attitude toward the trend has been mixed, with some coaches such as San Antonio Spurs head coach Gregg Popovich going on the record to say it takes a lot of the strategy and excitement out of the game.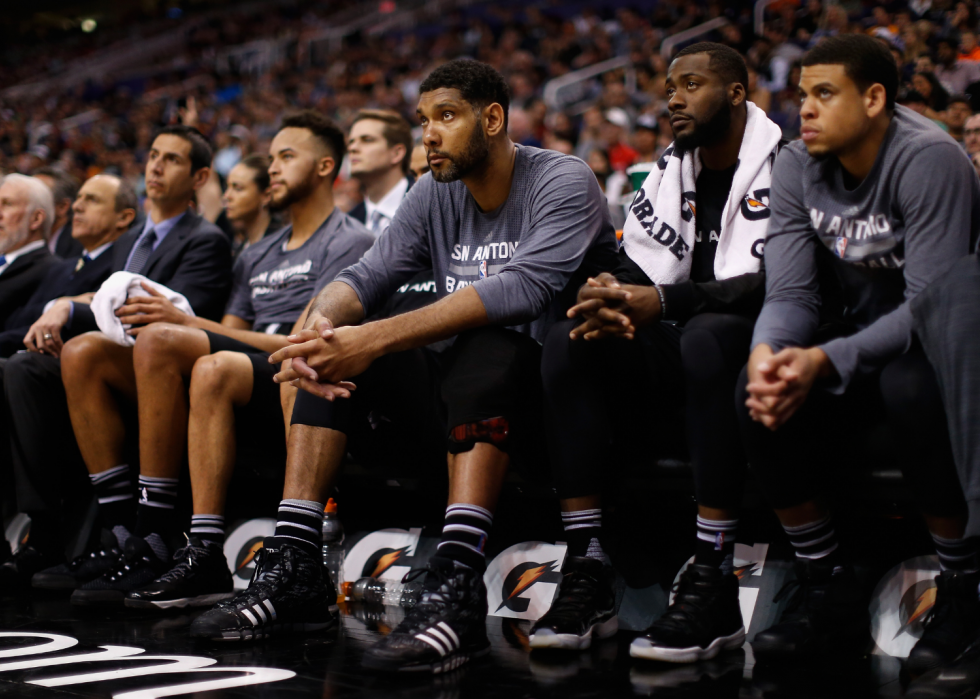 2 / 15
Christian Petersen // Getty Images
NBA: Stars resting for more games
NBA teams are resting players more often than ever before. However, the expected result of fresher players and fewer injuries come playoff time is unclear. The Orthopaedic Journal of Sports Medicine found no correlation between increased regular-season rest and playoff performance or injury risk. Despite the study results, the trend continues. It has led the league to reduce the number of back-to-back games over the course of the season, and teams are fined for resting players too often or for nationally televised games. The San Antonio Spurs started the trend in 2012 when the team rested three all-stars for a road game on national television in November, with center Tim Duncan being listed as "DNP-Old" in the box score.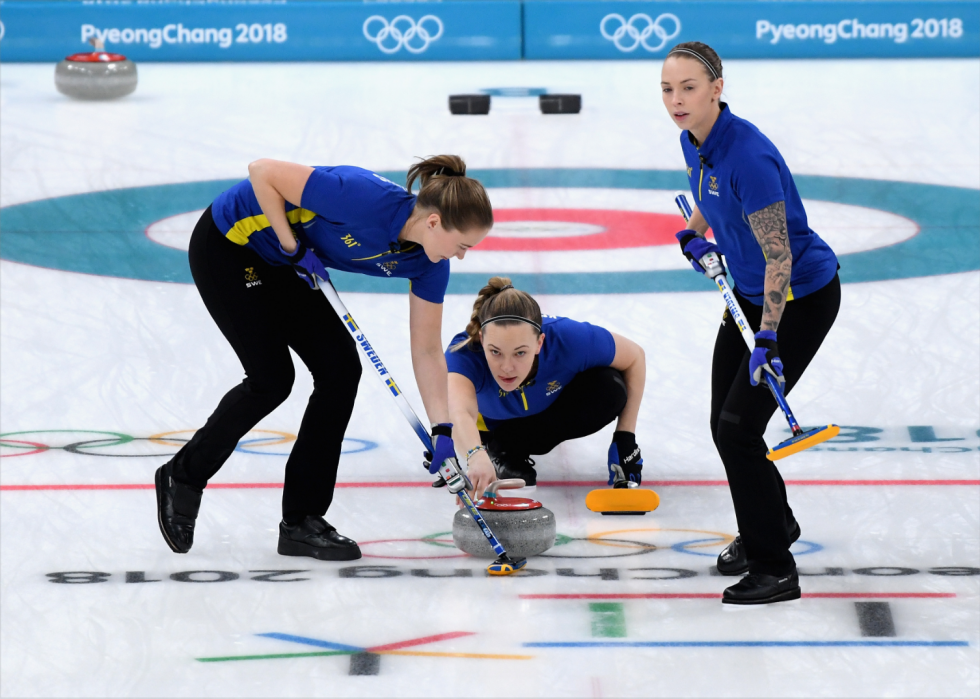 3 / 15
Harry How // Getty Images
Curling: Sweden wins women's gold medal
Analytics in curling has been slowly adopted by teams due to the counterintuitive nature of the statistics: that giving up control of the final shot is actually better. Gerry Geurts and Kevin Palmer are both considered the foremost authorities on curling analytics. They currently advise 20 teams, including the gold-medal winning Swedish women's team and the United States' men's gold medal winners from the 2018 Olympic Games in Pyeongchang, South Korea. Sweden's victory was solidified in the fourth and fifth ends, stealing a point in each despite not having the final throw. Before turning to analytics in 2016, the Swedish women's curling team, led by Anna Hasselborg, were ranked 22nd in the world.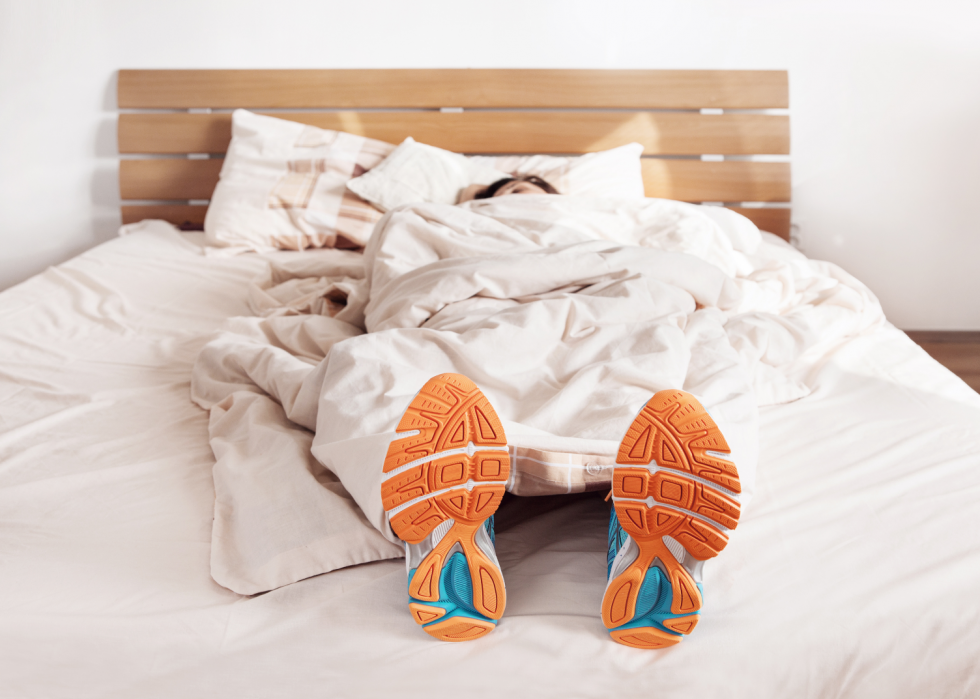 4 / 15
Soloviova Liudmyla // Shutterstock
All sports: Importance of sleep
Sleep has been referred to many times as the greatest legal advantage in sports, leading teams and institutes to analyze and monitor their players' patterns. Studies show a strong correlation between sleep and injury reduction as well as increased performance. A spokesperson for Whoop, a fitness analytics company, said that getting less than six hours of sleep correlates with a 30% reduction in time to physical exhaustion.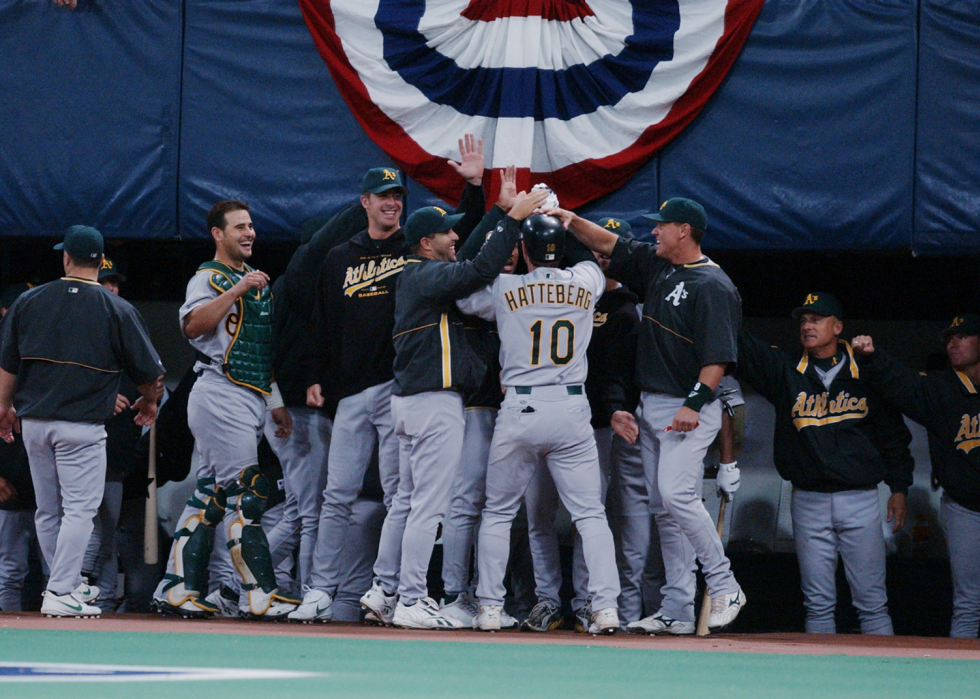 5 / 15
Matthew Stockman // Getty Images
MLB: Moneyball
The Oakland A's unlikely run to the 2002 MLB playoffs inspired a movie starring Brad Pitt and a revolution in the construction of teams. Using statistical analysis, general manager Billy Beane constructed a low-cost roster centered around on-base percentage and slugging percentage as the driving factors, first introduced by Bill James in 1977. That statistic, OPS (on-base plus slugging) has become a common statistic and has led to the emergence of other sabermetric variables. Though some question its effectiveness, many teams employ similar analyses to their front offices today.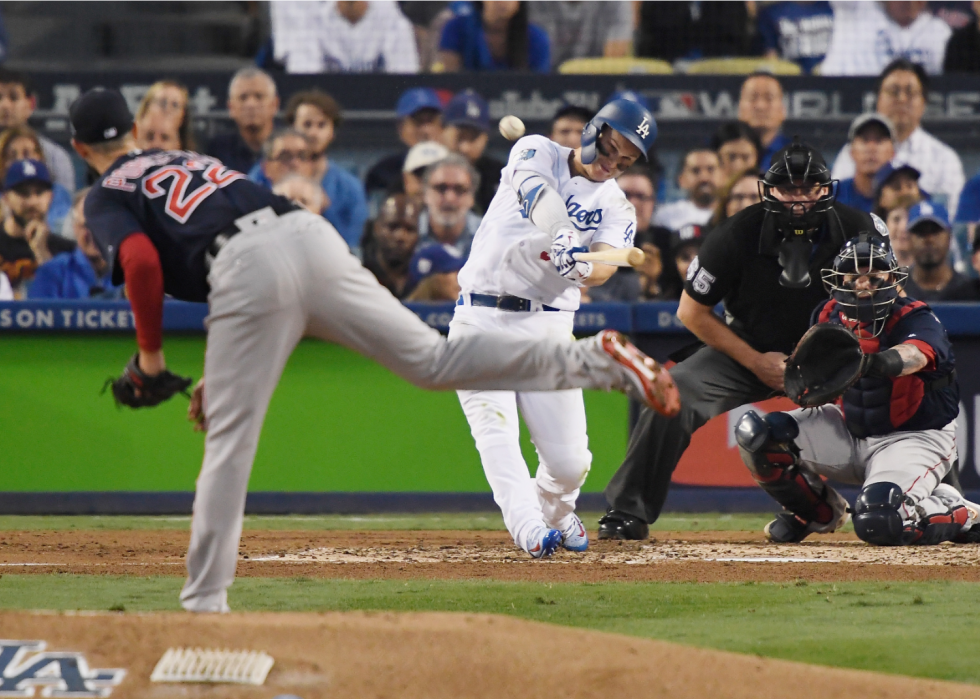 6 / 15
Kevork Djansezian // Getty Images
MLB: Batters taking more pitches
Analytics suggests that expected on-base percentage rises slightly with each potential pitch a batter sees from an opposing pitcher. This has led to an 11-pitch per game increase over the last 20 years, as well as a marked increase in the number of pitchers used, which produces slower games, something MLB is actively trying to combat by instituting pitch clocks. Talent plays a definite role in the efficiency of taking pitches as a good hitter sees more pitches and is more likely to get one to hit well.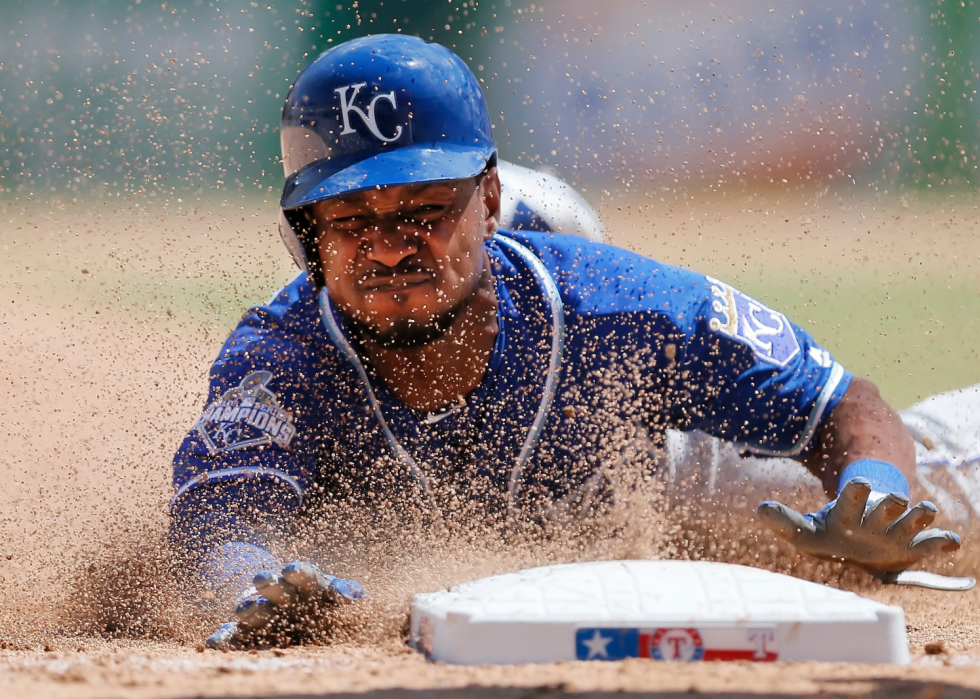 7 / 15
Brandon Wade // Getty Images
MLB: Less stolen bases
Stolen bases have declined sharply in recent years, with the 2,474 swipes in 2018 representing the lowest total since 1973. The reasons vary, from reducing injuries to the surge in home run totals, meaning teams are less willing to 'give up' outs on the bases that could mean potential runs. The use of replay has also played a role, with cameras revealing when a player's hand or foot leaves a base down to the millisecond.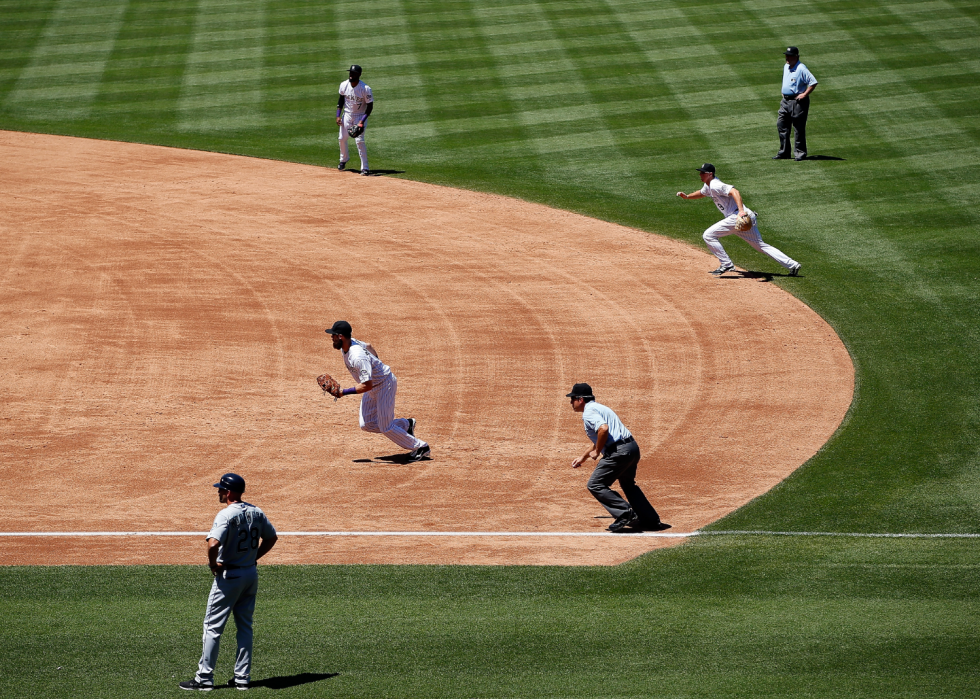 8 / 15
Doug Pensinger // Getty Images
MLB: Shifting field positions
The shift has become a staple of baseball over the past decade, with over 17% of plate appearances resulting in a shift in 2018. There were nearly 28,000 more shifts in 2018 than just five years earlier, according to Sports Info Solutions. While it has been shown to reduce opponents' batting average, it has also helped contribute to an increase in walks and home runs. The league has considered banning the shift in an effort to increase base hits.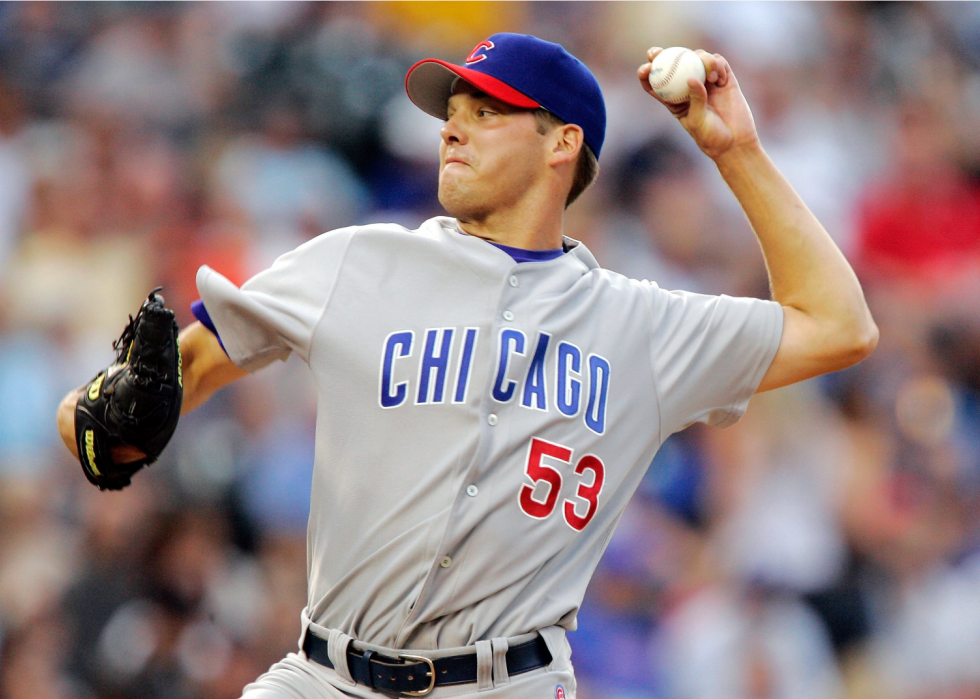 9 / 15
Brian Bahr // Getty Images
MLB: Out-getting
From traditional relievers starting games to the emergence of one-batter specialists, the emergence of out-getting has produced dramatic changes in baseball. The basic tenet is that hitters adapt to pitchers more quickly than pitchers adapt to hitters. The result has seen starters pitching shorter into games, as batting average increases with each appearance against a particular pitcher. Counter arguments include slower pace to the game, and usage is typically among teams with less than stellar starting pitching.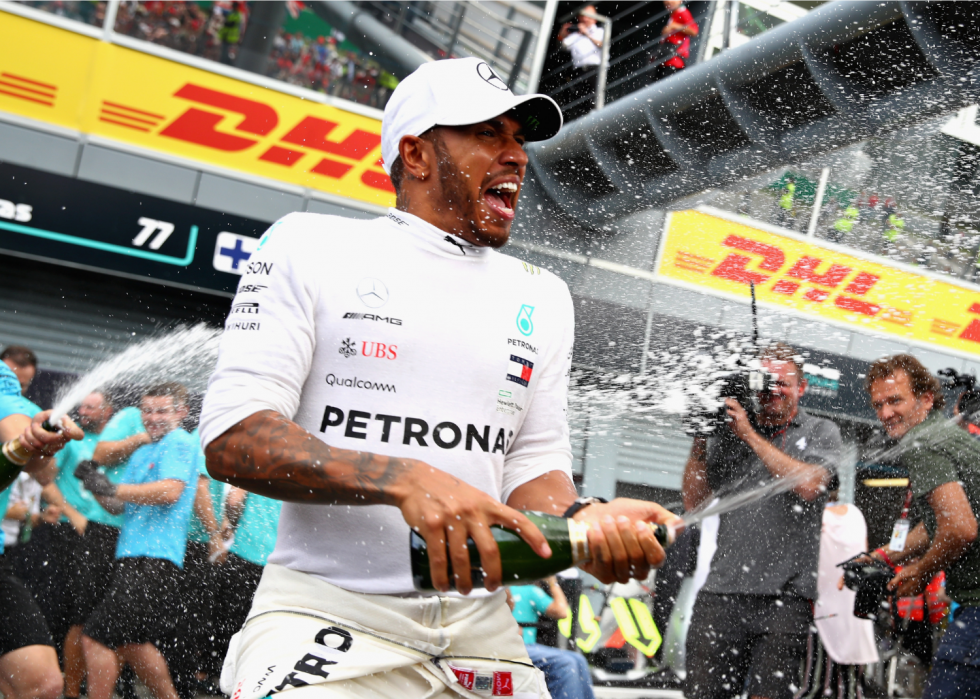 10 / 15
Mark Thompson // Getty Images
Formula One: Sensors sending real-time data
Teams have employed the use of real-time sensors to measure everything from downforce to transmission response times, producing nearly three terabytes of information in a given race. A focus on analytics has helped driver Lewis Hamilton and the Mercedes team, which uses over 300 sensors during testing sessions before races, win the past two Formula One championships. Analytics plays as big a role in F1 as almost any other sport, with results determining how a car is built and driven.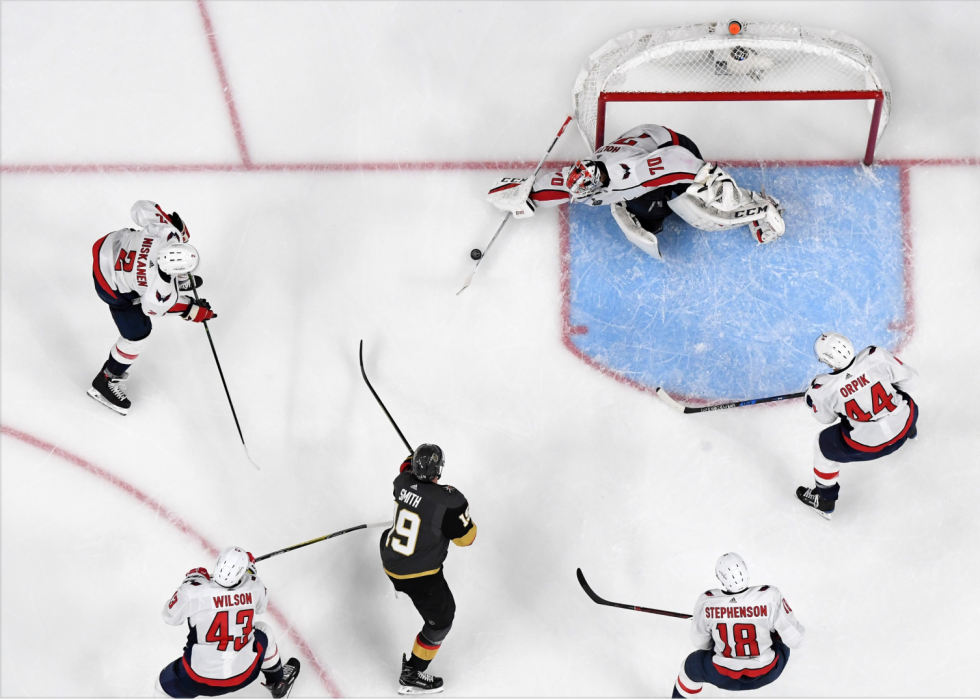 11 / 15
Ethan Miller // Getty images
NHL: Defensive pairings
Pairing a left-handed and right-handed defenseman together on the ice has become common practice in the NHL. However, the results are unclear. While having a defenseman playing to his strong side undoubtedly has its advantages, the lack of player-tracking analytics makes its actual effectiveness unknown. The focus on handedness may actually hinder teams that may overlook better players with the wrong dominant hand.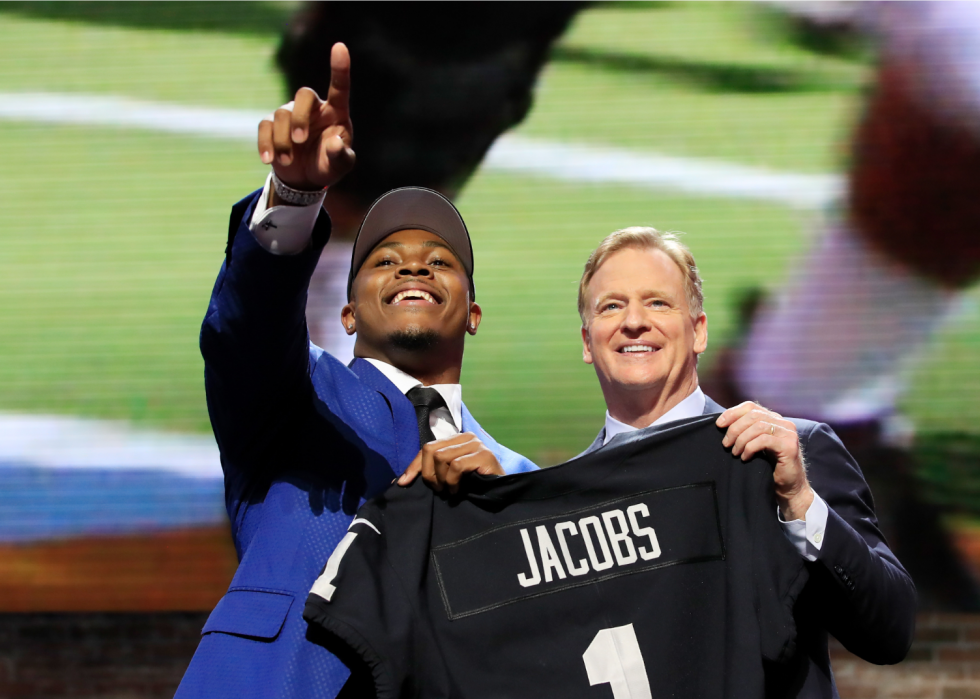 12 / 15
Andy Lyons // Getty Images
NFL: Drafting running backs
More teams are turning to quantity over quality when using running backs, driving down the value of the running back in drafts. In 1983, 20% of first-round selections were running backs compared to just 5% over the past five years. Just one running back, Josh Jacobs, was selected in the first round in 2019. Analytics shows that passing plays are significantly more efficient than rushing plays, and high-profile running backs are not significantly more effective than average running backs.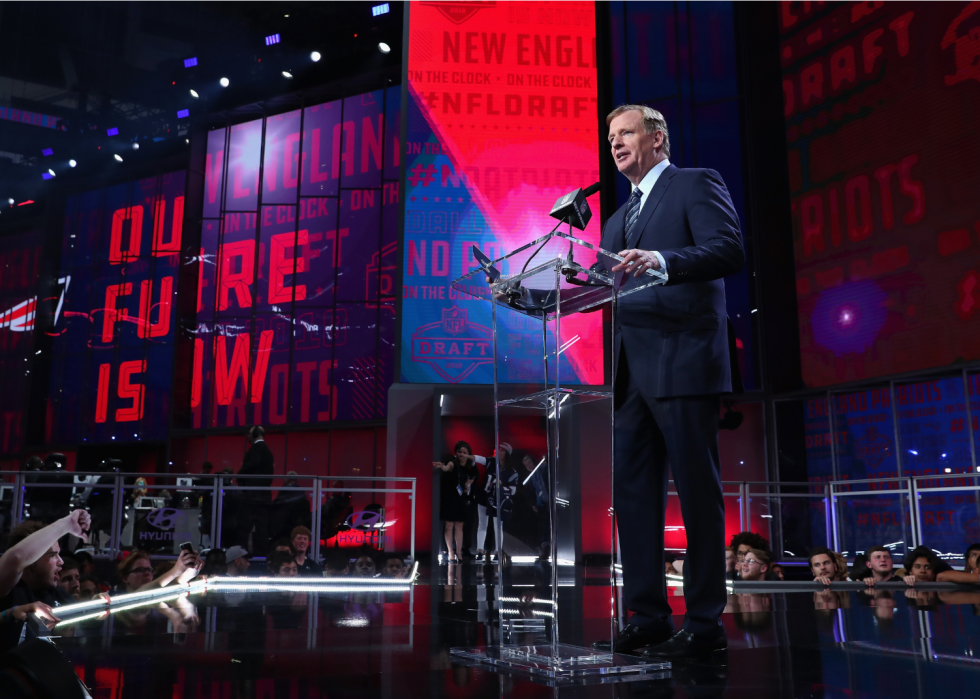 13 / 15
Tom Pennington // Getty Images
NFL: Trading down in the draft
A paper published in 2005 claimed that top picks are overrated, and stockpiling picks is a more effective strategy for success. While the analytics of trading down has been slow to take hold across the NFL, the success of the New England Patriots and head coach Bill Belichick in doing so in recent years has begun to facilitate a shift in philosophy. Belichick has traded down 31 times since joining the Patriots in 2000. Other teams like the Cleveland Browns and Tennessee Titans have employed similar strategies in recent years.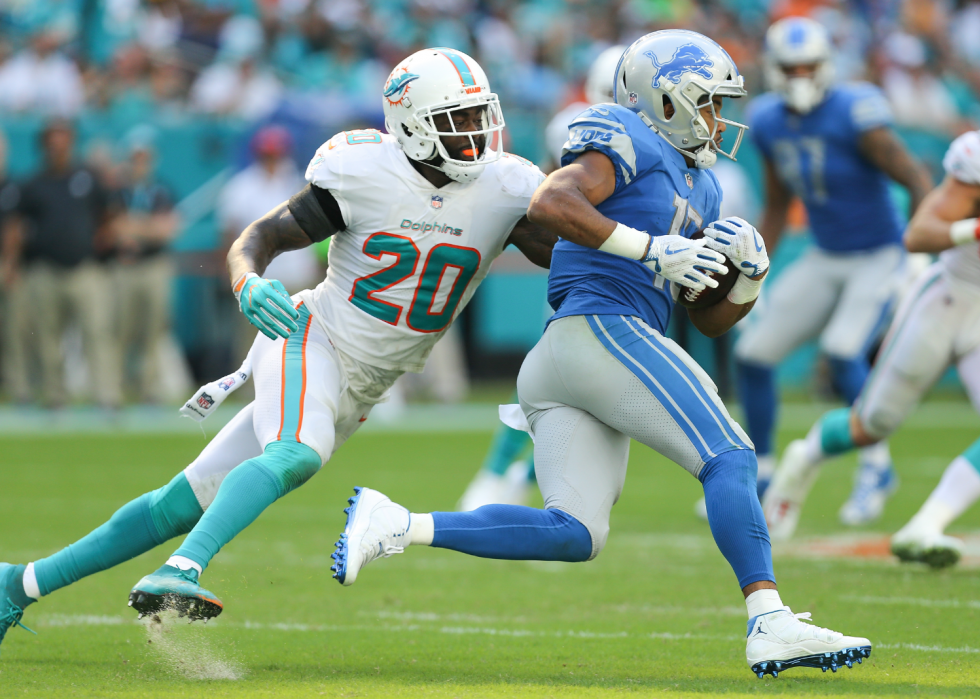 14 / 15
Michael Reaves // Getty Images
NFL: In-game player tracking
The rise of in-game player tracking has revolutionized the way teams monitor and manage their talent as well as the way in which players are evaluated leading up to the NFL Draft. It can track everything from a player's energy level to how much separation a wide receiver is getting from a defensive back on a given route, allowing coaches to adjust their strategy in real time. Most NFL teams employ an analytics department to analyze and decipher collected data before presenting it to a coach for implementation.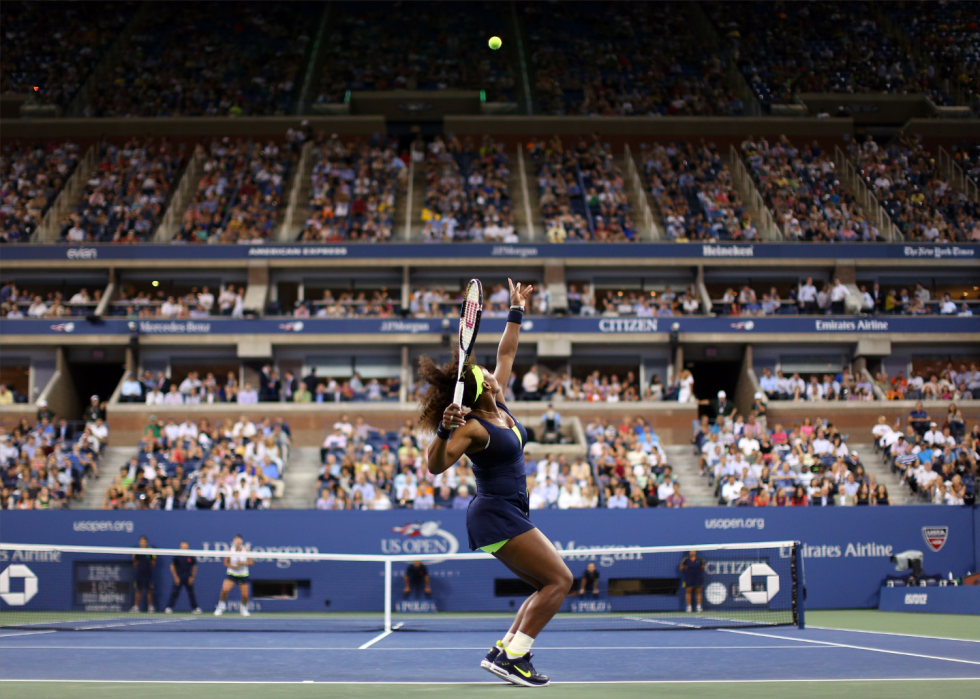 15 / 15
Cameron Spencer // Getty Images
Tennis: Short rallies determine games
Rally length is one of the biggest predictors of success in tennis. While long, drawn-out rallies provide the most excitement for fans, 68% of points are scored in the first four shots, putting a premium on the serve and return game. The discovery has caused coaches and players to turn away from previously more accepted factors like unforced errors or first-serve percentage as the primary drivers to victory.