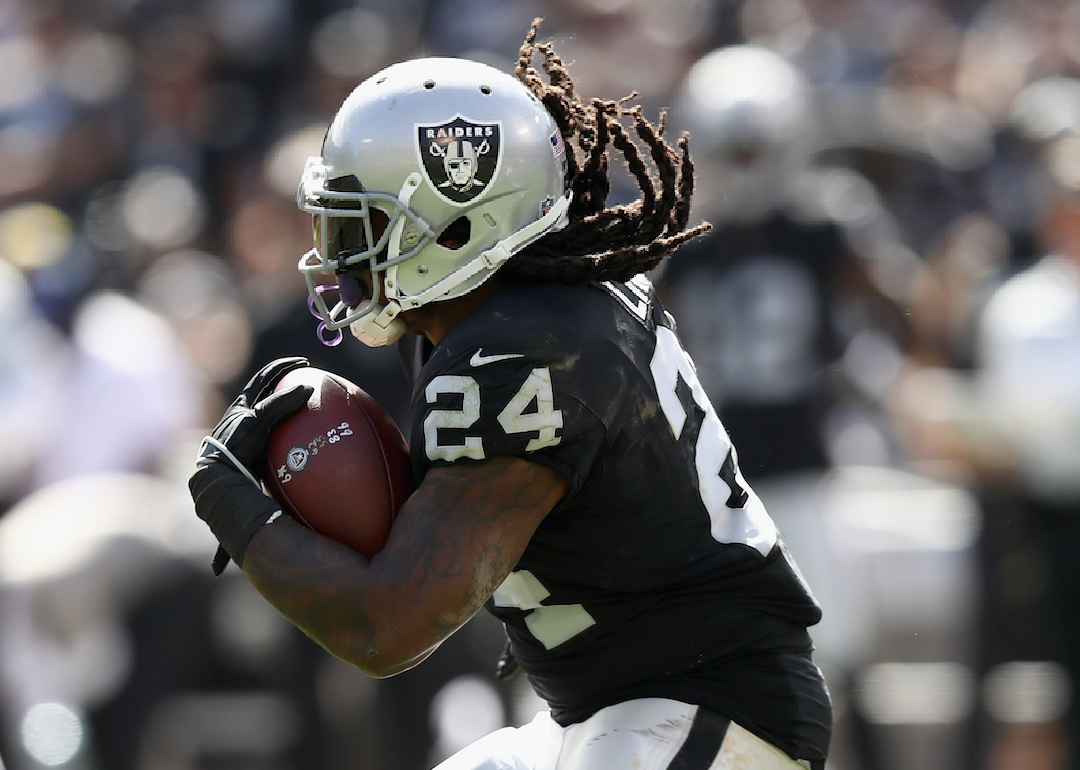 25 athletes who came out of retirement
Ezra Shaw // Getty Images
25 athletes who came out of retirement
There are few things as exhilarating in sports as watching an all-time great come back and achieve one more moment of glory. On the flip side, few things can be as excruciating as watching a former all-star past his or her prime. Sometimes star athletes are welcomed back with open arms by their former teams; in other cases, their presence can make for awkward roster composition or a tough breakup, leading them to seek new opportunities.
Stacker examines 25 athletes who came out of retirement, with stories ranging from the good, to the bad, to the ugly. Who can forget Brett Favre's ugly divorce from the Green Bay Packers (with newcomer Aaron Rodgers mostly an innocent bystander) and then his attempt to stick it to his former club, suiting up in the unfathomable purple of the rival Minnesota Vikings? Swimming fans likely have fonder memories of Michael Phelps' return to the water, as he overcame personal turmoil to continue shattering Olympic swimming marks. Meanwhile, the script remains unwritten for Jason Witten, who after one year as a football commentator will head back onto the field for the Dallas Cowboys this fall.
There are even cases where un-retirees have had impacts beyond the final score. Pelé left retirement to play in a fledgling pro soccer league in North America and increased his sport's popularity in the United States. Then there was the unforgettable first retirement of Magic Johnson, who left behind the National Basketball Association and a Hall of Fame career with the Los Angeles Lakers when he announced he tested positive for HIV. Johnson returned to the court to wow basketball fans once again, also spreading worldwide awareness of the virus. Click through to reminisce on some of the sporting world's most memorable encores and their impact on the legacy of some of the world's best athletes.
You may also like: Famous instances of sports diplomacy
Brett Favre
Brett Favre led the Green Bay Packers to a Super Bowl XXXI win and stabilized the quarterback position at Lambeau Field for 16 seasons. But as Favre aged and with youngster Aaron Rodgers nipping at his heels, the Packers and their franchise quarterback reached a bit of a standoff toward the end of his career. Favre announced plans to retire in early 2008, only to come back that summer and play with the New York Jets and later the Minnesota Vikings before hanging up his cleats for good in 2010.
Roger Clemens
Following the 2003 season with the New York Yankees, a 40-year-old Roger Clemens from baseball. However, "The Rocket" still had some fuel in the tank, later signing with the Houston Astros, where he won a Cy Young Award during three seasons. Clemens, thought to be done after his foray with his hometown team, came back again to play for the Yankees in 2007.
Michael Schumacher
When Michael Schumacher retired in 2006, he was already considered by many as one of the finest Formula One racers ever. Four years later, Schumacher returned to the circuit, but could not recapture his glory days. In 2012, Schumacher retired for good with 91 race wins and seven world championships.
Ricky Williams
Ricky Williams entered the National Football League in 1999 as one of the most-hyped running backs in history. Five years later, he said he was leaving the game to travel the world (although possible suspensions for testing positive for marijuana use also may have played a role). After a year off and a stint in the Canadian Football League, Williams made his NFL return in 2007, and retired again in 2011, with over 10,000 career rushing yards.
Justine Henin
In 2008, Justine Henin was the #1 ranked women's tennis player in the world. But with a desire to move on in life, she left behind the sport in which she had captured seven Grand Slam titles. Henin, inspired by watching the likes of Roger Federer, returned in 2010 and earned the Women Tennis Association's Comeback Player of the Year award.
Reggie White
At the end of the 1998–99 NFL season, Reggie White, the game's all-time sack leader, announced his retirement. White seemed to have a variety of roads to take after football (he spent his free time as a minister and professional wrestler), but could not ignore the itch of putting on shoulder pads and hitting the gridiron. White returned in 2000 with the Carolina Panthers, tallying 5.5 sacks to bump his career total to 198.
Floyd Mayweather Jr.
With a 37-0 record, in 2008, Floyd Mayweather Jr. announced his retirement from boxing. This would be a recurring theme during his career, as Mayweather several times declared he was walking away from the ring, only to come back for mega paydays. In his latest fight in 2017, Mayweather Jr., who's served prison time for battery, stopped mixed martial arts star Conor McGregor, to run his record to 50-0. Mayweather Jr. hasn't fought since, but rumors continually fly he could return for more bouts.
Mario Lemieux
When Mario Lemieux retired from hockey for the first time in 1997, his former coach Eddie Johnston told Sports Illustrated: "Nobody's been through what Mario has." Lemieux, who led the Pittsburgh Penguins to two Stanley Cups in the early 1990s, overcame Hodgkin's lymphoma and severe back injuries to become one of the National Hockey League's greatest scorers. He also displayed an indomitable will and returned in 2000 to play six more seasons, even winning an Olympic gold medal with Canada in 2002.
Lance Armstrong
After winning his seventh consecutive Tour de France, Lance Armstrong retired from cycling as one of the sport's most decorated heroes in 2005. That would all come crashing down over the next several years, as Armstrong was involved in a doping scandal and had those wins stripped from the record books. Armstrong returned to the sport in 2009, but never again won the Tour de France and left amid a federal investigation for doping allegations.
Gordie Howe
Most hockey players don't play into their 40s, so when Gordie Howe hung up his skates in 1971, at age 43, it came as no shock. What was surprising was that eight years later Howe returned to the NHL for one more season, scoring 16 goals and tallying 27 assists for the Hartford Whalers.
Brock Lesnar
When Brock Lesnar was pummeled by Alistair Overeem at UFC 141 in December 2011, the former heavyweight champion retired from the cage. Soon, Lesnar returned to his first calling, as a professional wrestler with WWE, but five years later made his UFC return. Lesnar originally won his fight against Mark Hunt, which was later overturned to a no-contest decision after a failed drug test. Last April, reports that Lesnar was officially done with UFC surfaced, and he made his way back to the WWE.
Muhammad Ali
In 1979, Muhammad Ali retired with a 59-3 record, having captured the world heavyweight title in his last fight. Already showing signs of his age, Ali appeared to head off into the sunset gracefully, but was coaxed back for two more fights—both losses. In his first comeback fight against Larry Holmes, it was widely speculated Ali was already showing signs of Parkinson's disease. Later in life, Ali became a further inspiration for his brave battle against the disease and his charity work.
George Foreman
After Jimmy Young dominated George Foreman in a 1977 bout, the former heavyweight champ promptly retired. Foreman would wait 10 years before stepping back into the ring, and in 1994, shocked champ Michael Moorer with a knockout victory. Foreman had three successful title defenses before losing to Shannon Briggs, but had just as much success outside the ring selling countertop kitchen grills.
Satchel Paige
Satchel Paige is well-known for his ability to defy Father Time, but when he signed a contract at age 62, the move raised some eyebrows. However, there was noble reasoning behind the move by the Atlanta Braves—Paige, long shut out of the majors because of segregation, was short 158 days of service to be eligible for a pension. The Braves employed Paige mostly as a coach but kept him on the active roster, so one of the sport's greats was finally rewarded for his contributions to the game.
Dara Torres
In competitive swimming there's no time for breaks, but Dara Torres made the most of several stops and starts to her career. She briefly retired after the 1988 Olympics, then after competing in the 1992 Games, took seven years off before returning for the 2000 Olympics. Torres attempted to become the oldest American Olympic swimmer, but did not qualify for the 2012 Games. Still, her 12 Olympic medals make Torres one of the most-successful Olympic athletes ever.
Michael Phelps
Michael Phelps left swimming after the 2012 Olympics with 22 medals, making him the most-decorated Olympian ever. Phelps battled depression and arrests, but overcame his demons and returned triumphantly to the 2016 Olympics, capturing six more medals.
Deion Sanders
It appeared that the lights went out on the illustrious career for the player known as "Prime Time" in 2001, when Deion Sanders retired after one season with the Washington Redskins. But in 2004, Sanders, who became a popular television broadcaster, returned to the field and lasted two seasons with the Baltimore Ravens. In 2011, Sanders was enshrined in the Pro Football Hall of Fame.
Janet Evans
Dara Torres wasn't the only former American great who tried to make a comeback for the 2012 Olympics. Having retired after the 1996 Games, Janet Evans, a four-time Olympic gold medalist, competed at the 2012 Olympic trials, but failed to qualify.
Marshawn Lynch
Throughout his career, Marshawn Lynch was known to march to his own beat. The Skittles-loving, "beast mode" of a running back became a fan favorite in Seattle for the Seahawks, but quietly left the game in 2016, with an announcement on social media. Lynch returned to play for his hometown Oakland Raiders in 2018, but failed to recapture the explosiveness that had made him a five-time Pro Bowler in Seattle.
Magic Johnson
In one of the most-shocking announcements in sports history, Magic Johnson retired from basketball in 1991, telling the world he tested positive for HIV. Johnson appeared briefly in the 1992 NBA All-Star Game, but returned to the court for a last season in 1996. Johnson averaged almost 15 points and seven assists that season, and the Lakers made the playoffs, but he stepped away permanently in the summer of 1996. Since then, Johnson has been a philanthropist and held front office roles with his beloved Los Angeles Lakers.
Andy Pettitte
As one of the faces of the New York Yankees during their dominant stretch of the late 1990s and early 2000s, Andy Pettitte had nothing left to prove after the 2010 season, when he retired with five World Series rings. Invited to Yankees Spring Training in 2012, Pettitte became motivated for one more go-round, and pitched two more seasons, going a respectable 16-15, but unable to capture another championship.
Pelé
In 1974, Pelé retired from soccer as perhaps the game's most-influential player. But with the upstart North American Soccer League looking for more exposure, the New York Cosmos coaxed Pelé into returning to the pitch. His three-year, $2.8 million contract, reportedly made him the highest-paid athlete in the world, and his presence dramatically increased Americans' interest in soccer.
Randall Cunningham
When he could not re-up for a 12th season with the Philadelphia Eagles, Randall Cunningham retired in 1995, rather than play for another NFL team. After missing one season, Cunningham suited up for the Minnesota Vikings and was named an All-Pro, but later had two rather lackluster seasons with the Dallas Cowboys and Baltimore Ravens.
Jason Witten
Jason Witten had his post-football career seemingly planned out, leaving behind 15 years with the Dallas Cowboys for the "Monday Night Football" booth. Shockingly, Witten announced in February 2019 that he was putting down his mic and heading back to the field, ready to line up at tight end again for "America's Team." With quarterback Dak Prescott and running back Ezekiel Elliott, Witten will look to bring the Cowboys their first Super Bowl since 1995.
Michael Jordan
Perhaps no athlete has had a more infamous un-retirement than Michael Jordan. After winning his third straight NBA title in 1993, Jordan left the hardwood and attempted to forge a professional baseball career. Jordan struggled in the minor leagues and returned to the Chicago Bulls in 1995. The next season, Jordan and the Bulls won the first championship in another three-peat run, and then he retired again, only to emerge for a third NBA run with the Washington Wizards in 2001. While he still made some memorable moments, much of the air was deflated from Air Jordan's dominance.