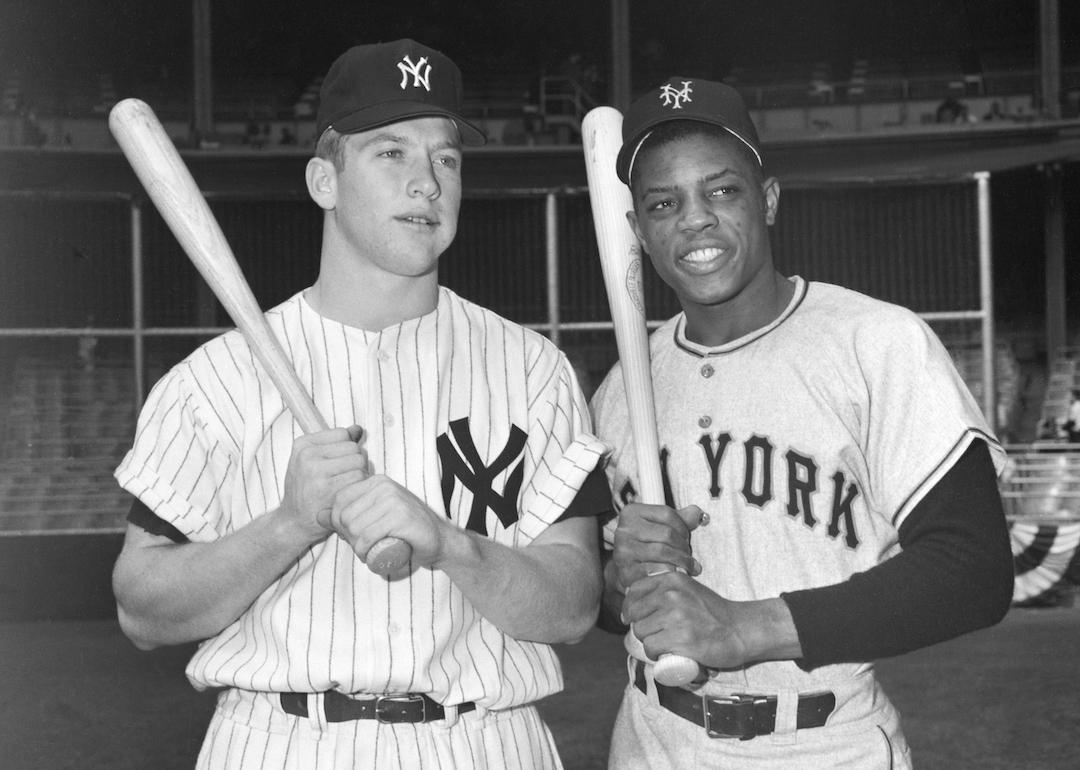 30 famous athletes who received lifetime bans
30 famous athletes who received lifetime bans
For as much as professional leagues and worldwide athletic agencies like to prop up the sanctity and purity of their respective games, sports are magnets for controversy. Baseball writers may be more inclined to vote alleged performance-enhancing drug users into the Hall of Fame, and sports gambling is becoming more ingrained in our daily game-watching experience, but righteous indignation often outweighs such modern changes in attitude.
Searching through a variety of sports, taking into account athletes, coaches, owners, and even umpires, Stacker lists 30 famous athletic figures who received lifetime bans. Some of the biggest names in American sports history have been embroiled in controversy, as have powerful players behind the scenes. Sometimes, bans have been overturned and other punishments came down with little evidence, but more often than not the affected parties were unable to rebound from their sentences.
Who can forget Lance Armstrong's meteoric rise to fame and his equally stunning plummet due to doping? Pete Rose remains a topic of debate in baseball; despite his record number of career hits, he is not in the Hall of Fame for his involvement in gambling. These misdeeds are just a few of the punishable offenses this list will dig into. There's also those who conspired to throw games, the Olympian who cheated in a race by hitching a ride in a car, and the baseball star who stole cars.
There are even cases where the offenders were just kids, part of a grand scheme hatched by elders hungry for power and success. Heck, national icons like Mickey Mantle and Willie Mays were not even immune from punishment for supposed misdeeds, actions that today would hardly garner a snide side eye from critics. Click through to find out about these stories and more, and what happened to some of the sports world's most controversial participants.
You may also like: 30 famous sports goofs
Lance Armstrong
Lance Armstrong inspired audiences around the world in the late 1990s, coming back from a cancer diagnosis to win seven Tour de France titles. Armstrong had one of the most precipitous falls from grace when in 2012, he faced allegations of using banned drugs and utilizing illegal blood transfusions and received a lifetime ban for doping.
Roy Tarpley
Drafted seventh overall in the 1986 NBA Draft, Roy Tarpley was supposed to be a future cornerstone for the Dallas Mavericks. Bouts with drugs and alcohol addiction forever held back his potential, however, and after multiple violations of league rules Tarpley was permanently banned in 1995. Tarpely died in 2015, at age 50.
Joe Jackson
Until he died in 1951, "Shoeless" Joe Jackson maintained his innocence that he did not conspire to throw the 1919 World Series. Jackson was one of eight members of the Chicago White Sox accused in the "Black Sox" scandal, and they were all tossed out of baseball in 1921. Despite numerous efforts to have Jackson reinstated to be eligible for the Baseball Hall of Fame, his legacy remains outside the hallowed halls of Cooperstown.
Rolando Paulino and Felipe de Jesús Almonte
In 2001, a flamethrowing phenom from the Bronx garnered national headlines. Danny Almonte was already being touted as a future major leaguer at the age of 12—until he was discovered to be 14. Almonte's team's Little League World Series wins were forfeited and the team's manager, Rolando Paulino, and Almonte's father, Felipe de Jesús Almonte, were barred from Little League.
Jenrry Mejia
An eclectic reliever for the New York Mets, Jenrry Mejia was known for stomping the ground after collecting a save. In 2016, Major League Baseball put its foot down on Mejia's career, as he became the first player to receive a permanent ban for performance-enhancing drug use after his third infraction. Three strikes and he was out of baseball.
Panama Lewis
In a June 1983 bout between Luis Resto and Billy Collins Jr., Resto was found to have used tampered gloves with little padding. Collins' eyes were so badly damaged his career ended shortly after and Resto's trainer, Panama Lewis, was permanently stripped of his license by the New York State Athletic Commission—a ruling that other states followed.
Donald Sterling
In April 2014, a recording of Los Angeles Clippers owner Donald Sterling making racist comments was released, sending shockwaves through the NBA. In a few days, NBA Commissioner Adam Silver banned Sterling for life, and he was fined $2.5 million. The Clippers are now owned by Microsoft pillar Steve Ballmer.
Fred Lorz
During the 1904 Olympic marathon event, Fred Lorz began to cramp up, and he flagged down an automobile tracking the race. Lorz hopped in and rode 11 miles before getting out to finish the rest of the race, which he won. For his hijinks, Lorz was banned by the Amateur Athletic Union, but later won reinstatement.
Billy Coutu
Referees can often push athletes' patience to their limits, but Boston Bruins player Billy Coutu took his displeasure to an extreme. During the 1927 playoffs, Coutu attacked referee Jerry Laflamme. Coutu was expelled from the NHL and fined $100. Coutu's punishment remains the harshest in NHL history.
George Hall
In the late 1870s, George Hall was one of baseball's preeminent sluggers, but in 1877 he became the subject of controversy. Hall admitted to fixing games and was never reinstated into the National League.
Jimmy O'Connell
One game away from winning the National League title, Jimmy O'Connell allegedly offered an opposing player $500 to take it easy during their next contest. The bribe was reported and O'Connell and his manager were banned from baseball.
Stanley Wilson
Throughout his career, running back Stanley Wilson battled a cocaine habit. Before Super Bowl XXIII, Wilson, a member of the Cincinnati Bengals, relapsed and was punished for the third time by the NFL, leading to a lifetime ban. After football, Wilson has struggled to lead a sober life, although his son was drafted by the Detroit Lions.
Pete Rose
Perhaps the most famous athlete in America to receive a lifetime ban, Pete Rose was tossed from Major League Baseball in 1989 for gambling, including revelations he bet on his own team while managing the Cincinnati Reds. Rose, the majors' all-time hits leader, has tried several times to be reinstated, but remains on the outside looking in.
Ben Johnson
After testing positive for drugs for the second time, sprinter Ben Johnson was banned for life by the International Amateur Athletic Federation. Johnson was stripped of his 1988 Olympic gold medal and world record. Johnson's suspension was eventually lifted, but he never proved to be the same elite runner again.
Steve Howe
Steve Howe got the final out of the 1981 World Series, but racked up more suspensions than accolades in his troubled career. Howe battled alcohol and substance abuse addictions, totaling seven suspensions, with the last resulting in a permanent ban. Howe earned reinstatement, but died in 2006 during an auto accident where he was later found to have methamphetamine in his system.
2014 Russian Olympic athletes
Before the 2018 Winter Olympics in Pyeongchang, South Korea, 28 Russian athletes had lifetime bans overturned in a decision that infuriated the International Olympic Committee. Grigory Rodchenkov, who once led Russia's anti-doping program, had supplied evidence of a widespread steroid program utilized by the nation, but a determined lack of sufficient evidence overruled the IOC's bans.
Benny Kauff
Benny Kauff was known as a flamboyant, even antagonistic player during his heyday, but it wasn't his gift of gab that caught the ire of Major League Baseball. In 1920, Kauff was indicted on charges of automobile theft. Kauff was eventually found not guilty by a jury, but his lifetime baseball ban remained intact.
Michael Ray Richardson
Michael Ray Richardson was a four-time All-Star and one of the more dynamic players of the early 1980s, but in 1986 he received his third suspension for violating the NBA's drug policy. That led to a lifetime ban, and although Richardson bounced around international leagues for the next decade, he never returned to the NBA. Richardson later became a successful minor league coach, but found himself embroiled in controversy for making anti-Semitic comments, leading to a suspension from the Continental Basketball Association.
Merle Hapes
Before the 1946 National Football League championship game, New York Giants fullback Merle Hapes was offered a bribe to throw the game by gambler Alvin Paris. For conversing with a known gambler, Hapes was banned from the game and suspended indefinitely by the league, never to play again.
Marion Jones
Marion Jones was a star of the 2000 Summer Olympics, winning five medals. Jones was ultimately stripped of all her medals and eventually admitted to using performance-enhancing drugs before the 2000 Games. Jones received a lifetime ban from the Olympics, but later suited up in the WNBA.
Chris Washburn
After multiple violations of the NBA's drug policy, Chris Washburn was banned for life by the league in 1989. This past February one of Washburn's sons, Julian, made his NBA debut with the Memphis Grizzlies.
Hansie Cronje
A South African sports hero and captain of the nation's cricket team, Hansie Cronje ended his career in controversy. In 2000, he was banned for life for accepting money from bookmakers. Cronje died in a plane accident in 2002.
Richard Higham
Richard "Dick" Higham was a decent ballplayer in the mid-1800s, but earned his dubious claim to fame as an umpire. Higham was found to have conspired with gamblers and is reportedly the only umpire to be banned from baseball. After leaving baseball, he fittingly became a bookkeeper.
Ferguson Jenkins
In 1980, a customs search found Ferguson Jenkins in possession of drugs—cocaine, hashish, and marijuana—and he was banned from baseball indefinitely. A few weeks later, however, he was reinstated and went on to have a Hall of Fame career.
William D. Cox
As the owner of the Philadelphia Phillies, William D. Cox ardently believed in his team, enough so to even put wagers on them. Cox, who had an association with horse racing, a sport known for its nefarious betting ties at the time, said he only made small wagers, but nonetheless was banned for life and had to sell the Phillies.
Mickey Mantle and Willie Mays
Believe it or not, two of baseball's all-time greats were once banned from the sport (in retirement). Mickey Mantle and Willie Mays were hired to promote an Atlantic City casino, leading to Commissioner Bowie Kuhn's booting the Hall of Famers from anything having to do with America's pastime. The ban was later lifted by new commissioner Peter Ueberroth, and today, sports fans can openly bet on baseball in casinos.
Randy Barnes
A two-time Olympic medalist in the shot put and world record holder, Randy Barnes is the rare case of an athlete to receive a lifetime ban, but not have his accomplishments erased. Barnes was suspended for steroid use and later pursued a football career. That did not pan out, but he still lays claim to his medals and records.
John Coppolella
In the midst of a rebuild, the Atlanta Braves of the 2010s looked toward the international market for their future stars. Under general manager John Coppolella, the Braves built up an impressive stable of prospects, but it turned out they circumvented league rules on signing international players. Coppolella was banned for life and Atlanta lost the rights to several of their best young stars.
Caster Semenya
Although Caster Semenya is currently not permanently banned from competition, her case represents a battle that will be highly debated in months to come. Semenya was previously banned from track and field for having higher than normal testosterone levels, and the Court of Arbitration for Sport recently ruled athletes with similar backgrounds need to take medication to reduce levels. Semenya is ardent in refusing to comply, becoming the face of what many deem unfair discriminatory practices by track and field's governing body.
Tonya Harding
Tonya Harding may be the most polarizing athlete on this list. Forever known for her alleged knowledge of an attack on rival figure skater Nancy Kerrigan in 1994, Harding was swept up in one of the most crazed sports stories of the past century. For her alleged involvement, Harding was banned from figure skating, events that were dramatized in the 2017 film, "I, Tonya."