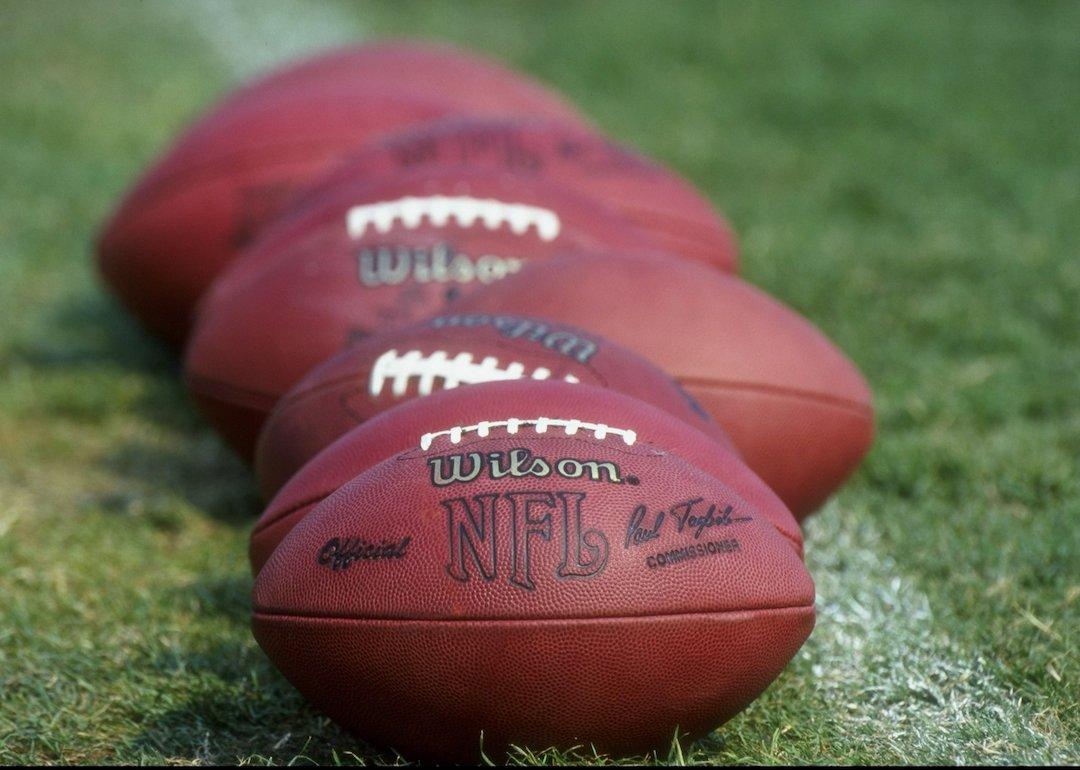 The best streaming services for football in 2021
Doug Pensinger // Getty Images
The best streaming services for football in 2021
NFL football is under way. If you've recently ditched cable for streaming, or even you're just considering cutting the cord, don't worry—you don't have to miss a single bit of the action from that game or any other. 
You can't watch live NFL games with a streaming library service like Netflix or the on-demand-only version of a service like Hulu—that's the entry-level package that they advertise for $5.99 on the commercials. 
To catch all the NFL action, you'll have to choose a service that lets you stream TV channels live. If you're feeling overwhelmed by what seems like an avalanche of confusing options, don't be intimidated—football fans have an easy go of it. You only need a few common channels to enjoy the entire season and you won't need a VPN or any special equipment to watch your favorite teams.
This guide will walk you through your options.
You may also like: The best streaming services for sports in 2021
Relax, when it comes to streaming live sports, the NFL is easy
If you're an NFL fan who's frustrated with your search for the right streaming service, don't expect a lot of sympathy from your friends who follow hockey, baseball, and basketball. Among the four major North American sports, only NFL fans can ignore the three little words that are the bane of cord-cutting sports fans everywhere: regional sports networks (RSNs). 
RSNs are a patchwork of cable channels that present sports coverage on local channels in regional markets. Which RSNs you need depends on where you live, and different streaming services carry different RSNs. That complicated and inconsistent formula forces many fans to patch together a hodgepodge of different streaming services with lots of overlap just to watch their favorite sports. Beyond the RSN obstacle course, many sports have contracts with national channels that broadcast some games exclusively. NBA fans, for example, have to make sure they have TNT. 
By comparison, NFL fans go through the season their feet up on the desk.
Unlike every other top-tier sport, the NFL shows all of its games on either ESPN or the local broadcast affiliates of national networks like CBS, NBC, and Fox, although Thursday Night Football will soon move only to Amazon Prime. That includes both the regular season and the playoffs. The channel scheduling breaks down like this: 
Thursday Night Football: NFL Network, with most games simulcast on Amazon Prime Video and Fox
Sunday afternoons: Fox and CBS
Sunday Night Football: NBC
Monday Night Football: ESPN
Playoffs: Split between NBC, Fox, ESPN, CBS  
In short, if you can get the networks and ESPN, you can watch every NFL game—provided that you root for the home team in the region where you live. If you're a transplant, a fantasy player, a gambler, or anyone else who needs to watch out-of-market games, you'll need a league package like NFL Game Pass, which, along with other league packages, will be discussed in greater detail further down the page.  
If football is really all you need, consider Locast first
This live TV streaming service would get you only part of the way there with any other sport, but the network-centric nature of football makes it possible to watch the lion's share of the season for free or close to it. Locast is a nonprofit streaming service—the only one of its kind in America—that streams broadcast television from all four networks (ABC, CBS, Fox, and NBC) as well as a few other key channels like PBS, Telemundo, and Univision.
Locast is currently available to nearly 180 million people in 36 markets, which covers 55% of the country. Since it's a nonprofit designed to give low-income households access to basic broadcast television with nothing more than an internet connection, Locast only recommends donations, which start at $5 per month. If you can't afford to pay, you might be able to get the service for free through the Locast Cares program. 
If you're considering cord-cutting in general and you weren't aware of Locast, remember that the networks aren't only important for football. All major sports broadcast at least some of their playoffs on the networks, which are also home to special sporting events like the Olympics, the Indy 500, Wimbledon, PGA Tour golf, and the Kentucky Derby. The networks also broadcast non-sports specials and annual events like the Academy Awards, the Grammys, and the big holiday parades. 
 
ESPN is the only missing ingredient
Locast delivers CBS, ABC, NBC, and Fox. For football fans, that checks all of the boxes except for one—Monday Night Football, which airs on ESPN. For serious NFL fans and plenty of more casual observers, as well, that's a dealbreaker. 
But NFL fans who can forego Mondays—and who don't need much more non-sports content than network news, sports, sitcoms, and shows—could technically cut the cord and get by on Locast alone. It would be a spartan streaming experience—limited channels, no DVR, no customizable guide—but for $5 a month, a budget-conscious football fan who doesn't watch much other TV couldn't possibly hope to do better. 
Other NFL sports streaming services
Before moving on to the best sports streaming services for NFL fans, take a look at the league packages that are specific to the sport. Also consider a few general streaming platforms that aren't dedicated to the NFL, but that do show some football games.
NFL Game Pass: If you can wait until after your favorite out-of-town team plays live, NFL Game Pass delivers out-of-market replays and live preseason action for $99 a year. A subscription also includes special content like classic games, documentaries, and more. 

NFL Sunday Ticket TV: This is the move for anyone who wants to watch live out-of-market action. Sunday Ticket is normally an add-on for DirecTV, but it's now available as an à la carte online offering through NFL Sunday Ticket TV—but it's not cheap. It delivers every single Sunday afternoon game nationwide, but you'll pay $73.49 a month or one payment of $293.96. Upgrade to the Max bundle for $99 a month or $395.99, and you'll get NFL RedZone. NFL Sunday Ticket TV is available only outside of DirecTV's service area so check for local availability. 

NFL RedZone: Fantasy players—and anyone else who lives for inside-the-20 action—might consider RedZone, which delivers every touchdown from every game on up to eight games at once. You can subscribe to it, and the NFL Network, through Hulu + Live TV, YouTube TV, Sling, and Fubo TV. 

Paramount+: All Paramount+ packages, which start at $4.99 per month, deliver six to seven live local NFL games on Sundays via CBS.

Amazon Prime Video: Watch 11 Thursday Night Football games live with your Amazon Prime subscription. Amazon is currently sharing Thursdays with Fox and the NFL Network, but Prime Video will be the exclusive home of Thursday Night Football starting in 2022. 
Meet the best streaming services for NFL football
If Locast is too bare-bones, if you don't care about out-of-market games, and if you don't want to cobble together an NFL experience piecemeal through Prime and Paramount+, then it's time to look into a full-service streaming site. Each of the following streaming services delivers all or most of the NFL season—and the best among them can replace cable altogether.
You may also like: The best streaming services in 2021
FuboTV
Cost per month: $32.99-$79.99
No. of packages: 3
Cloud DVR storage: 250 or 1,000 hours, depending on package
No. of streams: 3 or 10, depending on package
Risk-free trial: 7 days
Compatible devices: Roku, Apple TV, iOS, Android, select Samsung smart TVs, Amazon Fire TV, Xbox, and Chromecast.
FuboTV delivers the NFL and much more
FuboTV is the most sports-centric streaming platform on the market—no other service showcases more leagues, events, teams, and tournaments. It's an especially strong choice for NFL fans who also dabble in that other football—FuboTV is teeming with soccer and other international sports, including Champions League, La Liga and Premier League. It's also a top choice for fans of the UFC and other MMA action.
What can NFL fans expect?
FuboTV delivers all the networks—ABC, NBC, CBS, and Fox—plus ESPN, which is everything an NFL fan needs to watch every game in the regular season and the playoffs. On top of that, you get the NFL Network and for $10.99, you can upgrade to the Sports Plus with NFL RedZone add-on. FuboTV's DVR storage is among the beefiest you'll find, so you don't have to worry about recording all your favorite pre-game and post-game shows.
What other sports channels come with it?  
In terms of sheer volume, no streaming service can boast anything approaching the number of sports channels that FuboTV delivers: CBS Sports Network, Olympics Channel, Universo, Pac 12 Networks, ESPN 2, ESPN HD Deportes, ESPN News, ESPN SEC Channel, ESPN U, ACCN, Bein Sports, Bein Sports Extra, Big Ten Network, Fight Network, Fox Deprtes, Fox Soccer Plus, Fox Sports, FS1, FS2, Fubo Sports Network, Game, Ginx Sports, NBA TV, NBC Golf, NBC Sports, NBCSN, NHL Network, NXT LVL Sports, Outdoor Channel, Outdoor TV, SEC ESPN Network, Sports Washington, SNY, Sportsman Channel, Stadium, Tennis Channel, TUDN, TV5Monde, Golf TV English, Golf TV Spanish, Insight TV, LAFC, MAVTV, MLB Network, MLB Strike Zone, TVG, TVG2, TyC Sports, UniMas, World Fishing Network, and Zona Futbol.
Sling TV
Cost per month: $35-$65
No. of packages: 3 
Cloud DVR storage: 50 hours, or 200 hours for $5 extra per month
No. of streams: 1 or 3, depending on plan
Risk-free trial: N/A
Compatible devices: AirTV, Amazon Fire TV, Roku, Samsung, Tivo Stream, Windows, Xbox One, Android, Android TV, Chromecast, iOS, LG, Oculus, and Apple TV
Sling TV can be cheap, but saving requires hard compromises 
Sling tantalizes with the promise of $35 streaming, but that price delivers only half a portion. For both sports and traditional content alike, Sling uses surgical precision to distribute the best channels evenly between the $35 Sling Blue and Sling Orange packages so that they both feel incomplete on their own. 
The Sling Orange + Sling Blue option gives you both packages for $50, and you can tack on the Sports Extra add-on for $15 more. But that's a monthly spend of $65, the same as YouTube TV and Hulu + Live TV, both of which are far more comprehensive services with acclaimed original content and superior on-demand libraries. Sling is currently running a special for $10 for the first month for Orange or Blue or $20 for Orange + Blue.
What can NFL fan expect?
Sling forces hard choices on anyone who wants to hold their bill to $35, but NFL fans face the most unenviable decision of all. Go with Blue and you forfeit ESPN, and with it, Monday Night Football. With the Orange package, you lose NBC—say goodbye to Sunday Night Football. 
That reality all but demands an upgrade to the $50 option of Sling Blue + Orange, which gives you NBC and ESPN. But even when you double up, Sling doesn't carry ABC or CBS and Fox isn't available in all markets. That means that even with a $50-per-month subscription, you'd need to set up an antenna just to catch Sunday afternoon games or to watch something like "Family Feud" on ABC.  
Sling reminds customers that they have the option of combining its service with Locast to fill in the gaps, but that's a fairly big hoop to jump through just to get rabbit-ear broadcast networks on what's supposed to be a full-service, cable-replacement streaming platform. 
What other sports channels come with it?  
SEC Network Pac 12 Network, ACCN, MLB Network, NHL Network, NBA TV, the Golf Channel, the Tennis Channel, Longhorn Network, ESPN U, Olympic Channel, TNT, TBS, Big Ten Network, FS2, ESPNews, and Fox Sports.
DirecTV Stream (Formerly AT&T TV)
Cost per month: $69.99 - $139.99
No. of packages: 4
Cloud DVR storage: 20 hours or $10 extra per month for unlimited
No. of streams: 3
Risk-free trial: 14 days
Compatible devices: Chromecast, Roku, select Samsung smart TVs, Fire TV, Android, Apple TV, and AT&T's exclusive streaming device
DirecTV Stream offers a complete package at a hefty price
Until recently, AT&T TV had been AT&T Now. Before that, it was DirecTV Now. Starting on Aug. 26, customers were hustled through yet another rebranding—this time, the streaming service formerly known as AT&T TV morphed into DirecTV Stream. AT&T TV users were not affected by the change and both the service's live and on-demand content are the same.
DirecTV Stream is the most expensive option on the list but it's not necessarily overpriced. While it doesn't unify as many far-flung sports leagues, tournaments, and channels as Fubo TV, it provides a much richer and more complete streaming experience than Sling—even with all of Sling's available upgrades. 
DirecTV Stream's price tag looks more like that of a traditional cable subscription—particularly at the top tiers—and its cloud DVR is stingy unless you pay for an upgrade. But DirecTV Stream delivers more than 65 channels with the base package—more than 140 at the top tier. Its expansive on-demand library is packed with up to tens of thousands of titles, depending on your subscription package. Currently, you get three free months of HBO Max with all but the entry-level package. 
What can NFL fans expect?
DirecTV Stream gives football fans everything they need, although those who like to cherish the memories will want to upgrade to unlimited DVR. Fans get full network coverage, ESPN, and one of the most complete packages on the market for cord-cutters looking to mimic the cable experience. But Hulu + Live TV and YouTube TV certainly give DirecTV Stream a run for its money at a lower price. 
What other sports channels come with it?  
Although it doesn't directly affect NFL fans, DirecTV Stream is the last remaining streaming platform that includes the Fox Regional Sports Networks (Fox RSNs), a nationwide collection of RSNs that provides live sports coverage to nearly 20 markets across the country. For fans of all non-NFL sports, the inclusion of the Fox RSNs is a game-changing convenience that is now exclusive to DirecTV Stream. In 2019, Sling Dropped the Fox RSNs—owned by Sinclair—and Hulu, YouTube, and Fubo TV did the same within a year. 
Aside from local and regional sports coverage, the networks, and ESPN, DirecTV Stream delivers NBCSN, NHL Network, Olympic Channel, SEC Network, TBS, TNT, ACCN, Big Ten Network, CBS Sports Network, FS1, FS2, the Golf Channel, Sportsman Channel, the Tennis Channel, TUDN, TVG, MLB HD, NBA League Pass, NBA TV, ESPN2, ESPN News, and ESPN U.
Hulu + Live TV
Cost per month: $64.99 per month
No. of packages: 1
Cloud DVR storage: 50 hours or $10 extra per month for 200 hours
No. of streams: 2
Risk-free trial: 7 days
Compatible devices: LG, Samsung, Nintendo Switch, iOS, Android, PlayStation 4, Xbox One and Xbox 360, Fire TV and Fire Stick, Roku, Gen-4 Apple TV, and Chromecast
Hulu + Live TV Could Be the Best All-Around Live Streaming Option 
DirectTV Stream offers more package options and live streams than Hulu. YouTube TV has better cloud storage and Fubo TV has more sports channels. But if you're looking for a jack of all trades that covers all of its bases well and excels where it really counts, it's hard to argue that any service checks as many boxes as Hulu + Live TV. 
None of the previously mentioned streaming services, for example, deliver original programming. YouTube TV has some, but nothing approaching the quality or relevance of what comes out of Netflix, Disney+, and Prime. Hulu, on the other hand, delivers a full spectrum of 75 live channels, it has an on-demand library that can battle any competitor, and it also delivers original programming, including acclaimed movies and prestige TV shows like "The Handmaid's Tale."   
That makes Hulu+ Live TV the only platform that can serve as a legitimate standalone replacement for both cable and the many supplementary on-demand apps like Netflix and Disney+ that viewers tend to accumulate over time. 
What can NFL fans expect?
For NFL fans specifically, Hulu+ Live TV delivers ESPN and the network coverage you need to catch every game from preseason through the Super Bowl. Hulu makes it easy for fans to customize their profiles and record their team's games automatically. Hulu now carries the NFL Network and offers a sports add-on for $10 a month that includes NFL RedZone.
What other sports channels come with it?  
In many cities, Hulu customers can get regional sports through local channels. Hulu also delivers ESPN 2, College Extra, ESPN U, FS1, Golf, NBCSN, TNT, TBS, ACCN, BTN, Fox Sports, and CBS Sports Network.
YouTube TV
Cost per month: $64.99
No. of packages: 1
Cloud DVR storage: Unlimited
No. of streams: 3
Risk-free trial: 14 days
Compatible devices: Xbox One, Android, iOS, Amazon Fire TV, Roku, Chromecast with Google TV, Apple TV, LG, Samsung, PlayStation, Vizio, and Sharp.
YouTube TV: Easy NFL viewing, solid channel lineup, endless DVR
YouTube TV is Hulu's strongest competitor for the title of best all-around streaming service. They're even both priced the same. But just as Hulu has advantages over YouTube, the latter outshines the former in plenty of cases, too. 
YouTube TV brings something to the table that no competitor can match—unlimited DVR storage. That's a game-changer for anyone who likes to record multiple HD games and all their affiliated pre- and post-game coverage. YouTube TV delivers an impressive 85 live channels and an equally impressive library of content that includes lots of original series. 
What can NFL fans expect?
YouTube TV provides full network coverage plus the ESPN channels, which will get NFL fans through to February intact. But subscribers also get the NFL Network, not to mention the MLB and NBA networks. Hulu, on the other hand, doesn't deliver any league networks whatsoever.  
What other sports channels come with it?  
CBS Sports, ESPN 2, ESPN U, ESPN News, ACCN, BTN, SNY, TBS, TNT, FS1, FS2, MLB Game of the Week, NBA TV, NBC Sports, NBCSN, Olympics Channel, SEC ESPN Network, Golf Channel, LAFC, and Fox Sports.
There's also a Sports Plus Add-On, which gives you NFL Red Zone, Fox College Sports, TVG, GOLTV, Fox Soccer Plus, TV, Stadium.