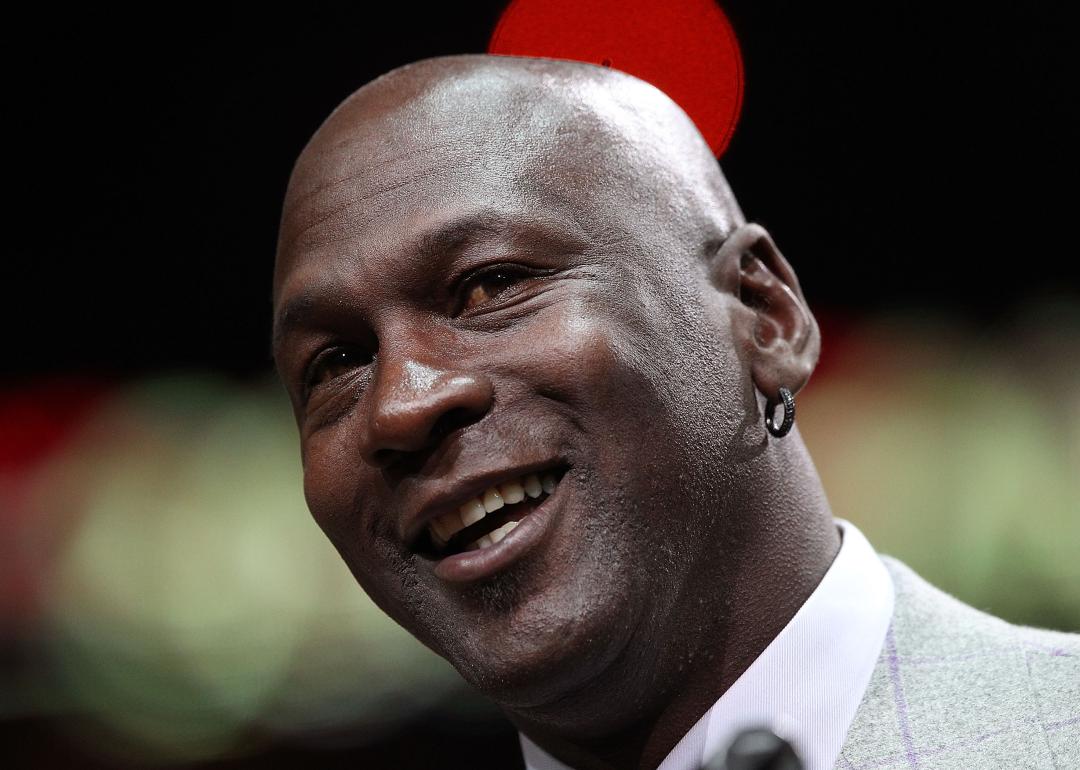 Stacker Connect
The GOAT on and off the court: Michael Jordan becomes the first athlete in history to join Forbes 400 list
Jonathan Daniel/Getty Images
The GOAT on and off the court: Michael Jordan becomes the first athlete in history to join Forbes 400 list
Many sports fans have debated whether NBA superstar Michael Jordan is the greatest basketball player of all time and he is still commonly referred to as GOAT.
While the on-court debate will wage on for decades, Jordan's off-court greatness puts him in a class all his own.
Jordan is best known for his time as an NBA player, with 15 seasons for the Chicago Bulls and Washington Wizards. Jordan also spent over a dozen years as the owner of the NBA's Charlotte Hornets, a team in which he retains a stake after completing a sale of his controlling interest earlier this year.
Through 1,072 NBA games, Jordan posted averages of 30.1 points, 6.2 rebounds, and 5.3 assists per game. Today, Jordan ranks fifth for points all-time and fourth in steals despite not ranking in the top 50 for games played.
Off the court, Jordan became known for his large collection of brand endorsements scoring deals with well-known brands like McDonald's Corp., Hanes, PepsiCo Inc. and its brand Gatorade, and Nike Inc.
Those endorsements along with the ownership of the Hornets have made Jordan one of the few athletes to ever be worth $1 billion, and the sale of the Hornets has put Jordan in a class all his own—now worth an estimated $3 billion, according to Forbes.
Benzinga looks at the all-star financial moves that have placed NBA legend Michael Jordan on the most recent Forbes 400 list of the world's richest people.
Jordan has become the first professional athlete to land on the Forbes 400
During his 15 NBA seasons, Jordan made $94 million. While this amount pales in comparison to the large salaries of professional athletes today, Jordan was the highest-paid player in several of his playing seasons.
Jordan's deal with Nike, which was the subject of the Ben Affleck-directed film "Air," is one that helped propel Jordan's wealth for years to come.
The NBA star earns royalties every year from Nike with his latest annual check coming in at $260 million, according to Forbes. Sportico previously estimated that Jordan has made $1.8 billion from Nike over the years.
Jordan's sale of the Hornets at a $3 billion valuation marked the second biggest sale valuation for an NBA franchise in history and marked an approximate 17-fold return for Jordan's stake as principal owner.
Jordan's billionaire status demonstrates the role that team ownership can have in increasing one's wealth. With a scant few sports teams being publicly traded, oftentimes sports ownership is out of the question for regular investors—but there are options for the ambitious athlete looking to diversify. Aside from the Hornets, a few of the NBA teams a player could purchase a stake in are the Atlanta Hawks, Sacramento Kings, and the New York Knicks
NBA team ownership could attract even more potential parties in the wake of Jordan's windfall divestment with the news of the court legend now joining the elite company of the world's wealthiest individuals.
This story was produced by Benzinga and reviewed and distributed by Stacker Media.