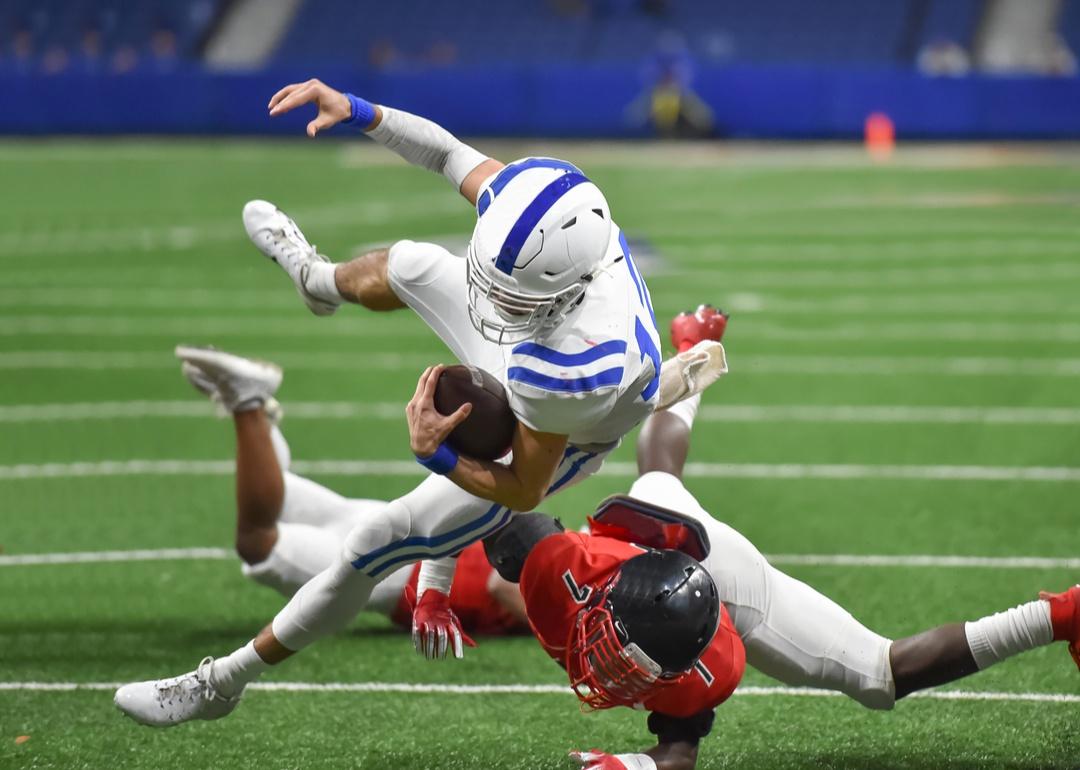 Stacker Studio
High school sports that cause the most concussions
JoeSAPhotos // Shutterstock
High school sports that cause the most concussions
A concussion is a serious, traumatic brain injury. Athletes usually sustain concussions when they fall or collide with one another or an object, such as a goal post. Concussions often occur without an athlete losing consciousness.
Symptoms reported by athletes who have sustained a concussion include headache, nausea, dizziness, vomiting, and a sensitivity to light or noise. Athletes who sustain a concussion may seem dazed and forgetful. They may also experience mood swings and personality changes in the longer term.
Preteens and teens are more likely than adults to sustain a concussion and will take longer to recover. And athletes who have previously had a concussion are more likely to sustain another one. The U.S. Centers for Disease Control and Prevention came up with a four-step action plan for coaches who suspect one of their athletes has sustained a concussion.
While the total number of injuries across high school sports has decreased since 2005, the total number of concussions has increased by 87%. Concussions can happen to athletes in any sport. Some high school sports, especially football, make up a larger percentage of current concussion rates than others.
Neural Effects analyzed data from the National High School Sports-Related Injury Surveillance Study, which collects injury data on nine common high school sports, to determine the concussion rates for each. Neural Effects used data from 2018-19 to account for the cancellation of spring sports in 2020.
This story originally appeared on Neural Effects and was produced and distributed in partnership with Stacker Studio.