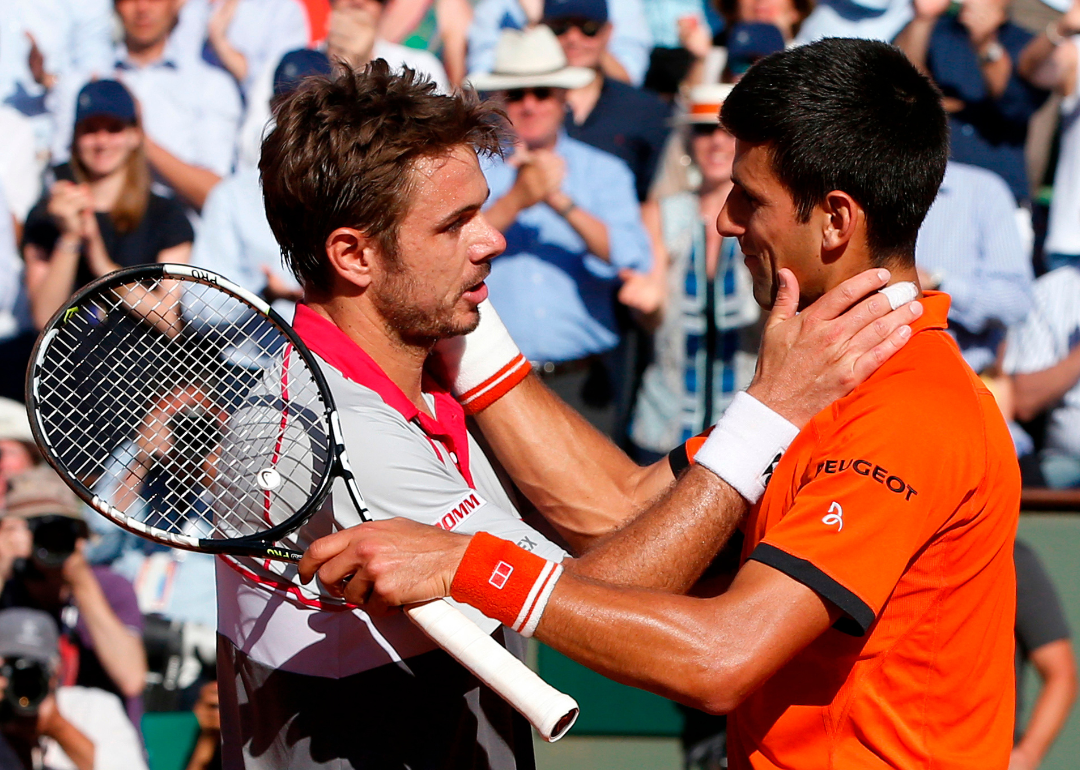 Stacker Studio
Most hard-won Grand Slam titles in tennis history
ATRICK KOVARIK,KENZO TRIBOUILLARD,DOMINIQUE FAGET/AFP via Getty Images
Most hard-won Grand Slam titles in tennis history
Claiming a Grand Slam title is the ultimate aspiration of any professional tennis player. Raising up an Australian Open, French Open, Wimbledon, or U.S. Open trophy is a dream come true for these athletes. Though raising all four in a calendar year is the true definition of a Grand Slam, winning any of these major titles can be a Herculean feat (and still referred to as a Grand Slam by some).
Wimbledon 2023 gave fans a men's final for the ages, with #1 seed Carlos Alcaraz squaring off against #2 seed Novak Djokovic. The 20-year-old Spaniard was ranked higher, but Djokovic was vying for his fifth consecutive Wimbledon title. The stakes were high, and it showed in the epic five-set battle. Alcaraz prevailed and became the first person who wasn't named Djokovic, Roger Federer, Rafael Nadal, or Andy Murray to win the title since 2002.
"Making history in this beautiful tournament, playing a final against a legend of our sport—for me it's incredible," Alcaraz said after the memorable match. "It's amazing, for a boy like me, 20 years old, to reach this kind of situation."
Though on paper his journey may not have been difficult, mentally it was. But there are others who really won against all odds (we're looking at you, Stan Wawrinka).
The Game Day compiled the five most hard-won Grand Slam titles in men's tennis history using data from Ultimate Tennis Statistics. Rankings were determined using relative difficulty, a measure of difficulty compared to the average Grand Slam title. Elo ratings, an estimate of a player's relative strength, are included for context.
Read on to learn more about each astonishing road to victory.
This story originally appeared on The Game Day and was produced and distributed in partnership with Stacker Studio.