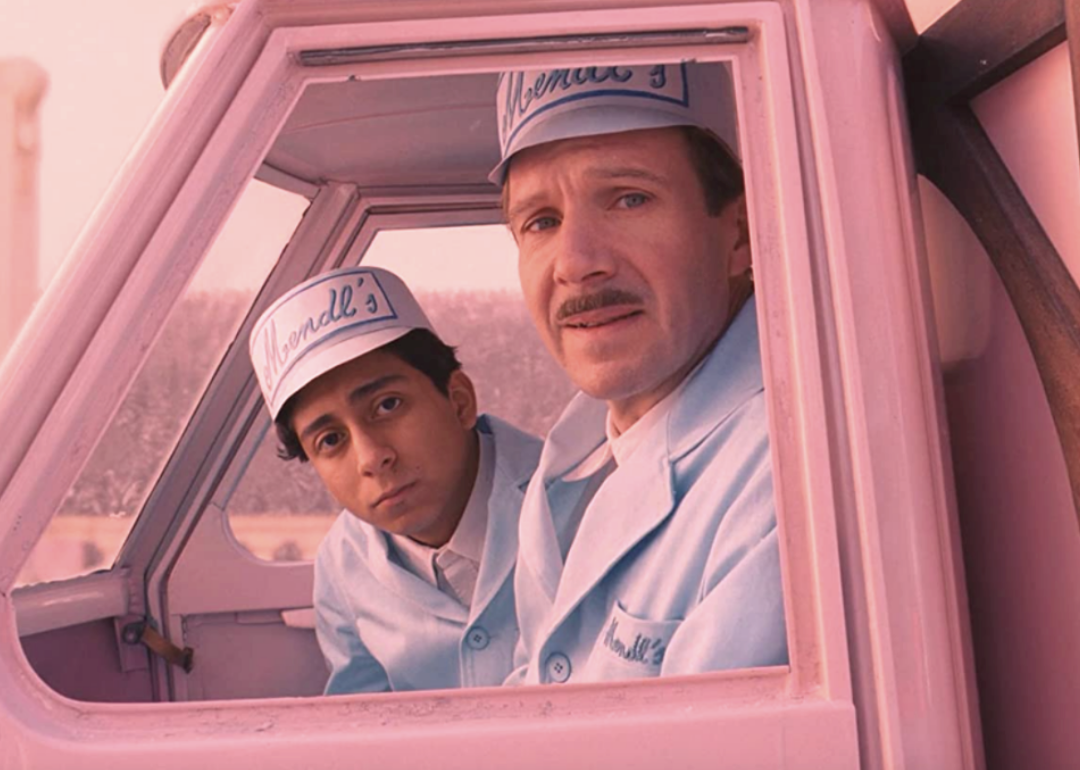 Best crime-comedy movies
The intersection of comedy and other film genres generates successful, lasting results. Romantic comedies, horror comedies, action, drama—nearly any genre of film can expand upon the definition of a standard comedy and turn it into something more. Though often considered to be less prestigious, comedy's malleability makes it one of the more versatile genres, garnering Academy Awards nominations (and occasional wins) with such hybrid films as "The Favourite," "Lost in Translation," "Dr. Strangelove," "Fargo," and "Pulp Fiction." Comedy films are endlessly shape-shifting and surprising, and crime comedies, like the Best Picture-nominated "The Sting," rank among some of the best—and funniest—of these hybrids.
For this list, Stacker compiled data on all feature-length crime-comedy movies to come up with a Stacker score—a weighted index split evenly between IMDb and Metacritic scores. To qualify, the film had to be listed as "crime" and "comedy" on IMDb, have a Metascore, and have at least 5,000 votes. Ties were broken by Metascore and further ties were broken by IMDb votes. If you're looking for the thrill of a crime story with some ample comic relief, look no further than these 25 films.
You may also like: 111 monumental movies from film history and why you need to see them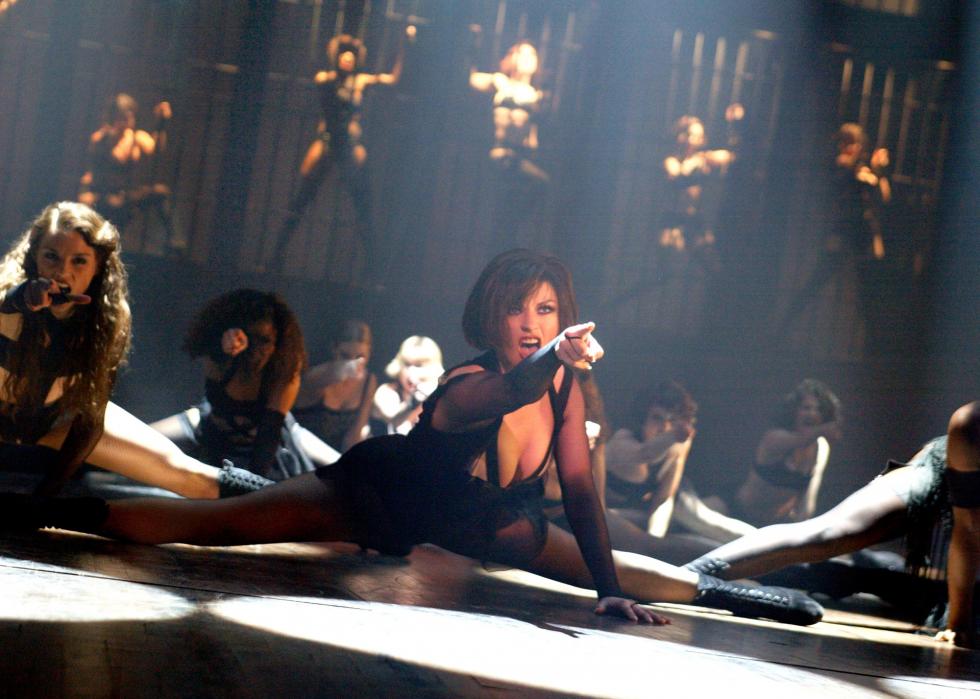 1 / 25
#25. Chicago (2002)
- Director: Rob Marshall
- Stacker score: 90.5
- Metascore: 81
- IMDb user rating: 7.2
- Runtime: 113 minutes
This musical adaptation of the 1975 stage production stars Renée Zellweger and Catherine Zeta-Jones as two women both on death row for murder and represented by the same lawyer (Richard Gere), and who will stop at nothing to outdo one another for publicity and celebrity status. The macabre nature of the subject material juxtaposed with the delightful, campy musical numbers fuses together successfully—so much so that it was awarded Best Picture at the 75th Academy Awards.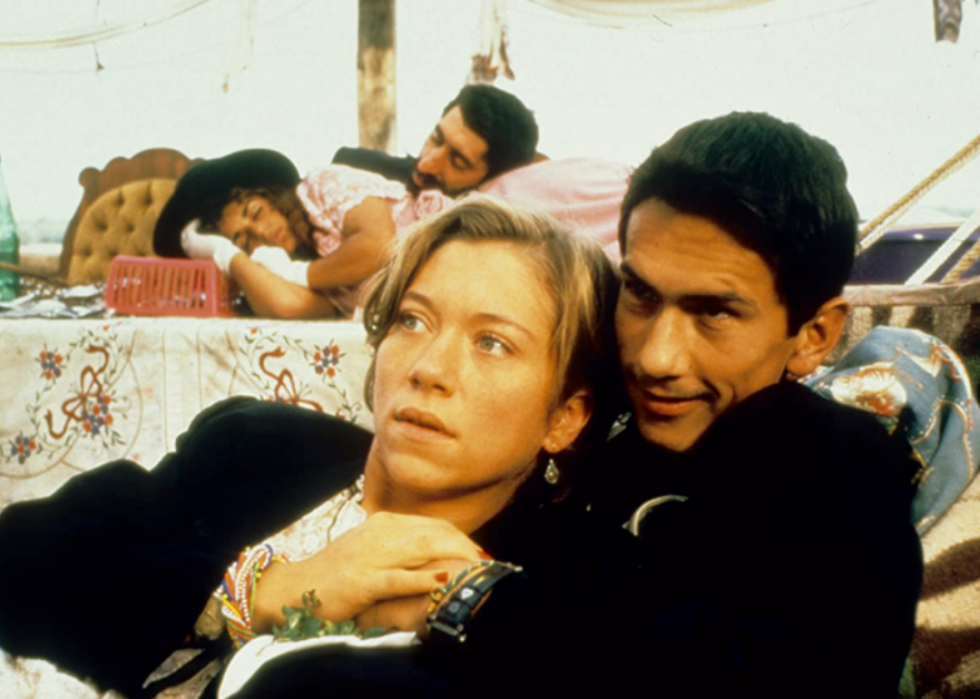 2 / 25
#24. Black Cat, White Cat (1998)
- Director: Emir Kusturica
- Stacker score: 91.1
- Metascore: 73
- IMDb user rating: 8.1
- Runtime: 127 minutes
A small-time grifter suddenly finds himself in debt, and concocts the idea of forcing his son to marry the sister of the gangster who swindled him out of money—but both object to the arrangement. The Serbian film sees the unwilling couple getting into a number of comical situations in order to escape their impending marriage. The film came about after director Emir Kusturica returned from retirement, initially interested in making a documentary called "Musika Akrobatika," which turned into "Black Cat, White Cat."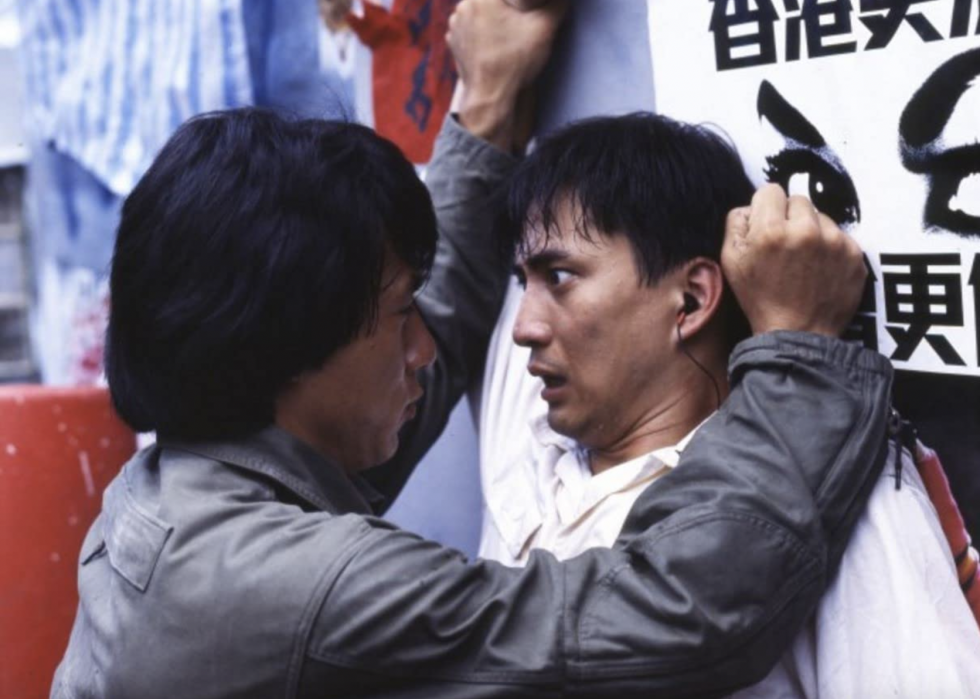 3 / 25
#23. Police Story (1985)
- Directors: Jackie Chan, Chen Chi-Hwa
- Stacker score: 91.1
- Metascore: 78
- IMDb user rating: 7.6
- Runtime: 100 minutes
The first film in this popular series stars Jackie Chan as honest Hong Kong cop Sergeant "Kevin" Chan Ka-Kui, who must clear his name after being framed for murder. The action-comedy classic—also directed by Chan—employs extensive use of daring stunts and slapstick comedy, and the film's success was followed by six sequels.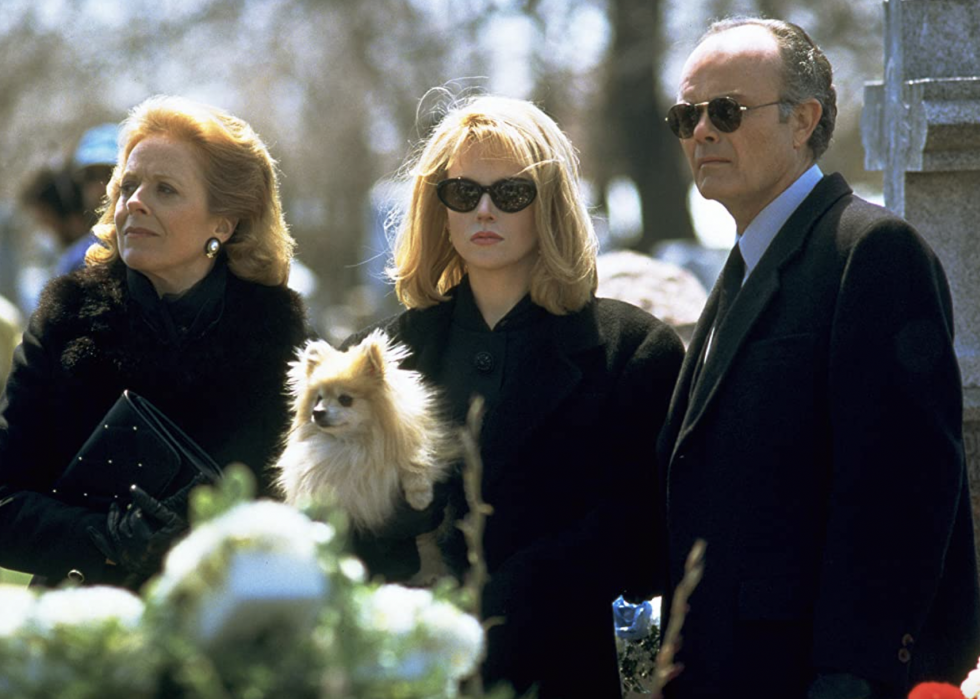 4 / 25
#22. To Die For (1995)
- Director: Gus Van Sant
- Stacker score: 91.1
- Metascore: 86
- IMDb user rating: 6.8
- Runtime: 106 minutes
Nicole Kidman stars as Suzanne Stone, a power-hungry news broadcaster-to-be who will stop at nothing to have her face seen in the homes of every family across the country. But when her husband (Matt Dillon) demands she settle down, Suzanne goes to criminal lengths to get him out of her way. The black comedy sees Kidman shine as hilariously sociopathic Suzanne who intersects with Joaquin Phoenix, equally charming as Jimmy, the horny, oafish teenager who's in love with her. Kidman's performance was nominated for a BAFTA and won a Golden Globe.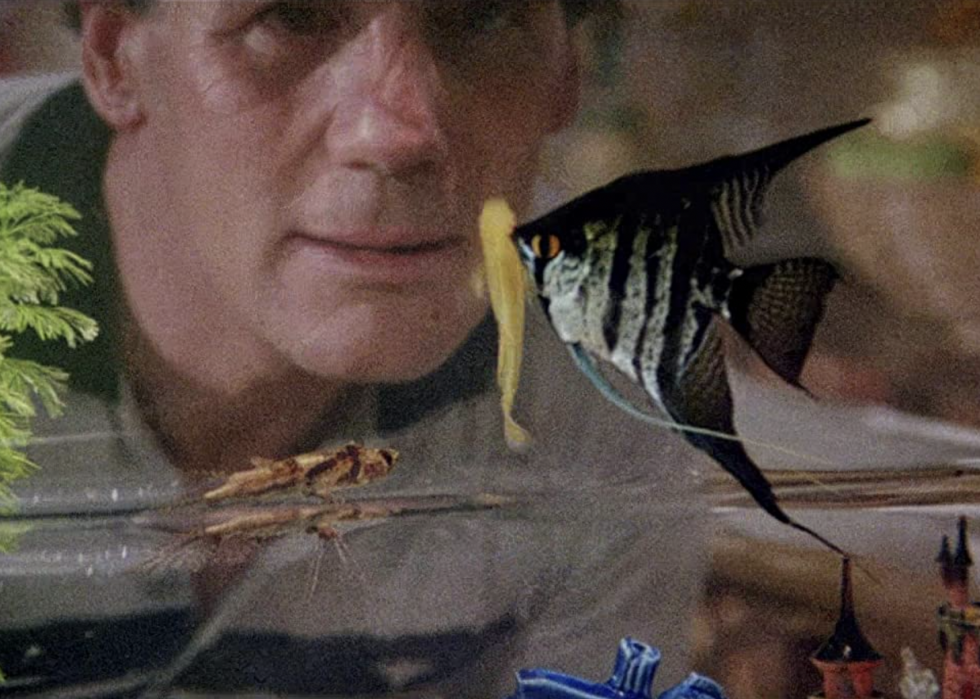 5 / 25
Metro-Goldwyn-Mayer (MGM)
#21. A Fish Called Wanda (1988)
- Directors: Charles Crichton, John Cleese
- Stacker score: 91.7
- Metascore: 80
- IMDb user rating: 7.5
- Runtime: 108 minutes
When a diamond heist conducted by American criminals Wanda (Jamie Lee Curtis) and Otto (Kevin Kline) goes awry, Wanda attempts to seduce the lawyer (John Cleese) of the gangster that hired them to commit the robbery to find out where the diamonds have since been hidden. Curtis plays off seamlessly against the combined comedic talents of Kline, Cleese, and second Monty Python member Michael Palin. Cleese also co-directed alongside Charles Crichton and wrote the Academy Award-nominated screenplay.
You may also like: How are women portrayed in top-grossing movies?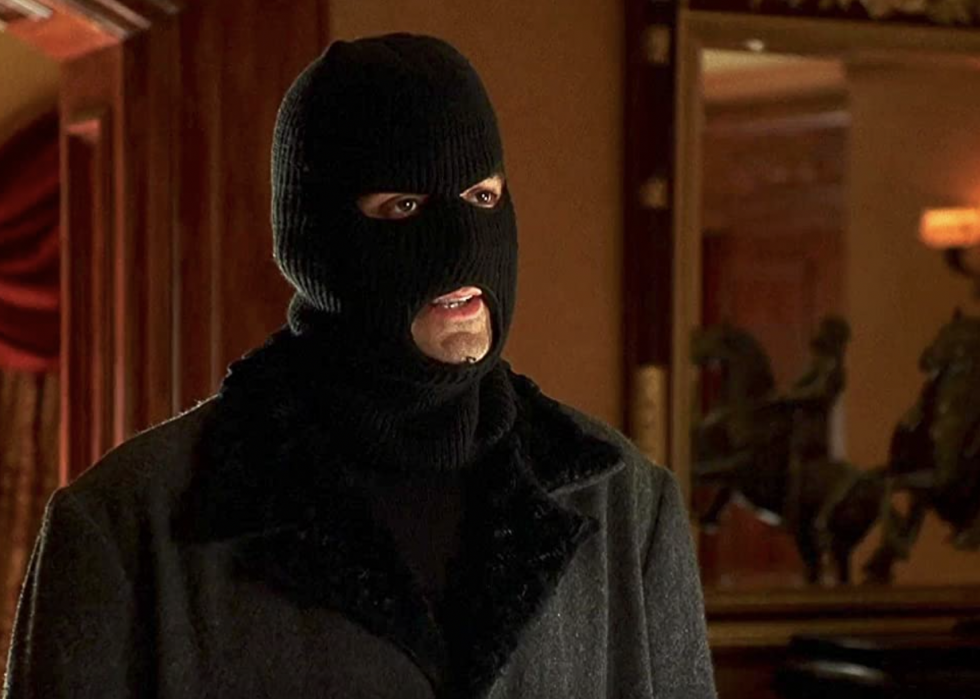 6 / 25
#20. Out of Sight (1998)
- Director: Steven Soderbergh
- Stacker score: 91.7
- Metascore: 85
- IMDb user rating: 7.0
- Runtime: 123 minutes
A successful bank robber finds himself falling for a Federal Marshal the same day he breaks out of jail. As the criminal is determined to commit one last heist, the mismatched lovers are tasked with figuring out if their romance can transcend their opposing occupations. The film pairs Steven Soderbergh's witty direction with the rich source novel of the same name it's adapted from, accompanied by clever dialogue and charismatic performances from George Clooney and Jennifer Lopez.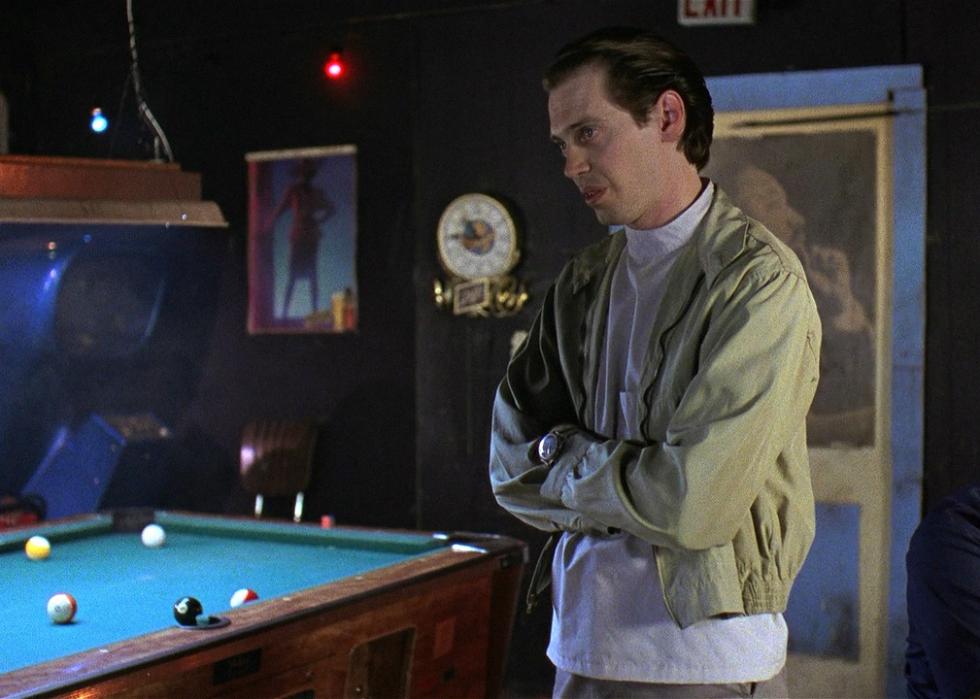 7 / 25
JVC Entertainment Networks
#19. Mystery Train (1989)
- Director: Jim Jarmusch
- Stacker score: 92.3
- Metascore: 80
- IMDb user rating: 7.6
- Runtime: 110 minutes
A rock 'n' roll-obsessed Japanese couple; three amateur criminals; a stranded Italian widow: all three interlocking stories taking place at the same hotel in Memphis, Tennessee, culminating in the sound of a gunshot and Elvis Presley's "Blue Moon" one fateful night. The dryly funny anthology film was director Jim Jarmusch's first feature to be shot in color as opposed to the classic black-and-white of his first three films.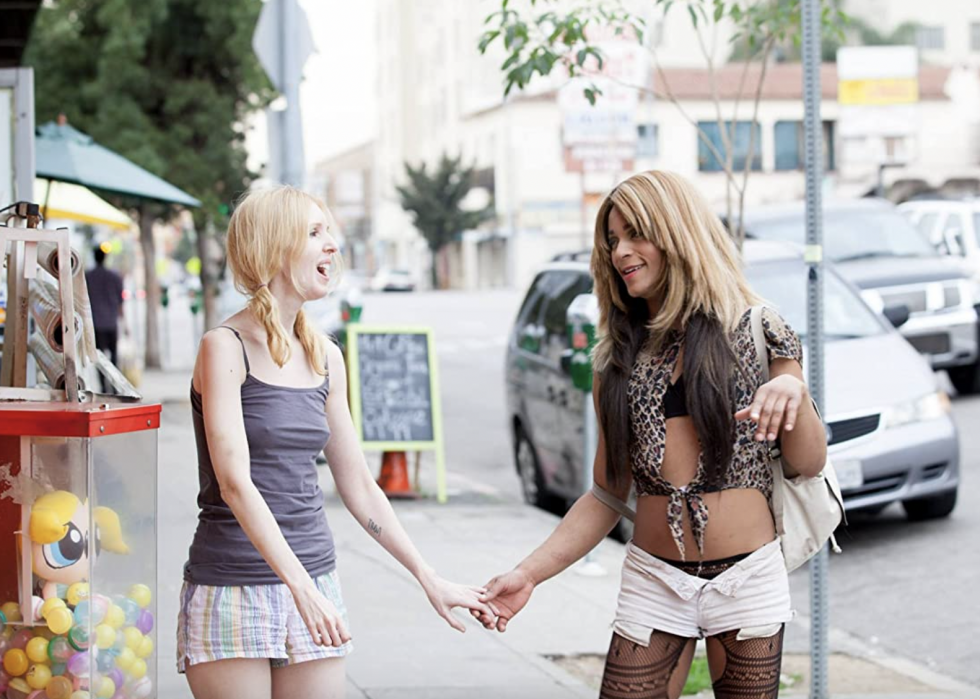 8 / 25
Duplass Brothers Productions
#18. Tangerine (2015)
- Director: Sean Baker
- Stacker score: 92.9
- Metascore: 86
- IMDb user rating: 7.1
- Runtime: 88 minutes
Transgender sex worker Sin-Dee (Kitana Kiki Rodriguez) gets out of jail after a 28-day stint to discover that her pimp/boyfriend cheated on her while she was doing time. With the help of her best friend Alexandra (Mya Taylor), the two women embark on a journey to find him and his alleged new lover. Dubbed "an old-fashioned comedy at heart," the film offers an intimate portrait of a sex work subculture within Los Angeles. The film is notable for being shot entirely on an iPhone.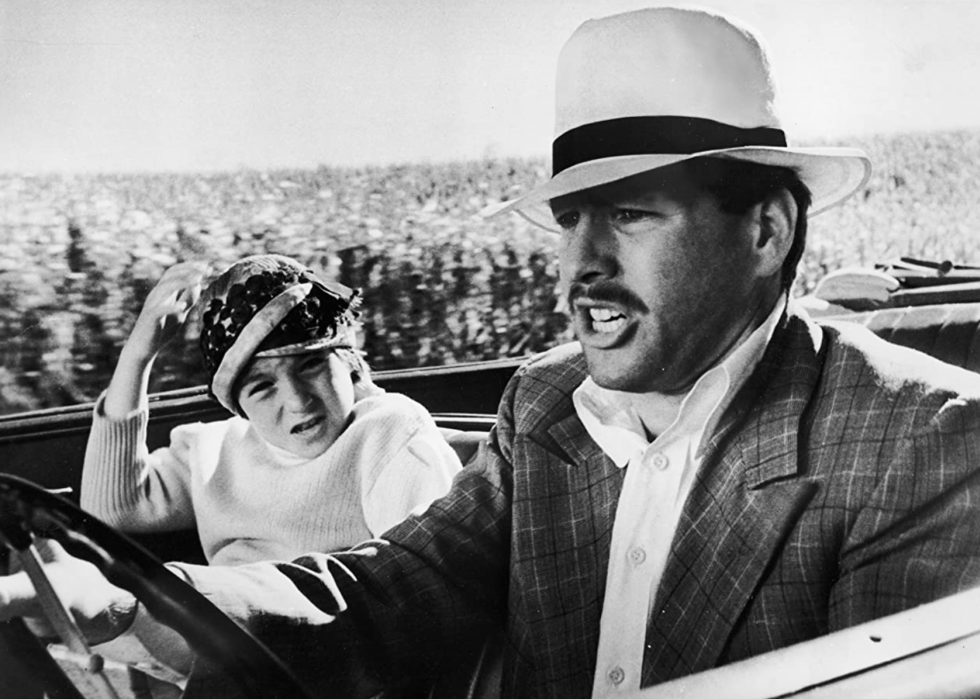 9 / 25
#17. Paper Moon (1973)
- Director: Peter Bogdanovich
- Stacker score: 93.5
- Metascore: 77
- IMDb user rating: 8.1
- Runtime: 102 minutes
In Depression-era Kansas, a con artist is tasked with bringing a girl to her relatives after the death of her mother, and ends up teaming up with her when he tries and fails to dupe her out of money. Real-life father and daughter Tatum and Ryan O'Neal have charming chemistry in the road comedy-drama's leading roles, and Tatum ended up becoming the youngest actor ever to win the Academy Award for Best Supporting Actress in 1974.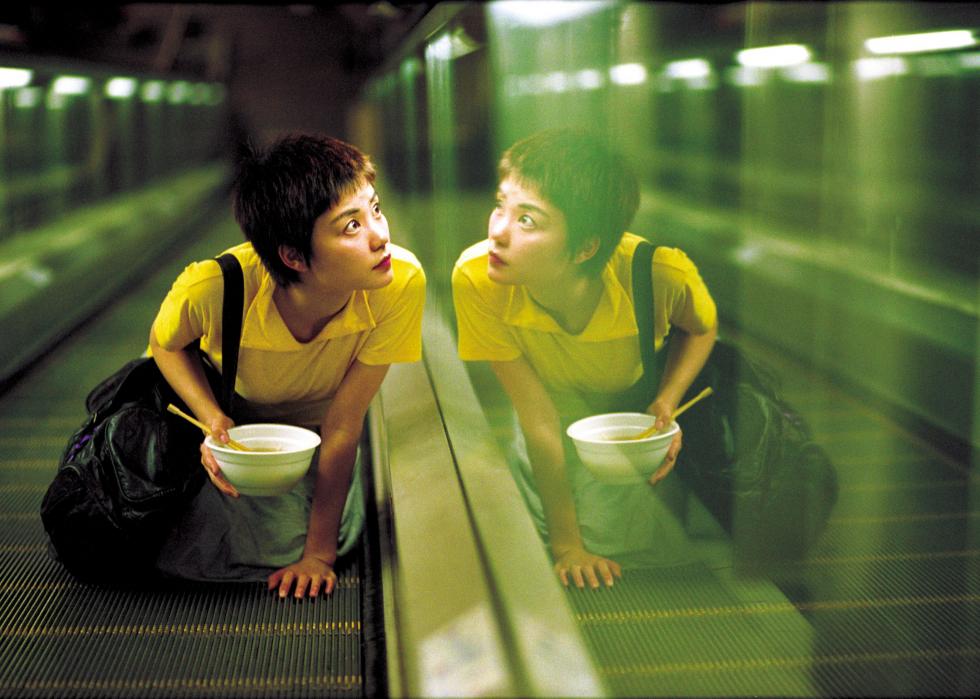 10 / 25
#16. Chungking Express (1994)
- Director: Wong Kar-Wai
- Stacker score: 93.5
- Metascore: 77
- IMDb user rating: 8.1
- Runtime: 102 minutes
The stories of two lovesick Hong Kong policemen are told in this romantic, comedy-drama—one falling for a beautiful, quirky waitress, the other becoming infatuated with a mysterious woman involved in drug-smuggling. Director Wong Kar-wai decided to make the film during a break while filming "Ashes of Time," and the script had not been completed by the time filming began.
You may also like: 100 Greatest Movie Quotes from 100 Years of Film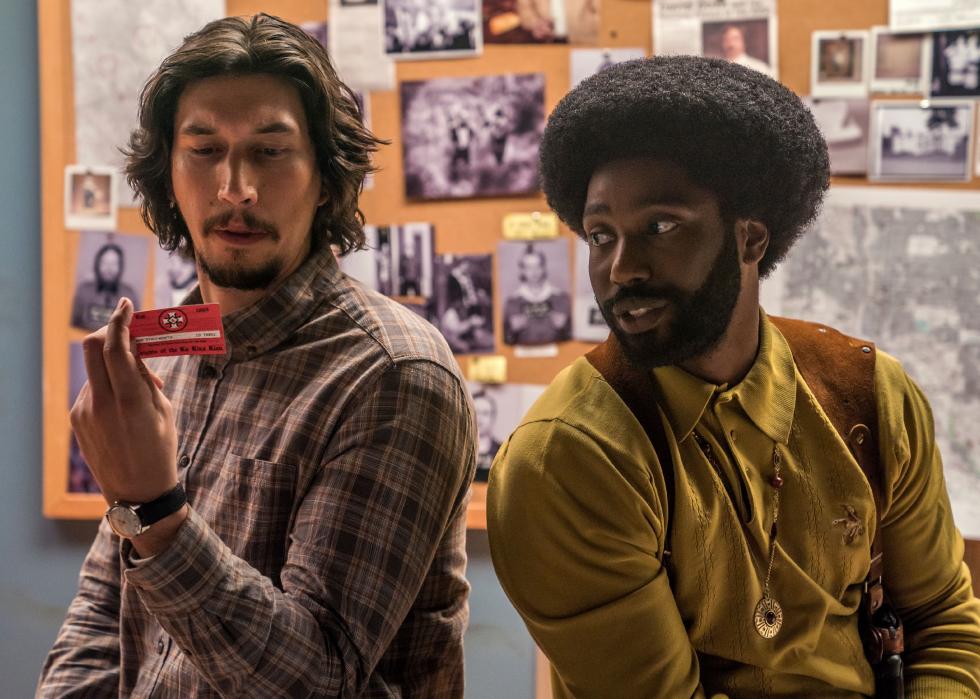 11 / 25
#15. BlacKkKlansman (2018)
- Director: Spike Lee
- Stacker score: 93.5
- Metascore: 83
- IMDb user rating: 7.5
- Runtime: 135 minutes
The real-life story of the first Black detective to join the Colorado Springs Police Department, Spike Lee's Academy Award-nominated film follows Ron Stallworth (John David Washington), whose voice allows him to trick the local Ku Klux Klan chapter into thinking he's a white man, and subsequently infiltrate them. The film tackles the dark subject matter with gleeful, black comedic wit, and garnered director Spike Lee his first Academy Award nomination for Best Director.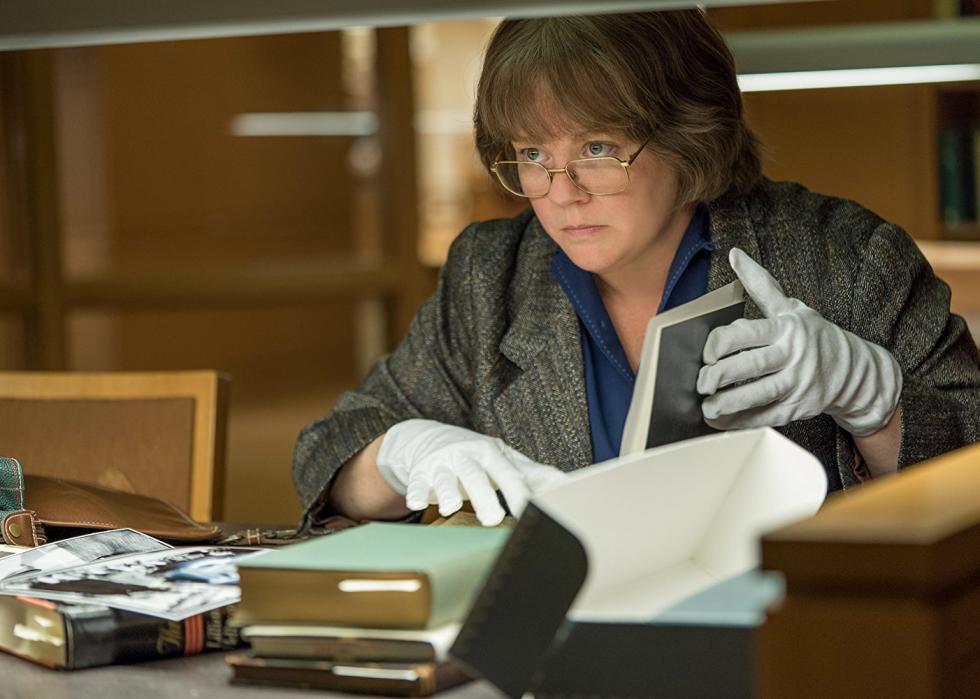 12 / 25
#14. Can You Ever Forgive Me? (2018)
- Director: Marielle Heller
- Stacker score: 93.5
- Metascore: 87
- IMDb user rating: 7.1
- Runtime: 106 minutes
Former best-selling celebrity biographer Lee Israel (Melissa McCarthy) has fallen out of step with the times and is struggling to pay her bills, when she comes up with a scheme to make money from writing and selling forged letters by famous authors. A far more comedically subdued role for McCarthy, she nonetheless shines playing off screen partner Richard E. Grant, the two of them forming a criminally funny odd couple. For her performance, McCarthy garnered her first Academy Award nomination for Best Actress.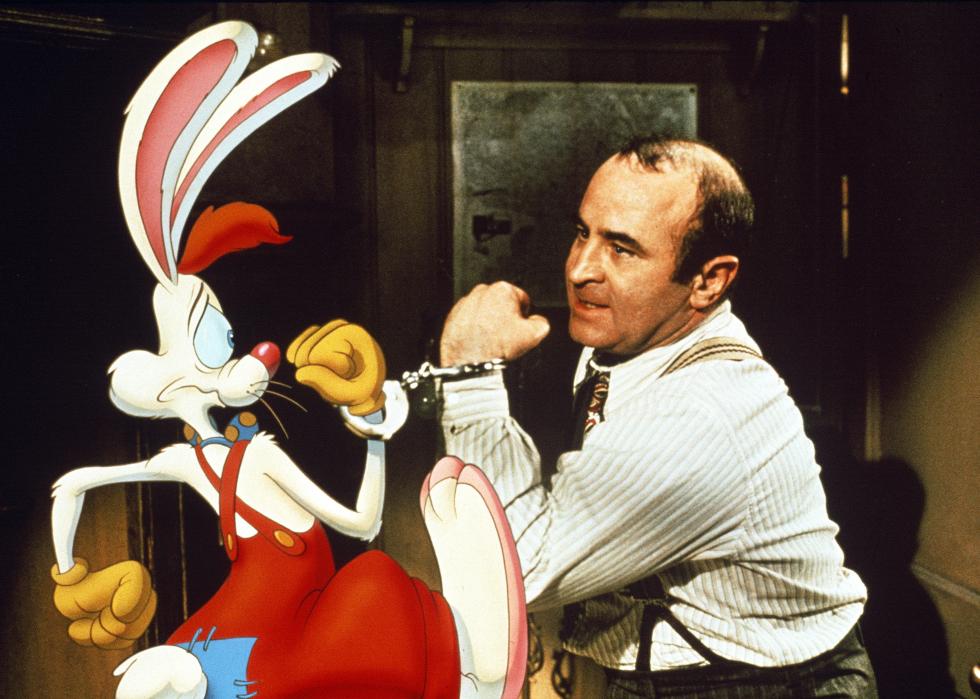 13 / 25
#13. Who Framed Roger Rabbit (1988)
- Director: Robert Zemeckis
- Stacker score: 94.7
- Metascore: 83
- IMDb user rating: 7.7
- Runtime: 104 minutes
When a private investigator is hired by a cartoon producer to find out if his star toon, Roger Rabbit, is being cheated on by his wife Jessica, the alleged "other man" is found dead, and Roger is suspect number one. Using groundbreaking effects and visuals to blend the surreal cartoon world with the real one, VistaVision cameras with motion-control tech installed captured the live-action scenes, then later were composited with the animated sequences.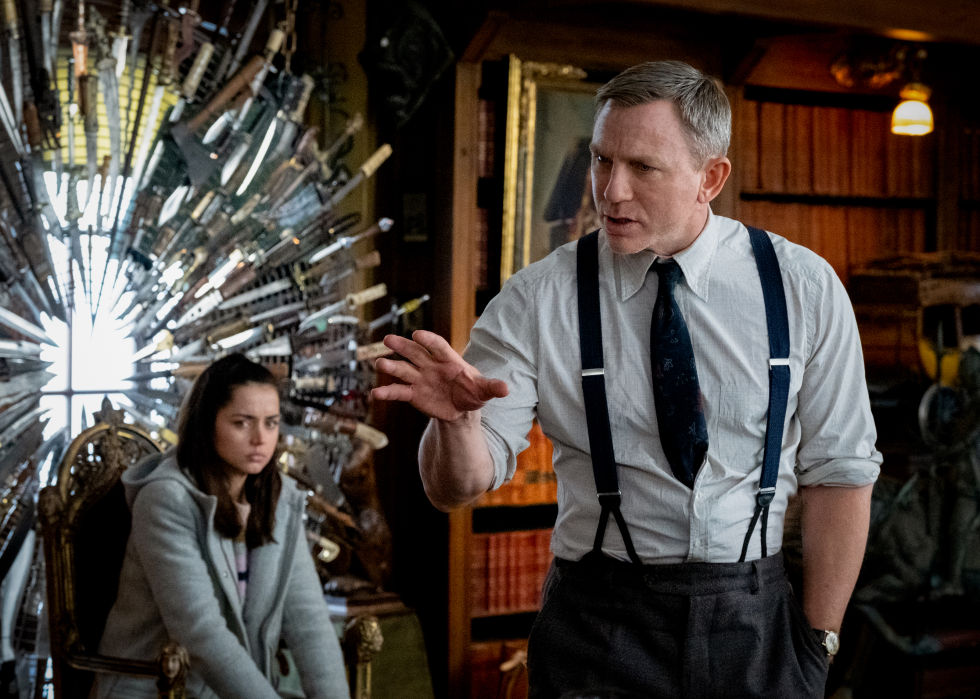 14 / 25
#12. Knives Out (2019)
- Director: Rian Johnson
- Stacker score: 95.3
- Metascore: 82
- IMDb user rating: 7.9
- Runtime: 130 minutes
Famous crime novelist Harlan Thrombey (Christopher Plummer) dies unexpectedly in his massive estate following his 85th birthday party, and his greedy relatives are all suspects in his demise. Eccentric detective Benoit Blanc (Daniel Craig) is then tasked with untangling the vast web at the heart of this familial conspiracy. Charming, witty, and unexpected at every turn, the film's screenplay was nominated for an Academy Award for Best Original Screenplay in 2020.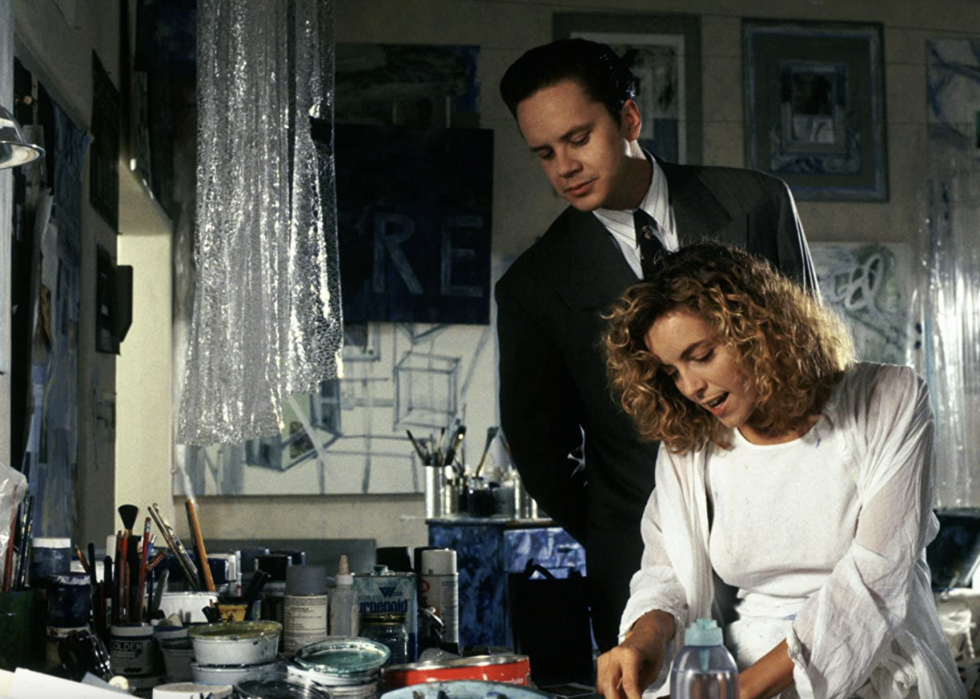 15 / 25
#11. The Player (1992)
- Director: Robert Altman
- Stacker score: 95.3
- Metascore: 86
- IMDb user rating: 7.5
- Runtime: 124 minutes
A big-shot movie producer has been receiving anonymous death threats from a writer he once spurned. When he tracks the writer down he attempts to smooth things over—but ends up killing him. Starring Tim Robbins, this black comedy satire of the film industry from Robert Altman boasts a total of 65 celebrity cameos, including Anjelica Huston, Julia Roberts, Bruce Willis, Burt Reynolds, and Jeff Goldblum.
You may also like: Mistakes from the 100 worst movies of all time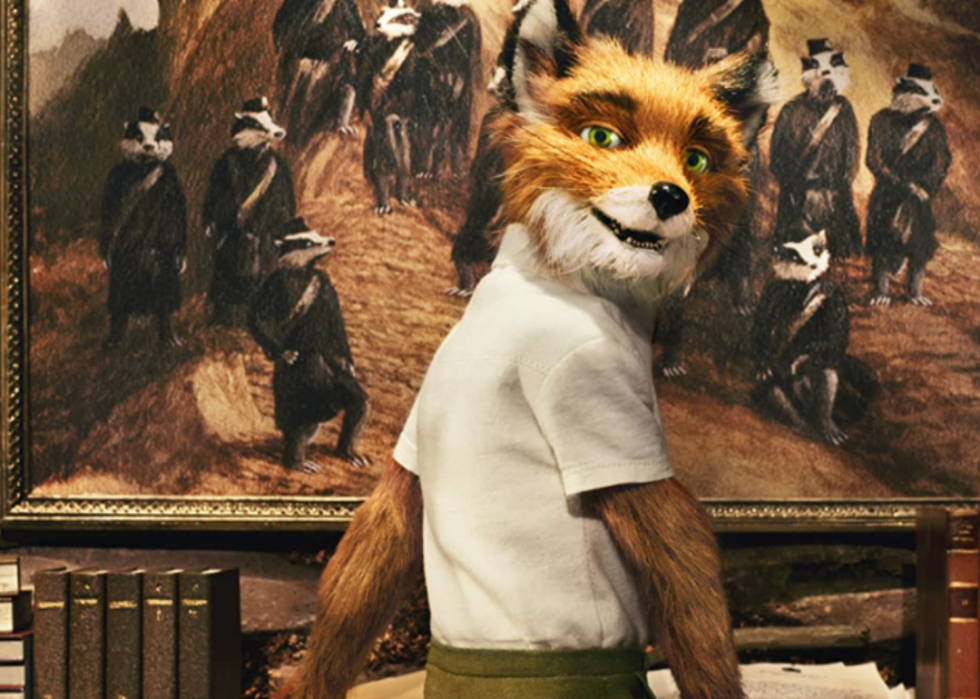 16 / 25
#10. Fantastic Mr. Fox (2009)
- Director: Wes Anderson
- Stacker score: 95.9
- Metascore: 83
- IMDb user rating: 7.9
- Runtime: 87 minutes
Clever and arrogant Mr. Fox (George Clooney) trades his life of animalistic thievery for one of marital and domestic bliss for 12 years—until he begins raiding the precious stocks of farmers Boggis, Bunce, and Bean. But his greedy ways put the lives of his family and friends in danger, and he must rely on his animal instincts and natural wit to save them. The stop-motion animation film adapted from the Roald Dahl novel of the same name features the voices of Meryl Streep, Billy Murray, Willem Dafoe, and Michael Gambon.
You may also like: The best streaming services in 2021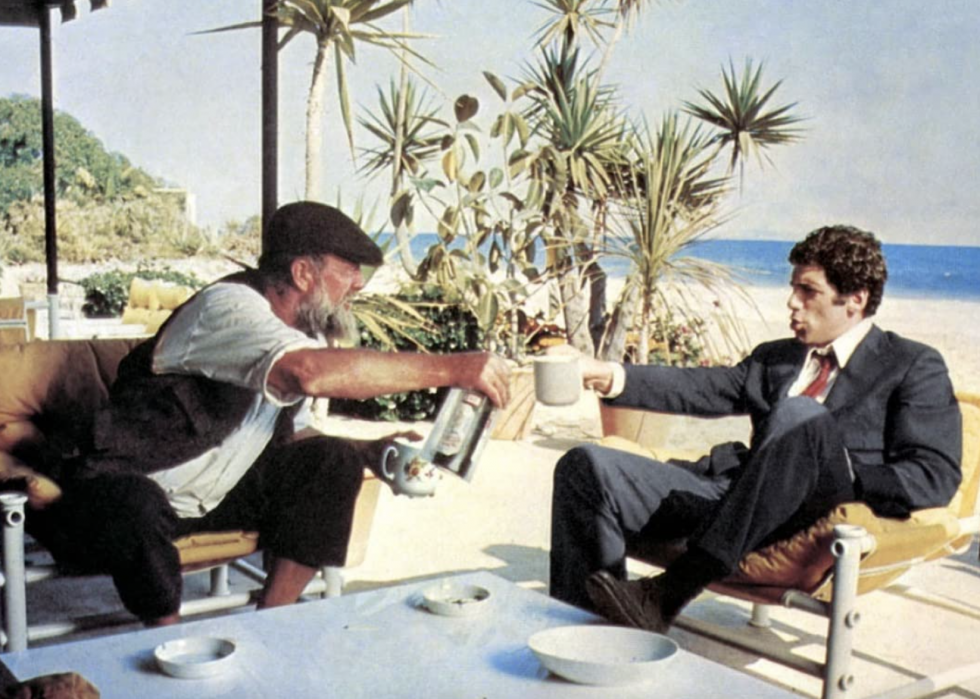 17 / 25
#9. The Long Goodbye (1973)
- Director: Robert Altman
- Stacker score: 96.4
- Metascore: 87
- IMDb user rating: 7.6
- Runtime: 112 minutes
A private detective does a favor for an old friend but ends up embroiled in a conspiracy when his friend's wife ends up dead and suddenly the PI is a suspect—until his friend is reported to have died as well under mysterious circumstances. The melancholic satire was one of many films to portray the character of Phillip Marlowe (played here by Elliott Gould), a fictional character who appears in much of Raymond Chandler's work. Marlow has also been played by Humphrey Bogart, Robert Mitchum, James Caan, and Danny Glover.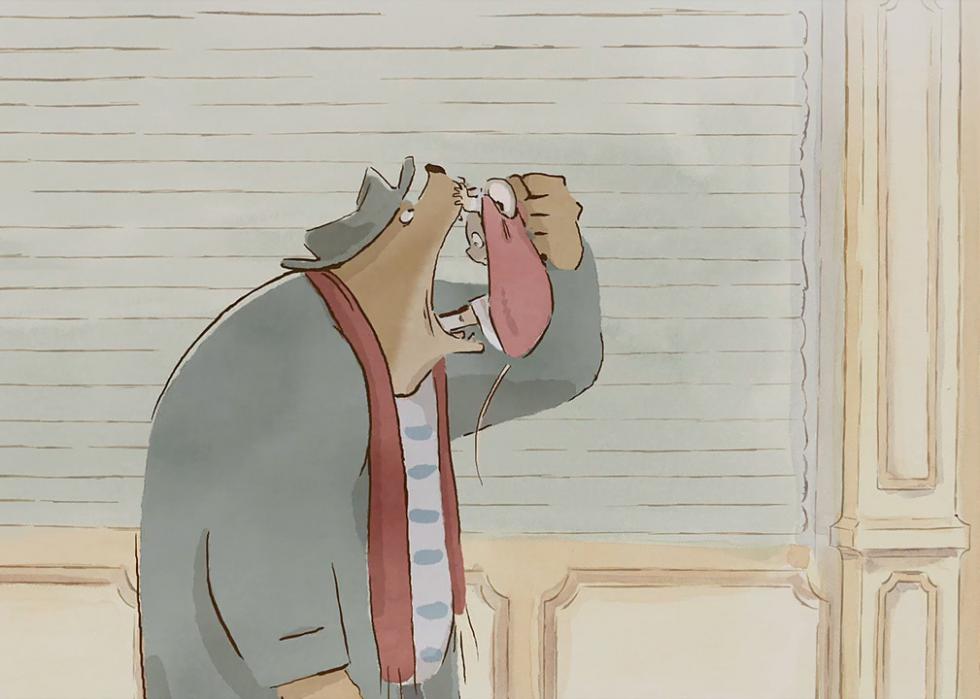 18 / 25
#8. Ernest & Celestine (2012)
- Directors: Stéphane Aubier, Vincent Patar, Benjamin Renner
- Stacker score: 97.6
- Metascore: 86
- IMDb user rating: 7.9
- Runtime: 80 minutes
Two unlikely creatures form a criminal partnership together: a little mouse named Celestine, who is avoiding her expected life's work of becoming a dentist, and a bear named Ernest, who dreams of becoming an entertainer. The animated French comedy-drama is adapted from the series of children's books of the same name, and the English dub features voices including Forest Whitaker, Lauren Bacall, Mackenzie Foy, and Paul Giamatti.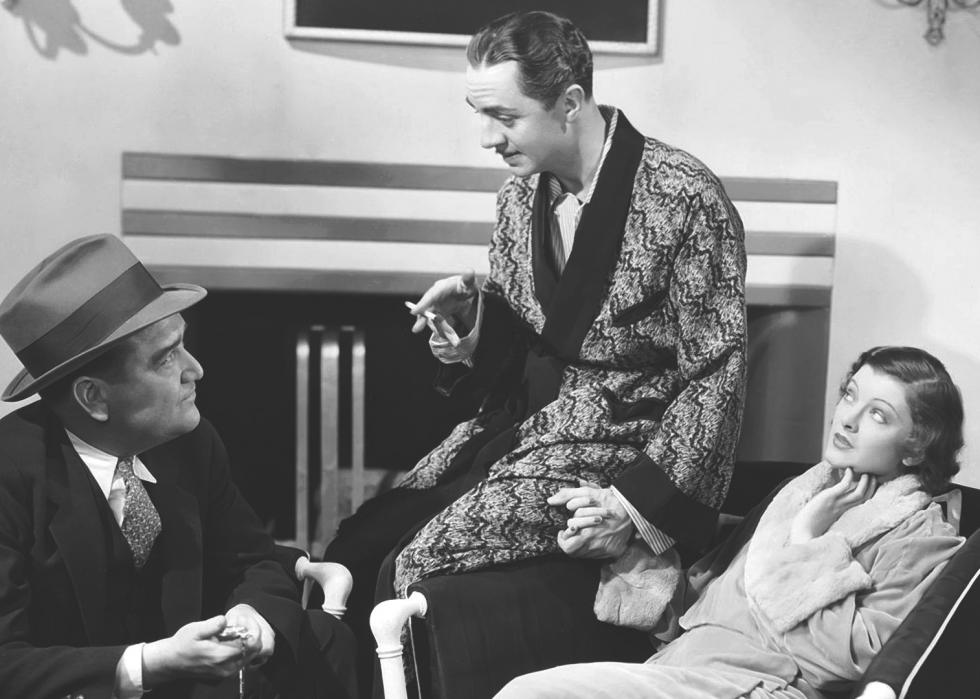 19 / 25
#7. The Thin Man (1934)
- Director: W.S. Van Dyke
- Stacker score: 97.6
- Metascore: 86
- IMDb user rating: 7.9
- Runtime: 91 minutes
A woman seeking adventure and her retired detective husband team up when asked to track down a missing inventor, whose disappearance proves to be more deadly than they anticipated. This pre-Code film combines both comedy and mystery as couple Nick and Nora Charles (William Powell and Myrna Loy, respectively) descend down a path of deception and murder. It's based upon Dashiell Hammett's 1934 novel of the same name.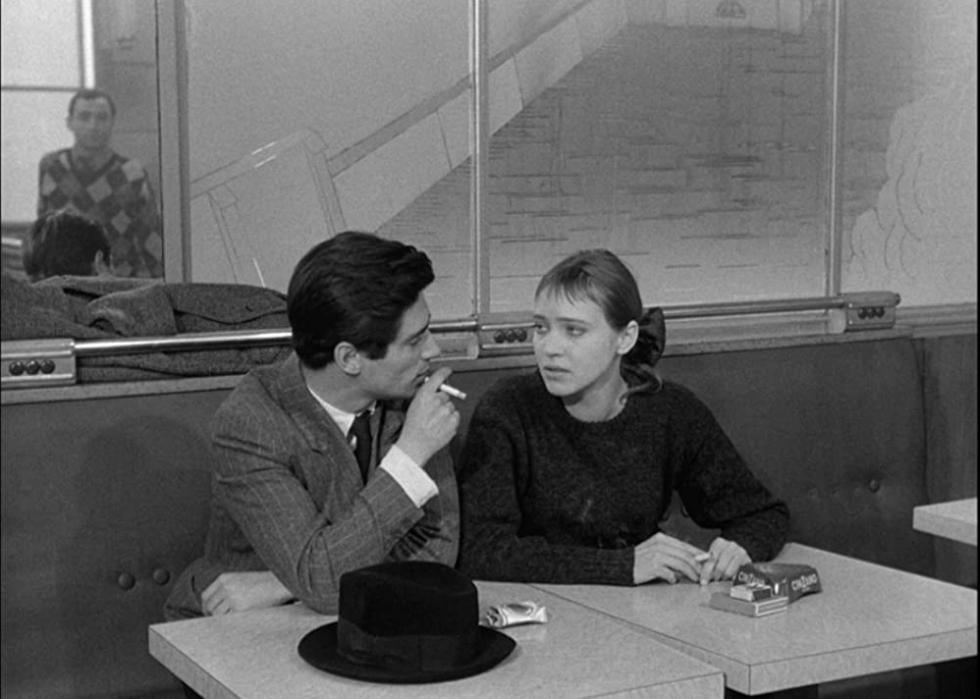 20 / 25
#6. Band of Outsiders (1964)
- Director: Jean-Luc Godard
- Stacker score: 97.6
- Metascore: 88
- IMDb user rating: 7.7
- Runtime: 95 minutes
Lazy film-lovers Franz (Sami Frey) and Arthur (Claude Brasseur) spend much of their time pursuing a woman they're both infatuated with and mirroring the Hollywood films they love, until their cinephilia pushes them to attempt their own epic heist. The charming French New Wave film from Jean-Luc Godard was so beloved by director Quentin Tarantino that he named his production company—A Band Apart—after it.
You may also like: Ranking The Best Years in Movie History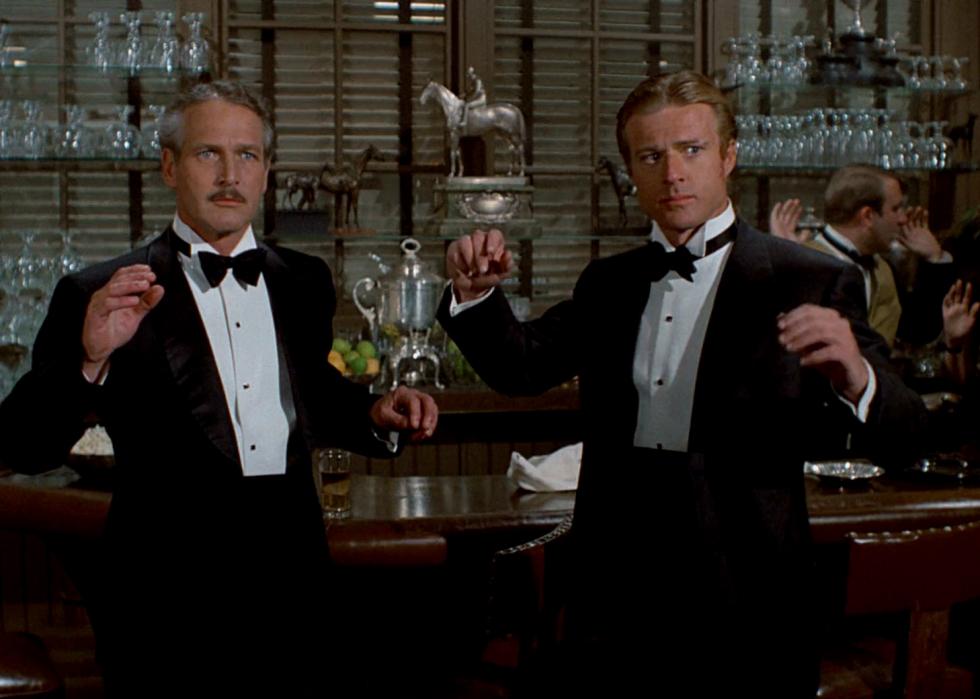 21 / 25
#5. The Sting (1973)
- Director: George Roy Hill
- Stacker score: 98.2
- Metascore: 83
- IMDb user rating: 8.3
- Runtime: 129 minutes
When their mutual friend is murdered, an aspiring con-man and a veteran criminal team up to take down the ruthless gangster responsible for his death by concocting an elaborate scheme—but things don't go entirely according to plan. Starring Robert Redford and Paul Newman, this classic caper has been one of very few comedy films to win the Academy Award for Best Picture.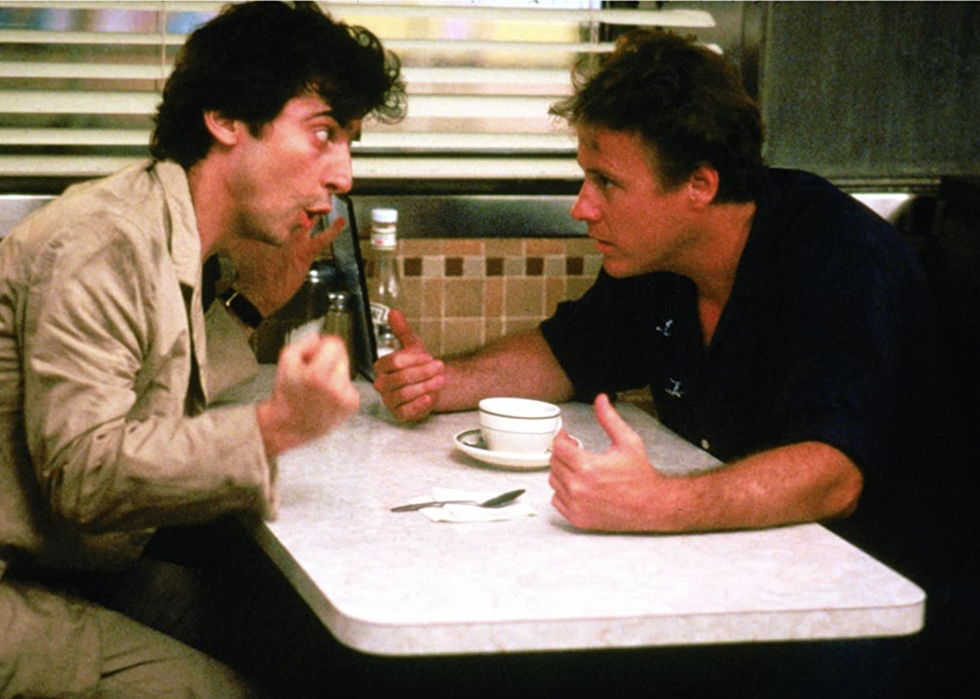 22 / 25
#4. After Hours (1985)
- Director: Martin Scorsese
- Stacker score: 98.8
- Metascore: 90
- IMDb user rating: 7.7
- Runtime: 97 minutes
Word processor Paul Hackett (Griffin Dunne) meets the beguiling Marcy (Rosanna Arquette) after another mind-numbing day in the office. But what starts off as the simple desire to spend the night with a pretty girl turns into an Odyssean nightmare of being perpetually trapped in the streets of downtown Manhattan. Martin Scorsese's black comedy combines screwball humor with film noir, and was almost directed by Tim Burton.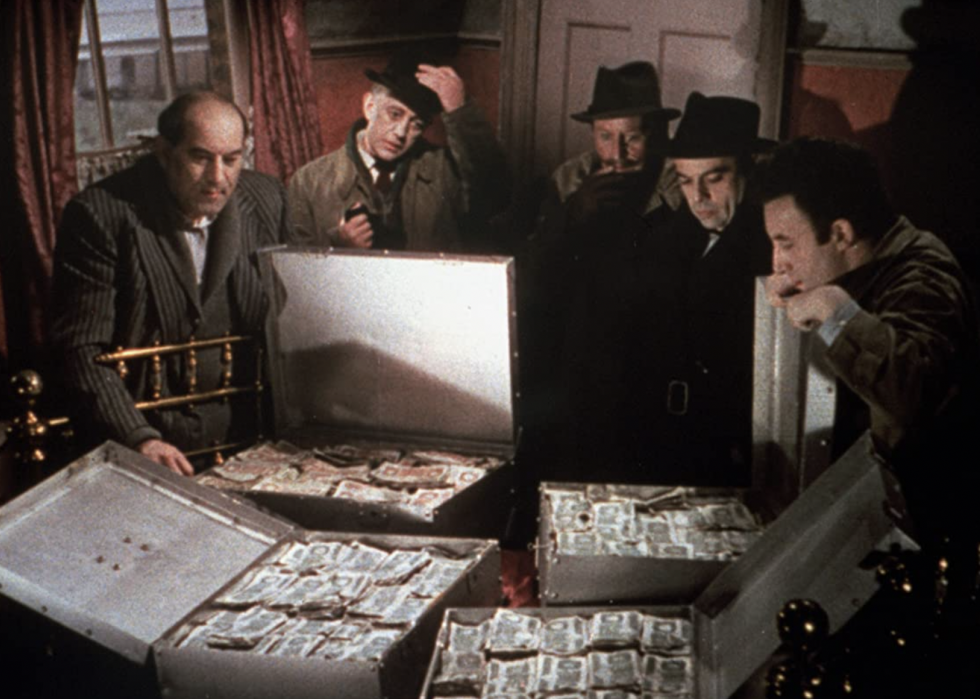 23 / 25
#3. The Ladykillers (1955)
- Director: Alexander Mackendrick
- Stacker score: 99.4
- Metascore: 91
- IMDb user rating: 7.7
- Runtime: 91 minutes
A band of eccentric criminals plan their next heist while renting the room of an old woman notorious for ratting suspicious behavior to the cops, posing as a string quartet to throw her off their scent. But when she catches them in the act, they agree they need to get rid of her. The film has been ranked among the best comedies of all time, and was remade in 2004 by the Coen brothers.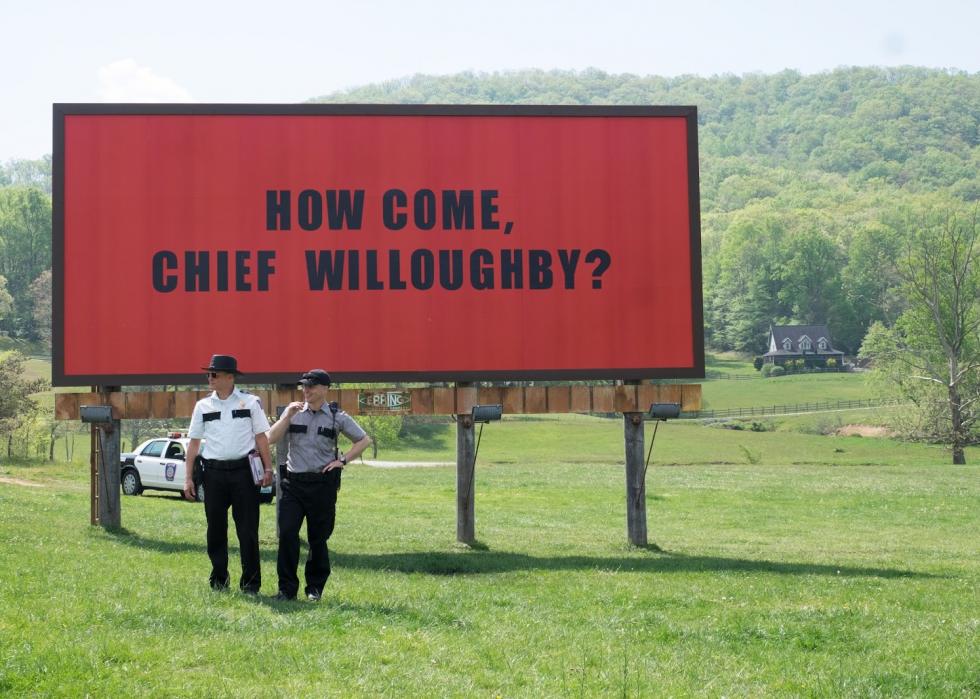 24 / 25
#2. Three Billboards Outside Ebbing, Missouri (2017)
- Director: Martin McDonagh
- Stacker score: 100
- Metascore: 88
- IMDb user rating: 8.1
- Runtime: 115 minutes
Strong-willed mother Mildred Hayes (Frances McDormand) wants justice done for the murder of her daughter, and puts up three billbaords outside her town calling out the sheriff's incompetence. Her devotion to the case draws controversy from the town and the respected sheriff's hot-headed deputy, but Mildred continues to stand firm. The film's dark humor and moving themes made it an awards darling at the time of release, winning Frances McDormand the Academy Award for Best Actress in 2018.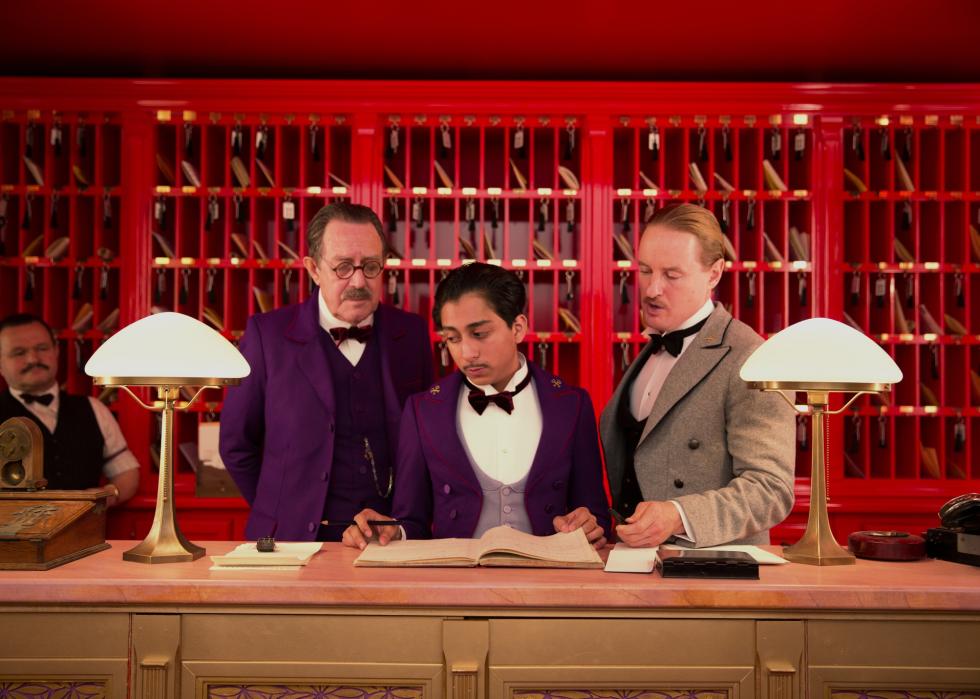 25 / 25
#1. The Grand Budapest Hotel (2014)
- Director: Wes Anderson
- Stacker score: 100
- Metascore: 88
- IMDb user rating: 8.1
- Runtime: 99 minutes
When revered concierge Monsieur Gustave H. (Ralph Fiennes) is set to inherit a priceless painting from his elderly lover—who died under mysterious circumstances—he is framed for her murder, and it's up to his devoted lobby boy Zero (Tony Revolori) to clear his name. The enchanting comedy-drama sees director Wes Anderson in peak quirky, comedic form, and features an ensemble cast which includes Tilda Swinton, Harvey Keitel, Adrien Brody, F. Murray Abraham, and Jude Law.
You may also like: The best streaming services for sports in 2021