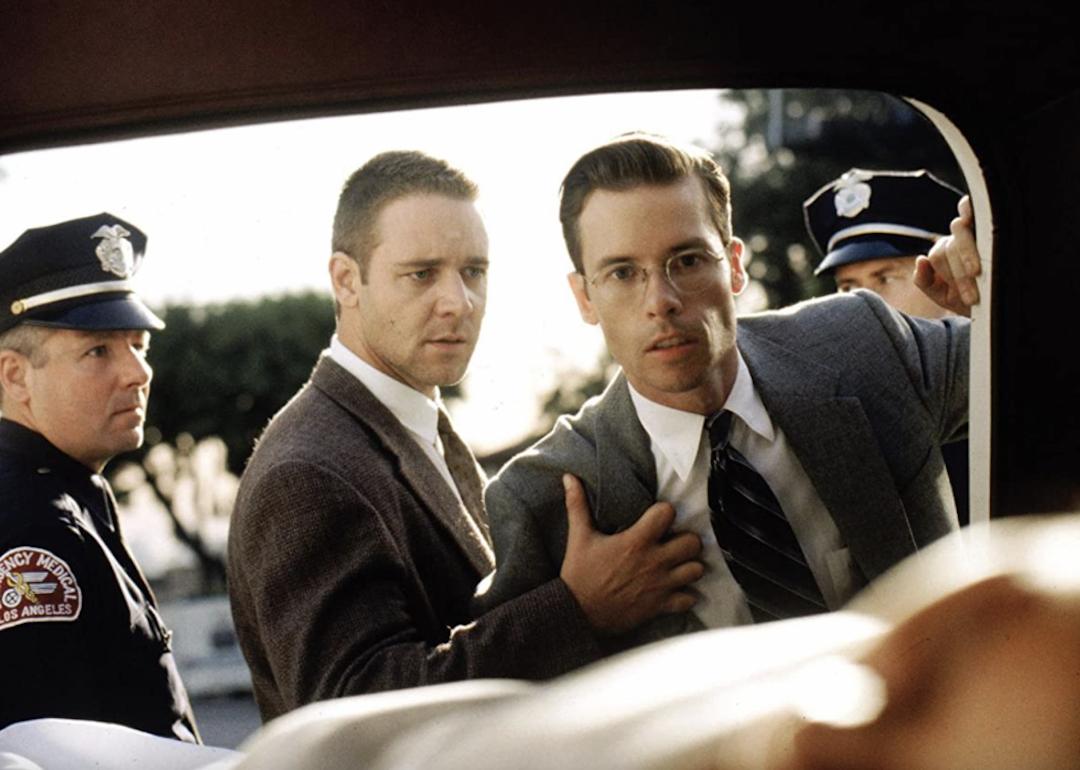 Best whodunit movies of all time
Best whodunit movies of all time
Predictability is the last thing audiences want out of their entertainment, so most stories contain at least some element of surprise. And nothing uses the concept to its advantage quite like the classic whodunit. A challenge for the filmmaker and the viewer alike, this particular subgenre keeps viewers guessing until the final reveal and, furthermore, uses that guesswork as a basis upon which to tell its story.
But what is a whodunit, exactly? Merriam-Webster defines it as "a detective story or mystery story." The Oxford Reference dates the term back to the 1930s and describes it as "a story or play about a murder in which the identity of the murderer is not revealed until the end."  
Typically somewhat procedural by nature, whodunits remain a stalwart in books and on TV, rearing their heads with less frequency on the big screen. That said, a mystery film done right is among the most compelling and rewarding a viewer can experience. In fact, some of the best whodunit movies are also the best movies of all time. We can certainly name a few right now, but it seems more fitting to leave one in suspense until the upcoming reveal.
Stacker compiled data on the top whodunit movies and ranked them by IMDb user ratings, with any ties being broken by votes. To qualify, the plot of the film had to revolve around a detective or a mystery, per the dictionary definition of the term. It also had to have at least 2,500 votes on IMDb.
You may also like: Can you answer these real 'Jeopardy!' questions about movies?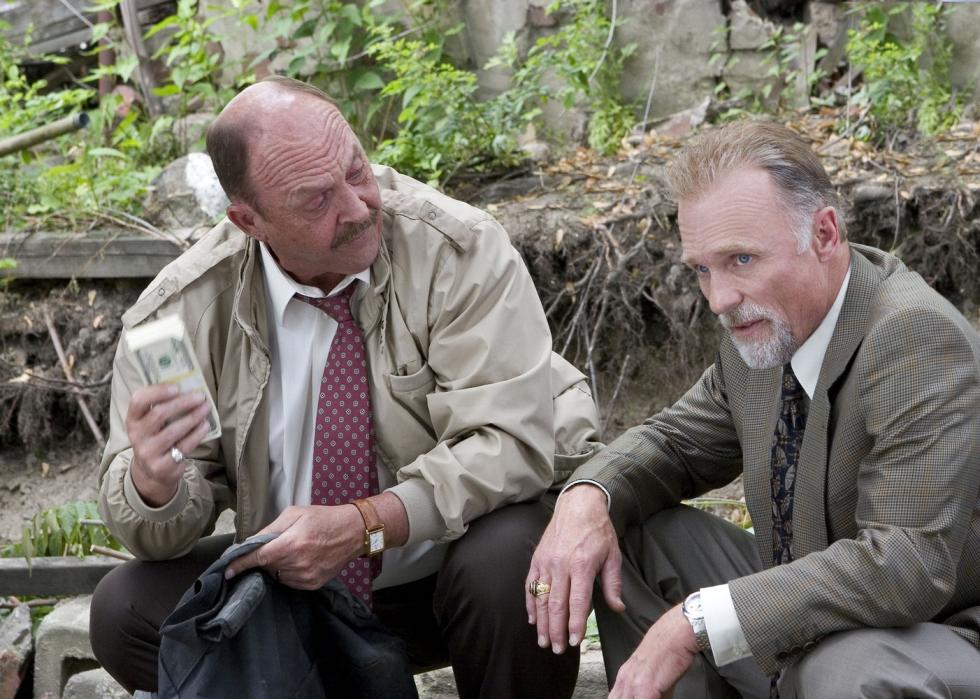 1 / 25
#25. Gone Baby Gone (2007)
- Director: Ben Affleck
- IMDb user rating: 7.6
- Metascore: 72
- Runtime: 114 minutes
Ben Affleck's directorial debut adapts a novel from Boston-based writer Dennis Lehane. Private detectives Patrick Kenzie, played by Casey Affleck, and Angie Gennaro, played by Michelle Monaghan, wade through the Boston underworld in search of a missing girl. Co-star Amy Ryan received an Academy Award nomination for her supporting role as the girl's mother.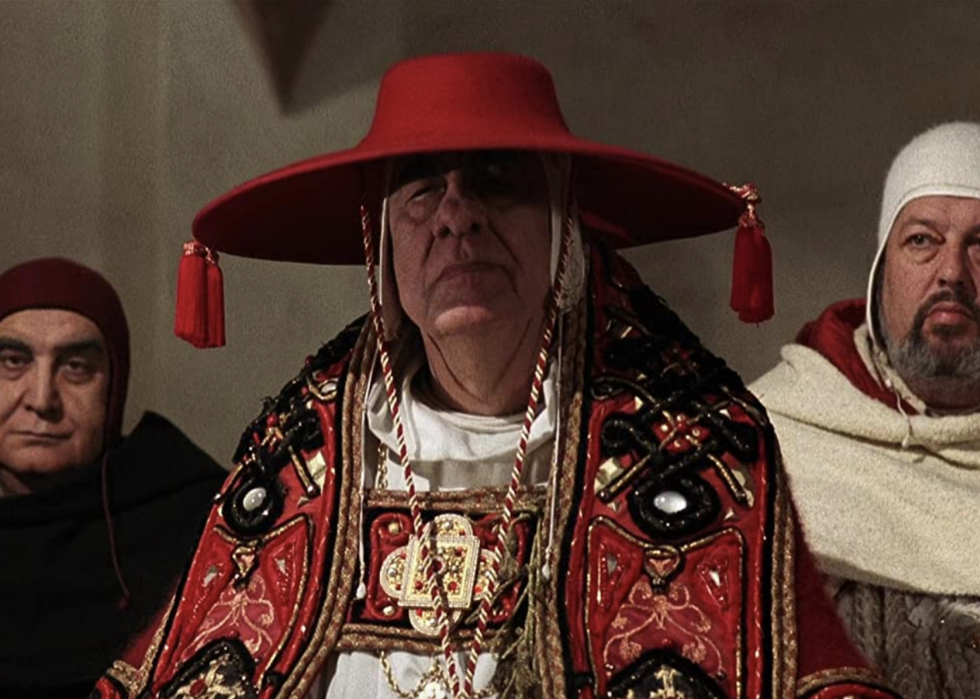 2 / 25
#24. The Name of the Rose (1986)
- Director: Jean-Jacques Annaud
- IMDb user rating: 7.7
- Metascore: 54
- Runtime: 130 minutes
Sean Connery plays Franciscan friar William of Baskerville in this historical mystery, based on Umberto Eco's bestselling novel. The story takes place in the 14th century and centers around the death of several monks in the same monastery. Facing dangerous opposition, Baskerville defies the church's authority in his search for the truth.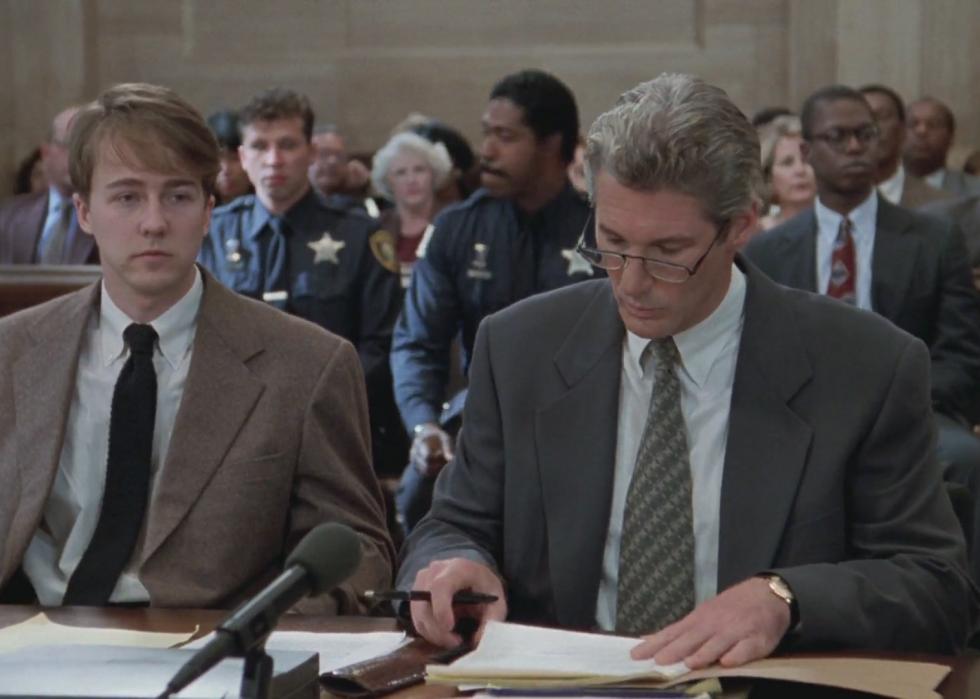 3 / 25
#23. Primal Fear (1996)
- Director: Gregory Hoblit
- IMDb user rating: 7.7
- Metascore: 47
- Runtime: 129 minutes
The movie that made Edward Norton a star finds him playing an altar boy named Aaron, who's been accused of murdering a priest. Hotshot defense attorney Martin Vail, played by Richard Gere, takes on the case and discovers a number of unexpected surprises. Tense courtroom exchanges build toward one of the best twist endings in Hollywood history.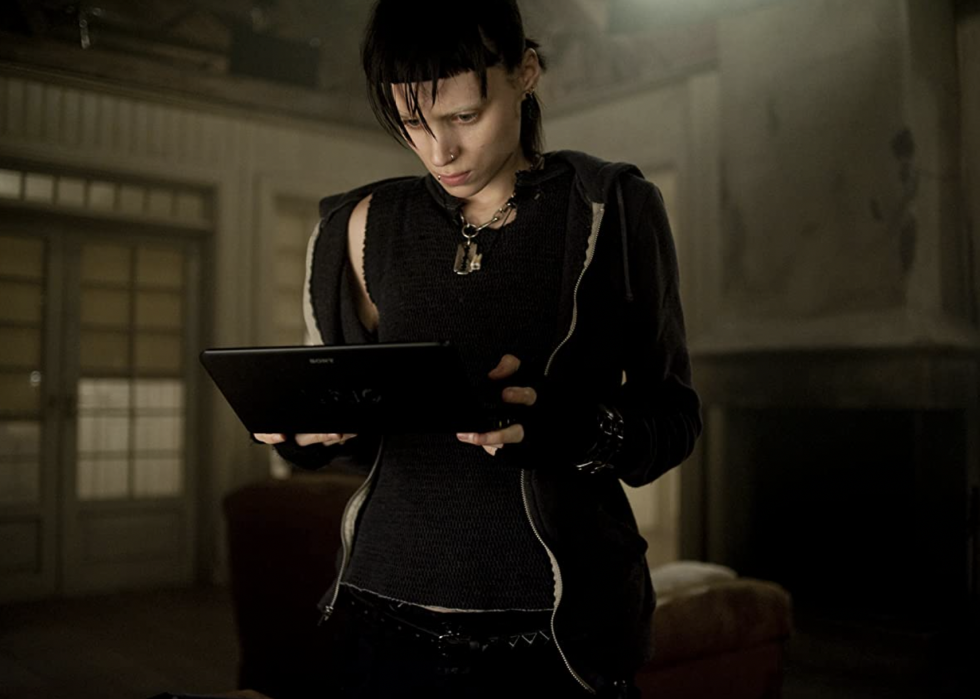 4 / 25
#22. The Girl With the Dragon Tattoo (2011)
- Director: David Fincher
- IMDb user rating: 7.8
- Metascore: 71
- Runtime: 158 minutes
Stieg Larsson's blockbuster novel was first adapted in his native Sweden before receiving the Hollywood treatment. Director David Fincher brings his particular style of desaturated color and ominous music to this already grim tale. Follow disgraced journalist Mikael Blomkvist, played by Daniel Craig, and computer hacker Lisbeth Salander, played by Rooney Mara, as they crack open a mystery that's 40 years in the making.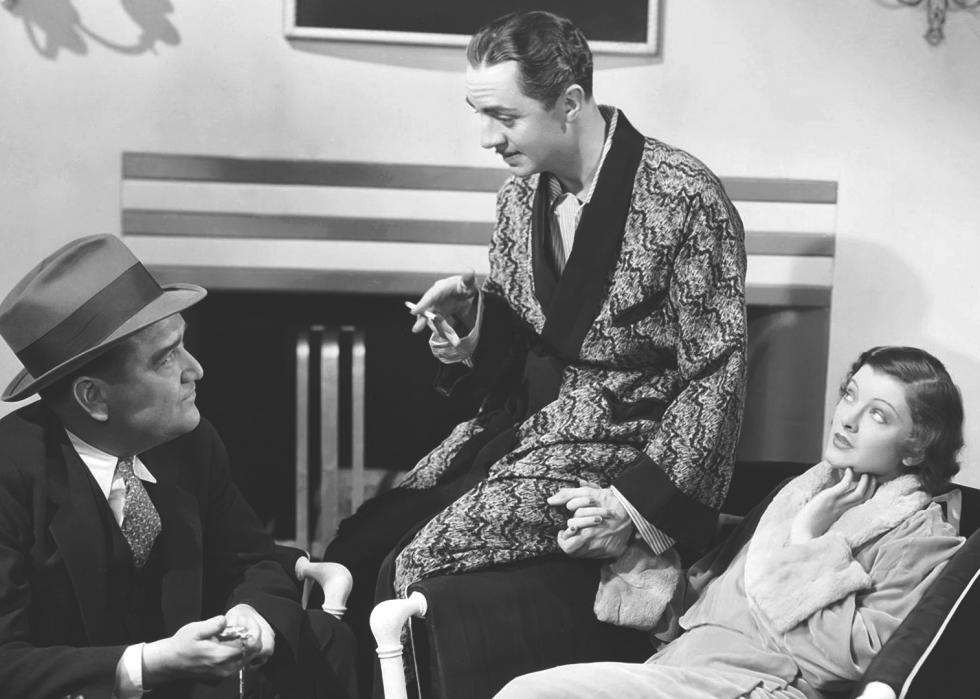 5 / 25
#21. The Thin Man (1934)
- Director: W.S. Van Dyke
- IMDb user rating: 7.9
- Metascore: 86
- Runtime: 91 minutes
Retired detective Nick Charles and his wife Nora make for a whimsical pair of sleuths in this beloved classic. Based on a novel by Dashiell Hammett, it strikes a deft balance between daring intrigue and leisurely comedy. This was one among numerous collaborations between stars William Powell and Myrna Loy, who shared a natural on-screen chemistry.
You may also like: 100 best movies of all time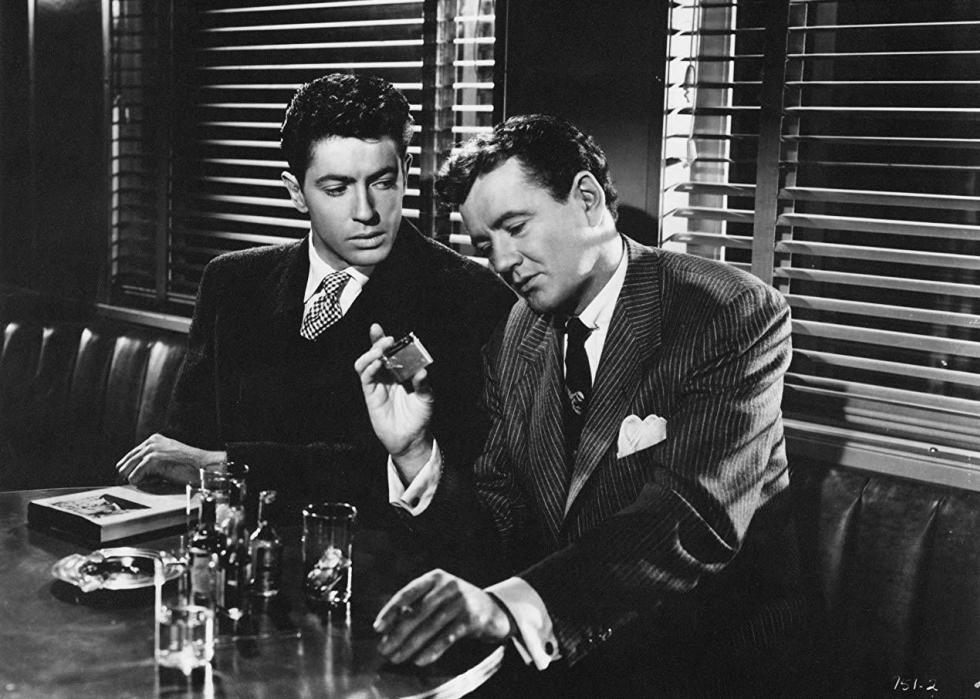 6 / 25
#20. Strangers on a Train (1951)
- Director: Alfred Hitchcock
- IMDb user rating: 7.9
- Metascore: 88
- Runtime: 101 minutes
How does one commit the perfect murder? That question lies at the very heart of Patricia Highsmith's novel and this big screen adaptation, in which a man unwittingly enlists a homicidal maniac. Subsequent films such as "Throw Momma From the Train" and "Horrible Bosses" play upon the same story, but to comedic effect.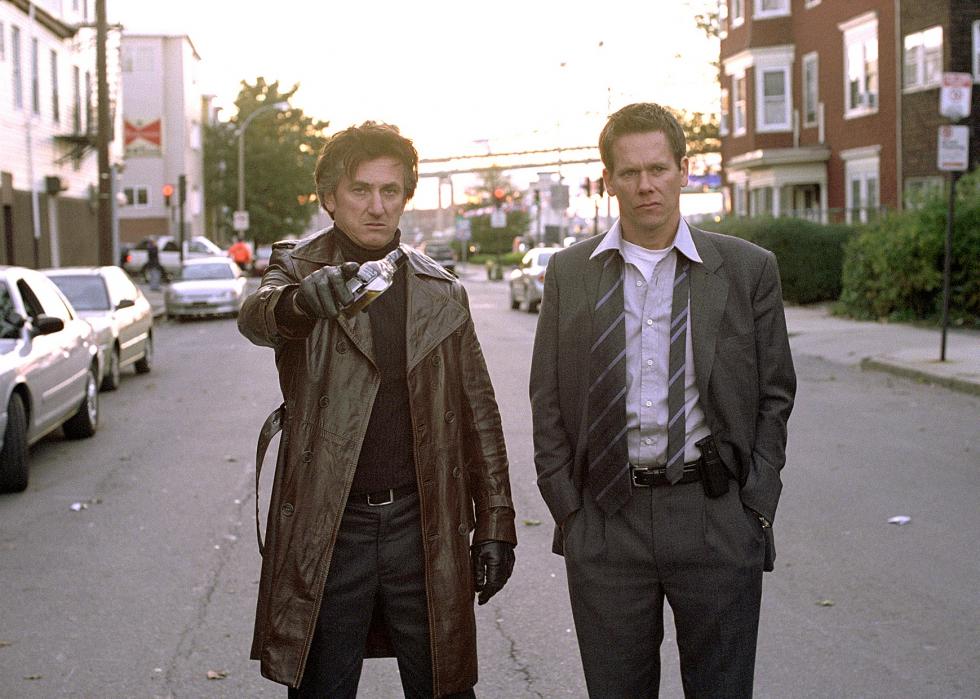 7 / 25
#19. Mystic River (2003)
- Director: Clint Eastwood
- IMDb user rating: 7.9
- Metascore: 84
- Runtime: 138 minutes
An all-star cast unites for this powerhouse drama, which takes place in the heart of Boston. With the disappearance of a man's daughter comes a long-overdue reckoning between former childhood friends. Stars Sean Penn and Tim Robbins both won Academy Awards for their respective performances.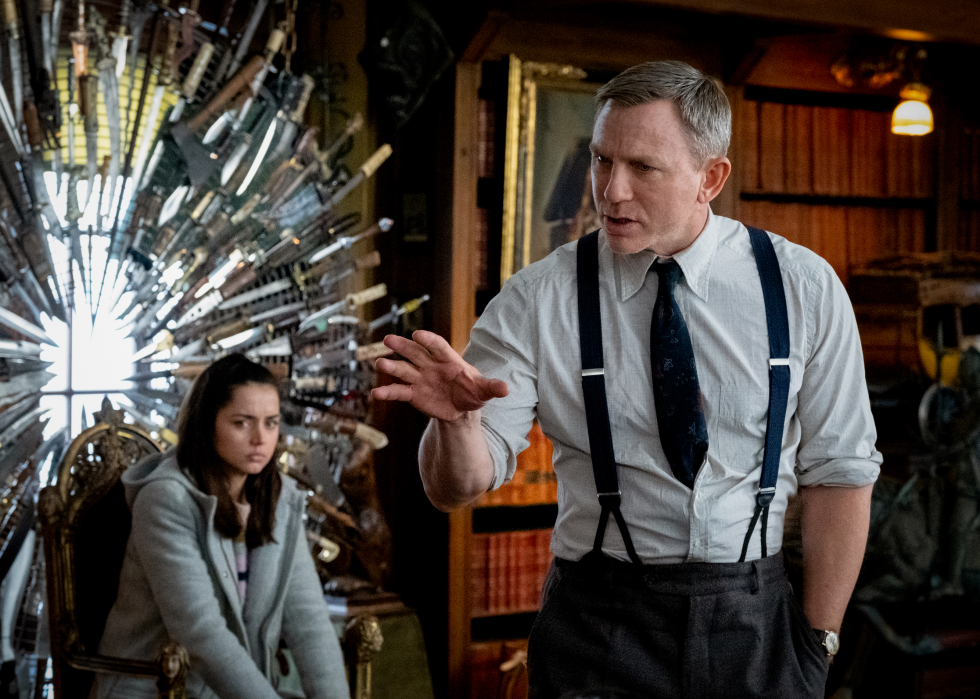 8 / 25
#18. Knives Out (2019)
- Director: Rian Johnson
- IMDb user rating: 7.9
- Metascore: 82
- Runtime: 130 minutes
Leaving the "Star Wars" franchise in his rearview, director Rian Johnson returned to his mystery roots in this blockbuster smash. Crafted in the spirit of a classic whodunit, it finds Detective Benoit Blanc, played by Daniel Craig, investigating the murder of a wealthy family patriarch. The film was such a resounding success that Netflix spent more than $400 million for two sequels.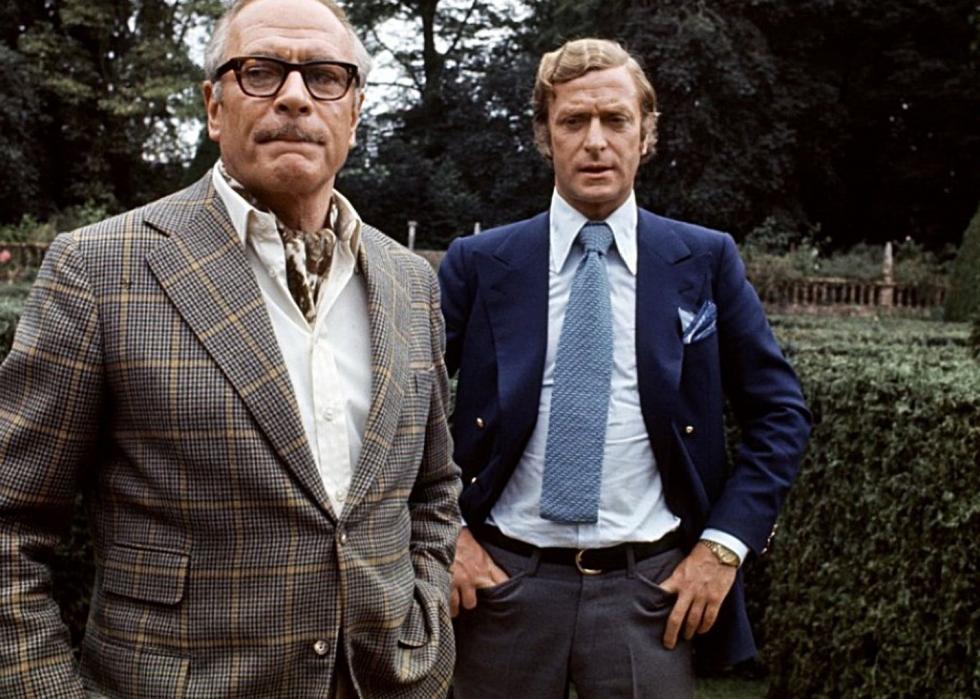 9 / 25
Palomar Pictures International
#17. Sleuth (1972)
- Director: Joseph L. Mankiewicz
- IMDb user rating: 8
- Metascore: data not available
- Runtime: 138 minutes
Writer Anthony Shaffer adapted his own Tony-winning play when penning the script for this Oscar-nominated thriller. Wealthy crime novelist Andrew Wyke,played by Laurence Olivier, lures his wife's lover, played by Michael Caine, into a deadly match of wits. In his four-star review, critic Roger Ebert said the film is funny and scary by turns, and always superbly theatrical.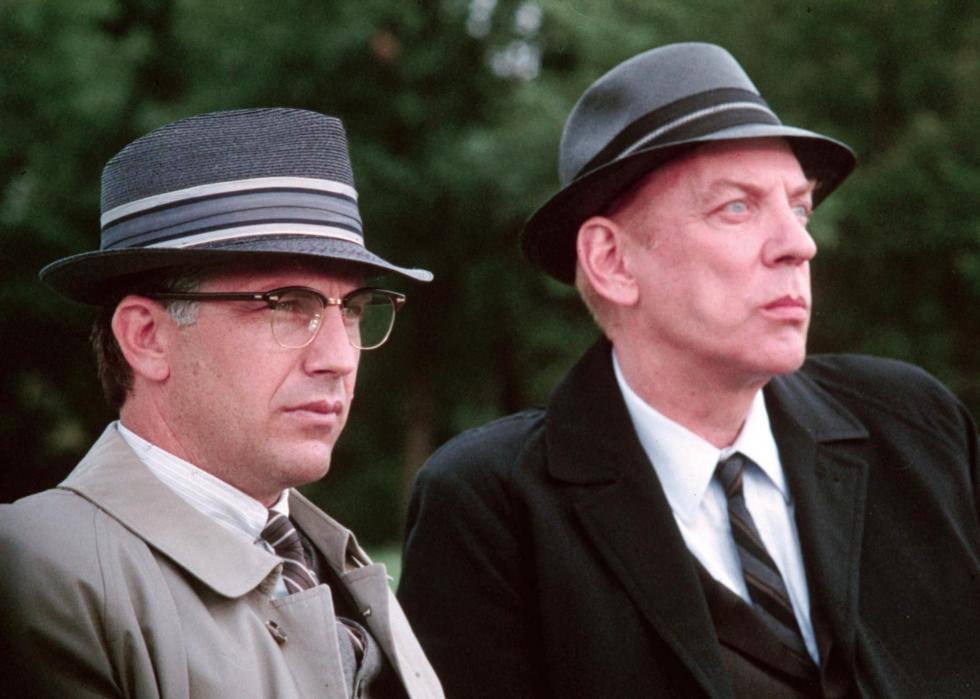 10 / 25
#16. JFK (1991)
- Director: Oliver Stone
- IMDb user rating: 8
- Metascore: 72
- Runtime: 189 minutes
Director Oliver Stone employs every trick in the cinematic playbook for this sprawling conspiracy thriller about the John F. Kennedy assassination. In search of the truth, New Orleans District Attorney Jim Garrison, played by Kevin Costner, uncovers shocking secrets and faces powerful enemies. Separating fact from fiction is half the battle, making this one a mystery on multiple levels.
You may also like: The Stories Behind Your Favorite Wes Anderson Movies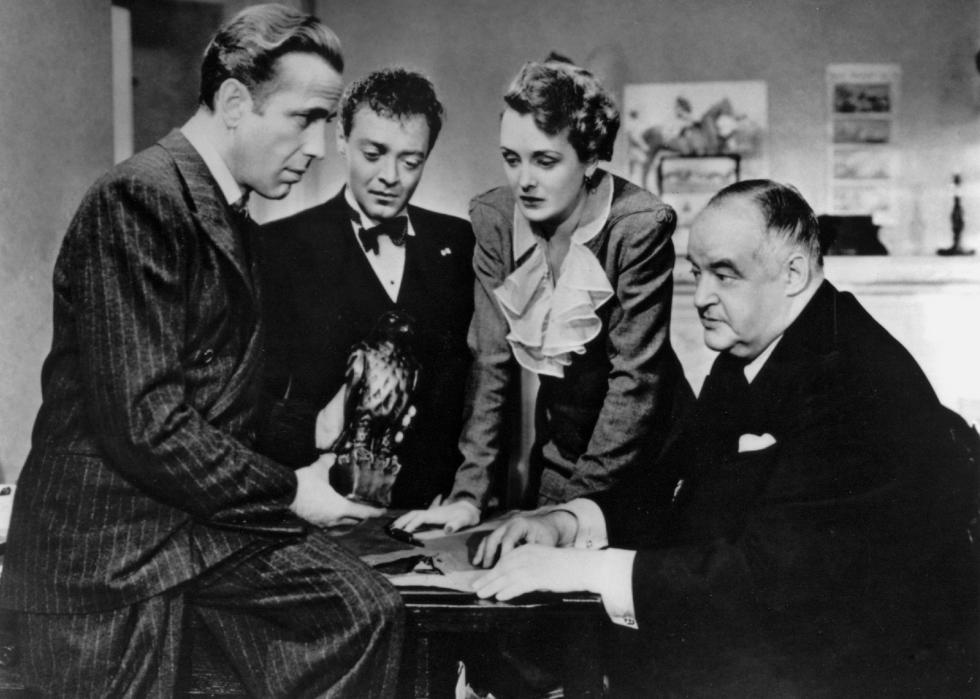 11 / 25
#15. The Maltese Falcon (1941)
- Director: John Huston
- IMDb user rating: 8
- Metascore: 96
- Runtime: 100 minutes
Dashiell Hammett's seminal novel leapt onto the big screen in 1941, starring Humphrey Bogart as Detective Sam Spade. When a dangerous dame strolls into Sam's office, she brings with her a boatload of trouble. Certain plot mechanisms may seem overly familiar to today's audiences, but that's only because they've been imitated so many times since the film's release.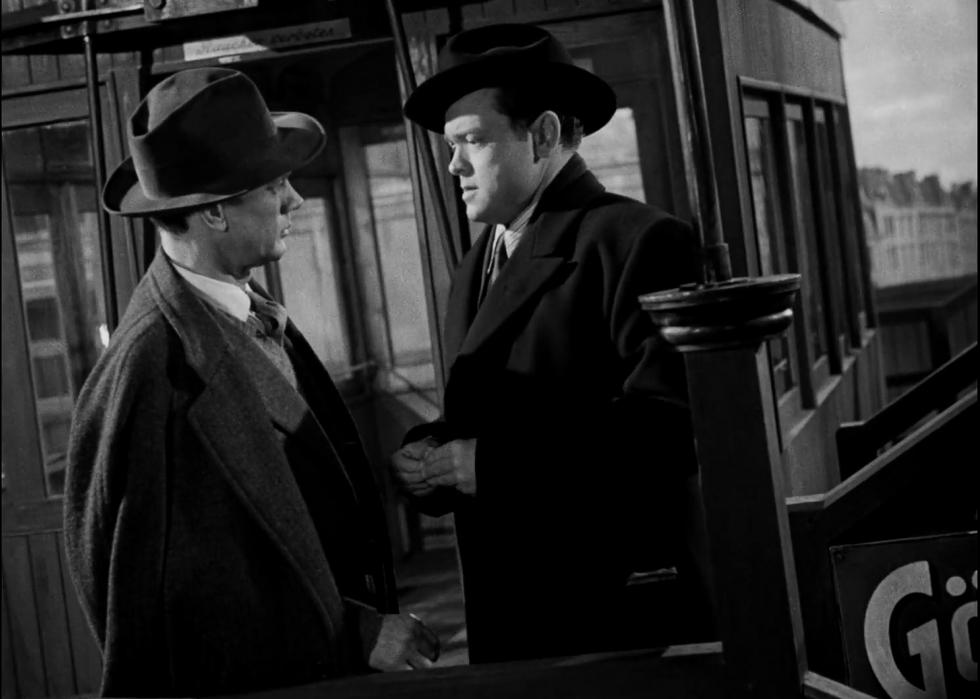 12 / 25
#14. The Third Man (1949)
- Director: Carol Reed
- IMDb user rating: 8.1
- Metascore: 97
- Runtime: 93 minutes
This expressionist noir follows novelist Holly Martins, played by Joseph Cotten, to postwar Vienna at the request of an old friend, played by Orson Welles. He arrives to discover a devious murder plot with conspiratorial implications. Shadowy cinematography and deliberate pacing conjures an atmosphere of perennial paranoia.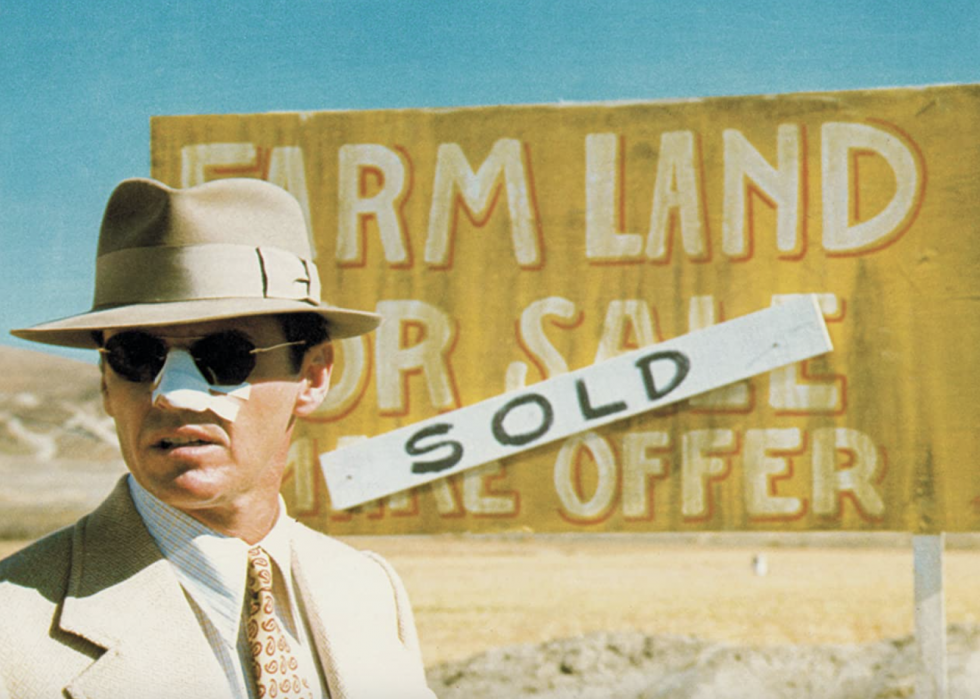 13 / 25
#13. Chinatown (1974)
- Director: Roman Polanski
- IMDb user rating: 8.1
- Metascore: 92
- Runtime: 130 minutes
Classic neo-noir meets pure nihilism in Roman Polanski's "Chinatown," a quintessential exploration of greed and power. Private eye Jake "J.J." Gittes, played by Jack Nicholson, takes on a seemingly simple adultery case, only to uncover a murderous scheme involving the Los Angeles water supply. Set in the 1930s perhaps, but the story's built-in themes are tragically timeless.
You may also like: The best streaming services for sports in 2021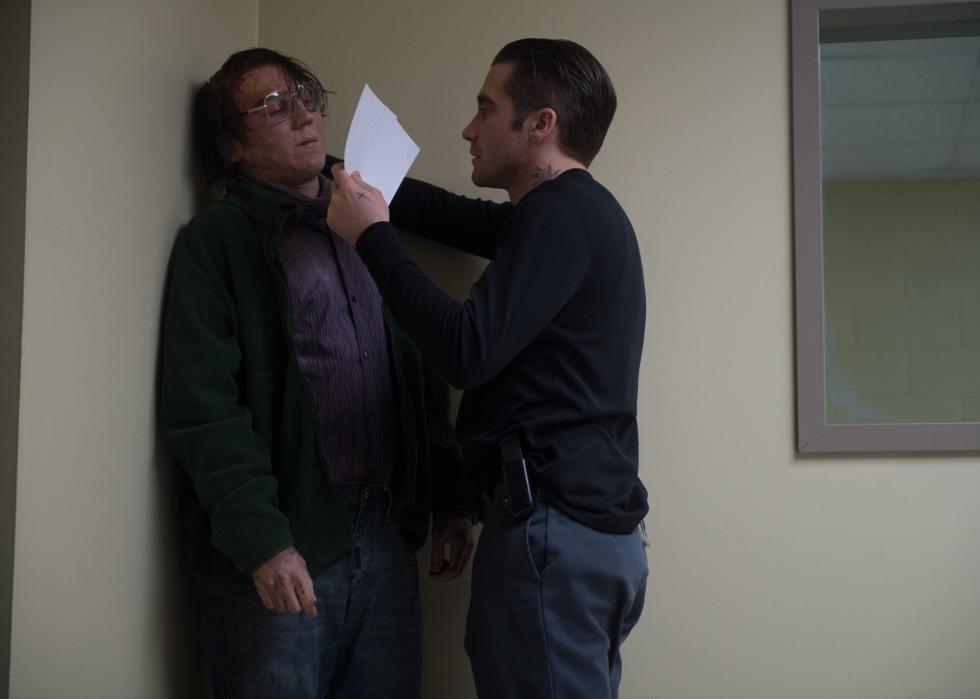 14 / 25
#12. Prisoners (2013)
- Director: Denis Villeneuve
- IMDb user rating: 8.1
- Metascore: 70
- Runtime: 153 minutes
A man's daughter has been kidnapped and the clock is ticking in this taut thriller from Denis Villeneuve. Two mysteries pile into one when the man performs an abduction of his own, torturing someone who may or may not be guilty of the crime. Hugh Jackman, Jake Gyllenhaal, Viola Davis, Terrence Howard, Paul Dano, and Melissa Leo all star in this film.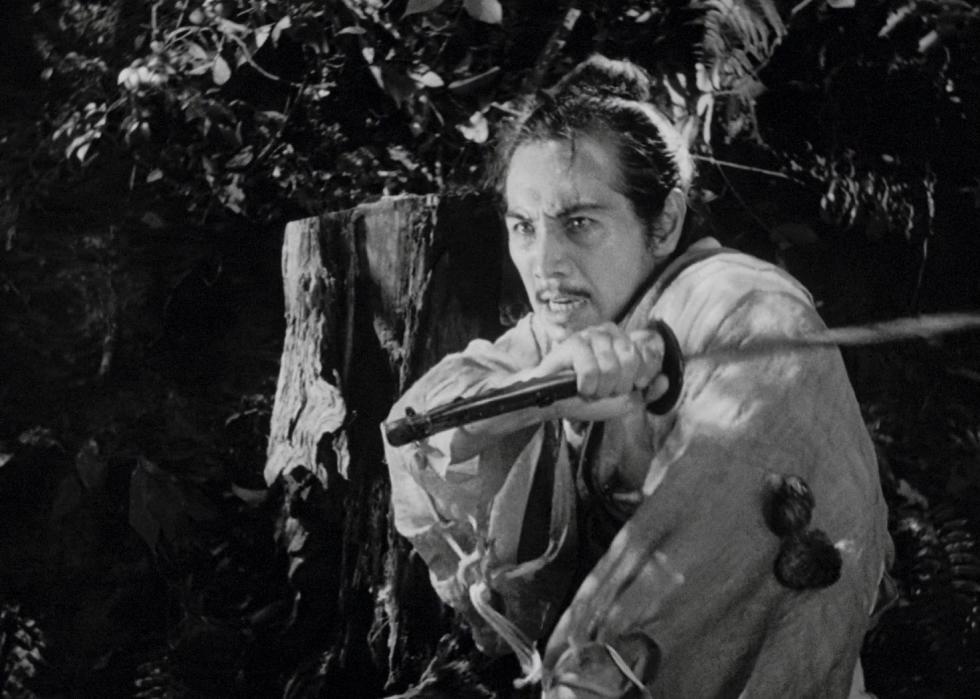 15 / 25
#11. Rashomon (1950)
- Director: Akira Kurosawa
- IMDb user rating: 8.2
- Metascore: 98
- Runtime: 88 minutes
A benchmark in storytelling, this Japanese crime drama presents the same horrific event from multiple perspectives. It has influenced a legion of subsequent films, many of which likewise play upon the theme of unreliable narration. Even outside of cinema, "the Rashomon effect" has taken on literal significance as a cultural concept.
You may also like: The best streaming services in 2021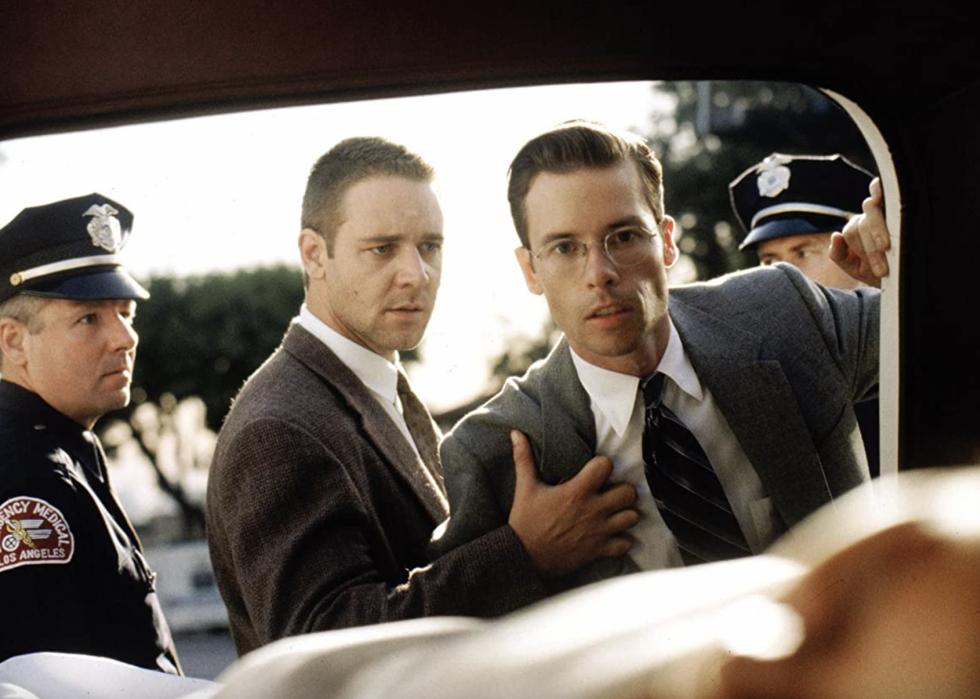 16 / 25
#10. L.A. Confidential (1997)
- Director: Curtis Hanson
- IMDb user rating: 8.2
- Metascore: 90
- Runtime: 138 minutes
Based on a novel by James Ellroy, this Oscar-winning crime drama transports viewers to 1950s Los Angeles. Against a constant backdrop of racism and corruption, a heinous murder leads right to the police department's door. Tight writing and exceptional performances keep things compulsively watchable from first minute to final showdown.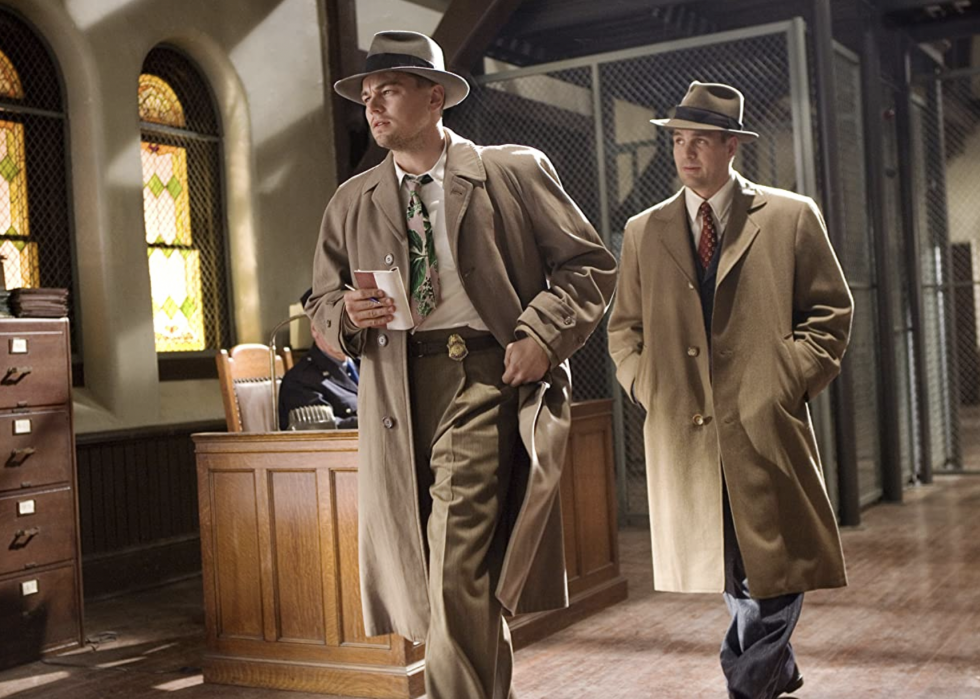 17 / 25
#9. Shutter Island (2010)
- Director: Martin Scorsese
- IMDb user rating: 8.2
- Metascore: 63
- Runtime: 138 minutes
One of many collaborations between Martin Scorsese and Leonardo DiCaprio, this gripping thriller sends a U.S. Marshal, played by DiCaprio, to a remote island hospital for the criminally insane. What appears to be the case of a missing patient becomes something far more sinister and complex. It's yet another classic mystery based on a bestselling book by Dennis Lehane.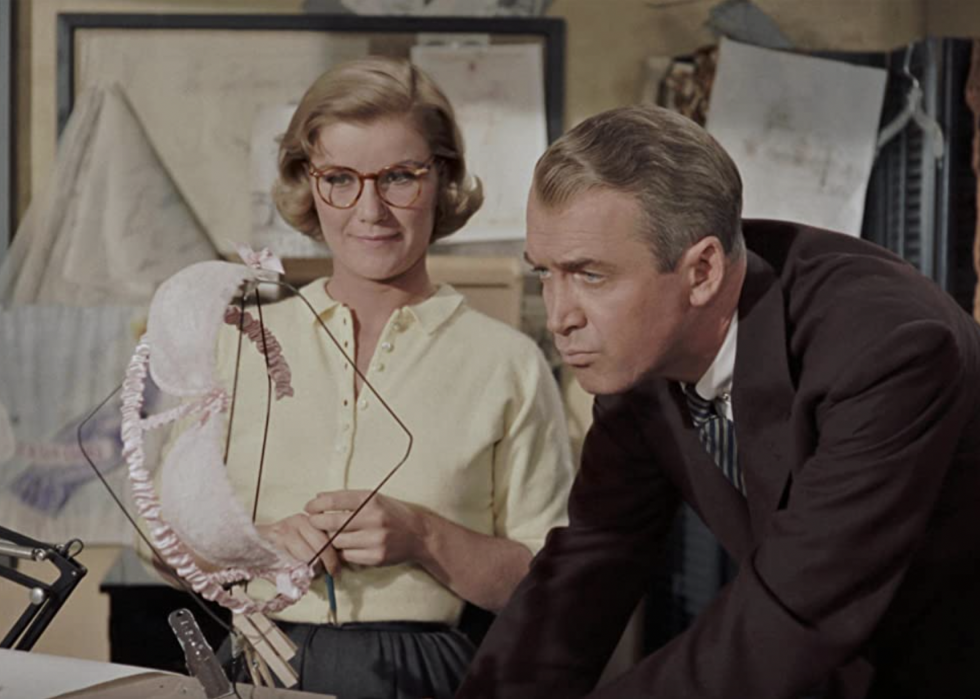 18 / 25
Alfred J. Hitchcock Productions
#8. Vertigo (1958)
- Director: Alfred Hitchcock
- IMDb user rating: 8.3
- Metascore: 100
- Runtime: 128 minutes
Garnering a disappointing box office at the time of its release, this seminal Hitchcock thriller is now regarded as one of the greatest films of all time. Former Detective John "Scottie" Ferguson, played by Jimmy Stewart, agrees to spy on the wife of an old friend, only to become dangerously obsessed. Bernard Herrmann's haunting score brings a range of emotive themes further to life.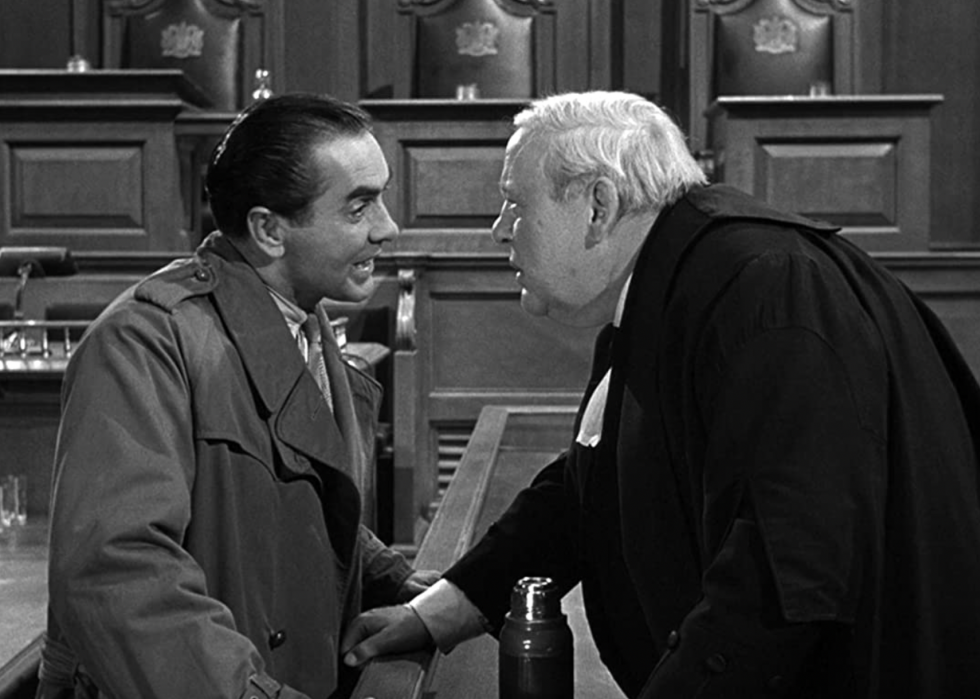 19 / 25
#7. Witness for the Prosecution (1957)
- Director: Billy Wilder
- IMDb user rating: 8.4
- Metascore: data not available
- Runtime: 116 minutes
A play by legendary mystery writer Agatha Christie lays the groundwork for this acclaimed courtroom drama. On the brink of retirement, an ailing master barrister, played by Charles Laughton, takes on a high-stakes murder case. Twisty plot points and stellar performances unfold at a brisk pace until the final reveal.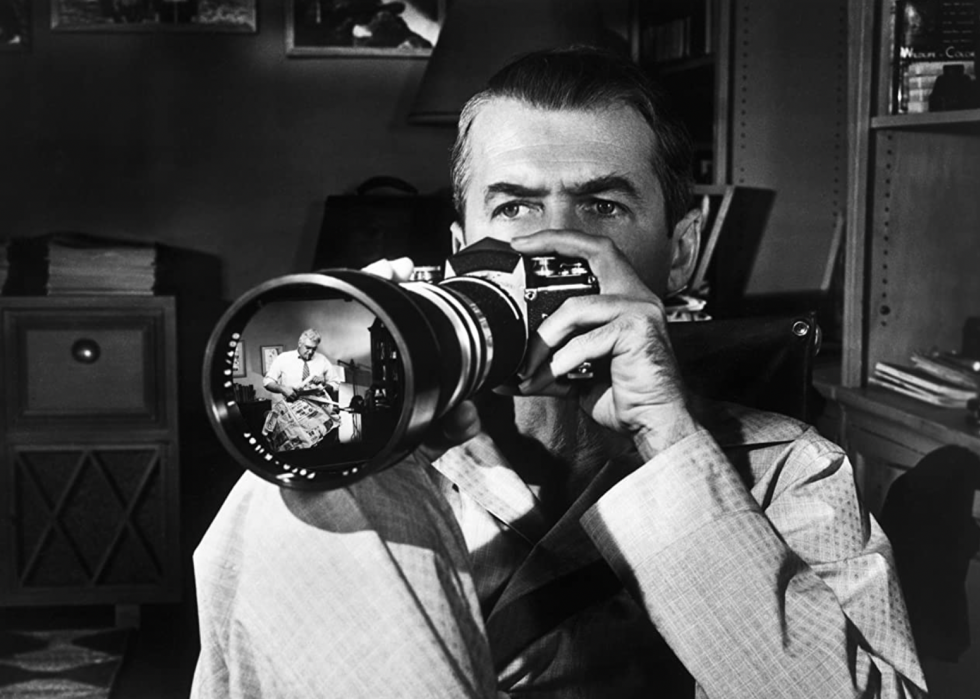 20 / 25
Alfred J. Hitchcock Productions
#6. Rear Window (1954)
- Director: Alfred Hitchcock
- IMDb user rating: 8.4
- Metascore: 100
- Runtime: 112 minutes
A classic story of suspense with voyeuristic themes, this slow-burn thriller stars Jimmy Stewart as Manhattan-based photographer L.B. "Jeff" Jefferies. Using a wheelchair while recovering from a broken leg, Jefferies spies on his neighbors and witnesses a potential murder. "Watching it, you feel titillated, horrified, and, ultimately, purged," wrote critic Michael Sragow for The New Yorker.
You may also like: 50 of the best films according to women critics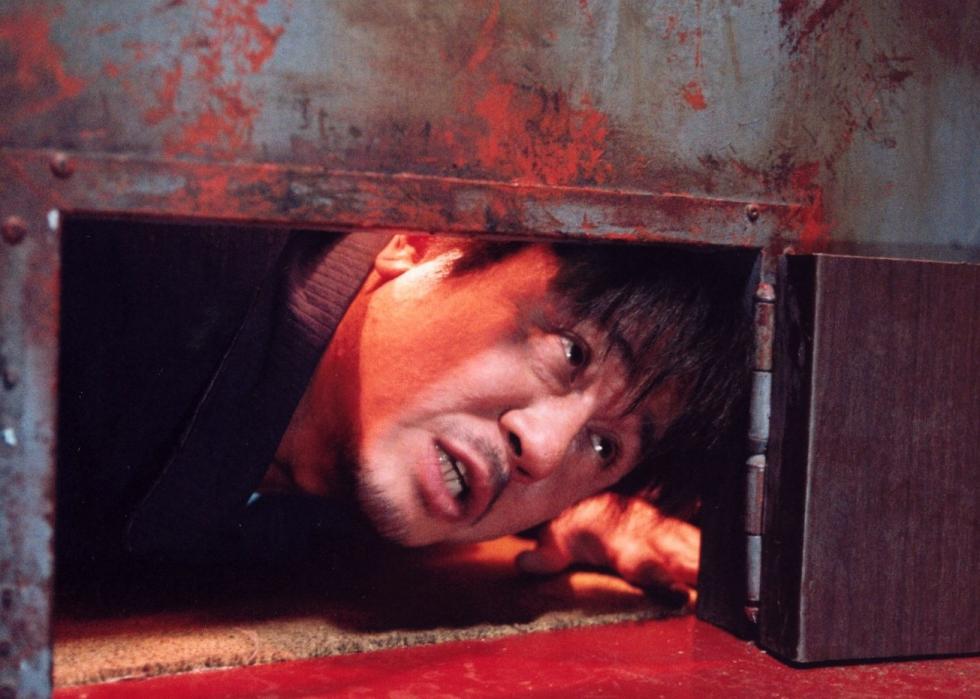 21 / 25
#5. Oldboy (2003)
- Director: Park Chan-wook
- IMDb user rating: 8.4
- Metascore: 77
- Runtime: 120 minutes
A far cry from the traditional whodunit, Park Chan-wook's masterpiece is loaded with mystery nevertheless. Inexplicably imprisoned for 15 years, a man is released and then tasked with finding his captor. This is a rare thriller in that it generates more twists and tension out of the "why" than the "who" or the "how."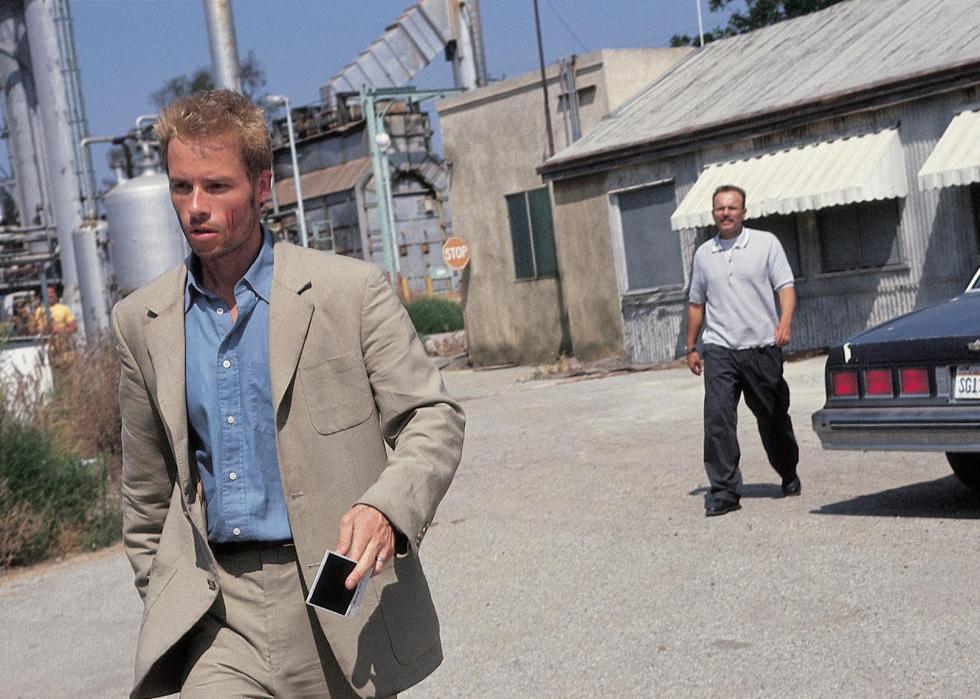 22 / 25
#4. Memento (2000)
- Director: Christopher Nolan
- IMDb user rating: 8.4
- Metascore: 80
- Runtime: 113 minutes
Christopher Nolan's directorial breakthrough upends narrative convention by starting at the end and working its way backward. It follows a man, played by Guy Pearce, with short-term memory loss as he hunts down his wife's killer. But how can anyone solve a crime when they can't even remember what happened more than five minutes ago?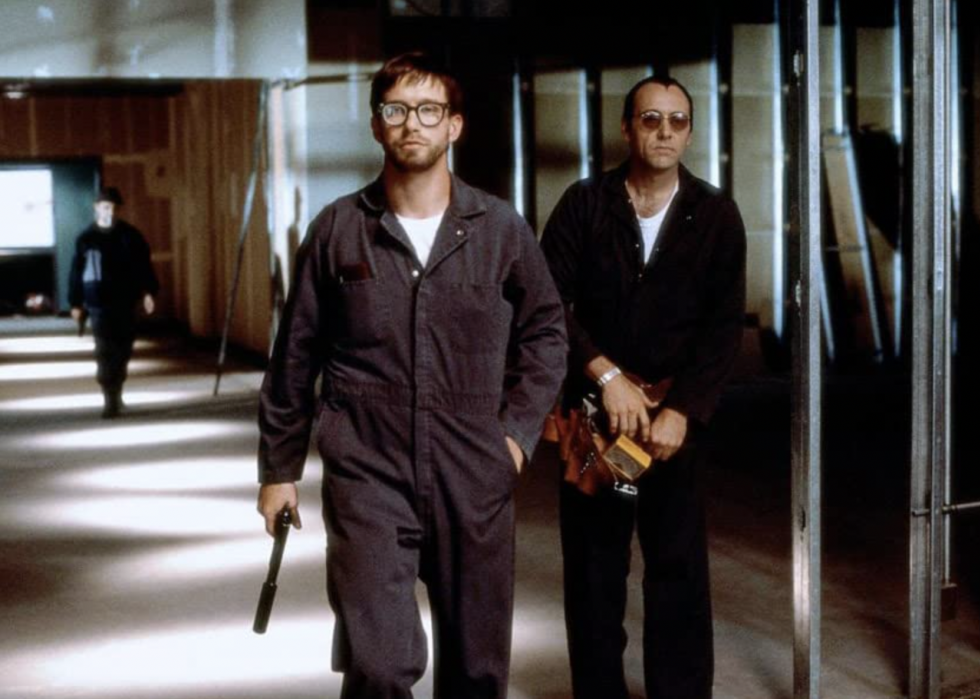 23 / 25
PolyGram Filmed Entertainment
#3. The Usual Suspects (1995)
- Director: Bryan Singer
- IMDb user rating: 8.5
- Metascore: 77
- Runtime: 106 minutes
This neo-noir thriller seemed to come out of nowhere and so too did its iconic twist ending, which still gets talked about to this day. Unveiled through flashbacks, the story assembles a group of criminals for what appears to be a straightforward heist. It won two Academy Awards, including best original screenplay.
24 / 25
Strong Heart/Demme Production
#2. The Silence of the Lambs (1991)
- Director: Jonathan Demme
- IMDb user rating: 8.6
- Metascore: 85
- Runtime: 118 minutes
Based on the bestselling novel by Thomas Harris, this award-winning crime drama puts FBI cadet Clarice Starling, played by Jodie Foster, on the trail of a serial killer. Anthony Hopkins delivers an iconic performance as Dr. Hannibal Lecter, the imprisoned psychopath who can help Starling catch her man. Clever use of POV and other subtle devices draw viewers further into an already immersive story.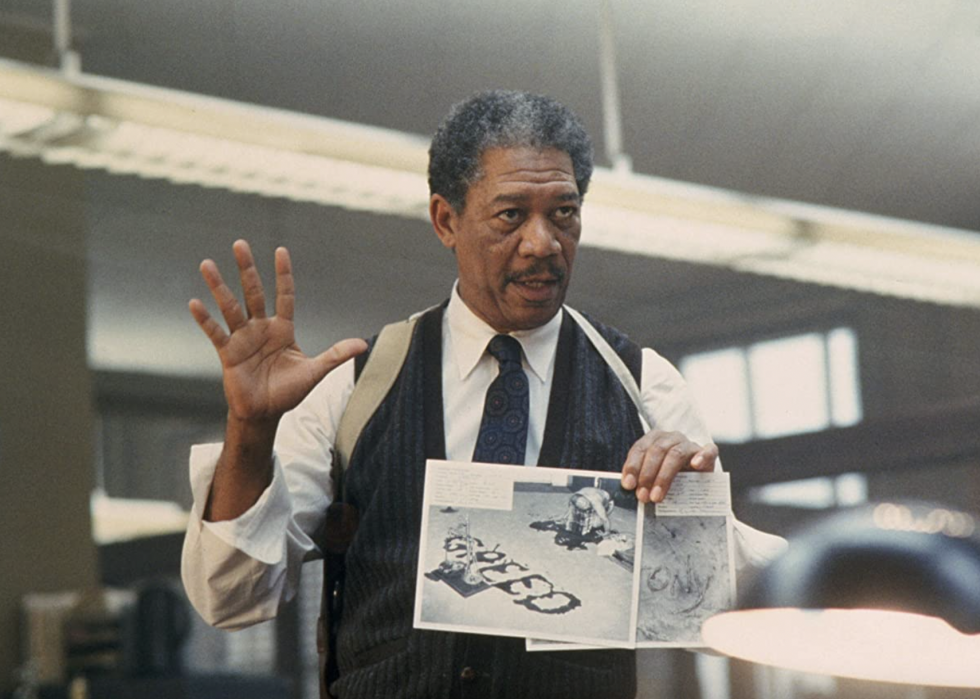 25 / 25
#1. Se7en (1995)
- Director: David Fincher
- IMDb user rating: 8.6
- Metascore: 65
- Runtime: 127 minutes
Bleak mysteries don't get any bleaker than this one from David Fincher, which stars Brad Pitt and Morgan Freeman as two homicide detectives in a nameless city. Using the seven deadly sins as his guide, a serial killer unleashes pure horror upon his victims. It all builds toward an ending so traumatic that follow-up therapy may be required.
You may also like: Top 100 thrillers of all time, according to critics