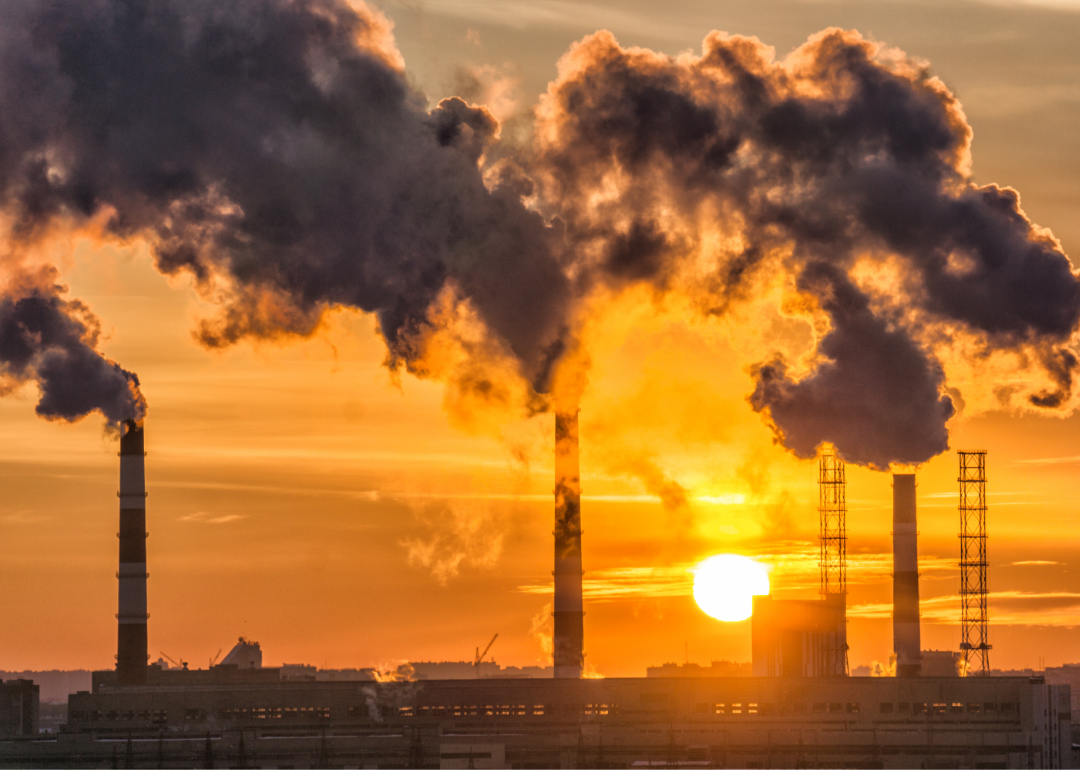 U.S. metro areas with the worst air pollution
U.S. metro areas with the worst air pollution
In November 1953, New York City was struck by a cloud of smog. Smoke and soot from the city's factories and furnaces congealed and descended as toxic ozone, sulfur dioxide, and carbon monoxide. The smog remained for a full week, causing the deaths of up to 30 New Yorkers each day. This dark week was neither as infamous nor as deadly as the Great Smog of 1952, which had claimed thousands of lives in London the year before. But it is still a reminder of the dangers of pollution, and an inspiration for America to clean up its act.
The Environmental Protection Agency (EPA) and other organizations monitor pollution and develop regulations to keep it at safe levels. The world is not out of the clear yet, though: Dr. Mark Z. Jacobson, a Stanford professor who studies air pollution, has estimated that "air pollution still kills 60,000–65,000 Americans prematurely each year and injures hundreds of thousands more." Air pollution has been linked to respiratory diseases, cardiovascular diseases, and more—the World Health Organization concluded that "outdoor air pollution is carcinogenic to humans" in 2013.
Where in the country are people most at risk? Stacker sought to answer this question with the help of the American Lung Association (ALA), which compiles an annual "State of the Air" report on ozone and particle pollution across the country. The ALA identifies the metro areas with the most year-round particle pollution—or the highest average level of solid and liquid dangerous particles in the air over a three-year period—as well as the metro areas with the most days of high ozone pollution and high short-term particle pollution. Stacker has ranked the 25 cities with the highest annual particle pollution.
If your city is on this list, you might consider limiting your time outside. If it didn't make the list, you can look up your state or zip code on the ALA's website to find more detailed information. Read on to find out where in the U.S. you should be most wary of the air.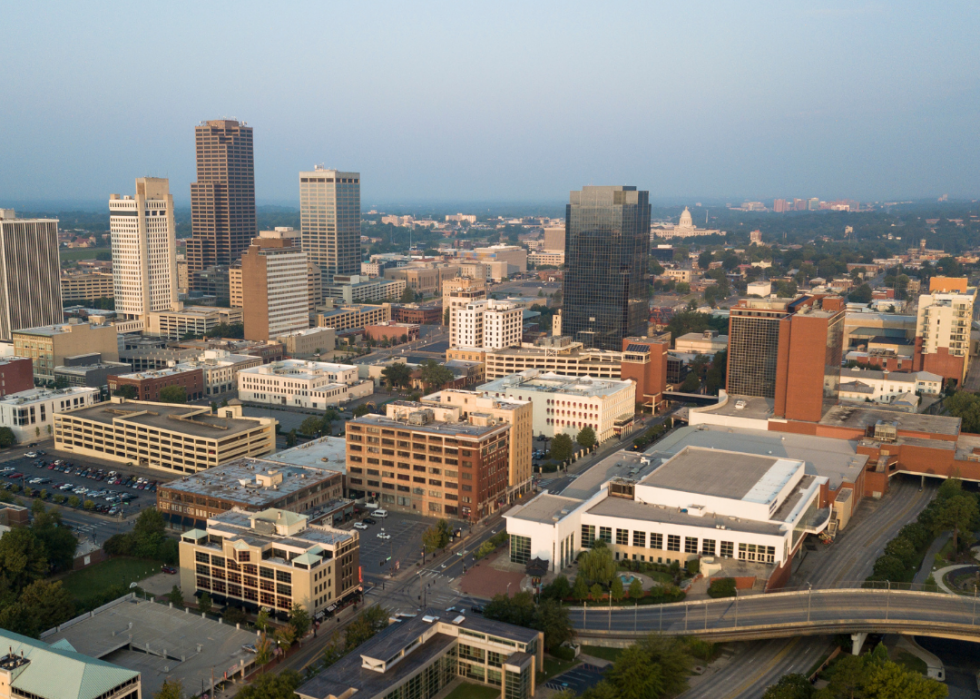 1 / 25
#24 (tie). Little Rock-North Little Rock, AR
Annual particle pollution: Ranked 24 out of 187 metropolitan areas
High 24-hour particle pollution days: Tied for 1st for cleanest metropolitan areas in the country for 24-hour particle pollution
High ozone days: Ranked 122 out of 227 metropolitan areas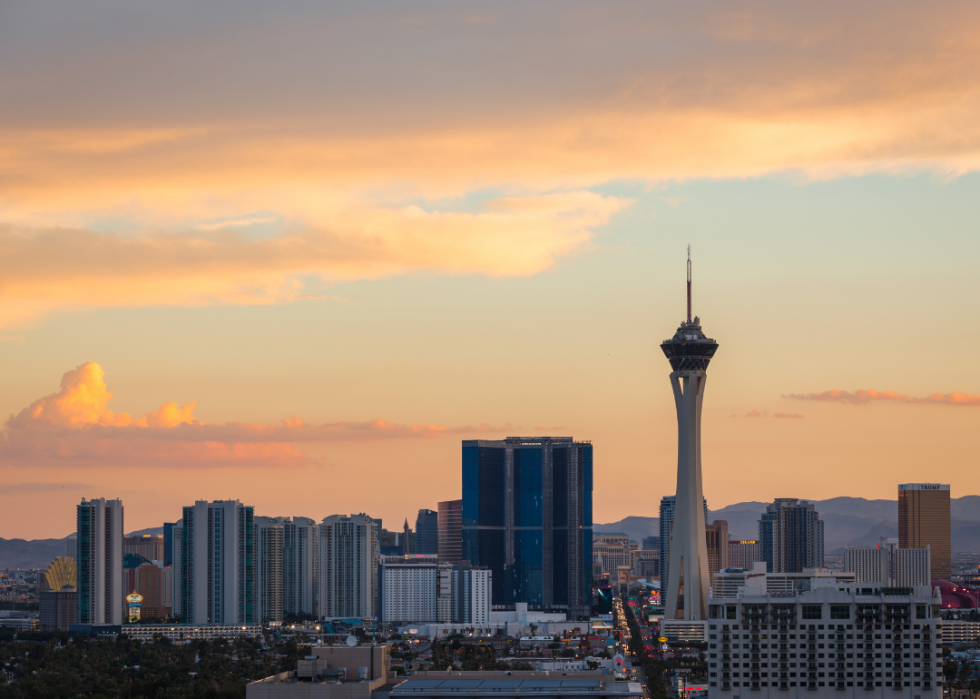 2 / 25
#24 (tie). Las Vegas-Henderson, NV-AZ (tie)
Annual particle pollution: Ranked 24 out of 187 metropolitan areas
High 24-hour particle pollution days: Ranked 46 out of 201 metropolitan areas
High ozone days: Ranked 12 out of 227 metropolitan areas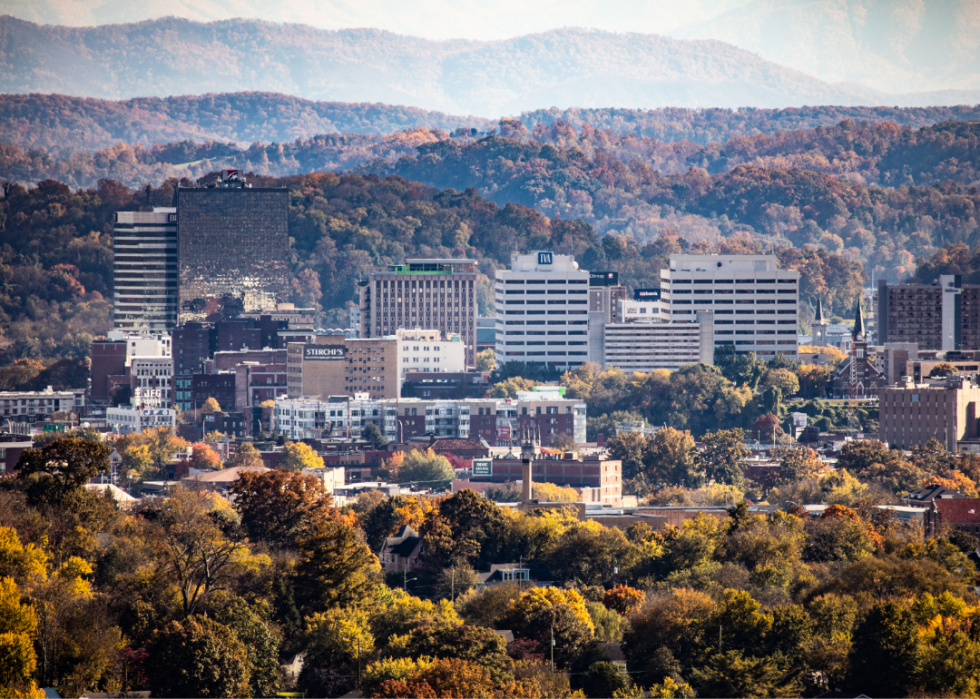 3 / 25
#22 (tie). Knoxville-Morristown-Sevierville, TN (tie)
Annual particle pollution: Ranked 22 out of 187 metropolitan areas
High 24-hour particle pollution days: Ranked 34 out of 201 metropolitan areas
High ozone days: Ranked 58 out of 227 metropolitan areas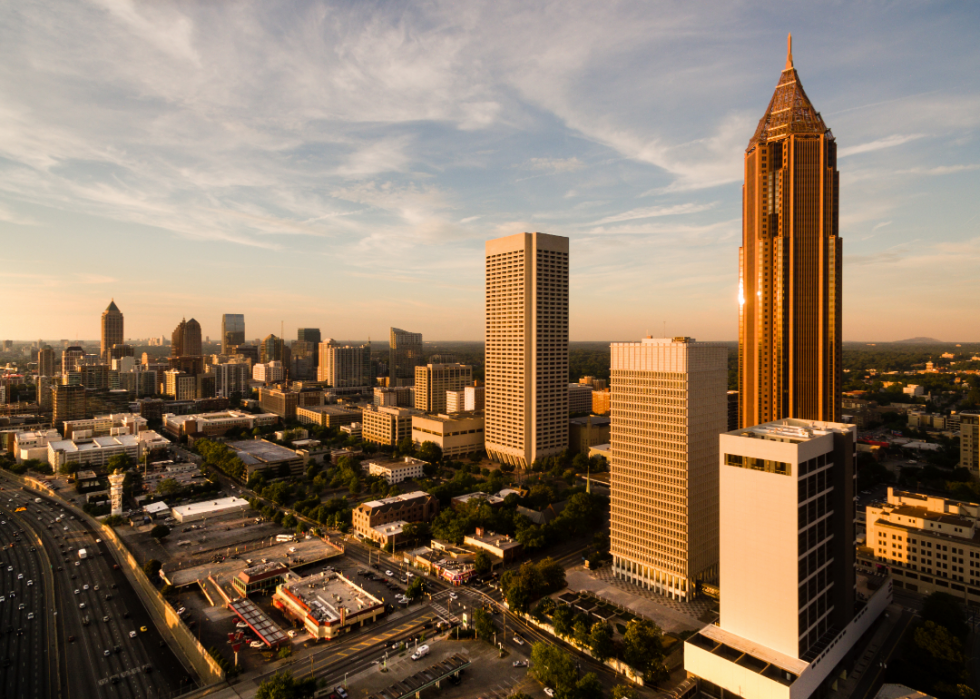 4 / 25
#22 (tie). Atlanta-Athens-Clarke County-Sandy Springs, GA
Annual particle pollution: Ranked 22 out of 187 metropolitan areas
High 24-hour particle pollution days: Ranked 65 out of 201 metropolitan areas
High ozone days: Ranked 23 out of 227 metropolitan areas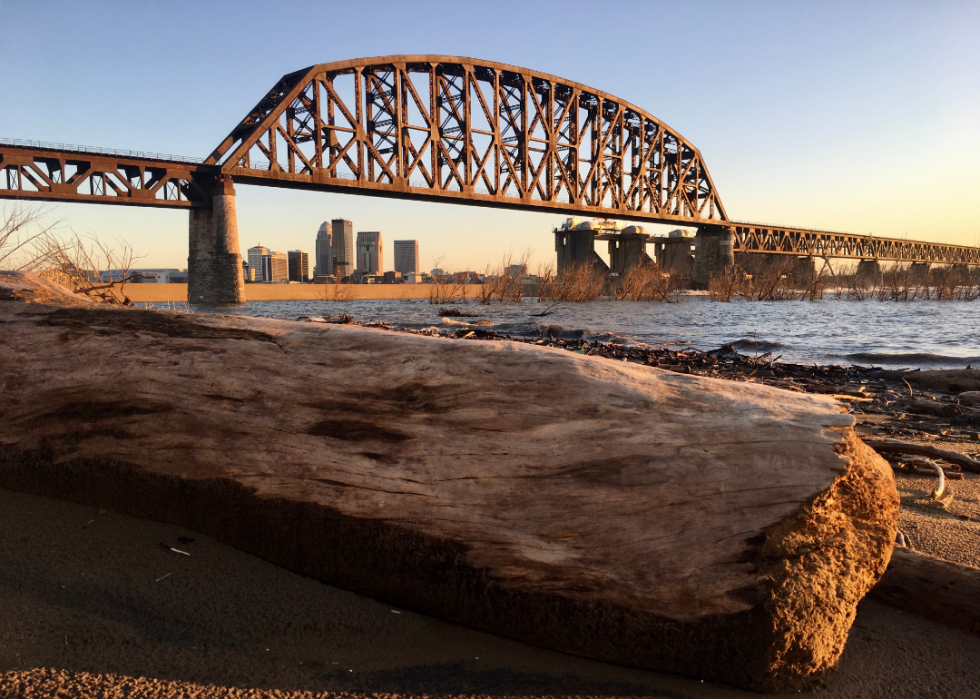 5 / 25
#21. Louisville/Jefferson County-Elizabethtown-Madison, KY-IN
Annual particle pollution: Ranked 21 out of 187 metropolitan areas
High 24-hour particle pollution days: Not ranked; received a grade of C
High ozone days: Not ranked; received a grade of F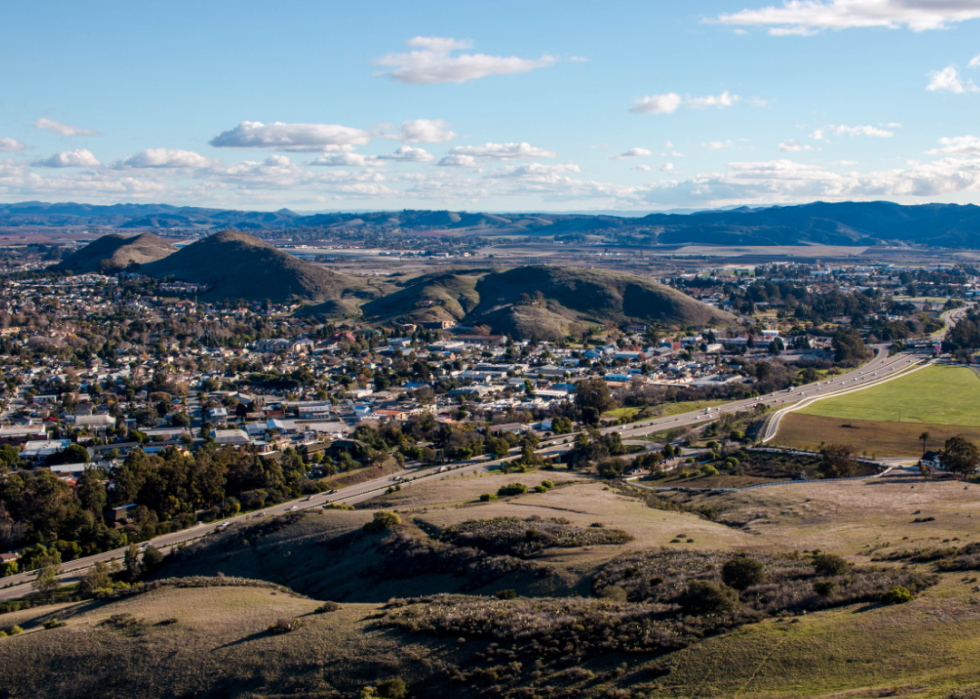 6 / 25
#18 (tie). San Luis Obispo-Paso Robles-Arroyo Grande, CA
Annual particle pollution: Ranked 18 out of 187 metropolitan areas
High 24-hour particle pollution days: Ranked 38 out of 201 metropolitan areas
High ozone days: Ranked 38 out of 227 metropolitan areas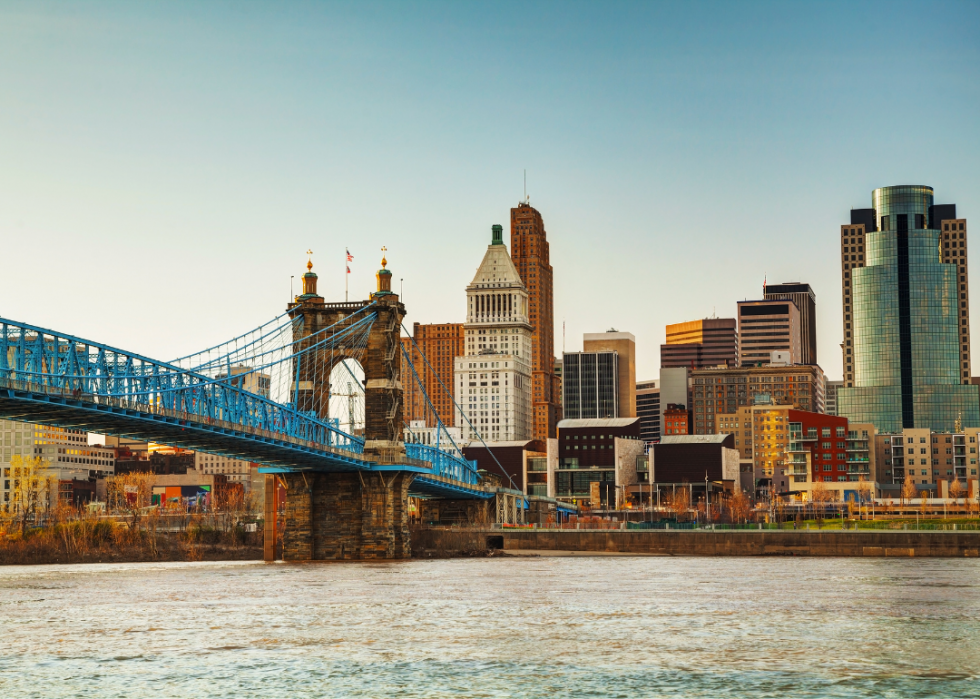 7 / 25
#18 (tie). Cincinnati-Wilmington-Maysville, OH-KY-IN
Annual particle pollution: Ranked 18 out of 187 metropolitan areas
High 24-hour particle pollution days: Ranked 83 out of 201 metropolitan areas
High ozone days: Ranked 27 out of 227 metropolitan areas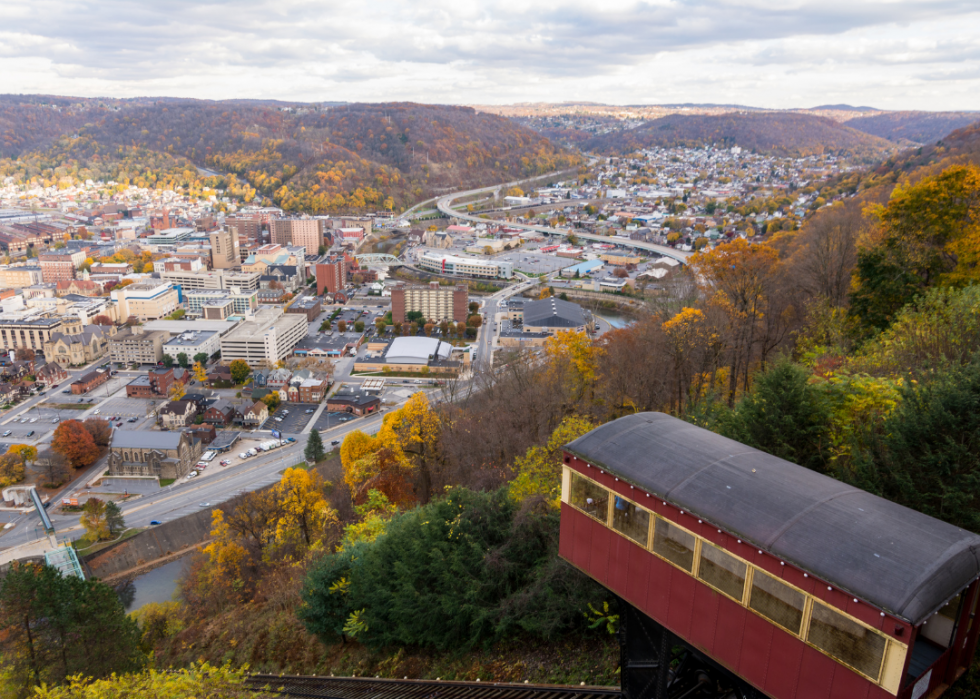 8 / 25
#18 (tie). Johnstown-Somerset, PA
Annual particle pollution: Ranked 18 out of 187 metropolitan areas
High 24-hour particle pollution days: Ranked 83 out of 201 metropolitan areas
High ozone days: Ranked 144 out of 227 metropolitan areas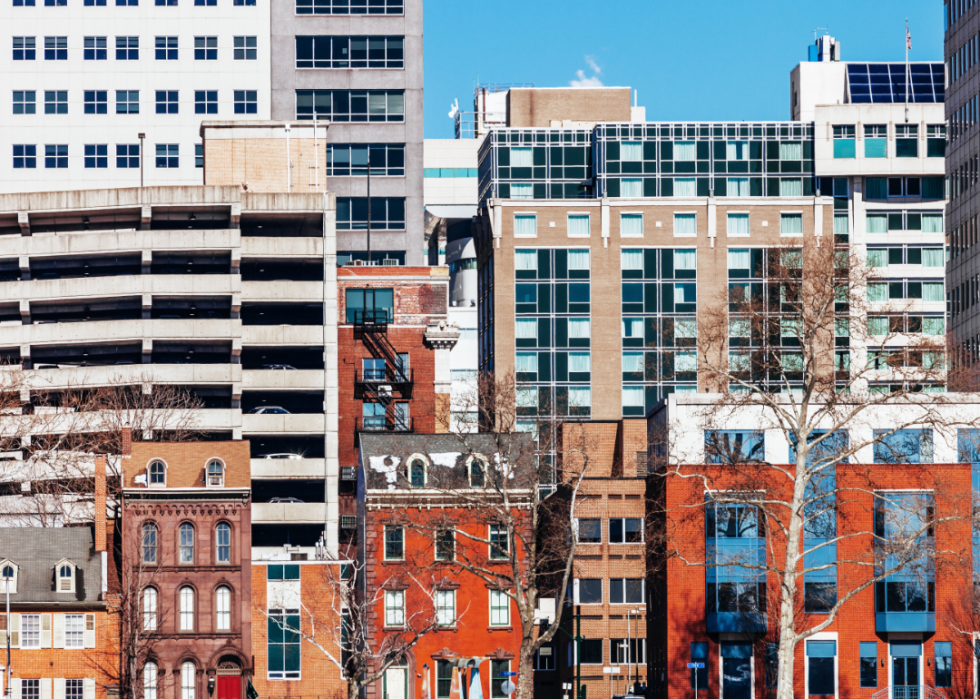 9 / 25
#15 (tie). Harrisburg-York-Lebanon, PA
Annual particle pollution: Ranked 15 out of 187 metropolitan areas
High 24-hour particle pollution days: Ranked 22 out of 201 metropolitan areas
High ozone days: Ranked 45 out of 227 metropolitan areas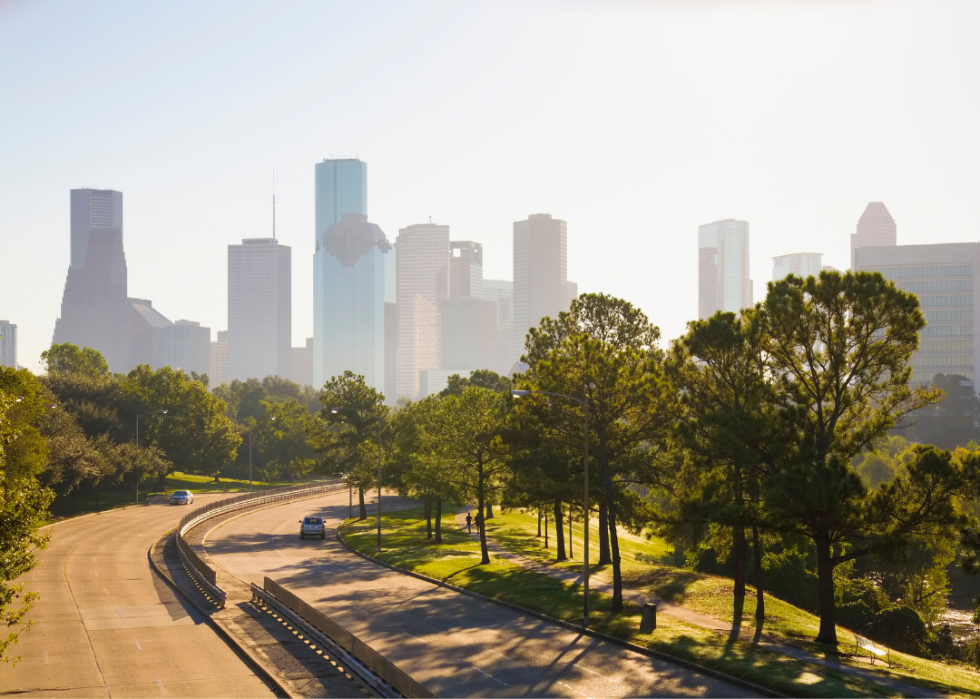 10 / 25
#15 (tie). Houston-The Woodlands, TX
Annual particle pollution: Ranked 15 out of 187 metropolitan areas
High 24-hour particle pollution days: Ranked 56 out of 201 metropolitan areas
High ozone days: Ranked 11 out of 227 metropolitan areas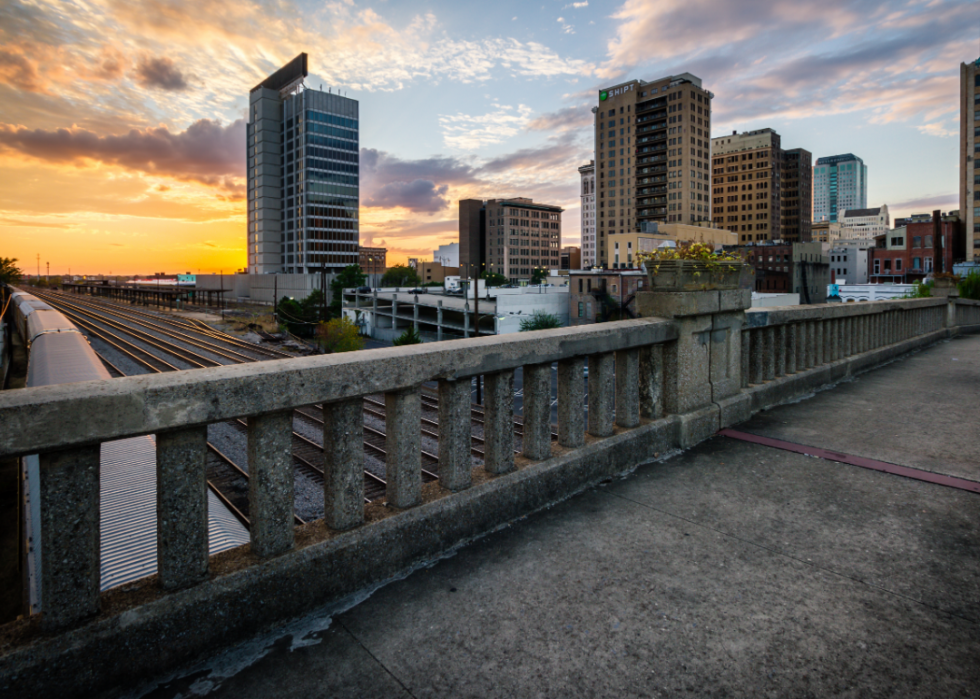 11 / 25
#15 (tie). Birmingham-Hoover-Talladega, AL
Annual particle pollution: Ranked 15 out of 187 metropolitan areas
High 24-hour particle pollution days: Tied for 1st for cleanest metropolitan areas in the country for 24-hour particle pollution
High ozone days: Ranked 43 out of 227 metropolitan areas
12 / 25
#14. Detroit-Warren-Ann Arbor, MI
Annual particle pollution: Ranked 14 out of 187 metropolitan areas
High 24-hour particle pollution days: Ranked 46 out of 201 metropolitan areas
High ozone days: Ranked 40 out of 227 metropolitan areas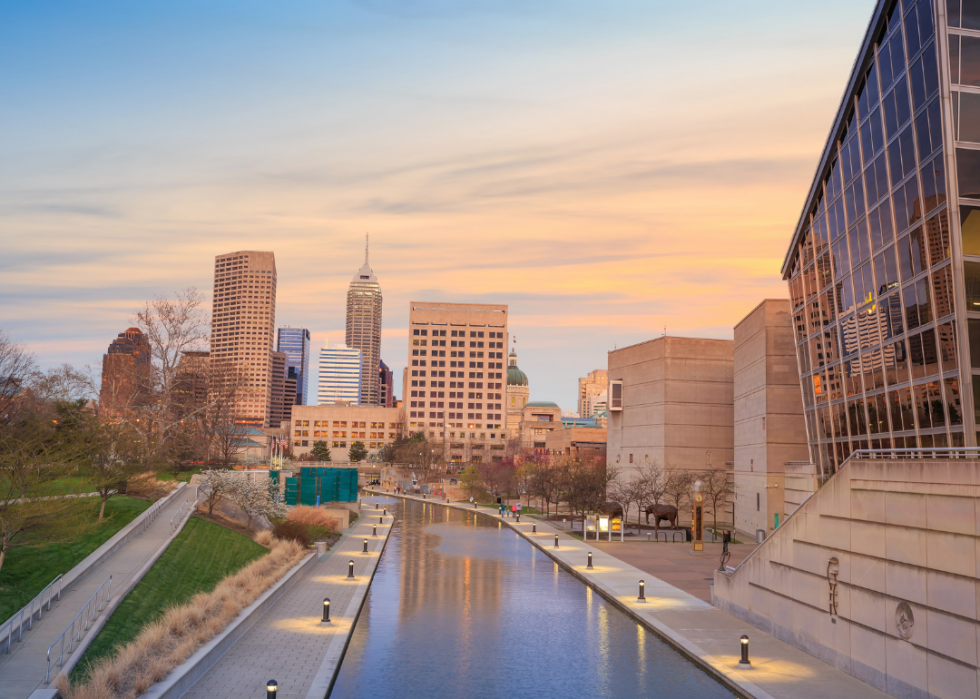 13 / 25
#13. Indianapolis-Carmel-Muncie, IN
Annual particle pollution: Ranked 13 out of 187 metropolitan areas
High 24-hour particle pollution days: Ranked 21 out of 201 metropolitan areas
High ozone days: Ranked 54 out of 227 metropolitan areas
14 / 25
#12. Philadelphia-Reading-Camden, PA-NJ-DE-MD
Annual particle pollution: Ranked 12 out of 187 metropolitan areas
High 24-hour particle pollution days: Ranked 31 out of 201 metropolitan areas
High ozone days: Ranked 24 out of 227 metropolitan areas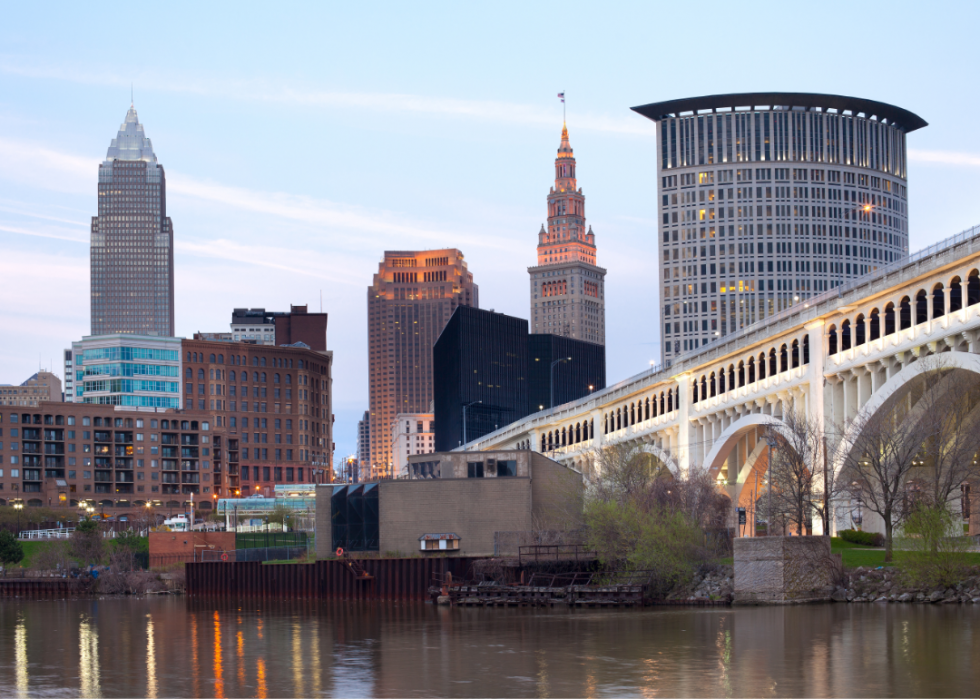 15 / 25
#10 (tie). Cleveland-Akron-Canton, OH
Annual particle pollution: Ranked 10 out of 187 metropolitan areas
High 24-hour particle pollution days: Ranked 68 out of 201 metropolitan areas
High ozone days: Ranked 30 out of 227 metropolitan areas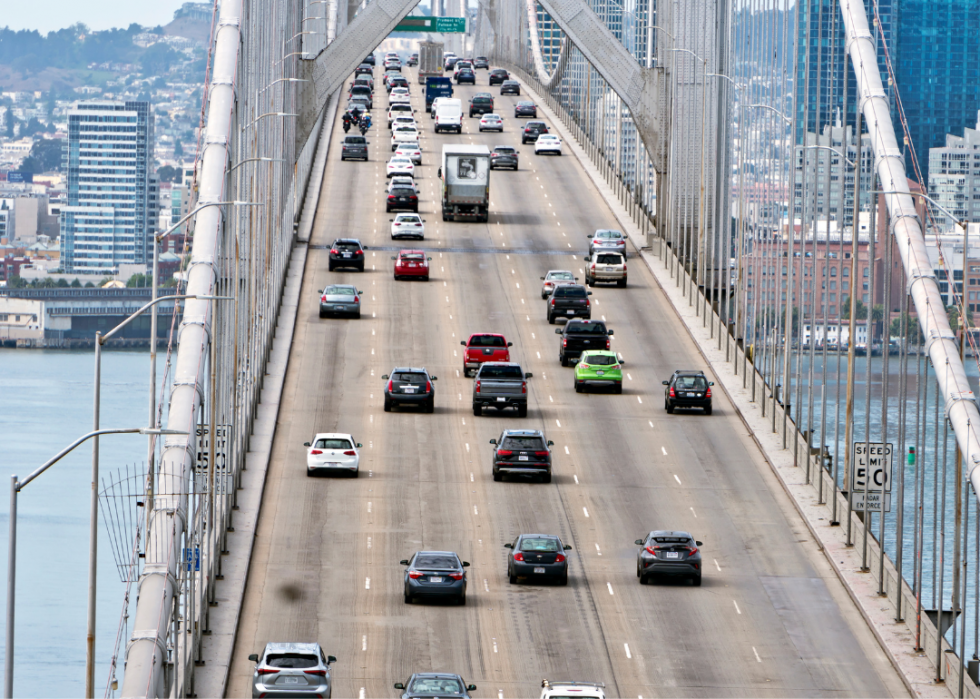 16 / 25
#10 (tie). San Jose-San Francisco-Oakland, CA
Annual particle pollution: Ranked 10 out of 187 metropolitan areas
High 24-hour particle pollution days: Ranked 6 out of 201 metropolitan areas
High ozone days: Ranked 13 out of 227 metropolitan areas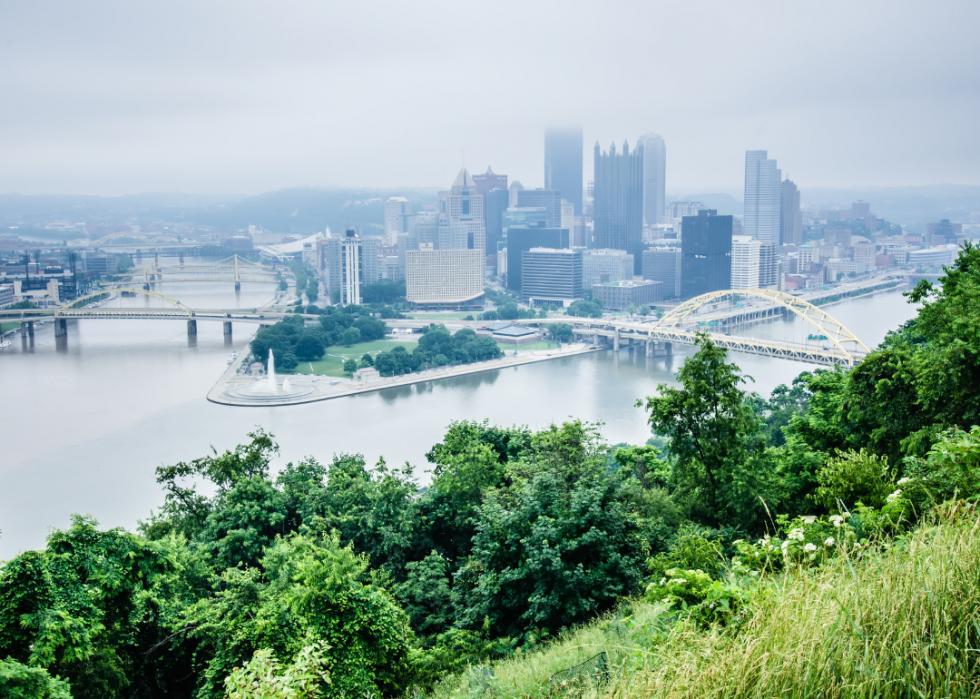 17 / 25
#8 (tie). Pittsburgh-New Castle-Weirton, PA-OH-WV
Annual particle pollution: Ranked 8 out of 187 metropolitan areas
High 24-hour particle pollution days: Ranked 10 out of 201 metropolitan areas
High ozone days: Ranked 32 out of 227 metropolitan areas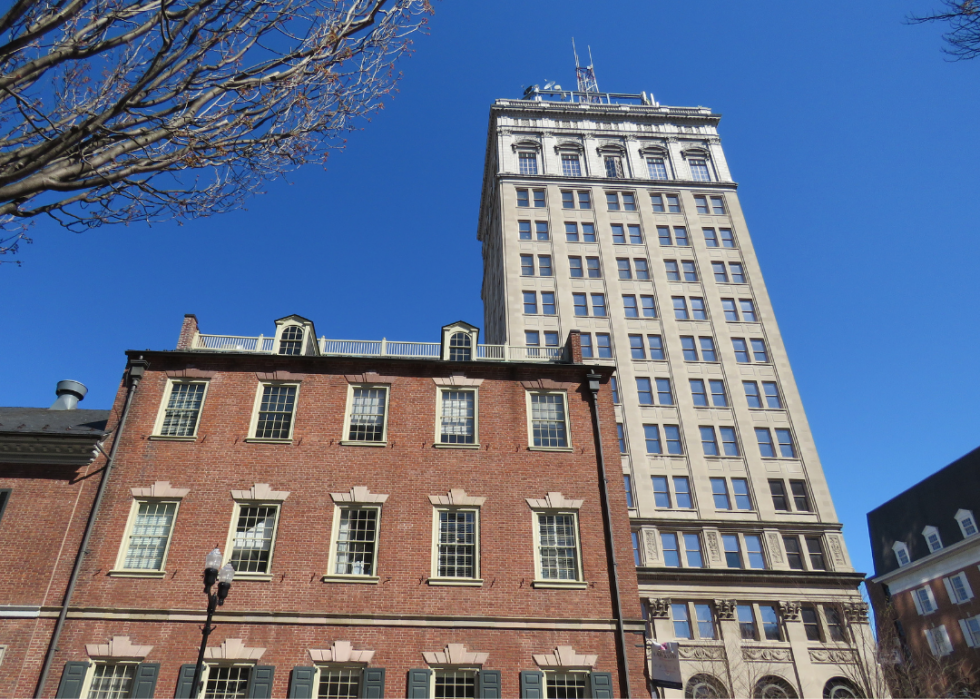 18 / 25
#8 (tie). Lancaster, PA
Annual particle pollution: Ranked 8 out of 187 metropolitan areas
High 24-hour particle pollution days: Ranked 13 out of 201 metropolitan areas
High ozone days: Ranked 62 out of 227 metropolitan areas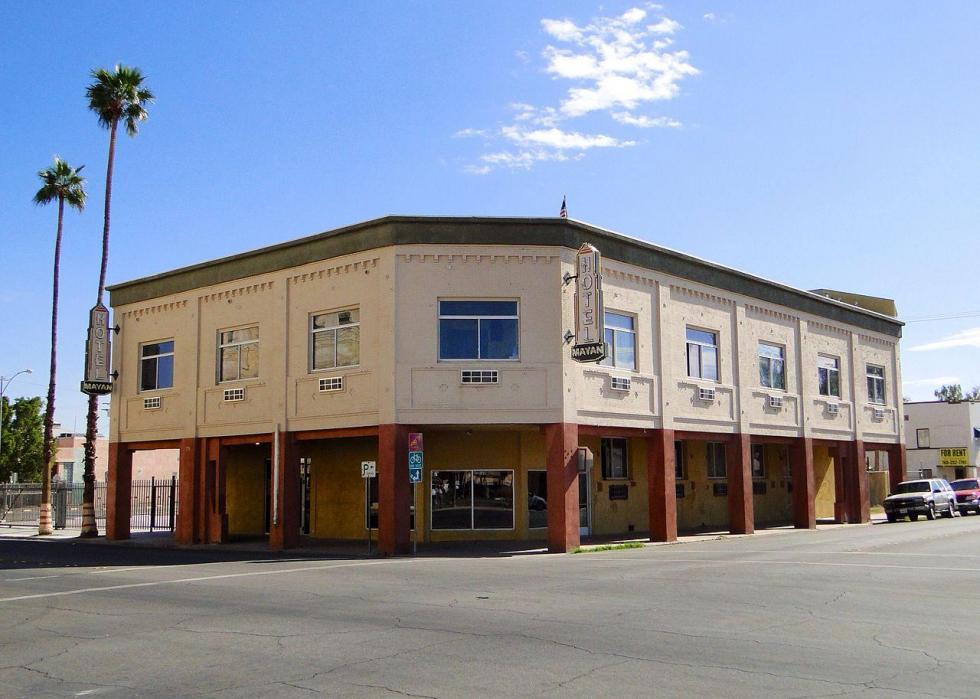 19 / 25
#7. El Centro, CA
Annual particle pollution: Ranked 7 out of 187 metropolitan areas
High 24-hour particle pollution days: Ranked 9 out of 201 metropolitan areas
High ozone days: Ranked 15 out of 227 metropolitan areas
20 / 25
#6. Modesto-Merced, CA
Annual particle pollution: Ranked 6 out of 187 metropolitan areas
High 24-hour particle pollution days: Ranked 5 out of 201 metropolitan areas
High ozone days: Ranked 7 out of 227 metropolitan areas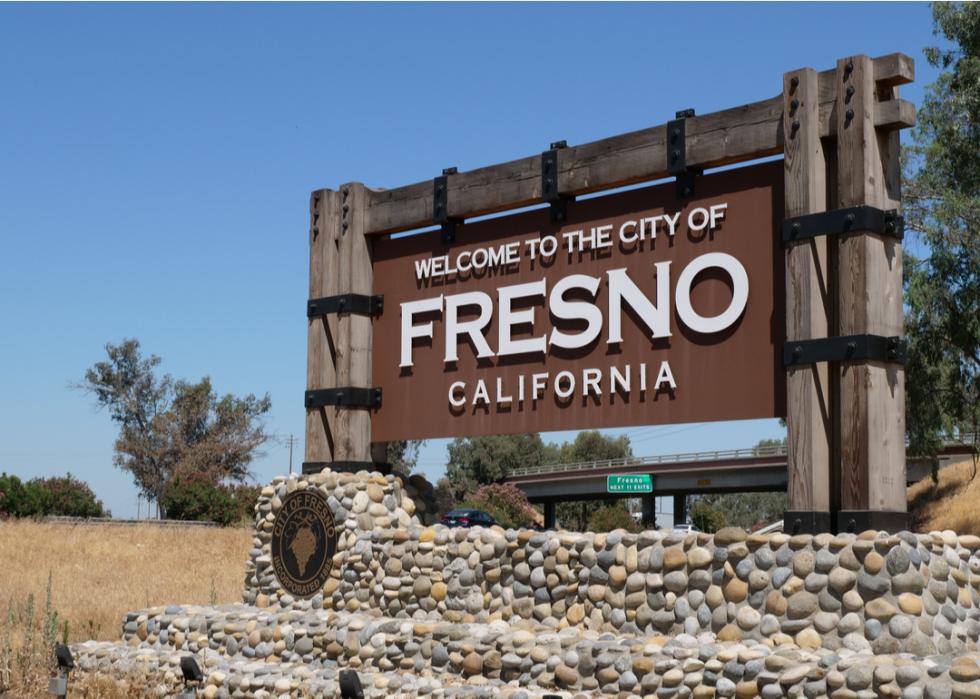 21 / 25
Albert Campbell // Shutterstock
#5. Fresno-Madera, CA
Annual particle pollution: Ranked 5 out of 187 metropolitan areas
High 24-hour particle pollution days: Ranked 3 out of 201 metropolitan areas
High ozone days: Ranked 4 out of 227 metropolitan areas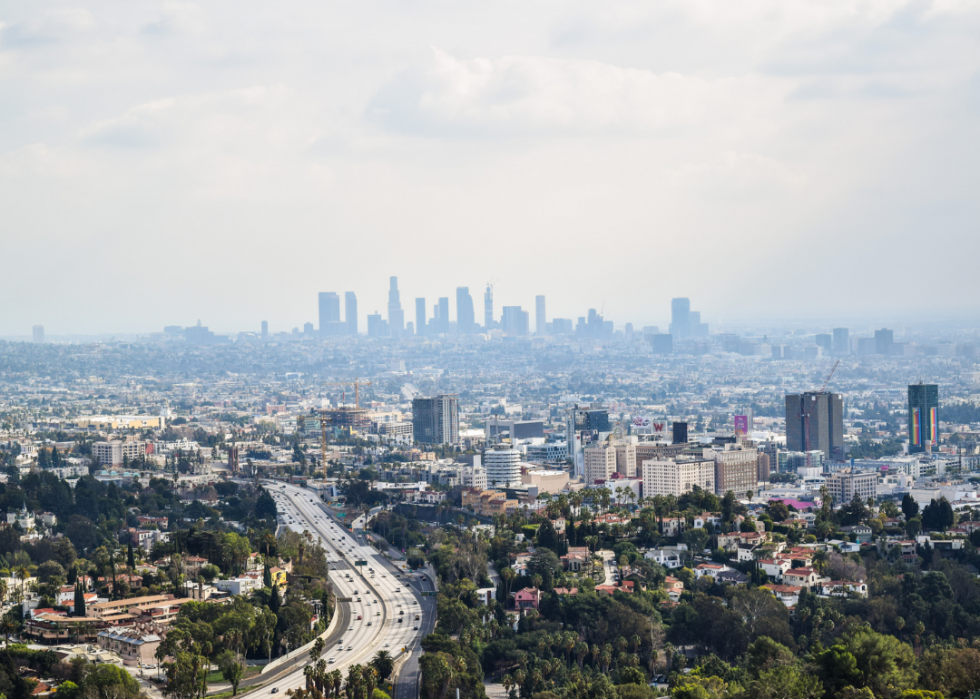 22 / 25
#4. Los Angeles-Long Beach, CA
Annual particle pollution: Ranked 4 out of 187 metropolitan areas
High 24-hour particle pollution days: Ranked 7 out of 201 metropolitan areas
High ozone days: Ranked 1 out of 227 metropolitan areas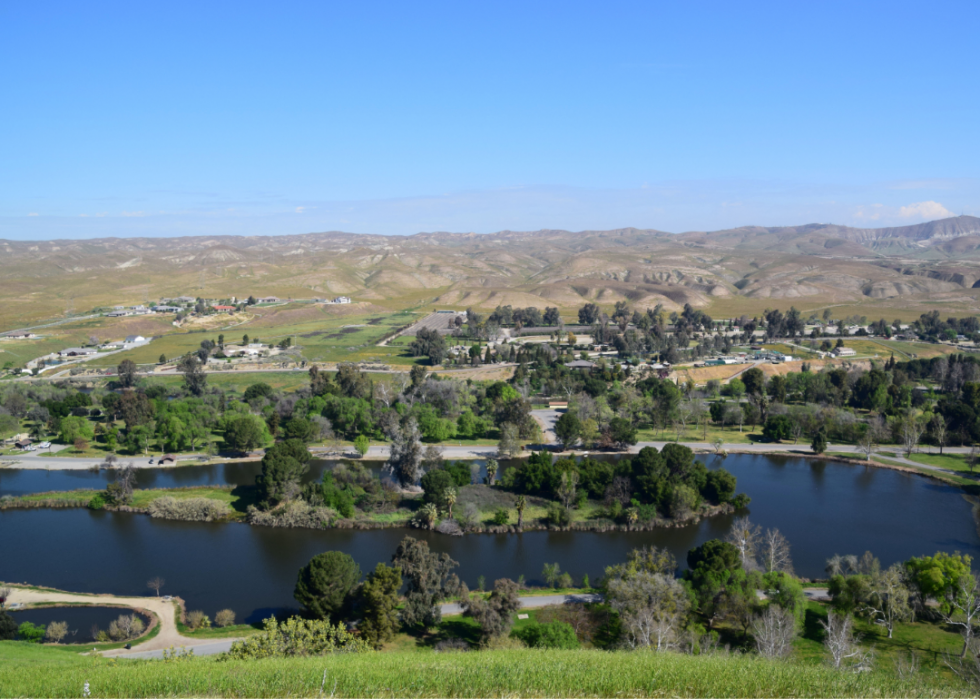 23 / 25
#3. Bakersfield, CA
Annual particle pollution: Ranked 3 out of 187 metropolitan areas
High 24-hour particle pollution days: Ranked 1 out of 201 metropolitan areas
High ozone days: Ranked 2 out of 227 metropolitan areas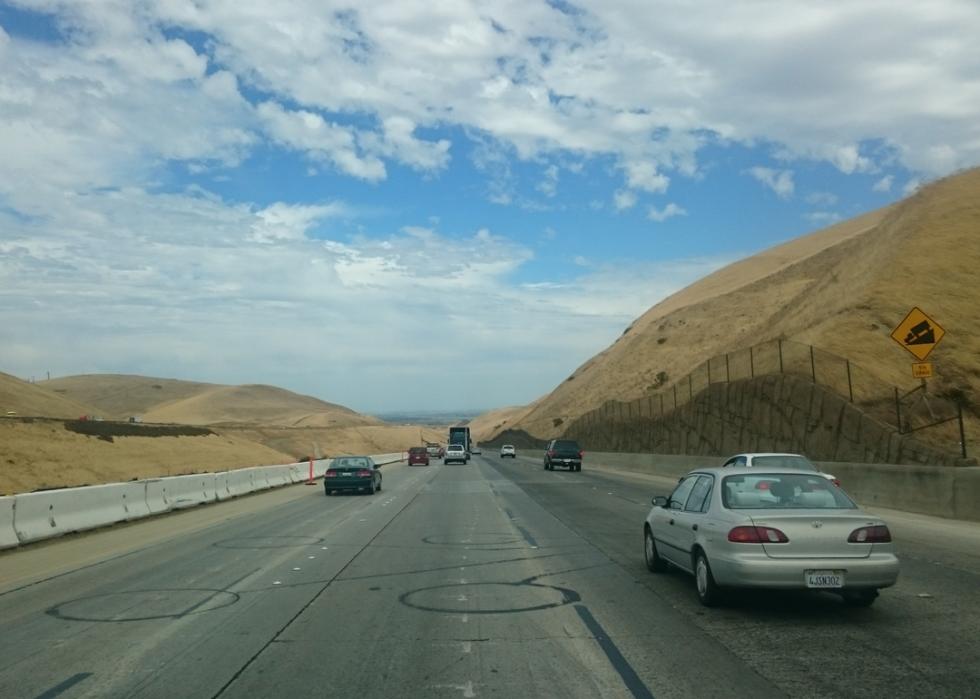 24 / 25
Pascal Vosicki // Shutterstock
#2. Visalia-Porterville-Hanford, CA
Annual particle pollution: Ranked 2 out of 187 metropolitan areas
High 24-hour particle pollution days: Ranked 2 out of 201 metropolitan areas
High ozone days: Ranked 3 out of 227 metropolitan areas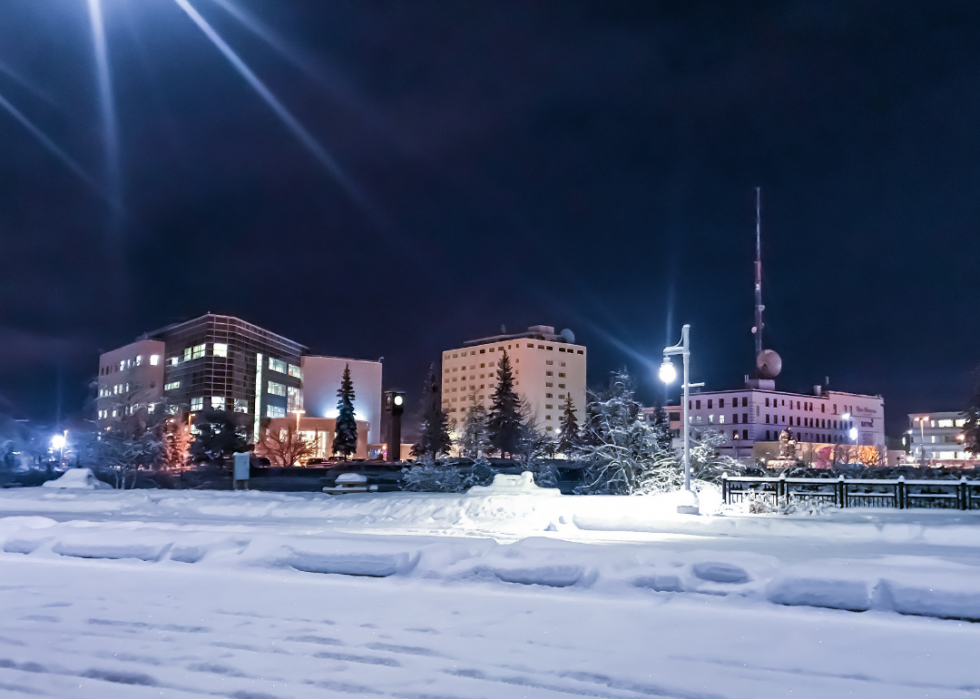 25 / 25
#1. Fairbanks, AK
Annual particle pollution: Ranked 1 out of 187 metropolitan areas
High 24-hour particle pollution days: Ranked 4 out of 201 metropolitan areas
High ozone days: Tied for 1st for cleanest metropolitan areas in the country