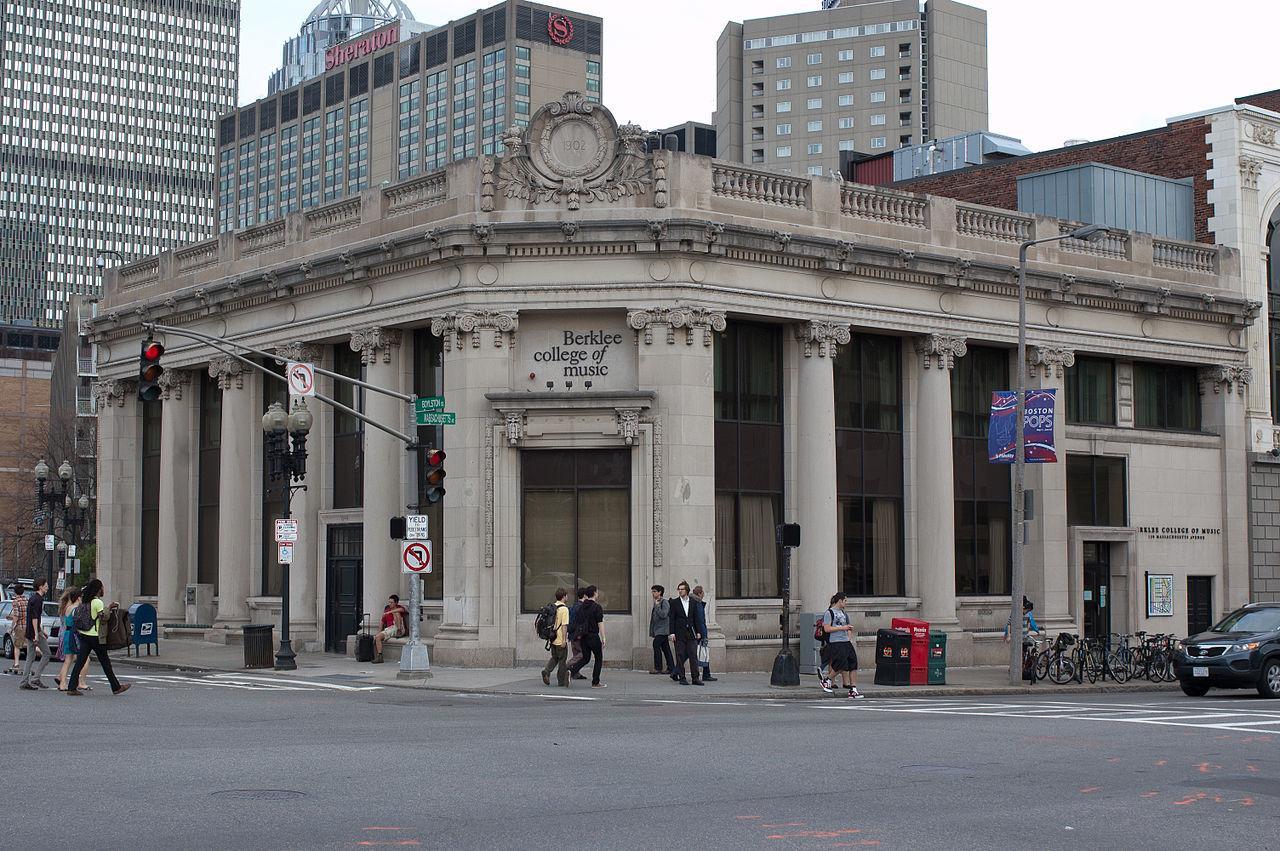 100 colleges where applications are on the rise
Tim Pierce // Wikicommons
100 colleges where applications are on the rise
America's workforce is in a continual state of flux, as previously booming industries lose traction in favor of burgeoning ones. Following suit, prospective college students may seek academic coursework at particular universities that could lead them to a career in one of the more rapidly growing fields.
While some top schools around the globe boast leading programs in a variety of subject matters to choose from, there are a handful of schools that specialize in certain disciplines, attracting more students each year as the fields to which they correspond continue to grow. With total college enrollment at nearly 20 million and growing annually, it stands to reason the number of applicants are also rising across the country, though certain schools are seeing application numbers multiply much faster than others.
Using data from the National Center for Education Statistics, Stacker listed the 100 colleges where applications are rising the fastest. The NCES data covers college applications and admissions between the years 2007 and 2016, and Stacker looked at schools with data present for each of these years; and at least 100 applications in 2016. The colleges are ranked according to the total percent increase in applications over the course of the decade.
Read on to see which institutions of higher learning are growing popular at the fastest rates.  
RELATED: 50 best value colleges for 2018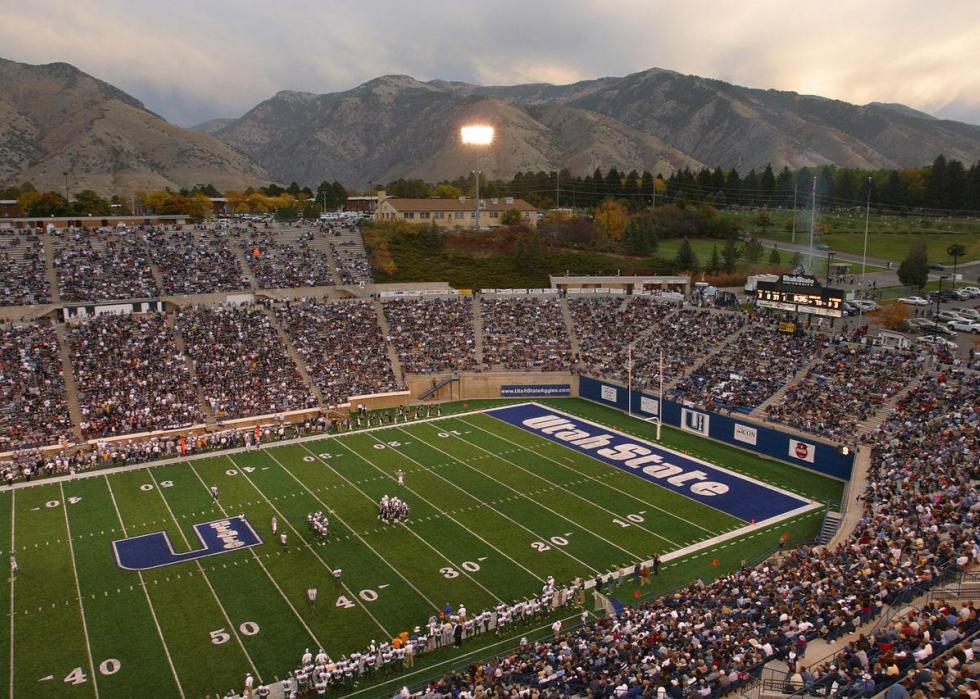 1 / 100
#100. Utah State University
Total applicants in 2007: 5,209
Total applicants in 2016: 15,401
Percent change in applications: 195.66%

Total admissions in 2007: 5,029
Total admissions in 2016: 13,899
Percent change in admissions: 176.38%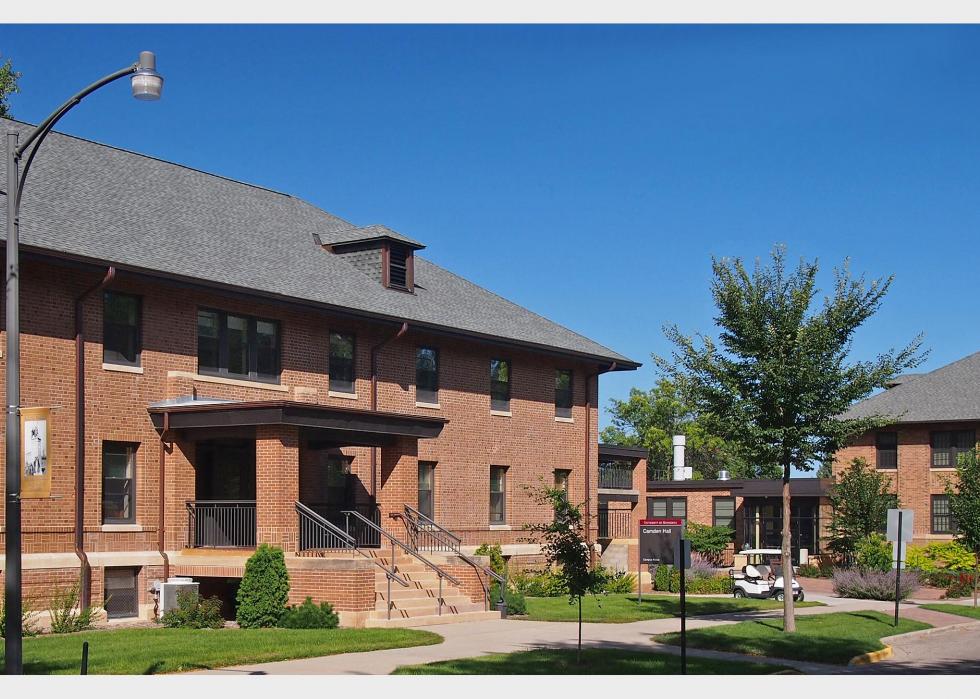 2 / 100
#99. University of Minnesota-Morris
Total applicants in 2007: 1,143
Total applicants in 2016: 3,414
Percent change in applications: 198.69%

Total admissions in 2007: 868
Total admissions in 2016: 1,982
Percent change in admissions: 128.34%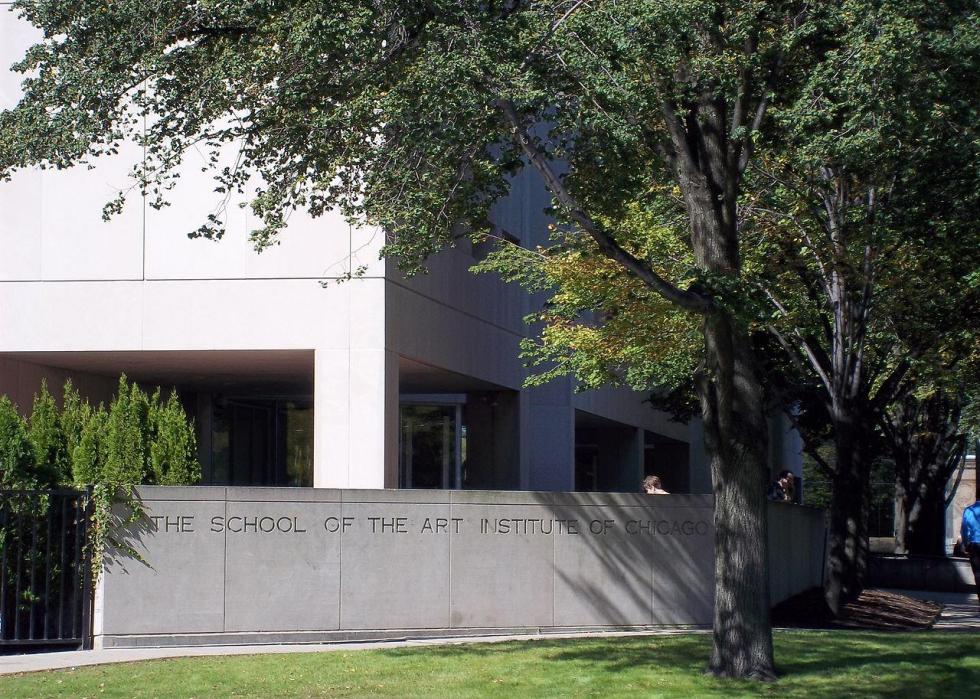 3 / 100
Alanscottwalker // Wikicommons
#98. School of the Art Institute of Chicago
Total applicants in 2007: 1,736
Total applicants in 2016: 5,244
Percent change in applications: 202.07%

Total admissions in 2007: 1,389
Total admissions in 2016: 3,111
Percent change in admissions: 123.97%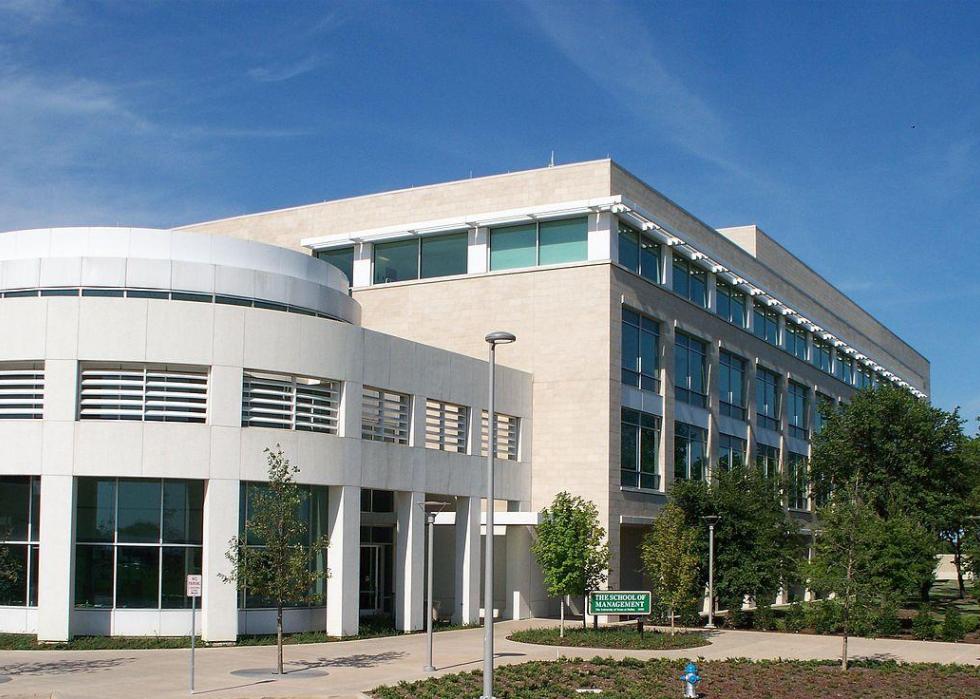 4 / 100
#97. The University of Texas at Dallas
Total applicants in 2007: 4,198
Total applicants in 2016: 12,686
Percent change in applications: 202.19%

Total admissions in 2007: 2,336
Total admissions in 2016: 8,625
Percent change in admissions: 269.22%
5 / 100
Burbank, California—Edgar Zuniga Jr. // Flickr
#96. Woodbury University
Total applicants in 2007: 486
Total applicants in 2016: 1,487
Percent change in applications: 205.97%

Total admissions in 2007: 393
Total admissions in 2016: 985
Percent change in admissions: 150.64%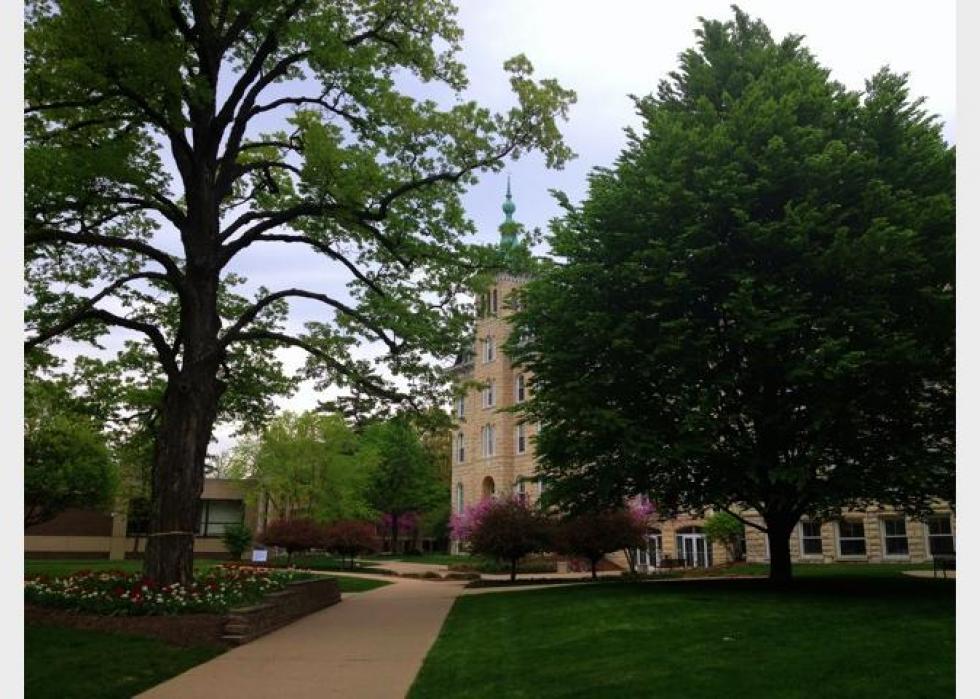 6 / 100
#95. North Central College
Total applicants in 2007: 2,234
Total applicants in 2016: 6,860
Percent change in applications: 207.07%

Total admissions in 2007: 1,552
Total admissions in 2016: 4,072
Percent change in admissions: 162.37%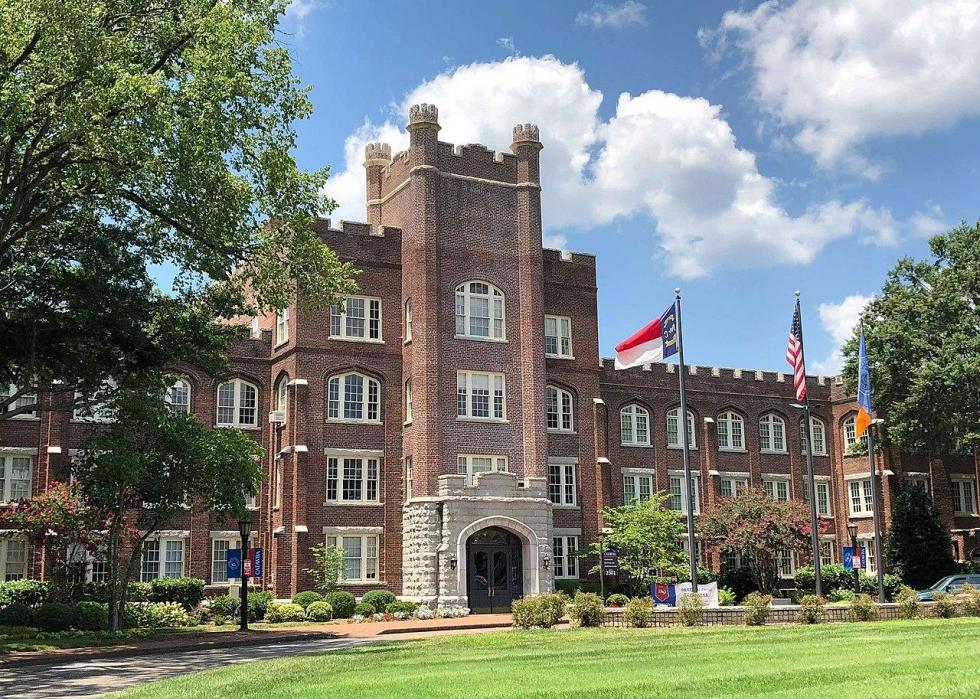 7 / 100
Kharris0317 // Wikicommons
#94. Catawba College
Total applicants in 2007: 822
Total applicants in 2016: 2,528
Percent change in applications: 207.54%

Total admissions in 2007: 620
Total admissions in 2016: 1,190
Percent change in admissions: 91.94%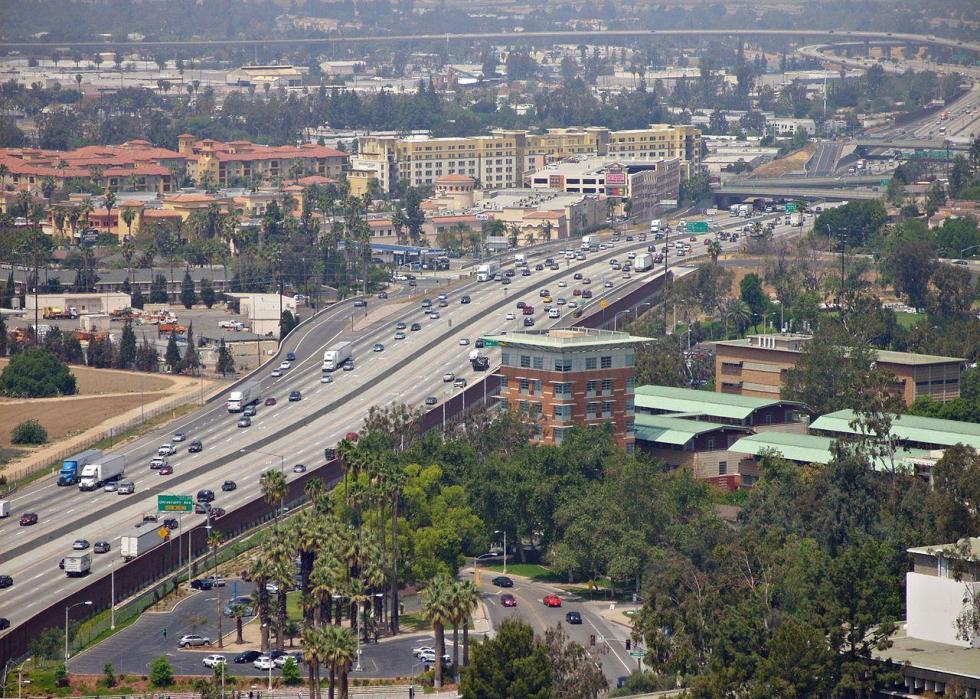 8 / 100
Basil D Soufi // Wikicommons
#93. La Sierra University
Total applicants in 2007: 1,307
Total applicants in 2016: 4,021
Percent change in applications: 207.65%

Total admissions in 2007: 593
Total admissions in 2016: 1,847
Percent change in admissions: 211.47%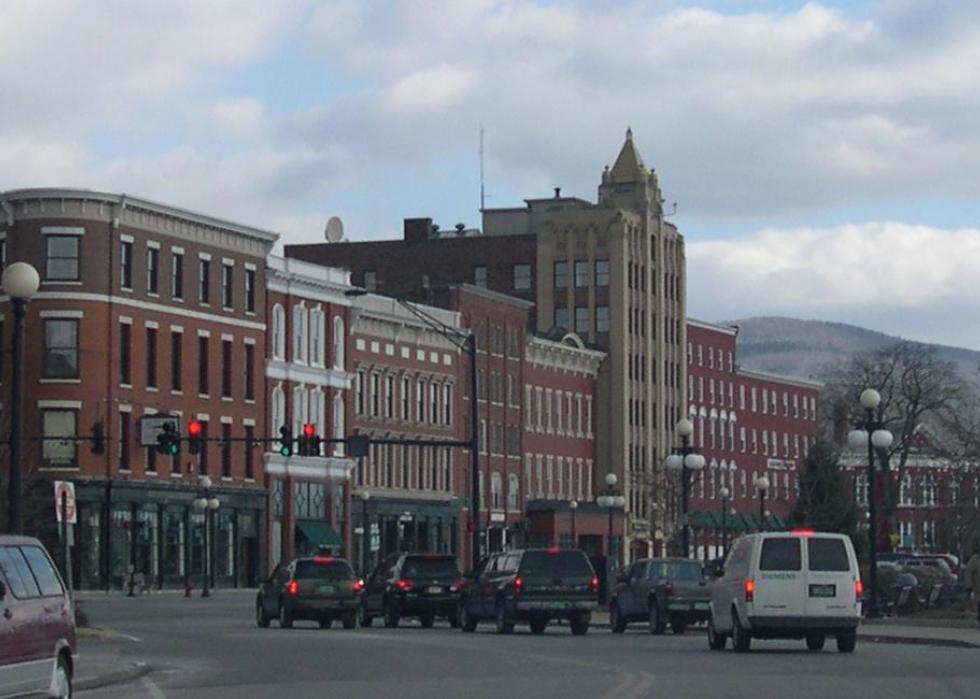 9 / 100
Rutland, Vermont—Sfoskett // Wikicommons
#92. College of St. Joseph
Total applicants in 2007: 101
Total applicants in 2016: 313
Percent change in applications: 209.90%

Total admissions in 2007: 89
Total admissions in 2016: 180
Percent change in admissions: 102.25%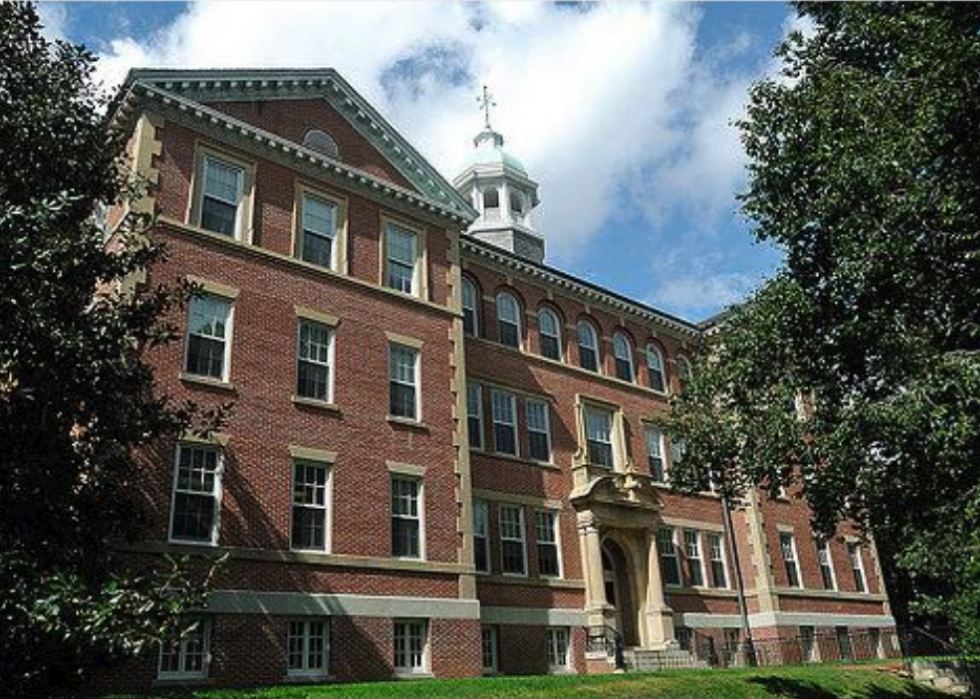 10 / 100
#91. Washington College
Total applicants in 2007: 2,167
Total applicants in 2016: 6,720
Percent change in applications: 210.11%

Total admissions in 2007: 1,377
Total admissions in 2016: 3,295
Percent change in admissions: 139.29%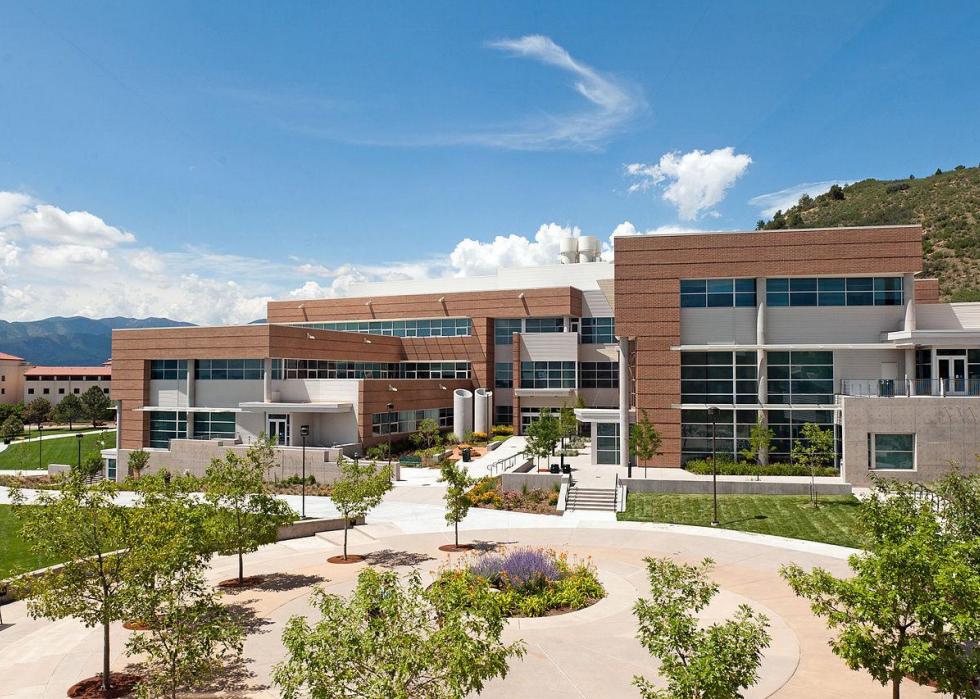 11 / 100
Jeffrey M Foster // Wikicommons
#90. University of Colorado-Colorado Springs
Total applicants in 2007: 3,111
Total applicants in 2016: 9,695
Percent change in applications: 211.64%

Total admissions in 2007: 2,081
Total admissions in 2016: 9,003
Percent change in admissions: 332.63%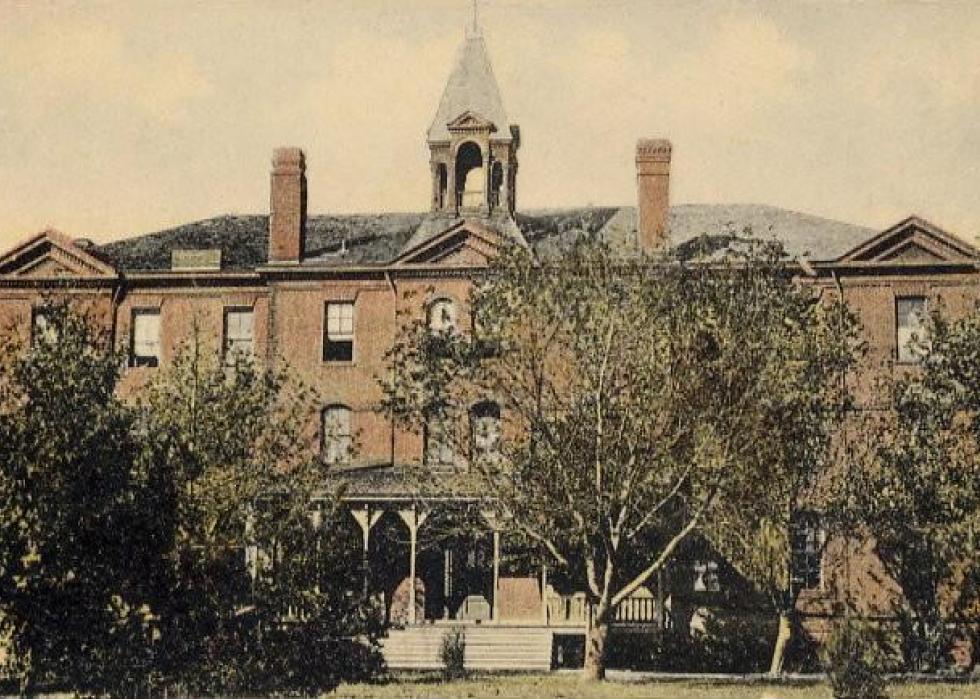 12 / 100
Bacone Indian University, now Bacone College—Public Domain
#89. Bacone College
Total applicants in 2007: 782
Total applicants in 2016: 2,437
Percent change in applications: 211.64%

Total admissions in 2007: 339
Total admissions in 2016: 1,230
Percent change in admissions: 262.83%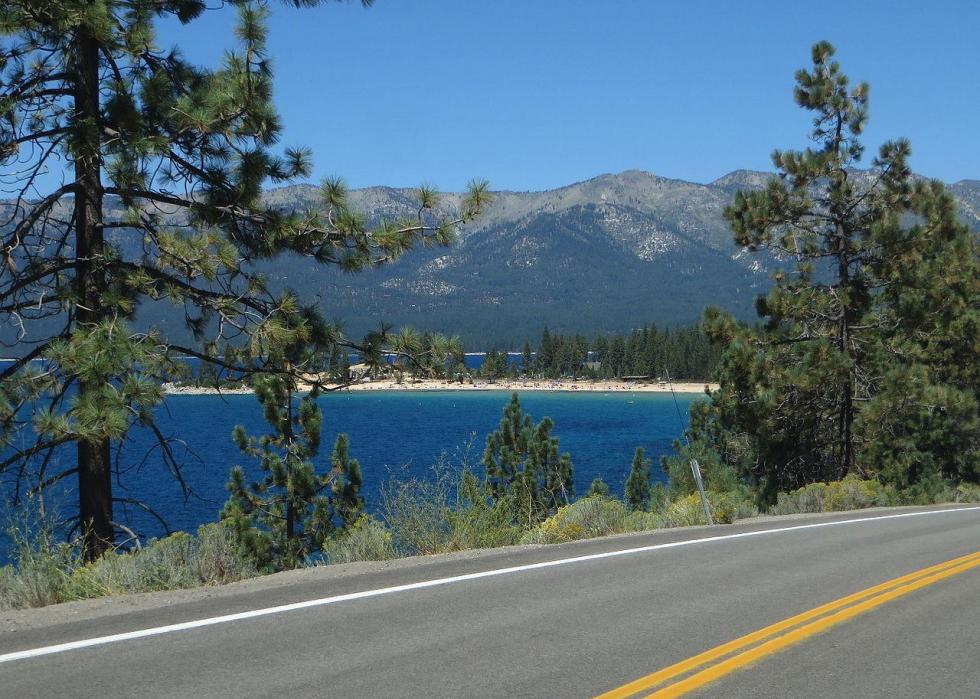 13 / 100
Lake Tahoe, Nevada—Ken L. // Wikicommons
#88. Sierra Nevada College
Total applicants in 2007: 273
Total applicants in 2016: 851
Percent change in applications: 211.72%

Total admissions in 2007: 186
Total admissions in 2016: 438
Percent change in admissions: 135.48%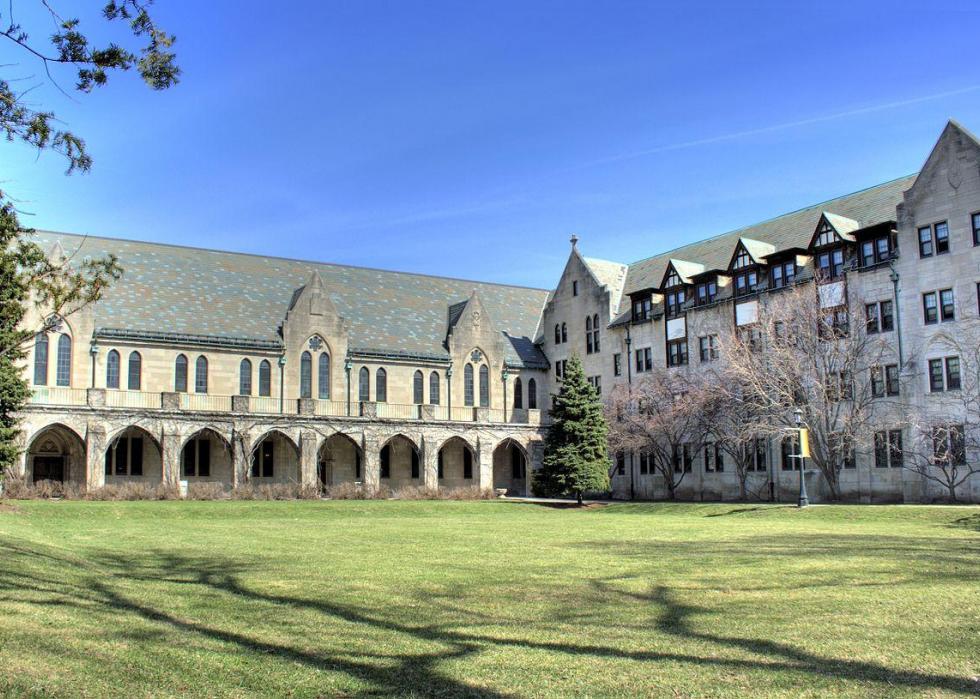 14 / 100
HalloweenHJB // Wikicommons
#87. Dominican University
Total applicants in 2007: 1,457
Total applicants in 2016: 4,568
Percent change in applications: 213.52%

Total admissions in 2007: 1,077
Total admissions in 2016: 2,911
Percent change in admissions: 170.29%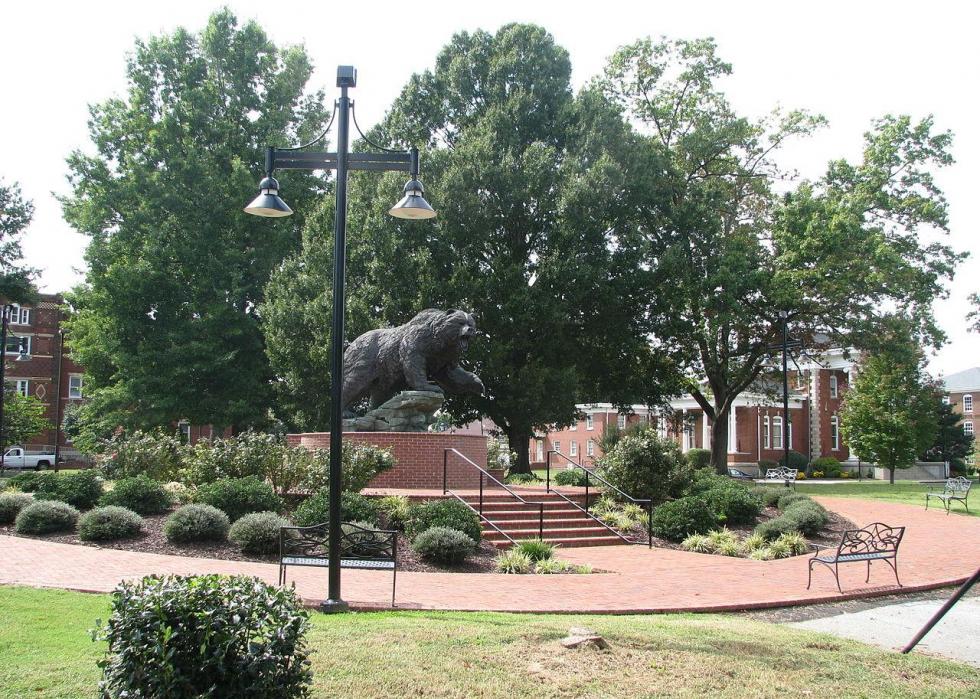 15 / 100
#86. Livingstone College
Total applicants in 2007: 2,092
Total applicants in 2016: 6,565
Percent change in applications: 213.81%

Total admissions in 2007: 2,051
Total admissions in 2016: 3,137
Percent change in admissions: 52.95%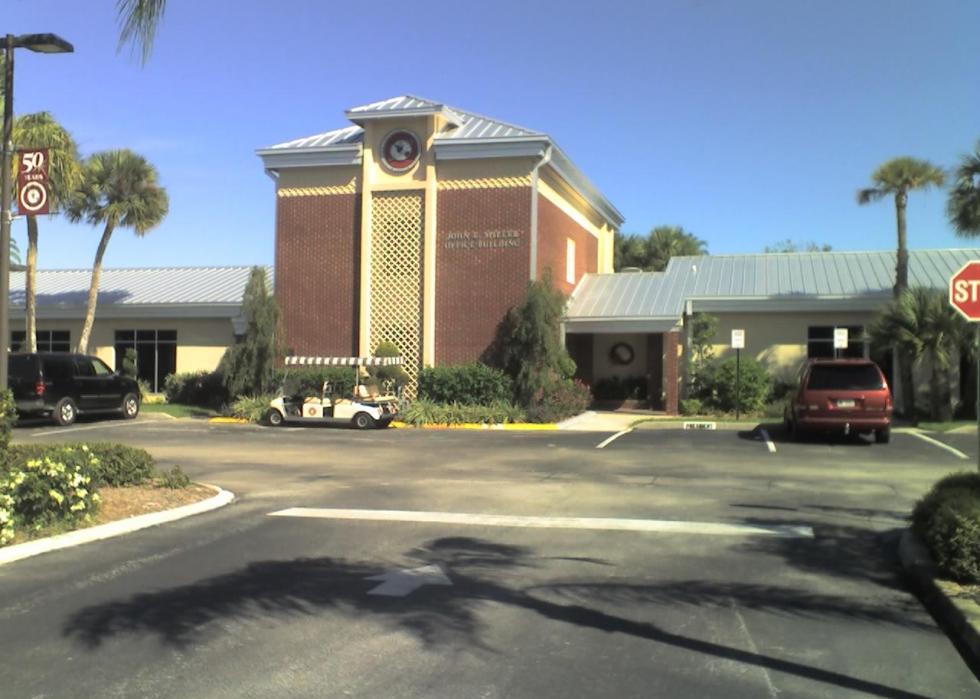 16 / 100
Jamesontai // Wikicommons
#85. Florida Institute of Technology
Total applicants in 2007: 3,027
Total applicants in 2016: 9,503
Percent change in applications: 213.94%

Total admissions in 2007: 2,451
Total admissions in 2016: 5,828
Percent change in admissions: 137.78%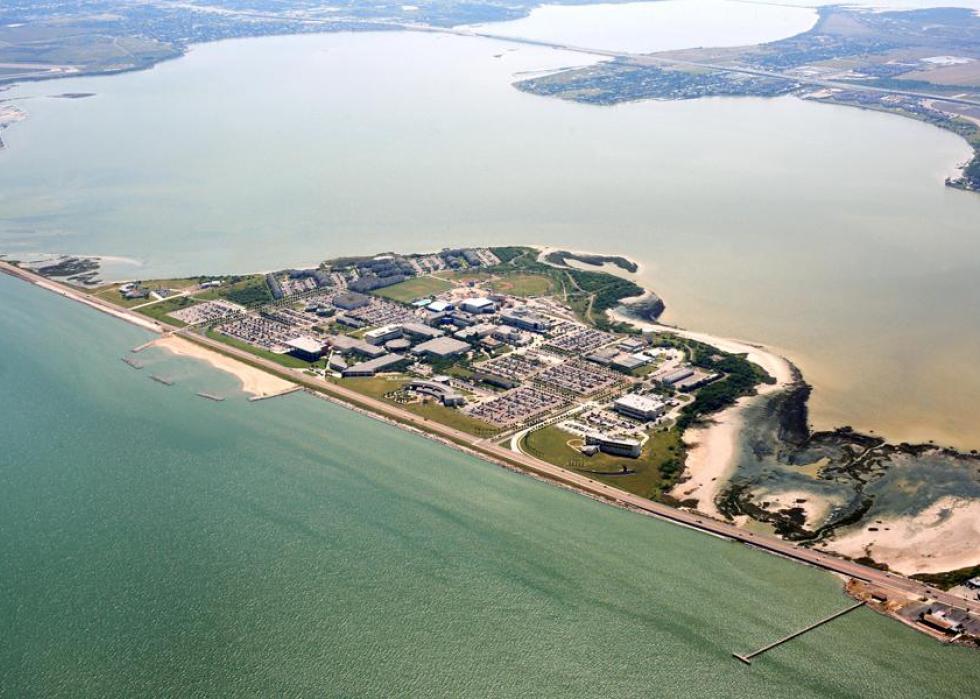 17 / 100
#84. Texas A & M University-Corpus Christi
Total applicants in 2007: 4,078
Total applicants in 2016: 12,909
Percent change in applications: 216.55%

Total admissions in 2007: 3,523
Total admissions in 2016: 8,346
Percent change in admissions: 136.90%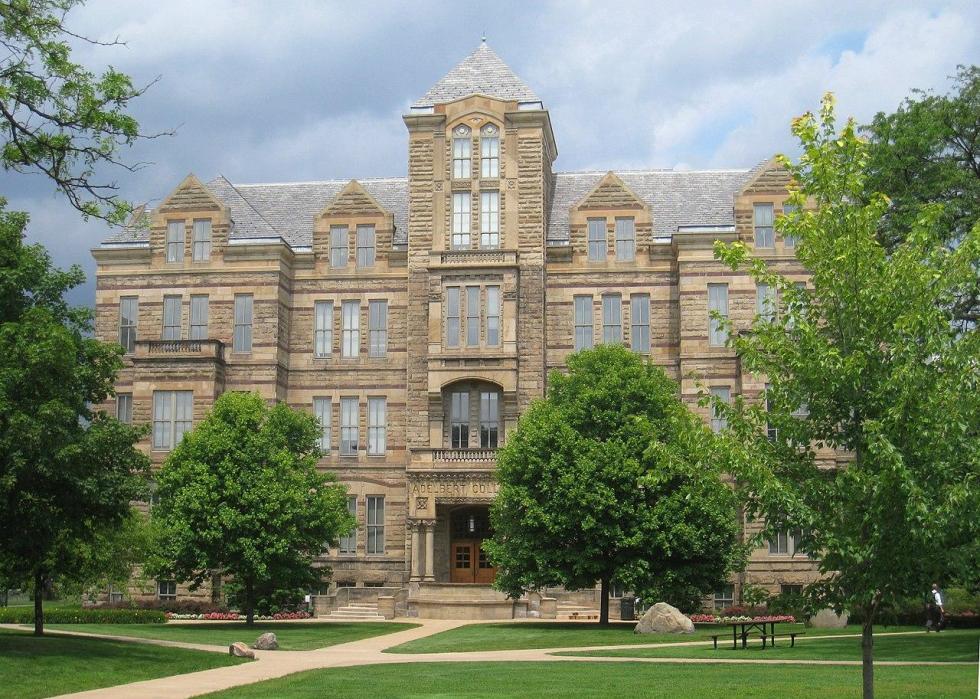 18 / 100
#83. Case Western Reserve University
Total applicants in 2007: 7,297
Total applicants in 2016: 23,115
Percent change in applications: 216.77%

Total admissions in 2007: 5,452
Total admissions in 2016: 8,192
Percent change in admissions: 50.26%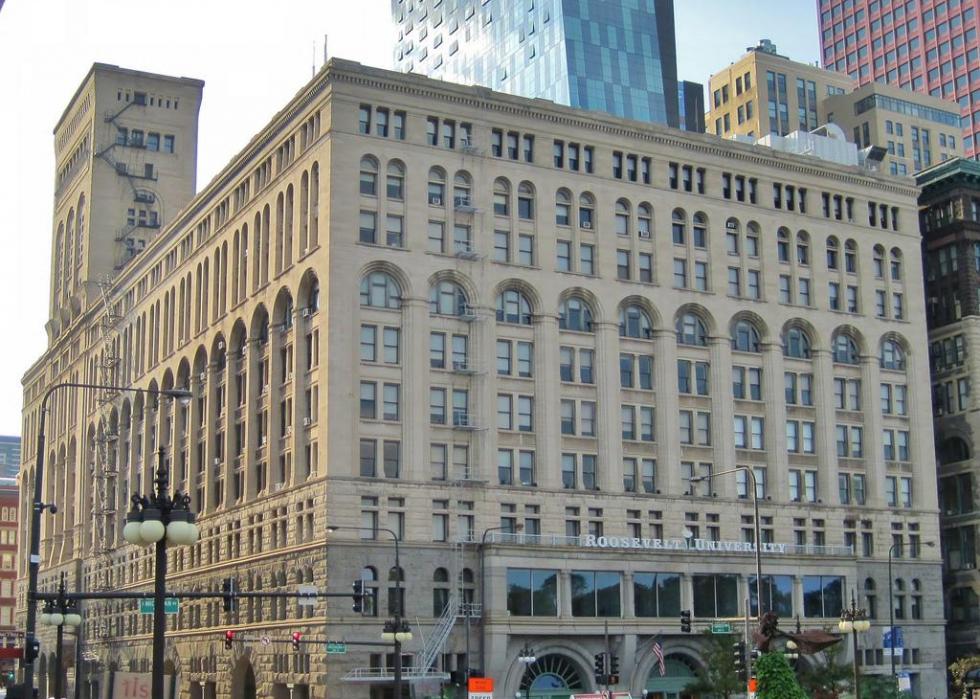 19 / 100
#82. Roosevelt University
Total applicants in 2007: 1,888
Total applicants in 2016: 5,994
Percent change in applications: 217.48%

Total admissions in 2007: 927
Total admissions in 2016: 4,393
Percent change in admissions: 373.89%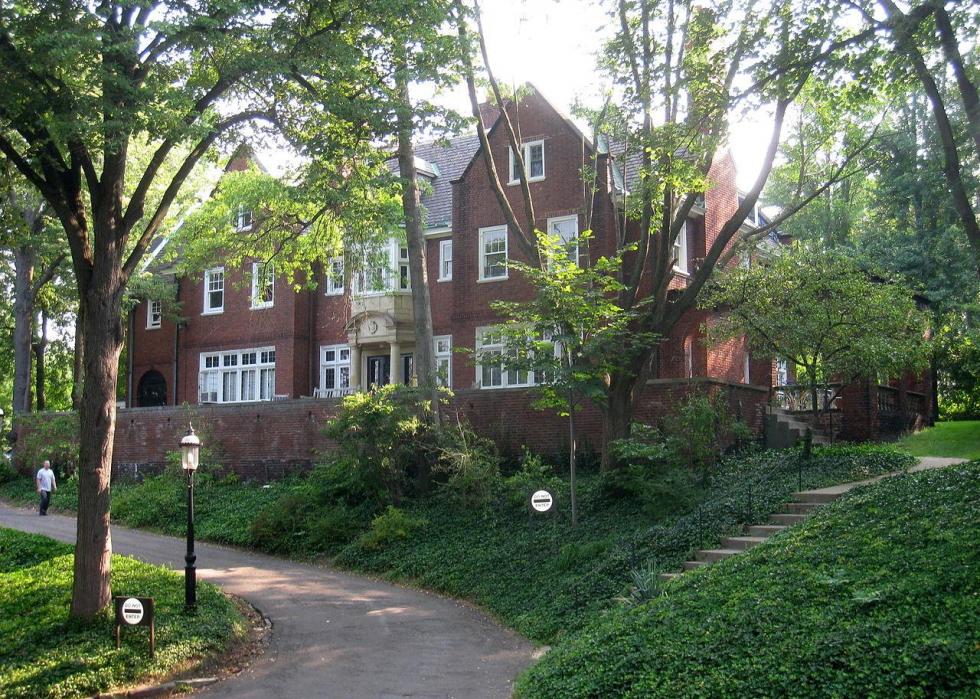 20 / 100
#81. Chatham University
Total applicants in 2007: 600
Total applicants in 2016: 1,926
Percent change in applications: 221.00%

Total admissions in 2007: 453
Total admissions in 2016: 1,016
Percent change in admissions: 124.28%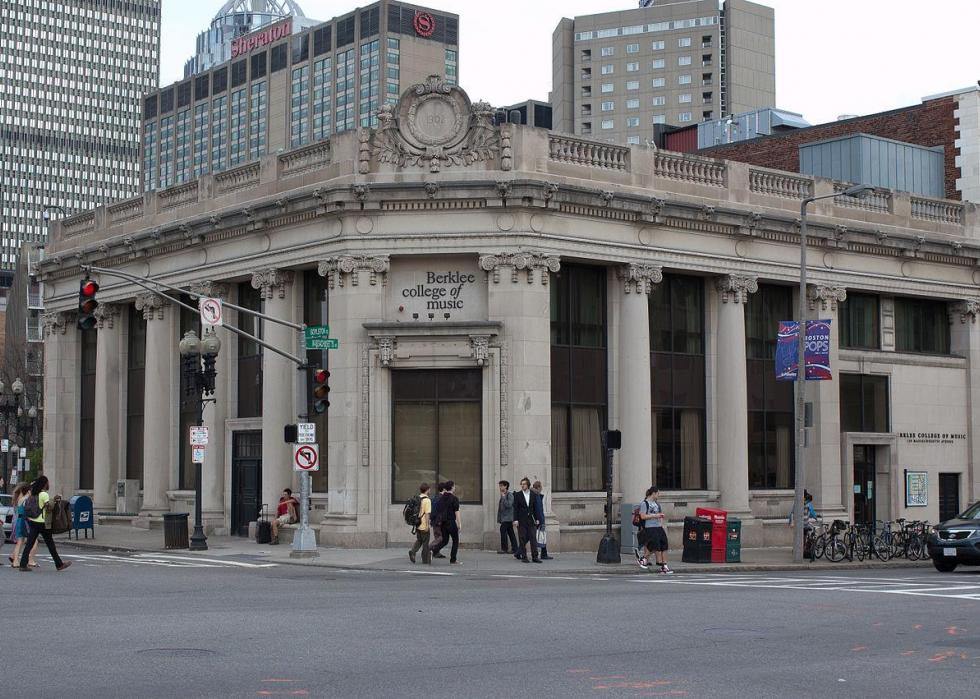 21 / 100
Tim Pierce // Wikicommons
#80. Berklee College of Music
Total applicants in 2007: 2,854
Total applicants in 2016: 9,224
Percent change in applications: 223.20%

Total admissions in 2007: 1,392
Total admissions in 2016: 3,121
Percent change in admissions: 124.21%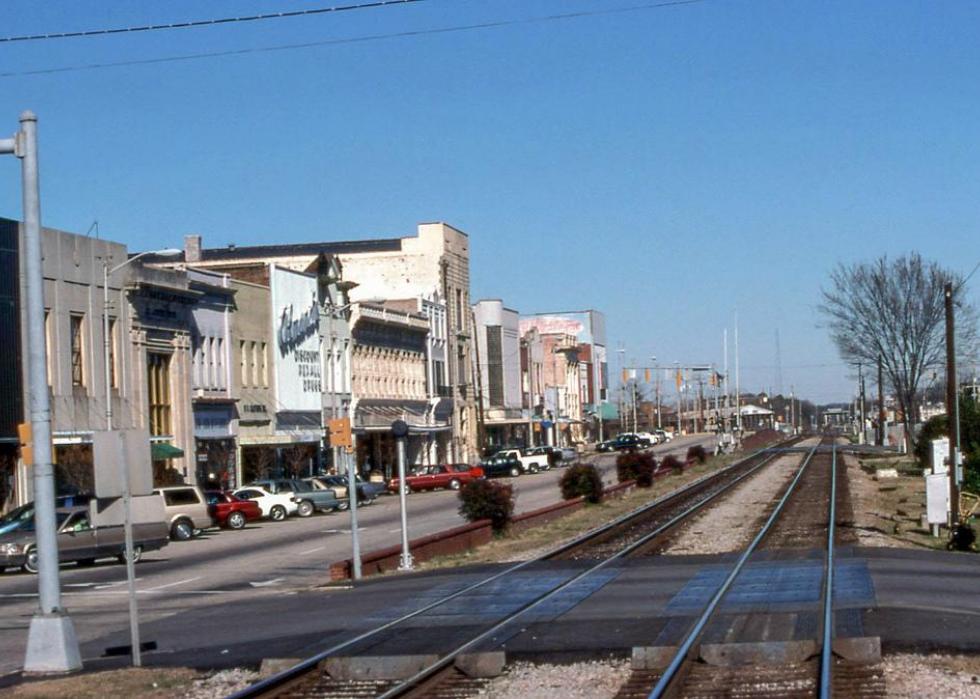 22 / 100
#79. North Carolina Wesleyan College
Total applicants in 2007: 1,249
Total applicants in 2016: 4,038
Percent change in applications: 223.30%

Total admissions in 2007: 887
Total admissions in 2016: 2,486
Percent change in admissions: 180.27%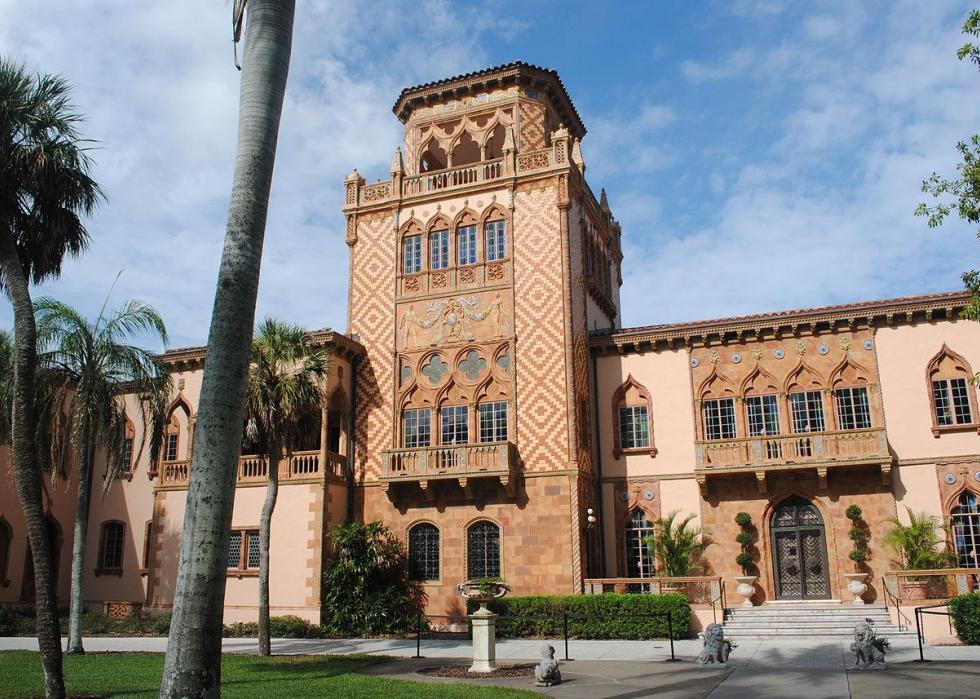 23 / 100
Ringling House, Sarasota, Florida—Dwbailey Indiana // Wikicommons
#78. Ringling College of Art and Design
Total applicants in 2007: 539
Total applicants in 2016: 1,752
Percent change in applications: 225.05%

Total admissions in 2007: 340
Total admissions in 2016: 1,369
Percent change in admissions: 302.65%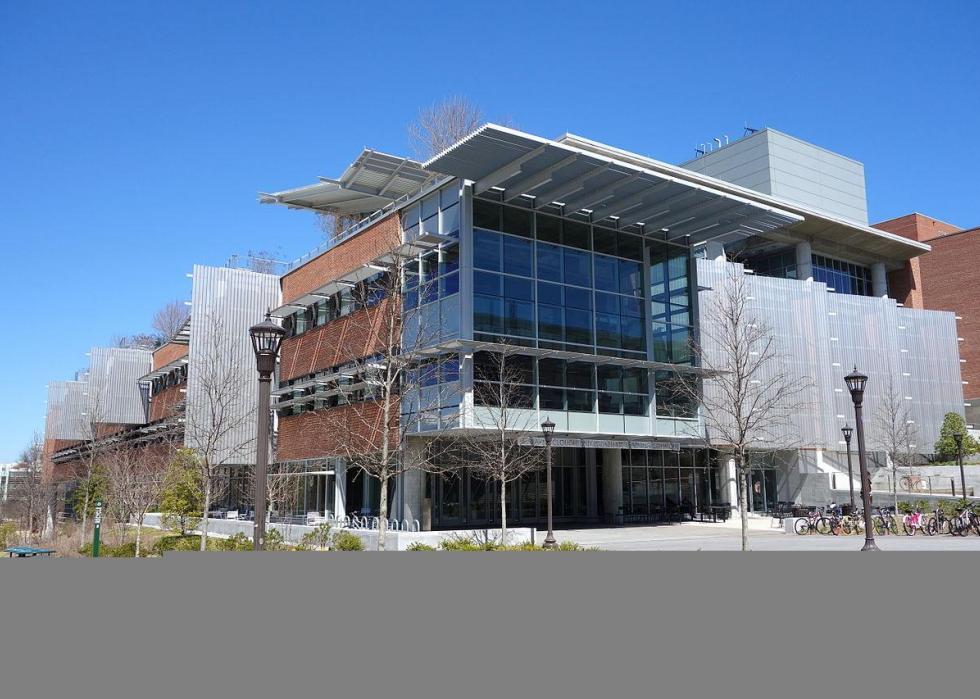 24 / 100
#77. Georgia Institute of Technology-Main Campus
Total applicants in 2007: 9,259
Total applicants in 2016: 30,528
Percent change in applications: 229.71%

Total admissions in 2007: 5,831
Total admissions in 2016: 7,868
Percent change in admissions: 34.93%
25 / 100
Luiz Gadelha Jr. // Flickr
#76. University of Chicago
Total applicants in 2007: 9,538
Total applicants in 2016: 31,484
Percent change in applications: 230.09%

Total admissions in 2007: 3,670
Total admissions in 2016: 2,499
Percent change in admissions: -31.91%
26 / 100
#75. Massachusetts College of Pharmacy and Health Sciences
Total applicants in 2007: 1,652
Total applicants in 2016: 5,527
Percent change in applications: 234.56%

Total admissions in 2007: 984
Total admissions in 2016: 4,669
Percent change in admissions: 374.49%
27 / 100
Texas A&M-Kingsville Javelinas vs. Texas A&M-Commerce Lions football game—Michael Barera // Wikicommons
#74. Texas A & M University-Kingsville
Total applicants in 2007: 2,200
Total applicants in 2016: 7,373
Percent change in applications: 235.14%

Total admissions in 2007: 1,750
Total admissions in 2016: 6,071
Percent change in admissions: 246.91%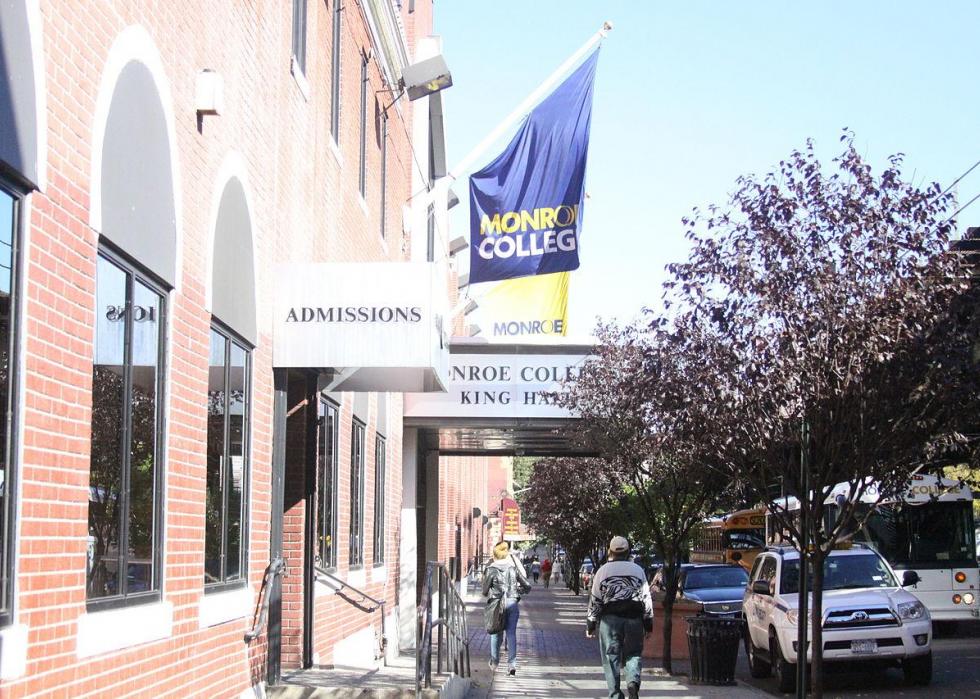 28 / 100
Shane Seaman // Wikicommons
#73. Monroe College
Total applicants in 2007: 1,531
Total applicants in 2016: 5,153
Percent change in applications: 236.58%

Total admissions in 2007: 885
Total admissions in 2016: 2,736
Percent change in admissions: 209.15%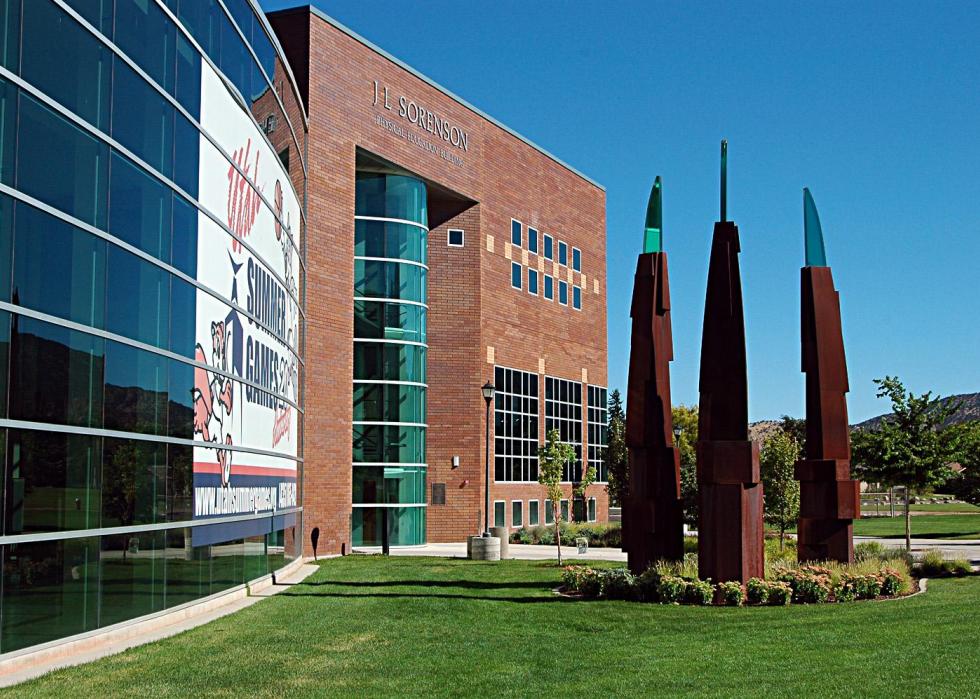 29 / 100
Cory Maylett // Wikicommons
#72. Southern Utah University
Total applicants in 2007: 3,134
Total applicants in 2016: 10,573
Percent change in applications: 237.36%

Total admissions in 2007: 2,501
Total admissions in 2016: 7,642
Percent change in admissions: 205.56%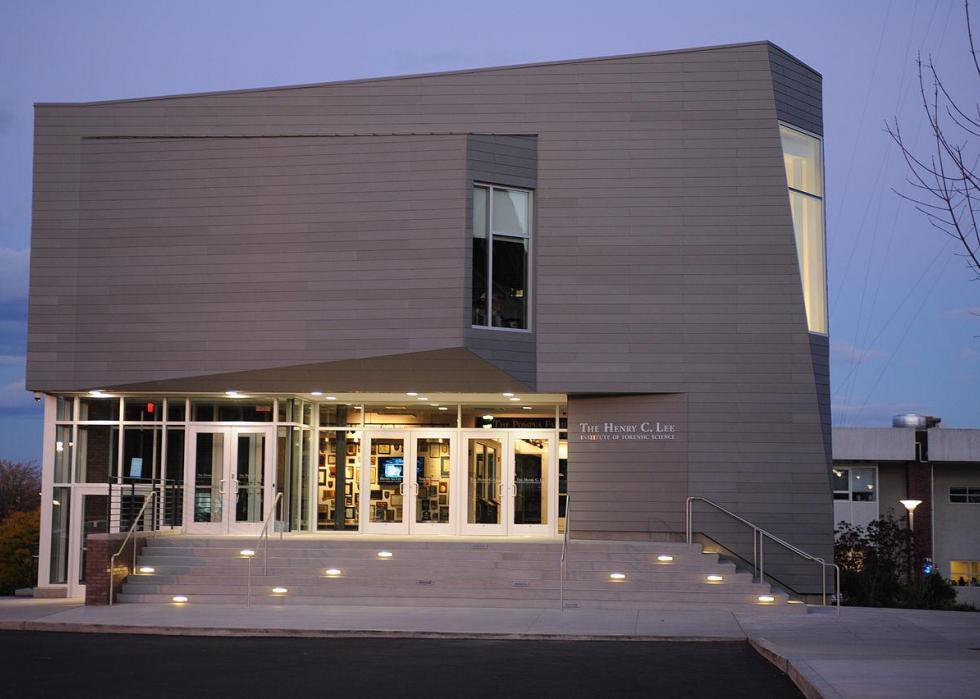 30 / 100
#71. University of New Haven
Total applicants in 2007: 3,153
Total applicants in 2016: 10,720
Percent change in applications: 239.99%

Total admissions in 2007: 2,315
Total admissions in 2016: 8,633
Percent change in admissions: 272.92%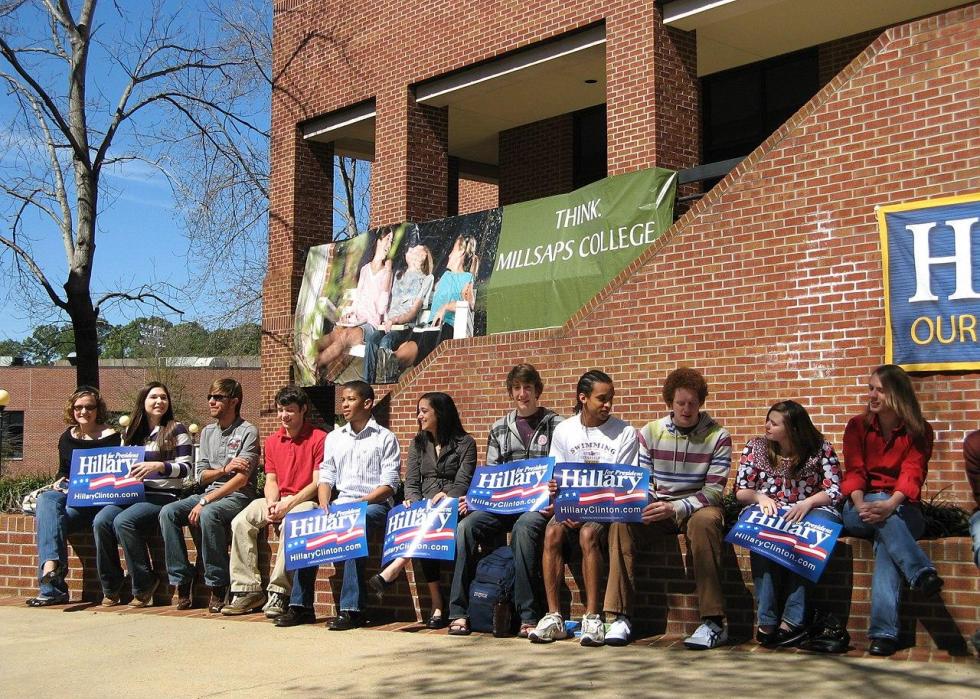 31 / 100
A Chelsea Clinton visit to Millsaps College during Hillary Clinton's campaign—Natalie Maynor // Wikicommons
#70. Millsaps College
Total applicants in 2007: 1,253
Total applicants in 2016: 4,269
Percent change in applications: 240.70%

Total admissions in 2007: 968
Total admissions in 2016: 2,525
Percent change in admissions: 160.85%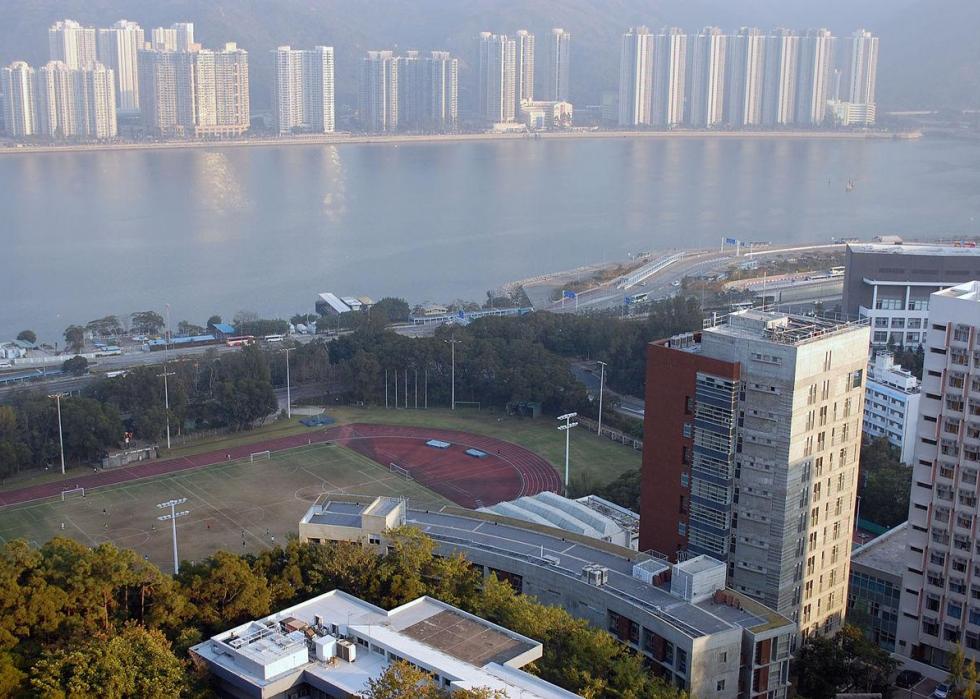 32 / 100
#69. Morningside College
Total applicants in 2007: 1,336
Total applicants in 2016: 4,562
Percent change in applications: 241.47%

Total admissions in 2007: 987
Total admissions in 2016: 2,597
Percent change in admissions: 163.12%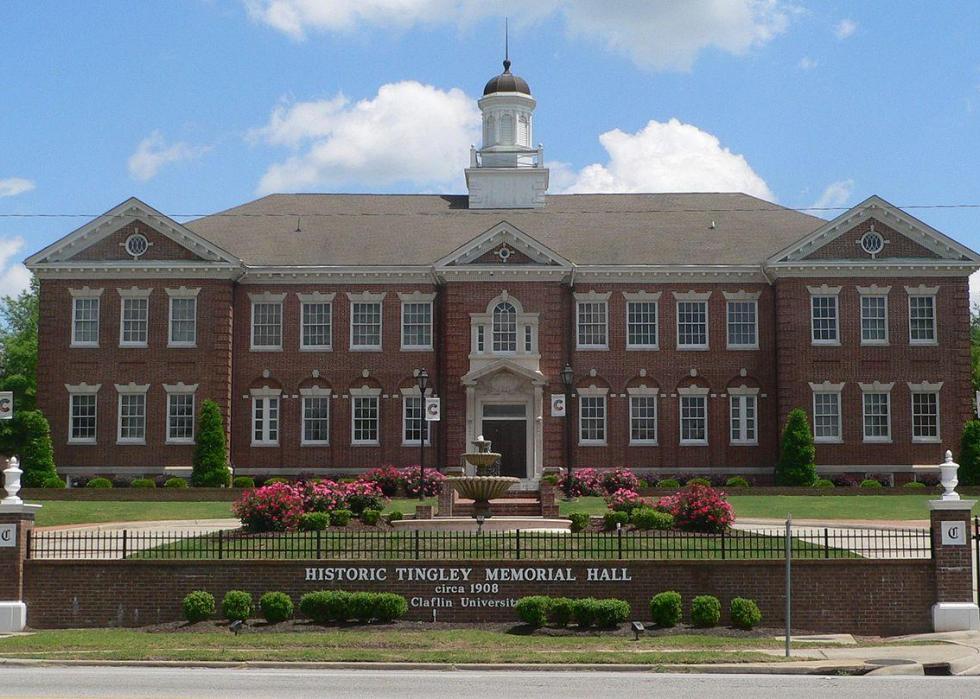 33 / 100
Ammodramus // Wikicommons
#68. Claflin University
Total applicants in 2007: 2,711
Total applicants in 2016: 9,387
Percent change in applications: 246.26%

Total admissions in 2007: 1,326
Total admissions in 2016: 3,926
Percent change in admissions: 196.08%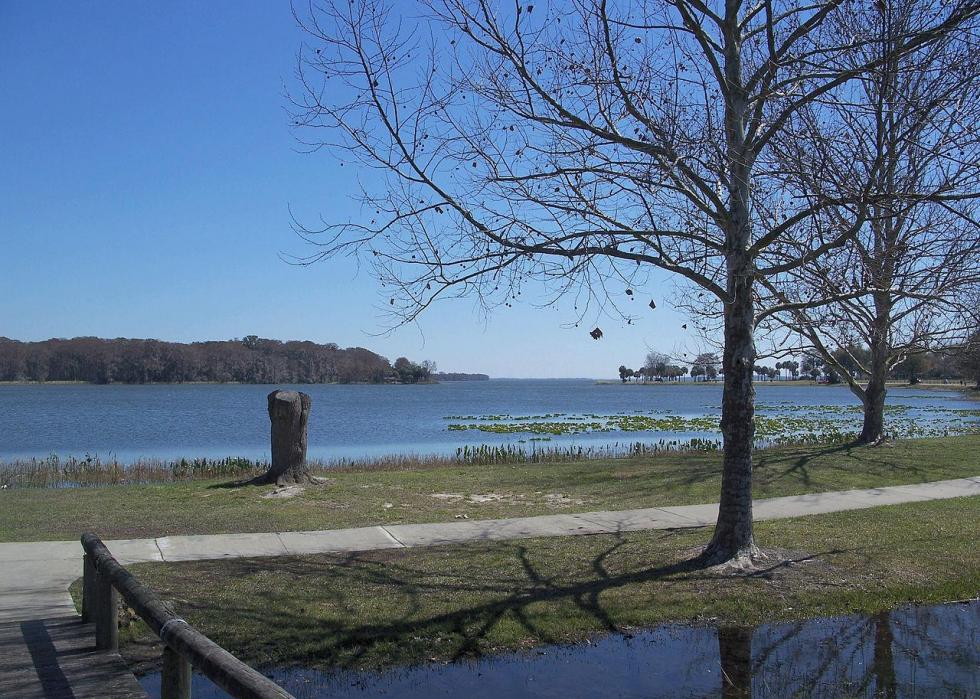 34 / 100
Leesburg, Florida—Ebyabe // Wikicommons
#67. Beacon College
Total applicants in 2007: 68
Total applicants in 2016: 236
Percent change in applications: 247.06%

Total admissions in 2007: 48
Total admissions in 2016: 114
Percent change in admissions: 137.50%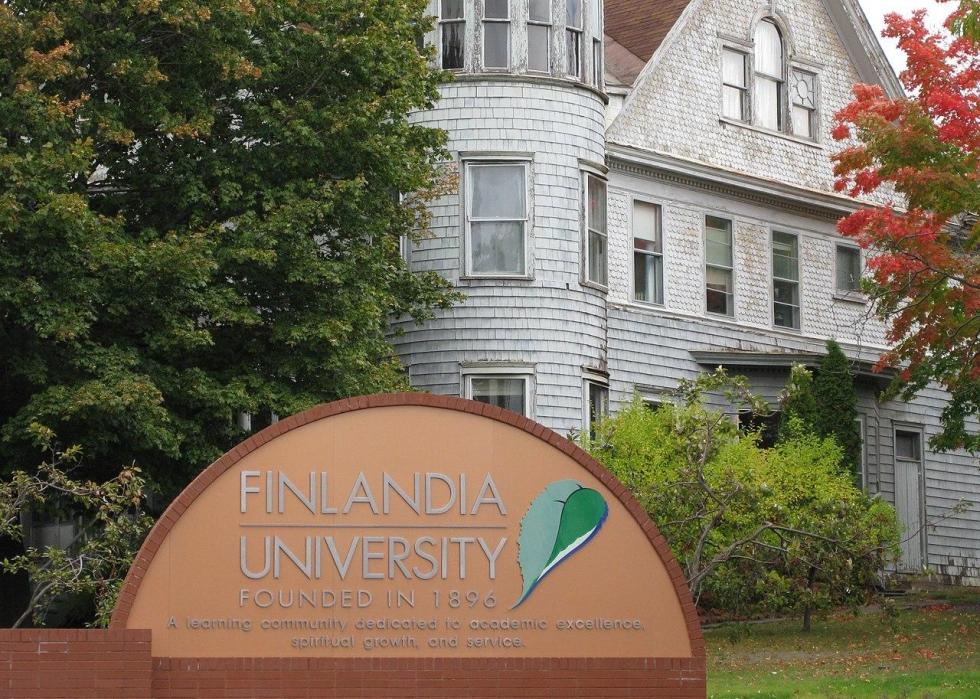 35 / 100
#66. Finlandia University
Total applicants in 2007: 639
Total applicants in 2016: 2,227
Percent change in applications: 248.51%

Total admissions in 2007: 429
Total admissions in 2016: 1,027
Percent change in admissions: 139.39%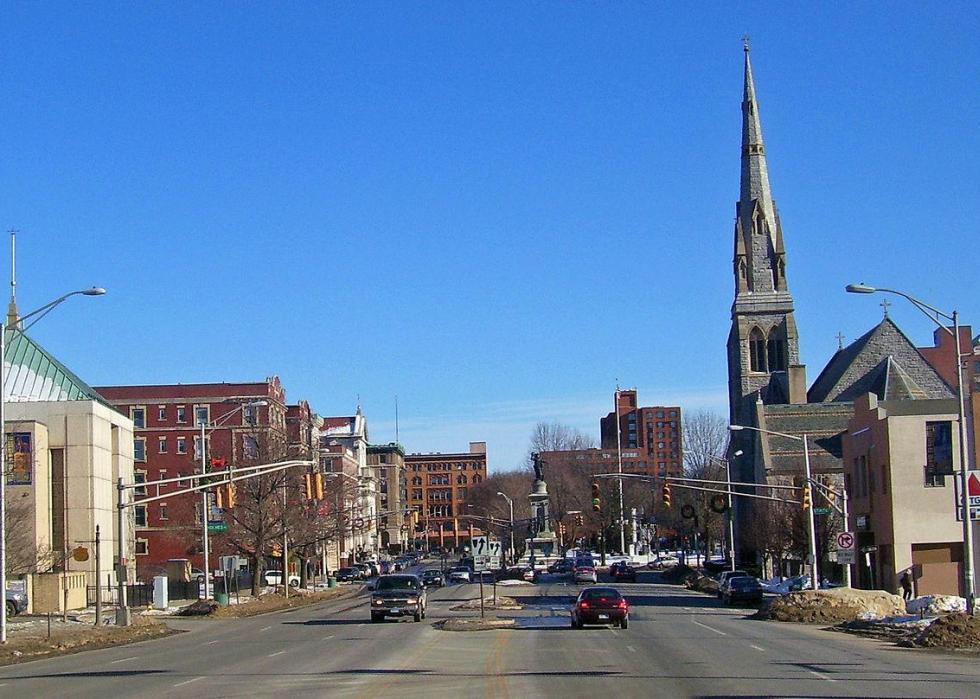 36 / 100
Waterbury, Connecticut—Daniel Case // Wikicommons
#65. Post University
Total applicants in 2007: 1,291
Total applicants in 2016: 4,507
Percent change in applications: 249.11%

Total admissions in 2007: 553
Total admissions in 2016: 1,835
Percent change in admissions: 231.83%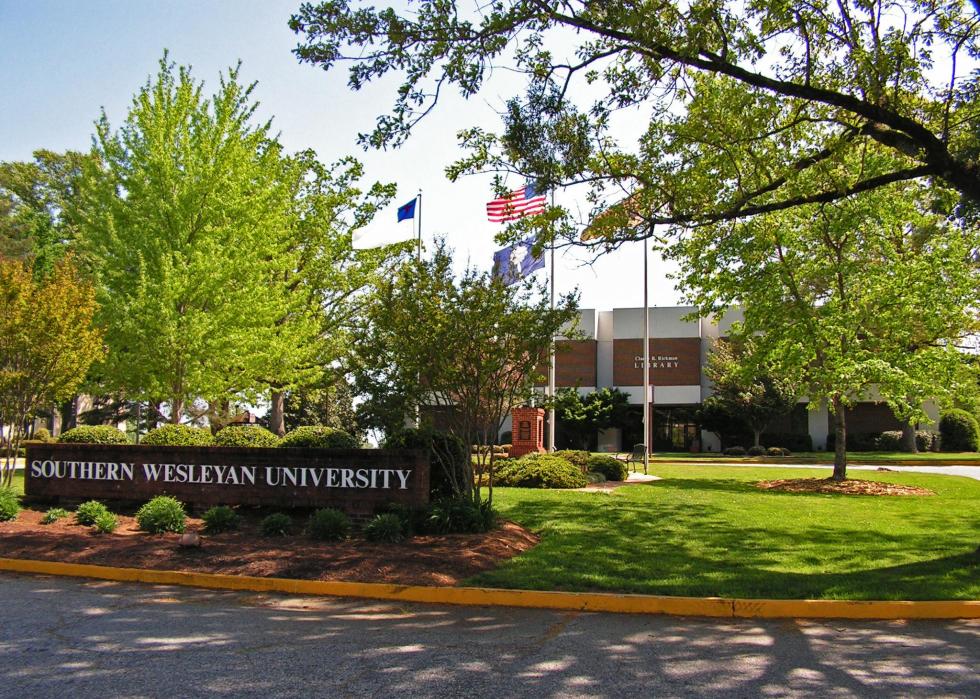 37 / 100
Surfer654321 // Wikicommons
#64. Southern Wesleyan University
Total applicants in 2007: 253
Total applicants in 2016: 896
Percent change in applications: 254.15%

Total admissions in 2007: 246
Total admissions in 2016: 493
Percent change in admissions: 100.41%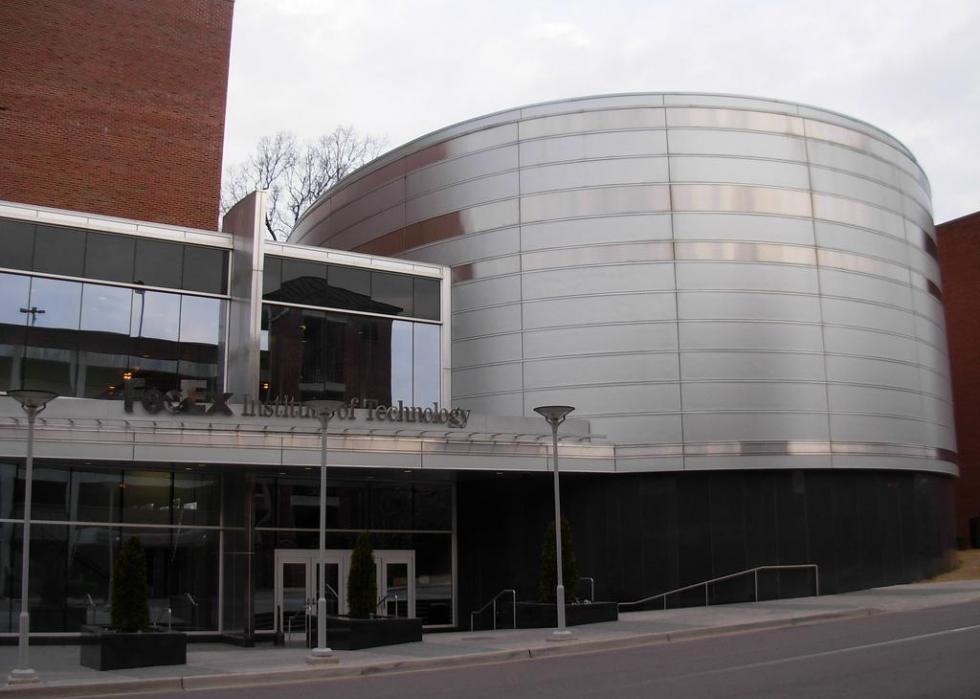 38 / 100
FedEx Institute of Technology at the University of Memphis—brewbooks // Flickr
#63. University of Memphis
Total applicants in 2007: 6,025
Total applicants in 2016: 21,392
Percent change in applications: 255.05%

Total admissions in 2007: 3,986
Total admissions in 2016: 12,124
Percent change in admissions: 204.16%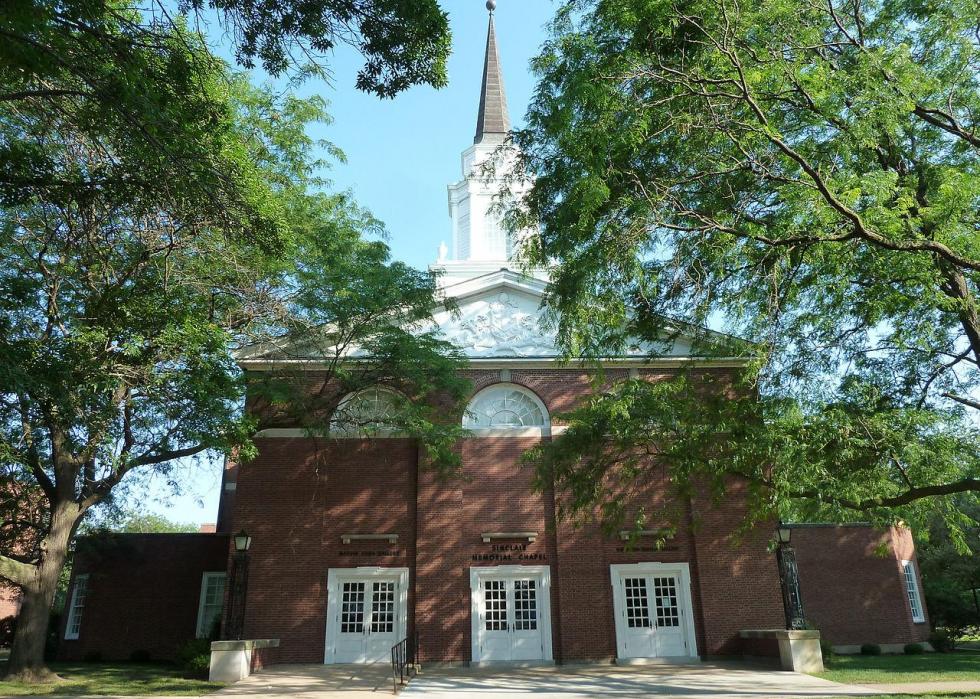 39 / 100
Bobak Ha'Eri // Wikicommons
#62. Coe College
Total applicants in 2007: 1,890
Total applicants in 2016: 6,725
Percent change in applications: 255.82%

Total admissions in 2007: 1,209
Total admissions in 2016: 3,359
Percent change in admissions: 177.83%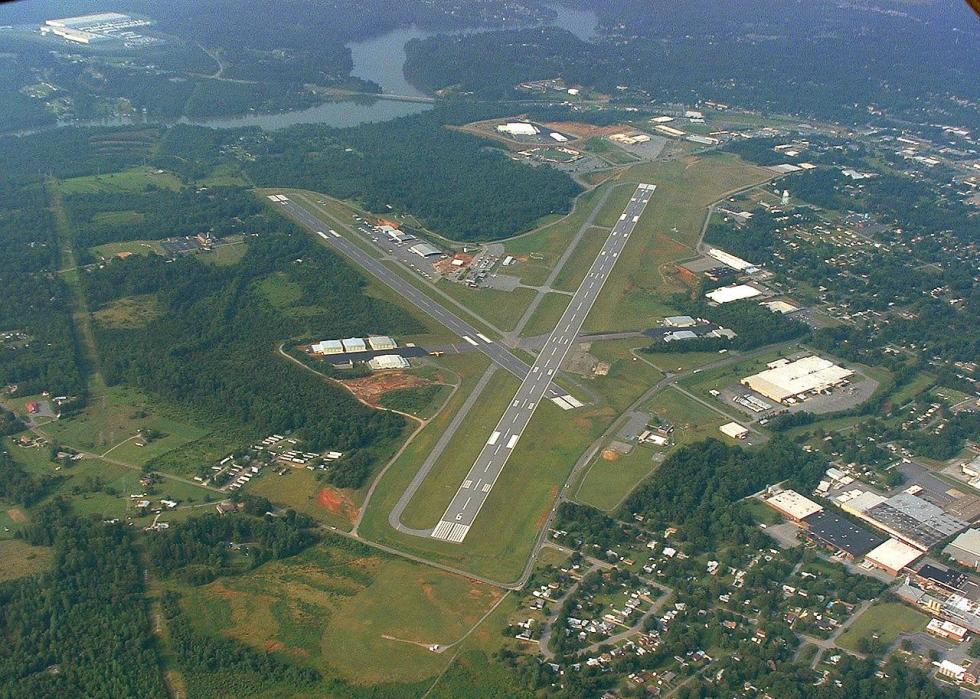 40 / 100
Hickory, North Carolina // Wikicommons
#61. Lenoir-Rhyne University
Total applicants in 2007: 1,770
Total applicants in 2016: 6,300
Percent change in applications: 255.93%

Total admissions in 2007: 1,478
Total admissions in 2016: 4,417
Percent change in admissions: 198.85%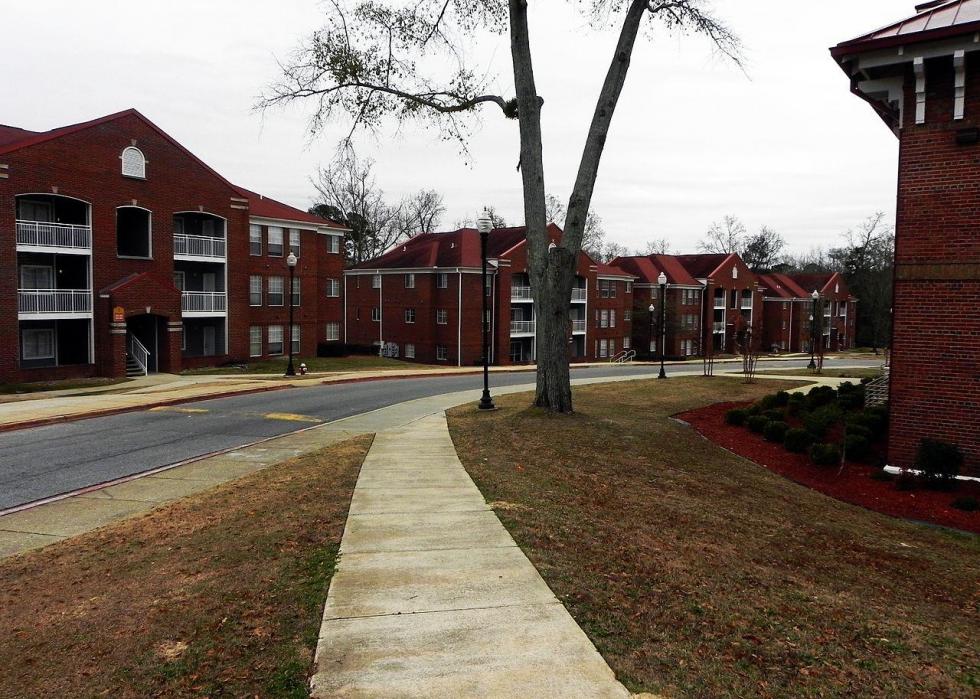 41 / 100
Skegeepedia // Wikicommons
#60. Tuskegee University
Total applicants in 2007: 2,905
Total applicants in 2016: 10,342
Percent change in applications: 256.01%

Total admissions in 2007: 1,714
Total admissions in 2016: 5,170
Percent change in admissions: 201.63%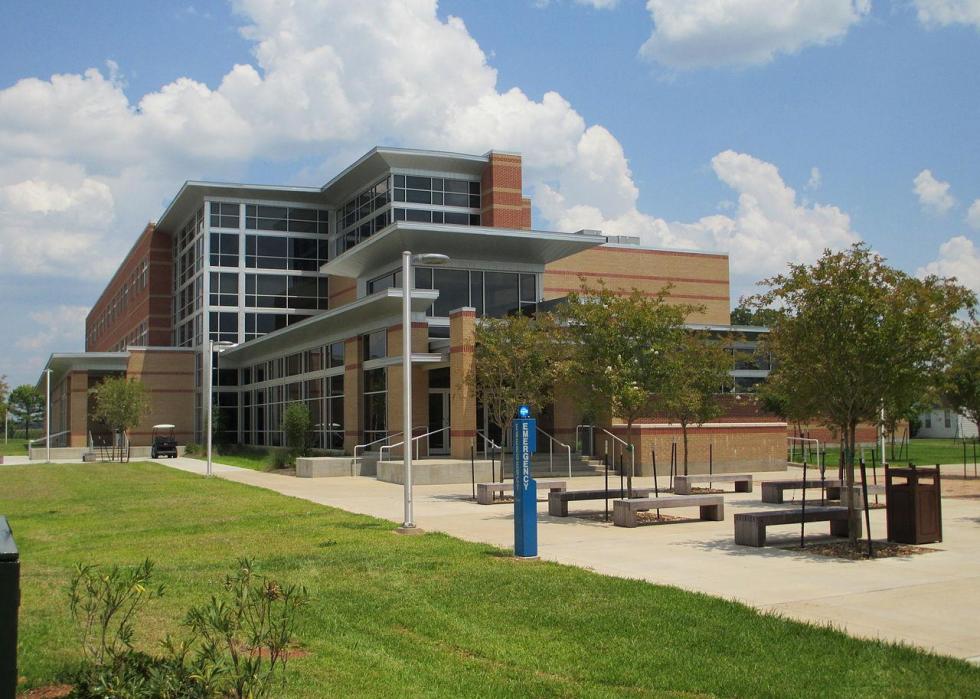 42 / 100
Lsuaexpert // Wikicommons
#59. Louisiana State University-Alexandria
Total applicants in 2007: 587
Total applicants in 2016: 2,101
Percent change in applications: 257.92%

Total admissions in 2007: 538
Total admissions in 2016: 700
Percent change in admissions: 30.11%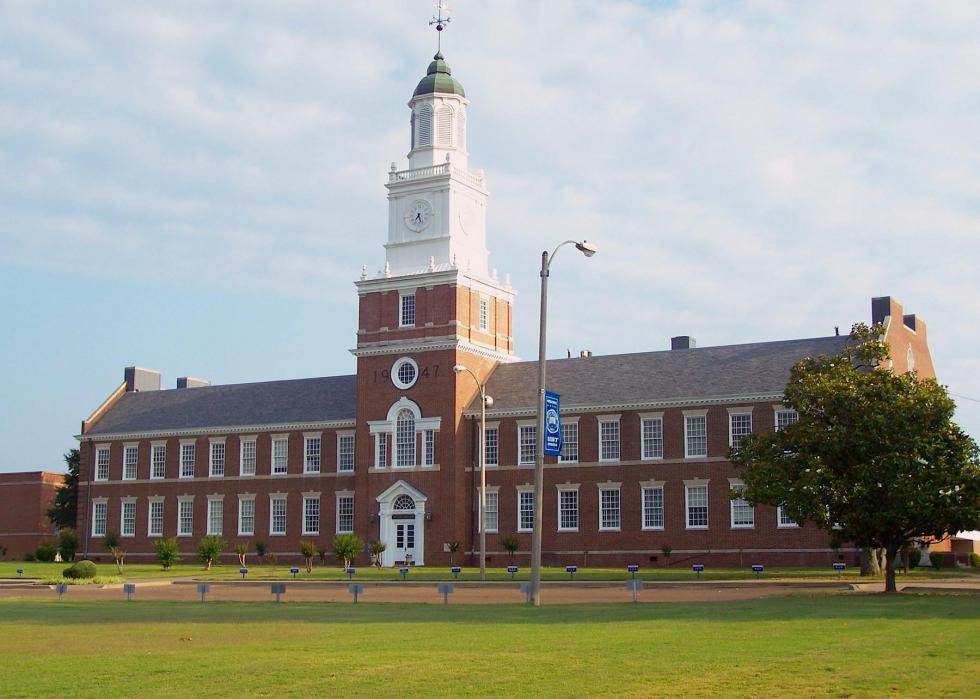 43 / 100
Timothy W Willis // Wikicommons
#58. Rust College
Total applicants in 2007: 1,482
Total applicants in 2016: 5,337
Percent change in applications: 260.12%

Total admissions in 2007: 710
Total admissions in 2016: 2,501
Percent change in admissions: 252.25%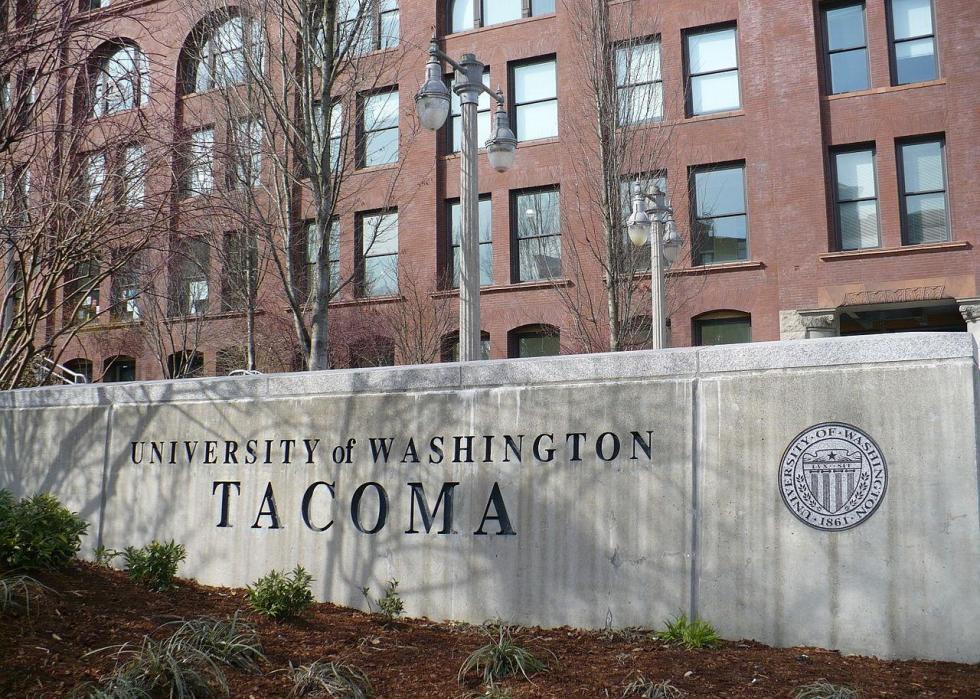 44 / 100
#57. University of Washington-Tacoma Campus
Total applicants in 2007: 520
Total applicants in 2016: 1,878
Percent change in applications: 261.15%

Total admissions in 2007: 427
Total admissions in 2016: 1,574
Percent change in admissions: 268.62%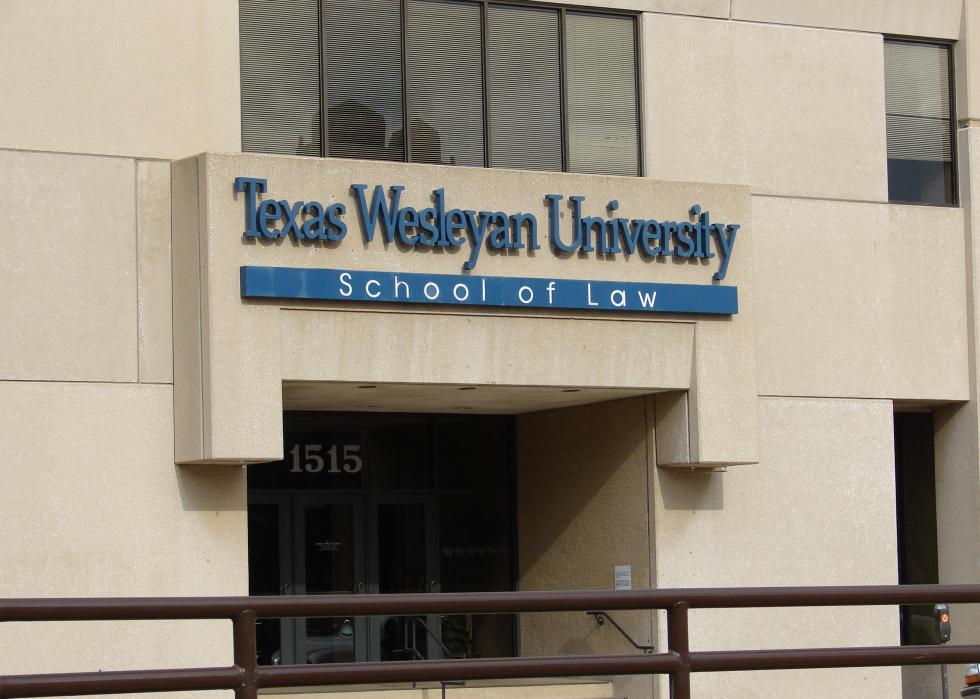 45 / 100
David R. Tribble // Wikicommons
#56. Texas Wesleyan University
Total applicants in 2007: 819
Total applicants in 2016: 2,959
Percent change in applications: 261.29%

Total admissions in 2007: 420
Total admissions in 2016: 1,218
Percent change in admissions: 190.00%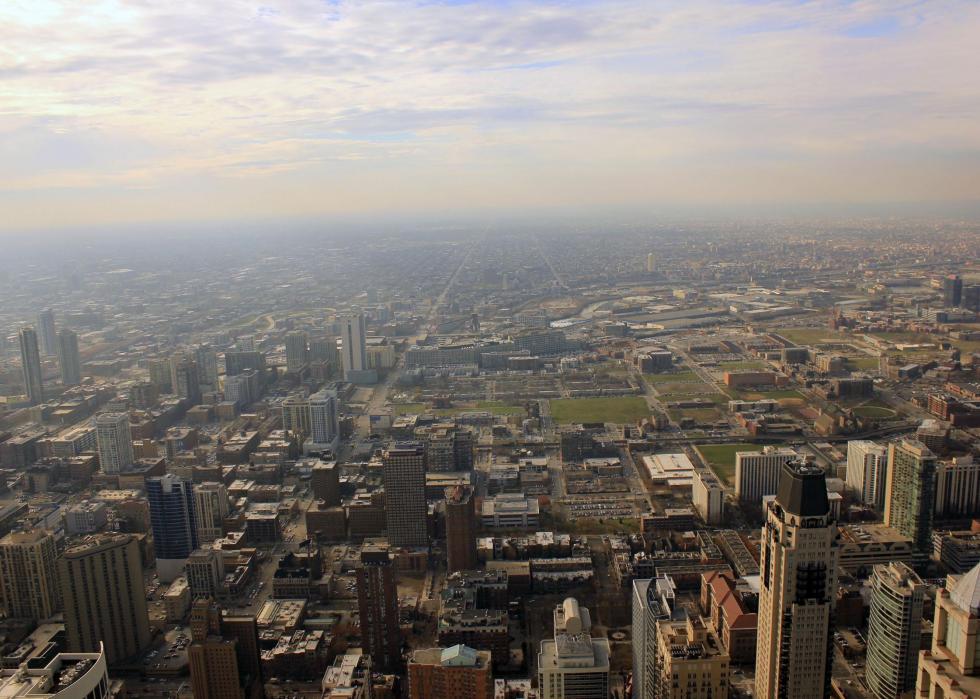 46 / 100
Chicago, Illinois—GoodFreePhotos
#55. Saint Xavier University
Total applicants in 2007: 2,297
Total applicants in 2016: 8,315
Percent change in applications: 261.99%

Total admissions in 2007: 1,759
Total admissions in 2016: 6,257
Percent change in admissions: 255.71%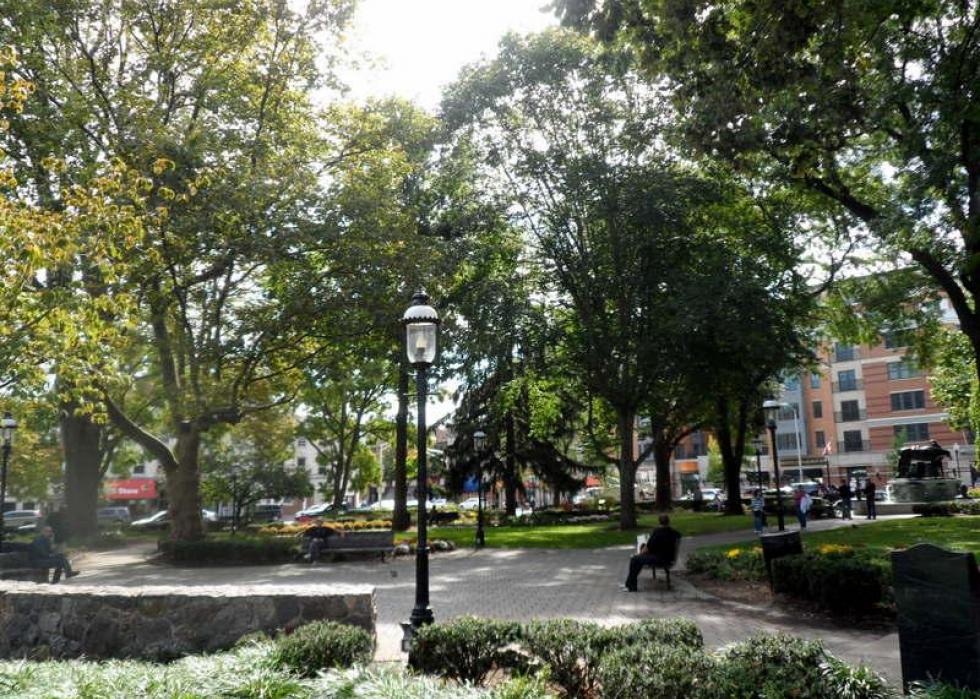 47 / 100
Morristown, New Jersey—Jared Kofsky // Wikicommons
#54. College of Saint Elizabeth
Total applicants in 2007: 451
Total applicants in 2016: 1,633
Percent change in applications: 262.08%

Total admissions in 2007: 369
Total admissions in 2016: 1,082
Percent change in admissions: 193.22%
48 / 100
Michael Barera // Wikicommons
#53. Texas A&M University-Commerce
Total applicants in 2007: 2,136
Total applicants in 2016: 7,805
Percent change in applications: 265.40%

Total admissions in 2007: 911
Total admissions in 2016: 3,601
Percent change in admissions: 295.28%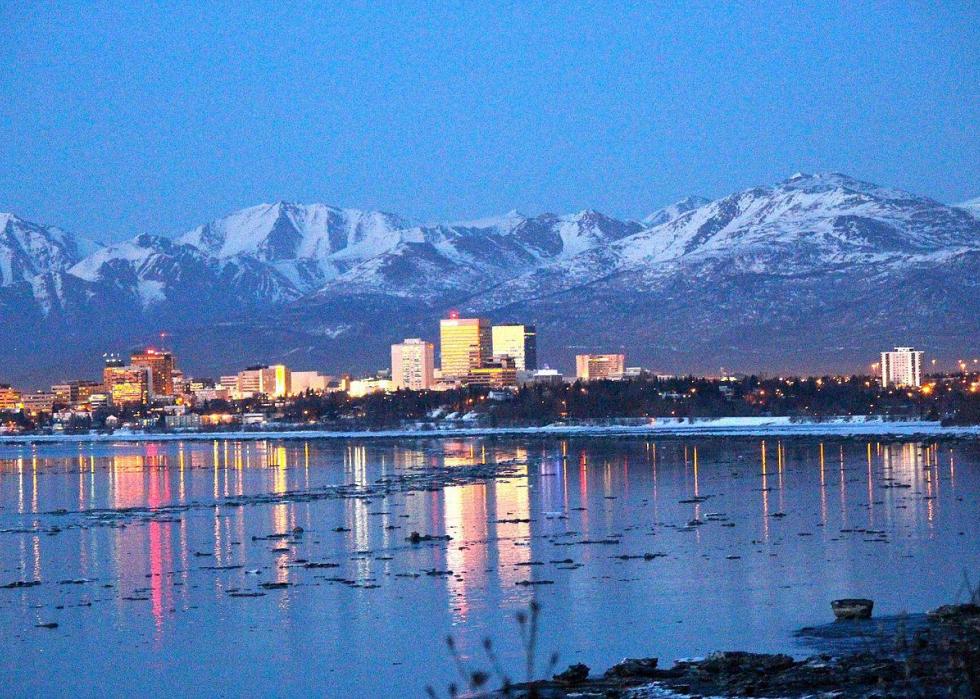 49 / 100
Anchorage, Alaska—Didier Moîse // Wikicommons
#52. Alaska Pacific University
Total applicants in 2007: 128
Total applicants in 2016: 474
Percent change in applications: 270.31%

Total admissions in 2007: 119
Total admissions in 2016: 261
Percent change in admissions: 119.33%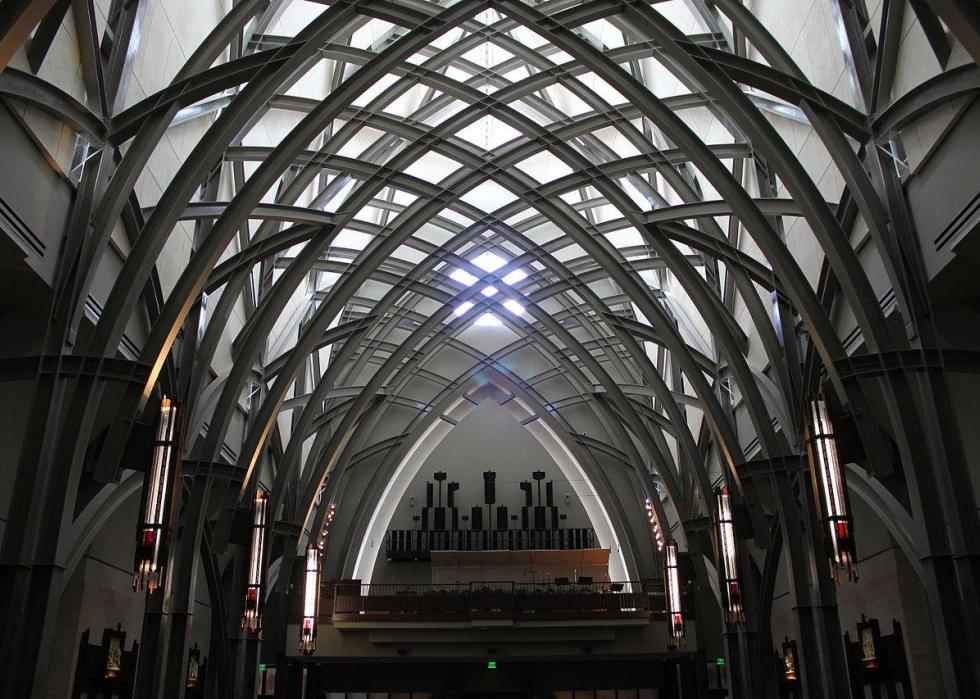 50 / 100
Fr James Bradley // Wikicommons
#51. Ave Maria University
Total applicants in 2007: 582
Total applicants in 2016: 2,173
Percent change in applications: 273.37%

Total admissions in 2007: 198
Total admissions in 2016: 867
Percent change in admissions: 337.88%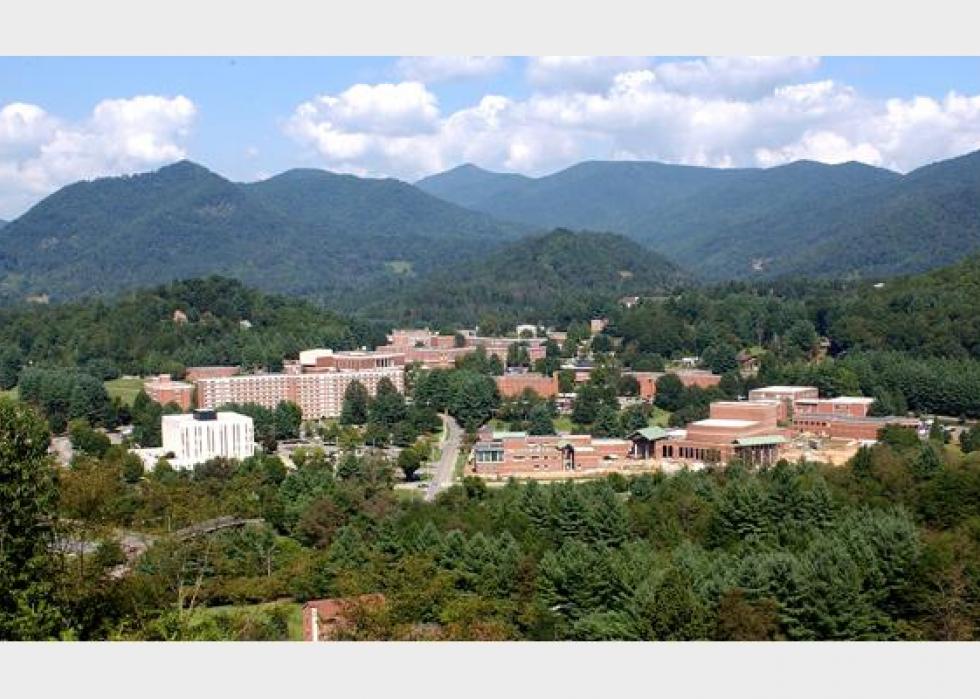 51 / 100
RichardKenni // Wikicommons
#50. Western Carolina University
Total applicants in 2007: 4,830
Total applicants in 2016: 18,297
Percent change in applications: 278.82%

Total admissions in 2007: 3,705
Total admissions in 2016: 7,445
Percent change in admissions: 100.94%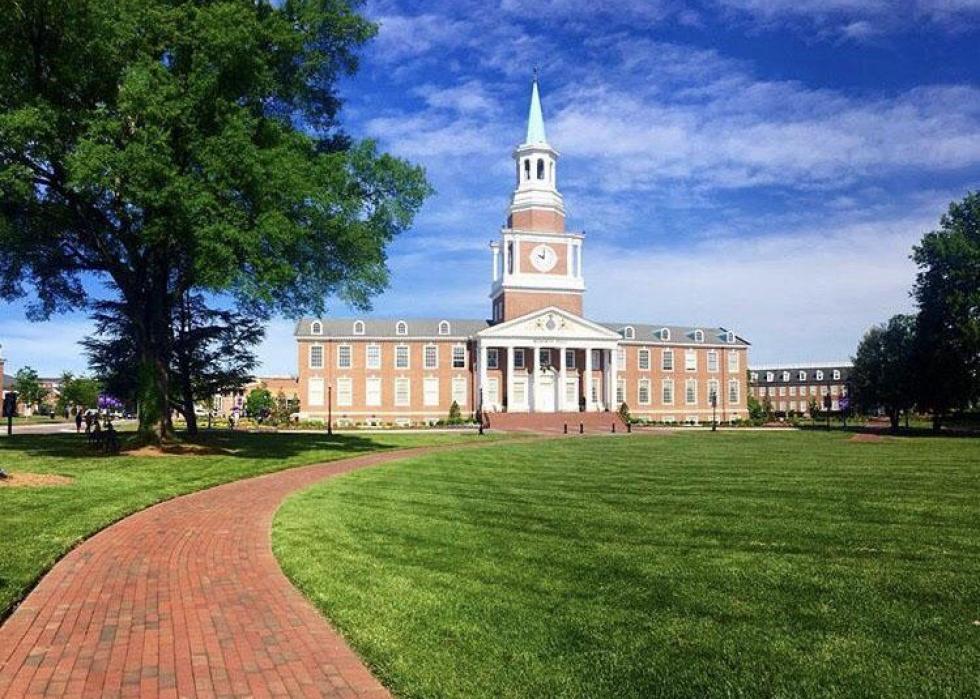 52 / 100
Bandwidth47 // Wikicommons
#49. High Point University
Total applicants in 2007: 2,546
Total applicants in 2016: 9,683
Percent change in applications: 280.32%

Total admissions in 2007: 1,857
Total admissions in 2016: 7,657
Percent change in admissions: 312.33%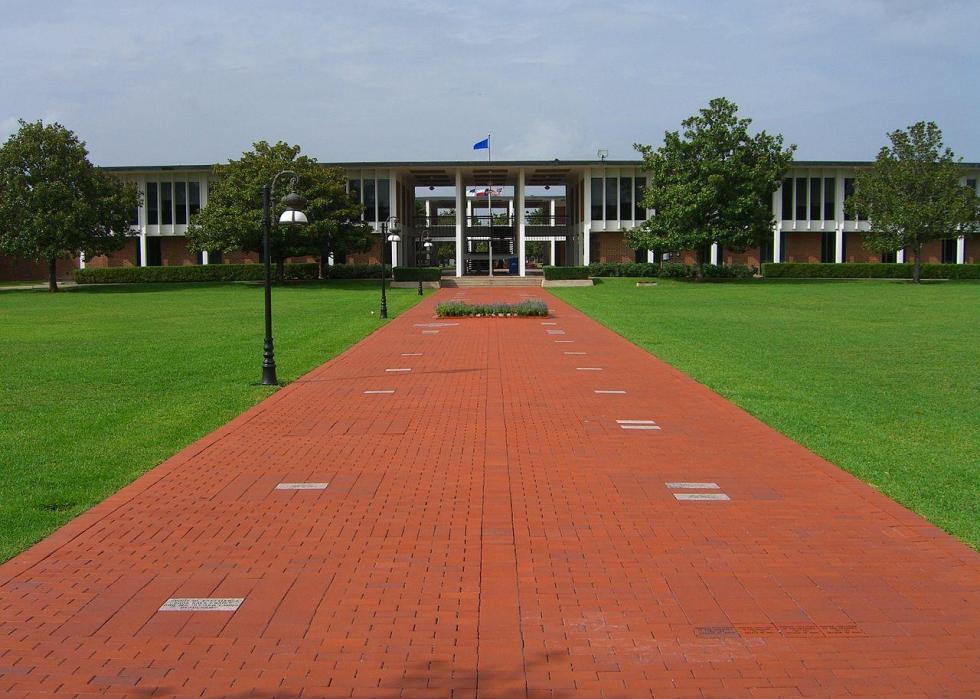 53 / 100
#48. Houston Baptist University
Total applicants in 2007: 4,005
Total applicants in 2016: 15,256
Percent change in applications: 280.92%

Total admissions in 2007: 1,911
Total admissions in 2016: 5,273
Percent change in admissions: 175.93%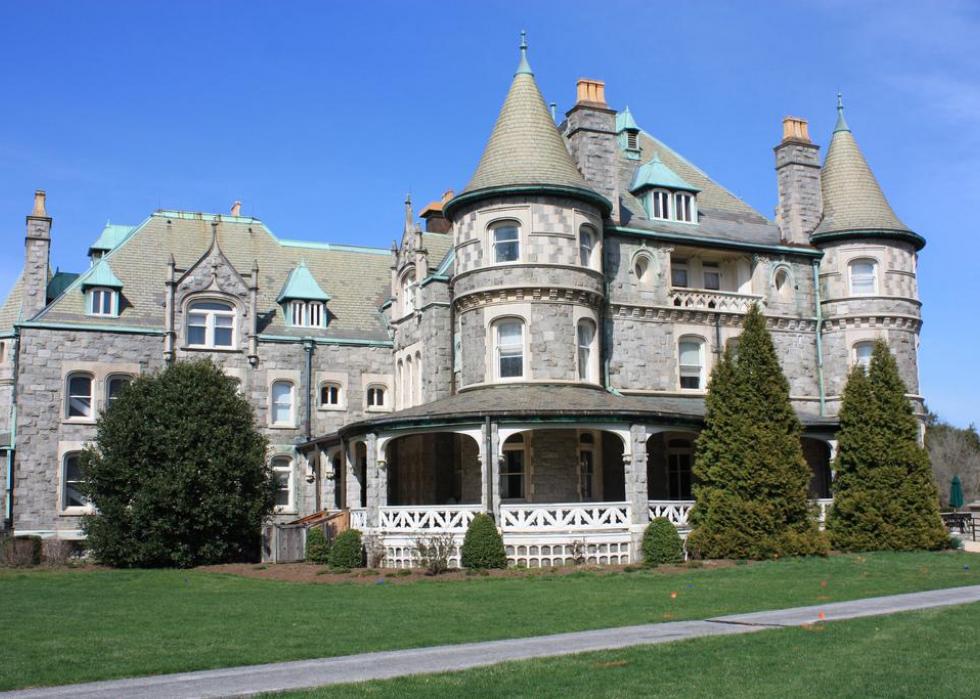 54 / 100
Montgomery County Planning // Flickr
#47. Rosemont College
Total applicants in 2007: 367
Total applicants in 2016: 1,404
Percent change in applications: 282.56%

Total admissions in 2007: 221
Total admissions in 2016: 970
Percent change in admissions: 338.91%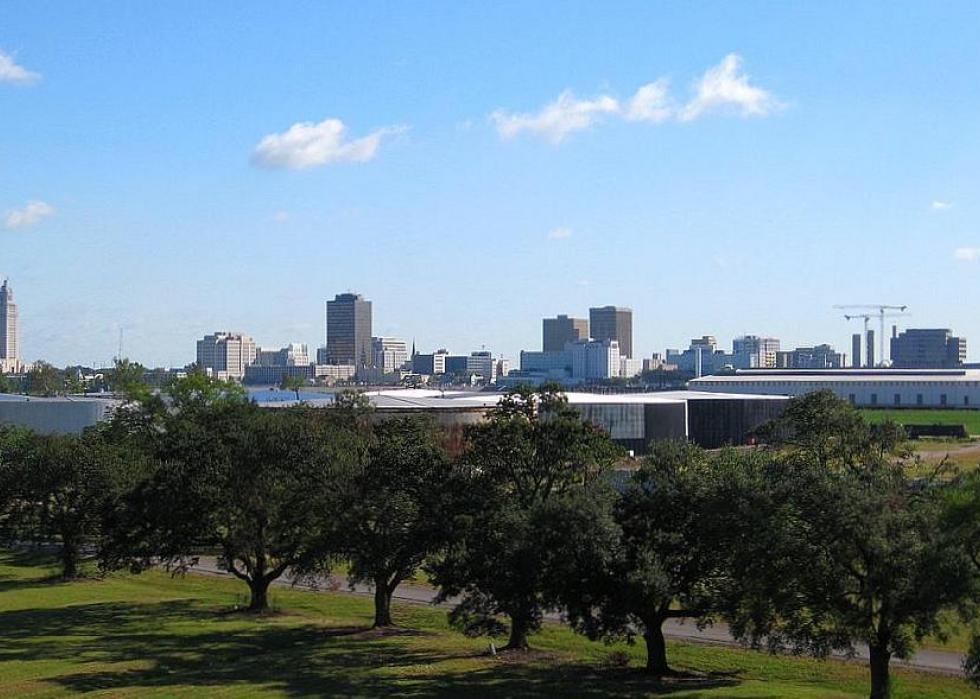 55 / 100
Baton Rouge, Louisiana—UrbanPlanet BR // Wikicommons
#46. Louisiana Culinary Institute
Total applicants in 2007: 29
Total applicants in 2016: 111
Percent change in applications: 282.76%

Total admissions in 2007: 17
Total admissions in 2016: 72
Percent change in admissions: 323.53%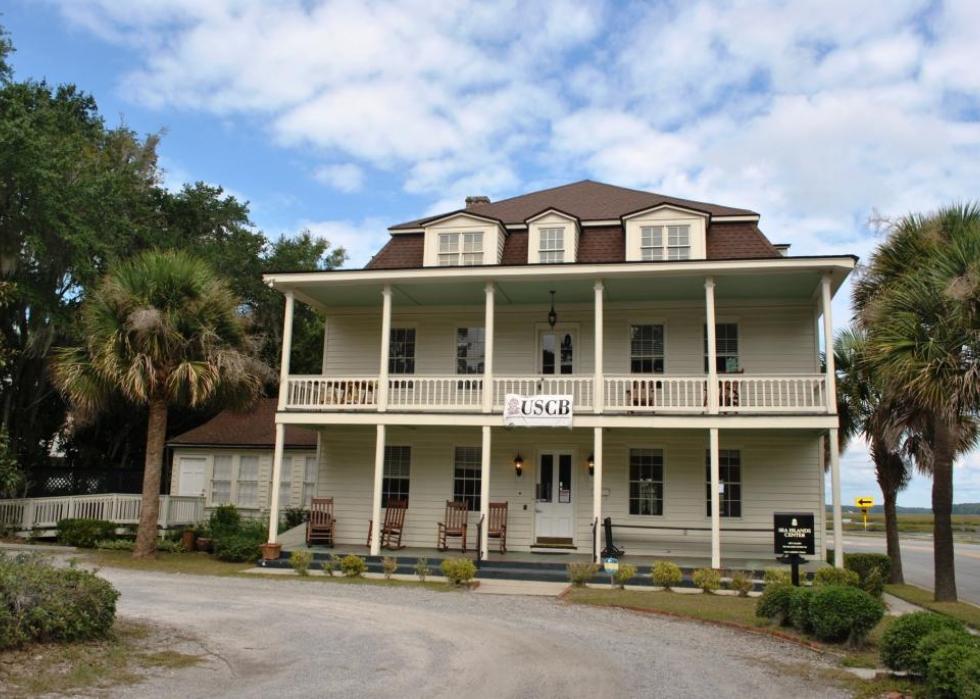 56 / 100
Elisa.rolle // Wikicommon
#45. University of South Carolina-Beaufort
Total applicants in 2007: 561
Total applicants in 2016: 2,148
Percent change in applications: 282.89%

Total admissions in 2007: 411
Total admissions in 2016: 1,399
Percent change in admissions: 240.39%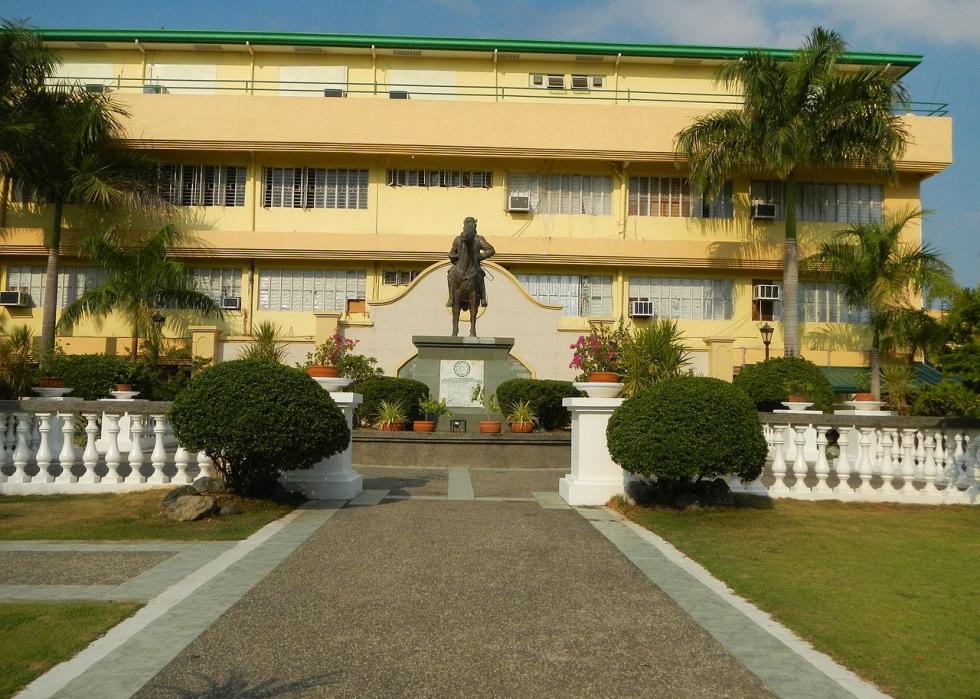 57 / 100
Judgefloro // Wikicommons
#44. John Wesley University
Total applicants in 2007: 42
Total applicants in 2016: 165
Percent change in applications: 292.86%

Total admissions in 2007: 29
Total admissions in 2016: 65
Percent change in admissions: 124.14%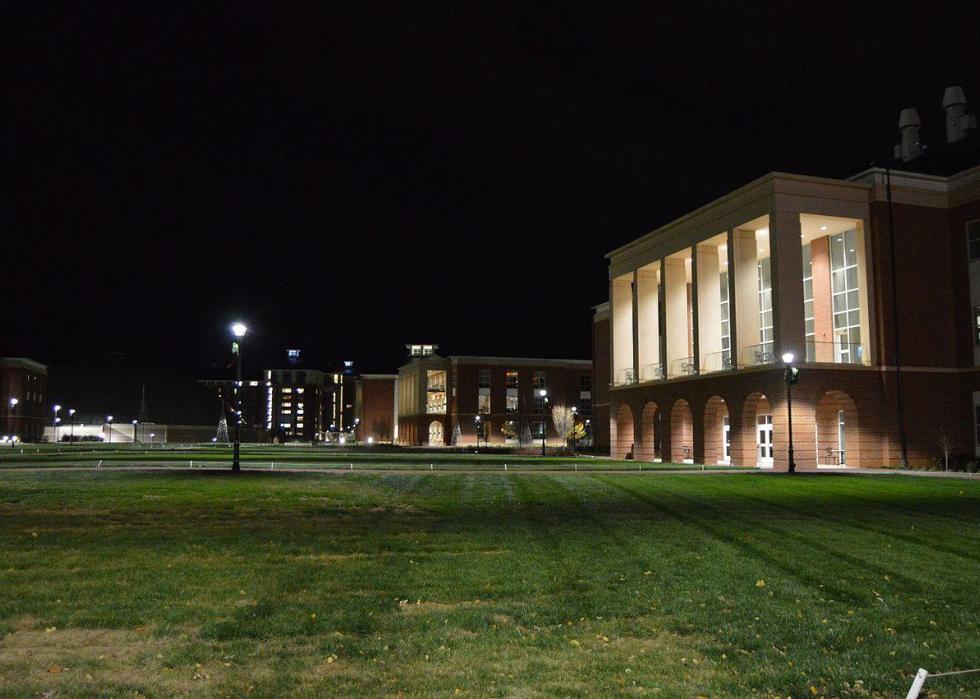 58 / 100
#43. Liberty University
Total applicants in 2007: 9,044
Total applicants in 2016: 35,627
Percent change in applications: 293.93%

Total admissions in 2007: 8,709
Total admissions in 2016: 8,687
Percent change in admissions: -0.25%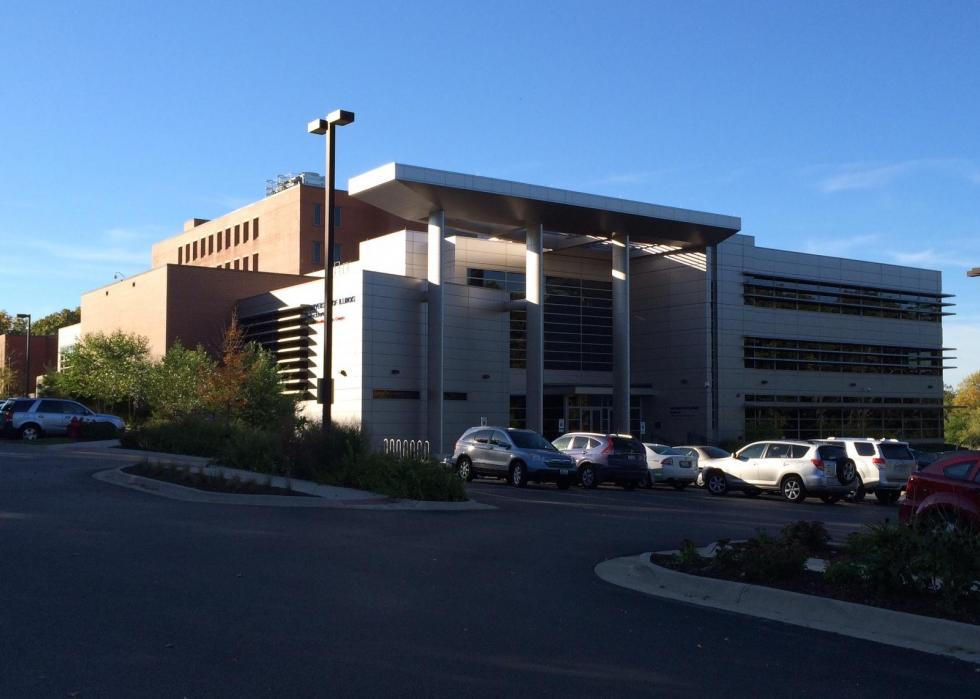 59 / 100
Alexbaumgarner // Wikicommons
#42. Illinois College
Total applicants in 2007: 1,129
Total applicants in 2016: 4,462
Percent change in applications: 295.22%

Total admissions in 2007: 836
Total admissions in 2016: 2,411
Percent change in admissions: 188.40%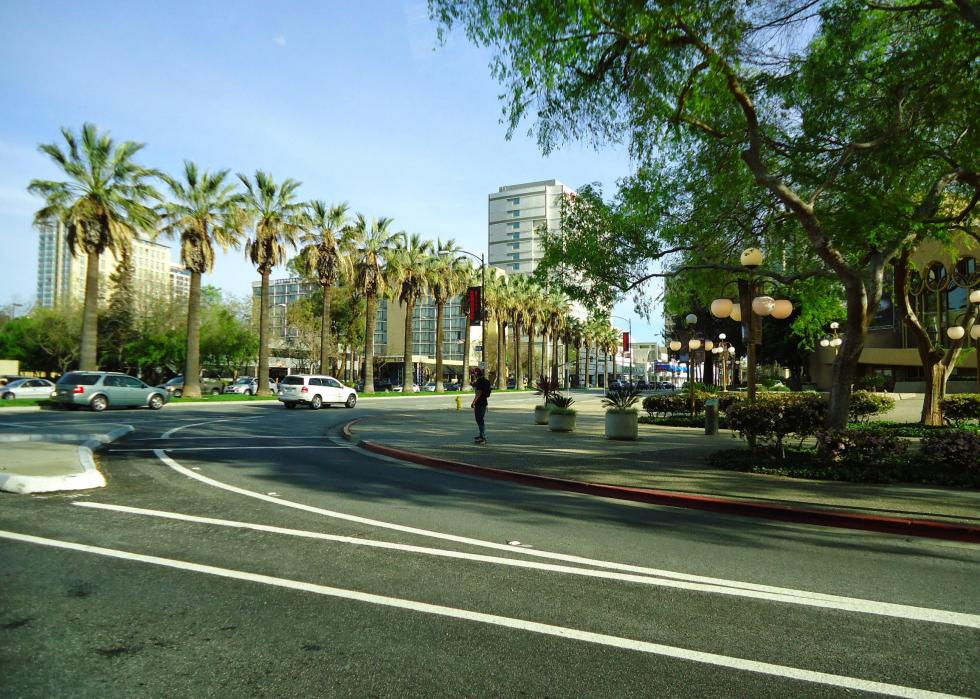 60 / 100
San Jose, California—GoodFreePhotos
#41. Cogswell College
Total applicants in 2007: 71
Total applicants in 2016: 281
Percent change in applications: 295.77%

Total admissions in 2007: 47
Total admissions in 2016: 232
Percent change in admissions: 393.62%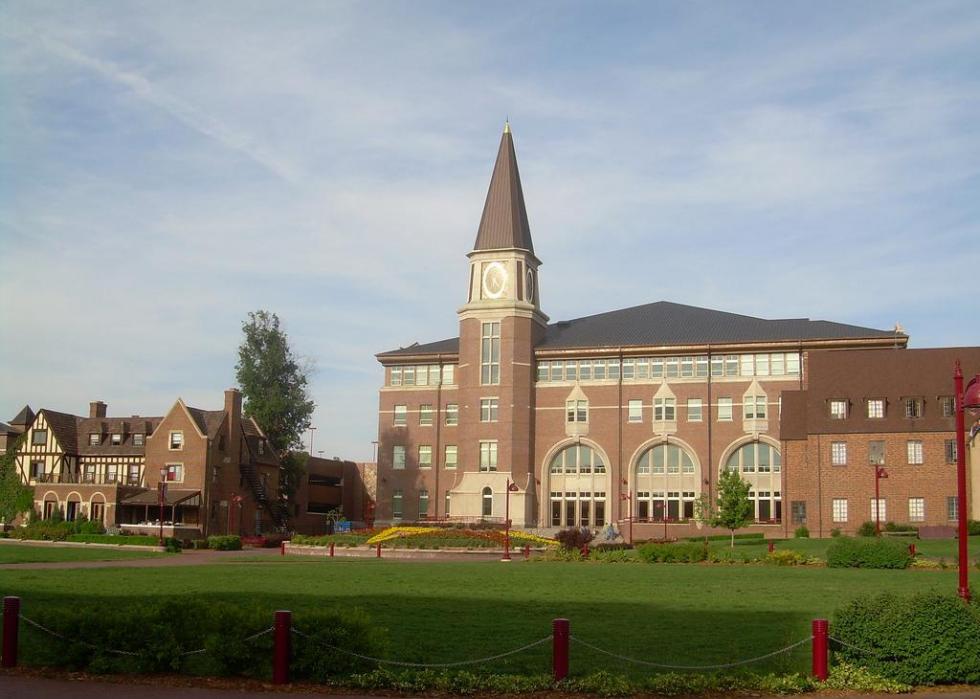 61 / 100
#40. University of Denver
Total applicants in 2007: 5,072
Total applicants in 2016: 20,322
Percent change in applications: 300.67%

Total admissions in 2007: 3,755
Total admissions in 2016: 10,867
Percent change in admissions: 189.40%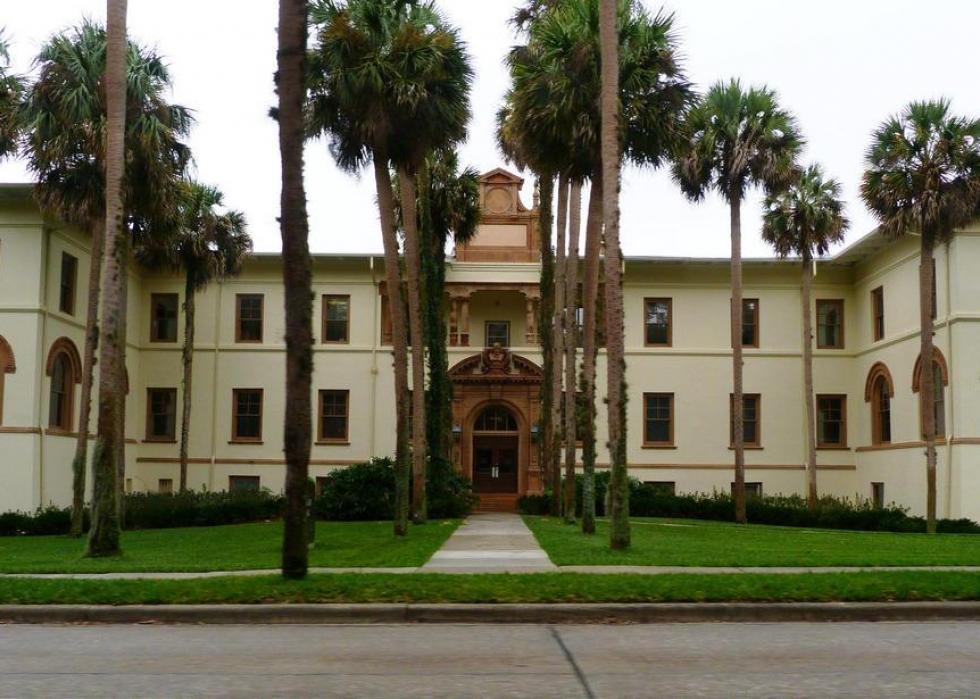 62 / 100
Rusty Clark ~ 100K Photos // Flickr
#39. Stetson University
Total applicants in 2007: 2,948
Total applicants in 2016: 12,130
Percent change in applications: 311.47%

Total admissions in 2007: 1,897
Total admissions in 2016: 7,957
Percent change in admissions: 319.45%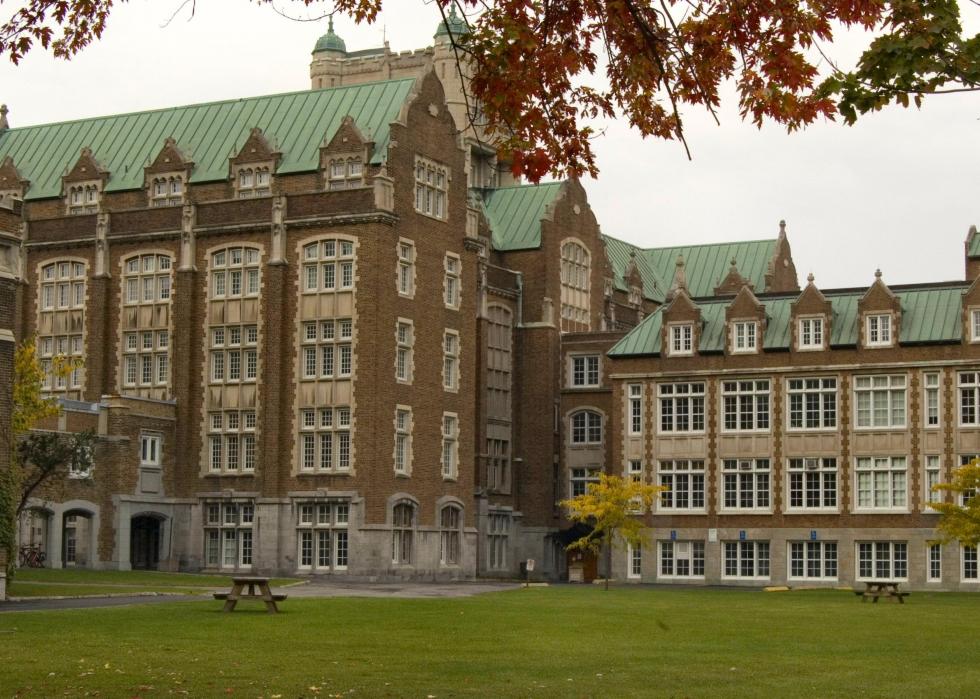 63 / 100
Adqproductions // Wikicommons
#38. Concordia University-Chicago
Total applicants in 2007: 1,164
Total applicants in 2016: 4,802
Percent change in applications: 312.54%

Total admissions in 2007: 691
Total admissions in 2016: 2,386
Percent change in admissions: 245.30%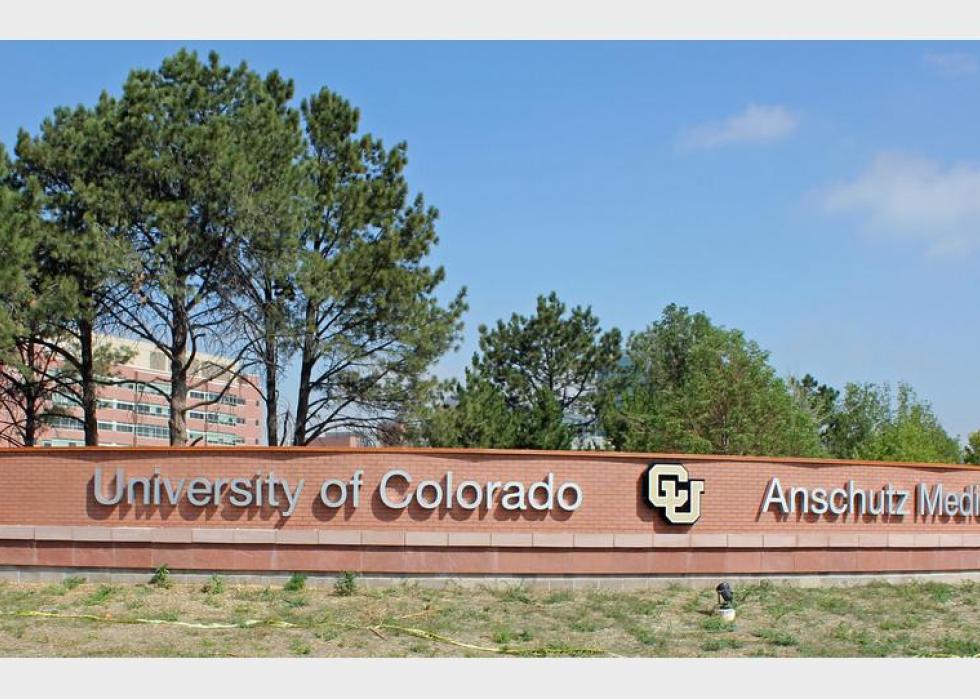 64 / 100
#37. University of Colorado Denver/Anschutz Medical Campus
Total applicants in 2007: 2,969
Total applicants in 2016: 12,252
Percent change in applications: 312.66%

Total admissions in 2007: 2,046
Total admissions in 2016: 7,415
Percent change in admissions: 262.41%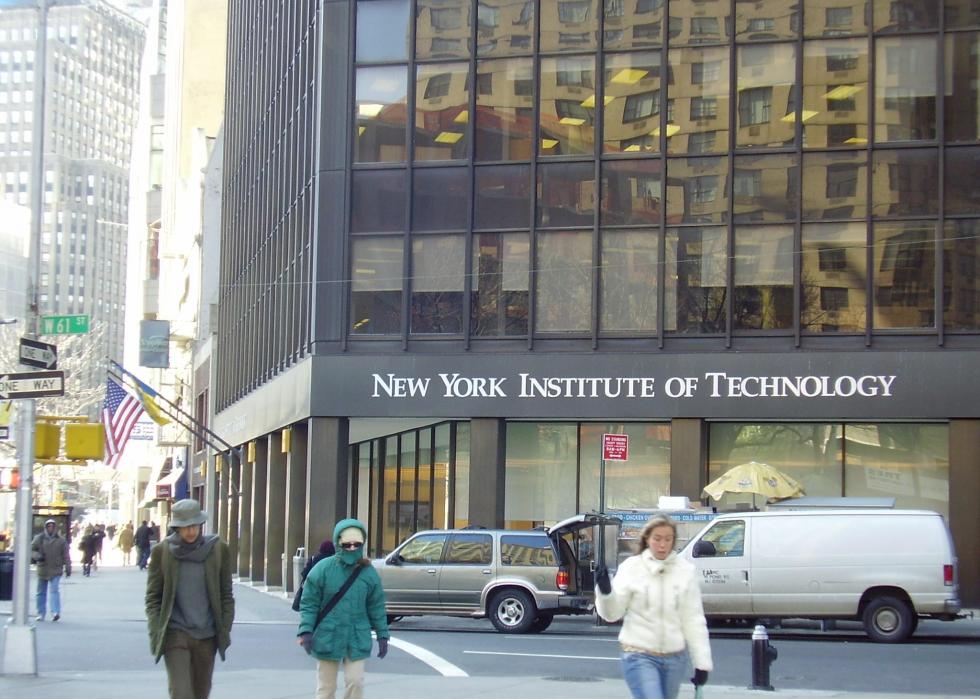 65 / 100
Leginius The Angry // Wikicommons
#36. New York Institute of Technology
Total applicants in 2007: 2,420
Total applicants in 2016: 10,084
Percent change in applications: 316.69%

Total admissions in 2007: 1,835
Total admissions in 2016: 7,316
Percent change in admissions: 298.69%
66 / 100
Jeffrey Beall // Wikicommons
#35. Colorado State University-Pueblo
Total applicants in 2007: 1,698
Total applicants in 2016: 7,131
Percent change in applications: 319.96%

Total admissions in 2007: 1,632
Total admissions in 2016: 6,873
Percent change in admissions: 321.14%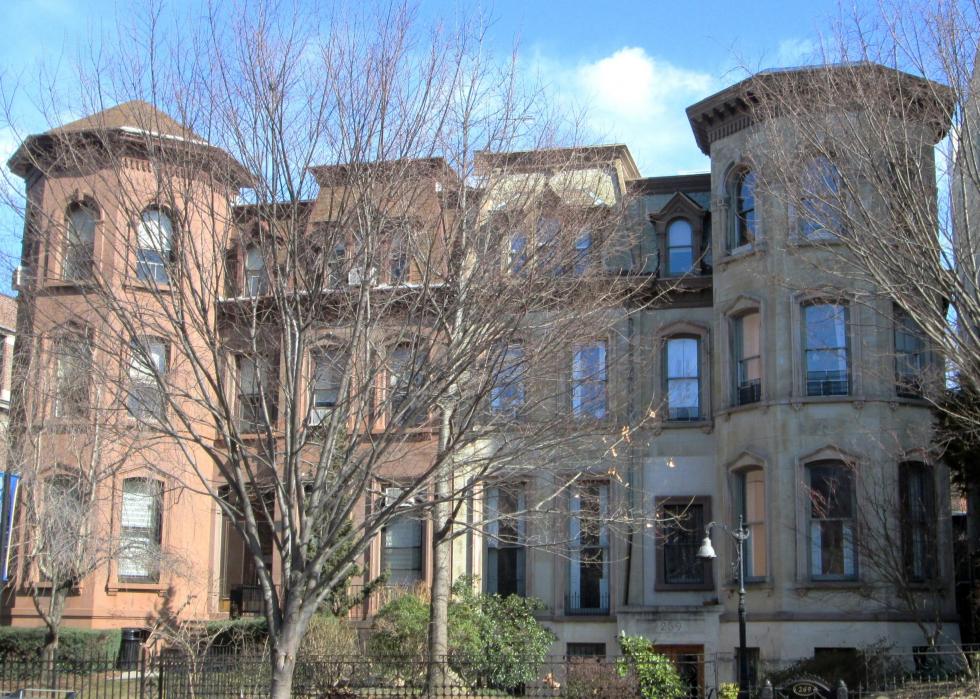 67 / 100
Beyond My Ken // Wikicommons
#34. St. Joseph's College-New York
Total applicants in 2007: 874
Total applicants in 2016: 3,673
Percent change in applications: 320.25%

Total admissions in 2007: 655
Total admissions in 2016: 2,453
Percent change in admissions: 274.50%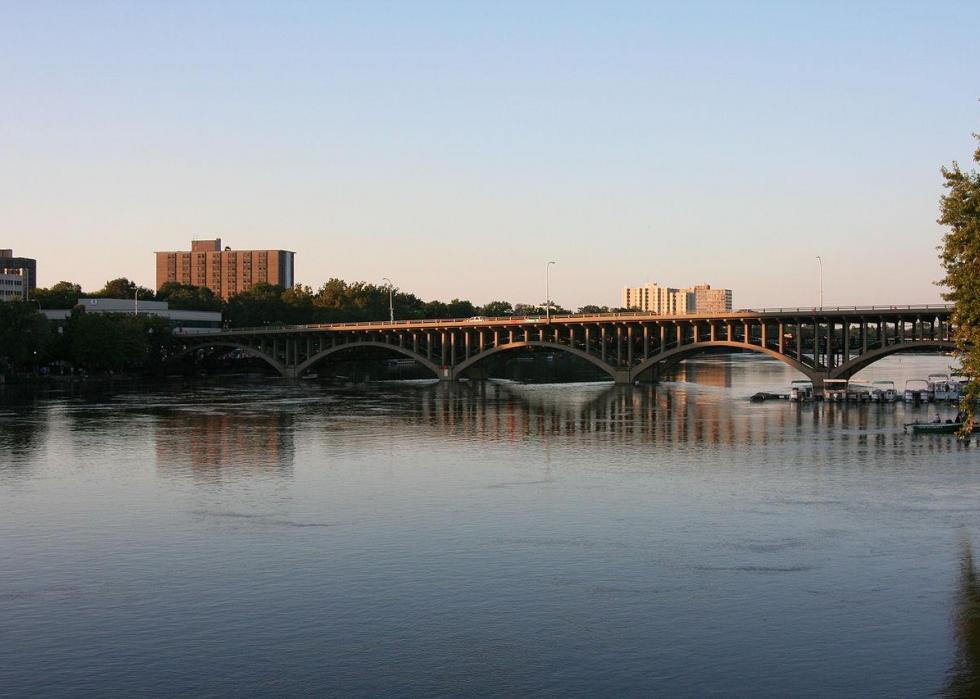 68 / 100
Ben Jacobson // Wikicommons
#33. Rockford University
Total applicants in 2007: 710
Total applicants in 2016: 3,013
Percent change in applications: 324.37%

Total admissions in 2007: 363
Total admissions in 2016: 1,640
Percent change in admissions: 351.79%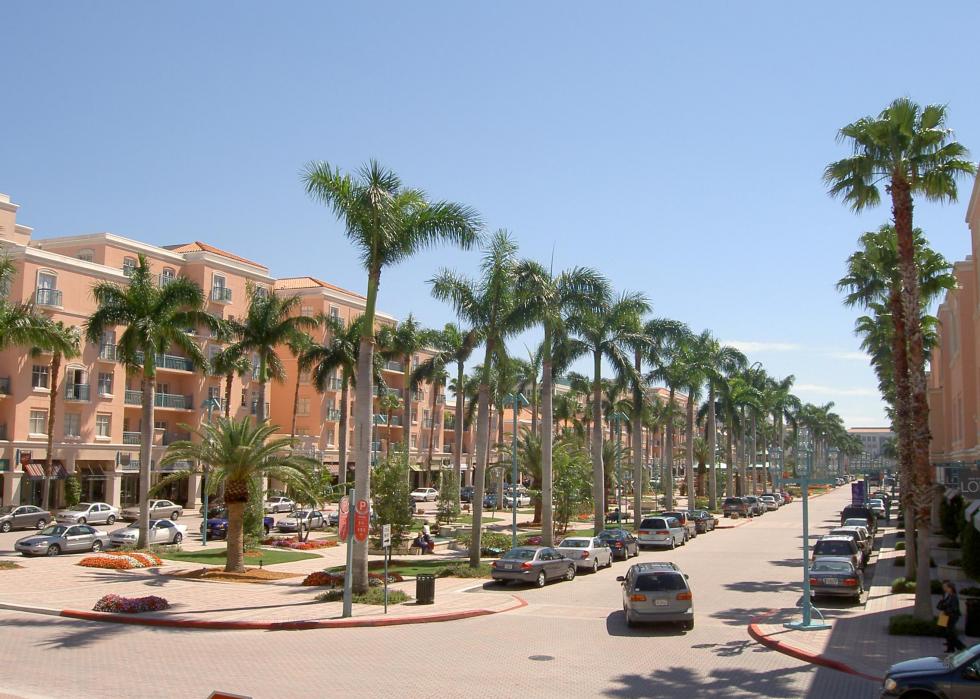 69 / 100
Boca Raton, Florida—Public Domain
#32. Everglades University
Total applicants in 2007: 346
Total applicants in 2016: 1,474
Percent change in applications: 326.01%

Total admissions in 2007: 194
Total admissions in 2016: 1,096
Percent change in admissions: 464.95%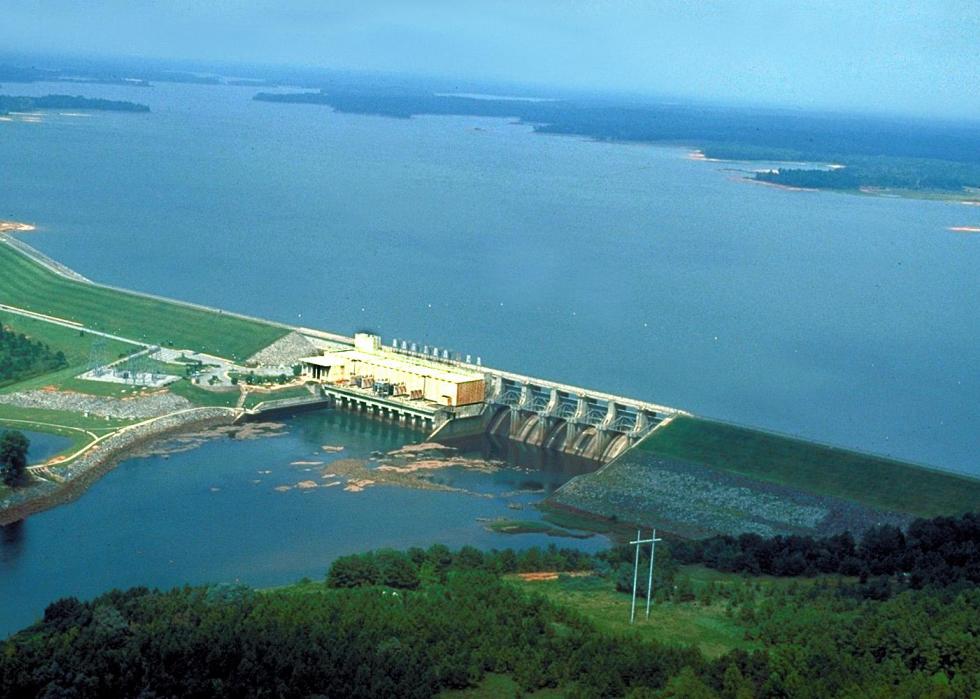 70 / 100
West Point, Georgia—Public Domain
#31. Point University
Total applicants in 2007: 266
Total applicants in 2016: 1,184
Percent change in applications: 345.11%

Total admissions in 2007: 113
Total admissions in 2016: 609
Percent change in admissions: 438.94%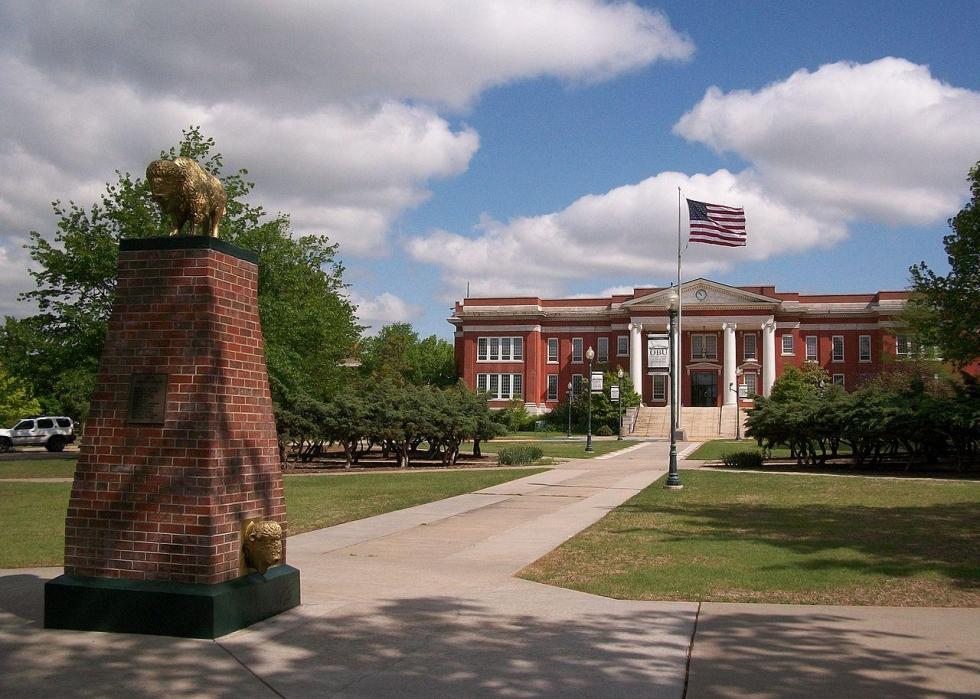 71 / 100
Gigrantula // Wikicommons
#30. Oklahoma Baptist University
Total applicants in 2007: 1,068
Total applicants in 2016: 4,833
Percent change in applications: 352.53%

Total admissions in 2007: 805
Total admissions in 2016: 2,905
Percent change in admissions: 260.87%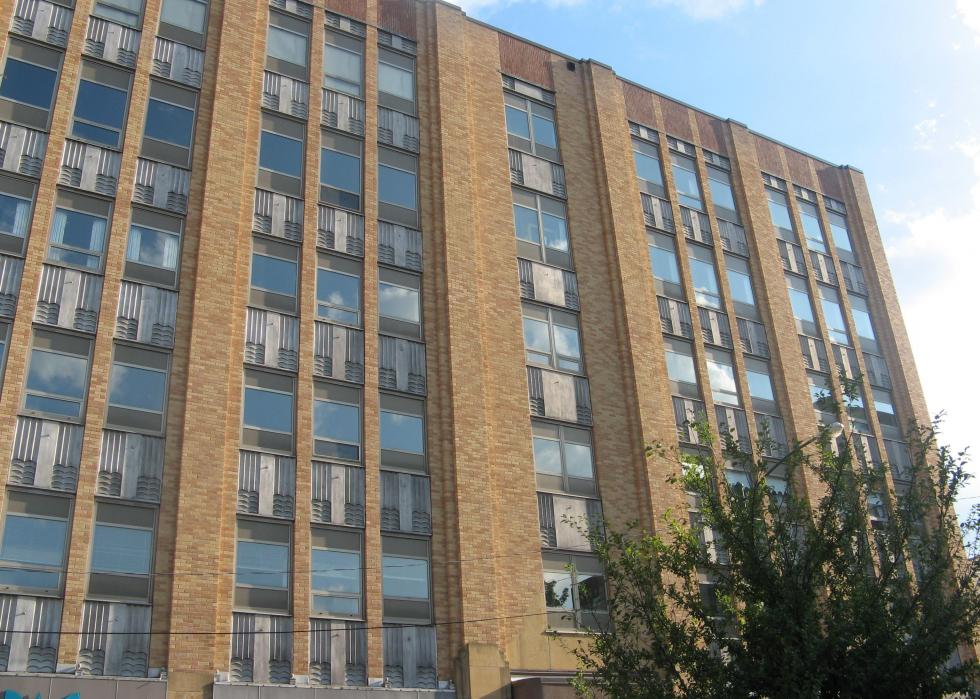 72 / 100
#29. University of Pittsburgh-Bradford
Total applicants in 2007: 834
Total applicants in 2016: 3,808
Percent change in applications: 356.59%

Total admissions in 2007: 661
Total admissions in 2016: 2,003
Percent change in admissions: 203.03%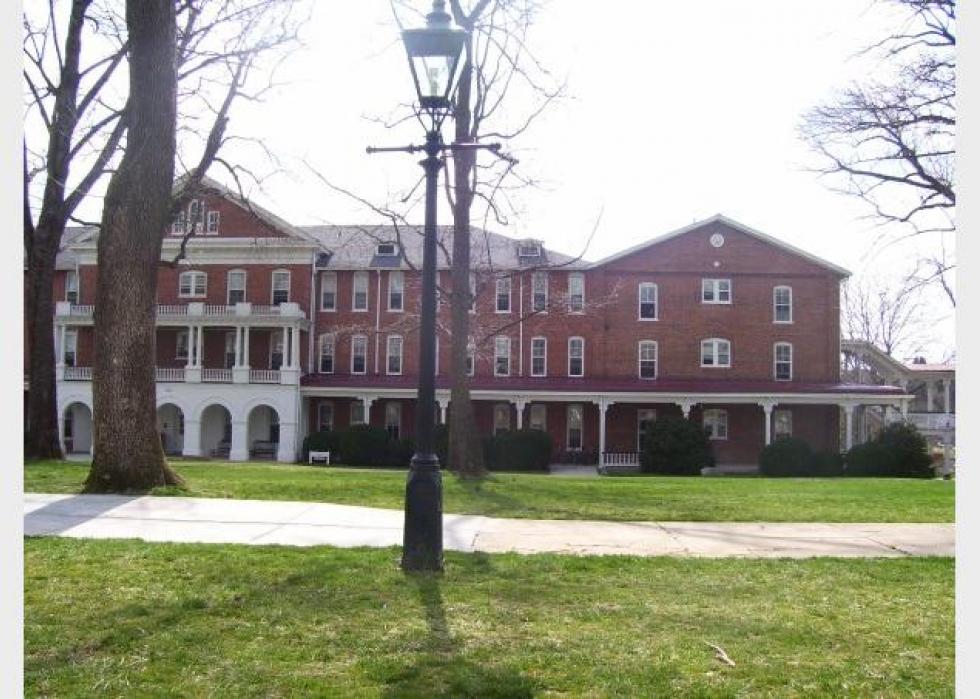 73 / 100
#28. Hollins University
Total applicants in 2007: 634
Total applicants in 2016: 2,901
Percent change in applications: 357.57%

Total admissions in 2007: 559
Total admissions in 2016: 1,737
Percent change in admissions: 210.73%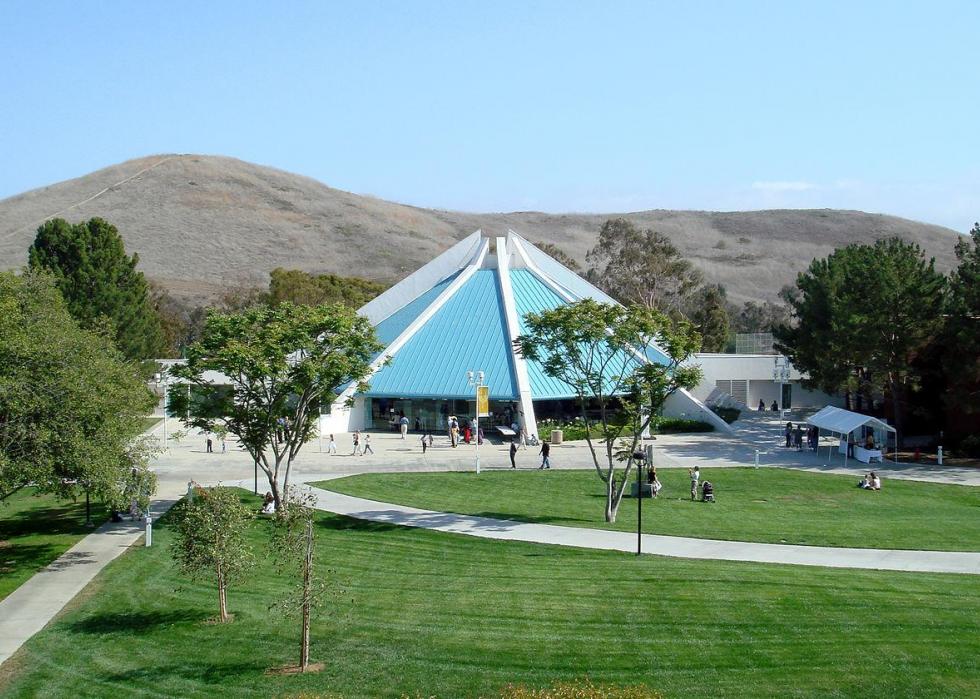 74 / 100
Bobak Ha'Eri // Wikicommons
#27. Concordia University-Irvine
Total applicants in 2007: 828
Total applicants in 2016: 3,839
Percent change in applications: 363.65%

Total admissions in 2007: 558
Total admissions in 2016: 2,497
Percent change in admissions: 347.49%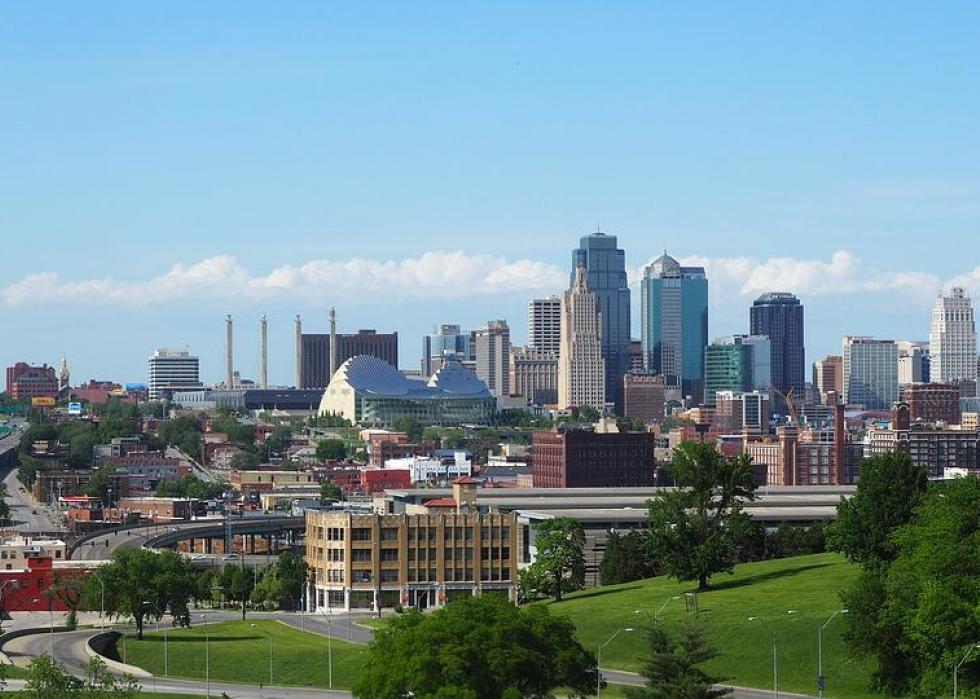 75 / 100
Kansas City, Missouri—Pixabay
#26. Midwestern Baptist Theological Seminary
Total applicants in 2007: 24
Total applicants in 2016: 112
Percent change in applications: 366.67%

Total admissions in 2007: 22
Total admissions in 2016: 111
Percent change in admissions: 404.55%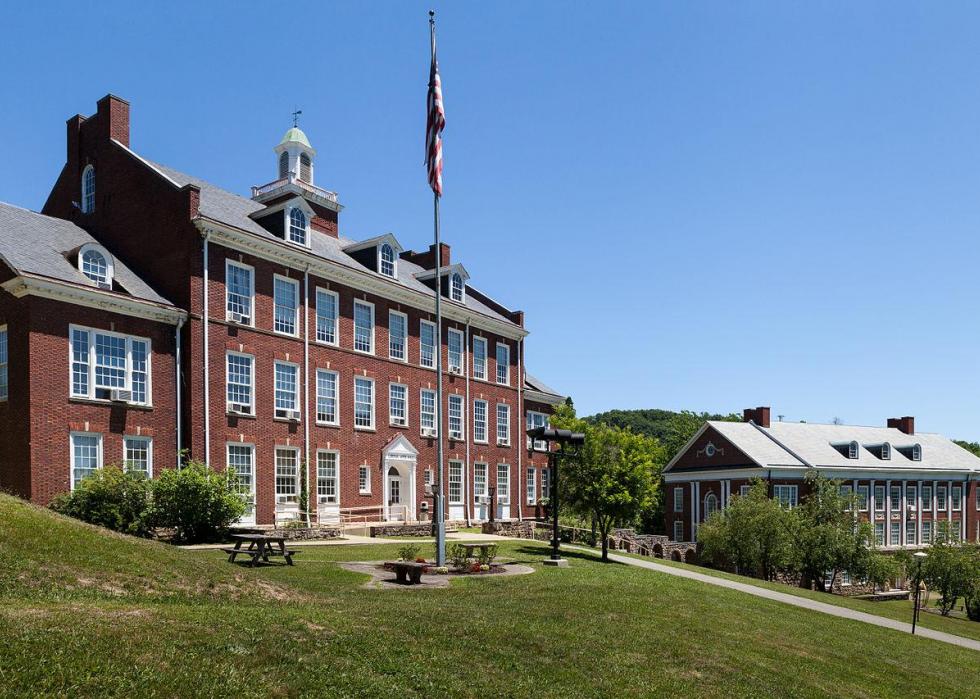 76 / 100
Generic1139 // Wikicommons
#25. Davis & Elkins College
Total applicants in 2007: 384
Total applicants in 2016: 1,853
Percent change in applications: 382.55%

Total admissions in 2007: 262
Total admissions in 2016: 935
Percent change in admissions: 256.87%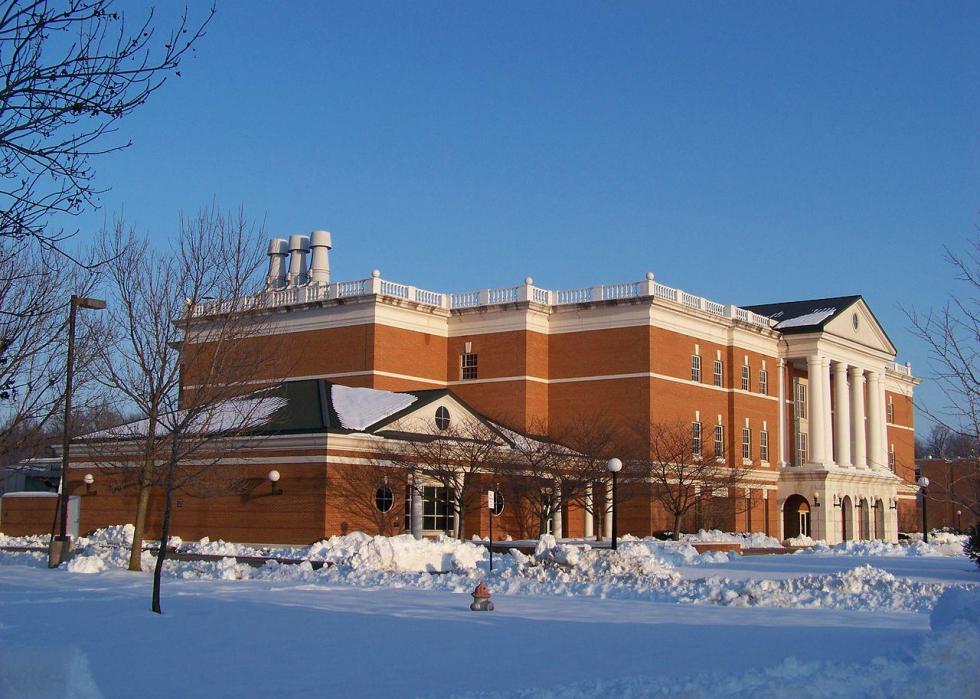 77 / 100
#24. Bridgewater College
Total applicants in 2007: 1,537
Total applicants in 2016: 7,486
Percent change in applications: 387.05%

Total admissions in 2007: 1,290
Total admissions in 2016: 3,949
Percent change in admissions: 206.12%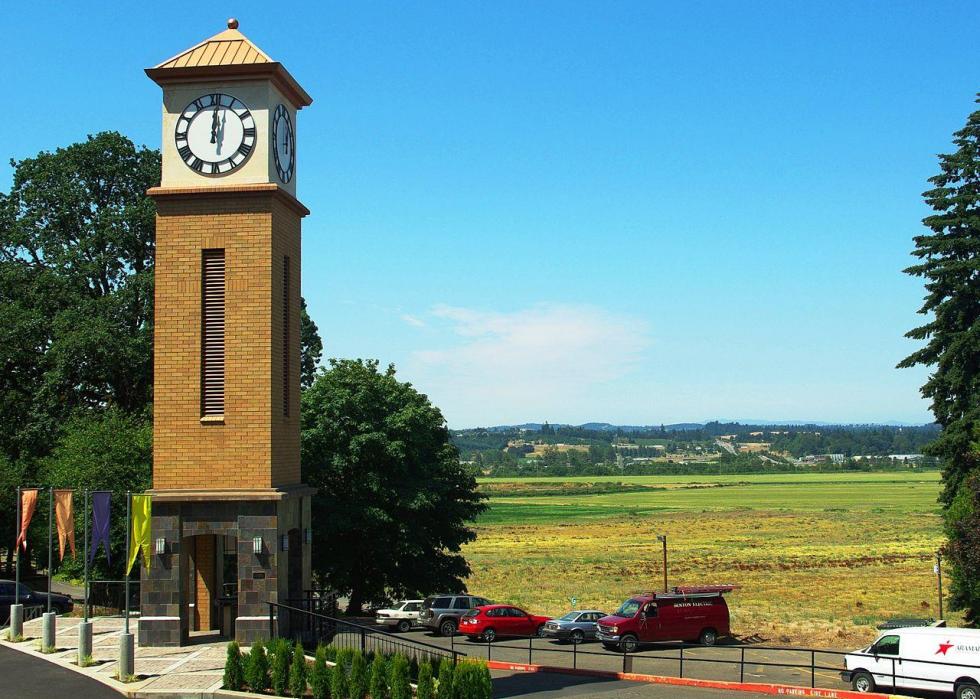 78 / 100
M.O. Stevens // Wikicommons
#23. Corban University
Total applicants in 2007: 498
Total applicants in 2016: 2,474
Percent change in applications: 396.79%

Total admissions in 2007: 403
Total admissions in 2016: 855
Percent change in admissions: 112.16%
79 / 100
Carlosrockwell1 // Wikicommons
#22. Huston-Tillotson University
Total applicants in 2007: 484
Total applicants in 2016: 2,423
Percent change in applications: 400.62%

Total admissions in 2007: 196
Total admissions in 2016: 884
Percent change in admissions: 351.02%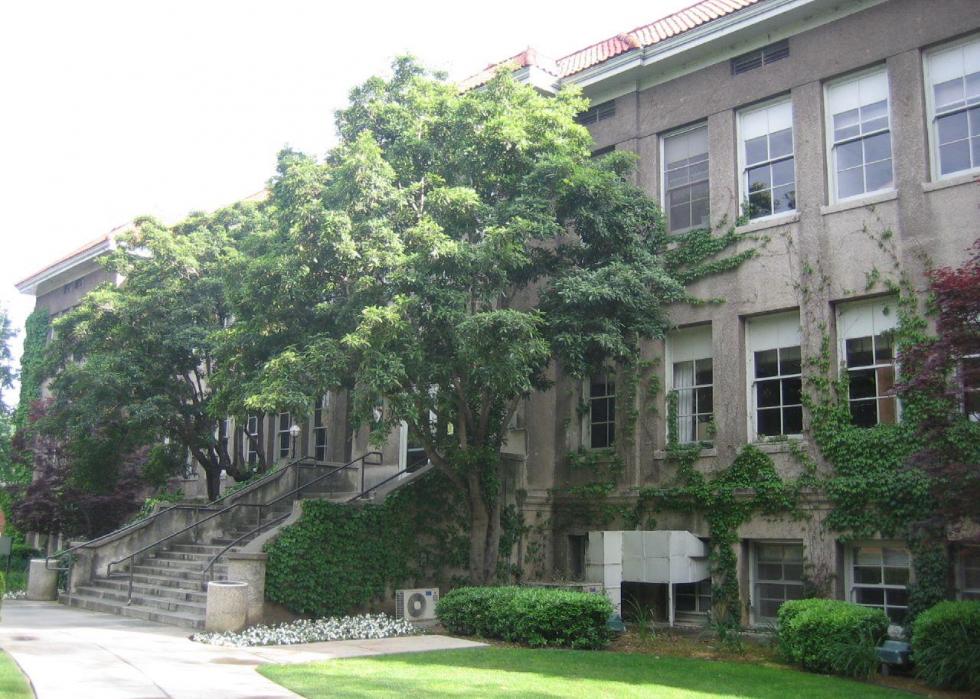 80 / 100
Phu "Son" Nguyan // Wikicommons
#21. University of La Verne
Total applicants in 2007: 1,606
Total applicants in 2016: 8,072
Percent change in applications: 402.62%

Total admissions in 2007: 957
Total admissions in 2016: 3,879
Percent change in admissions: 305.33%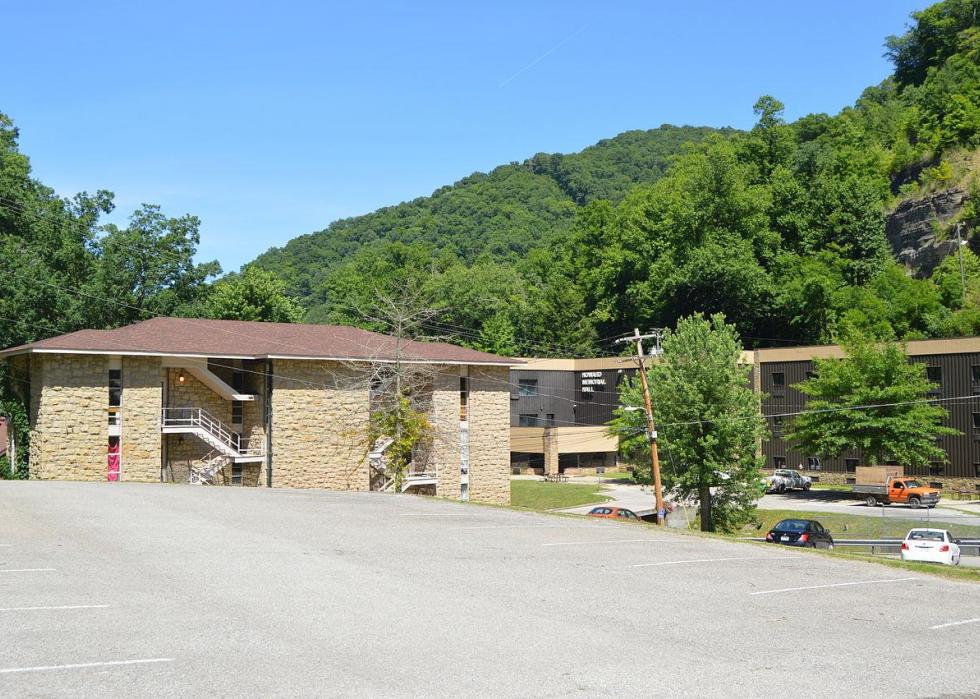 81 / 100
#20. Alice Lloyd College
Total applicants in 2007: 1,254
Total applicants in 2016: 6,337
Percent change in applications: 405.34%

Total admissions in 2007: 587
Total admissions in 2016: 1,406
Percent change in admissions: 139.52%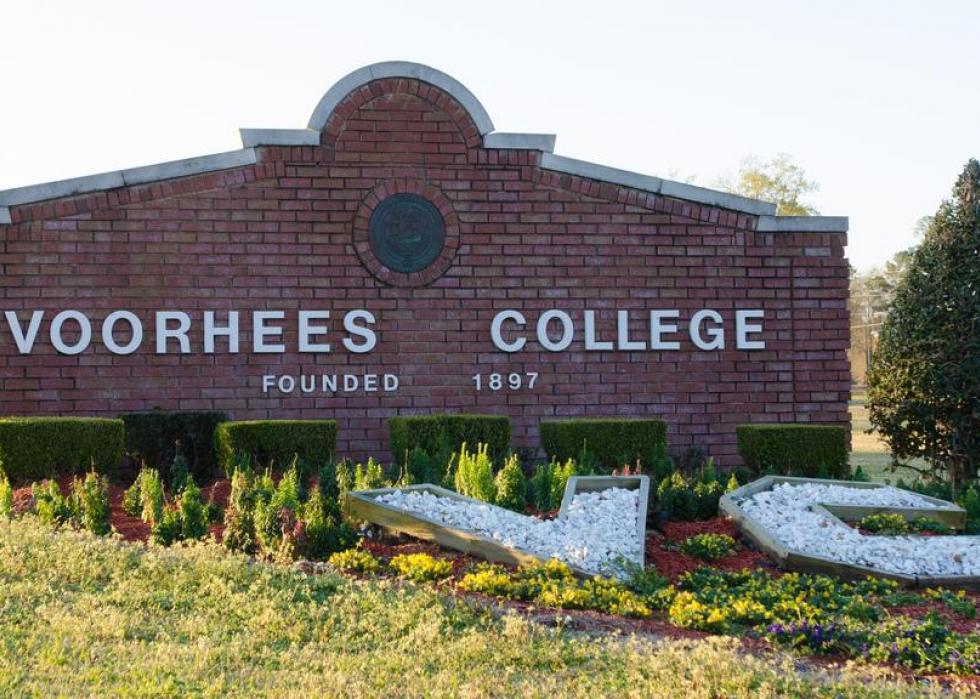 82 / 100
#19. Voorhees College
Total applicants in 2007: 517
Total applicants in 2016: 2,613
Percent change in applications: 405.42%

Total admissions in 2007: 461
Total admissions in 2016: 2,065
Percent change in admissions: 347.94%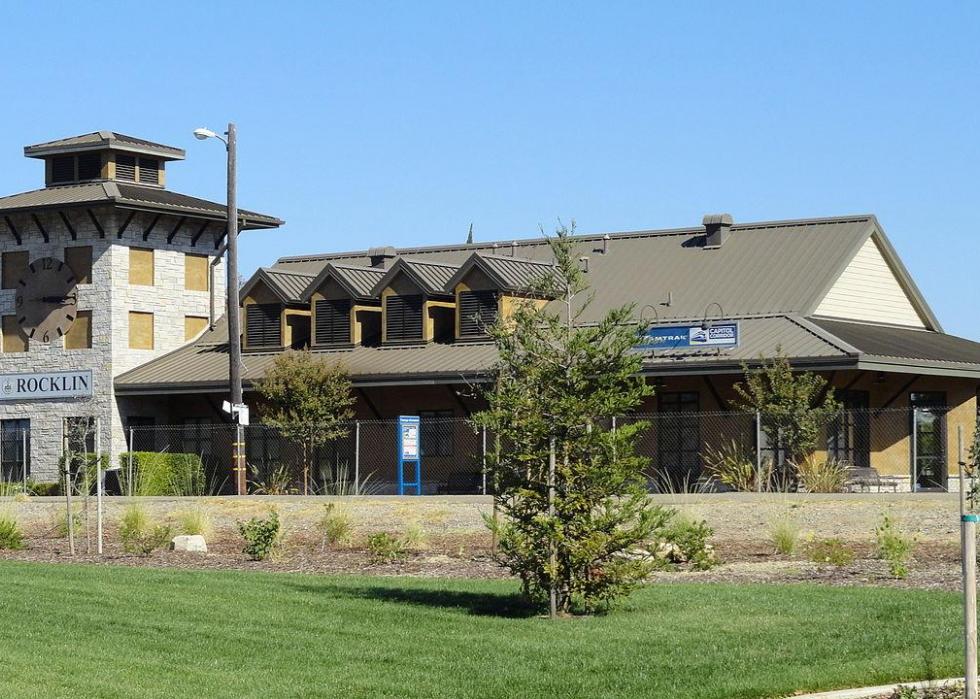 83 / 100
#18. William Jessup University
Total applicants in 2007: 146
Total applicants in 2016: 742
Percent change in applications: 408.22%

Total admissions in 2007: 83
Total admissions in 2016: 538
Percent change in admissions: 548.19%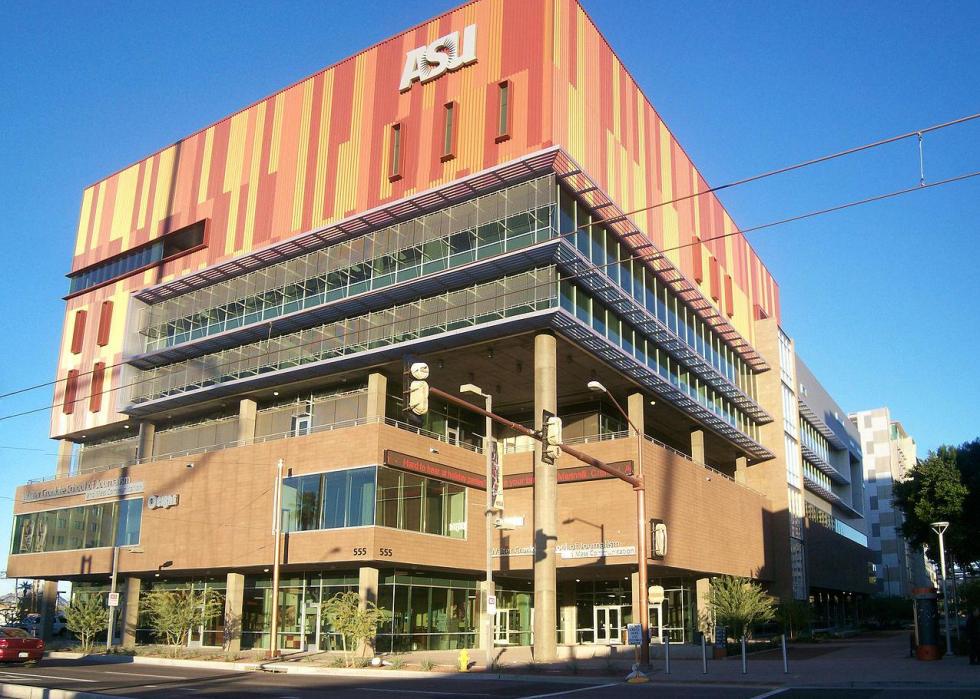 84 / 100
Cygnusloop99 // Wikicommons
#17. Arizona State University-Downtown Phoenix
Total applicants in 2007: 1,023
Total applicants in 2016: 5,224
Percent change in applications: 410.65%

Total admissions in 2007: 897
Total admissions in 2016: 4,007
Percent change in admissions: 346.71%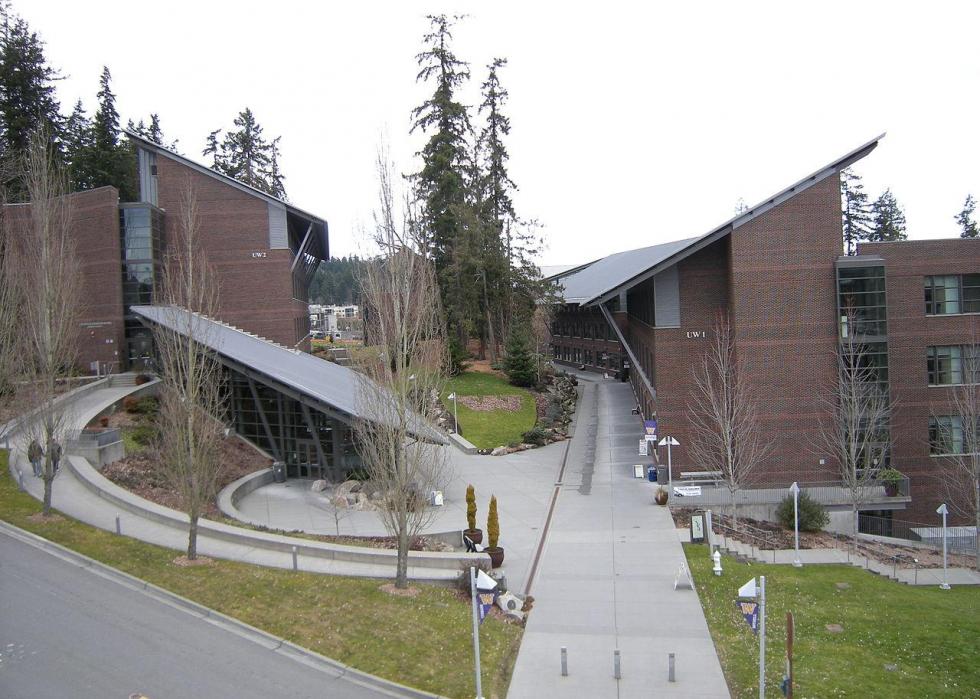 85 / 100
#16. University of Washington-Bothell Campus
Total applicants in 2007: 560
Total applicants in 2016: 3,071
Percent change in applications: 448.39%

Total admissions in 2007: 406
Total admissions in 2016: 2,466
Percent change in admissions: 507.39%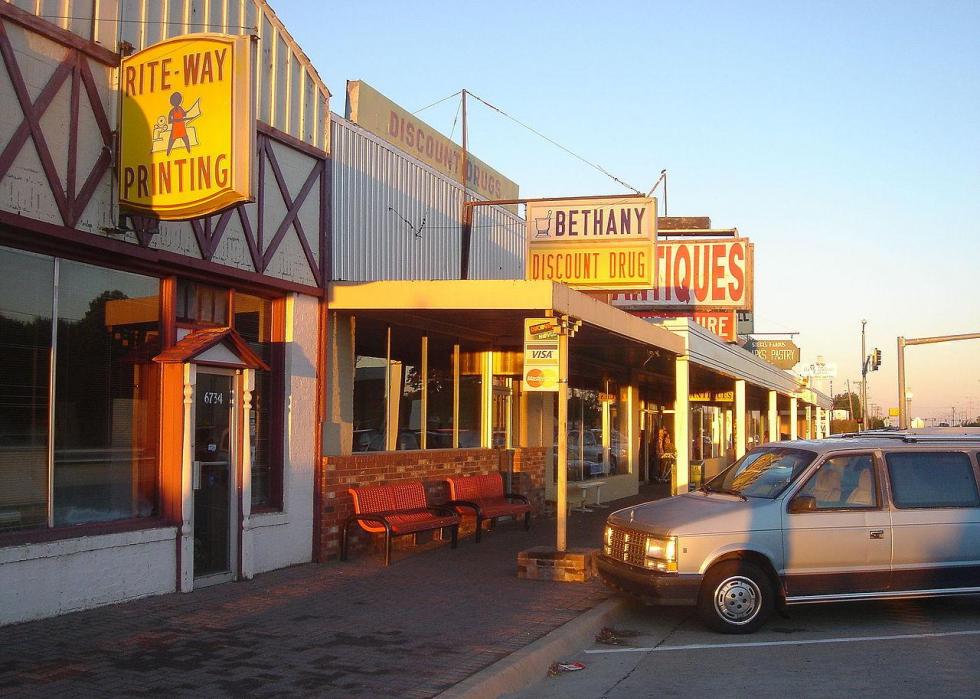 86 / 100
Bethany, Oklahoma—H.L.I.T. // Wikicommons
#15. Southwestern Christian University
Total applicants in 2007: 98
Total applicants in 2016: 579
Percent change in applications: 490.82%

Total admissions in 2007: 66
Total admissions in 2016: 238
Percent change in admissions: 260.61%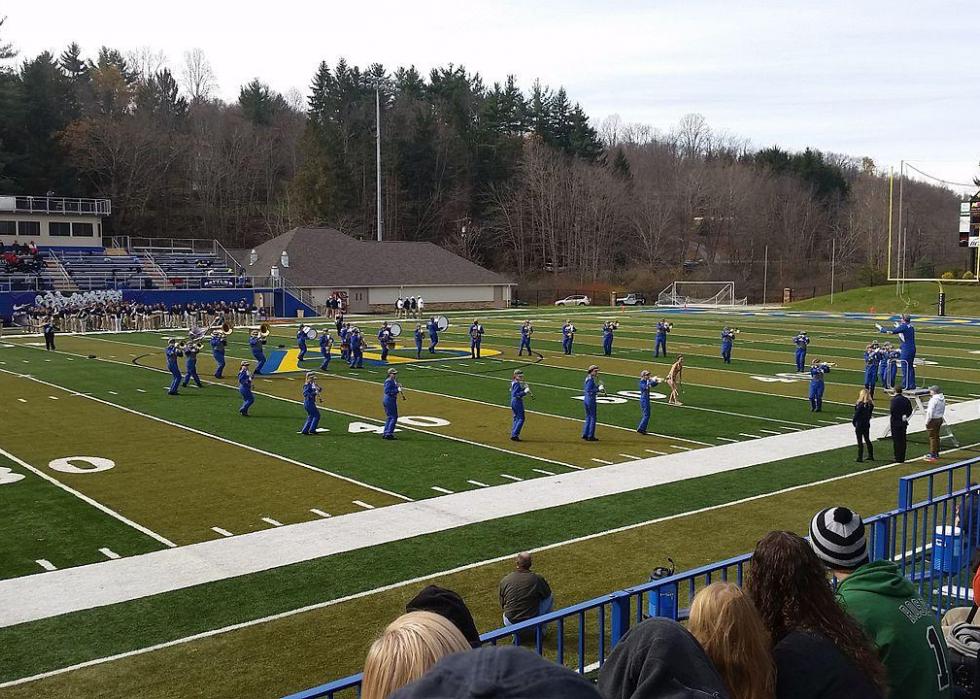 87 / 100
#14. Alderson Broaddus University
Total applicants in 2007: 671
Total applicants in 2016: 4,103
Percent change in applications: 511.48%

Total admissions in 2007: 471
Total admissions in 2016: 1,698
Percent change in admissions: 260.51%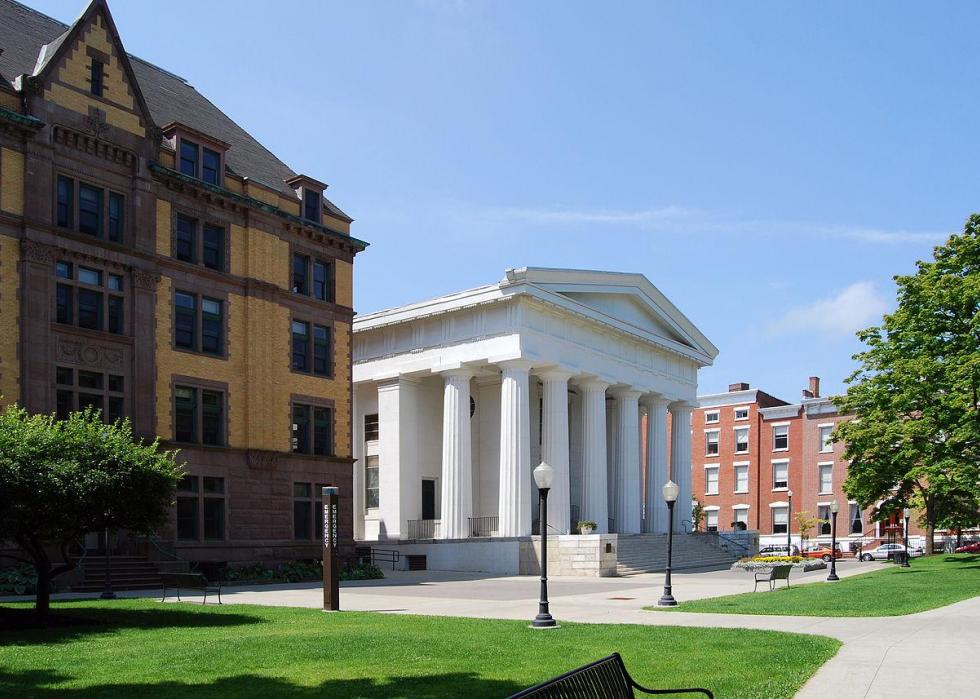 88 / 100
UpstateNYer // Wikicommons
#13. The Sage Colleges
Total applicants in 2007: 340
Total applicants in 2016: 2,117
Percent change in applications: 522.65%

Total admissions in 2007: 259
Total admissions in 2016: 1,220
Percent change in admissions: 371.04%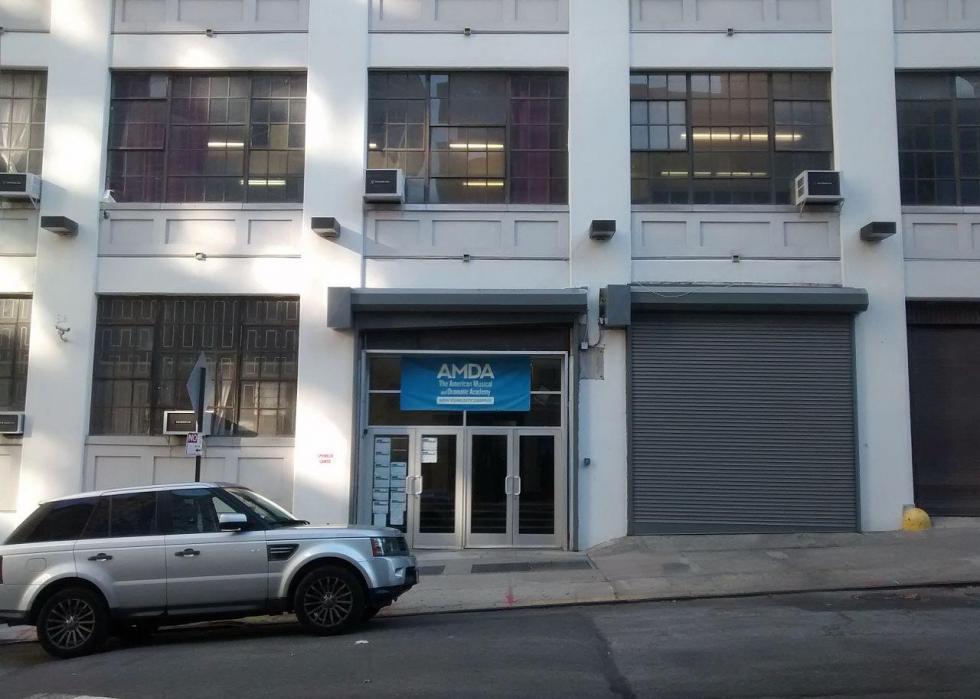 89 / 100
#12. American Musical and Dramatic Academy
Total applicants in 2007: 1,489
Total applicants in 2016: 9,704
Percent change in applications: 551.71%

Total admissions in 2007: 1,011
Total admissions in 2016: 2,125
Percent change in admissions: 110.19%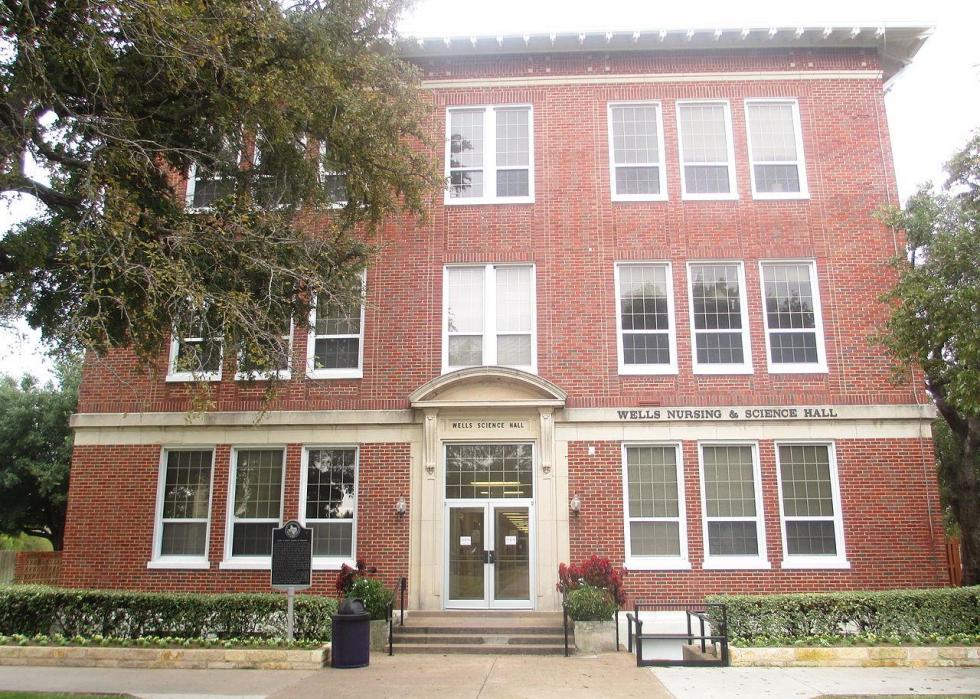 90 / 100
Billy Hathorn // Wikicommons
#11. University of Mary Hardin-Baylor
Total applicants in 2007: 1,258
Total applicants in 2016: 8,954
Percent change in applications: 611.76%

Total admissions in 2007: 962
Total admissions in 2016: 7,056
Percent change in admissions: 633.47%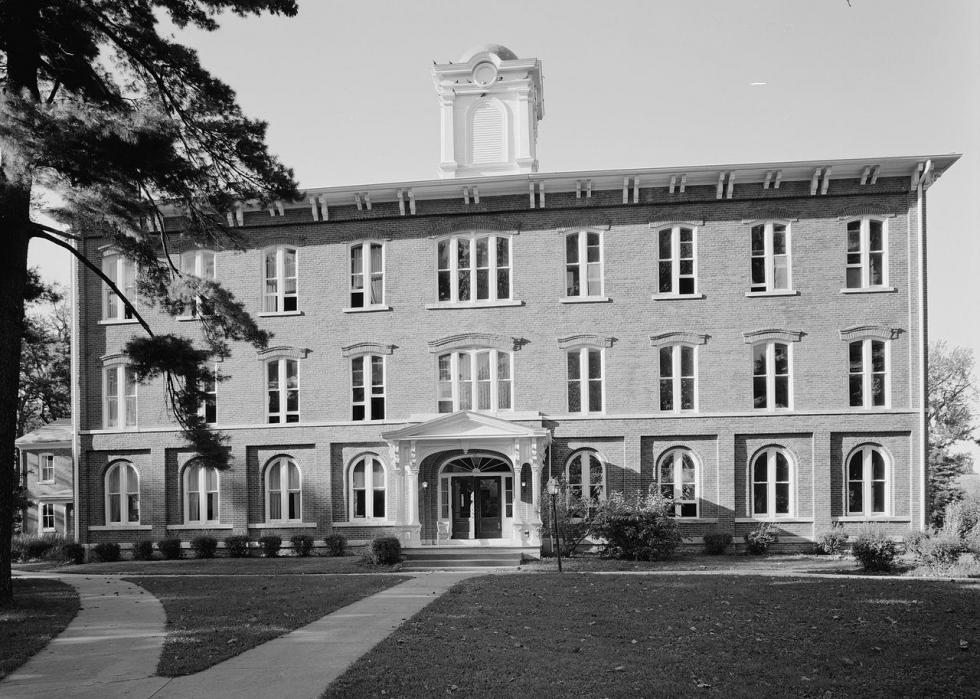 91 / 100
Iowa Wesleyan in 1977—Public Domain
#10. Iowa Wesleyan University
Total applicants in 2007: 757
Total applicants in 2016: 5,449
Percent change in applications: 619.82%

Total admissions in 2007: 465
Total admissions in 2016: 2,773
Percent change in admissions: 496.34%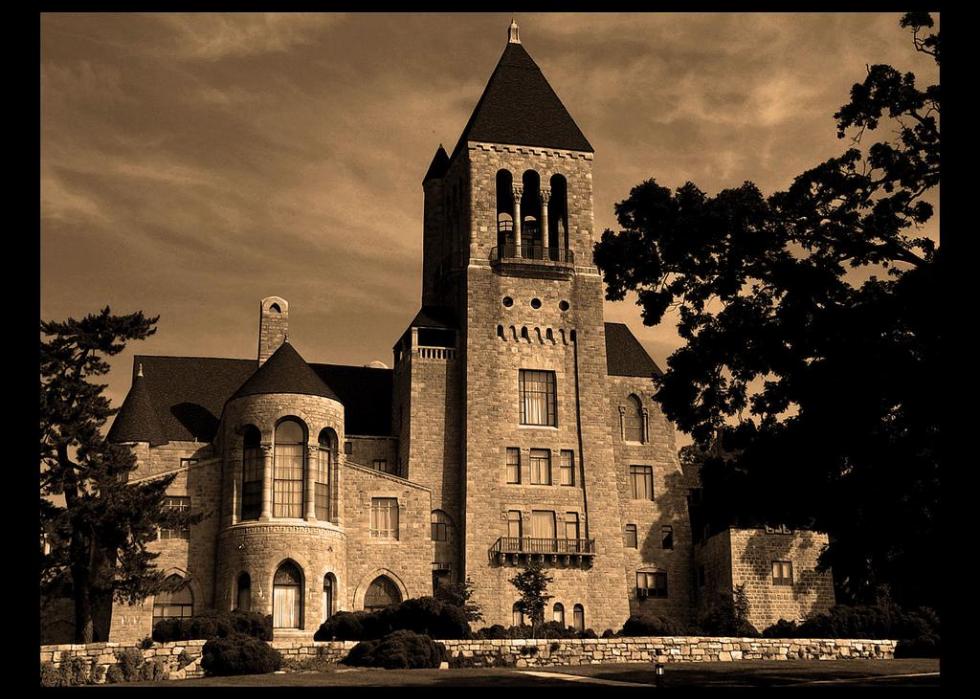 92 / 100
#9. Bryn Athyn College of the New Church
Total applicants in 2007: 59
Total applicants in 2016: 439
Percent change in applications: 644.07%

Total admissions in 2007: 57
Total admissions in 2016: 185
Percent change in admissions: 224.56%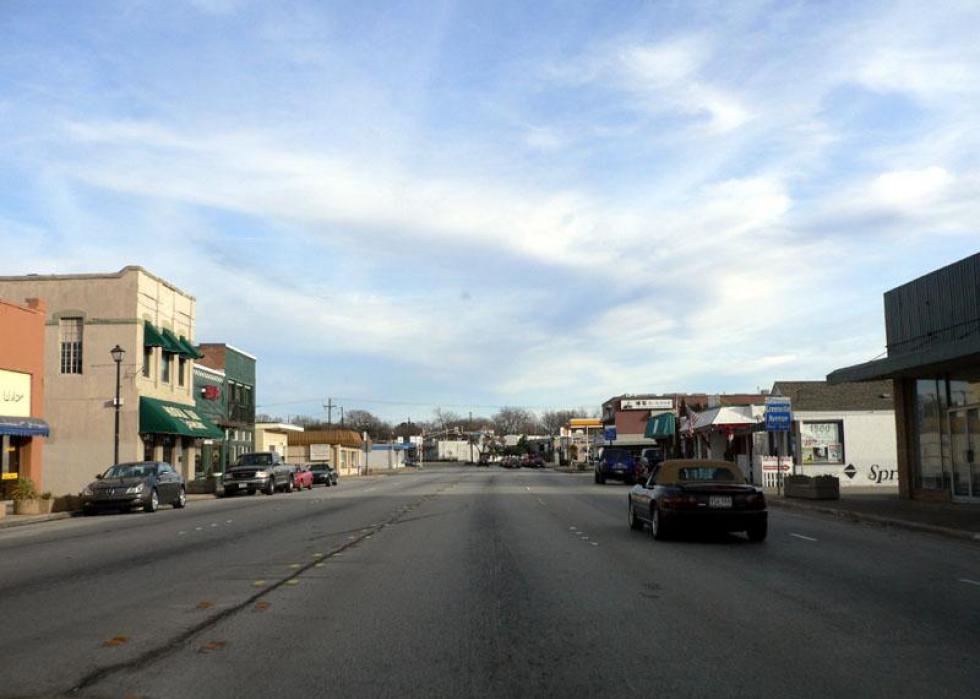 93 / 100
NathanBeach // Wikicommons
#8. Dallas Nursing Institute
Total applicants in 2007: 89
Total applicants in 2016: 692
Percent change in applications: 677.53%

Total admissions in 2007: 89
Total admissions in 2016: 77
Percent change in admissions: -13.48%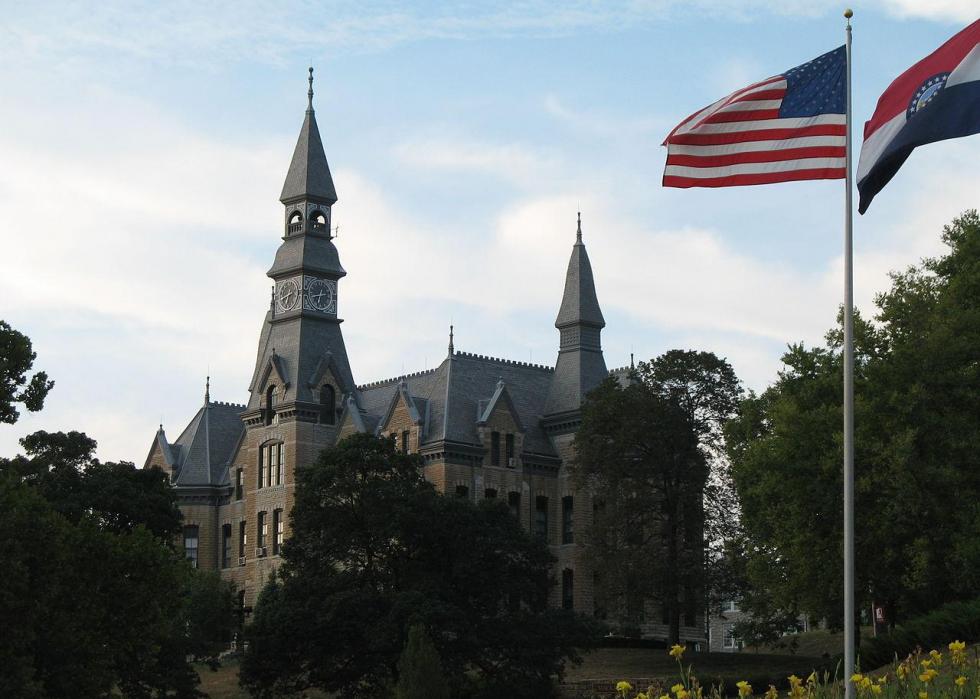 94 / 100
Americasroof // Wikicommons
#7. Park University
Total applicants in 2007: 523
Total applicants in 2016: 4,152
Percent change in applications: 693.88%

Total admissions in 2007: 383
Total admissions in 2016: 3,511
Percent change in admissions: 816.71%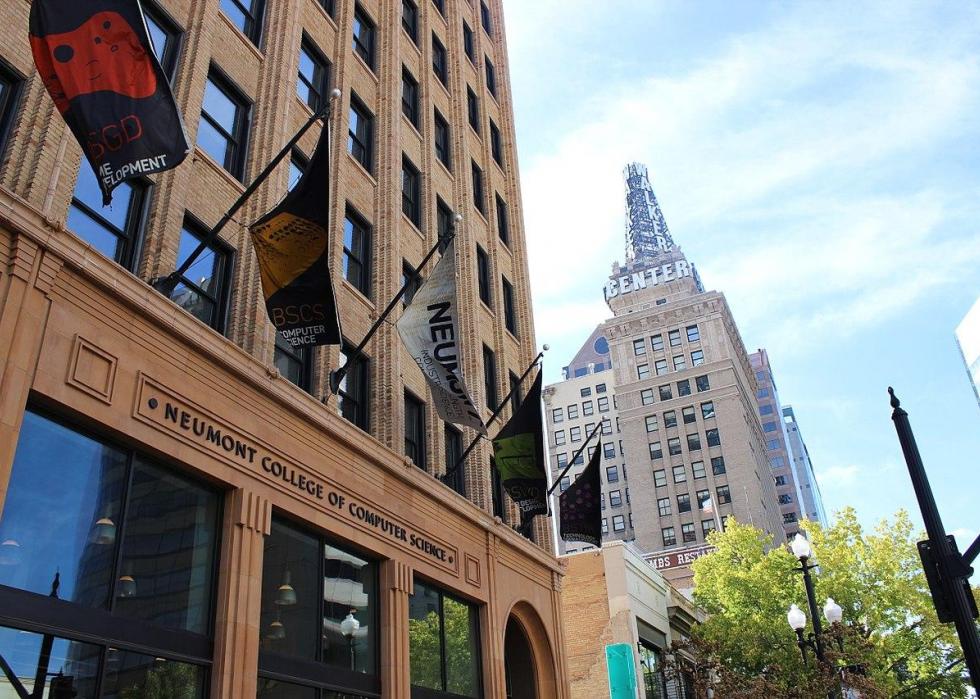 95 / 100
#6. Neumont College of Computer Science
Total applicants in 2007: 90
Total applicants in 2016: 829
Percent change in applications: 821.11%

Total admissions in 2007: 85
Total admissions in 2016: 683
Percent change in admissions: 703.53%
96 / 100
DebateLord // Wikicommons
#5. Regent University
Total applicants in 2007: 175
Total applicants in 2016: 2,008
Percent change in applications: 1,047.43%

Total admissions in 2007: 105
Total admissions in 2016: 1,627
Percent change in admissions: 1,449.52%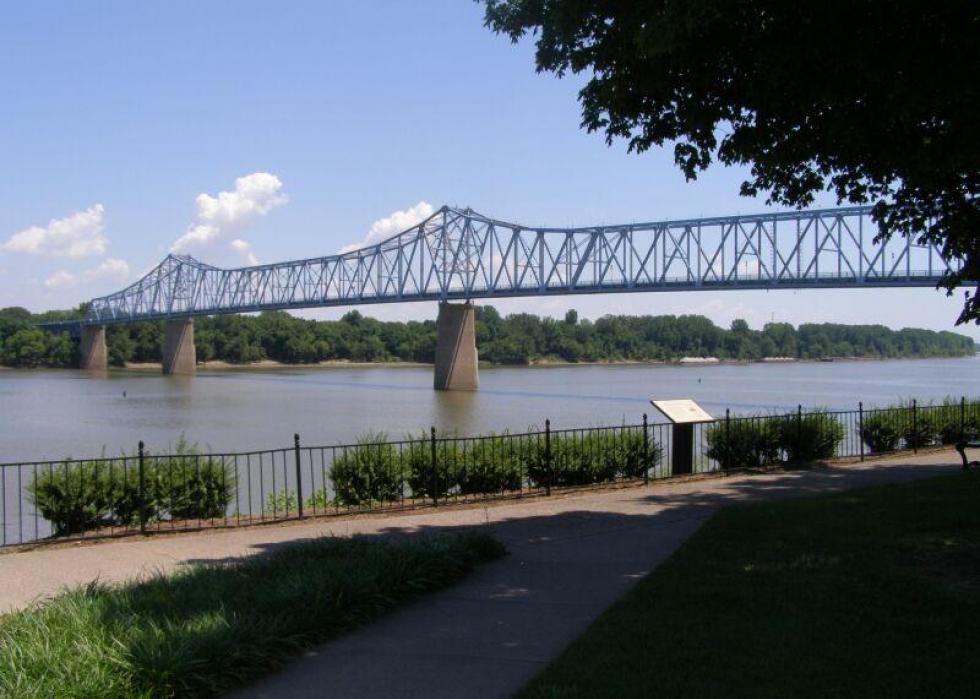 97 / 100
Chris Light // Wikicommons
#4. Brescia University
Total applicants in 2007: 382
Total applicants in 2016: 4,565
Percent change in applications: 1,095.03%

Total admissions in 2007: 280
Total admissions in 2016: 2,135
Percent change in admissions: 662.50%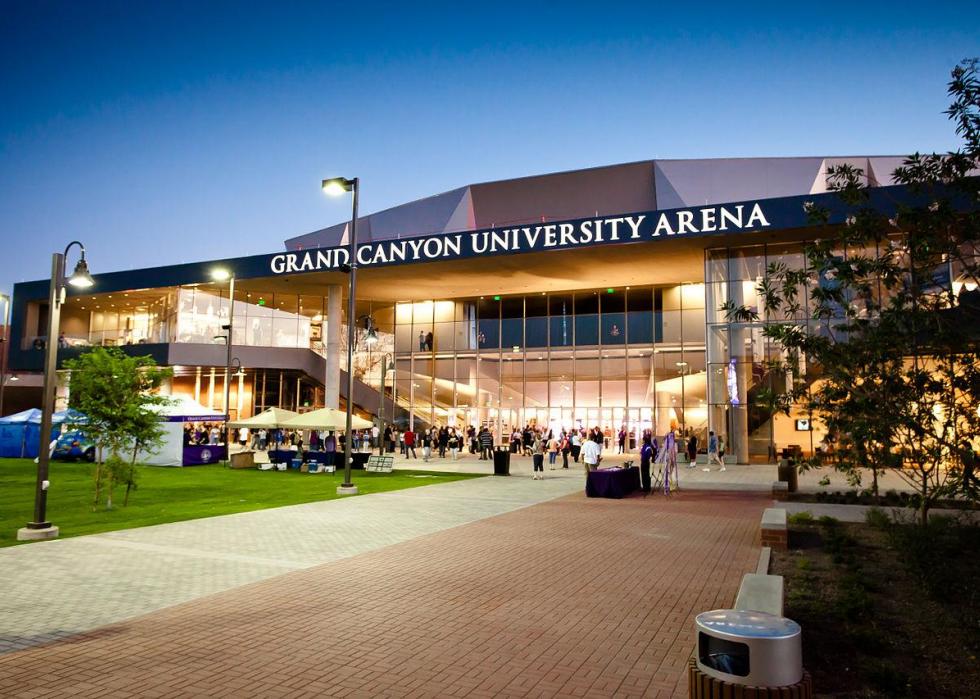 98 / 100
GrandCanyonU // Wikicommons
#3. Grand Canyon University
Total applicants in 2007: 1,555
Total applicants in 2016: 34,096
Percent change in applications: 2,092.67%

Total admissions in 2007: 1,282
Total admissions in 2016: 19,413
Percent change in admissions: 1,414.27%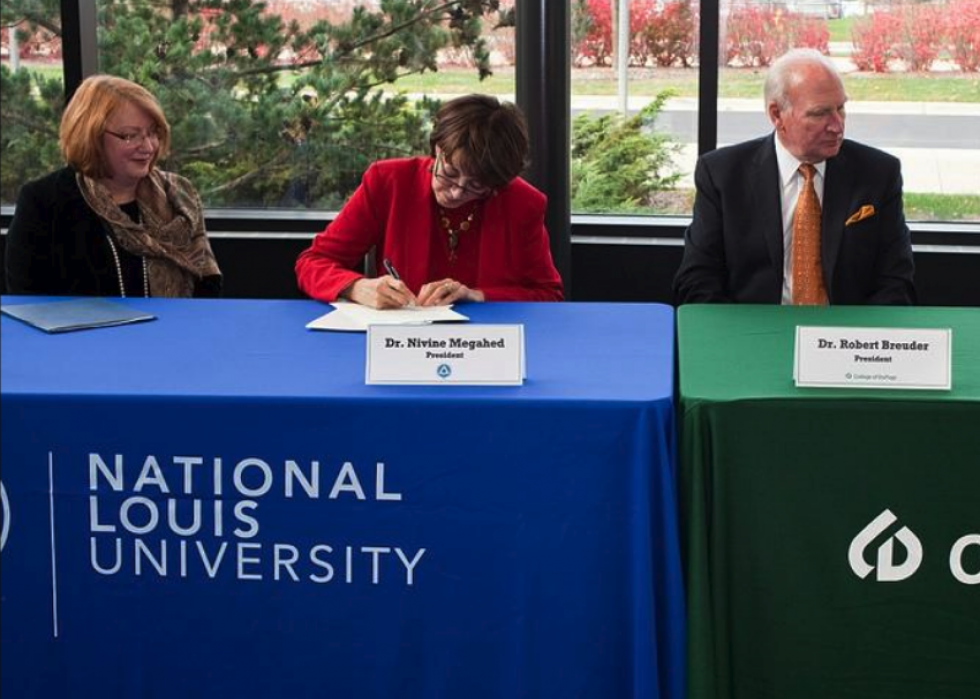 99 / 100
#2. National Louis University
Total applicants in 2007: 61
Total applicants in 2016: 1,520
Percent change in applications: 2,391.80%

Total admissions in 2007: 57
Total admissions in 2016: 1,161
Percent change in admissions: 1,936.84%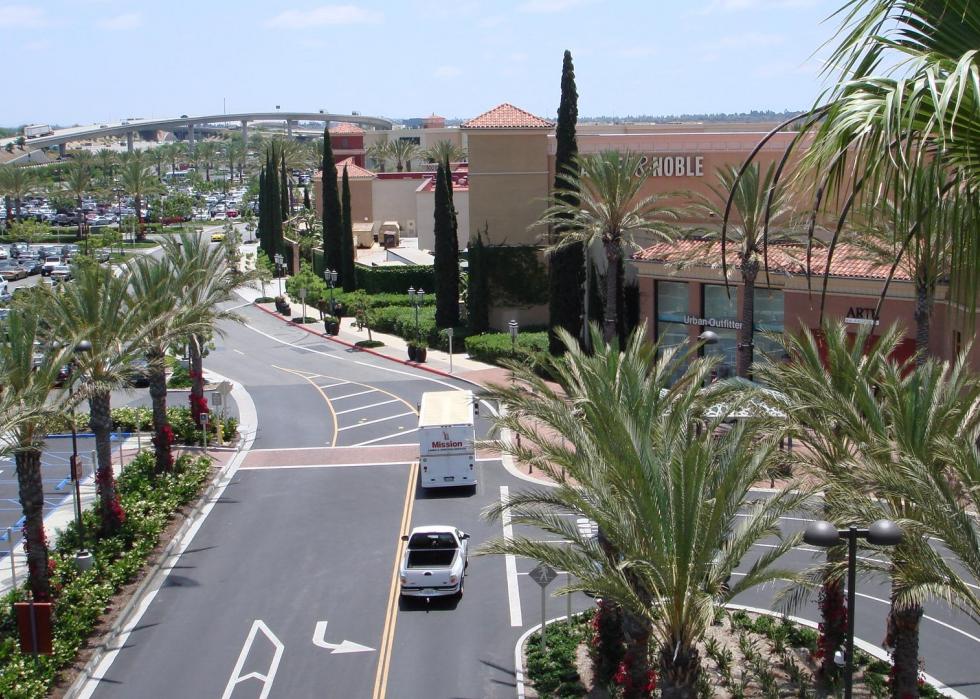 100 / 100
Irvine, California—Public Domain
#1. Stanbridge University
Total applicants in 2007: 35
Total applicants in 2016: 953
Percent change in applications: 2,622.86%

Total admissions in 2007: 8
Total admissions in 2016: 574
Percent change in admissions: 7,075.00%