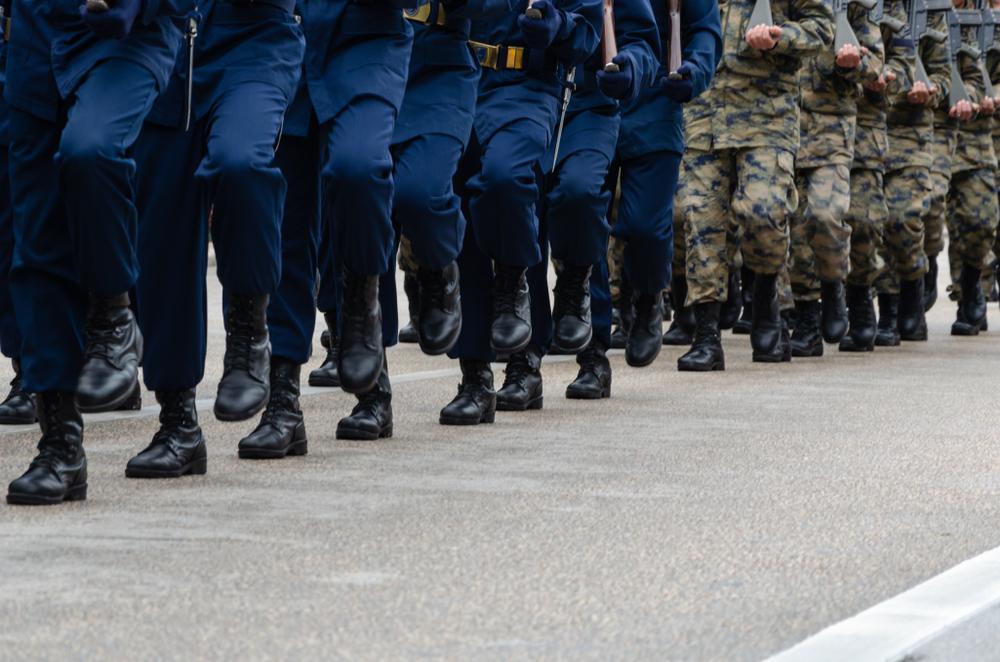 100 countries spending the most on their military
Nazile Keskin // Shutterstock
100 countries spending the most on their military
If we lived in an ideal world, conflicts would be settled via peaceful resolution and treasuries around the world would save hundreds of billions of dollars annually on military expenses. Unfortunately, it seems nearly impossible to turn on the news without hearing about yet another country being torn apart by violence.
Though the state of international affairs makes it difficult for any country to avoid some military spending, the degree to which governments invest in their armed forces is heavily variant, depending on certain factors.
Using data from the Stockholm International Peace Research Institute, Stacker listed the 100 countries investing the most money in their military. The countries are ranked according to their respective per-capita military spending in U.S. dollars and listed along with their total expenditure, as well as how their total expenditure ranks amongst the world's military powers.
Read on to see where the United States falls on the list.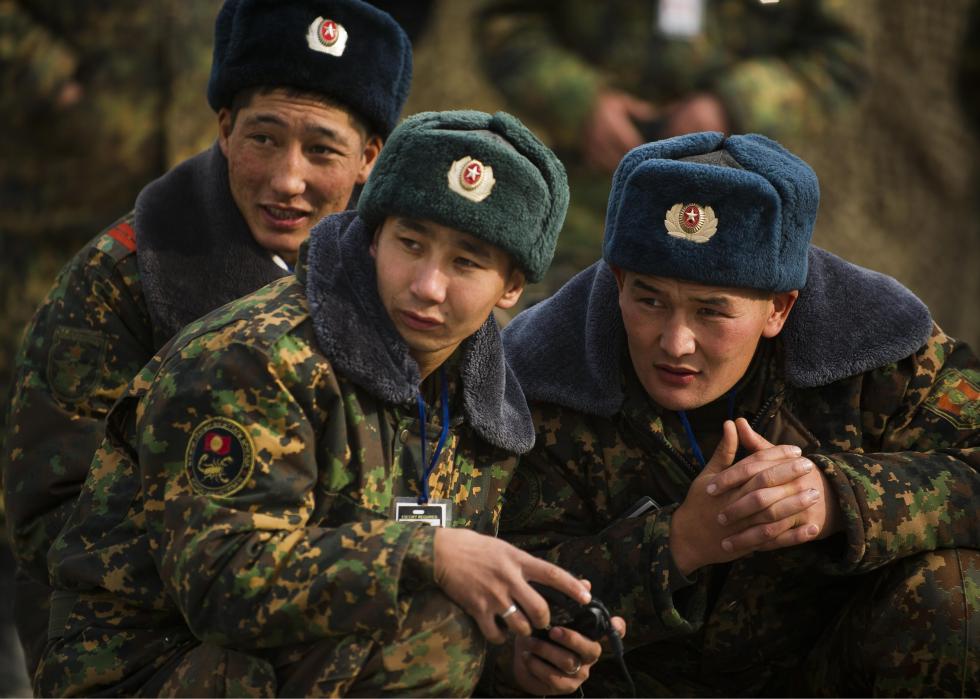 1 / 100
Senior Airman George Goslin/U.S. Air Force // Wikimedia Commons
#100. Kyrgyzstan
Per capita spending: $37
Total expenditure: $222.8 million
Total expenditure rank: #108/145
2 / 100
Presidencia El Salvador // Wikimedia Commons
#99. El Salvador
Per capita spending: $39
Total expenditure: $246.8 million
Total expenditure rank: #107/145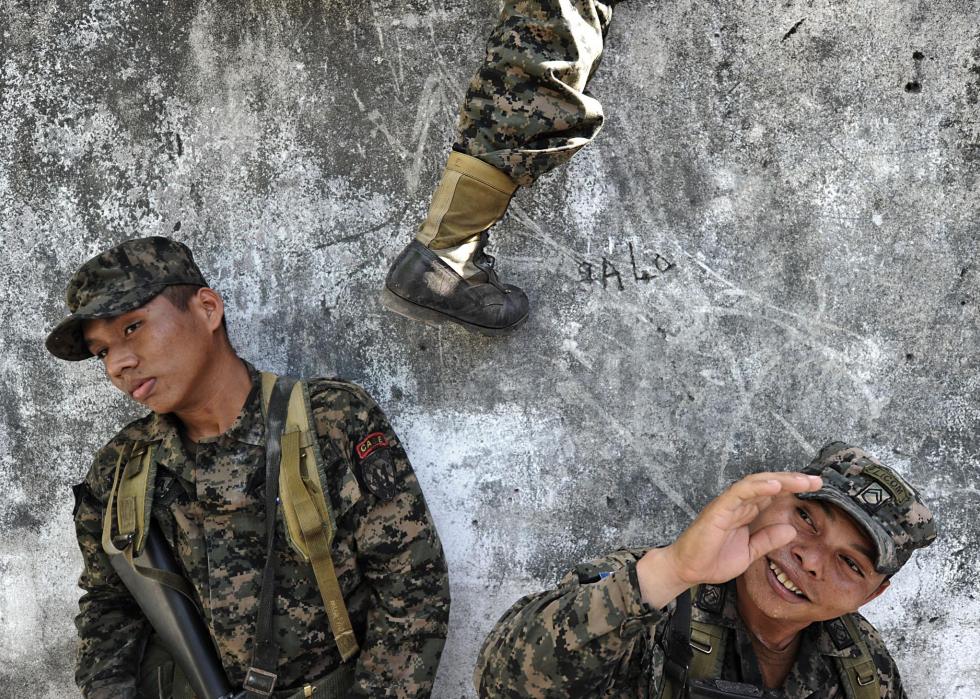 3 / 100
Mass Communication Specialist 2nd Class Ricardo Reyes/U.S. Navy // Wikimedia Commons
#98. Honduras
Per capita spending: $39
Total expenditure: $363.6 million
Total expenditure rank: #96/145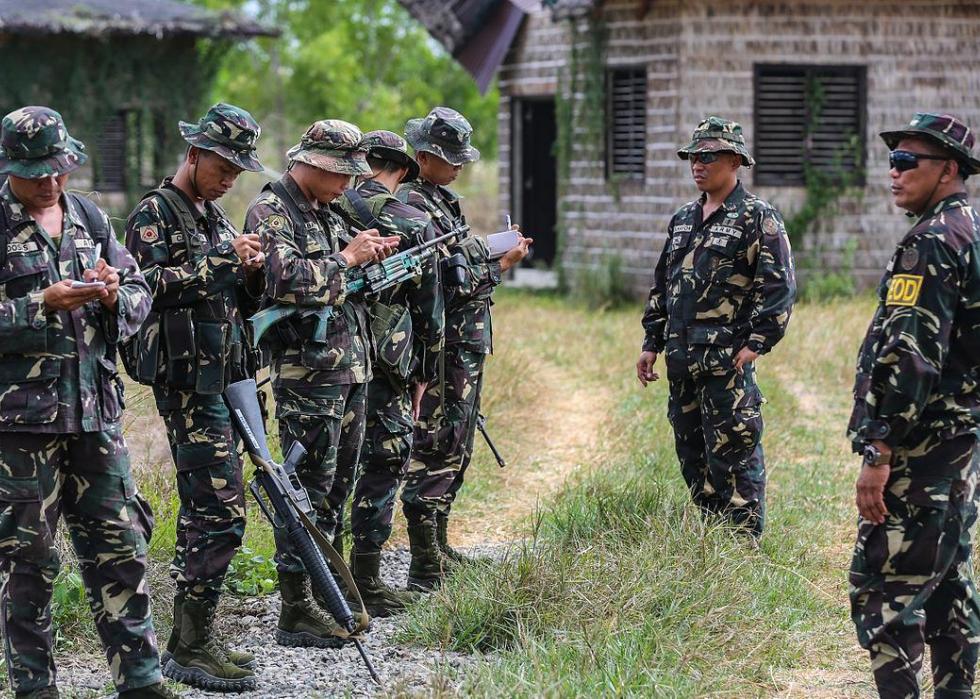 4 / 100
Spc. Matthew Hulett // Wikimedia Commons
#97. Philippines
Per capita spending: $42
Total expenditure: $4.4 billion
Total expenditure rank: #41/145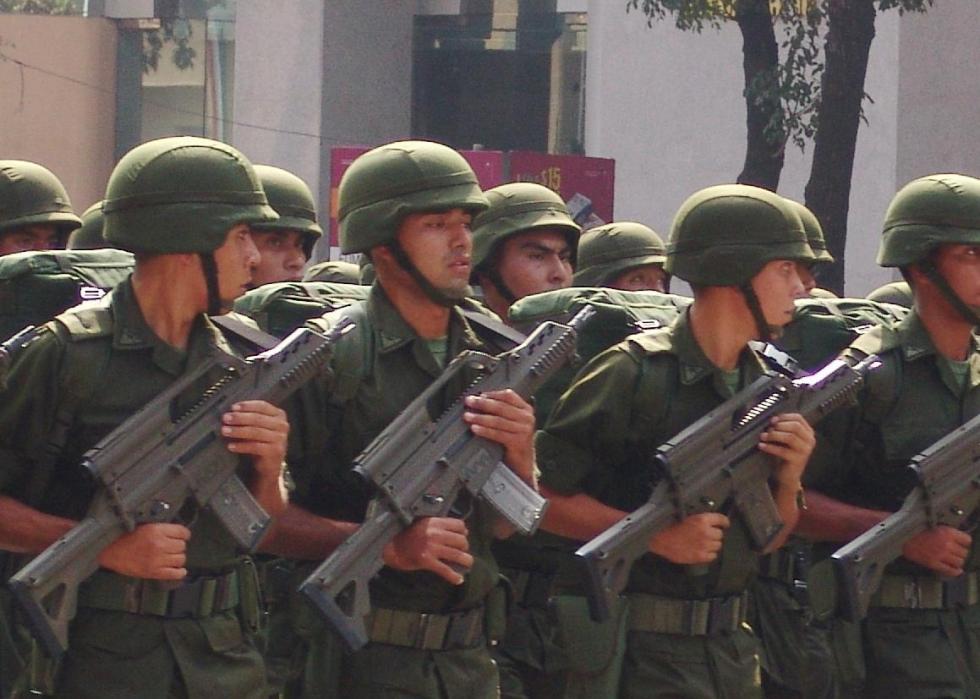 5 / 100
Shdowcrwler // Wikimedia Commons
#96. Mexico
Per capita spending: $45
Total expenditure: $5.8 billion
Total expenditure rank: #32/145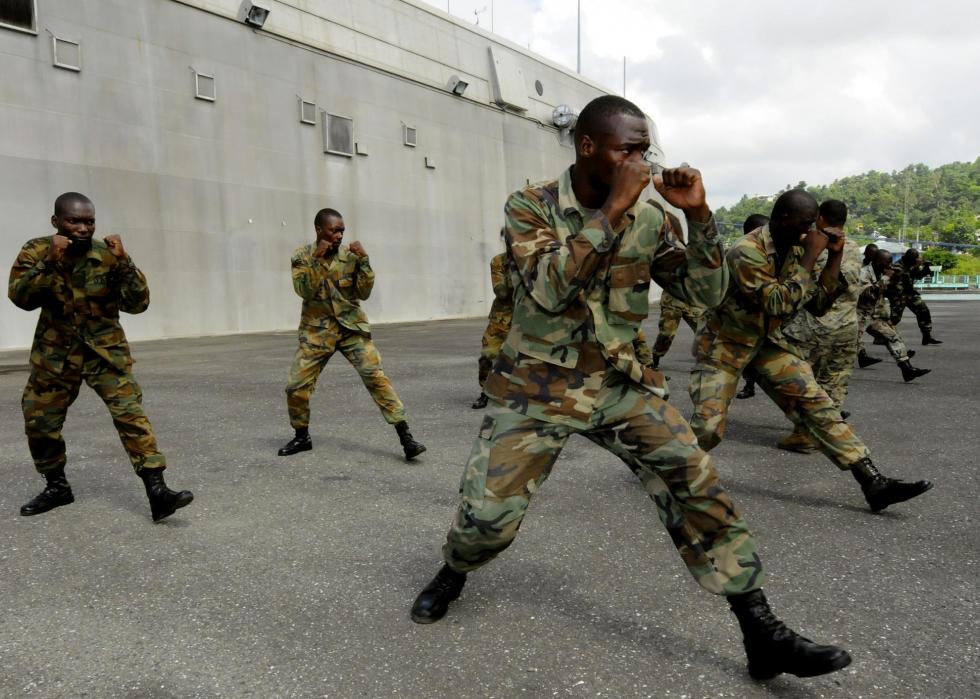 6 / 100
Mass Communication Specialist 2nd Class Kim Williams/U.S. Navy // Wikimedia Commons
#95. Jamaica
Per capita spending: $45
Total expenditure: $130.9 million
Total expenditure rank: #118/145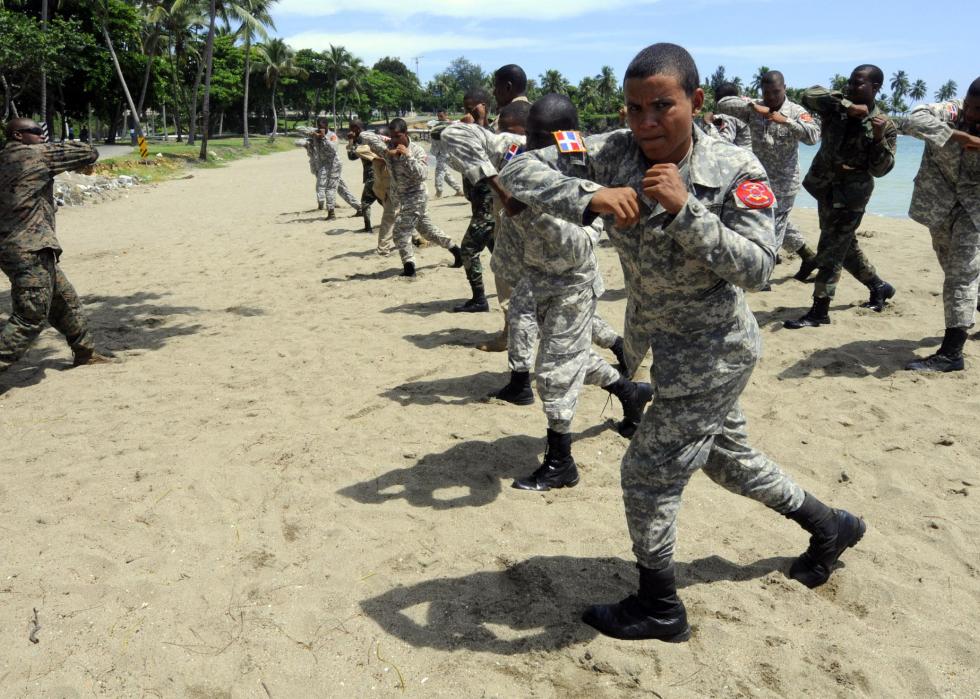 7 / 100
Mass Communication Specialist 2nd Class Kim Williams/U.S. Navy // Wikimedia Commons
#94. Dominican Republic
Per capita spending: $46
Total expenditure: $495.6 million
Total expenditure rank: #83/145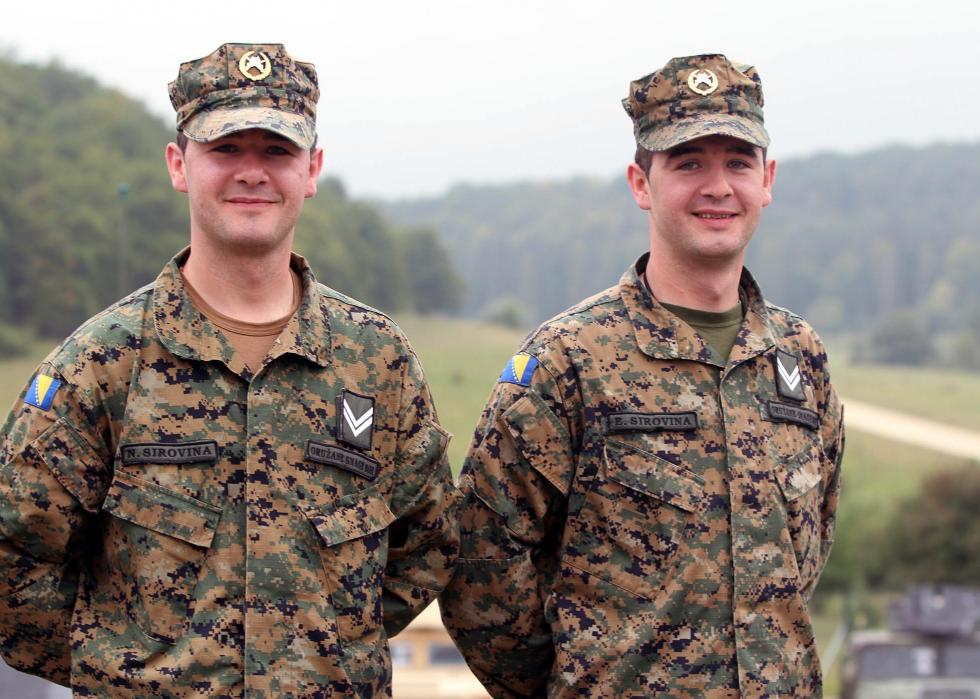 8 / 100
SGT Christina M. Dion // Wikimedia Commons
#93. Bosnia-Herzegovina
Per capita spending: $47
Total expenditure: $164.6 million
Total expenditure rank: #116/145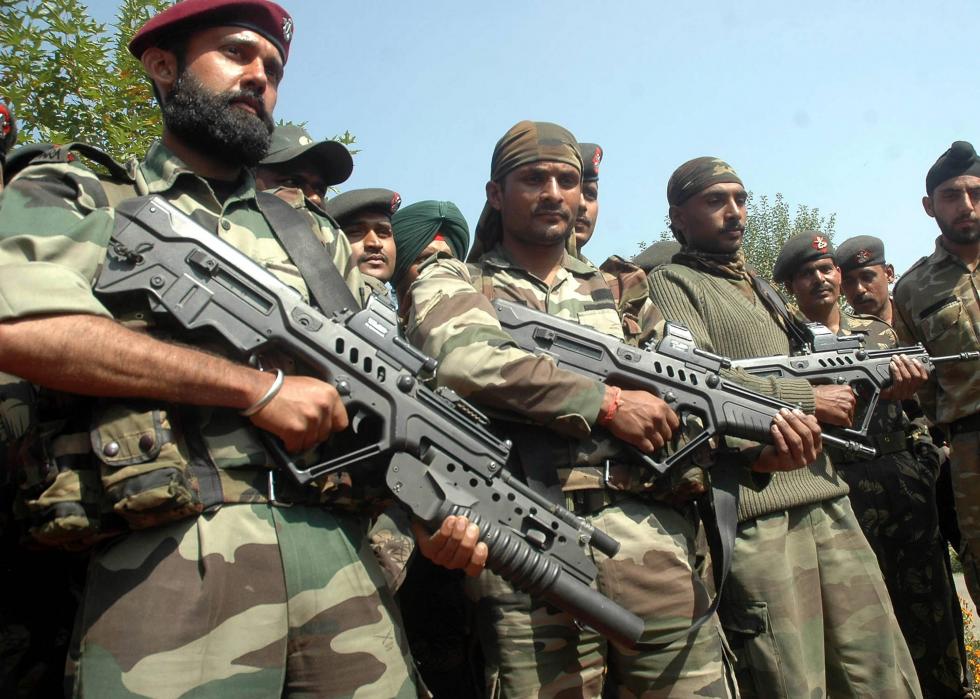 9 / 100
Panky2sharma // Wikimedia Commons
#92. India
Per capita spending: $48
Total expenditure: $63.9 billion
Total expenditure rank: #5/145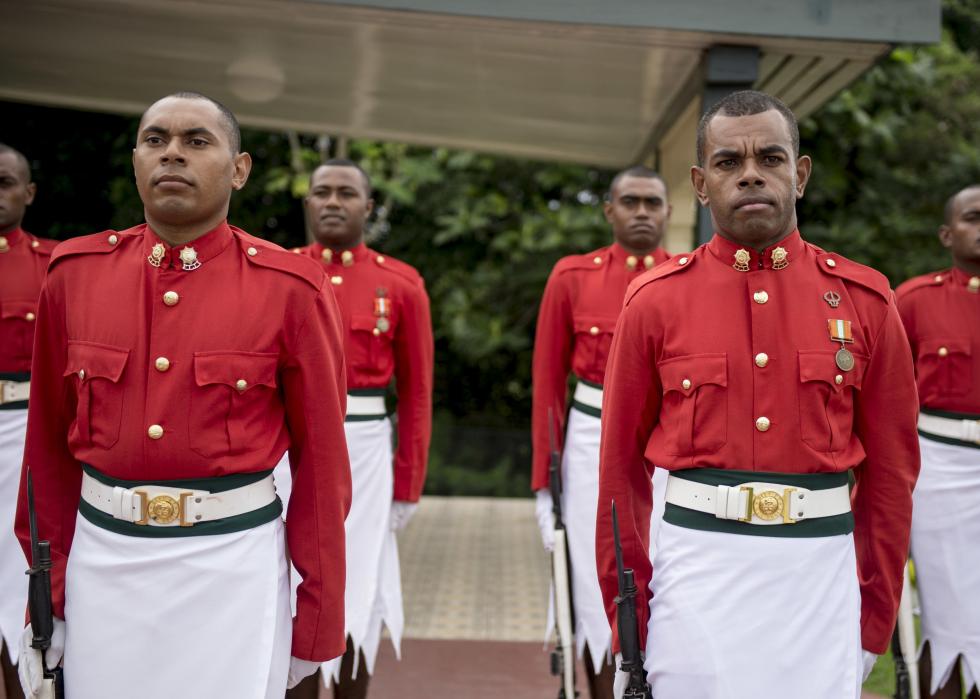 10 / 100
Senior Airman Peter Reft // Wikimedia Commons
#91. Fiji
Per capita spending: $51
Total expenditure: $45.9 million
Total expenditure rank: #138/145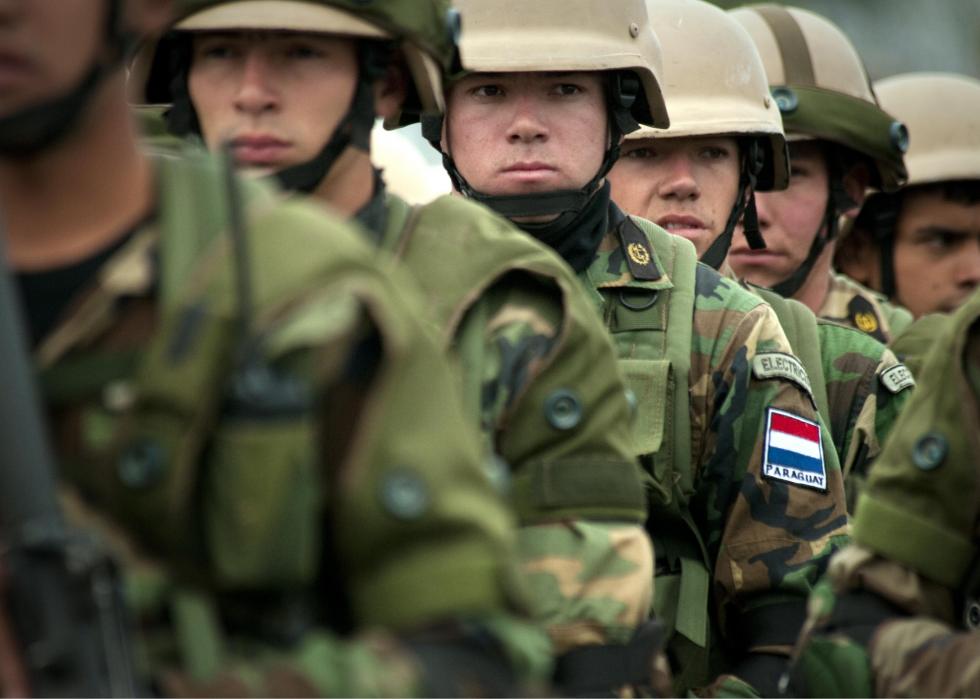 11 / 100
MC1 Brien Aho // Wikimedia Commons
#90. Paraguay
Per capita spending: $51
Total expenditure: $348.2 million
Total expenditure rank: #97/145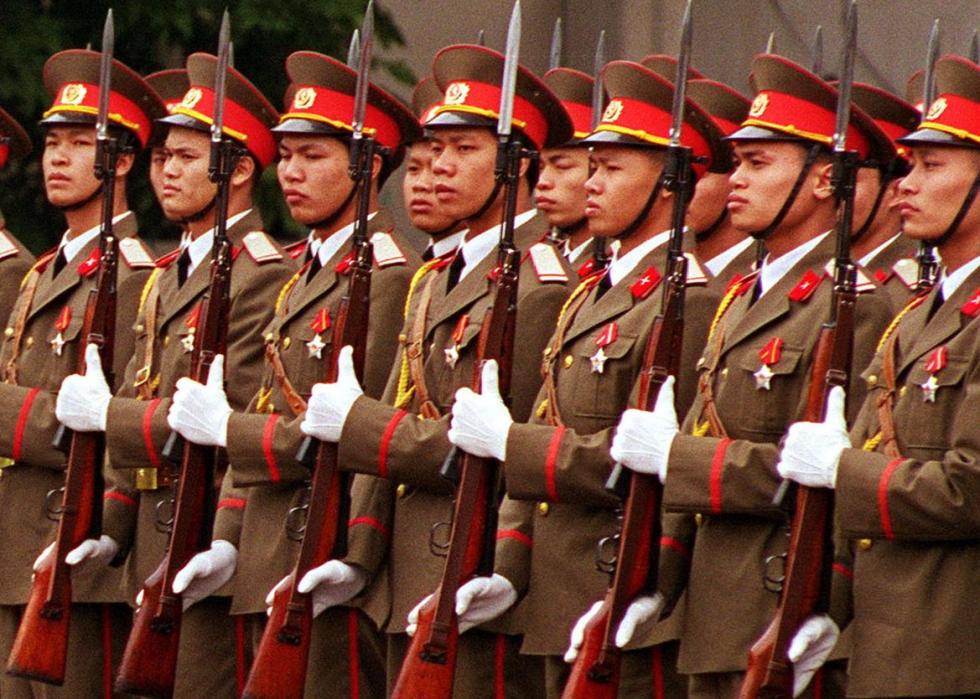 12 / 100
Helene C. Stikkel/DoD // Wikimedia Commons
#89. Vietnam
Per capita spending: $53
Total expenditure: $5.1 billion
Total expenditure rank: #37/145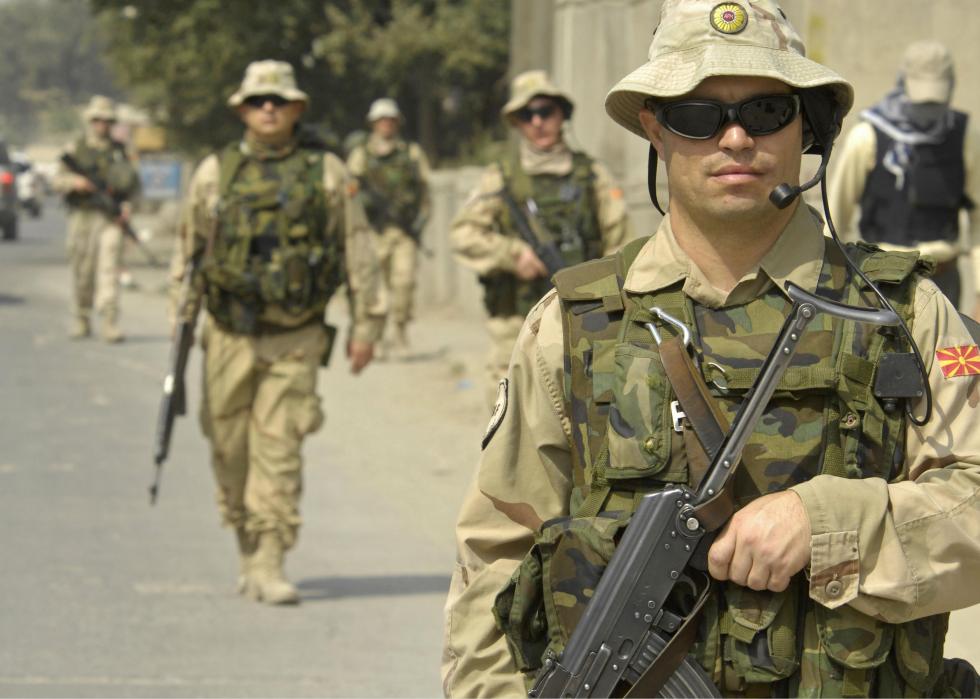 13 / 100
John Scott Rafoss // Wikimedia Commons
#88. Macedonia
Per capita spending: $54
Total expenditure: $111.8 million
Total expenditure rank: #120/145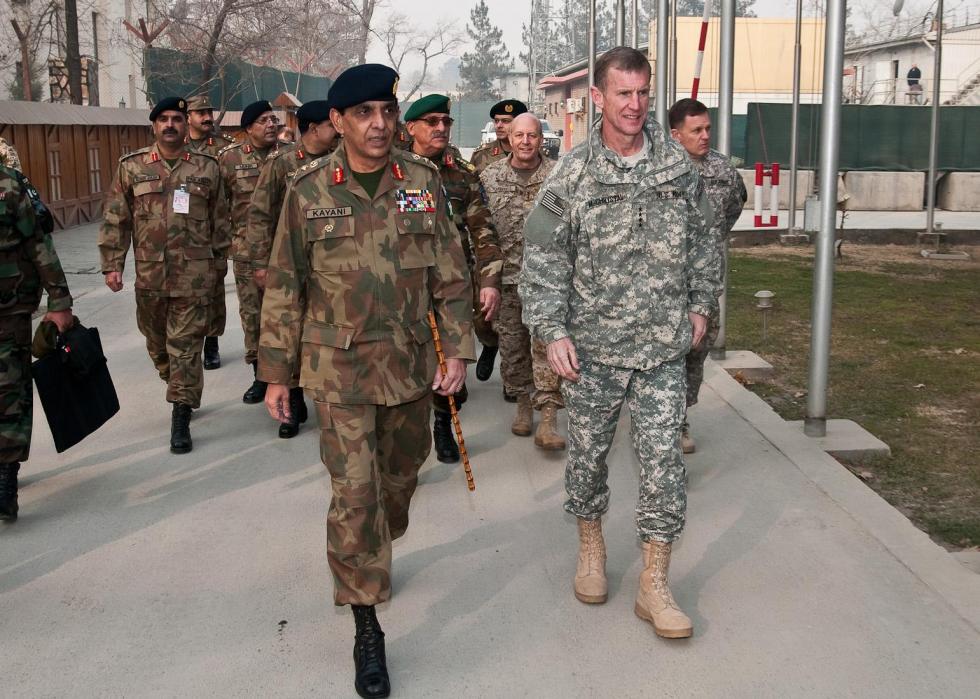 14 / 100
Sgt. David E. Alvarado // Wikimedia Commons
#87. Pakistan
Per capita spending: $55
Total expenditure: $10.8 billion
Total expenditure rank: #19/145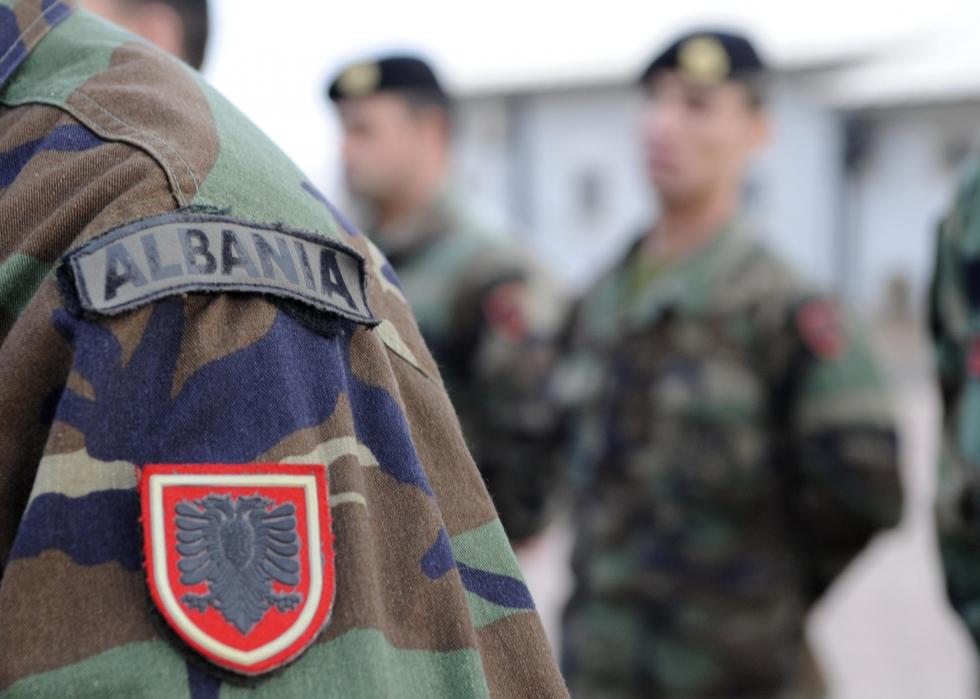 15 / 100
TSgt. Laura K. Smith // Wikimedia Commons
#86. Albania
Per capita spending: $55
Total expenditure: $162.5 million
Total expenditure rank: #117/145
16 / 100
Israel_soliz // Wikimedia Commons
#85. Bolivia
Per capita spending: $59
Total expenditure: $656.8 million
Total expenditure rank: #76/145
17 / 100
Lance Cpl. Abraham Lopez // Wikimedia Commons
#84. Belize
Per capita spending: $61
Total expenditure: $22.8 million
Total expenditure rank: #144/145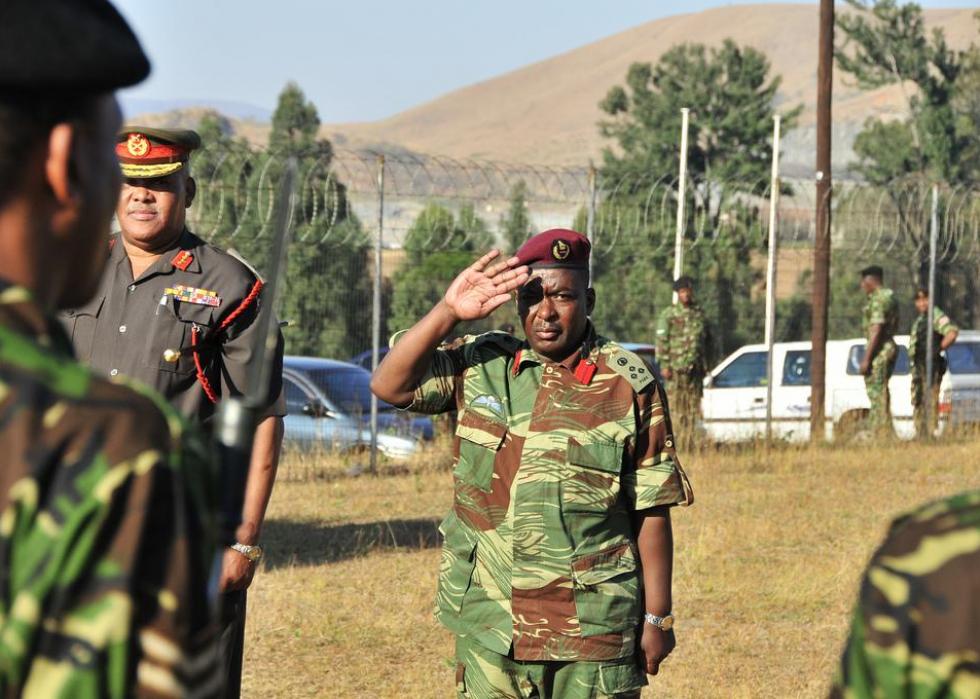 18 / 100
#83. Swaziland
Per capita spending: $63
Total expenditure: $86.5 million
Total expenditure rank: #124/145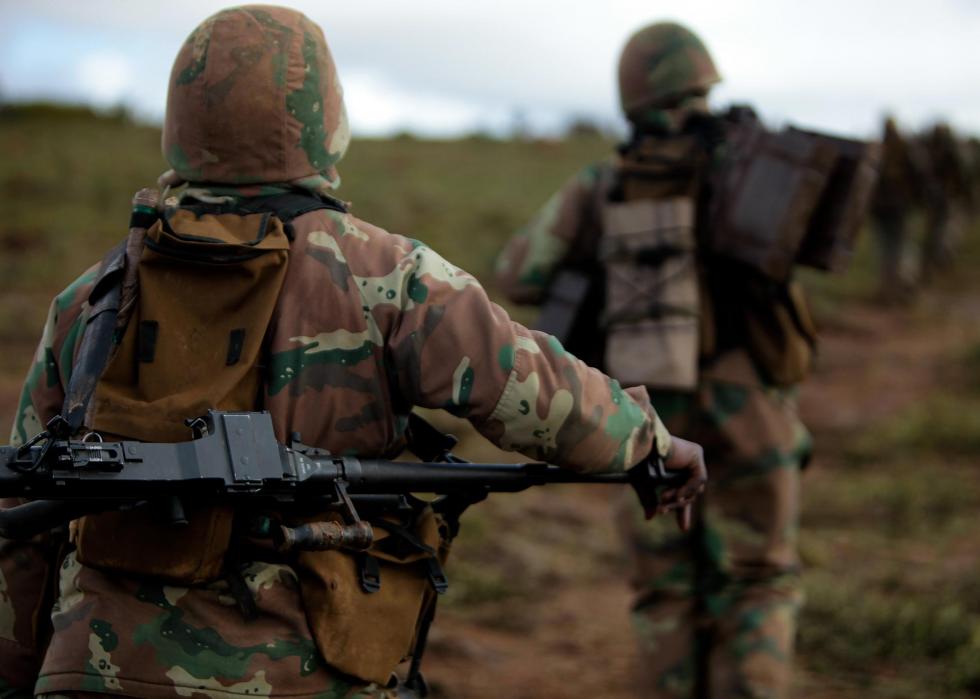 19 / 100
Cpl. Jad Sleiman/U.S. Marine Corps // Wikimedia Commons
#82. South Africa
Per capita spending: $64
Total expenditure: $3.6 billion
Total expenditure rank: #46/145
20 / 100
Marcomogollon // Wikimedia Commons
#81. Peru
Per capita spending: $65
Total expenditure: $2.1 billion
Total expenditure rank: #58/145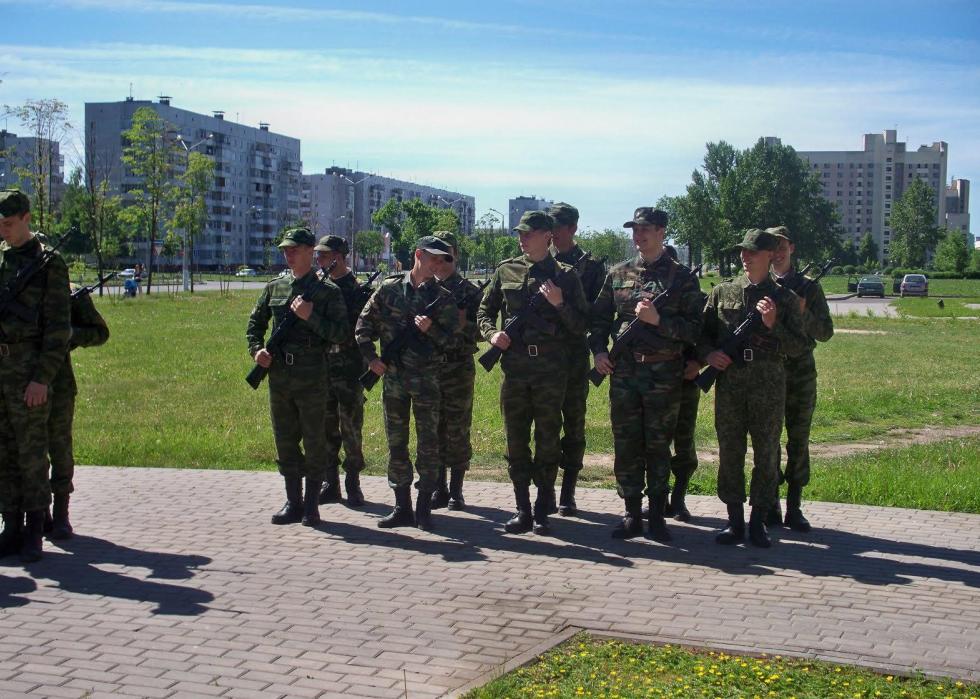 21 / 100
Ricky Cain // Wikimedia Commons
#80. Belarus
Per capita spending: $67
Total expenditure: $631.1 million
Total expenditure rank: #77/145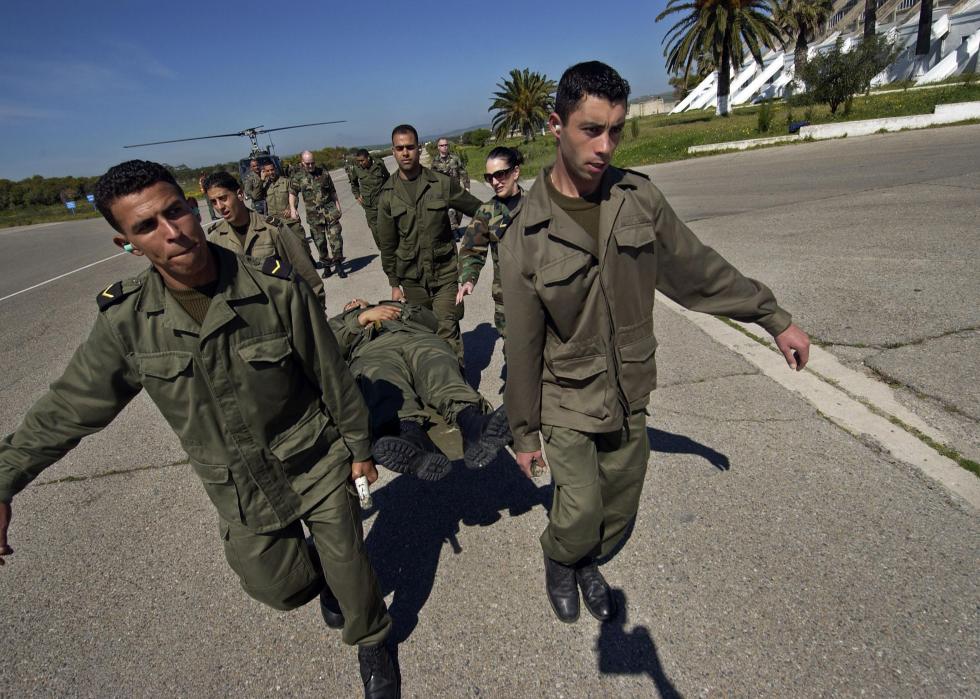 22 / 100
Tech Sgt. Rick Sforza/U.S. Air Force // Wikimedia Commons
#79. Tunisia
Per capita spending: $73
Total expenditure: $835.5 million
Total expenditure rank: #72/145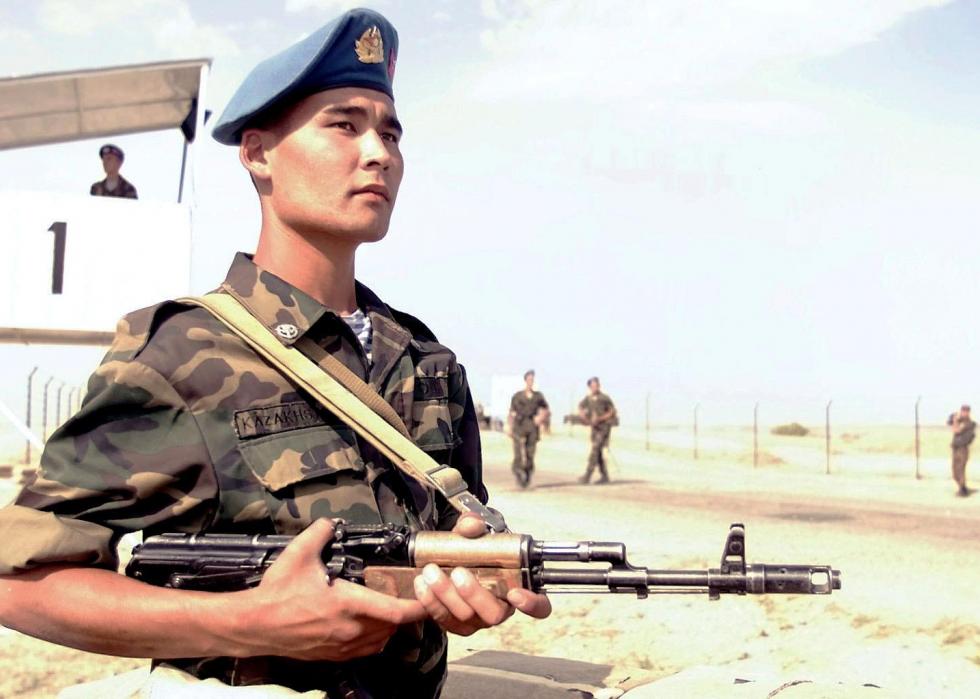 23 / 100
TSgt. Jim Varhegyi/USAF // Wikimedia Commons
#78. Kazakhstan
Per capita spending: $73
Total expenditure: $1.3 billion
Total expenditure rank: #66/145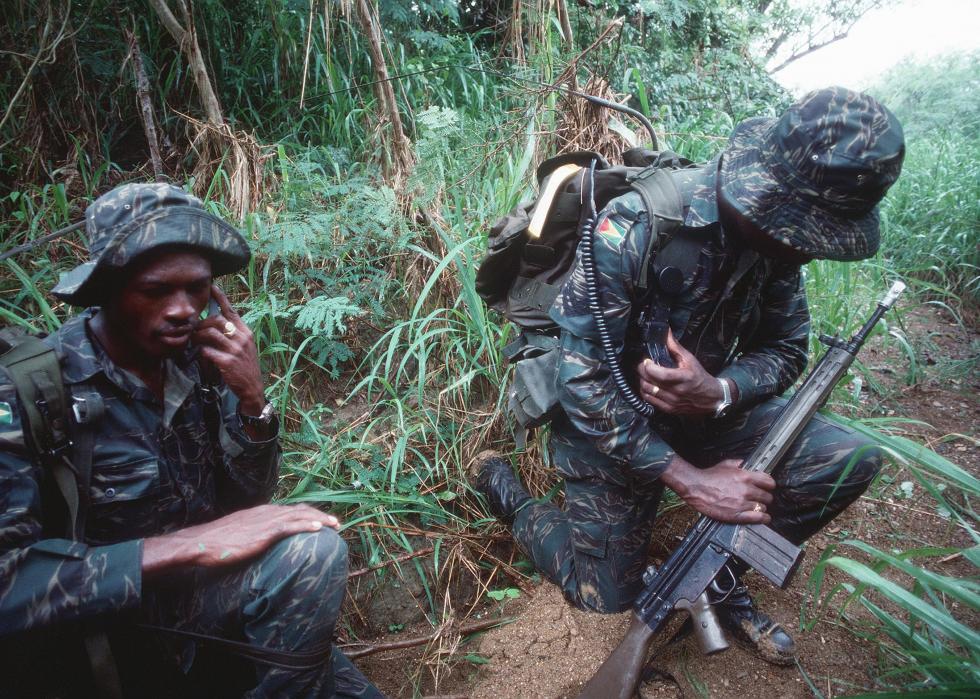 24 / 100
PH2 JOHN BIVERA // Wikimedia Commons
#77. Guyana
Per capita spending: $74
Total expenditure: $57.3 million
Total expenditure rank: #134/145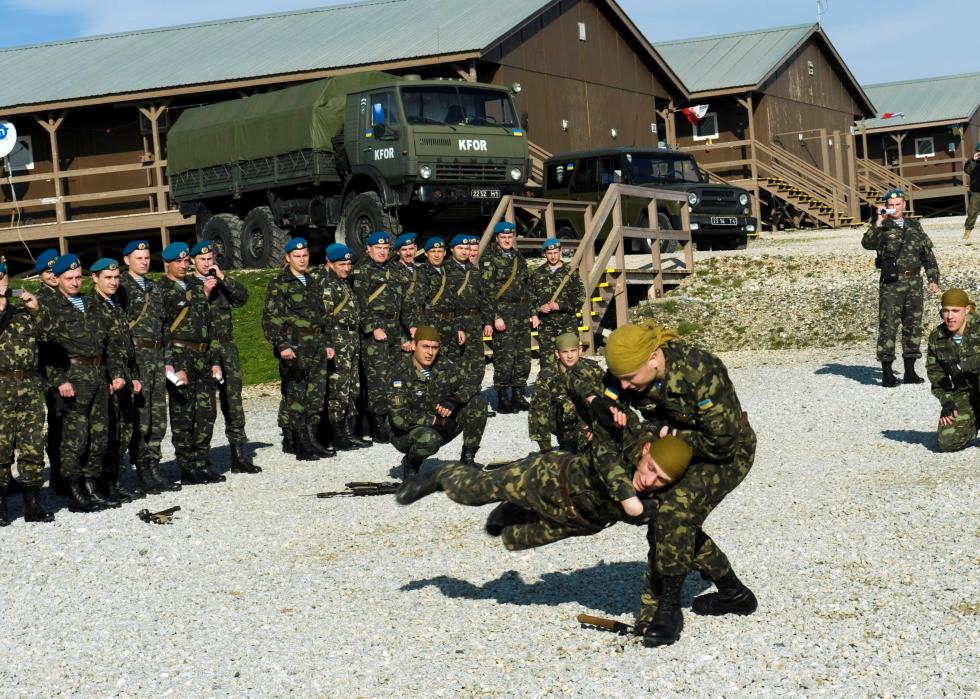 25 / 100
Joshua Dodds, U.S. Army // Wikimedia Commons
#76. Ukraine
Per capita spending: $83
Total expenditure: $3.6 billion
Total expenditure rank: #45/145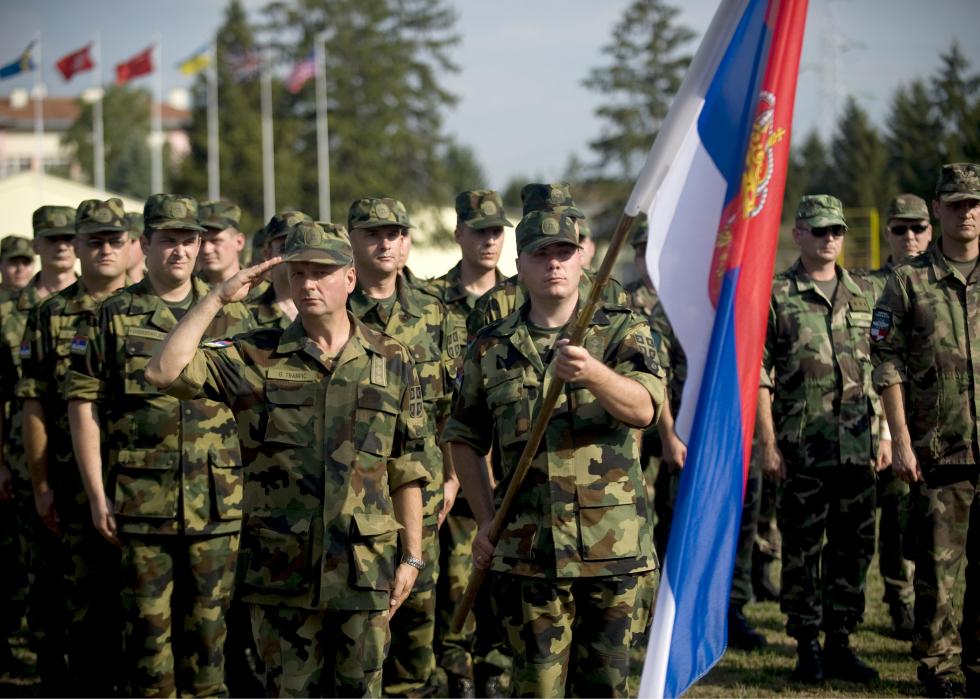 26 / 100
Tech Sgt. William Greer // Wikimedia Commons
#75. Serbia
Per capita spending: $83
Total expenditure: $731.1 million
Total expenditure rank: #75/145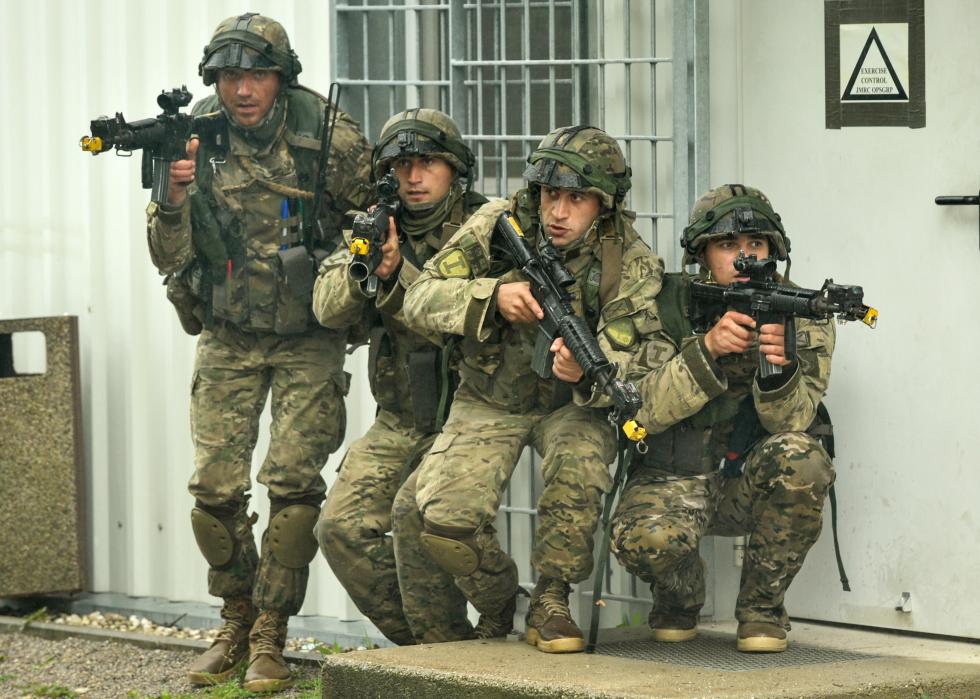 27 / 100
7th Army Joint Multinational Training Command // Wikimedia Commons
#74. Georgia
Per capita spending: $85
Total expenditure: $332.7 million
Total expenditure rank: #101/145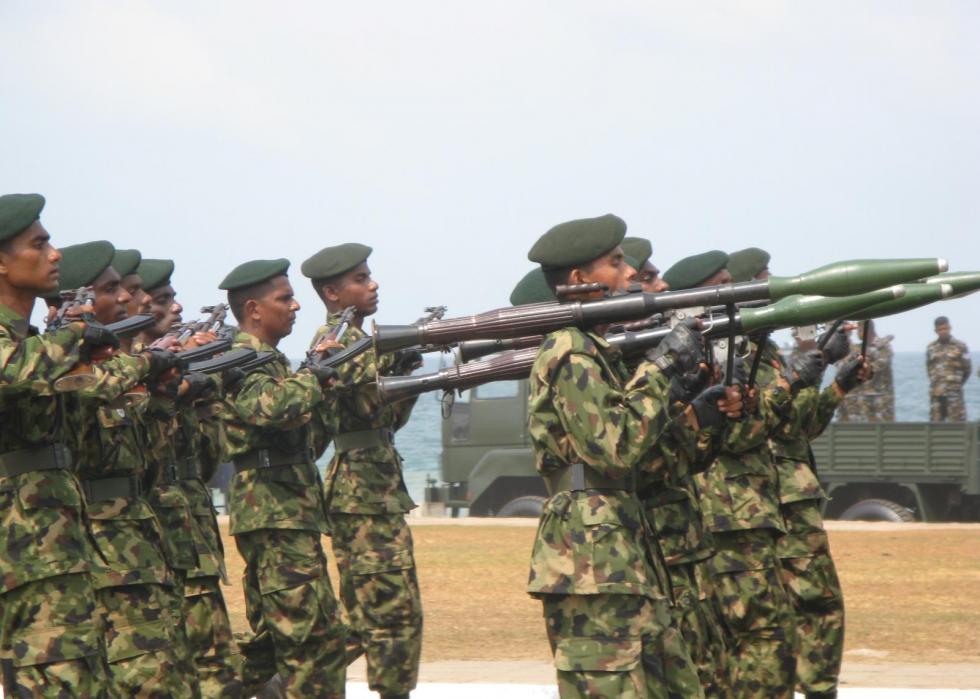 28 / 100
Chamal Pathirana // Wikimedia Commons
#73. Sri Lanka
Per capita spending: $89
Total expenditure: $1.9 billion
Total expenditure rank: #60/145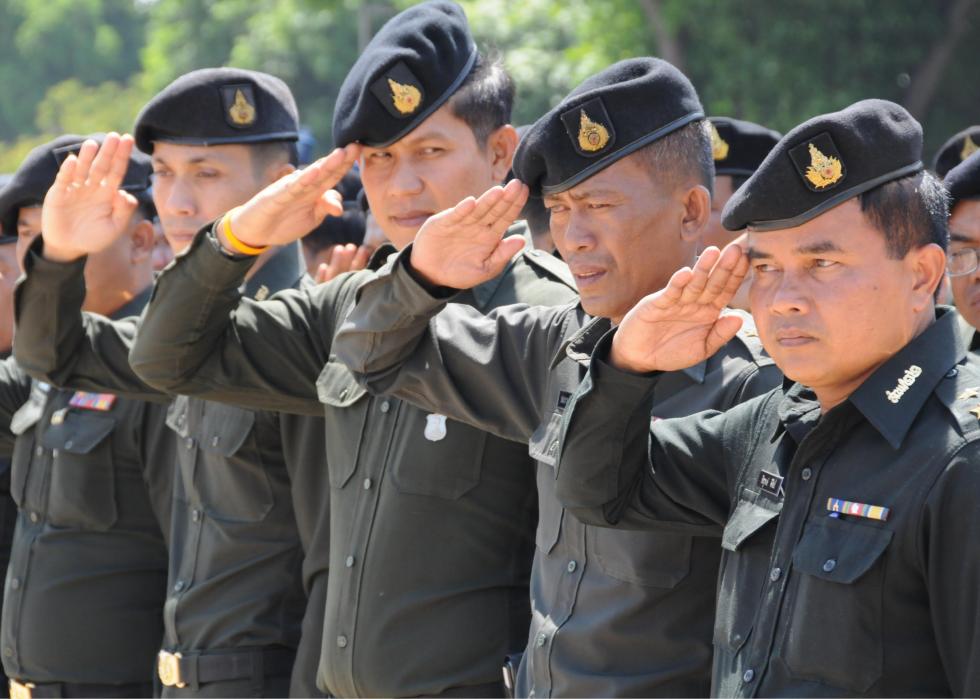 29 / 100
Sgt. Pablo N. Piedra // Wikimedia Commons
#72. Thailand
Per capita spending: $92
Total expenditure: $6.3 billion
Total expenditure rank: #31/145
30 / 100
MONUSCO Photos // Wikimedia Commons
#71. Congo
Per capita spending: $92
Total expenditure: $484.3 million
Total expenditure rank: #85/145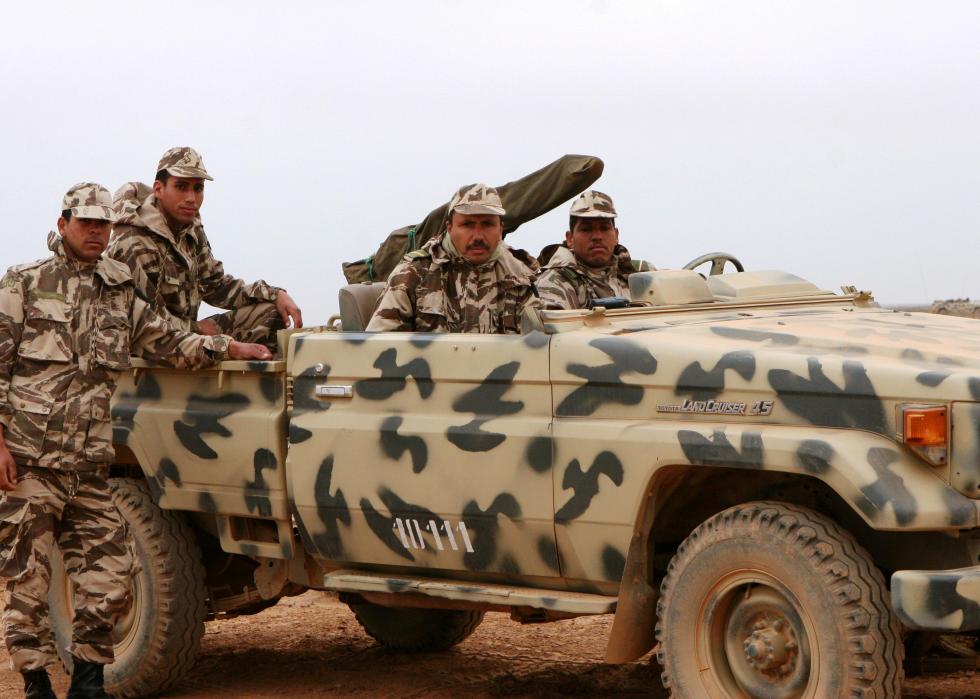 31 / 100
Sharon McPeak/U.S. Marine Corps // Wikimedia Commons
#70. Morocco
Per capita spending: $97
Total expenditure: $3.5 billion
Total expenditure rank: #50/145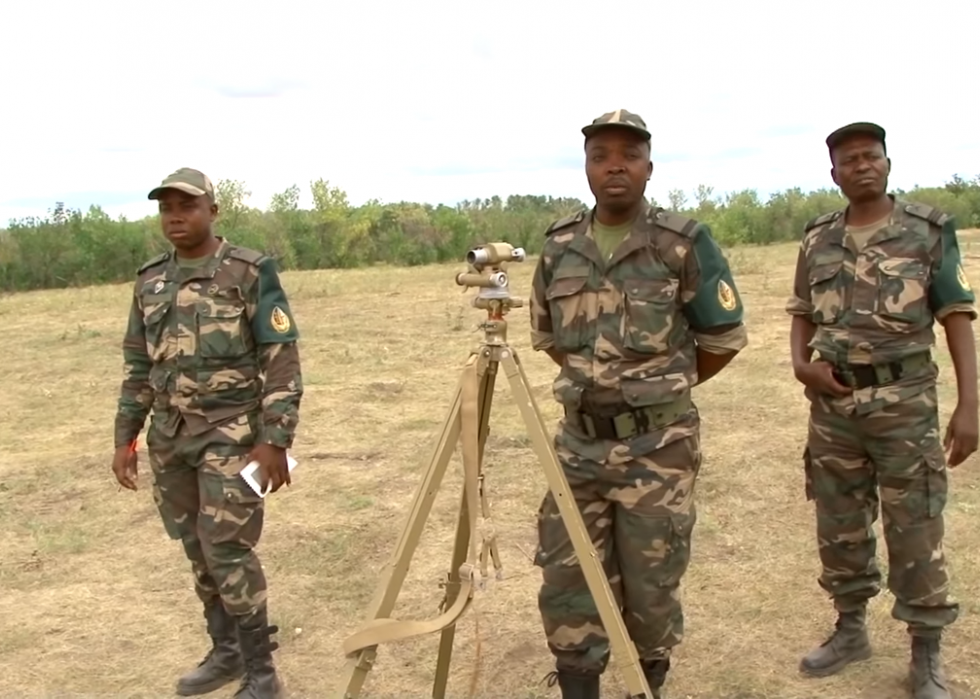 32 / 100
Russian Ministry of Defence // Wikimedia Commons
#69. Angola
Per capita spending: $103
Total expenditure: $3.1 billion
Total expenditure rank: #51/145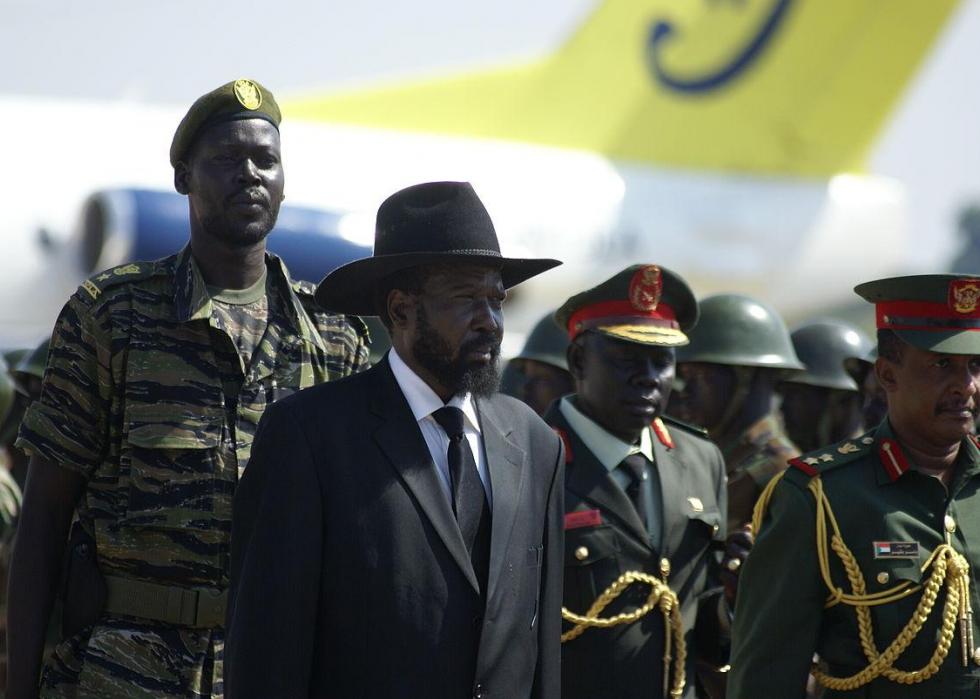 33 / 100
Al Jazeera English // Wikimedia Commons
#68. Sudan
Per capita spending: $108
Total expenditure: $4.4 billion
Total expenditure rank: #40/145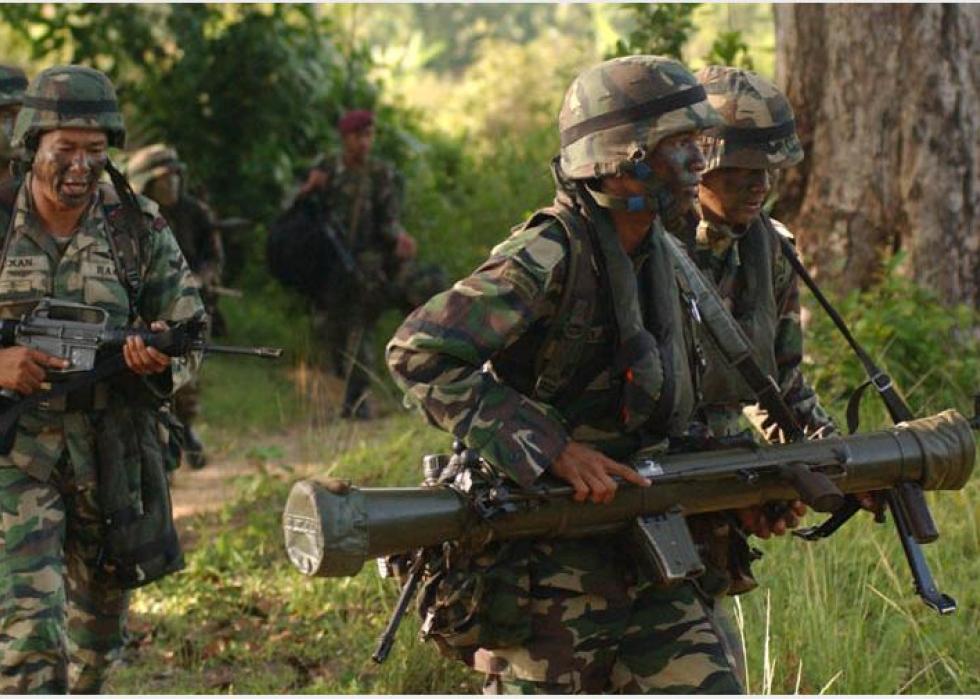 34 / 100
Photographer's Mate 3rd Class Christopher Elmini/U.S. Navy // Wikimedia Commons
#67. Malaysia
Per capita spending: $111
Total expenditure: $3.5 billion
Total expenditure rank: #49/145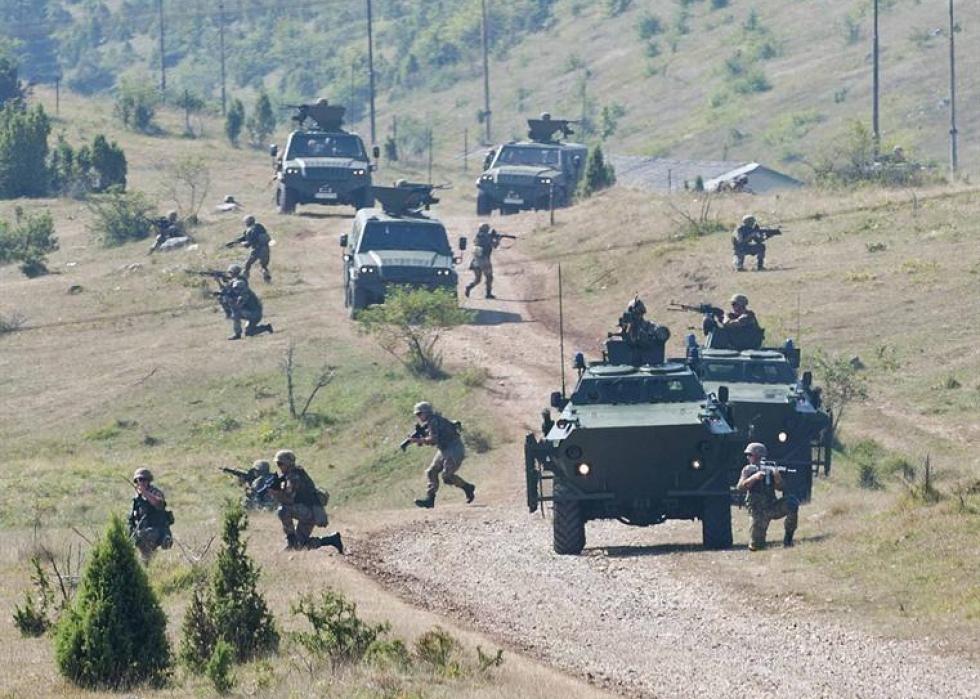 35 / 100
CRANGORAMNE // Wikimedia Commons
#66. Montenegro
Per capita spending: $118
Total expenditure: $74.3 million
Total expenditure rank: #127/145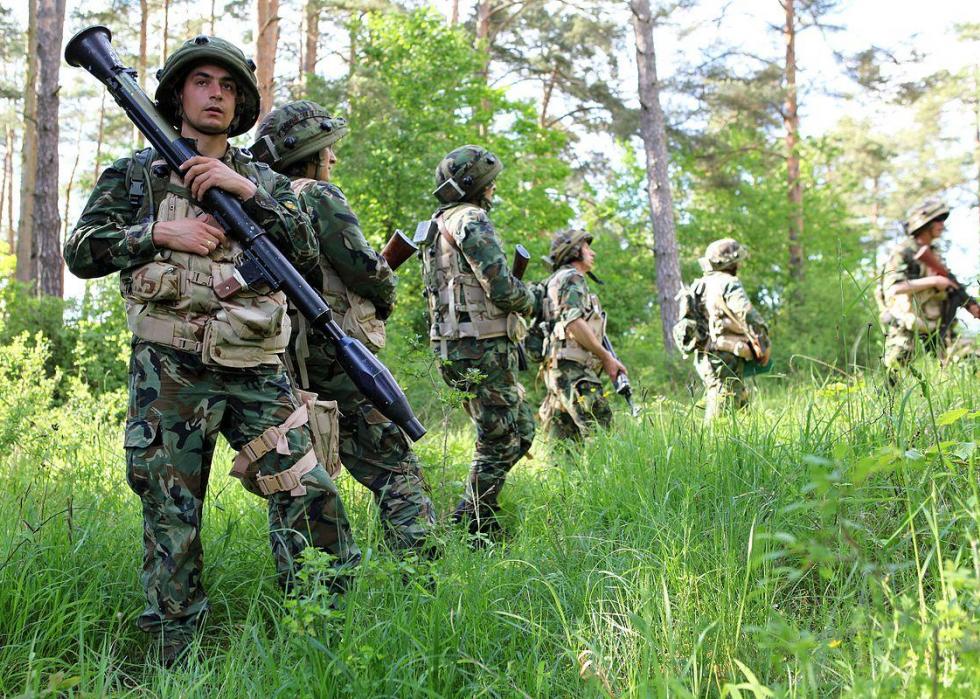 36 / 100
7th Army Joint Multinational Training Command // Wikimedia Commons
#65. Bulgaria
Per capita spending: $122
Total expenditure: $866.7 million
Total expenditure rank: #71/145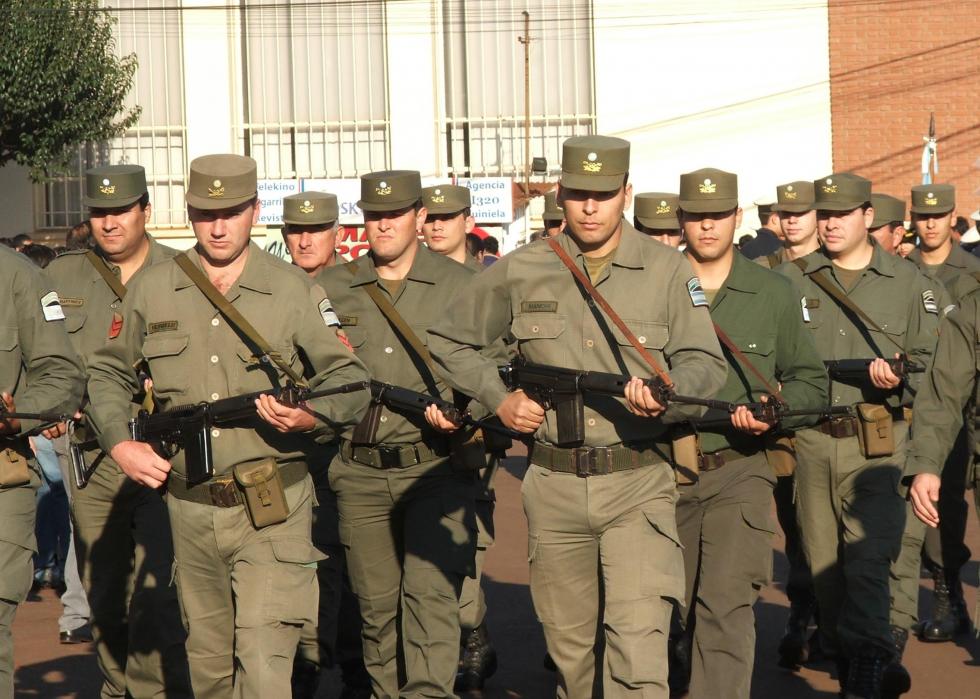 37 / 100
hamner.jonathan // Wikimedia Commons
#64. Argentina
Per capita spending: $128
Total expenditure: $5.7 billion
Total expenditure rank: #33/145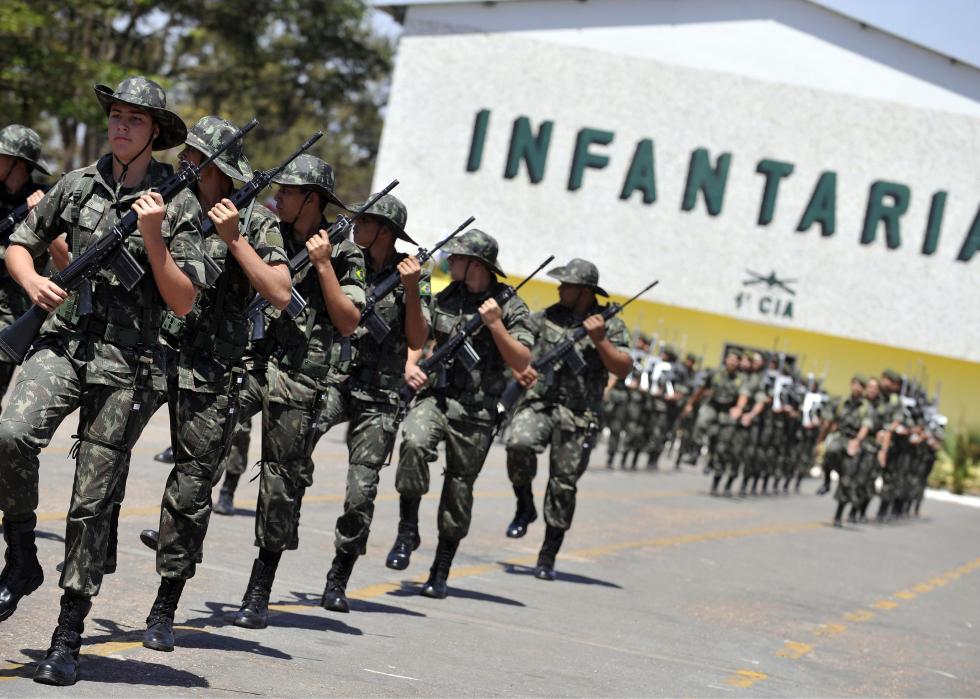 38 / 100
Ministerio de Defesa // Wikimedia Commons
#63. Brazil
Per capita spending: $140
Total expenditure: $29.3 billion
Total expenditure rank: #11/145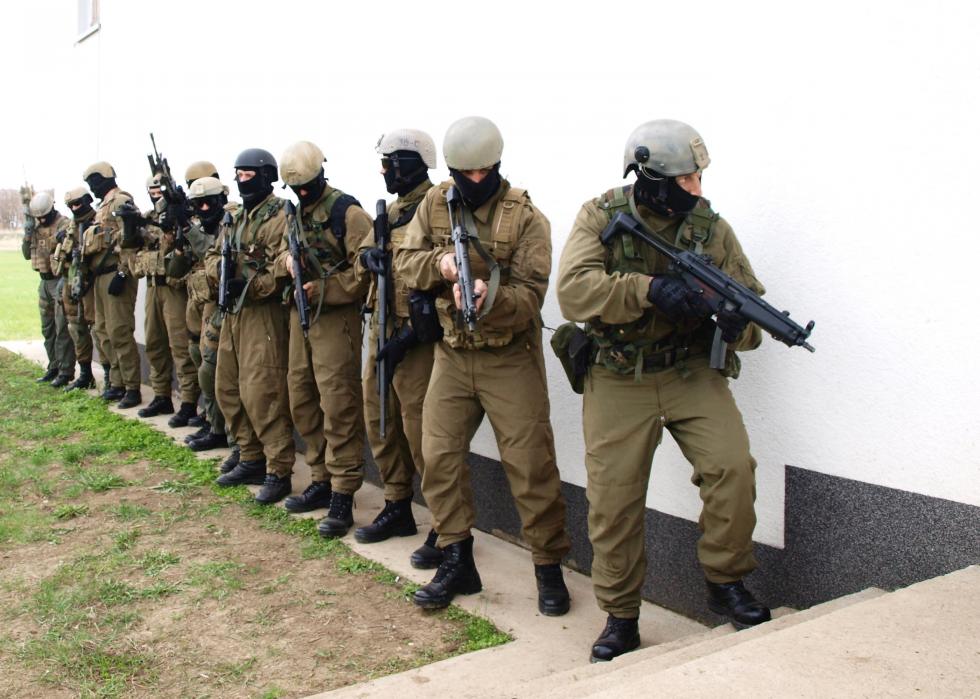 39 / 100
KGyST // Wikimedia Commons
#62. Hungary
Per capita spending: $146
Total expenditure: $1.4 billion
Total expenditure rank: #64/145
40 / 100
Cancilleria Ecuador // Wikimedia Commons
#61. Ecuador
Per capita spending: $146
Total expenditure: $2.4 billion
Total expenditure rank: #55/145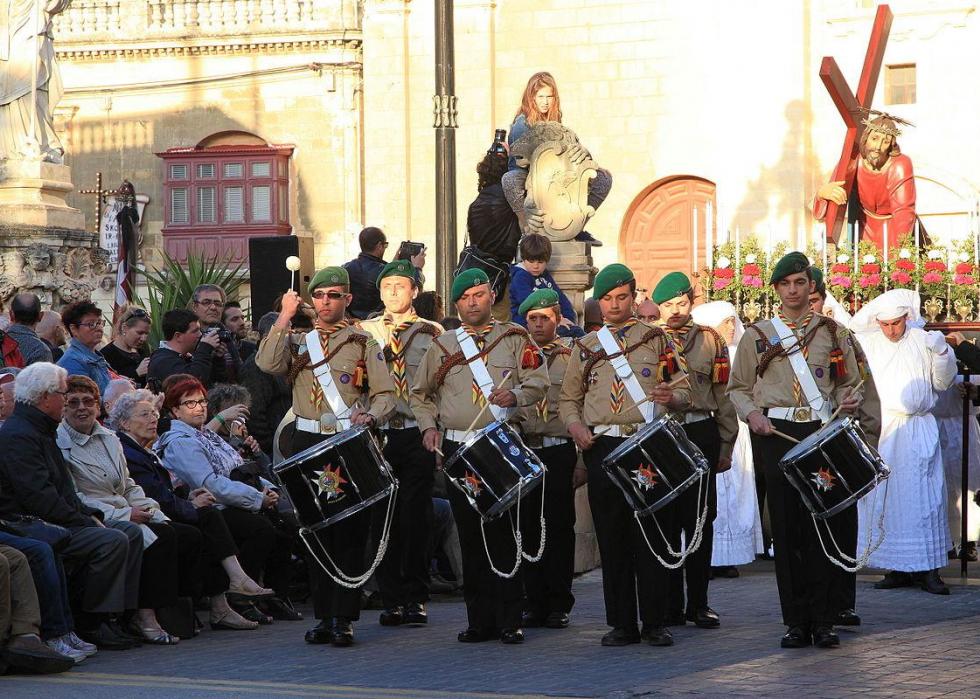 41 / 100
Frank Vincentz // Wikimedia Commons
#60. Malta
Per capita spending: $148
Total expenditure: $63.5 million
Total expenditure rank: #132/145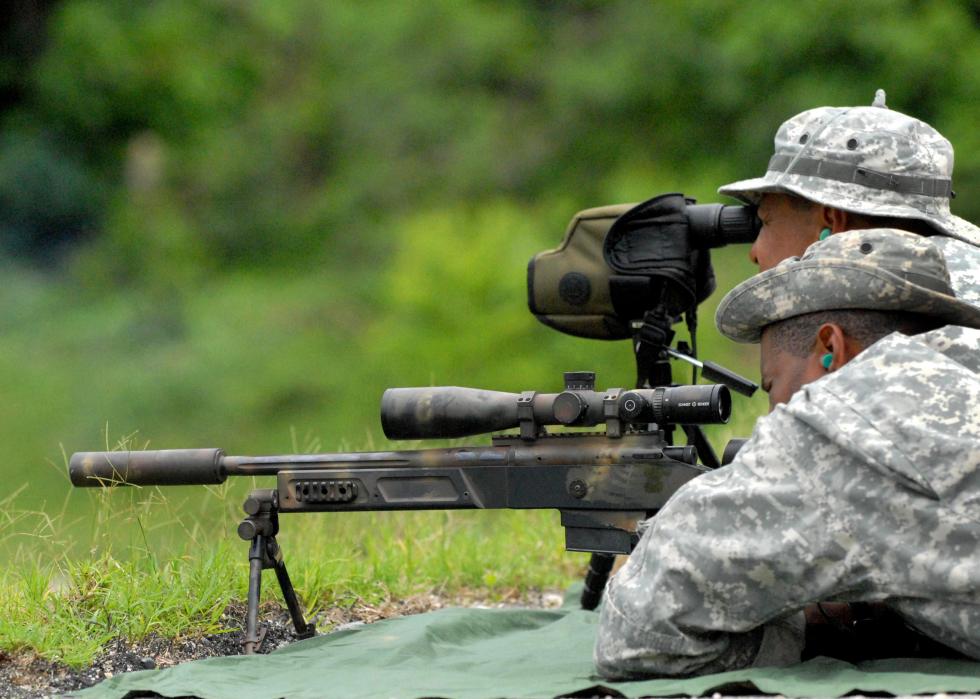 42 / 100
Sgt. Casey A. Collie // Wikimedia Commons
#59. Trinidad & Tobago
Per capita spending: $148
Total expenditure: $201.9 million
Total expenditure rank: #110/145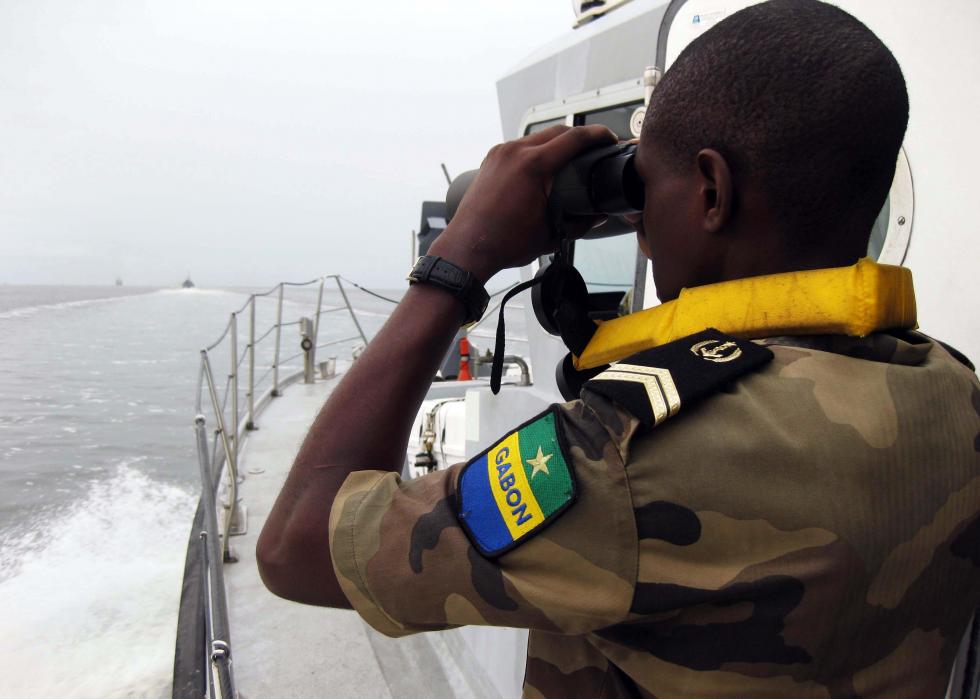 43 / 100
Mass Communication Specialist 1st Class Gary Keen/U.S. Navy // Wikimedia Commons
#58. Gabon
Per capita spending: $148
Total expenditure: $298.7 million
Total expenditure rank: #104/145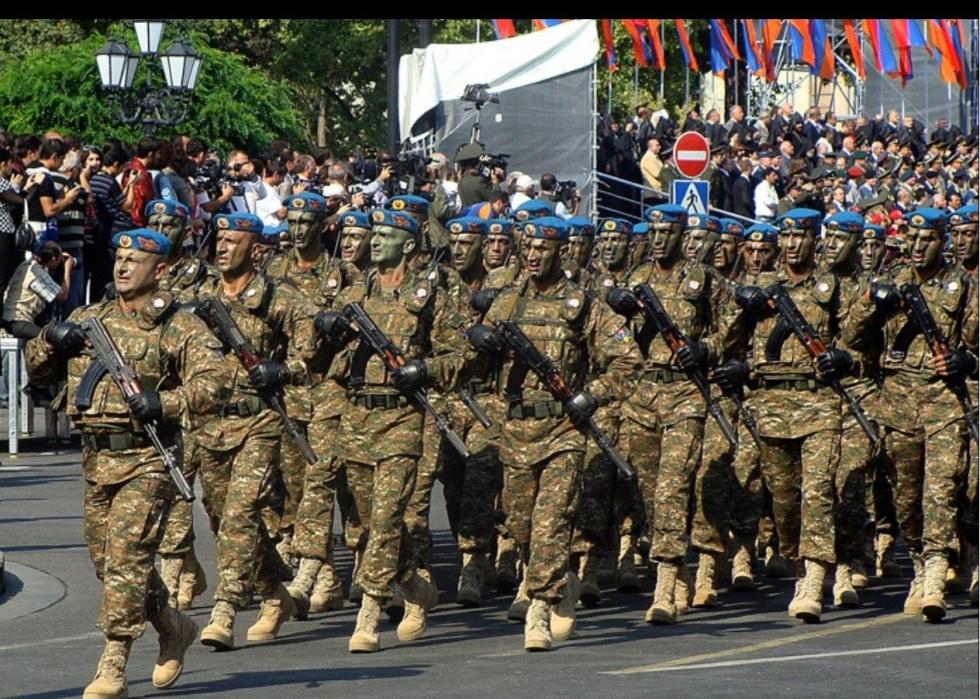 44 / 100
Khustup // Wikimedia Commons
#57. Armenia
Per capita spending: $151
Total expenditure: $443.6 million
Total expenditure rank: #91/145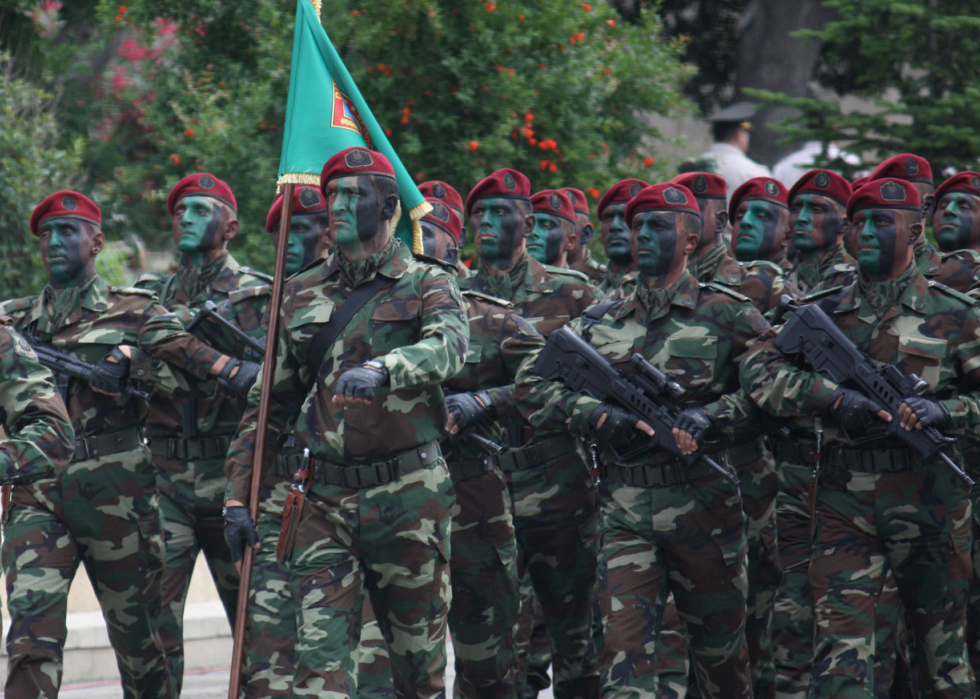 45 / 100
WalkerBaku // Wikimedia Commons
#56. Azerbaijan
Per capita spending: $156
Total expenditure: $1.5 billion
Total expenditure rank: #63/145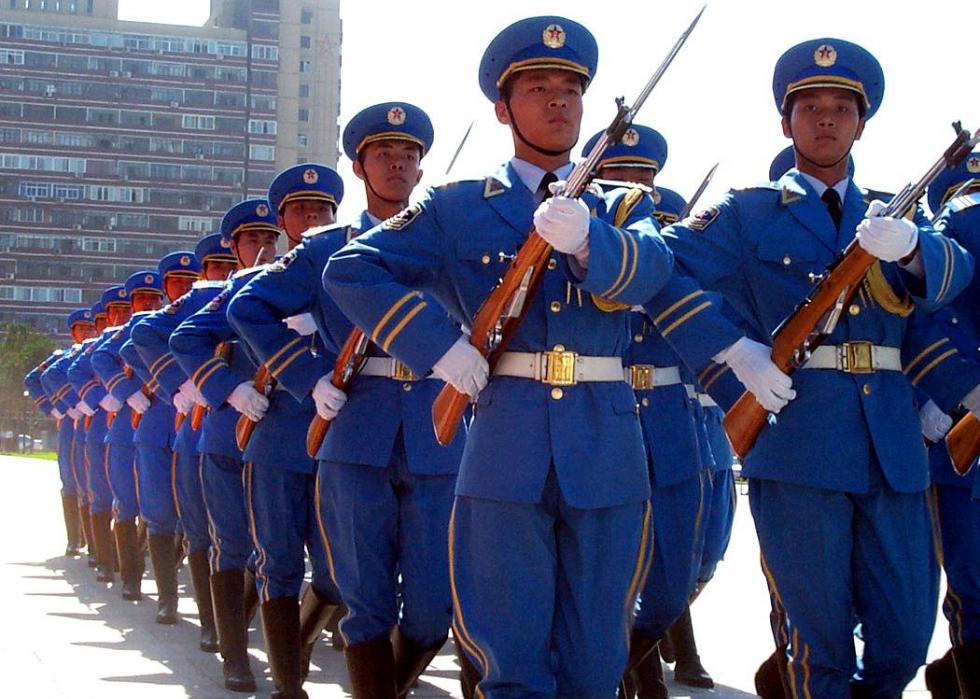 46 / 100
Linda D. Kozaryn // Wikimedia Commons
#55. China
Per capita spending: $162
Total expenditure: $228.2 billion
Total expenditure rank: #2/145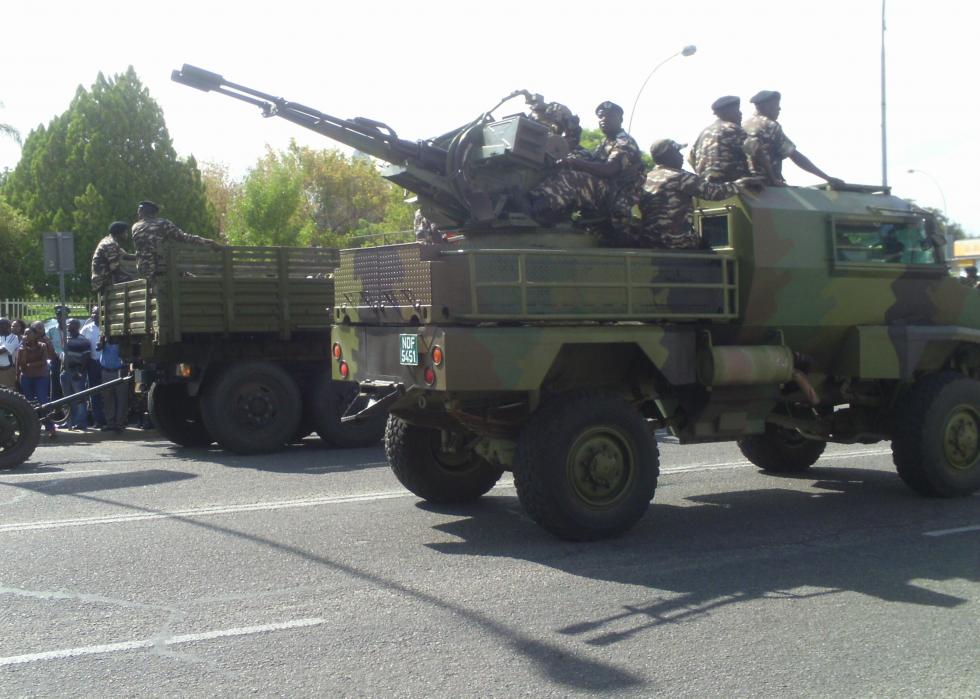 47 / 100
ViceAdmiral // Wikimedia Commons
#54. Namibia
Per capita spending: $171
Total expenditure: $433.9 million
Total expenditure rank: #92/145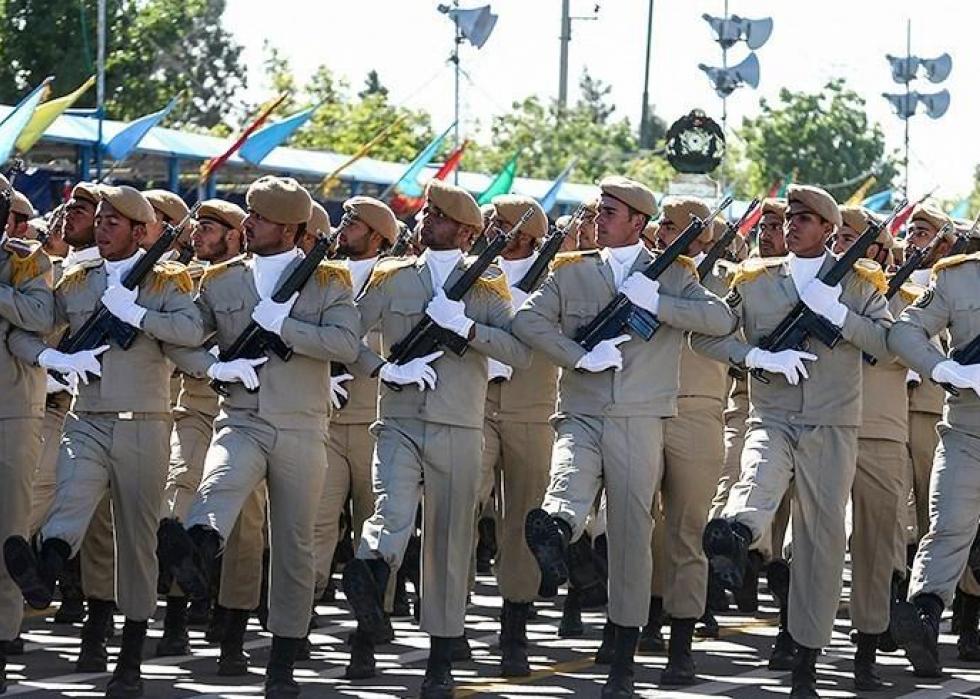 48 / 100
Hossein Zohrevand // Wikimedia Commons
#53. Iran
Per capita spending: $179
Total expenditure: $14.5 billion
Total expenditure rank: #18/145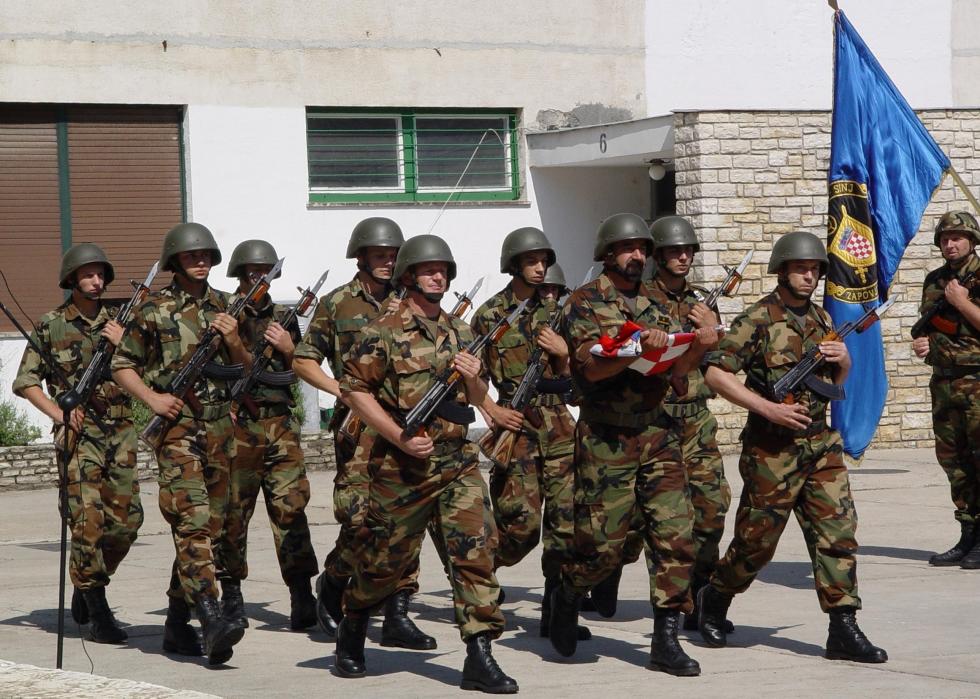 49 / 100
Orlovic // Wikimedia Commons
#52. Croatia
Per capita spending: $184
Total expenditure: $771.9 million
Total expenditure rank: #74/145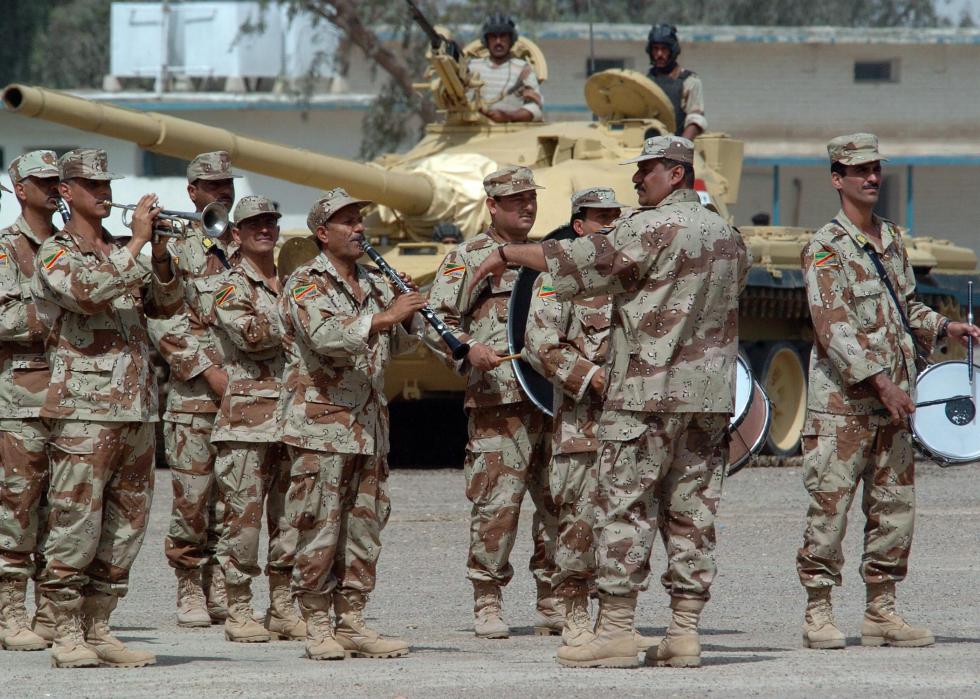 50 / 100
PH1(AW) MICHAEL LARSON // Wikimedia Commons
#51. Iraq
Per capita spending: $194
Total expenditure: $7.4 billion
Total expenditure rank: #28/145
51 / 100
CWO Keith A. Stevenson // Wikimedia Commons
#50. Colombia
Per capita spending: $198
Total expenditure: $9.7 billion
Total expenditure rank: #25/145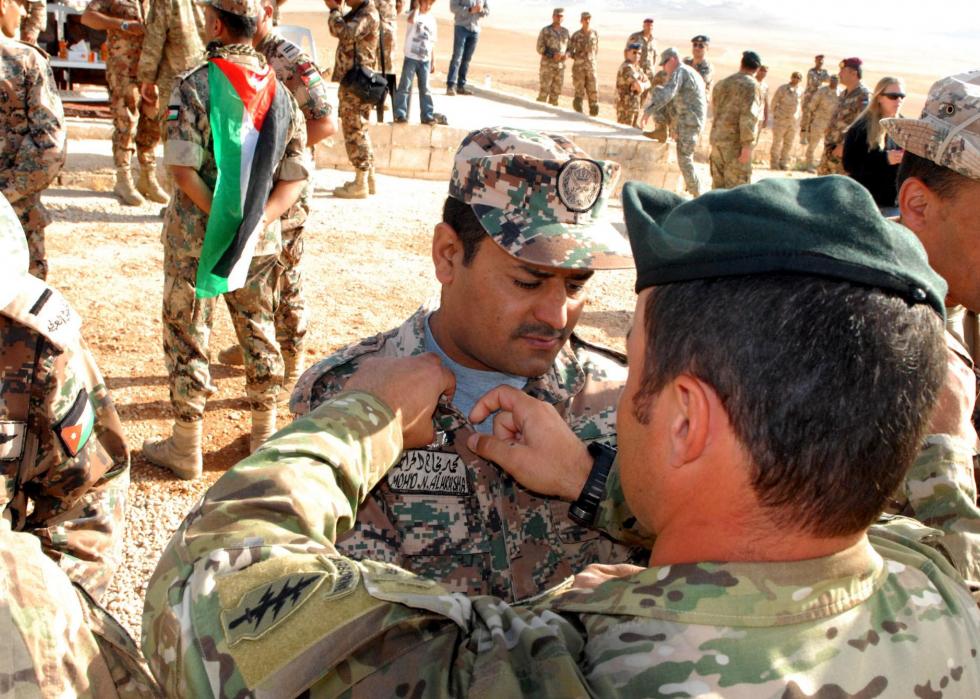 52 / 100
SGT Zachary Mott // Wikimedia Commons
#49. Jordan
Per capita spending: $200
Total expenditure: $1.9 billion
Total expenditure rank: #59/145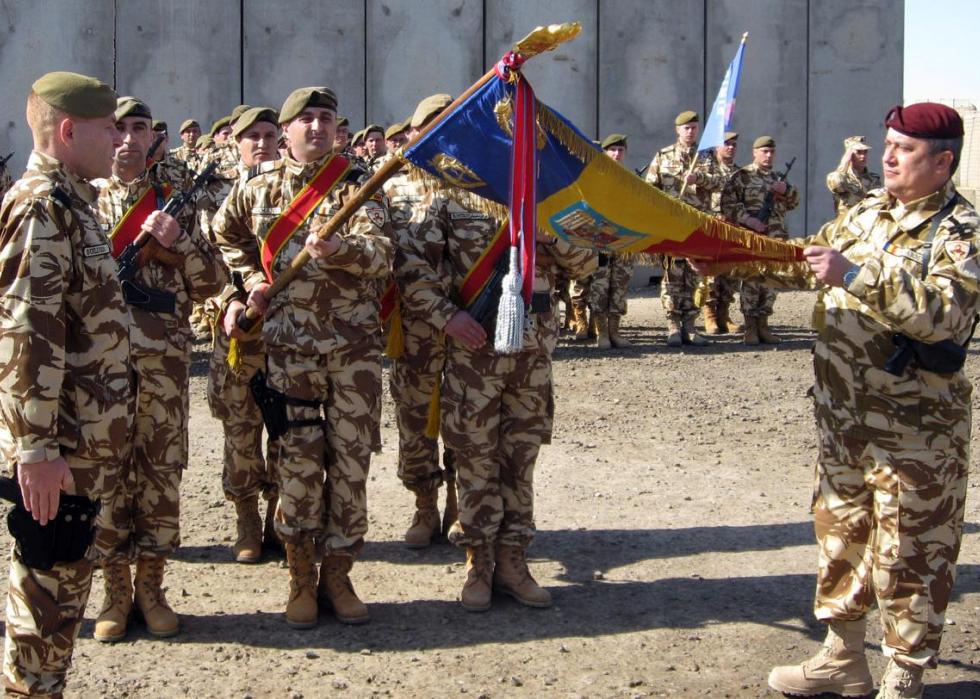 53 / 100
Maj. Chad Carroll // Wikimedia Commons
#48. Romania
Per capita spending: $204
Total expenditure: $4.0 billion
Total expenditure rank: #42/145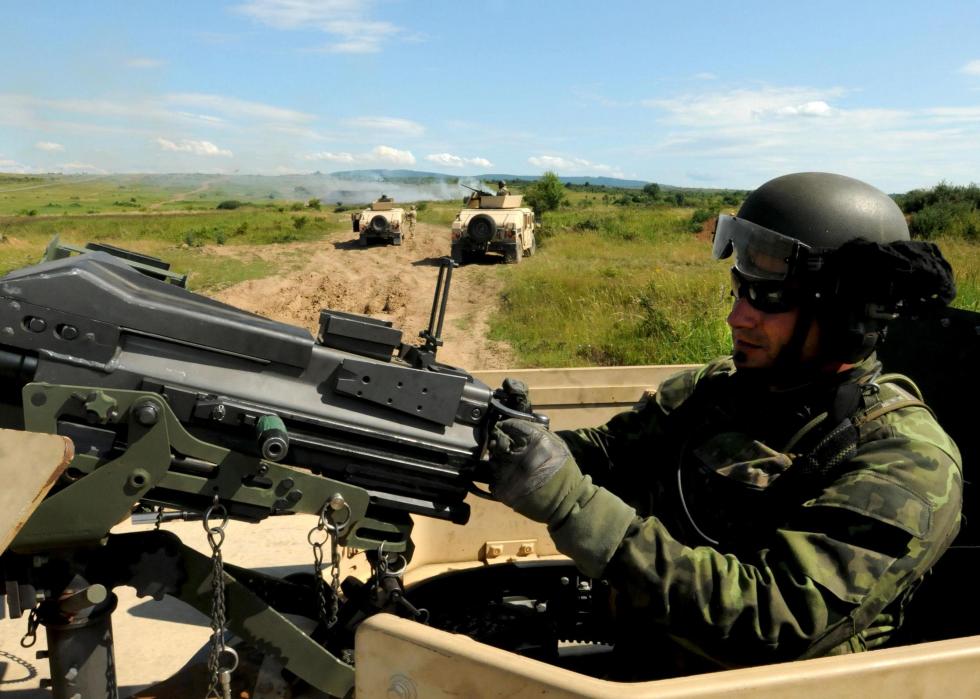 54 / 100
Master Sgt. Donald Sparks // Wikimedia Commons
#47. Slovak Republic
Per capita spending: $207
Total expenditure: $1.1 billion
Total expenditure rank: #68/145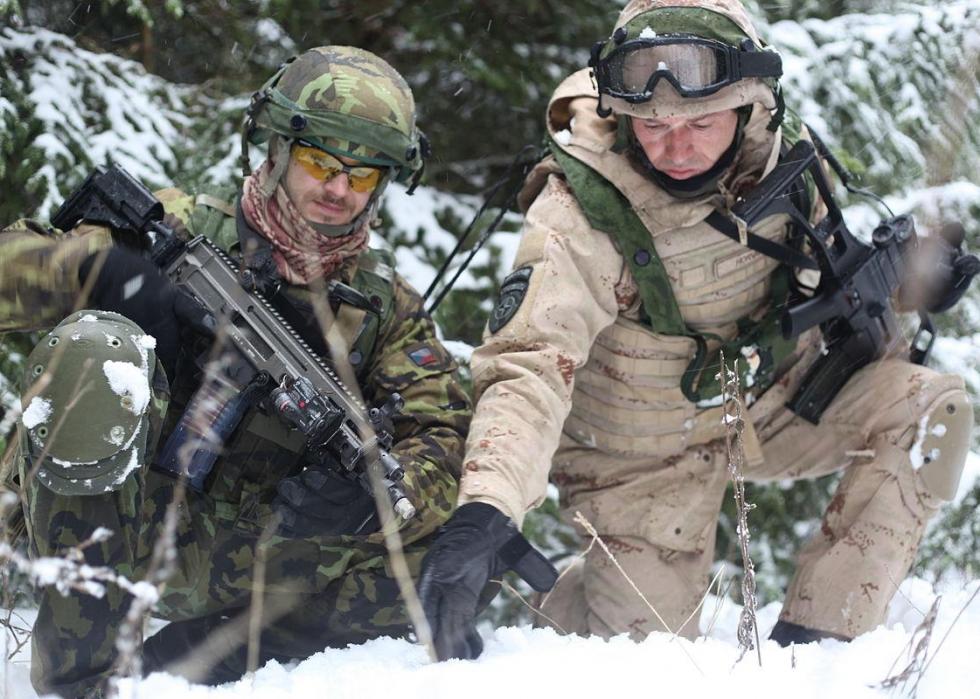 55 / 100
Military and Police Advisory Training at the Joint Multinational Readiness Center // Wikimedia Commons
#46. Czech Republic
Per capita spending: $210
Total expenditure: $2.2 billion
Total expenditure rank: #57/145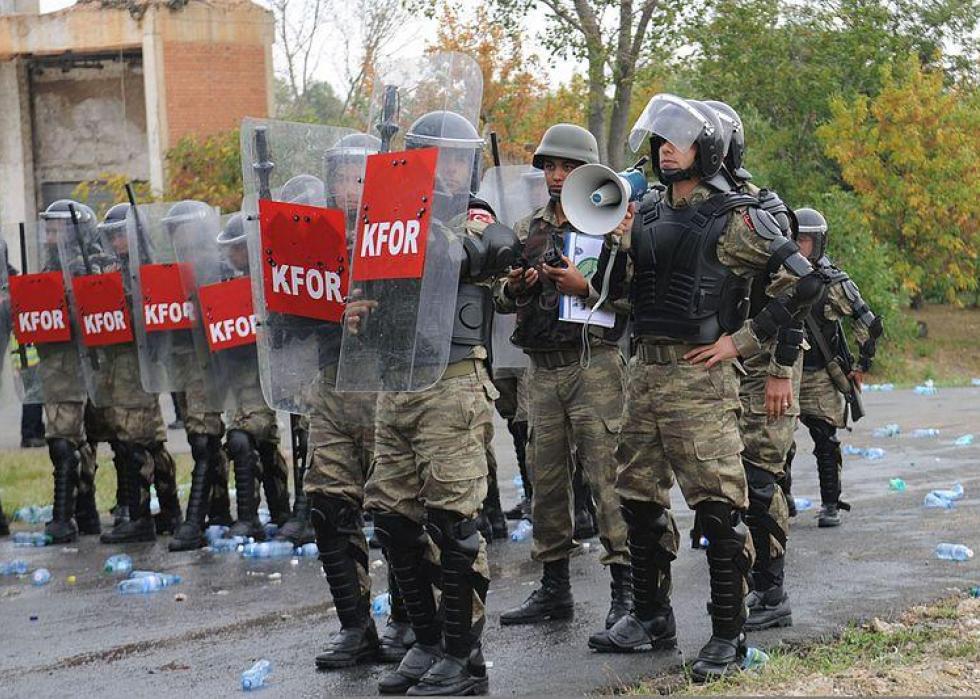 56 / 100
Sgt. Joshua Dodds/130th Public Affairs Detachment // Wikimedia Commons
#45. Turkey
Per capita spending: $225
Total expenditure: $18.2 billion
Total expenditure rank: #15/145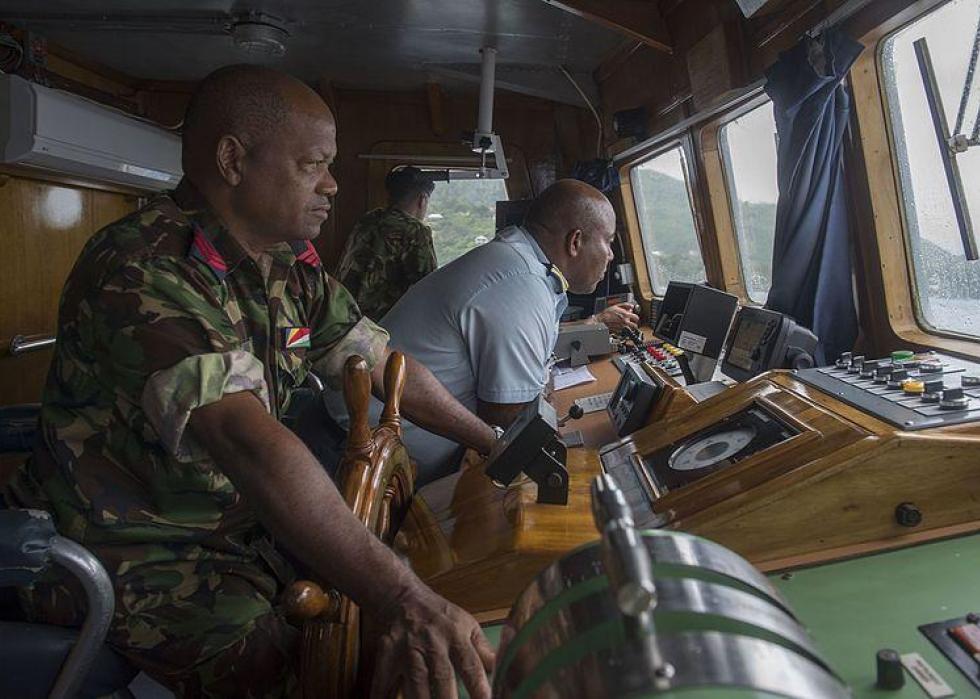 57 / 100
Commander, U.S. Naval Forces Europe-Africa/U.S. 6th Fleet // Wikimedia Commons
#44. Seychelles
Per capita spending: $229
Total expenditure: $21.7 million
Total expenditure rank: #145/145
58 / 100
MORS // Wikimedia Commons
#43. Slovenia
Per capita spending: $230
Total expenditure: $477.5 million
Total expenditure rank: #86/145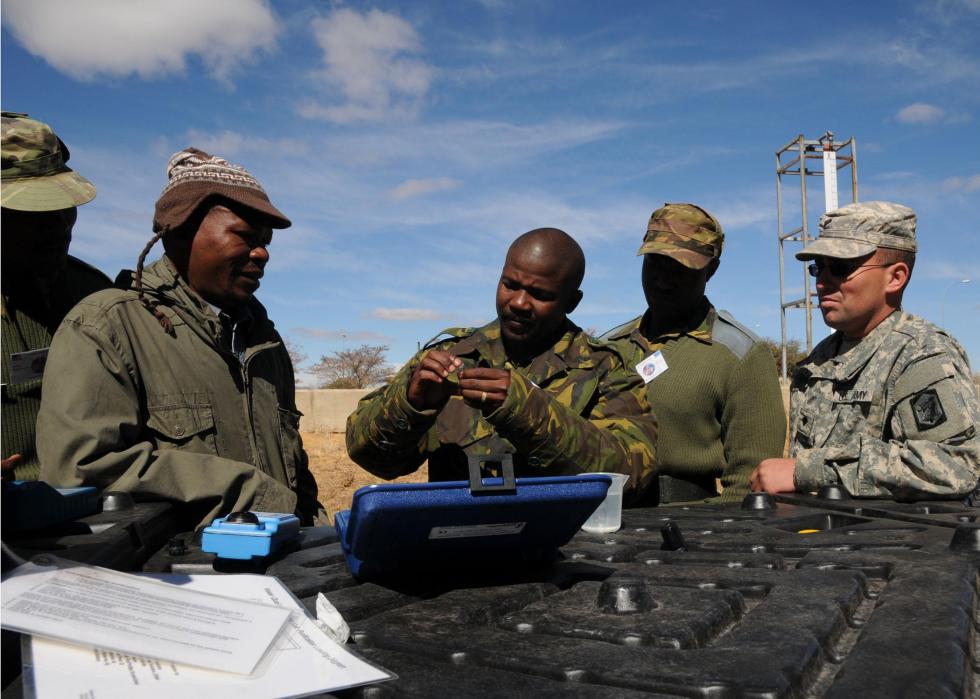 59 / 100
U.S. Army Africa // Wikimedia Commons
#42. Botswana
Per capita spending: $232
Total expenditure: $531.2 million
Total expenditure rank: #80/145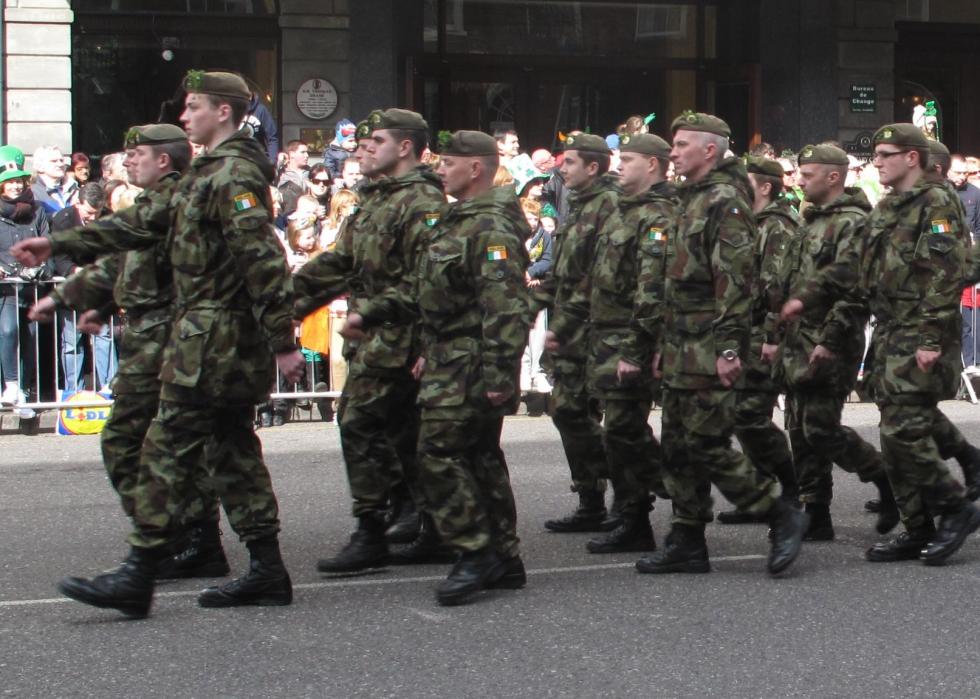 60 / 100
Guliolopez // Wikimedia Commons
#41. Ireland
Per capita spending: $235
Total expenditure: $1.1 billion
Total expenditure rank: #69/145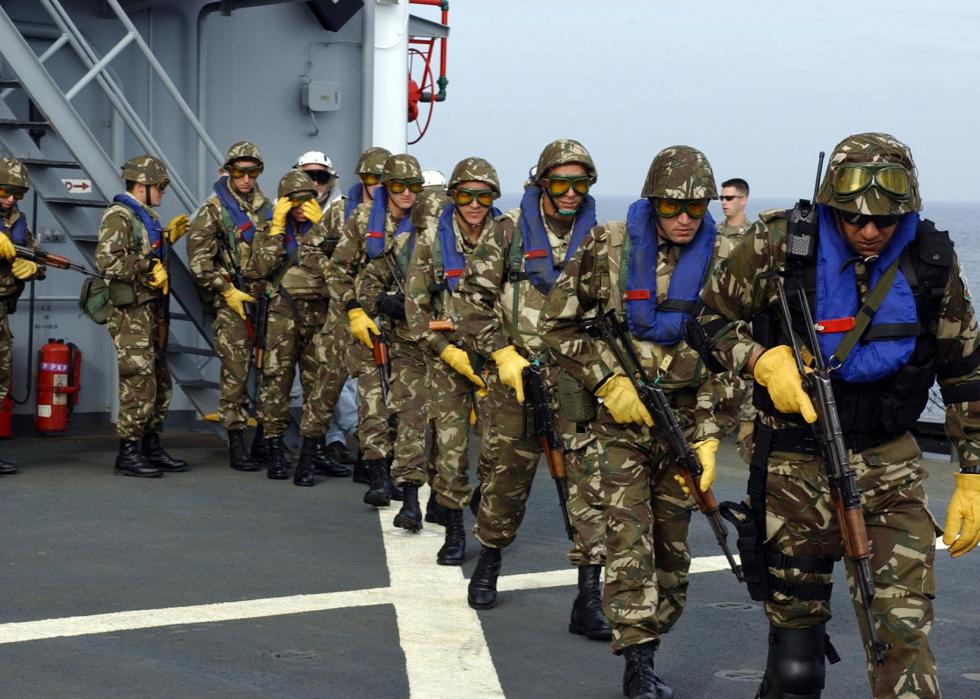 61 / 100
Mass Communication Specialist Steven Harbour // Wikimedia Commons
#40. Algeria
Per capita spending: $244
Total expenditure: $10.1 billion
Total expenditure rank: #22/145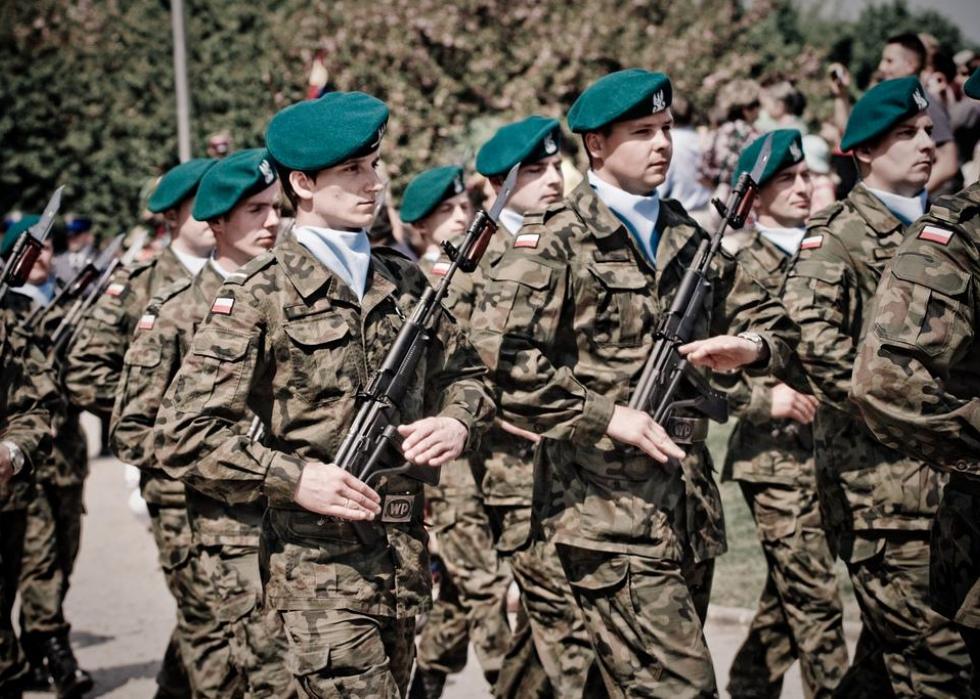 62 / 100
Piotr Wlodarczyk // Wikimedia Commons
#39. Poland
Per capita spending: $262
Total expenditure: $10.0 billion
Total expenditure rank: #24/145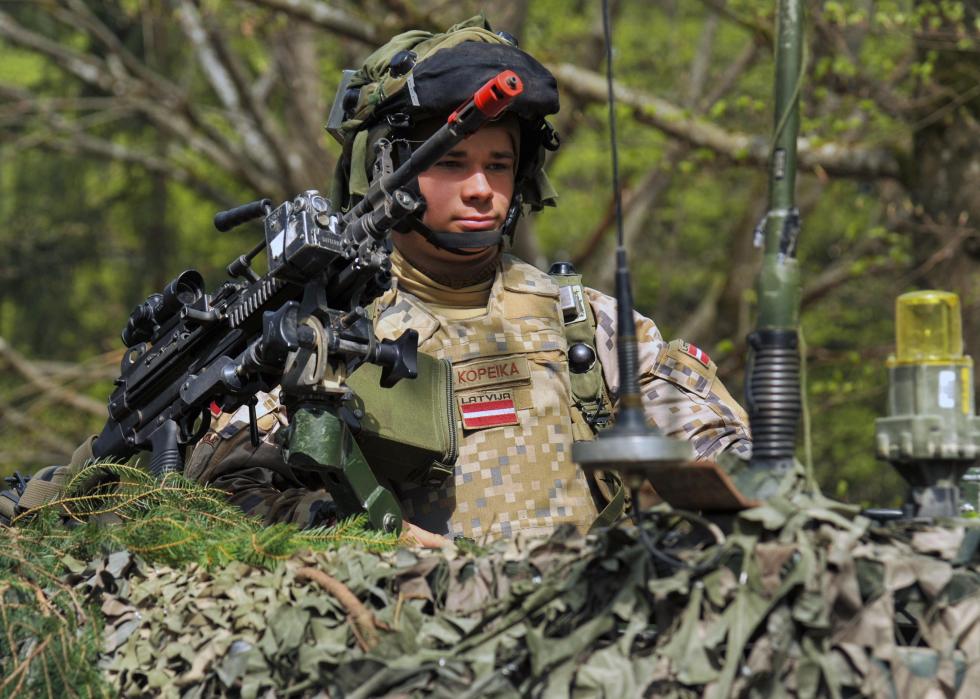 63 / 100
7th Army Joint Multinational Training Command // Wikimedia Commons
#38. Latvia
Per capita spending: $264
Total expenditure: $513.7 million
Total expenditure rank: #81/145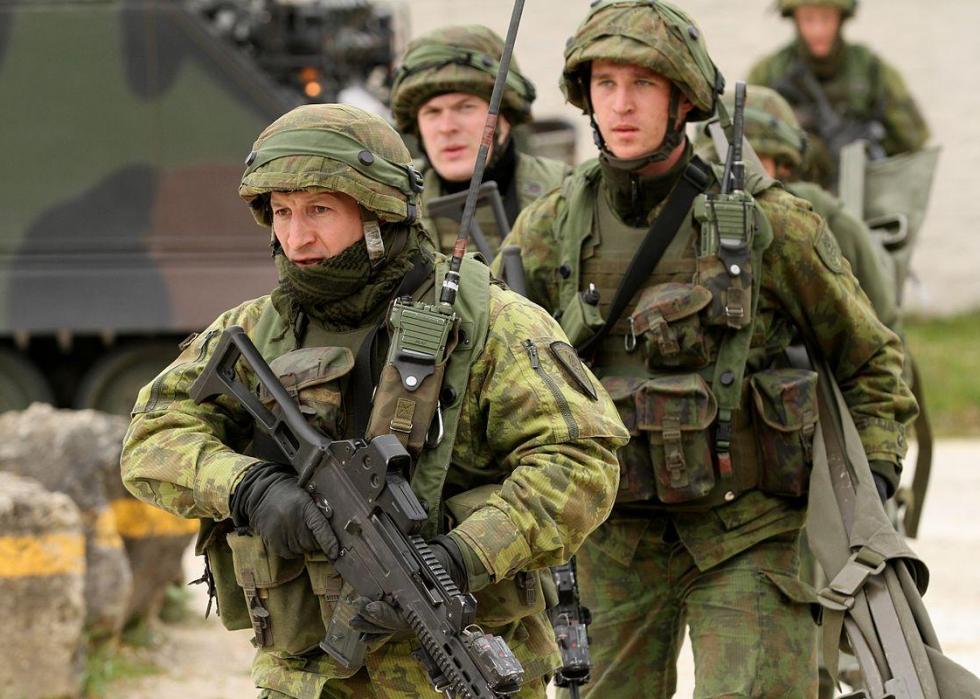 64 / 100
7th Army Joint Multinational Training Command // Wikimedia Commons
#37. Lithuania
Per capita spending: $281
Total expenditure: $811.8 million
Total expenditure rank: #73/145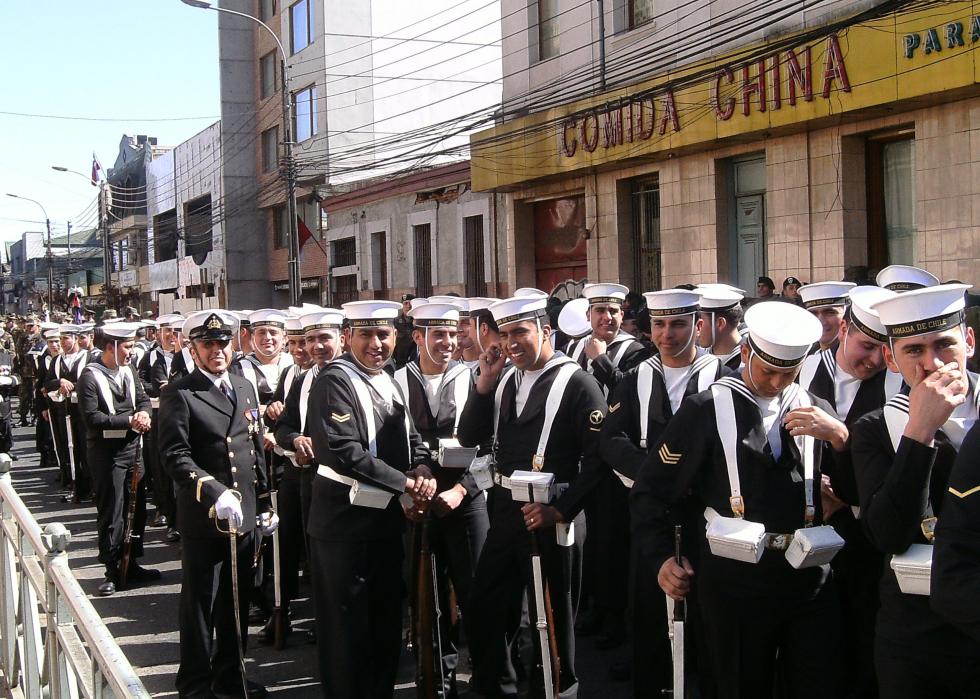 65 / 100
Hackerator // Wikimedia Commons
#36. Chile
Per capita spending: $284
Total expenditure: $5.1 billion
Total expenditure rank: #35/145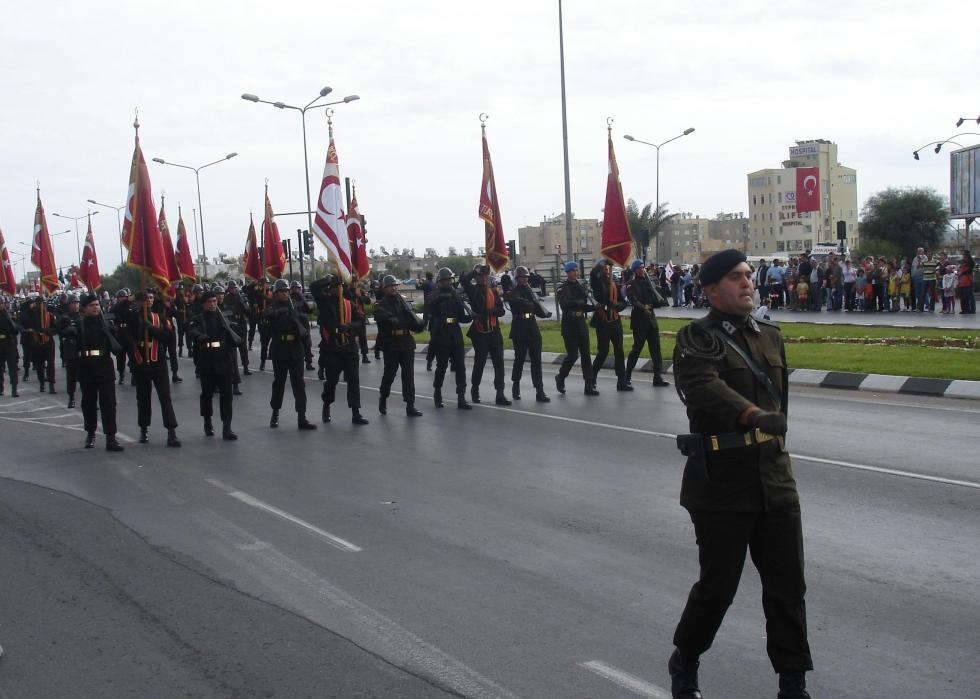 66 / 100
Seksen iki yuz kirk bes // Wikimedia Commons
#35. Cyprus
Per capita spending: $335
Total expenditure: $394.7 million
Total expenditure rank: #94/145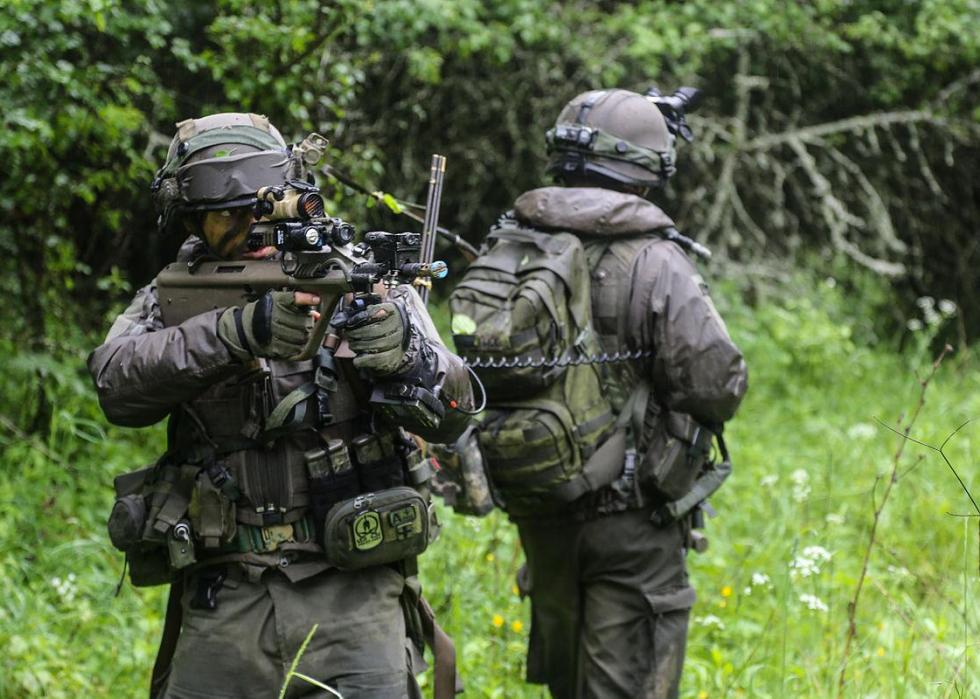 67 / 100
7th Army Joint Multinational Training Command // Wikimedia Commons
#34. Austria
Per capita spending: $340
Total expenditure: $3.0 billion
Total expenditure rank: #52/145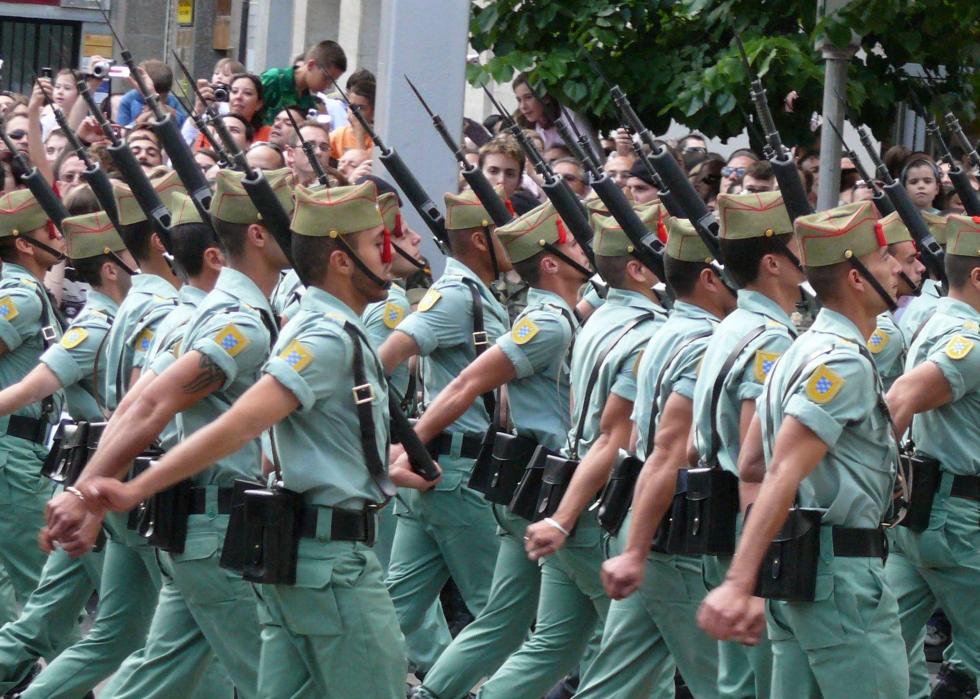 68 / 100
Oscar en el medio // Wikimedia Commons
#33. Spain
Per capita spending: $350
Total expenditure: $16.2 billion
Total expenditure rank: #17/145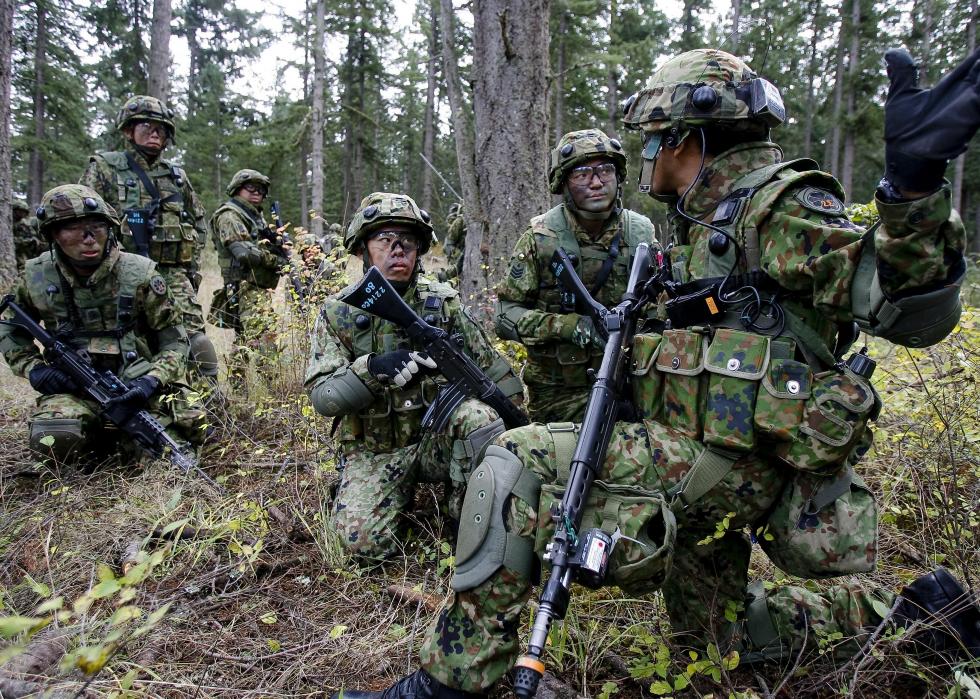 69 / 100
US Army // Wikimedia Commons
#32. Japan
Per capita spending: $356
Total expenditure: $45.4 billion
Total expenditure rank: #8/145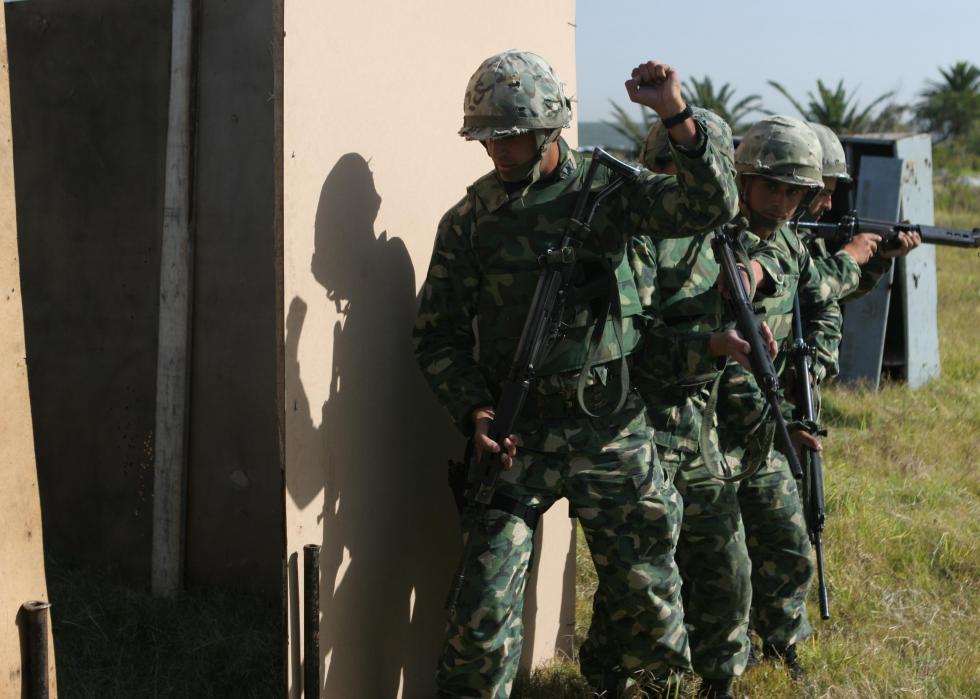 70 / 100
Cpl. Dustin Schalue // Wikimedia Commons
#31. Uruguay
Per capita spending: $359
Total expenditure: $1.2 billion
Total expenditure rank: #67/145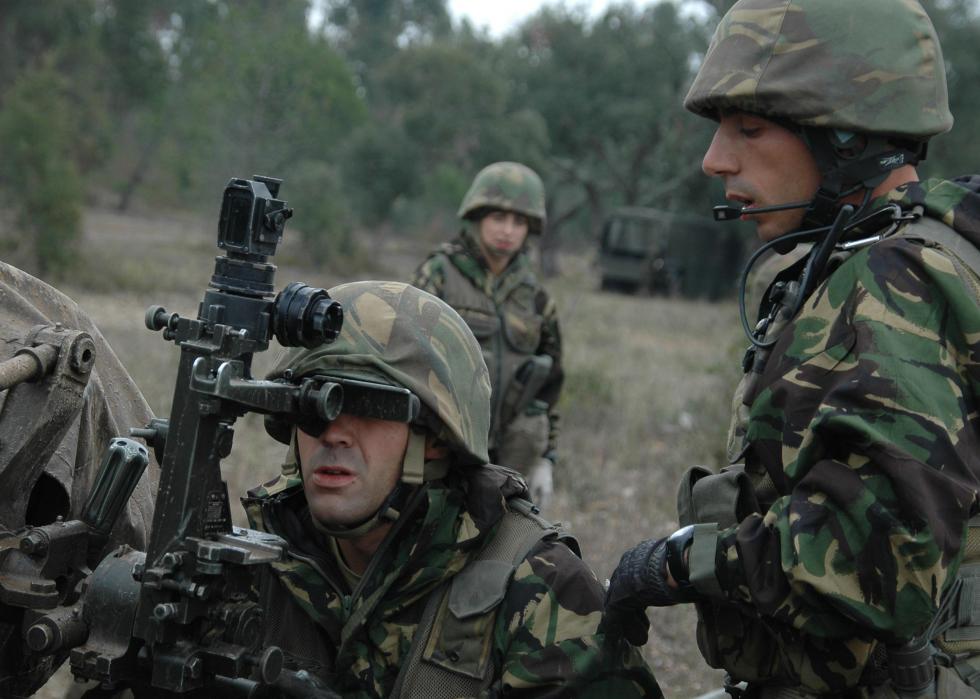 71 / 100
Allied Joint Forces Command Brunssum // Wikimedia Commons
#30. Portugal
Per capita spending: $365
Total expenditure: $3.8 billion
Total expenditure rank: #44/145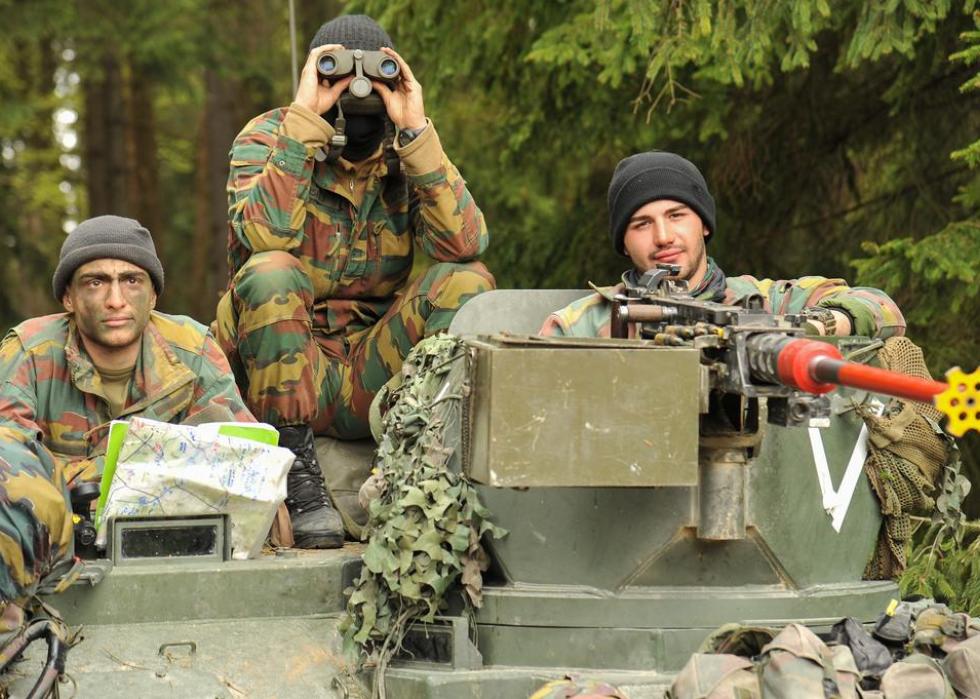 72 / 100
7th Army Training Command // Flickr
#29. Belgium
Per capita spending: $389
Total expenditure: $4.4 billion
Total expenditure rank: #39/145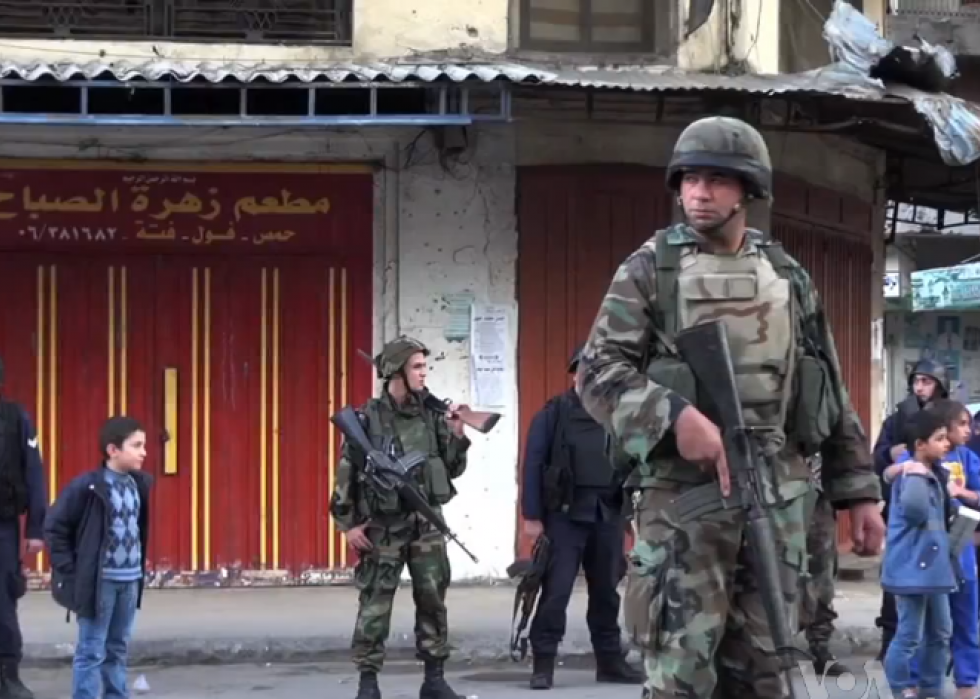 73 / 100
James Brooke // Wikimedia Commons
#28. Lebanon
Per capita spending: $401
Total expenditure: $2.4 billion
Total expenditure rank: #54/145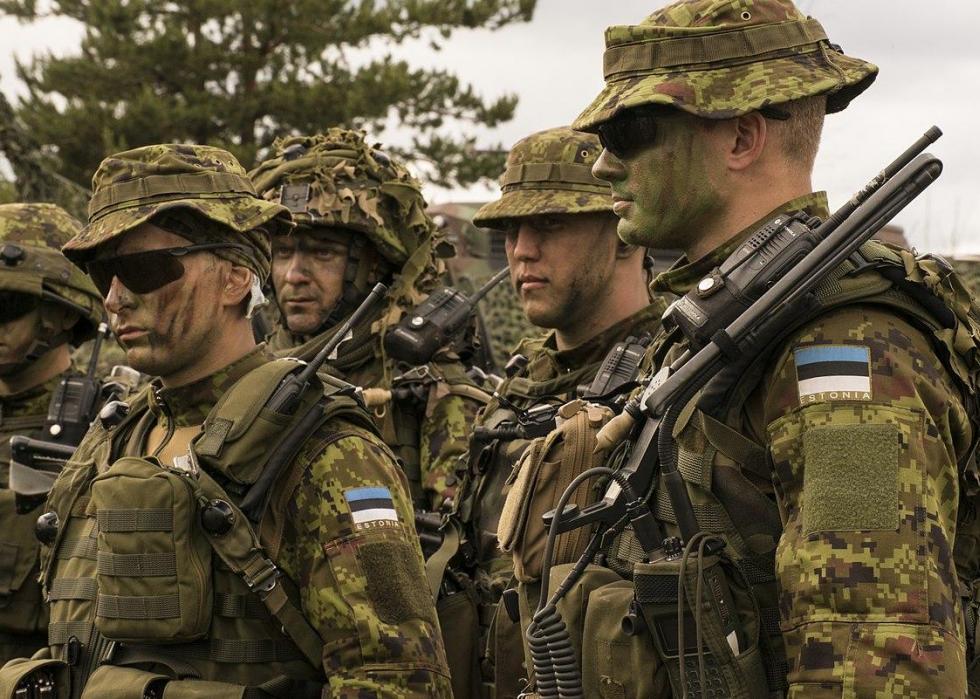 74 / 100
Sgt. Sara Marchus // Wikimedia Commons
#27. Estonia
Per capita spending: $410
Total expenditure: $536.3 million
Total expenditure rank: #79/145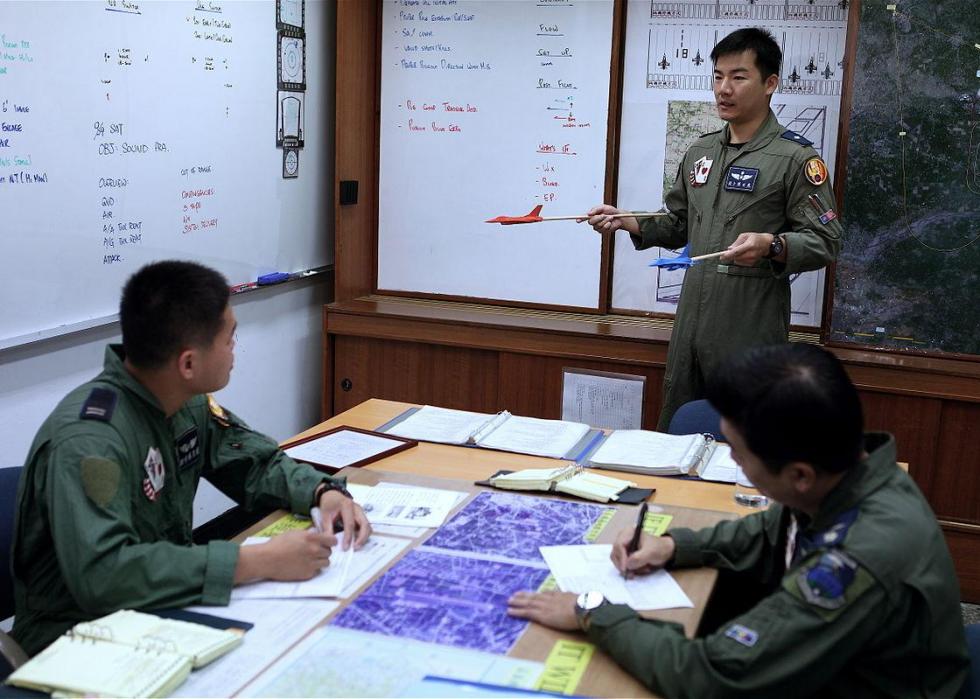 75 / 100
Steve Chao/Al Jazeera English // Wikimedia Commons
#26. Taiwan
Per capita spending: $447
Total expenditure: $10.6 billion
Total expenditure rank: #20/145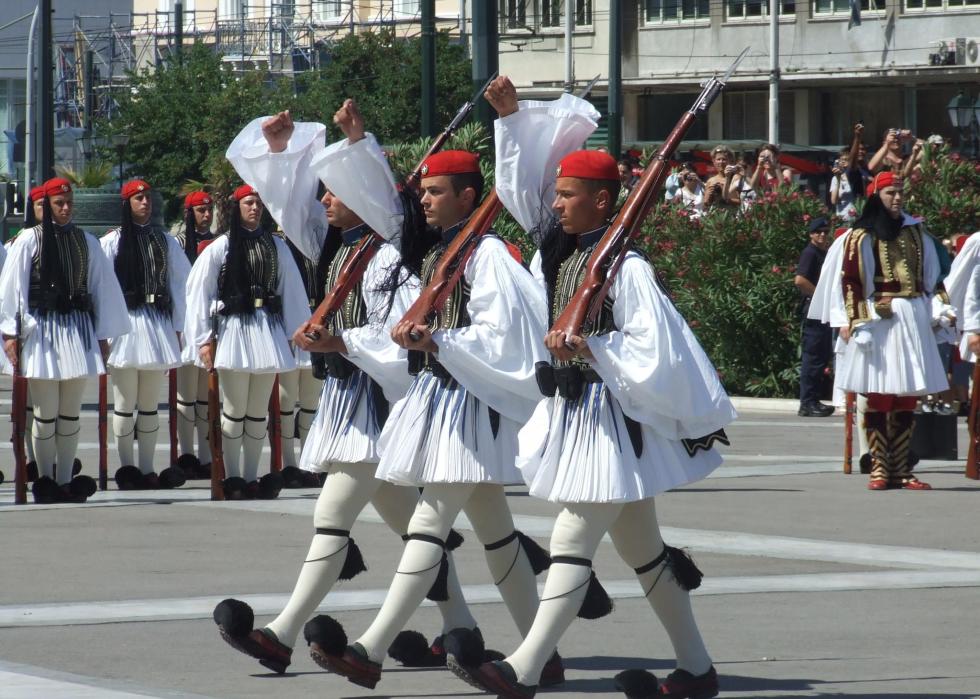 76 / 100
Robin // Wikimedia Commons
#25. Greece
Per capita spending: $456
Total expenditure: $5.1 billion
Total expenditure rank: #36/145
77 / 100
Kremlin.ru // Wikimedia Commons
#24. Russia
Per capita spending: $461
Total expenditure: $66.3 billion
Total expenditure rank: #4/145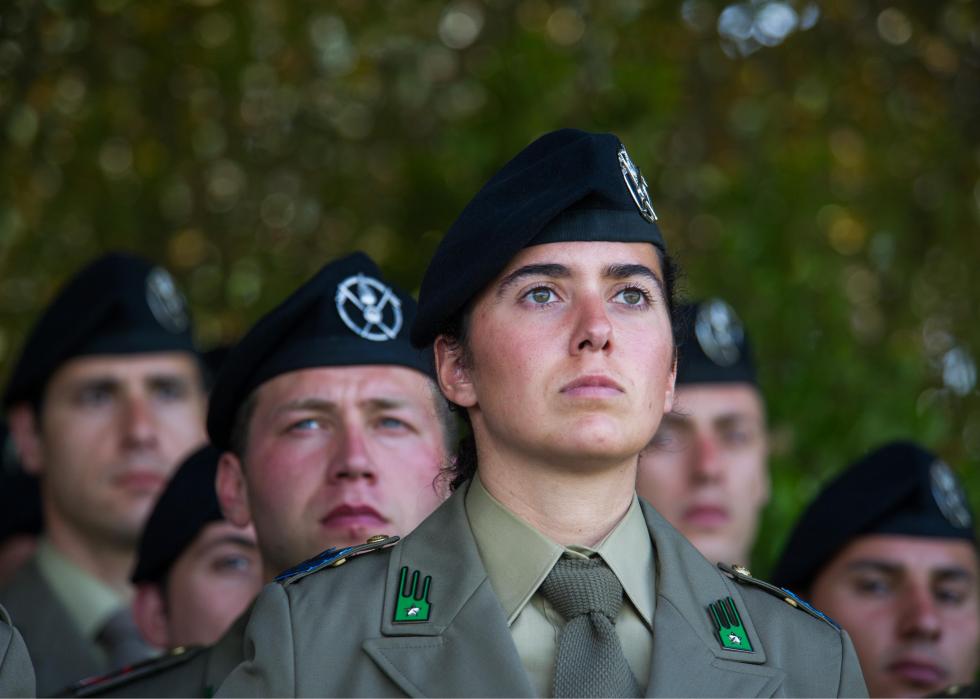 78 / 100
SSG Teddy Wade // Wikimedia Commons
#23. Italy
Per capita spending: $493
Total expenditure: $29.2 billion
Total expenditure rank: #12/145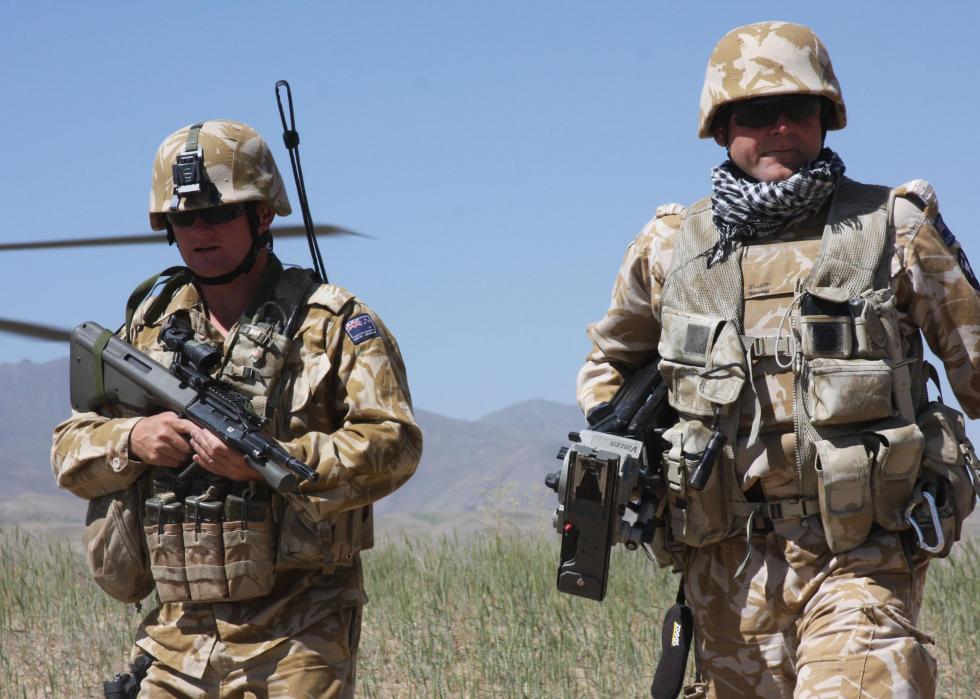 79 / 100
ISAF Headquarters Public Affairs Office // Wikimedia Commons
#22. New Zealand
Per capita spending: $495
Total expenditure: $2.3 billion
Total expenditure rank: #56/145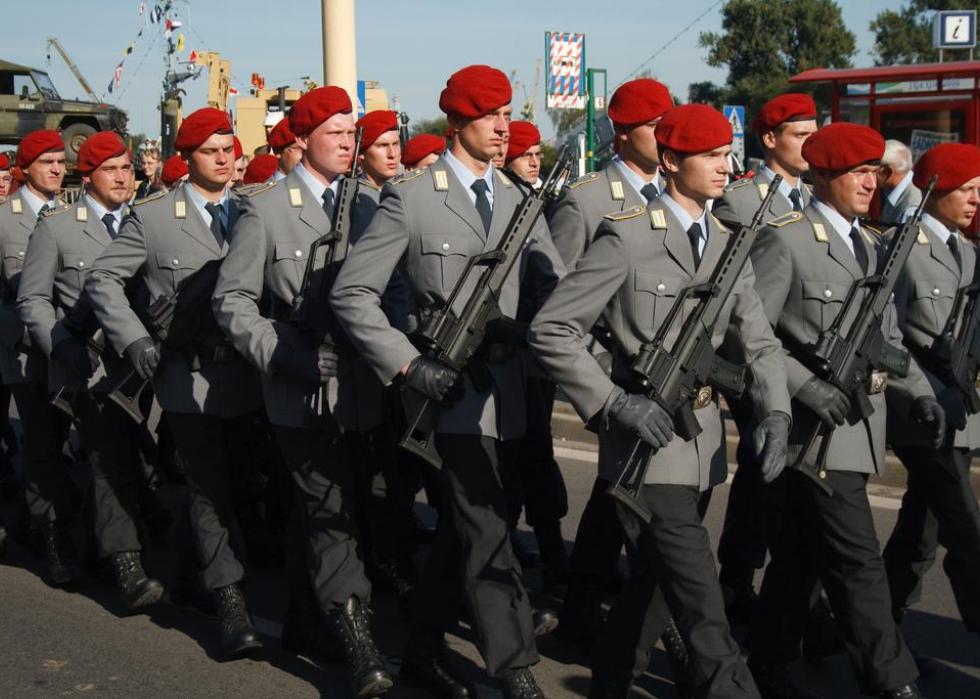 80 / 100
#21. Germany
Per capita spending: $540
Total expenditure: $44.3 billion
Total expenditure rank: #9/145
81 / 100
Zinneke // Wikimedia Commons
#20. Luxembourg
Per capita spending: $545
Total expenditure: $317.9 million
Total expenditure rank: #102/145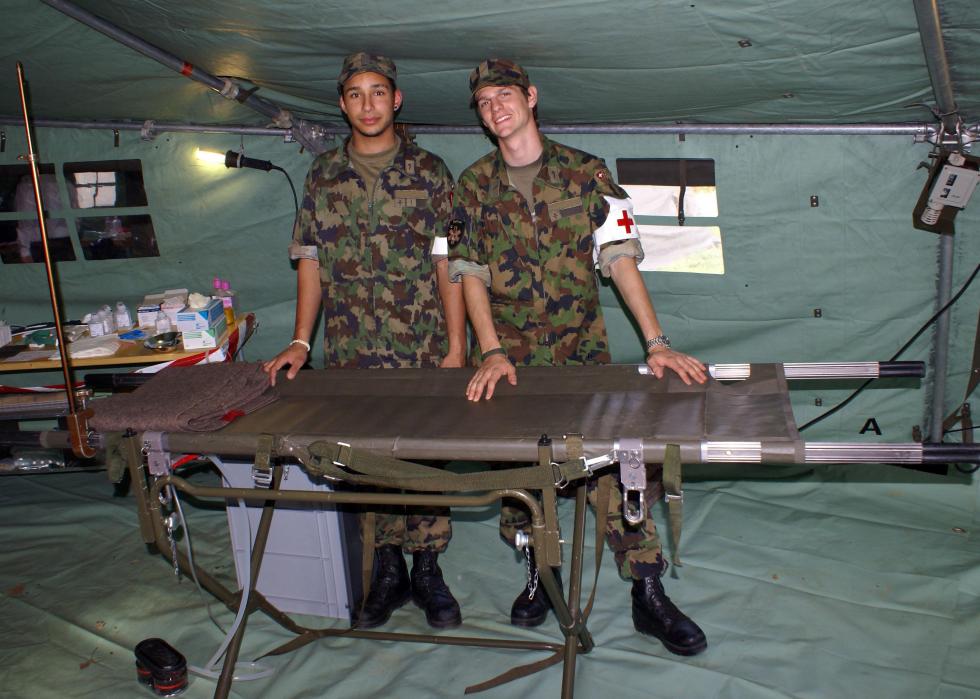 82 / 100
TheBernFiles // Wikimedia Commons
#19. Switzerland
Per capita spending: $546
Total expenditure: $4.6 billion
Total expenditure rank: #38/145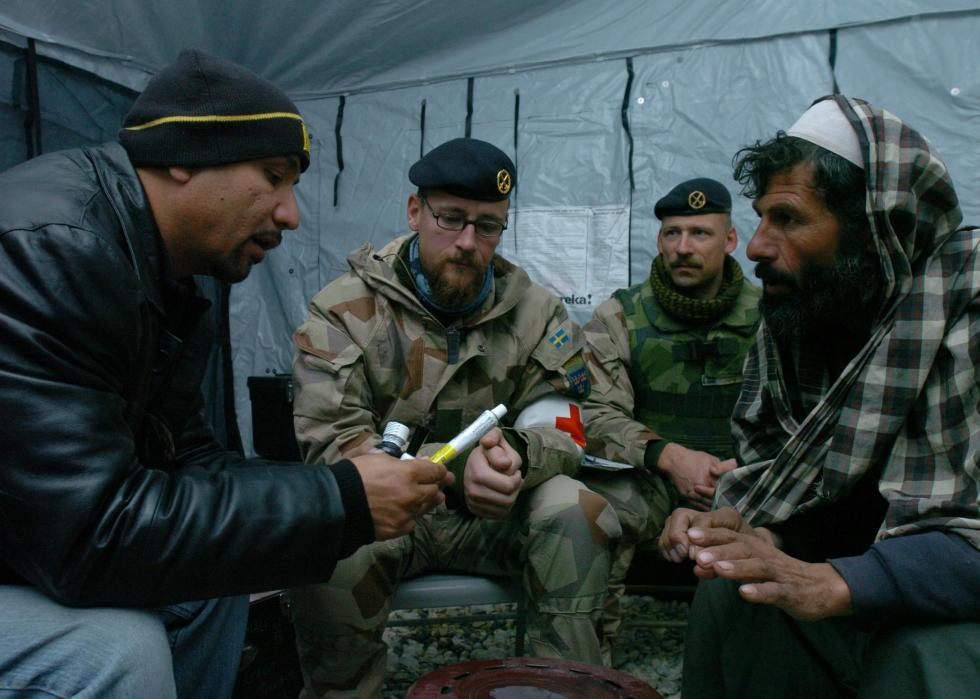 83 / 100
SGT Bertha A. Flores // Wikimedia Commons
#18. Sweden
Per capita spending: $561
Total expenditure: $5.6 billion
Total expenditure rank: #34/145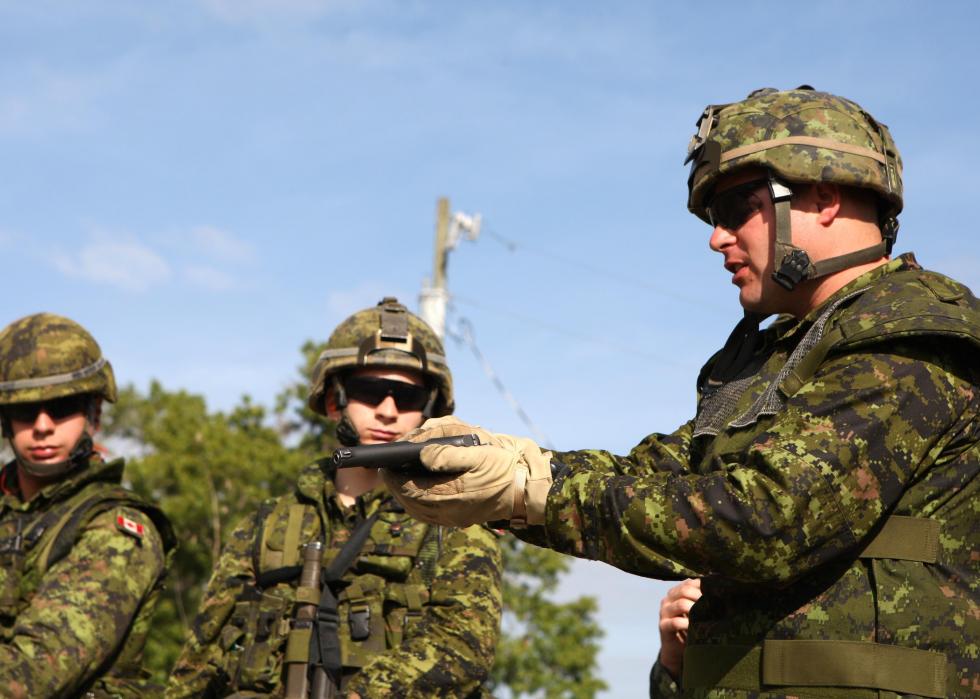 84 / 100
Lance Cpl. Christopher J. Gallagher // Wikimedia Commons
#17. Canada
Per capita spending: $562
Total expenditure: $20.6 billion
Total expenditure rank: #14/145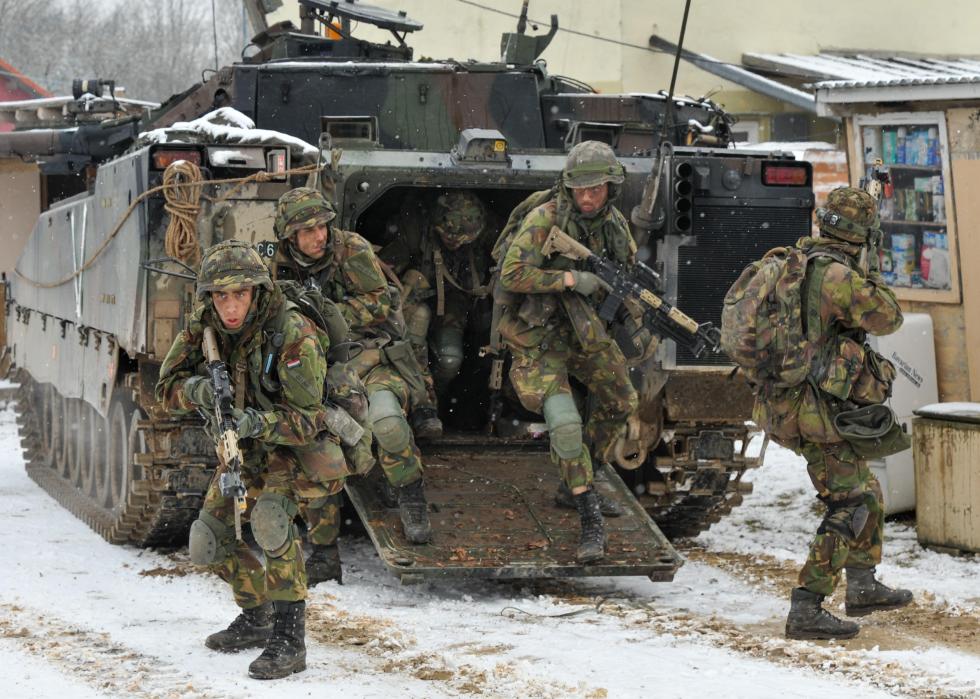 85 / 100
Markus Rauchenberger // Wikimedia Commons
#16. Netherlands
Per capita spending: $590
Total expenditure: $10.0 billion
Total expenditure rank: #23/145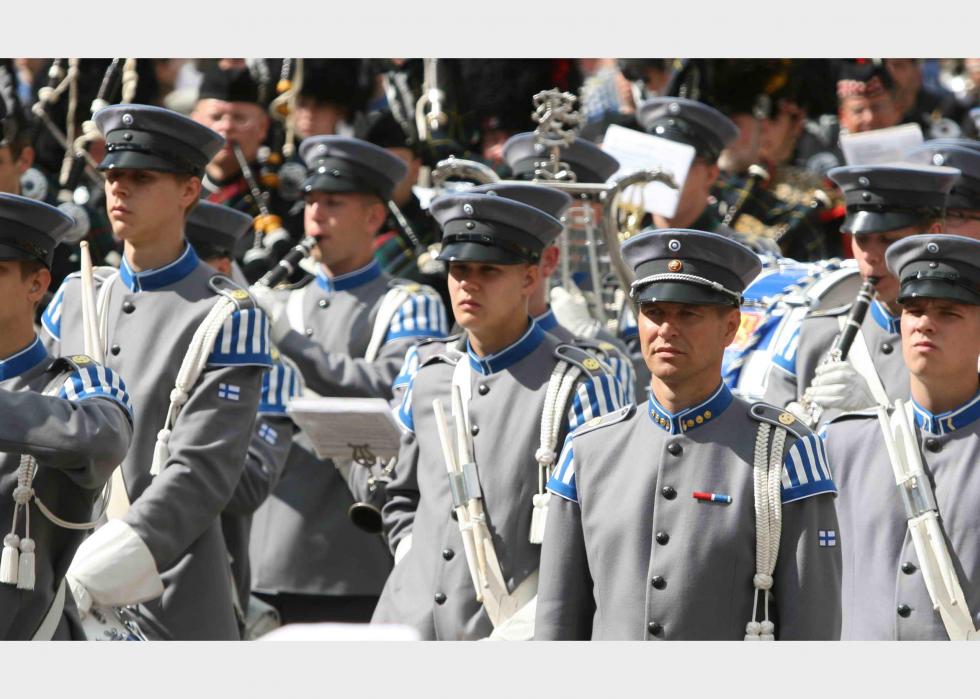 86 / 100
davric // Wikimedia Commons
#15. Finland
Per capita spending: $651
Total expenditure: $3.6 billion
Total expenditure rank: #47/145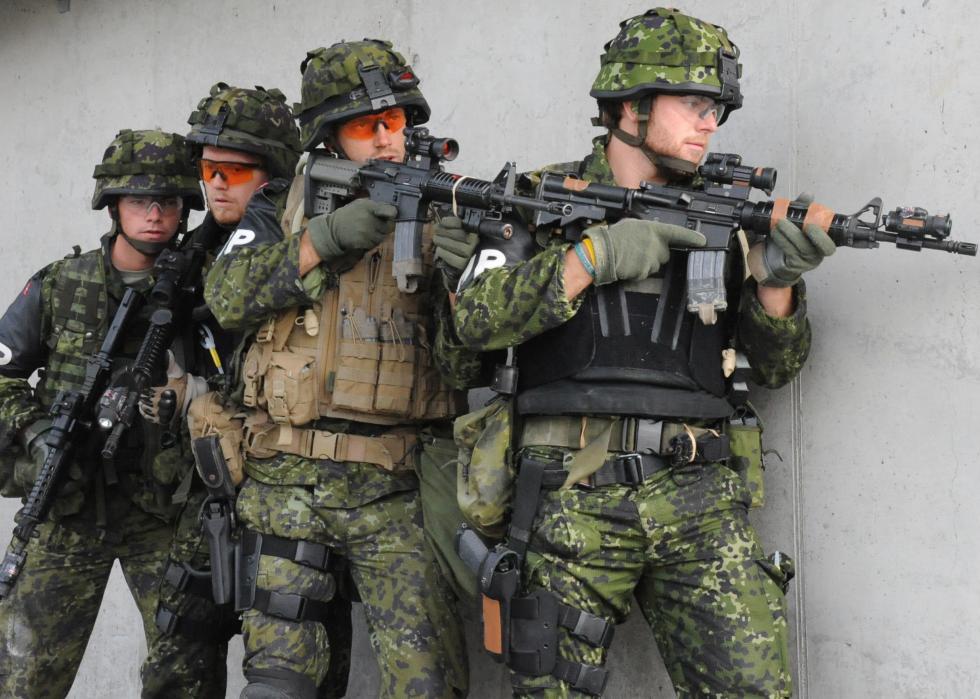 87 / 100
Gertrud Zach/U.S. Army // Wikimedia Commons
#14. Denmark
Per capita spending: $662
Total expenditure: $3.8 billion
Total expenditure rank: #43/145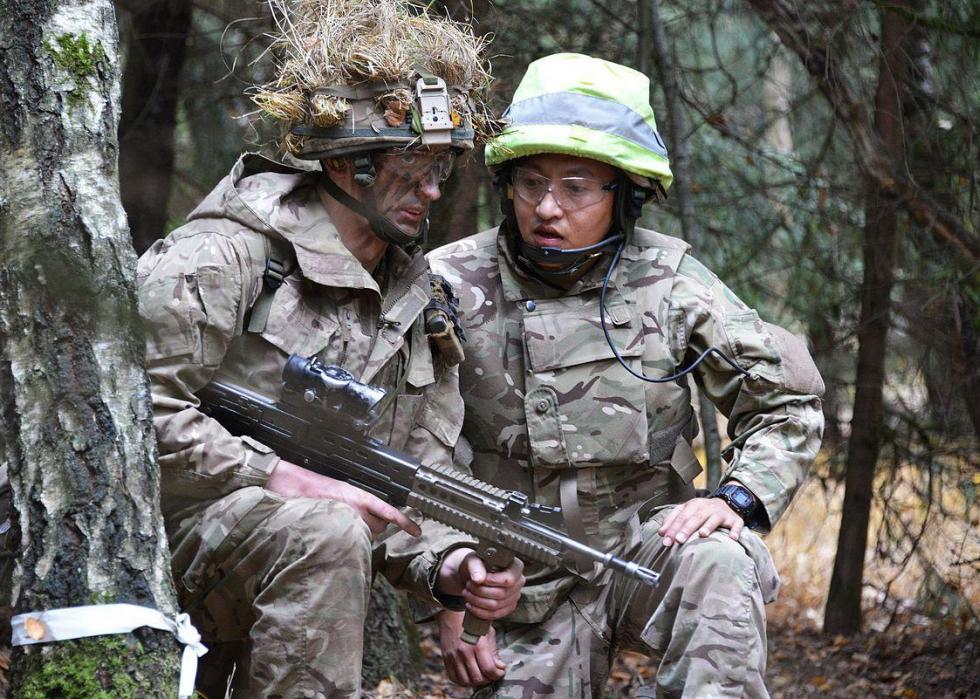 88 / 100
Gertrud Zach // Wikimedia Commons
#13. UK
Per capita spending: $713
Total expenditure: $47.2 billion
Total expenditure rank: #7/145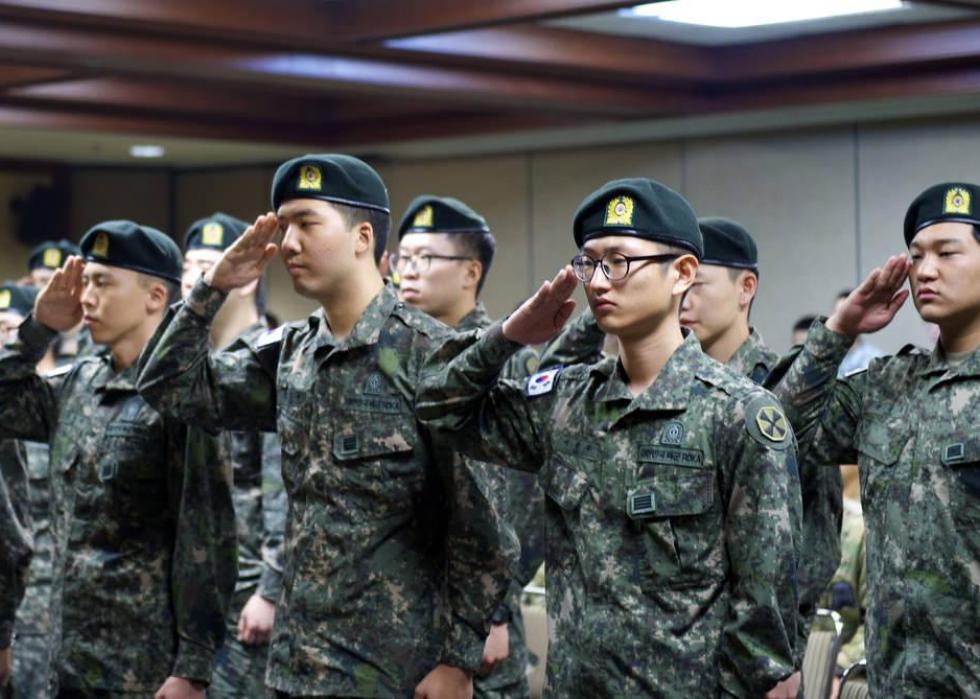 89 / 100
USAG- Humphreys // Flickr
#12. South Korea
Per capita spending: $768
Total expenditure: $39.2 billion
Total expenditure rank: #10/145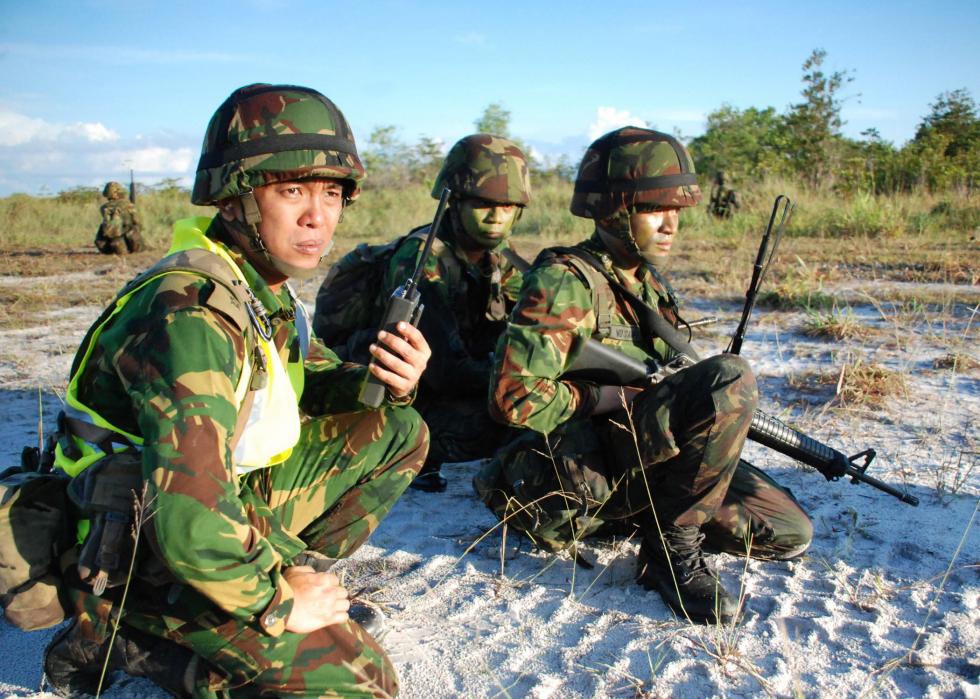 90 / 100
Mike Morley/U.S. Navy // Wikimedia Commons
#11. Brunei
Per capita spending: $809
Total expenditure: $346.7 million
Total expenditure rank: #98/145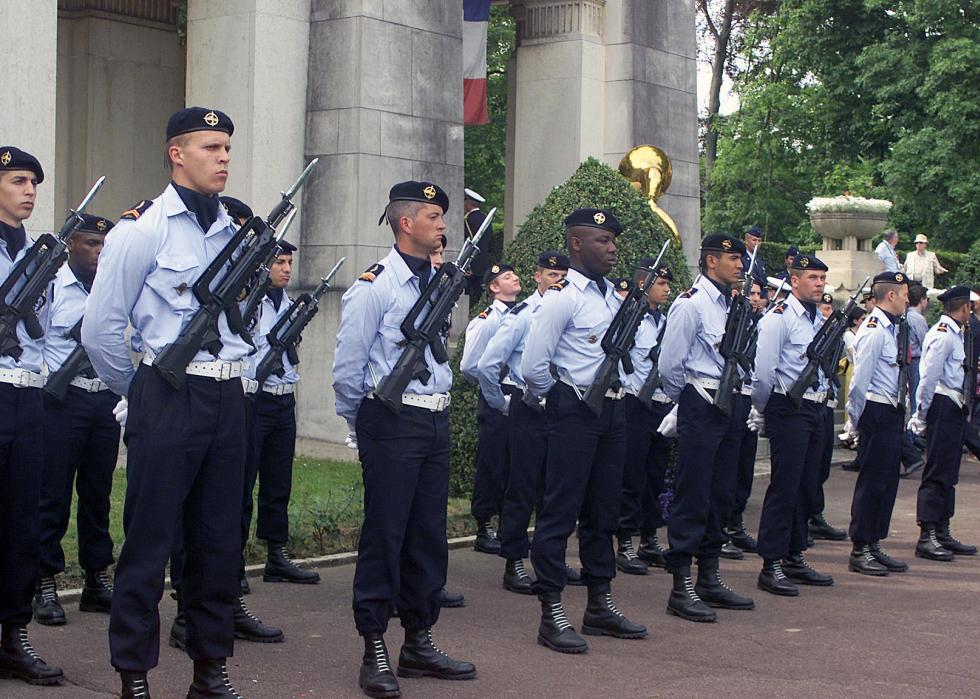 91 / 100
SRA ESPERANZA BERRIOS // Wikimedia Commons
#10. France
Per capita spending: $889
Total expenditure: $57.8 billion
Total expenditure rank: #6/145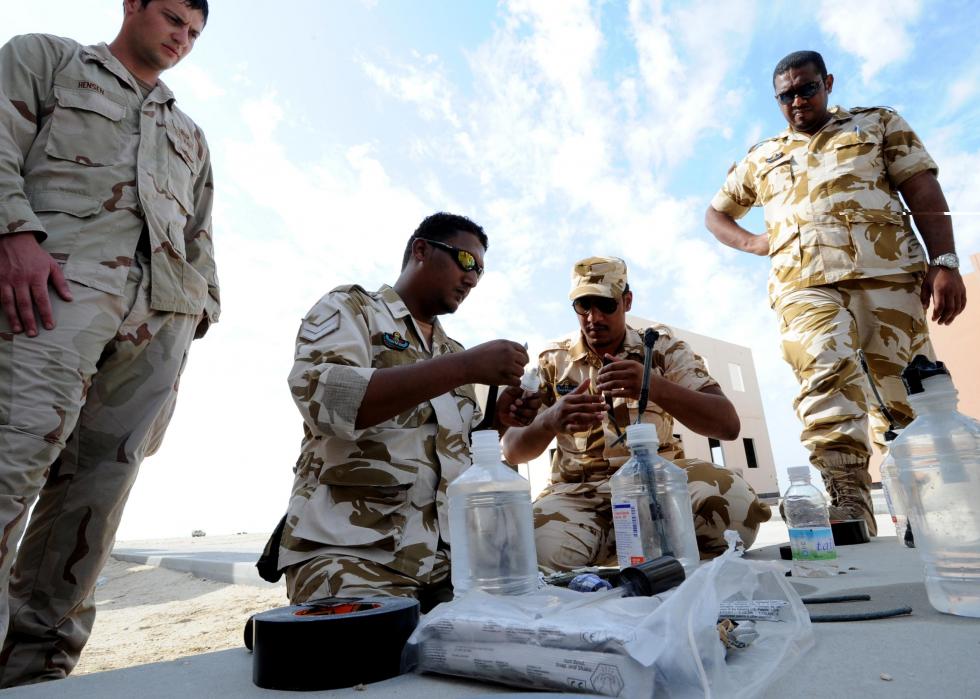 92 / 100
Mass Communication Specialist 1st Class Krishna M. Jackson/U.S. Navy // Wikimedia Commons
#9. Bahrain
Per capita spending: $936
Total expenditure: $1.4 billion
Total expenditure rank: #65/145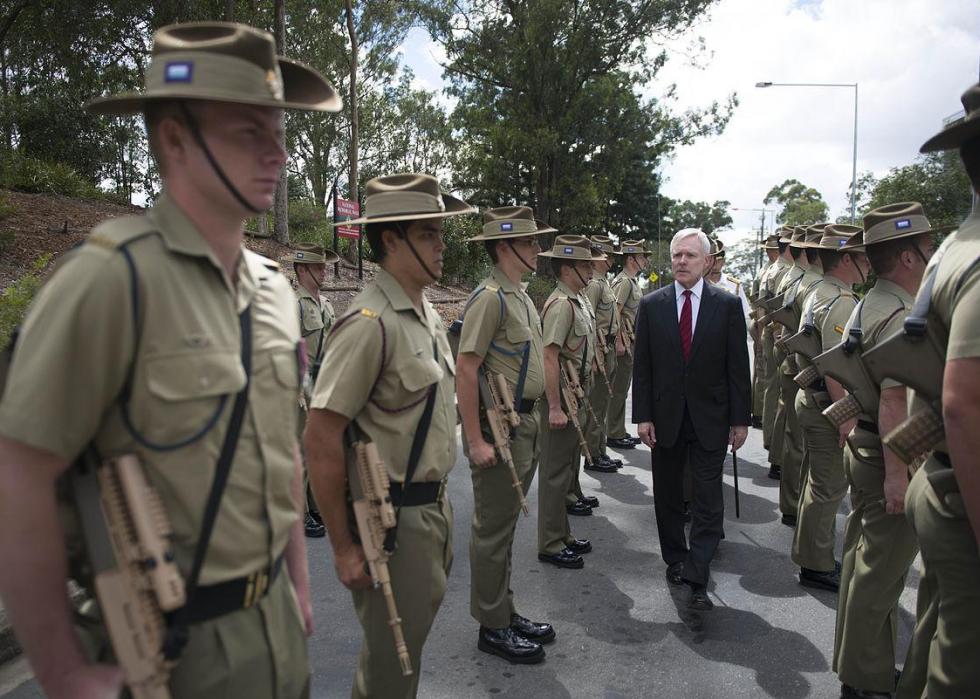 93 / 100
Official U.S. Navy Page // Wikimedia Commons
#8. Australia
Per capita spending: $1,123
Total expenditure: $27.5 billion
Total expenditure rank: #13/145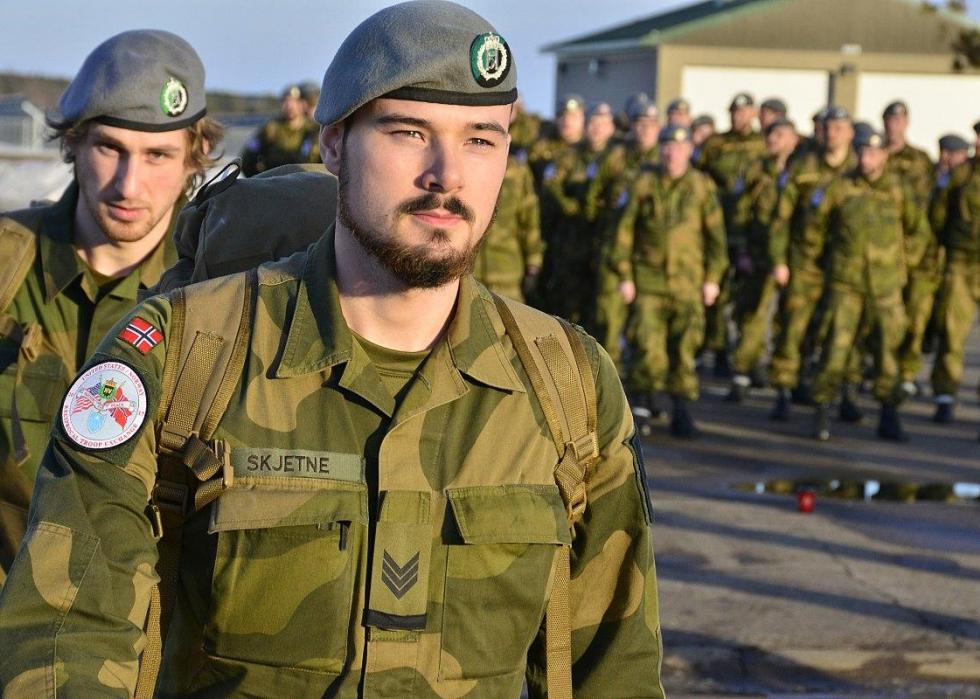 94 / 100
Sgt. Sebastian Nemec // Wikimedia Commons
#7. Norway
Per capita spending: $1,238
Total expenditure: $6.6 billion
Total expenditure rank: #30/145
95 / 100
Chairman of the Joint Chiefs of Staff // Wikimedia Commons
#6. Kuwait
Per capita spending: $1,651
Total expenditure: $6.8 billion
Total expenditure rank: #29/145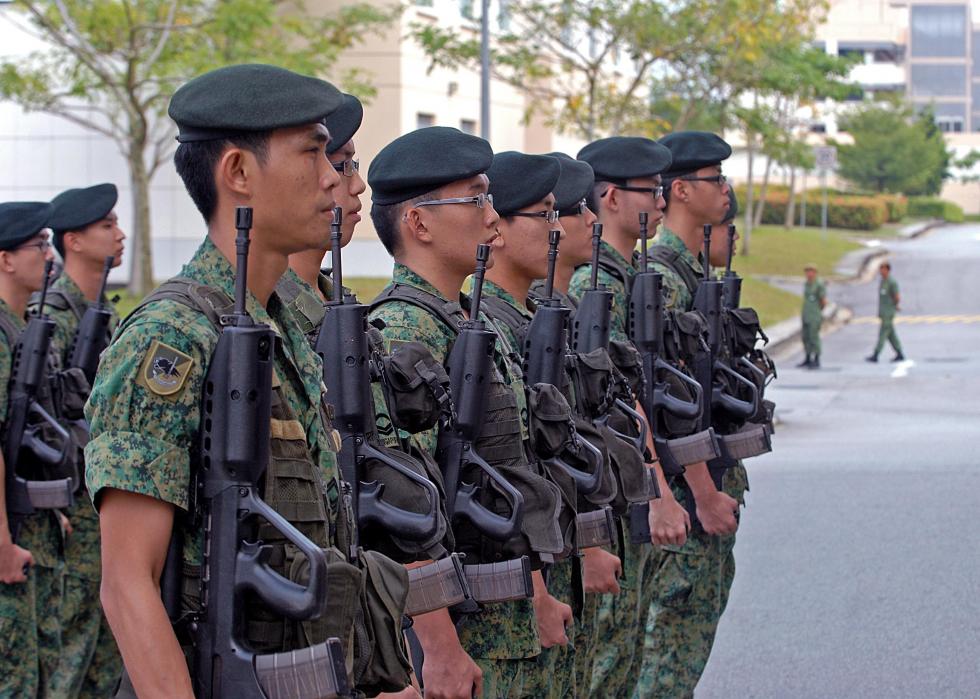 96 / 100
Sgt. Eric Rutherford // Wikimedia Commons
#5. Singapore
Per capita spending: $1,786
Total expenditure: $10.2 billion
Total expenditure rank: #21/145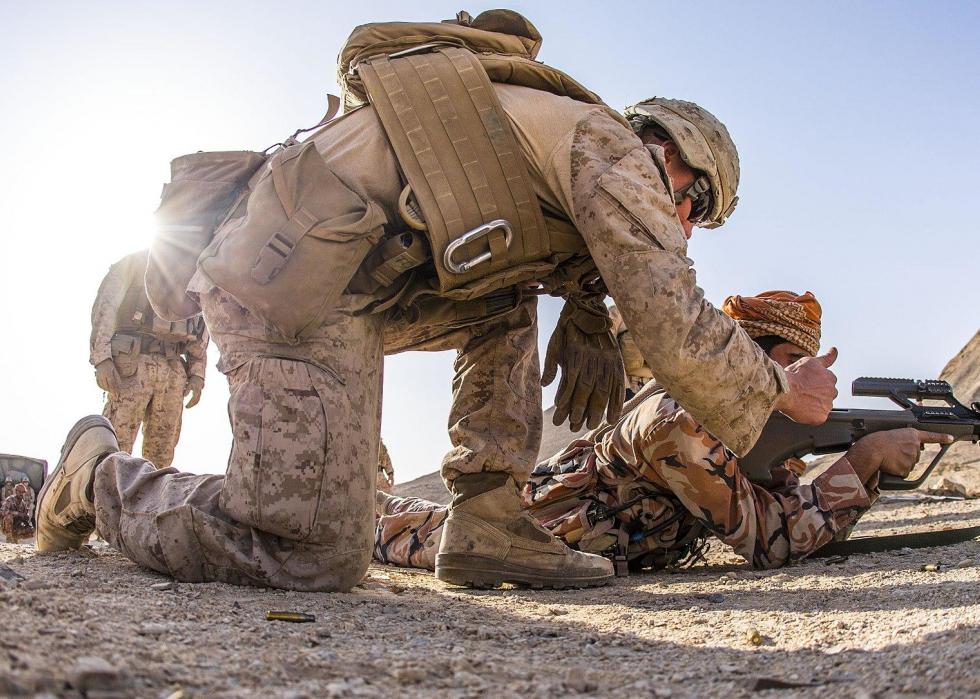 97 / 100
Gunnery Sgt. Robert B. Brown Jr./U.S. Marine Corps // Wikimedia Commons
#4. Oman
Per capita spending: $1,874
Total expenditure: $8.7 billion
Total expenditure rank: #26/145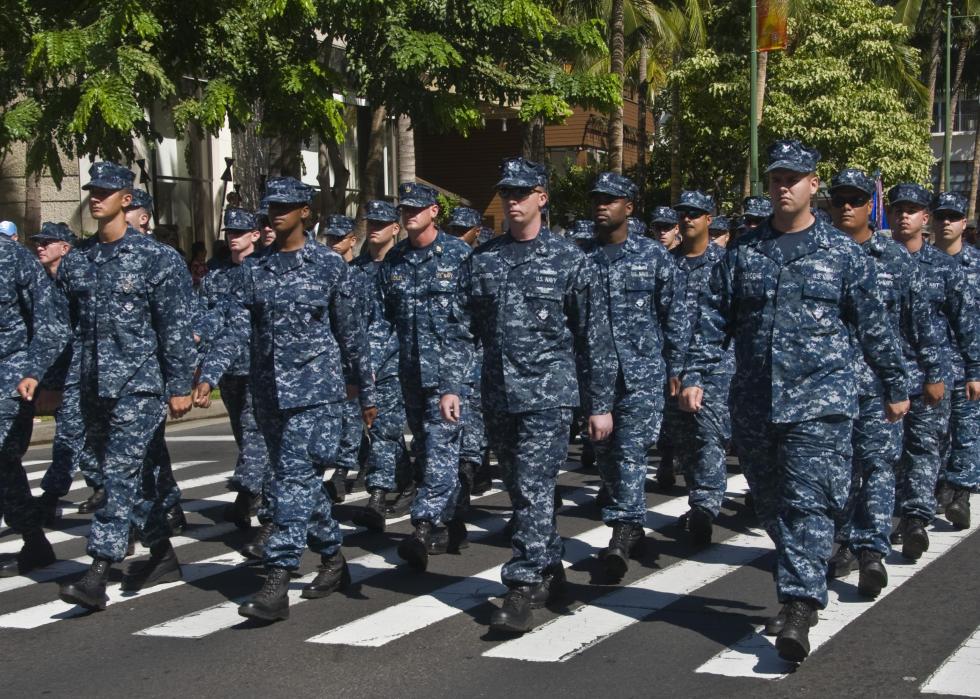 98 / 100
Mass Communication Specialist 2nd Class Mark Logico/U.S. Navy // Wikimedia Commons
#3. USA
Per capita spending: $1,879
Total expenditure: $609.8 billion
Total expenditure rank: #1/145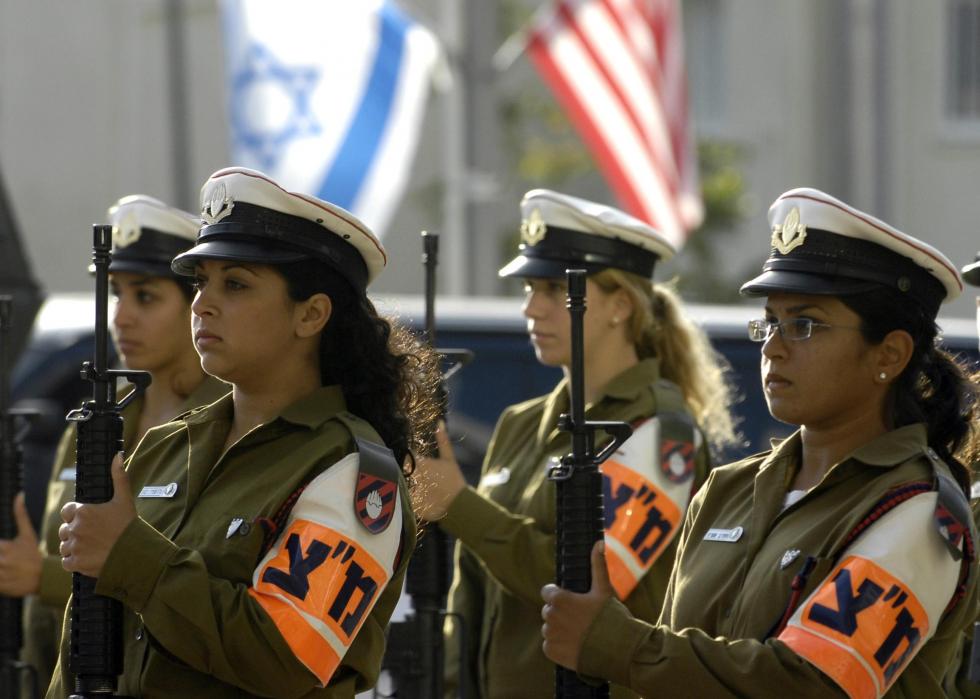 99 / 100
CHERIE A. THURLBY // Wikimedia Commons
#2. Israel
Per capita spending: $1,982
Total expenditure: $16.5 billion
Total expenditure rank: #16/145
100 / 100
Specialist Henry // Wikimedia Commons
#1. Saudi Arabia
Per capita spending: $2,107
Total expenditure: $69.4 billion
Total expenditure rank: #3/145