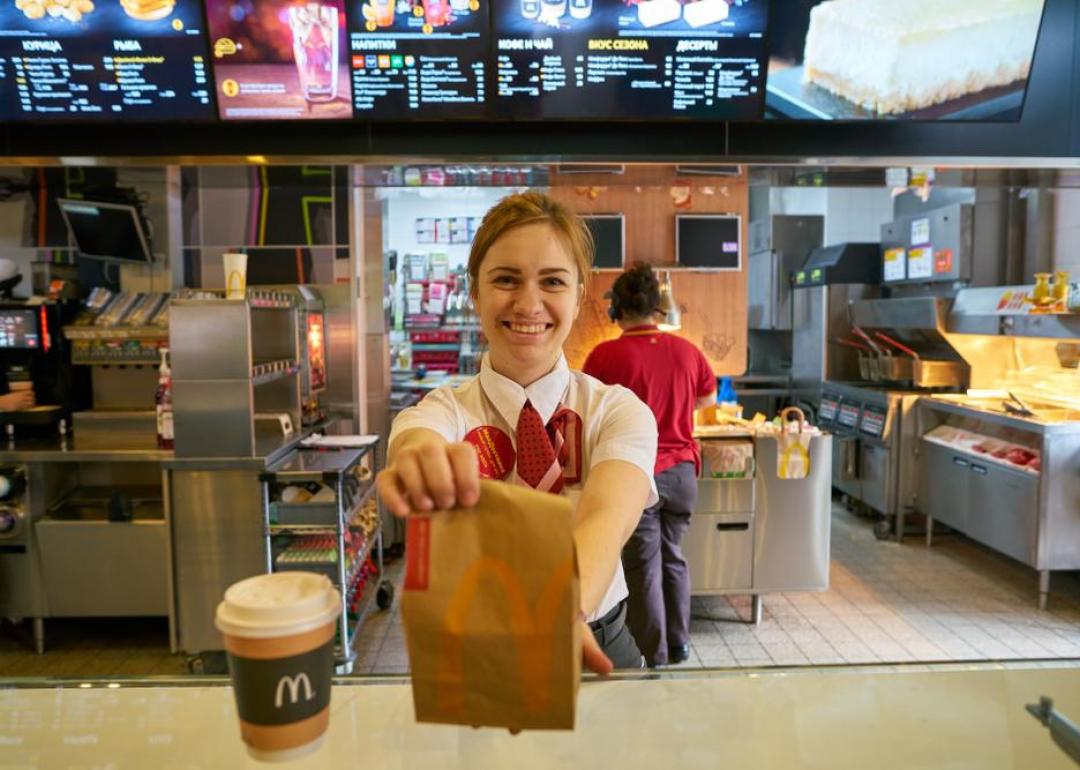 McDonald's menu items from abroad
McDonald's menu items from abroad
There's something strange and beautiful about perusing the menus of McDonald's restaurants from around the world. Each unexpected item hints at the great unknown and the smallness of each person's orbit. Every paneer-based sandwich, every bean dish, every red rice porridge is a symbol of the vastness of human experience. And just as powerfully, the vast majority of each menu is the same.
This April, McDonald's opened a special restaurant in Chicago, its global headquarters, that serves favorite unique items from McDonald's around the world. The menu offers a spicy chicken sandwich served in Hong Kong, a burger from Canada, two salads from France, and a dessert from Brazil. As intriguing as the items and the idea may be, McDonald's HQ missed many of the most fascinating and delicious items from around the globe. Here are the 30 items Stacker would like to see on an International McDonald's Menu.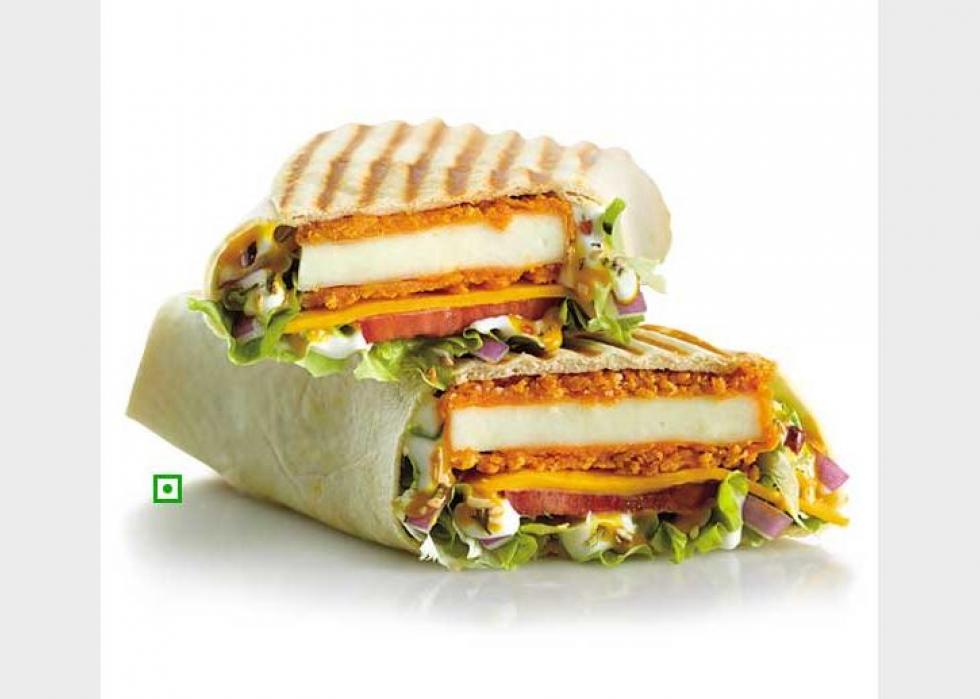 1 / 29
The Big Spicy Paneer
McDonald's India does not serve beef, so there is a wide range of items to substitute for the missing hamburger patties. The Big Spicy Paneer is a grilled wrap with a breaded and fried slice of paneer (Indian cheese that holds it shape and is used in many traditional dishes) surrounded by veggies and spicy sauce.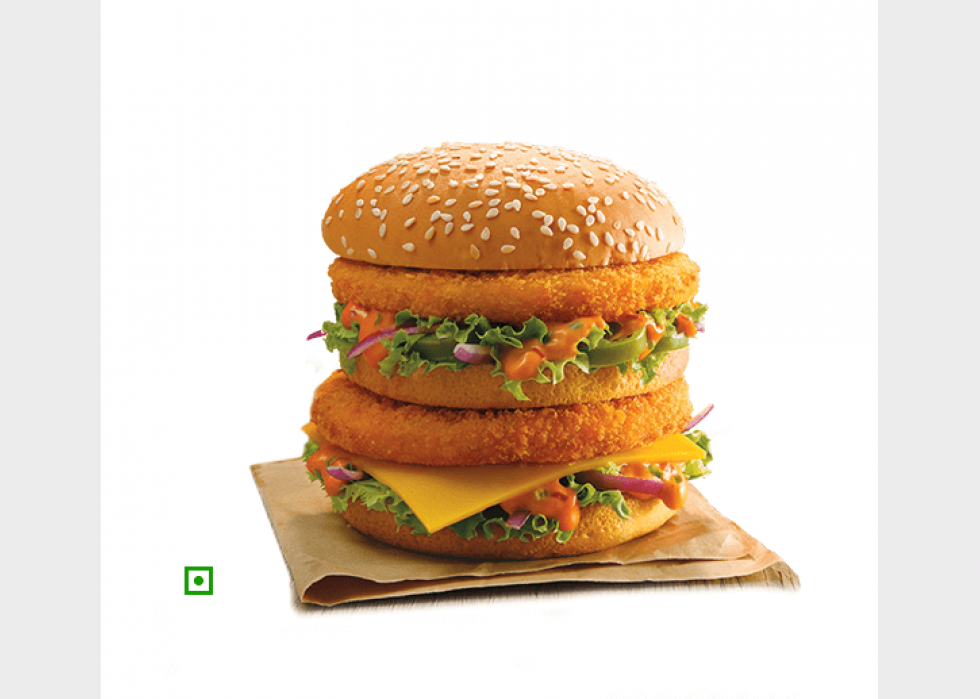 2 / 29
The Veg Maharaja Mac
India's take on a Big Mac keeps the form—two patties, three buns, and some toppings—but instead of "two all beef patties, special sauce, lettuce, cheese, pickles, onions on a sesame seed bun," it's two fried corn patties, cocktail sauce, lettuce, cheese, jalapenos, and onions on a sesame seed bun. India's McDonald's also offers a version with a grilled chicken patty.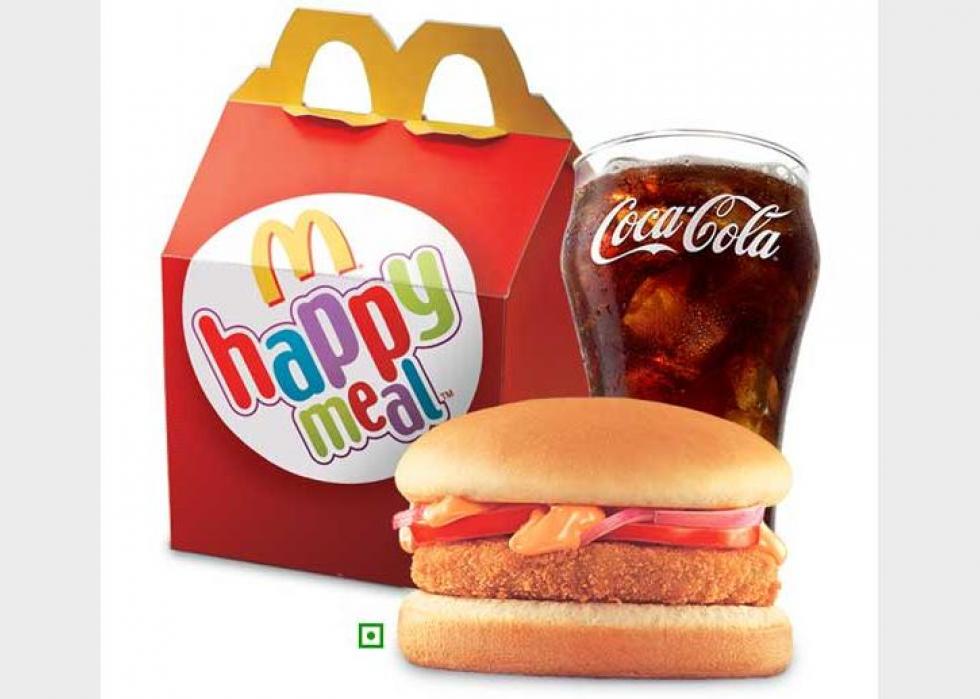 3 / 29
The McAloo Tikki
India's McDonald's most iconic original item is the McAloo Tikki. Another way around the no-beef menu, the McAloo Tikki features a breaded and fried patty made of peas and potatoes infused with lots of Indian spices. The simple staple sandwich is filled out with tomatoes, onions, and a tomato mayonnaise.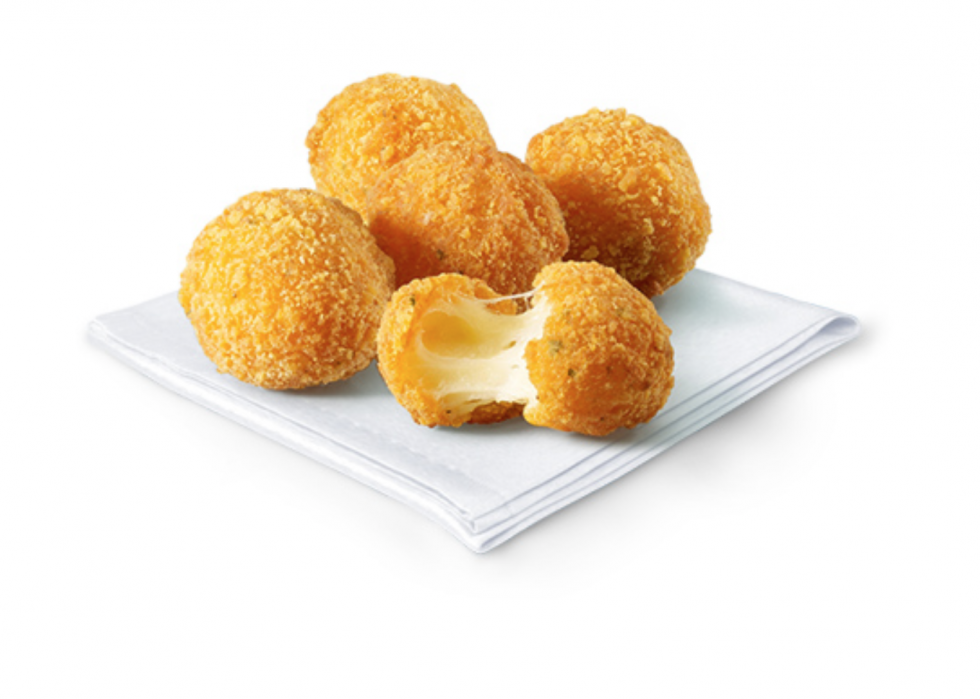 4 / 29
Mozzarella McBites
As one may expect, Italy's McDonald's menu is heavy on the cheese. On the menu is the Mozzarella McBites: little fried balls of mozzarella cheese, available as a side.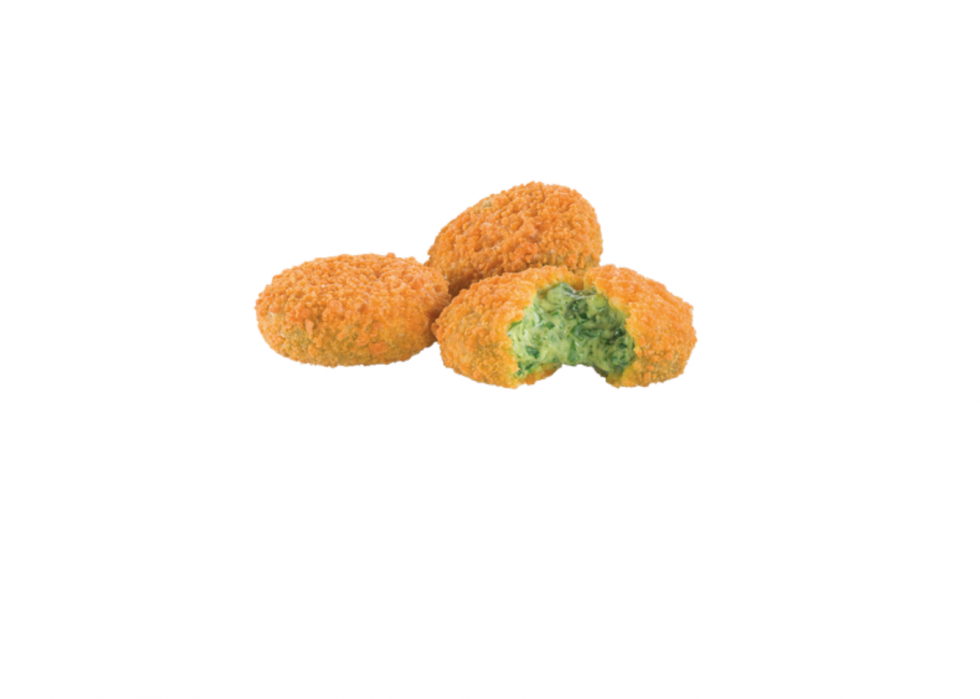 5 / 29
Crocchette of Spinaci and Parmigiano Reggiano
Another side offered at McDonald's in Italy is this fried nugget of spinach and creamy parmesan cheese. McDonald's also offers a small block of parmesan, straight up, as a side.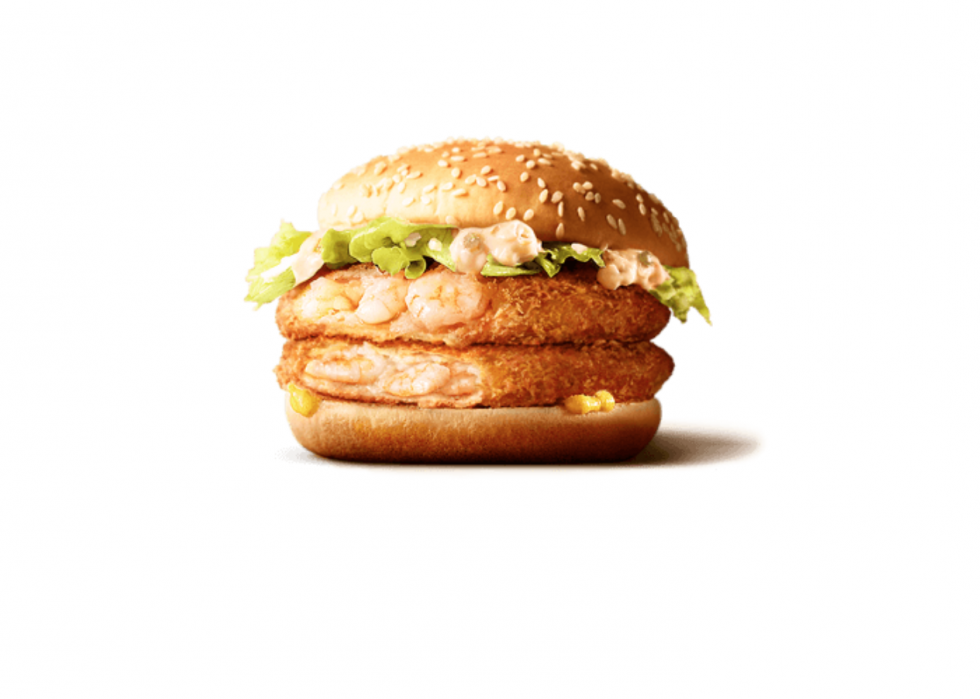 6 / 29
Shrimp flea
There could be entire lists written about the genius offerings of McDonald's Japan. The Shrimp flea features a deep-fried breaded patty filled with full shrimp, accompanied by lettuce and a spicy sauce.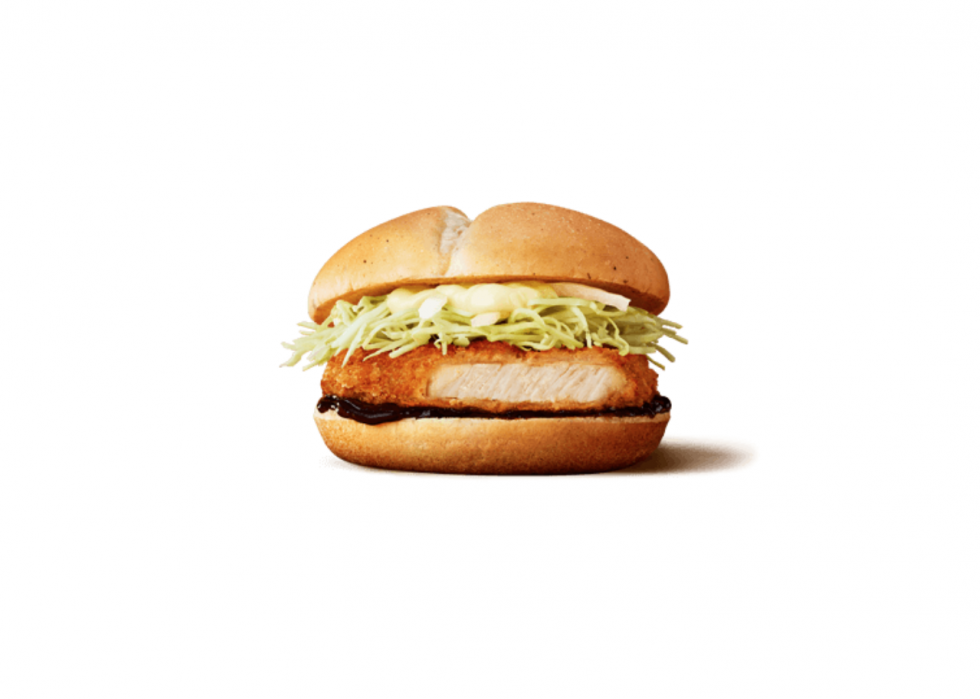 7 / 29
Miso Katsu Burger
McDonald's Japan's Miso Katsu Burger is another of the chain's indulgent specialities. Centered around a breaded and fried pork cutlet, the sandwich also features lettuce, onion, mayo, and miso sauce.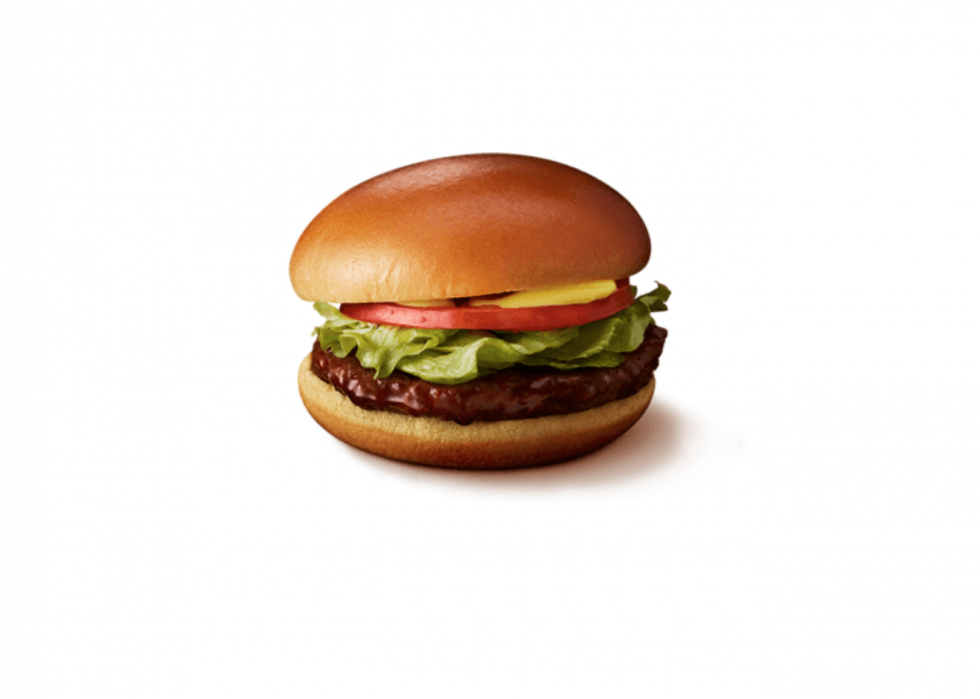 8 / 29
Guranteiyaki Burger
Offering a bold mix of sweet and spicy, Japan's McDonald's Guranteiyaki Burger is a spiced beef patty paired with lettuce, tomato, teriyaki sauce, and mustard.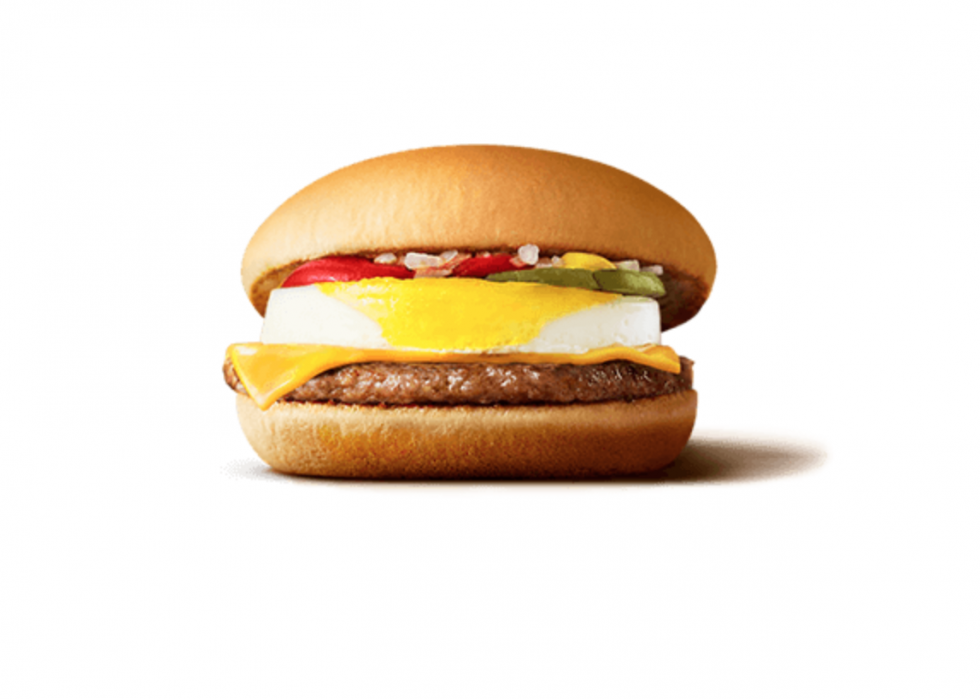 9 / 29
Egg Cheese Burger
The Egg Cheese Burger is simple: a beef patty with pickles, onions, melted cheddar, and an egg patty.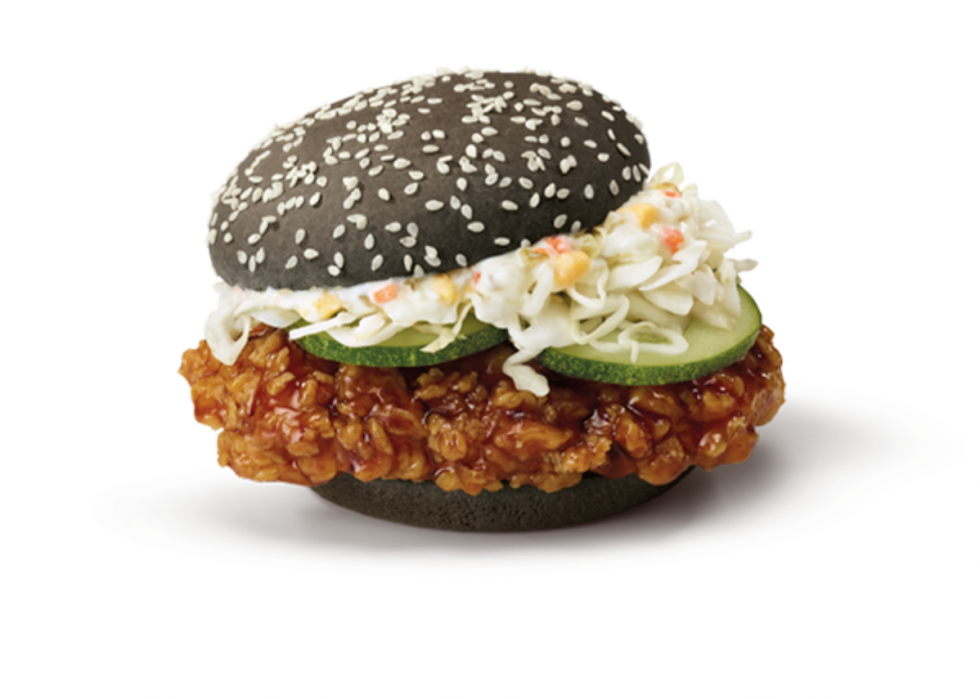 10 / 29
Ninja Chicken Burger
Singapore's McDonald's recently began to serve the Ninja Chicken Burger, a piece of fried chicken slathered in Nanban sauce, topped with pickles and cabbage on a sesame bun dyed black. The Ninja Chicken Burger looks like a KFC sandwich, but with fancier sauce—Nanban sauce is made with soy sauce, sake, sugar, and ginger.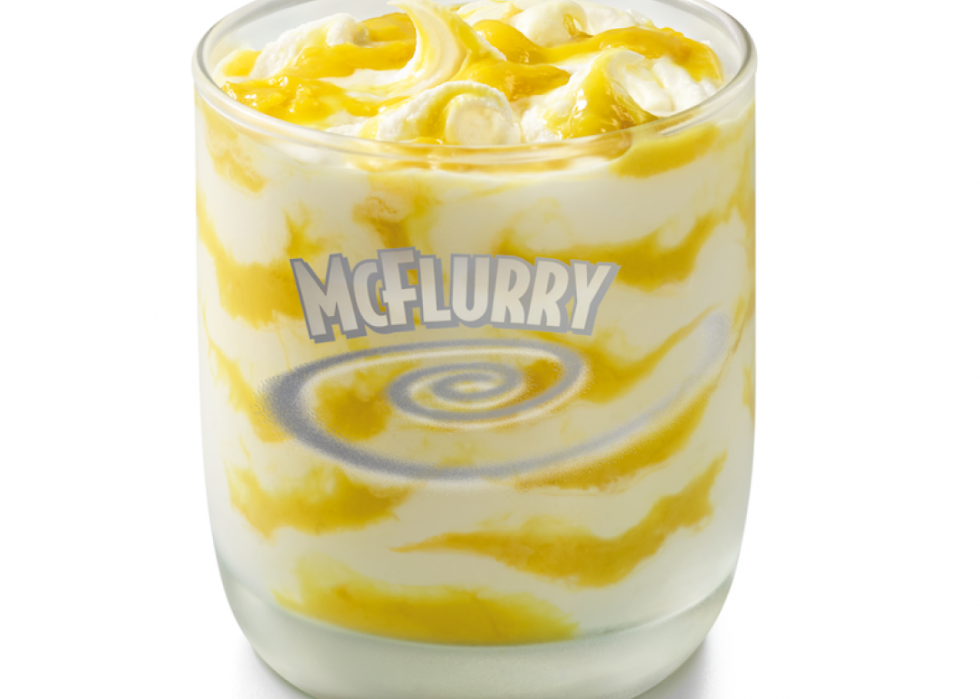 11 / 29
Durian McFlurry
The smell of durian is far from subtle—in fact, in Singapore, the fruit is banned on the subway and in some hotels. But, of course, durian is also well loved in the country and McDonald's in Singapore offers it in everyone's favorite form: the McFlurry. It launched this year and has been a bit of a sensation.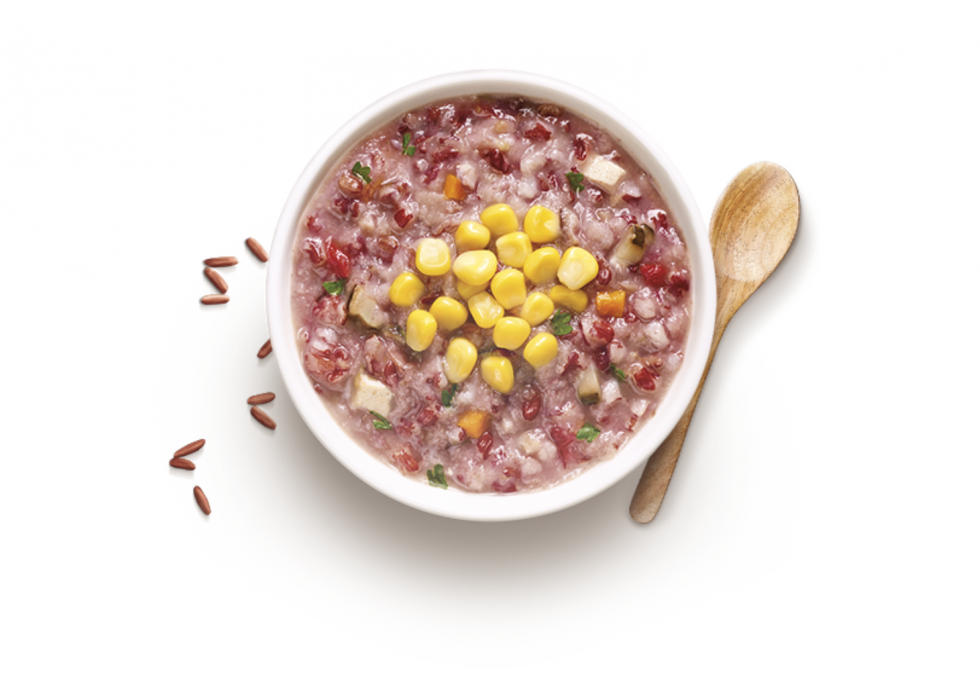 12 / 29
Red Rice Porridge
One of the healthier items on McDonald's menus, the newly launched Red Rice Porridge clocks in at under 150 calories. It's made with red rice, shiitake mushrooms, sweet potato, corn, and goji berries.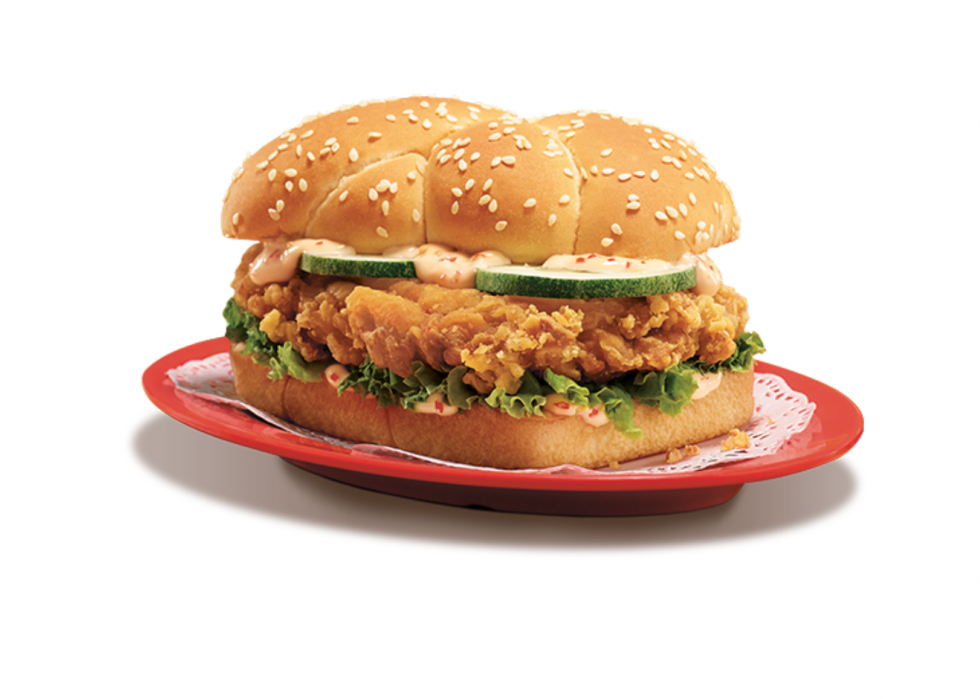 13 / 29
Ha Ha Cheong Gai Chicken Burger
McDonald's in Singapore offers its take on the classic Singapore fried chicken, har cheong gai. Like the classic dish, the Ha Ha Cheong Gai features a piece of fried chicken marinated in shrimp paste. The rest of the sandwich is made up of pickles, lettuce, and a prawn-flavored mayonnaise.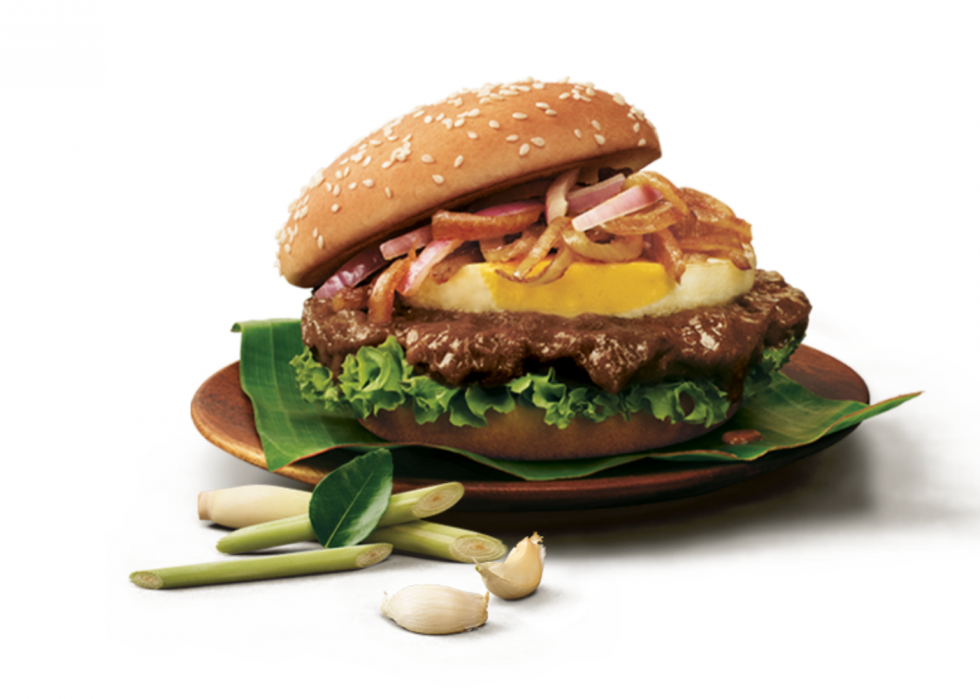 14 / 29
Rendang Sedap Angus Beef Burger
Another offering on McDonald's in Singapore's special Love Local Menu is the Rendang Sedap Angus Beef Burger. The burger patty is smothered in rendang sauce—made of coconut milk, ginger, lemongrass, onion, garlic, and spices—and topped with an egg patty and sauteed onions.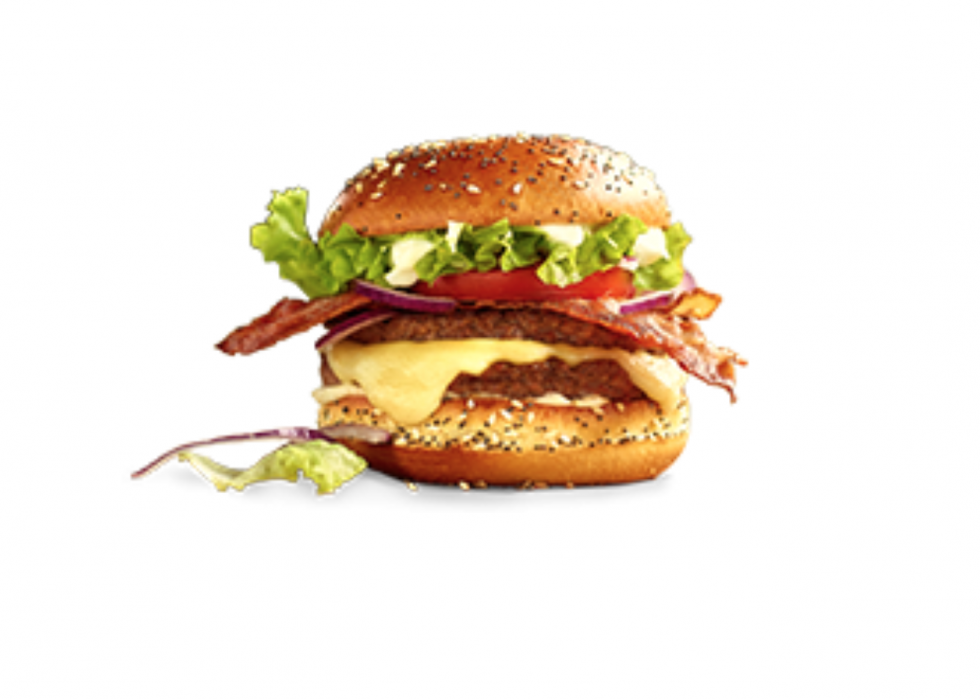 15 / 29
The Generous Jack
McDonald's has started a higher quality gourmet menu available throughout Europe, and McDonald's Belgium—along with some other European locations—offers The Generous Jack. The Generous Jack features two beef patties, strips of bacon, tomato, onion, and a local Maredsous cheese. It's served with lemon-mayonnaise sauce on a potato bun.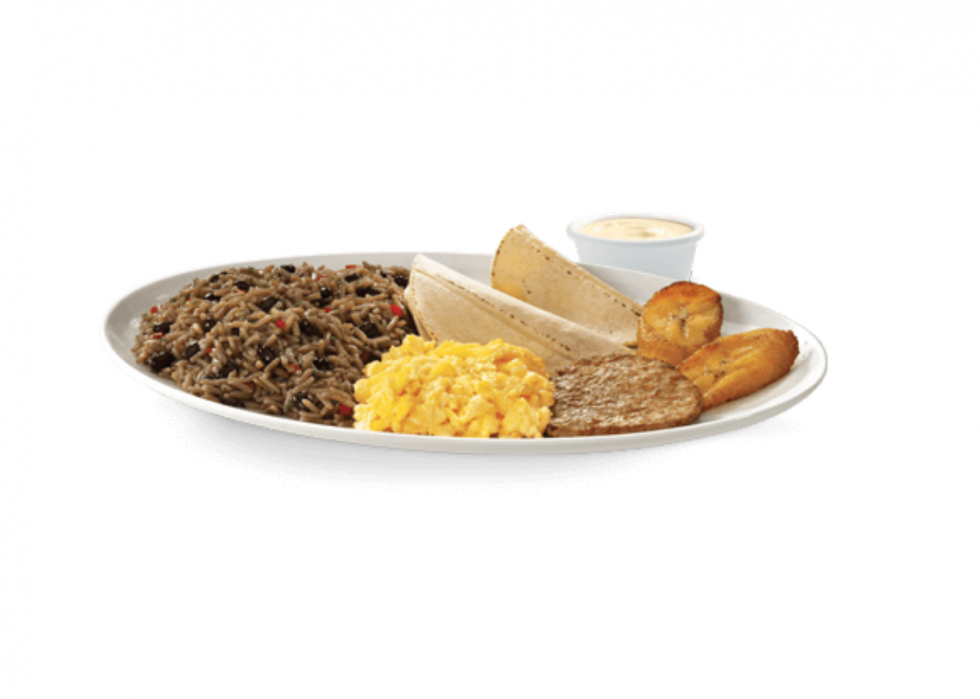 16 / 29
McPinto Deluxe
McDonald's in Costa Rica offers a take on the country's staple dish: gallo pinto. The McPinto Deluxe features the rice and beans offering served beside scrambled eggs, warm tortillas, and a side of custard.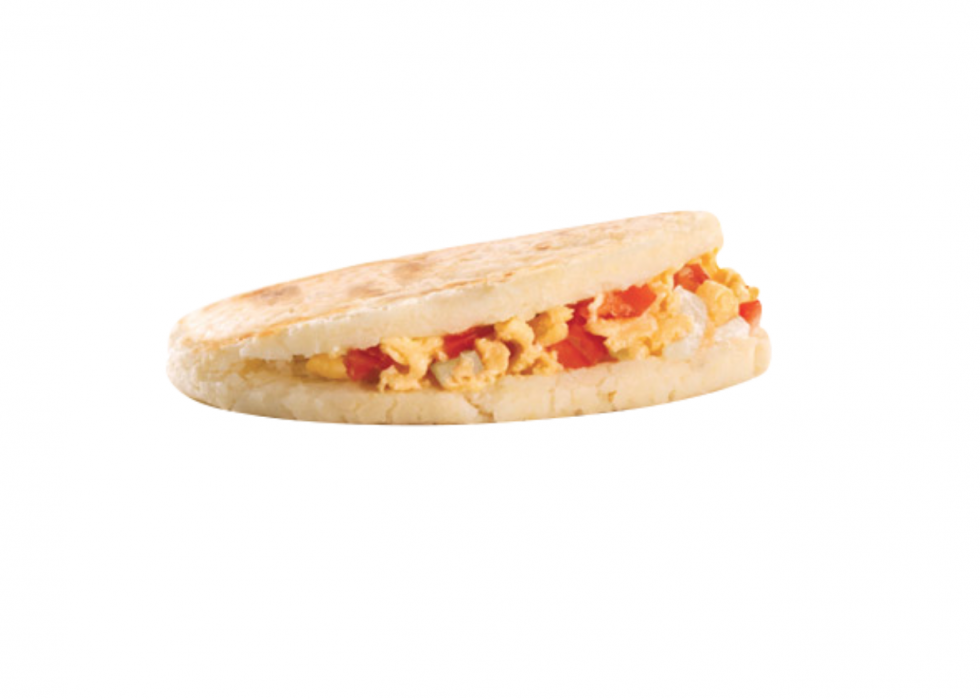 17 / 29
Arepa con Perico y Queso
McDonald's in Venezuela offers a few different arepas—grilled maize flatbread stuffed with different ingredients, but the most interesting is the Arepa con Perico y Queso. This arepa is stuffed with cheese and McDonald's take on perico: scrambled eggs with onion, tomato, egg, and achiote—a paprika-like spice.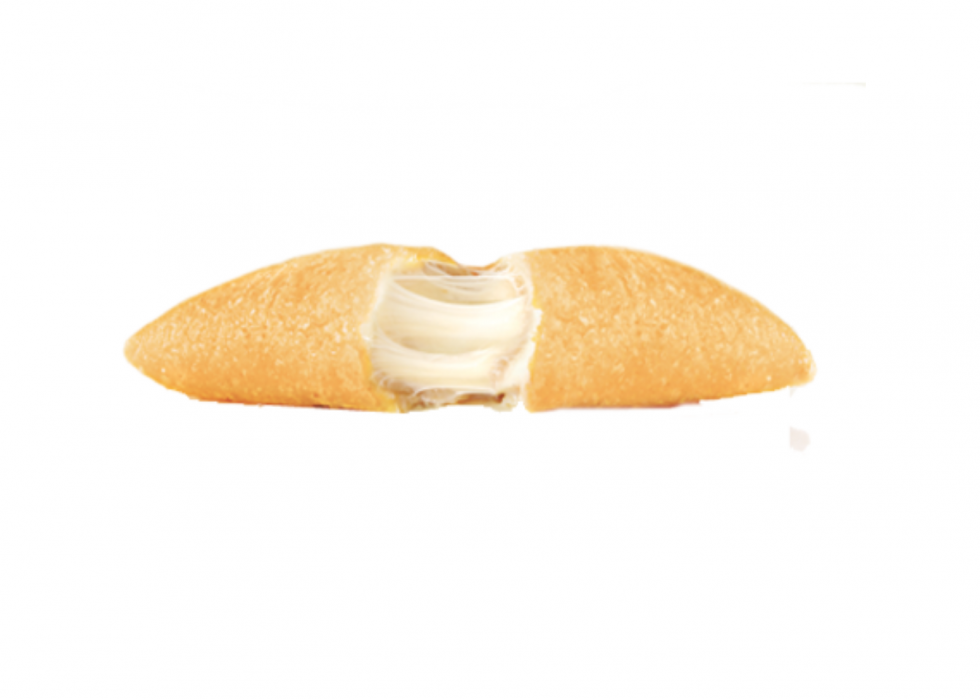 18 / 29
Empanada
McDonald's in Venezuela also offers an incredibly basic take on the empanada. The warm dough pockets are stuffed with either cheese, or ham and cheese. This simple snack seems like it could be a hit on many McDonald's menus.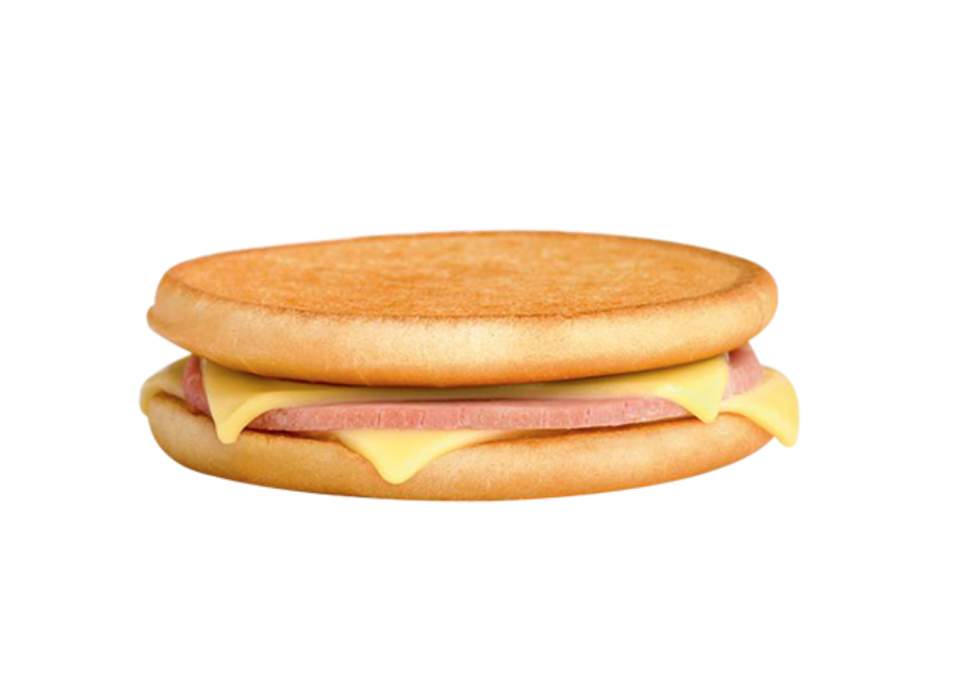 19 / 29
Croque McDo
Dreamed up during the height of the Mad Cow disease scare, France's McDonald's Croque McDo has become a truly decadent, can't-miss breakfast sandwich: two toasted pancakes, two slices of melted emmental cheese, and one slice of ham.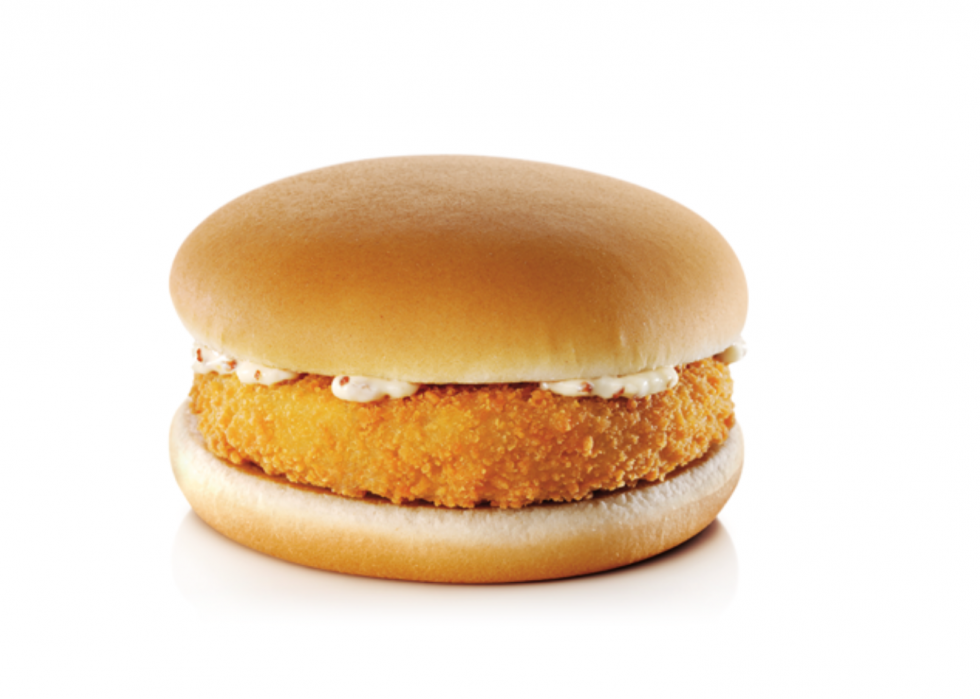 20 / 29
McKroket
The McKroket is McDonald's in Netherlands' take on the broodje kroket, a deep fried, breaded cheese and meat patty between two pieces of bread. The McDonald's version has something like beef ragu inside and is served plain on a McDonald's bun with mustard sauce.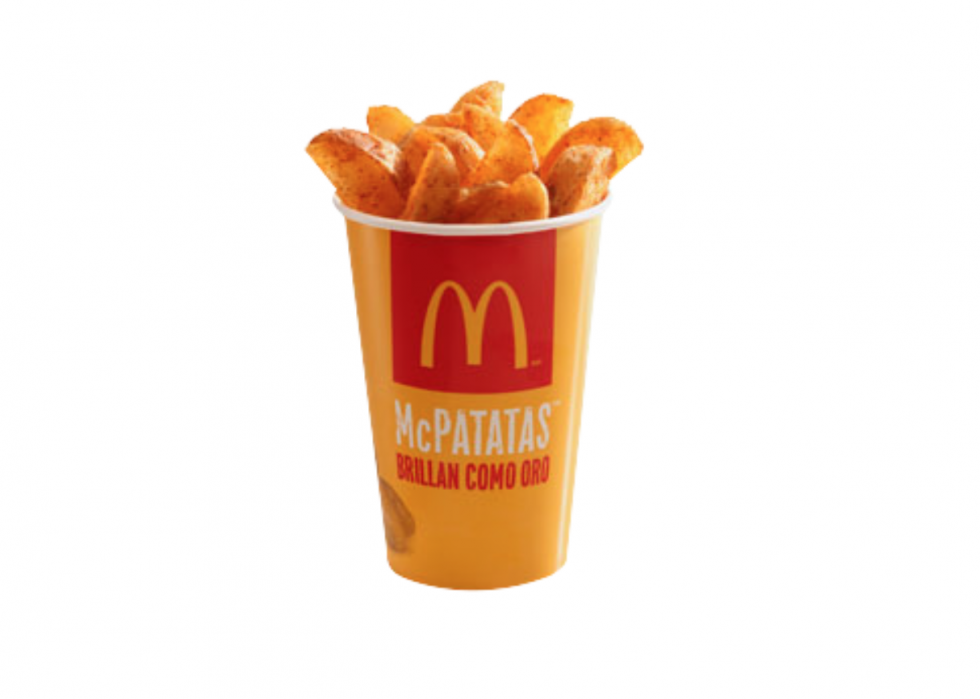 21 / 29
McPatatas
McDonald's Mexico offers standard McDonald's fries but also a delicious alternative: McPatatas. These seasoned potato wedges are served with McDonald's Mexico's McQueso sauce—it's a cheesy, potatoey dream.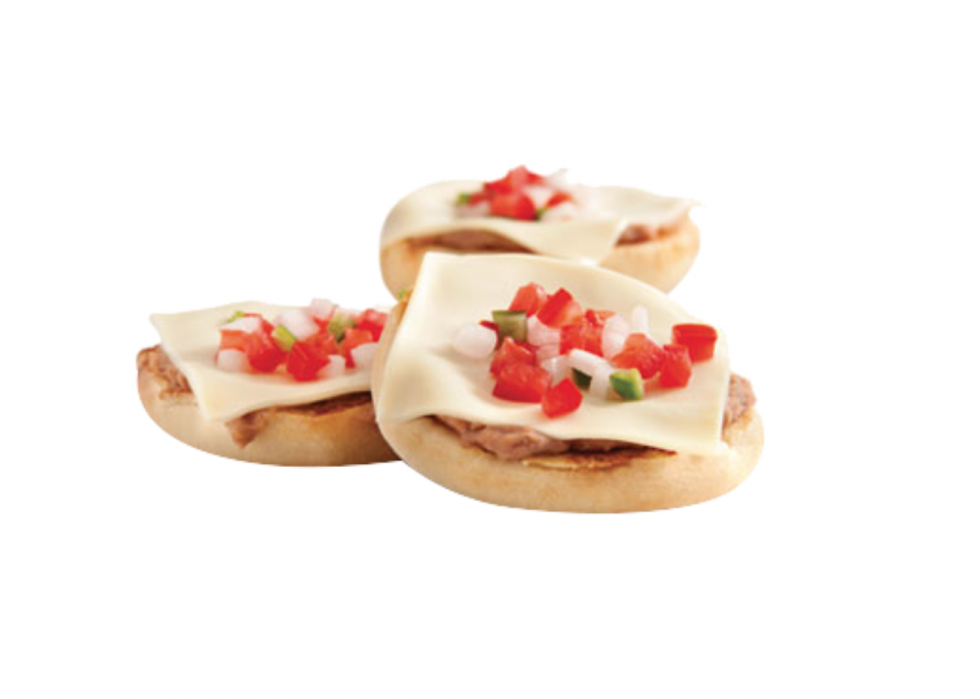 22 / 29
McMolletes
For breakfast, McDonald's Mexico offers a few regular items with a Mexican twist, usually just the addition of pico de gallo. But they also offer their take on a mollete: a traditional Mexican open-faced sandwich. The McMolletes order comes with three warmed open-faced sandwiches topped with beans, melted cheese, and pico de gallo.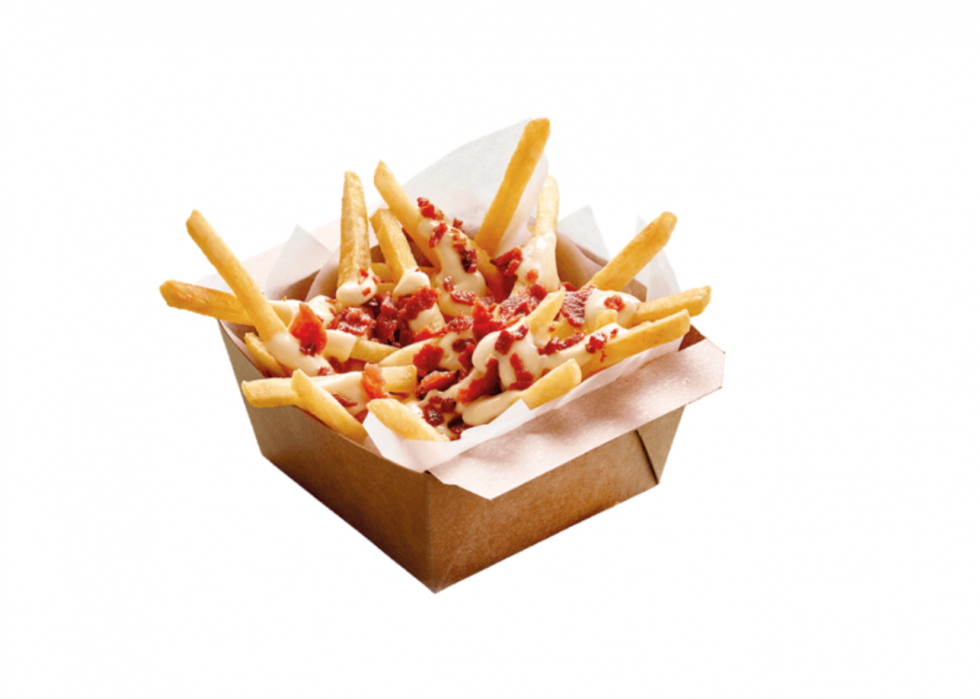 23 / 29
Cheese and Bacon Loaded Fries
The Cheese and Bacon Loaded Fries are just what they sound like: a tray of fries topped with melted cheese and bacon bits. This one made the McDonald's HQ special international menu and Stacker approves.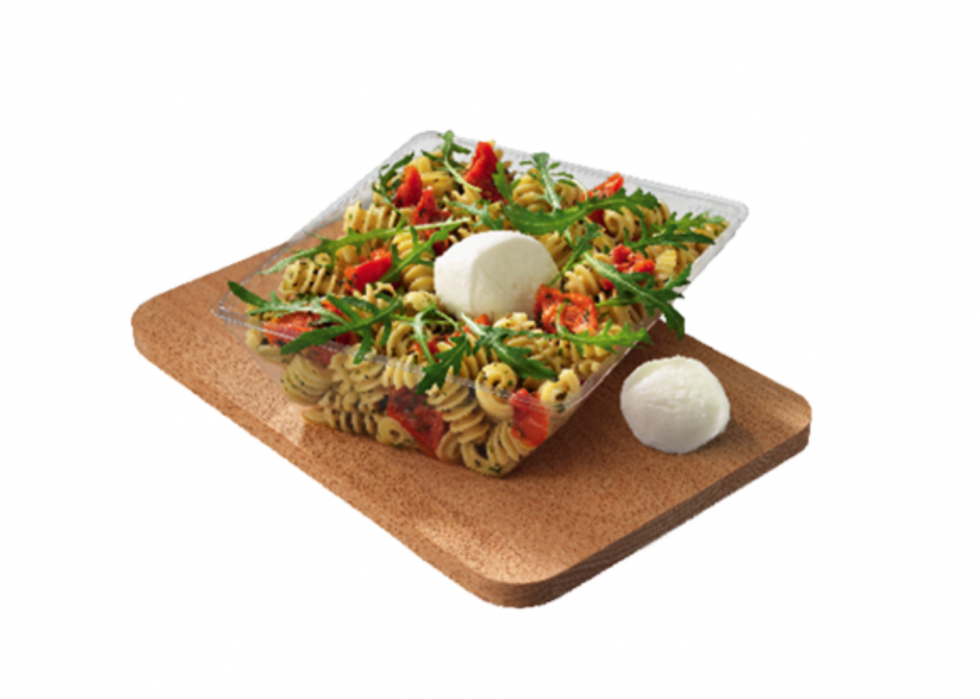 24 / 29
The Mozza Salad
Leave it to the French to serve an elevated dish even at McDonald's. The Mozza Salad is a pasta salad dressed with balsamic vinegar, roasted tomatoes, arugula, and mozzarella cheese. It's a different species from McDonald's United States' Bacon Ranch Salad with Buttermilk Crispy Chicken. This one also made it to the McDonald's HQ's special menu.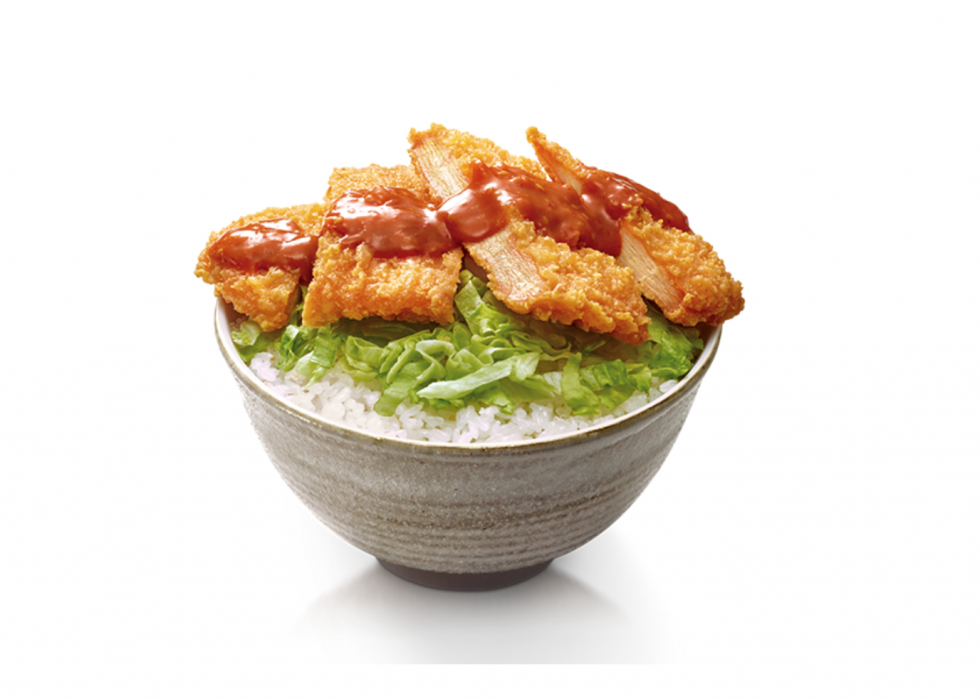 25 / 29
Big Chicken Cutlet Rice Bowl
McDonald's China first opened in 1990 and though KFC is still the most popular fast food in China, McDonald's comes in at #2. The Big Chicken Cutlet Rice Bowl is a simple bowl of white rice topped with a fried chicken cutlet, lettuce, and sweet sauce.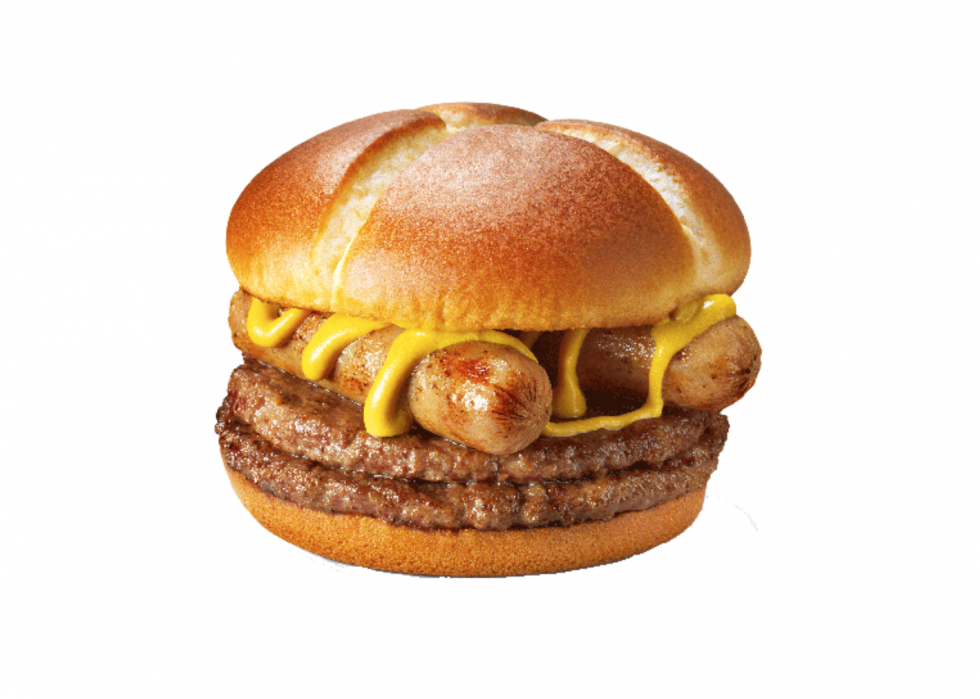 26 / 29
Double Sausage Burger
The Double Sausage Burger from McDonald's China is simple, but decadent. Two beef patties, topped with two sausages, garnished with mustard on a bun.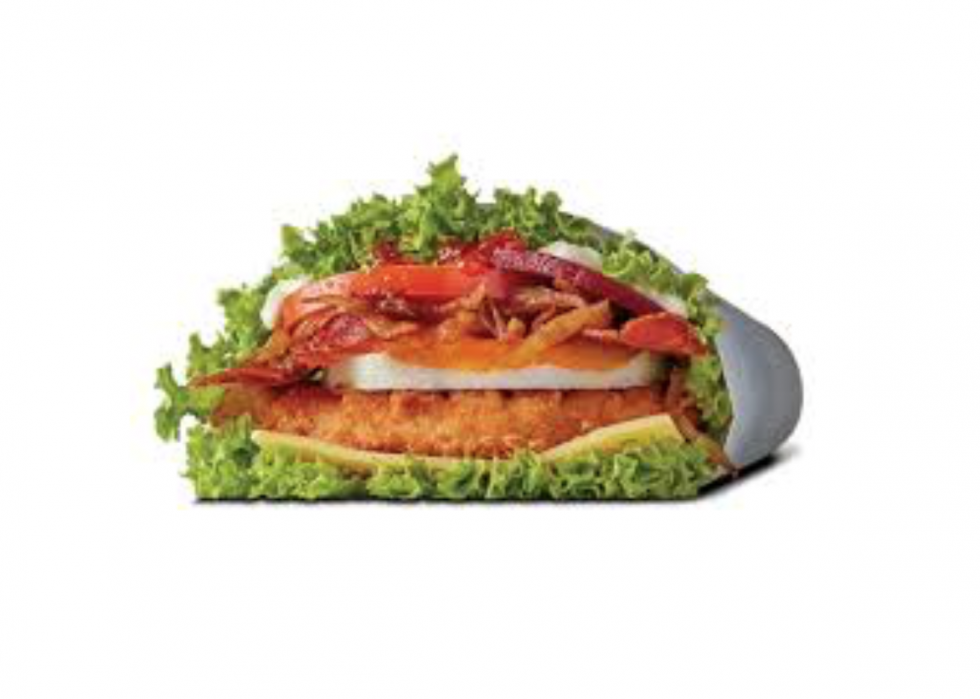 27 / 29
The Loaded Lettuce
Even the aggressively low-carb dieters need a McDonald's cheat day every once in a while. Enter The Loaded Lettuce: chicken or beef, an egg, crispy bacon, caramelized onions, a slice of cheese, with lettuce leaves doing the job of a bun.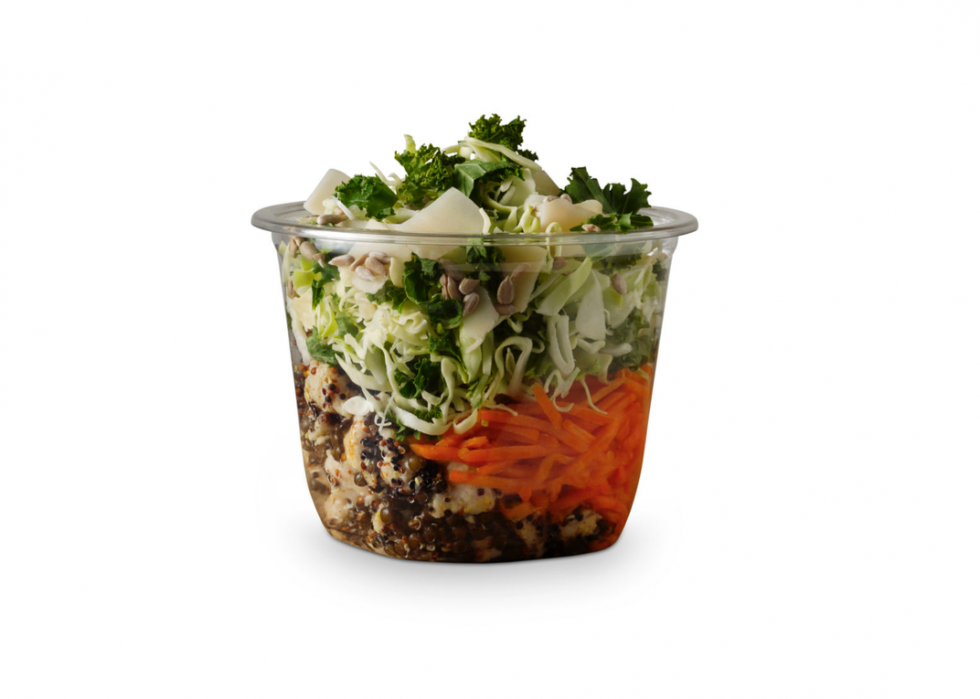 28 / 29
Chicken and Beluga Lentil Salad
Much of McDonald's Sweden menu looks a lot like any other, except the prevalence of pickled onions, but two items stand out: the Chicken and Beluga Lentil Salad, and the Chicken and Hummus Salad. Both items come in a tall plastic bowl with chicken breast, cabbage, and spices. The Chicken and Beluga Lentil Salad also has pickled carrots, mustard vinegar, and black lentils and quinoa. The Chicken and Hummus Salad is served with a hearty dollop of hummus.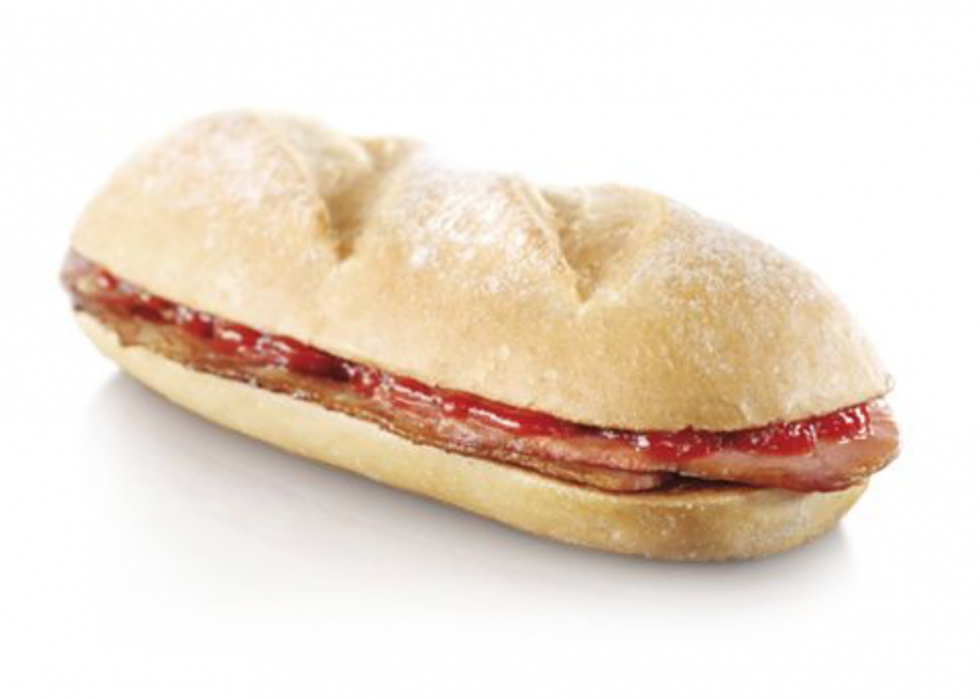 29 / 29
The Bacon Roll
There's something beautiful about the simplicity of great design—something so self-evident that it instantly begs the question: "How did we live before?" The Bacon Roll, saved from an unnecessarily complicating "Mc" prefix, is just that: bacon, ketchup or brown sauce, on a fresh bread roll. There is no wasted space, no filler, no extraneous "Mc"—this is a simple McDonald's United Kingdom breakfast classic.