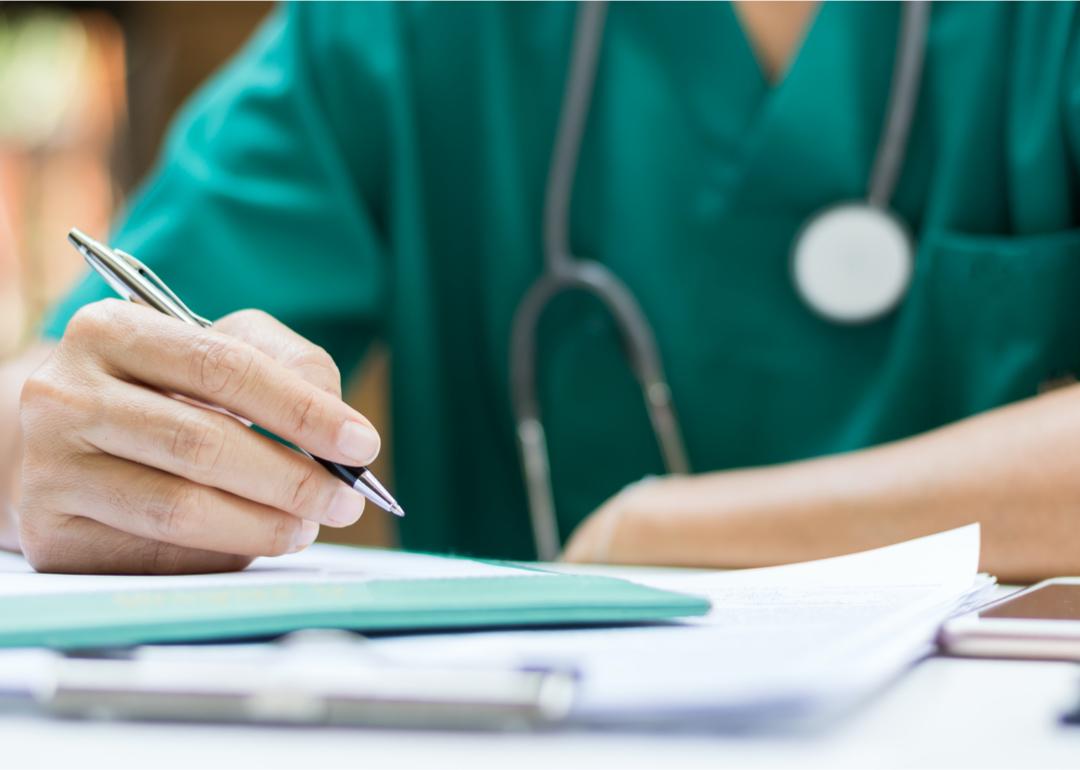 Stacker Studio
States with the highest pass rates on the nursing licensure exam
Guitarfoto // Shutterstock
States with the highest pass rates on the nursing licensure exam
Before nurses can work in the United States, they must pass an exam to become licensed. The National Council Licensure Examination—more commonly referred to as the NCLEX—is a standardized test specifically designed to ensure nurses are ready to start practicing. There are two versions of the test based on education level: Those who have earned a diploma in practical nursing take the NCLEX-PN, while those who have earned an associate or bachelor's degree take the NCLEX-RN. Both consist of questions that test nursing knowledge as well as presenting scenarios to test a potential nurse's ability to effectively make decisions, critically parse a complex process, and navigate the kinds of tricky situations nurses will face in future workplaces.
Each state has its own board of nursing under the umbrella of the National Council of State Boards of Nursing (NCSBN). While nurse hopefuls in all states must gain their license before practicing nursing in their state, the protocol can vary in different places. Some states combine registration for the exam with the license application, while others require candidates to apply for licensure with the state board before being allowed to register for the exam. The test can be taken in any state, even if it's a different one from where the nurse will end up practicing. (Other requirements to gain licensure, like clinical hours and temporary practice permits, vary across states.)
The COVID-19 pandemic has resulted in shocks to the nursing industry and upheaval for nurses themselves. With COVID-19 cases once more increasing, hospitals are facing a critical nurse shortage, with too few nurses to care for the deluge of patients. This comes after more than a year of similar shortages, and nurses report burnout and trauma as a result of working in high-stress environments where staffing shortages combine with the devastating death rates of COVID-19 into a perfect storm of an untenable situation.
Yet the current nursing shortage has been looming for a long time. Many factors contribute, including the nation's aging population—a demographic living longer than previous generations thanks to improved medical care, which translates to a large number of medical professionals dedicated to managing the health of the elderly. Meanwhile, the nursing workforce is also aging, resulting in a significant number of nurses retiring or set to retire in conjunction with the increased need for nurses to care for America's elderly. Perhaps one of the biggest hurdles to providing enough nurses to meet demand is a lack of nursing faculty in university nursing programs, leading to limited capacity in nursing schools, even as many qualified would-be nursing students are turned away.
For more than a decade, 30,000 applicants who meet requirements are rejected from studying nursing, and in 2019, that number was 80,000, according to the American Association of Colleges of Nursing. Master's and doctoral programs in nursing are not turning out enough nursing instructors to fill the pipeline of educators, and even for those who do complete the graduate-level education necessary to teach at a university setting, they are lured away to more lucrative jobs because university positions don't pay very well.
Even in pre-pandemic times, nurses have been the beating heart of the medical care industry. At 59% of the total health care professionals, nurses make up the largest occupation in health care, and their importance will only grow in the future. Overall demand for registered nurses (RNs) is projected to increase by 12% from 2018 to 2028, according to data from the U.S. Bureau of Labor Statistics (BLS)—a percentage nearly double the expected growth across all occupations.
Interest in nursing has increased with the heightened visibility of the critical role nurses play during the pandemic, with enrollment in four-year nursing programs going up by nearly 6% in 2020, according to the American Association of Colleges of Nursing. In 2022, there will be more RN jobs than any other profession in the United States, according to the American Nurses Association. Even with that growth, the near future will see the nursing shortage grow.
Given the necessary and life-saving role nurses play, the projected shortage, and the job security nurses can expect in the future, now is a good time to get into the field. Nursing is recession-proof and the pandemic resulted in higher pay. Future nurses can enter the profession with an associate or a bachelor's degree. All candidates must pass the NCLEX in order to gain their license to become a practicing nurse.
From Jan. 1 to Dec. 31, 2020, in the U.S., 86,508 candidates with RN associate degrees sat the exam, with 82.8% passing. That number goes up for RN bachelor's degrees, with a total of 88,635 candidates taking the exam and 90.3% passing. But not all states are equal when it comes to nursing hopefuls passing their exams.
NursingEducation used data from the National Council of State Boards of Nursing to compare pass rates on the National Council Licensure Examination (NCLEX) in 2020, the most recent year available. States are ranked by the overall pass rates of first-time candidates taking the test.
This story originally appeared on NursingEducation and was produced and distributed in partnership with Stacker Studio.