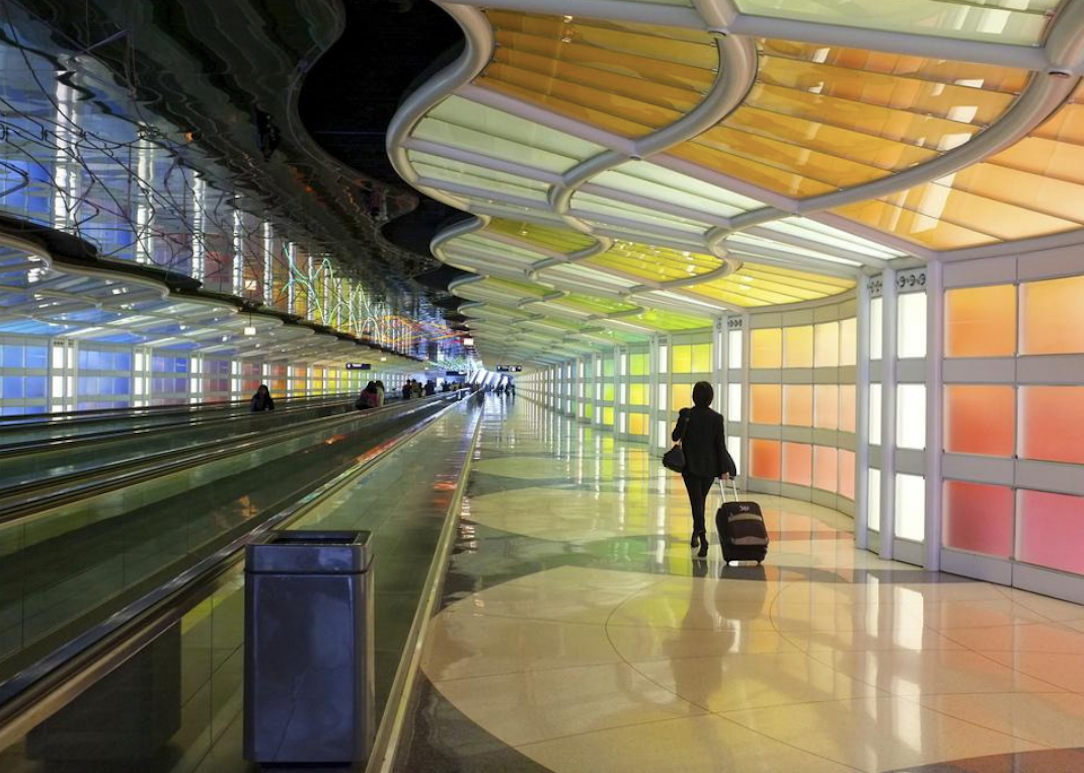 U.S. airports with the most delays
U.S. airports with the most delays
Frequent fliers and first-time passengers alike dread arriving at airports only to discover their flights have been delayed—or worse, canceled. Even a delay of one hour can throw a journey into disarray, causing passengers to miss connecting flights or the meetings they were flying out to catch in the first place.
There are five basic kinds of cancellations and delays for aircrafts. Carrier delays are the fault of the airline and often the most frustrating for passengers, like inefficient loading and unloading, plane cleanings, fueling delays, or problems with maintenance and crew. Extreme weather delays refer to uncontrollable, dangerous weather that postpones or prevents an aircraft from taking off. National Aviation System (NAS) delays are within control of the NAS and include non-extreme weather, heavy airline traffic, or air traffic control issues. Late-arriving aircraft delays refer to flights arriving late so the aircraft's next flight is similarly delayed. And last is airport security, which causes an big headaches when long lines (defined as waits lasting 30 minutes or longer), broken equipment, terminals, or concourse evacuation or reboarding due to a security breach.
Some airports are better at working out those kinks before you make it through the security checkpoint than others. The Bureau of Transportation Statistics collects data on where and why flights are taking off and arriving late. Stacker analyzed the data collected from August 2017 to July 2018 at the 241 U.S. airports with more than 1,000 flights a year to find those with the most delays. Airports are ranked by on-time performance, referring to flights that weren't canceled, diverted, or delayed for 15 minutes or more. Percentages are further given for the causes of each delay.
Booking a flight for your upcoming holiday vacation? Click through this list to see which airports you might want to avoid if you'd like your trip to get started on time.
You may also like: Breathtaking natural wonders for your next vacation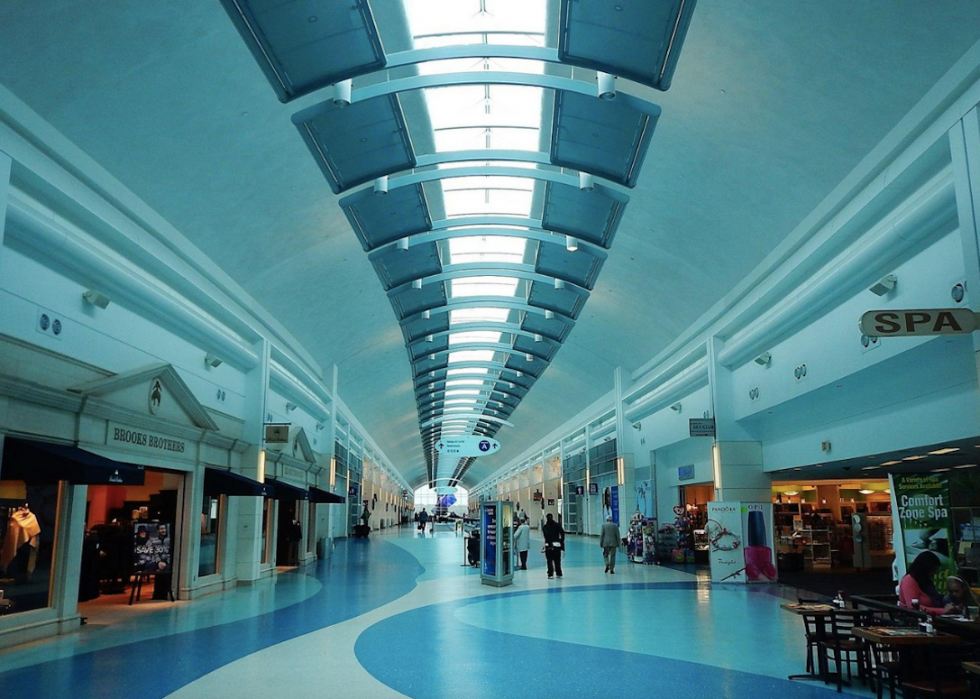 1 / 100
qwesy qwesy // Wikimedia Commons
#100. Jacksonville, FL: Jacksonville International
- Annual flights (March 2018–February 2019): 32,239
- On-time performance: 78.1%
- Air carrier delay: 7.3%
- Weather delay: 0.0%
- National Aviation System delay: 5.3%
- Security delay: 0.0%
- Aircraft arriving late delay: 6.9%
- Canceled flights: 1.4%
- Diverted: 0.2%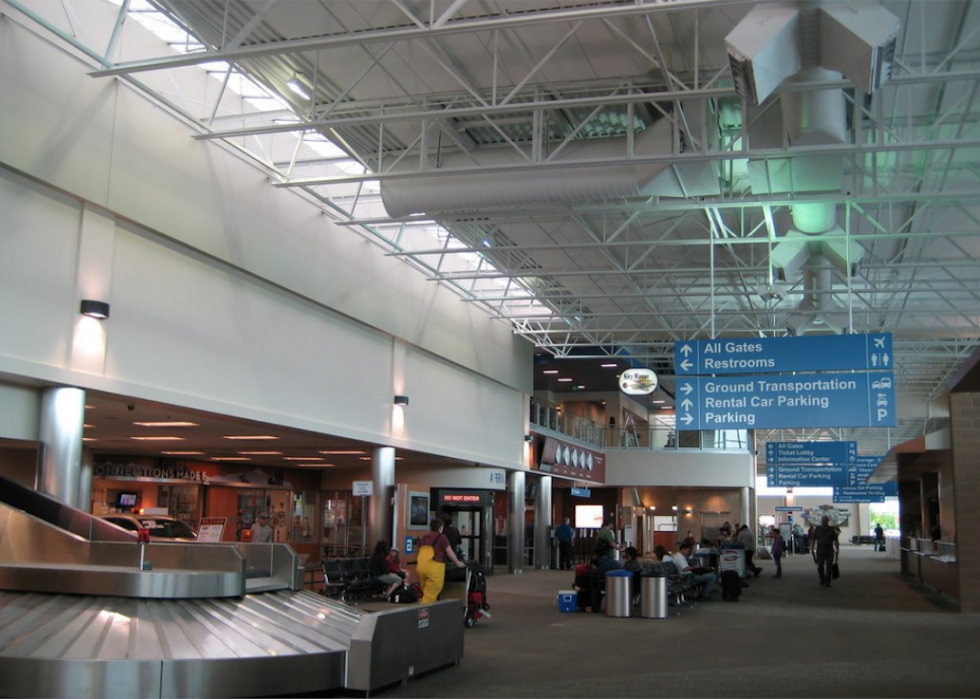 2 / 100
#99. Medford, OR: Rogue Valley International - Medford
- Annual flights (March 2018–February 2019): 4,687
- On-time performance: 78.1%
- Air carrier delay: 5.4%
- Weather delay: 0.0%
- National Aviation System delay: 5.4%
- Security delay: 0.0%
- Aircraft arriving late delay: 7.6%
- Canceled flights: 2.1%
- Diverted: 0.9%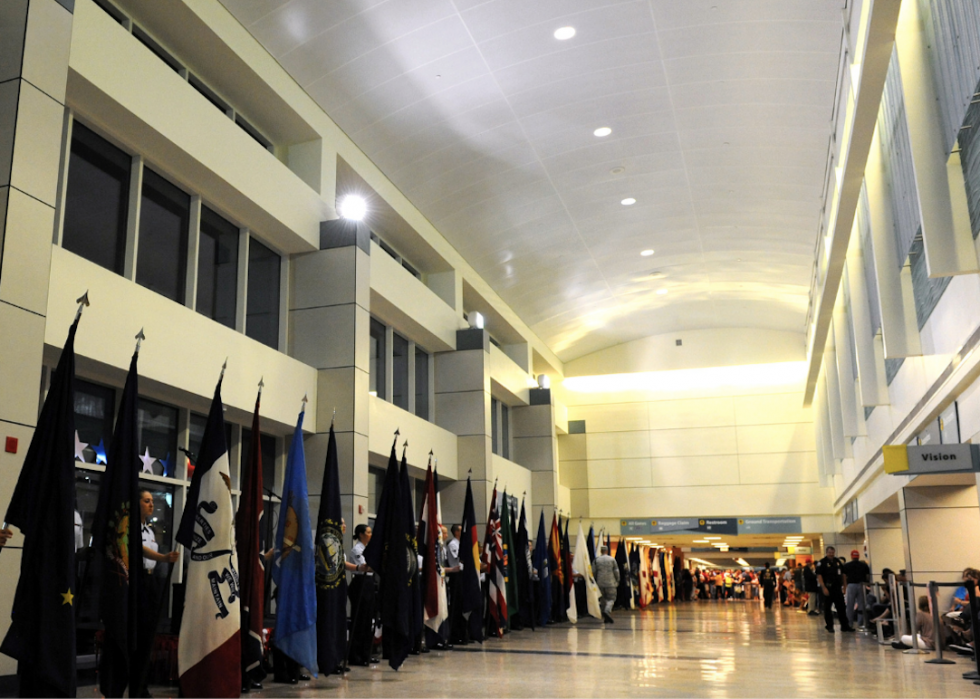 3 / 100
#98. Gulfport/Biloxi, MS: Gulfport-Biloxi International
- Annual flights (March 2018–February 2019): 4,294
- On-time performance: 78%
- Air carrier delay: 7.1%
- Weather delay: 0.0%
- National Aviation System delay: 4.6%
- Security delay: 0.0%
- Aircraft arriving late delay: 6.7%
- Canceled flights: 1.7%
- Diverted: 0.4%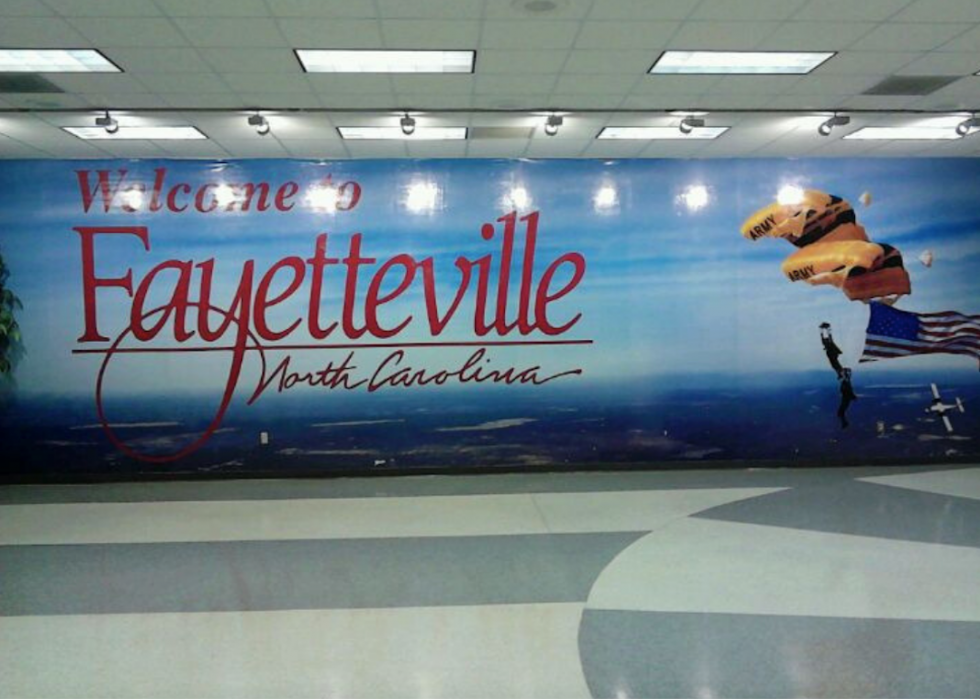 4 / 100
#97. Fayetteville, NC: Fayetteville Regional/Grannis Field
- Annual flights (March 2018–February 2019): 3,835
- On-time performance: 78%
- Air carrier delay: 6.4%
- Weather delay: 0.0%
- National Aviation System delay: 3.9%
- Security delay: 0.1%
- Aircraft arriving late delay: 6.7%
- Canceled flights: 3.1%
- Diverted: 0.5%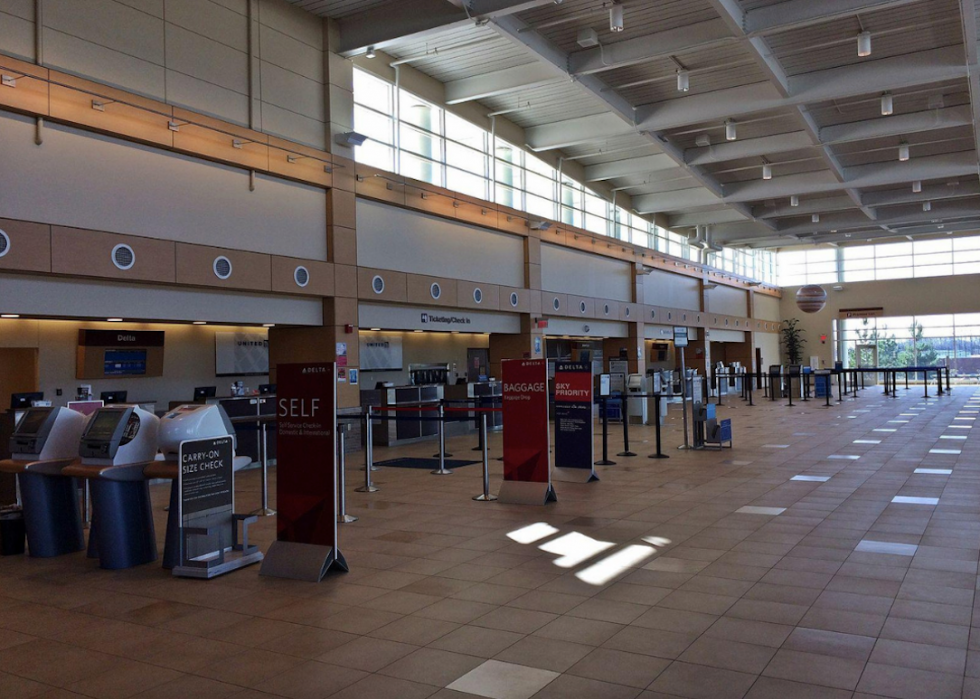 5 / 100
TastyPoutine // Wikimedia Commons
#96. Peoria, IL: General Downing - Peoria International
- Annual flights (March 2018–February 2019): 5,231
- On-time performance: 78%
- Air carrier delay: 5.6%
- Weather delay: 0.0%
- National Aviation System delay: 5%
- Security delay: 0.0%
- Aircraft arriving late delay: 7.4%
- Canceled flights: 2.3%
- Diverted: 0.2%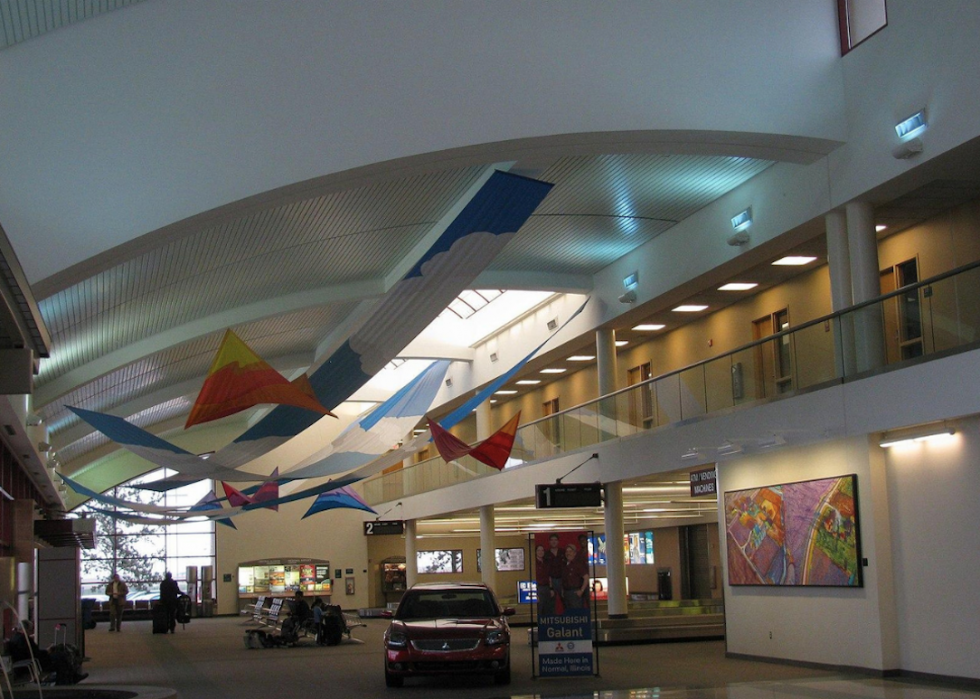 6 / 100
Mike Linksvayer // Wikimedia Commons
#95. Bloomington/Normal, IL: Central Illinois Regional
- Annual flights (March 2018–February 2019): 3,139
- On-time performance: 78%
- Air carrier delay: 6.5%
- Weather delay: 0.0%
- National Aviation System delay: 4.5%
- Security delay: 0.0%
- Aircraft arriving late delay: 6.7%
- Canceled flights: 2.9%
- Diverted: 0.3%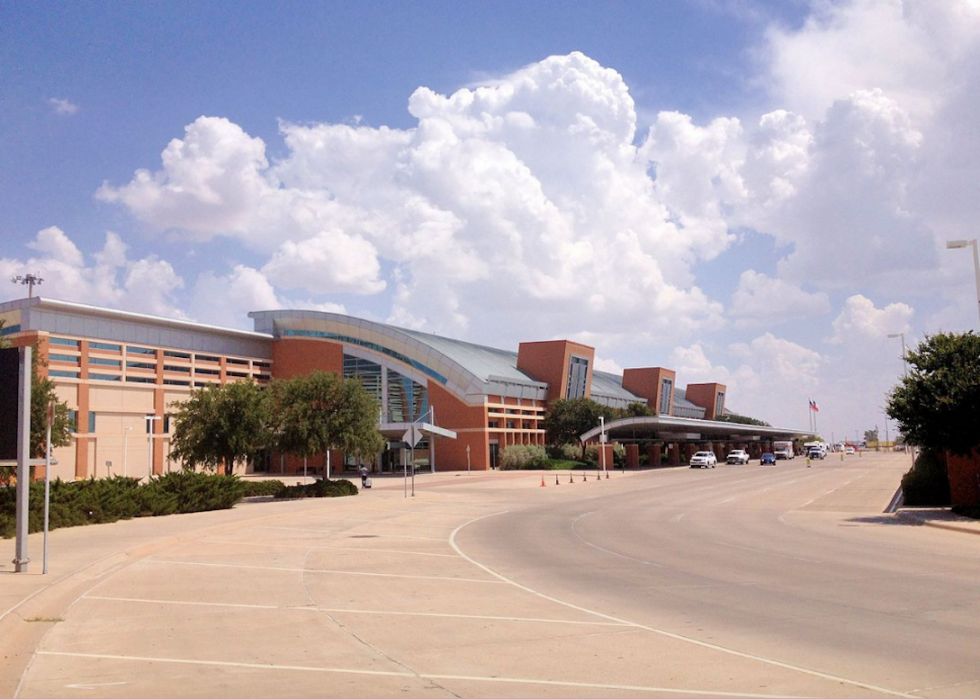 7 / 100
Blueag9 // Wikimedia Commons
#94. Midland/Odessa, TX: Midland International Air and Space Port
- Annual flights (March 2018–February 2019): 8,745
- On-time performance: 78%
- Air carrier delay: 7.7%
- Weather delay: 0.0%
- National Aviation System delay: 3.8%
- Security delay: 0.1%
- Aircraft arriving late delay: 7.7%
- Canceled flights: 1.5%
- Diverted: 0.3%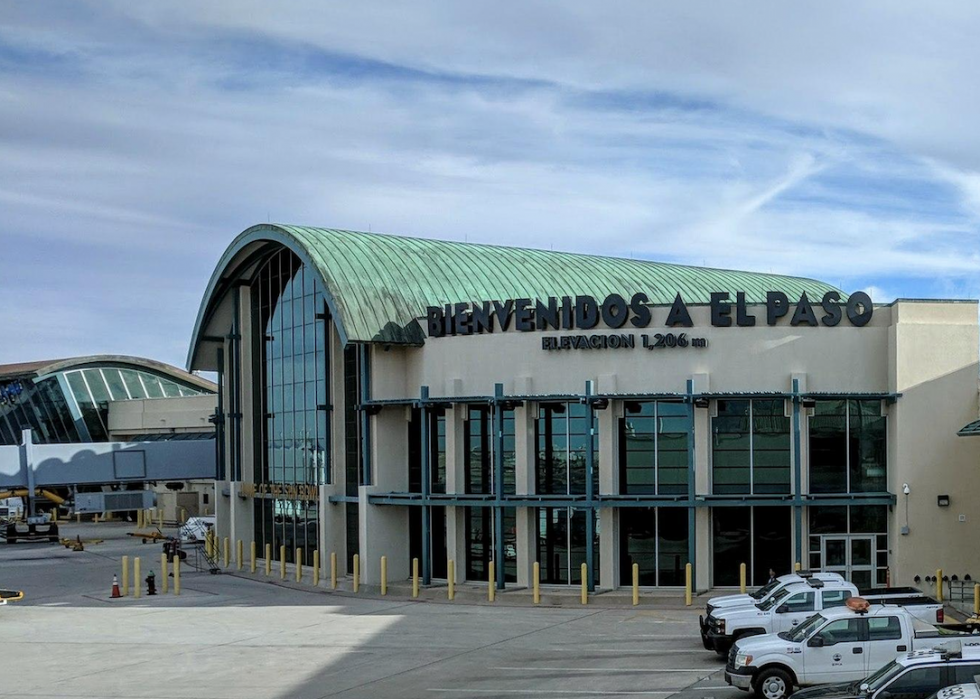 8 / 100
Dicklyon // Wikimedia Commons
#93. El Paso, TX: El Paso International
- Annual flights (March 2018–February 2019): 17,089
- On-time performance: 78%
- Air carrier delay: 7.9%
- Weather delay: 0.0%
- National Aviation System delay: 3.6%
- Security delay: 0.0%
- Aircraft arriving late delay: 8.7%
- Canceled flights: 0.9%
- Diverted: 0.1%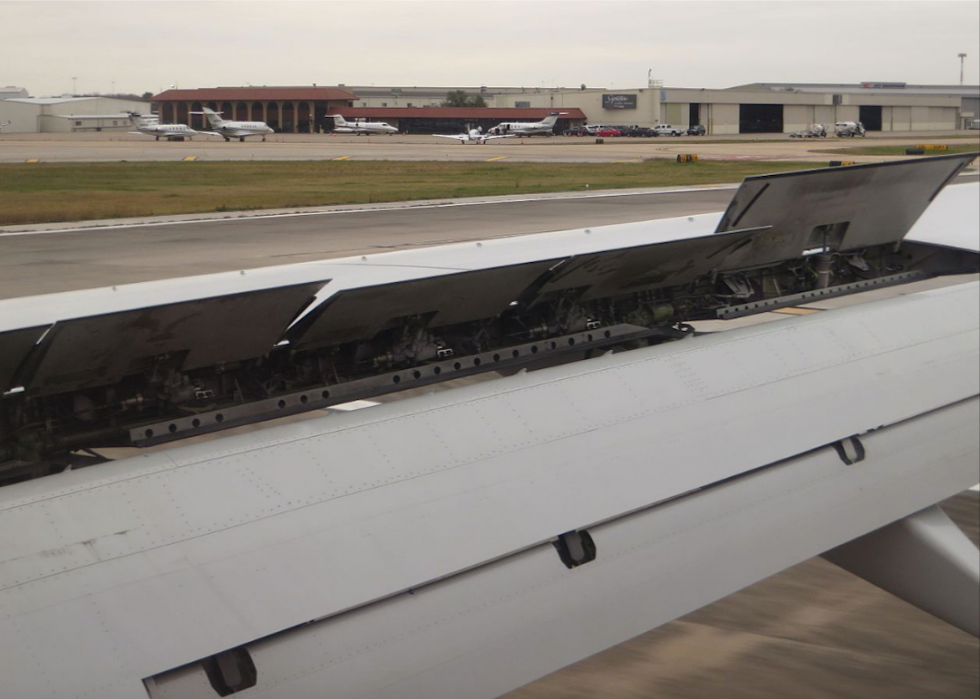 9 / 100
Ken L. // Wikimedia Commons
#92. Houston, TX: William P. Hobby Airport
- Annual flights (March 2018–February 2019): 58,365
- On-time performance: 78%
- Air carrier delay: 6%
- Weather delay: 0.0%
- National Aviation System delay: 5.7%
- Security delay: 0.1%
- Aircraft arriving late delay: 8.3%
- Canceled flights: 1.5%
- Diverted: 0.2%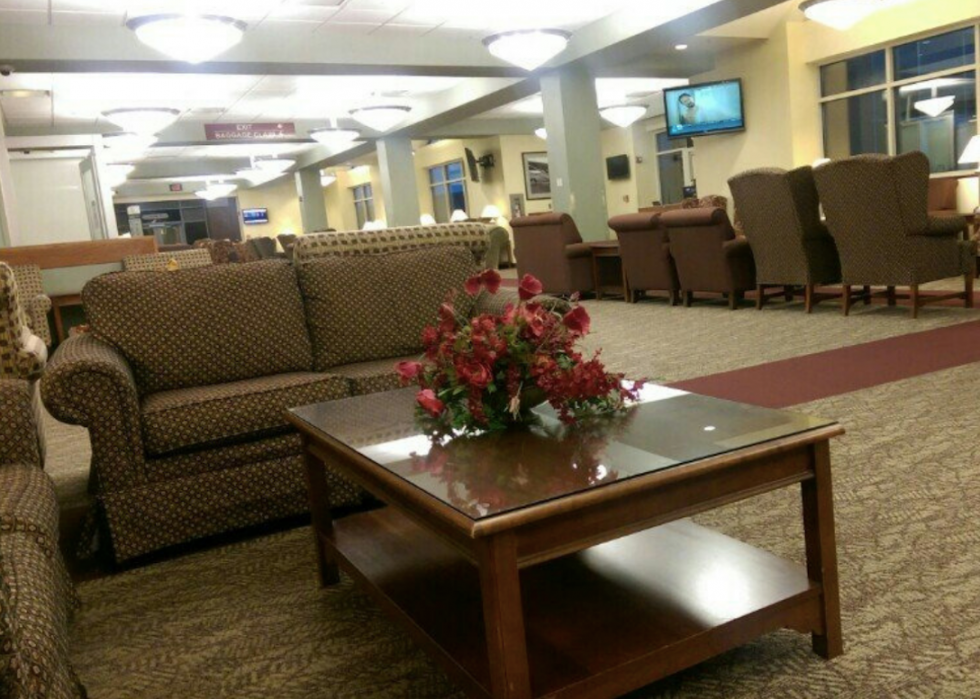 10 / 100
Civil Air Patrol // Wikimedia Commons
#91. Fort Smith, AR: Fort Smith Regional
- Annual flights (March 2018–February 2019): 2,044
- On-time performance: 77.8%
- Air carrier delay: 6.9%
- Weather delay: 0.0%
- National Aviation System delay: 4.8%
- Security delay: 0.0%
- Aircraft arriving late delay: 7.7%
- Canceled flights: 1.4%
- Diverted: 0.2%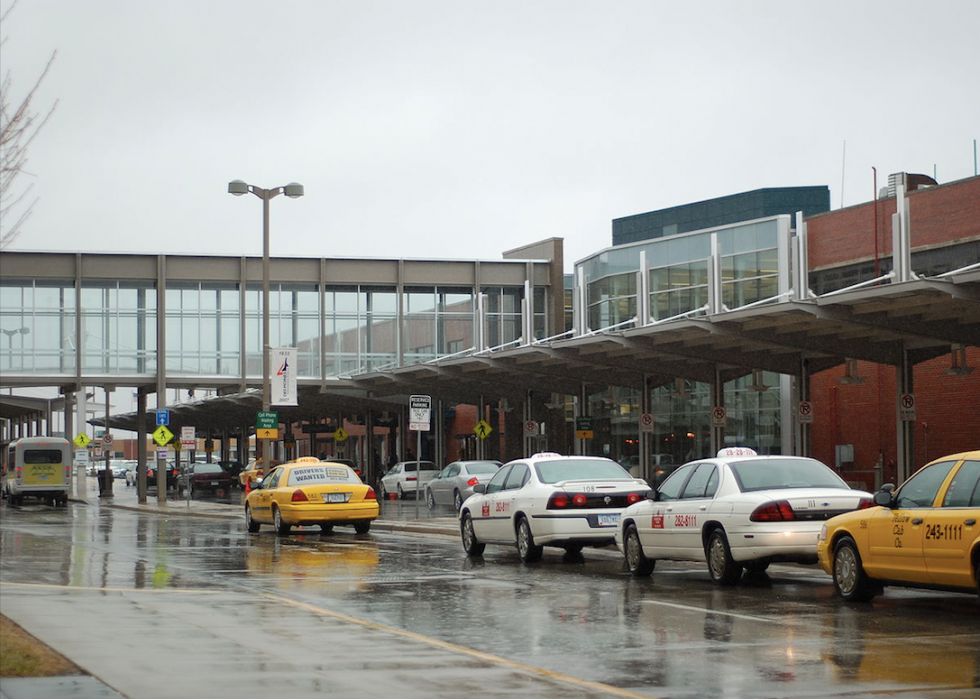 11 / 100
Manup // Wikimedia Commons
#90. Des Moines, IA: Des Moines International
- Annual flights (March 2018–February 2019): 15,805
- On-time performance: 77.8%
- Air carrier delay: 6.1%
- Weather delay: 0.0%
- National Aviation System delay: 5.5%
- Security delay: 0.0%
- Aircraft arriving late delay: 7.5%
- Canceled flights: 1.7%
- Diverted: 0.3%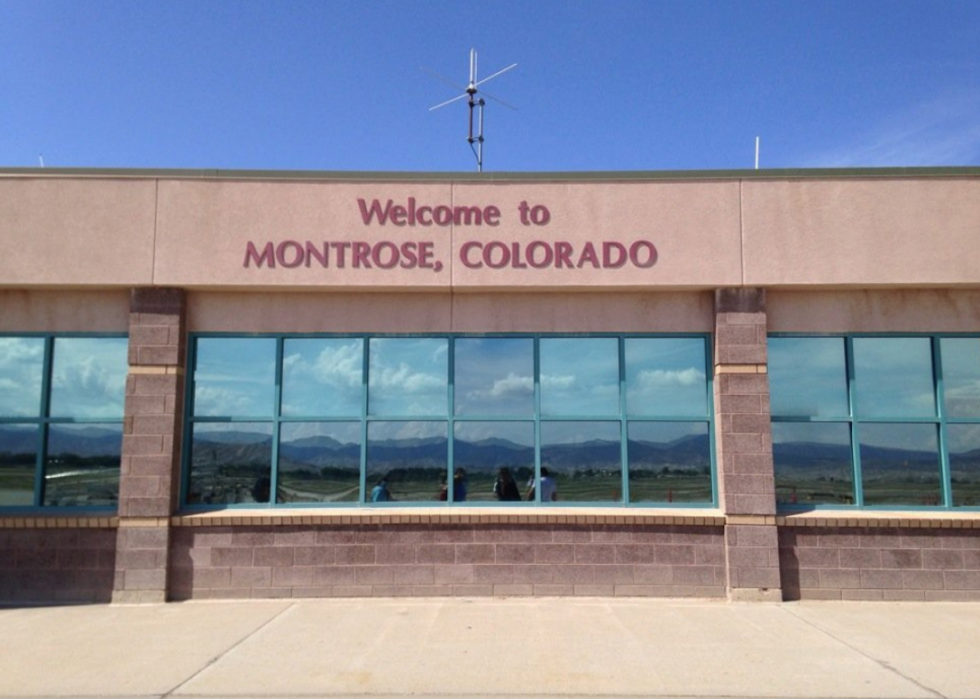 12 / 100
#89. Montrose/Delta, CO: Montrose Regional
- Annual flights (March 2018–February 2019): 1,464
- On-time performance: 77.8%
- Air carrier delay: 6.9%
- Weather delay: 0.0%
- National Aviation System delay: 7.5%
- Security delay: 0.0%
- Aircraft arriving late delay: 4.4%
- Canceled flights: 1.8%
- Diverted: 0.7%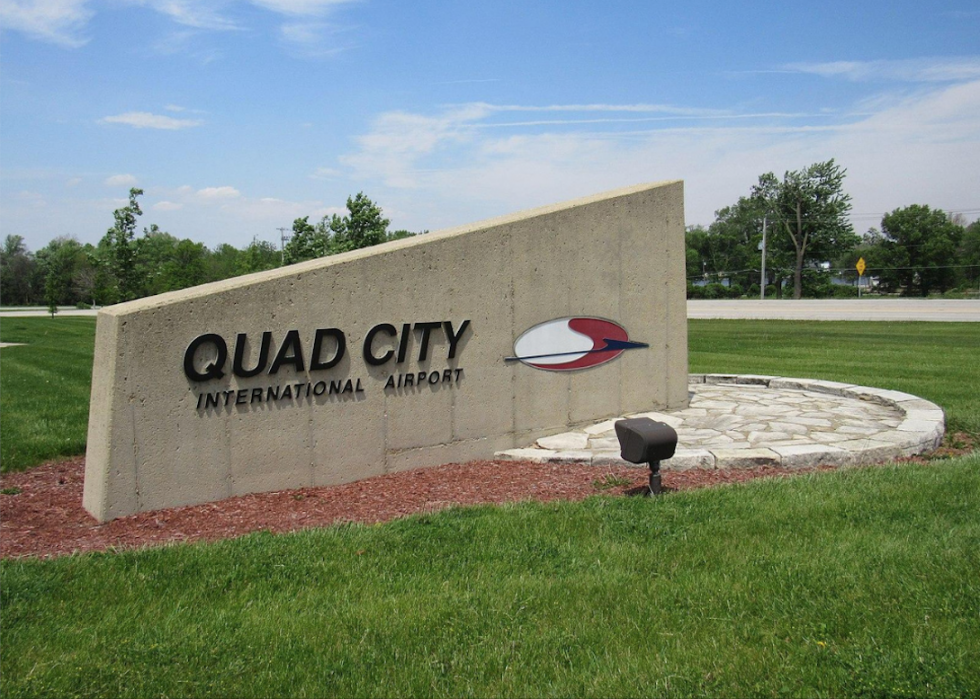 13 / 100
Farragutful // Wikimedia Commons
#88. Moline, IL: Quad City International
- Annual flights (March 2018–February 2019): 5,087
- On-time performance: 77.8%
- Air carrier delay: 6.7%
- Weather delay: 0.0%
- National Aviation System delay: 5.4%
- Security delay: 0.0%
- Aircraft arriving late delay: 6.3%
- Canceled flights: 2.4%
- Diverted: 0.3%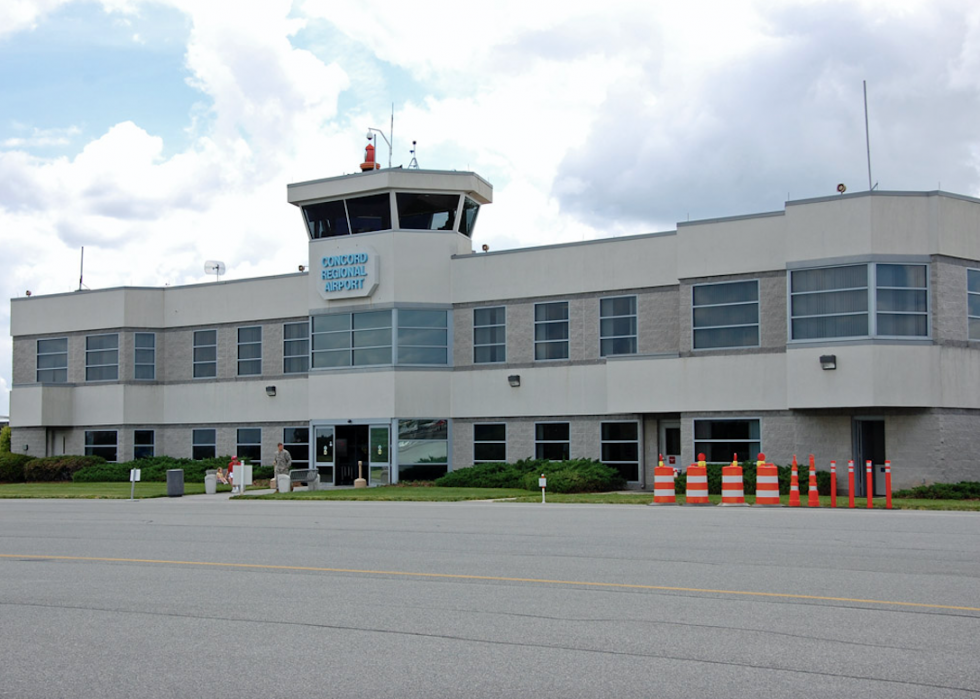 14 / 100
Bz3rk // Wikimedia Commons
#87. Concord, NC: Concord Regional
- Annual flights (March 2018–February 2019): 1,022
- On-time performance: 77.8%
- Air carrier delay: 5%
- Weather delay: 0.0%
- National Aviation System delay: 5%
- Security delay: 0.0%
- Aircraft arriving late delay: 8.3%
- Canceled flights: 1.4%
- Diverted: 0.8%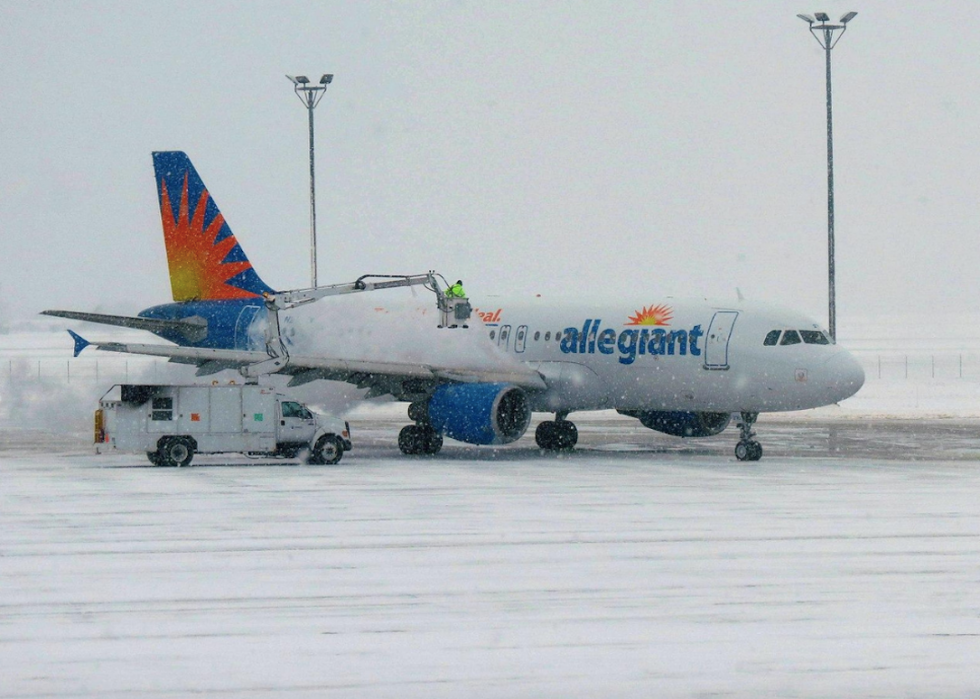 15 / 100
redlegsfan21 // Wikimedia Commons
#86. Grand Rapids, MI: Gerald R. Ford International
- Annual flights (March 2018–February 2019): 17,606
- On-time performance: 77.7%
- Air carrier delay: 6.3%
- Weather delay: 0.0%
- National Aviation System delay: 5.6%
- Security delay: 0.0%
- Aircraft arriving late delay: 6.7%
- Canceled flights: 2.4%
- Diverted: 0.1%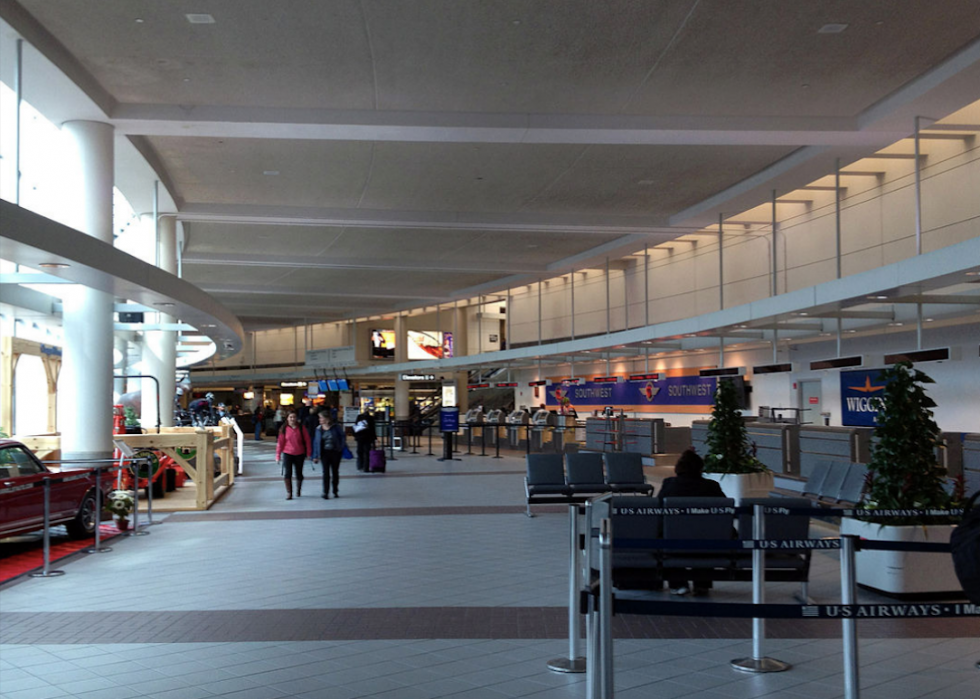 16 / 100
MaxVT // Wikimedia Commons
#85. Manchester, NH: Manchester-Boston Regional
- Annual flights (March 2018–February 2019): 9,383
- On-time performance: 77.7%
- Air carrier delay: 6.7%
- Weather delay: 0.0%
- National Aviation System delay: 3.4%
- Security delay: 0.0%
- Aircraft arriving late delay: 8%
- Canceled flights: 3.3%
- Diverted: 0.1%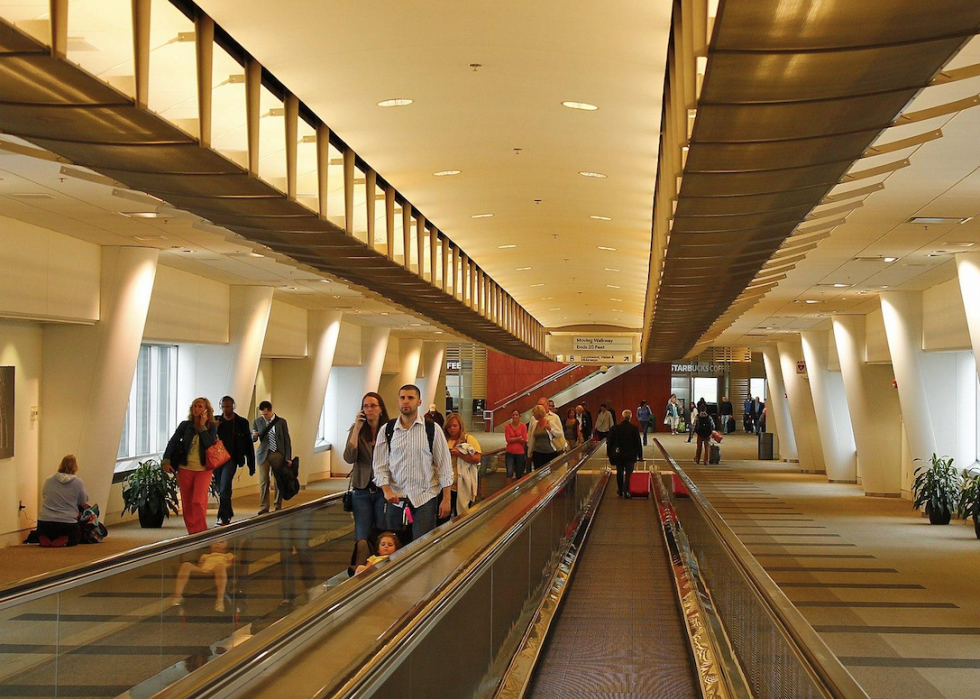 17 / 100
formulanone // Wikimedia Commons
#84. Louisville, KY: Louisville International-Standiford Field
- Annual flights (March 2018–February 2019): 23,260
- On-time performance: 77.7%
- Air carrier delay: 6.7%
- Weather delay: 0.0%
- National Aviation System delay: 5.1%
- Security delay: 0.1%
- Aircraft arriving late delay: 7.7%
- Canceled flights: 1.9%
- Diverted: 0.1%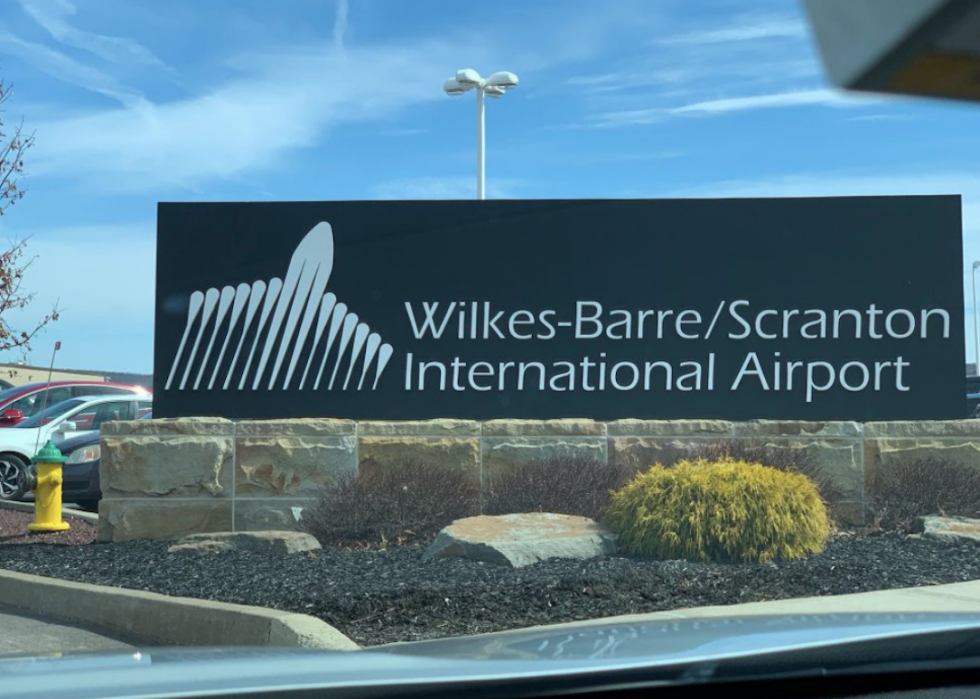 18 / 100
#83. Scranton/Wilkes-Barre, PA: Wilkes Barre Scranton International
- Annual flights (March 2018–February 2019): 3,326
- On-time performance: 77.7%
- Air carrier delay: 5.8%
- Weather delay: 0.0%
- National Aviation System delay: 5.2%
- Security delay: 0.0%
- Aircraft arriving late delay: 6.7%
- Canceled flights: 2.9%
- Diverted: 0.4%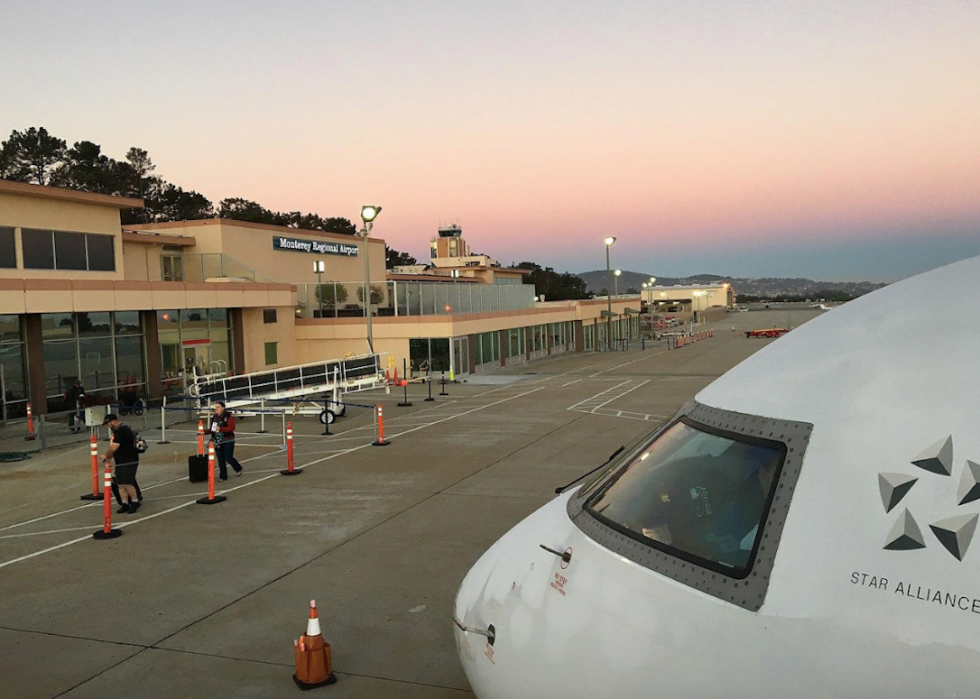 19 / 100
Edward Russell // Wikimedia Commons
#82. Monterey, CA: Monterey Regional
- Annual flights (March 2018–February 2019): 4,056
- On-time performance: 77.7%
- Air carrier delay: 6.1%
- Weather delay: 0.0%
- National Aviation System delay: 4%
- Security delay: 0.0%
- Aircraft arriving late delay: 8.7%
- Canceled flights: 1.5%
- Diverted: 1.5%
20 / 100
Runner1928 // Wikimedia Commons
#81. Lexington, KY: Blue Grass
- Annual flights (March 2018–February 2019): 10,173
- On-time performance: 77.7%
- Air carrier delay: 6.9%
- Weather delay: 0.0%
- National Aviation System delay: 4.6%
- Security delay: 0.0%
- Aircraft arriving late delay: 7.3%
- Canceled flights: 2.1%
- Diverted: 0.3%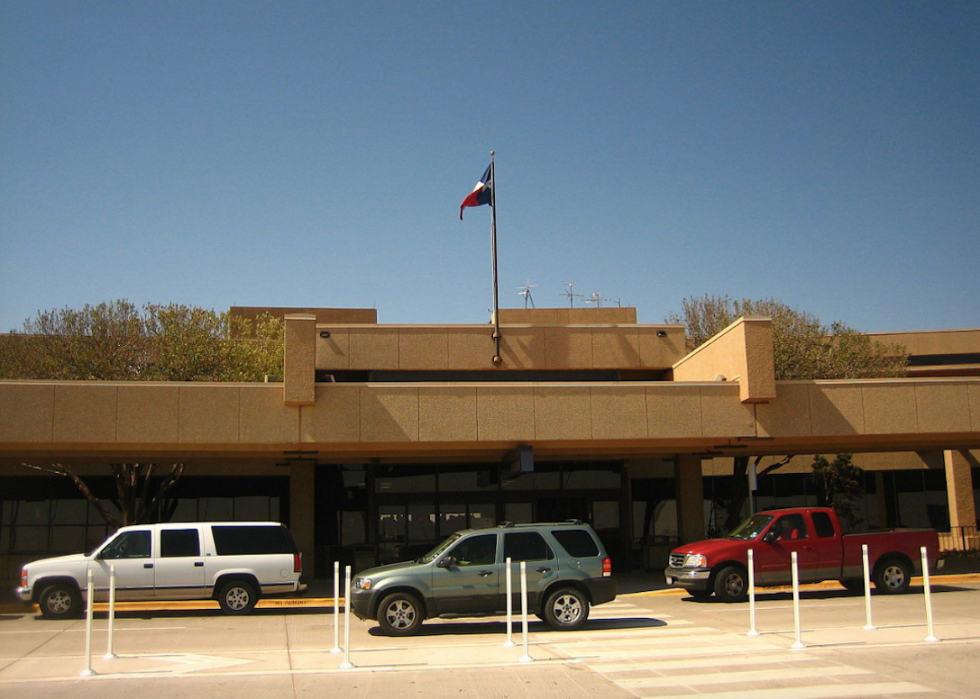 21 / 100
Billy Hathorn // Wikimedia Commons
#80. Lubbock, TX: Lubbock Preston Smith International
- Annual flights (March 2018–February 2019): 6,415
- On-time performance: 77.6%
- Air carrier delay: 7.7%
- Weather delay: 0.0%
- National Aviation System delay: 3.7%
- Security delay: 0.0%
- Aircraft arriving late delay: 8.5%
- Canceled flights: 1.6%
- Diverted: 0.1%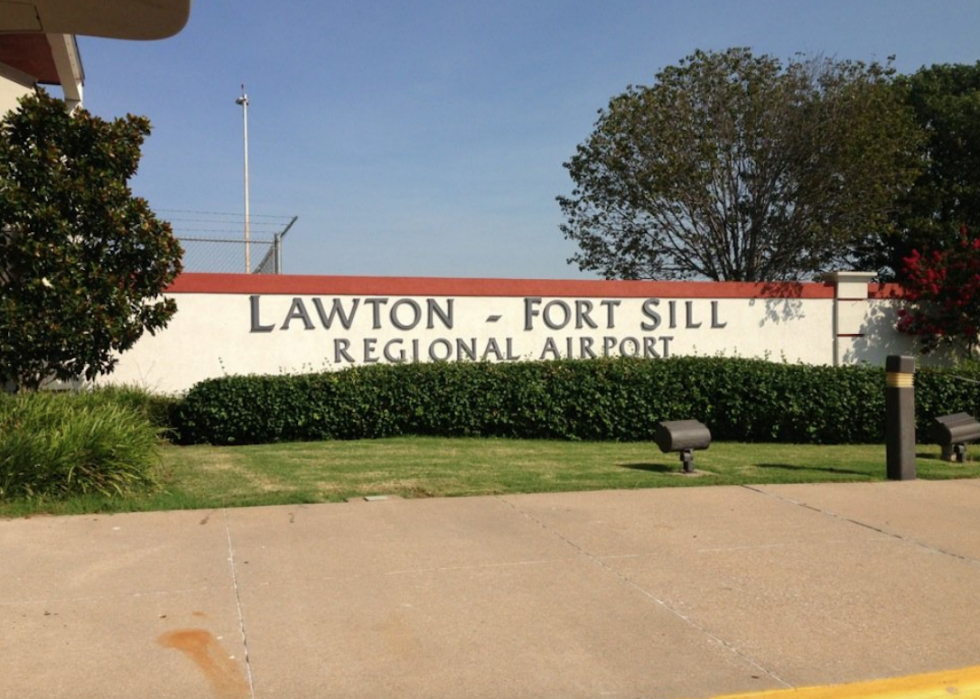 22 / 100
#79. Lawton/Fort Sill, OK: Lawton-Fort Sill Regional
- Annual flights (March 2018–February 2019): 1,354
- On-time performance: 77.6%
- Air carrier delay: 7.8%
- Weather delay: 0.0%
- National Aviation System delay: 3.8%
- Security delay: 0.0%
- Aircraft arriving late delay: 6.6%
- Canceled flights: 3.2%
- Diverted: 0.2%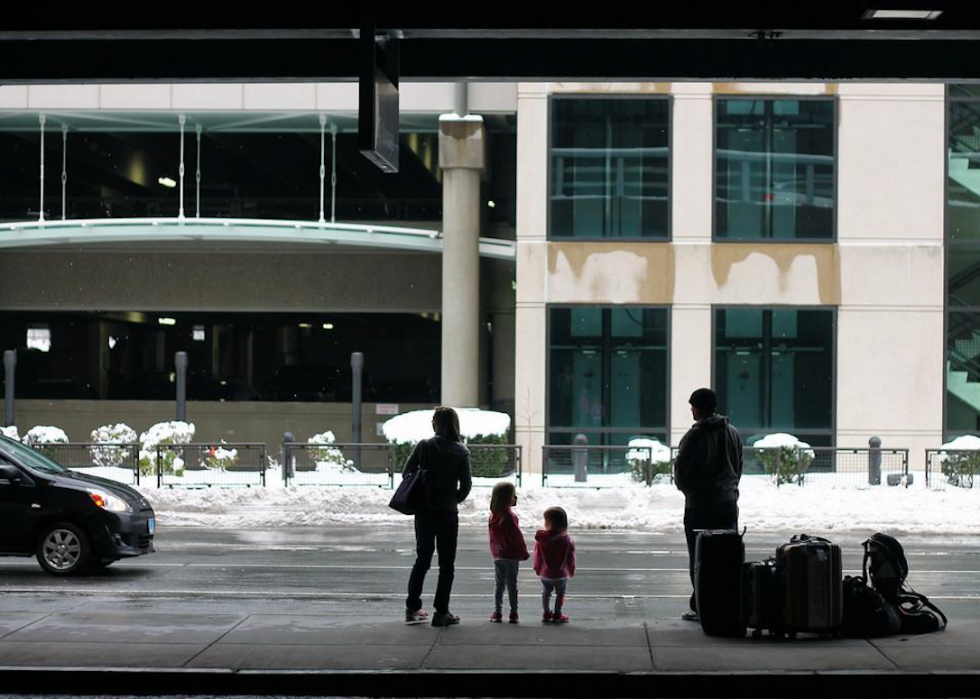 23 / 100
#78. Hartford, CT: Bradley International
- Annual flights (March 2018–February 2019): 28,463
- On-time performance: 77.5%
- Air carrier delay: 7.1%
- Weather delay: 0.0%
- National Aviation System delay: 4.6%
- Security delay: 0.1%
- Aircraft arriving late delay: 7.5%
- Canceled flights: 2.1%
- Diverted: 0.2%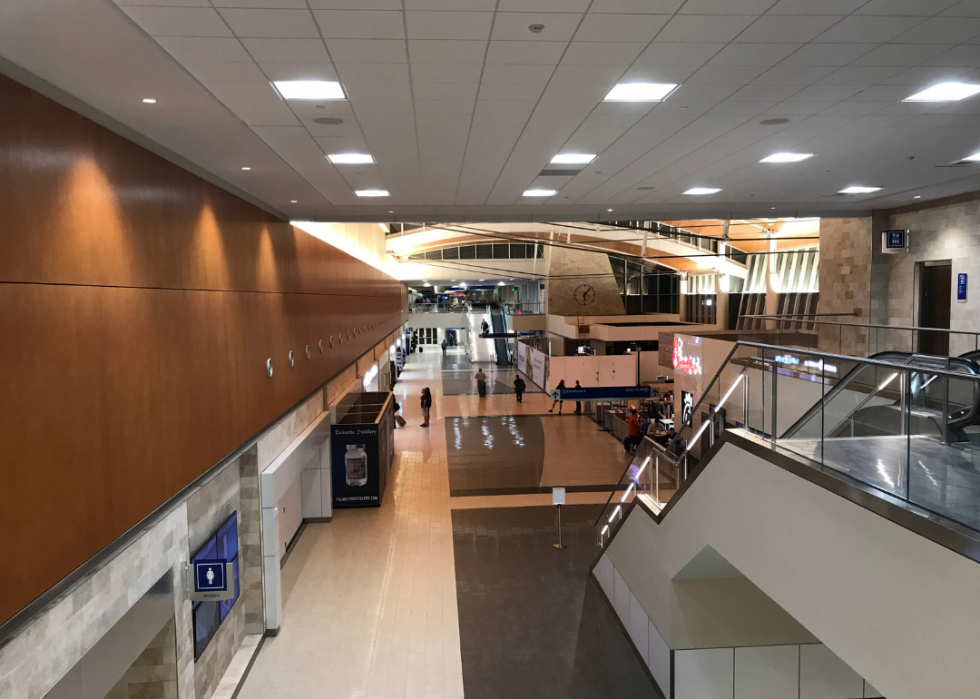 24 / 100
Michaeljarvis01 // Wikimedia Commons
#77. Greer, SC: Greenville-Spartanburg International
- Annual flights (March 2018–February 2019): 14,148
- On-time performance: 77.5%
- Air carrier delay: 6.8%
- Weather delay: 0.0%
- National Aviation System delay: 4.2%
- Security delay: 0.0%
- Aircraft arriving late delay: 8.2%
- Canceled flights: 2.1%
- Diverted: 0.1%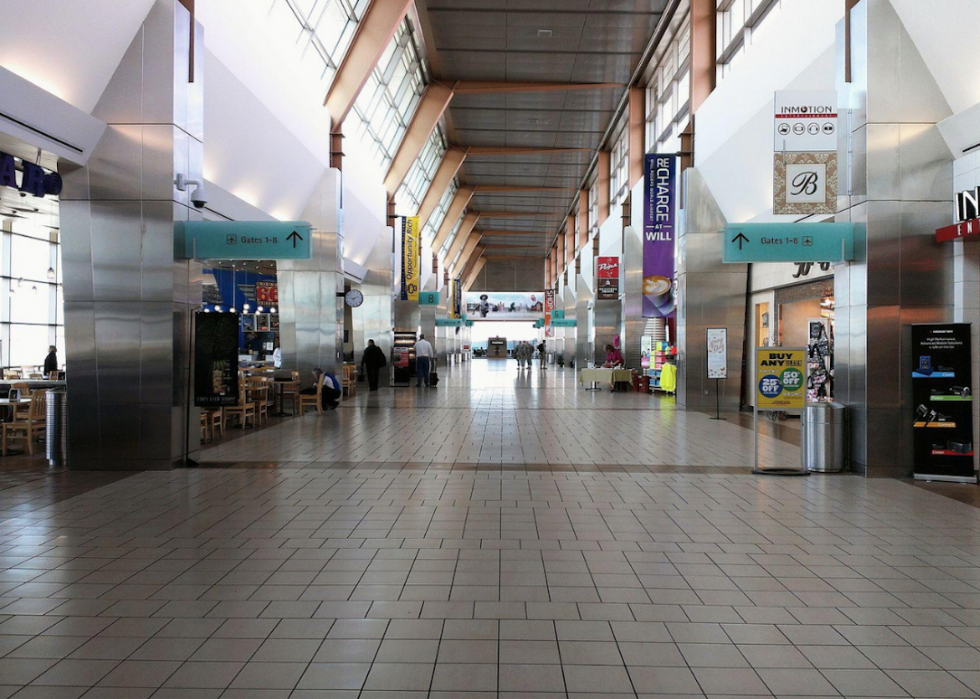 25 / 100
Ragesoss // Wikimedia Commons
#76. Oklahoma City, OK: Will Rogers World
- Annual flights (March 2018–February 2019): 23,529
- On-time performance: 77.5%
- Air carrier delay: 7.3%
- Weather delay: 0.0%
- National Aviation System delay: 4.9%
- Security delay: 0.0%
- Aircraft arriving late delay: 7.6%
- Canceled flights: 1.3%
- Diverted: 0.3%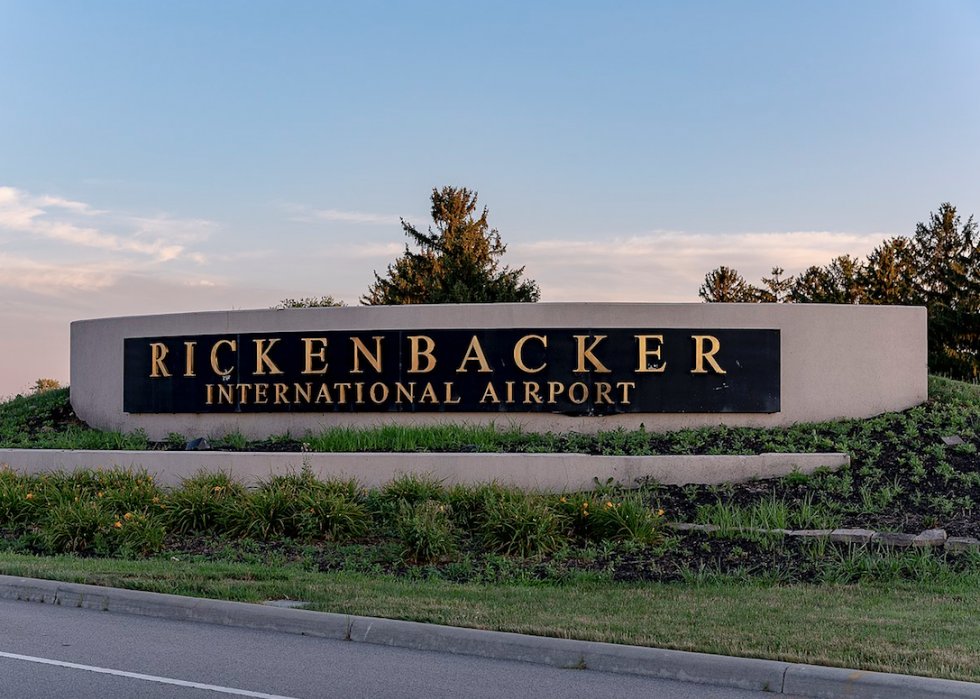 26 / 100
Sixflashphoto // Wikimedia Commons
#75. Columbus, OH: Rickenbacker International
- Annual flights (March 2018–February 2019): 1,062
- On-time performance: 77.5%
- Air carrier delay: 6.7%
- Weather delay: 0.0%
- National Aviation System delay: 4.4%
- Security delay: 0.0%
- Aircraft arriving late delay: 8%
- Canceled flights: 0.6%
- Diverted: 0.6%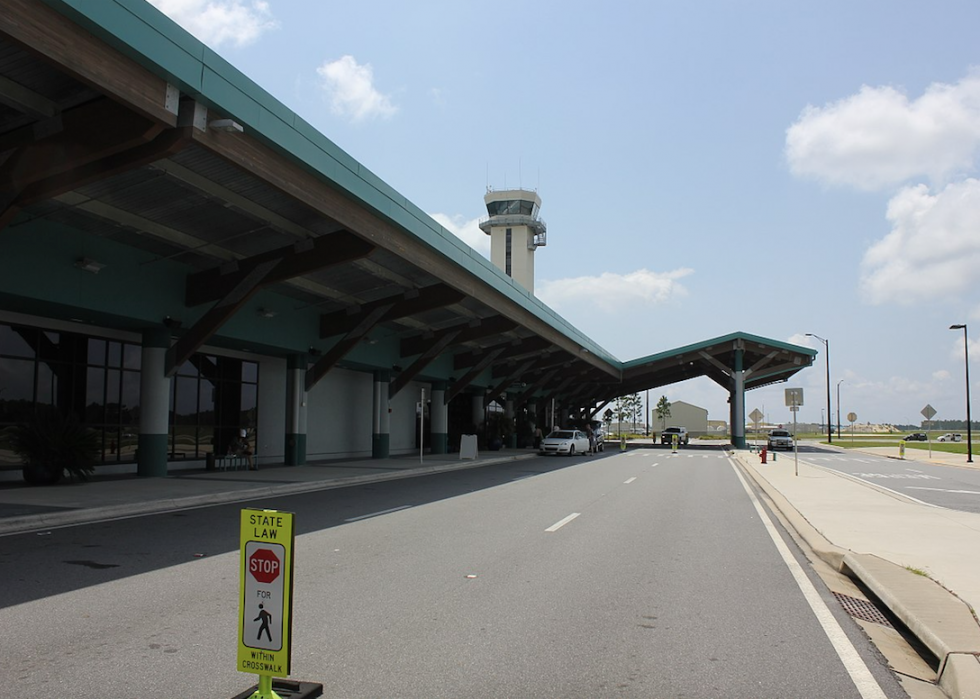 27 / 100
Nicolas Henderson // Wikimedia Commons
#74. Panama City, FL: Northwest Florida Beaches International
- Annual flights (March 2018–February 2019): 5,839
- On-time performance: 77.5%
- Air carrier delay: 7.8%
- Weather delay: 0.0%
- National Aviation System delay: 3.7%
- Security delay: 0.0%
- Aircraft arriving late delay: 7%
- Canceled flights: 2.6%
- Diverted: 0.3%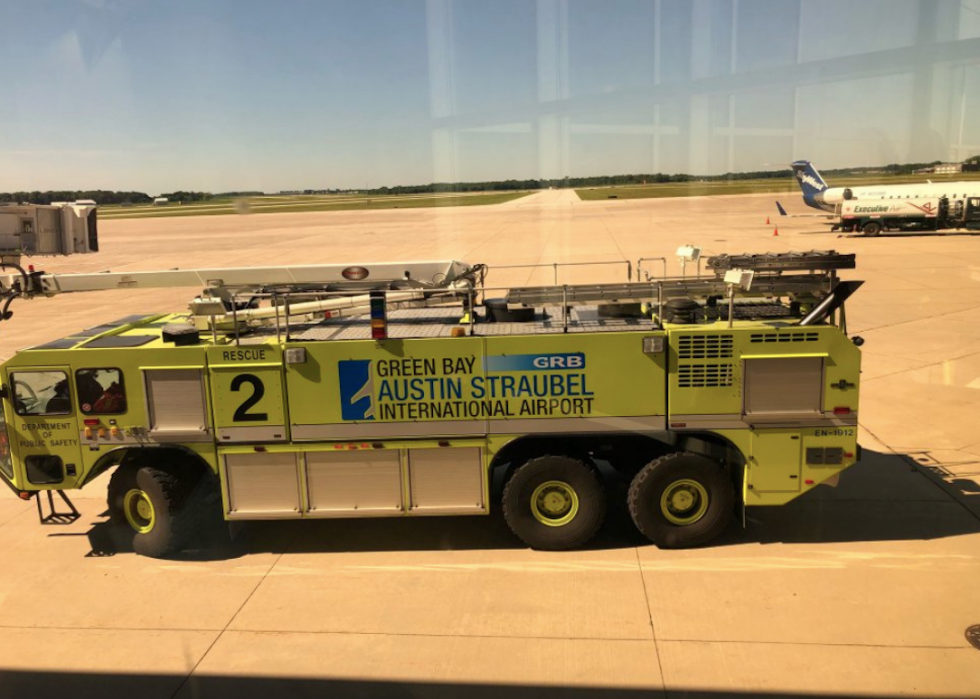 28 / 100
#73. Green Bay, WI: Green Bay Austin Straubel International
- Annual flights (March 2018–February 2019): 4,847
- On-time performance: 77.5%
- Air carrier delay: 6%
- Weather delay: 0.0%
- National Aviation System delay: 5.2%
- Security delay: 0.0%
- Aircraft arriving late delay: 6.6%
- Canceled flights: 3.2%
- Diverted: 0.2%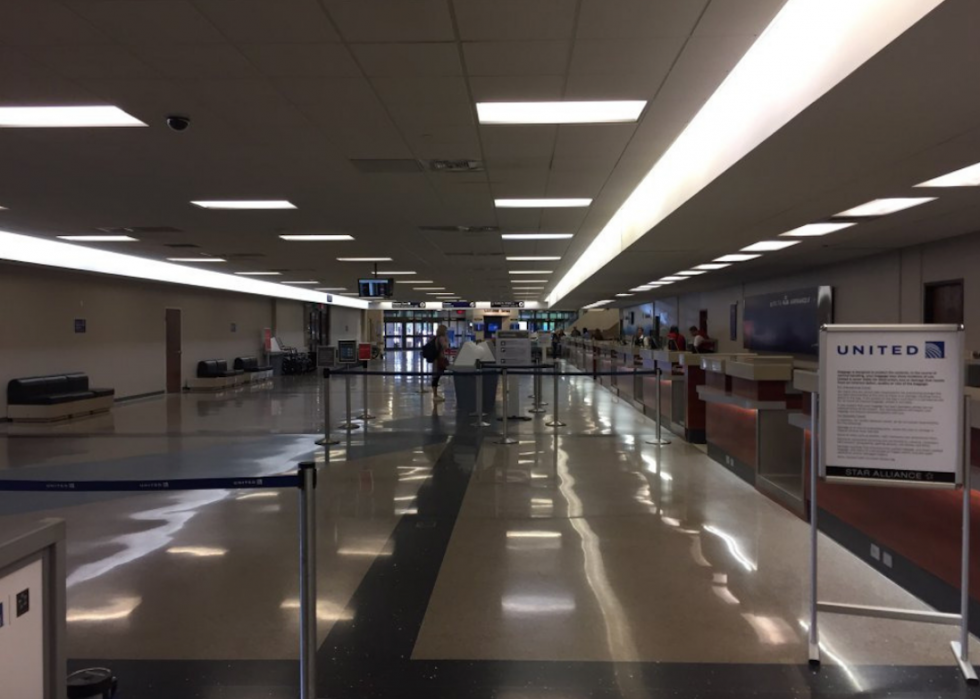 29 / 100
#72. Mobile, AL: Mobile Regional
- Annual flights (March 2018–February 2019): 6,304
- On-time performance: 77.4%
- Air carrier delay: 6.9%
- Weather delay: 0.0%
- National Aviation System delay: 5.3%
- Security delay: 0.0%
- Aircraft arriving late delay: 6.4%
- Canceled flights: 2%
- Diverted: 0.5%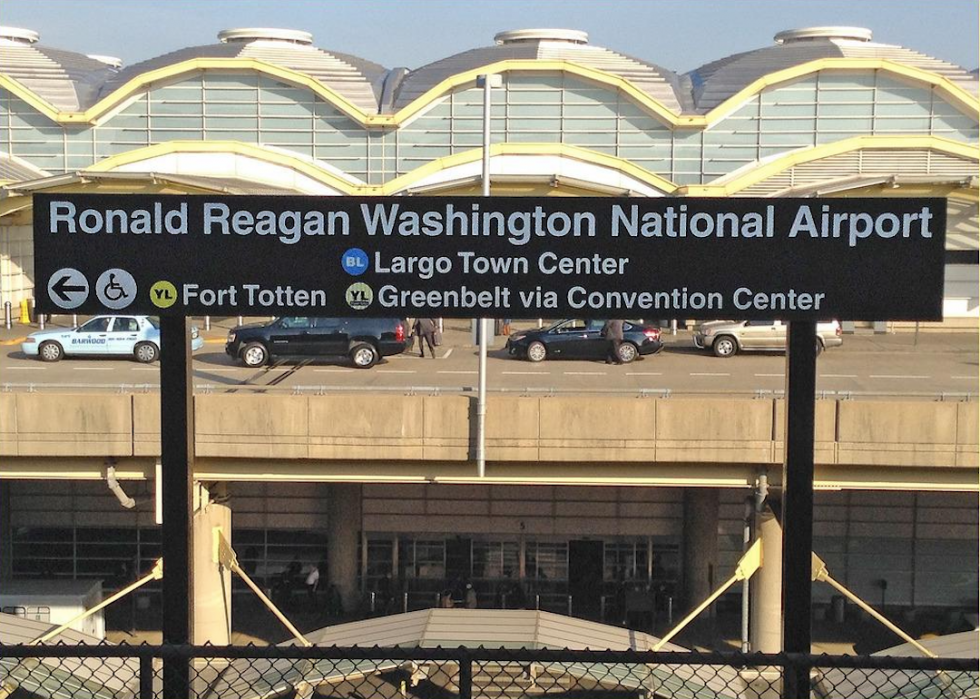 30 / 100
#71. Washington, D.C.: Ronald Reagan Washington National
- Annual flights (March 2018–February 2019): 134,539
- On-time performance: 77.3%
- Air carrier delay: 5%
- Weather delay: 0.0%
- National Aviation System delay: 6.4%
- Security delay: 0.0%
- Aircraft arriving late delay: 7.1%
- Canceled flights: 3.2%
- Diverted: 0.4%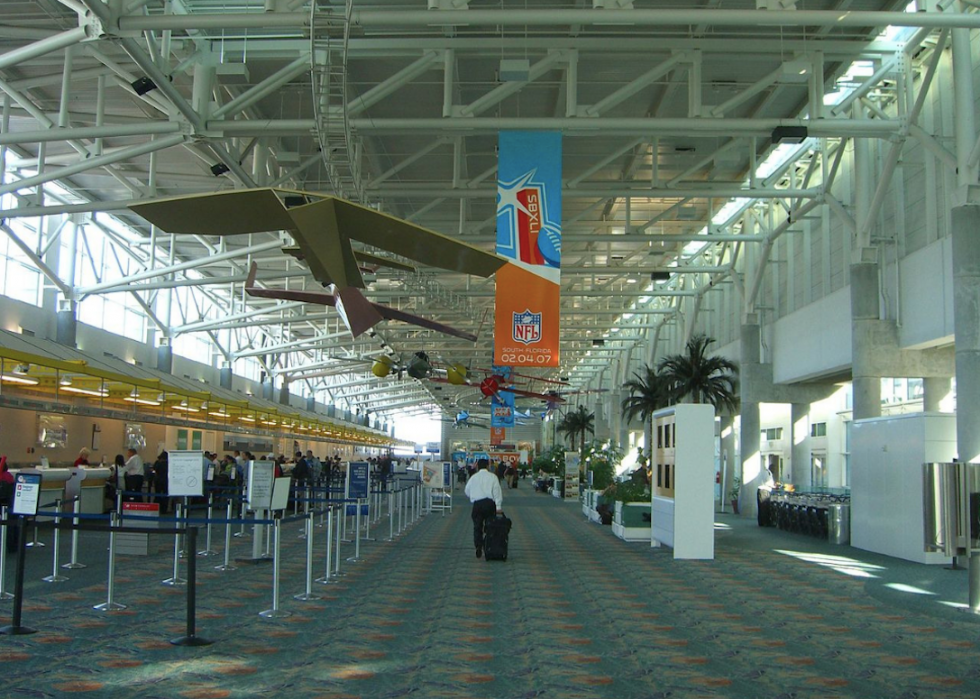 31 / 100
Nick81aku // Wikimedia Commons
#70. Fort Lauderdale, FL: Fort Lauderdale-Hollywood International
- Annual flights (March 2018–February 2019): 97,752
- On-time performance: 77.3%
- Air carrier delay: 6.5%
- Weather delay: 0.0%
- National Aviation System delay: 7.2%
- Security delay: 0.1%
- Aircraft arriving late delay: 7.3%
- Canceled flights: 1%
- Diverted: 0.3%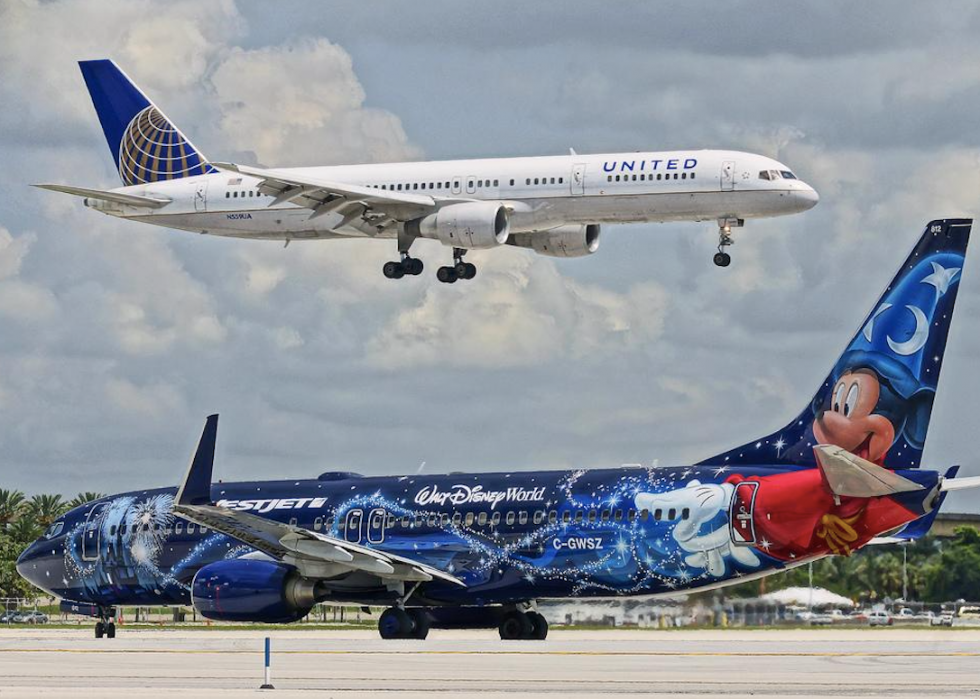 32 / 100
#69. Orlando, FL: Orlando International
- Annual flights (March 2018–February 2019): 138,936
- On-time performance: 77.2%
- Air carrier delay: 6.3%
- Weather delay: 0.0%
- National Aviation System delay: 7%
- Security delay: 0.1%
- Aircraft arriving late delay: 7.4%
- Canceled flights: 1.1%
- Diverted: 0.3%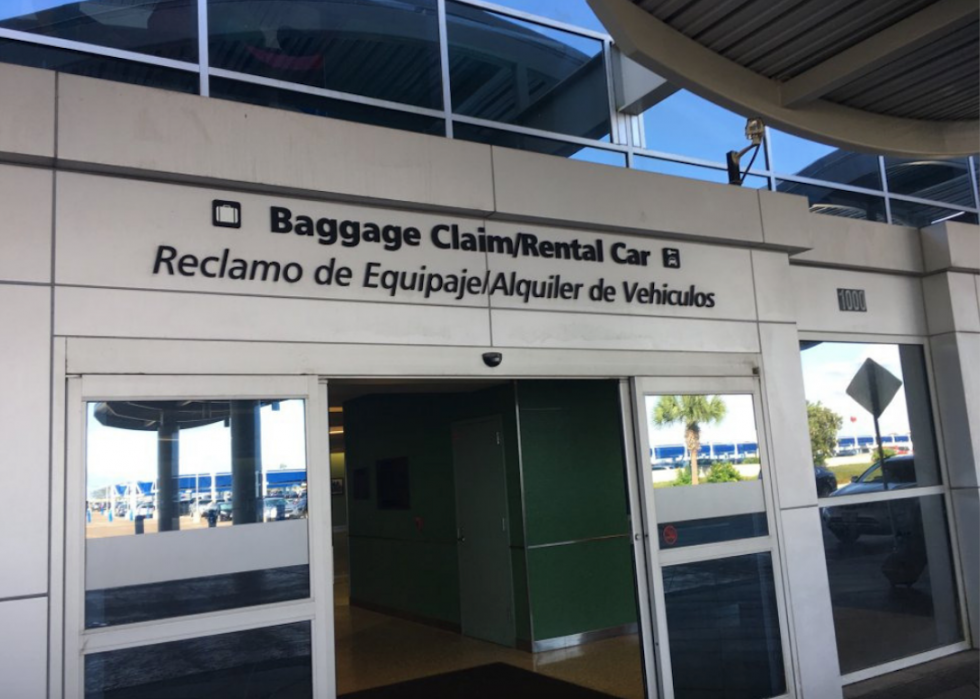 33 / 100
#68. Corpus Christi, TX: Corpus Christi International
- Annual flights (March 2018–February 2019): 5,590
- On-time performance: 77.2%
- Air carrier delay: 7.5%
- Weather delay: 0.0%
- National Aviation System delay: 4.1%
- Security delay: 0.0%
- Aircraft arriving late delay: 8%
- Canceled flights: 2.1%
- Diverted: 0.0%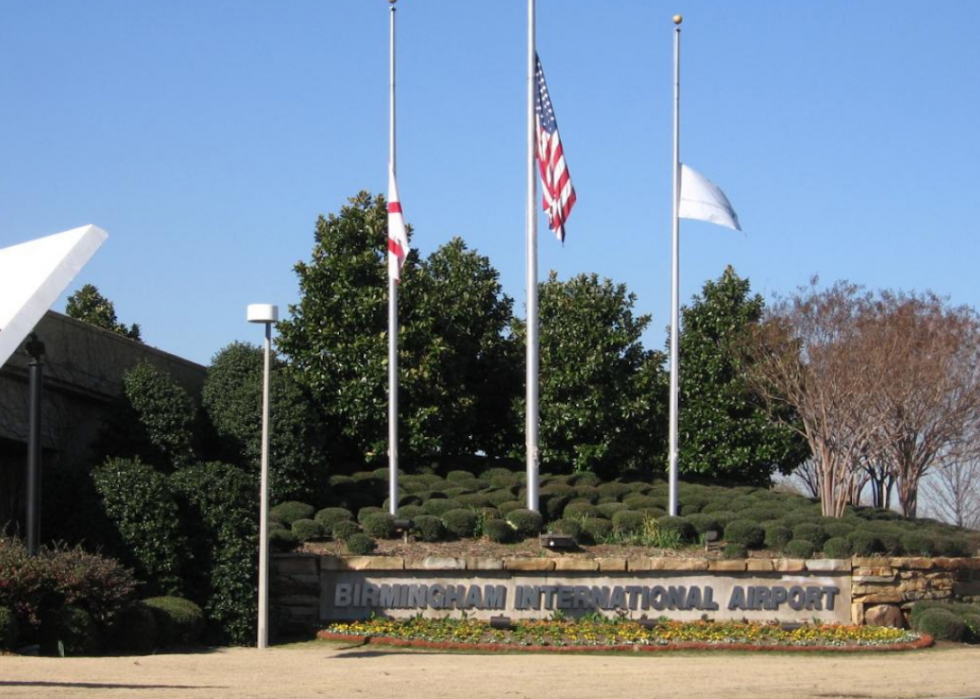 34 / 100
Civilengtiger // Wikimedia Commons
#67. Birmingham, AL: Birmingham-Shuttlesworth International
- Annual flights (March 2018–February 2019): 18,363
- On-time performance: 77.2%
- Air carrier delay: 7.2%
- Weather delay: 0.0%
- National Aviation System delay: 4.5%
- Security delay: 0.0%
- Aircraft arriving late delay: 8.1%
- Canceled flights: 1.7%
- Diverted: 0.2%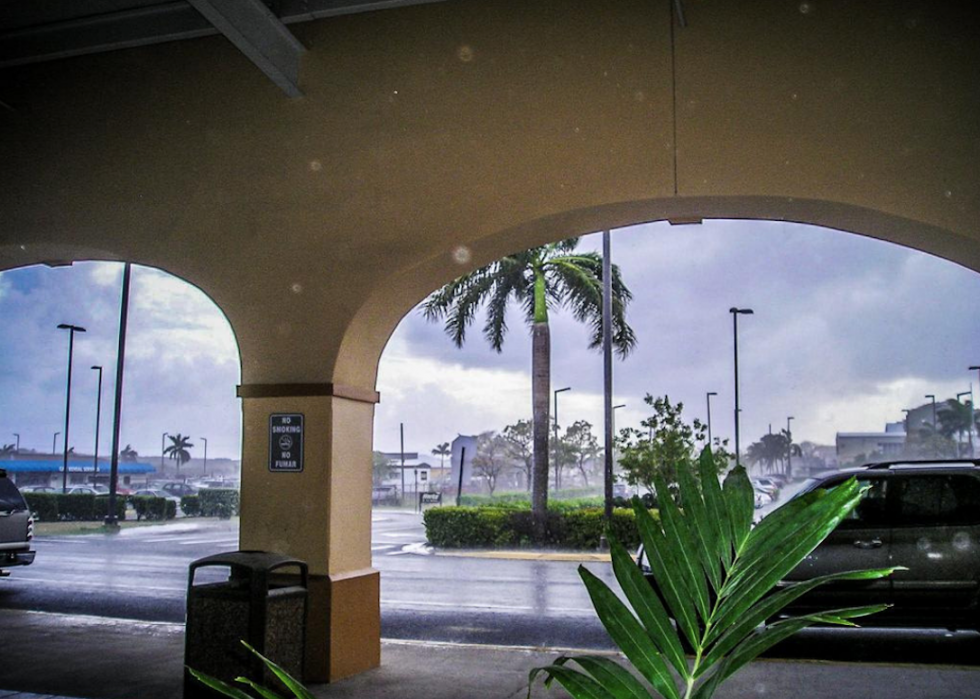 35 / 100
#66. Christiansted, VI: Henry E. Rohlsen
- Annual flights (March 2018–February 2019): 1,065
- On-time performance: 77.2%
- Air carrier delay: 10.1%
- Weather delay: 0.0%
- National Aviation System delay: 3.3%
- Security delay: 0.3%
- Aircraft arriving late delay: 6.4%
- Canceled flights: 0.2%
- Diverted: 0.1%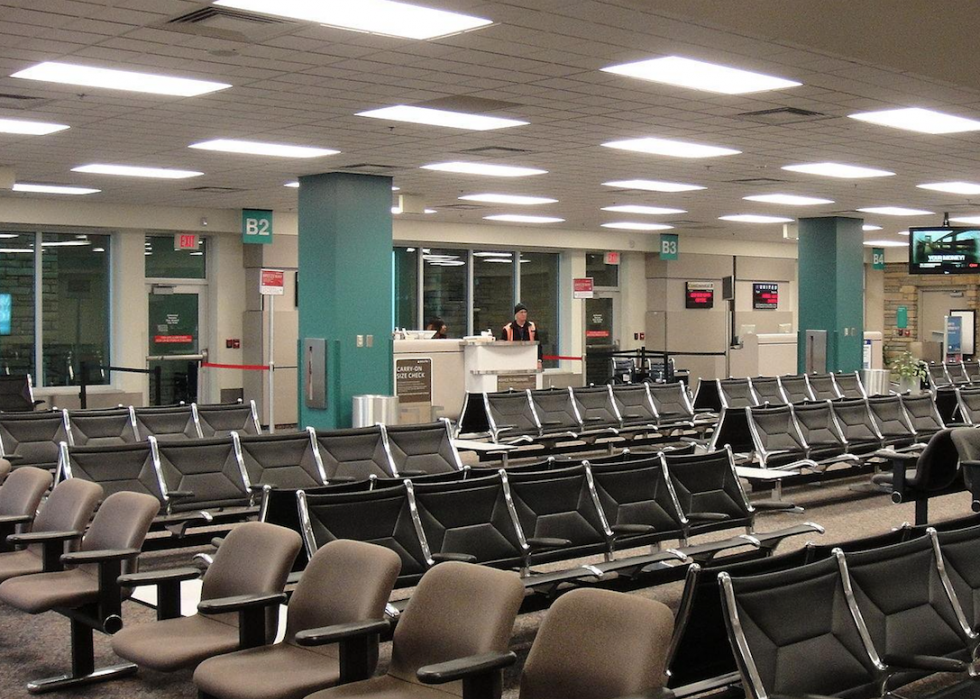 36 / 100
Ncmattj // Wikimedia Commons
#65. Asheville, NC: Asheville Regional
- Annual flights (March 2018–February 2019): 7,987
- On-time performance: 77.2%
- Air carrier delay: 6.2%
- Weather delay: 0.0%
- National Aviation System delay: 5%
- Security delay: 0.0%
- Aircraft arriving late delay: 7.4%
- Canceled flights: 2.2%
- Diverted: 0.7%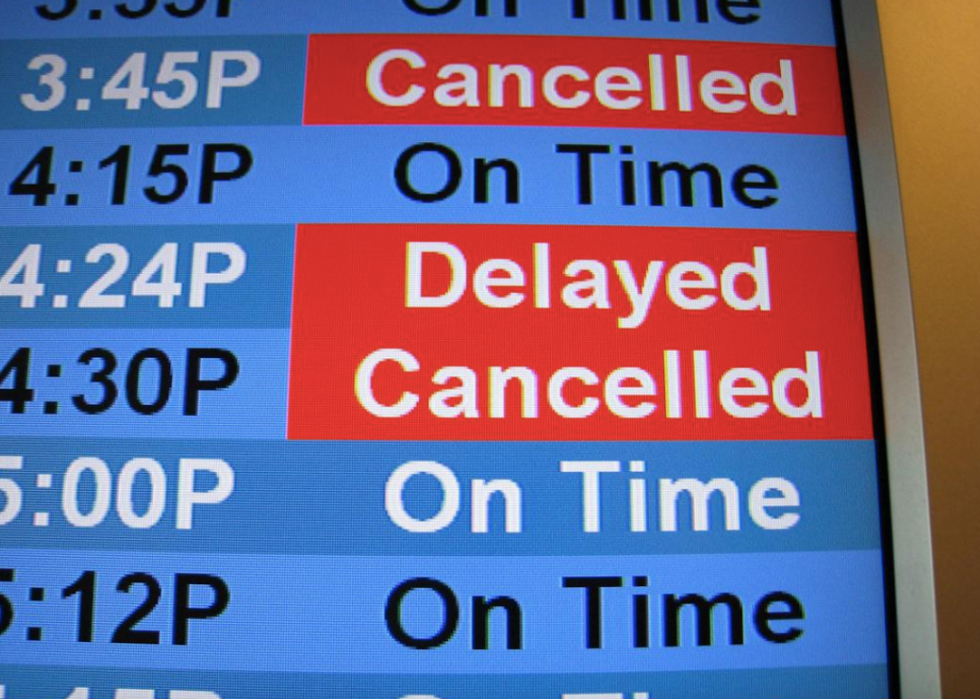 37 / 100
{Guerrilla Futures | Jason Tester} // Flickr
#64. Springfield, IL: Abraham Lincoln Capital
- Annual flights (March 2018–February 2019): 1,768
- On-time performance: 77.1%
- Air carrier delay: 6%
- Weather delay: 0.0%
- National Aviation System delay: 4.2%
- Security delay: 0.1%
- Aircraft arriving late delay: 8.6%
- Canceled flights: 2.8%
- Diverted: 0.2%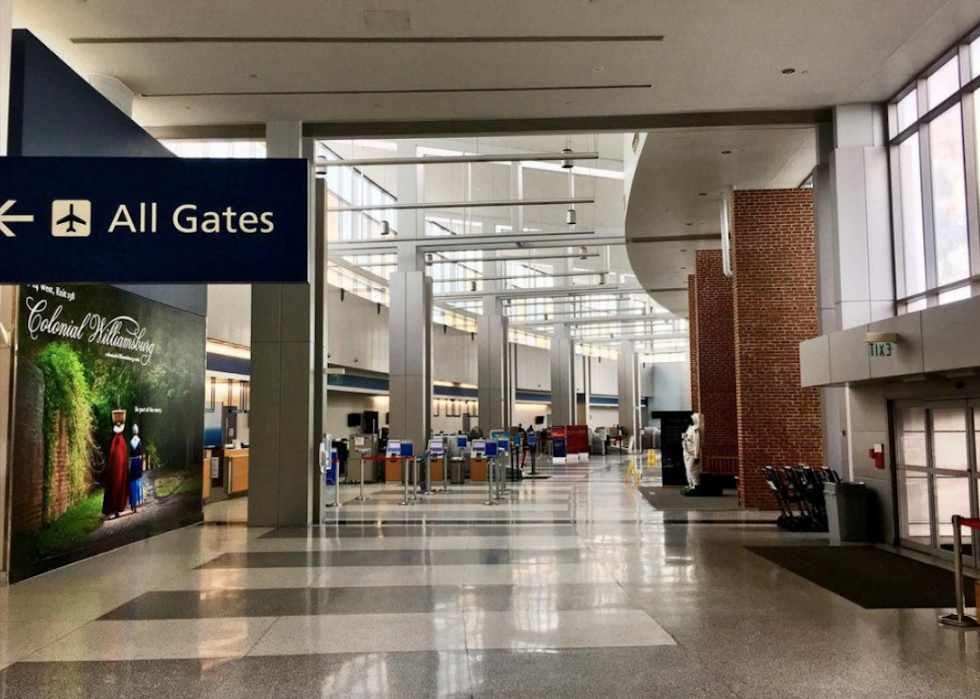 38 / 100
#63. Newport News/Williamsburg, VA: Newport News/Williamsburg International
- Annual flights (March 2018–February 2019): 2,459
- On-time performance: 77.1%
- Air carrier delay: 8.9%
- Weather delay: 0.0%
- National Aviation System delay: 3.8%
- Security delay: 0.0%
- Aircraft arriving late delay: 6.3%
- Canceled flights: 2.6%
- Diverted: 0.3%
39 / 100
Flyer84 // Wikimedia Commons
#62. Albany, NY: Albany International
- Annual flights (March 2018–February 2019): 12,226
- On-time performance: 77%
- Air carrier delay: 7.5%
- Weather delay: 0.0%
- National Aviation System delay: 4.3%
- Security delay: 0.1%
- Aircraft arriving late delay: 7.6%
- Canceled flights: 2.5%
- Diverted: 0.2%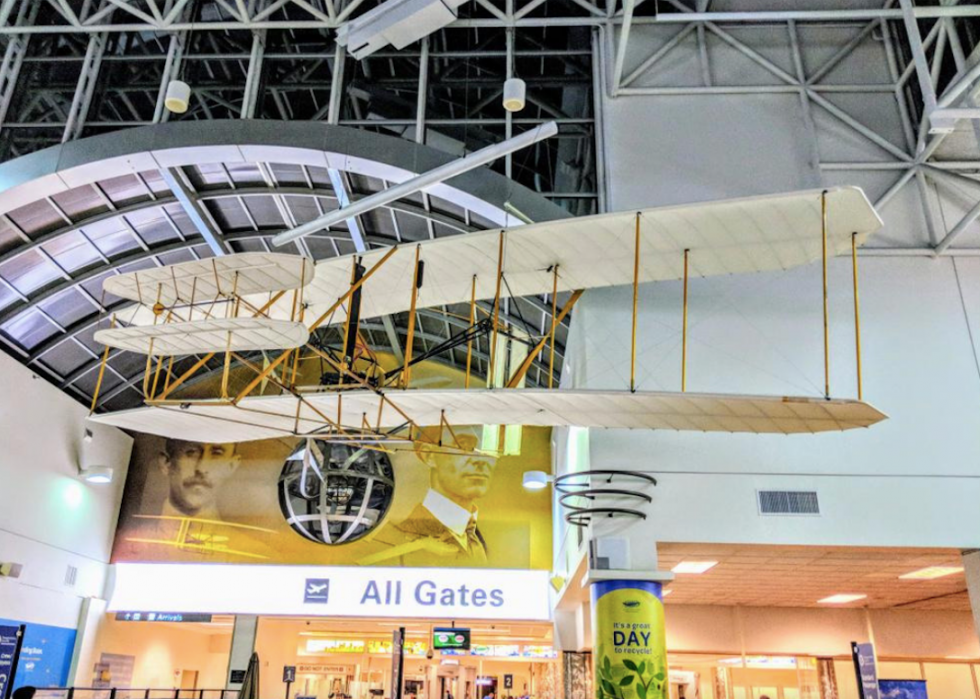 40 / 100
Luke.Travel / Shutterstock
#61. Dayton, OH: James M Cox/Dayton International
- Annual flights (March 2018–February 2019): 13,972
- On-time performance: 77%
- Air carrier delay: 5.8%
- Weather delay: 0.0%
- National Aviation System delay: 5.1%
- Security delay: 0.0%
- Aircraft arriving late delay: 7.6%
- Canceled flights: 3.2%
- Diverted: 0.2%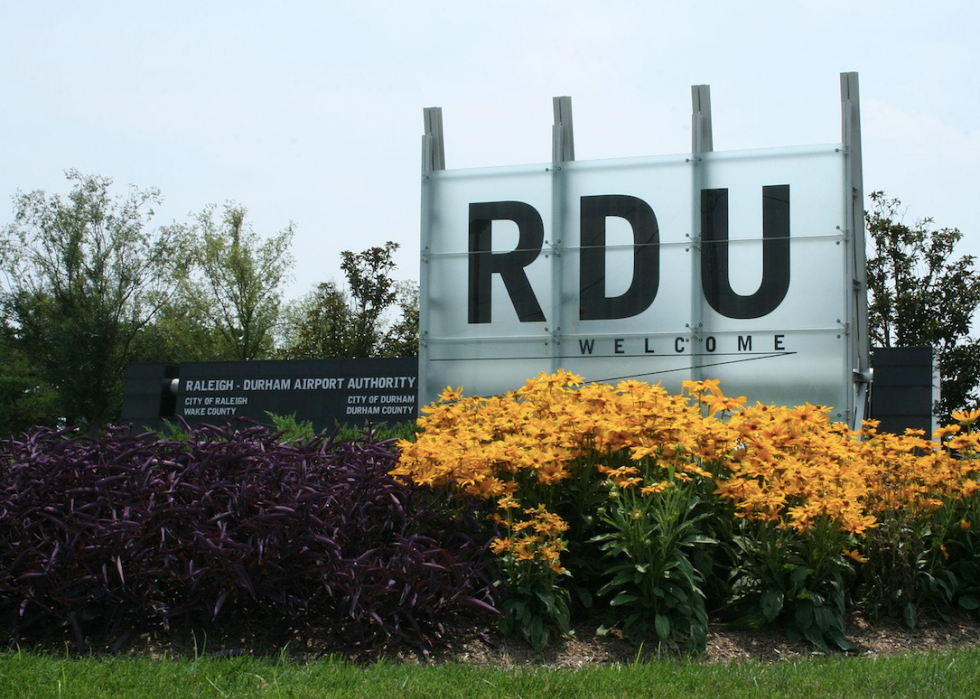 41 / 100
Ildar Sagdejev // Wikimedia Commons
#60. Raleigh/Durham, NC: Raleigh-Durham International
- Annual flights (March 2018–February 2019): 61,294
- On-time performance: 76.9%
- Air carrier delay: 6.8%
- Weather delay: 0.0%
- National Aviation System delay: 5.2%
- Security delay: 0.0%
- Aircraft arriving late delay: 7.9%
- Canceled flights: 2.3%
- Diverted: 0.1%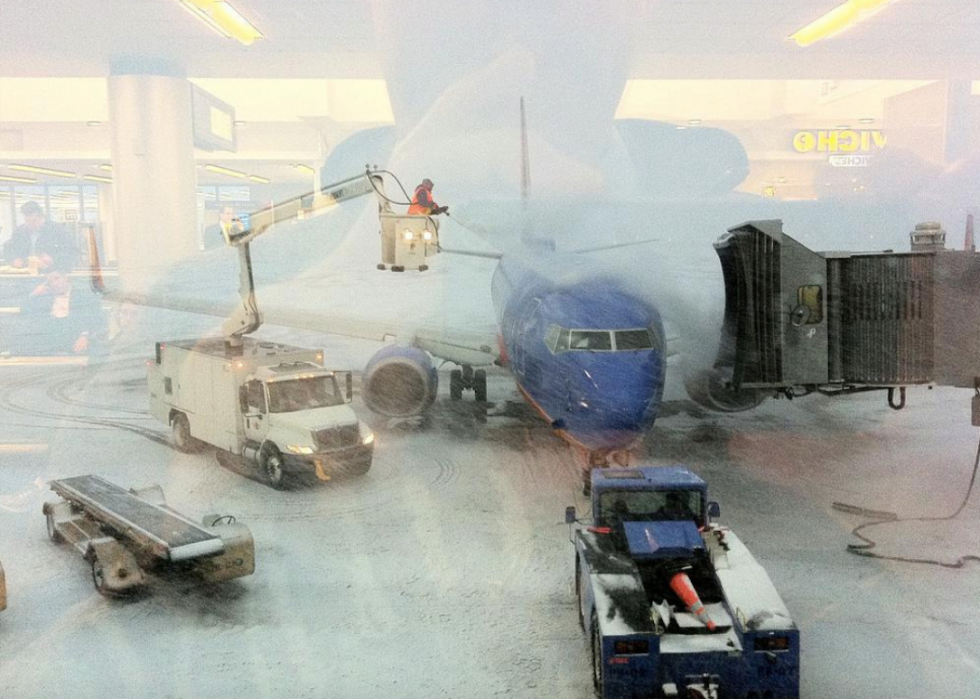 42 / 100
#59. Buffalo, NY: Buffalo Niagara International
- Annual flights (March 2018–February 2019): 26,052
- On-time performance: 76.9%
- Air carrier delay: 7.4%
- Weather delay: 0.0%
- National Aviation System delay: 4.2%
- Security delay: 0.0%
- Aircraft arriving late delay: 7.7%
- Canceled flights: 2.8%
- Diverted: 0.2%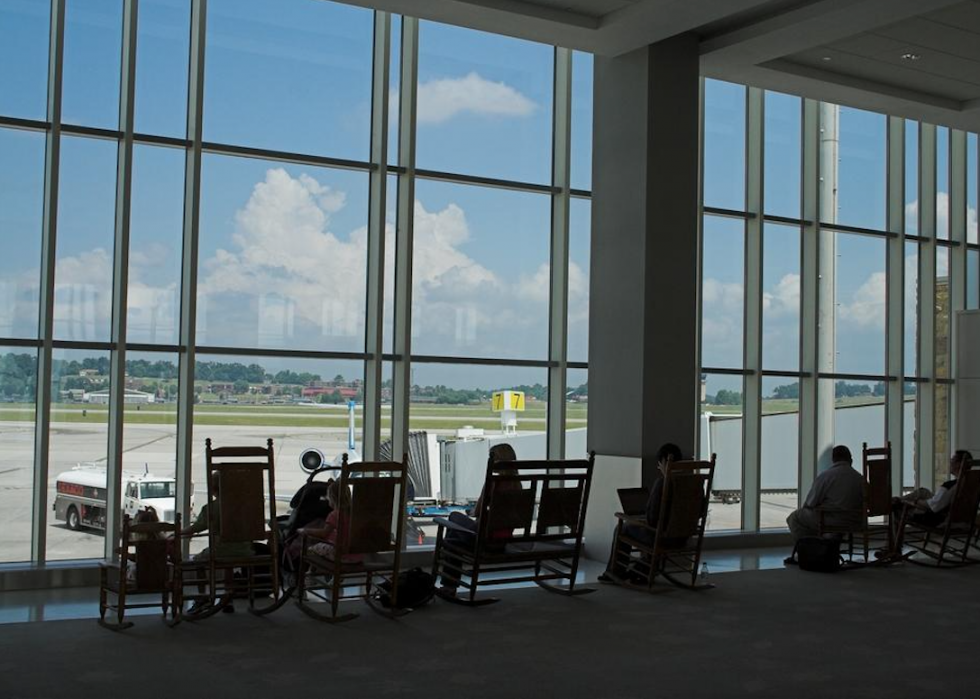 43 / 100
#58. Knoxville, TN: McGhee Tyson
- Annual flights (March 2018–February 2019): 16,349
- On-time performance: 76.9%
- Air carrier delay: 7.1%
- Weather delay: 0.0%
- National Aviation System delay: 5.2%
- Security delay: 0.0%
- Aircraft arriving late delay: 7.7%
- Canceled flights: 1.8%
- Diverted: 0.2%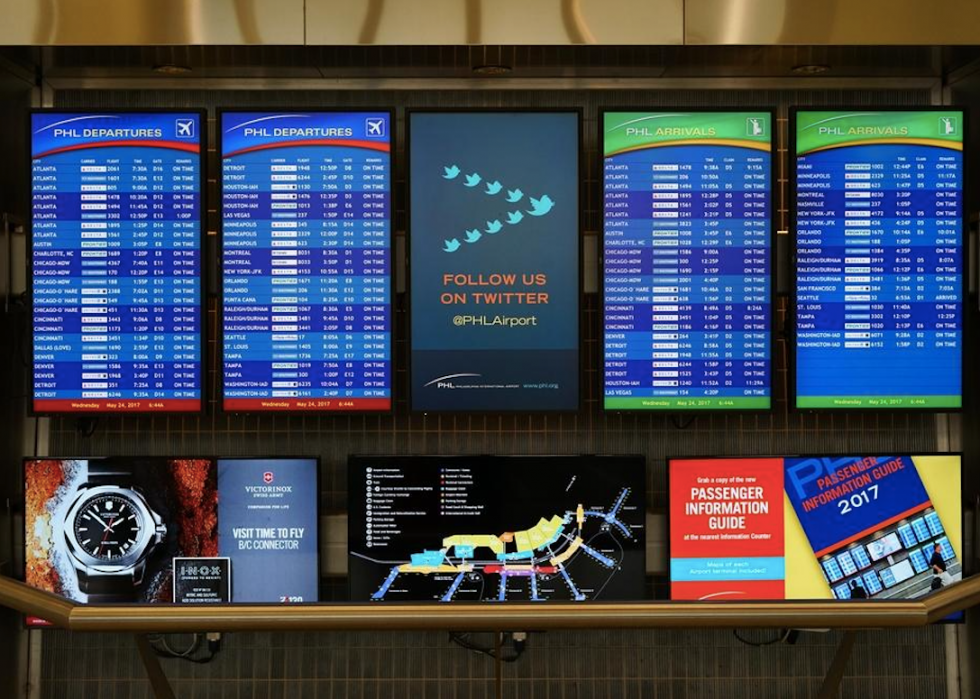 44 / 100
#57. Philadelphia, PA: Philadelphia International
- Annual flights (March 2018–February 2019): 117,404
- On-time performance: 76.9%
- Air carrier delay: 5%
- Weather delay: 0.0%
- National Aviation System delay: 8.1%
- Security delay: 0.0%
- Aircraft arriving late delay: 6.4%
- Canceled flights: 2.8%
- Diverted: 0.2%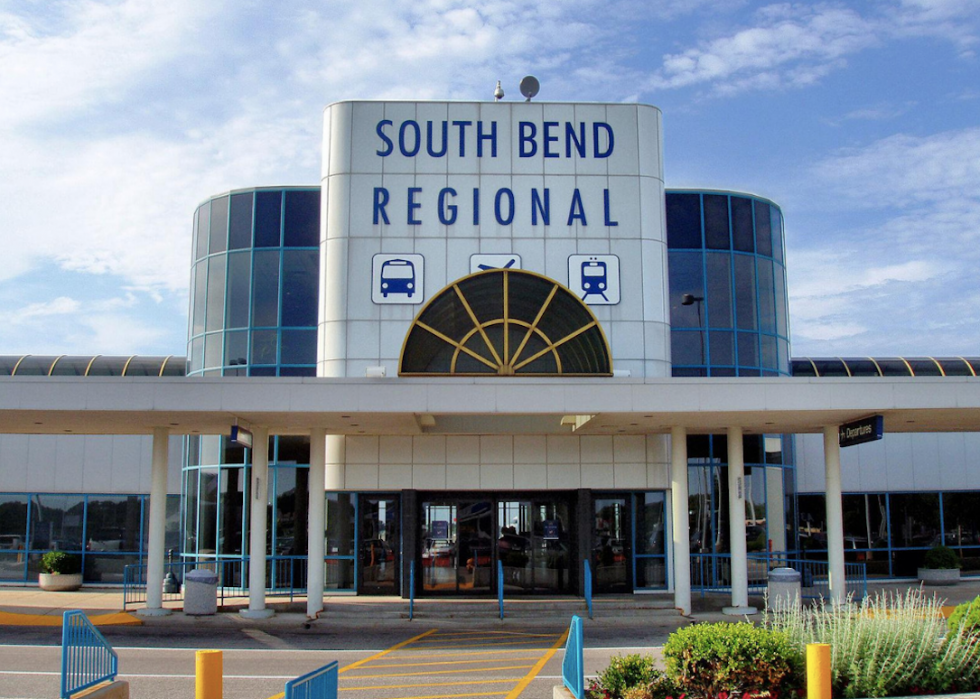 45 / 100
Derek Jensen // Wikimedia Commons
#56. South Bend, IN: South Bend International
- Annual flights (March 2018–February 2019): 7,153
- On-time performance: 76.8%
- Air carrier delay: 6.5%
- Weather delay: 0.0%
- National Aviation System delay: 4.7%
- Security delay: 0.0%
- Aircraft arriving late delay: 8.6%
- Canceled flights: 2%
- Diverted: 0.2%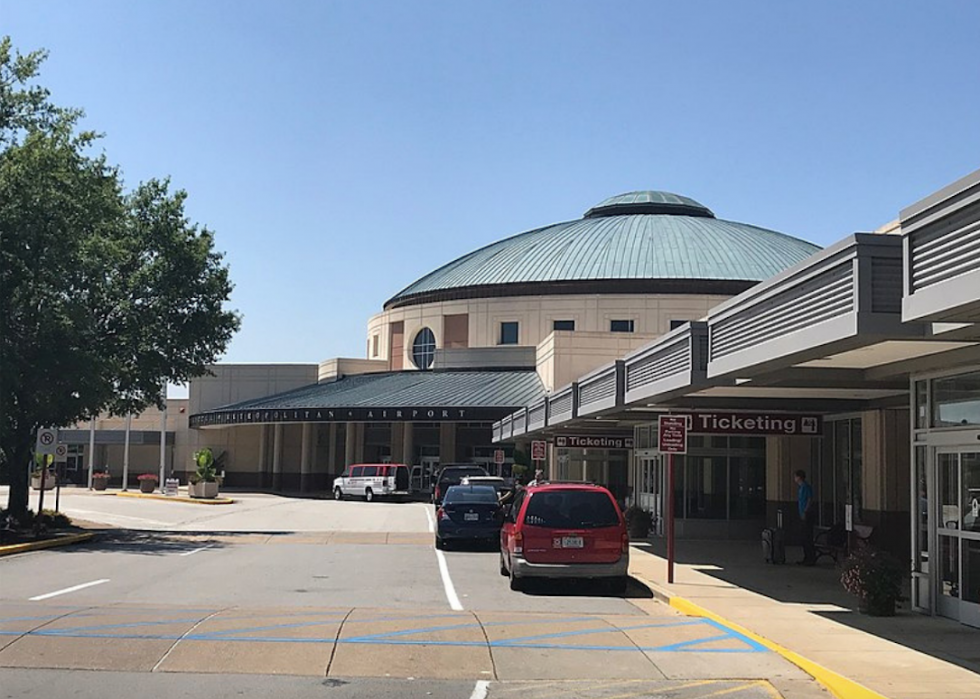 46 / 100
GRALISTAIR // Wikimedia Commons
#55. Chattanooga, TN: Lovell Field
- Annual flights (March 2018–February 2019): 8,757
- On-time performance: 76.6%
- Air carrier delay: 6.4%
- Weather delay: 0.0%
- National Aviation System delay: 5.5%
- Security delay: 0.0%
- Aircraft arriving late delay: 8.3%
- Canceled flights: 2%
- Diverted: 0.2%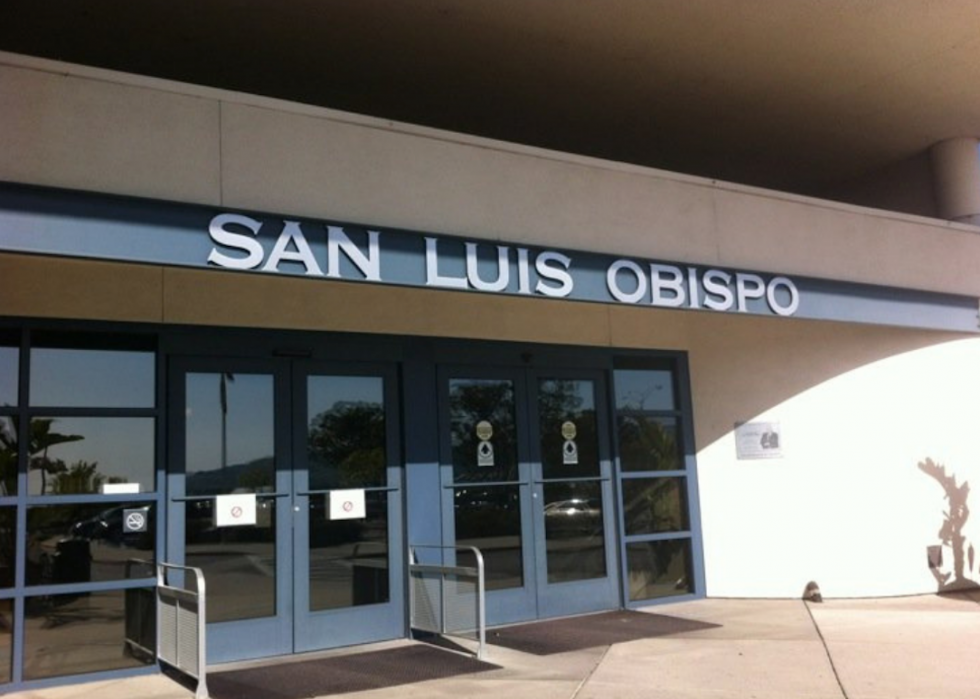 47 / 100
#54. San Luis Obispo, CA: San Luis County Regional
- Annual flights (March 2018–February 2019): 4,872
- On-time performance: 76.5%
- Air carrier delay: 6.4%
- Weather delay: 0.0%
- National Aviation System delay: 5.8%
- Security delay: 0.0%
- Aircraft arriving late delay: 8.6%
- Canceled flights: 1.7%
- Diverted: 0.5%
48 / 100
#53. Mission/McAllen/Edinburg, TX: McAllen Miller International
- Annual flights (March 2018–February 2019): 4,745
- On-time performance: 76.4%
- Air carrier delay: 7.7%
- Weather delay: 0.0%
- National Aviation System delay: 4.8%
- Security delay: 0.1%
- Aircraft arriving late delay: 7.3%
- Canceled flights: 2%
- Diverted: 0.1%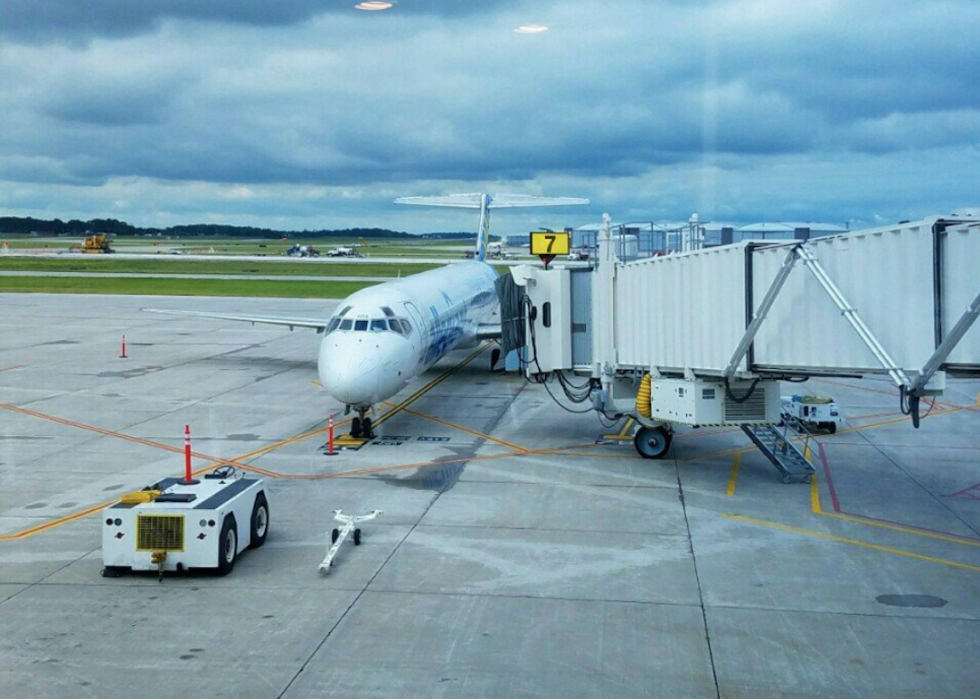 49 / 100
#52. Fort Wayne, IN: Fort Wayne International
- Annual flights (March 2018–February 2019): 7,042
- On-time performance: 76.3%
- Air carrier delay: 6.3%
- Weather delay: 0.0%
- National Aviation System delay: 4.6%
- Security delay: 0.0%
- Aircraft arriving late delay: 9.4%
- Canceled flights: 1.7%
- Diverted: 0.4%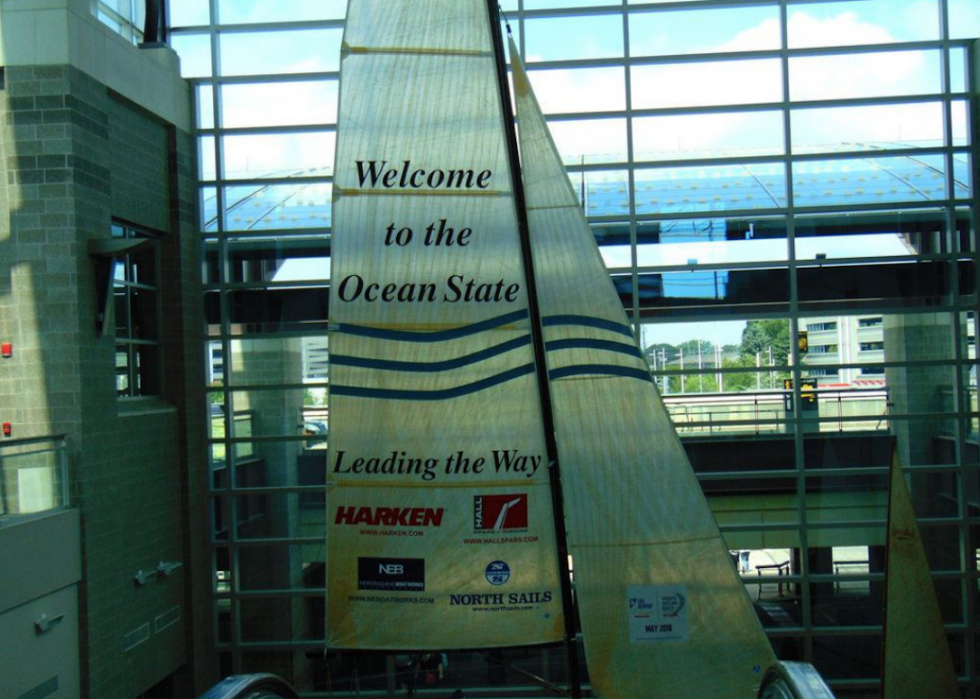 50 / 100
#51. Providence, RI: Theodore Francis Green State
- Annual flights (March 2018–February 2019): 18,585
- On-time performance: 76.3%
- Air carrier delay: 7.4%
- Weather delay: 0.0%
- National Aviation System delay: 4.2%
- Security delay: 0.0%
- Aircraft arriving late delay: 8.7%
- Canceled flights: 2.5%
- Diverted: 0.1%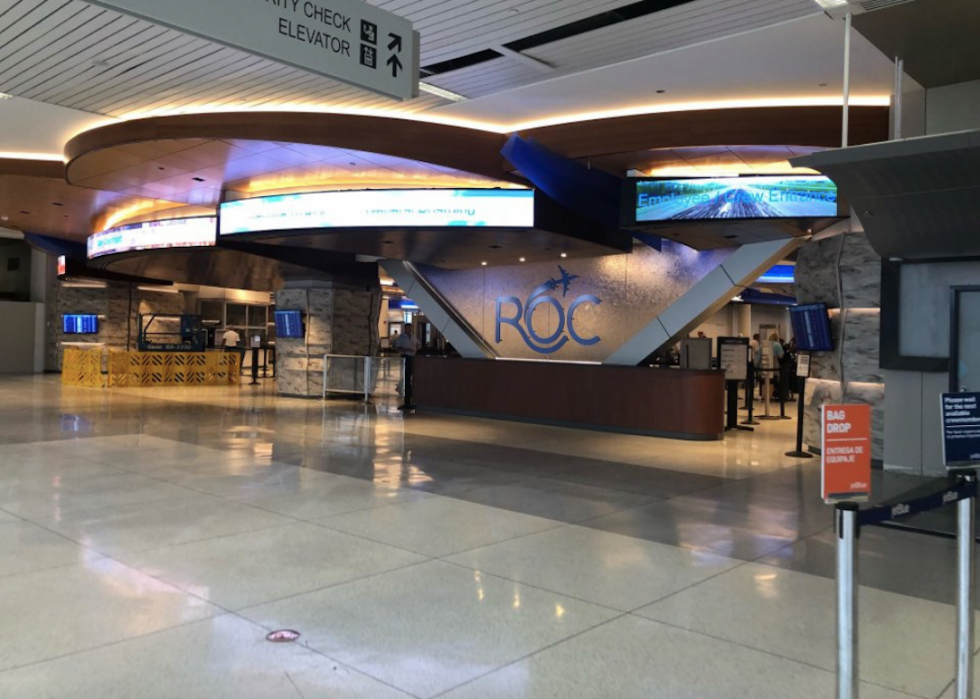 51 / 100
#50. Rochester, NY: Greater Rochester International
- Annual flights (March 2018–February 2019): 14,438
- On-time performance: 76.3%
- Air carrier delay: 6.9%
- Weather delay: 0.0%
- National Aviation System delay: 4.4%
- Security delay: 0.0%
- Aircraft arriving late delay: 7.9%
- Canceled flights: 3.6%
- Diverted: 0.1%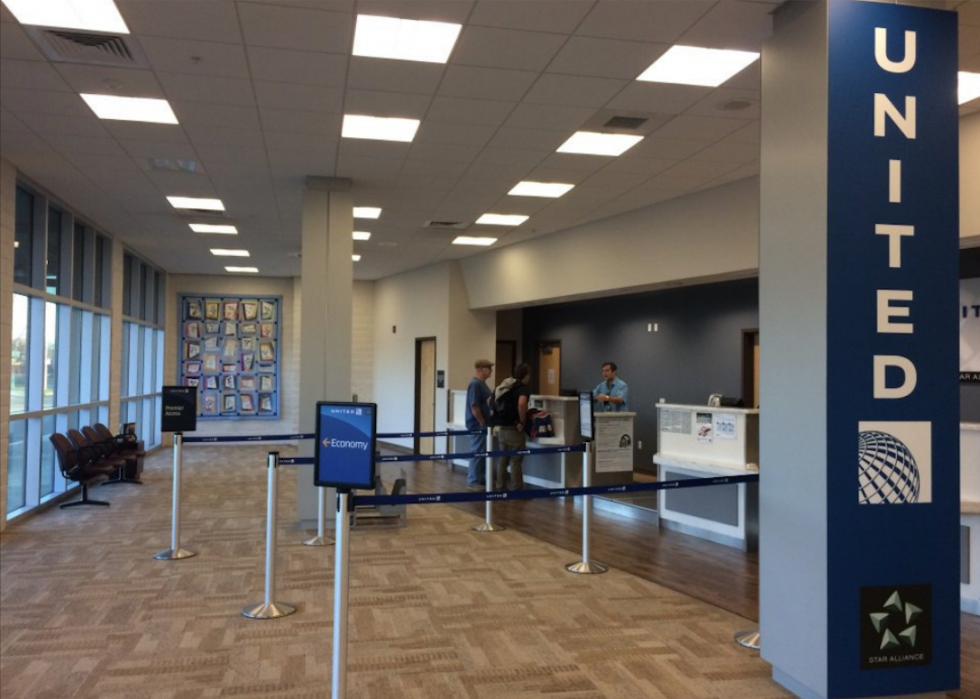 52 / 100
#49. Redding, CA: Redding Municipal
- Annual flights (March 2018–February 2019): 1,176
- On-time performance: 76.3%
- Air carrier delay: 5.1%
- Weather delay: 0.0%
- National Aviation System delay: 4.6%
- Security delay: 0.0%
- Aircraft arriving late delay: 9.4%
- Canceled flights: 4.2%
- Diverted: 0.3%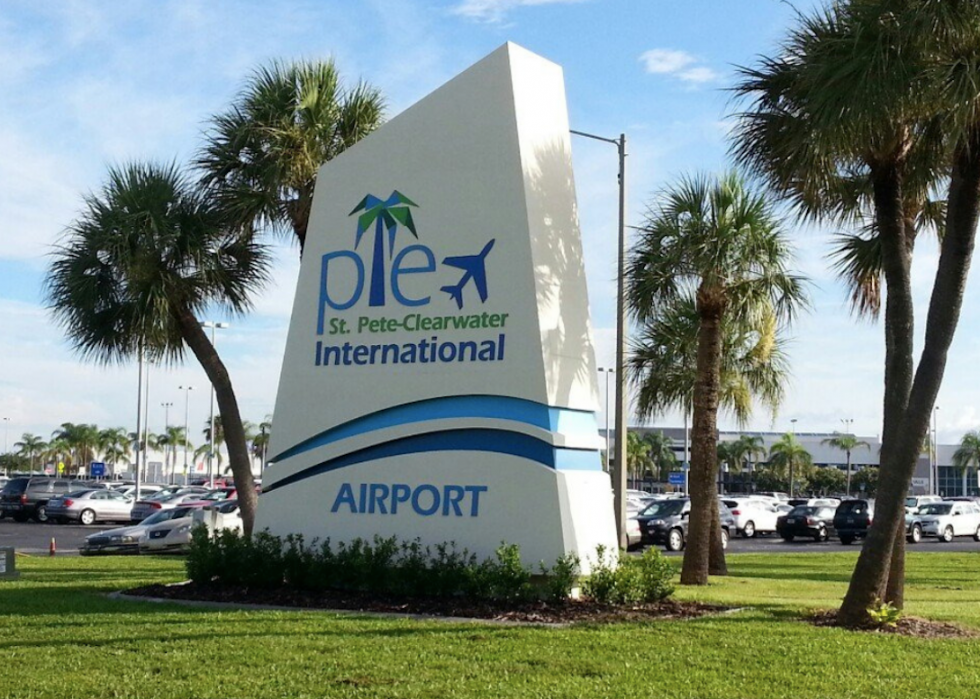 53 / 100
#48. St. Petersburg, FL: St. Pete Clearwater International
- Annual flights (March 2018–February 2019): 7,456
- On-time performance: 76.3%
- Air carrier delay: 5.3%
- Weather delay: 0.0%
- National Aviation System delay: 5.4%
- Security delay: 0.1%
- Aircraft arriving late delay: 10.6%
- Canceled flights: 0.8%
- Diverted: 0.2%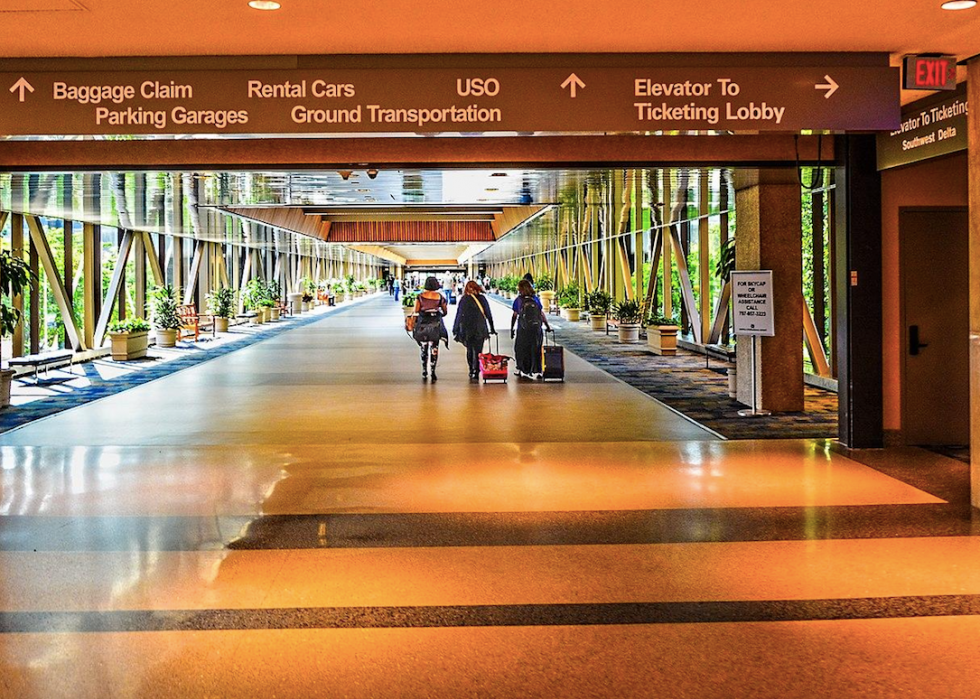 54 / 100
Tomás Del Coro // Wikimedia Commons
#47. Norfolk, VA: Norfolk International
- Annual flights (March 2018–February 2019): 23,440
- On-time performance: 76.1%
- Air carrier delay: 7.1%
- Weather delay: 0.0%
- National Aviation System delay: 4.9%
- Security delay: 0.0%
- Aircraft arriving late delay: 7.7%
- Canceled flights: 3.1%
- Diverted: 0.1%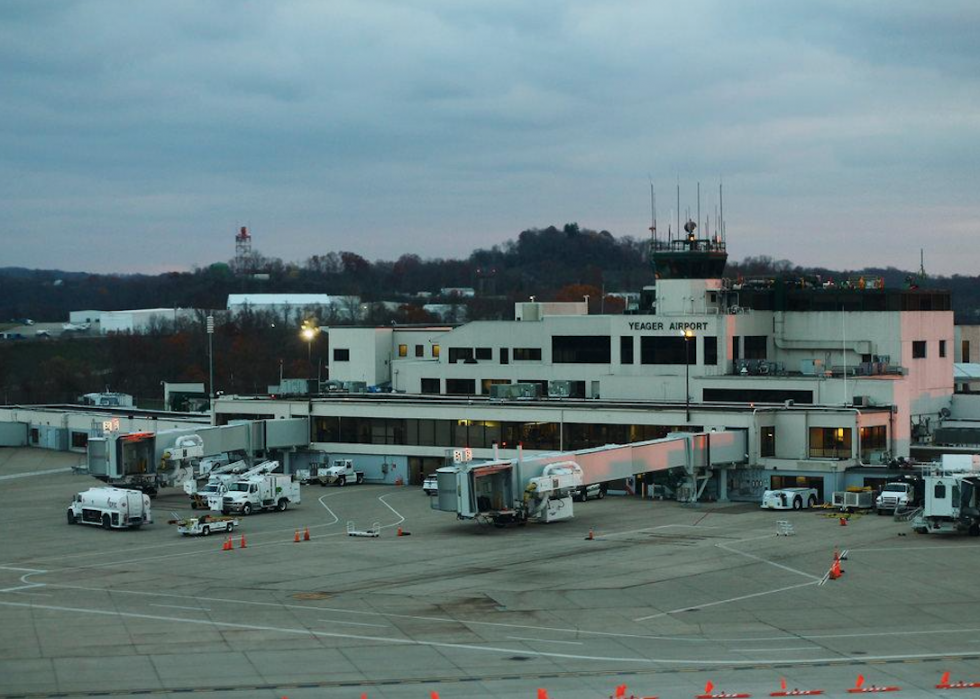 55 / 100
#46. Charleston/Dunbar, WV: Yeager Aiport
- Annual flights (March 2018–February 2019): 4,563
- On-time performance: 76%
- Air carrier delay: 6.8%
- Weather delay: 0.0%
- National Aviation System delay: 4%
- Security delay: 0.0%
- Aircraft arriving late delay: 8%
- Canceled flights: 2.6%
- Diverted: 0.9%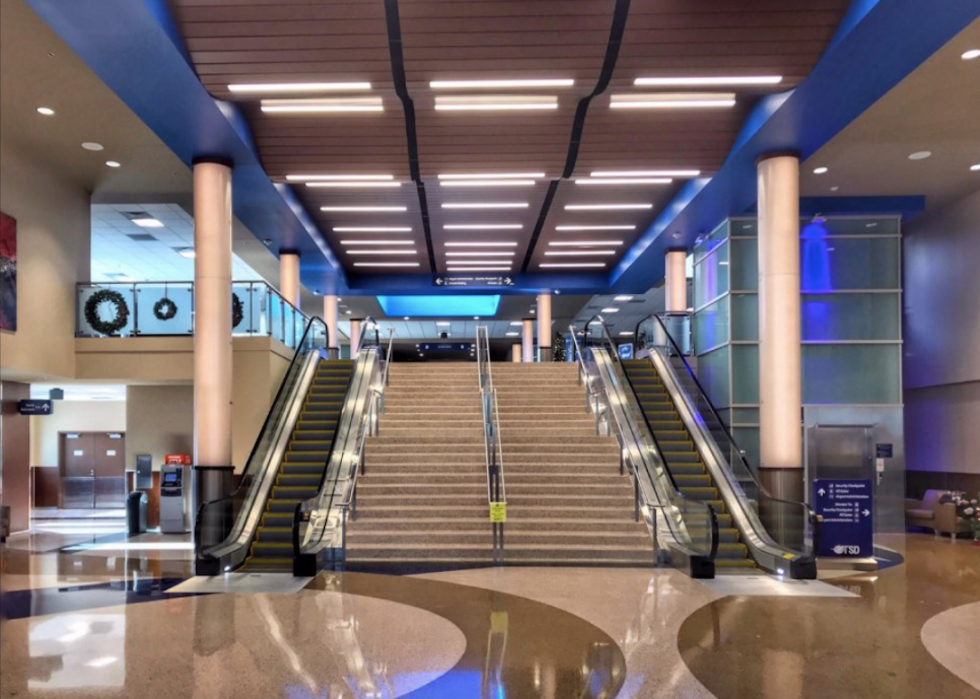 56 / 100
#45. Sioux Falls, SD: Joe Foss Field
- Annual flights (March 2018–February 2019): 6,510
- On-time performance: 76%
- Air carrier delay: 6.5%
- Weather delay: 0.0%
- National Aviation System delay: 5.9%
- Security delay: 0.0%
- Aircraft arriving late delay: 7%
- Canceled flights: 2.8%
- Diverted: 0.8%
57 / 100
Nyttend // Wikimedia Commons
#44. Toledo, OH: Toledo Express
- Annual flights (March 2018–February 2019): 2,062
- On-time performance: 75.9%
- Air carrier delay: 6.3%
- Weather delay: 0.0%
- National Aviation System delay: 4.8%
- Security delay: 0.0%
- Aircraft arriving late delay: 7.5%
- Canceled flights: 3.8%
- Diverted: 0.2%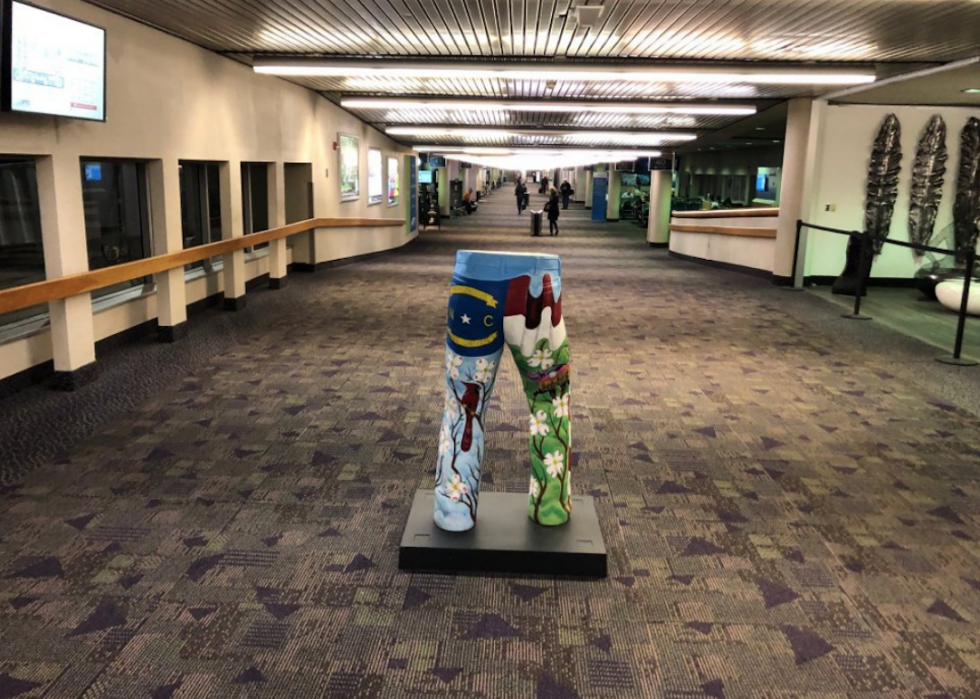 58 / 100
#43. Greensboro/High Point, NC: Piedmont Triad International
- Annual flights (March 2018–February 2019): 13,470
- On-time performance: 75.8%
- Air carrier delay: 5.9%
- Weather delay: 0.0%
- National Aviation System delay: 6.4%
- Security delay: 0.0%
- Aircraft arriving late delay: 7.6%
- Canceled flights: 3%
- Diverted: 0.2%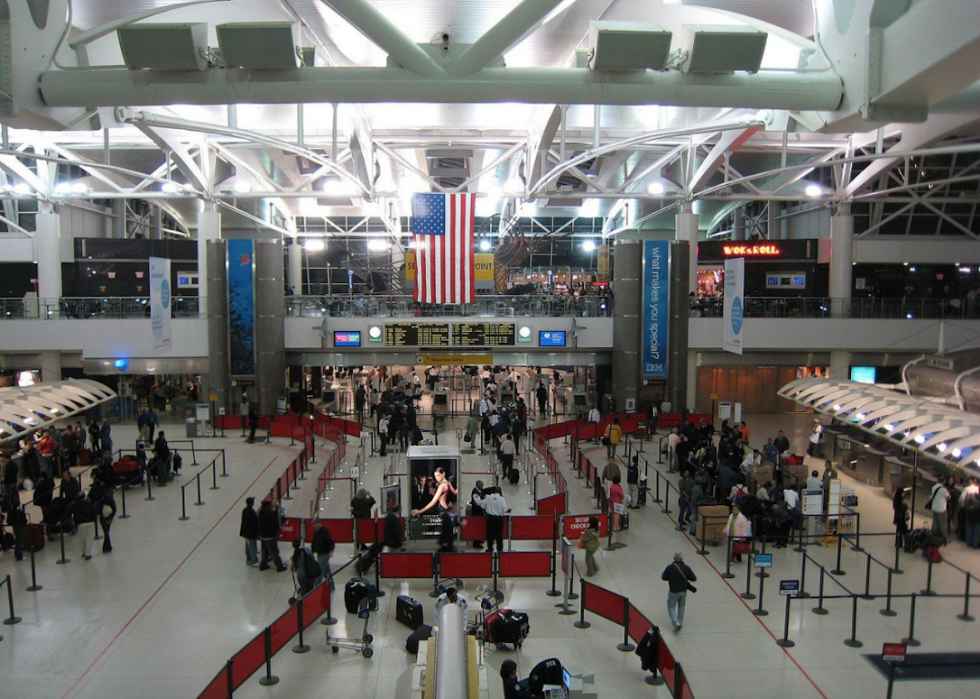 59 / 100
Doug Letterman // Wikimedia Commons
#42. New York, NY: John F. Kennedy International
- Annual flights (March 2018–February 2019): 130,498
- On-time performance: 75.8%
- Air carrier delay: 5%
- Weather delay: 0.0%
- National Aviation System delay: 9%
- Security delay: 0.1%
- Aircraft arriving late delay: 6.9%
- Canceled flights: 2.4%
- Diverted: 0.3%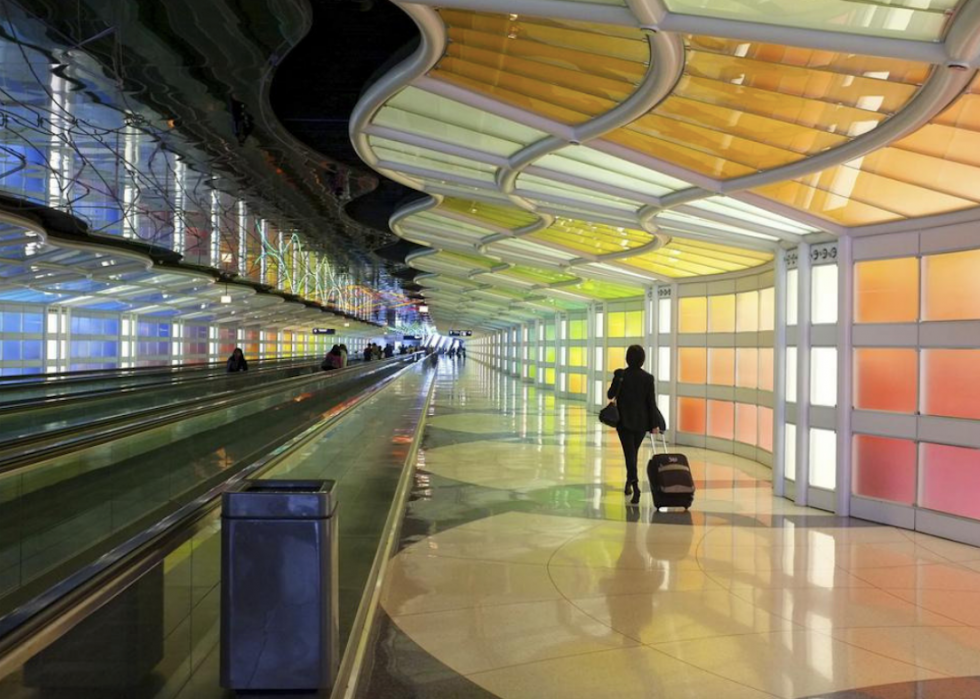 60 / 100
#41. Chicago, IL: Chicago O'Hare International
- Annual flights (March 2018–February 2019): 334,043
- On-time performance: 75.6%
- Air carrier delay: 3.9%
- Weather delay: 0.0%
- National Aviation System delay: 9.1%
- Security delay: 0.0%
- Aircraft arriving late delay: 7.3%
- Canceled flights: 3%
- Diverted: 0.3%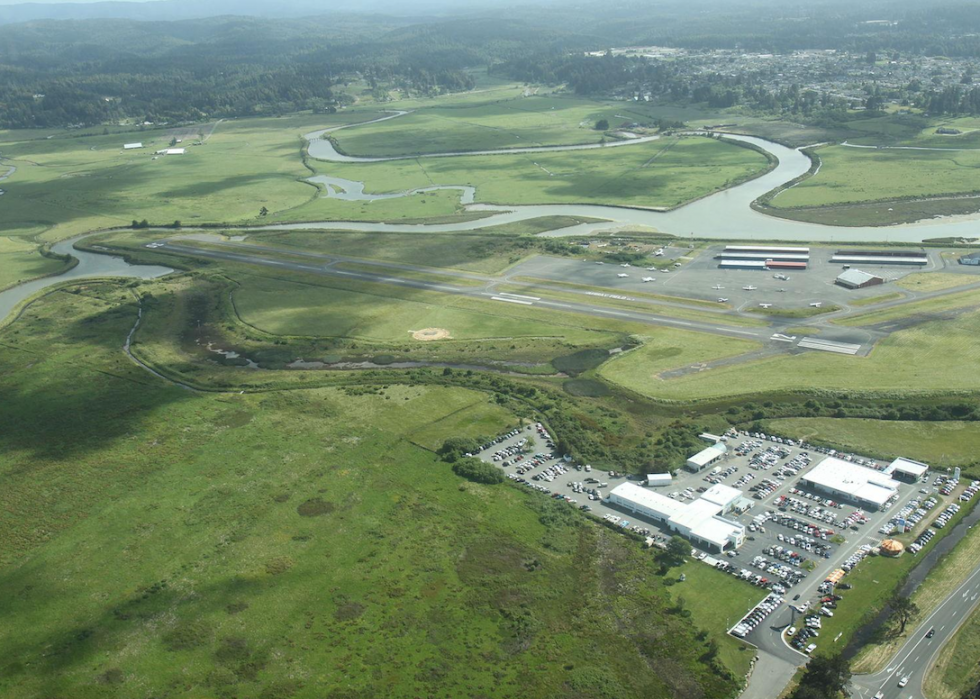 61 / 100
Liesl Matthies // Wikimedia Commons
#40. Arcata/Eureka, CA: California Redwood Coast Humboldt County
- Annual flights (March 2018–February 2019): 1,540
- On-time performance: 75.5%
- Air carrier delay: 6.4%
- Weather delay: 0.0%
- National Aviation System delay: 3.6%
- Security delay: 0.0%
- Aircraft arriving late delay: 8.3%
- Canceled flights: 4.5%
- Diverted: 1%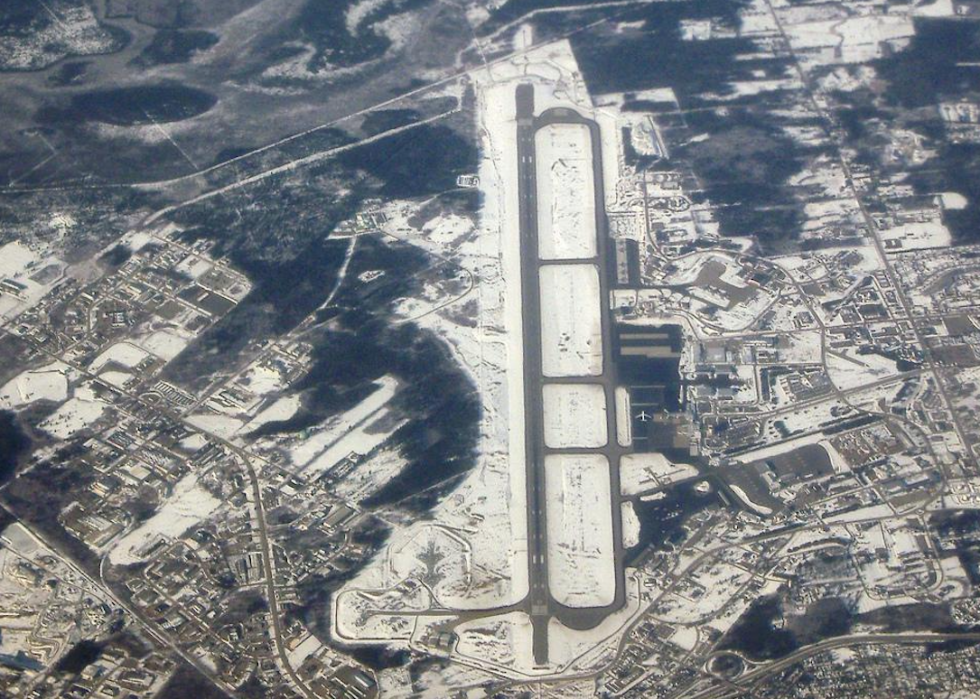 62 / 100
#39. Bangor, ME: Bangor International
- Annual flights (March 2018–February 2019): 3,980
- On-time performance: 75.4%
- Air carrier delay: 6.1%
- Weather delay: 0.0%
- National Aviation System delay: 5.5%
- Security delay: 0.0%
- Aircraft arriving late delay: 8.1%
- Canceled flights: 4.3%
- Diverted: 0.1%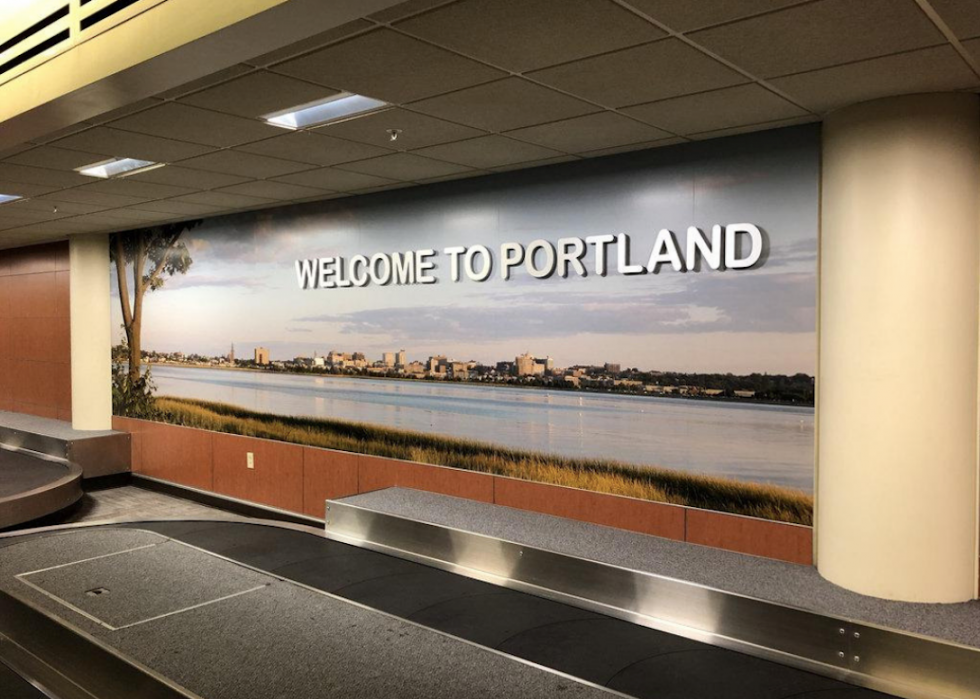 63 / 100
#38. Portland, ME: Portland International Jetport
- Annual flights (March 2018–February 2019): 12,039
- On-time performance: 75.4%
- Air carrier delay: 7.2%
- Weather delay: 0.0%
- National Aviation System delay: 4.5%
- Security delay: 0.0%
- Aircraft arriving late delay: 8.4%
- Canceled flights: 3.3%
- Diverted: 0.2%
64 / 100
Famartin // Wikimedia Commons
#37. Charlottesville, VA: Charlottesville Albemarle
- Annual flights (March 2018–February 2019): 5,624
- On-time performance: 75.3%
- Air carrier delay: 6.3%
- Weather delay: 0.0%
- National Aviation System delay: 5%
- Security delay: 0.0%
- Aircraft arriving late delay: 7.9%
- Canceled flights: 3.4%
- Diverted: 0.7%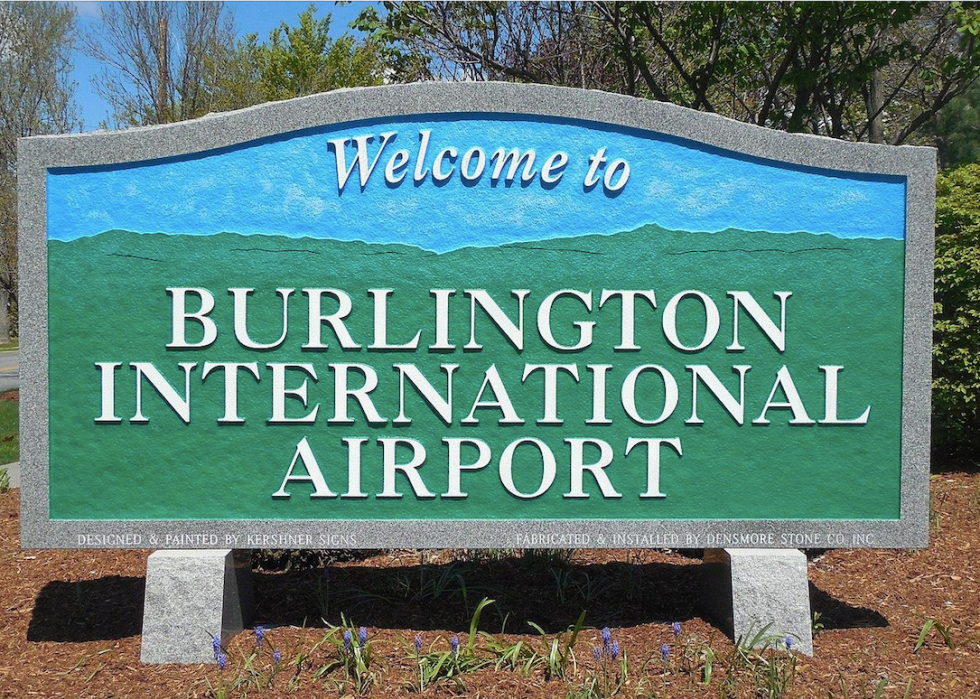 65 / 100
Niranjan Arminius // Wikimedia Commons
#36. Burlington, VT: Burlington International
- Annual flights (March 2018–February 2019): 9,712
- On-time performance: 75.3%
- Air carrier delay: 6.4%
- Weather delay: 0.0%
- National Aviation System delay: 5%
- Security delay: 0.0%
- Aircraft arriving late delay: 8.6%
- Canceled flights: 3.4%
- Diverted: 0.3%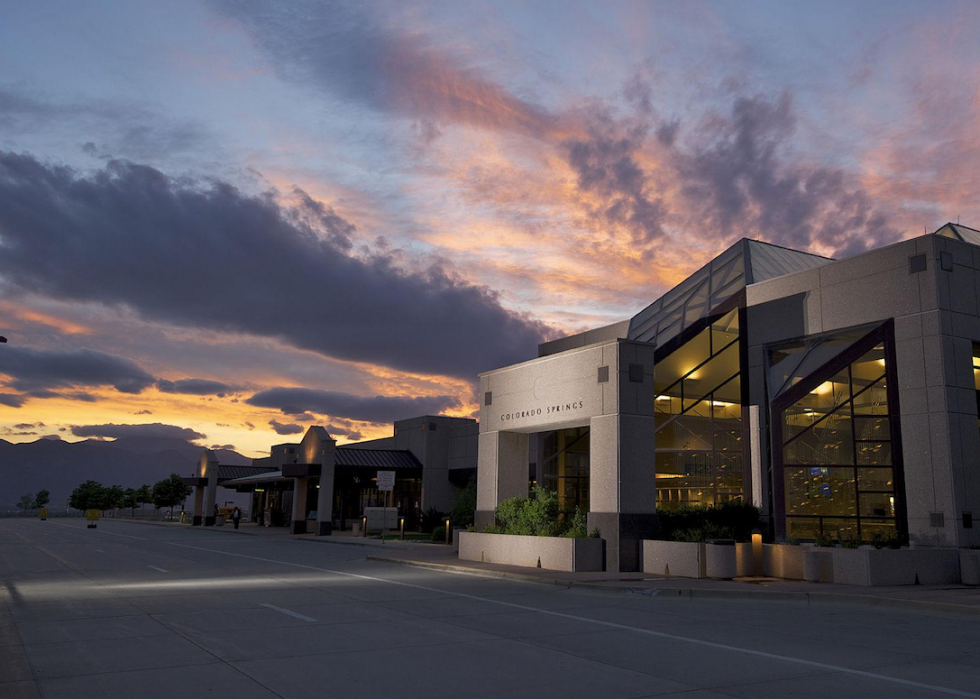 66 / 100
NWL757 // Wikimedia Commons
#35. Colorado Springs, CO: City of Colorado Springs Municipal
- Annual flights (March 2018–February 2019): 10,082
- On-time performance: 75.2%
- Air carrier delay: 7.6%
- Weather delay: 0.0%
- National Aviation System delay: 5.8%
- Security delay: 0.0%
- Aircraft arriving late delay: 8.6%
- Canceled flights: 1.5%
- Diverted: 0.4%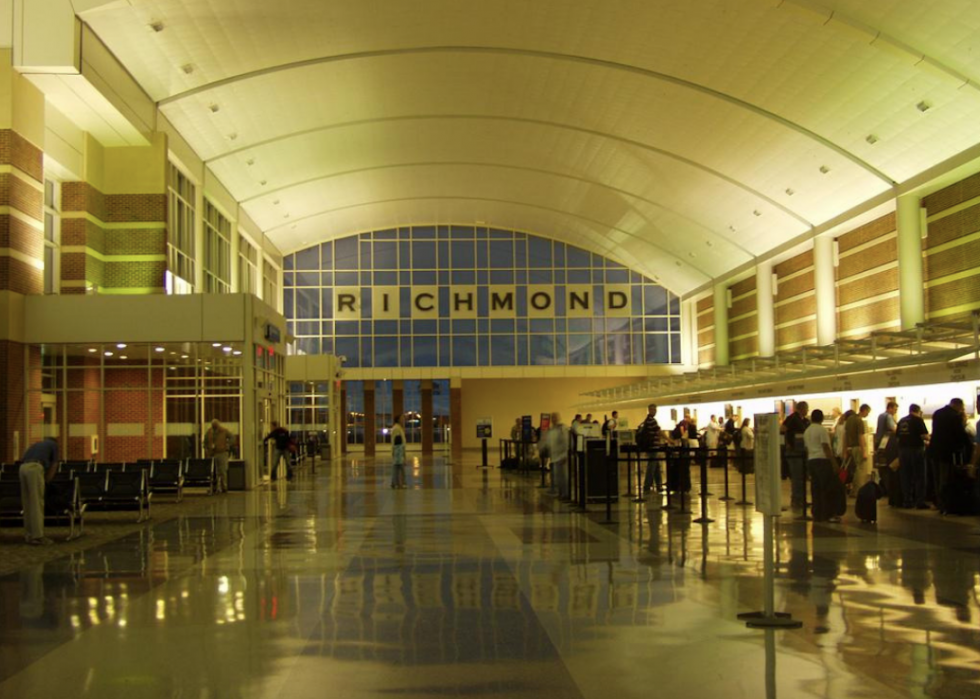 67 / 100
#34. Richmond, VA: Richmond International
- Annual flights (March 2018–February 2019): 23,487
- On-time performance: 75.1%
- Air carrier delay: 7.5%
- Weather delay: 0.0%
- National Aviation System delay: 5.9%
- Security delay: 0.0%
- Aircraft arriving late delay: 7.9%
- Canceled flights: 2.5%
- Diverted: 0.2%
68 / 100
Kai Brinker // Wikimedia Commons
#33. Syracuse, NY: Syracuse Hancock International
- Annual flights (March 2018–February 2019): 13,940
- On-time performance: 75%
- Air carrier delay: 7.2%
- Weather delay: 0.0%
- National Aviation System delay: 5.2%
- Security delay: 0.0%
- Aircraft arriving late delay: 8.2%
- Canceled flights: 3.4%
- Diverted: 0.1%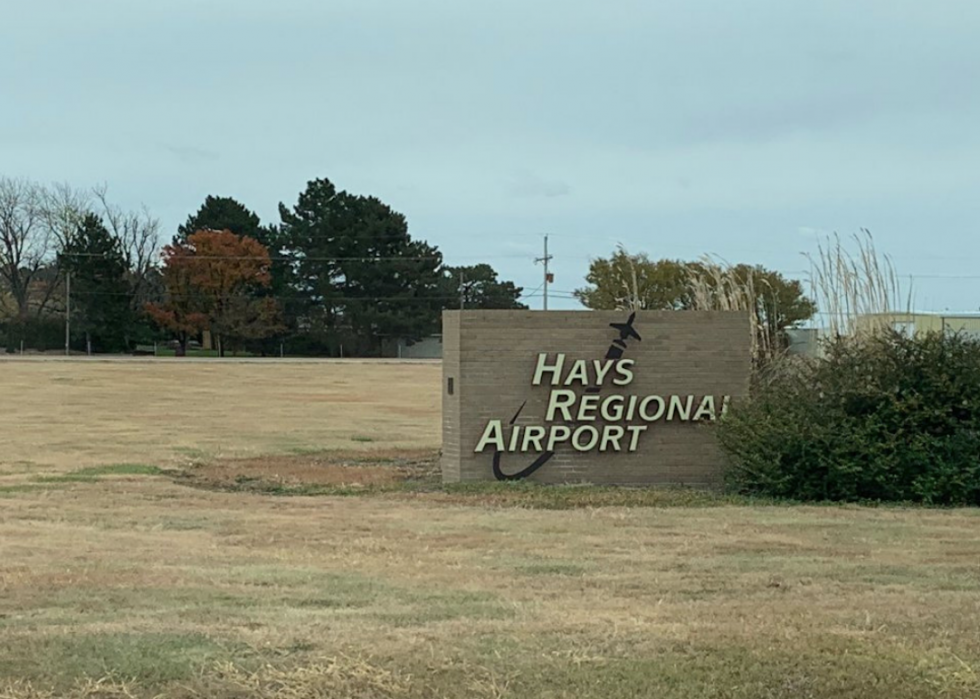 69 / 100
#32. Hays, KS: Hays Regional
- Annual flights (March 2018–February 2019): 1,180
- On-time performance: 75%
- Air carrier delay: 4.3%
- Weather delay: 0.0%
- National Aviation System delay: 5.3%
- Security delay: 0.0%
- Aircraft arriving late delay: 10.6%
- Canceled flights: 2%
- Diverted: 1.8%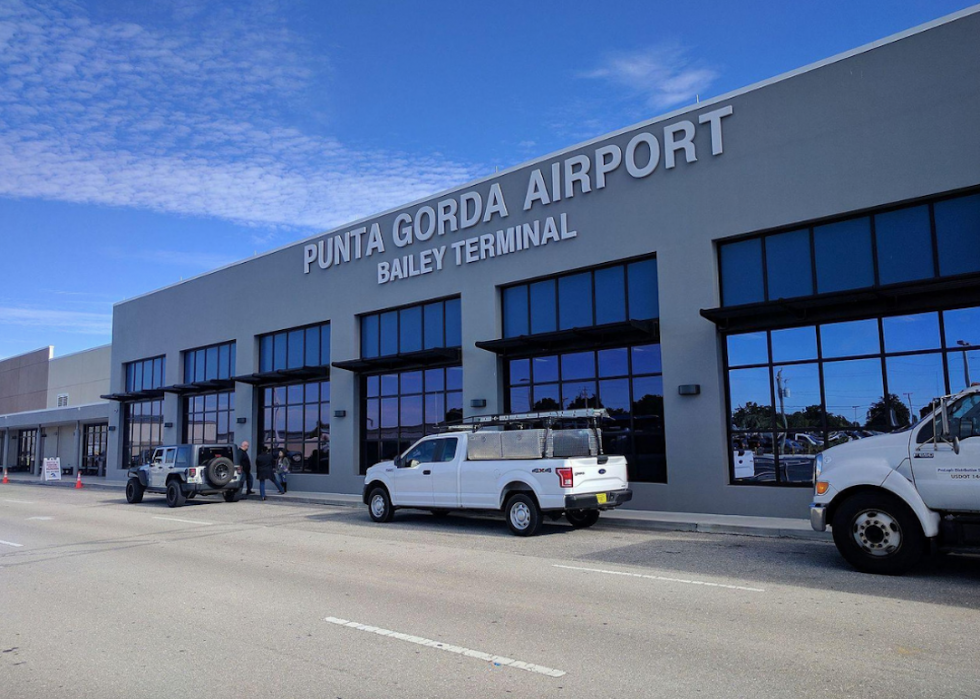 70 / 100
Grendelkhan // Wikimedia Commons
#31. Punta Gorda, FL: Punta Gorda Airport
- Annual flights (March 2018–February 2019): 5,249
- On-time performance: 74.9%
- Air carrier delay: 5.2%
- Weather delay: 0.0%
- National Aviation System delay: 7.5%
- Security delay: 0.1%
- Aircraft arriving late delay: 10.5%
- Canceled flights: 0.6%
- Diverted: 0.4%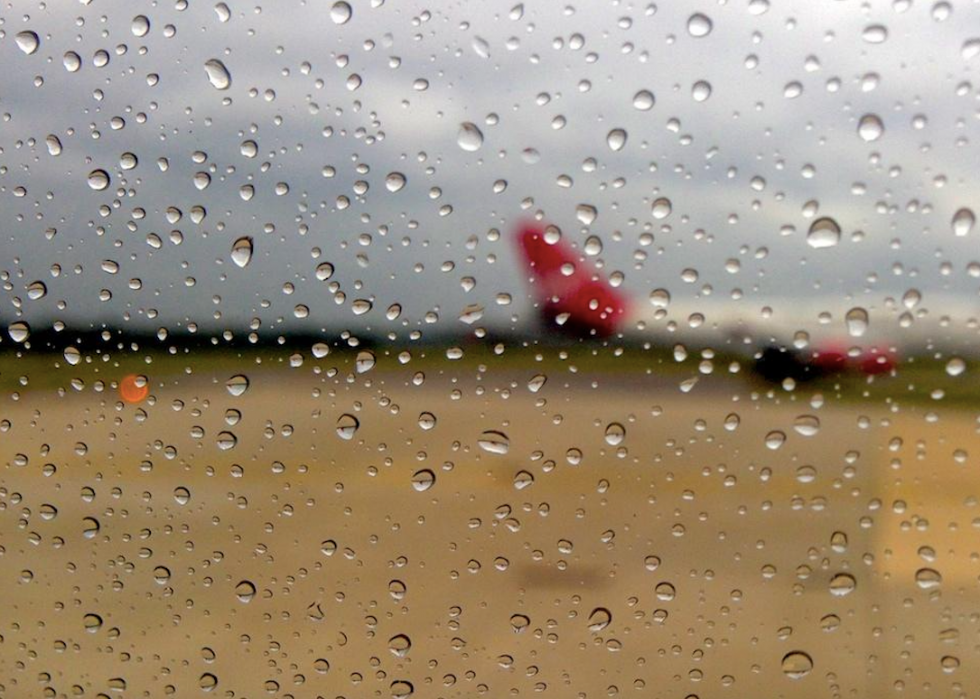 71 / 100
Johannes Martin // Flickr
#30. Meridian, MS: Key Field
- Annual flights (March 2018–February 2019): 1,094
- On-time performance: 74.9%
- Air carrier delay: 5.4%
- Weather delay: 0.0%
- National Aviation System delay: 5.1%
- Security delay: 0.0%
- Aircraft arriving late delay: 12%
- Canceled flights: 2%
- Diverted: 0.1%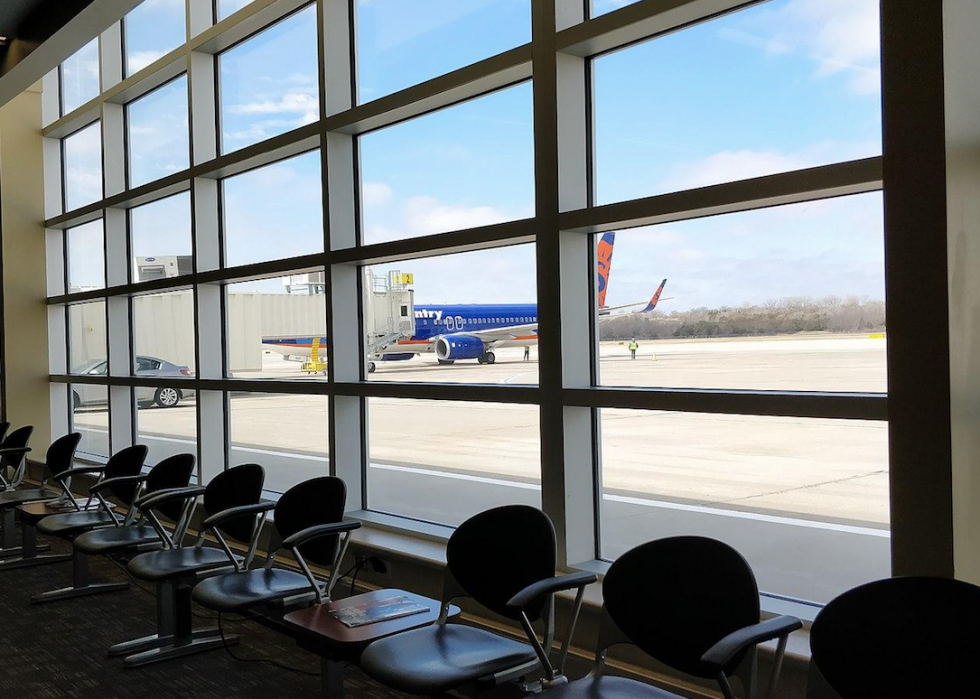 72 / 100
WaltBren // Wikimedia Commons
#29. Manhattan/Ft. Riley, KS: Manhattan Regional
- Annual flights (March 2018–February 2019): 1,830
- On-time performance: 74.8%
- Air carrier delay: 6.3%
- Weather delay: 0.0%
- National Aviation System delay: 6.9%
- Security delay: 0.0%
- Aircraft arriving late delay: 7.2%
- Canceled flights: 3.5%
- Diverted: 0.5%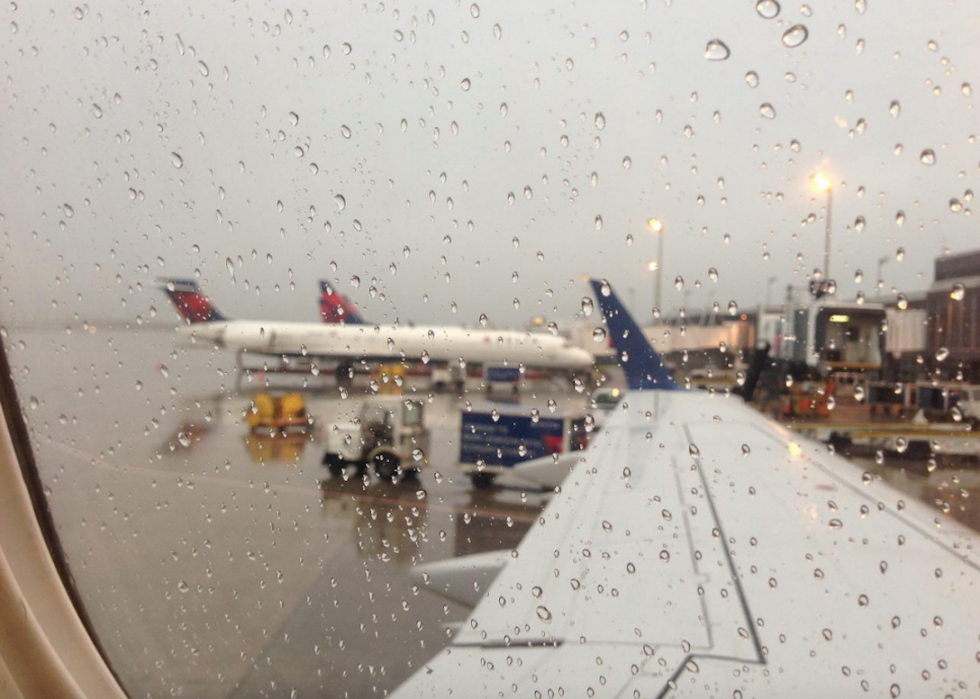 73 / 100
#28. Jacksonville/Camp Lejeune, NC: Albert J Ellis
- Annual flights (March 2018–February 2019): 3,143
- On-time performance: 74.8%
- Air carrier delay: 8.4%
- Weather delay: 0.0%
- National Aviation System delay: 4.9%
- Security delay: 0.1%
- Aircraft arriving late delay: 6.8%
- Canceled flights: 3.5%
- Diverted: 0.3%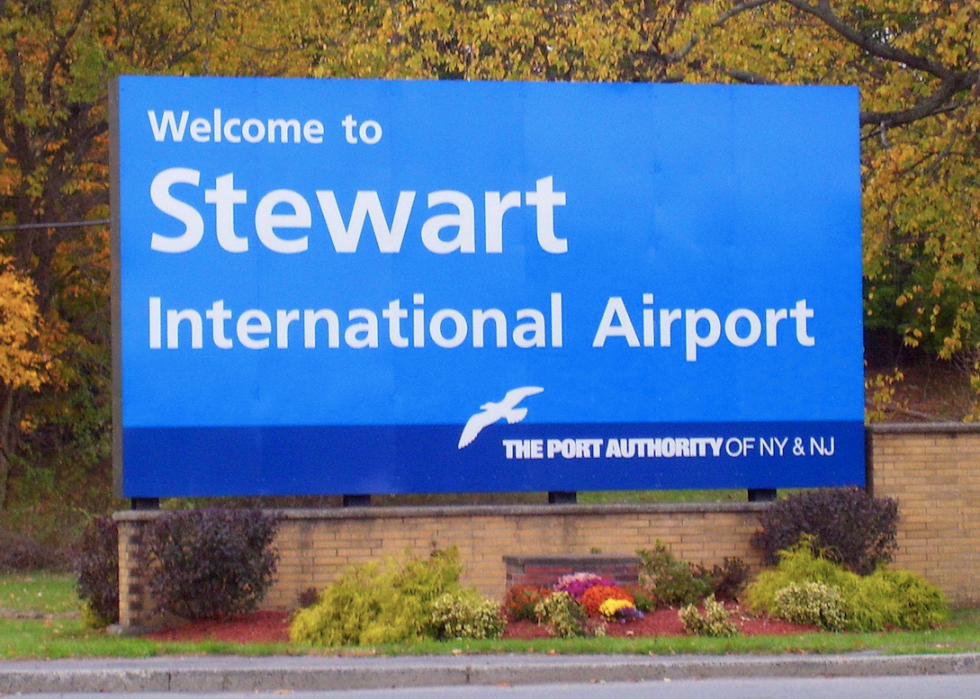 74 / 100
Daniel Case // Wikimedia Commons
#27. Newburgh/Poughkeepsie, NY: Stewart International
- Annual flights (March 2018–February 2019): 1,738
- On-time performance: 74.8%
- Air carrier delay: 9.4%
- Weather delay: 0.0%
- National Aviation System delay: 6.4%
- Security delay: 0.2%
- Aircraft arriving late delay: 5.7%
- Canceled flights: 1.6%
- Diverted: 0.2%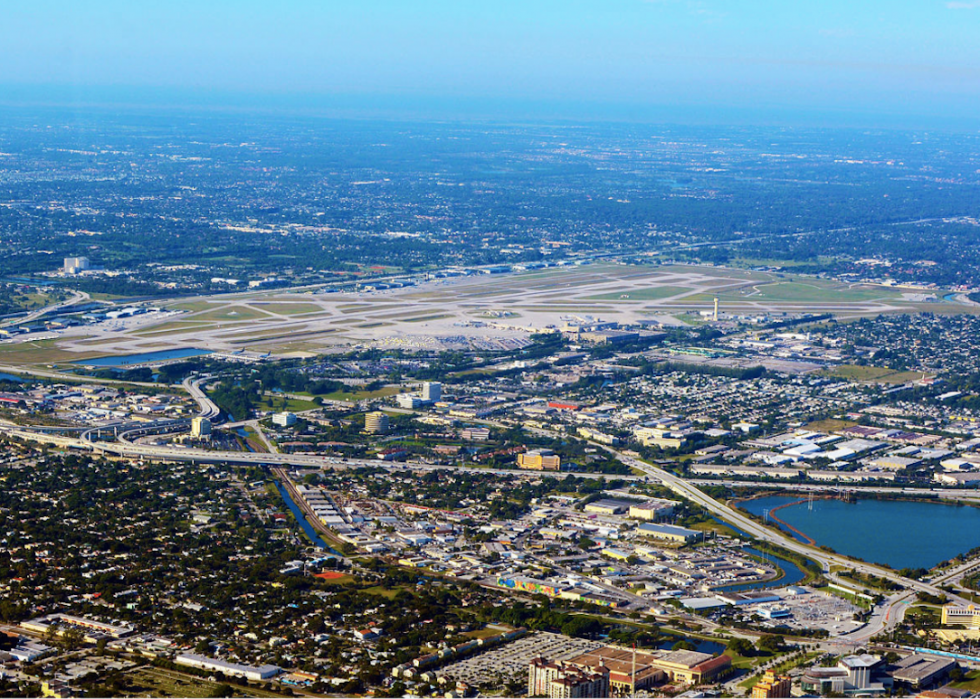 75 / 100
Don Ramey Logan // Wikimedia Commons
#26. West Palm Beach/Palm Beach, FL: Palm Beach International
- Annual flights (March 2018–February 2019): 24,975
- On-time performance: 74.7%
- Air carrier delay: 8.3%
- Weather delay: 0.0%
- National Aviation System delay: 7.1%
- Security delay: 0.1%
- Aircraft arriving late delay: 7.5%
- Canceled flights: 1.5%
- Diverted: 0.2%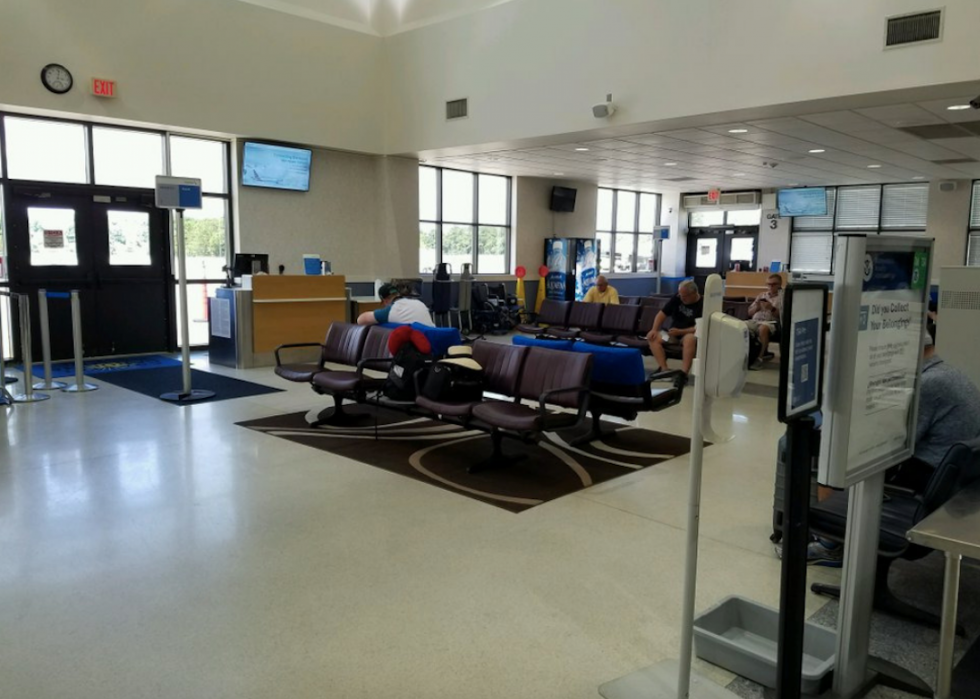 76 / 100
#25. New Bern/Morehead/Beaufort, NC: Coastal Carolina Regional
- Annual flights (March 2018–February 2019): 2,241
- On-time performance: 74.7%
- Air carrier delay: 6.7%
- Weather delay: 0.0%
- National Aviation System delay: 4.4%
- Security delay: 0.0%
- Aircraft arriving late delay: 7.8%
- Canceled flights: 4.5%
- Diverted: 0.6%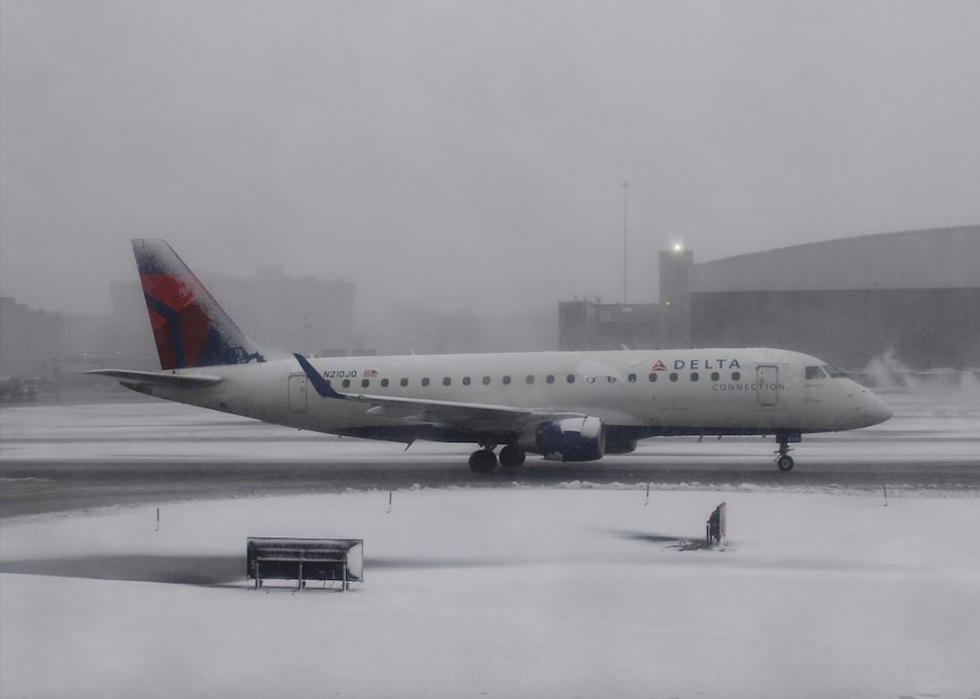 77 / 100
#24. Marquette, MI: Sawyer International
- Annual flights (March 2018–February 2019): 1,360
- On-time performance: 74.3%
- Air carrier delay: 5.2%
- Weather delay: 0.0%
- National Aviation System delay: 6.8%
- Security delay: 0.0%
- Aircraft arriving late delay: 6.4%
- Canceled flights: 3.5%
- Diverted: 1.5%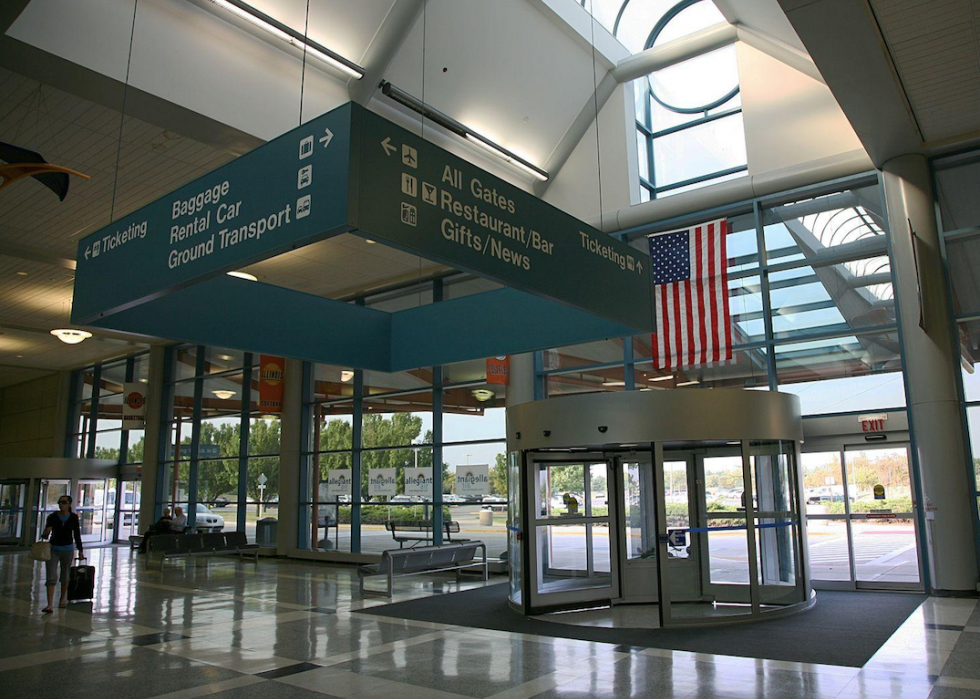 78 / 100
Daniel Schwen // Wikimedia Commons
#23. Champaign/Urbana, IL: University of Illinois/Willard
- Annual flights (March 2018–February 2019): 2,394
- On-time performance: 73.9%
- Air carrier delay: 4.9%
- Weather delay: 0.0%
- National Aviation System delay: 7.3%
- Security delay: 0.0%
- Aircraft arriving late delay: 7.8%
- Canceled flights: 3.9%
- Diverted: 0.5%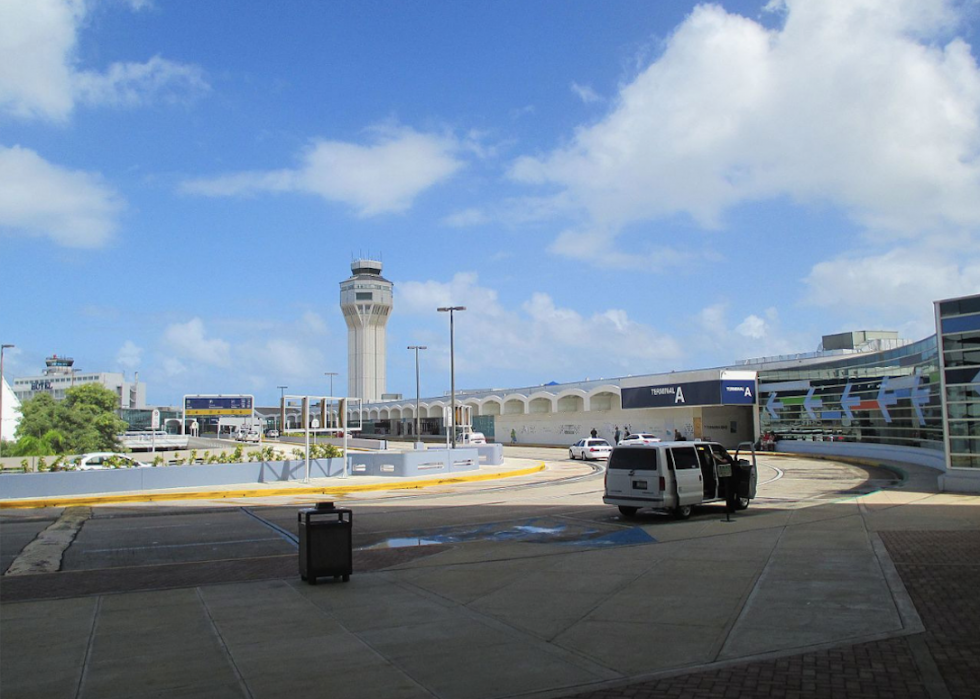 79 / 100
Mattes // Wikimedia Commons
#22. San Juan, PR: Luis Munoz Marin International
- Annual flights (March 2018–February 2019): 25,148
- On-time performance: 73.8%
- Air carrier delay: 10.4%
- Weather delay: 0.0%
- National Aviation System delay: 6.7%
- Security delay: 0.1%
- Aircraft arriving late delay: 7.4%
- Canceled flights: 0.5%
- Diverted: 0.1%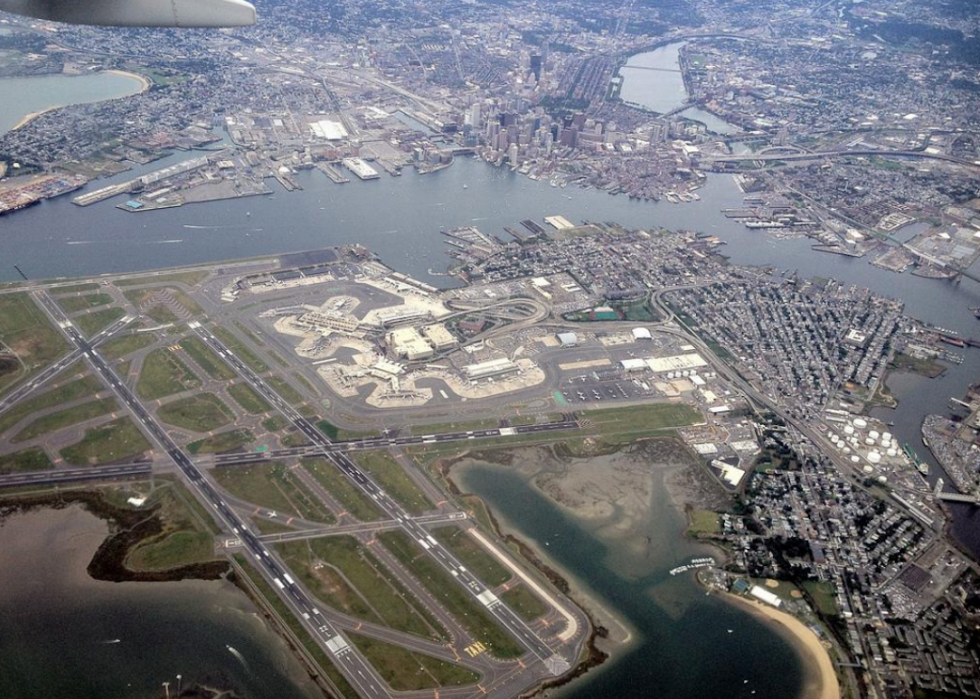 80 / 100
davidwilson1949 // Flickr
#21. Boston, MA: Logan International
- Annual flights (March 2018–February 2019): 148,656
- On-time performance: 73.3%
- Air carrier delay: 5.6%
- Weather delay: 0.0%
- National Aviation System delay: 9.3%
- Security delay: 0.0%
- Aircraft arriving late delay: 8.4%
- Canceled flights: 2.6%
- Diverted: 0.1%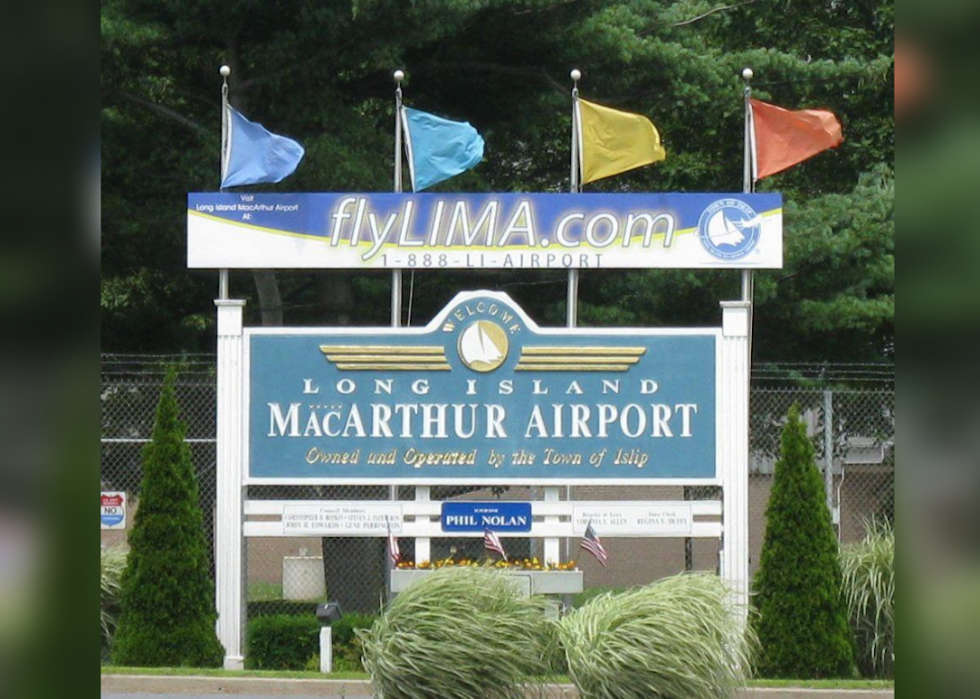 81 / 100
Americasroof // Wikimedia Commons
#20. Islip, NY: Long Island MacArthur
- Annual flights (March 2018–February 2019): 5,956
- On-time performance: 73.3%
- Air carrier delay: 8%
- Weather delay: 0.0%
- National Aviation System delay: 4.2%
- Security delay: 0.1%
- Aircraft arriving late delay: 10.8%
- Canceled flights: 2.8%
- Diverted: 0.2%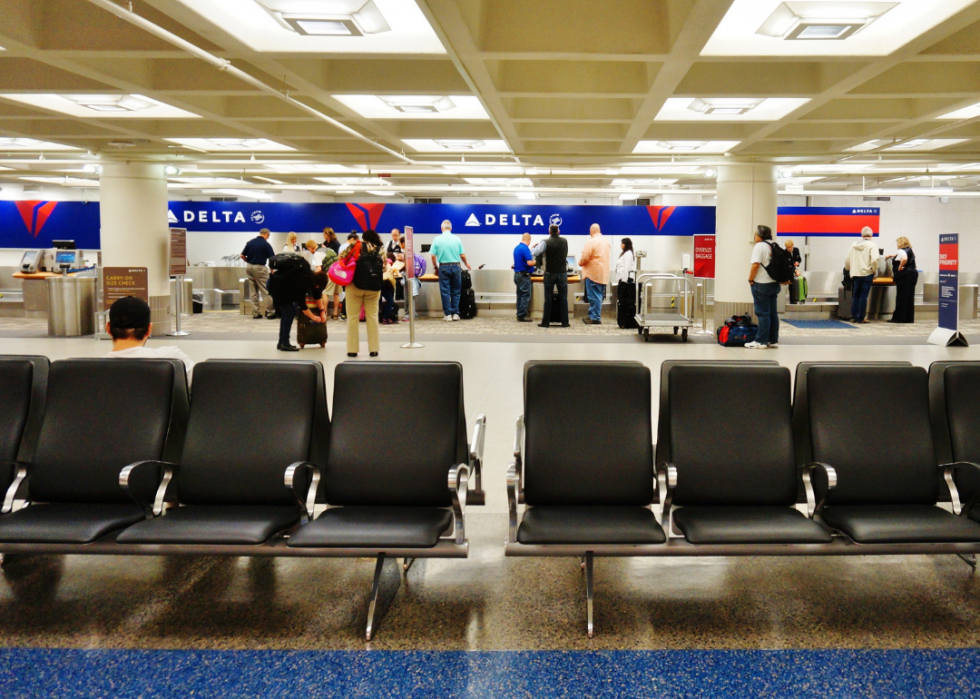 82 / 100
#19. Rochester, MN: Rochester International
- Annual flights (March 2018–February 2019): 3,378
- On-time performance: 73.2%
- Air carrier delay: 6.8%
- Weather delay: 0.0%
- National Aviation System delay: 6.2%
- Security delay: 0.0%
- Aircraft arriving late delay: 7.4%
- Canceled flights: 4.4%
- Diverted: 0.3%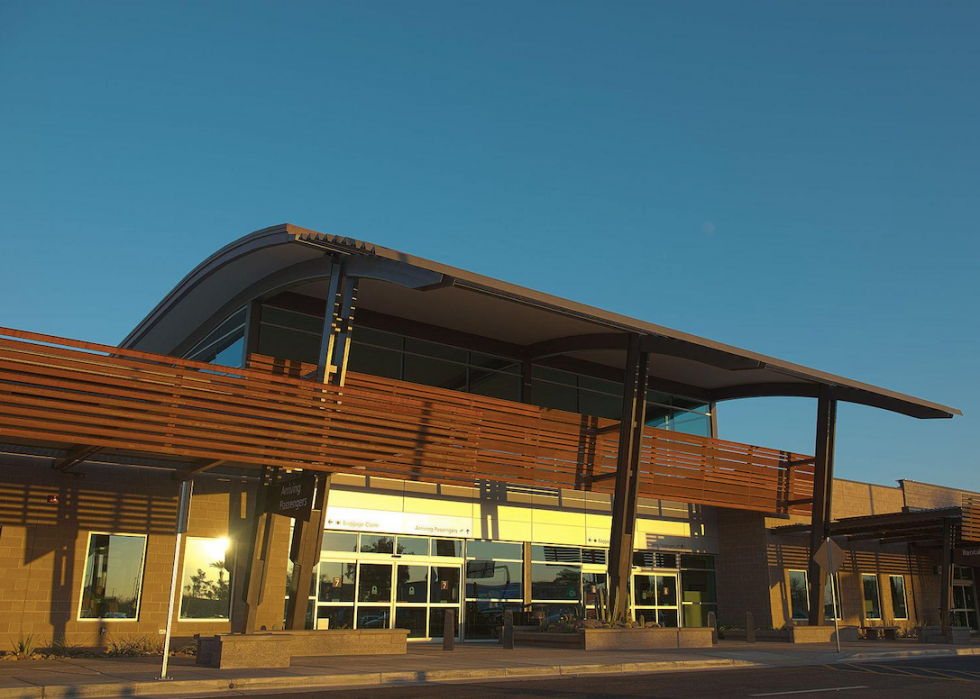 83 / 100
PhxMesaGatewayAirport // Wikimedia Commons
#18. Phoenix, AZ: Phoenix - Mesa Gateway
- Annual flights (March 2018–February 2019): 5,322
- On-time performance: 73.1%
- Air carrier delay: 6.1%
- Weather delay: 0.0%
- National Aviation System delay: 5.6%
- Security delay: 0.2%
- Aircraft arriving late delay: 12.7%
- Canceled flights: 1%
- Diverted: 0.0%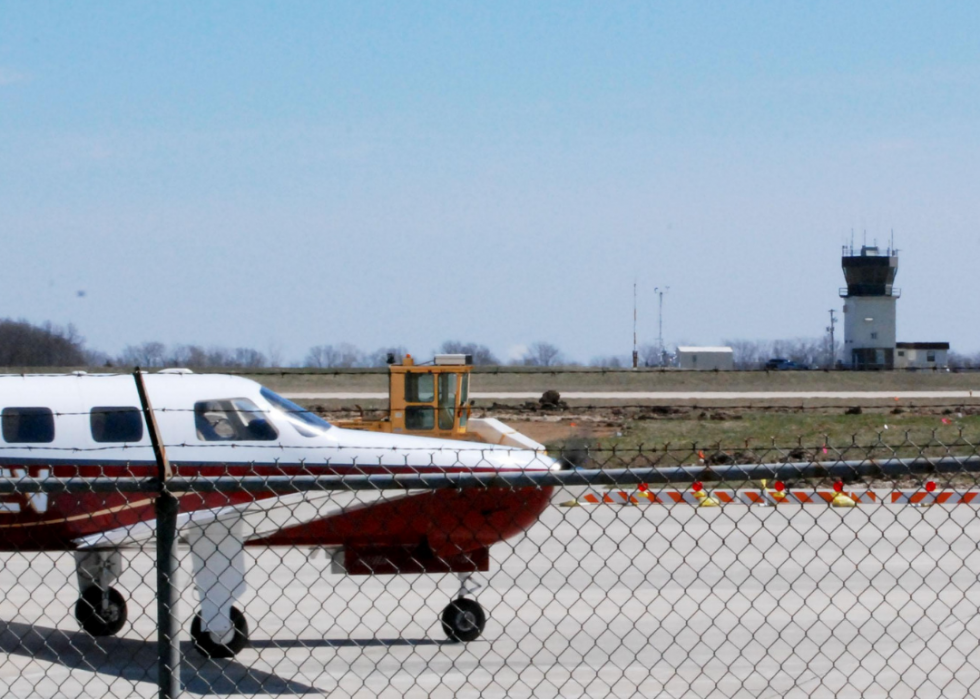 84 / 100
#17. Columbia, MO: Columbia Regional
- Annual flights (March 2018–February 2019): 2,207
- On-time performance: 72.6%
- Air carrier delay: 6%
- Weather delay: 0.0%
- National Aviation System delay: 7%
- Security delay: 0.0%
- Aircraft arriving late delay: 9.6%
- Canceled flights: 2.9%
- Diverted: 0.1%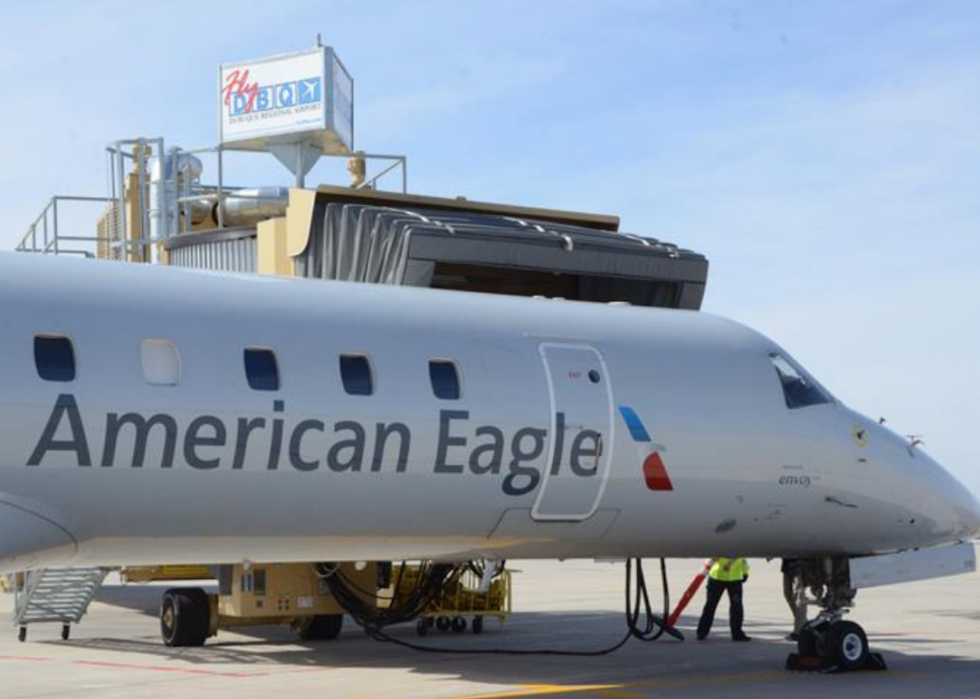 85 / 100
#16. Dubuque, IA: Dubuque Regional
- Annual flights (March 2018–February 2019): 1,010
- On-time performance: 72.1%
- Air carrier delay: 3.3%
- Weather delay: 0.0%
- National Aviation System delay: 9.7%
- Security delay: 0.0%
- Aircraft arriving late delay: 6.8%
- Canceled flights: 6%
- Diverted: 0.3%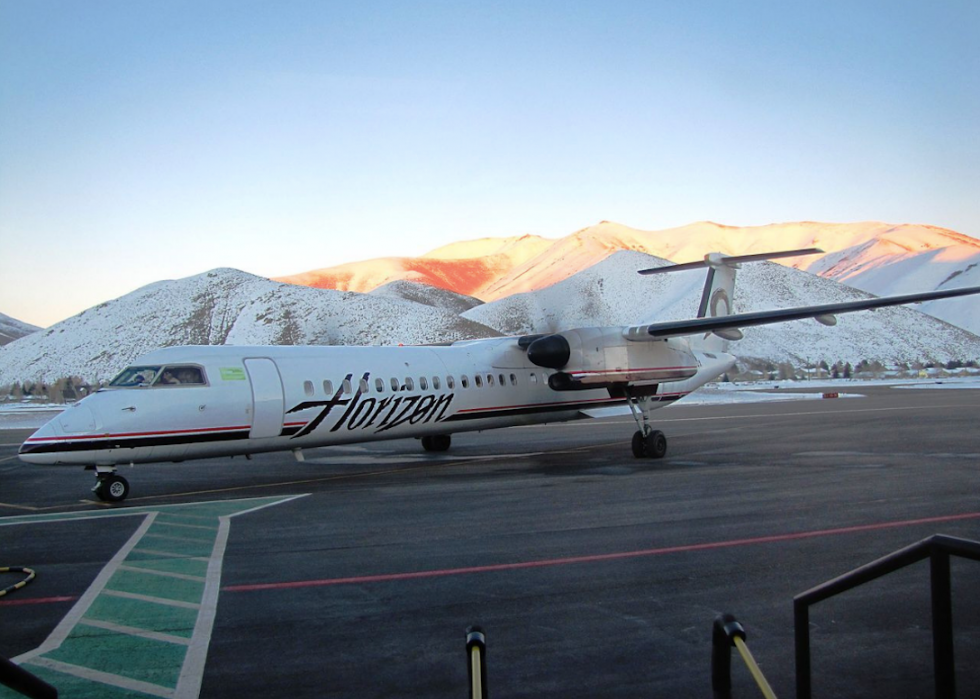 86 / 100
#15. Sun Valley/Hailey/Ketchum, ID: Friedman Memorial
- Annual flights (March 2018–February 2019): 1,400
- On-time performance: 71.8%
- Air carrier delay: 2.8%
- Weather delay: 0.0%
- National Aviation System delay: 2.4%
- Security delay: 0.0%
- Aircraft arriving late delay: 4%
- Canceled flights: 0.9%
- Diverted: 16.8%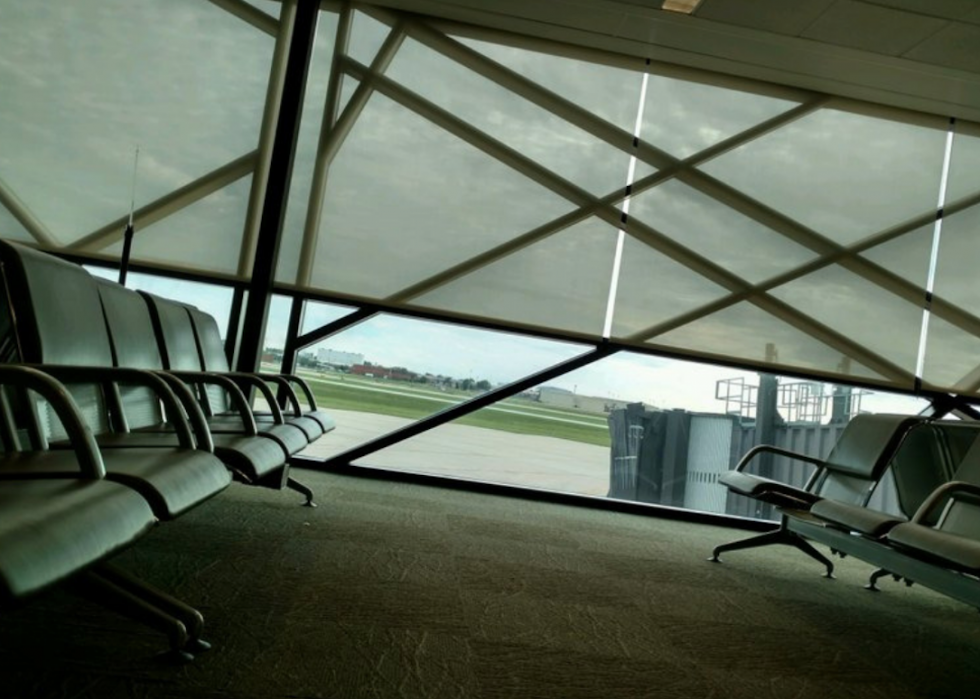 87 / 100
#14. Sioux City, IA: Sioux Gateway/Col. Bud Day Field
- Annual flights (March 2018–February 2019): 1,217
- On-time performance: 71.7%
- Air carrier delay: 4.8%
- Weather delay: 0.0%
- National Aviation System delay: 10.7%
- Security delay: 0.0%
- Aircraft arriving late delay: 7.2%
- Canceled flights: 3.6%
- Diverted: 0.4%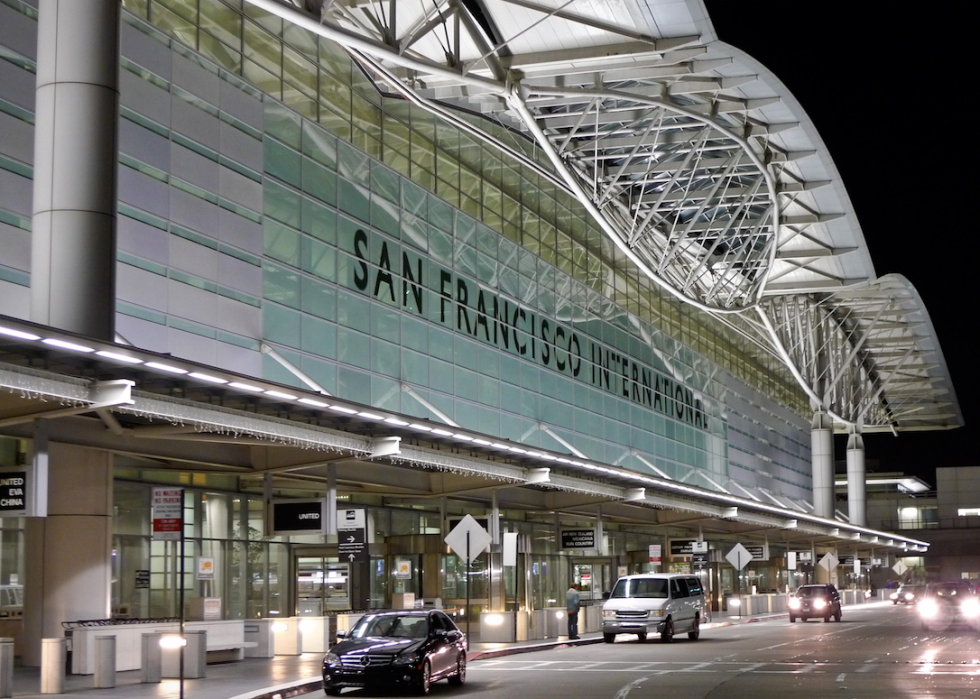 88 / 100
Håkan Dahlström // Wikimedia Commons
#13. San Francisco, CA: San Francisco International
- Annual flights (March 2018–February 2019): 175,091
- On-time performance: 71.6%
- Air carrier delay: 4.6%
- Weather delay: 0.0%
- National Aviation System delay: 14%
- Security delay: 0.0%
- Aircraft arriving late delay: 7.1%
- Canceled flights: 1.9%
- Diverted: 0.3%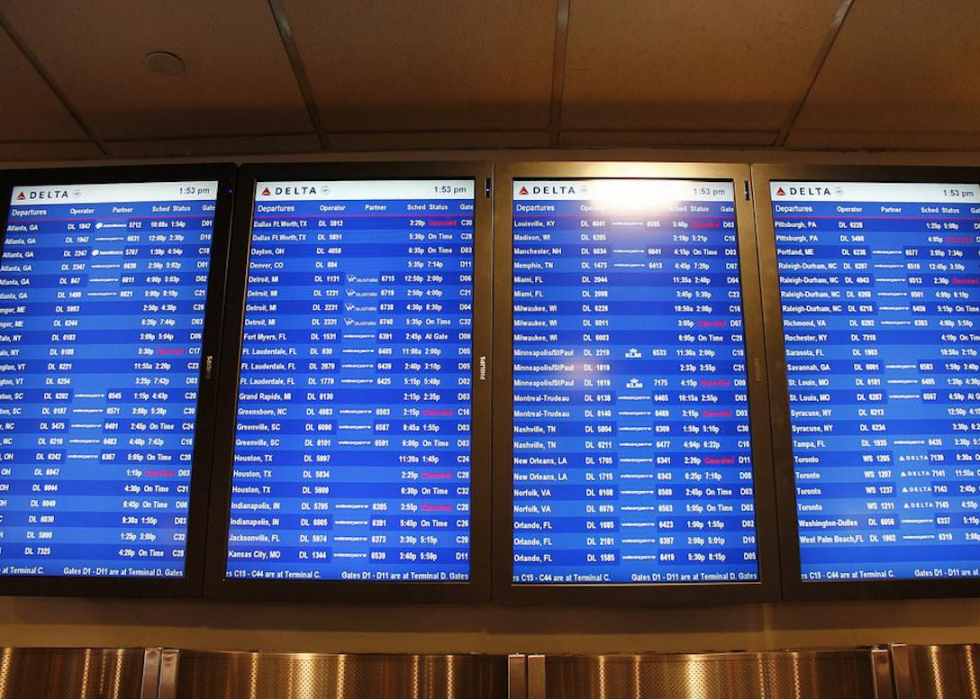 89 / 100
#12. New York, NY: LaGuardia
- Annual flights (March 2018–February 2019): 171,599
- On-time performance: 71.2%
- Air carrier delay: 4.3%
- Weather delay: 0.0%
- National Aviation System delay: 12.4%
- Security delay: 0.0%
- Aircraft arriving late delay: 6.6%
- Canceled flights: 3.9%
- Diverted: 0.5%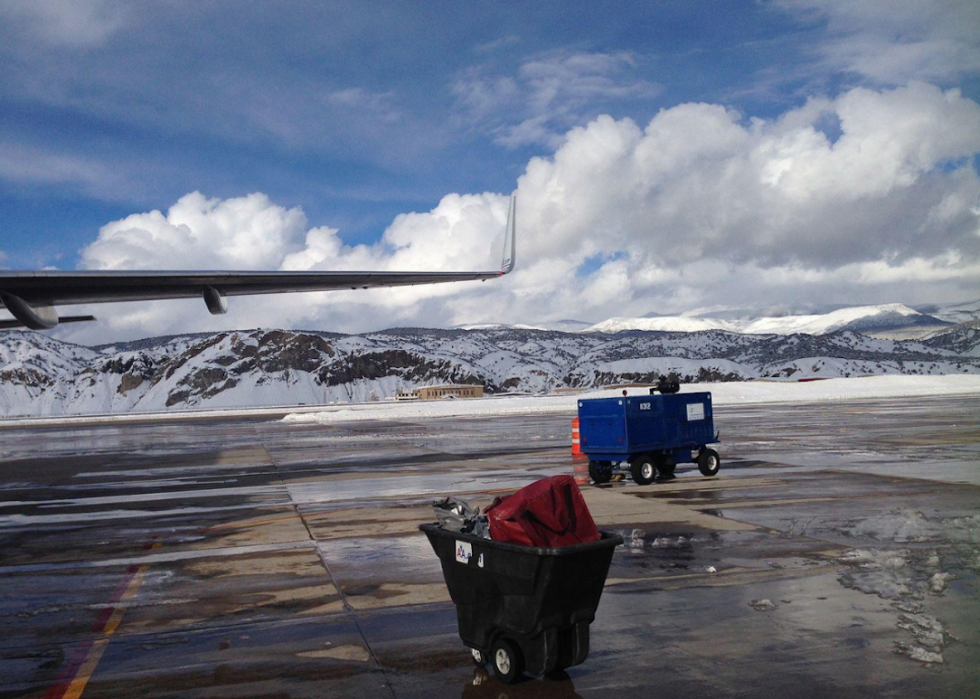 90 / 100
Jlfdz // Wikimedia Commons
#11. Eagle, CO: Eagle County Regional
- Annual flights (March 2018–February 2019): 2,235
- On-time performance: 70.9%
- Air carrier delay: 7.8%
- Weather delay: 0.0%
- National Aviation System delay: 11.1%
- Security delay: 0.0%
- Aircraft arriving late delay: 5.3%
- Canceled flights: 2.6%
- Diverted: 0.9%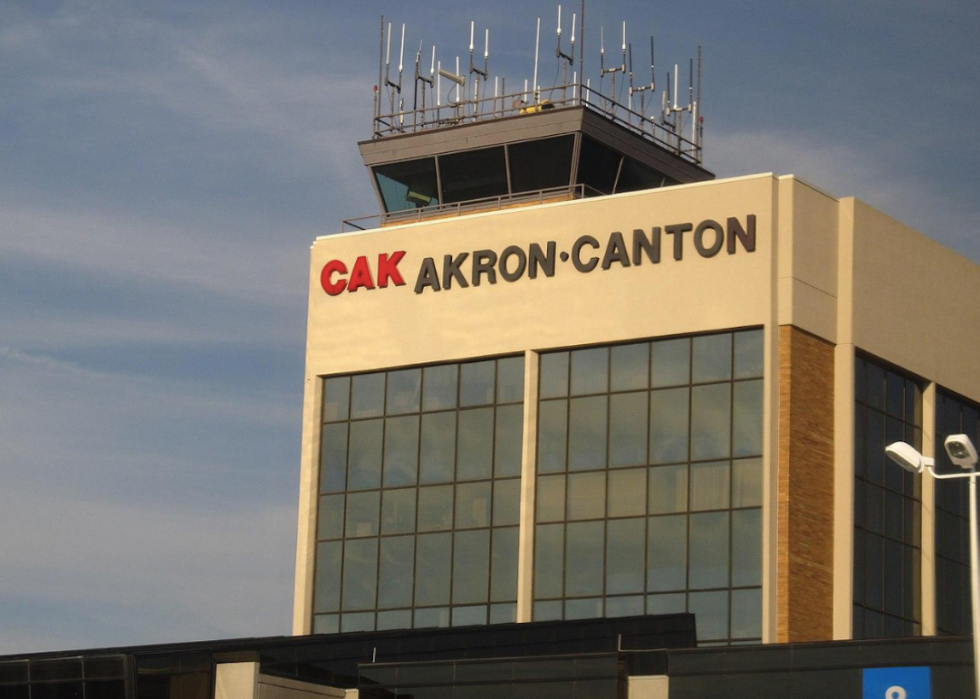 91 / 100
Ken L. // Wikimedia Commons
#10. Akron, OH: Akron-Canton Regional
- Annual flights (March 2018–February 2019): 7,311
- On-time performance: 70.9%
- Air carrier delay: 8%
- Weather delay: 0.0%
- National Aviation System delay: 5.7%
- Security delay: 0.0%
- Aircraft arriving late delay: 10.6%
- Canceled flights: 3.3%
- Diverted: 0.1%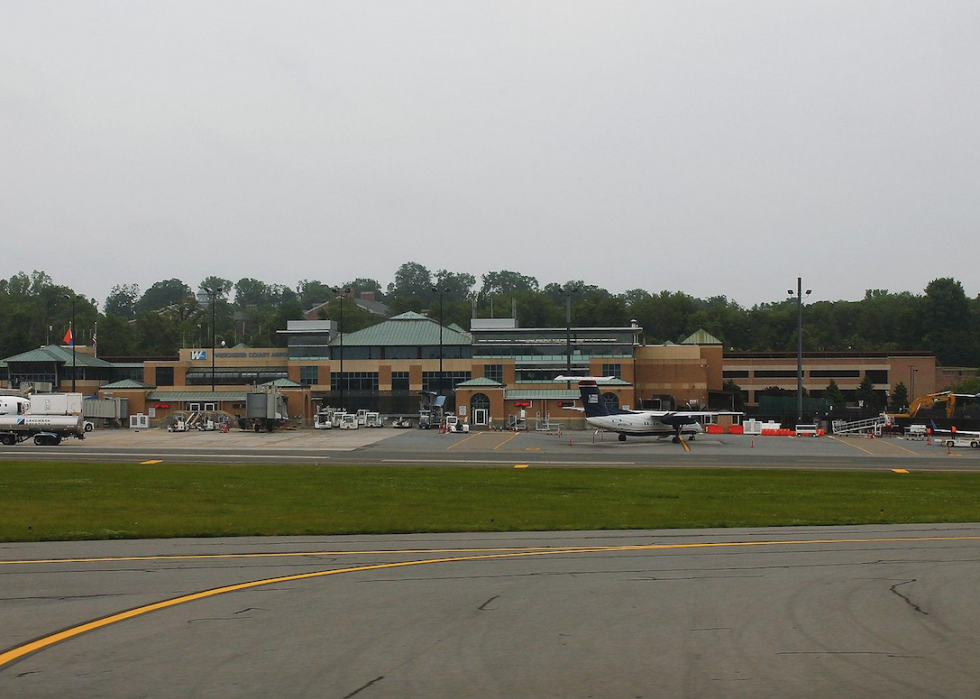 92 / 100
formulanone // Wikimedia Commons
#9. White Plains, NY: Westchester County
- Annual flights (March 2018–February 2019): 10,209
- On-time performance: 70.8%
- Air carrier delay: 8.9%
- Weather delay: 0.0%
- National Aviation System delay: 5.6%
- Security delay: 0.1%
- Aircraft arriving late delay: 8.9%
- Canceled flights: 3.3%
- Diverted: 1.3%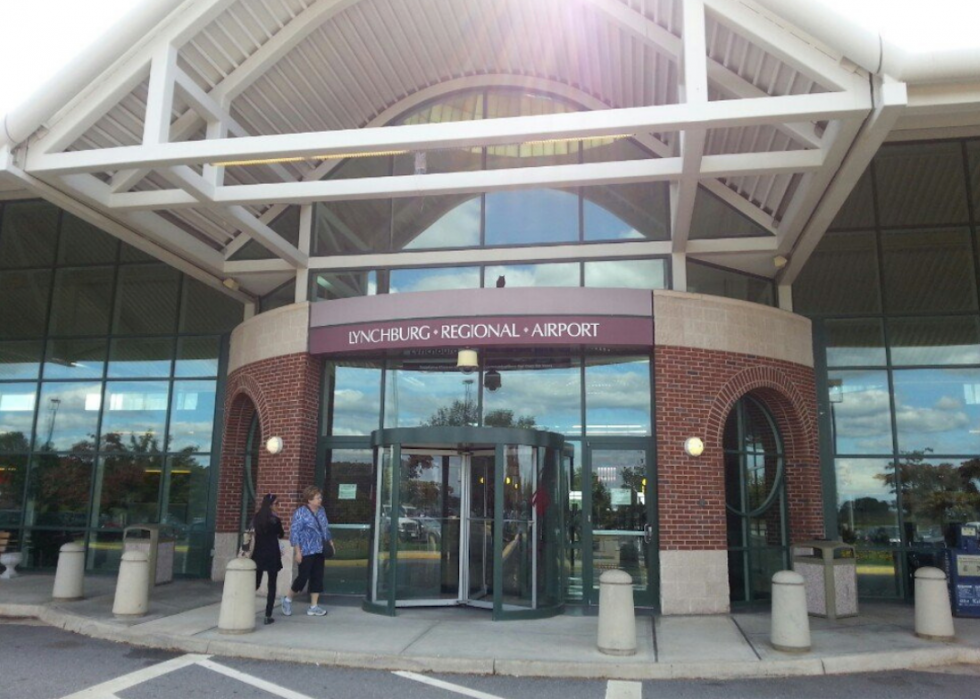 93 / 100
Patriarca12 // Wikimedia Commons
#8. Lynchburg, VA: Lynchburg Regional/Preston Glenn Field
- Annual flights (March 2018–February 2019): 1,063
- On-time performance: 70.6%
- Air carrier delay: 8.4%
- Weather delay: 0.0%
- National Aviation System delay: 4.7%
- Security delay: 0.0%
- Aircraft arriving late delay: 9.7%
- Canceled flights: 3.5%
- Diverted: 0.7%
94 / 100
TweedFacts // Wikimedia Commons
#7. New Haven, CT: Tweed New Haven
- Annual flights (March 2018–February 2019): 1,005
- On-time performance: 70.3%
- Air carrier delay: 4.8%
- Weather delay: 0.0%
- National Aviation System delay: 4.4%
- Security delay: 0.0%
- Aircraft arriving late delay: 9%
- Canceled flights: 9%
- Diverted: 1.2%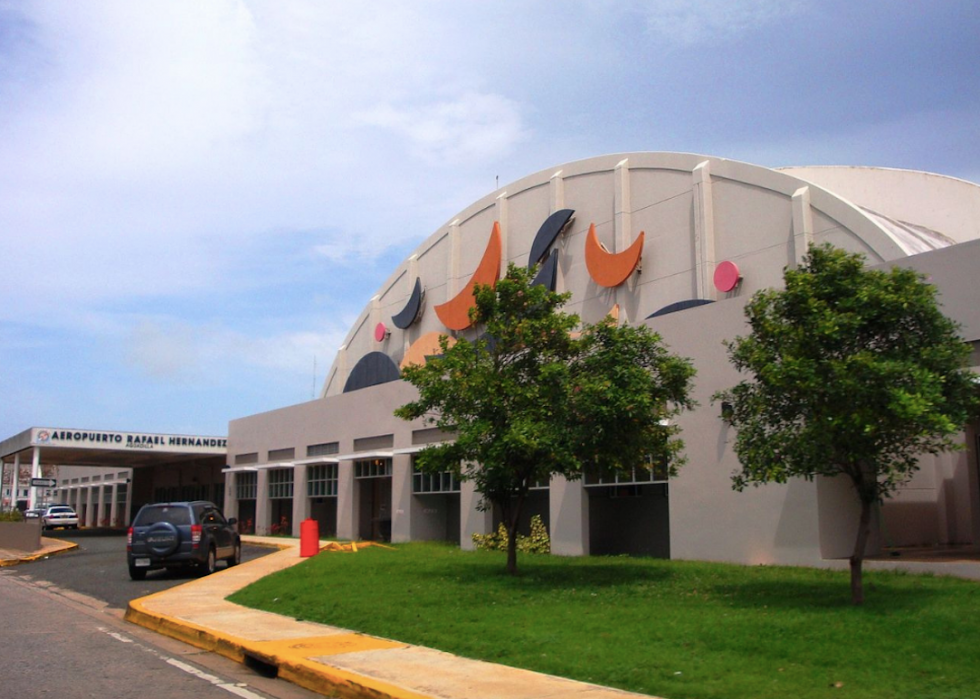 95 / 100
Miguelpr91 // Wikimedia Commons
#6. Aguadilla, PR: Rafael Hernandez
- Annual flights (March 2018–February 2019): 2,122
- On-time performance: 69.8%
- Air carrier delay: 11.7%
- Weather delay: 0.0%
- National Aviation System delay: 6.2%
- Security delay: 0.1%
- Aircraft arriving late delay: 11%
- Canceled flights: 0.4%
- Diverted: 0.1%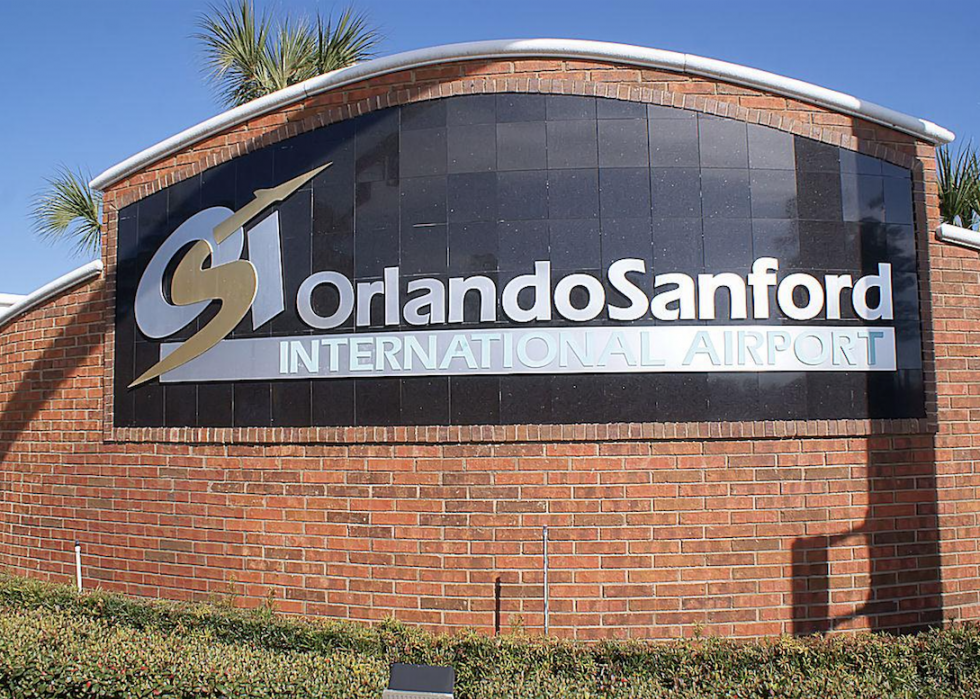 96 / 100
Valder137 // Wikimedia Commons
#5. Sanford, FL: Orlando Sanford International
- Annual flights (March 2018–February 2019): 9,617
- On-time performance: 69%
- Air carrier delay: 7.5%
- Weather delay: 0.0%
- National Aviation System delay: 6.5%
- Security delay: 0.2%
- Aircraft arriving late delay: 14.7%
- Canceled flights: 0.7%
- Diverted: 0.3%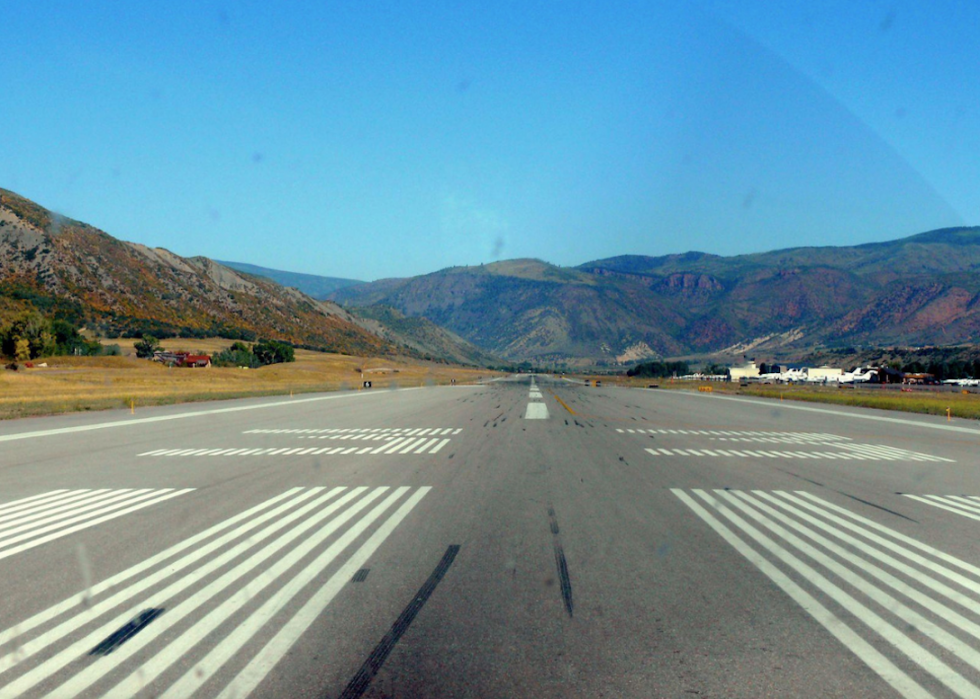 97 / 100
Avitya // Wikimedia Commons
#4. Aspen, CO: Aspen Pitkin County Sardy Field
- Annual flights (March 2018–February 2019): 6,710
- On-time performance: 69%
- Air carrier delay: 6.1%
- Weather delay: 0.0%
- National Aviation System delay: 7.6%
- Security delay: 0.0%
- Aircraft arriving late delay: 7.4%
- Canceled flights: 4.2%
- Diverted: 4.1%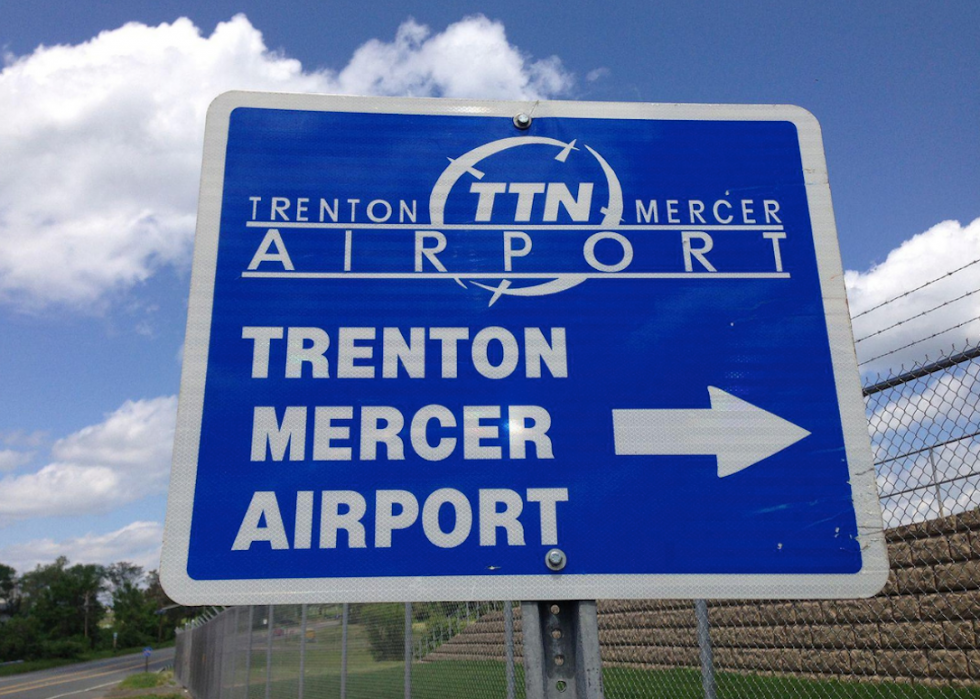 98 / 100
Famartin // Wikimedia Commons
#3. Trenton, NJ: Trenton Mercer
- Annual flights (March 2018–February 2019): 2,672
- On-time performance: 67.7%
- Air carrier delay: 8.2%
- Weather delay: 0.0%
- National Aviation System delay: 6.4%
- Security delay: 0.0%
- Aircraft arriving late delay: 13.8%
- Canceled flights: 3.4%
- Diverted: 0.4%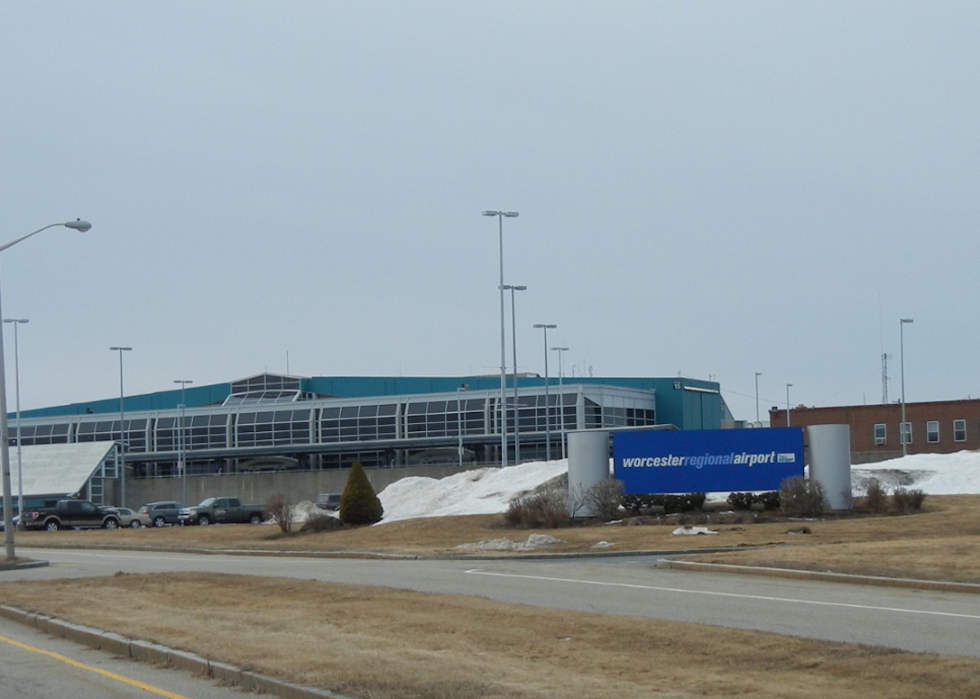 99 / 100
Terageorge // Wikimedia Commons
#2. Worcester, MA: Worcester Regional
- Annual flights (March 2018–February 2019): 1,033
- On-time performance: 66.7%
- Air carrier delay: 13.8%
- Weather delay: 0.0%
- National Aviation System delay: 5.9%
- Security delay: 0.2%
- Aircraft arriving late delay: 7.5%
- Canceled flights: 3.7%
- Diverted: 0.7%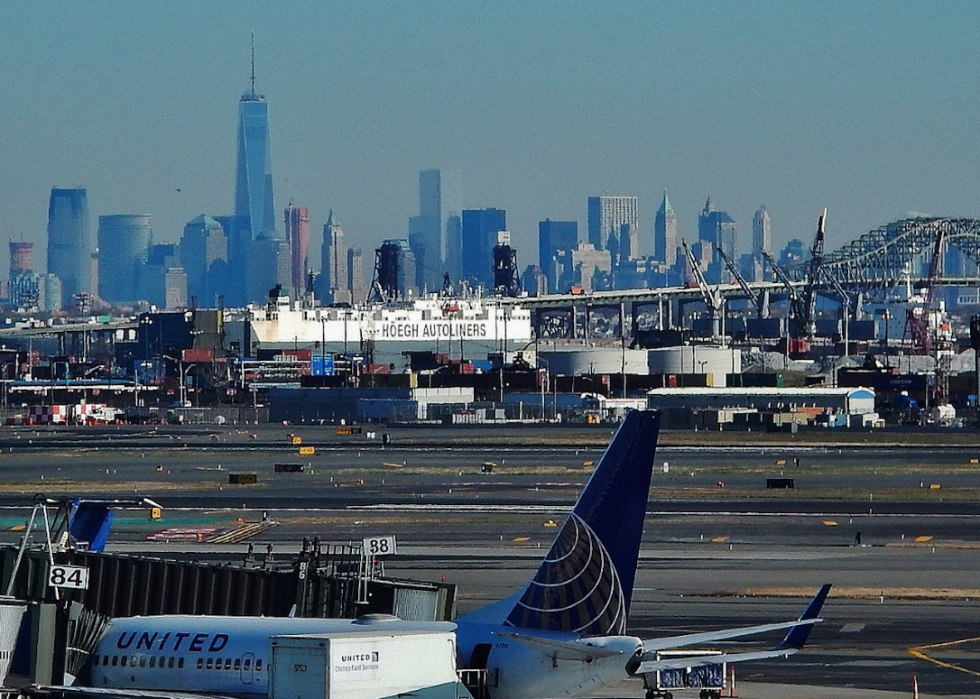 100 / 100
qwesy qwesy // Wikimedia Commons
#1. Newark, NJ: Newark Liberty International
- Annual flights (March 2018–February 2019): 141,949
- On-time performance: 66.2%
- Air carrier delay: 4.2%
- Weather delay: 0.0%
- National Aviation System delay: 19.2%
- Security delay: 0.0%
- Aircraft arriving late delay: 6.3%
- Canceled flights: 3.1%
- Diverted: 0.4%