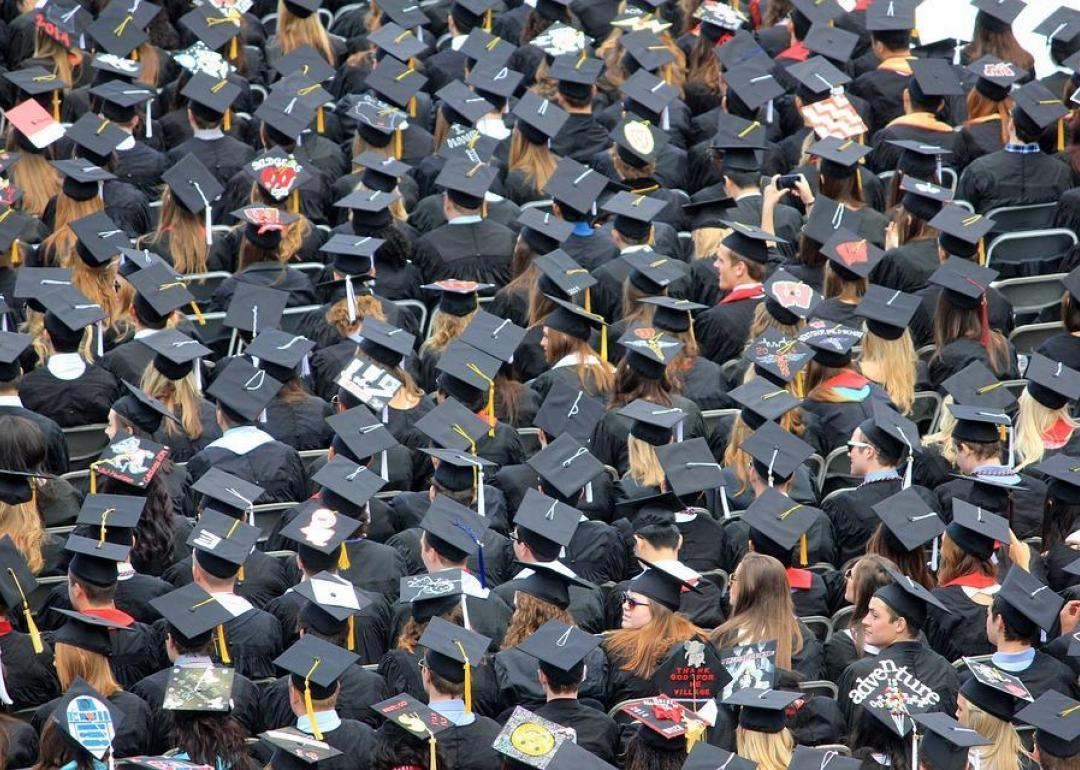 States with the highest number of college graduates living in poverty
Goodfreephotos_com // Pixabay
States with the highest number of college graduates living in poverty
The NASA mathematician Katherine Johnson once said, "Many professors tell you that you'd be good at this or that, but they don't always help you with that career path." While there is a common perception that a college degree guarantees a good job, that is not always the case. Sometimes, luck, locale, and connections play roles as large as education. This puts graduates in difficult positions: Most entry-level jobs now require a college degree of some sort, but mounting student-loan debt and a dizzying amount of variables by location, access, and fluctuating markets mean jobs—especially those with decent wages—are never guaranteed.
And yet, it's hard to overstate the college experience as a whole. There is certainly more to college than a degree; and the exposure college students get to other cultures, lifestyles, and real-world work scenarios (not to mention college being the first time many young adults experience living on their own) is invaluable. For those pursuing degrees to further their careers, choosing the right college can represent a huge push in the right direction for landing that dream job or getting into a top-notch graduate program. Which is why college enrollment continues to climb: Almost 70% of high school graduates in 2016 enrolled in college that same year. Yet while the graduating college class of 2018 experienced the lowest level of unemployment in 17 years and higher starting salaries, the National Association of Colleges and Employers reports that 1.3% fewer employees were hired compared with the class of 2017. This represents the first such decline since 2010.
Many college graduates face a familiar situation. Unable to get a position that utilizes their degrees, they settle for low-paying, unskilled jobs to pay the bills. With nearly 43% of all college graduates underemployed according to the Federal Reserve Bank of New York, many find it difficult to break out of the cycle of subpar jobs.
More disturbing, according to the U.S. Census Bureau's American Community Survey, is that 4.5% of all college graduates ages 25 years or older live at or below the national poverty rate. While this is significantly below the poverty rate for all workers 25 years or older, the unemployment rate of 3.1% for these college graduates—compared with the 5.0% national average—reflects that the return-on-investment for a college education may be less than what is generally expected.
Stacker has looked at the census data for all 50 states, plus the District of Columbia, to determine which states have the highest percentage of college graduates living in poverty. For this article, we are using the national poverty threshold for a single individual in 2018: $12,488. The median income of college graduates age 25+ was $52,019 in 2018, compared with $37,913 for the general age 25+ working population. Keep reading to learn how one state, recognized as having a city with the best employment opportunities for college graduates, also has one of the highest college graduate poverty rates.
You may also like: College majors with the lowest unemployment