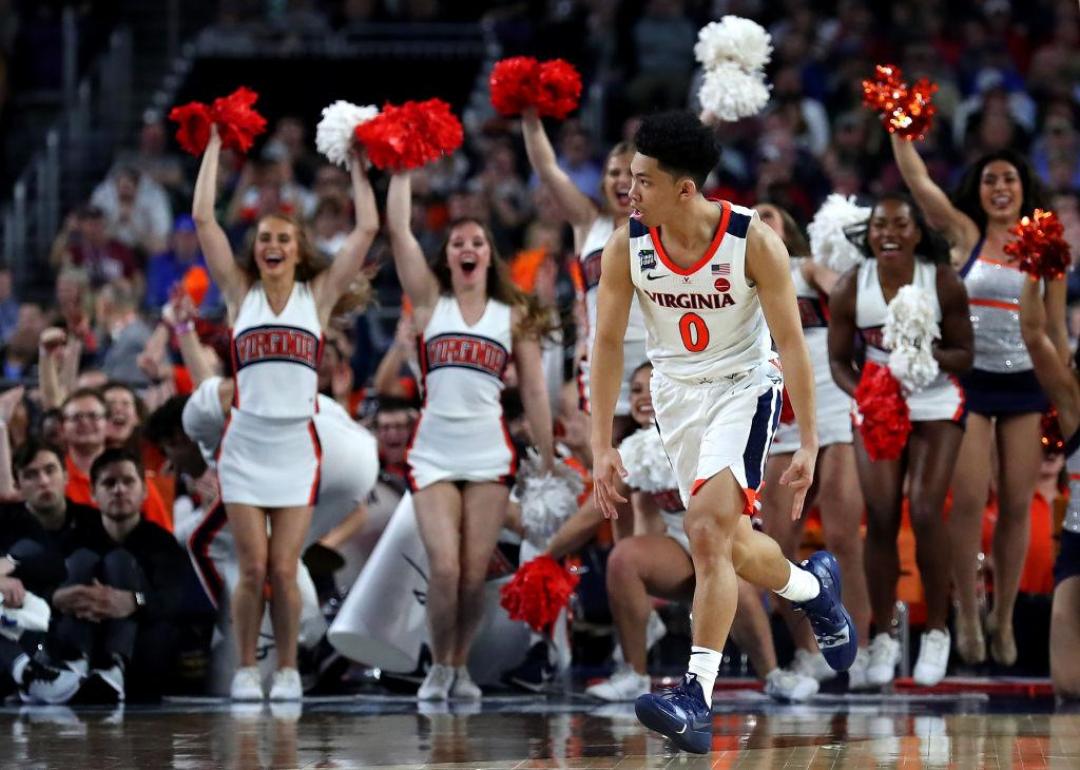 Bing Predicts: March Madness Men's National Championship
Tom Pennington/Getty Images
Bing Predicts: March Madness Men's National Championship
After 68 teams opened the 2019 NCAA men's tournament, only the Virginia Cavaliers and Texas Tech Red Raiders remain. The road to Minneapolis was loaded with obstacles for the two teams. But come late Monday night, either Texas or Virginia will fulfill a season-long dream and cut down the nets inside U.S. Bank Stadium. Before we watch one team live out its "one shining moment," and as we ready to bid adieu to another captivating season of college hoops, Stacker revisited each finalist team's path to the title game using Bing March Madness. As their five tournament wins have shown, the Cavaliers and Red Raiders are both worthy of hanging a championship banner.
The Virginia faithful, Texas Tech crazies, and even impartial fans all have plenty of reasons to click through before tip-off April 8.
Texas Tech's road to the finals: Regular season
 - Record: 26-6 (14-4 in conference)
Winners of their first 10 games and 15 of their first 16, Texas Tech proved early in the season they'd be a force come March. In tying for the Big 12 regular season title, the Red Raiders, along with Kansas State, ended Kansas' 14-year championship run. With a suffocating defense, Texas Tech earned a #3 seed in the West Region.
Texas Tech's road to the finals: Conference tournament
- Result: lost quarterfinal to West Virginia University
Considered a favorite to win the Big 12 tournament, Texas Tech was unceremoniously knocked out in its first conference tourney game. West Virginia jumped out to a 9-point halftime lead and held off a Red Raiders rally for the upset. Texas Tech's Jarrett Culver pumped in 26 points, but shot a costly 0-for-6 from 3-point range.
Texas Tech's road to the finals: First round
- Opponent: Northern Kentucky (14)
- Score: 72-57
With more than a week off after its early Big 12 tournament exit, Texas Tech showed little rust in taking down the upstarts from Northern Kentucky. Jarrett Culver scored a game-high 29 points and as a whole, the Red Raiders shot just under 53%. Texas Tech was just as good on defense; Northern Kentucky's top player, Drew McDonald, was held to only 5 points.
Texas Tech's road to the finals: Second round
- Opponent: Buffalo (6)
- Score: 78-58
Buffalo was a popular bracket buster choice, as the small school from western New York turned heads all season. But Texas Tech would hear no talk of an upset, as the team suffocated the Bulls en route to a 20-point victory. All five starters scored in double-digits for the Red Raiders, whose calling card defense held Buffalo to under 37% shooting from the field.
Texas Tech's road to the finals: Sweet 16
- Opponent: Michigan (2)
- Score: 63-44
A Big Ten conference tournament finalist, Michigan provided the stiffest test yet for Texas Tech in March, but the Wolverines were not ready for the swarming Red Raiders defense and only scored 16 points in the first half. Over the final 20 minutes, Texas Tech kept the clamps on and pulled away, stunning a team that some thought could make a repeat run to the national championship game.
Texas Tech's road to the finals: Elite Eight
- Opponent: Gonzaga (1)
- Score: 75-69
Gonzaga, a title favorite all season, only received 3 points from its bench and could not match the depth of the Red Raiders. Texas Tech's diverse cast of talent took advantage with the likes of Davide Moretti, an unheralded sharpshooter from Italy, making crucial 3-pointers down the stretch. With the win, the Red Raiders reached its first Final Four.
Texas Tech's road to the finals: Final Four
- Opponent: Michigan State (2)
- Score: 61-51
With Texas Tech alum Patrick Mahomes in the building, the Red Raiders put forth an impressive defensive effort to help head to their first-ever national championship. Cassius Winston, Michigan State's scoring dynamo all year, was held to 4-for-16 shooting, and the Spartans could never put together a deep run. With Texas Tech's Jarrett Culver also struggling from the field, Matt Mooney stepped up to pour in a game high of 22 points.
Virginia's road to the finals: Regular season
- Record: 29-2 (16-2 in conference)
Virginia was arguably the most consistent team during the regular season, only losing twice to Duke. Coach Tony Bennett has built one of the most fluid programs in college basketball in Charlottesville, where defense, fundamentals, and crisp shooting are trademarks. Led by a three-headed monster of Kyle Guy, De'Andre Hunter, and Ty Jerome, the Cavaliers tied for the ACC regular season title.
Virginia's road to the finals: Conference tournament
- Result: lost semifinal to Florida State University
Encountering a tough Florida State team in the semifinals, Virginia dropped its third game of the season. Stifled by an equally potent defensive team, Virginia entered the NCAA tournament seemingly vulnerable, which was a worry to many back in Charlottesville, with good reason.
Virginia's road to the finals: First round
- Opponent: Gardner-Webb (16)
- Score: 71-56
Last year, Virginia became the first #1 seed to lose to a #16 seed. When Gardner-Webb led 36-30 at halftime, Cavaliers fans were in full panic mode. But armed with lessons learned from the year before, coach Tony Bennett steadied his ship and his team pulled away in the second half.
Virginia's road to the finals: Second round
- Opponent: Oklahoma (9)
- Score: 63-51
Virginia's not exactly known for playing a flashy, even beautiful form of basketball. But when two teams have to muck it out, few are better at emerging victorious than the Cavaliers. In a sloppy game in the second round, Virginia managed to hold off Oklahoma—thanks in no small part to the Cavaliers' Mamadi Diakite, who was inserted last-minute into the starting lineup and responded with 14 points and nine rebounds.
Virginia's road to the finals: Sweet 16
- Opponent: Oregon (12)
- Score: 53-49
Oregon may have reached the Sweet 16 as a #12 seed, but no one took the Ducks as anything less than a serious contender. A vaunted program from the Pac-12, Oregon provided a stiff test for Virginia and these two defensive-oriented teams battled ferociously for 40 minutes. With neither squad able to hit from outside most of the game, Ty Jerome splashed a key 3-pointer down the stretch and the Cavaliers' road to redemption continued on.
Virginia's road to the finals: Elite Eight
- Opponent: Purdue (3)
- Score: 80-75 OT
In one of the best games of March Madness, Virginia slugged it out with Purdue for 45 minutes and was the final team standing in the South Region. With his team's season hanging in the balance, Mamadi Diakite hit a jumper at the end of regulation to send the game into overtime. Avoiding another heartbreaking exit from the NCAA tournament, Virginia's defense elevated to the moment once again and earned the team its first Final Four berth since 1984.
Virginia's road to the finals: Final Four
- Opponent: Auburn (5)
- Score: 63-62
If Virginia went down in infamy for its first-round loss in last year's tournament, the team will be remembered for being on the winning end of one of March Madness' most dramatic games following a 2019 Final Four tussle with Auburn. Trailing 62-60 with seconds remaining, Virginia's Kyle Guy attempted a go-ahead 3-pointer and missed—but referees ruled Guy was fouled. The Cavaliers' marksman did not miss from the line, calmly sinking all three free throws and Virginia moved on to Monday's final.
Men's National Championship
Gametime: Monday, April 8, 2019 at 9:20 p.m.
Bing Predicts winner: Virginia (55% chance)
See more on the Men's National Championship on Bing