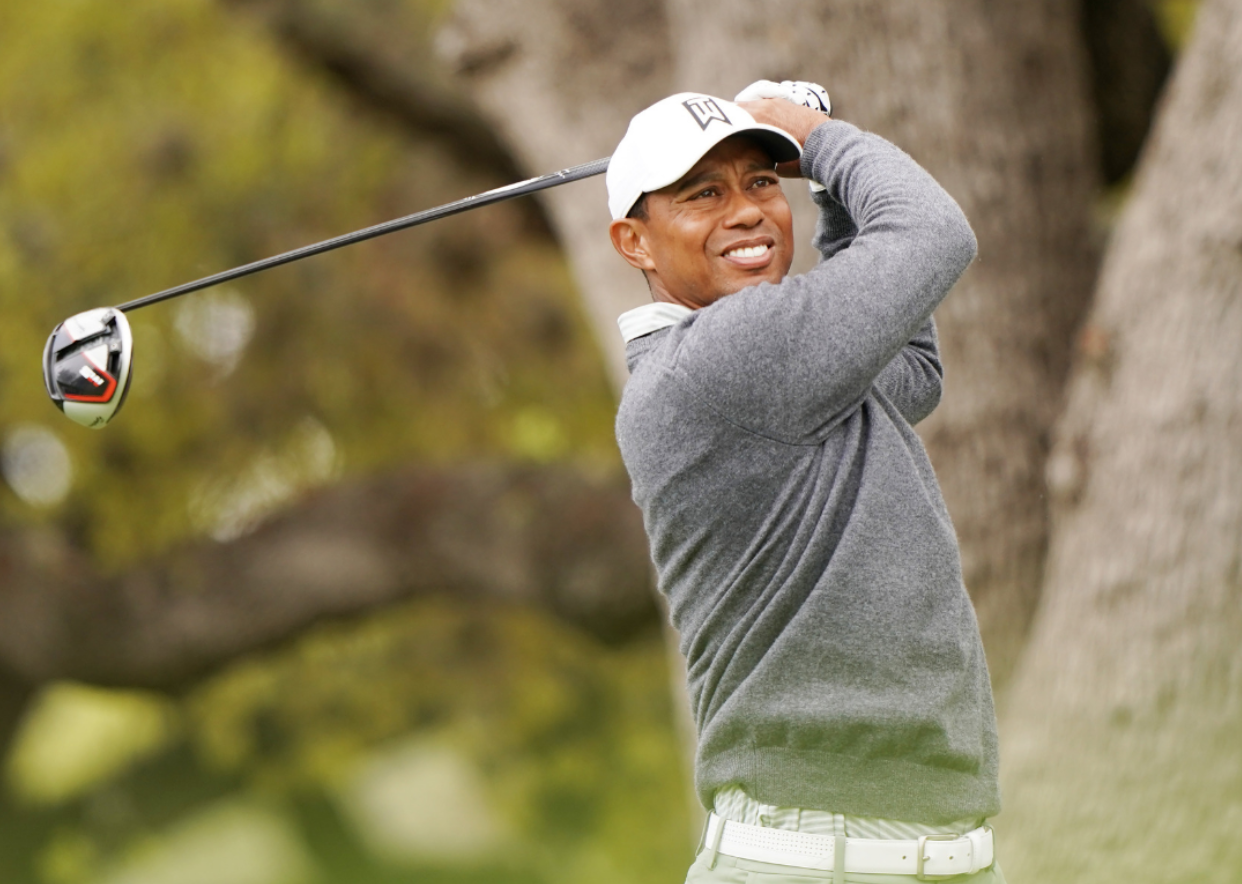 Favorites to win The Masters
Favorites to win The Masters
Every year since 1934, the best golfers in the world make their way to the Augusta National Golf club in Augusta, Ga. for a shot at a green jacket and a place in history. Held over four days during the first full week in April, the Masters Tournament is the first and perhaps best known of the four major championships in professional golf. Past winners include greats like Arnold Palmer, Jack Nicklaus, and Tiger Woods.
This year's tournament tees off on Thursday, April 11, and will have one of the smallest fields in history, with only 86 golfers qualifying. Those competing for the title include last year's Masters Champion Patrick Reed, four-time champion Tiger Woods, and Dustin Johnson, the current #1 ranked player. According to PGA's World Golf Ranking, Johnson barely edges out Justin Rose for the #1 position—by a mere .03 points.  And yet, it may be Rory McIlroy coming in with the most momentum, having won the Players Championship, making him only the sixth player to win golf's career Grand Slam. With such an impressive field, it can be difficult to pinpoint a favorite to win the Masters.
Utilizing the methodology of predictive analysis, Data Golf focuses on adjusted strokes-gained measure. Strokes gained helps a golfer find out where they are losing or gaining strokes by measuring their performance on a course against a set of other golfers. In a tournament such as the Masters, you would get estimates of a probability distribution for each golfer's scores. Then, through simulation, you would arrive at the probability of picking the favorites at the Masters.
Even the most die-hard golf fans probably won't go so far as to build out complicated probability models in their spare time. Luckily, there are many sites that do the grunt work for you. Examining the current odds (as of April 8) from Bovada, Westgate Las Vegas Superbook, and Sportsline's prediction model (and taking a look at PGA's player stats), Stacker has assimilated the favorites to win the 2019 Masters. Will it be four-time champion Woods? Or maybe the favorite McIlroy? Perhaps it will be a longshot like Mark O'Meara or Ian Woosnam?
Read on for a ranking of betting odds to win, with ties broken by world ranking, for this year's Masters.
You may also like: Best golf course in every state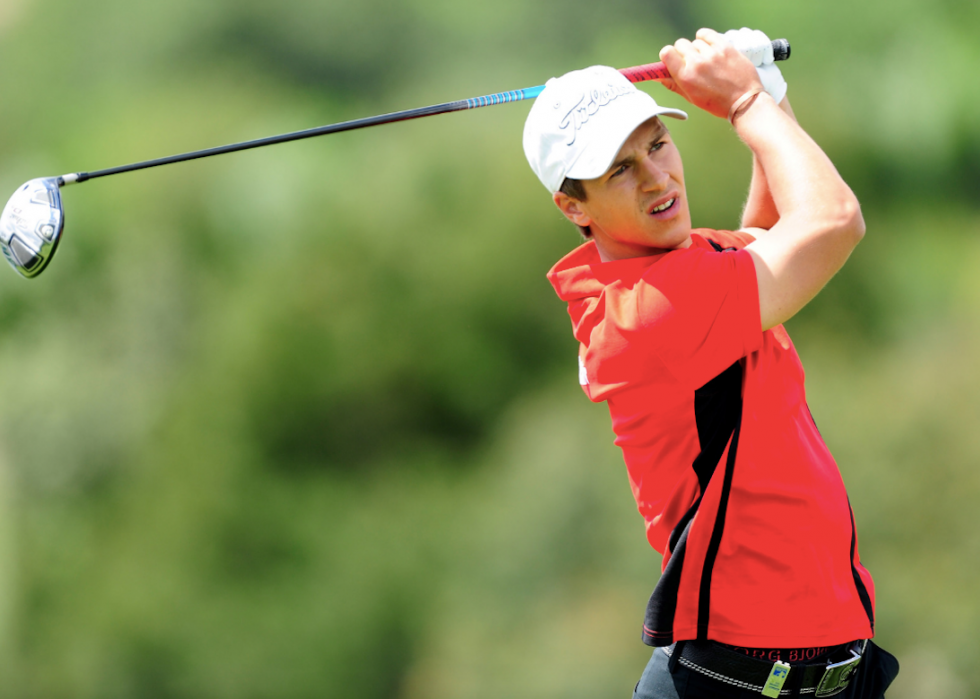 1 / 50
Stuart Franklin // Getty Images
#50: Thorbjorn Olesen
- Odds to win: +15000
- World ranking: 53
- 2018 The Masters Championship: did not participate
- Last 5 results: T41 - CUT - T45 - CUT - T7

- 2019 PGA strokes gained: player not eligible for ranking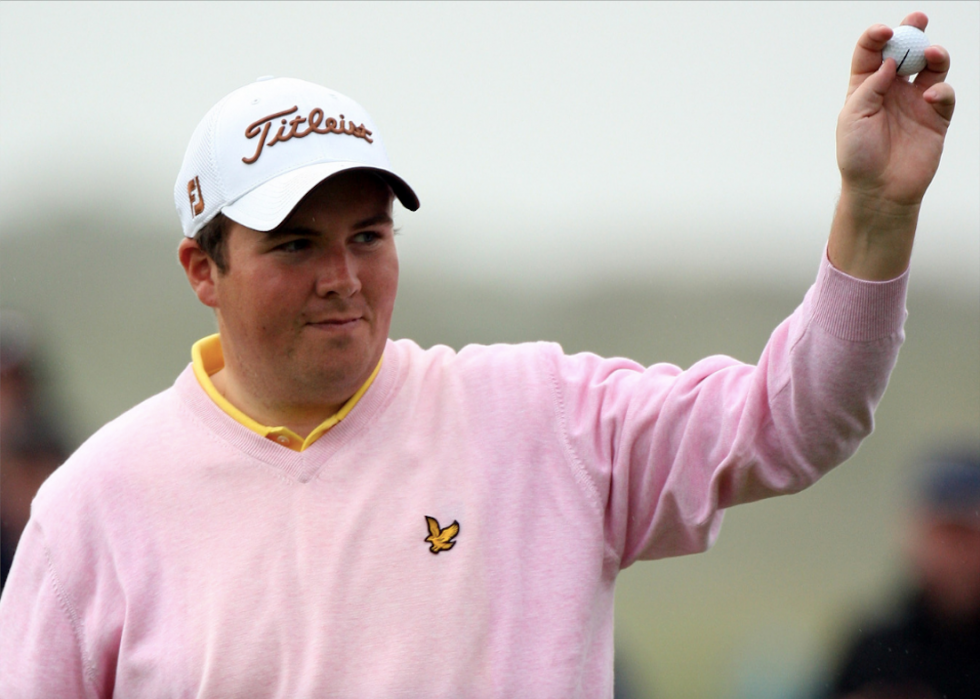 2 / 50
Ross Kinnaird // Getty Images
#49: Shane Lowry
- Odds to win: +15000
- World ranking: 50
- 2018 The Masters Championship: did not participate
- Last 5 results: CUT - CUT - T62 - CUT - T12

- 2019 PGA strokes gained: player not eligible for ranking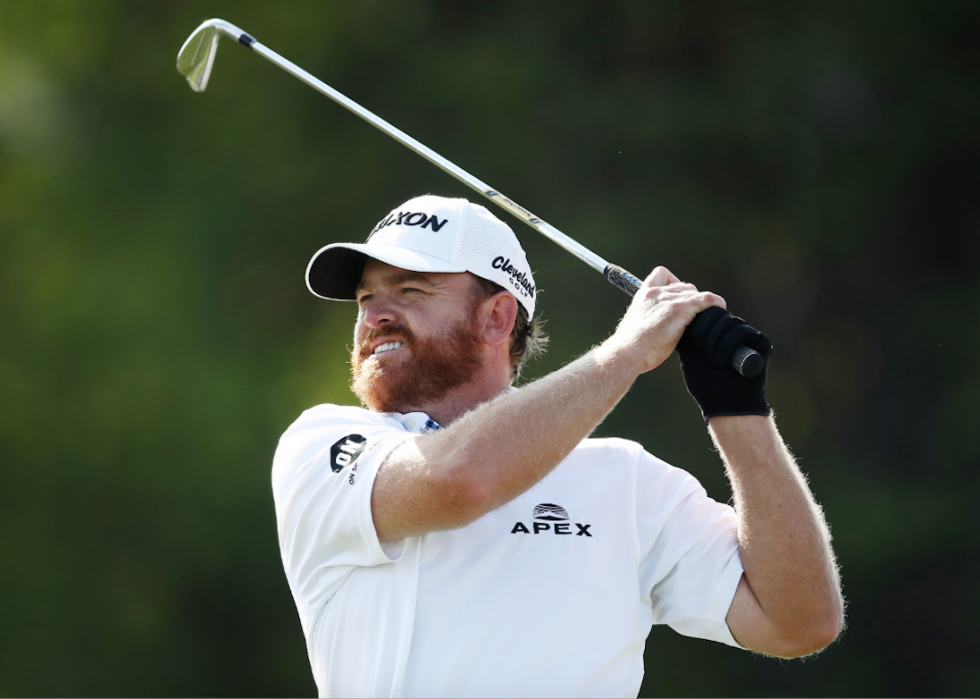 3 / 50
#48: J.B. Holmes
- Odds to win: +15000
- World ranking: 45
- 2018 The Masters Championship: did not participate
- Last 5 results: MDF - CUT - CUT - 1 - CUT

- 2019 PGA strokes gained:
--- Off the tee: 0.13 (PGA rank: 88)
--- Green approach: 0.23 (PGA rank: 69)
--- Around green: 0.25 (PGA rank: T42)
--- Putting: -0.11 (PGA rank: 128)
--- Total: 0.49 (PGA rank: 66)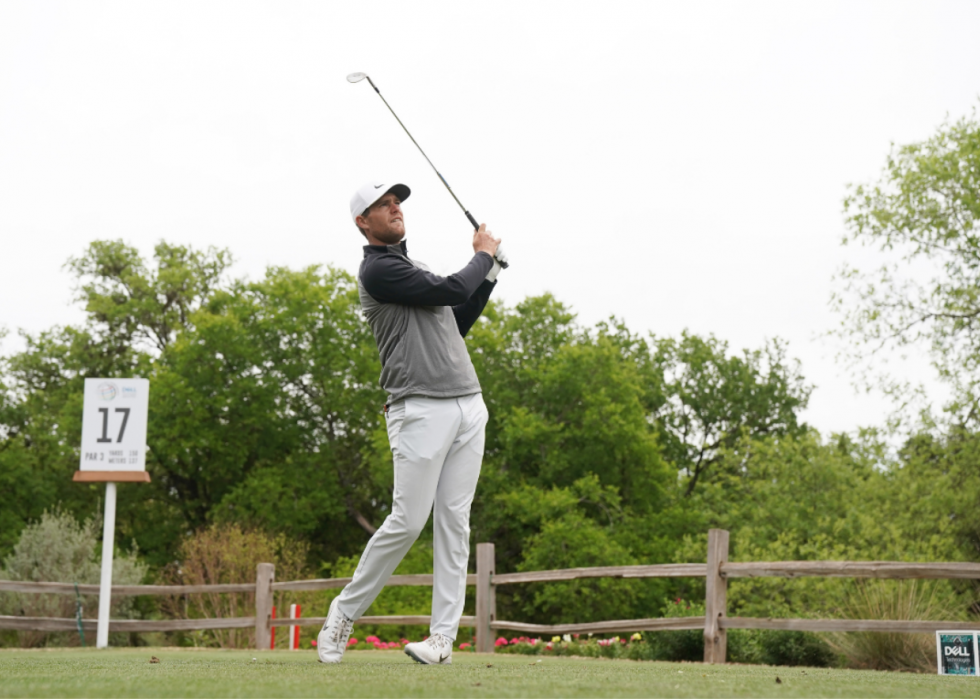 4 / 50
#47: Lucas Bjerregaard
- Odds to win: +15000
- World ranking: 43
- 2018 The Masters Championship: did not participate
- Last 5 results: CUT - T30 - T12 - 69 - T29

- 2019 PGA strokes gained:
--- Off the tee: 0.13 (PGA rank: T84)
--- Green approach: -0.19 (PGA rank: 152)
--- Around green: -0.60 (PGA rank: 211)
--- Putting: -0.26 (PGA rank: 156)
--- Total: -0.92 (PGA rank: 188)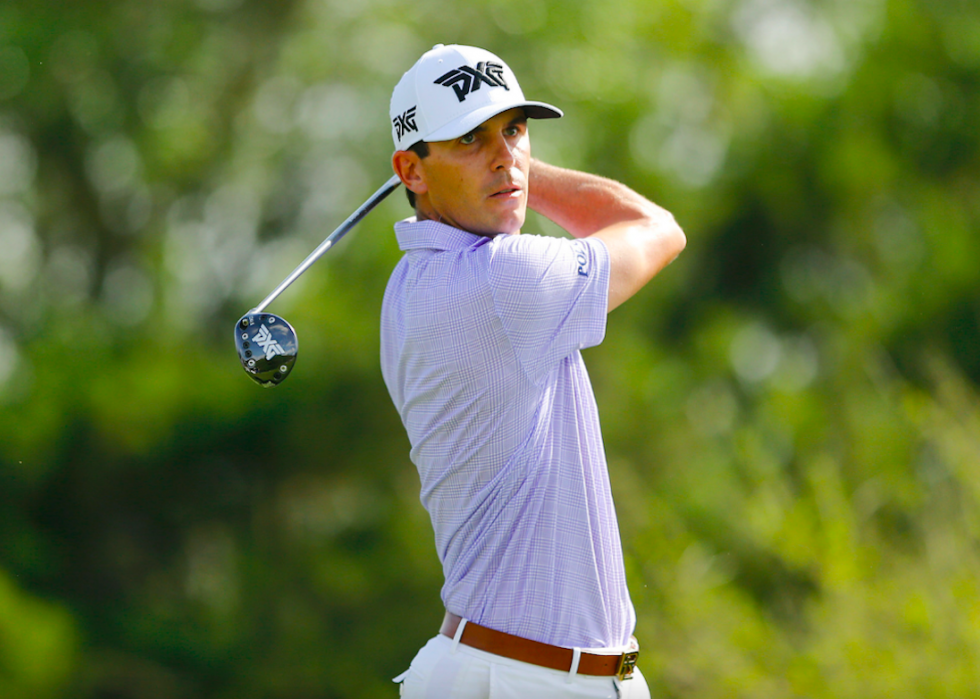 5 / 50
Christian Petersen // Getty Images
#46: Billy Horschel
- Odds to win: +15000
- World ranking: 41
- 2018 The Masters Championship: CUT (score: 11)
- Last 5 results: CUT - T26 - T50 - T16 - T45

- 2019 PGA strokes gained:
--- Off the tee: -0.32 (PGA rank: 176)
--- Green approach: -0.01 (PGA rank: T116)
--- Around green: 0.01 (PGA rank: 111)
--- Putting: 0.51 (PGA rank: 28)
--- Total: 0.19 (PGA rank: 96)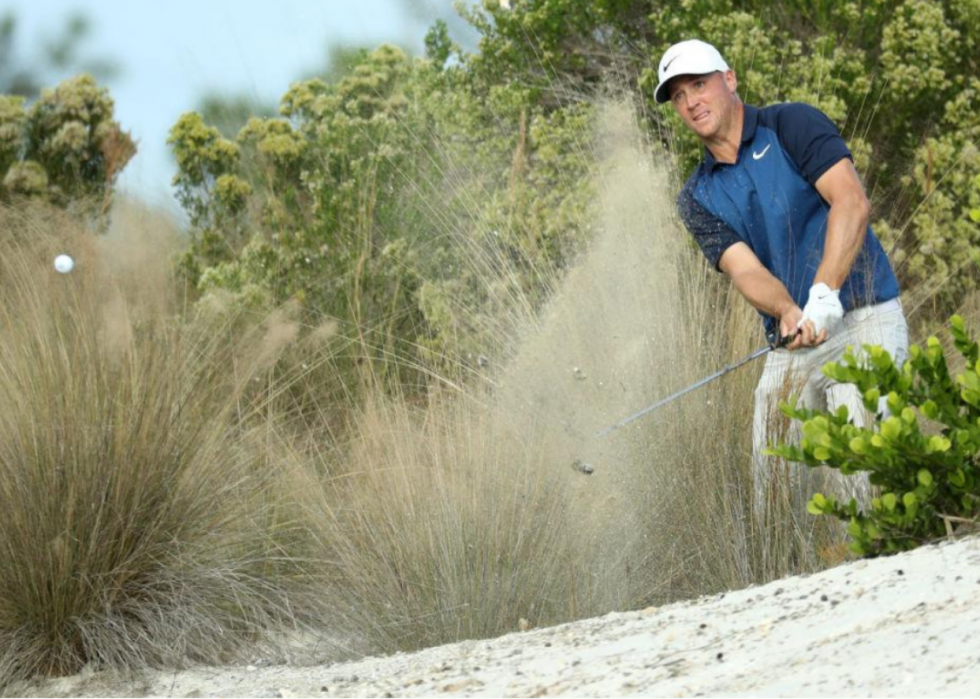 6 / 50
#45: Alex Noren
- Odds to win: +15000
- World ranking: 30
- 2018 The Masters Championship: CUT (score: 9)
- Last 5 results: CUT - CUT - T62 - T44 - CUT

- 2019 PGA strokes gained:
--- Off the tee: -0.42 (PGA rank: 191)
--- Green approach: -0.52 (PGA rank: 188)
--- Around green: 0.17 (PGA rank: 59)
--- Putting: -0.87 (PGA rank: 210)
--- Total: -1.64 (PGA rank: 209)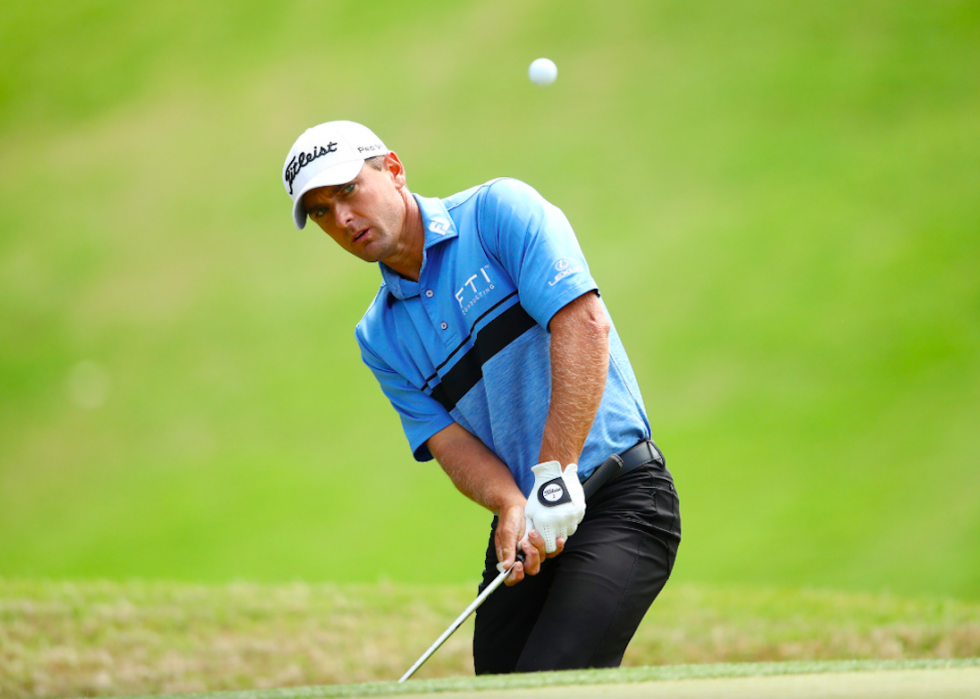 7 / 50
Ezra Shaw // Getty Images
#44: Charles Howell III
- Odds to win: +12500
- World ranking: 46
- 2018 The Masters Championship: did not participate
- Last 5 results: T35 - T15 - T14 - 6 - T20

- 2019 PGA strokes gained:
--- Off the tee: 0.43 (PGA rank: 35)
--- Green approach: 0.11 (PGA rank: 89)
--- Around green: 0.39 (PGA rank: 18)
--- Putting: 0.68 (PGA rank: T14)
--- Total: 1.61 (PGA rank: 8)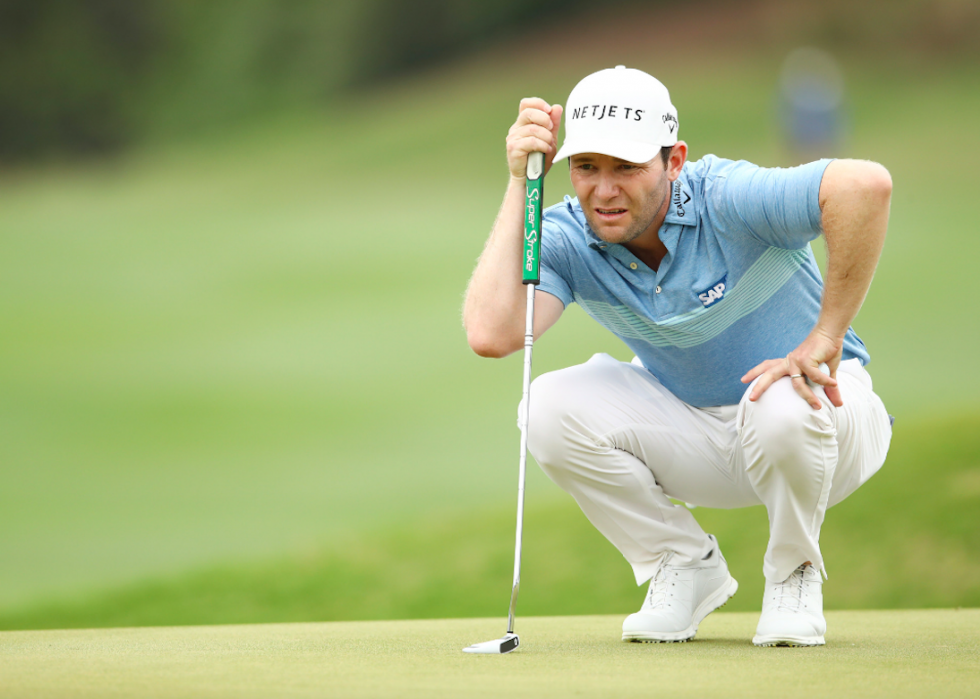 8 / 50
Hanson K Joseph // Wikimedia Commons
#43: Branden Grace
- Odds to win: +12500
- World ranking: 44
- 2018 The Masters Championship: T24 (score: -1)
- Last 5 results: CUT - T72 - T33 - CUT - T28

- 2019 PGA strokes gained:
--- Off the tee: 0.31 (PGA rank: 51)
--- Green approach: 0.04 (PGA rank: 106)
--- Around green: -0.11 (PGA rank: 145)
--- Putting: -0.27 (PGA rank: 159)
--- Total: -0.02 (PGA rank: 116)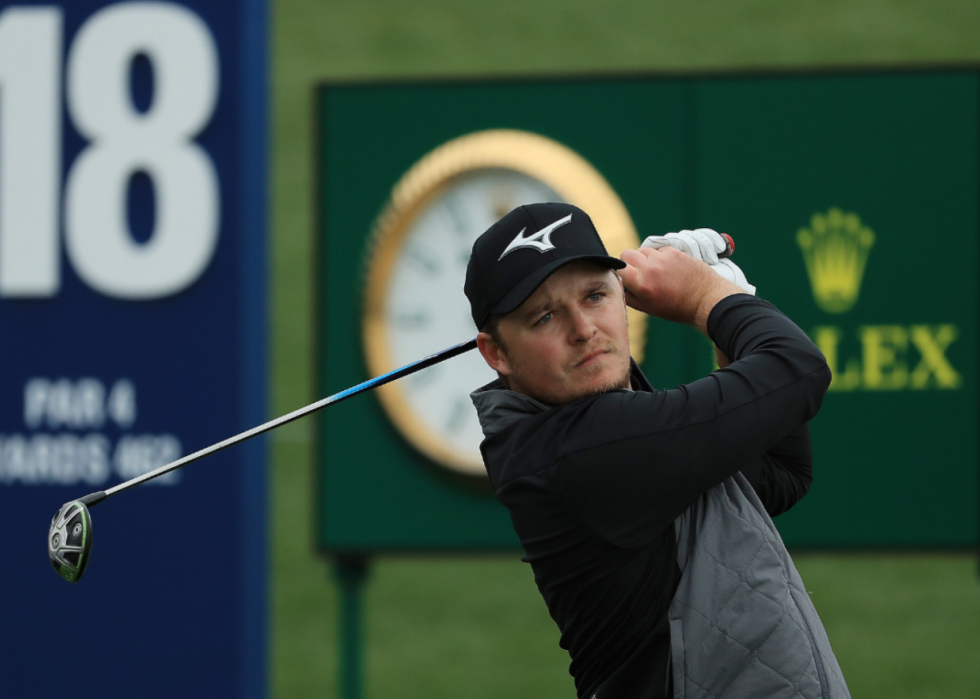 9 / 50
#42: Eddie Pepperell
- Odds to win: +12500
- World ranking: 40
- 2018 The Masters Championship: did not participate
- Last 5 results: T3 - 57 - T67 - CUT - T38

- 2019 PGA strokes gained: player not eligible for ranking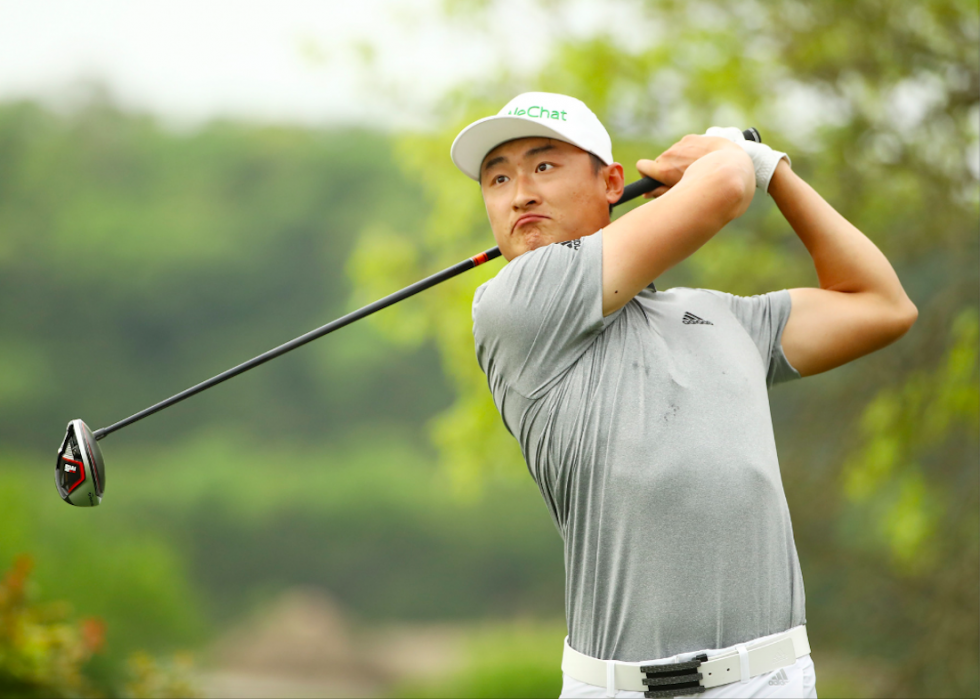 10 / 50
Ezra Shaw // Getty Images
#41: Haotong Li
- Odds to win: +12500
- World ranking: 39
- 2018 The Masters Championship: T32 (score: 1)
- Last 5 results: T52 - CUT - CUT - T19 - 2

- 2019 PGA strokes gained:
--- Off the tee: 0.13 (PGA rank: 90)
--- Green approach: -0.17 (PGA rank: T149)
--- Around green: 0.16 (PGA rank: T66)
--- Putting: -0.26 (PGA rank: T157)
--- Total: -0.15 (PGA rank: 130)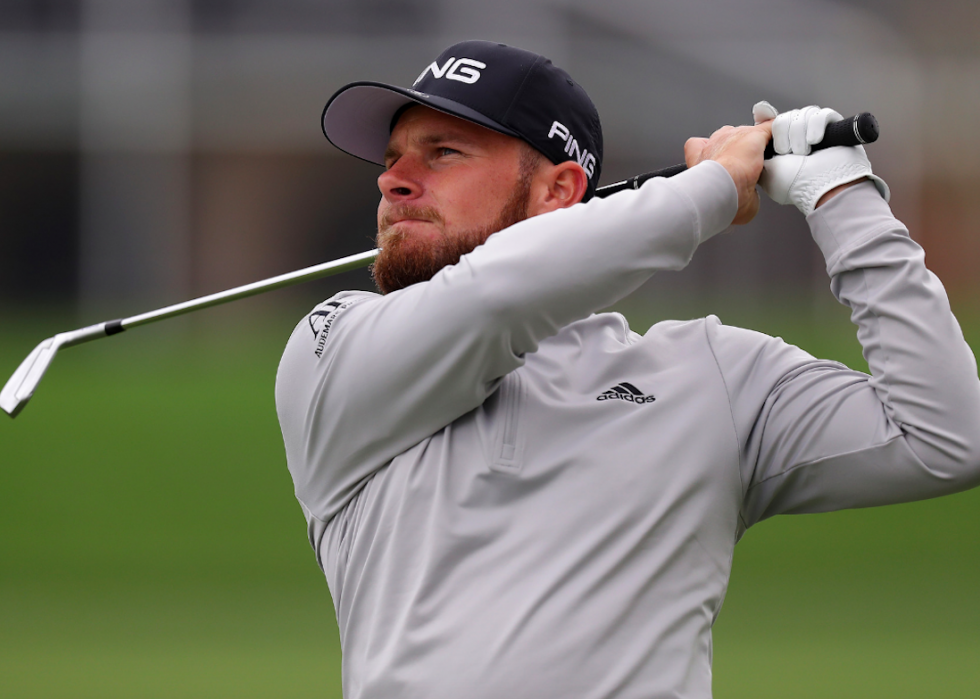 11 / 50
Richard Heathcote // Getty Images
#40: Tyrrell Hatton
- Odds to win: +12500
- World ranking: 37
- 2018 The Masters Championship: T44 (score: 4)
- Last 5 results: CUT - CUT - T29 - T19 - CUT

- 2019 PGA strokes gained:
--- Off the tee: 0.07 (PGA rank: 95)
--- Green approach: -0.28 (PGA rank: 157)
--- Around green: 0.49 (PGA rank: 11)
--- Putting: -0.16 (PGA rank: 138)
--- Total: 0.12 (PGA rank: 102)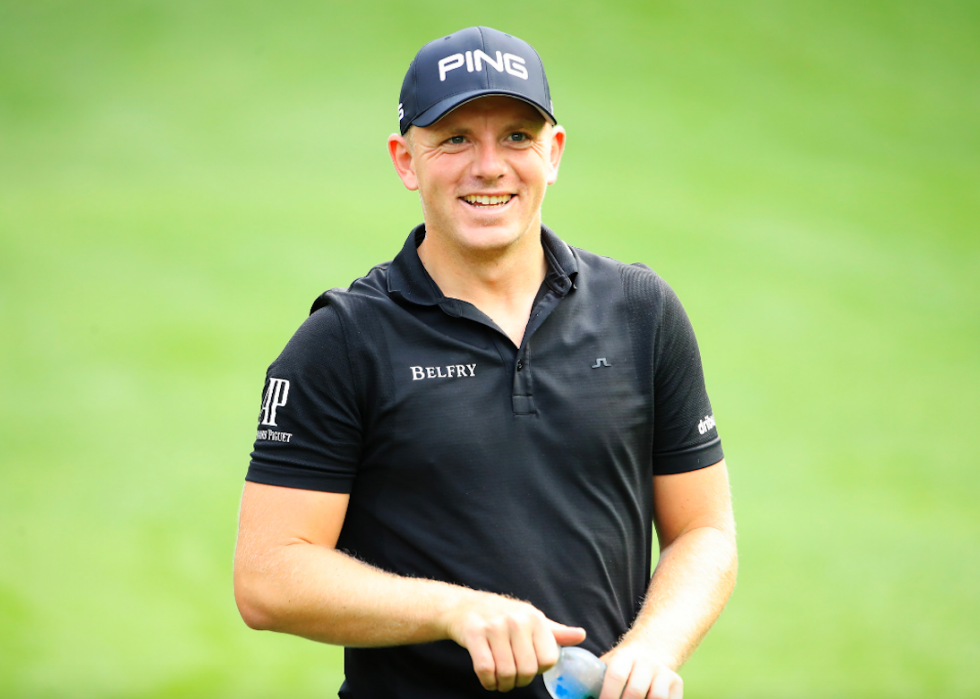 12 / 50
Andrew Reddington // Getty Images
#39: Matt Wallace
- Odds to win: +12500
- World ranking: 36
- 2018 The Masters Championship: did not participate
- Last 5 results: T30 - T6 - T20 - T33 - CUT

- 2019 PGA strokes gained:
--- Off the tee: 0.21 (PGA rank: 75)
--- Green approach: 0.17 (PGA rank: 82)
--- Around green: 0.44 (PGA rank: 15)
--- Putting: 0.40 (PGA rank: 45)
--- Total: 1.22 (PGA rank: 25)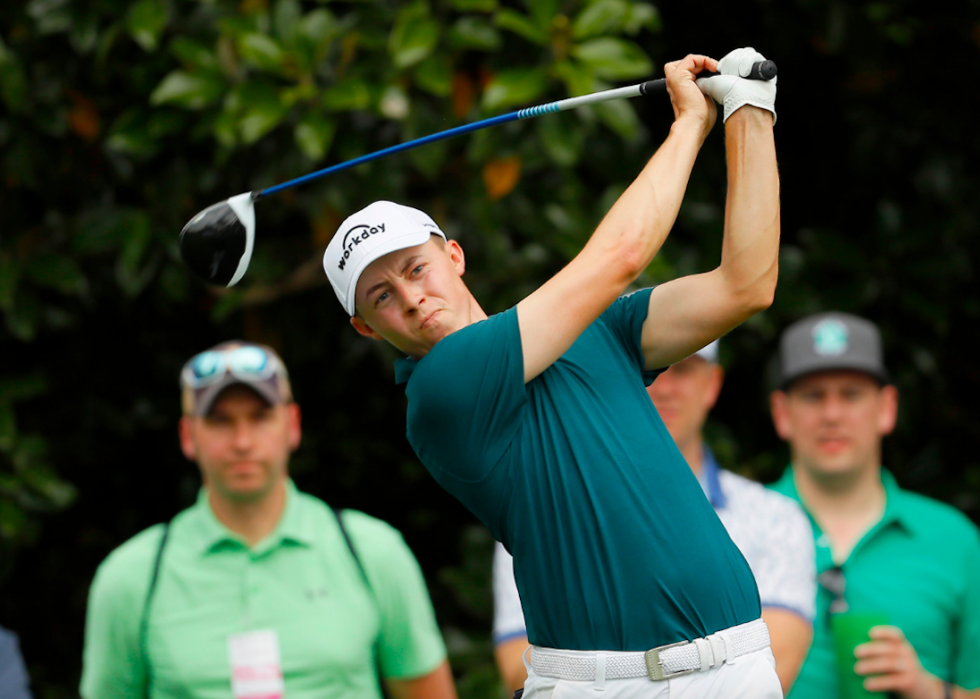 13 / 50
Kevin C. Cox // Getty Images
#38: Matthew Fitzpatrick
- Odds to win: +12500
- World ranking: 35
- 2018 The Masters Championship: T38 (score: 3)
- Last 5 results: T41 - 2 - T27 - CUT - T16

- 2019 PGA strokes gained:
--- Off the tee: 0.44 (PGA rank: 32)
--- Green approach: 0.34 (PGA rank: 50)
--- Around green: 0.17 (PGA rank: 62)
--- Putting: 0.30 (PGA rank: 60)
--- Total: 1.24 (PGA rank: 24)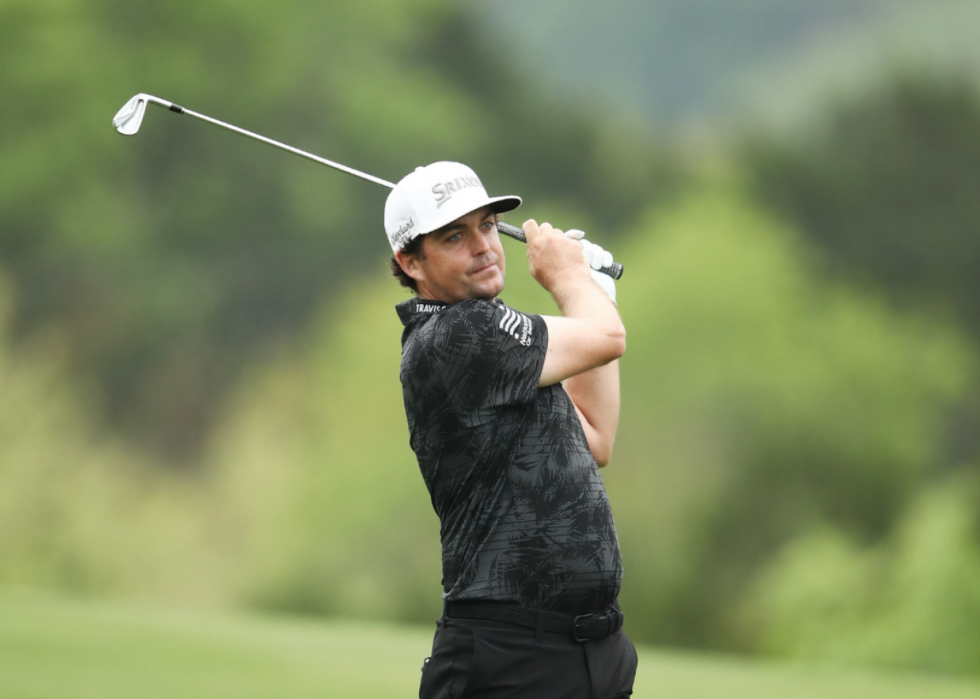 14 / 50
#37: Keegan Bradley
- Odds to win: +12500
- World ranking: 34
- 2018 The Masters Championship: did not participate
- Last 5 results: CUT - T16 - T46 - T10 - T51

- 2019 PGA strokes gained:
--- Off the tee: 0.21 (PGA rank: 73)
--- Green approach: 1.01 (PGA rank: 5)
--- Around green: -0.03 (PGA rank: T122)
--- Putting: -0.82 (PGA rank: 208)
--- Total: 0.37 (PGA rank: 76)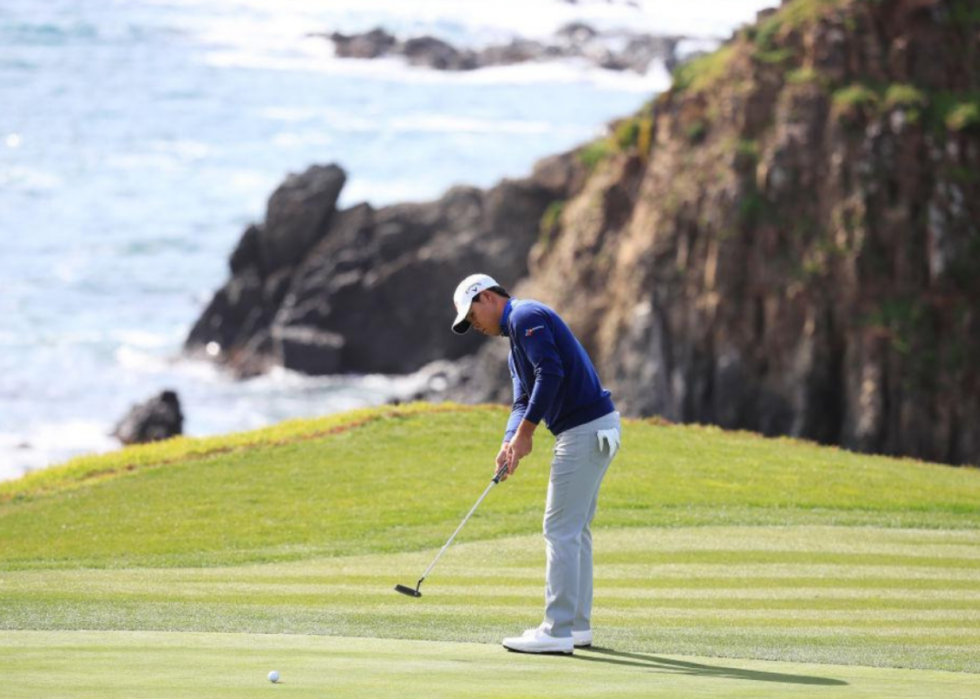 15 / 50
Chris Trotman // Getty Images
#36: Si Woo Kim
- Odds to win: +10000
- World ranking: 55
- 2018 The Masters Championship: T24 (score: -1)
- Last 5 results: T4 - T56 - CUT - 3 - T4

- 2019 PGA strokes gained:
--- Off the tee: -0.08 (PGA rank: 132)
--- Green approach: 0.19 (PGA rank: 74)
--- Around green: 0.53 (PGA rank: 9)
--- Putting: 0.50 (PGA rank: 31)
--- Total: 1.14 (PGA rank: 29)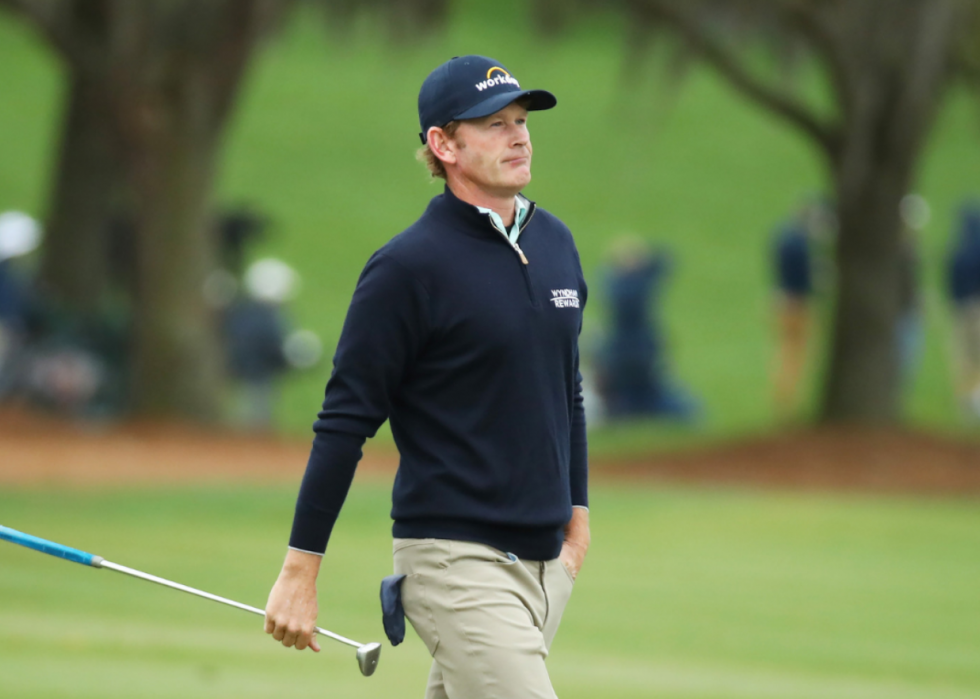 16 / 50
#35: Brandt Snedeker
- Odds to win: +10000
- World ranking: 47
- 2018 The Masters Championship: did not participate
- Last 5 results: T30 - T5 - T50 - CUT - T55

- 2019 PGA strokes gained:
--- Off the tee: -0.33 (PGA rank: 180)
--- Green approach: -0.07 (PGA rank: 134)
--- Around green: 0.60 (PGA rank: 5)
--- Putting: 0.72 (PGA rank: 11)
--- Total: 0.93 (PGA rank: 37)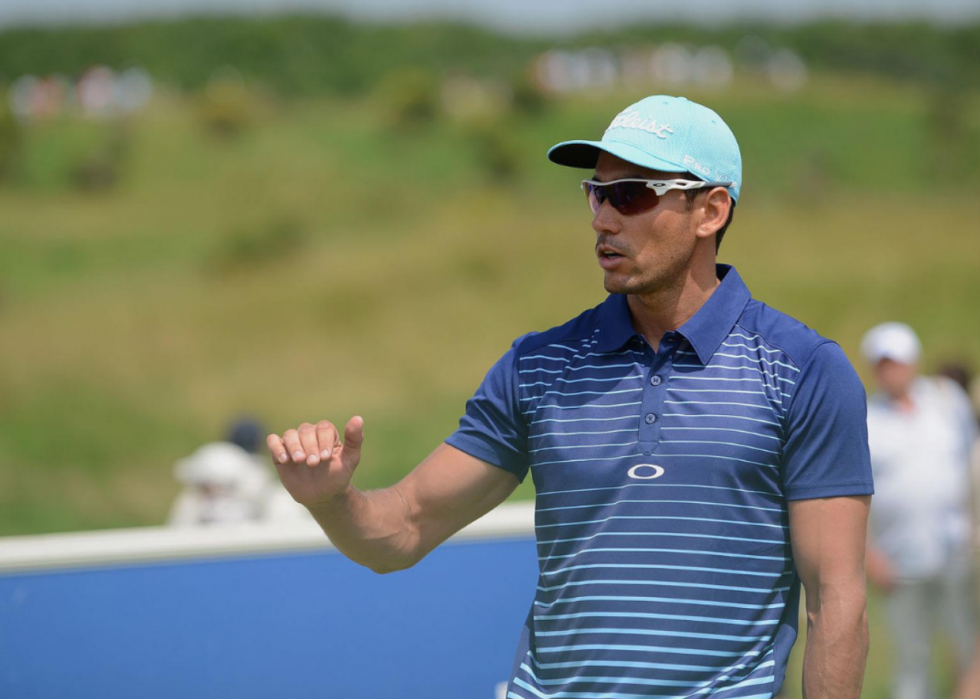 17 / 50
Marie-Lan Nguyen // Wikimedia Commons
#34: Rafa Cabrera Bello
- Odds to win: +10000
- World ranking: 31
- 2018 The Masters Championship: T38 (score: 3)
- Last 5 results: T30 - CUT - T3 - T19 - T25

- 2019 PGA strokes gained:
--- Off the tee: 0.49 (PGA rank: T25)
--- Green approach: 0.18 (PGA rank: 76)
--- Around green: -0.19 (PGA rank: 162)
--- Putting: 0.35 (PGA rank: 52)
--- Total: 0.84 (PGA rank: 43)
18 / 50
Michael Reaves // Getty Images
#33: Charley Hoffman
- Odds to win: +8000
- World ranking: 66
- 2018 The Masters Championship: T12 (score: -6)
- Last 5 results: 2 - T18 - CUT - CUT - CUT

- 2019 PGA strokes gained:
--- Off the tee: 0.30 (PGA rank: 54)
--- Green approach: 0.28 (PGA rank: 59)
--- Around green: -0.23 (PGA rank: T173)
--- Putting: 0.26 (PGA rank: 65)
--- Total: 0.61 (PGA rank: T54)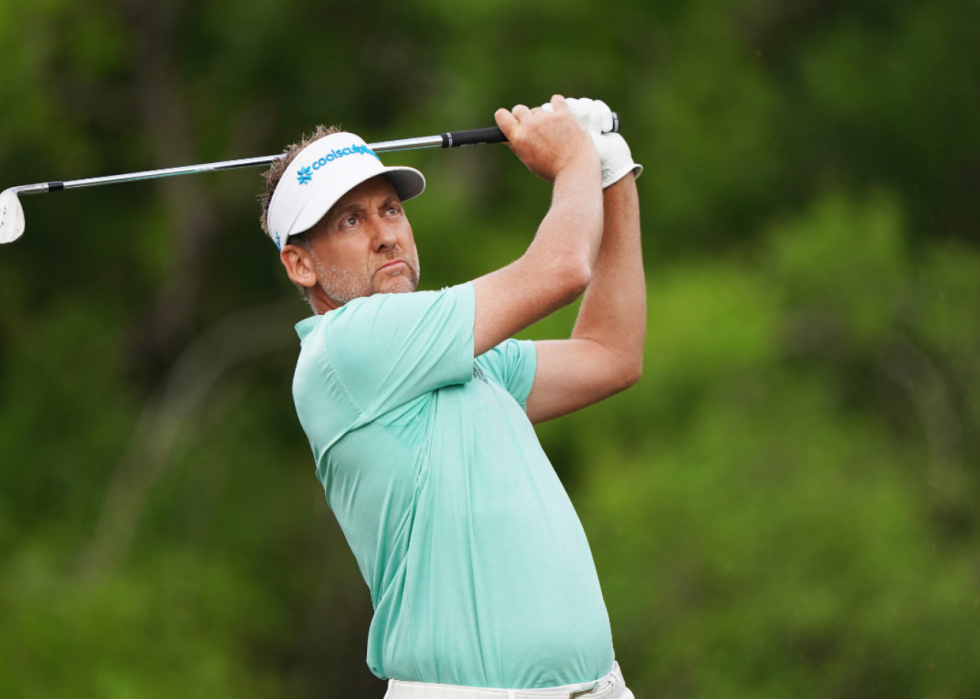 19 / 50
#32: Ian Poulter
- Odds to win: +8000
- World ranking: 32
- 2018 The Masters Championship: T44 (score: 4)
- Last 5 results: T56 - T23 - T3 - T6 - T3

- 2019 PGA strokes gained:
--- Off the tee: 0.33 (PGA rank: 48)
--- Green approach: 0.06 (PGA rank: 100)
--- Around green: 0.53 (PGA rank: 8)
--- Putting: 0.01 (PGA rank: 108)
--- Total: 0.92 (PGA rank: 39)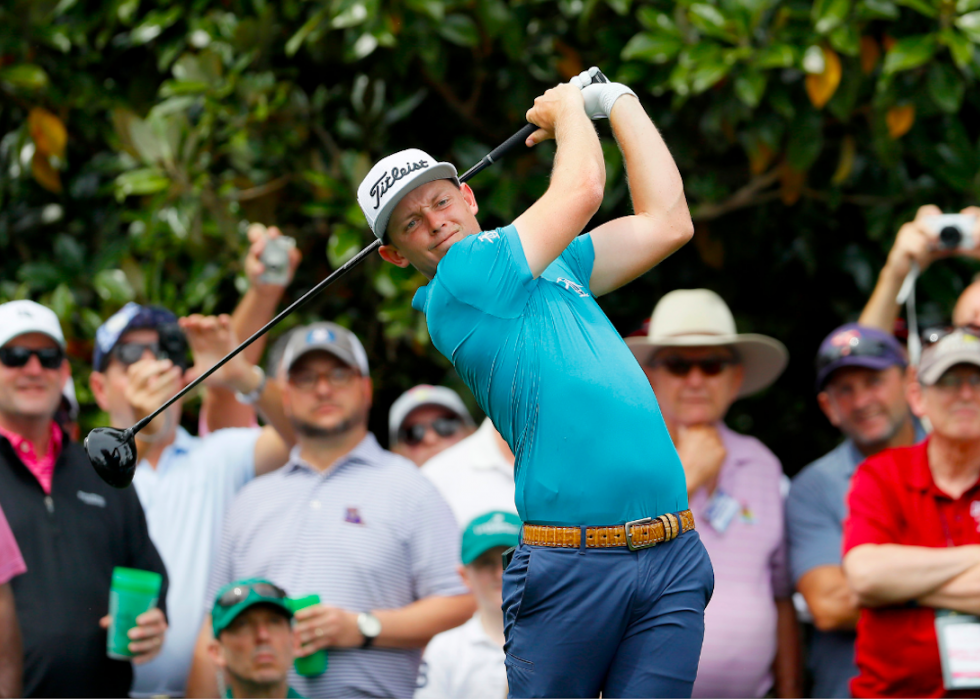 20 / 50
Kevin C. Cox // Getty Images
#31: Cameron Smith
- Odds to win: +8000
- World ranking: 28
- 2018 The Masters Championship: T5 (score: -9)
- Last 5 results: T56 - CUT - T6 - T49 - T15

- 2019 PGA strokes gained:
--- Off the tee: -0.39 (PGA rank: T188)
--- Green approach: 0.49 (PGA rank: 35)
--- Around green: 0.39 (PGA rank: 19)
--- Putting: 0.65 (PGA rank: 17)
--- Total: 1.13 (PGA rank: 30)
21 / 50
#30: Gary Woodland
- Odds to win: +8000
- World ranking: 24
- 2018 The Masters Championship: CUT (score: 10)
- Last 5 results: CUT - T30 - T36 - T17 - T7

- 2019 PGA strokes gained:
--- Off the tee: 0.76 (PGA rank: 6)
--- Green approach: 0.56 (PGA rank: 29)
--- Around green: 0.25 (PGA rank: T42)
--- Putting: -0.21 (PGA rank: 145)
--- Total: 1.36 (PGA rank: 18)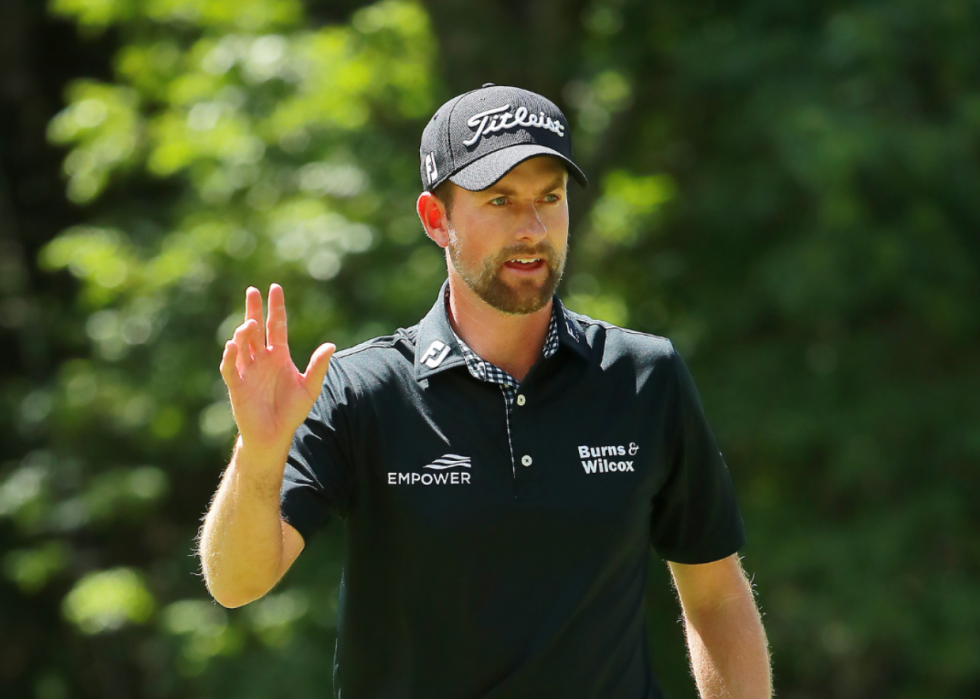 22 / 50
#29: Webb Simpson
- Odds to win: +8000
- World ranking: 23
- 2018 The Masters Championship: T20 (score: -2)
- Last 5 results: CUT - T16 - T36 - T39 - T20

- 2019 PGA strokes gained:
--- Off the tee: -0.13 (PGA rank: 140)
--- Green approach: 0.66 (PGA rank: 20)
--- Around green: 0.47 (PGA rank: T12)
--- Putting: 0.13 (PGA rank: T85)
--- Total: 1.12 (PGA rank: 31)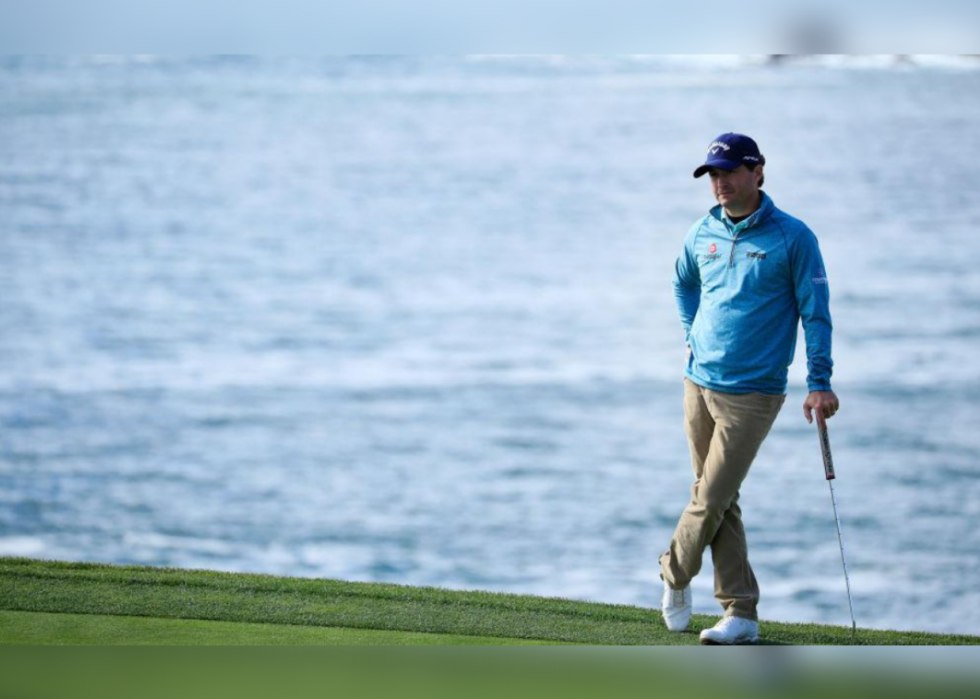 23 / 50
Cliff Hawkins // Getty Images
#28: Kevin Kisner
- Odds to win: +6600
- World ranking: 25
- 2018 The Masters Championship: T28 (score: E)
- Last 5 results: T24 - T22 - T23 - T27 - T28

- 2019 PGA strokes gained:
--- Off the tee: 0.40 (PGA rank: 38)
--- Green approach: 0.42 (PGA rank: 39)
--- Around green: -0.37 (PGA rank: 195)
--- Putting: 0.43 (PGA rank: 37)
--- Total: 0.87 (PGA rank: 41)
24 / 50
Jeff Gross // Getty Images
#27: Patrick Cantlay
- Odds to win: +6600
- World ranking: 21
- 2018 The Masters Championship: CUT (score: 7)
- Last 5 results: CUT - T6 - T15 - CUT - T9

- 2019 PGA strokes gained:
--- Off the tee: 0.50 (PGA rank: 22)
--- Green approach: 0.62 (PGA rank: 23)
--- Around green: 0.30 (PGA rank: T33)
--- Putting: 0.14 (PGA rank: 81)
--- Total: 1.56 (PGA rank: 10)
25 / 50
#26: Henrik Stenson
- Odds to win: +6000
- World ranking: 38
- 2018 The Masters Championship: T5 (score: -9)
- Last 5 results: T24 - CUT - T17 - T54 - CUT

- 2019 PGA strokes gained: player not eligible for ranking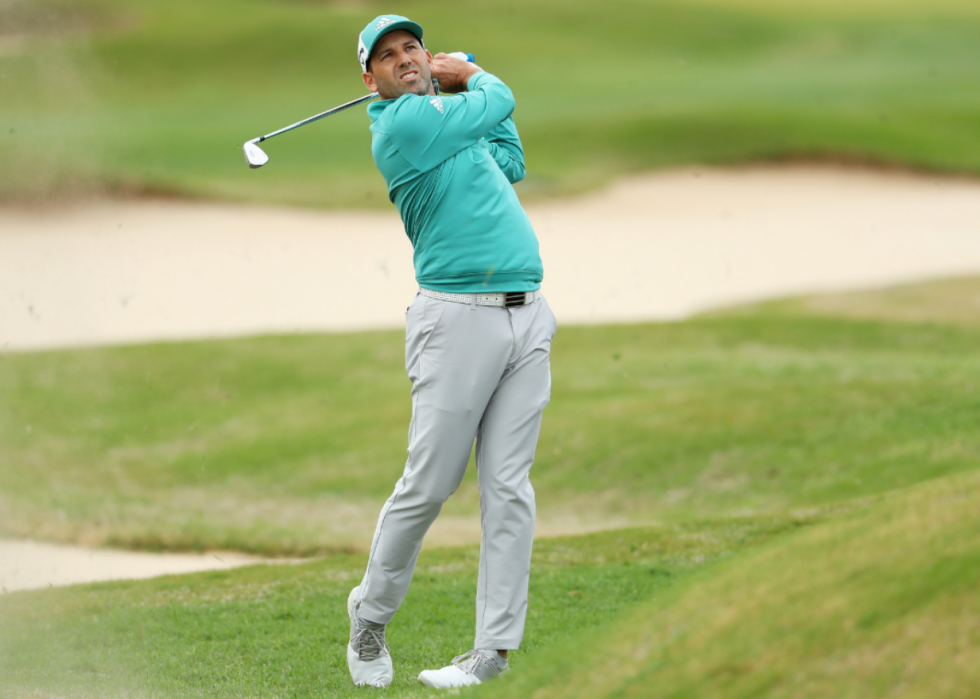 26 / 50
#25: Sergio Garcia
- Odds to win: +5000
- World ranking: 27
- 2018 The Masters Championship: CUT (score: 15)
- Last 5 results: T54 - T22 - T9 - T6 - T37

- 2019 PGA strokes gained:
--- Off the tee: 0.33 (PGA rank: 47)
--- Green approach: 0.97 (PGA rank: 8)
--- Around green: -0.25 (PGA rank: 181)
--- Putting: 0.25 (PGA rank: 68)
--- Total: 1.30 (PGA rank: T22)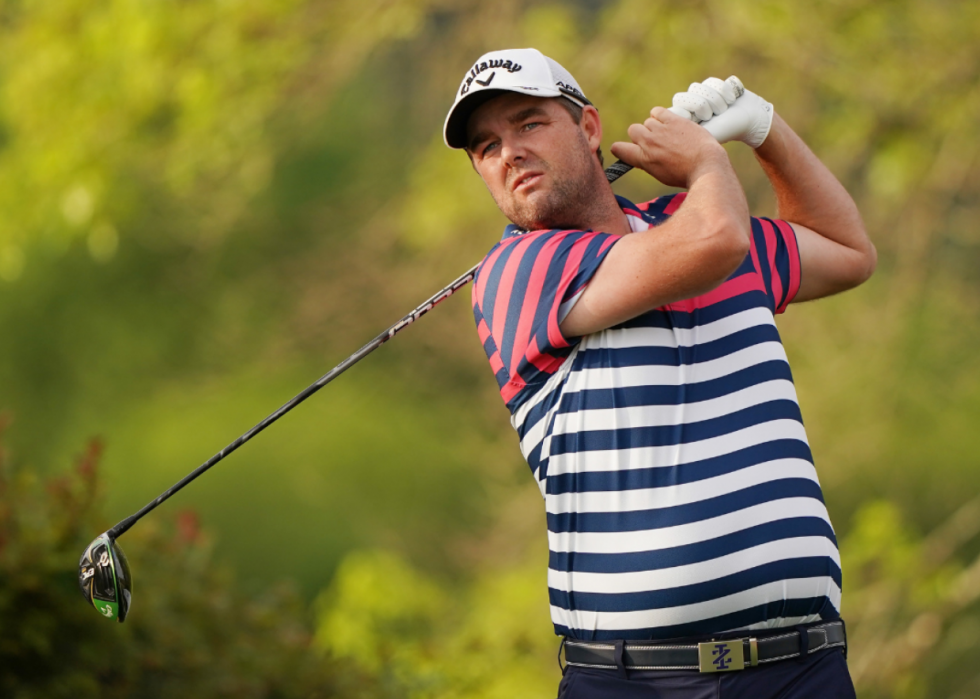 27 / 50
#24: Marc Leishman
- Odds to win: +5000
- World ranking: 20
- 2018 The Masters Championship: 9 (score: -8)
- Last 5 results: CUT - T23 - T62 - T4 - T43

- 2019 PGA strokes gained:
--- Off the tee: 0.13 (PGA rank: 86)
--- Green approach: 0.66 (PGA rank: 19)
--- Around green: 0.00 (PGA rank: 112)
--- Putting: 0.25 (PGA rank: 67)
--- Total: 1.04 (PGA rank: 32)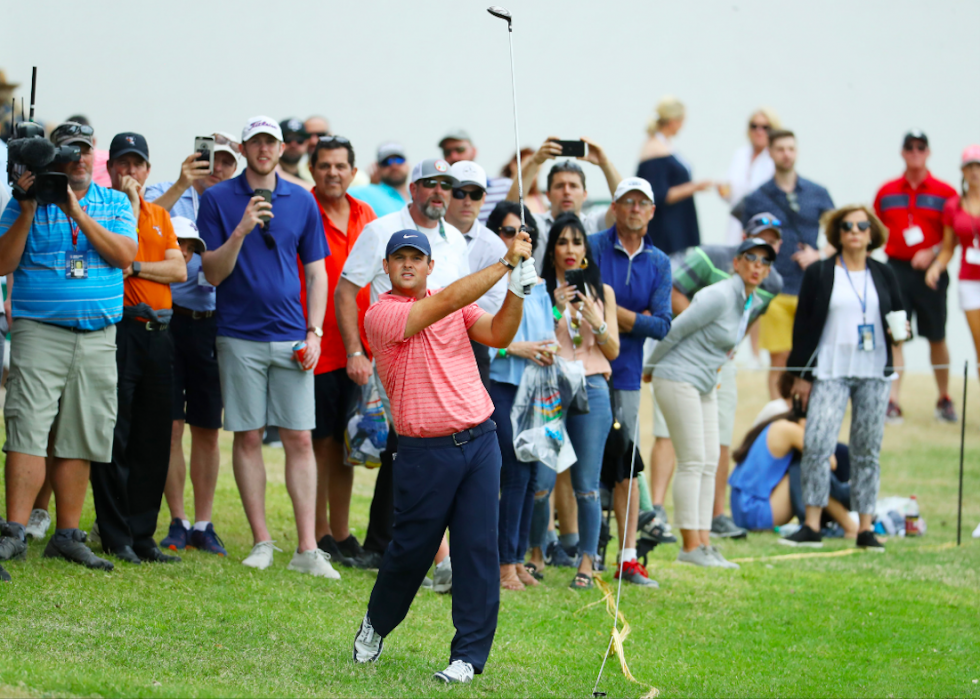 28 / 50
Warren Little // Getty Images
#23: Patrick Reed
- Odds to win: +5000
- World ranking: 18
- 2018 The Masters Championship: 1 (score: -15)
- Last 5 results: CUT - T47 - T50 - T14 - T22

- 2019 PGA strokes gained:
--- Off the tee: -0.06 (PGA rank: 126)
--- Green approach: -0.21 (PGA rank: 153)
--- Around green: 0.22 (PGA rank: 51)
--- Putting: 0.46 (PGA rank: 33)
--- Total: 0.42 (PGA rank: 75)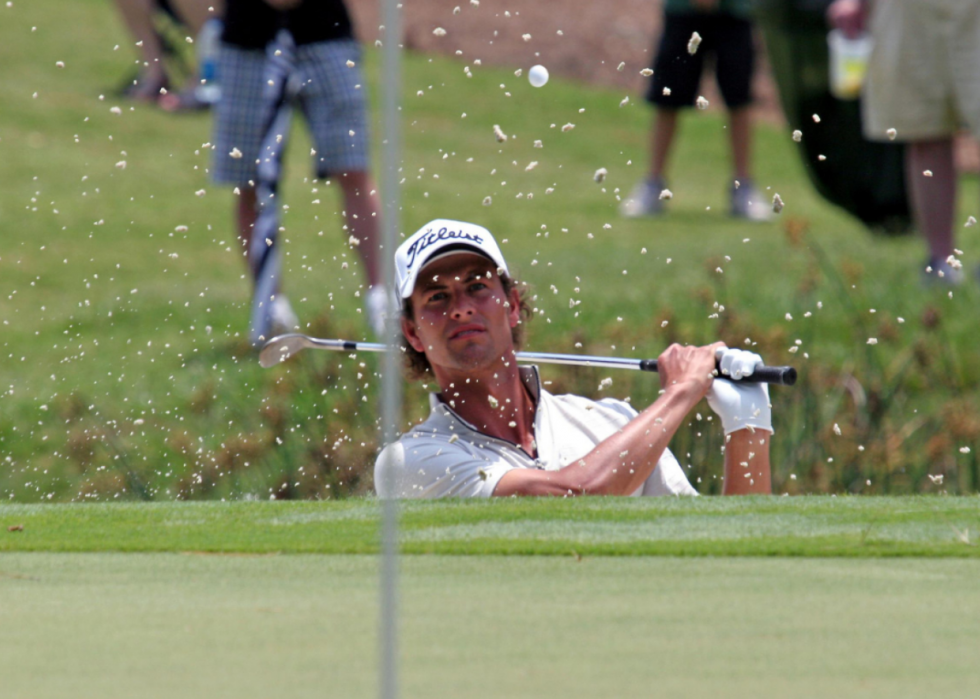 29 / 50
#22: Adam Scott
- Odds to win: +4000
- World ranking: 29
- 2018 The Masters Championship: T32 (score: 1)
- Last 5 results: T12 - CUT - T7 - MDF - 2

- 2019 PGA strokes gained:
--- Off the tee: 0.36 (PGA rank: T42)
--- Green approach: 0.38 (PGA rank: 41)
--- Around green: 0.00 (PGA rank: 113)
--- Putting: 0.68 (PGA rank: T14)
--- Total: 1.42 (PGA rank: 17)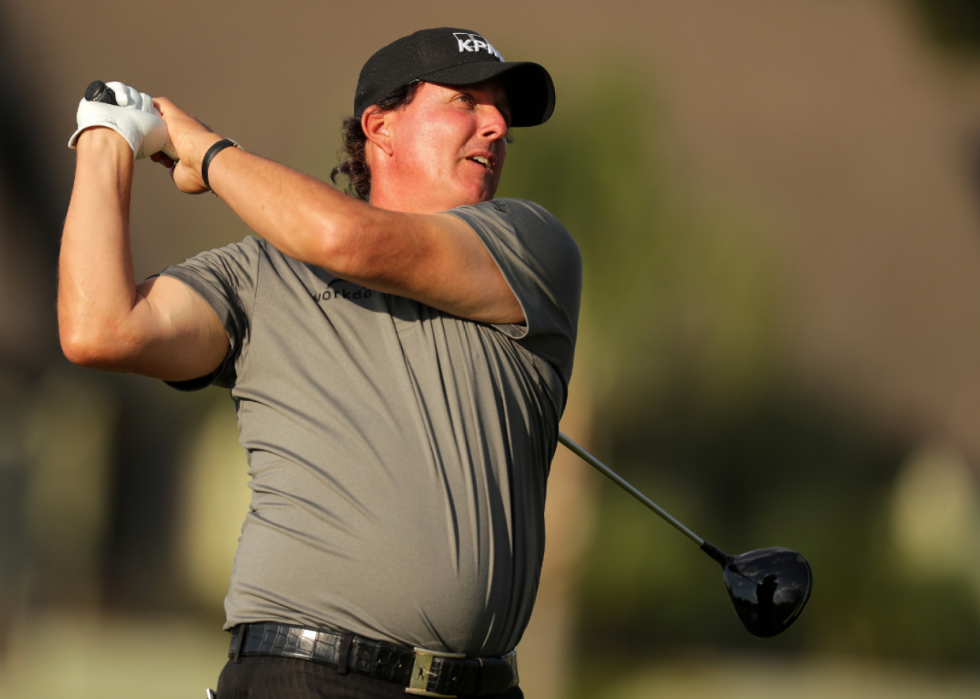 30 / 50
Richard Heathcote // Getty
#21: Phil Mickelson
- Odds to win: +4000
- World ranking: 22
- 2018 The Masters Championship: T36 (score: 2)
- Last 5 results: CUT - CUT - T39 - T37 - 1

- 2019 PGA strokes gained:
--- Off the tee: 0.22 (PGA rank: 69)
--- Green approach: 0.30 (PGA rank: 53)
--- Around green: 0.15 (PGA rank: T68)
--- Putting: -0.02 (PGA rank: 114)
--- Total: 0.66 (PGA rank: 50)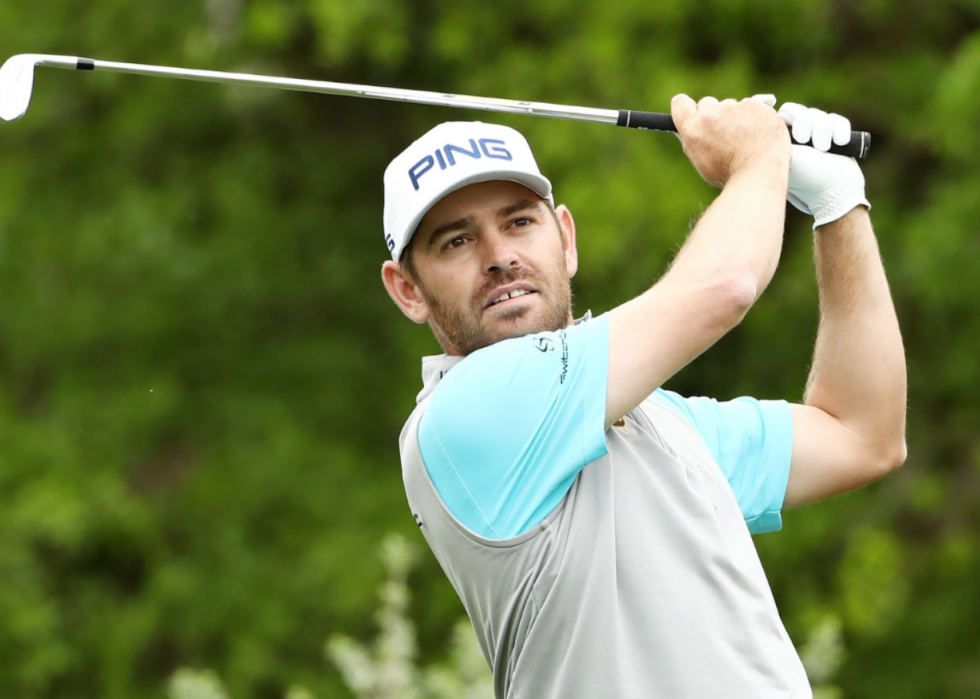 31 / 50
#20: Louis Oosthuizen
- Odds to win: +4000
- World ranking: 19
- 2018 The Masters Championship: T12 (score: -6)
- Last 5 results: T2 - T56 - CUT - T25 - CUT

- 2019 PGA strokes gained:
--- Off the tee: 0.23 (PGA rank: T65)
--- Green approach: -0.24 (PGA rank: 155)
--- Around green: 0.63 (PGA rank: 4)
--- Putting: -0.11 (PGA rank: 127)
--- Total: 0.51 (PGA rank: 65)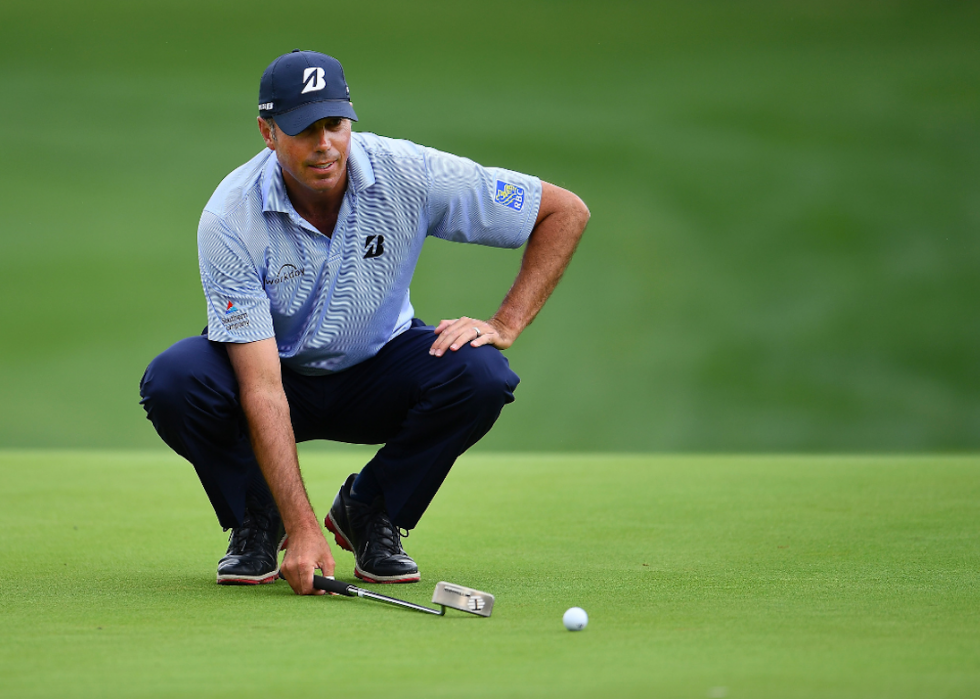 32 / 50
Stacy Revere // Getty Images
#19: Matt Kuchar
- Odds to win: +4000
- World ranking: 16
- 2018 The Masters Championship: T28 (score: E)
- Last 5 results: T7 - T26 - 50 - T28 - T22

- 2019 PGA strokes gained:
--- Off the tee: 0.26 (PGA rank: 56)
--- Green approach: 1.00 (PGA rank: 6)
--- Around green: 0.17 (PGA rank: T60)
--- Putting: -0.12 (PGA rank: T129)
--- Total: 1.30 (PGA rank: T22)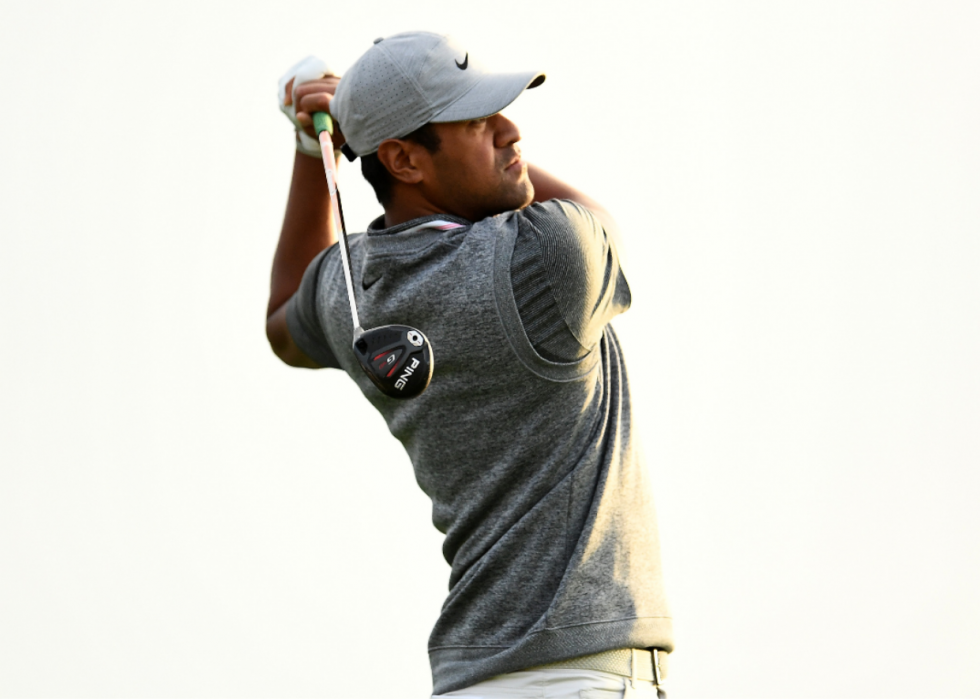 33 / 50
#18: Tony Finau
- Odds to win: +4000
- World ranking: 15
- 2018 The Masters Championship: T10 (score: -7)
- Last 5 results: T61 - T22 - T25 - T15 - T38

- 2019 PGA strokes gained:
--- Off the tee: 0.48 (PGA rank: 28)
--- Green approach: 0.28 (PGA rank: 58)
--- Around green: -0.05 (PGA rank: 129)
--- Putting: 0.22 (PGA rank: 72)
--- Total: 0.93 (PGA rank: 38)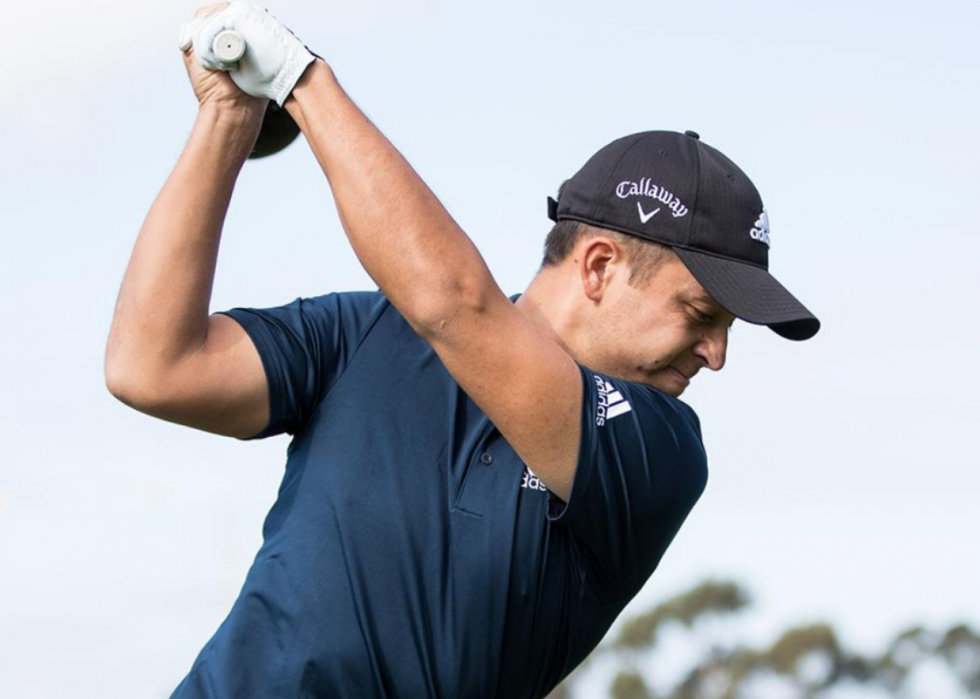 34 / 50
Callaway Golf company // Wikimedia Commons
#17: Xander Schauffele
- Odds to win: +4000
- World ranking: 10
- 2018 The Masters Championship: T50 (score: 8)
- Last 5 results: CUT - T14 - T15 - T10 - T25

- 2019 PGA strokes gained:
--- Off the tee: 0.49 (PGA rank: 27)
--- Green approach: 0.73 (PGA rank: T13)
--- Around green: 0.13 (PGA rank: 73)
--- Putting: 0.61 (PGA rank: 19)
--- Total: 1.95 (PGA rank: 4)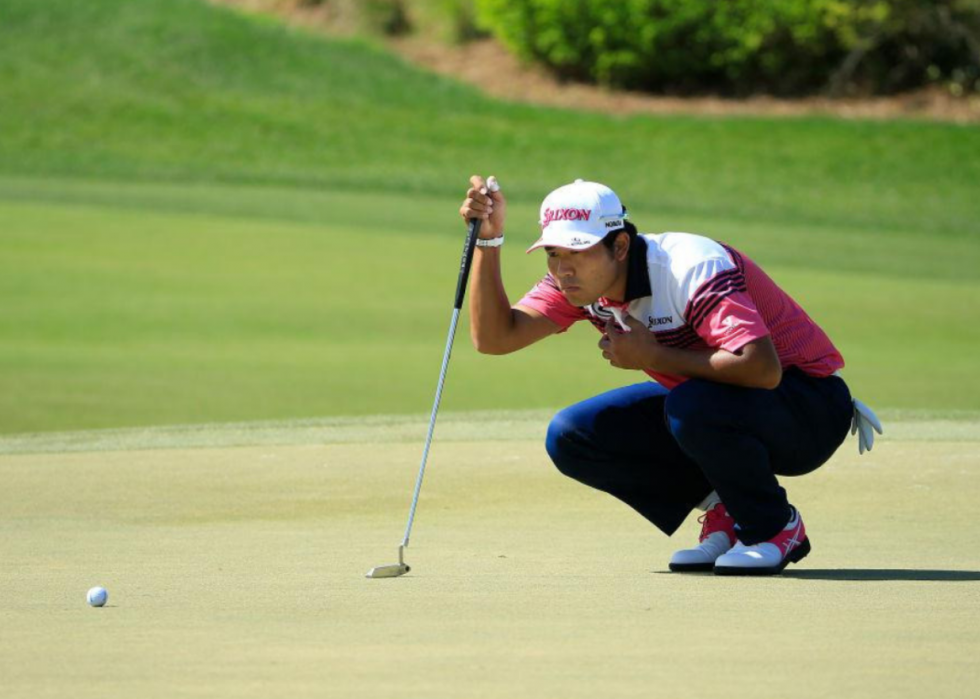 35 / 50
Michael Cohen // Getty Images
#16: Hideki Matsuyama
- Odds to win: +3300
- World ranking: 26
- 2018 The Masters Championship: 19 (score: -3)
- Last 5 results: T8 - T33 - T19 - T9 - T15

- 2019 PGA strokes gained:
--- Off the tee: 0.47 (PGA rank: 29)
--- Green approach: 1.17 (PGA rank: 2)
--- Around green: 0.37 (PGA rank: 21)
--- Putting: -0.41 (PGA rank: 180)
--- Total: 1.60 (PGA rank: 9)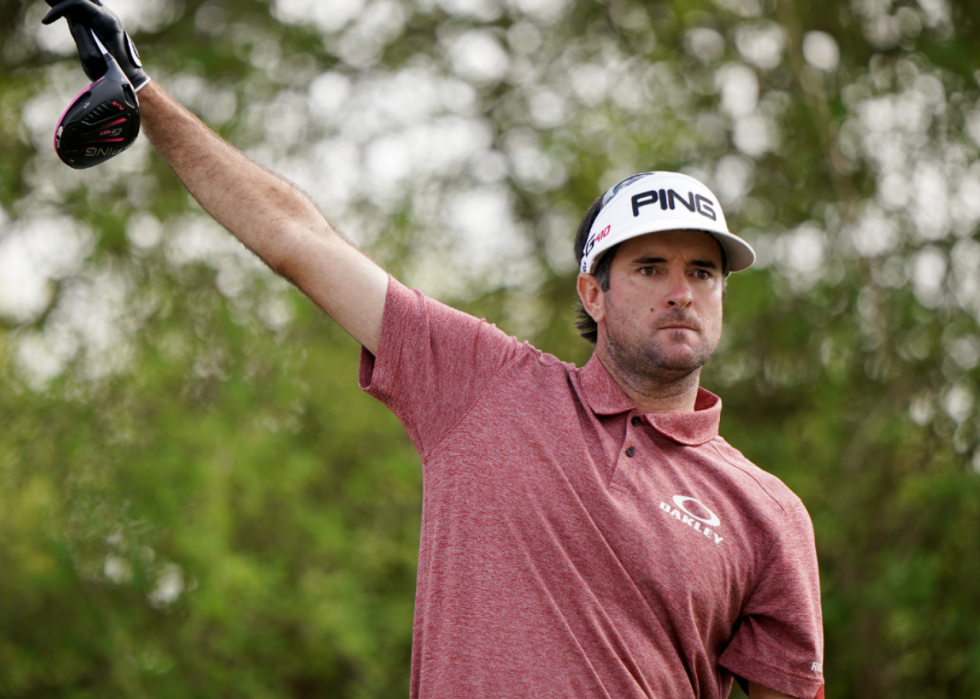 36 / 50
#15: Bubba Watson
- Odds to win: +3300
- World ranking: 17
- 2018 The Masters Championship: T5 (score: -9)
- Last 5 results: T4 - T56 - T17 - T27 - T15

- 2019 PGA strokes gained:
--- Off the tee: 0.95 (PGA rank: 3)
--- Green approach: 0.11 (PGA rank: T90)
--- Around green: 0.03 (PGA rank: 101)
--- Putting: -0.30 (PGA rank: 162)
--- Total: 0.79 (PGA rank: 45)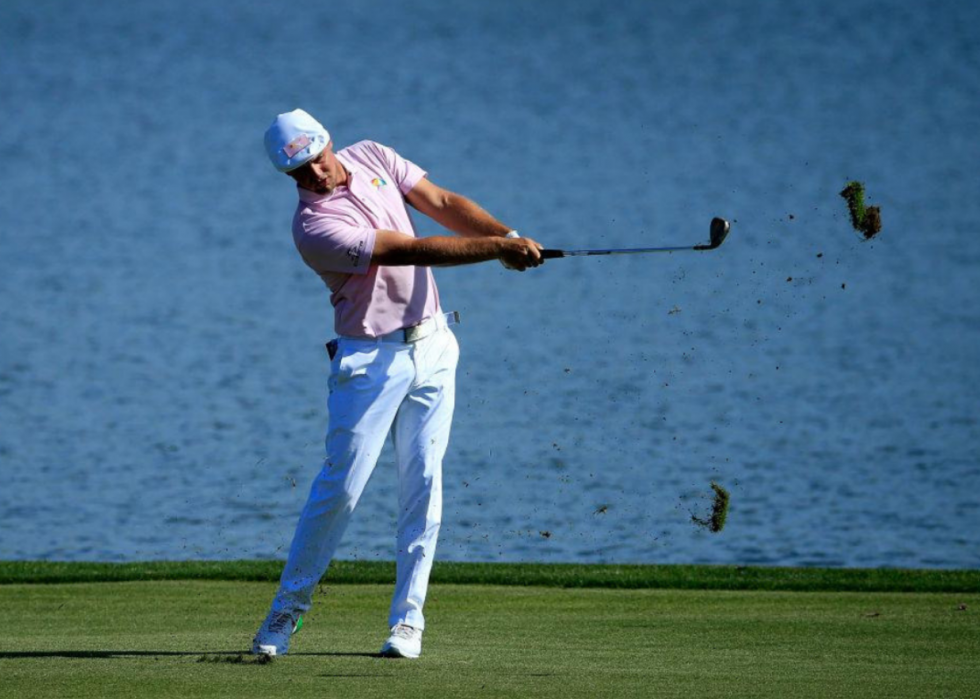 37 / 50
Michael Cohen // Getty Images
#14: Bryson DeChambeau
- Odds to win: +3300
- World ranking: 6
- 2018 The Masters Championship: T38 (score: 3)
- Last 5 results: T20 - T46 - T56 - T15 - T6

- 2019 PGA strokes gained:
--- Off the tee: 0.71 (PGA rank: 8)
--- Green approach: 0.20 (PGA rank: 73)
--- Around green: 0.02 (PGA rank: T105)
--- Putting: 0.41 (PGA rank: 42)
--- Total: 1.34 (PGA rank: 19)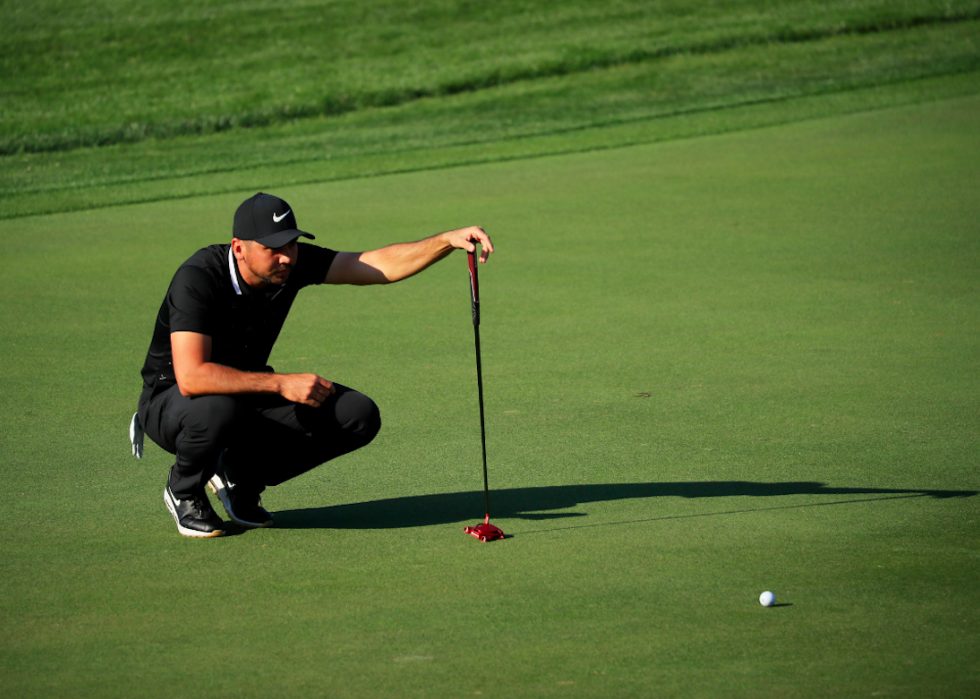 38 / 50
Cliff Hawkins // Getty Images
#13: Jason Day
- Odds to win: +2800
- World ranking: 14
- 2018 The Masters Championship: T20 (score: -2)
- Last 5 results: CUT - T8 - T4 - T5 - 13

- 2019 PGA strokes gained:
--- Off the tee: 0.76 (PGA rank: 5)
--- Green approach: -0.03 (PGA rank: 125)
--- Around green: 0.04 (PGA rank: 98)
--- Putting: 0.87 (PGA rank: 4)
--- Total: 1.63 (PGA rank: 7)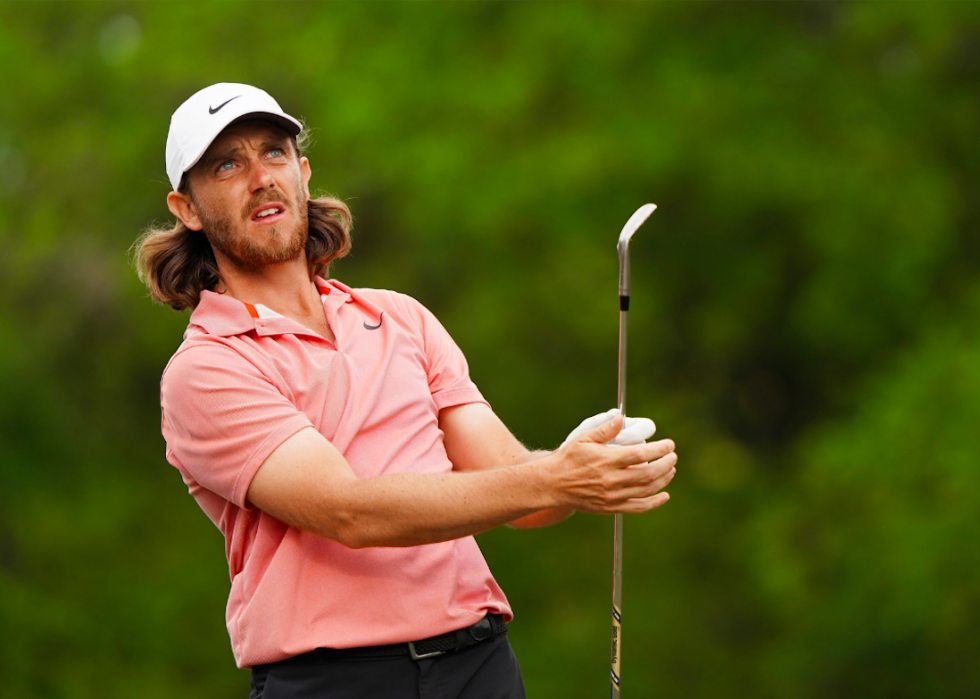 39 / 50
Darren Carroll // Getty Images
#12: Tommy Fleetwood
- Odds to win: +2500
- World ranking: 13
- 2018 The Masters Championship: T17 (score: -4)
- Last 5 results: T5 - T3 - T19 - T28 - T45

- 2019 PGA strokes gained:
--- Off the tee: 0.92 (PGA rank: 4)
--- Green approach: 0.45 (PGA rank: 37)
--- Around green: 0.40 (PGA rank: 16)
--- Putting: 0.07 (PGA rank: 98)
--- Total: 1.84 (PGA rank: 5)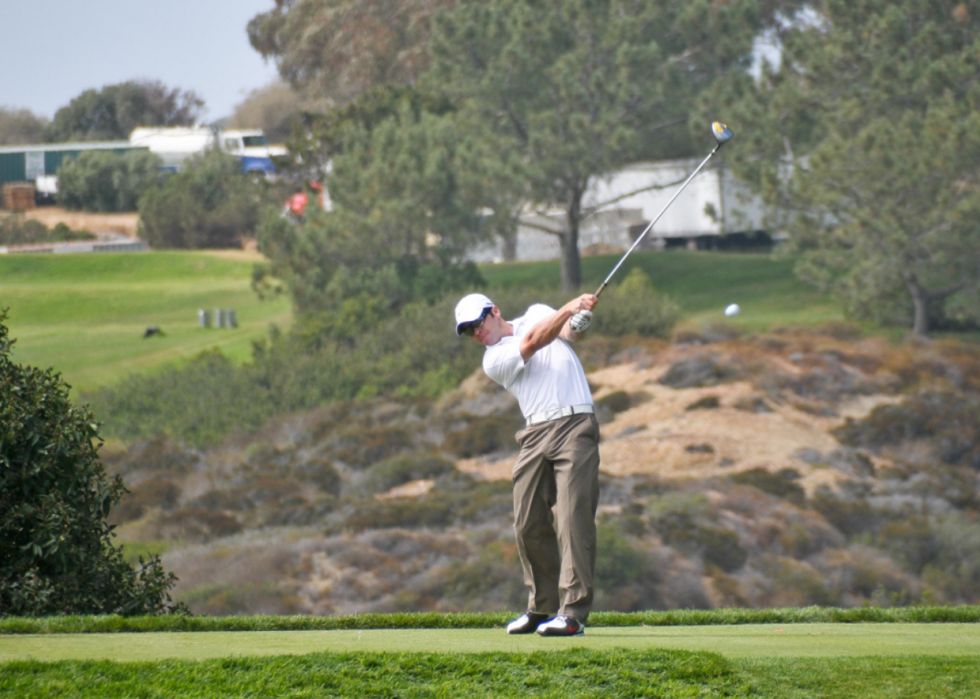 40 / 50
#11: Paul Casey
- Odds to win: +2500
- World ranking: 11
- 2018 The Masters Championship: T15 (score: -5)
- Last 5 results: 1 - CUT - T3 - T25 - 2

- 2019 PGA strokes gained:
--- Off the tee: 0.62 (PGA rank: T12)
--- Green approach: 0.40 (PGA rank: 40)
--- Around green: 0.35 (PGA rank: T27)
--- Putting: -0.41 (PGA rank: 181)
--- Total: 0.96 (PGA rank: 35)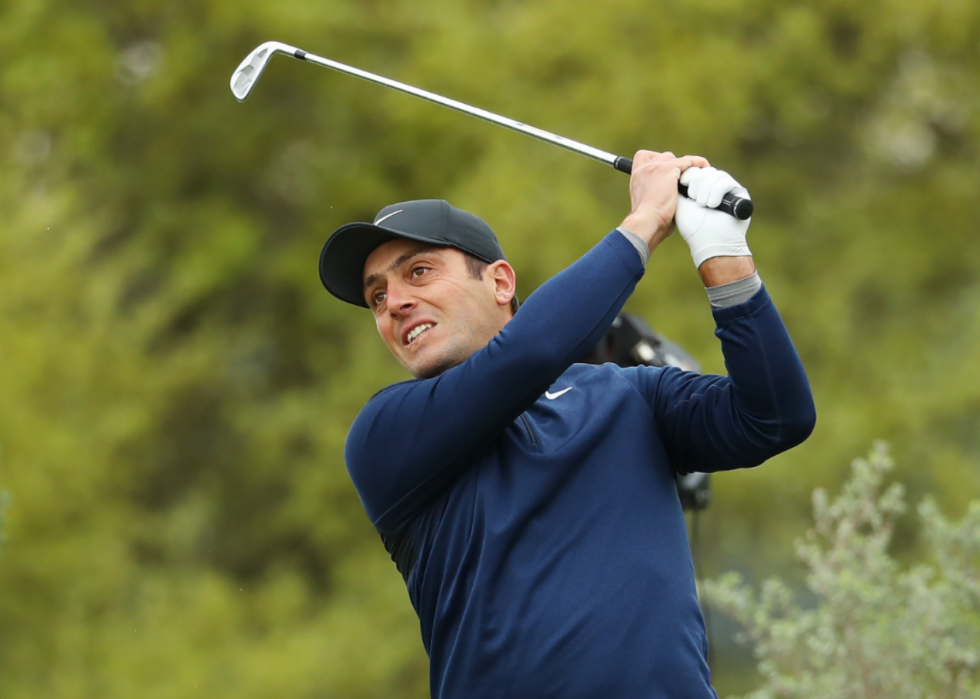 41 / 50
#10: Francesco Molinari
- Odds to win: +2500
- World ranking: 7
- 2018 The Masters Championship: T20 (score: -2)
- Last 5 results: T56 - 1 - T17 - T27 - T26

- 2019 PGA strokes gained:
--- Off the tee: 0.05 (PGA rank: 101)
--- Green approach: -0.08 (PGA rank: 137)
--- Around green: 0.18 (PGA rank: 58)
--- Putting: 0.56 (PGA rank: 23)
--- Total: 0.71 (PGA rank: 47)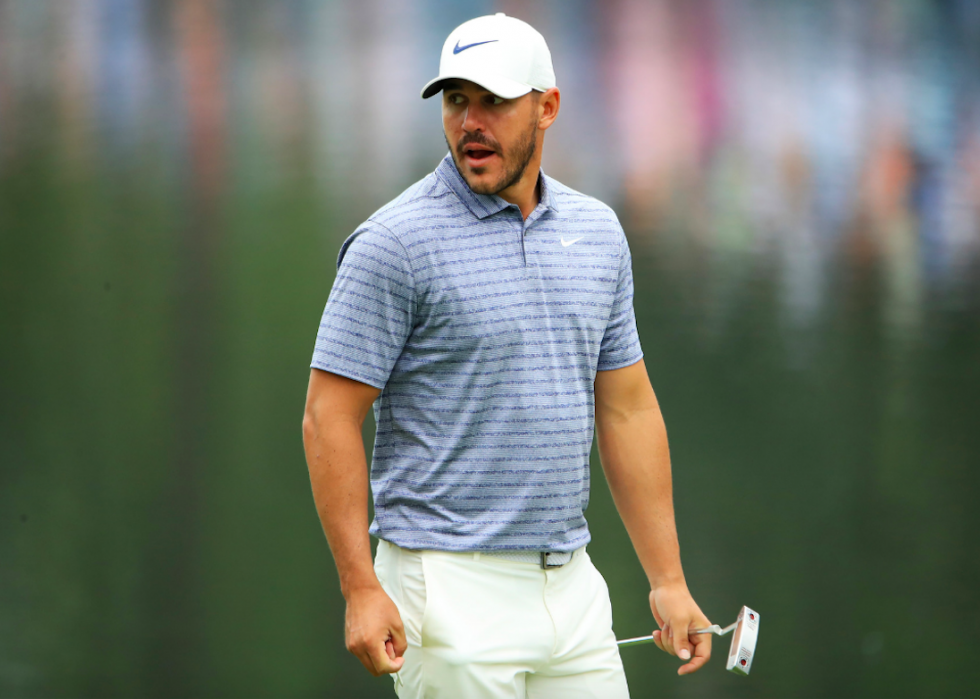 42 / 50
Andrew Redington // Getty Images
#9: Brooks Koepka
- Odds to win: +2500
- World ranking: 4
- 2018 The Masters Championship: did not participate
- Last 5 results: T56 - CUT - T2 - T27 - T57

- 2019 PGA strokes gained:
--- Off the tee: 0.25 (PGA rank: 61)
--- Green approach: 0.35 (PGA rank: 47)
--- Around green: 0.06 (PGA rank: T92)
--- Putting: -0.21 (PGA rank: 146)
--- Total: 0.44 (PGA rank: 71)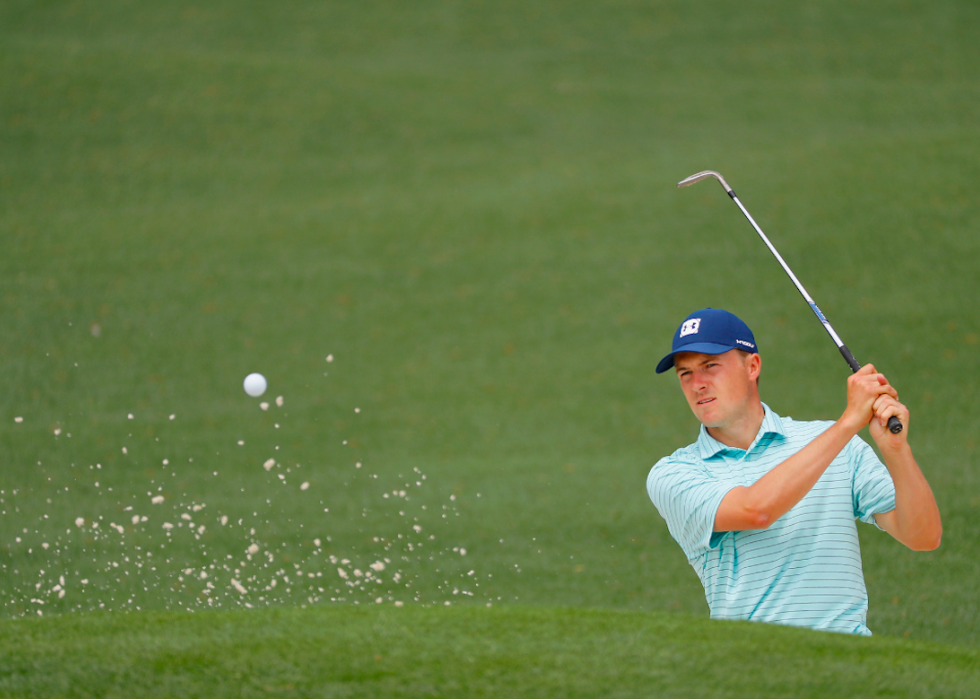 43 / 50
Kevin C. Cox // Getty Images
#8: Jordan Spieth
- Odds to win: +2200
- World ranking: 33
- 2018 The Masters Championship: 3 (score: -13)
- Last 5 results: T30 - CUT - T54 - T51 - T45

- 2019 PGA strokes gained:
--- Off the tee: -0.70 (PGA rank: 203)
--- Green approach: 0.02 (PGA rank: 111)
--- Around green: 0.10 (PGA rank: 82)
--- Putting: 0.23 (PGA rank: 70)
--- Total: -0.35 (PGA rank: 148)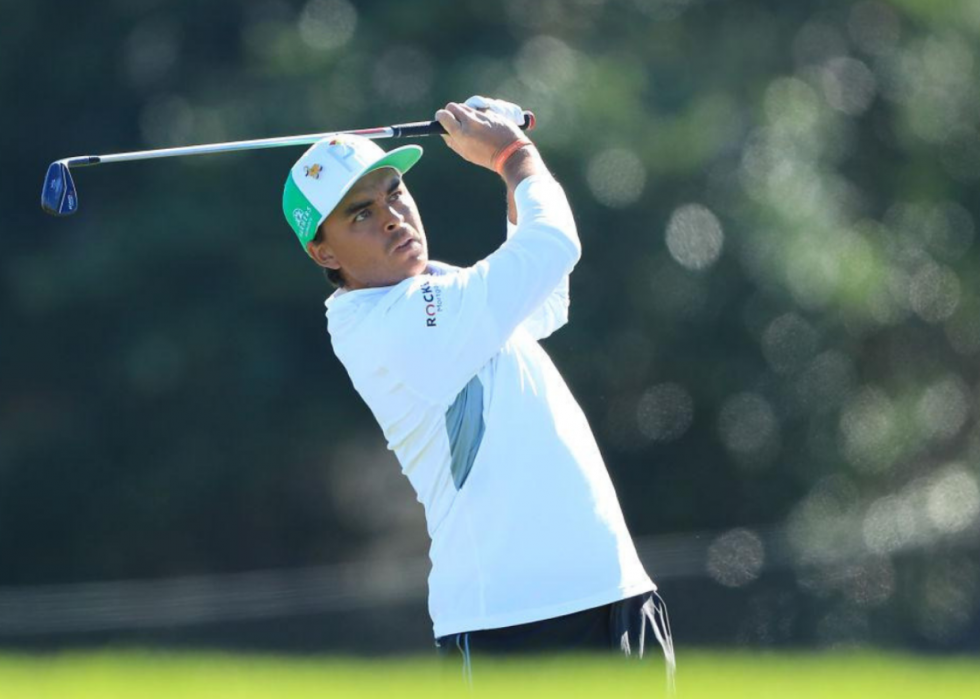 44 / 50
Sam Greenwood // Getty Images
#7: Rickie Fowler
- Odds to win: +1800
- World ranking: 9
- 2018 The Masters Championship: 2 (score: -14)
- Last 5 results: T17 - T47 - T40 - T2 - T36

- 2019 PGA strokes gained:
--- Off the tee: 0.23 (PGA rank: 64)
--- Green approach: 0.28 (PGA rank: 62)
--- Around green: 0.02 (PGA rank: T105)
--- Putting: 0.78 (PGA rank: 8)
--- Total: 1.31 (PGA rank: 21)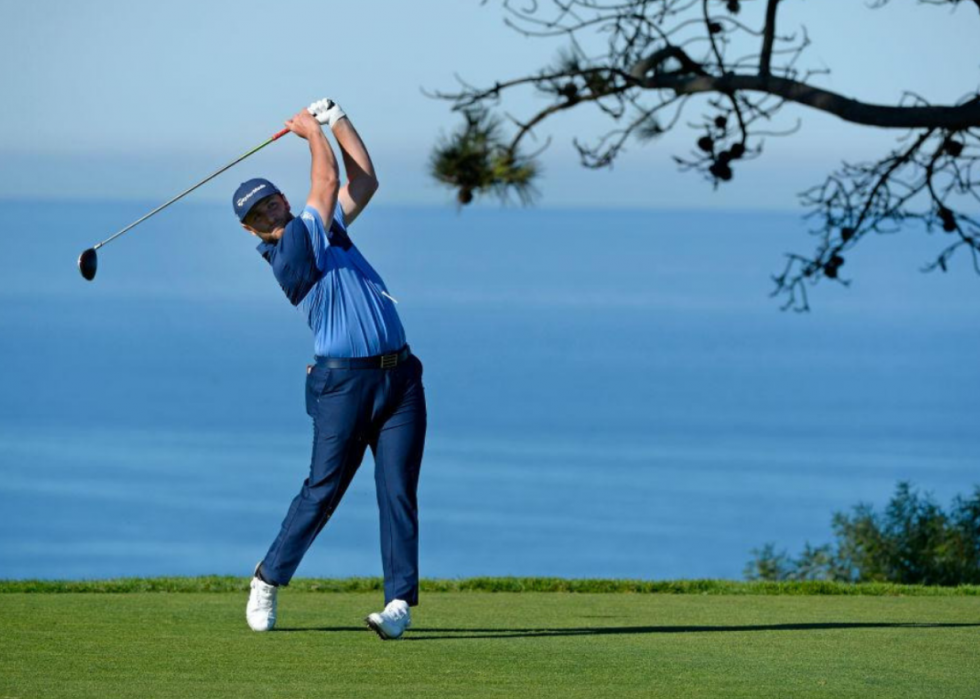 45 / 50
Robert Laberge // Getty Images
#6: Jon Rahm
- Odds to win: +1800
- World ranking: 8
- 2018 The Masters Championship: 4 (score: -11)
- Last 5 results: T6 - T12 - T45 - T9 - T10

- 2019 PGA strokes gained:
--- Off the tee: 1.00 (PGA rank: 2)
--- Green approach: 0.26 (PGA rank: 64)
--- Around green: 0.02 (PGA rank: T105)
--- Putting: 0.27 (PGA rank: 62)
--- Total: 1.55 (PGA rank: 11)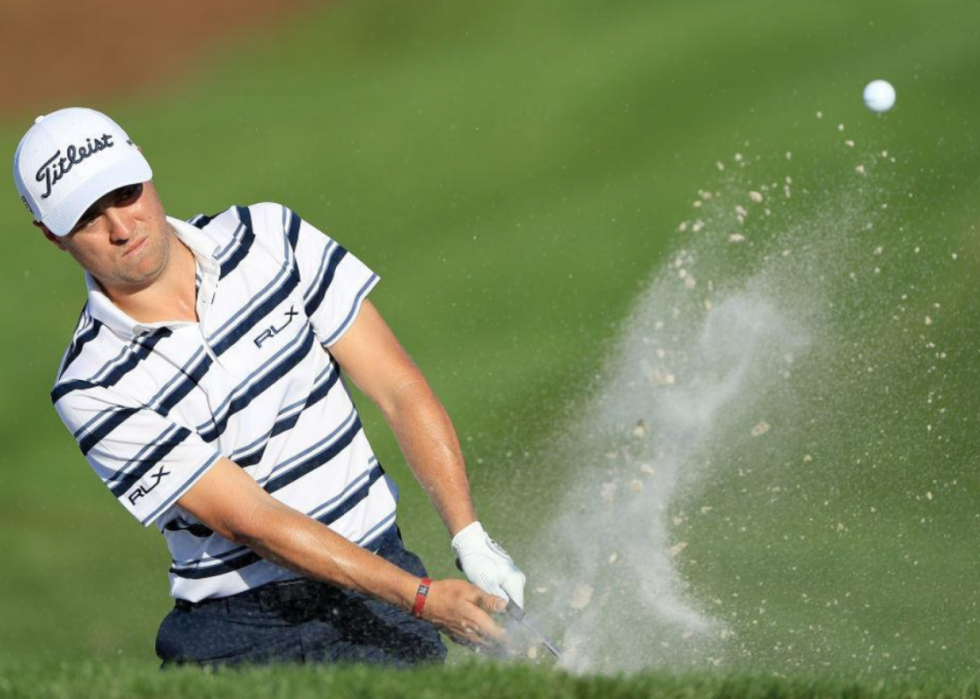 46 / 50
Sam Greenwood // Getty Images
#5: Justin Thomas
- Odds to win: +1800
- World ranking: 5
- 2018 The Masters Championship: T17 (score: -4)
- Last 5 results: T35 - T30 - 9 - 2 - 3

- 2019 PGA strokes gained:
--- Off the tee: 0.42 (PGA rank: 37)
--- Green approach: 1.02 (PGA rank: 4)
--- Around green: 0.50 (PGA rank: 10)
--- Putting: 0.14 (PGA rank: 82)
--- Total: 2.07 (PGA rank: 3)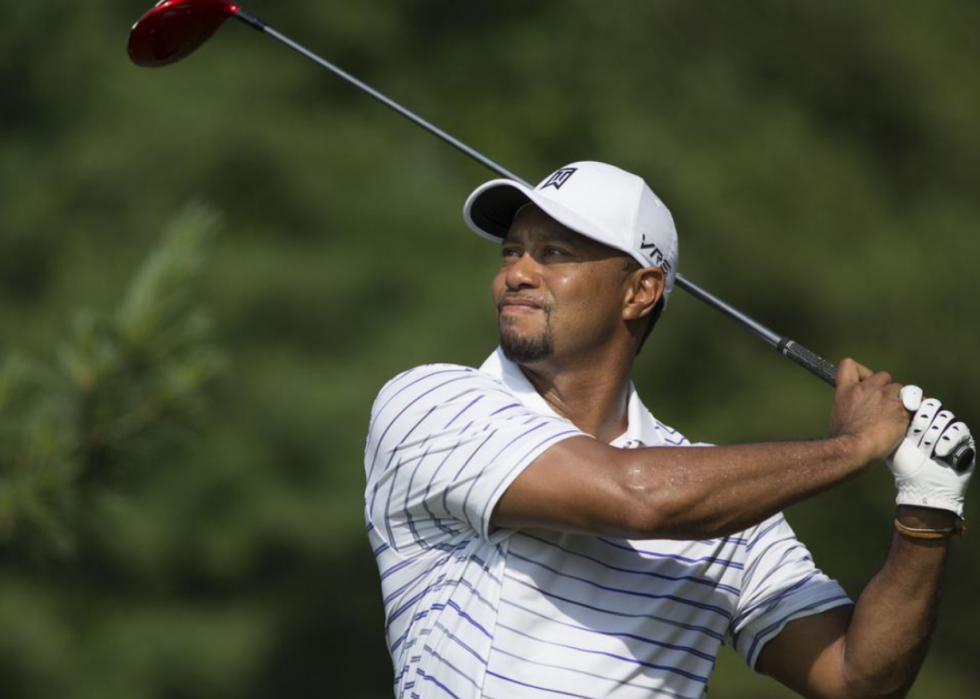 47 / 50
#4: Tiger Woods
- Odds to win: +1400
- World ranking: 12
- 2018 The Masters Championship: T32 (score: 1)
- Last 5 results: T30 - T10 - T15 - T20 - 17

- 2019 PGA strokes gained:
--- Off the tee: 0.22 (PGA rank: 72)
--- Green approach: 0.70 (PGA rank: 16)
--- Around green: 0.56 (PGA rank: 6)
--- Putting: 0.19 (PGA rank: 74)
--- Total: 1.67 (PGA rank: 6)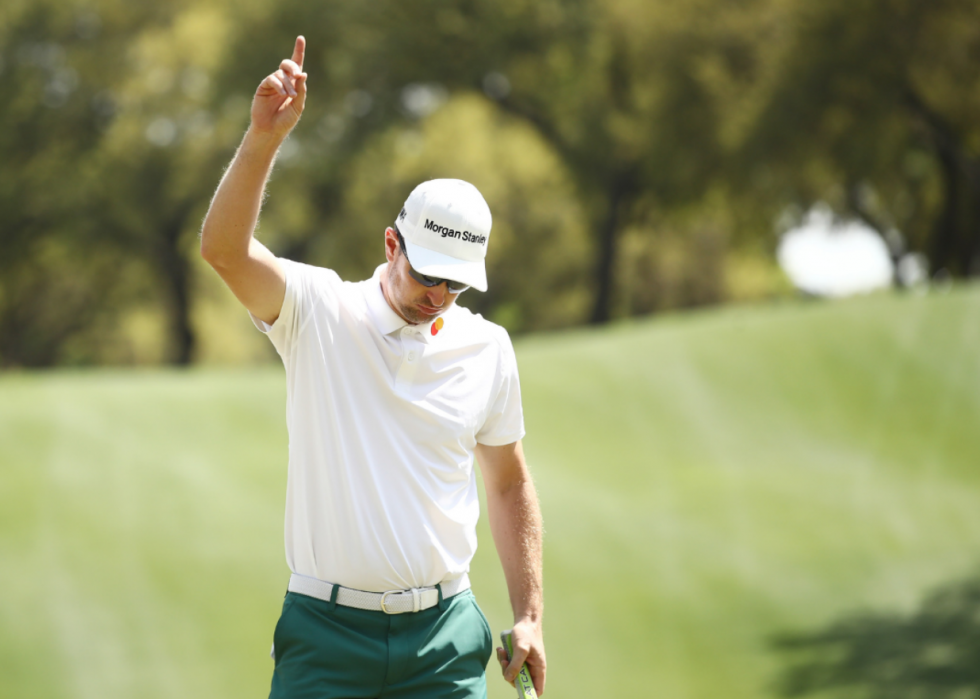 48 / 50
#3: Justin Rose
- Odds to win: +1200
- World ranking: 1
- 2018 The Masters Championship: T12 (score: -6)
- Last 5 results: T8 - T63 - CUT - 1 - T34

- 2019 PGA strokes gained:
--- Off the tee: 0.25 (PGA rank: 60)
--- Green approach: 0.57 (PGA rank: 28)
--- Around green: 0.23 (PGA rank: 50)
--- Putting: 0.45 (PGA rank: 34)
--- Total: 1.50 (PGA rank: 15)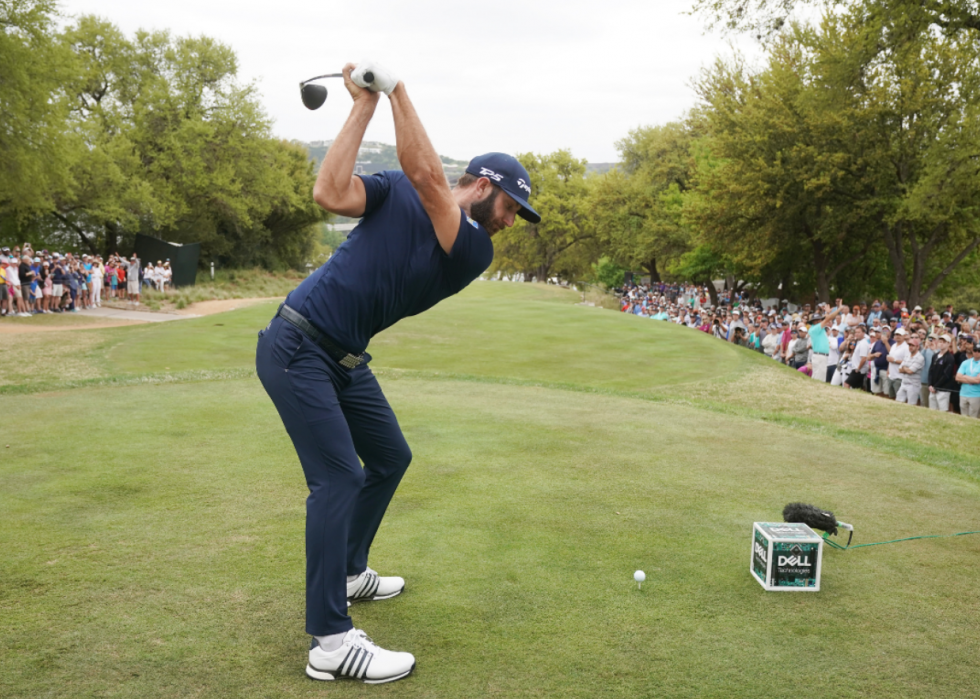 49 / 50
#2: Dustin Johnson
- Odds to win: +1000
- World ranking: 2
- 2018 The Masters Championship: T10 (score: -7)
- Last 5 results: T6 - T5 - 1 - T9 - T45

- 2019 PGA strokes gained:
--- Off the tee: 0.60 (PGA rank: 14)
--- Green approach: 0.86 (PGA rank: 10)
--- Around green: 0.34 (PGA rank: T29)
--- Putting: 0.71 (PGA rank: 13)
--- Total: 2.51 (PGA rank: 2)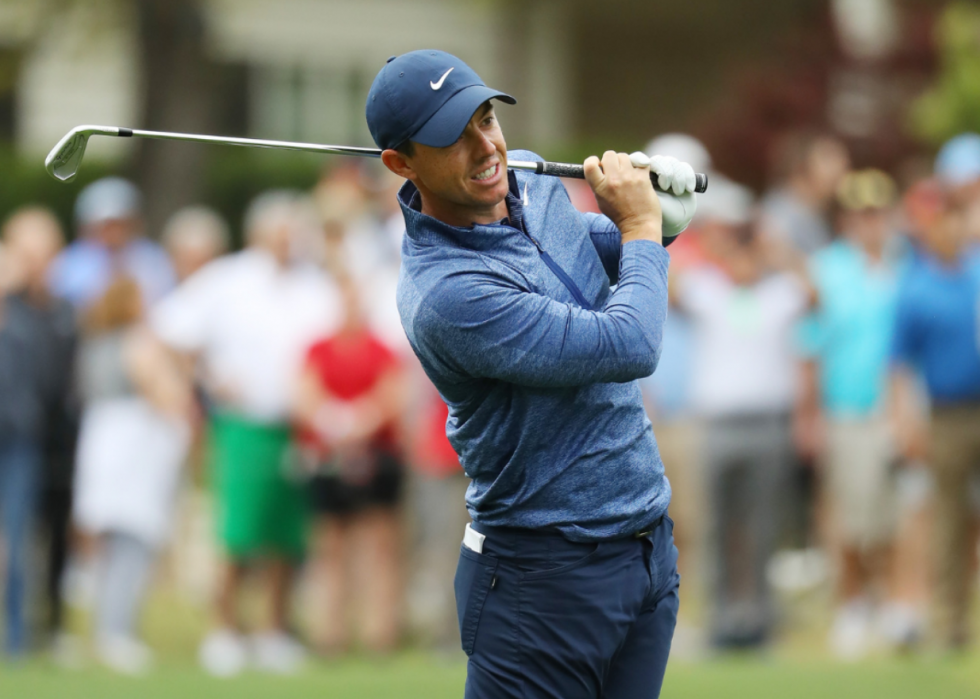 50 / 50
#1: Rory McIlroy
- Odds to win: +700
- World ranking: 3
- 2018 The Masters Championship: T5 (score: -9)
- Last 5 results: 1 - T6 - 2 - T4 - T5

- 2019 PGA strokes gained:
--- Off the tee: 1.31 (PGA rank: 1)
--- Green approach: 0.75 (PGA rank: 12)
--- Around green: 0.35 (PGA rank: 24)
--- Putting: 0.33 (PGA rank: 57)
--- Total: 2.74 (PGA rank: 1)