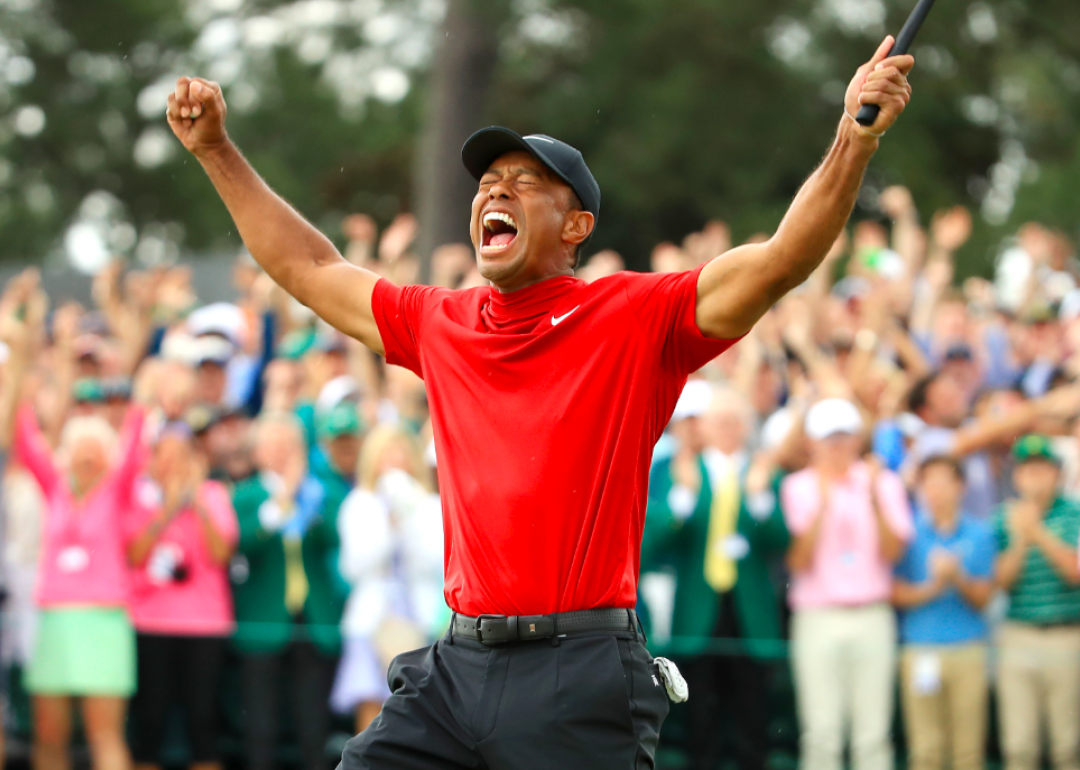 Long shot wins in sports betting history
Andrew Redington // Getty Images
Long-shot wins in sports-betting history
Everyone loves an underdog, especially when that underdog not only defies the longest of odds, but gives a few lucky gamblers the biggest paydays of their lives. Long-shot bets have a magical quality about them. For them to pay off, the team or athlete has to achieve what seems like the impossible and for that miraculous feat, the people who took their chances to wager on them are rewarded handsomely.
With the advent of advanced technologies and less restrictive governments, the global sports-betting market has exploded in recent years, giving rise to more long-shot bettors and a handful of extremely lucky winners. The worldwide betting market was valued around $104 billion in 2017 and is expected to reach $155 billion by 2024, according to Zion Market Research. Growth in this sector is expected to be at 8.83% between 2018 and 2024. 
With all this rapid growth, Stacker dug into the past to find the biggest long-shot bets in history, and maybe a few unlucky bettors along the way. Every sport from horse racing and boxing to basketball and golf has their share of come-from-behind victories, crazy parlays, and unfathomable buzzer-beaters. Here is a list of the most unbelievable wagers in sports that are sure to tantalize even the most gun-shy gambler.
You may also like: One trick ponies of the PGA
Golf: Rory McIlroy's father's 500-1 bet his son wins the British Open within 10 years
Talk about confidence in one's own kid. When pro golfer Rory McIlroy was only 15 years old in 2004, his father bet $683 with 500-1 odds that his son would win the British Open before his 26th birthday. Coming in just under the deadline, McIlroy won the 2014 British Open and his father took home $342,000. Rory pocketed a cool $1.6 million for his efforts on the course.
Hockey: U.S. hockey 1,000-1 to win 1980 gold medal
"Do you believe in miracles!?" Legendary sports announcer Al Michaels made his famous call after the 1980 U.S. men's Olympic hockey team defeated the heavily favored Russians. The Russian team had won the previous four Olympic golds in a row—winning five of the past six Olympic golds total—and the U.S. was a 1,000-1 underdog. But sometimes miracles happen, and the U.S. pulled off the upset 4-3, and went on to defeat Finland to win the gold medal.
Soccer: Mick Gibbs 1,666,666-1 on 15 match parlay
In what's considered one of the greatest sports bets of all time with insanely long odds, British gambler Mick Gibbs hit a 15-match parlay. For betting neophytes, a parlay is when a bettor gambles on multiple games at the same time, making the odds of winning harder, but the payout much bigger. Back in 2001, Gibbs bet about 47 cents on a 15-match soccer parlay with 1,666,666-1 odds of winning. Well, he won and took home $784,000.
Soccer: Leicester City 5,000-1 to win 2015 Premier League
The Premier League is the most prestigious league in all of English football and was created in 1992. Since its inception, the league has only seen a handful of winners (the same teams win most of the time), which is why 2015 was such an anomaly. Perennial underdog Leicester City entered the season in 2015 with a 5,000-1 chance of winning the league. Not only did Leicester City win, they cost the English bookmakers the biggest loss on a single sporting market, forcing them to pay out around £25 million.
Horse racing: Darren Yates 25,000-1 on 7 race parlay
There are many great feats in horse racing: winning the Kentucky Derby, the Dubai World Cup, or the Royal Ascot in England. In September 1996, jockey Frankie Dettori didn't just win one race, he won all seven races at the Royal Ascot, from which the odds were 25,000-1. Unfortunately for the bookmaker, one lucky bettor named Darren Yates actually wagered on Dettori taking down all seven races and won £550,000 from a £67.58 bet.
Horse racing: Fred Cragg 2,000,000-1 on 8-race parlay
On a lark, Fred Cragg bet 50 pence on an eight-horse parlay in 2008 right before his 60th birthday. The odds of winning were 2,000,000-1 and shockingly, all eight horses won. The bookmaker William Hill paid out £1 million instead of the £1.4 million he should've given Cragg because the fine print said payouts were capped at £1 million. Nonetheless, it remains one of the most lopsided wins in betting history.
Soccer: Inter Milan 999-1 to beat Sampdoria down two goals in 88th minute
It's hard enough to score one goal in soccer, let alone three in the final two minutes of a game. But that's what Inter Milan did in 2005 during an Italian League Serie A match against Sampdoria. One lucky bettor evidently thought Milan had a chance when they were down two goals and placed a £1 wager on them coming through, ultimately winning £1,000 for the lucky guess.
Soccer: Mali 1000-1 to make a four-goal comeback with 11 minutes left
The beauty of betting in Great Britain is that a gambler can wager on the outcome of a game at almost any time during the game itself. One lucky bettor in 2010 saw that Mali was down 4-0 in the African Cup of Nations to Angola with odds of coming back at 1000-1. The bettor threw down £5 and when Mali made one of the greatest comebacks in history, the bettor got £5,000 in return.
Football: St. Louis Rams 300-1 to win Super Bowl
Going into the 1999 NFL season, the St. Louis Rams had 300-1 odds of winning the Super Bowl. That wasn't all that surprising considering they only won four games the year before. But with a change at quarterback to Kurt Warner, the team went 13-3, Warner won the MVP of the regular season and Super Bowl, and the team wound up beating the Tennessee Titans 23-6. One other footnote was that the Rams were actually a seven-point favorite to win over the Titans.
Football: Auburn Tigers 1,000-1 to win 2014 Bowl Championship Series
Hedging one's bet is a strategy that gamblers use to maximize their chances at winning, regardless of the result. There are times when the odds change so dramatically that an early wager and a late wager can result in large wins. Leading into the 2013 college football season, one fan bet $100 for Auburn to win the 2014 Bowl Championship Game at 500-1 (getting in a little late missing out on 1,000-1). Auburn didn't win the game though, and the fan missed out on an enormous hedging opportunity by not betting big on Auburn's opponent Florida State. All he wanted was for Auburn to win, according to an ESPN article. 
Soccer: Xabi Alonso 125-1 own end goal
There's a lot of luck in gambling. So, when a football fan dreamt that Xabi Alonso would score a goal from behind the halfway mark, he needed fate to intervene on his behalf. Amazingly, the bet that Adrian Hayward made at 125-1 paid off, and his £200 wager resulted in a £25,000 win when Alonzo scored a lengthy goal for Liverpool in the third round of the FA Cup back in 2006.
Soccer: Greece 150-1 to win 2004 UEFA Euro
The UEFA European Championship is the most prestigious soccer competition on the continent and held once every four years since 1960. Heading into the 2004 Euro, Greece was given 150-1 odds of winning the tournament. To the shock of the world, Greece pulled off a major upset, beating host country Portugal, led by legendary footballer Cristiano Ronaldo, 1-0.
Golf: James Adducci bets $85,000 at 14-1 on Tiger Woods to win The Masters
While most of the world had lost faith in Tiger Woods' ability to win another major championship, one lucky gambler never gave up. Heading into the 2019 Masters, Woods was on a major drought that went back to 2008. James Adducci saw an opening when he found 14-1 odds on Tiger Woods to win the Masters again. Adducci bet $85,000 on Woods, and ultimately won $1.2 million once Woods prevailed at the 2019 Masters Championship.
Baseball: Blake Snell 300-1 to win 2018 AL Cy Young
Blake Snell wasn't an unknown going into the 2018 Major League Baseball season, but nobody was picking him to win the Cy Young Award (the award given to the best pitcher in each conference). Snell was a 300-1 favorite for the award while turning in one of the most surprising pitching seasons in baseball history. In fact, Snell was so good, that despite having the lowest innings pitched total for any award winner in history, he still won 21 games and had an ERA of 1.89.
Baseball: St. Louis Cardinals 999-1 to win 2011 World Series
In September 2011, the St. Louis Cardinals looked like they were going to miss the playoffs. But one lucky bettor had a hunch, and it paid off, big time. The gambler wagered $250 at 500-1 that the Cardinals would win the National League Pennant. He then bet another $250 at 999-1 that the Cardinals would win the World Series. Both bets came in when St. Louis won it all and the gambler took home $375,000 for taking his chances.
Horse racing: Donerail 91-1 in 1913 Kentucky Derby
The Kentucky Derby has seen its share of betting long shots, but nothing quite like Donerail in 1913. Heading into the race, no one, including the horse's owner, thought Donerail had any shot at winning. And at 91-1 odds, they had good reason. But Donerail's jockey Roscoe Goose convinced the horse's owner to race and they ended up winning the whole thing. Anyone who bet $2 on the horse would've won $184.90—no small change for 1913.
Golf: Ben Curtis 300-1 to win the 2003 British Open Golf Championship
There have been some shocking one-hit-wonders through the PGA Tour's history. There was Danny Willett's unlikely Masters in 2016, Yang Yong-eun's PGA Championship in 2009, and Todd Hamilton's Open Championship in 2004. But then there was Ben Curtis, who was a 300-1 favorite for winning the British Open in 2003. And win it he did. Curtis fended off a leaderboard that consisted of Tiger Woods, Vijay Singh, and Nick Faldo to win by a single stroke. It was the only major of his career and was just one of four tournaments he won in total.
Darts: Robert Thornton 250-1 to win the 2012 U.K. Darts Open
Back in 2012 a relatively unknown darts player overcame pneumonia and the sport's best throwers to take down the U.K. Open championship. As a 250-1 underdog, no one gave Robert Thornton a chance. But after besting everyone from Mark Webster and Gary Anderson to Dave Chisnall and the all-time great Phil Taylor, Thornton walked away with £40,000 and one of the unlikeliest and biggest long-shot wins in the sport's history.
Basketball: #16 UMBC 40-1 to beat #1 Virginia
It had never been done. They said it was impossible. But the University of Maryland, Baltimore County (UMBC) Retrievers had other ideas. Coming into the NCAA Tournament in 2018, UMBC was the 16 seed playing against the #1 seeded Virginia Cavaliers. A 16 seed had never beaten a #1 in tournament history and UMBC's odds were placed at 40-1. The Retrievers did the impossible though and beat the Cavaliers 74-54 and earned one incredibly lucky bettor $16,800 off an $800 bet. Don't feel too bad for Virginia, they won the National Championship in 2019.
Wrestling: Rulon Gardner 2,000-1 to win 2000 gold
The most dominant Greco-Roman wrestler in history was a man dubbed the Siberian Superman. Wrestling for the Soviet Union, Alexander Karelin was basically unbeatable and went 13 straight years of wrestling in international competition without a loss. In the 2000 Olympic Games in Sydney, Australia, he squared off against American Rulon Gardner, who at 2,000-1, had little to no chance of victory. But miracles can happen and Gardner somehow managed to score the one and only point of the match to clinch the gold and beat Karelin.
Boxing: Buster Douglas 42-1 to beat Mike Tyson
It's easily the biggest upset in boxing history; virtually no one thought that Buster Douglas would beat Mike Tyson in Tokyo in 1990 for the heavyweight championship of the world. Douglas was a relative unknown heading into the competition and was a 42-1 underdog to defeat Tyson, who at the time was considered one of the best of all time and had never lost a fight. On the betting side, The Mirage Casino took one bet on Mike Tyson to win for $168,000 (oops). They also took a $1,500 bet on Douglas to win that paid out $57,000.