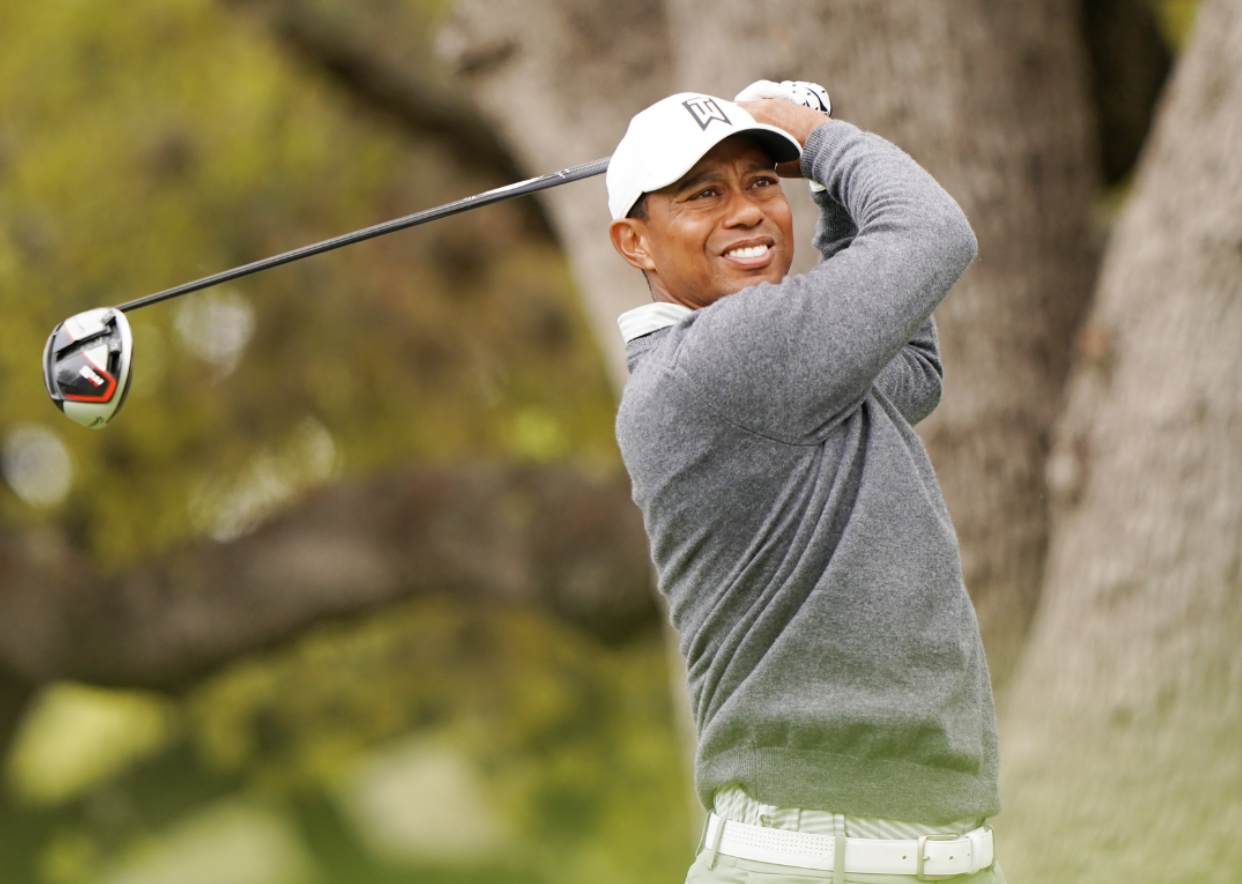 Favorites to win the PGA Championship
Darren Carroll // Getty Images
Favorites to win the PGA Championship
The 101st PGA Championship heads to Bethpage State Park Golf Course in Long Island, N.Y., for the first time in 2019. The field will face a daunting test on the Black Course, widely considered one of the toughest courses in the country. The A.W. Tillinghast-designed track sets up to a par 71, at a length of 7,465 yards, and previously hosted the U.S. Open in 2002 and 2009.
The 156-player field is expected to include 17 former champions of the event, including 2018 winner Brooks Koepka, who shot 16-under at Bellerive Golf Course in Missouri, holding off a charge from Tiger Woods to capture a two-shot victory last August. The PGA Championship moves to second in the lineup of majors in 2019, being played in May for the first time since 1949.
Stacker ranked the golfers competing for this title by betting odds to win provided by Bovada. Odds and statistics are updated through May 12 with any ties are broken by PGA world ranking. Woods, who captured his 15th career major championship last month at the Masters to end an 11-year major drought, opens as the pre-tournament betting favorite at +700, according to Bovada. Woods has four career PGA Championship victories, one shy of the record held by Jack Nicklaus and Walter Hagen. Dustin Johnson (+900), Rory McIlroy (+1000), Koepka (+1200), and Justin Thomas (+1200) round out the top five.
McIlroy leads the PGA so far in 2019 with eight top-10 finishes and holds a quarter-shot advantage over Dustin Johnson in strokes gained: total. He also plays nearly a half-stroke better than the tour from tee-to-green. "Strokes gained: total" has become a popular statistic to measure a golfer's performance in relation to his competition by comparing his score to the average of everyone else playing that day. The PGA Tour in 2016 broke strokes gained: total down into its current form, made up of four subcategories: off-the-tee, approach-the-green, around-the-green, and putting. Strokes gained statistics are derived from the PGA's Shotlink Intelligence Program and included on each slide for context.
Read on to find out the Stackers' list of the top 25 favorites to hoist the Wanamaker Trophy at the 2019 PGA Championship on May 16–19.
You may also like: Longshot wins in sports betting history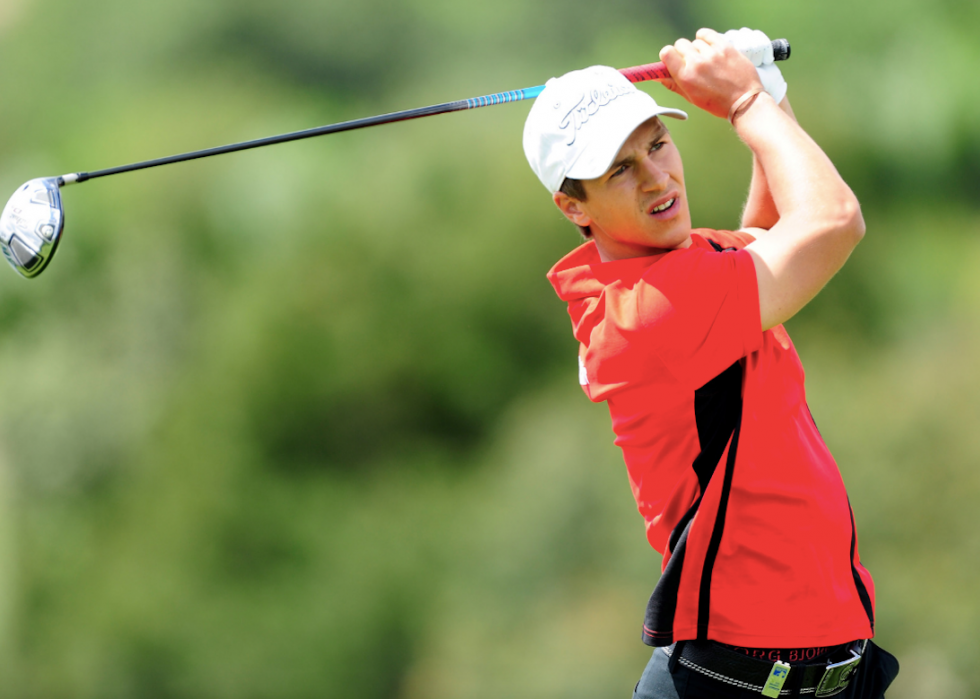 1 / 50
Stuart Franklin // Getty Images
#50: Thorbjorn Olesen
- Odds to win: +15000
- World ranking: 53
- 2018 The Masters Championship: did not participate
- Last 5 results: T41 - CUT - T45 - CUT - T7

- 2019 PGA strokes gained: player not eligible for ranking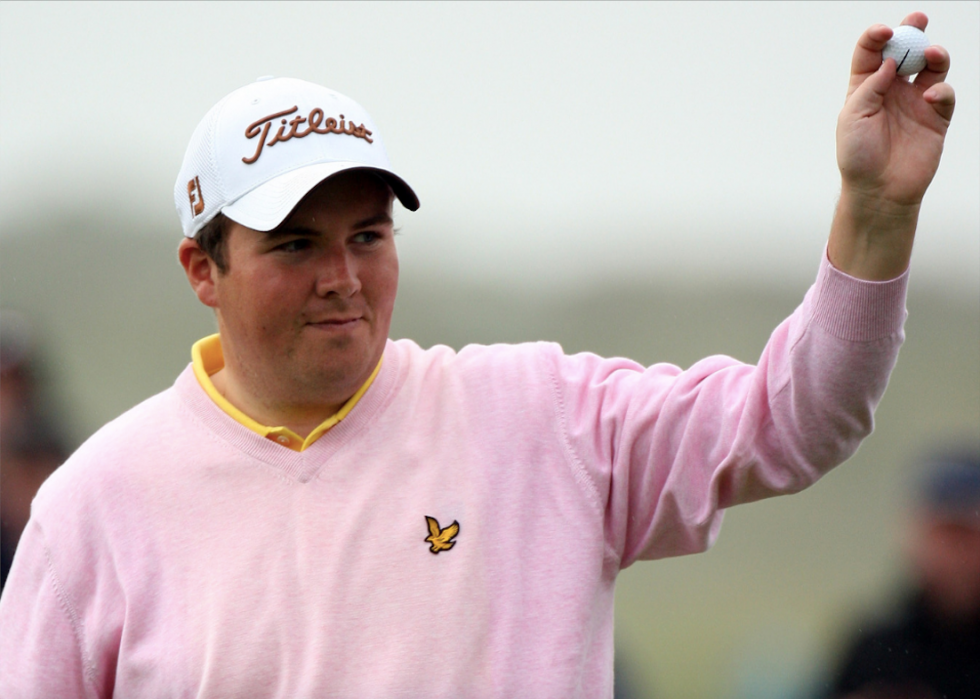 2 / 50
Ross Kinnaird // Getty Images
#49: Shane Lowry
- Odds to win: +15000
- World ranking: 50
- 2018 The Masters Championship: did not participate
- Last 5 results: CUT - CUT - T62 - CUT - T12

- 2019 PGA strokes gained: player not eligible for ranking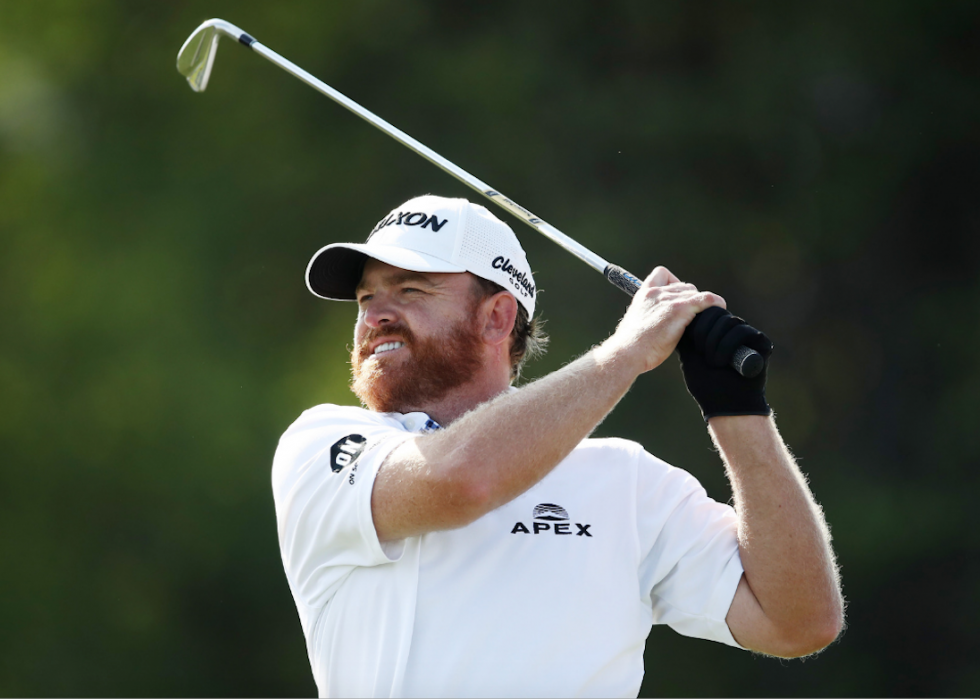 3 / 50
Ezra Shaw // Getty Images
#48: J.B. Holmes
- Odds to win: +15000
- World ranking: 45
- 2018 The Masters Championship: did not participate
- Last 5 results: MDF - CUT - CUT - 1 - CUT

- 2019 PGA strokes gained:
--- Off the tee: 0.13 (PGA rank: 88)
--- Green approach: 0.23 (PGA rank: 69)
--- Around green: 0.25 (PGA rank: T42)
--- Putting: -0.11 (PGA rank: 128)
--- Total: 0.49 (PGA rank: 66)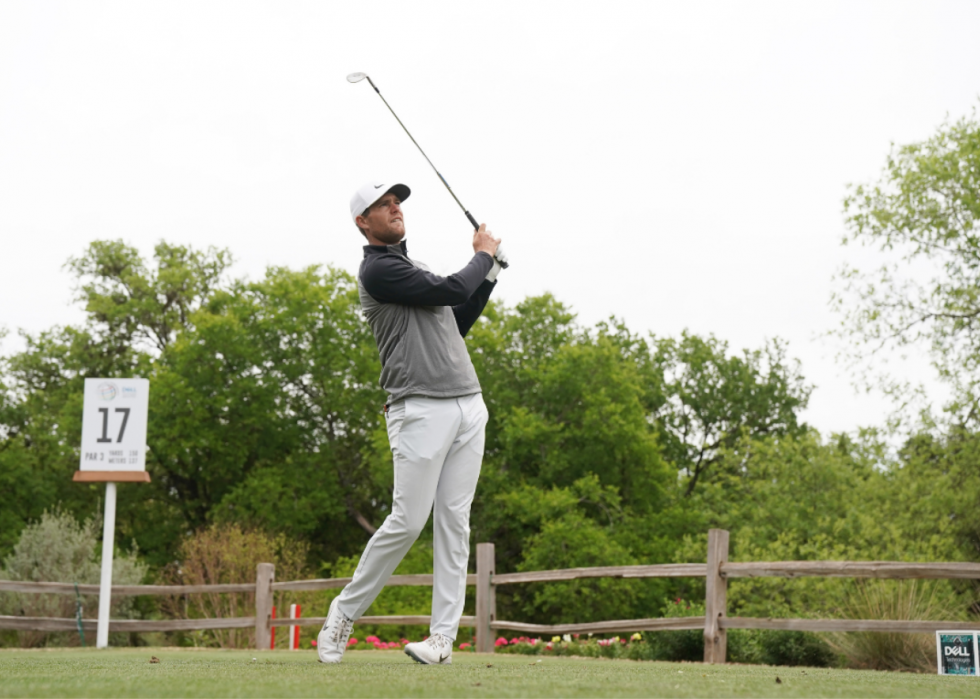 4 / 50
Darren Carroll // Getty Images
#47: Lucas Bjerregaard
- Odds to win: +15000
- World ranking: 43
- 2018 The Masters Championship: did not participate
- Last 5 results: CUT - T30 - T12 - 69 - T29

- 2019 PGA strokes gained:
--- Off the tee: 0.13 (PGA rank: T84)
--- Green approach: -0.19 (PGA rank: 152)
--- Around green: -0.60 (PGA rank: 211)
--- Putting: -0.26 (PGA rank: 156)
--- Total: -0.92 (PGA rank: 188)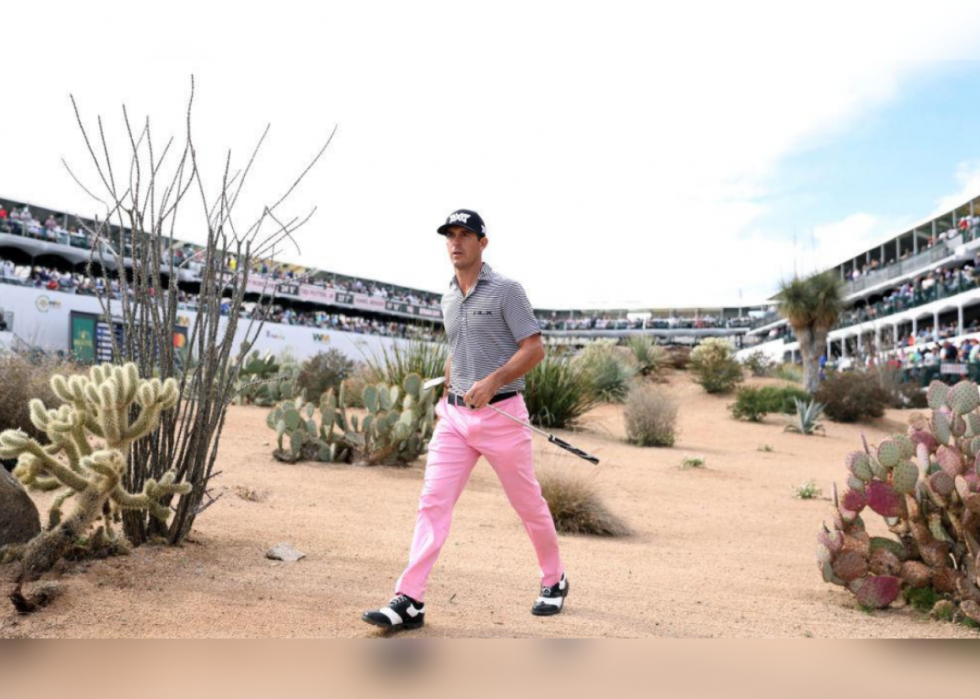 5 / 50
Christian Petersen // Getty Images
#46: Billy Horschel
- Odds to win: +15000
- World ranking: 41
- 2018 The Masters Championship: CUT (score: 11)
- Last 5 results: CUT - T26 - T50 - T16 - T45

- 2019 PGA strokes gained:
--- Off the tee: -0.32 (PGA rank: 176)
--- Green approach: -0.01 (PGA rank: T116)
--- Around green: 0.01 (PGA rank: 111)
--- Putting: 0.51 (PGA rank: 28)
--- Total: 0.19 (PGA rank: 96)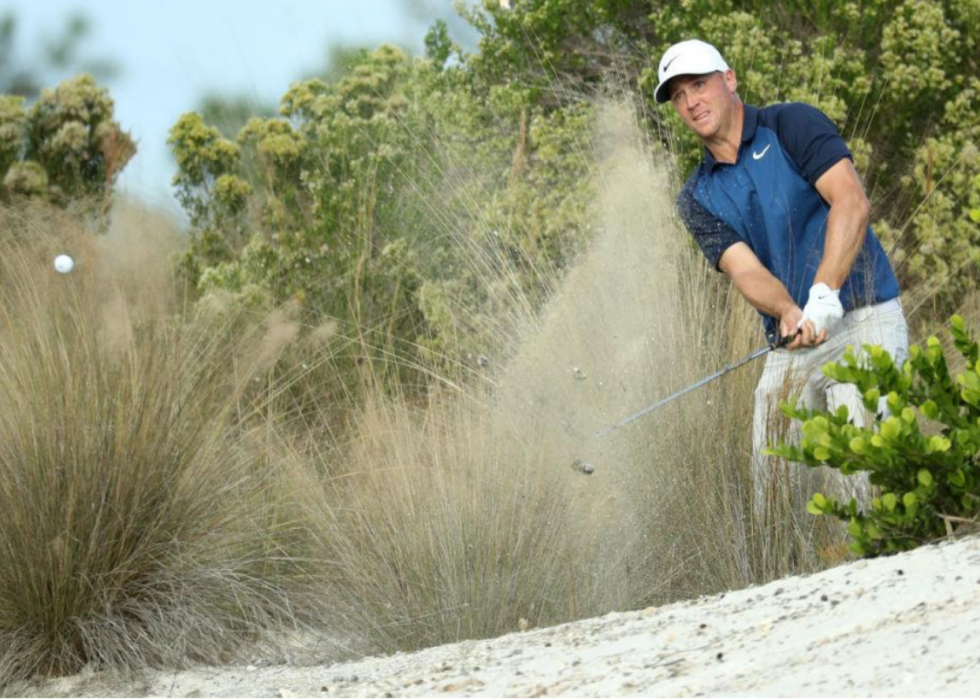 6 / 50
Rob Carr // Getty Images ImagesImages
#45: Alex Noren
- Odds to win: +15000
- World ranking: 30
- 2018 The Masters Championship: CUT (score: 9)
- Last 5 results: CUT - CUT - T62 - T44 - CUT

- 2019 PGA strokes gained:
--- Off the tee: -0.42 (PGA rank: 191)
--- Green approach: -0.52 (PGA rank: 188)
--- Around green: 0.17 (PGA rank: 59)
--- Putting: -0.87 (PGA rank: 210)
--- Total: -1.64 (PGA rank: 209)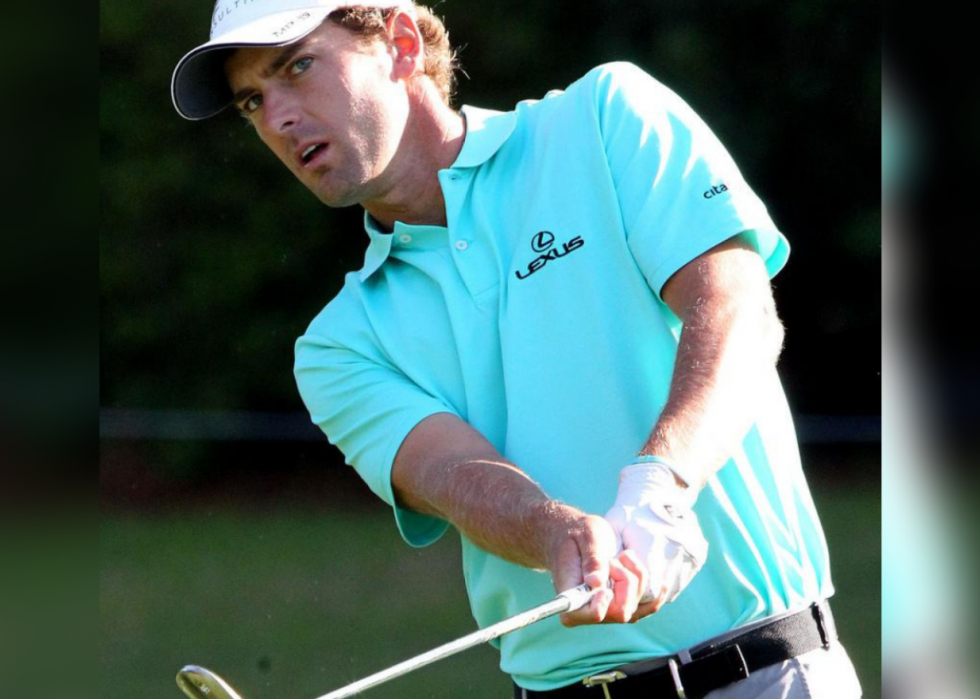 7 / 50
#44: Charles Howell III
- Odds to win: +12500
- World ranking: 46
- 2018 The Masters Championship: did not participate
- Last 5 results: T35 - T15 - T14 - 6 - T20

- 2019 PGA strokes gained:
--- Off the tee: 0.43 (PGA rank: 35)
--- Green approach: 0.11 (PGA rank: 89)
--- Around green: 0.39 (PGA rank: 18)
--- Putting: 0.68 (PGA rank: T14)
--- Total: 1.61 (PGA rank: 8)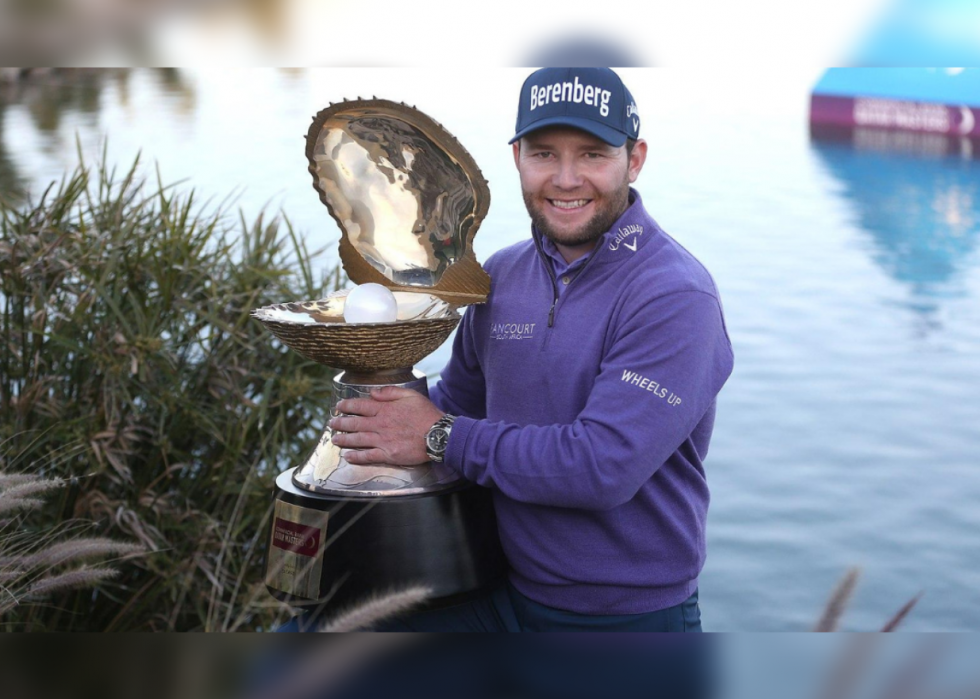 8 / 50
Hanson K Joseph // Wikimedia Commons
#43: Branden Grace
- Odds to win: +12500
- World ranking: 44
- 2018 The Masters Championship: T24 (score: -1)
- Last 5 results: CUT - T72 - T33 - CUT - T28

- 2019 PGA strokes gained:
--- Off the tee: 0.31 (PGA rank: 51)
--- Green approach: 0.04 (PGA rank: 106)
--- Around green: -0.11 (PGA rank: 145)
--- Putting: -0.27 (PGA rank: 159)
--- Total: -0.02 (PGA rank: 116)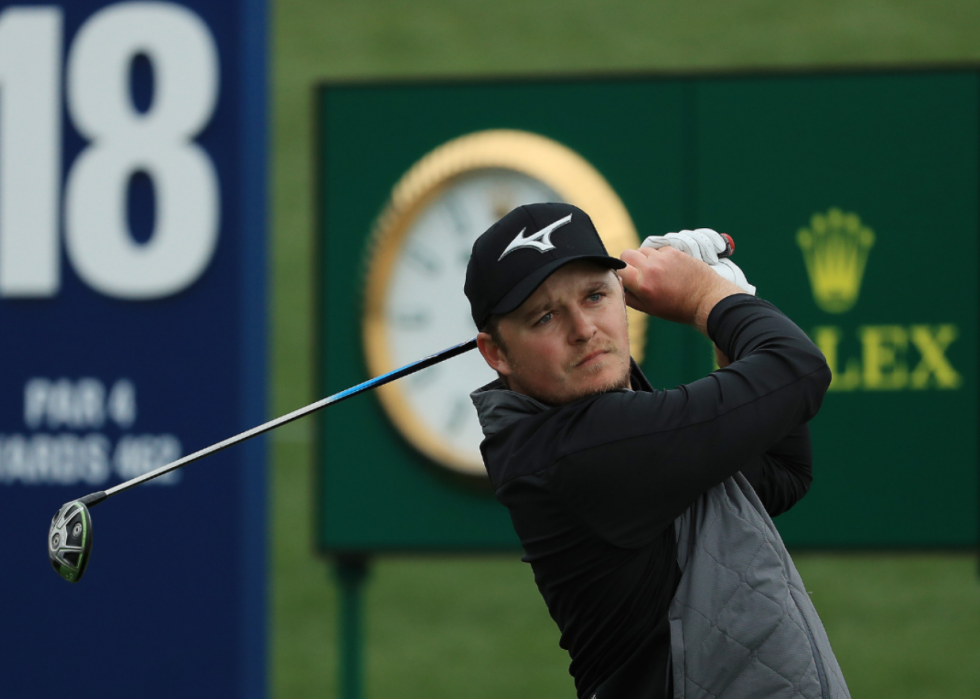 9 / 50
Mike Ehrmann // Getty Images
#42: Eddie Pepperell
- Odds to win: +12500
- World ranking: 40
- 2018 The Masters Championship: did not participate
- Last 5 results: T3 - 57 - T67 - CUT - T38

- 2019 PGA strokes gained: player not eligible for ranking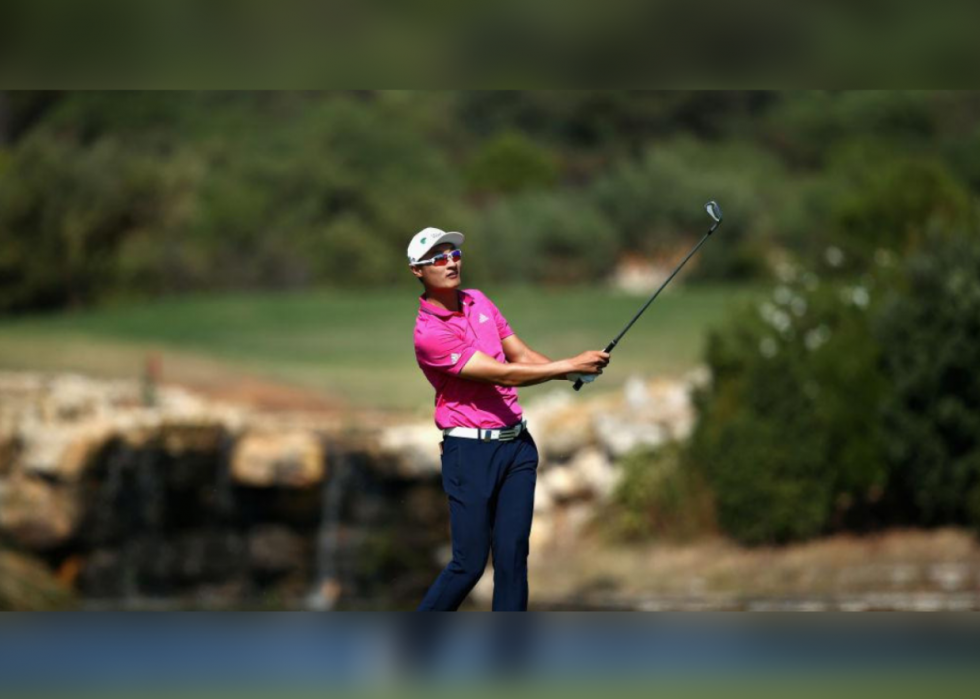 10 / 50
Jan Kruger // Getty Images
#41: Haotong Li
- Odds to win: +12500
- World ranking: 39
- 2018 The Masters Championship: T32 (score: 1)
- Last 5 results: T52 - CUT - CUT - T19 - 2

- 2019 PGA strokes gained:
--- Off the tee: 0.13 (PGA rank: 90)
--- Green approach: -0.17 (PGA rank: T149)
--- Around green: 0.16 (PGA rank: T66)
--- Putting: -0.26 (PGA rank: T157)
--- Total: -0.15 (PGA rank: 130)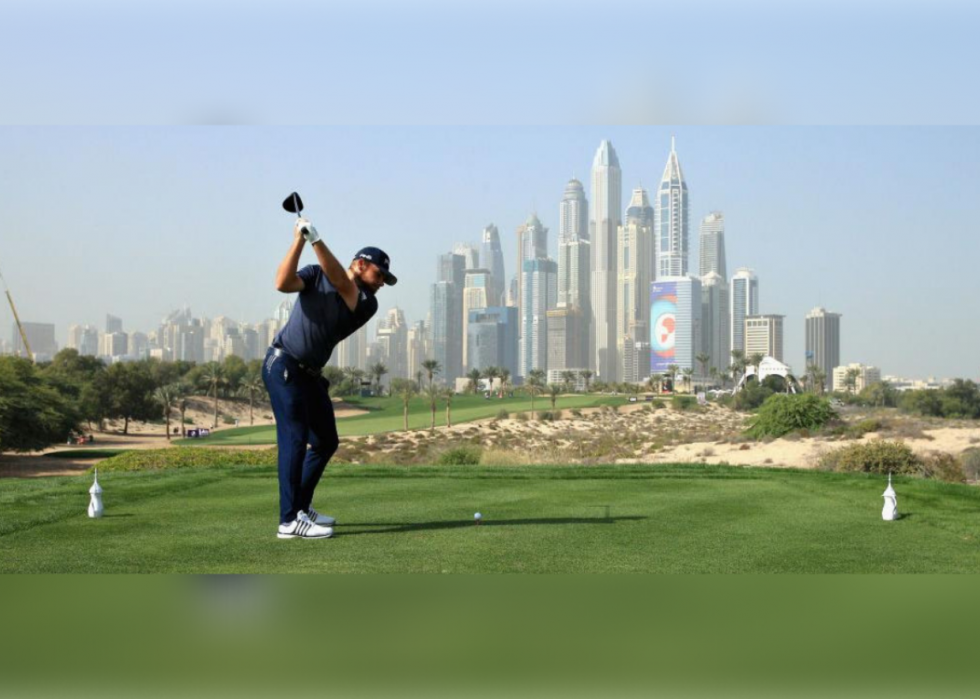 11 / 50
Andrew Redington // Getty Images
#40: Tyrrell Hatton
- Odds to win: +12500
- World ranking: 37
- 2018 The Masters Championship: T44 (score: 4)
- Last 5 results: CUT - CUT - T29 - T19 - CUT

- 2019 PGA strokes gained:
--- Off the tee: 0.07 (PGA rank: 95)
--- Green approach: -0.28 (PGA rank: 157)
--- Around green: 0.49 (PGA rank: 11)
--- Putting: -0.16 (PGA rank: 138)
--- Total: 0.12 (PGA rank: 102)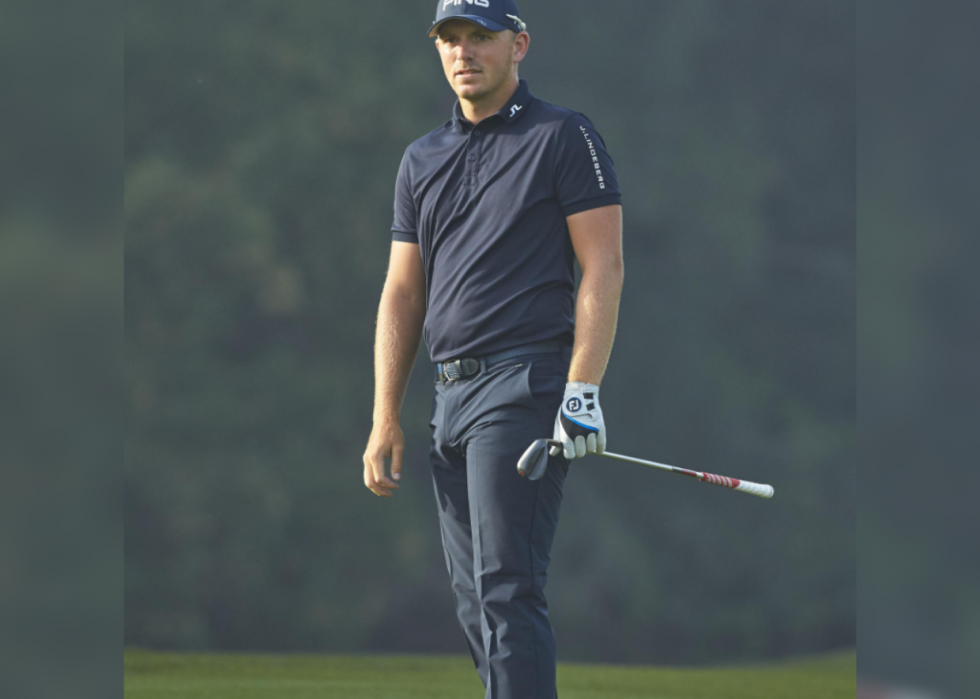 12 / 50
Grahamjchase // Wikimedia Commons
#39: Matt Wallace
- Odds to win: +12500
- World ranking: 36
- 2018 The Masters Championship: did not participate
- Last 5 results: T30 - T6 - T20 - T33 - CUT

- 2019 PGA strokes gained:
--- Off the tee: 0.21 (PGA rank: 75)
--- Green approach: 0.17 (PGA rank: 82)
--- Around green: 0.44 (PGA rank: 15)
--- Putting: 0.40 (PGA rank: 45)
--- Total: 1.22 (PGA rank: 25)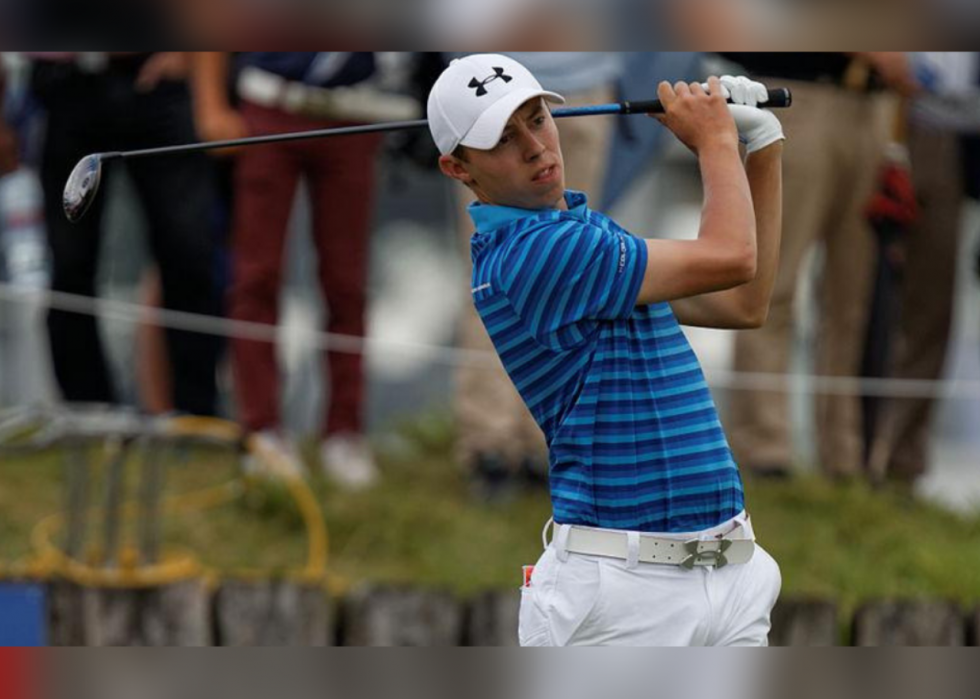 13 / 50
#38: Matthew Fitzpatrick
- Odds to win: +12500
- World ranking: 35
- 2018 The Masters Championship: T38 (score: 3)
- Last 5 results: T41 - 2 - T27 - CUT - T16

- 2019 PGA strokes gained:
--- Off the tee: 0.44 (PGA rank: 32)
--- Green approach: 0.34 (PGA rank: 50)
--- Around green: 0.17 (PGA rank: 62)
--- Putting: 0.30 (PGA rank: 60)
--- Total: 1.24 (PGA rank: 24)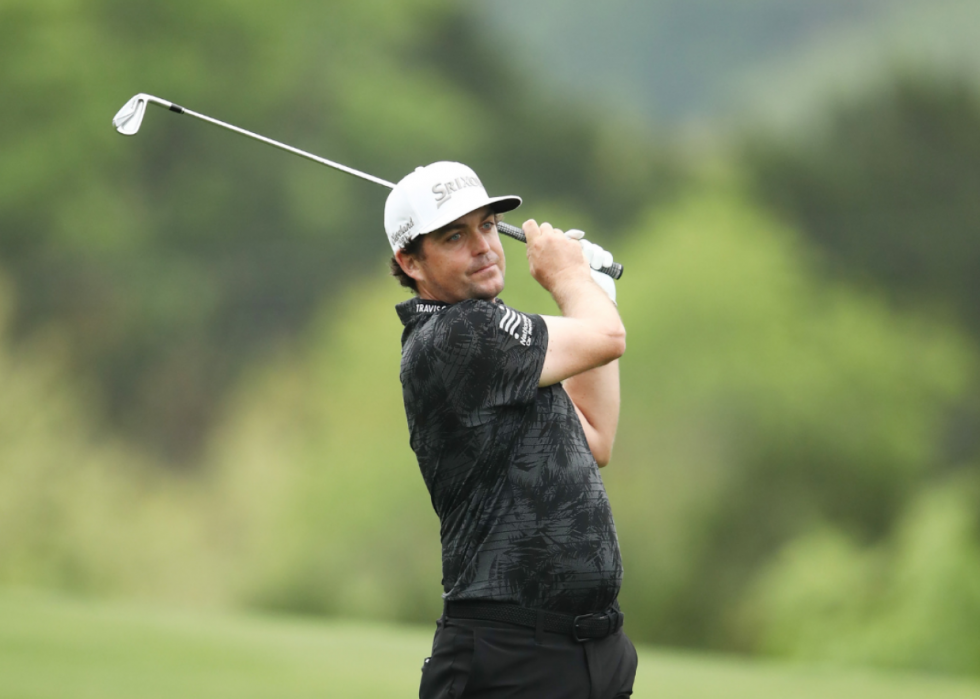 14 / 50
Ezra Shaw // Getty Images
#37: Keegan Bradley
- Odds to win: +12500
- World ranking: 34
- 2018 The Masters Championship: did not participate
- Last 5 results: CUT - T16 - T46 - T10 - T51

- 2019 PGA strokes gained:
--- Off the tee: 0.21 (PGA rank: 73)
--- Green approach: 1.01 (PGA rank: 5)
--- Around green: -0.03 (PGA rank: T122)
--- Putting: -0.82 (PGA rank: 208)
--- Total: 0.37 (PGA rank: 76)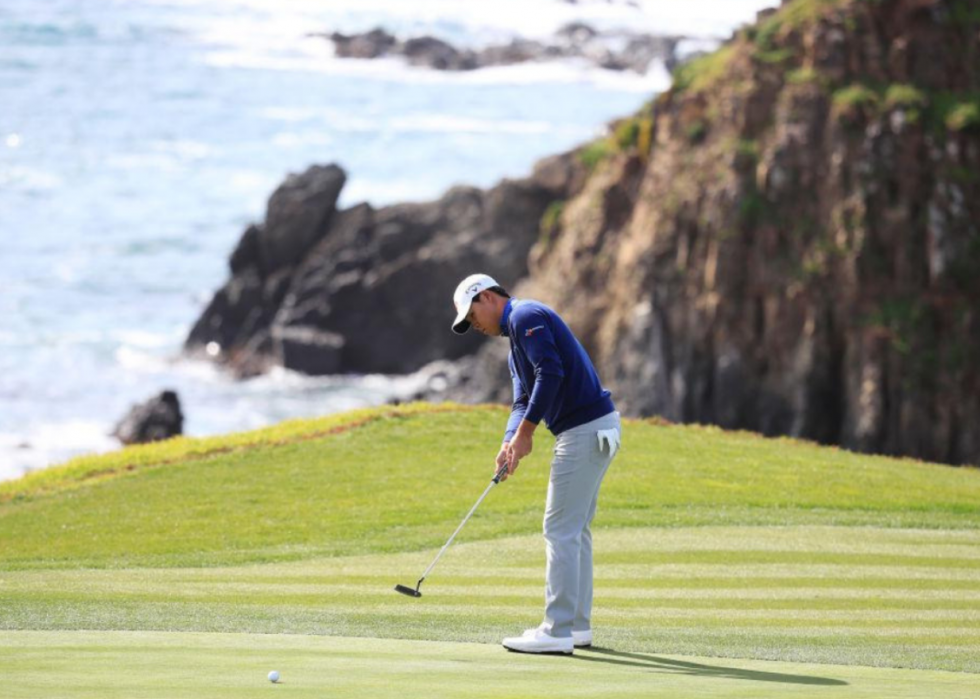 15 / 50
Chris Trotman // Getty Images
#36: Si Woo Kim
- Odds to win: +10000
- World ranking: 55
- 2018 The Masters Championship: T24 (score: -1)
- Last 5 results: T4 - T56 - CUT - 3 - T4

- 2019 PGA strokes gained:
--- Off the tee: -0.08 (PGA rank: 132)
--- Green approach: 0.19 (PGA rank: 74)
--- Around green: 0.53 (PGA rank: 9)
--- Putting: 0.50 (PGA rank: 31)
--- Total: 1.14 (PGA rank: 29)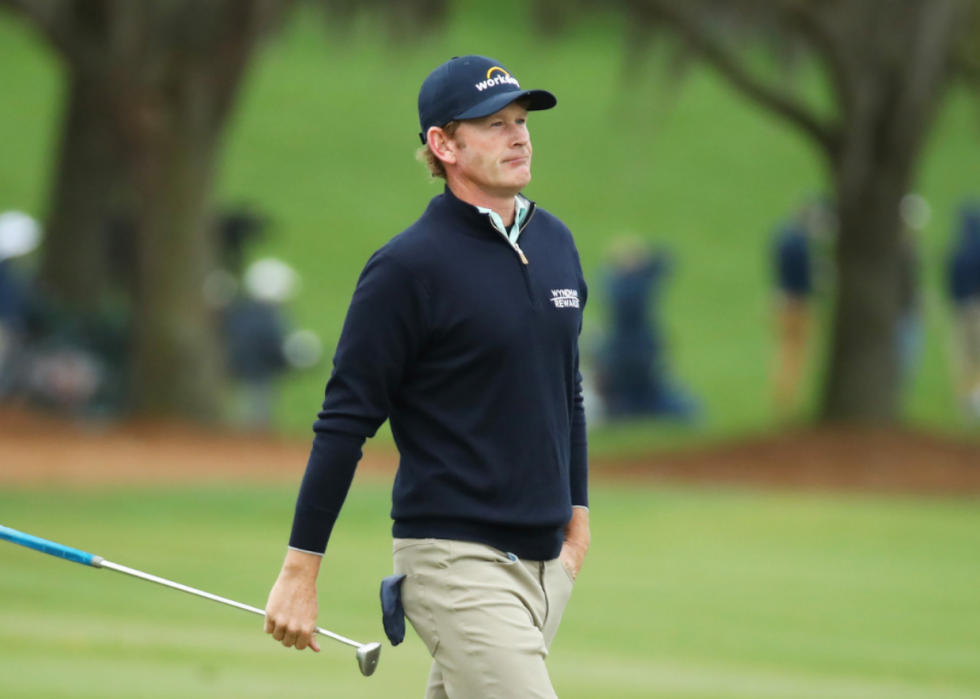 16 / 50
Gregory Shamus // Getty Images
#35: Brandt Snedeker
- Odds to win: +10000
- World ranking: 47
- 2018 The Masters Championship: did not participate
- Last 5 results: T30 - T5 - T50 - CUT - T55

- 2019 PGA strokes gained:
--- Off the tee: -0.33 (PGA rank: 180)
--- Green approach: -0.07 (PGA rank: 134)
--- Around green: 0.60 (PGA rank: 5)
--- Putting: 0.72 (PGA rank: 11)
--- Total: 0.93 (PGA rank: 37)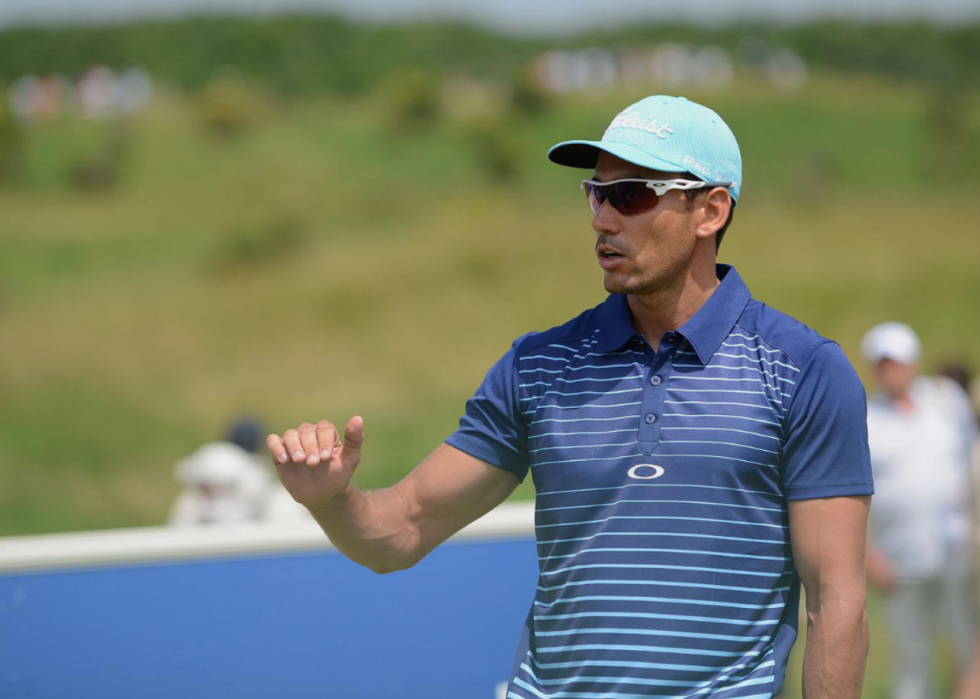 17 / 50
Marie-Lan Nguyen // Wikimedia Commons
#34: Rafa Cabrera Bello
- Odds to win: +10000
- World ranking: 31
- 2018 The Masters Championship: T38 (score: 3)
- Last 5 results: T30 - CUT - T3 - T19 - T25

- 2019 PGA strokes gained:
--- Off the tee: 0.49 (PGA rank: T25)
--- Green approach: 0.18 (PGA rank: 76)
--- Around green: -0.19 (PGA rank: 162)
--- Putting: 0.35 (PGA rank: 52)
--- Total: 0.84 (PGA rank: 43)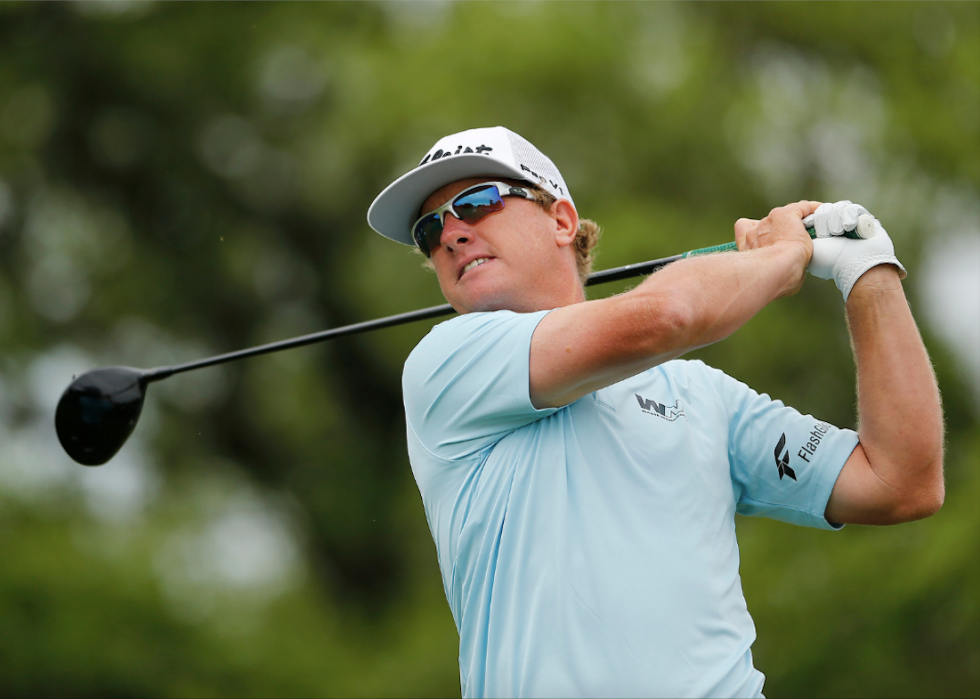 18 / 50
Michael Reaves // Getty Images
#33: Charley Hoffman
- Odds to win: +8000
- World ranking: 66
- 2018 The Masters Championship: T12 (score: -6)
- Last 5 results: 2 - T18 - CUT - CUT - CUT

- 2019 PGA strokes gained:
--- Off the tee: 0.30 (PGA rank: 54)
--- Green approach: 0.28 (PGA rank: 59)
--- Around green: -0.23 (PGA rank: T173)
--- Putting: 0.26 (PGA rank: 65)
--- Total: 0.61 (PGA rank: T54)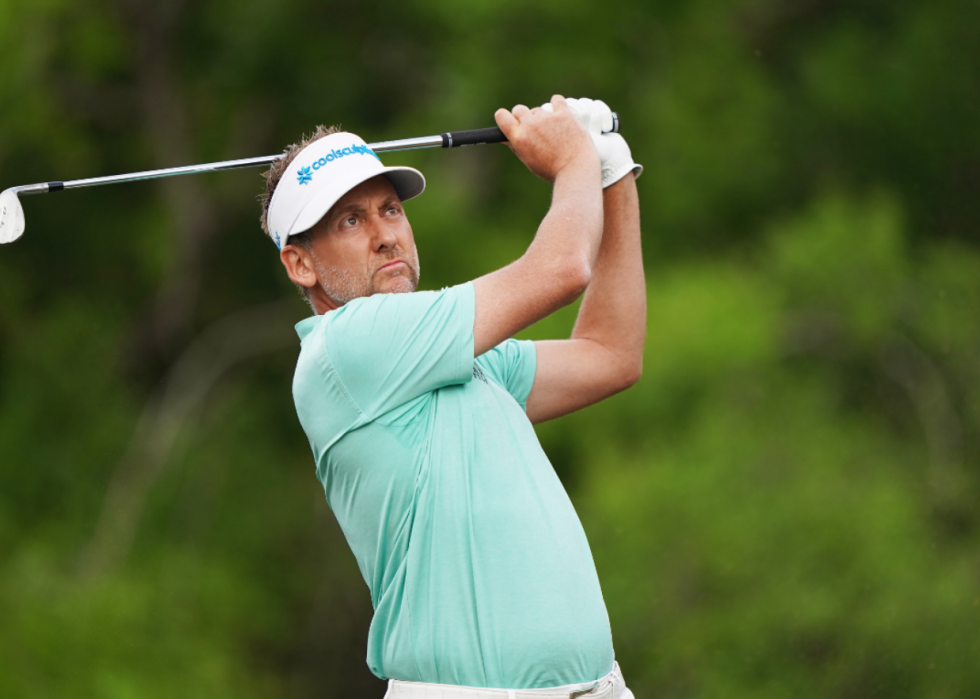 19 / 50
Darren Carroll // Getty Images
#32: Ian Poulter
- Odds to win: +8000
- World ranking: 32
- 2018 The Masters Championship: T44 (score: 4)
- Last 5 results: T56 - T23 - T3 - T6 - T3

- 2019 PGA strokes gained:
--- Off the tee: 0.33 (PGA rank: 48)
--- Green approach: 0.06 (PGA rank: 100)
--- Around green: 0.53 (PGA rank: 8)
--- Putting: 0.01 (PGA rank: 108)
--- Total: 0.92 (PGA rank: 39)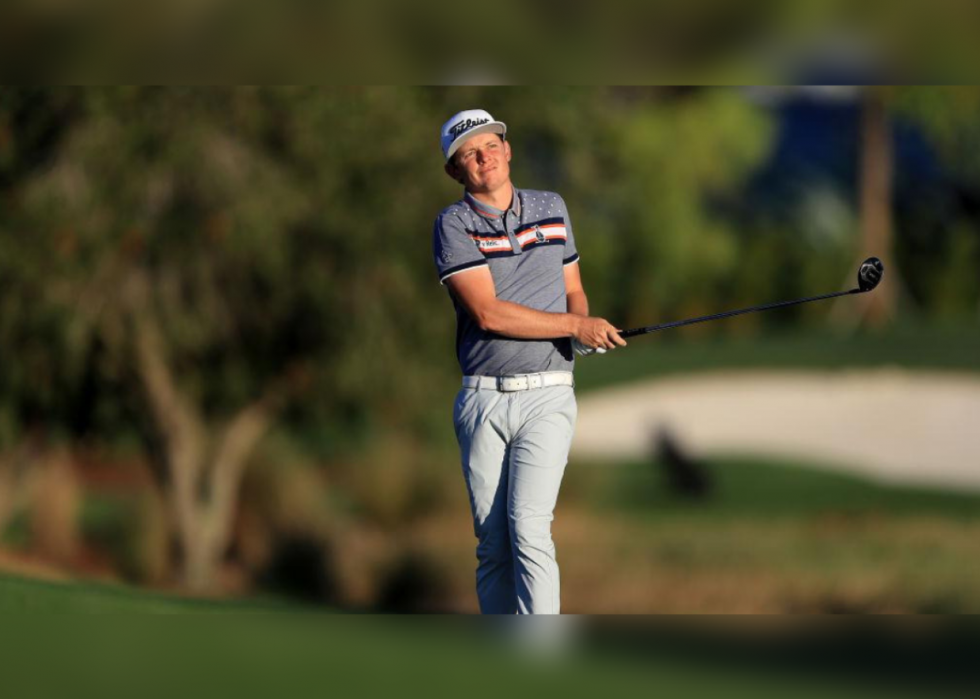 20 / 50
Sam Greenwood // Getty Images
#31: Cameron Smith
- Odds to win: +8000
- World ranking: 28
- 2018 The Masters Championship: T5 (score: -9)
- Last 5 results: T56 - CUT - T6 - T49 - T15

- 2019 PGA strokes gained:
--- Off the tee: -0.39 (PGA rank: T188)
--- Green approach: 0.49 (PGA rank: 35)
--- Around green: 0.39 (PGA rank: 19)
--- Putting: 0.65 (PGA rank: 17)
--- Total: 1.13 (PGA rank: 30)
21 / 50
Darren Carroll // Getty Images
#30: Gary Woodland
- Odds to win: +8000
- World ranking: 24
- 2018 The Masters Championship: CUT (score: 10)
- Last 5 results: CUT - T30 - T36 - T17 - T7

- 2019 PGA strokes gained:
--- Off the tee: 0.76 (PGA rank: 6)
--- Green approach: 0.56 (PGA rank: 29)
--- Around green: 0.25 (PGA rank: T42)
--- Putting: -0.21 (PGA rank: 145)
--- Total: 1.36 (PGA rank: 18)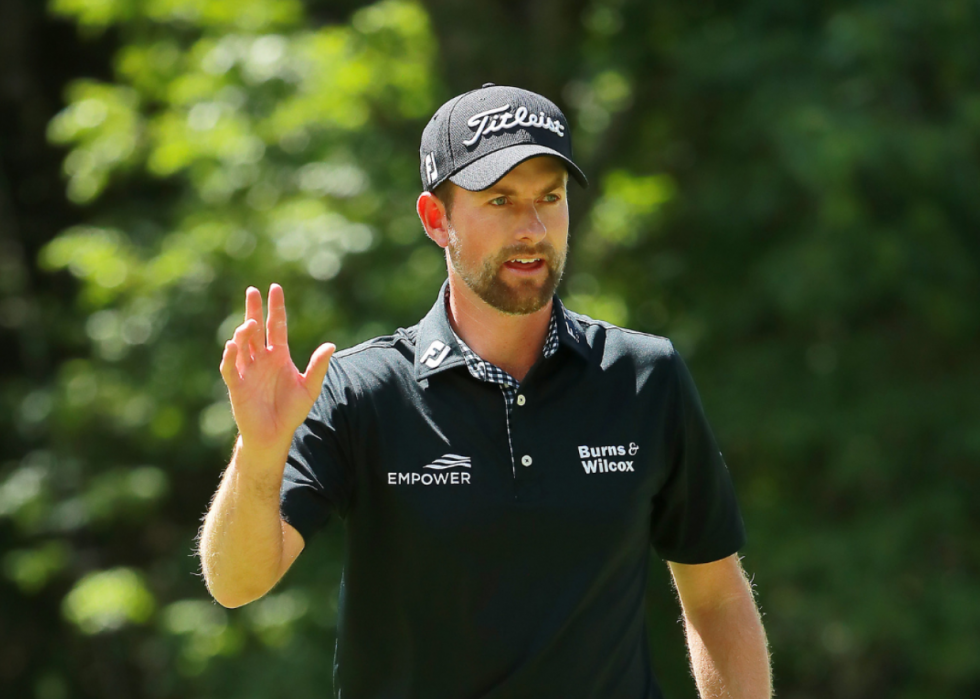 22 / 50
Hector Vivas // Getty Images
#29: Webb Simpson
- Odds to win: +8000
- World ranking: 23
- 2018 The Masters Championship: T20 (score: -2)
- Last 5 results: CUT - T16 - T36 - T39 - T20

- 2019 PGA strokes gained:
--- Off the tee: -0.13 (PGA rank: 140)
--- Green approach: 0.66 (PGA rank: 20)
--- Around green: 0.47 (PGA rank: T12)
--- Putting: 0.13 (PGA rank: T85)
--- Total: 1.12 (PGA rank: 31)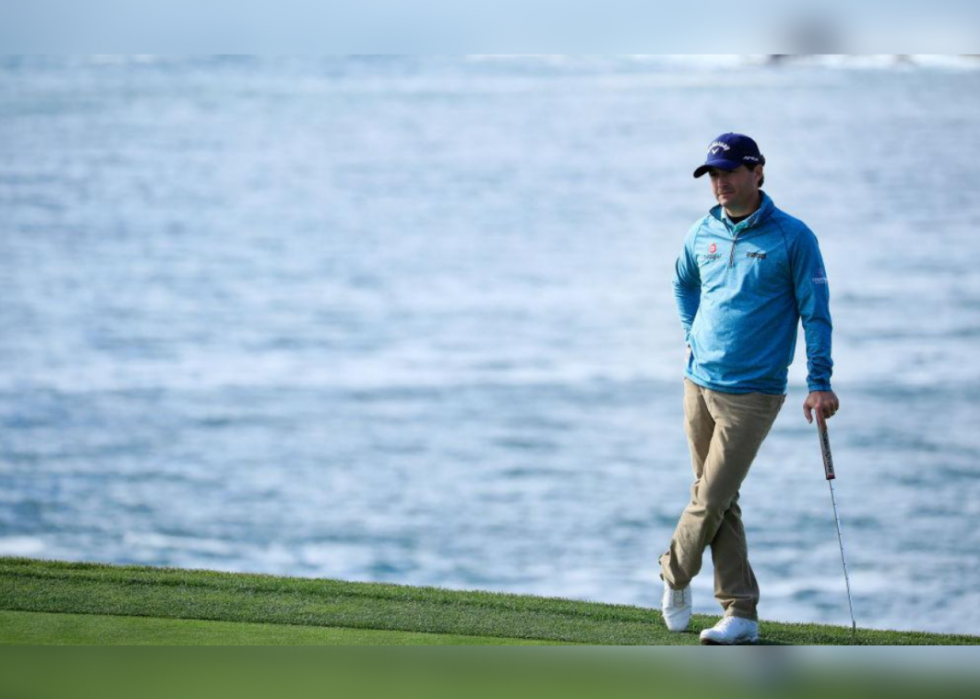 23 / 50
Cliff Hawkins // Getty Images
#28: Kevin Kisner
- Odds to win: +6600
- World ranking: 25
- 2018 The Masters Championship: T28 (score: E)
- Last 5 results: T24 - T22 - T23 - T27 - T28

- 2019 PGA strokes gained:
--- Off the tee: 0.40 (PGA rank: 38)
--- Green approach: 0.42 (PGA rank: 39)
--- Around green: -0.37 (PGA rank: 195)
--- Putting: 0.43 (PGA rank: 37)
--- Total: 0.87 (PGA rank: 41)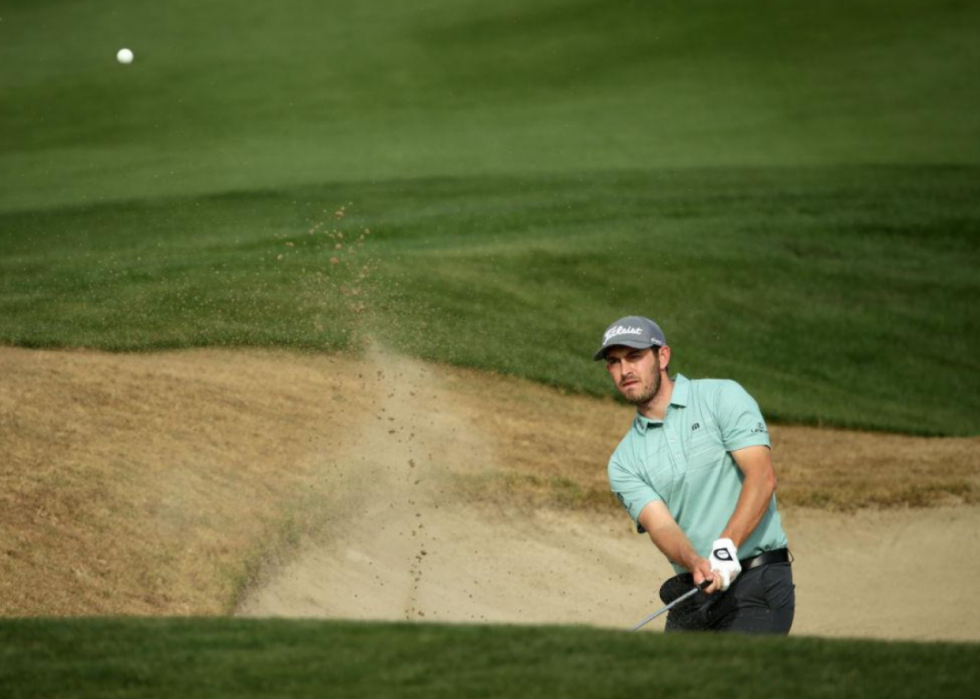 24 / 50
Jeff Gross // Getty Images
#27: Patrick Cantlay
- Odds to win: +6600
- World ranking: 21
- 2018 The Masters Championship: CUT (score: 7)
- Last 5 results: CUT - T6 - T15 - CUT - T9

- 2019 PGA strokes gained:
--- Off the tee: 0.50 (PGA rank: 22)
--- Green approach: 0.62 (PGA rank: 23)
--- Around green: 0.30 (PGA rank: T33)
--- Putting: 0.14 (PGA rank: 81)
--- Total: 1.56 (PGA rank: 10)
25 / 50
Warren Little // Getty Images
#26: Henrik Stenson
- Odds to win: +6000
- World ranking: 38
- 2018 The Masters Championship: T5 (score: -9)
- Last 5 results: T24 - CUT - T17 - T54 - CUT

- 2019 PGA strokes gained: player not eligible for ranking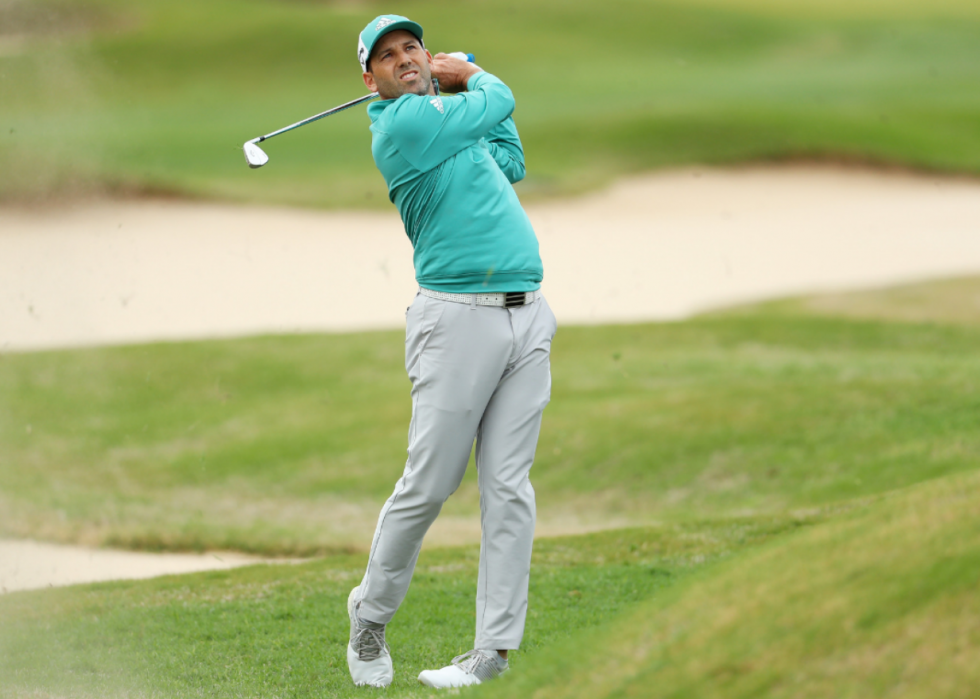 26 / 50
Warren Little // Getty Images
#25: Sergio Garcia
- Odds to win: +5000
- World ranking: 27
- 2018 The Masters Championship: CUT (score: 15)
- Last 5 results: T54 - T22 - T9 - T6 - T37

- 2019 PGA strokes gained:
--- Off the tee: 0.33 (PGA rank: 47)
--- Green approach: 0.97 (PGA rank: 8)
--- Around green: -0.25 (PGA rank: 181)
--- Putting: 0.25 (PGA rank: 68)
--- Total: 1.30 (PGA rank: T22)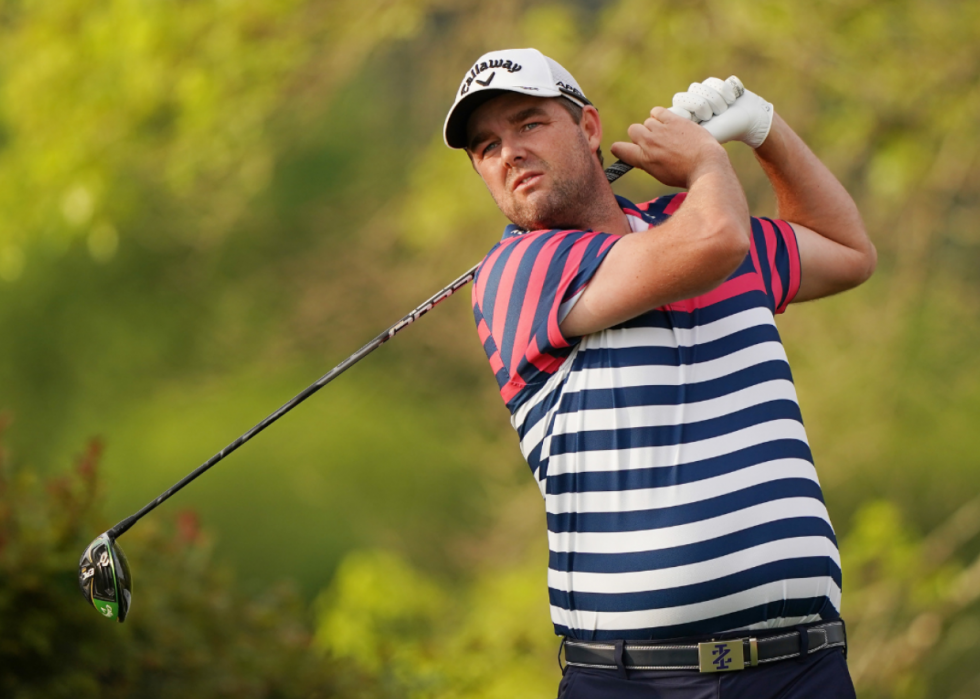 27 / 50
Darren Carroll // Getty Images
#24: Marc Leishman
- Odds to win: +5000
- World ranking: 20
- 2018 The Masters Championship: 9 (score: -8)
- Last 5 results: CUT - T23 - T62 - T4 - T43

- 2019 PGA strokes gained:
--- Off the tee: 0.13 (PGA rank: 86)
--- Green approach: 0.66 (PGA rank: 19)
--- Around green: 0.00 (PGA rank: 112)
--- Putting: 0.25 (PGA rank: 67)
--- Total: 1.04 (PGA rank: 32)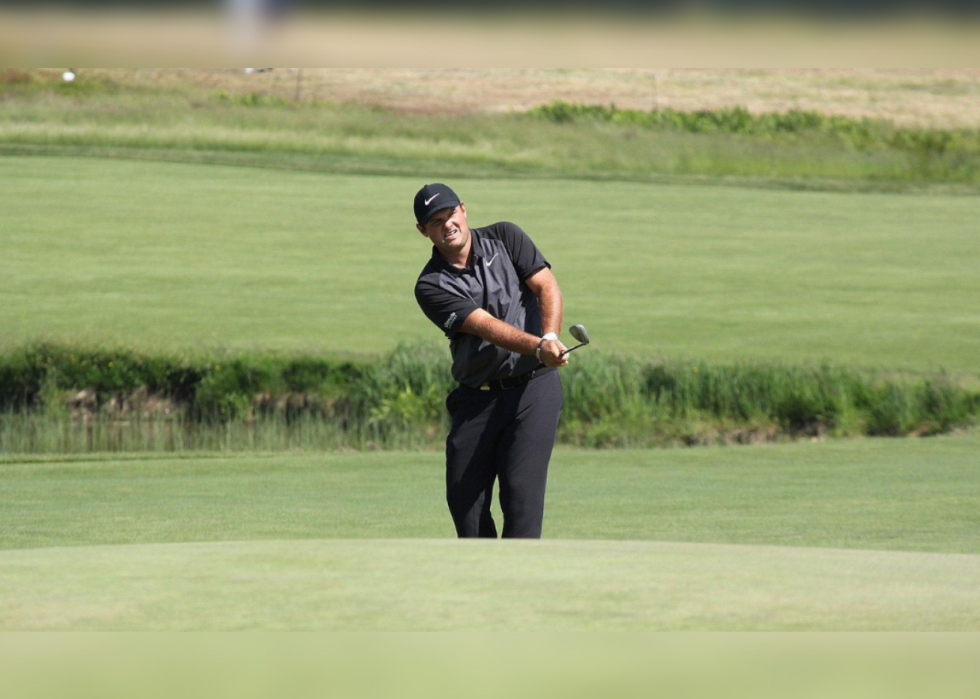 28 / 50
Peetlesnumber1 // Wikimedia Commons
#23: Patrick Reed
- Odds to win: +5000
- World ranking: 18
- 2018 The Masters Championship: 1 (score: -15)
- Last 5 results: CUT - T47 - T50 - T14 - T22

- 2019 PGA strokes gained:
--- Off the tee: -0.06 (PGA rank: 126)
--- Green approach: -0.21 (PGA rank: 153)
--- Around green: 0.22 (PGA rank: 51)
--- Putting: 0.46 (PGA rank: 33)
--- Total: 0.42 (PGA rank: 75)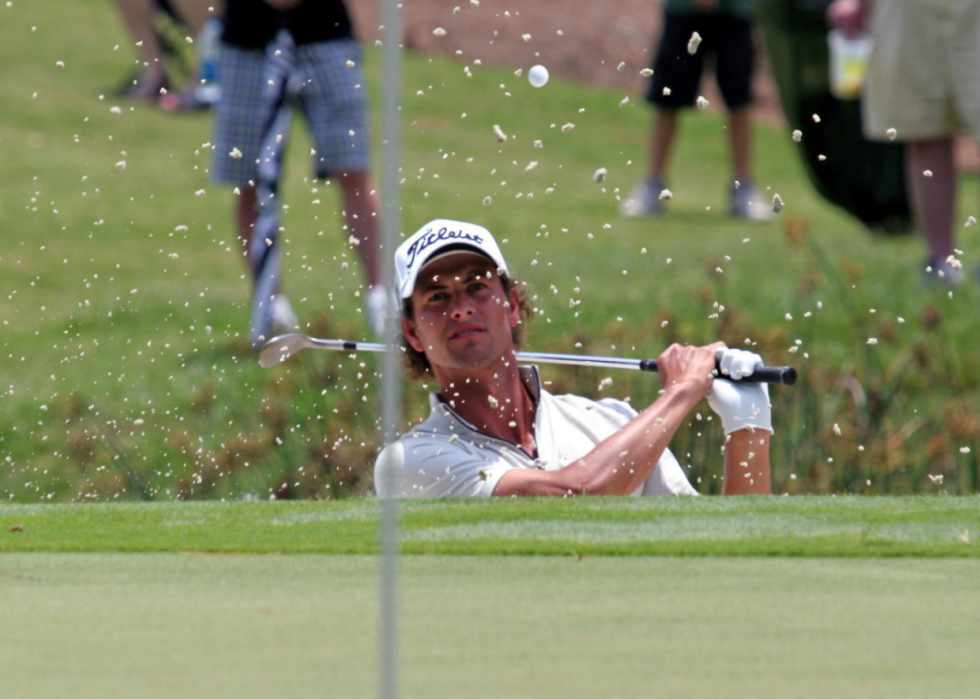 29 / 50
#22: Adam Scott
- Odds to win: +4000
- World ranking: 29
- 2018 The Masters Championship: T32 (score: 1)
- Last 5 results: T12 - CUT - T7 - MDF - 2

- 2019 PGA strokes gained:
--- Off the tee: 0.36 (PGA rank: T42)
--- Green approach: 0.38 (PGA rank: 41)
--- Around green: 0.00 (PGA rank: 113)
--- Putting: 0.68 (PGA rank: T14)
--- Total: 1.42 (PGA rank: 17)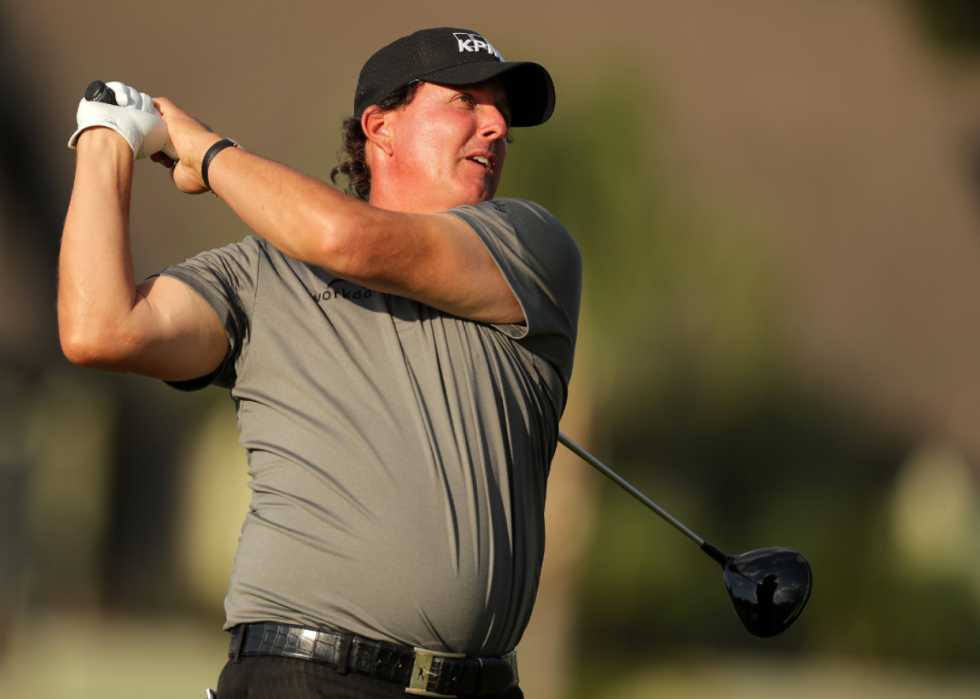 30 / 50
Richard Heathcote // Getty Images
#21: Phil Mickelson
- Odds to win: +4000
- World ranking: 22
- 2018 The Masters Championship: T36 (score: 2)
- Last 5 results: CUT - CUT - T39 - T37 - 1

- 2019 PGA strokes gained:
--- Off the tee: 0.22 (PGA rank: 69)
--- Green approach: 0.30 (PGA rank: 53)
--- Around green: 0.15 (PGA rank: T68)
--- Putting: -0.02 (PGA rank: 114)
--- Total: 0.66 (PGA rank: 50)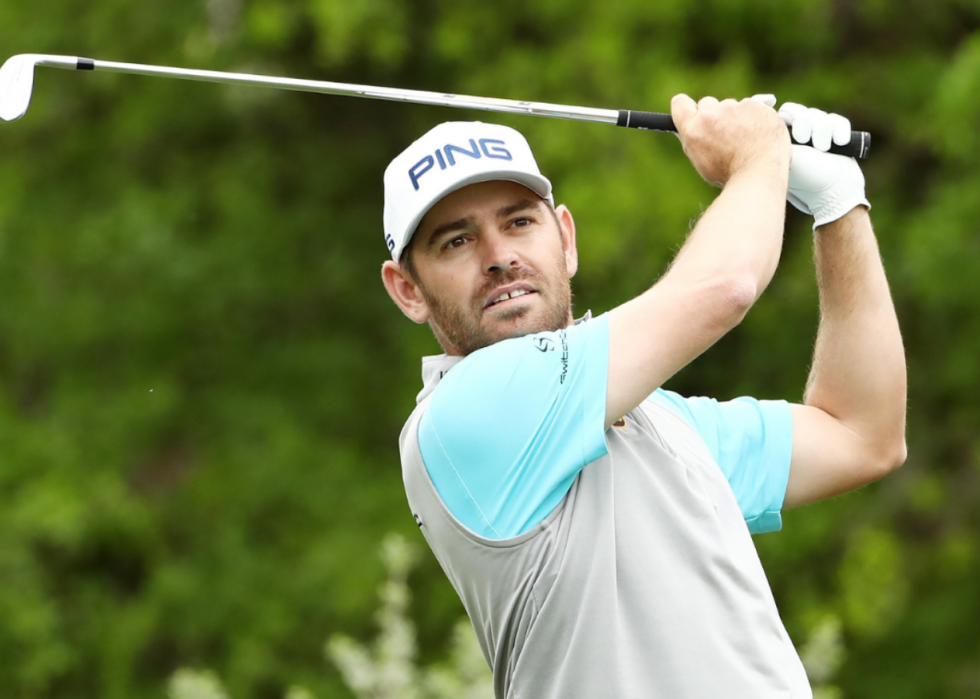 31 / 50
Ezra Shaw // Getty Images
#20: Louis Oosthuizen
- Odds to win: +4000
- World ranking: 19
- 2018 The Masters Championship: T12 (score: -6)
- Last 5 results: T2 - T56 - CUT - T25 - CUT

- 2019 PGA strokes gained:
--- Off the tee: 0.23 (PGA rank: T65)
--- Green approach: -0.24 (PGA rank: 155)
--- Around green: 0.63 (PGA rank: 4)
--- Putting: -0.11 (PGA rank: 127)
--- Total: 0.51 (PGA rank: 65)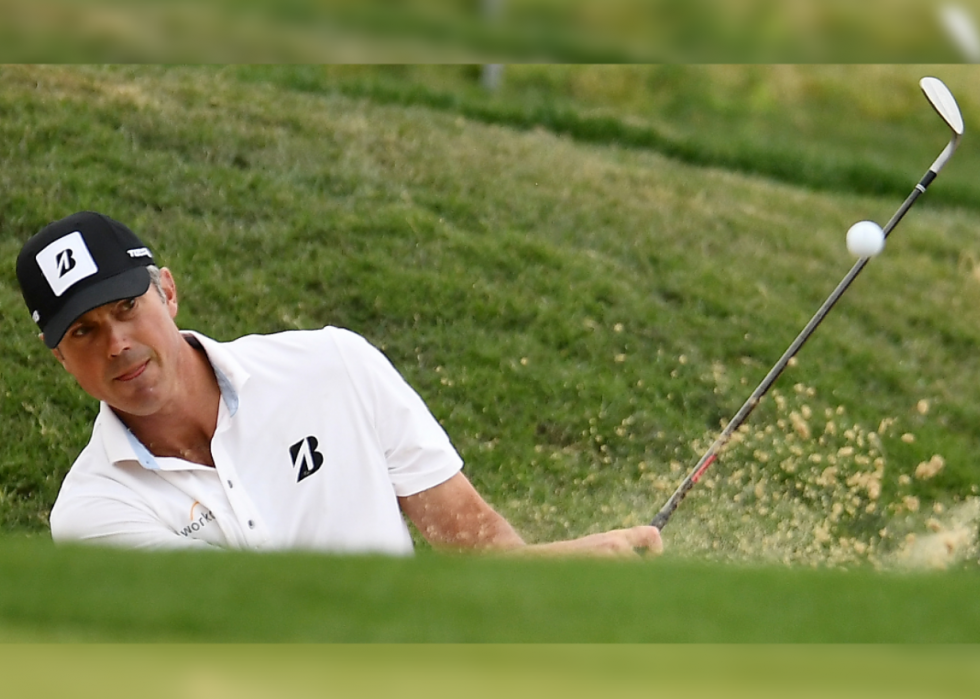 32 / 50
Stacy Revere // Getty Images
#19: Matt Kuchar
- Odds to win: +4000
- World ranking: 16
- 2018 The Masters Championship: T28 (score: E)
- Last 5 results: T7 - T26 - 50 - T28 - T22

- 2019 PGA strokes gained:
--- Off the tee: 0.26 (PGA rank: 56)
--- Green approach: 1.00 (PGA rank: 6)
--- Around green: 0.17 (PGA rank: T60)
--- Putting: -0.12 (PGA rank: T129)
--- Total: 1.30 (PGA rank: T22)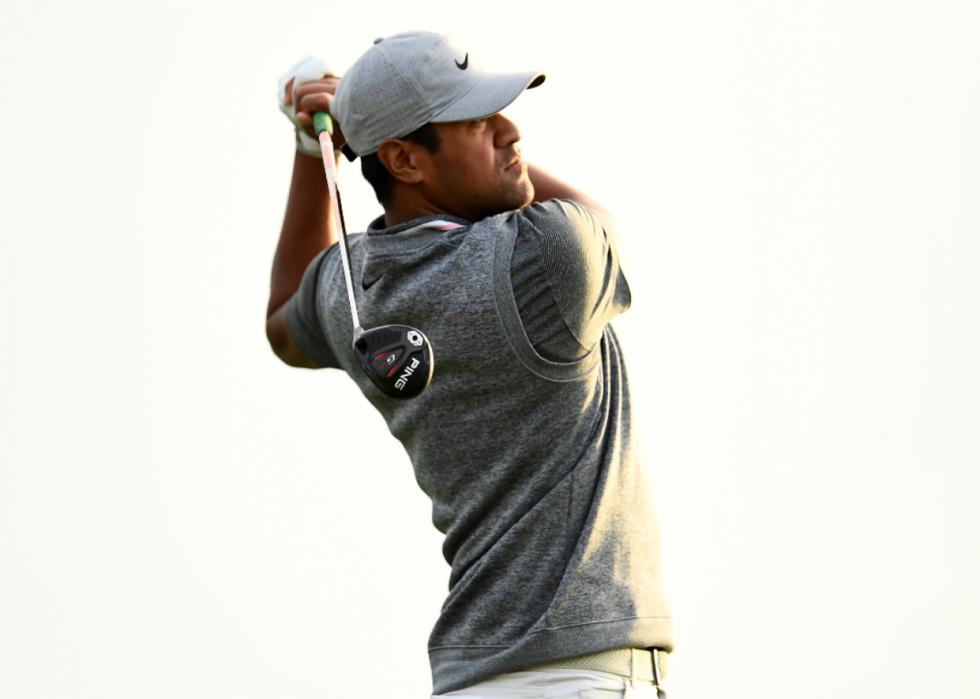 33 / 50
Stacy Revere // Getty Images
#18: Tony Finau
- Odds to win: +4000
- World ranking: 15
- 2018 The Masters Championship: T10 (score: -7)
- Last 5 results: T61 - T22 - T25 - T15 - T38

- 2019 PGA strokes gained:
--- Off the tee: 0.48 (PGA rank: 28)
--- Green approach: 0.28 (PGA rank: 58)
--- Around green: -0.05 (PGA rank: 129)
--- Putting: 0.22 (PGA rank: 72)
--- Total: 0.93 (PGA rank: 38)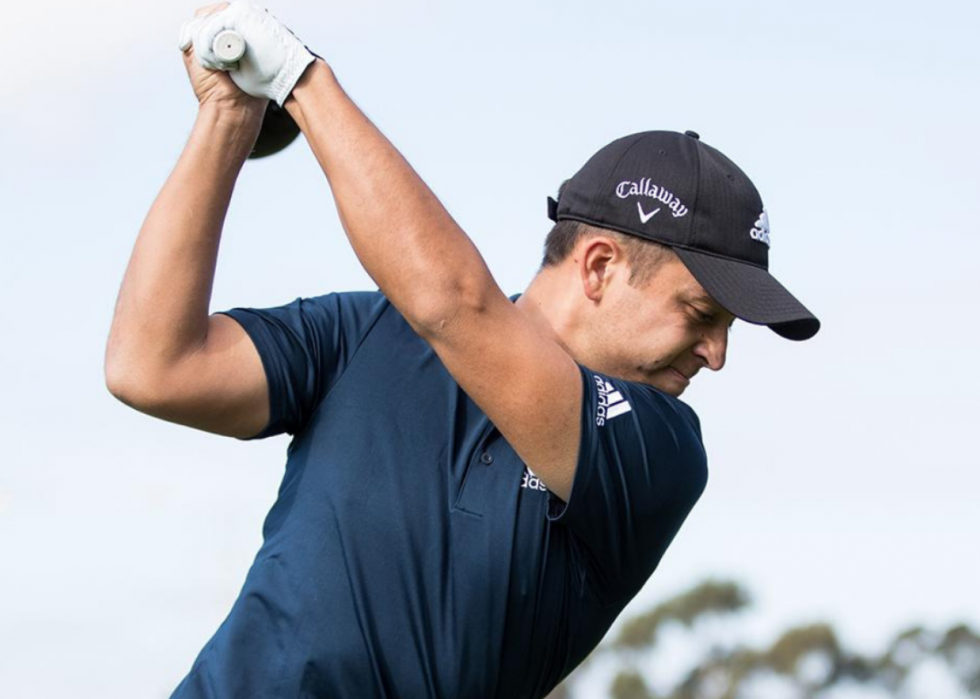 34 / 50
Callaway Golf company // Wikimedia Commons
#17: Xander Schauffele
- Odds to win: +4000
- World ranking: 10
- 2018 The Masters Championship: T50 (score: 8)
- Last 5 results: CUT - T14 - T15 - T10 - T25

- 2019 PGA strokes gained:
--- Off the tee: 0.49 (PGA rank: 27)
--- Green approach: 0.73 (PGA rank: T13)
--- Around green: 0.13 (PGA rank: 73)
--- Putting: 0.61 (PGA rank: 19)
--- Total: 1.95 (PGA rank: 4)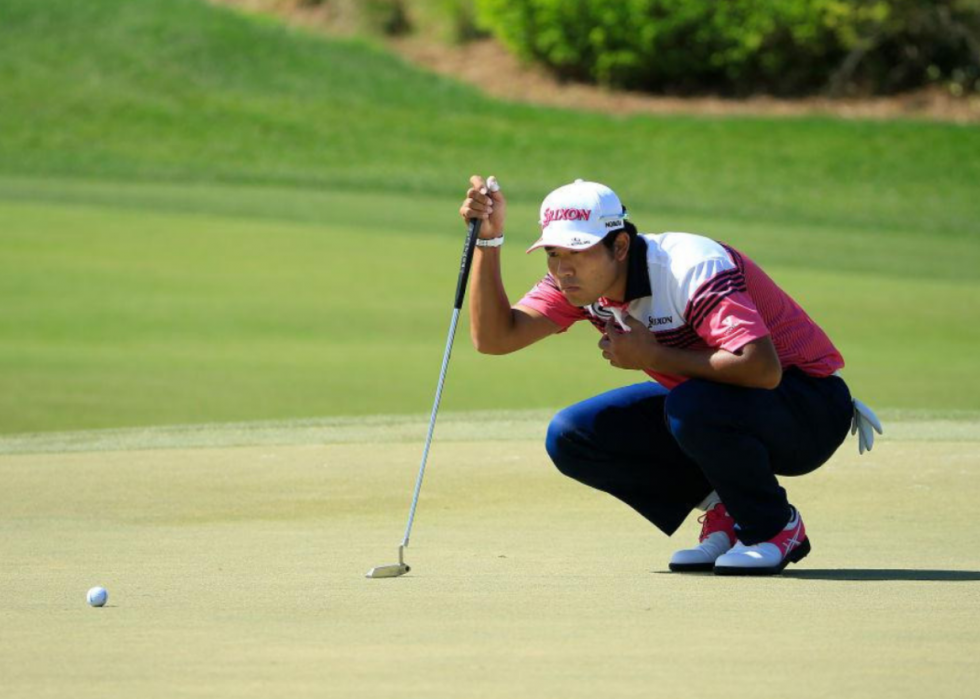 35 / 50
Michael Cohen // Getty Images
#16: Hideki Matsuyama
- Odds to win: +3300
- World ranking: 26
- 2018 The Masters Championship: 19 (score: -3)
- Last 5 results: T8 - T33 - T19 - T9 - T15

- 2019 PGA strokes gained:
--- Off the tee: 0.47 (PGA rank: 29)
--- Green approach: 1.17 (PGA rank: 2)
--- Around green: 0.37 (PGA rank: 21)
--- Putting: -0.41 (PGA rank: 180)
--- Total: 1.60 (PGA rank: 9)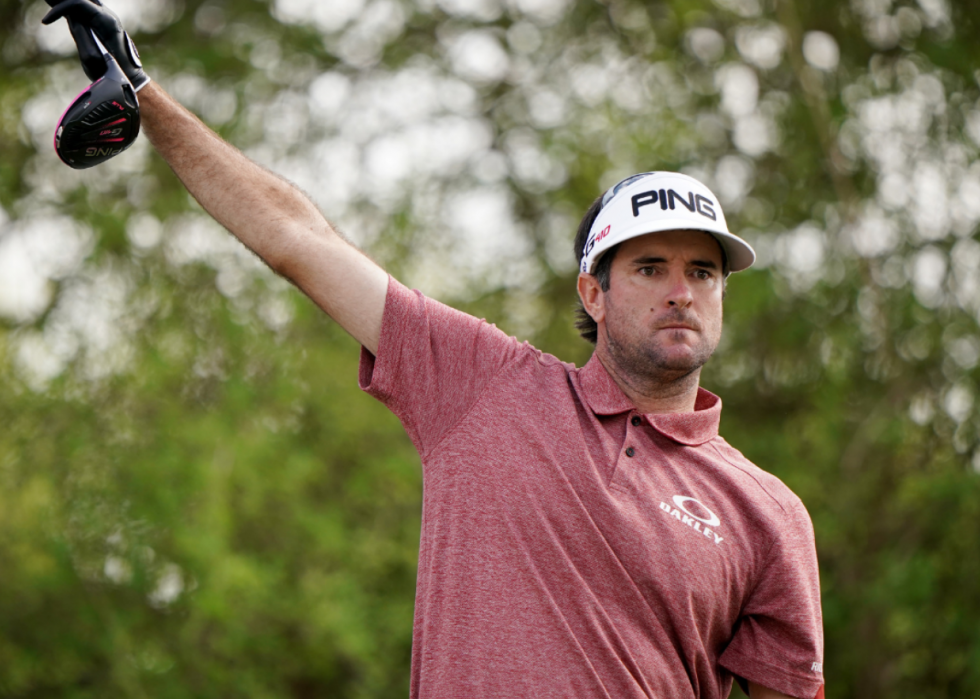 36 / 50
Darren Carroll // Getty Images
#15: Bubba Watson
- Odds to win: +3300
- World ranking: 17
- 2018 The Masters Championship: T5 (score: -9)
- Last 5 results: T4 - T56 - T17 - T27 - T15

- 2019 PGA strokes gained:
--- Off the tee: 0.95 (PGA rank: 3)
--- Green approach: 0.11 (PGA rank: T90)
--- Around green: 0.03 (PGA rank: 101)
--- Putting: -0.30 (PGA rank: 162)
--- Total: 0.79 (PGA rank: 45)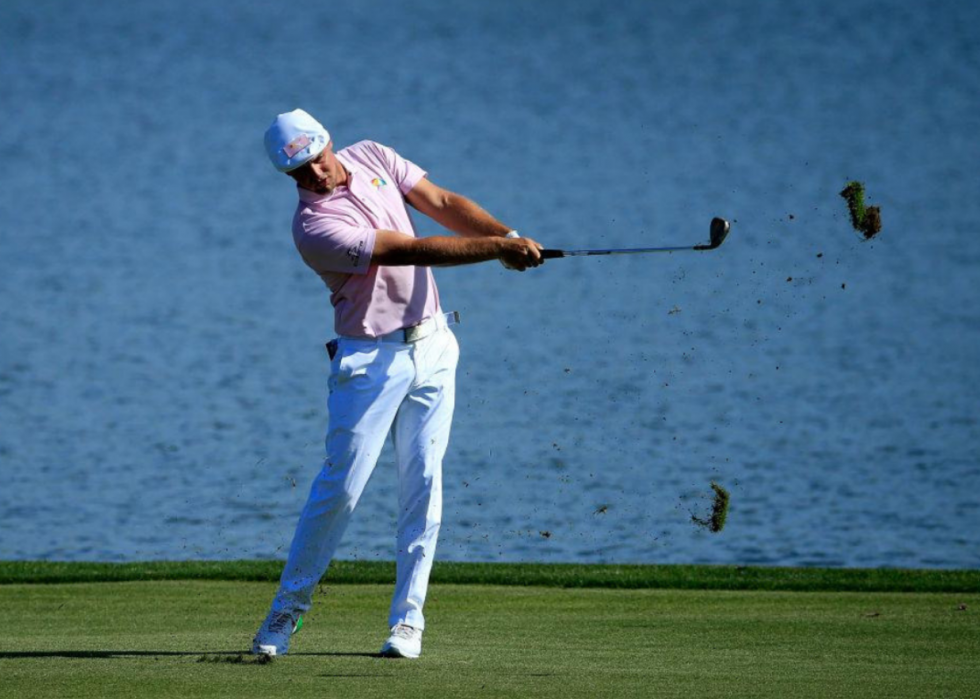 37 / 50
Michael Cohen // Getty Images
#14: Bryson DeChambeau
- Odds to win: +3300
- World ranking: 6
- 2018 The Masters Championship: T38 (score: 3)
- Last 5 results: T20 - T46 - T56 - T15 - T6

- 2019 PGA strokes gained:
--- Off the tee: 0.71 (PGA rank: 8)
--- Green approach: 0.20 (PGA rank: 73)
--- Around green: 0.02 (PGA rank: T105)
--- Putting: 0.41 (PGA rank: 42)
--- Total: 1.34 (PGA rank: 19)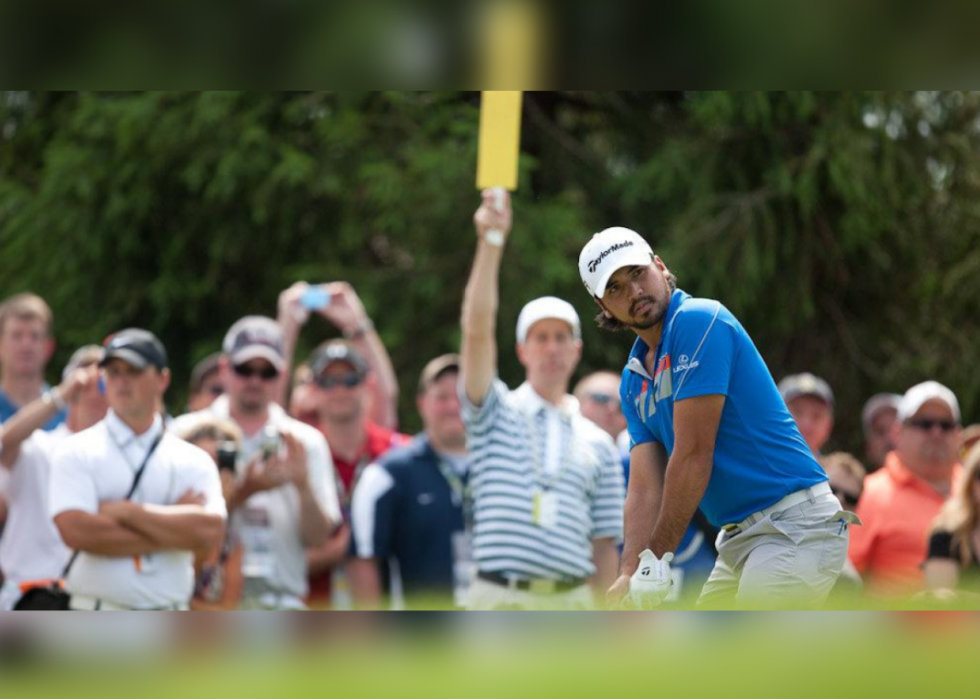 38 / 50
#13: Jason Day
- Odds to win: +2800
- World ranking: 14
- 2018 The Masters Championship: T20 (score: -2)
- Last 5 results: CUT - T8 - T4 - T5 - 13

- 2019 PGA strokes gained:
--- Off the tee: 0.76 (PGA rank: 5)
--- Green approach: -0.03 (PGA rank: 125)
--- Around green: 0.04 (PGA rank: 98)
--- Putting: 0.87 (PGA rank: 4)
--- Total: 1.63 (PGA rank: 7)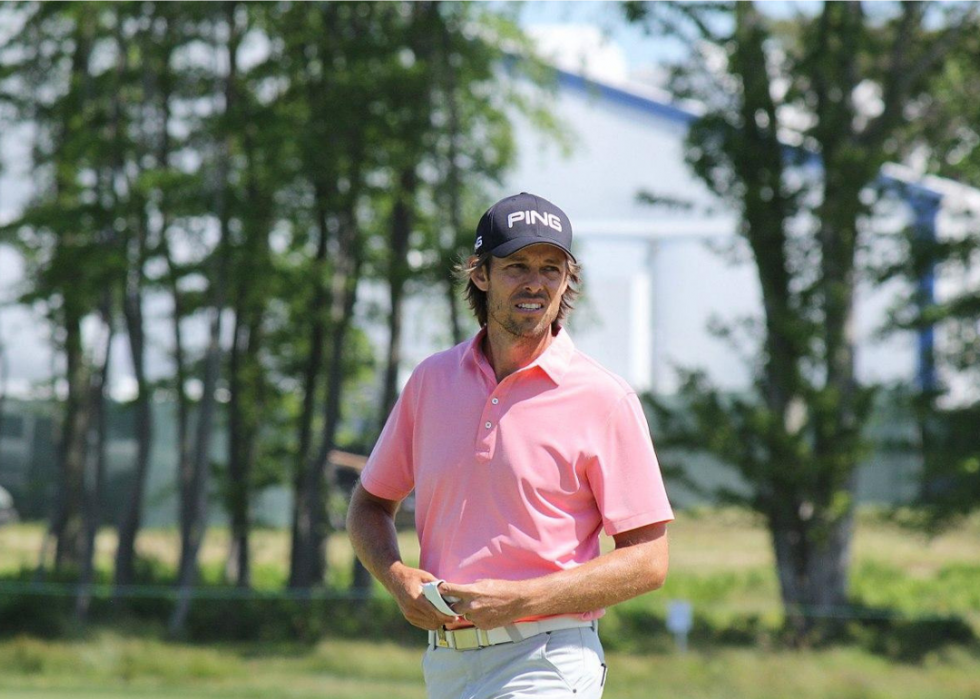 39 / 50
Peetlesnumber1 // Wikimedia Commons
#12: Tommy Fleetwood
- Odds to win: +2500
- World ranking: 13
- 2018 The Masters Championship: T17 (score: -4)
- Last 5 results: T5 - T3 - T19 - T28 - T45

- 2019 PGA strokes gained:
--- Off the tee: 0.92 (PGA rank: 4)
--- Green approach: 0.45 (PGA rank: 37)
--- Around green: 0.40 (PGA rank: 16)
--- Putting: 0.07 (PGA rank: 98)
--- Total: 1.84 (PGA rank: 5)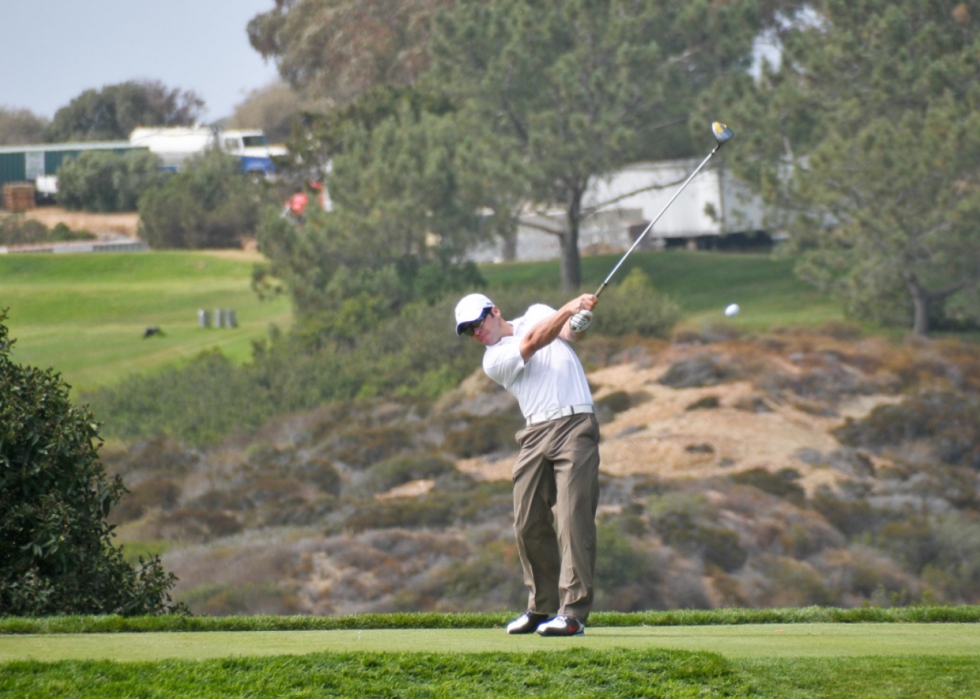 40 / 50
#11: Paul Casey
- Odds to win: +2500
- World ranking: 11
- 2018 The Masters Championship: T15 (score: -5)
- Last 5 results: 1 - CUT - T3 - T25 - 2

- 2019 PGA strokes gained:
--- Off the tee: 0.62 (PGA rank: T12)
--- Green approach: 0.40 (PGA rank: 40)
--- Around green: 0.35 (PGA rank: T27)
--- Putting: -0.41 (PGA rank: 181)
--- Total: 0.96 (PGA rank: 35)
41 / 50
Warren Little // Getty Images
#10: Francesco Molinari
- Odds to win: +2500
- World ranking: 7
- 2018 The Masters Championship: T20 (score: -2)
- Last 5 results: T56 - 1 - T17 - T27 - T26

- 2019 PGA strokes gained:
--- Off the tee: 0.05 (PGA rank: 101)
--- Green approach: -0.08 (PGA rank: 137)
--- Around green: 0.18 (PGA rank: 58)
--- Putting: 0.56 (PGA rank: 23)
--- Total: 0.71 (PGA rank: 47)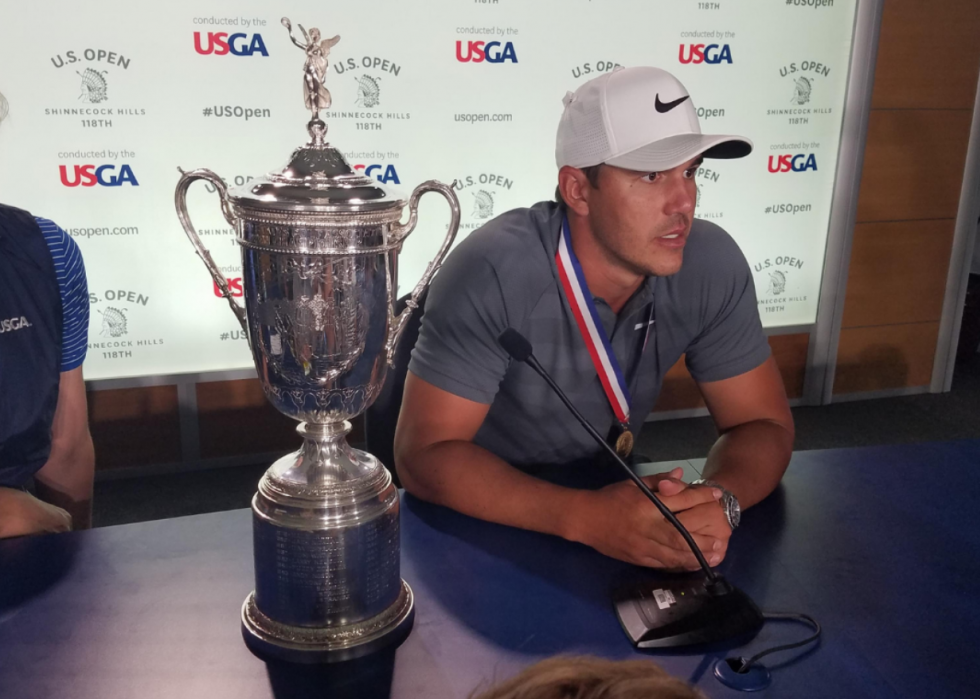 42 / 50
JazzyJoeyD // Wikimedia Commons
#9: Brooks Koepka
- Odds to win: +2500
- World ranking: 4
- 2018 The Masters Championship: did not participate
- Last 5 results: T56 - CUT - T2 - T27 - T57

- 2019 PGA strokes gained:
--- Off the tee: 0.25 (PGA rank: 61)
--- Green approach: 0.35 (PGA rank: 47)
--- Around green: 0.06 (PGA rank: T92)
--- Putting: -0.21 (PGA rank: 146)
--- Total: 0.44 (PGA rank: 71)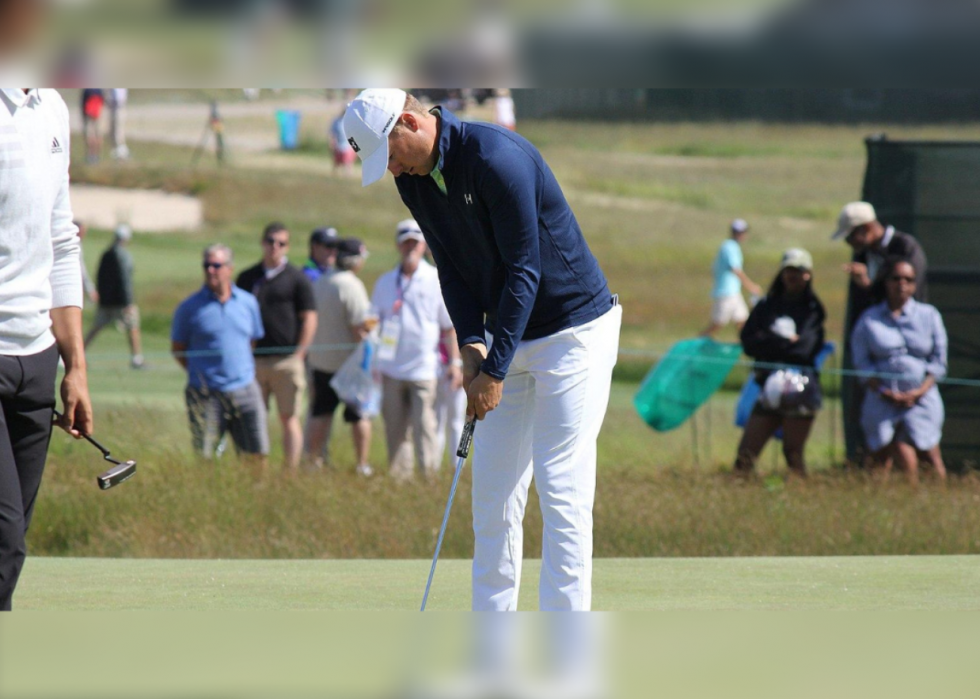 43 / 50
Peetlesnumber1 // Wikimedia Commons
#8: Jordan Spieth
- Odds to win: +2200
- World ranking: 33
- 2018 The Masters Championship: 3 (score: -13)
- Last 5 results: T30 - CUT - T54 - T51 - T45

- 2019 PGA strokes gained:
--- Off the tee: -0.70 (PGA rank: 203)
--- Green approach: 0.02 (PGA rank: 111)
--- Around green: 0.10 (PGA rank: 82)
--- Putting: 0.23 (PGA rank: 70)
--- Total: -0.35 (PGA rank: 148)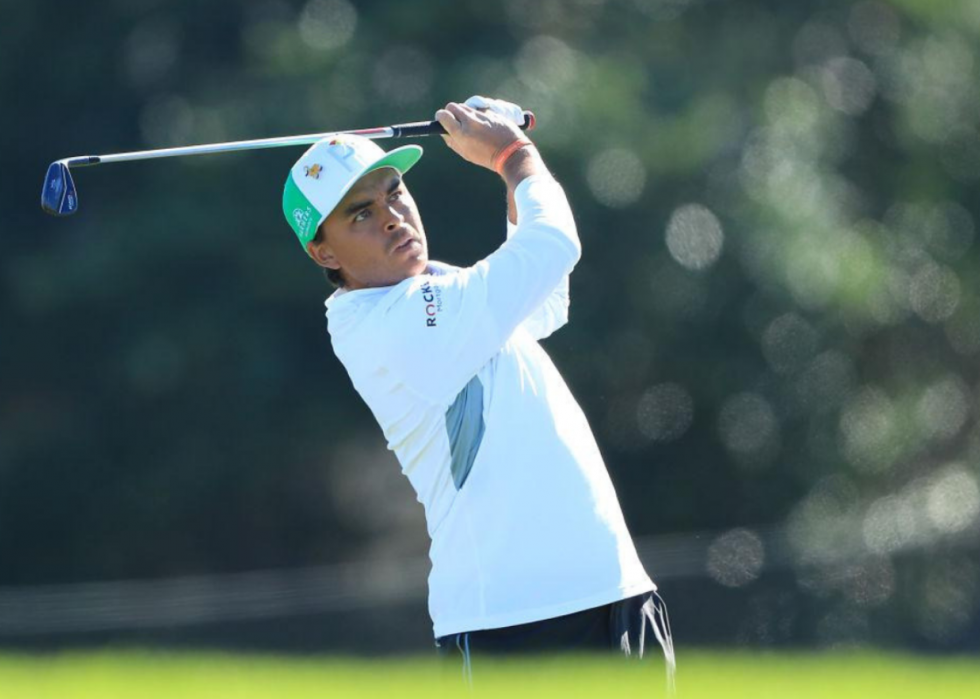 44 / 50
Sam Greenwood // Getty Images
#7: Rickie Fowler
- Odds to win: +1800
- World ranking: 9
- 2018 The Masters Championship: 2 (score: -14)
- Last 5 results: T17 - T47 - T40 - T2 - T36

- 2019 PGA strokes gained:
--- Off the tee: 0.23 (PGA rank: 64)
--- Green approach: 0.28 (PGA rank: 62)
--- Around green: 0.02 (PGA rank: T105)
--- Putting: 0.78 (PGA rank: 8)
--- Total: 1.31 (PGA rank: 21)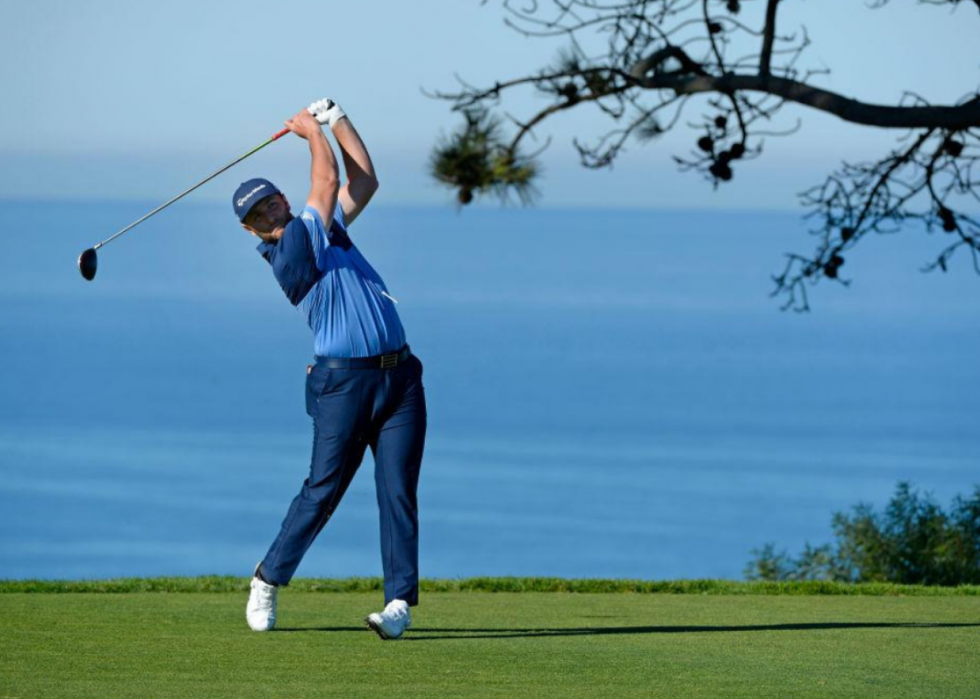 45 / 50
Robert Laberge // Getty Images
#6: Jon Rahm
- Odds to win: +1800
- World ranking: 8
- 2018 The Masters Championship: 4 (score: -11)
- Last 5 results: T6 - T12 - T45 - T9 - T10

- 2019 PGA strokes gained:
--- Off the tee: 1.00 (PGA rank: 2)
--- Green approach: 0.26 (PGA rank: 64)
--- Around green: 0.02 (PGA rank: T105)
--- Putting: 0.27 (PGA rank: 62)
--- Total: 1.55 (PGA rank: 11)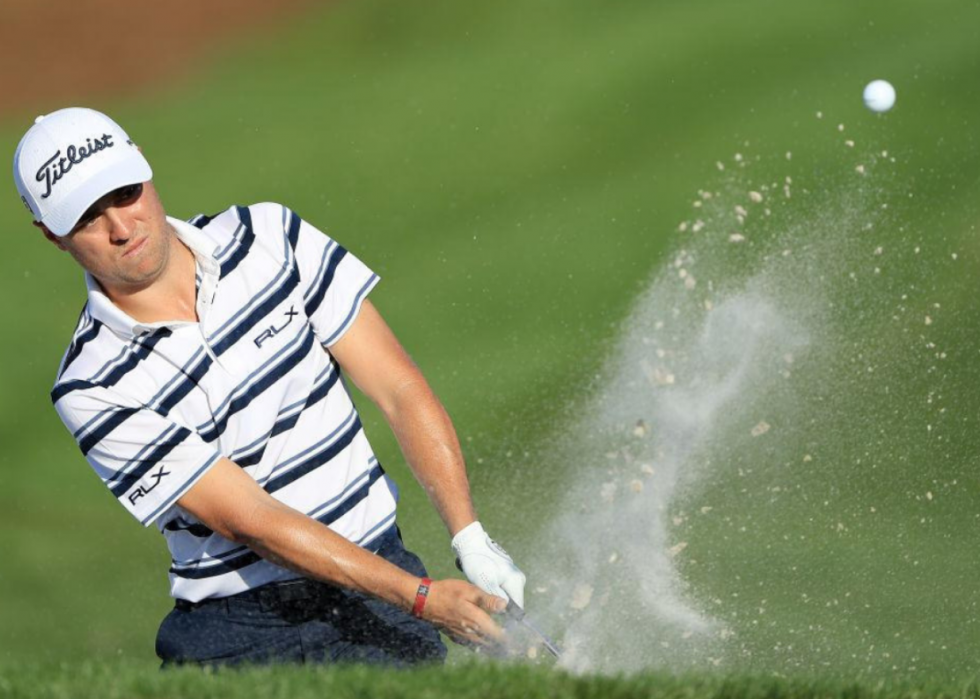 46 / 50
Sam Greenwood // Getty Images
#5: Justin Thomas
- Odds to win: +1800
- World ranking: 5
- 2018 The Masters Championship: T17 (score: -4)
- Last 5 results: T35 - T30 - 9 - 2 - 3

- 2019 PGA strokes gained:
--- Off the tee: 0.42 (PGA rank: 37)
--- Green approach: 1.02 (PGA rank: 4)
--- Around green: 0.50 (PGA rank: 10)
--- Putting: 0.14 (PGA rank: 82)
--- Total: 2.07 (PGA rank: 3)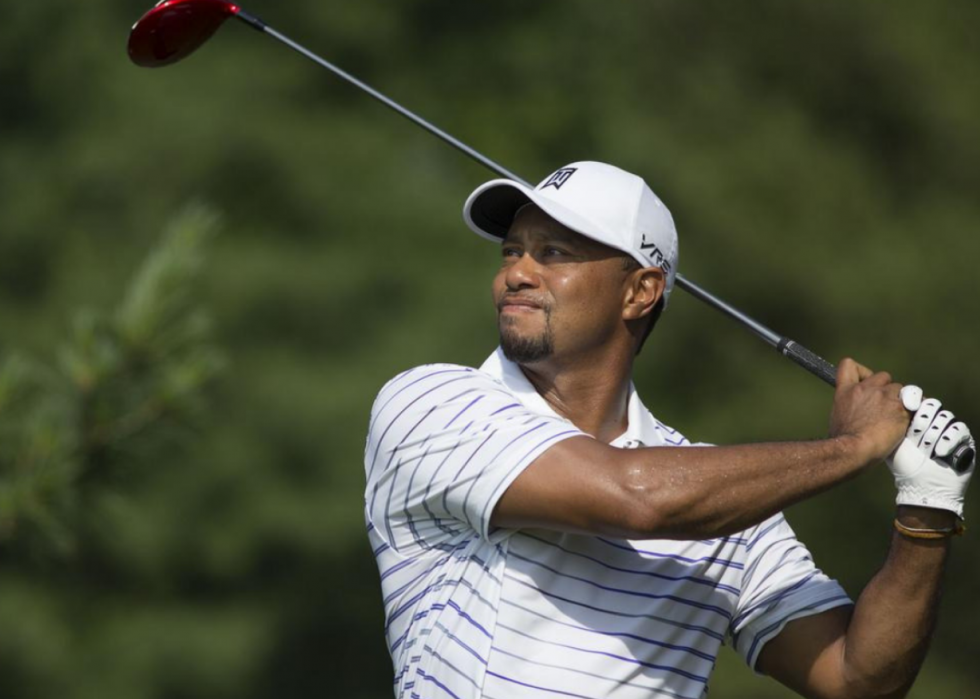 47 / 50
#4: Tiger Woods
- Odds to win: +1400
- World ranking: 12
- 2018 The Masters Championship: T32 (score: 1)
- Last 5 results: T30 - T10 - T15 - T20 - 17

- 2019 PGA strokes gained:
--- Off the tee: 0.22 (PGA rank: 72)
--- Green approach: 0.70 (PGA rank: 16)
--- Around green: 0.56 (PGA rank: 6)
--- Putting: 0.19 (PGA rank: 74)
--- Total: 1.67 (PGA rank: 6)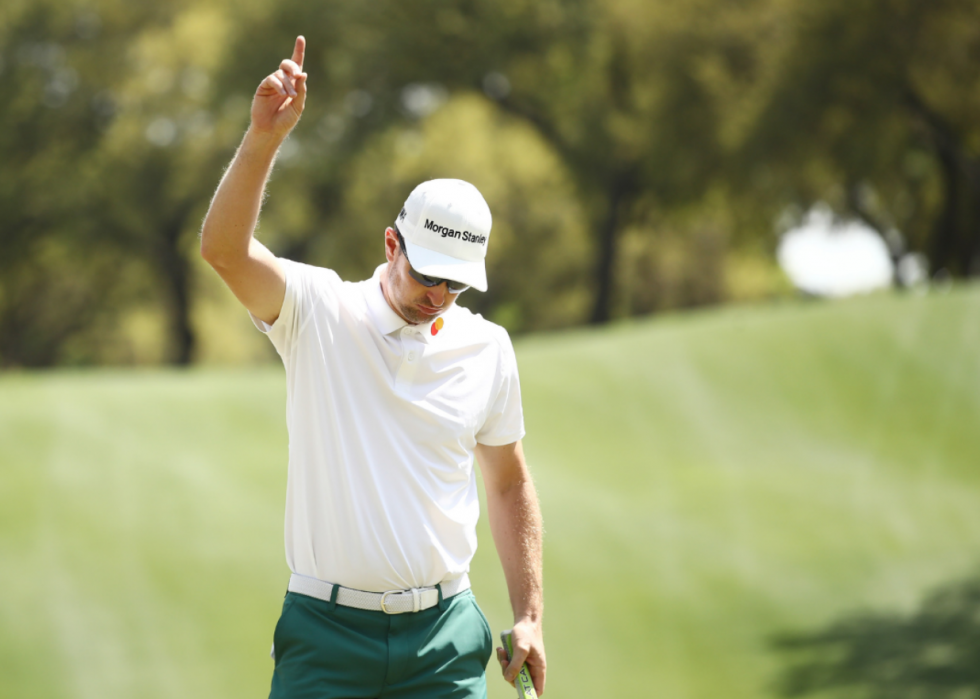 48 / 50
Ezra Shaw // Getty Images
#3: Justin Rose
- Odds to win: +1200
- World ranking: 1
- 2018 The Masters Championship: T12 (score: -6)
- Last 5 results: T8 - T63 - CUT - 1 - T34

- 2019 PGA strokes gained:
--- Off the tee: 0.25 (PGA rank: 60)
--- Green approach: 0.57 (PGA rank: 28)
--- Around green: 0.23 (PGA rank: 50)
--- Putting: 0.45 (PGA rank: 34)
--- Total: 1.50 (PGA rank: 15)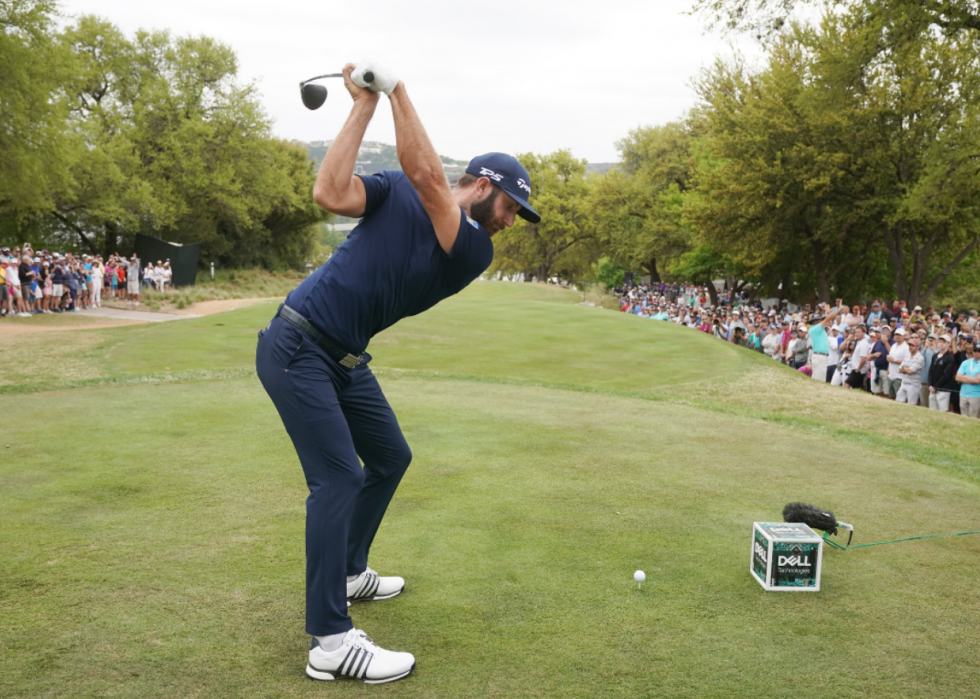 49 / 50
Darren Carroll // Getty Images
#2: Dustin Johnson
- Odds to win: +1000
- World ranking: 2
- 2018 The Masters Championship: T10 (score: -7)
- Last 5 results: T6 - T5 - 1 - T9 - T45

- 2019 PGA strokes gained:
--- Off the tee: 0.60 (PGA rank: 14)
--- Green approach: 0.86 (PGA rank: 10)
--- Around green: 0.34 (PGA rank: T29)
--- Putting: 0.71 (PGA rank: 13)
--- Total: 2.51 (PGA rank: 2)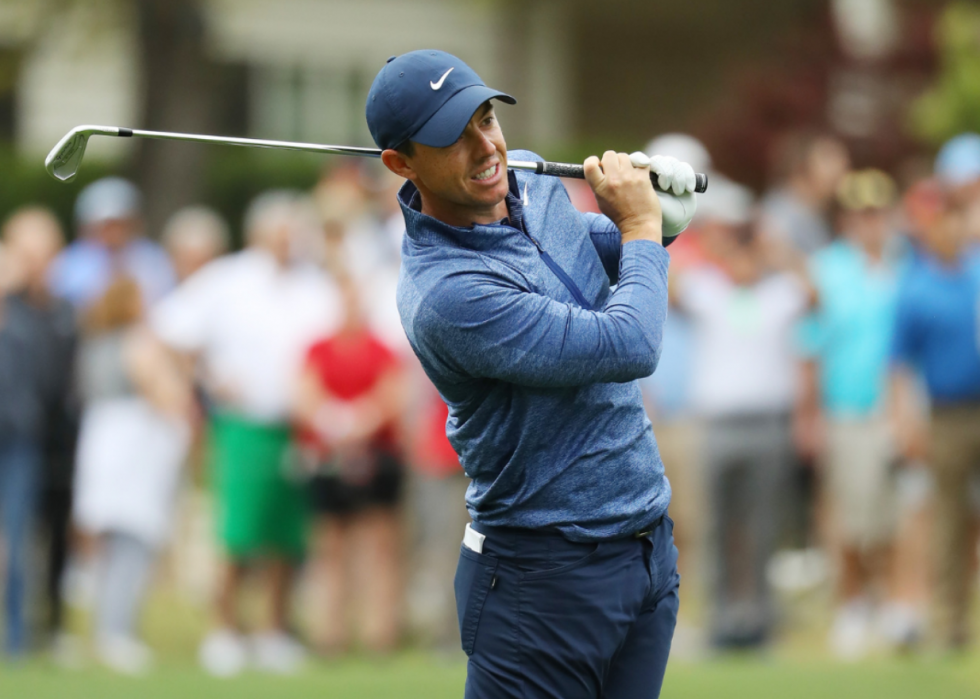 50 / 50
Warren Little // Getty Images
#1: Rory McIlroy
- Odds to win: +700
- World ranking: 3
- 2018 The Masters Championship: T5 (score: -9)
- Last 5 results: 1 - T6 - 2 - T4 - T5

- 2019 PGA strokes gained:
--- Off the tee: 1.31 (PGA rank: 1)
--- Green approach: 0.75 (PGA rank: 12)
--- Around green: 0.35 (PGA rank: 24)
--- Putting: 0.33 (PGA rank: 57)
--- Total: 2.74 (PGA rank: 1)