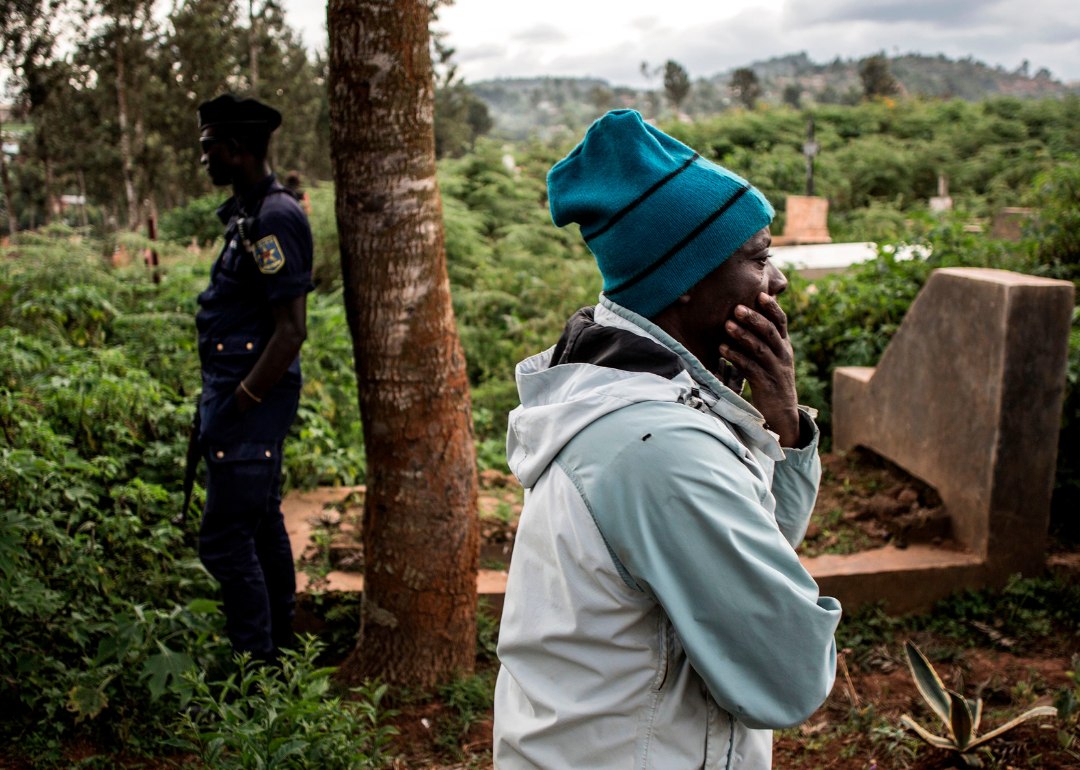 The week's news by the numbers: May 18-24, 2019
JOHN WESSELS/AFP // Getty Images
34
Black women set to graduate as cadets from West Point this year, a record for the New York military academy. With 223 women, 110 African Americans, and 88 Latinos expected to graduate in the class of approximately 1,000 cadets, the 2019 Class is one of its most diverse ever.
25%
Percentage of the world population—approximately 1.9 billion of 7.5 billion— represented across six major elections this week. Those contests include the European Parliamentary election, Indian general election, Australian federal election, Malawian general election, and Lithuanian presidential election.
In the Indian general election—which spanned six weeks of voting rounds and more than 600 million voters—Prime Minister Narendra Modi's Bharatiya Janata Party is projected to secure 300 of 543 parliamentary seats, according to reporting from the BBC. That number surpasses the 272 needed to constitute a majority before accounting for any coalitions.
17
Years "American Taliban" John Walker Lindh spent imprisoned before being released Thursday. Lindh was captured in Afghanistan after the U.S. invasion following 9/11, having previously joined the Taliban in jihad for the establishment of a caliphate.
Lindh's capture jarred American views of the "War on Terror," as he became the first person convicted of a crime during the conflict. After his capture in Afghanistan, Lindh was held at an Afghani prison where a riot killed 32-year-old CIA operative Johnny "Mike" Spann, the first American killed in combat during the invasion. During Lindh's trial, which resulted in his conviction for supporting the Taliban, no evidence was provided that he was involved in Spann's death.
Spann's family and several lawmakers including President Trump advocated against his release—bolstered by multiple reports that Lindh had expressed support for the Islamic State and extremist views.
81,000 to 138,000
Estimated number of people killed by snake bites each year around the world, or roughly 220 to 380 people per day. A further 400,000 individuals are estimated to become disabled by snake bites each year, representing a massive social and economic cost to their communities. Behind mosquitoes and humans, snakes account for the most human deaths each year—with the majority of them in low- and middle-income countries.
On Thursday, the World Health Organization launched a new initiative to provide preventative education, antivenom treatments, and improved access to healthcare for at-risk communities—which are oftentimes located in poor, remote areas with limited access to medical help.
$1 million
Peak price for a New York City taxi medallion, which gives drivers the ability to own and operate their own cabs. Positioned as an ever-appreciating asset and a path to the middle class, medallion prices rose 400% between 2002 and 2014.
Stoking this rise was a loose system of predatory lending and loose government oversight that mirrored aggressive mortgage activity of the 2008 financial crisis. The system's victims, outlined in a two-part New York Times investigative series, were oftentimes immigrants—creating a situation some likened to indentured servitude. More than 950 medallion owners have filed for bankruptcy, while three medallion owners have died of suicide in the last year.
1,150
Estimated people killed by the current Ebola outbreak in Congo, the second largest ever after an outbreak in West Africa lasting from 2013 2016 which caused more than 11,325 deaths.
Medical workers and aid groups have faced extreme challenges combating the disease. Despite the availability of proven techniques for containing the spread of Ebola—including effective vaccines and quarantine procedures—regional conflict and instances of misclassification of infection has led some of the public to treat works with suspicion, which has at times translated into violence.
1%
Proposed annual fine for companies—as a percentage of profits—for every 1% of demonstrated gender pay inequality. The legislation was put forth by Democratic presidential candidate Kamala Harris in a plan to reduce current pay disparity in which U.S. women make 80 cents on the dollar against men's earnings.
Applying to U.S. companies with 100 or more employees, the proposal would require companies to outline gender pay comparisons for employees after adjusting for title, experience, and performance.
200 million
Estimated number of women from 30 countries throughout Africa, the Middle East, and Asia who have undergone female genital mutilation. The risky, non-medical practice—considered a severe human rights abuse and oftentimes performed on minors—reflects a form of discrimination rooted in societal norms designed to suppress female sexuality, religious practice unsupported by scripture, and carried-over cultural traditions that serve to disempower women.

In a significant move this week, the U.S. Congress passed a bipartisan resolution officially recognizing female genital mutilation as a violation of human rights. The resolution passed unanimously with a 393-0 vote, Newsweek reported.