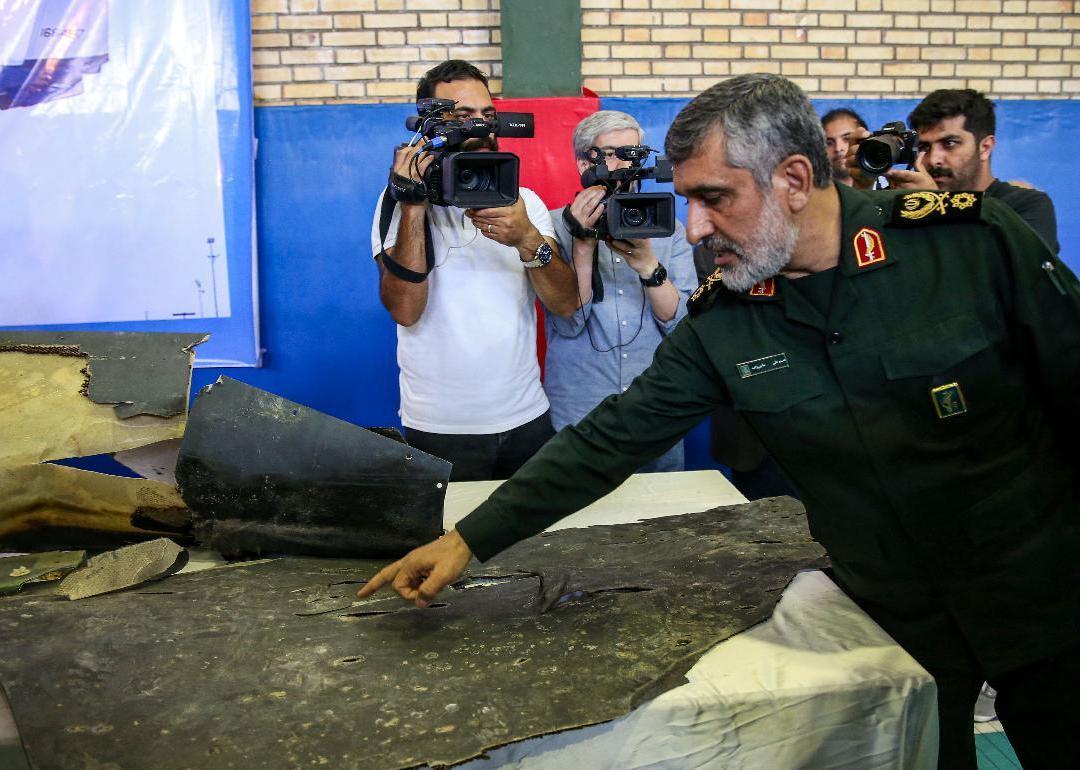 This week's news by the numbers: June 15-21, 2019
MEGHDAD MADADI/AFP // Getty Images
This week's news by the numbers: June 15-21, 2019
Stacker distills the week's news from around the world into key facts and figures. This week's takeaways include the escalating aggression between Iran and the U.S., millions without usable water in India, and police officers removed from the streets after offensive social media posts.
Click through to read these stories and more from this past week.
1,000 troops to the Middle East
Acting Defense Secretary Patrick Shanahan announced on Monday that the U.S. will send 1,000 troops to the Middle East in response to a pattern of aggressive behavior exhibited by Iran over the past several weeks.
This announcement followed an earlier proclamation by Iran that they will surpass their stockpile limit of uranium within 10 days if their European trade partners don't do more to sidestep U.S. sanctions. This limit was set in an international nuclear pact in 2015, which the U.S. abandoned in 2018.
Without an observed limit on the quality and quantity of uranium that Iran is stockpiling, experts estimate that the country could produce a nuclear weapon within one year.
150 anticipated casualties dissuades missile strike on Iran
Tensions escalated again on Thursday after Iran shot down an unmanned, unarmed U.S. military surveillance drone with a surface-to-air missile. The Revolutionary Guard claims the drone was in Iranian airspace while U.S. officials say the drone was operating in international airspace.
The Global Hawk drone was designed to fly at altitudes nearly twice as high as commercial aircraft and capture high-resolution images in real time.
According to administration officials, President Donald Trump approved retaliatory attacks on Iran on Thursday night but called off the operation shortly after. The attacks targeting military equipment like radar and missile batteries were underway, but no missiles were fired.
In a tweet from Friday morning addressing his decision, President Trump stated the 150 casualties anticipated in the planned attacks "is not proportionate to shooting down an unmanned drone."
22,900 refugees were resettled in the U.S. in 2018
For the first time since 1980, the United States was not the world's leading host country for resettled refugees. Canada, which resettled 28,100 refugees, surpassed the United States which resettled a total of 22,900 refugees, according to the 2018 annual Global Trends Report released by the United Nations Refugee Agency on Tuesday. This is a 65% decrease in U.S. resettlement from 2017.
This decline is due in part to the Trump administration's decision to lower the ceiling or the cap on the maximum number of refugees that can be admitted to the U.S. each year. The cap for 2019 is set to 30,000.
Resettled refugees are those that are moved from asylum countries to those that have agreed to grant them a permanent settlement, like the U.S. and Canada. They are legally recognized as refugees. Asylum seekers, by comparison, are those who are seeking international protection while waiting for their asylum claim and refugee status to be processed.
According to the Global Trends Report, more than two-thirds of the world's refugees come from five countries: Syria, Afghanistan, South Sudan, Myanmar, and Somalia.
72 Philadelphia police officers taken off the streets
Seventy-two police officers in Philadelphia were removed from the streets this week—some permanently and others temporarily—after racist Facebook posts were surfaced by the Plain View Project. The Plain View Project is a database of public Facebook posts and comments written by current and former police officers from Pennsylvania, Florida, Idaho, Missouri, Texas, and Arizona.
As police commissioners like Richard Ross Jr. from Philadelphia grapple with the impact that these posts will have on police-community relations and trust within their own departments, they are also evaluating what legal recourse is permissible under First Amendment protections.
Investigations of officers from at least three additional departments featured in the Plain View Project are currently underway.
14 years since a Chinese leader last visited North Korea
For the first time in 14 years, a Chinese leader visited North Korea. Chinese President Xi Jinping was welcomed with massive celebrations highlighting the longstanding diplomatic relationship between the two countries.
Some experts say this visit may demonstrate China's interest in improving relations between the U.S. and North Korea, which has been rocky since denuclearization talks broke down in May.
Xi Jinping said in a speech on Thursday that both China and North Korea have agreed to stick to peace talks to "advance regional peace, stability, development, and prosperity." His visit comes just one week before the G20 summit in Osaka, Japan, where he will meet for bilateral talks with President Trump.
Millions without water in Southern India
Millions of people in Southern India are facing a water shortage crisis due to droughts, drying lakes, and depleted groundwater.
Residents of Chennai, the capital city of Tamil Nadu and India's sixth-largest city, have been lining up for cans of water from tankers brought in from other parts of the country. Seasonal monsoons, which replenish the water supplies, were expected to begin on June 1, but have yet to arrive.
Jyoti Sharma, founder and president of a nongovernmental organization focused on water conservation in India, said that more than 60% of people living in major cities throughout the country are living in slums or unauthorized settlements. These residents are dependent upon groundwater for basic needs and are therefore hit the hardest during water scarcity crises.
In Coimbatore, another city in the south Indian state of Tamil Nadu, more than 500 people have been arrested during a protest accusing government officials of mismanaging the water crisis.
The crisis is worsened by a fatal heatwave sweeping the country.