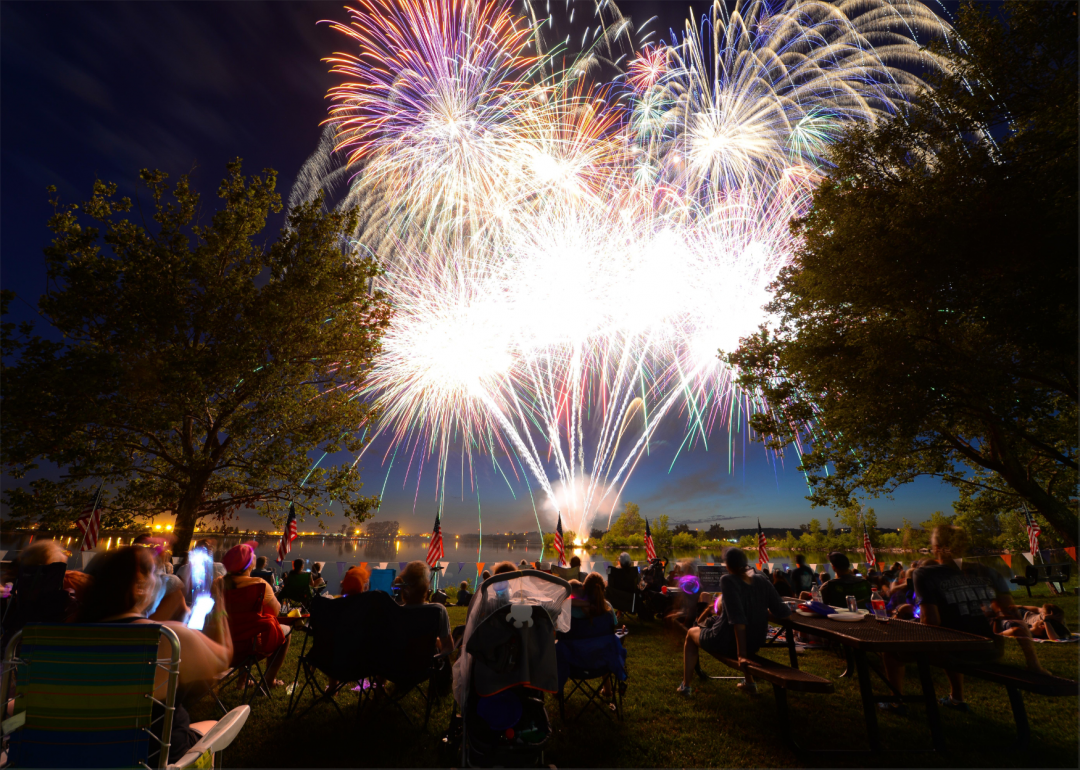 States spending the most on fireworks
Zachary Hada // U.S. Air Force
States spending the most on fireworks
Fireworks on the Fourth of July date all the way back all the way to the nation's founding. On July 2, 1776, John Adams wrote to his wife that signing the Declaration of Independence—which would happen in two days—should be met with celebrations that included "illuminations," the 18th-century word for "fireworks." The pyrotechnic marvels have illuminated the skies ever since. 
In the modern-day U.S., consumer fireworks are a $1 billion dollar business. Most of that consumption does occur right around the Fourth of July—and in all states but one (Massachusetts), some types of fireworks are legal to buy. Several states have additional restrictions on airborne fireworks, but allow sparklers and other, less intense fireworks. Americans' love of fireworks isn't limited to Independence Day, though: "Display fireworks," which are used in commercial displays rather than set off by consumers, amounted to $375 million in revenue in 2019. Thus, even in states in which consumer fireworks are tightly regulated, fireworks shows still happen regularly at sporting events, festivals, and concerts.
States that tightly regulate fireworks have a solid rationale: exploding things are dangerous. ValuePenguin reports a 538% spike in injuries between July 3 and 4. In 2019, people under the age of 20 made up 42% of fireworks injuries resulting in a trip to the emergency room, and 32% of emergency room injuries were children under the age of 10 years old. Even sparklers pose threats, as they reach extremely hot temperatures and cause burns to children every year. There are some key steps to keeping everyone safe: don't let kids near the fireworks, keep cold water on hand, and don't go anywhere near any airborne fireworks after they've been lit; even if they appear to be dormant, throw water on them first just in case.
In celebration of fireworks going boom this Fourth of July, Stacker ranked the states spending the most on fireworks, with data drawn from imports to the state per capita based on data from the U.S. Trade Census. States are ranked based on their imports in 2019, the most recent full year of data which is available. Delaware has not imported sufficient fireworks in 2018, 2019, and 2020 to be included in this database. 2020 data are not available for Rhode Island, Georgia, and North Carolina, and only 2018 data are available for Alaska.
States across the country have seen a massive uptick in the number of fireworks being purchased and set off—often recklessly and illegally—during the coronavirus shutdown. This list does not include that surge as the data go only through April 2020.
Read on to find out which state spends a whopping $8.80 per person on fireworks and which states only spend pennies.
You might also like: 25 facts about fireworks