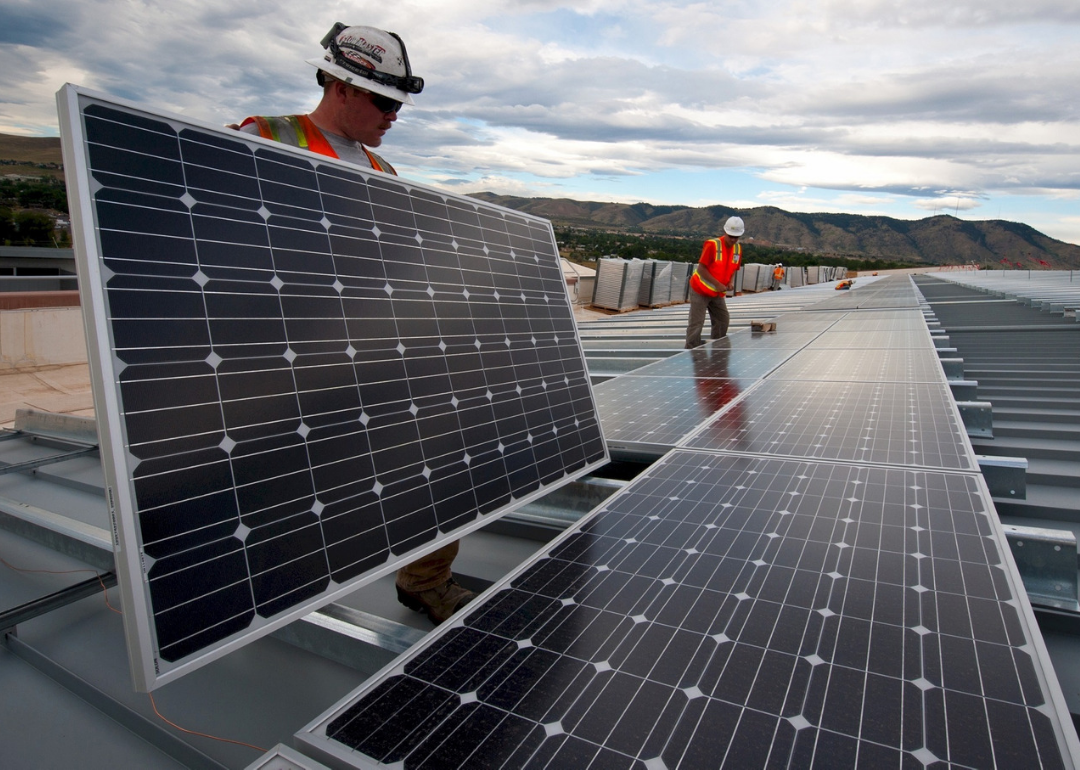 30 green jobs that can help fight climate change
30 green jobs that can help fight climate change
April 2020 marks the 50th anniversary of Earth Day, a now-global holiday that began as an environmental protest in 1970. On the first Earth Day, inspired by the Santa Barbara oil spill of 1969 and other disasters caused by growing pollution in the U.S., 20 million Americans gathered in streets and parks to call for more environmental regulation. In 2020, as digital Earth Day actions span the globe, environmental activists' demands have grown to include jobs, education, and environmental justice.
Rep. Alexandria Ocasio-Cortez (D-NY) and Sen. Ed Markey (D-MA) in February 2019 introduced a resolution called the Green New Deal. The plan was designed as a response to the looming threat of climate change, much as President Franklin D. Roosevelt's New Deal responded to the Great Depression: Both resolved to make sweeping reforms and ensure mass job creation. The Green New Deal is the first policy proposal to address climate change with this gravity and scale.
In the resolution's preamble, Rep. Ocasio-Cortez and Sen. Markey state: "the Federal Government-led mobilizations during World War II and the New Deal created the greatest middle class that the United States has ever seen." A Green New Deal, then, could revitalize America's current middle class while providing new opportunities for communities that were left out of previous economic progress. More specifically, this legislation includes investments in new sustainability projects on state and local levels, as well as resources and training in environmental and environment-related fields.
A majority of Americans support green policies such as a commitment to renewable energy and EPA regulation of carbon dioxide, according to a 2018 report by the progressive think tank Data for Progress: 55% of those polled support a green job guarantee. The Green New Deal was defeated in the Senate in March 2019 but support for its policies nevertheless continues publicly and politically. Democratic presidential candidates including Vice President Joe Biden, Sen. Bernie Sanders (I-VT), and Sen. Elizabeth Warren (D-MA) pledged billions to climate plans; these policymakers agree that addressing the threats caused by climate change and preparing America for a more sustainable future will only come with a significant mobilization of workers, as well as a changing focus in our education system.
What jobs would be created by the Green New Deal, or another policy like it? It may surprise you to learn that you don't need a degree in environmental science to fight climate change. Much of the work that must be done to make our country more sustainable will be accomplished by farmers, construction workers, and electricians—and much of that work is starting at the local level already.
Inspired by a list of green jobs in Data for Progress' report, Stacker explains which occupations are on the front line against climate emergency. Read on to learn about everything from energy auditing to tree planting, and how you can get involved.

You may also like: 15 careers to make the ocean your office