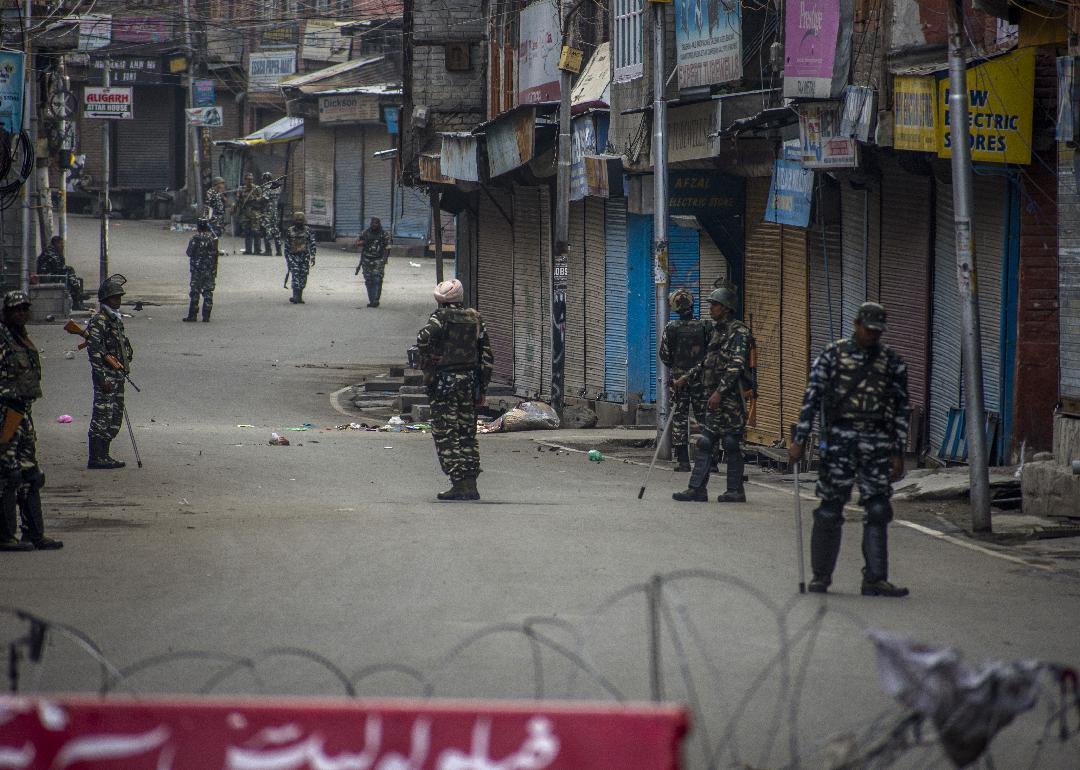 This week's news by the numbers: August 10-16
Yawar Nazir // Getty Images
This week's news by the numbers: August 10–16
Stacker distills the week's news from around the world into key facts and figures. This week's takeaways include the protests in Kashmir and Hong Kong, advancements in the treatment of Ebola, and the record-breaking heat of July. Click through to read more about some of this past week's biggest headlines.
Hundreds defy curfew to protest in Kashmir
On Friday, hundreds of people in Kashmir defied a government-mandated curfew to protest the extreme restrictions imposed by Prime Minister Narendra Modi following the revocation of the territory's autonomous status on Aug. 5. Protesters could be seen holding signs saying "Stop Genocide in Kashmir, Wake Up World." Modi's rhetoric has included sentiments of a "new India" that fulfills a nationalist ideology of a country that is fundamentally Hindu, not secular.
Kashmir—a Muslim-majority state—has been subjected to a ban on assembly, a media blackout, a shutdown of cellphone and internet services, and extreme curfews. The military presence is also prevalent throughout the territory. Pakistan on Thursday claimed three of its soldiers were killed after Indian troops fired across at the Line of Control dividing India- and Pakistan-controlled Kashmir.
Ebola spreads to third province in the Democratic Republic of Congo
The Democratic Republic of Congo's Ebola outbreak that began more than one year ago has spread to a third province, South Kivu, the country's Ministry of Public Health confirmed Friday. The presence of Ebola in this new location, 430 miles from where the outbreak began, illustrates the challenges health workers have faced trying to contain it. There have been 2,765 reported cases with 1,808 fatalities to date. The World Health Organization in Juy declared the Ebola outbreak a global health emergency.
90% success rate in new Ebola treatment
The World Health Organization and National Institutes of Health on Monday announced the creation of a new Ebola treatment with a 90% success rate. Doctors and scientists in the Democratic Republic of Congo since last November have run clinical trials on patients affected in the current year-long Ebola outbreak. While previous vaccines proved effective in preventing people from catching the virus, these new experimental treatments are the first to cure it. Effective immediately, all patients in the DCR affected by Ebola will begin receiving these treatments.
Thousands of pro-democracy protesters shut down Hong Kong International Airport
Thousands of pro-democracy protesters flooded Hong Kong International Airport earlier this week, bringing the world's eighth busiest airport to a standstill for two days. The demonstration turned violent as protesters clashed with riot police. Members of the leaderless protests have apologized for the violence and chaos caused by the demonstration. The protests began nearly 11 weeks ago in opposition to an extradition bill proposed with mainland China and have evolved into a larger movement to protect Hong Kong's autonomy and civil liberties.
70 years later, Greenland still isn't for sale
Reports surfaced this week of President Donald Trump's alleged interest in purchasing Greenland from Denmark. This isn't the first time a U.S. president has expressed interest in purchasing the territory: In 1946, Harry Truman offered Denmark $100 million for the territory. The semi-autonomous government of Greenland on Friday issued the following response: "We see it as an expression of greater interest in investing in our country and the possibilities we offer. Of course, Greenland is not for sale."
July was the hottest month recorded in 140 years
The U.S. National Oceanic and Atmospheric Administration (NOAA) on Thursday confirmed July was the hottest month ever recorded on Earth since 1880 when recording-keeping began. July was 1.71 degrees Fahrenheit warmer than the 20th-century average of 60.4 degrees for the month. Arctic sea ice extent was almost 20% below average, another record set last month. Despite these record highs and lows, meteorologists said they don't expect the average temperature for 2019 to surpass that of 2016, the hottest year on record.