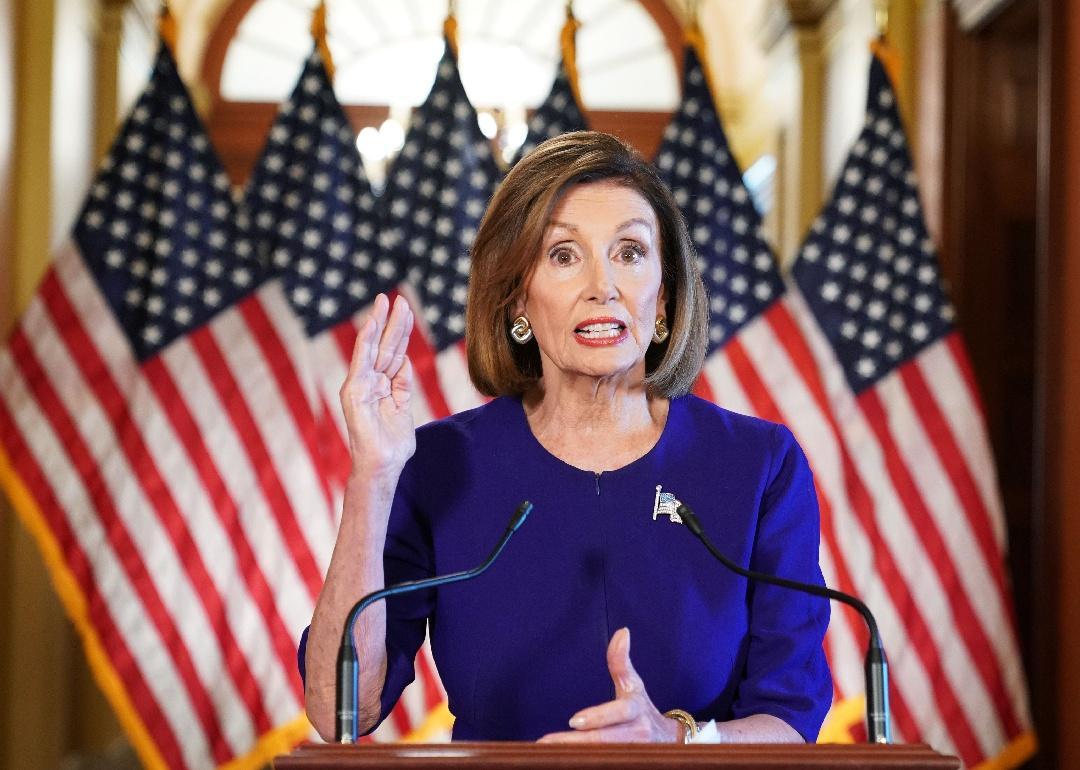 This week's news by the numbers: September 21-27
MANDEL NGAN/AFP // Getty Images
This week's news by the numbers: September 21–27
Stacker distills the week's news from around the world into key facts and figures. This week's takeaways include protests in Egypt, hundreds freed from a torture building in Nigeria, impeachment inquiry into President Trump, and more. Click through to read more about some of this past week's biggest headlines.
Thousands protest Egypt's President Abdel-Fattah el-Sisi
Thousands of people in Egypt have taken part in protests against the country's president, Abdel-Fattah el-Sisi this week in response to corruption allegations. On Friday, security forces closed off Tahrir Square, the epicenter of the 2011 Arab Spring uprising. Tens of thousands of people also gathered on Friday to attend a pro-government rally in Cairo to support Sisi. 
The government essentially banned public protests in 2013 after el-Sisi took office. Lawyers say over 2,000 people have been arrested so far while Egypt's general prosecutor claims that this number is no higher than 1,000. The crackdown on protests and political activists has drawn strong condemnation from human rights advocates.
400 boys and men freed from torture building in Nigeria
Officials announced on Friday the rescue of 400 boys and men from a building in northern Nigeria where they were beaten, starved, chained, and sexually assaulted. Officials have not yet released what led them to this discovery or how these abuses went unnoticed.
The building owner said families brought their children to learn the Quran or because they had problems like drug addiction. Police, who have arrested the owner and six others claiming to be teachers, said the place was not licensed to run any reformatory or educational program.
Majority of 800 with vaping-related illnesses vaped THC
This week the CDC reported over 800 confirmed and probable cases of vaping-related lung illness. Health officials said on Friday that they increasingly turned their focus toward products containing THC, a marijuana compound. What remains unclear, according to officials, is exactly where the danger lies: in the THC product or some added substance like the cutting agent. On Friday, the CDC also reported new data related to the illness including median age of contraction (23), median age of death (50), and cases that require hospitalization (90%).
Impeachment inquiry filed two months after Trump's call with Ukraine president
This week, House Democrats filed an impeachment inquiry into President Trump following a whistleblower's complaint which focused on a July 25 call with Ukrainian President Volodymyr Zelensky. A transcript of the call released on Wednesday revealed Trump pressuring Zelensky to work with U.S. Attorney General William Barr and Rudy Giuliani to investigate political rival Joe Biden and his family. On Friday, Secretary of State Mike Pompeo was subpoenaed and instructed to provide documentation relating to Trump's dealings with Ukraine. This marks the first action in the impeachment investigation.