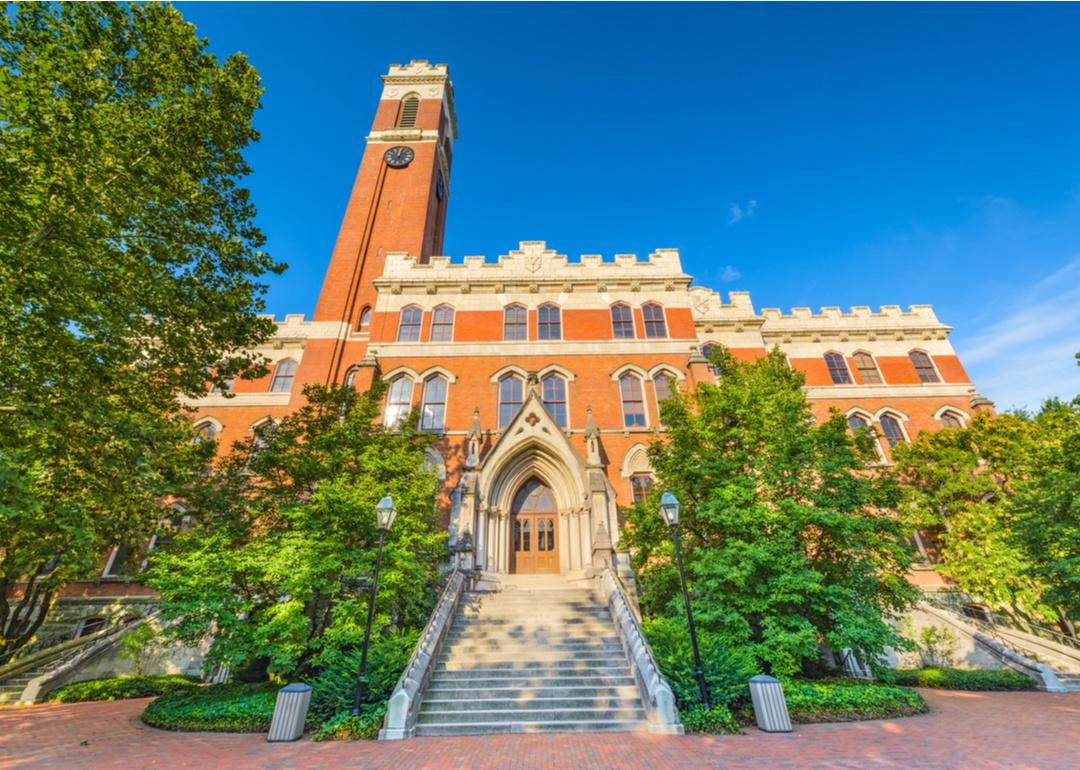 Stacker Studio
Colleges where acceptance rates have decreased the most since 2001
Sean Pavone // Shutterstock
Colleges where acceptance rates have decreased the most since 2001
Each fall, thousands of high school students and their families begin the nerve-racking process of applying to college. Whether families are navigating the admissions process for the first time or for the fifth time, it's still a journey that requires a slew of research—and patience. While college enrollment has gone down over the last several years, throughout the 2000s and 2010s enrollment in public and private universities reached record highs. 
EDSmart identified 10 colleges that have shown the greatest decline in acceptance rates between the 2001 admissions cycle and 2020. Data came from the Integrated Postsecondary Education Data System at the National Center for Education Statistics. Only colleges and universities with at least 1,000 applicants were included in the analysis. For each college, we've included offerings that potentially make a school more attractive to applicants, from affordability to academic programs.
Determining the exact reasons why these colleges have seen a record-setting growth of applications over the last 20 years is difficult to quantify. For many students over the decades, pursuing a secondary degree is a path to improve career and earning opportunities. Indeed, a 2018 College Board report found that the median annual earnings for workers with a bachelor's degree was $24,900 higher than those whose highest degree was a high school diploma. While there are many factors at play in addition to education attainment—such as the type of career field and personal characteristics—the report also found that the unemployment rate for workers age 25 and older with at least a bachelor's degree has consistently been half the rate of high school graduates.
The growing interest in applying to college may also be influenced by the widespread adoption of the Common Application, a single standardized online application form introduced in 1988. More than 900 colleges accept the Common App, which sees a 10% increase in applications for the schools once they adopt this system. The Common App makes the process streamlined for both colleges and applicants as prospective students can fill out one form for several institutions. For high schoolers, saving time during the process can be appealing. It can also lead to applying to more schools since they don't need to spend extra time to add a few more "safety" or "reach" institutions to widen their chances. Each school on this list allows applicants to apply with the Common App.
The conversation around the decreasing acceptance rates has spurred discourse among the higher-education community. Several Ivy League schools are looking to downplay their single-digit admission rates by withholding their admission data. Stanford University began the same practice in 2018 in hopes of making students feel less anxious to apply. Even as many institutions experience a rise in popularity with record numbers of applications, they continue to improve their offerings from student life to academic rigor. Read on to see the list of schools that have seen the biggest change in competitive admission rates and learn more background about each institution.
This story originally appeared on EDSmart and was produced and distributed in partnership with Stacker Studio.