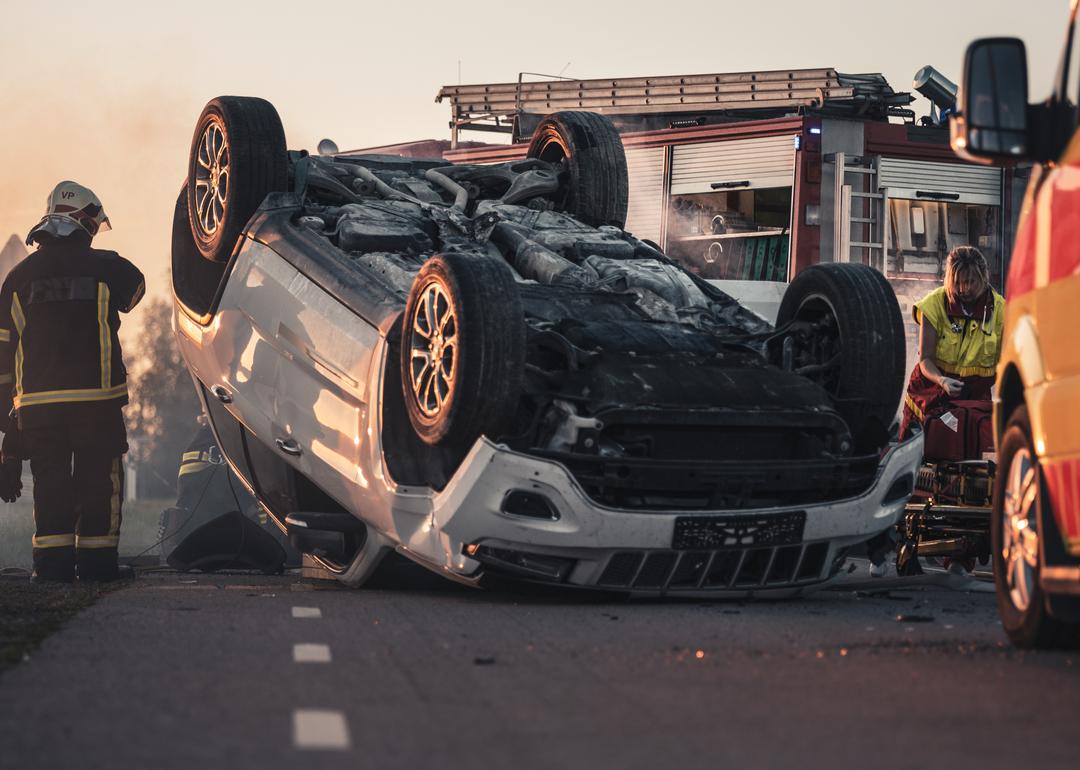 Stacker Studio
What data shows about traffic fatalities in 2020
Gorodenkoff // Shutterstock
What data shows about traffic fatalities in 2020
Despite there being fewer people on the road in 2020 due to COVID-19 lockdowns—total vehicle miles traveled decreased by 11%—fatal crashes increased by nearly 7% from 2019. There were 35,766 traffic incidents in the United States resulting in 38,824 deaths.
Forty-five percent of fatal crashes involved drivers who were speeding, impaired by alcohol, or not wearing a seat belt, according to the National Highway Traffic Safety Administration. Across nearly every category, fatalities increased year over year. For example, bicyclist and pedestrian fatalities hit their highest point since the late 1980s. 2020 saw the highest number of deadly motorcycle crashes since tracking began 45 years prior.
To combat this worsening crisis, the U.S. Department of Transportation announced in January 2022 its National Roadway Safety Strategy. The plan leans heavily on technological changes such as requiring all new passenger vehicles to include automatic emergency braking with pedestrian detection, technology that can detect impairment, and automated safety enforcement programs like speed cameras to improve roadway safety and account for human fallibility.
Infrastructure will also be a primary focus. Under President Joe Biden's Infrastructure Investment and Jobs Act, billions of dollars in grants will be awarded to states and municipalities to bolster physical improvements such as lower speed limits, safer road designs with dedicated bike and bus lanes, better lighting, and safer crosswalks.
To better understand this crisis on America's roads and the characteristics of fatal traffic incidents, Staver Accident Injury Lawyers, P.C. examined data from the National Highway Traffic Safety Administration's 2020 Fatality Analysis Reporting System. The 2020 FARS data was released on March 2, 2022.
To be included in this data, a crash must have occurred in the U.S. (including Washington D.C. and Puerto Rico), on a roadway open to the public, and there must be a fatality related to the crash within 30 days of the incident. Crashes can be categorized in multiple groups at once. For example, a crash that involved a driver with alcohol detected in their blood where a vehicle was also speeding would be counted in both categories.
This story originally appeared on Staver Accident Injury Lawyers, P.C. and was produced and distributed in partnership with Stacker Studio.