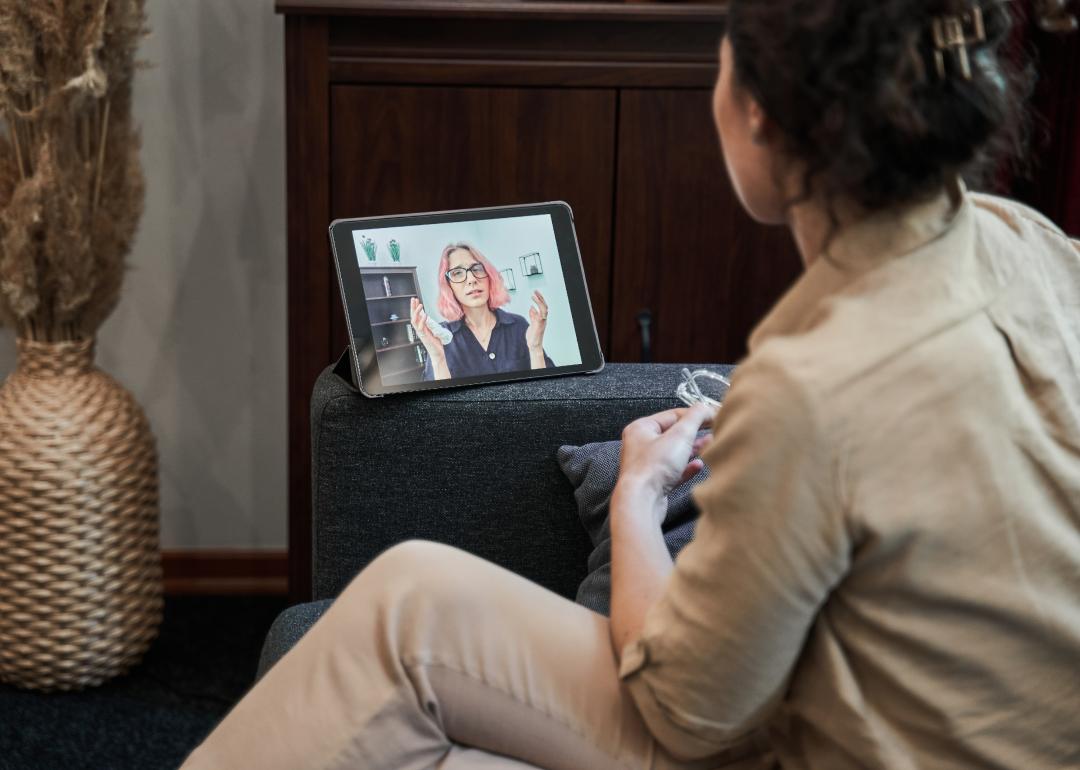 Stacker Studio
10 reasons online mental health therapy has grown over the last decade
Olena Yakobchuk // Shutterstock
10 reasons online mental health therapy has grown over the last decade
The entire world had to learn how to go remote in 2020. As COVID-19 spread, businesses were either closed or learning how to safely conduct daily operations for employees and patrons. With the help of video conferencing and messaging technologies, many service industries were able to pivot online—including mental health care. To better understand the expansion of remote mental health services and online therapy, Top10.com compiled this analysis with research from across the internet, including SAMHSA, Pew Research Center, the National Council for Mental Wellbeing, the American Psychological Association, and the American Psychiatric Association.
Thanks to the widespread adoption of remote video conferencing and online telemedicine platforms, psychiatrists, psychologists, and counselors were able to conduct business through telehealth services, which saw a drastic increase in use and availability. The number of mental health facilities offering telemedicine services shot up from 38% nationally in 2019 to just over 68% in 2020, according to the Substance Abuse and Mental Health Services Administration. 
However, before the pandemic, telemedicine for mental health services had already started to see a rise in popularity due to an increase in reported mental health struggles. In 2020, 11% of U.S. adults—26.3 million people—received virtual services for a mental health issue, according to SAMHSA. Continue reading to find 10 reasons online mental health therapy has grown over the last decade.
This story originally appeared on Top10.com and was produced and distributed in partnership with Stacker Studio.