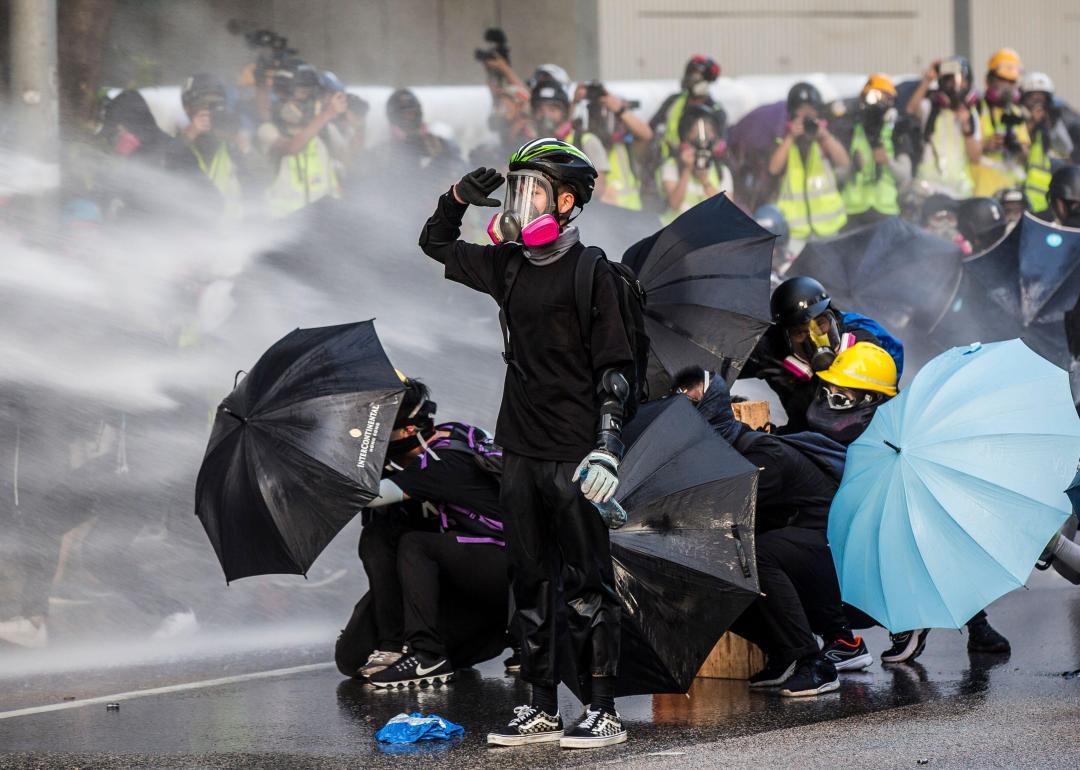 One year in: What to know about Hong Kong's year of protests
ISAAC LAWRENCE/AFP via Getty Images
One year in: What to know about Hong Kong's year of protests
One murder might not seem like enough to spark an entire democratic movement, but that's exactly what happened in Hong Kong, a province of China with a high degree of autonomy. A couple from the city took a Valentine's Day trip to Taipei in February 2018. Poon Hiu-wing never returned home, but her 19-year-old boyfriend Chan Tong-kai did. He would soon confess to Hong Kong police that he left a suitcase containing her body near a Taipei subway station after strangling her. He also used Poon's ATM card to withdraw more than $3,000 from her bank account in Taipei and Hong Kong.
Hong Kong authorities prosecuted him for money laundering, but they lacked the jurisdiction to charge him with murder. The crime occurred in Taipei, and there was no extradition treaty between Hong Kong and Taiwan. That's when Hong Kong leader Carrie Lam stepped in to fast-track a new bill that would allow the city to send suspected criminals to Taiwan, along with mainland China. Critics slammed the proposed legislation as a threat to the "one country, two systems" arrangement Hong Kong has had with China since 1997. Mass protests against the proposal broke out in March 2019.
While the demonstrations initially just called for a withdrawal of the extradition bill, protesters eventually expanded their calls to "five demands, not one less." They wanted the government to reject a characterization of their demonstrations as riots, provide amnesty to arrested activists, allow for an independent investigation of police brutality, and implement universal suffrage. Only one of their needs—withdrawal of the controversial extradition bill—has been met, and activists are continuing to fight for the other four demands to the present day.
So what's happened during Hong Kong's protests over the last 15 months that have brought the city where it is today? To find out, Stacker looked at news reports from domestic and international publications including The New York Times, CNN, the South China Morning Post, Time, BBC, Reuters, and the Associated Press on protests in Hong Kong. The result is a fascinating timeline of important events—ranging from activists singing in unison and a peaceful march of more than 1 million demonstrators in the pouring rain to brawls between lawmakers and the use of hundreds of rounds of tear gas against protesters.
Keep reading to find out what you should know about Hong Kong's year of protests—and what it means for the state of the city's autonomy.
You may also like: A timeline of U.S. trade relations with China