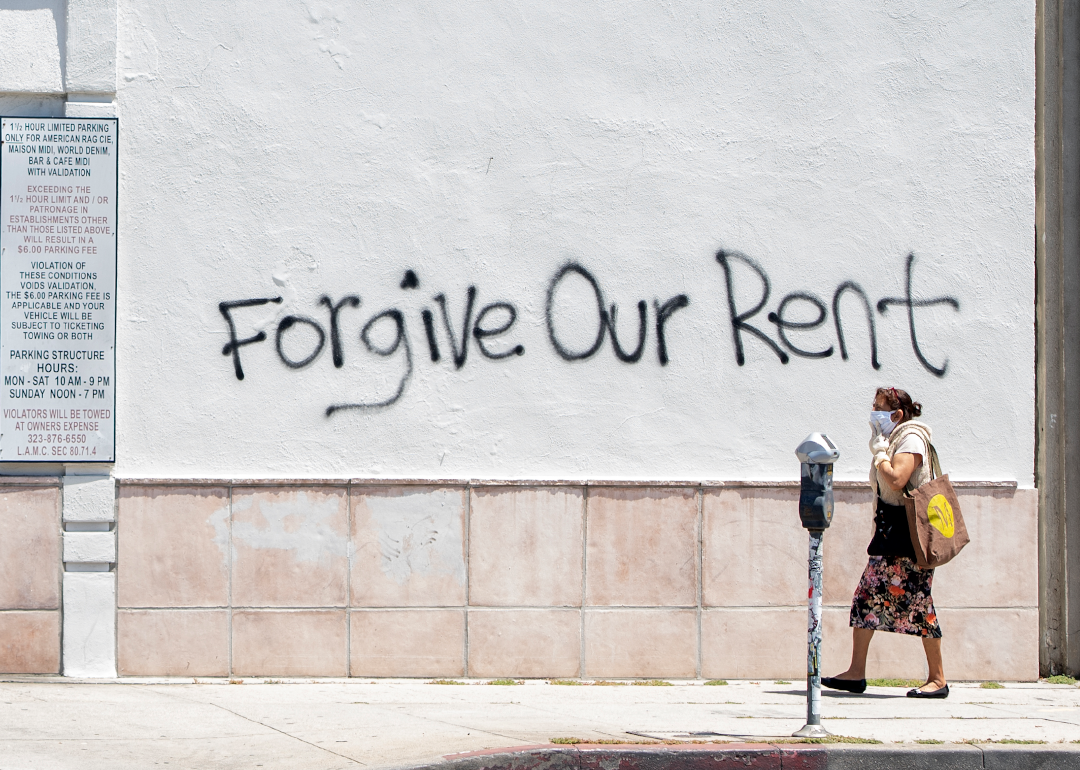 Eviction rates in every state
VALERIE MACON via AFP // Getty Images
Eviction rates in every state
Evictions are devastating. They are caused by poverty—and cause more poverty—but they do much more extensive and lasting damage.
Research has found families in Texas evicted for owing little more than $500 in unpaid rent and families in North Carolina owing about $300. Tenants being evicted are less likely to be deep in debt and more likely to be less than a month in arrears. In other words, people can be evicted after being jolted by the unexpected cost of a car repair or a doctor's bill.
People who are evicted often lose their possessions, and sometimes their jobs. Evictions are linked to health problems, mental health issues, and depression. Children who are forced to move miss school and fall behind. Neighborhoods with high eviction rates have high rates of crime. People who have evictions on their record encounter trouble trying to rent again. Taxpayers foot the bills for publicly subsidized housing or homeless shelters.
Evictions are mostly rooted in the widening gap between low-income wages that have stagnated and housing costs that have skyrocketed. One Harvard study said the number of rental units costing less than $600 a month dropped by 4 million in the United States between 1990 and 2017.
A bill called the Eviction Crisis Act has been introduced in the U.S. Senate by Democrat Michael Bennet of Colorado and Republican Rob Portman of Ohio to provide emergency funding to tenants facing eviction. It would also establish a nationwide database to track eviction cases. Other proposals in Congress would help fund landlord-tenant mediation and "right to counsel" programs to provide tenants with legal representation.
During the coronavirus crisis, tenants who lived in rental properties with federal-backed mortgages could not be evicted, but only 28% of rental properties nationwide were covered by that moratorium. Most states enacted some suspensions of their own, but none was designed to stem a flood of evictions once the crisis ends, and soaring unemployment leaves renters unable to make ends meet. Tenant advocates fear that the deluge of evictions will be more catastrophic than the loss of housing in the 2008–2009 recession.
To examine eviction rates in every state, Stacker used data compiled by the Eviction Lab at Princeton University (more information can be found at Evictionlab.org). The Eviction Lab compiled the data by requesting eviction case records from courts and online portals, cleaning the records, and standardizing across states. The "eviction rate" refers to the rate of renters who received an eviction judgment from the court and were ordered to leave, while the "eviction filing rate" refers to the rate of eviction requests filed by landlords. The denominator used in these rates is the total number of renting households in a state, taken from the census. The most recent eviction data available is from 2016.
You may also like: How the richest person in each state made a fortune