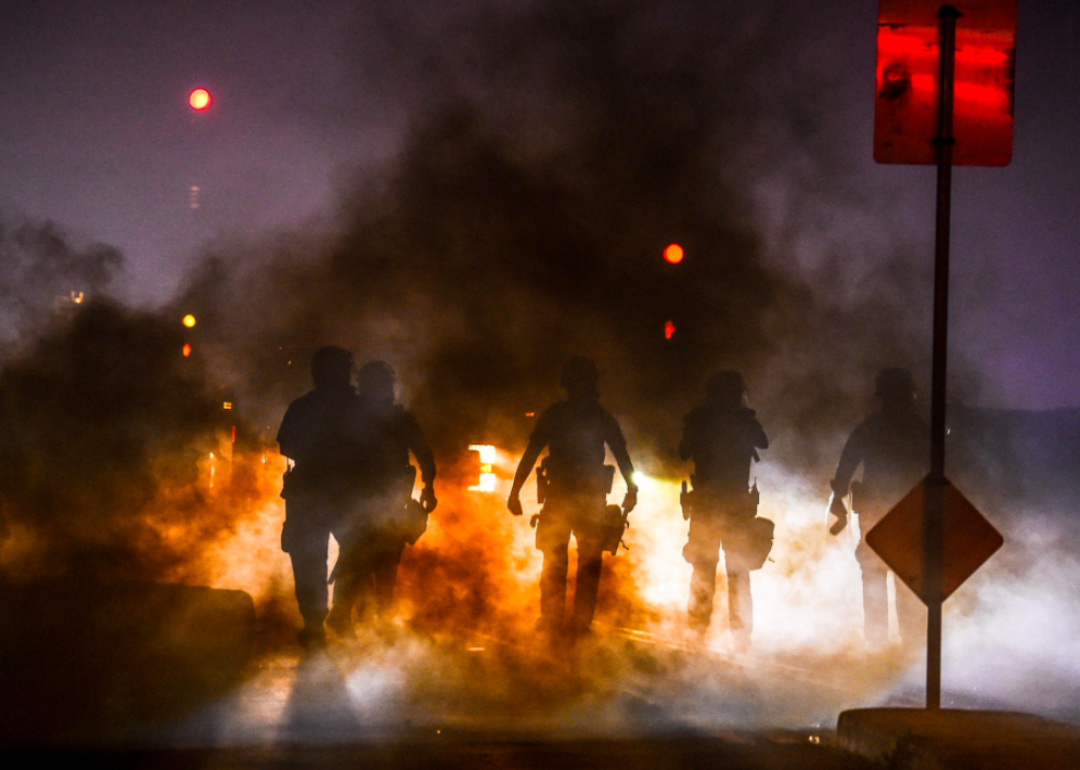 A history of police violence in America
CHANDAN KHANNA/AFP via Getty Images
A history of police violence in America
Former police officer Derek Chauvin in April 2021 was found guilty of murdering George Floyd on May 25, 2020, when Chauvin knelt on the man's neck for 9 minutes and 29 seconds while Floyd was in police custody. Floyd's death touched off months of Black Lives Matters protests against police violence in general and disproportionate police violence against Black Americans in particular.
Those protests were frequently met with militarized police. Law enforcement utilized tear gas, pepper spray, rubber bullets, and batons in response to activities including a violin vigil for Elijah McClain; walking on the sidewalk in Buffalo, New York, during a daytime protest; and standing on porches in Minneapolis in the days following the murder of George Floyd. Protests and demands for change, including defunding the police, have continued, as have police killing American citizens. 
Police killed 1,127 people in 2020 alone, according to Mapping Police Violence (MPV), and as of Oct. 6, police have killed nearly 800 people in 2021. Despite making up only 13% of the American population, Black people were 28% of the people killed by law enforcement that year. MPV statistics show that Black people are three times more likely to be killed by a policeman, despite being 1.3 times more likely to be unarmed. Black lives are being taken in stark numbers, but almost 99% of killings by police have not resulted in criminal charges, according to MPV.
Stacker compiled a list of 50 chronological events showing the history of police violence in the United States. This report highlights policies, organizations, and events, and explore how they relate to police brutality, institutionalized discrimination, and the loss of lives. Our research is based on news articles, government reports, and historical documentation including primary sources. Multiple methods that encourage racial division within the system have been enforced and continue to show up in statistics over the years.
From the beginning, discrimination was institutionalized in political and economic spaces. The need to inflict forced labor on Black lives after slavery was the main objective for the original police force in the South. This is where force was ingrained into police tactics, as hate groups such as the Ku Klux Klan merged with the system. Generation after generation, new rules were put into place specifically to target the Black population, including segregation, incarceration, voter suppression, redlining and lack of government assistance, and economic infrastructure. Statistically, in reported incidents alone, Black people's experiences with the criminal justice system have always been vastly different from those of other groups.
Keep reading to learn more about the history of police violence in America, from 18th-century slave patrols in South Carolina to calls for defunding the police.
You may also like: Defining historical moments from the year you were born