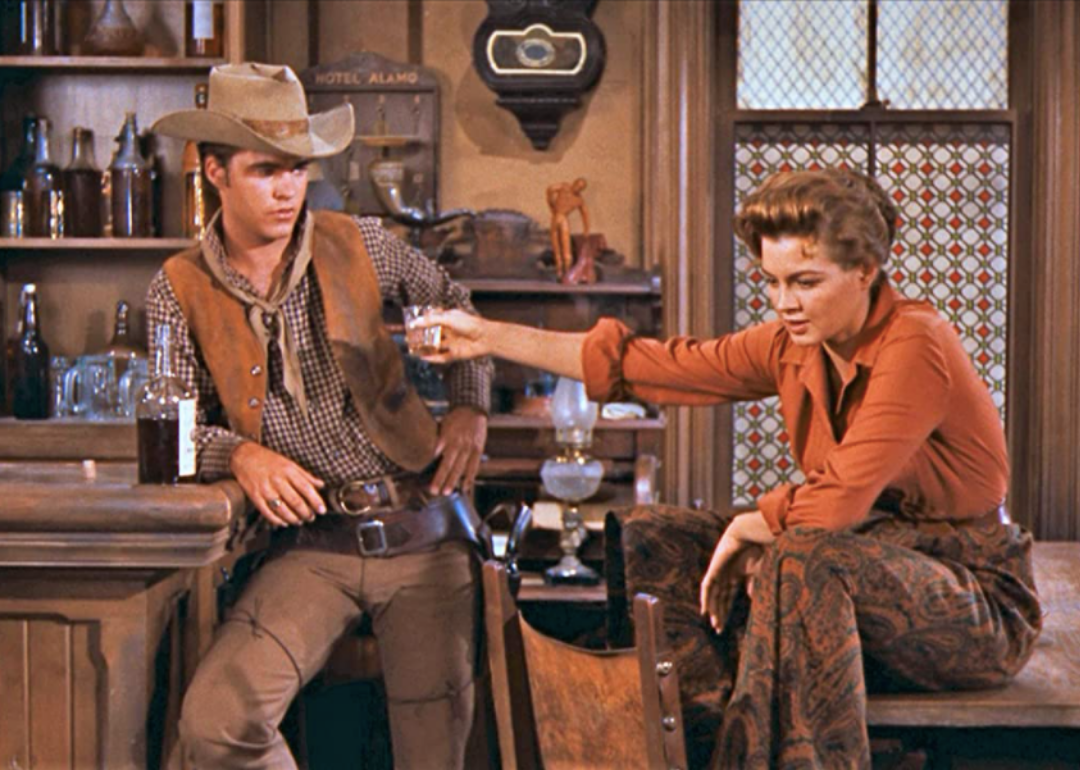 Can you guess which iconic Western movies these scenes are from?
Quiz: Can you guess which iconic Western movies these scenes are from?
From the first Western film at the turn of the 20th century to 2018's "The Ballad of Buster Scruggs," the Western genre has been an integral part of the film history canon. The genre has spurred Spaghetti Westerns in Italy, the successful careers of Western icons such as Clint Eastwood and John Wayne, countless subgenres giving way to experimental iterations like Jim Jarmusch's acid Western "Dead Man" or the sci-fi Western anime series "Cowboy Bebop," and a playing ground for influential American directors like Sam Peckinpah and John Ford.
Thus, Western film influence still lingers in modern cinema to this day, despite the genre itself not being as widespread as it was in the early-to-mid 20th century. Any well-read cinephile with purported expertise in film history should know of the influence of Western films on cinema as a whole—but can they recognize them from a single scene? Stacker put together a quiz meant to test the knowledge of film buffs and Western fans alike.
Clue slides include hints to help the reader discern the film the scene is from, including information on the cast, crew, plot, characters, box office stats, accolade wins and/or nominations, cultural legacy, and popular and critical reception. The Western films chosen range broadly in the year, style, and subgenre, with films from as early as the 1950s all the way until the 2010s, and being anything from a sci-fi Western to an acid Western to exploitation comedy, satire, and good old John Wayne classics.
Stacker chose 25 iconic movies across Western film history and selected scenes from each one that run the gamut from a stumper to a near-giveaway to keep the difficulty of the quiz balanced. If you're stuck inside with nothing to do and running out of movies to watch during these unprecedented times, what better way to snap out of a state of boredom than by putting your film knowledge to the test.
You may also like: Steven Spielberg films ranked from worst to first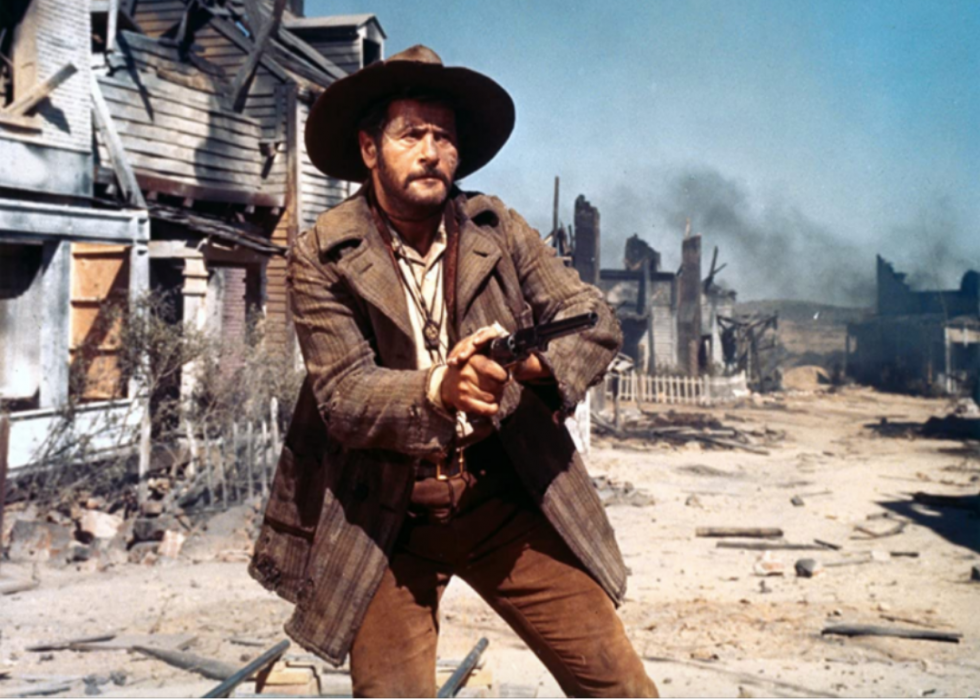 1 / 50
Produzioni Europee Associate (PEA)
Scene #1
Mexican bandit Tuco Ramírez (Eli Wallach) forms an unlikely partnership with an American bounty hunter in this classic 1966 Spaghetti Western. The film is seen as the catalyst for the lead actor's career in the film industry, as he became a Western film icon, and crossed over into directing as well as acting.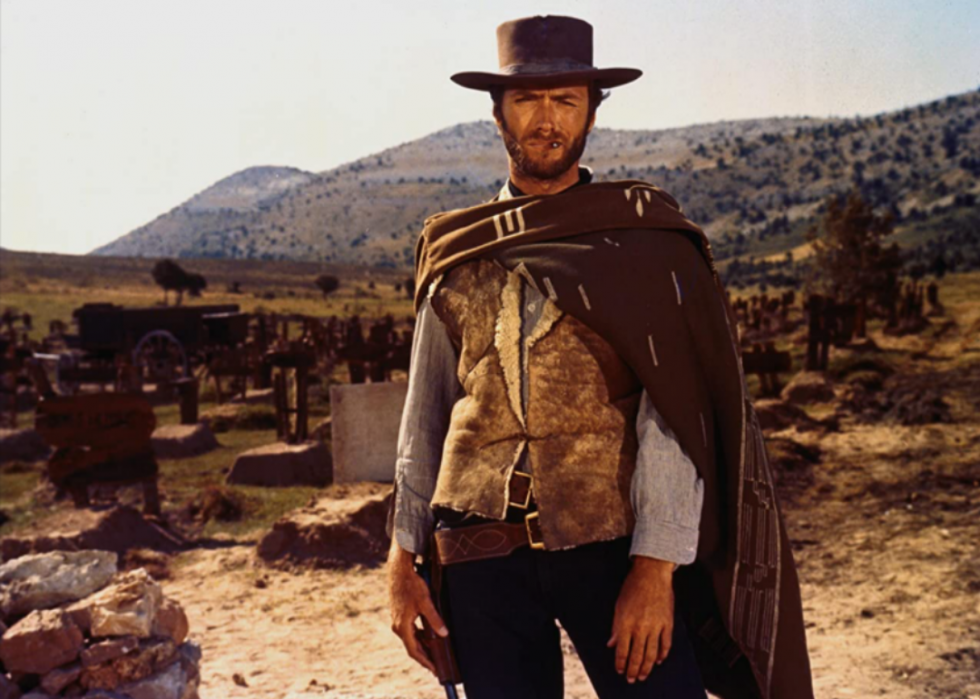 2 / 50
Produzioni Europee Associate (PEA)
The Good, the Bad and the Ugly
Starring Clint Eastwood, "The Good, the Bad, and the Ugly" was actually the third collaboration between Eastwood and Italian director Sergio Leone, the final installment of Leone's "Dollars Trilogy." The film is set during the American Civil War and follows three gunslingers on the hunt for a fortune of buried Confederate gold. The film initially received negative reviews but has since been reappraised.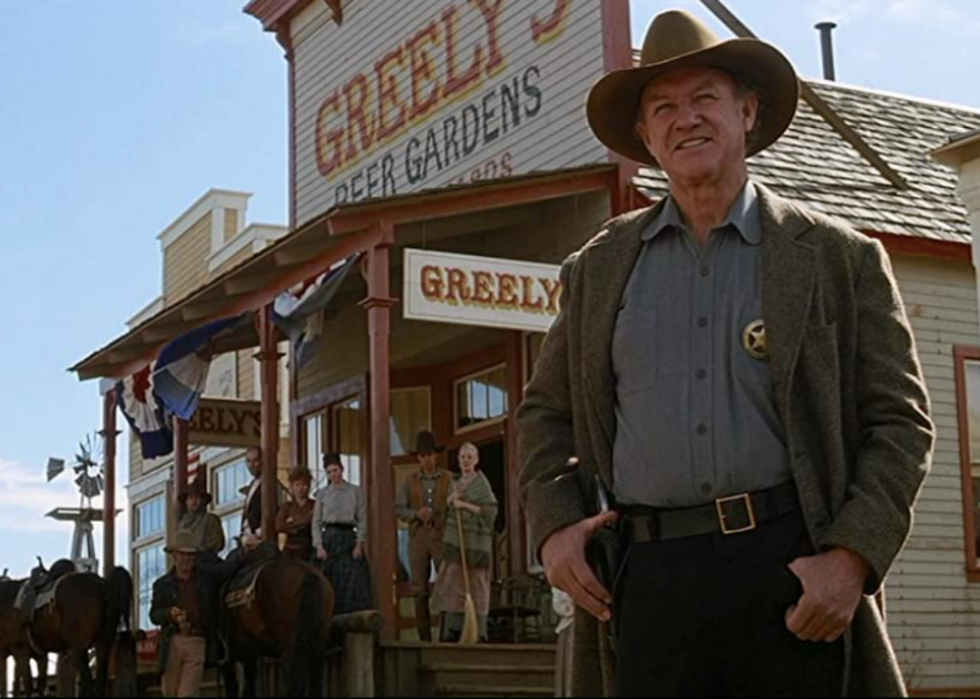 3 / 50
Scene #2
In this 1992 revisionist Western, Gene Hackman co-stars as the stubborn sheriff of a town in 1881 Wyoming—even winning himself a Best Supporting Actor Oscar at the 65th Academy Awards. The film is just one of many from the director and lead actor Clint Eastwood's prolific filmography.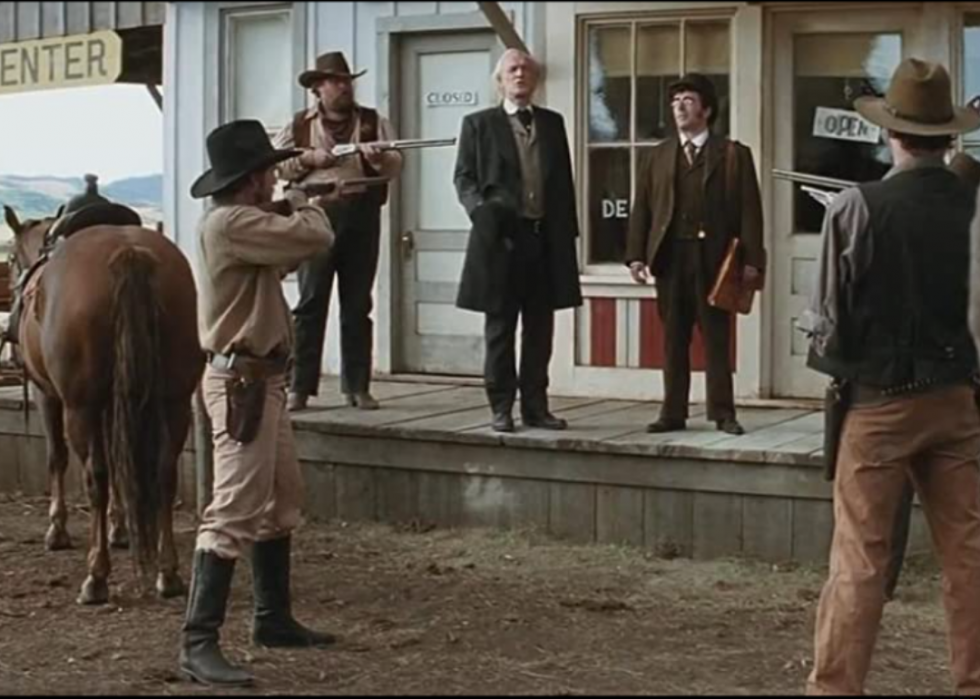 4 / 50
Unforgiven
Co-starring Richard Harris and Morgan Freeman, "Unforgiven" went on to win three more Academy Awards as well, including Best Film Editing, Best Director, and Best Picture. Eastwood's final Western, the film was a critical and box office success and was selected for preservation in the United States National Film Registry in 2004.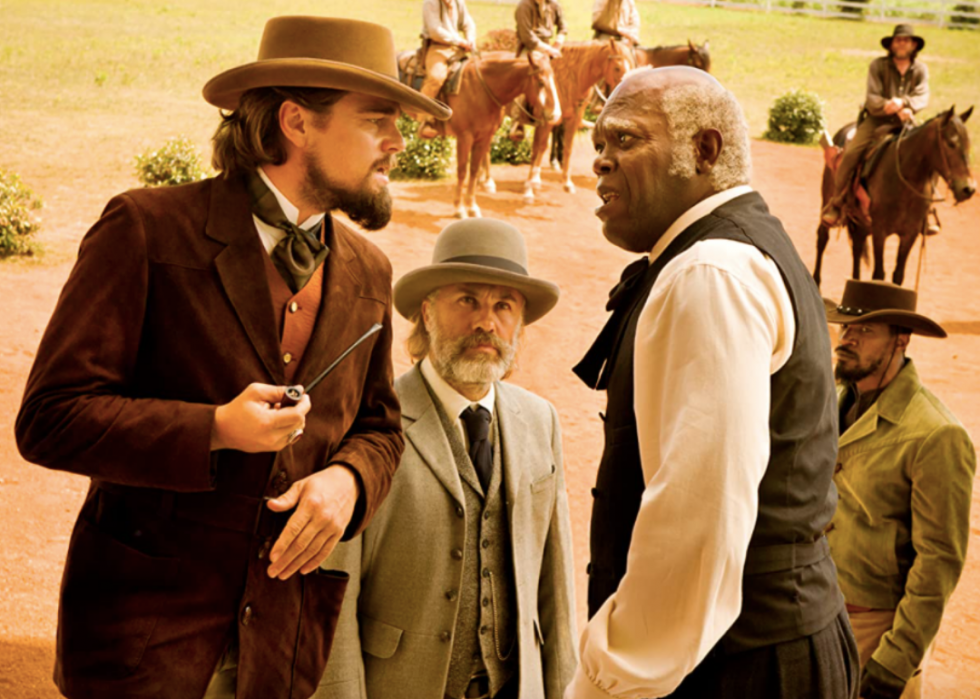 5 / 50
Scene #3
Plantation owner Calvin Candie (Leonardo DiCaprio) and his head house slave Stephen (Samuel L. Jackson) don't quite see eye to eye about the arrival of Dr. King Schultz and his partner, the freed Black man who travels with him—both posing as slavers themselves. Christoph Waltz won the Academy Award for Best Supporting Actor for his performance as Schultz.
You may also like: Mistakes from the 100 worst movies of all time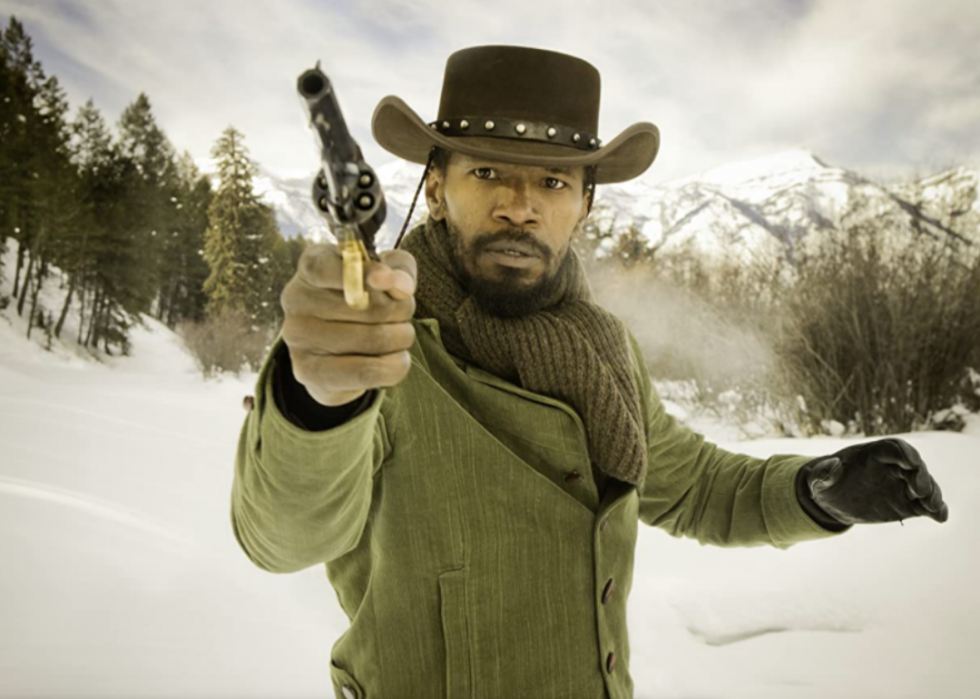 6 / 50
Django Unchained
Django (Jamie Foxx) and Schultz must infiltrate Candie's plantation in order to rescue Django's wife Broomhilda (Kerry Washington) from enslavement, in Quentin Tarantino's Civil War-era Revisionist Western film. The film was nominated for four other Academy Awards, including Best Picture. "Django Unchained" pays homage to Spaghetti Westerns, even featuring a cameo from the star of Sergio Corbucci's own "Django."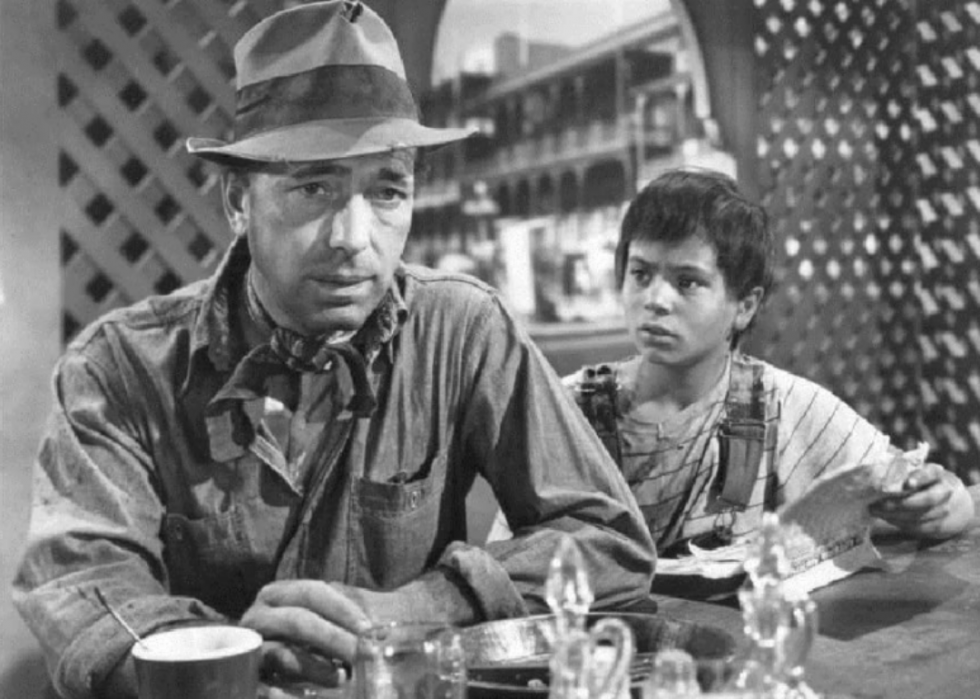 7 / 50
Scene #4
Old Hollywood icon Humphrey Bogart is accompanied by a young boy played by Robert Blake, who himself had a long career in Hollywood, in this scene from the Western film directed by John Huston. It was adapted from the 1927 novel of the same name by B. Traven, though it had to be altered to meet Hays Code regulations.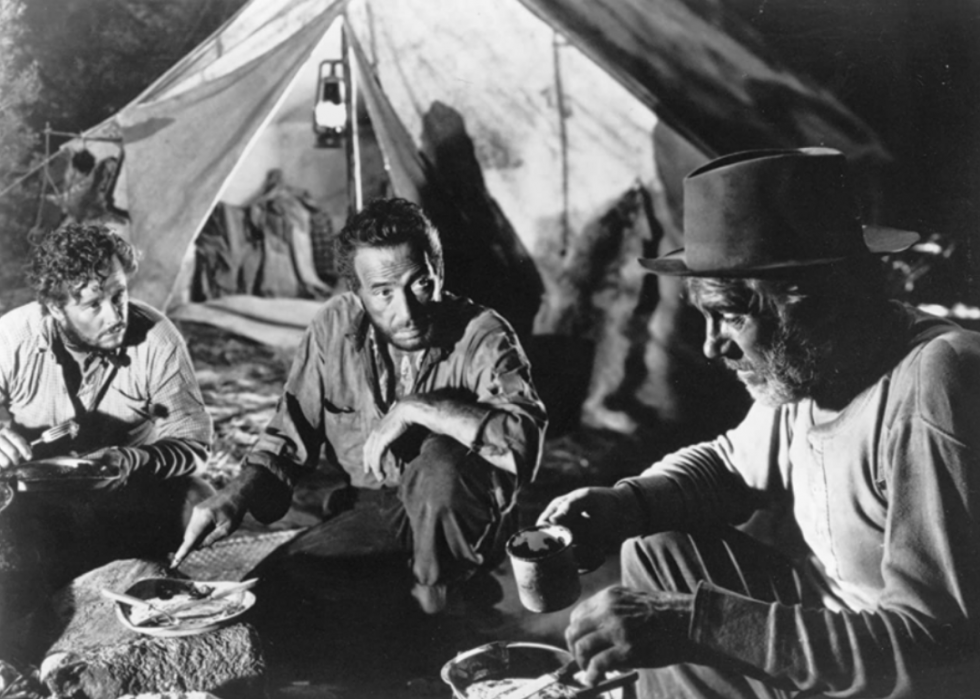 8 / 50
The Treasure of the Sierra Madre
"The Treasure of the Sierra Madre" follows two men (played by Bogart and Tim Holt) who partner up with an old prospector and go on the hunt for gold in the Sierra Madre Mountains. The film received critical acclaim and was nominated for four Academy Awards, including Best Picture, and winning Best Supporting Actor for Walter Huston, Best Director, and Best Adapted Screenplay.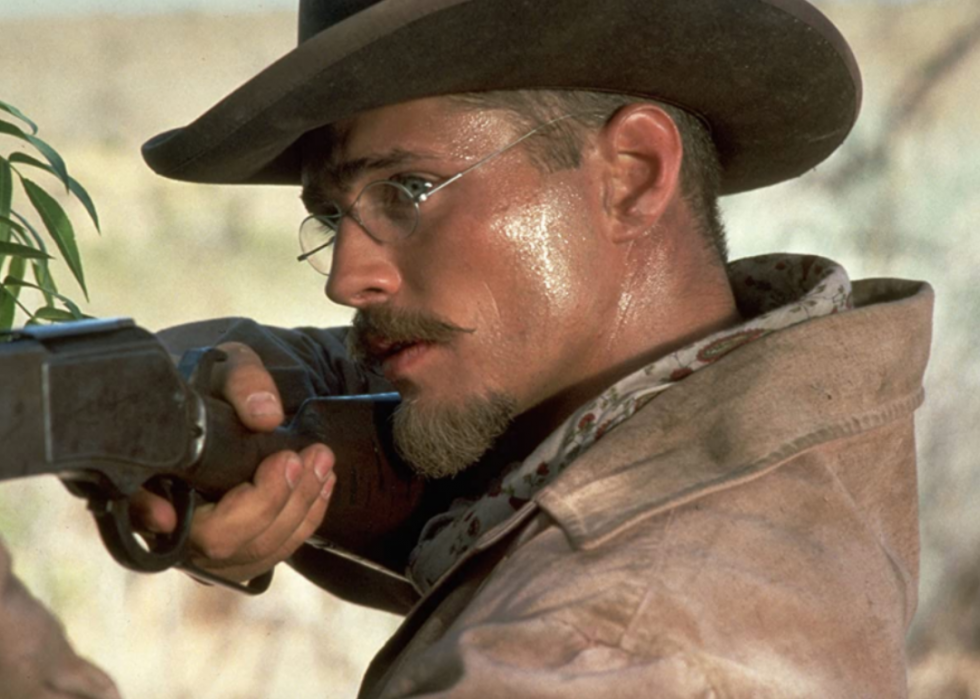 9 / 50
Scene #5
Actor Jason Priestley aims his gun in this 1993 Western film, featuring an ensemble cast including Kurt Russell, Sam Elliott, Val Kilmer, and Bill Paxton. Val Kilmer's performance, in particular, was heavily praised by critics. The film premiered six months prior to another film depicting the same material based on true events, though many consider this to be the better of the two.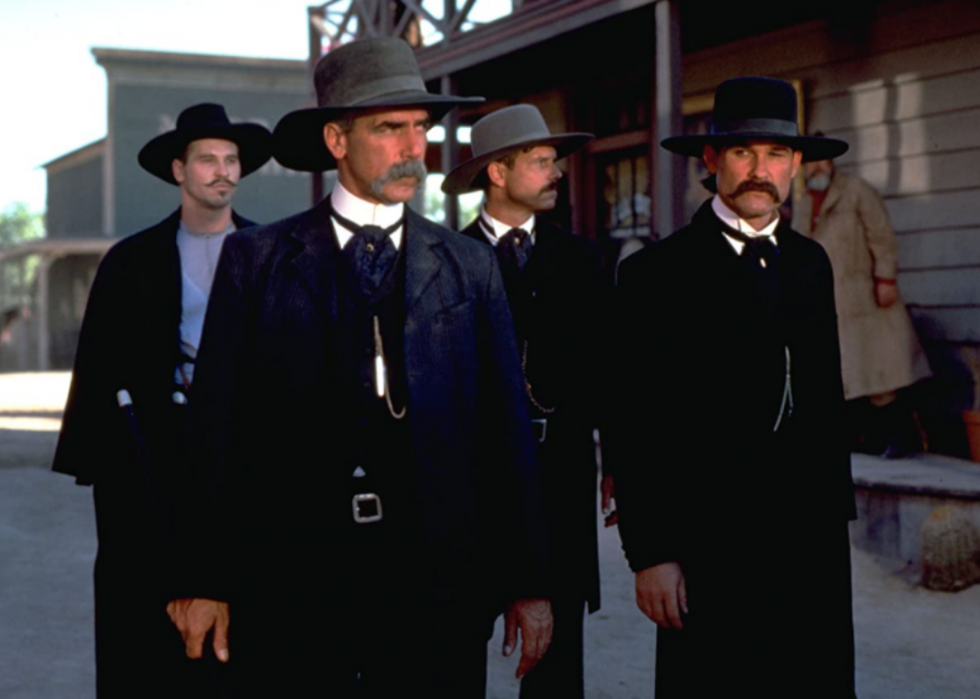 10 / 50
Tombstone
Between "Tombstone" and the Kevin Costner-led "Wyatt Earp," "Tombstone" was favored both at the box office and with fans and critics alike. Due to production issues and delays while filming, it was projected to be a flop upon release and not make back its $25 million budget. However, the film completely defied these expectations, making back double the amount of production costs at the U.S. box office alone.
You may also like: Best and worst Al Pacino movies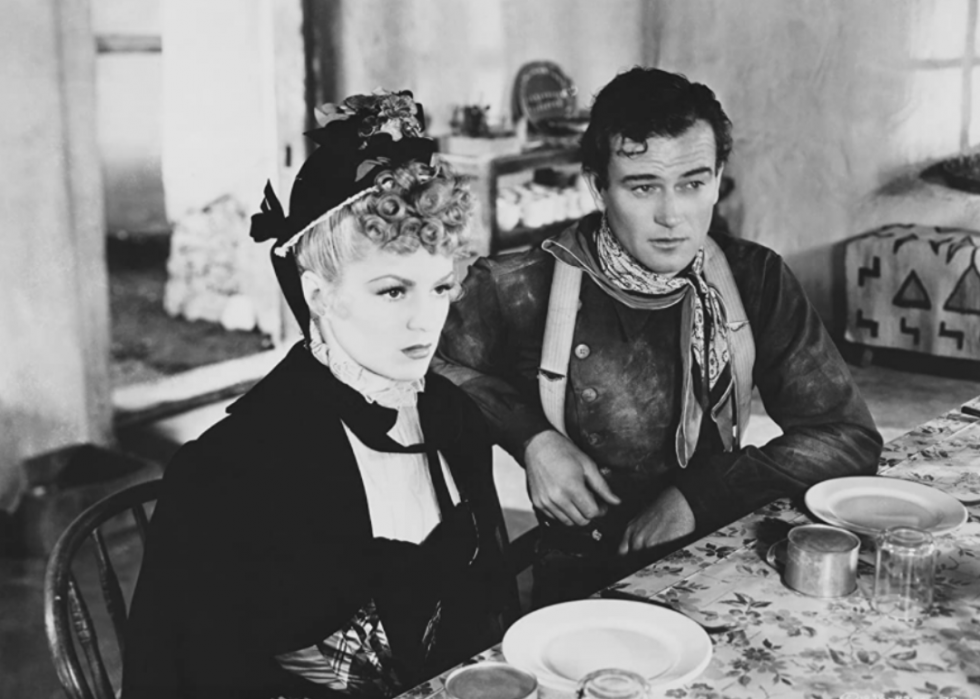 11 / 50
Walter Wanger Productions
Scene #6
Alongside Western icon John Wayne is his character's love interest in this film, played by Claire Trevor, though they are just two out of many colorful characters aboard a train to New Mexico. This film directed by John Ford was nominated for seven Oscars at the 12th Academy Awards, winning Best Supporting Actor for Thomas Mitchell and Best Music.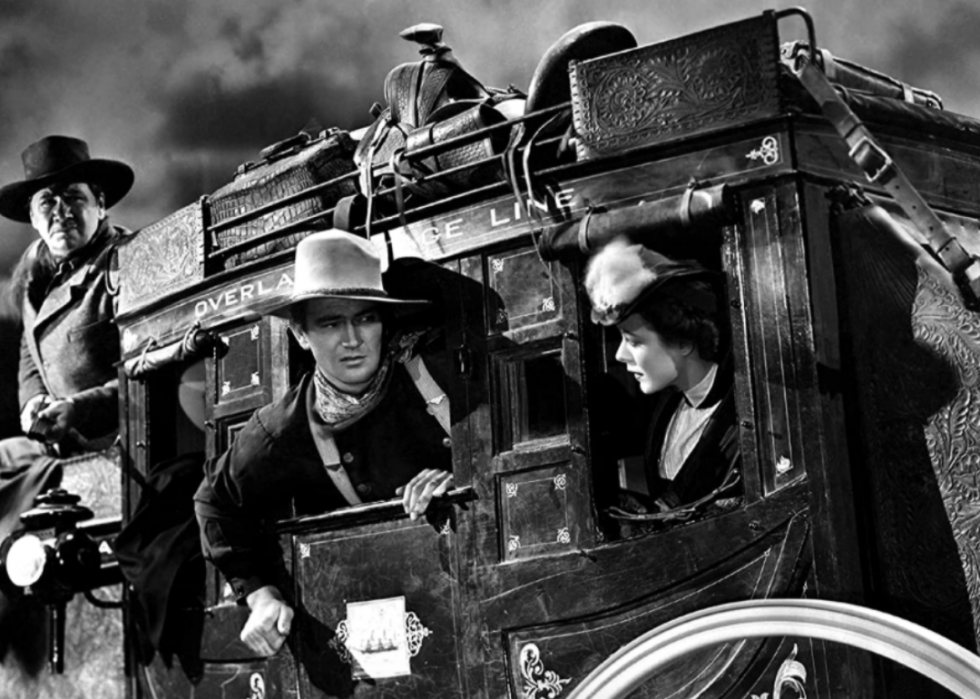 12 / 50
Walter Wanger Productions
Stagecoach
John Wayne's character, however, isn't supposed to be on this stagecoach—he's an escaped convict named the Ringo Kid, vowing vengeance against the man who killed his father and brother. The film was a critical and commercial success and has received preservation in the United States National Film Registry, though it's also received its share of criticism for its negative portrayal of Native Americans.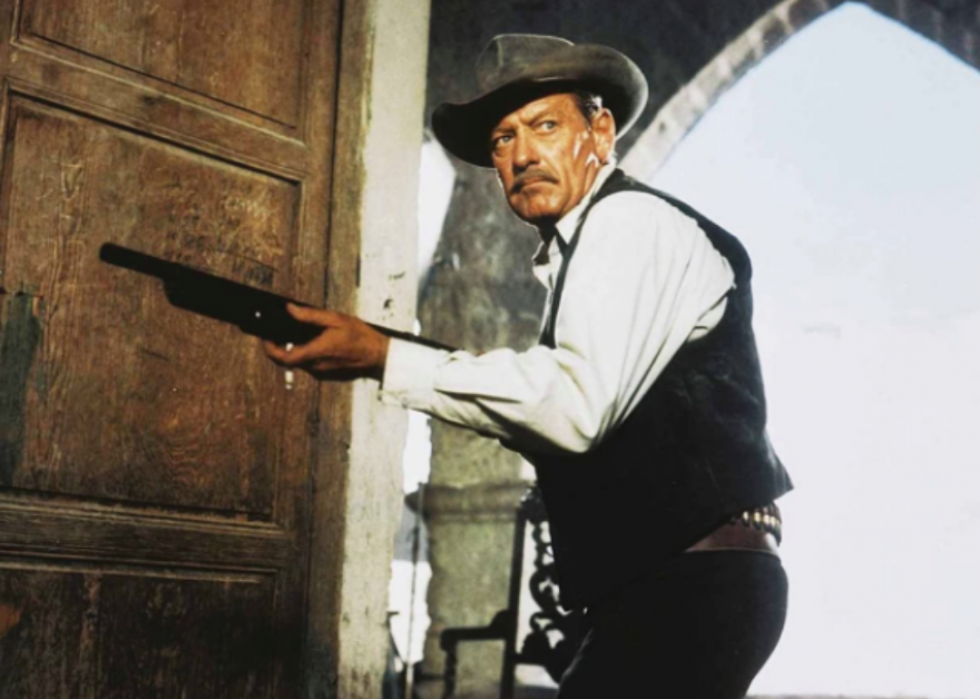 13 / 50
Scene #7
William Holden's character—sans the rest of his gang—stands at the ready with his shotgun in this 1969 Revisionist Western directed by Sam Peckinpah. Though the film garnered controversy at the time for its depiction of violence, it was nominated for Best Original Screenplay and Best Original Score at the 42nd Academy Awards.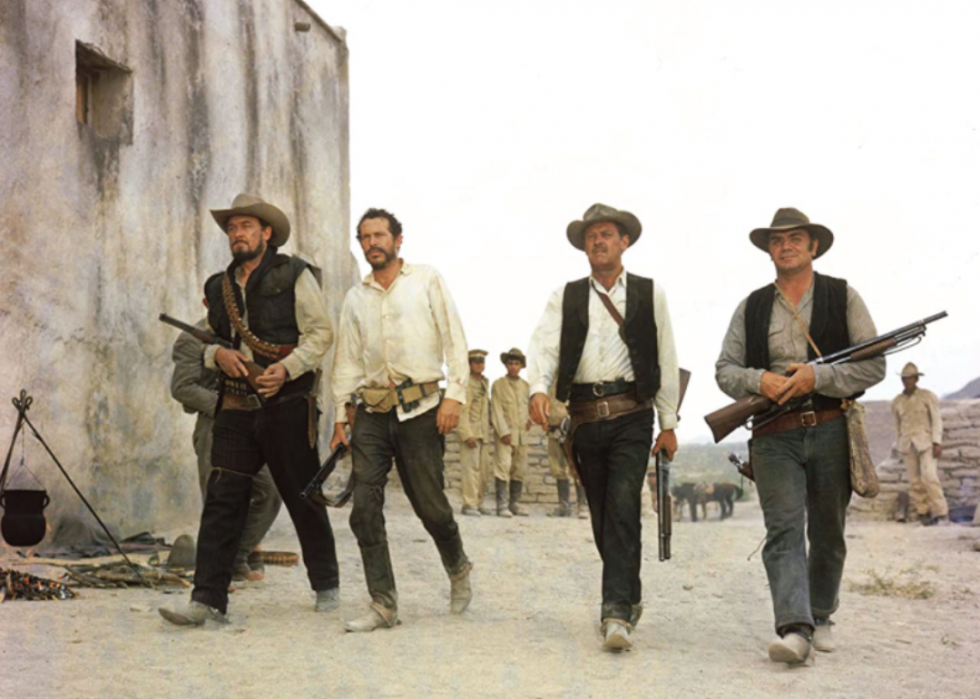 14 / 50
The Wild Bunch
In the classic "The Wild Bunch," outlaw Pike Bishop plans for one last score with his gang before he heads into retirement—until he discovers the heist is a setup. The film was considered revolutionary for its particular brand of creative editing and served as highly influential to the following generation of filmmakers. Actor Mel Gibson has a remake of "The Wild Bunch" currently in the works.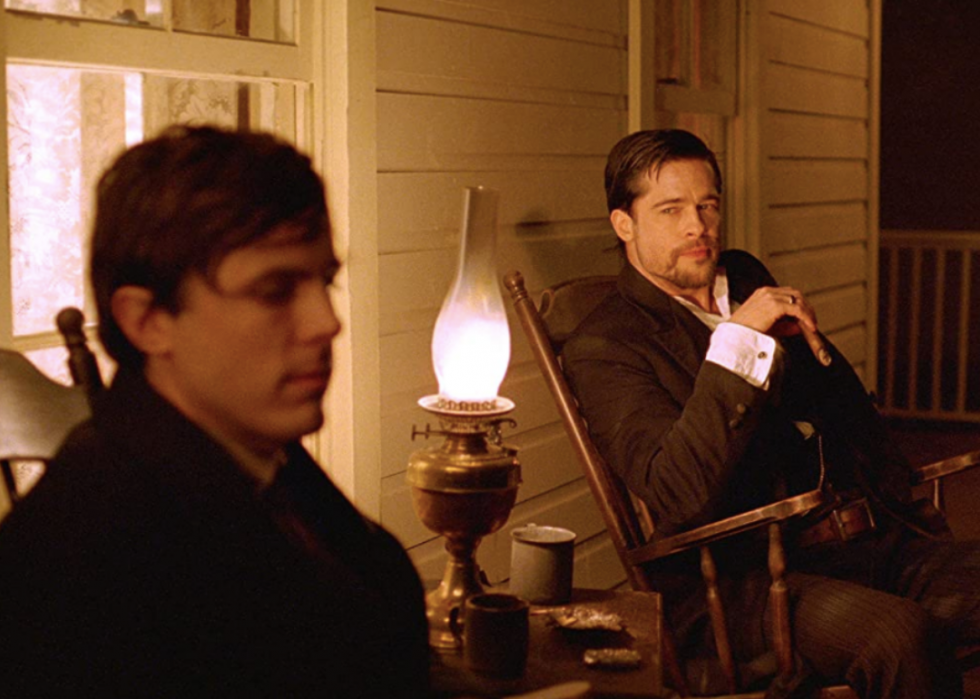 15 / 50
Scene #8
The two men pictured (played by Casey Affleck and Brad Pitt, respectively) are this Revisionist Western film's titular gunslingers, dramatizing the events leading up to the killing in which the two men are involved. The film was nominated for Best Cinematography and Best Supporting Actor for Affleck, at the 80th Academy Awards.
You may also like: 100 best Westerns of all time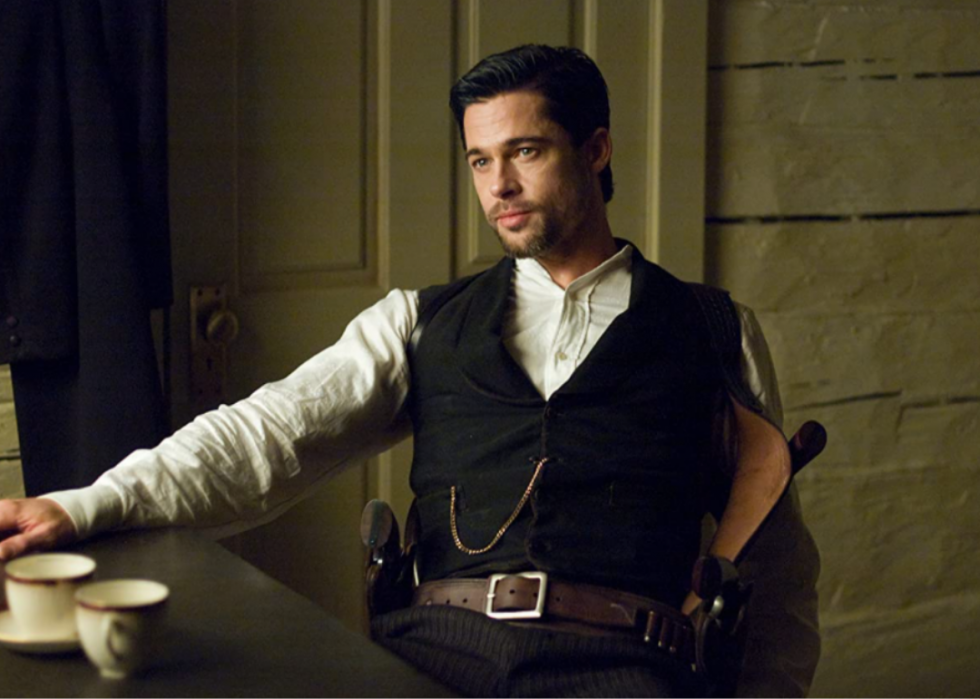 16 / 50
The Assassination of Jesse James by the Coward Robert Ford
"The Assassination of Jesse James by the Coward Robert Ford" details the infamous killing of James in the midst of a planned heist, in which the two recruits he hires to accompany him, Ford (Affleck) and his brother Charley (Sam Rockwell), grow jealous of the outlaw and do away with him—unintentionally cementing James' mythic status. The film made numerous "best films of 2007" lists and received many awards nominations as well. It has a passionate fan following, with fans organizing revivals of the film.
17 / 50
Scene #9
Hollywood icon Jimmy Stewart plays a senator pictured here alongside Andy Devine, playing the powerless Marshal Appleyard to a town plagued by the titular, terrorizing outlaw. This 1962 Western directed by John Ford also co-stars a Western film movie star and received an Academy Award for Best Costume Design.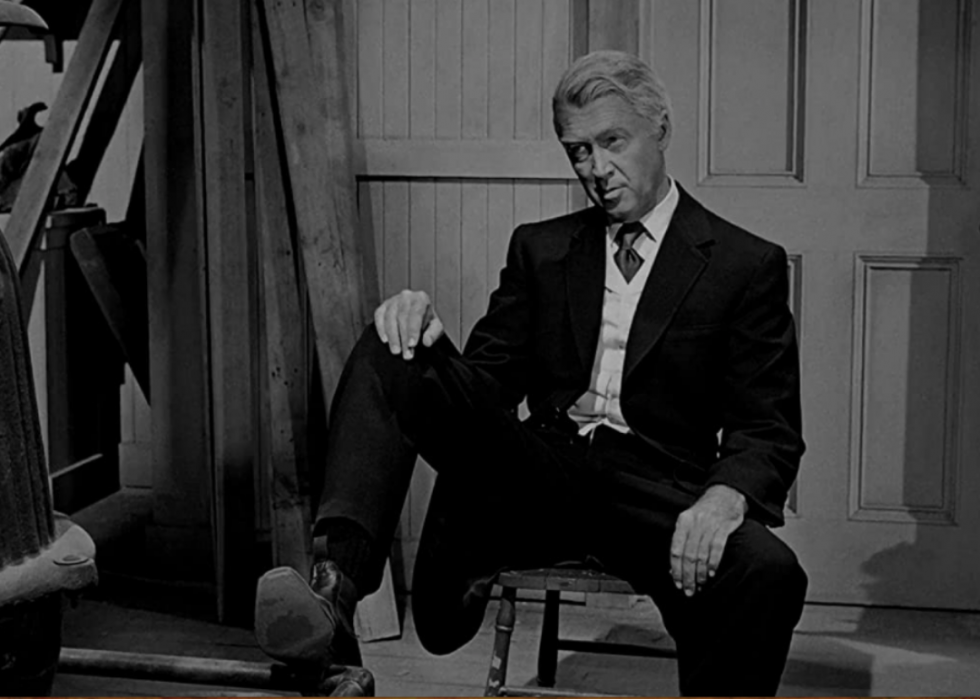 18 / 50
The Man Who Shot Liberty Valance
"The Man Who Shot Liberty Valance" features Stewart's Senator Ranse Stoddard and John Wayne's Tom Doniphon, two men who were brave enough to stand up to a dangerous group of outlaws led by the menacing Valance. The film received mostly positive reviews upon releases, though a few criticized the final act. However, more recent evaluations uniformly consider it one of Ford's very best.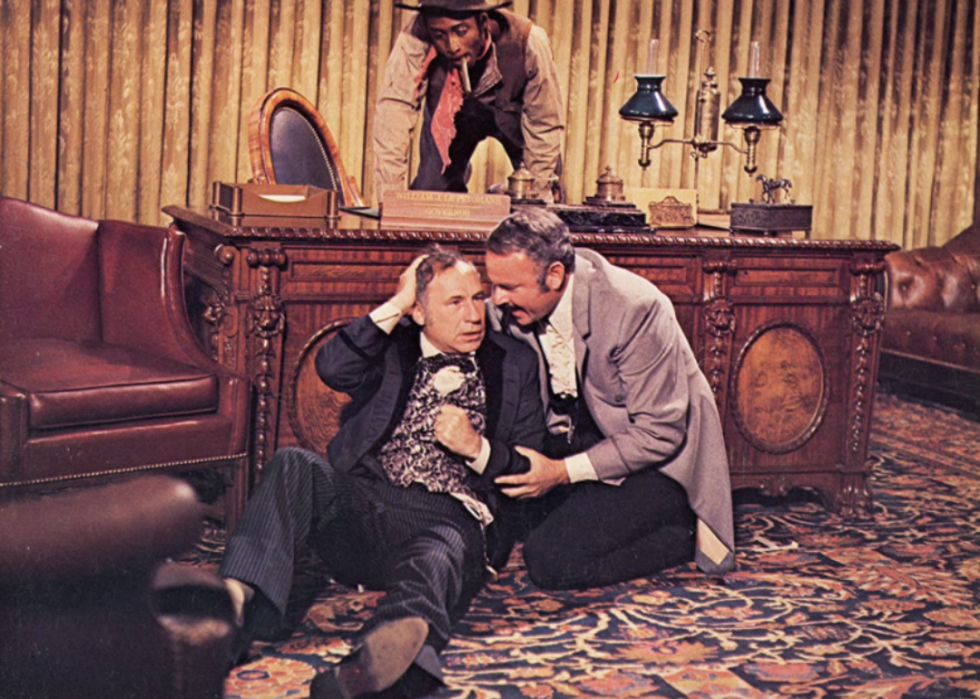 19 / 50
Scene #10
Conniving Attorney General Hedley Lamarr and dim-witted Governor Petomane have hired a convicted Black man to be the sheriff of a nearby town, under the assumption that doing so will offend the townspeople enough to flee, leaving Lamarr the town and its newfound riches. This classic satire of the Western genre skewers both the genre stereotypes, as well as racial stereotypes perpetuated by American myth-making.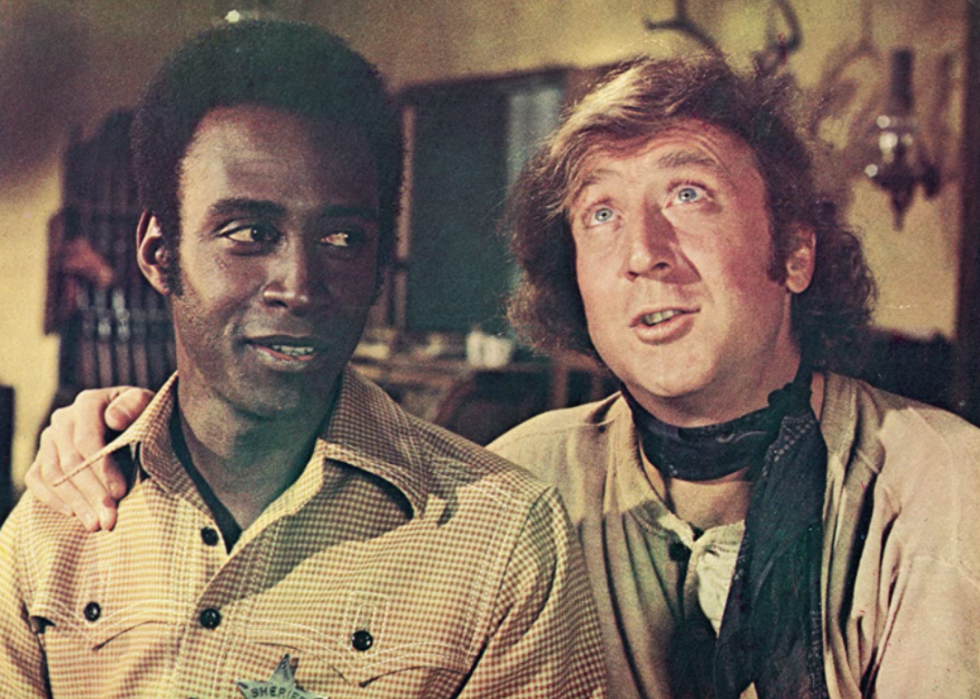 20 / 50
Blazing Saddles
Mel Brooks (pictured here playing Governor Petomane) crafts an enduringly hilarious take on Western films, co-starring Gene Wilder as gunfighter Jim, "The Waco Kid," partner in crime to Cleavon Little's Sheriff Bart. The film received three Academy Award nominations: Best Film Editing, Best Music, Original Song, and Best Supporting Actress for Brooks regular Madeleine Kahn. Roger Ebert gave the film four out of four stars upon its release.
You may also like: Best Robert De Niro movies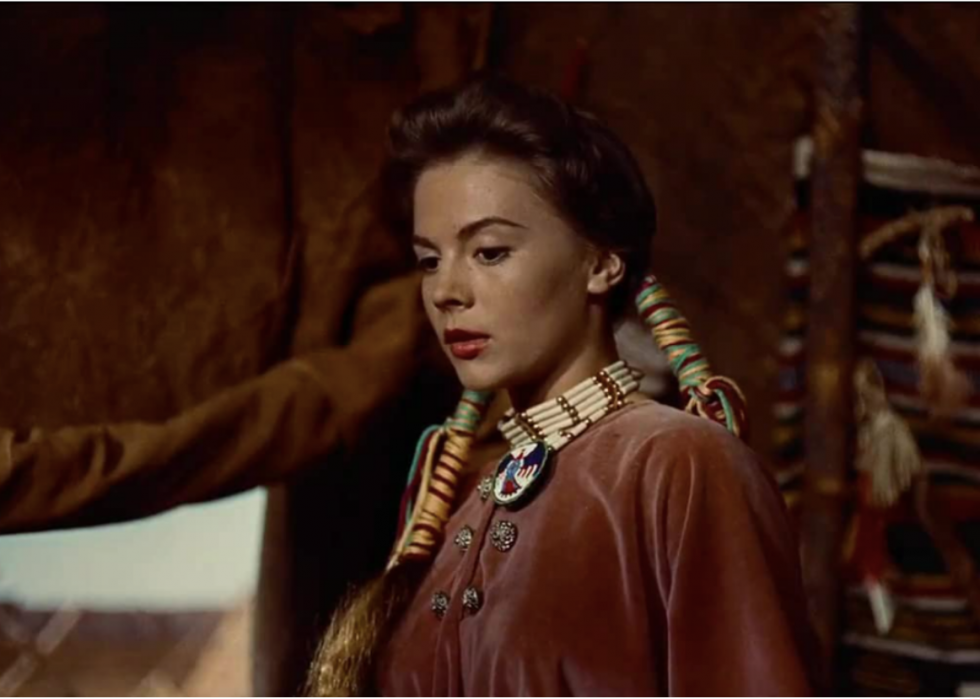 21 / 50
Scene #11
Natalie Wood's character, seen here dressed in traditional Native American garb, was abducted by Natives years prior in this 1956 Western set during the Texas-Indian wars. Another from director John Ford, this film is often considered by critics to not only be the director's best, but one of the greatest films ever made.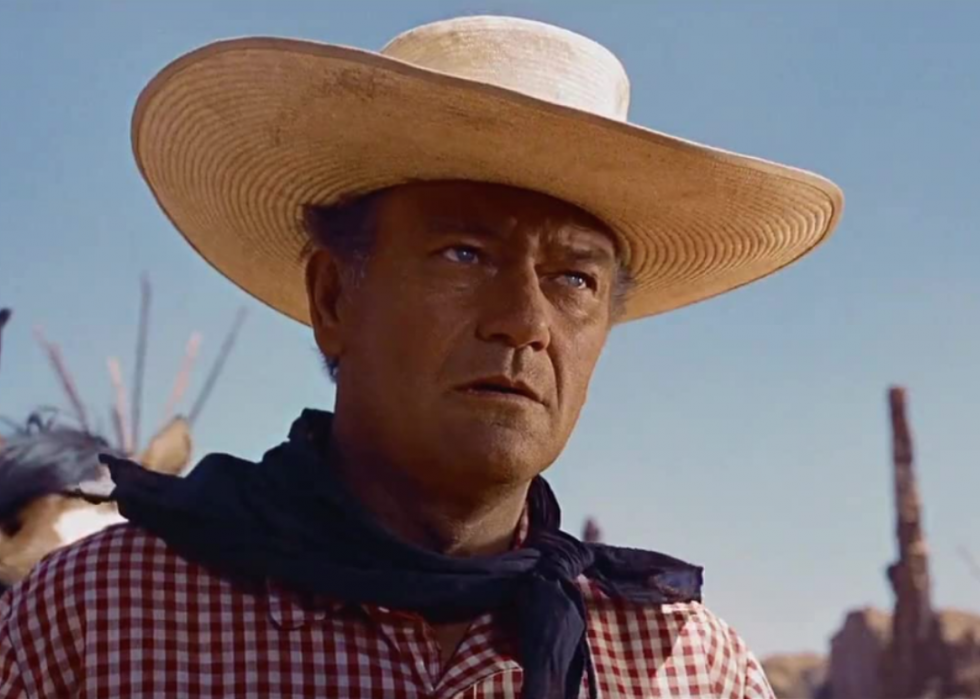 22 / 50
The Searchers
Debbie (Wood) was captured by Comanches at age 8, and her Civil War veteran uncle, Ethan Edwards (John Wayne) goes on a years-long search for her. Ford requested the film create a behind-the-scenes "making-of" program about the production of "The Searchers," making it one of the very first films to be chronicled this way.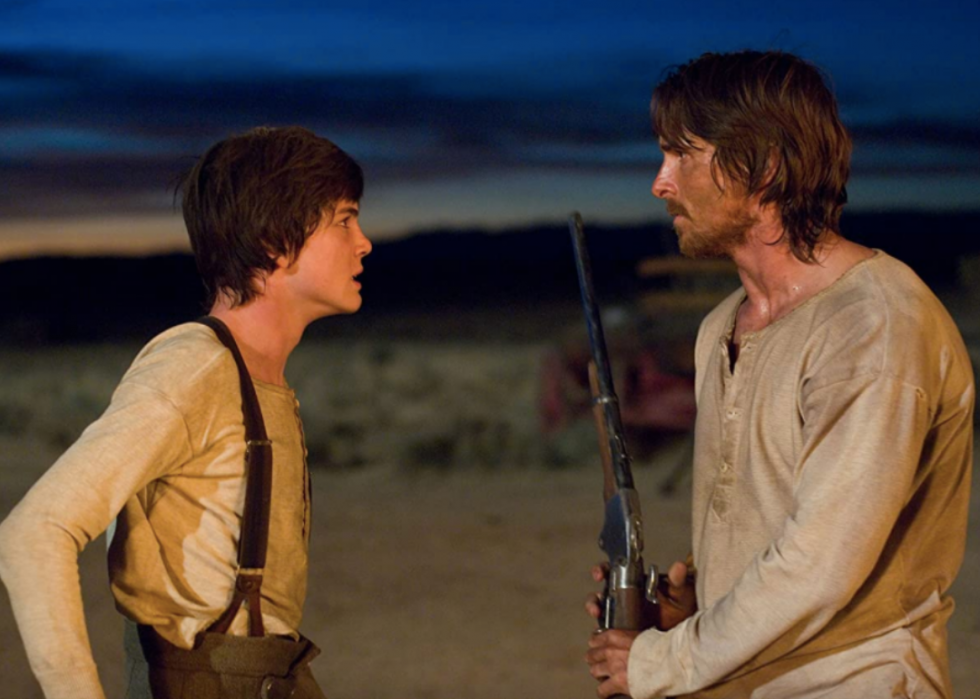 23 / 50
Scene #12
Christian Bale and Logan Lerman play a rancher father and son, in this 2007 remake of the 1957 Western of the same name; itself an adaptation of a short story. The film—from "Logan" director James Mangold—received positive reviews from critics and garnered two Academy Awards nominations, for Best Original Score and Best Sound Mixing.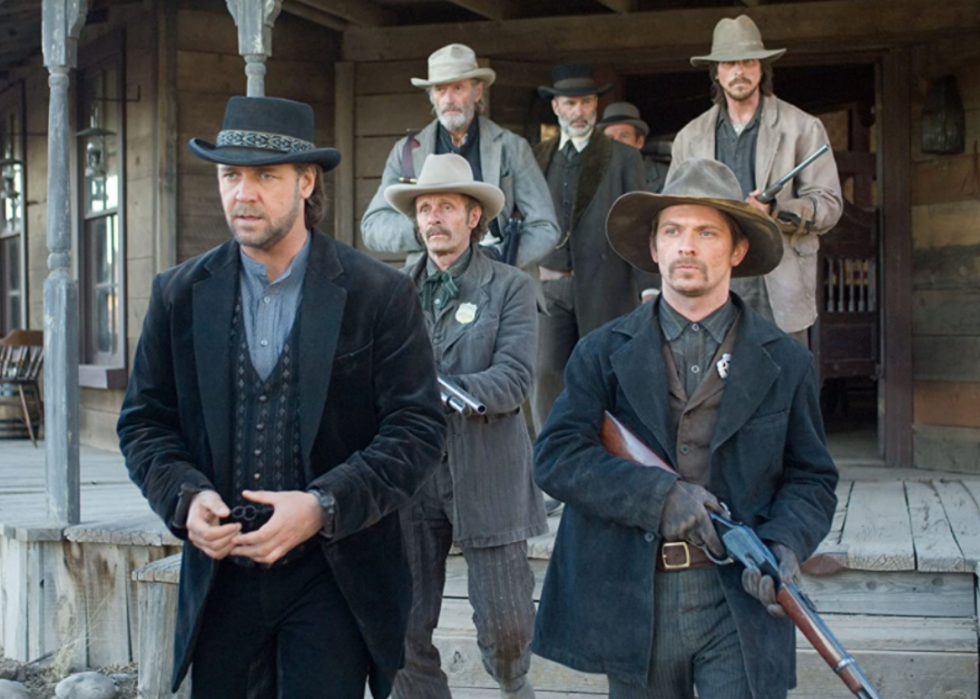 24 / 50
3:10 to Yuma
In "3:10 to Yuma" Bale's Dan Evans volunteers to escort convicted outlaw Ben Wade (Russell Crowe) to the train meant to take him to his trial, as the two form an unlikely comradery while Wade's men tail them. Ben Foster's performance as Wade's psychotic right-hand man, Charlie Prince, was praised in particular, developing somewhat of a cult following. Fans even make replicas of his hat and sell them.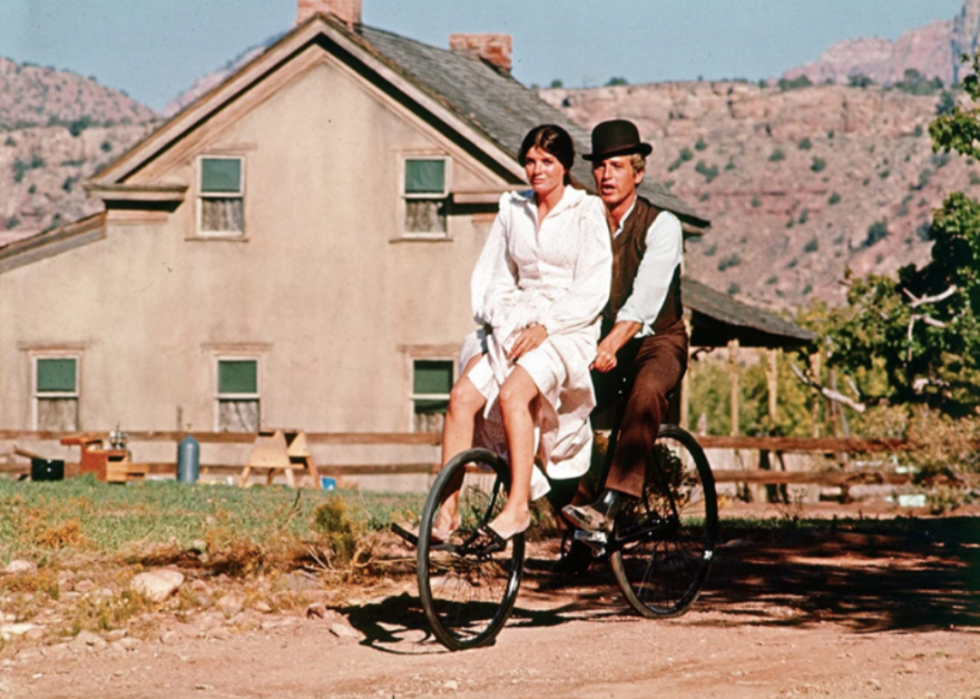 25 / 50
Scene #13
Actors Paul Newman and Katharine Ross enjoy an idyllic bike ride in this classic Western, the subject matter of which could be described as anything but. The film is based on true events surrounding a famous pair of Wild West outlaws, in their attempted escape from the U.S. to Bolivia after a series of train robberies.
You may also like: 100 greatest movie quotes from 100 years of film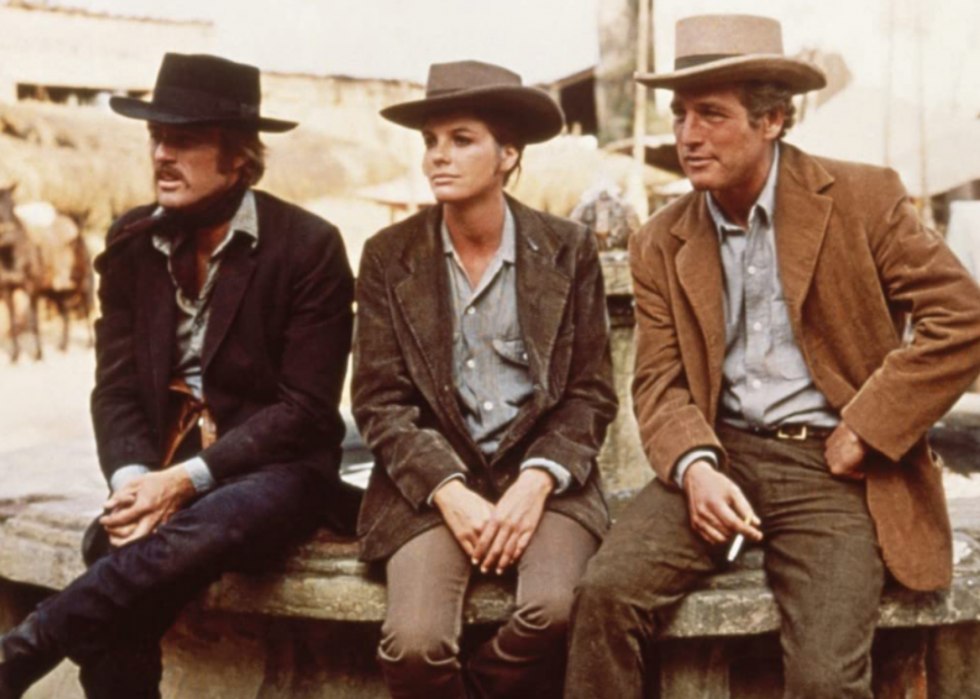 26 / 50
Butch Cassidy and the Sundance Kid
"Butch Cassidy and the Sundance Kid" stars Newman and Robert Redford as the titular two, respectively, and their exploits and adventures as the long arm of the law draws ever closer to catching them. The film was nominated for seven Oscars (won four) at the 42nd Academy Awards, including Best Picture, and was selected for preservation in the United States National Film Registry in 2003.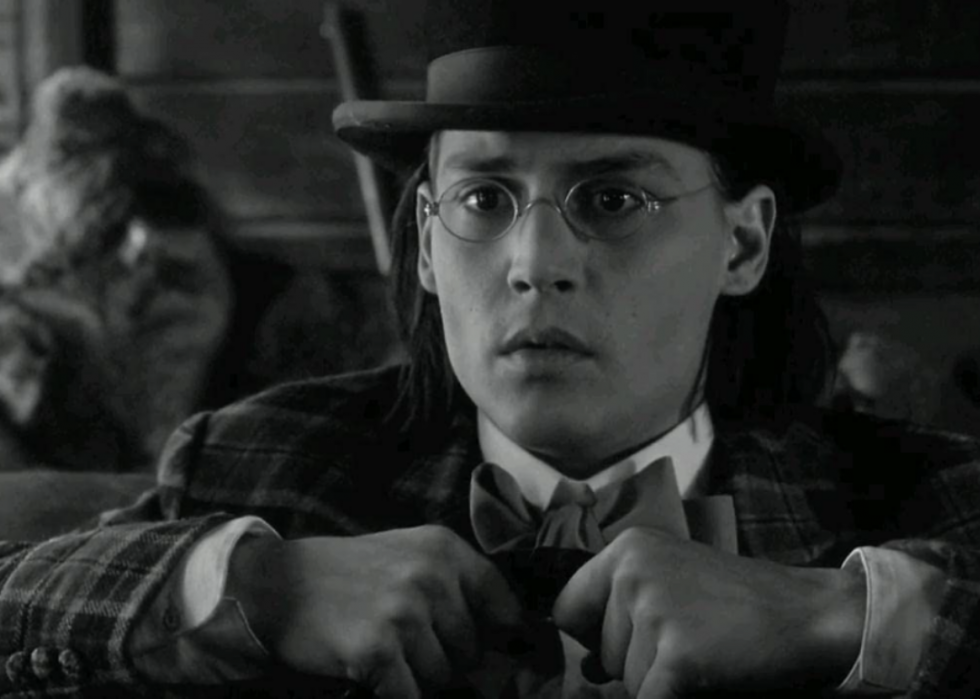 27 / 50
Scene #14
Johnny Depp's character is aboard a train from Cleveland to a frontier company town, in the hopes of taking up an accounting job promised for him there. However, the unwelcoming town promises more hostility and strife than he bargained for, and soon there's a price on his head and a bullet in his chest. The black-and-white "Psychedelic Western" features a partially improvised soundtrack from Neil Young.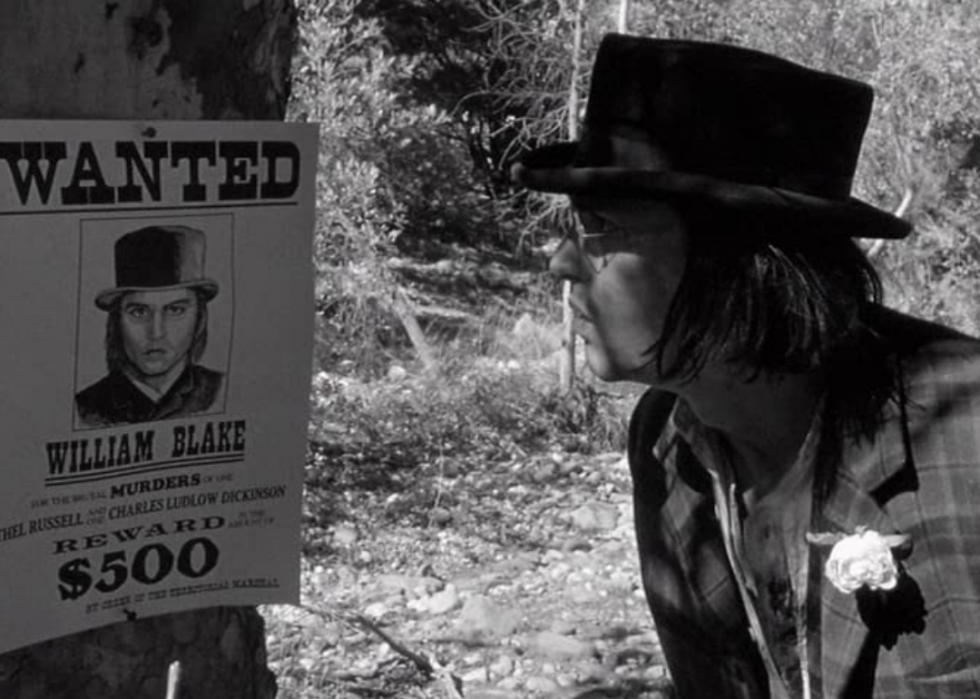 28 / 50
Dead Man
"Dead Man" stars Depp as the ill-fated William Blake, whose name finds charming favor with the Native American man (Gary Farmer) who chooses to help Blake escape from the bounty hunters on his tail. Though the film received mixed reviews and befuddled Roger Ebert, its reputation has grown and has since seen reappraisal. "Dead Man" was inducted in the Criterion Collection and dubbed "a profound and unique revision of the western genre."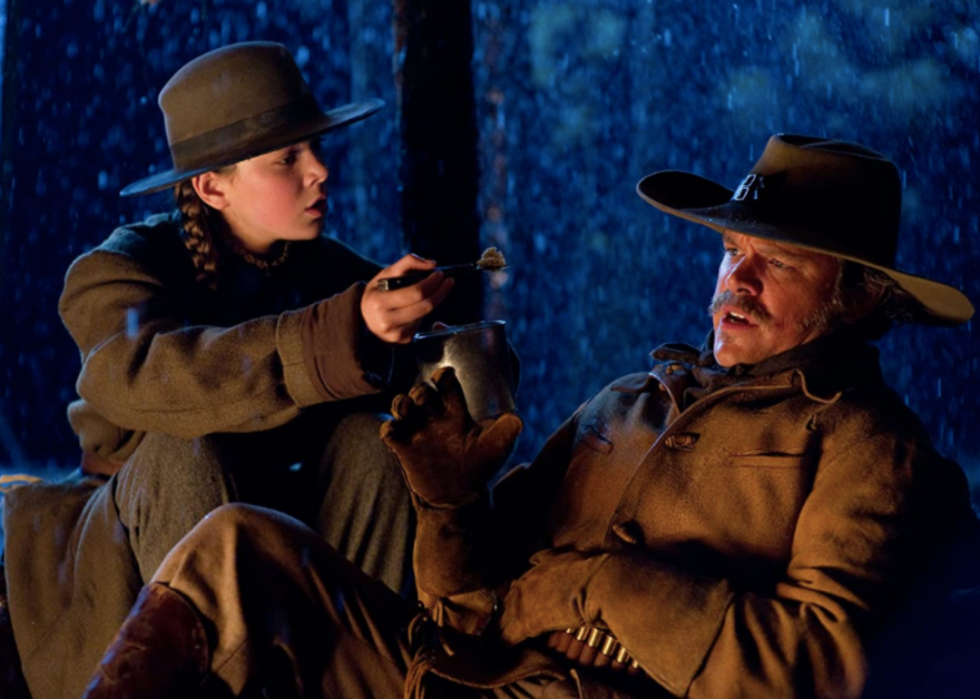 29 / 50
Scene #15
Matt Damon and Hailee Steinfeld argue over a fire and some vittles in this 2010 Revisionist Western from the Coen brothers. It is the second adaptation of the novel of the same name, the first one from 1969 and starring John Wayne.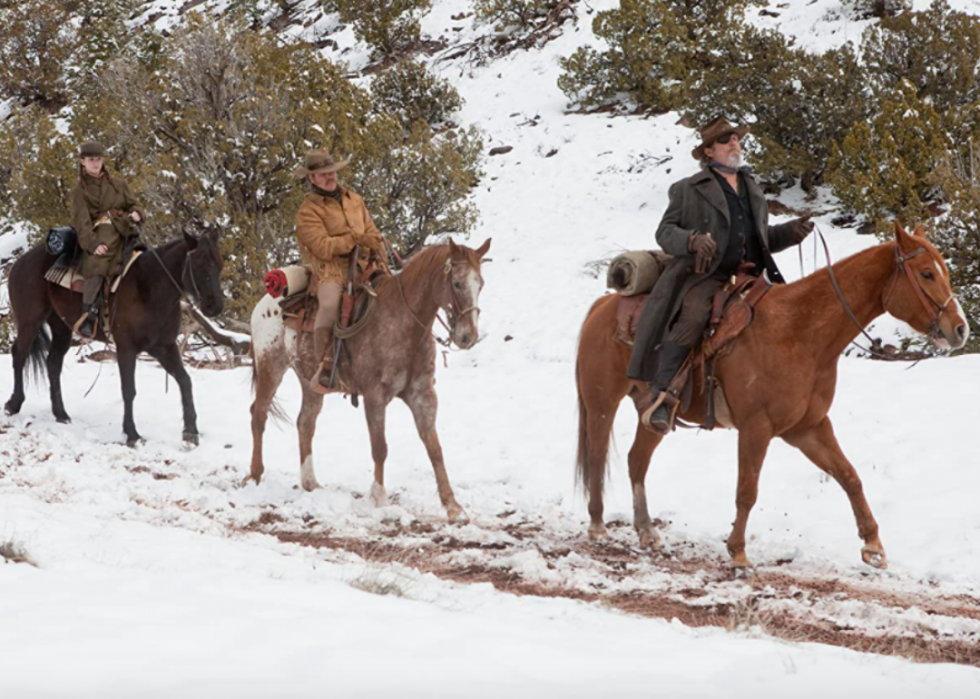 30 / 50
True Grit
Fourteen-year-old Steinfeld received praise in particular for her performance as bull-headed farm girl Mattie Ross, who hires a drunken lawman played by Jeff Bridges to avenge her murdered father. Steinfeld received a nomination for Best Supporting Actress at the 83rd Academy Awards, and the film acted as the catalyst for her career in the film industry. The film's cast also includes Damon, Josh Brolin, Barry Pepper, and Domhnall Gleeson, and garnered an impressive 10 Academy Award nominations overall.
You may also like: Best Meryl Streep movies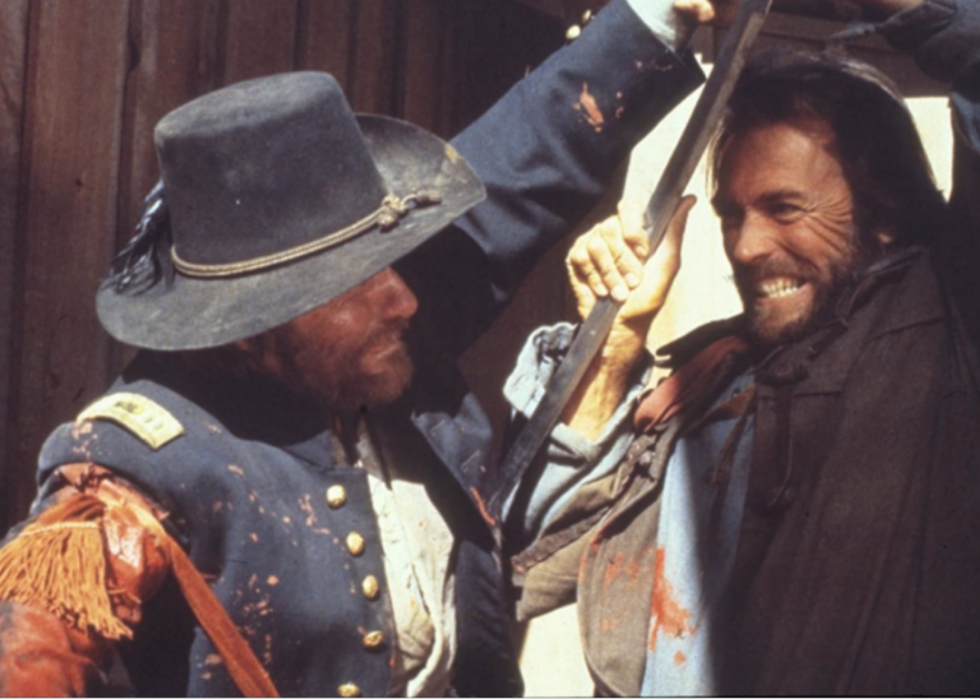 31 / 50
Scene #16
In this 1976 Revisionist Western from Clint Eastwood, Eastwood and co-star Bill McKinney square off as bitter rivals after McKinney's character did something unspeakable to him. The film was adapted from a 1972 novel by Forrest Carter, and Michael Parks played Eastwood's character in the 1986 sequel.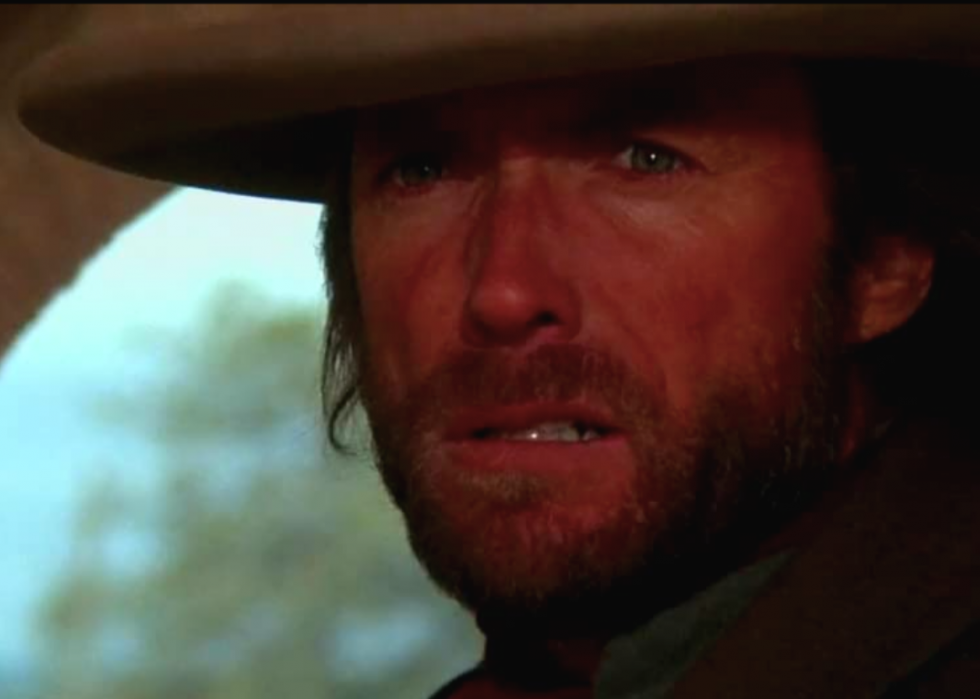 32 / 50
The Outlaw Josey Wales
"The Outlaw Josey Wales" takes place during the Civil War and follows the titular farmer, as he's driven to revenge for the murder of his wife and daughter by ruthless Union militants. The film received critical and commercial success and was nominated for Best Original Score at the 1977 Academy Awards.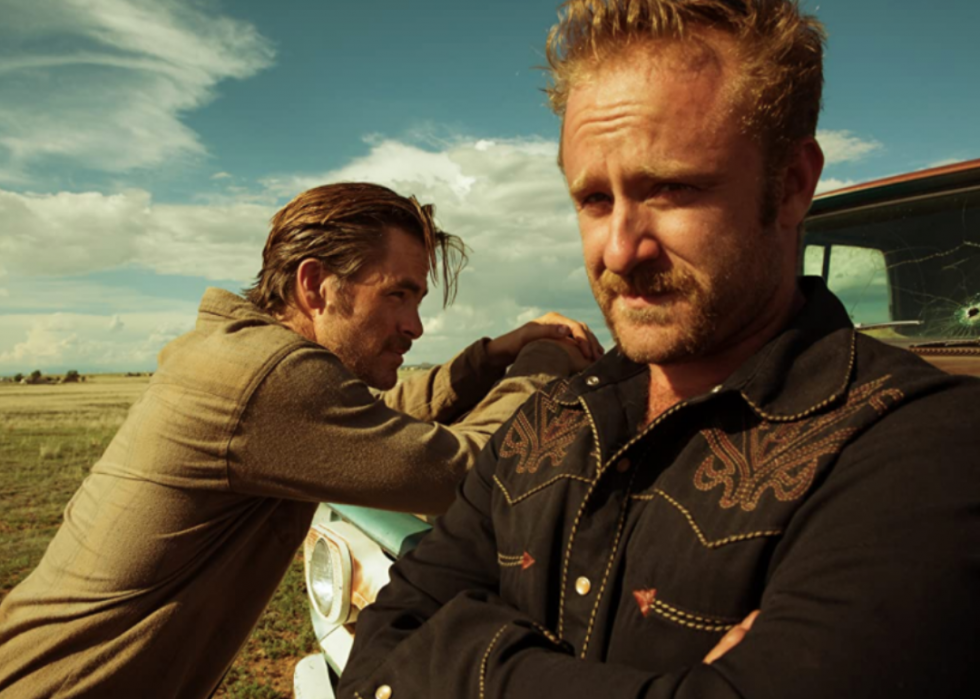 33 / 50
Scene #17
This neo-Western heist film from 2016 stars Chris Pine and Ben Foster as two outlaw brothers whose family ranch faces foreclosure, and together they plan a series of bank robberies. The film was nominated for four Academy Awards, including Best Picture, and was received warmly by critics, some of whom claimed the film revitalized the Western genre.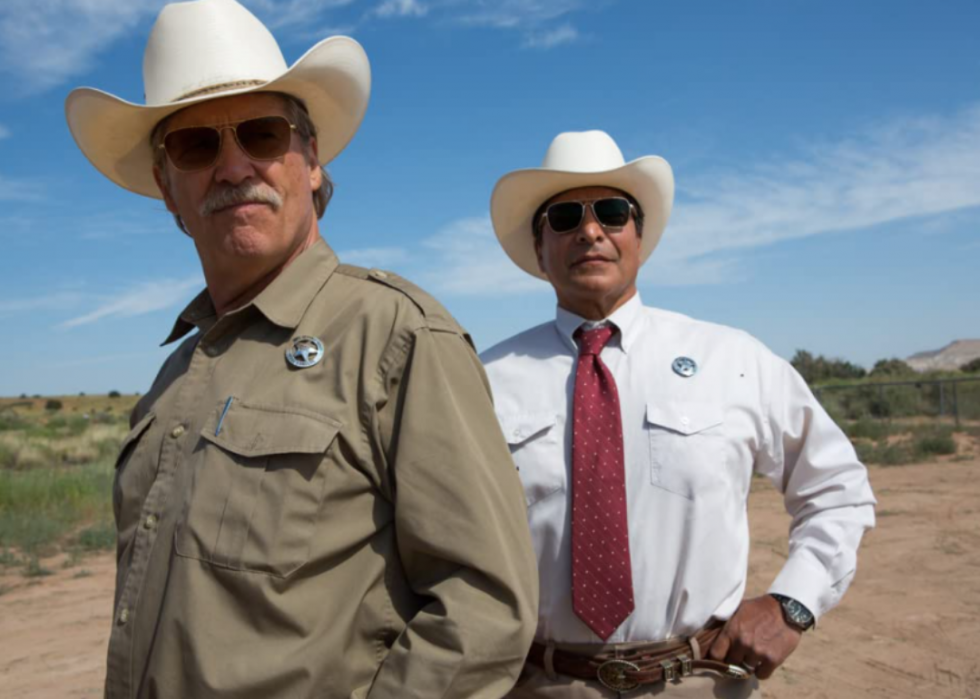 34 / 50
Hell or High Water
In director David Mackenzie's "Hell or High Water," brothers Toby (Pine) and Tanner Howard (Foster) are trailed by cunning Texas Ranger Marcus Hamilton (Jeff Bridges), whose impending retirement doesn't impede his pursuit of the pair of outlaws. Bridges was praised in particular for his performance and received a Best Supporting Actor nomination at the 89th Academy Awards.
35 / 50
Scene #18
The sparkle in that cowboy's eyes isn't a trick of the light—but a feature of his design. This sci-fi thriller, adapted from the novel of the same name by Michael Crichton, spurred two film sequels; however, it is most recognizable now for its adaptation into a successful HBO series.
You may also like: Mistakes from the 50 best movies of all time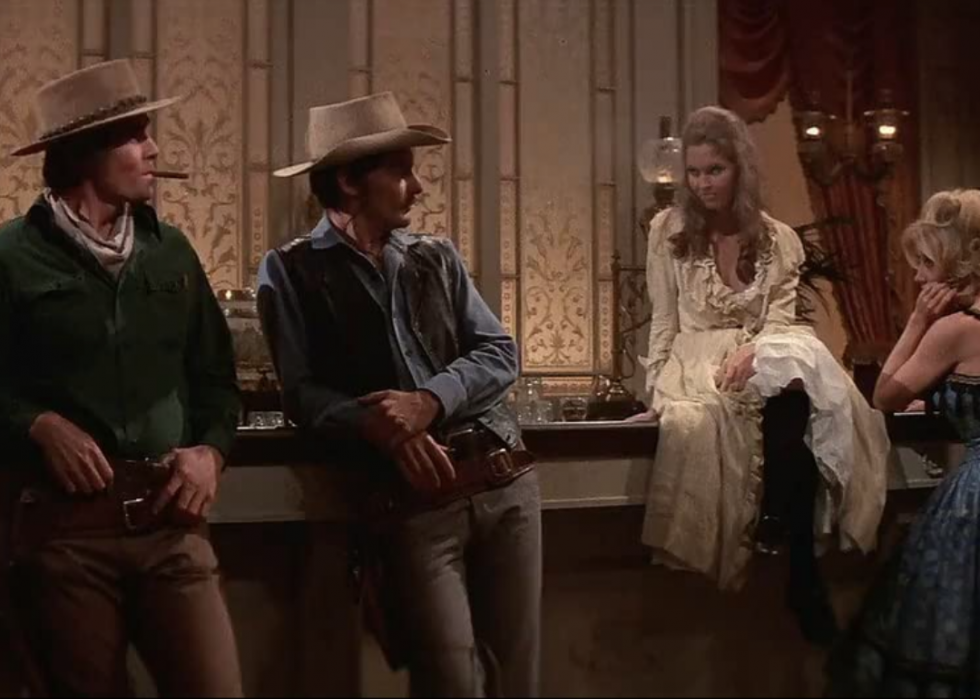 36 / 50
Westworld
Yul Brynner stars as an android in "Westworld," a futuristic amusement park where guests can live out exploits and adventures from different periods of time—that is until the androids decide to go berserk. Co-starring Richard Benjamin and James Brolin, the film was directed by Crichton himself, who adapted his own source material for the film's screenplay.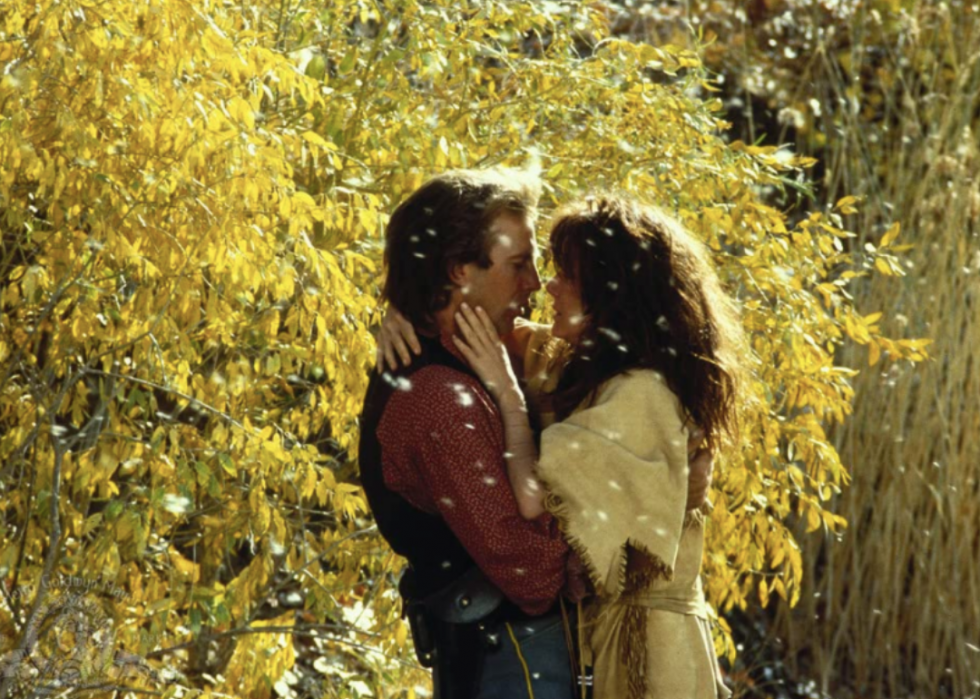 37 / 50
Scene #19
Kevin Costner and Mary McDonnell share an intimate moment, in this 1990 Western directed by Costner himself, surrounding a Civil War soldier who leaves his former life to join a band of Native Americans. The film was a success at the box office as well as critically, earning 12 nominations at the 63rd Academy Awards and winning seven, including Best Picture.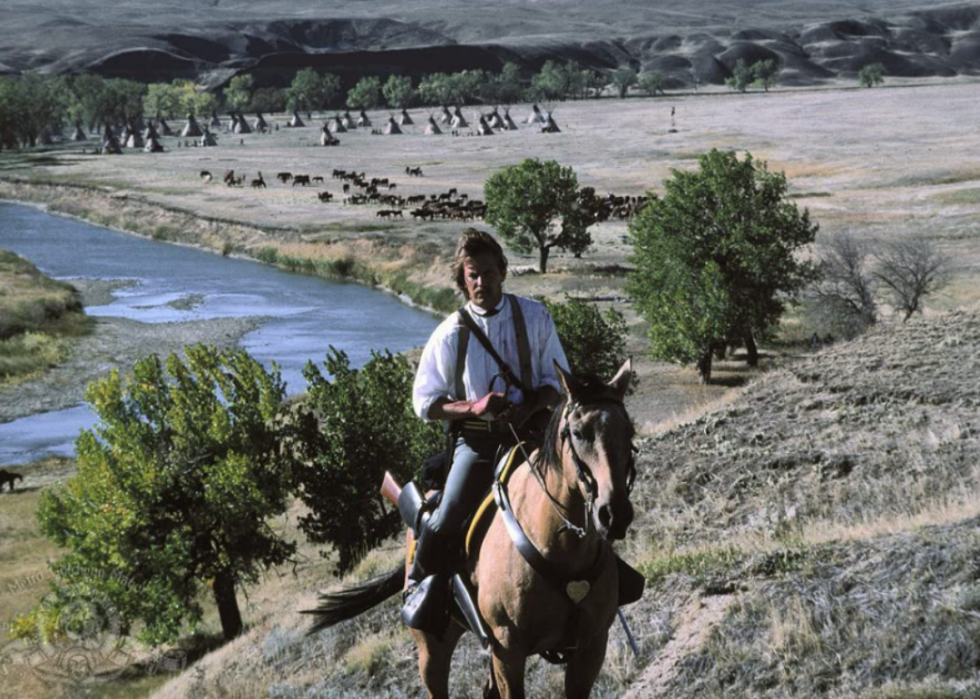 38 / 50
Dances with Wolves
The title "Dances with Wolves" references the name given to Costner's Lt. John J. Dunbar by the Lakota, after he becomes more familiar with their tribe. Dunbar eventually falls for a white woman named Stands with a Fist, who was raised by the same tribe. Much of the dialogue is spoken in traditional Lakota.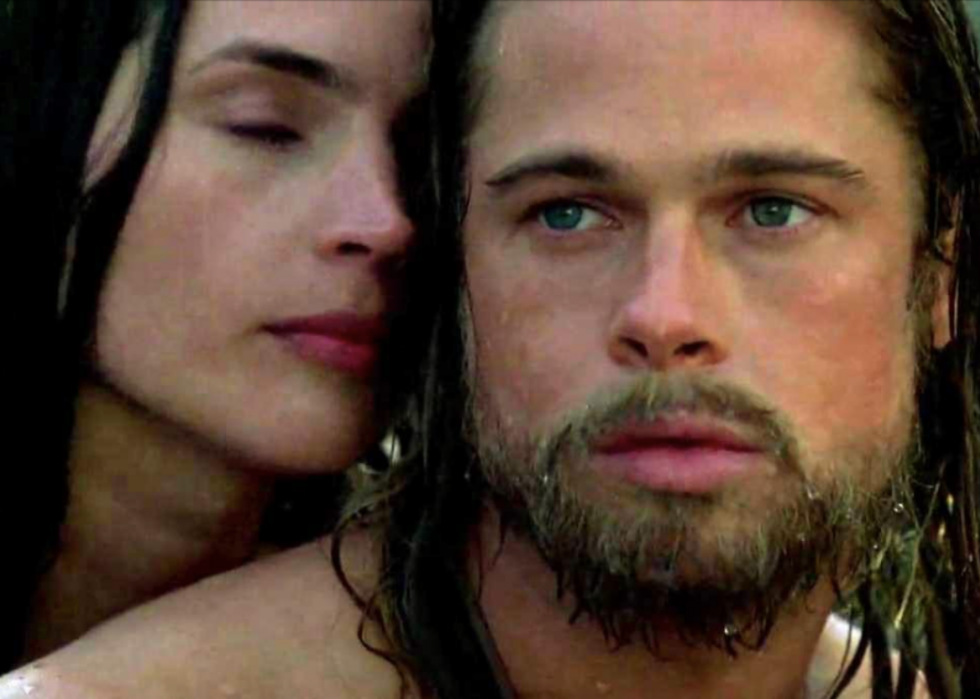 39 / 50
Scene #20
Brad Pitt's character finds himself in a familial love triangle along with his own brother, both men fighting for the affections of their deceased brother's fiancee, played by Julia Ormond (pictured). Based on Jim Harrison's novella of the same name, Pitt was praised in particular for his performance as a recent World War I veteran.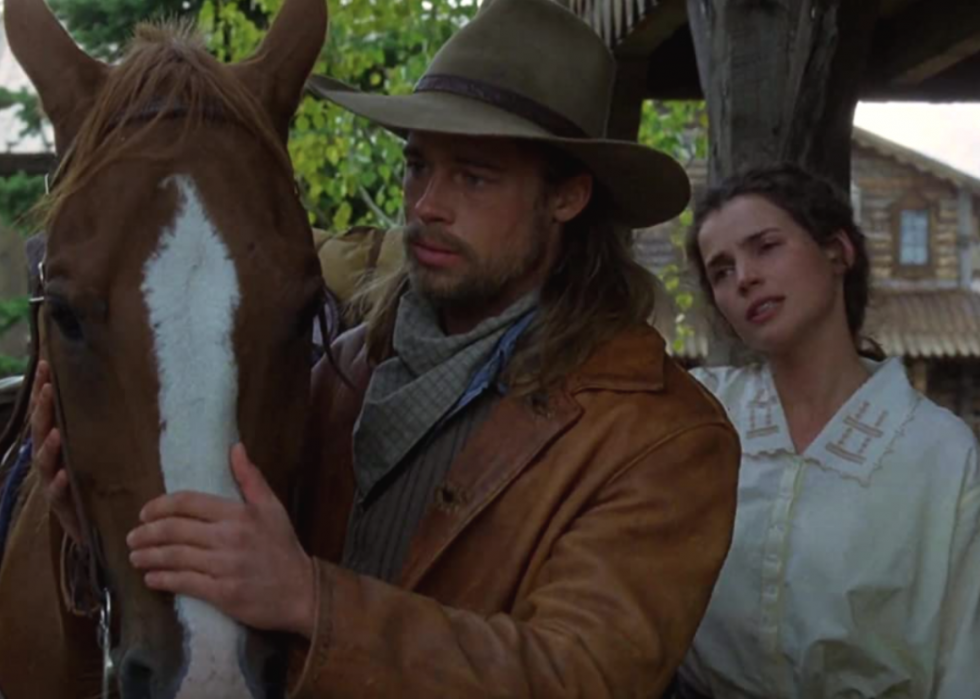 40 / 50
Legends of the Fall
Though "Legends of the Fall" received mixed critical reception upon its release, it was a financial success at the box office and was nominated for three Academy Awards—Best Sound, Best Art Design, and Best Cinematography, which it ended up winning. The film also stars Anthony Hopkins, Aidan Quinn, and Henry Thomas.
You may also like: Ranking the best years in movie history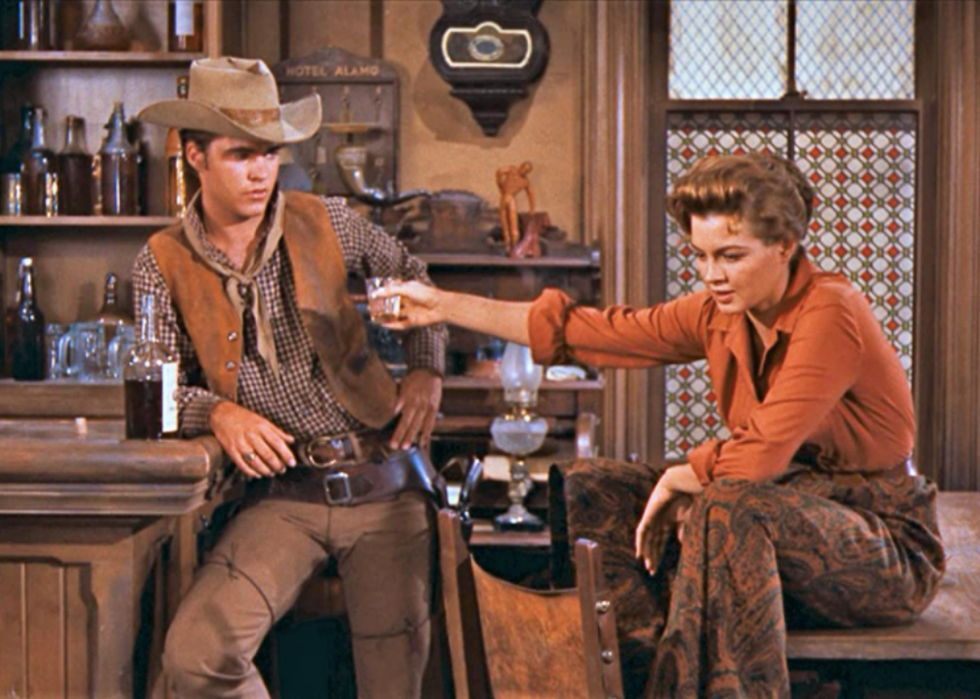 41 / 50
Scene #21
In this American Western from director Howard Hawks, Angie Dickinson plays a wanted widow and Ricky Nelson plays a cowboy, both of whom help the sheriff of a Texas town hold a man convicted for murder in jail. Together, they must fend off his family's goons until the United States Marshall arrives. Horror director John Carpenter used this film as inspiration for his "Assault on Precinct 13."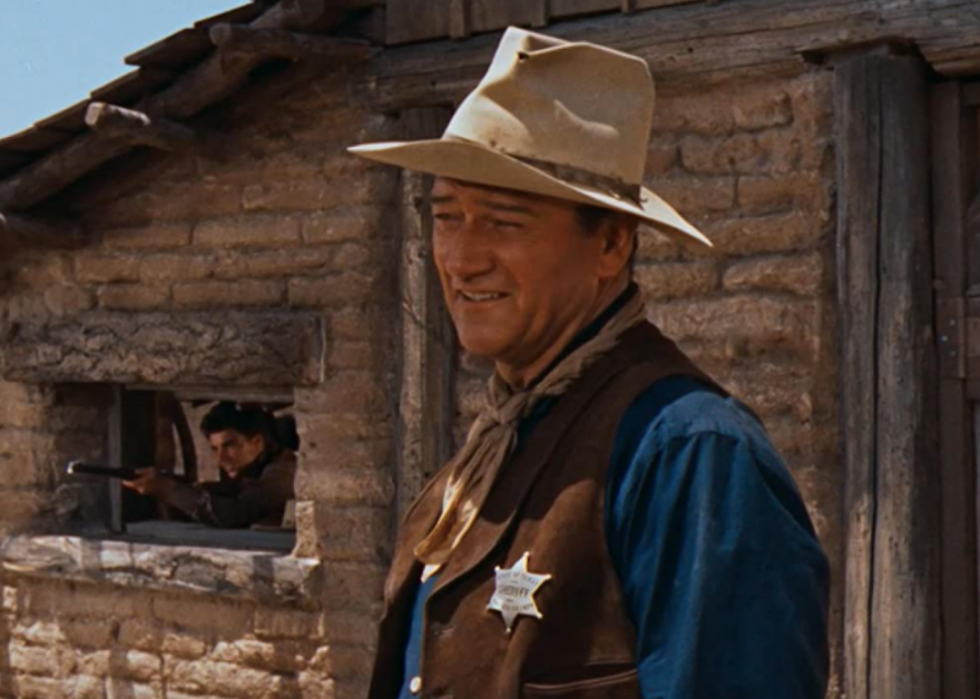 42 / 50
Rio Bravo
Starring John Wayne as Sheriff John T. Chance, Hawks went on to remake his own film in two variations of the same story, both starring John Wayne, entitled "El Dorado" and "Rio Lobo." Dean Martin and Ricky Nelson, both popular singers at the time, contributed to the film's soundtrack, Nelson acting as an accompaniment to Martin on the song "My Rifle, My Pony, and Me," and singing "Get Along Home, Cindy," accompanied by Martin and Walter Brennan, also a real-life singer.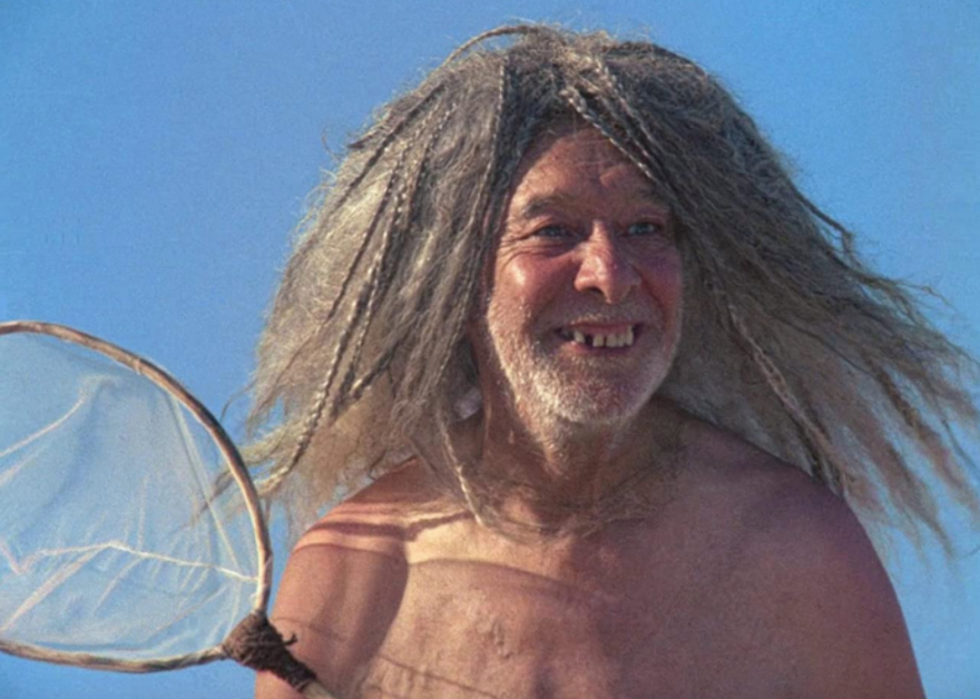 43 / 50
Scene #22
Mexican actor Agustín Isunza is featured here as the last gunfighter, in this Western art film from avant-garde director Alejandro Jodorowsky. Also described as an "acid Western," the film's many bizarre visuals and montages perturbed some critics, though it was a favorite of Roger Ebert.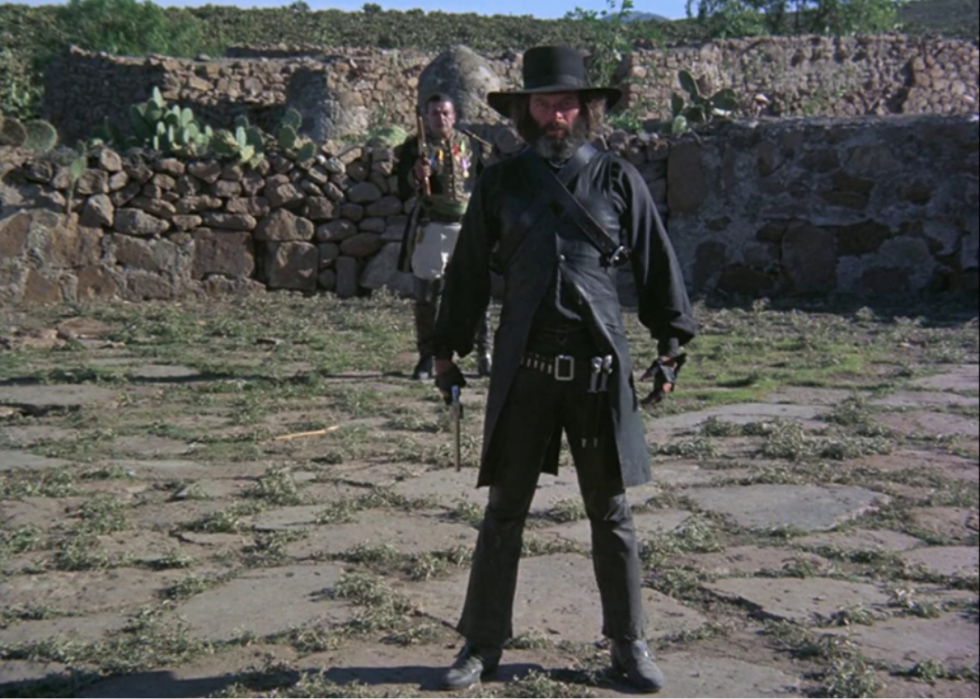 44 / 50
El Topo
In "El Topo," the black-clad, eponymous gunfighter goes on a quest for enlightenment in the Old West, with Jodorowsky himself playing the role of El Topo. A long-gestating sequel to the film had been off-and-on in the works for many years, eventually being released as a comic in 2017. "El Topo" served as inspiration for Gore Verbinski's animated Western "Rango."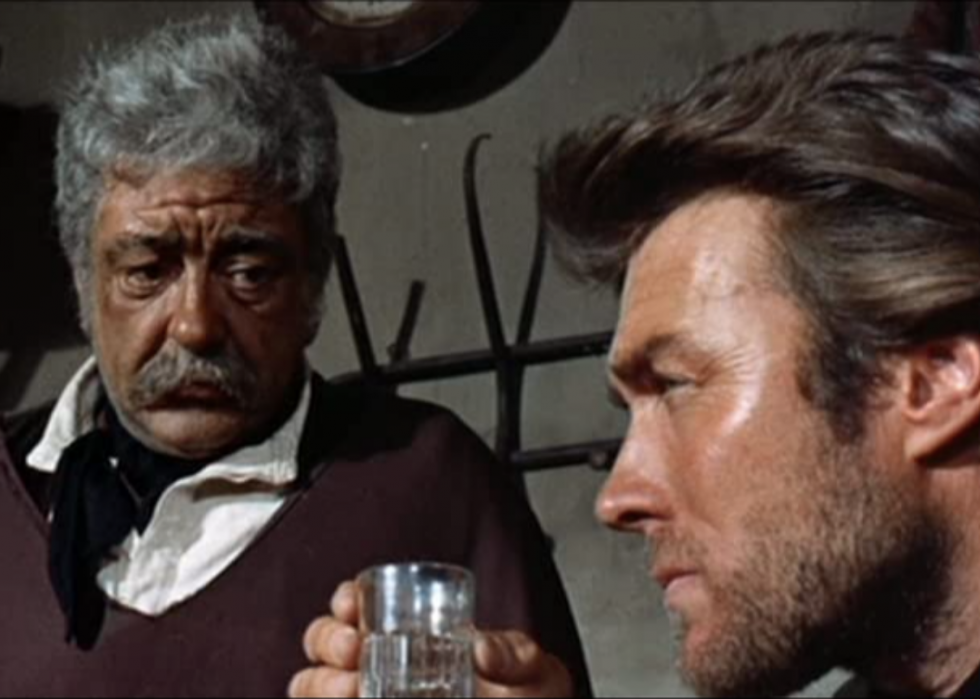 45 / 50
Scene #23
Not only was this film the first in the classic trilogy from Spaghetti Western icon Sergio Leone, but it also served as the catalyst for the popularity of the Spaghetti Western genre, as well as being the first leading role for star Clint Eastwood (seen here). Similarities to Akira Kurosawa's "Yojimbo" resulted in a successful lawsuit against the film.
You may also like: 100 best John Wayne movies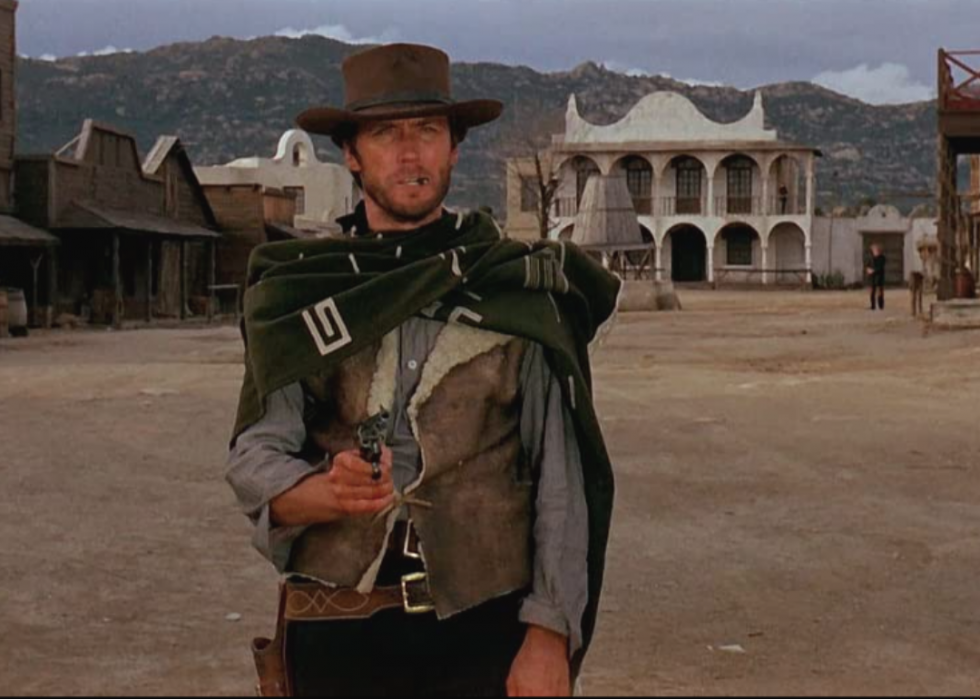 46 / 50
A Fistful of Dollars
"A Fistful of Dollars" follows Eastwood's Man With No Name, a stranger who inserts himself into a power struggle between rival factions in a Mexican village, hoping to benefit from sending both sides false information. The success of the film led to the development of two sequels, "For a Few Dollars More" and "The Good, the Bad, and the Ugly," both considered classics as well.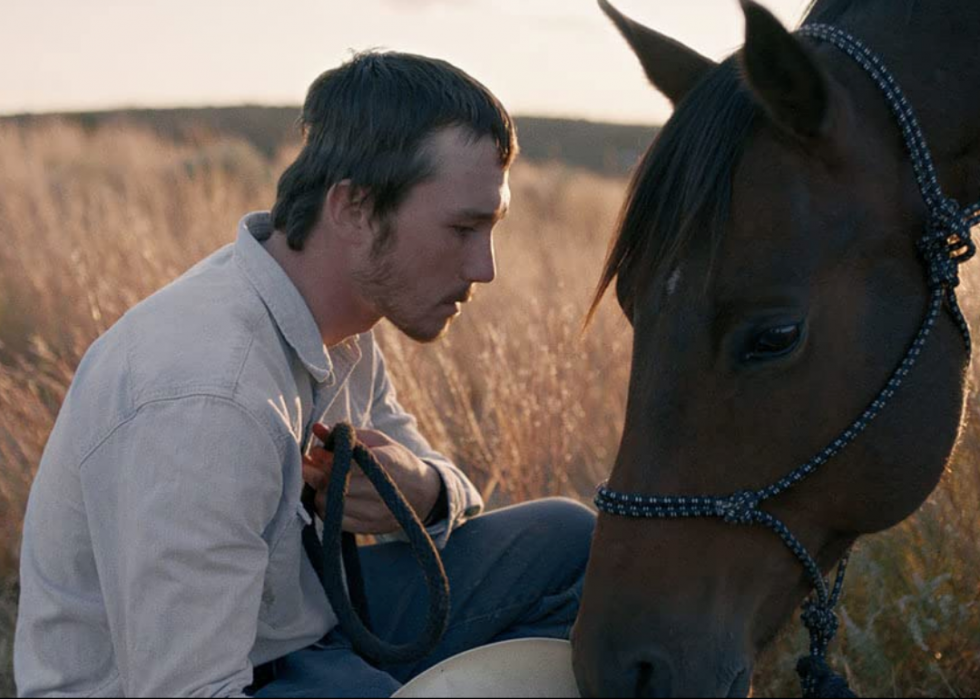 47 / 50
Scene #24
Former rodeo cowboy Brady Blackburn (Brady Jandreau) spends quality time with his horse, in the sophomore feature from director Chloé Zhao, based on Jandreau's real-life experiences. The film was received well by critics and won the Art Cinema Award, after premiering in the Directors' Fortnight section of the 2017 Cannes Film Festival.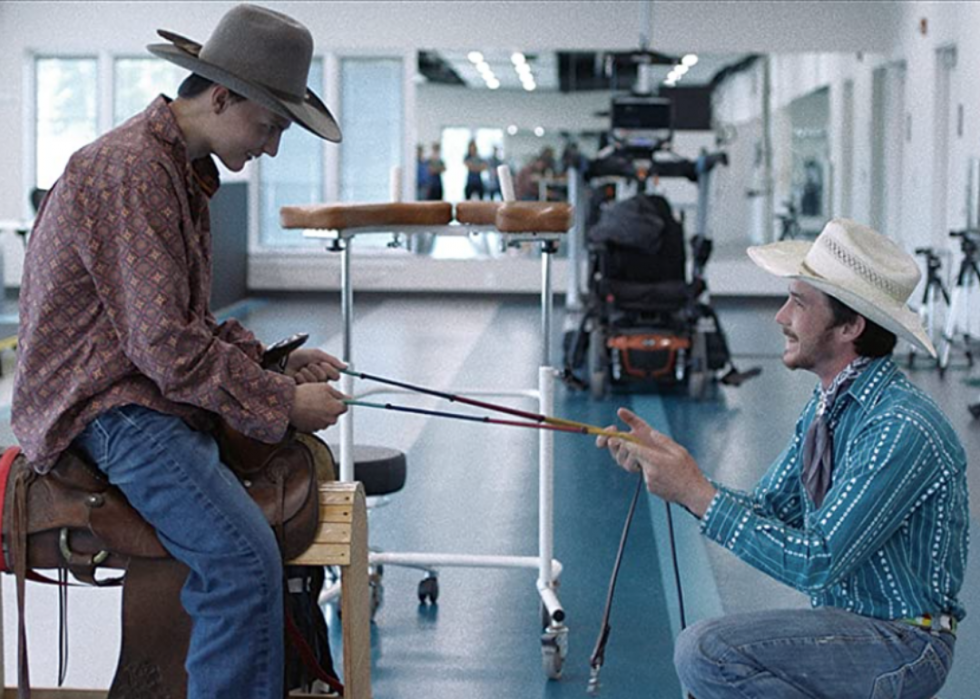 48 / 50
The Rider
In "The Rider," Jandreau plays a variation of himself as Blackburn, having once been a promising young rodeo star who succumbed to brain damage from a riding accident. In the film, the accident leaves him with a weakened arm and seizure-prone, so Blackburn sets out to find a new purpose for himself. The film made many critics' "top films of 2018" lists.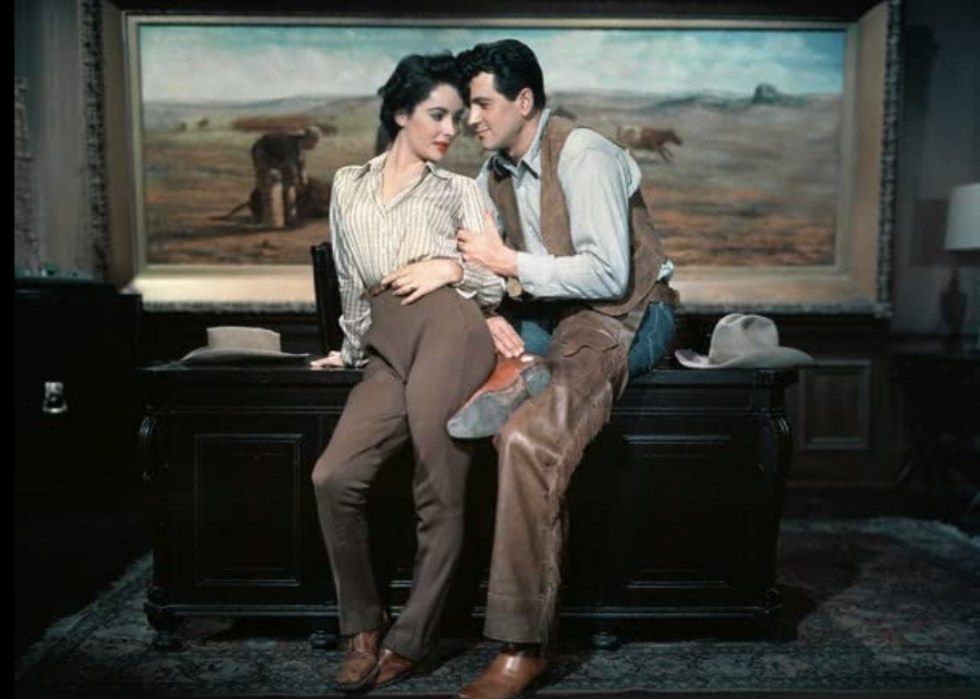 49 / 50
George Stevens Productions
Scene #25
Elizabeth Taylor and Rock Hudson star as lovers in this epic Western drama from 1956, covering the life and family of a Texas rancher (played by Hudson). The film also served as the final role for Hollywood icon James Dean before he was killed in his infamous car accident. Since he died before the film was released, some of his lines ended up needing to be dubbed.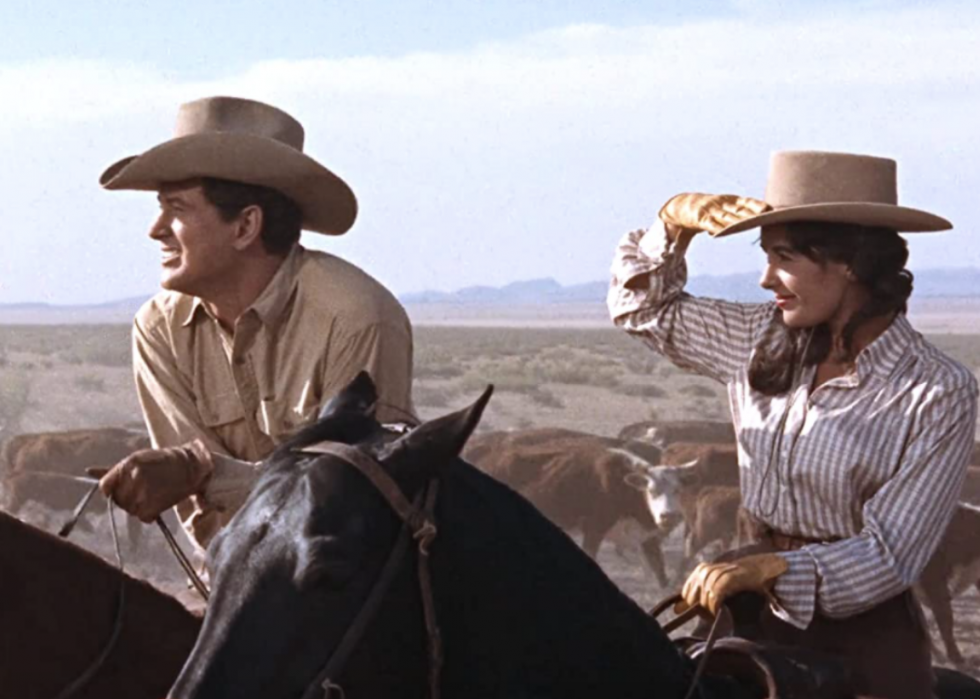 50 / 50
George Stevens Productions
Giant
In "Giant," Dean's performance as Jett Rink, a local handyman who falls for Leslie Lynnton (Taylor), garnered him a posthumous Academy Award nomination for Best Leading Actor alongside Rock Hudson, making it Dean's second and final Academy Award nomination. The film was also nominated in seven other categories and won one: Best Director for George Stevens.
You may also like: Movie trivia for the top 100 films of all time