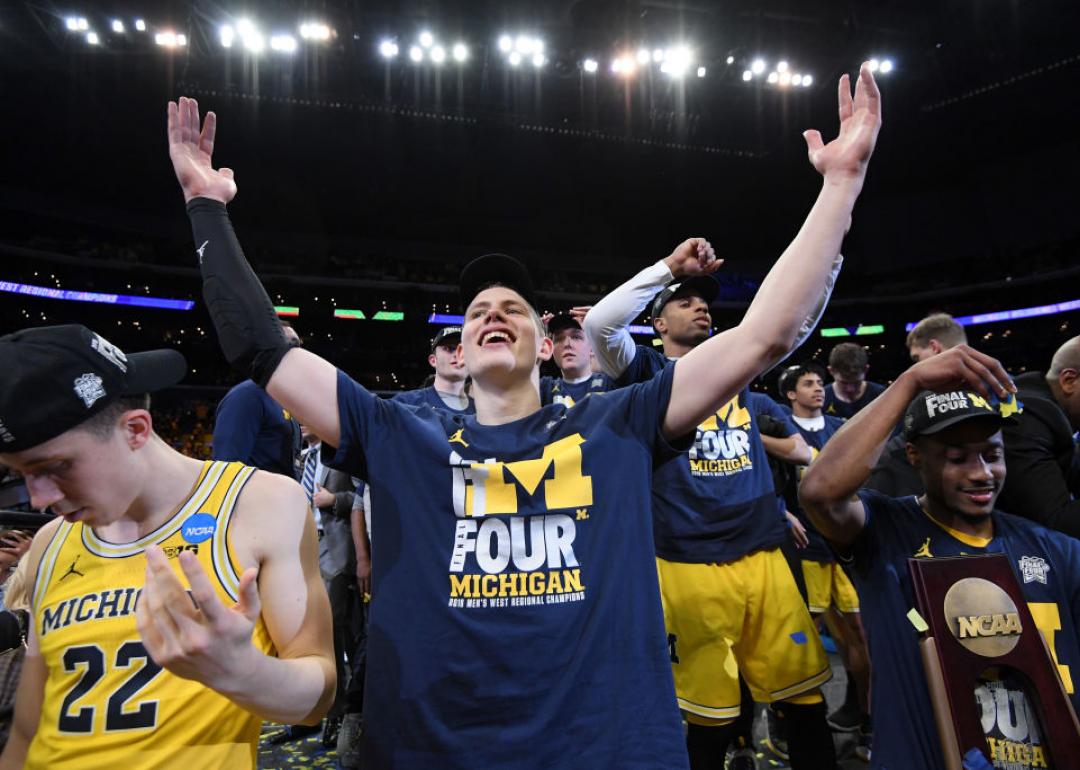 Bing Predicts: Final four
Bing Predicts: Final four
As the final four college basketball teams left standing head to San Antonio, it's clear one of these things is not like the others. Kansas has now made the Final Four at least twice in each decade since the '70s. Jay Wright has Villanova in its third Final Four in the past 10 years, while Michigan has now made deep March runs routine under John Beilein.
And then there are the Ramblers.
The casual fan might not realize that Loyola has actually won a national championship before — back in 1963, the program's first-ever trip to the NCAA tournament. Loyola owns a 13-4 record all-time in tournament games, with as many Sweet 16 appearances as losses. Still, despite that history of success, few could have predicted this team would be able to make it to San Antonio.
Of the 17.3 million brackets filled out on ESPN, only 550 correctly picked this year's Final Four. It's difficult to fathom the thought processes that caused 550 people to land on this particular combination of teams making it this far, but you can't argue with the results.
So who will be the last team standing? To take us through the home stretch, Stacker turned to the data experts at Bing Predicts. With the help of web activity data and social sentiment — as well as historical player, team and game stats — Bing has predicted the outcome of each NCAA tournament game. Bing has assigned a percentage value to indicate the level of confidence in each pick.
The Final Four tips off on Saturday, with Loyola and Michigan in the early game, followed by Kansas-Villanova. Stacker will run through each semifinal matchup first, followed by Monday's expected championship game showdown.
Note: Also included with game predictions is the opening line to each game, courtesy of Vegas Insider.
No. 11 Loyola (Chicago) Ramblers vs. No. 3 Michigan Wolverines
Bing Predicts winner: Michigan (61 percent)
Opening line: Michigan -6
Tipoff time: 6:09 p.m. ET (Saturday)
Loyola has been shooting the lights out all tournament, making 52.5 percent of its field goal attempts. The Ramblers are shooting 41.7 percent on 3-point attempts — tops among Final Four teams (yes, even better than Villanova).
Loyola is a patient group on offense, relying on ball movement and good shot selection. That translates to a very balanced attack, as the Ramblers have had a different leading scorer in each tournament game, with only one player scoring more than 20 points in a contest — senior guard Ben Richardson, who scored 23 points in the Elite Eight against Kansas State.
The Ramblers rely on perimeter play to make things go, as their top four leading scorers are all listed at 6-foot-6 or shorter. That group — comprised of Clayton Custer, Donte Ingram, Marques Townes and Aundre Jackson — shoots a combined 40.9 percent on 3-point attempts, presenting a difficult challenge for opposing defenses.
Michigan, however, has been up to every task its faced this tournament. The Wolverines have held tournament opponents to 37.9 percent shooting from the field and a stingy 26.2 percent on 3-point attempts. On top of playing stout defense, Michigan has taken great care of the ball on offense, averaging just nine turnovers per game during the tournament.
That combination has more than compensated for the Wolverines' struggles on the glass. After out-rebounding Montana in the first round, 35-33, Michigan has been outrebounded in its last three games by a combined 101-88. That deficiency hasn't mattered much, even against a strong front line like Texas A&M's — the Aggies grabbed 11 offensive rebounds and still lost the game by 27.
Given its lack of size, Loyola isn't a team that's likely to be able to take advantage of Michigan's rebounding woes. This will be the Ramblers' most difficult test on offense. Aside from shooting the lights out against Texas A&M, Michigan hasn't shot the ball great this tournament, so Loyola will have to hope for another cold night from the outside. Still, the Wolverines' defense has been perhaps the most reliable aspect of a tournament full of surprises. Expect Michigan to clamp down and advance to the title game.
No. 1 Kansas Jayhawks vs. No. 1 Villanova Wildcats
Bing Predicts winner: Villanova (69 percent)
Opening line: Villanova -5
Tipoff time: 8:49 p.m. ET (Saturday)
It might sound counterintuitive, but Villanova's 4-for-24 3-point shooting performance against Texas Tech in the Elite Eight should have struck fear into Kansas fans everywhere. The typically sharp-shooting Wildcats just could not get anything to fall against the Red Raiders, as guards Jalen Brunson, Mikal Bridges, Phil Booth and Dante DiVincenzo combined to shoot 2-for-18 from deep.
And it didn't matter one bit. Instead, Villanova played the role of bully, grabbing 19 offensive rebounds and shooting 29-for-35 on free throws to win by 12. It was the team's eighth consecutive double-digit victory.
The Wildcats are just about unbeatable when they're hitting from deep, which they are most of the time, so to see them dominate without shooting well was extremely impressive. Six of the team's eight rotation players shoot 38 percent or better on 3-point attempts, and five have made at least 50 3-pointers this season.
Kansas' perimeter defense has been stingy this tournament, allowing opponents to shoot at a 33.3 percent clip from distance. The Jayhawks have gotten better in that department as the they've advanced, as Clemson and Duke combined to shoot 13-for-49 (26.5 percent). Kansas has also done well in the rebounding department, particularly in the Elite Eight, when the Jayhawks out-rebounded Duke, 47-32.
It will be crucial for sophomore center Udoka Azubuike to avoid foul trouble. Azubuike grabbed eight boards against Duke but played just 19 minutes before fouling out, his second straight game with five fouls. The 7-footer is Kansas' biggest player, and Villanova doesn't have a player listed taller than 6-foot-9.
If Villanova rediscovers its 3-point shooting stroke, Kansas will have little chance in this one. The Wildcats' ability to be physical on the offensive glass — combined with their excellent free-throw shooting — makes it difficult to see them getting tripped up. Bing sees Villanova moving past Kansas and into the championship game to face Michigan.
Final game prediction: No. 3 Michigan Wolverines vs. No. 1 Villanova Wildcats
Bing Predicts winner: Villanova (76 percent)
Opening line: TBD
Tipoff time: 9:20 p.m. ET (Monday)
Villanova was the favorite to win the title when the tournament began, and nothing has happened between then and now to change that. It's no surprise that Bing sees the Wildcats as heavy favorites to cut down the nets on Monday night.
Should we get a Villanova-Michigan showdown for all the marbles, it will be fascinating to see whether the Wolverines can slow the Wildcats offense down. Michigan's perimeter defense has been second to none in March, while Villanova — as great as it is from deep — has proven its 3-point shooting can be contained.
But Michigan hasn't demonstrated the physicality inside to be able to match up with Villanova. Even if the Wolverines were able to disrupt Villanova's outside shooting, it's likely we'd see the Wildcats do what they did against Texas Tech — dominate on the offensive glass. It would take a Herculean effort from Michigan forward Moritz Wagner on the defensive end, while the Wolverines' best player, Charles Matthews, would need to play the game of his life for Michigan to upend Villanova.
Bing just doesn't see it happening. So, for the second time in three years, the Villanova Wildcats will be your national champions.