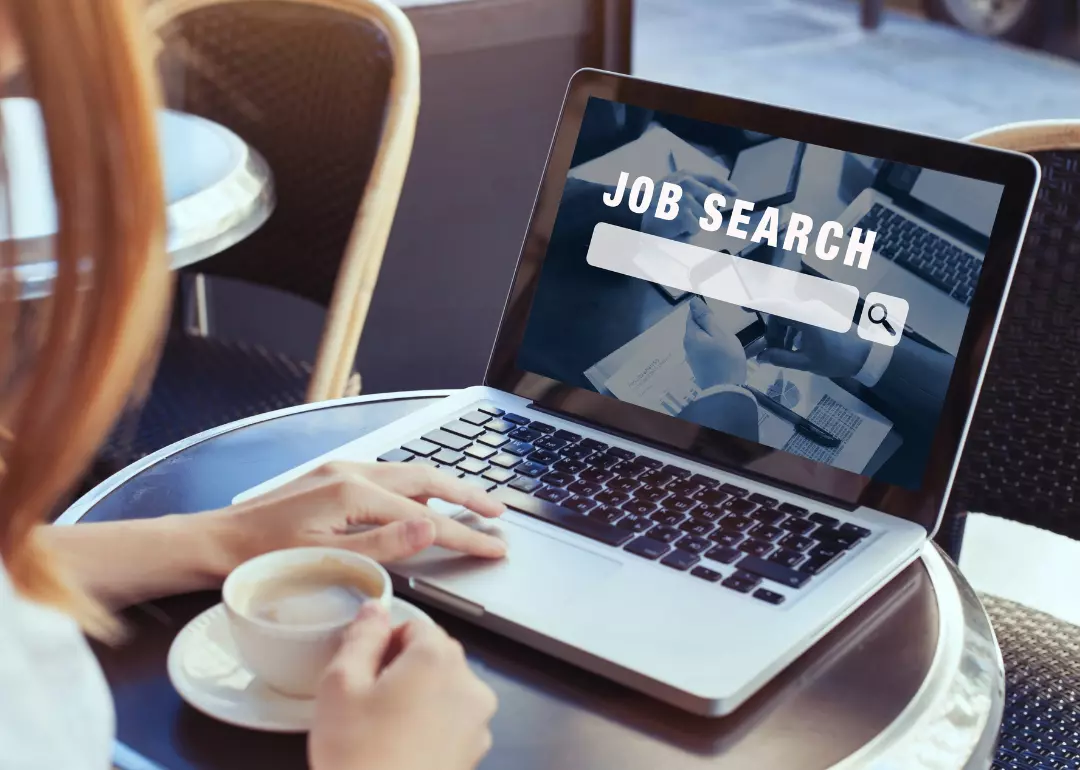 Highest paying jobs in Lubbock for high school graduates
Highest paying jobs in Lubbock for high school graduates
A high school diploma gives graduates a leg up in the workforce, even if they don't pursue any further education.
The latest Bureau of Labor Statistics data shows that workers over age of 25 with a high school diploma or equivalent earned about 25% more than those without one—$853 a week compared to $682. Diploma holders also faced lower unemployment rates, at 4% in 2022, compared to 5.5% for those who never completed high school.
There are many reasons high-school graduates may choose to not continue on to college—for instance, the cost. Average tuition costs continue to rise, increasing by 1% to 4% last year, depending on the institution type. While higher degrees of education typically pave the way for higher earnings, a college degree isn't necessary for many high-paying jobs. And for many careers, it doesn't make sense to pay to study for years when there are paid apprenticeship or learn-on-the-job programs.
Stacker used Bureau of Labor Statistics data to find the highest-paying jobs in Lubbock for those with a high school diploma or equivalent. Jobs are ranked by their annual median salaries as of May 2022. Jobs without available data for annual pay were excluded from this analysis.
Keep reading to see which jobs in your city pay high school graduates the most.
This story features data reporting and writing by Paxtyn Merten and is part of a series utilizing data automation across 366 metros.
#50. Healthcare support workers, all other
- Median annual wage: $39,730
- Median hourly wage: $19.10
- Total employment: 150 people (0.99 of every 1,000 jobs in the area)
- Required on-the-job training to attain competency: None
#49. First-line supervisors of entertainment and recreation workers, except gambling services
- Median annual wage: $39,840
- Median hourly wage: $19.15
- Total employment: 120 people (0.82 of every 1,000 jobs in the area)
- Required on-the-job training to attain competency: None
#48. Welders, cutters, solderers, and brazers
- Median annual wage: $40,580
- Median hourly wage: $19.51
- Total employment: 380 people (2.53 of every 1,000 jobs in the area)
- Required on-the-job training to attain competency: Moderate-term on-the-job training
#47. Construction and building inspectors
- Median annual wage: $40,610
- Median hourly wage: $19.52
- Total employment: 140 people (0.93 of every 1,000 jobs in the area)
- Required on-the-job training to attain competency: Moderate-term on-the-job training
#46. Operating engineers and other construction equipment operators
- Median annual wage: $40,790
- Median hourly wage: $19.61
- Total employment: 360 people (2.39 of every 1,000 jobs in the area)
- Required on-the-job training to attain competency: Moderate-term on-the-job training
#45. Stationary engineers and boiler operators
- Median annual wage: $40,910
- Median hourly wage: $19.67
- Total employment: 70 people (0.49 of every 1,000 jobs in the area)
- Required on-the-job training to attain competency: Long-term on-the-job training
#44. Carpenters
- Median annual wage: $41,090
- Median hourly wage: $19.76
- Total employment: 310 people (2.08 of every 1,000 jobs in the area)
- Required on-the-job training to attain competency: Apprenticeship
#43. Computer numerically controlled tool operators
- Median annual wage: $41,370
- Median hourly wage: $19.89
- Total employment: 90 people (0.62 of every 1,000 jobs in the area)
- Required on-the-job training to attain competency: Moderate-term on-the-job training
#42. Legal secretaries and administrative assistants
- Median annual wage: $41,620
- Median hourly wage: $20.01
- Total employment: 100 people (0.67 of every 1,000 jobs in the area)
- Required on-the-job training to attain competency: Moderate-term on-the-job training
#41. Payroll and timekeeping clerks
- Median annual wage: $41,940
- Median hourly wage: $20.16
- Total employment: 190 people (1.31 of every 1,000 jobs in the area)
- Required on-the-job training to attain competency: Moderate-term on-the-job training
#40. Residential advisors
- Median annual wage: $42,140
- Median hourly wage: $20.26
- Total employment: 120 people (0.81 of every 1,000 jobs in the area)
- Required on-the-job training to attain competency: Short-term on-the-job training
#39. Production, planning, and expediting clerks
- Median annual wage: $42,330
- Median hourly wage: $20.35
- Total employment: 200 people (1.33 of every 1,000 jobs in the area)
- Required on-the-job training to attain competency: Moderate-term on-the-job training
#38. Loan interviewers and clerks
- Median annual wage: $42,360
- Median hourly wage: $20.37
- Total employment: 320 people (2.16 of every 1,000 jobs in the area)
- Required on-the-job training to attain competency: Short-term on-the-job training
#37. Cargo and freight agents
- Median annual wage: $43,240
- Median hourly wage: $20.79
- Total employment: 30 people (0.21 of every 1,000 jobs in the area)
- Required on-the-job training to attain competency: Short-term on-the-job training
#36. Automotive body and related repairers
- Median annual wage: $43,390
- Median hourly wage: $20.86
- Total employment: 200 people (1.37 of every 1,000 jobs in the area)
- Required on-the-job training to attain competency: Long-term on-the-job training
#35. Sheet metal workers
- Median annual wage: $43,640
- Median hourly wage: $20.98
- Total employment: 130 people (0.89 of every 1,000 jobs in the area)
- Required on-the-job training to attain competency: Apprenticeship
#34. Chefs and head cooks
- Median annual wage: $44,230
- Median hourly wage: $21.27
- Total employment: 180 people (1.2 of every 1,000 jobs in the area)
- Required on-the-job training to attain competency: None
#33. Maintenance workers, machinery
- Median annual wage: $44,740
- Median hourly wage: $21.51
- Total employment: 70 people (0.46 of every 1,000 jobs in the area)
- Required on-the-job training to attain competency: Long-term on-the-job training
#32. First-line supervisors of landscaping, lawn service, and groundskeeping workers
- Median annual wage: $44,970
- Median hourly wage: $21.62
- Total employment: 130 people (0.88 of every 1,000 jobs in the area)
- Required on-the-job training to attain competency: None
#31. Title examiners, abstractors, and searchers
- Median annual wage: $45,190
- Median hourly wage: $21.73
- Total employment: 40 people (0.27 of every 1,000 jobs in the area)
- Required on-the-job training to attain competency: Moderate-term on-the-job training
#30. Bus and truck mechanics and diesel engine specialists
- Median annual wage: $45,920
- Median hourly wage: $22.08
- Total employment: 260 people (1.72 of every 1,000 jobs in the area)
- Required on-the-job training to attain competency: Long-term on-the-job training
#29. Machinists
- Median annual wage: $46,500
- Median hourly wage: $22.35
- Total employment: 130 people (0.9 of every 1,000 jobs in the area)
- Required on-the-job training to attain competency: Long-term on-the-job training
#28. Electricians
- Median annual wage: $46,830
- Median hourly wage: $22.52
- Total employment: 500 people (3.34 of every 1,000 jobs in the area)
- Required on-the-job training to attain competency: Apprenticeship
#27. First-line supervisors of transportation and material moving workers, except aircraft cargo handling supervisors
- Median annual wage: $47,530
- Median hourly wage: $22.85
- Total employment: 710 people (4.76 of every 1,000 jobs in the area)
- Required on-the-job training to attain competency: None
#26. Telecommunications line installers and repairers
- Median annual wage: $48,130
- Median hourly wage: $23.14
- Total employment: 170 people (1.12 of every 1,000 jobs in the area)
- Required on-the-job training to attain competency: Long-term on-the-job training
#25. Plumbers, pipefitters, and steamfitters
- Median annual wage: $48,400
- Median hourly wage: $23.27
- Total employment: 580 people (3.88 of every 1,000 jobs in the area)
- Required on-the-job training to attain competency: Apprenticeship
#24. Brickmasons and blockmasons
- Median annual wage: $49,120
- Median hourly wage: $23.62
- Total employment: 60 people (0.37 of every 1,000 jobs in the area)
- Required on-the-job training to attain competency: Apprenticeship
#23. Industrial machinery mechanics
- Median annual wage: $49,170
- Median hourly wage: $23.64
- Total employment: 390 people (2.61 of every 1,000 jobs in the area)
- Required on-the-job training to attain competency: Long-term on-the-job training
#22. Sales representatives of services, except advertising, insurance, financial services, and travel
- Median annual wage: $49,420
- Median hourly wage: $23.76
- Total employment: 800 people (5.41 of every 1,000 jobs in the area)
- Required on-the-job training to attain competency: Moderate-term on-the-job training
#21. First-line supervisors of office and administrative support workers
- Median annual wage: $51,910
- Median hourly wage: $24.96
- Total employment: 2,410 people (16.23 of every 1,000 jobs in the area)
- Required on-the-job training to attain competency: None
#20. Executive secretaries and executive administrative assistants
- Median annual wage: $52,170
- Median hourly wage: $25.08
- Total employment: 340 people (2.26 of every 1,000 jobs in the area)
- Required on-the-job training to attain competency: None
#19. Mobile heavy equipment mechanics, except engines
- Median annual wage: $52,360
- Median hourly wage: $25.17
- Total employment: 200 people (1.37 of every 1,000 jobs in the area)
- Required on-the-job training to attain competency: Long-term on-the-job training
#18. First-line supervisors of production and operating workers
- Median annual wage: $52,520
- Median hourly wage: $25.25
- Total employment: 410 people (2.75 of every 1,000 jobs in the area)
- Required on-the-job training to attain competency: None
#17. Reservation and transportation ticket agents and travel clerks
- Median annual wage: $52,870
- Median hourly wage: $25.42
- Total employment: 50 people (0.34 of every 1,000 jobs in the area)
- Required on-the-job training to attain competency: Short-term on-the-job training
#16. Postal service mail sorters, processors, and processing machine operators
- Median annual wage: $53,190
- Median hourly wage: $25.57
- Total employment: 180 people (1.18 of every 1,000 jobs in the area)
- Required on-the-job training to attain competency: Short-term on-the-job training
#15. Property, real estate, and community association managers
- Median annual wage: $55,100
- Median hourly wage: $26.49
- Total employment: 240 people (1.61 of every 1,000 jobs in the area)
- Required on-the-job training to attain competency: None
#14. Postal service mail carriers
- Median annual wage: $55,620
- Median hourly wage: $26.74
- Total employment: 310 people (2.07 of every 1,000 jobs in the area)
- Required on-the-job training to attain competency: Short-term on-the-job training
#13. Sales representatives, wholesale and manufacturing, except technical and scientific products
- Median annual wage: $58,110
- Median hourly wage: $27.94
- Total employment: 1,050 people (7.04 of every 1,000 jobs in the area)
- Required on-the-job training to attain competency: Moderate-term on-the-job training
#12. Food service managers
- Median annual wage: $58,640
- Median hourly wage: $28.19
- Total employment: Not available
- Required on-the-job training to attain competency: Short-term on-the-job training
#11. Postal service clerks
- Median annual wage: $59,240
- Median hourly wage: $28.48
- Total employment: 50 people (0.33 of every 1,000 jobs in the area)
- Required on-the-job training to attain competency: Short-term on-the-job training
#10. First-line supervisors of mechanics, installers, and repairers
- Median annual wage: $59,400
- Median hourly wage: $28.56
- Total employment: 800 people (5.39 of every 1,000 jobs in the area)
- Required on-the-job training to attain competency: None
#9. First-line supervisors of non-retail sales workers
- Median annual wage: $59,840
- Median hourly wage: $28.77
- Total employment: 220 people (1.5 of every 1,000 jobs in the area)
- Required on-the-job training to attain competency: None
#8. Electrical power-line installers and repairers
- Median annual wage: $60,700
- Median hourly wage: $29.18
- Total employment: 210 people (1.43 of every 1,000 jobs in the area)
- Required on-the-job training to attain competency: Long-term on-the-job training
#7. First-line supervisors of construction trades and extraction workers
- Median annual wage: $61,620
- Median hourly wage: $29.63
- Total employment: 820 people (5.51 of every 1,000 jobs in the area)
- Required on-the-job training to attain competency: None
#6. Police and sheriff's patrol officers
- Median annual wage: $65,490
- Median hourly wage: $31.49
- Total employment: 740 people (4.98 of every 1,000 jobs in the area)
- Required on-the-job training to attain competency: Moderate-term on-the-job training
#5. Claims adjusters, examiners, and investigators
- Median annual wage: $74,510
- Median hourly wage: $35.82
- Total employment: 180 people (1.22 of every 1,000 jobs in the area)
- Required on-the-job training to attain competency: Long-term on-the-job training
#4. Detectives and criminal investigators
- Median annual wage: $79,510
- Median hourly wage: $38.23
- Total employment: 220 people (1.48 of every 1,000 jobs in the area)
- Required on-the-job training to attain competency: Moderate-term on-the-job training
#3. Power plant operators
- Median annual wage: $79,950
- Median hourly wage: $38.44
- Total employment: 60 people (0.38 of every 1,000 jobs in the area)
- Required on-the-job training to attain competency: Long-term on-the-job training
#2. Transportation, storage, and distribution managers
- Median annual wage: $81,950
- Median hourly wage: $39.40
- Total employment: 160 people (1.1 of every 1,000 jobs in the area)
- Required on-the-job training to attain competency: None
#1. First-line supervisors of police and detectives
- Median annual wage: $103,100
- Median hourly wage: $49.57
- Total employment: 80 people (0.57 of every 1,000 jobs in the area)
- Required on-the-job training to attain competency: Moderate-term on-the-job training