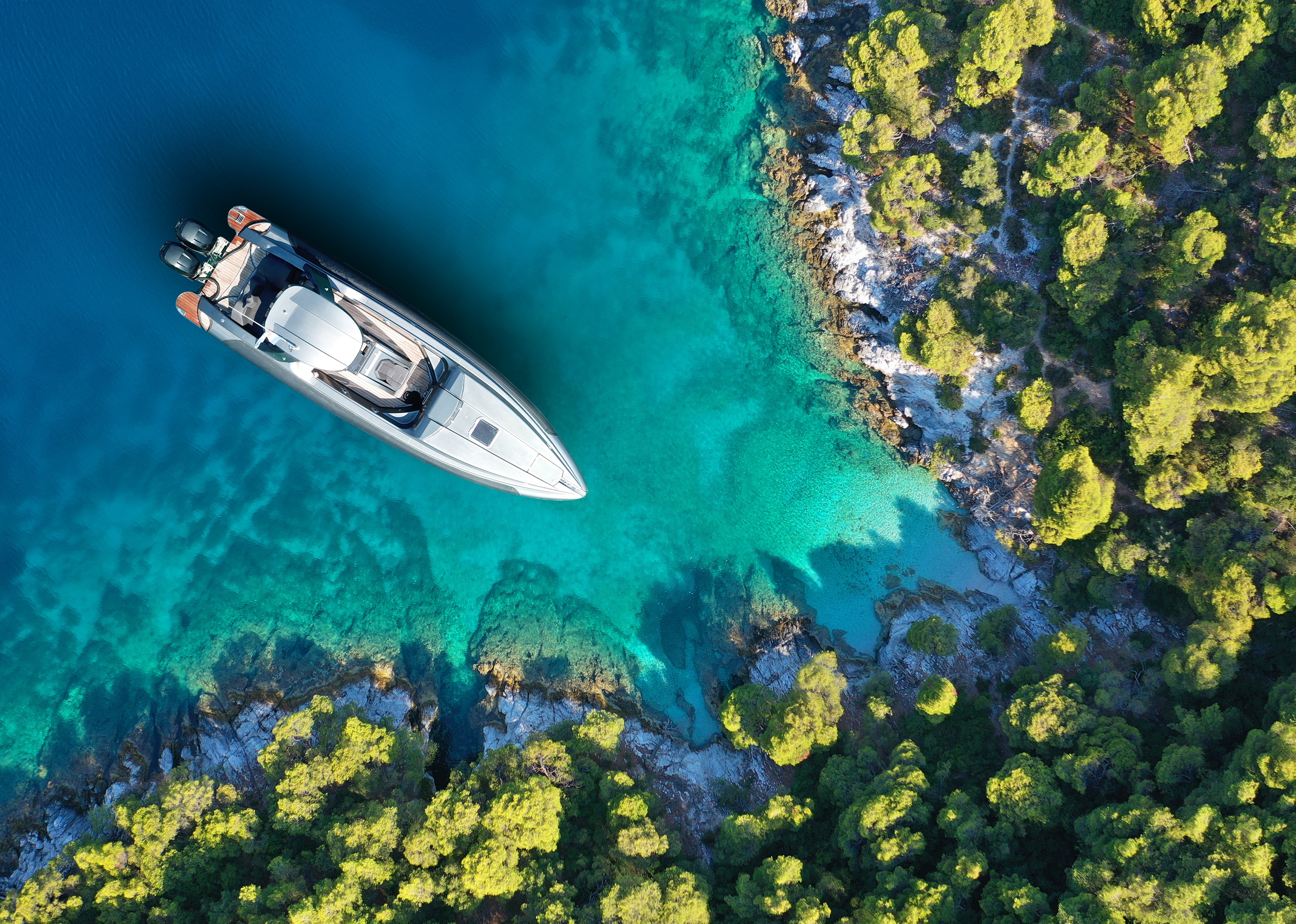 Stacker Studio
10 boating adventures of a lifetime
Aerial-motion // Shutterstock
10 boating adventures of a lifetime
Glinting blue waters, glimpses of leaping fish, and the feel of fresh air and sunshine on your skin. Taking to the water is a portal to another state of mind—one that more and more people are discovering, especially during and after the pandemic. 
The National Marine Manufacturers Association reported that new powerboat sales surpassed 300,000 in 2020 and 2021. In 2020, about a third were first-time buyers, according to Florida-based Info-Link Technologies Inc., which tracks new and used boat registrations.
The increased appetite for new adventures probably won't ease up soon, if demand from the first half of 2023 is any indication. According to the U.S. Travel Association, total travel spending has increased 5.5% year-to-date through May, even while U.S. consumers dealt with rising inflation. As tourists work through those bucket lists, many will inevitably include some—or all—of their leisure time on the water.
Traversing by boat quite literally gives the passenger a different perspective. Tourists ride the waves and watch land float by, turning our typical land-based existence on its head. Not to mention, there is greater ease of traveling by boat, with no packed airports and highways to navigate. On a multiday boating adventure, your sleeping quarters follow you; there's no need to pack and unpack at each destination.
To help you search for a few seafaring ideas to add to your itinerary, GetMyBoat compiled a list of 10 boating adventures of a lifetime using research from tourism industry trends and firsthand accounts from the adventurous travelers who've enjoyed them. Whether you love a nautical adventure, partying on the water, or learning about history, there's a boating adventure out there for you.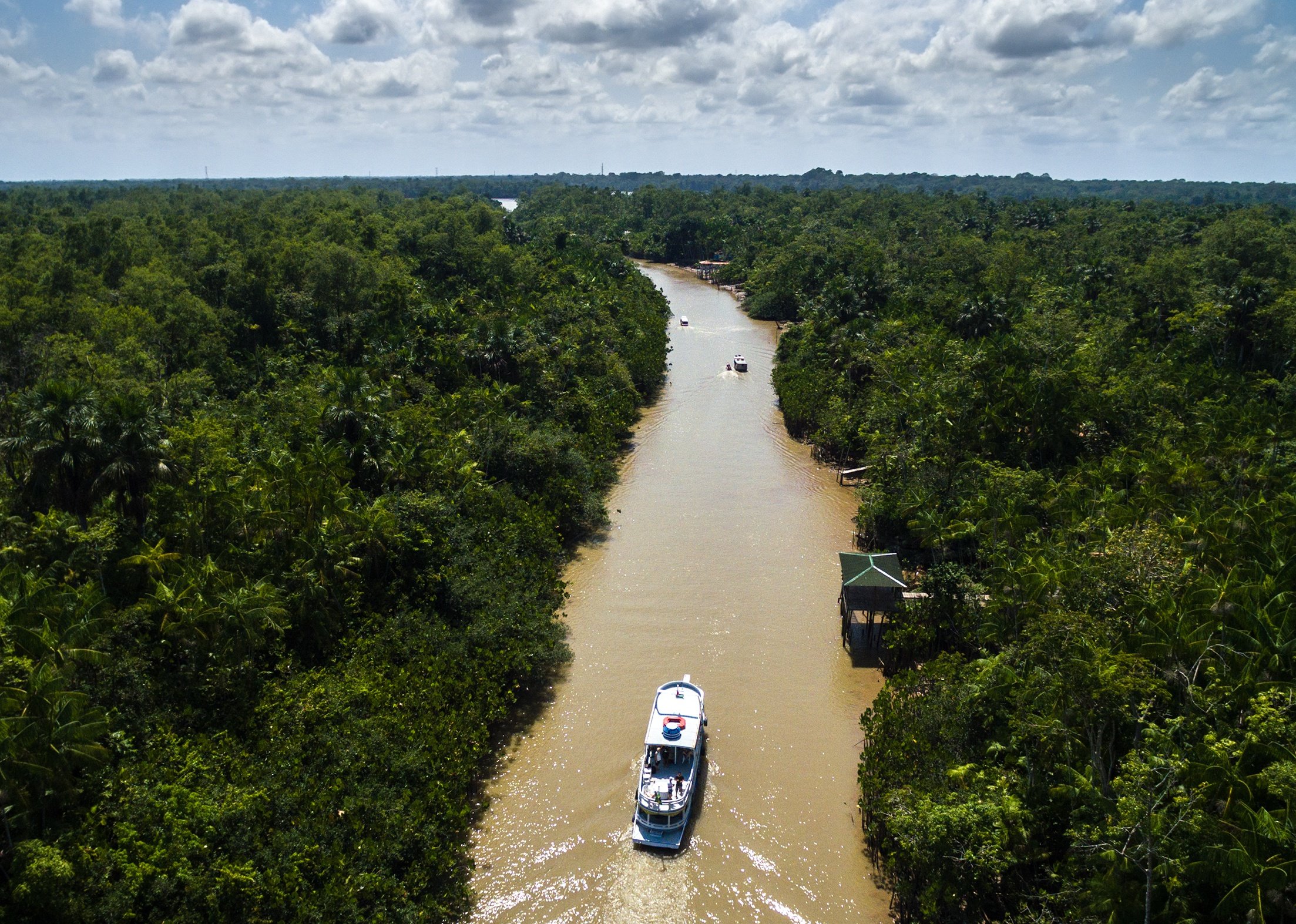 1 / 10
ESB Professional // Shutterstock
Bird-watch on a cruise through the Amazon rainforest
Gliding down the Amazon River in Peru or Brazil is an experience you'll never forget. Riverboats and houseboats typically navigate along a roundtrip itinerary through the Amazon rainforest, where passengers can see sloths, toucans, and the rare pink river dolphin swimming nearby. Amazon River cruises are actually ideal for birders because a vast variety of birds live in the lush South American rainforest.
"The deeper we were in the rainforest, the louder everything got. The birds by far make the most noise," travel journalist Dayvee Sutton said on her show, "Beyond the Usual." She recommended travelers bring along binoculars to appreciate these winged jungle creatures. If seeing more wildlife is a priority, go during the rainy season from December to May when the river's banks are higher and the weather is a bit more temperate.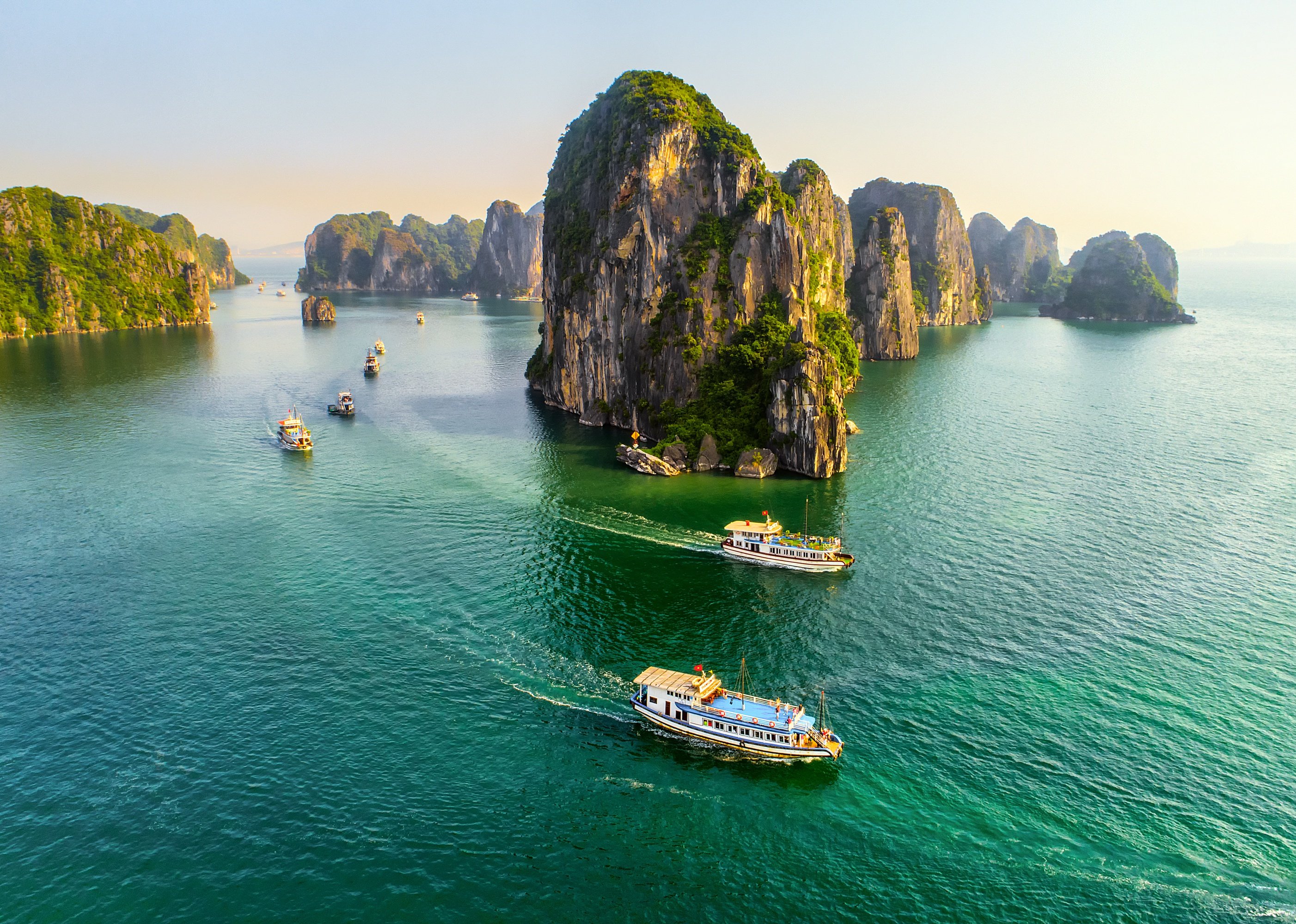 2 / 10
Nguyen Quang Ngoc Tonkin // Shutterstock
Glide past limestone cliffs in Vietnam's Ha Long Bay
If cruising through a UNESCO World Heritage natural sight is your idea of a once-in-a-lifetime adventure, the calm waters of Ha Long Bay may be calling your name. There are nearly 500 small boats that weave tourists through more than 1,600 islands and islets. As you cruise past the uninhabited limestone cliffs, it can feel like you and your fellow passengers are the only people floating through another dazzling dimension.
If you're feeling adventurous, you can swim in Ha Long Bay's emerald waters, or rent a kayak to explore the local caves and cleft rocks. Local tour companies offer both day trips and multinight cruises. As long as you avoid the monsoon season from June to August, you're likely to have good weather for your otherworldly adventure.
3 / 10
Eireshots // Shutterstock
Party on a Croatian yacht
There's a niche kind of adventure in store for the traveler who boards a yacht for endless parties. Croatia has emerged as a top destination for celebrations aboard yachts that sail across the bright blue Adriatic Sea. There are more than 1,200 Croatian islands to visit, with each having something different to offer—from walled castles and cobblestone streets to nature preserves and hidden beaches.
Several companies offer yachts for rent, with options to add skippers to navigate the boat. A regular cycle of public festivals and private yacht parties round out a traveler's itinerary. Apart from making sure there is ample alcohol to keep the party going, Lauren Carey of Girl Gone Abroad advises stocking up on water, electrolytes, and vitamins.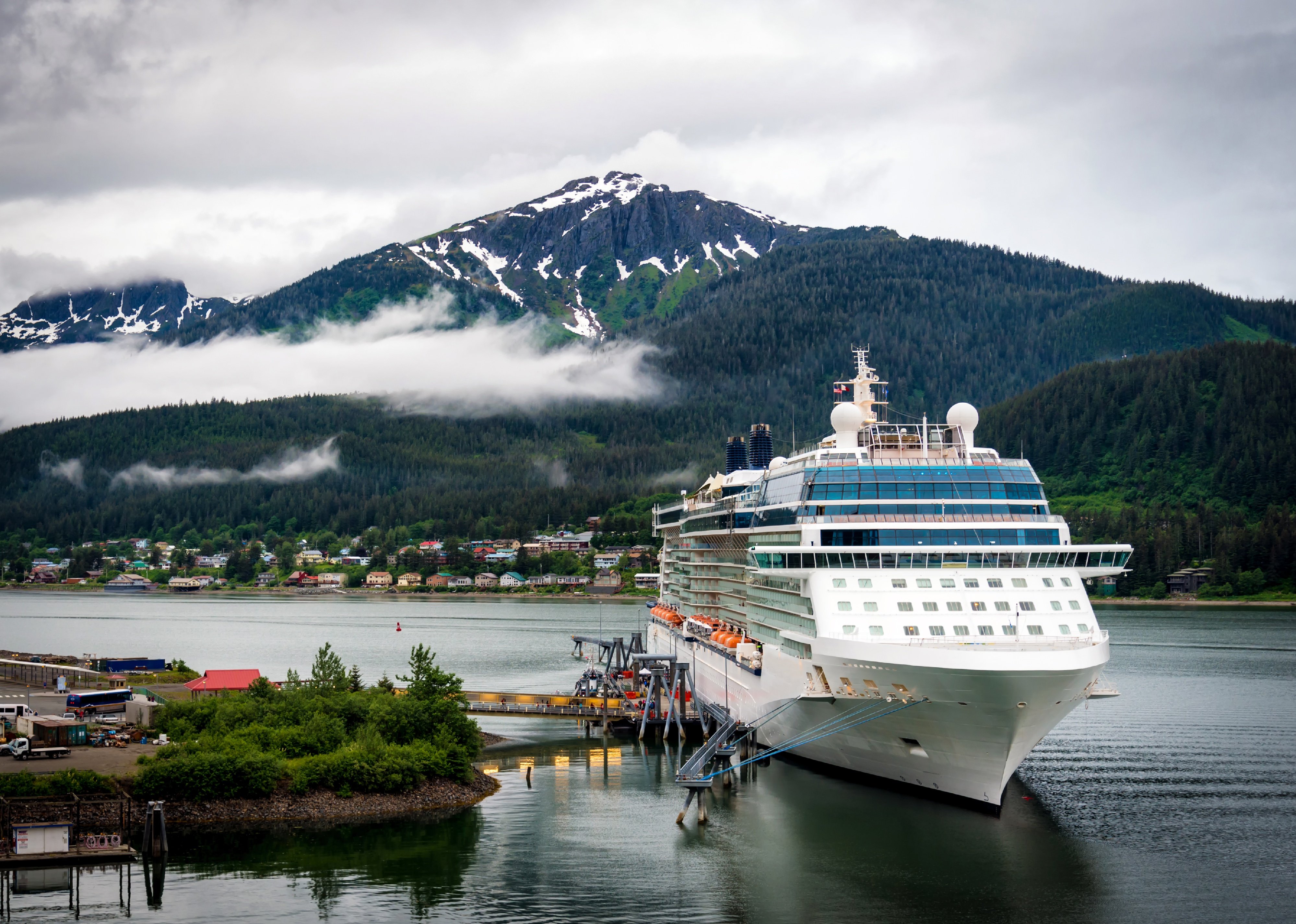 4 / 10
Bear-watch in Alaska
Large cruise ships are the most common way to see Alaska's vast wildlife, mountains, and glaciers. Many ships take passengers through Glacier Bay, where they can view the mountainous scenery aboard the ship. Charter boats, sailboats, and even kayaks are also welcome. The Anchorage Daily News reported that the cruise industry expects to bring a record-breaking 1.65 million passengers to Alaska's shores in 2023 alone. But there are more intimate ways to enjoy Alaska's wilderness. Small boat tours can take passengers close to Alaska's waterfalls, glacial fjords, and bears—close enough to take pictures from a safe distance away.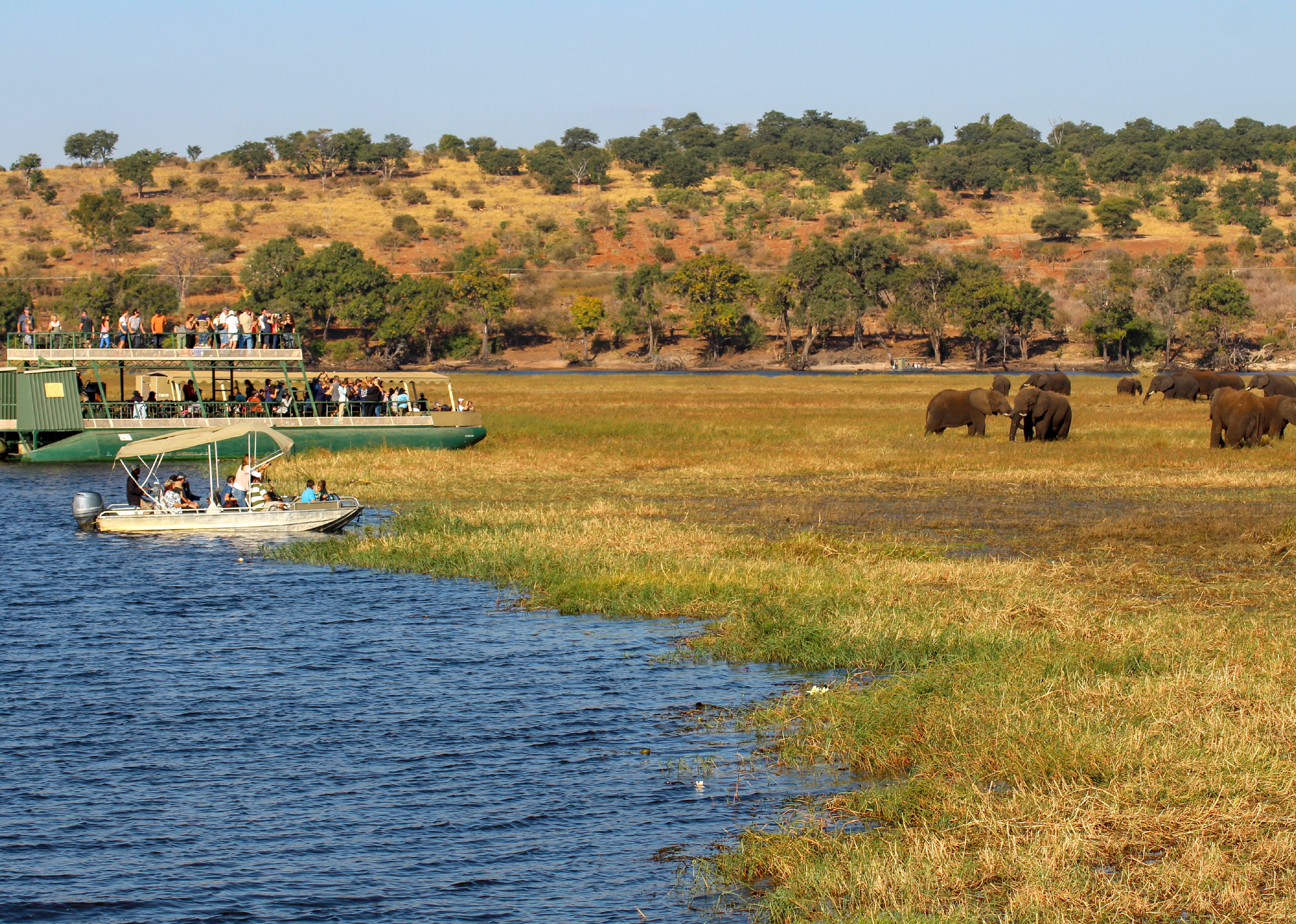 5 / 10
T. Wilbertz // Shutterstock
Marvel at elephants, antelopes, and more on an African safari by boat
When most people dream of an African safari, they think about the overland variety, but you can actually view the beauty of Botswana and Namibia's countryside over water. Book a Chobe River cruise that goes through Chobe National Park in Botswana for an excellent opportunity to view elephants. More elephants live in herds in Chobe National Park than anywhere else in the world, and they frequently cross the Chobe River.
Passengers also get the chance to view giraffes, hippopotamuses, antelope, and more. Chartering a boat from Chobe Game Lodge in Botswana gives you an opportunity to ride with the continent's first all-female safari guiding team, who use electric boats to guide passengers through the Chobe River.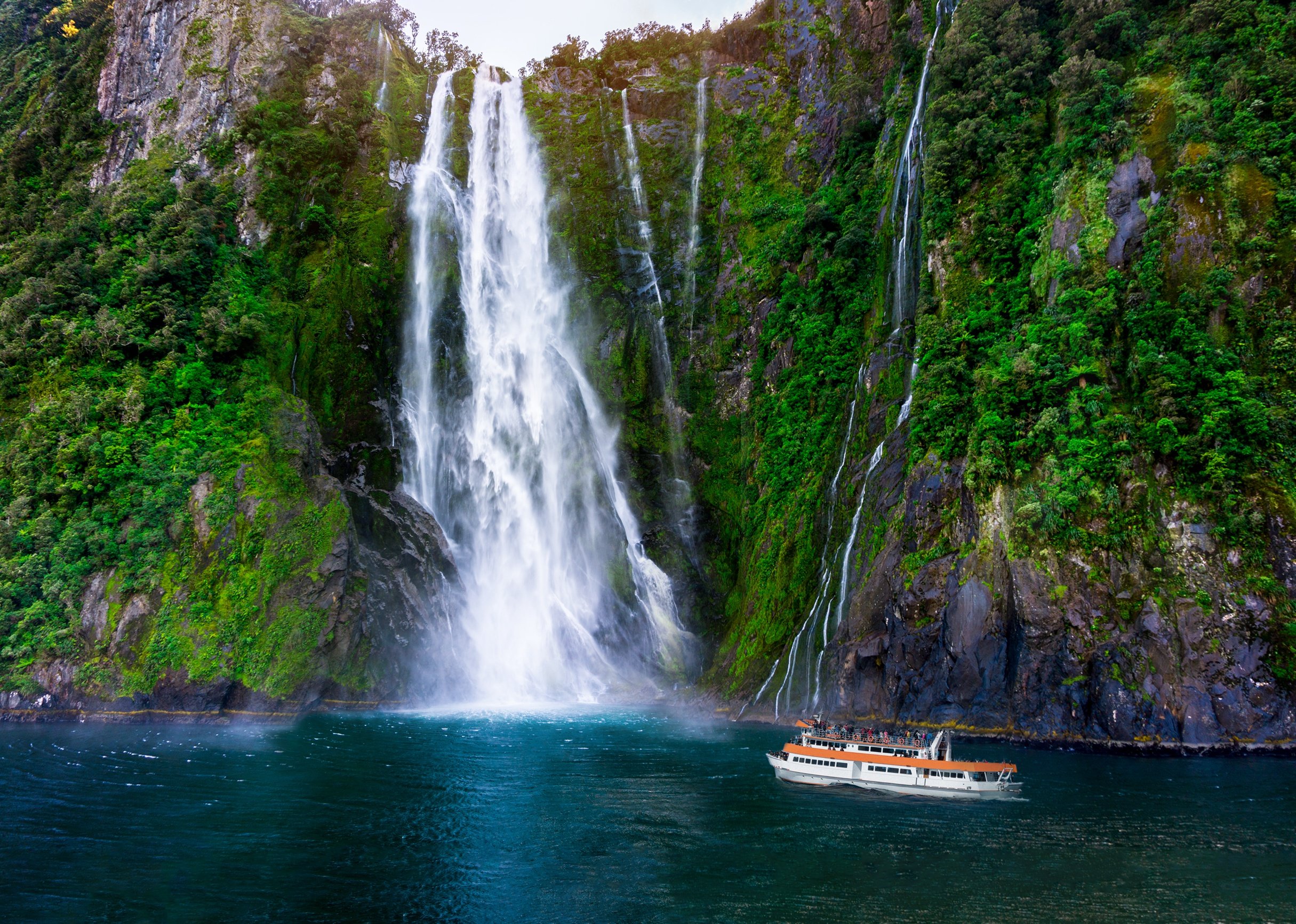 6 / 10
Blue Planet Studio // Shutterstock
Sailing around New Zealand's rainforest and waterfalls
New Zealand is a breathtakingly beautiful country with more than 9,000 miles of diverse coastline. Experienced sailors can charter a vessel, but if you don't want to work on board the ship, you can hire a boat and crew. Start your adventure in New Zealand's most populous city, Auckland. There's a reason it's nicknamed "The City of Sails." While in the harbor, enjoy the cityscape views as you head to Rangitoto, New Zealand's youngest and largest volcano. On New Zealand's south island, on the other side of the country, take a boat cruise or kayak in Fiordland's Milford Sound to get close to the lush rainforest and stunning waterfalls. Keep an eye out for sunbathing seals along the way.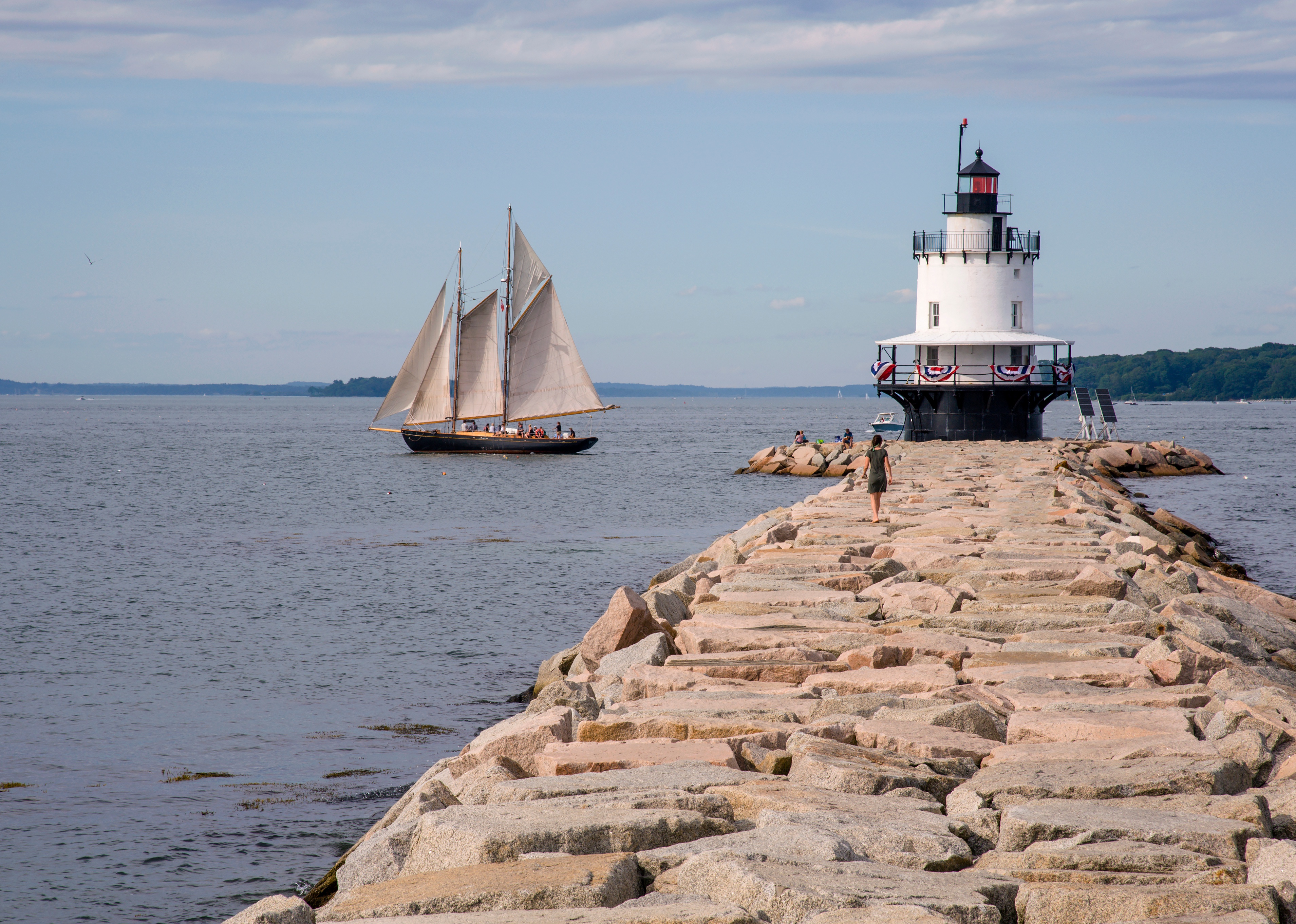 7 / 10
Allan Wood Photography // Shutterstock
Spot puffins on a windjammer in Maine
Travelers who love history and the outdoors can try their hand at steering a century-old windjammer off the coast of Maine. Windjammers are sailing ships that mimic the style from the 19th century—including not having a motor. That means boarding a windjammer for three to six days is a carbon-neutral excursion. It also means there's no set itinerary, other than go wherever the wind takes you.
Passengers land on islands along Maine's coast to go hiking, swimming, and stargazing. Those who keep a watchful eye may spot whales, puffins, and seals in their habitat. August is a popular time for viewing the Perseid meteor shower with minimal light pollution. Toward the end of the season in early October, passengers enjoy seeing fall foliage from the water. A trip like this is good for the soul, according to Georgette Diamandis of the travel blog Johnny Jet. Her experience included "seeing millions of stars" and "inhaling invigorating pure air" in places landlubbers could never reach on their own.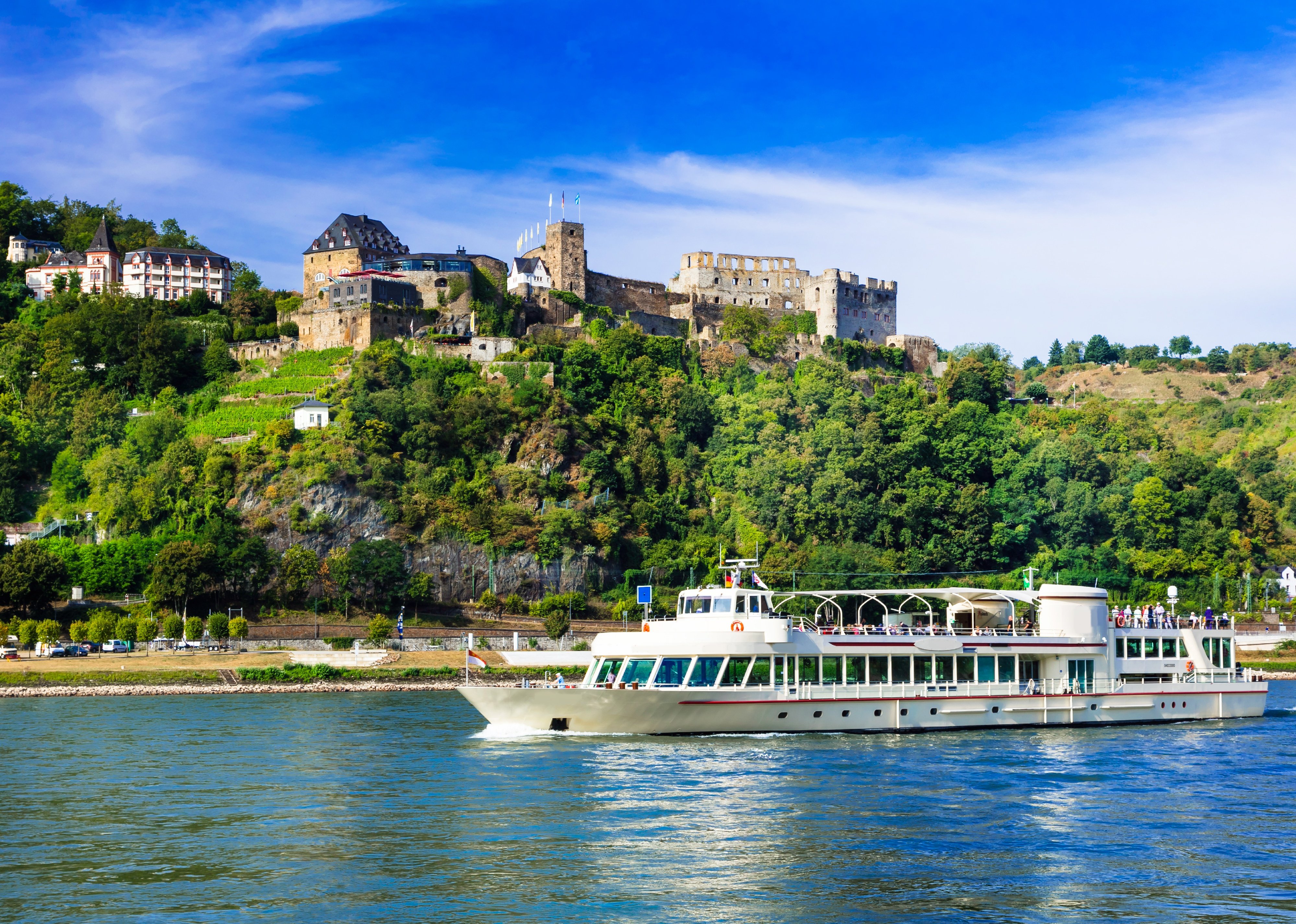 8 / 10
Embark on a classic European river cruise
There are countless European river adventures to choose from. If you prefer to charter your own boat, you'll have an easier experience sticking to smaller rivers and canals. But if you're looking for the classic experience, a Rhine River cruise is a great place to start. The Rhine River starts from the Swiss Alps, through the Rhine Falls, then to Germany and France, before finally emptying in the Netherlands.
Arguably the most scenic section of the river flows through Germany in what's called the Middle Rhine Valley. Here, you'll float by many castles and castle ruins every few miles through Bingen, Rüdesheim, and Koblenz. You'll also see historic towns and vineyards, and perhaps stop to taste some of the local wine.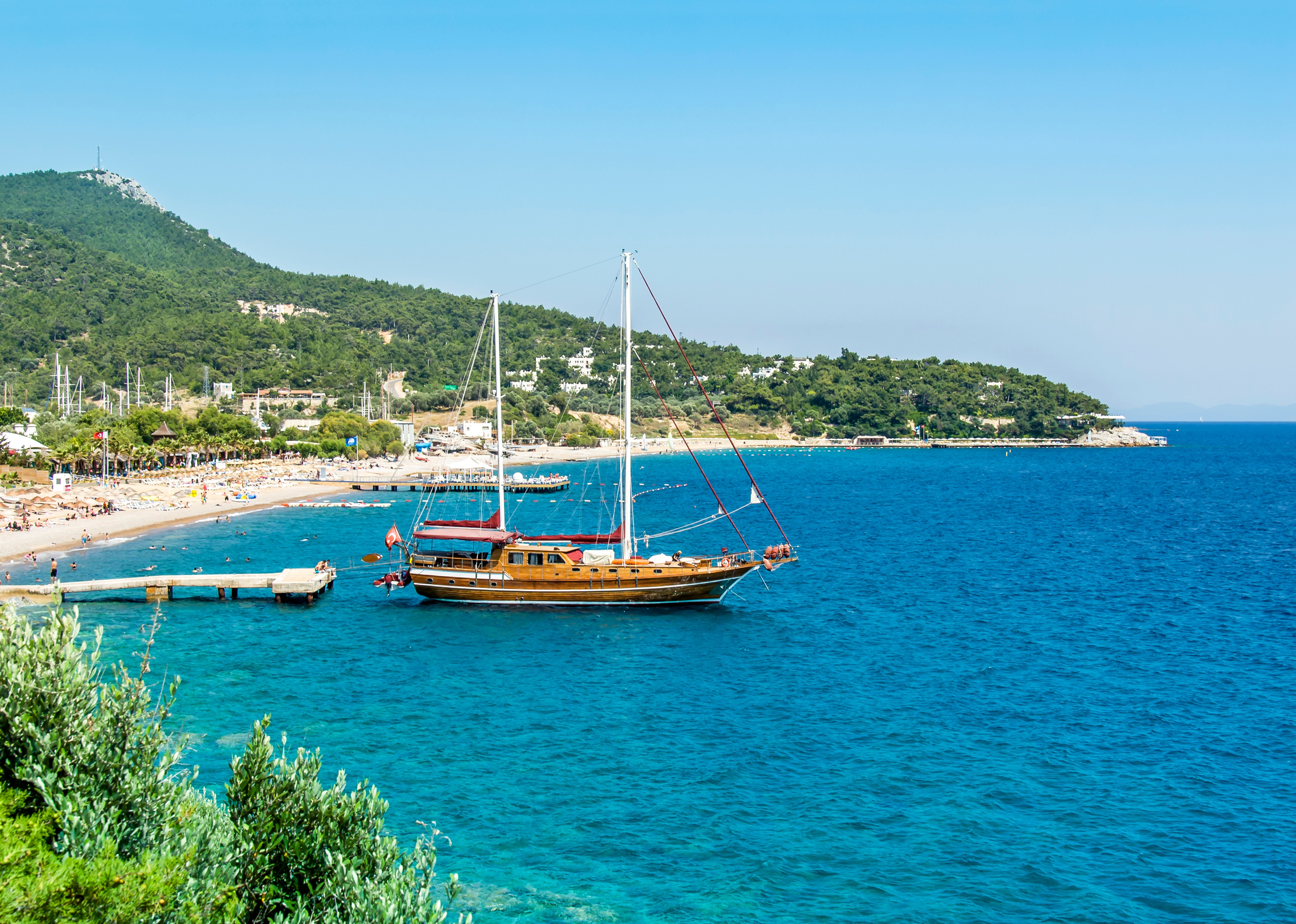 9 / 10
Kayihan Bolukbasi // Shutterstock
See Türkiye on a gület
Türkiye's gentle winds make it a great place for first-time sailors, and a generous April to October season gives travelers plenty of opportunities to get on the water. There are ancient sites sprinkled throughout almost 5,000 miles of Turkish coastline. Tourists can elevate this dream trip by chartering a traditional Turkish gület, a wooden sailboat that has now evolved into a yacht with sails and motors.
Travel influencer Eulanda Osagiede has chronicled her southern Türkiye sailing adventures a few times on her Instagram account. After her 2022 trip, she recommended making time to get to know the country by checking out the local markets and taking Jeep safaris that can offer unique activities like feeding turtles or seeing a wishing tree.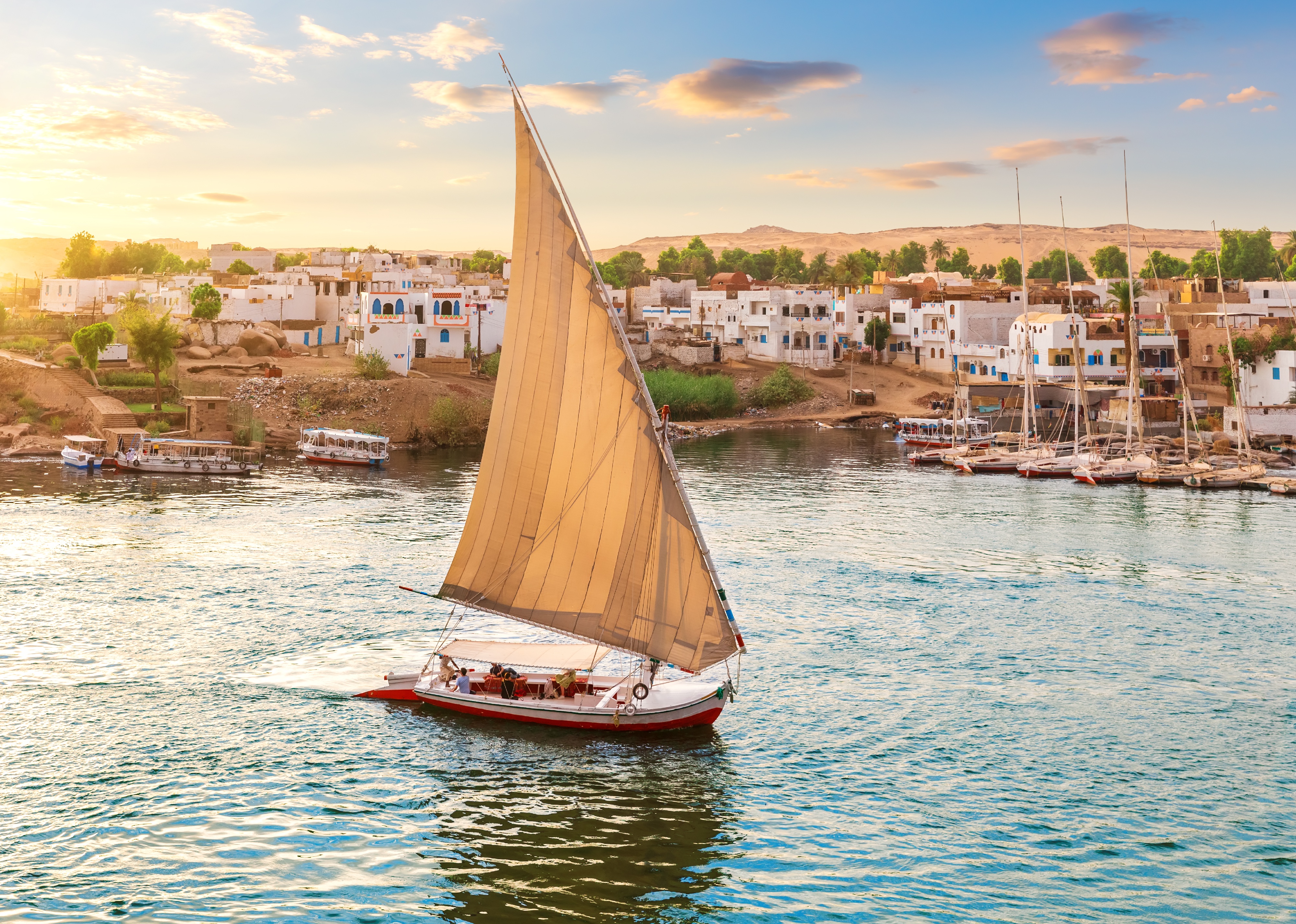 10 / 10
AlexAnton // Shutterstock
Savor the quiet while felucca sailing on the Nile River
Exploring ancient civilizations is a big feat when taking a boat ride along the Nile River in Egypt. The popular route is to go from Luxor and Aswan, which generally takes four or five days, depending on the direction. Highlights include the Temple of Philae and the Temple of Kom Ombo. While in Luxor, disembark to see the Luxor Temple and the Valleys of the Kings and Queens.
Passengers can take an adventurous side quest by going felucca sailing on a traditional Egyptian sailboat. In his short video, artist and travel videographer Michael Jiroch captured the serenity and beauty of felucca sailing as his boat glided through lush vegetation and calm waters as people snoozed in the background.
Story editing by Carren Jao. Copy editing by Tim Bruns. Photo selection by Clarese Moller. 
This story originally appeared on GetMyBoat and was produced and distributed in partnership with Stacker Studio.