Amazing hiking trails in every state
Matthew Field // Wikimedia Commons
Amazing Hiking Trails in Every State
Whether you prefer scenic jaunts or scrambling up rocky ledges, dusky, red-rocked deserts or misty forests, the United States' geographic diversity means that each state is home to at least one destination-worthy hike. Using reviews from outdoor adventure sites, we've rounded up the top hikes in every state, taking into consideration length, scenery, and difficulty.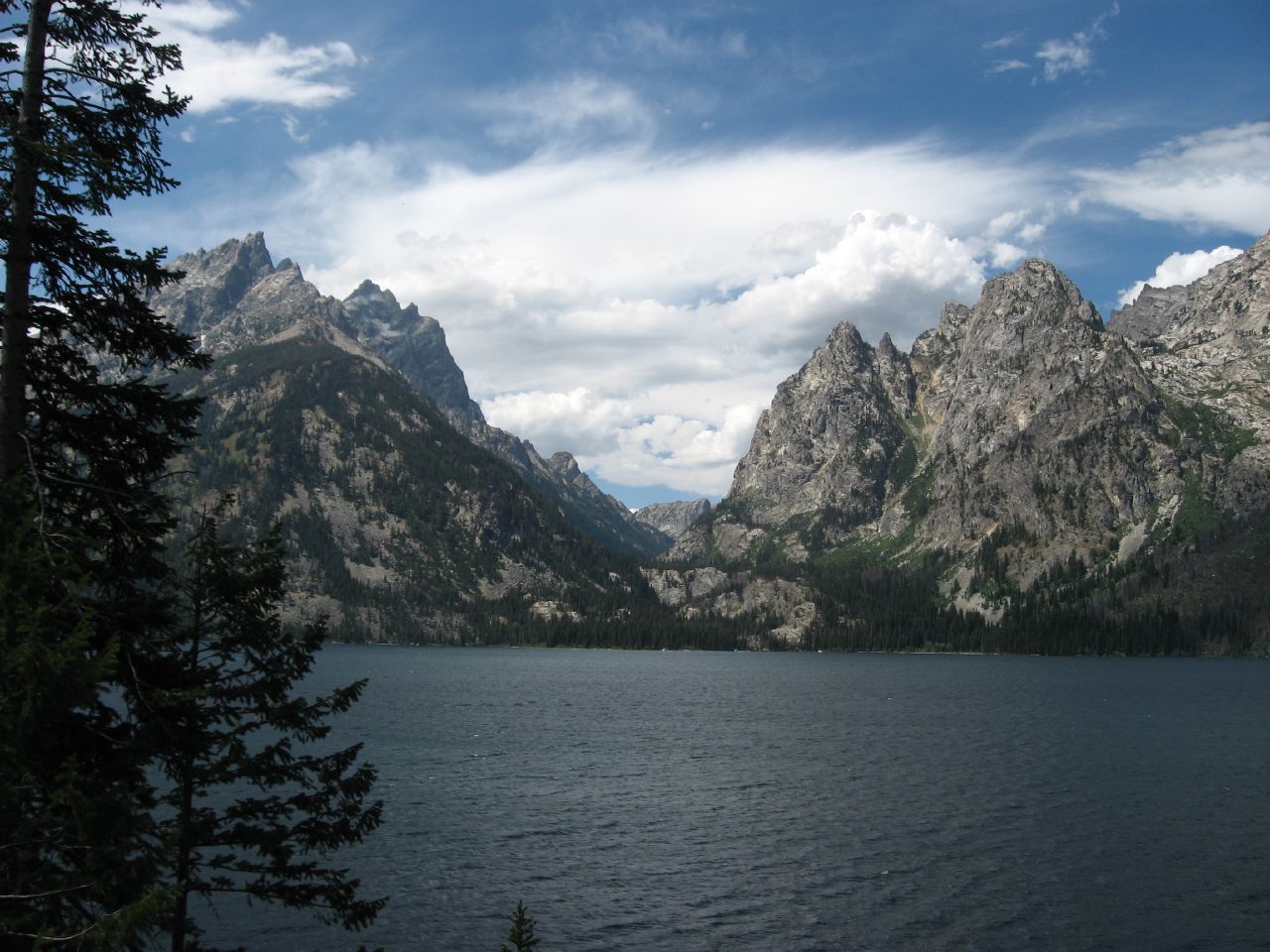 1 / 50
Wyoming: Jenny Lake Trail
Grand Teton National Park's idyllic Jenny Lake is encircled by this 7.1-mile hike that offers unbeatable views and lots of wildlife—you might even see a moose or two. Note that portions of the trail have been closed recently for construction.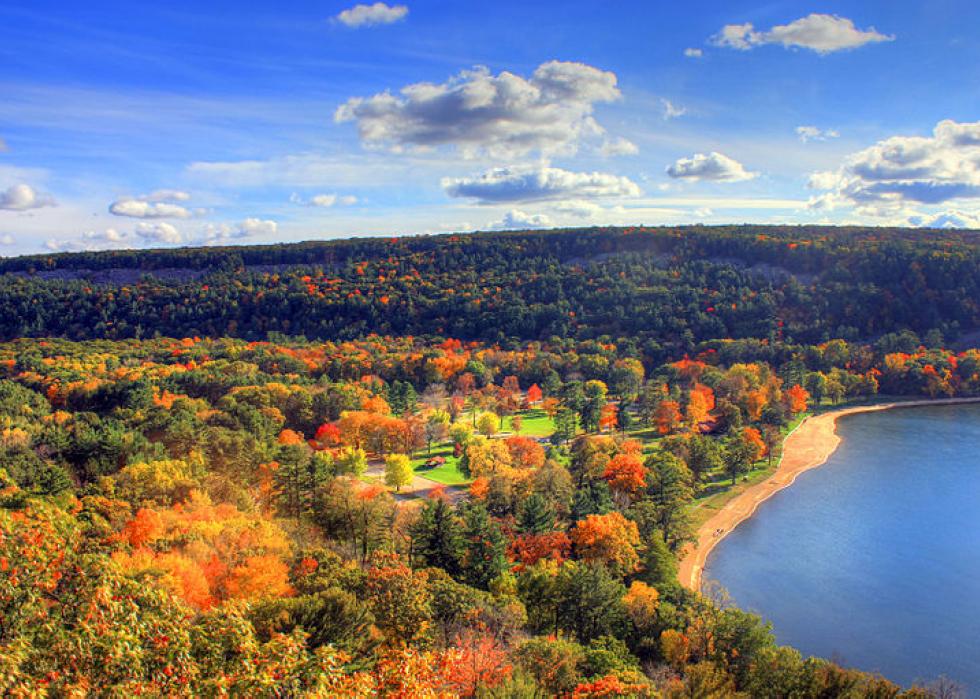 2 / 50
Yinan Chen // Wikimedia Commons
Wisconsin: Devil's Lake Loop
The best trail in Wisconsin has steep elevation gains and incredible views throughout. The trail is narrow and can be quite crowded, so go early for a more secluded hike.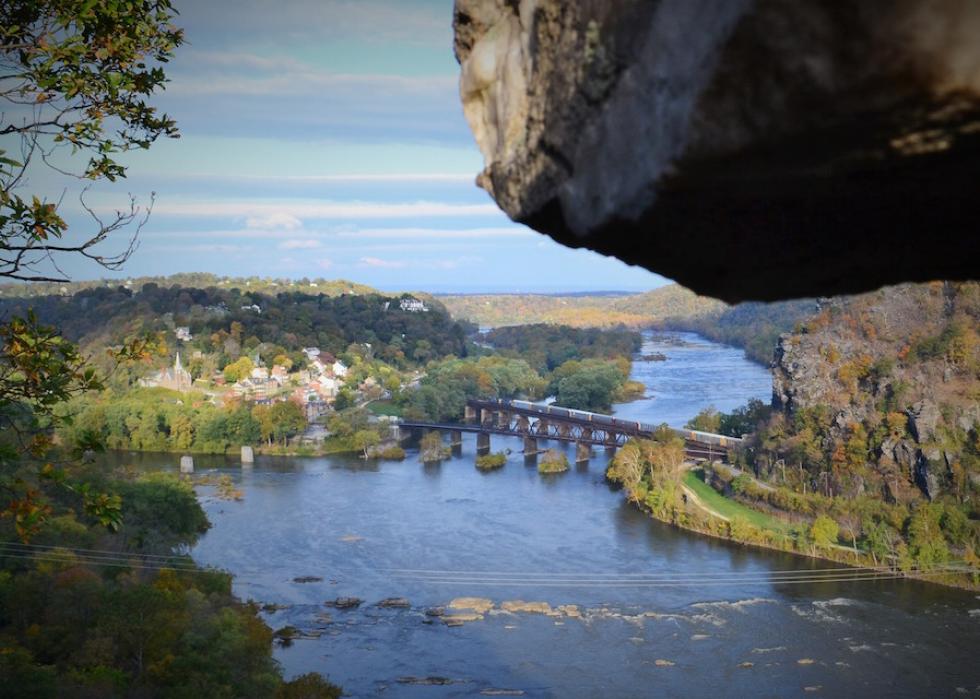 3 / 50
West Virginia: Loudoun Heights Trail
This hike near Harper's Ferry isn't particularly well-marked (so keep an eye out for any and all orange blazes!) but is worth the effort for the views from Split Rock. You might also cross paths with a few through hikers on the Appalachian Trail.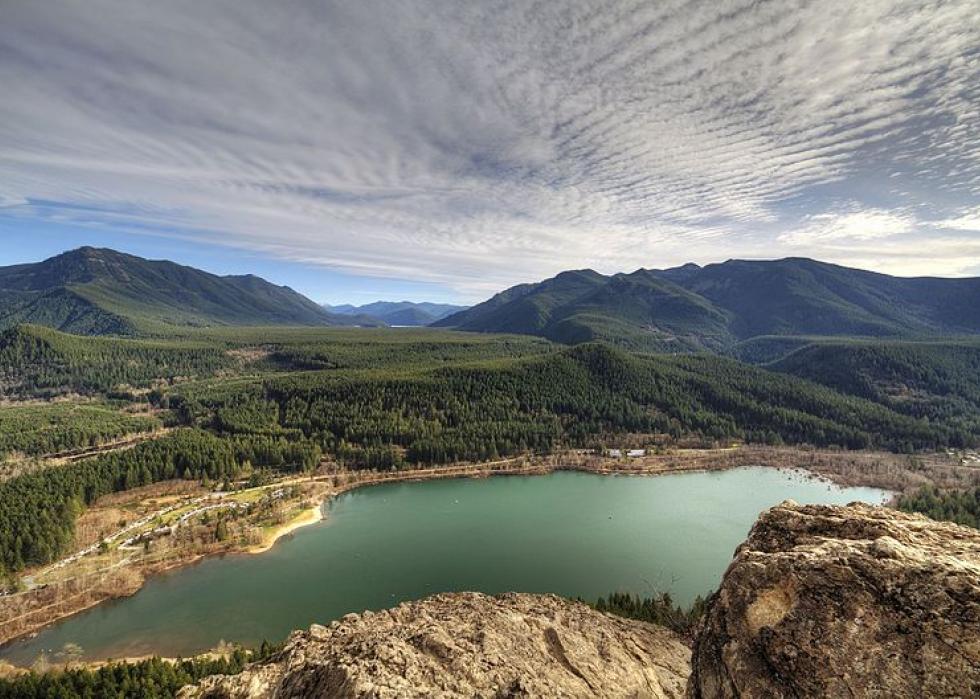 4 / 50
Zach Taiji // Wikimedia Commons
Washington: Rattlesnake Ledge Trail
This 6-mile out-and-back hike is extremely popular during the summer months, thanks to the lake below—a popular spot for kayaking and swimming. Visiting early or on weekdays is the best strategy to avoid the crowds!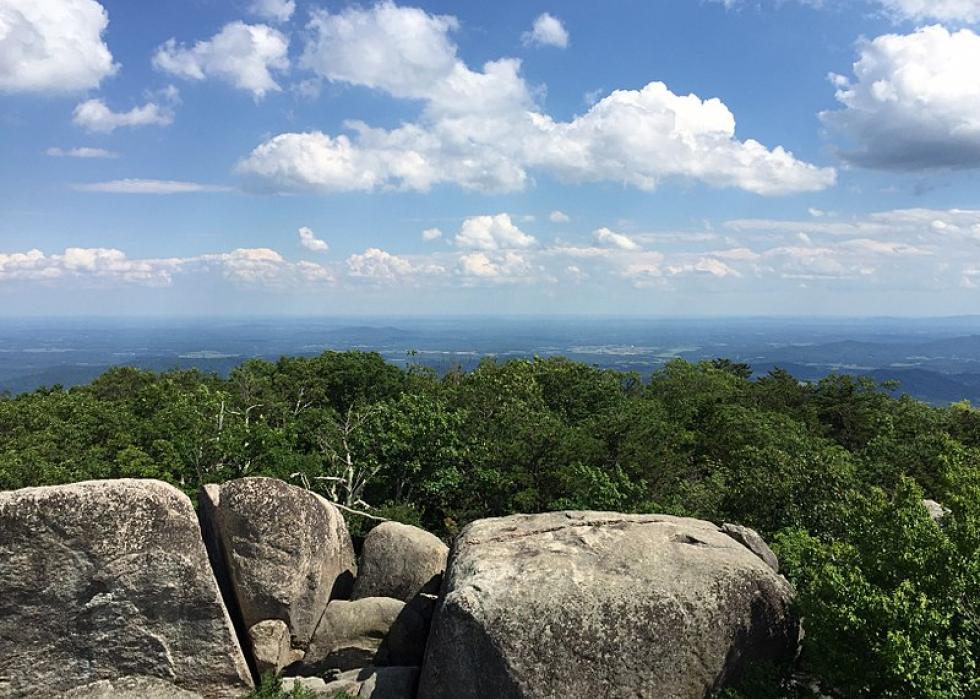 5 / 50
Famartin // Wikimedia Commons
Virginia: Old Rag Mountain Loop Trail
One of the most popular hikes in the entire Mid-Atlantic region, Shenandoah National Park's Old Rag Mountain trail is a difficult 9-mile loop trail with impressive views from the mountain's summit. Pack a lunch for a picnic at the top!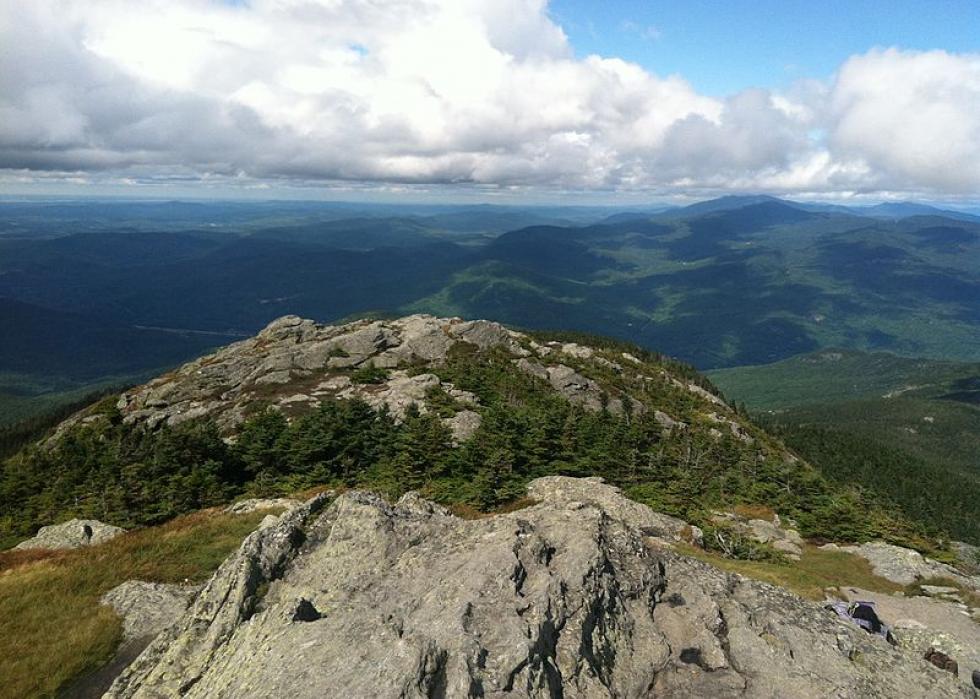 6 / 50
R. Sharp // Wikimedia Commons
Vermont: Camel's Hump Trail
It's a 6-mile loop to reach the summit of Camel's Hump, the third-highest peak in the Green Mountain State. You'll earn the views though, as the hike up can be quite strenuous at times.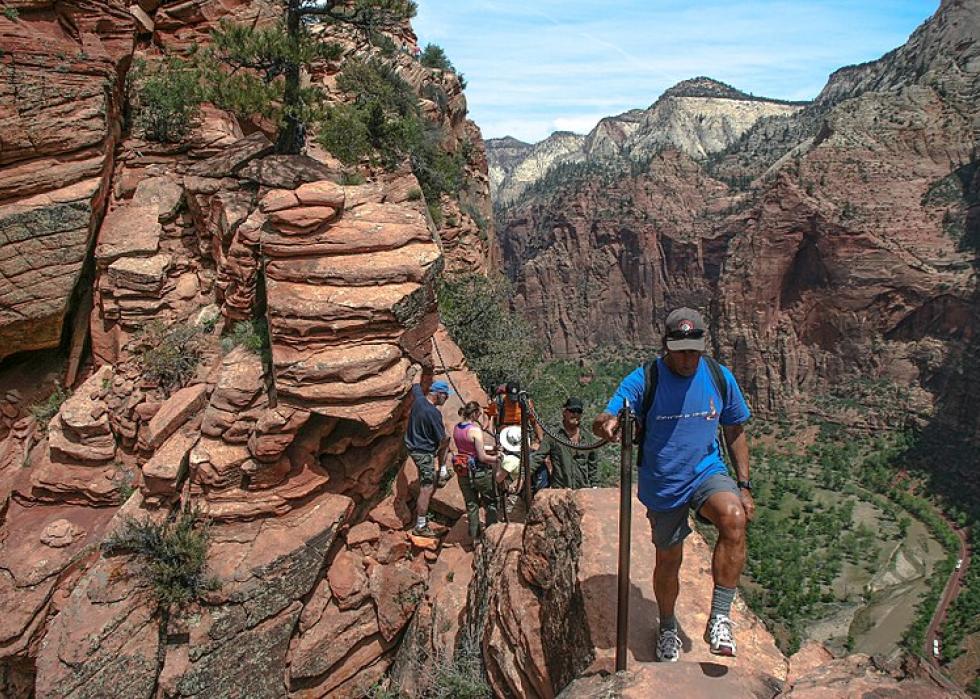 7 / 50
Murray Foubister // Wikimedia Commons
Utah: Angels Landing Trail
Arguably one of the most beautiful and thrilling hikes in the entire national park system, Zion's Angels Landing is a challenging 5-mile trek with steep switchbacks and a few heart-racing drop-offs. Those who are brave end at a rock outcropping with stunning views.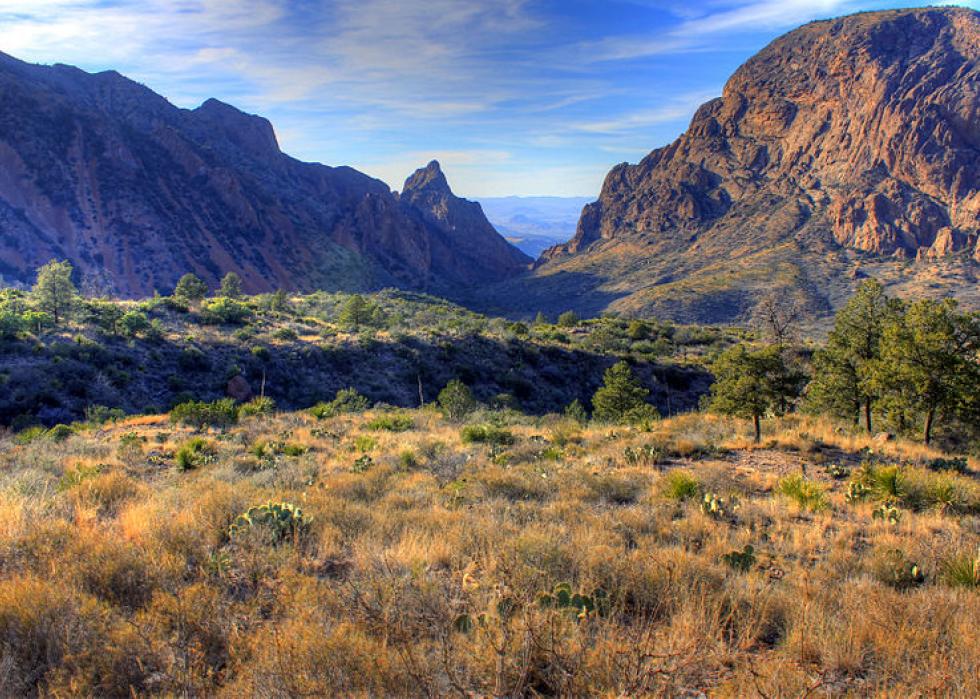 8 / 50
Yinan Chen // Wikimedia Commons
Texas: The Window Trail
This trail begins near Big Bend National Park's Chisos Basin lodge and starts with a descent of nearly 800 feet. It culminates with a wide opening in the canyon walls, exposing hikers to sweeping views of the park's rugged desert landscape below.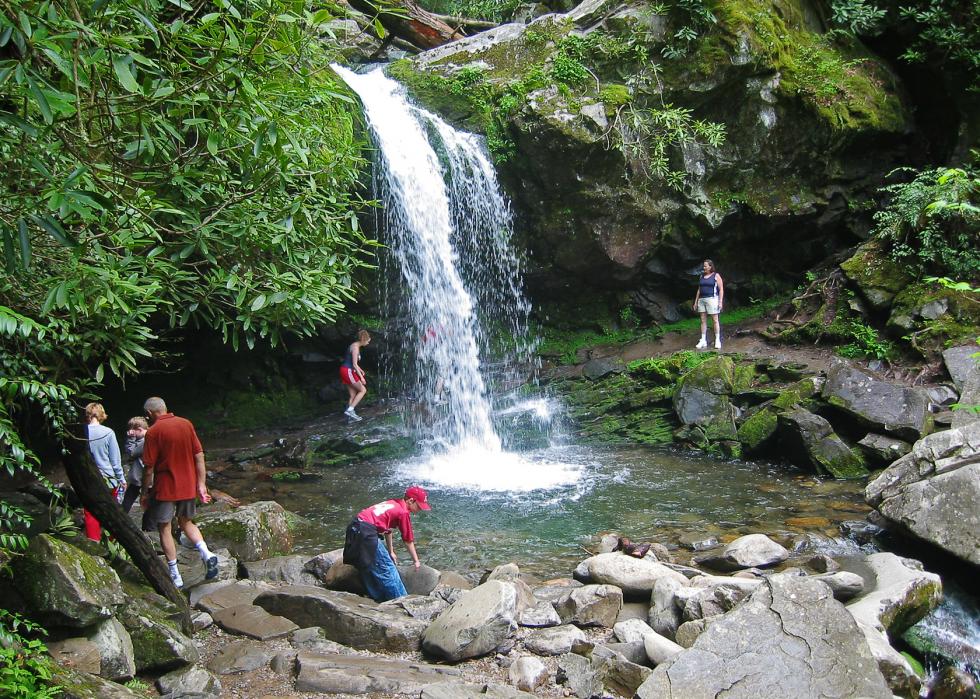 9 / 50
Tennessee: Grotto Falls Trail
This 2.6-mile hike of moderate difficulty is popular among families, who love hanging out beneath the namesake falls. The path is rocky and root-covered in places, but not too strenuous for novice hikers. 
10 / 50
South Dakota: Cathedral Spires Trail
This is a short, yet challenging, hike in Custer State Park that gives adventurers some of the best views of the rock formations. If you want to extend the journey, you can continue up to Black Elk Mountain on one of the connecting trails.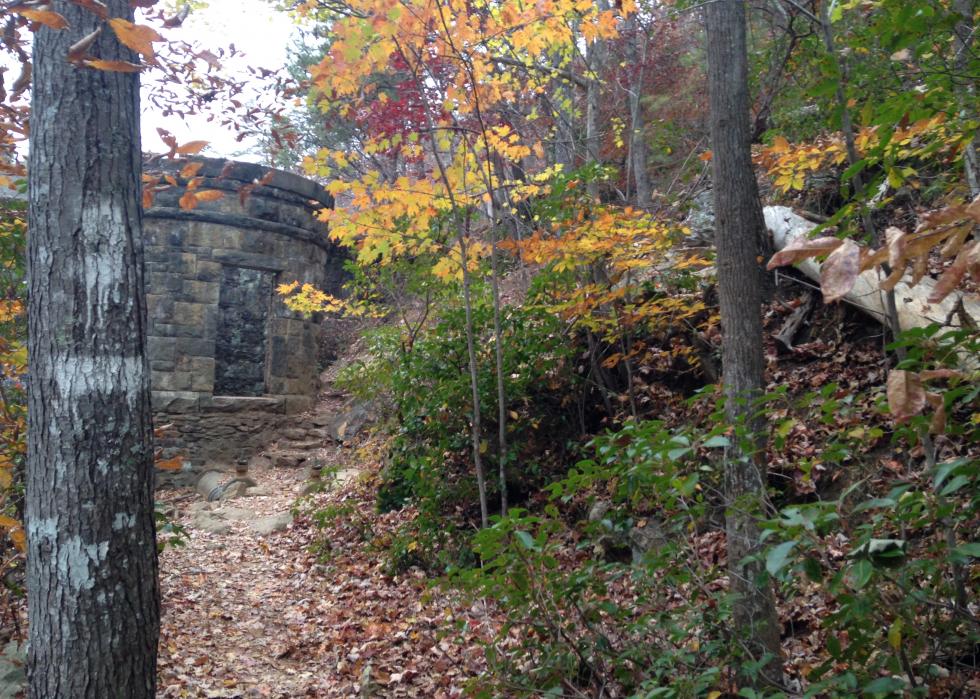 11 / 50
South Carolina: Sulphur Springs Trail
This 4-mile hike in the Paris Mountain State Park offers a wide variety of scenery, ranging from the adjacent old Greenville reservoir and its valve house, to deep forest. There are a few rocky scrambles and steep climbs.
12 / 50
Ken Gallager // Wikimedia Commons
Rhode Island: Cliff Walk
Yes, the smallest state in the union does have a great hike or two to offer. Cliff Walk runs from Newport's Easton Beach to Bailey's Beach, taking in views of the state's famous stately mansions on one side and the rocky scenic coastline on the other. The path is paved concrete for a stretch, making it easy for those with small children or mobility issues.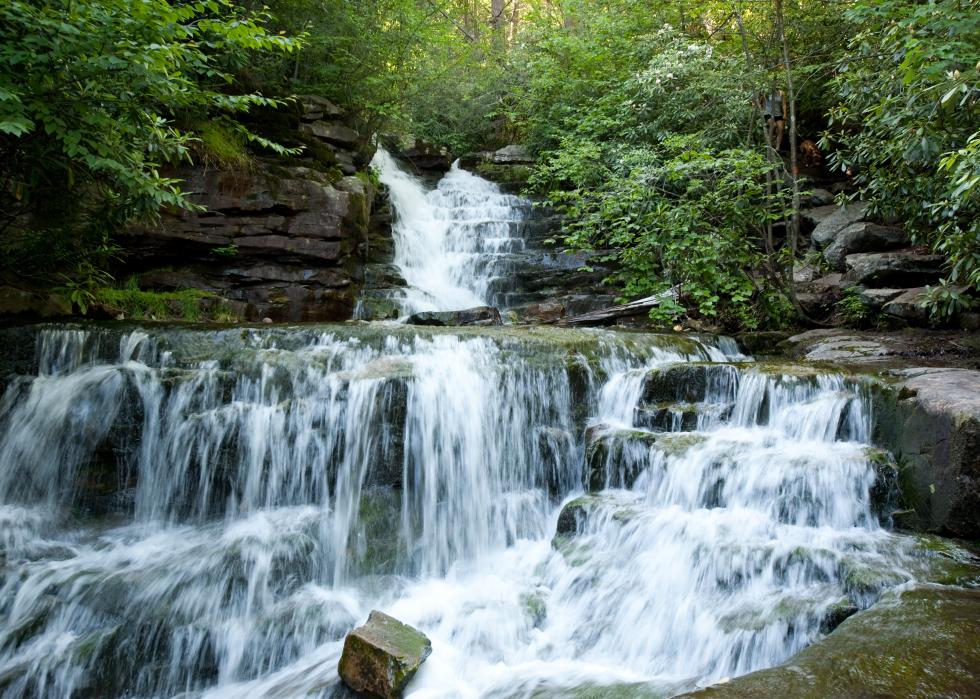 13 / 50
Pennsylvania: Glen Onoko Falls and Lehigh Gorge Overlook Trail
This is a technical trail, with rock scrambles and high waterfalls, so wear your boots! If you make the difficult 4-mile journey, be prepared for slippery rocks and sometimes-unmarked trail—but you'll be rewarded at the end with tranquil waterfalls.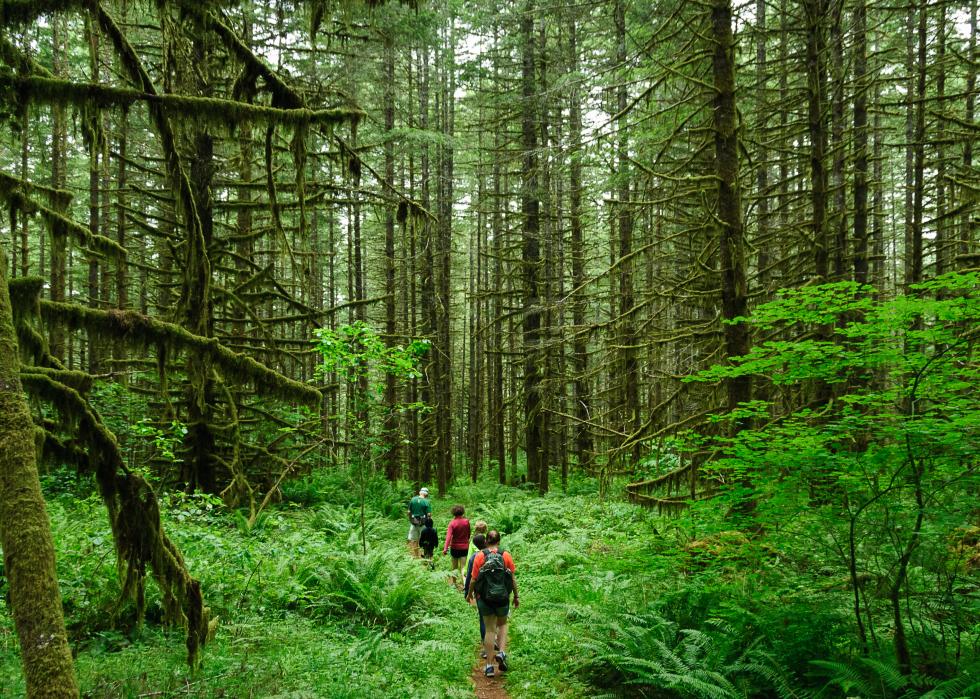 14 / 50
Oregon: Upper Shotgun Creek Trail
Oregon is a hiker's paradise, which means there are an almost endless number of trails to choose from. Get off the beaten path at the Upper Shotgun Creek trail, a 2.4-mile loop that's lush with moss, ferns, and old-growth forest.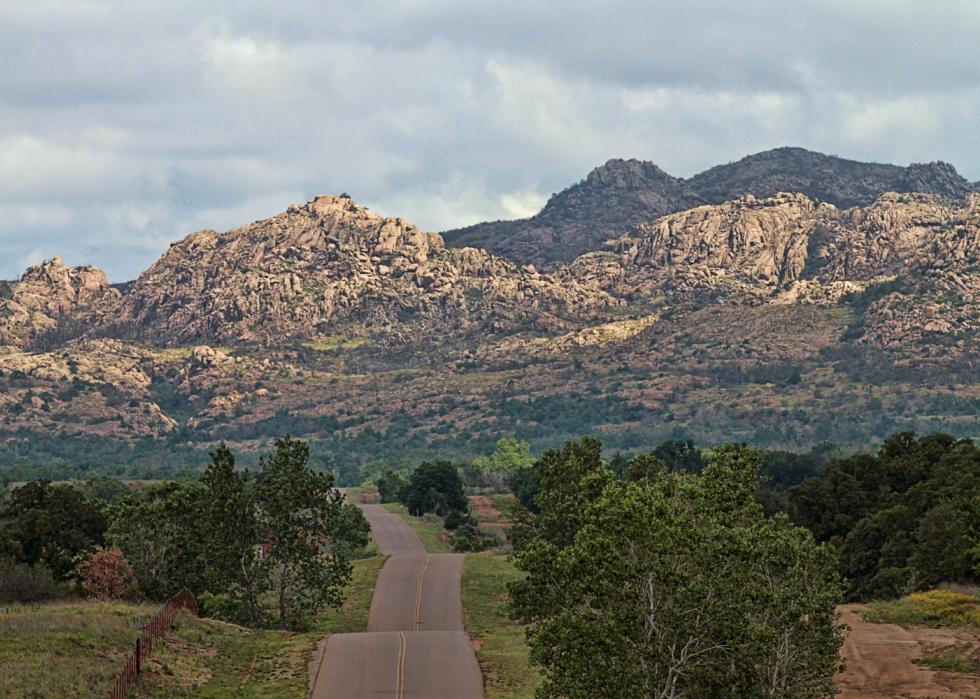 15 / 50
Oklahoma: Charon's Garden Trail
If you think Oklahoma is all flat, think again. This rugged landscape of rocky cliffs, narrow canyons, and blooming wildflowers is set in the Wichita Mountains Wildlife Refuge, which means that you might encounter anything from white-tail deer to bison on this 5.8-mile trek!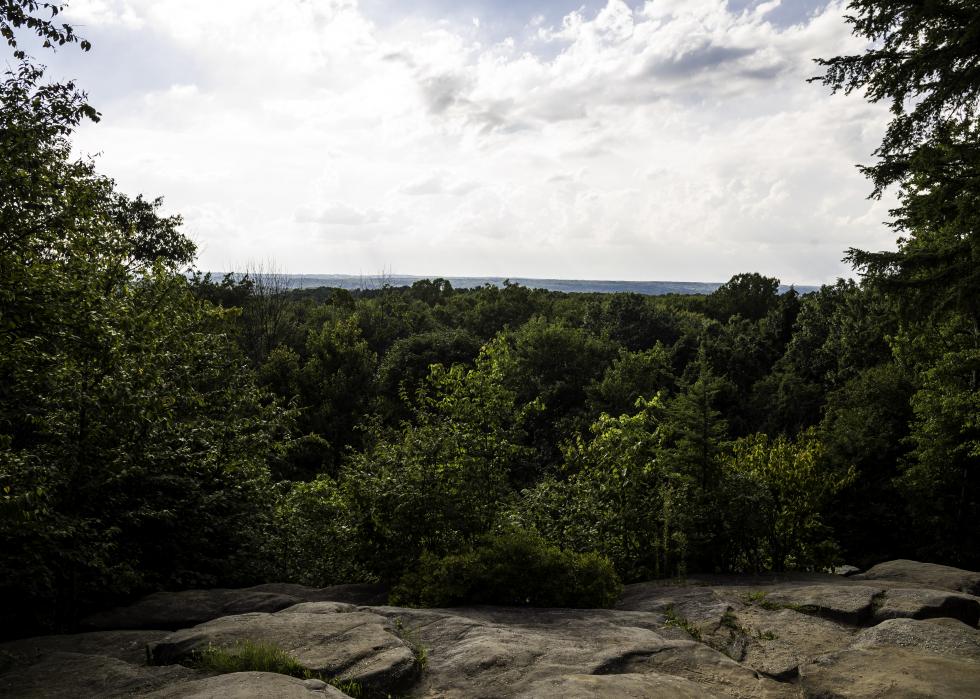 16 / 50
Ohio: Ledges Trail
This 2.7-mile loop trail in the Cuyahoga Valley National Park can get crowded, but is worth the visit for the unique rock formations. The trail is also popular among dog owners and families.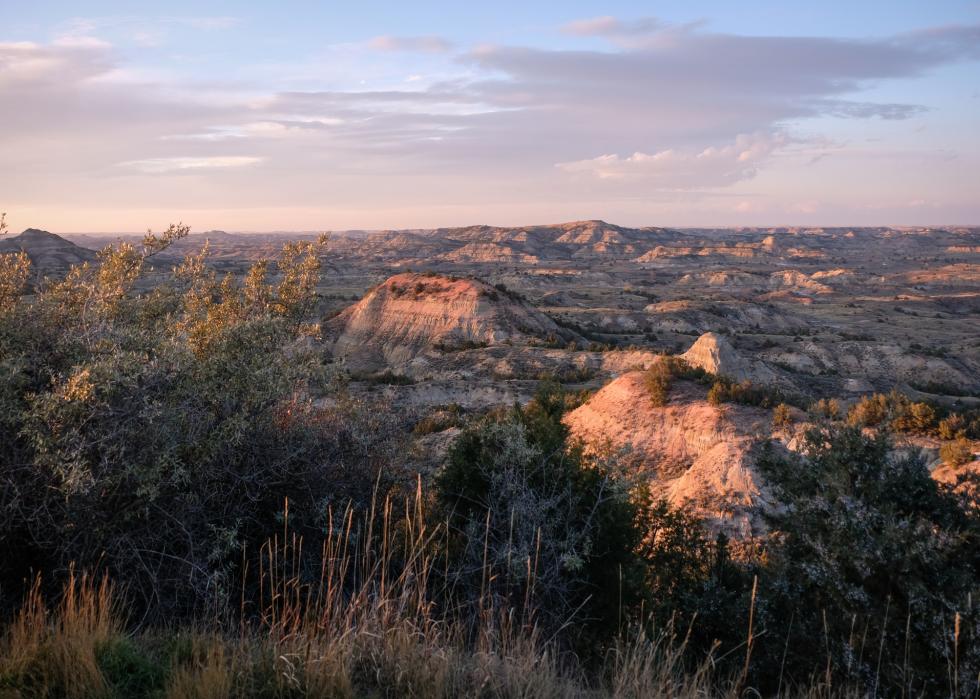 17 / 50
Sharon Mollerus // Flickr
North Dakota: Painted Canyon Nature Trail
This easy jaunt is a great intro to the more demanding trails of the Theodore Roosevelt National Park. Newcomers to North Dakota will be awestruck by natural colors of the landscape. Go at dawn to see the landscape at its most beautiful.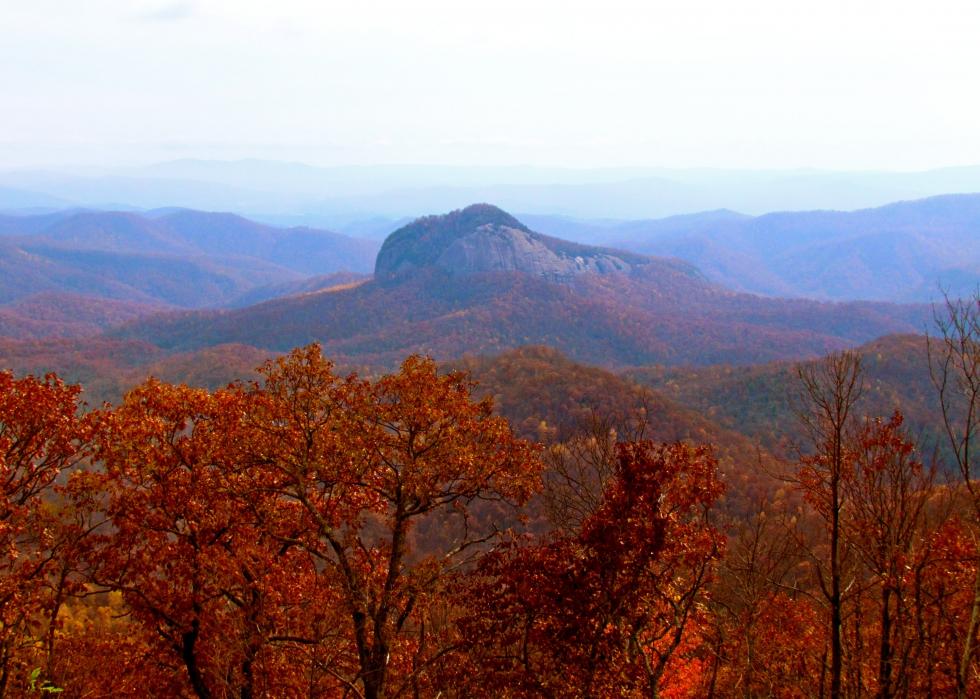 18 / 50
North Carolina: Looking Glass Rock Trail
This challenging hike is among the best in the Pisgah National Forest. Once you make it to top of the Looking Glass Rock, a white-granite "pluton" (igneous rock) that stands nearly 4,000 feet tall, you'll be rewarded with sweeping views of the surrounding landscape. Best done in fall when foliage is at its peak!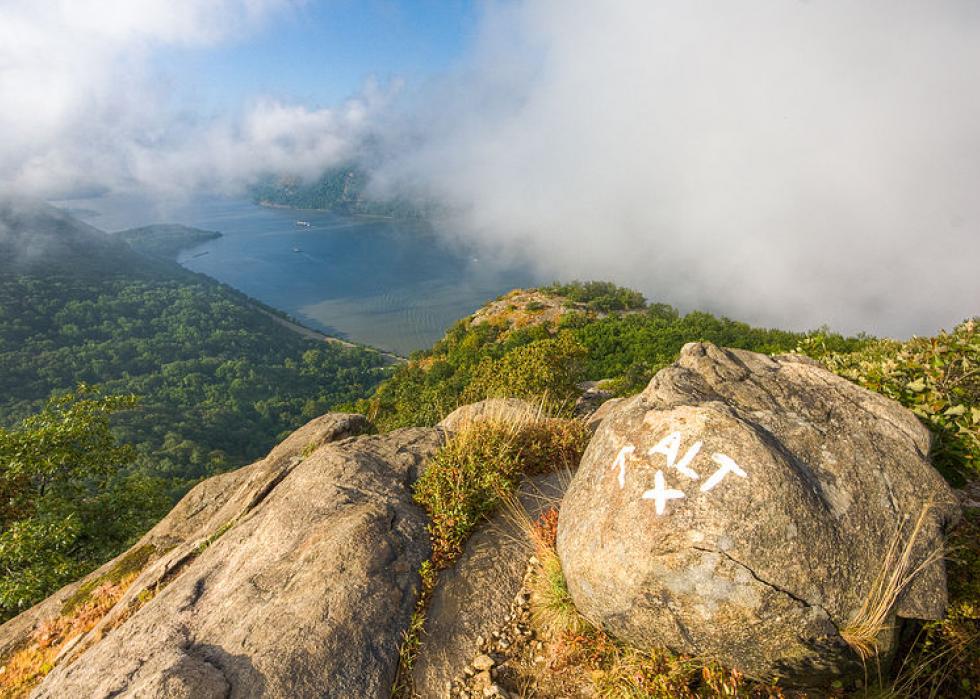 19 / 50
Jeffrey Pang // Wikimedia Commons
New York: Breakneck Ridge Trail
Look, space-starved New Yorkers love to hike, so take their word for it that Breakneck Ridge, a tricky 4-mile trail just north of the city, is the best in the state. In fact, the trail is so popular that it even has its own stop on the Metro North railroad.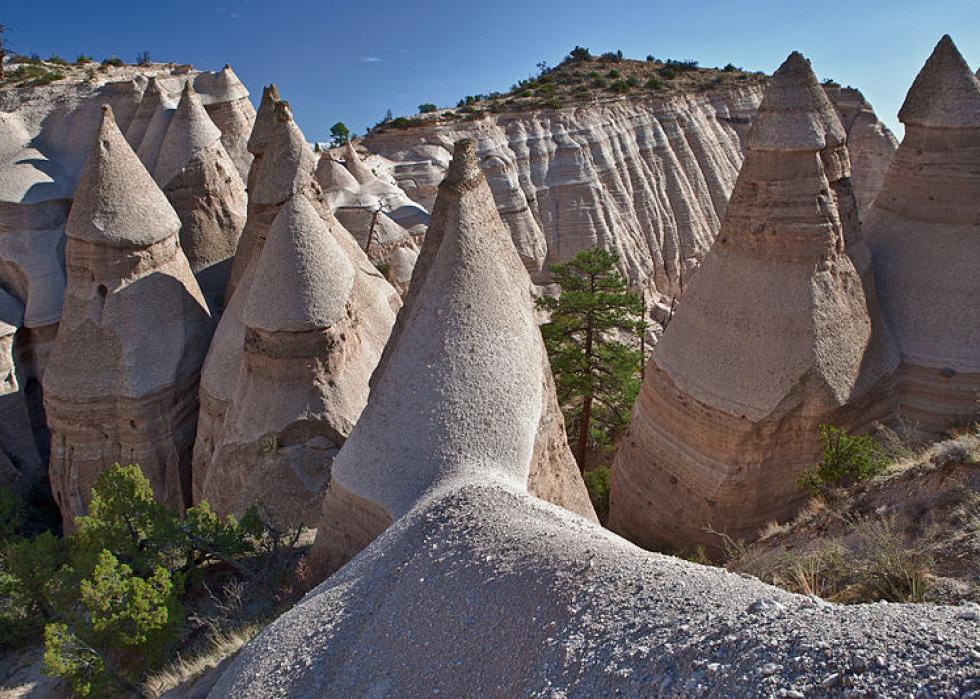 20 / 50
Bureau of Land Management // Wikimedia Commons
New Mexico: Tent Rocks Trail
If you love hiking amongst beautiful wildflowers and slot canyons, you'll love this 3-mile hike. While the trail can get crowded (and it closes early during the winter months), it's easy to see why it's a religious site for the Cochiti Pueblo.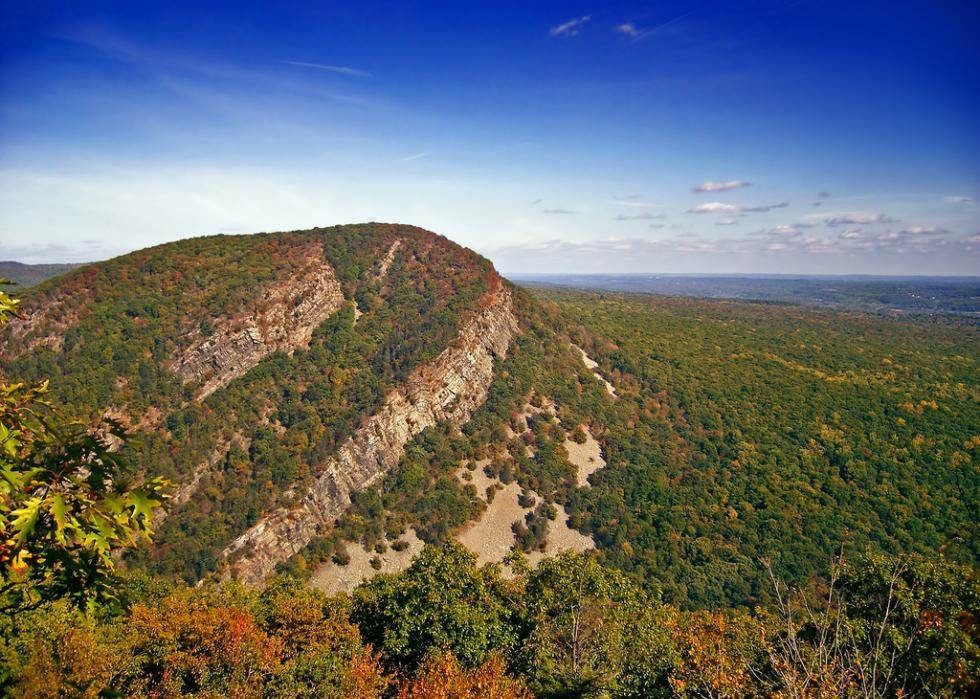 21 / 50
Nicholas A. Tonelli // Flickr
New Jersey: Mt. Tammany Red Dot Trail
This challenging and rocky trail is 3.3 miles, but the view is great. Bring bug spray—ticks and mosquitoes are common here!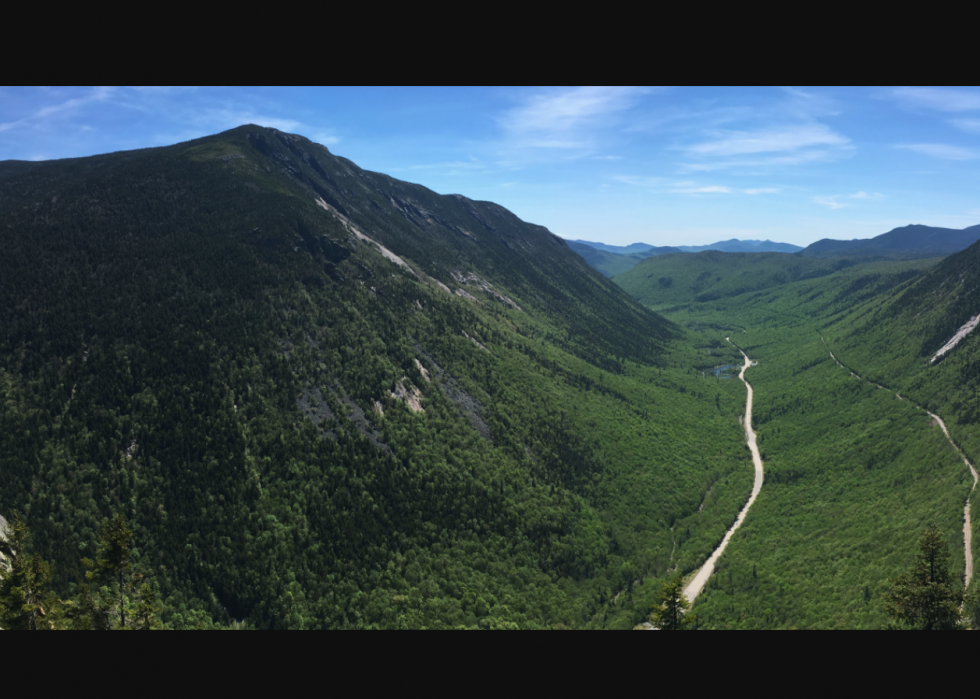 22 / 50
Fredlyfish4 // Wikimedia Commons
New Hampshire: Mount Willard Trail
New Hampshire is home to many great hikes, but the 3.1-mile Mount Willard trail takes the cake! This hike is the perfect balance of challenge and views—it can be a bit rocky, but nothing too over the top.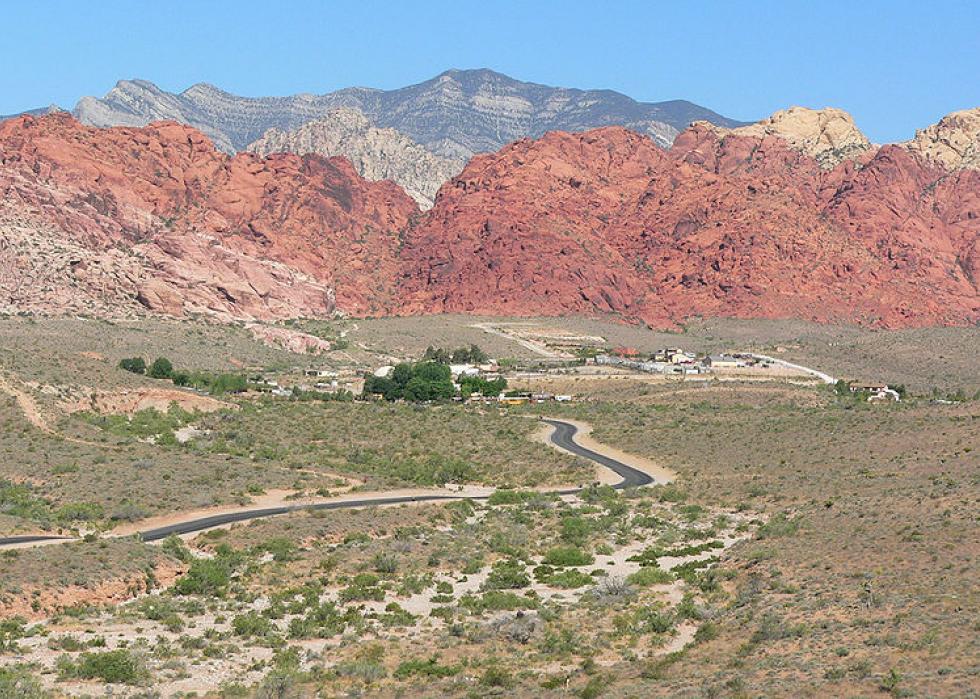 23 / 50
Stan Shebs // Wikimedia Commons
Nevada: Calico Tanks Trail
This short hike (just over two miles!) has plenty off opportunities for kids to explore off-trail, but still plenty of views and even a little rock scramble to keep adults interested. You end up with a great view of the city, but beware of the summer heat!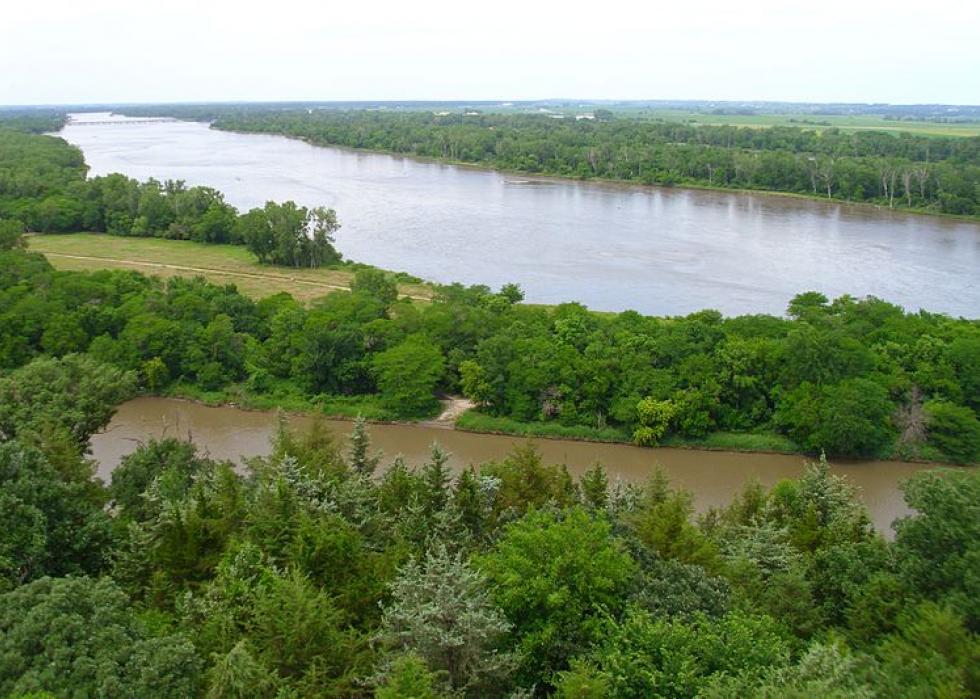 24 / 50
Babymestizo // Wikimedia Commons
Nebraska: Platte River State Park Trail
This 6-mile trail suffers from a lack of markings (a complaint echoed by many visitors), but on the plus-side, it has gret views of the Platte River and culminates at the state's biggest waterfall. It's dog- and family-friendly, but be prepared to shell out $5 for parking.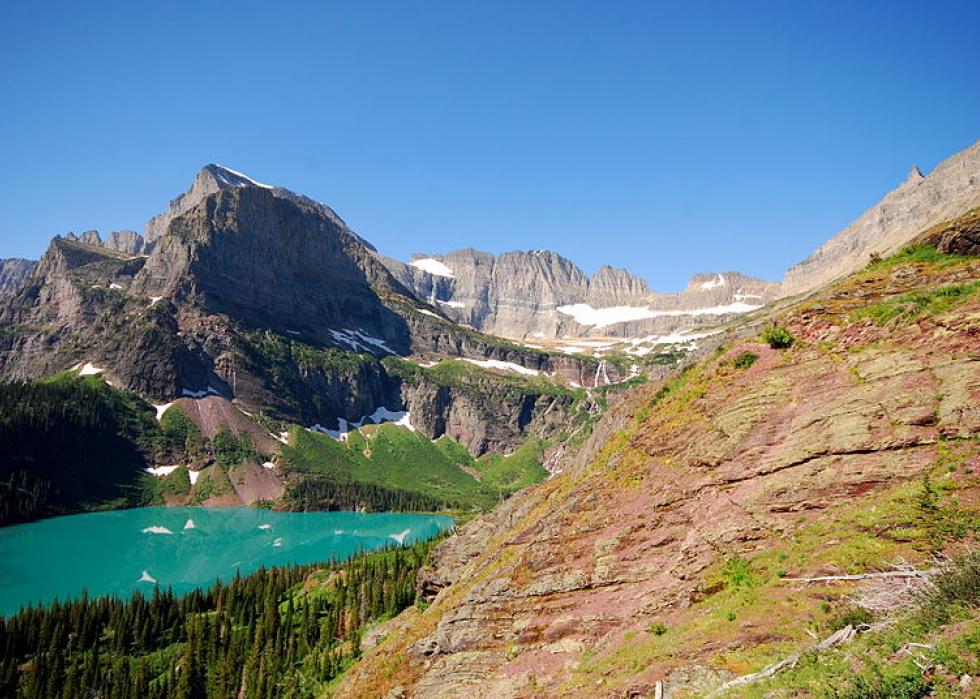 25 / 50
Distress.bark // Wikimedia Commons
Montana: Grinnell Glacier Trail
While not a hard hike, Montana's Grinnell Glacier Trail is long, clocking in at nearly 10 miles. Luckily, the scenic views mean you'll never get bored, but wildlife is abundant here—make sure you carry bear spray!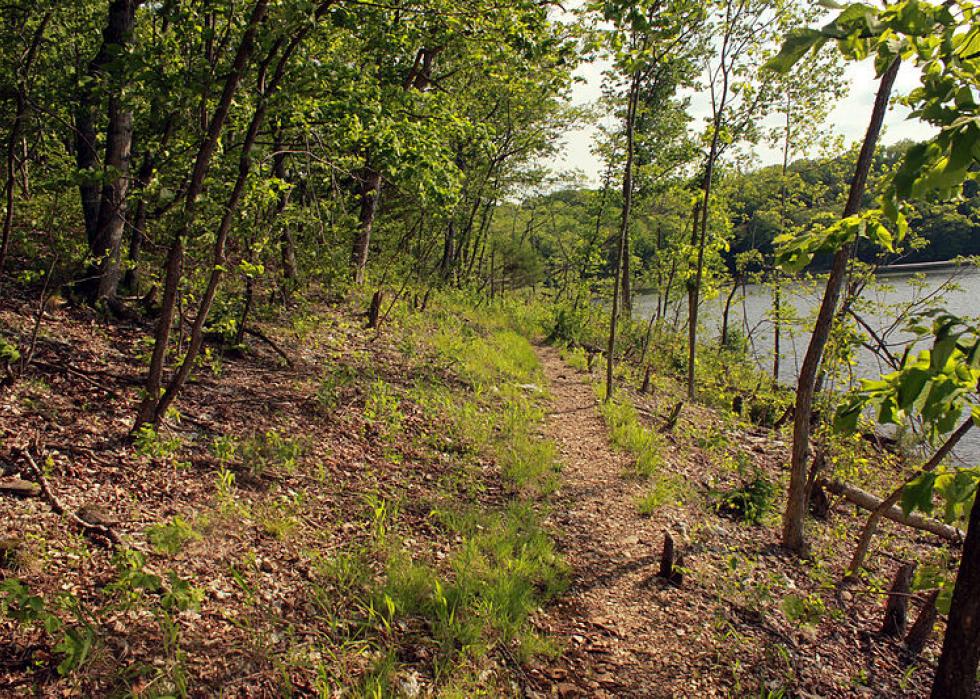 26 / 50
Yinan Chen // Wikimedia Commons
Missouri: River Scene Trail Loop
The beginning of this hike (which varies in length depending on which blazes you chose) starts with a steep uphill, but after that, you'll pass through forests and along rocky bluffs with panoramic views of the river.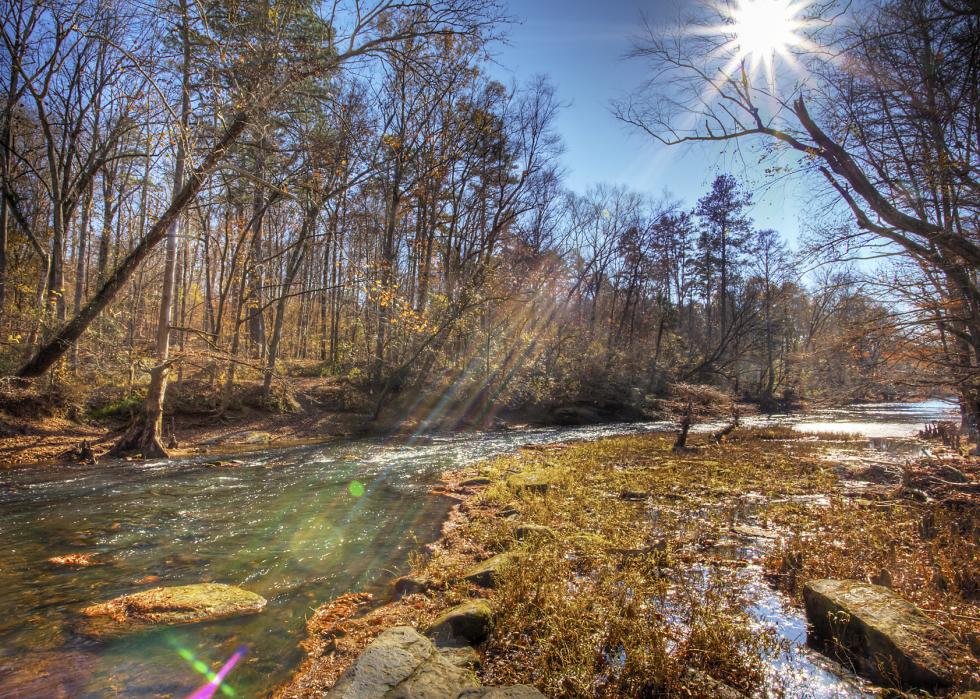 27 / 50
Mississippi: Bear Creek Outcropping Trail
Part of Mississippi's Tishomingo State Park, the 3.6-mile Bear Creek Outcropping Trail offers surprising rock formations and even a swinging bridge! The rest of the park is noteworthy, too: archaeological excavations have found evidence of Native Americans in the area as early as 7000 B.C.E.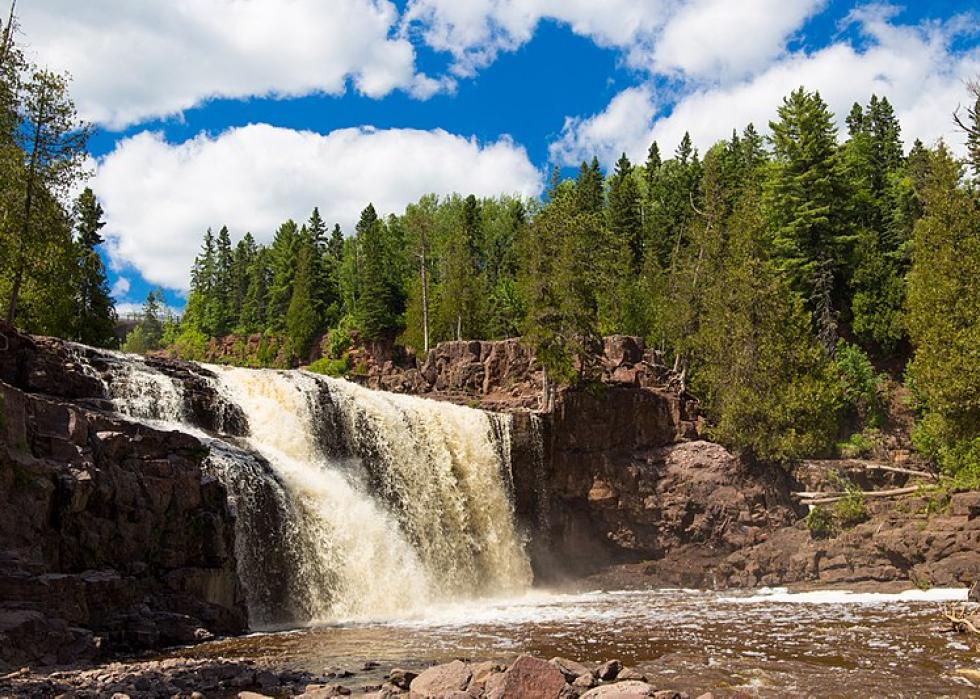 28 / 50
Edward Morrissey // Wikimedia Commons
Minnesota: Gooseberry Falls State Park Trail
This short hike gets busy on the weekends—get here early! But even if you brave the throngs of people, the falls are amazing, especially in the days following the beginning of spring's thaw.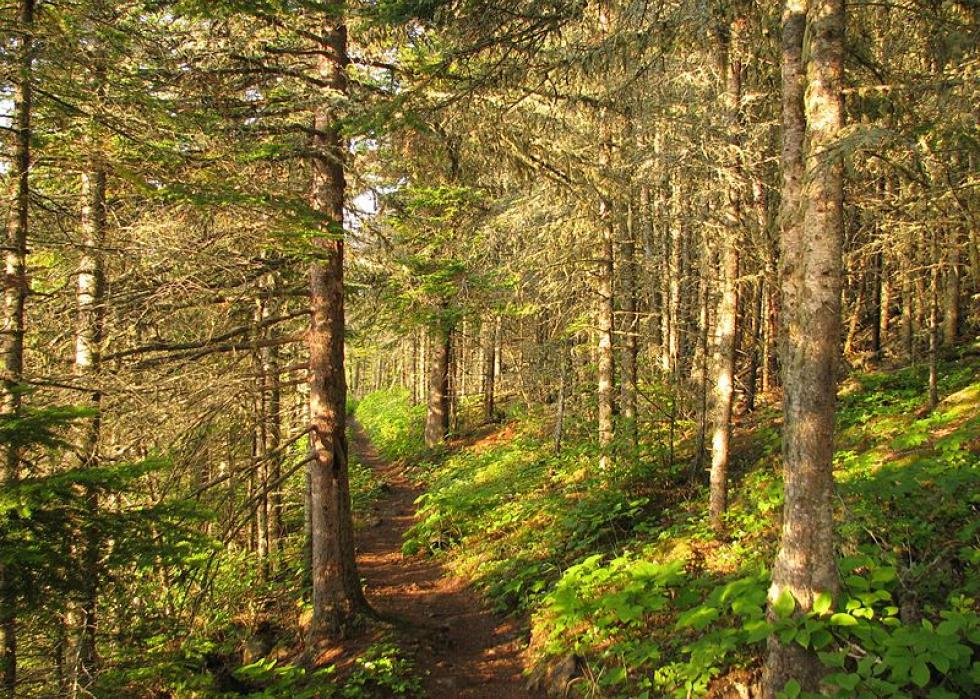 29 / 50
MDuchek // Wikimedia Commons
Michigan: Tobin Harbor Trail
This 5.9-mile trail is less trafficked than others in the state, but that doesn't mean it's not worth your time. Located in Isle Royale National Park, It's densely forested with great opportunities for foragers and wildlife seekers.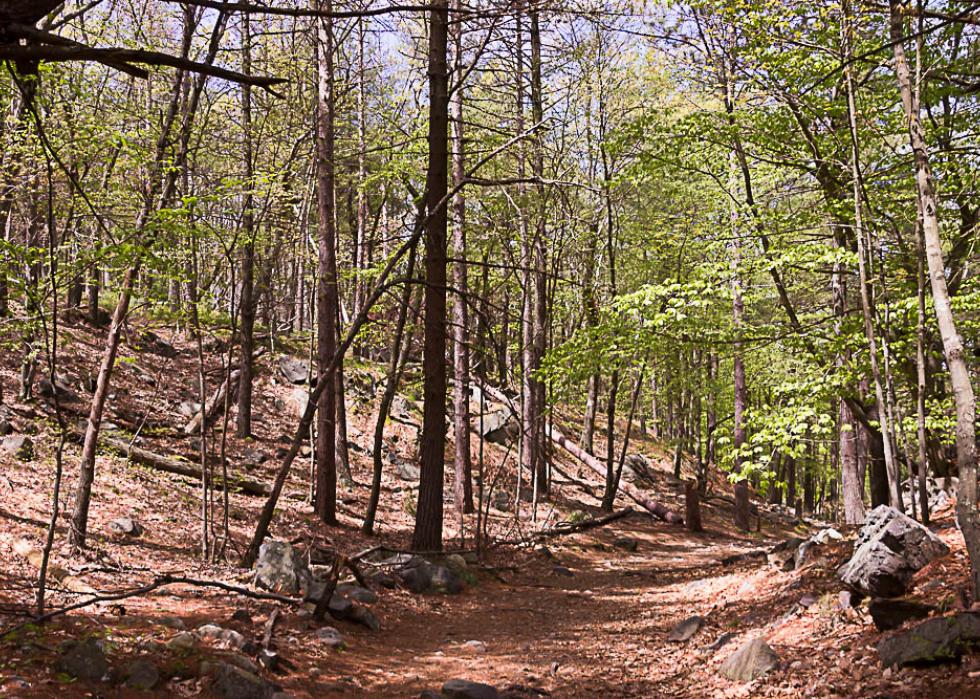 30 / 50
Massachusetts: Blue Hills Skyline Trail
You won't believe you're just 10 miles outside of downtown Boston. The popular Blue Hills Reservation is home to more than 125 miles of trails, as well as swamps, ponds, marshes and meadows, many of which harbor endangered species.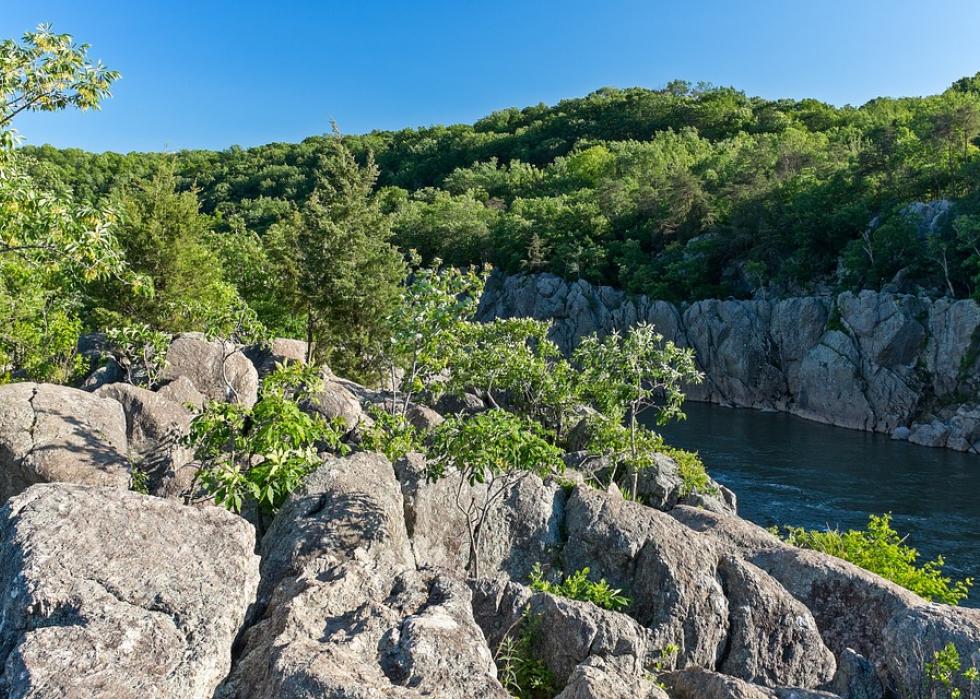 31 / 50
Maryland: Billy Goat Trail Loop
Part of the Chesapeake & Ohio Canal National Historical Park, the Billy Goat Trail is actually made up of three different trails for an 8-mile hike in total. The first section of the trail is less than two miles, but is surprisingly strenuous with some slippery rock faces and other technicalities.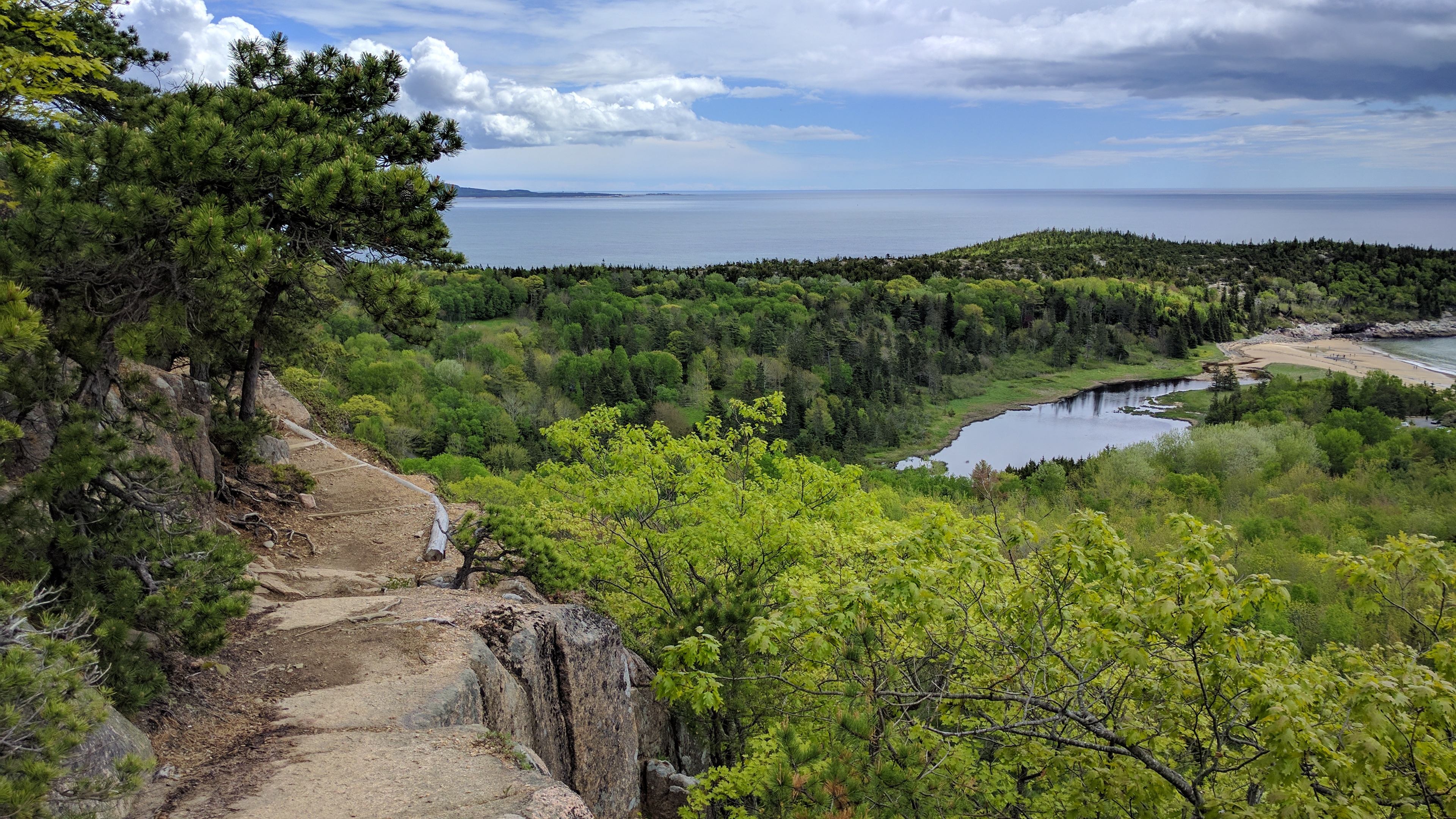 32 / 50
Maine: Beehive Loop Trail
This is a steep climb up a small mountain, but those who make it to the top are rewarded with fantastic views of the Atlantic Ocean. Make sure you stick to trail—there are hand and foot holds throughout that make the climb marginally less difficult.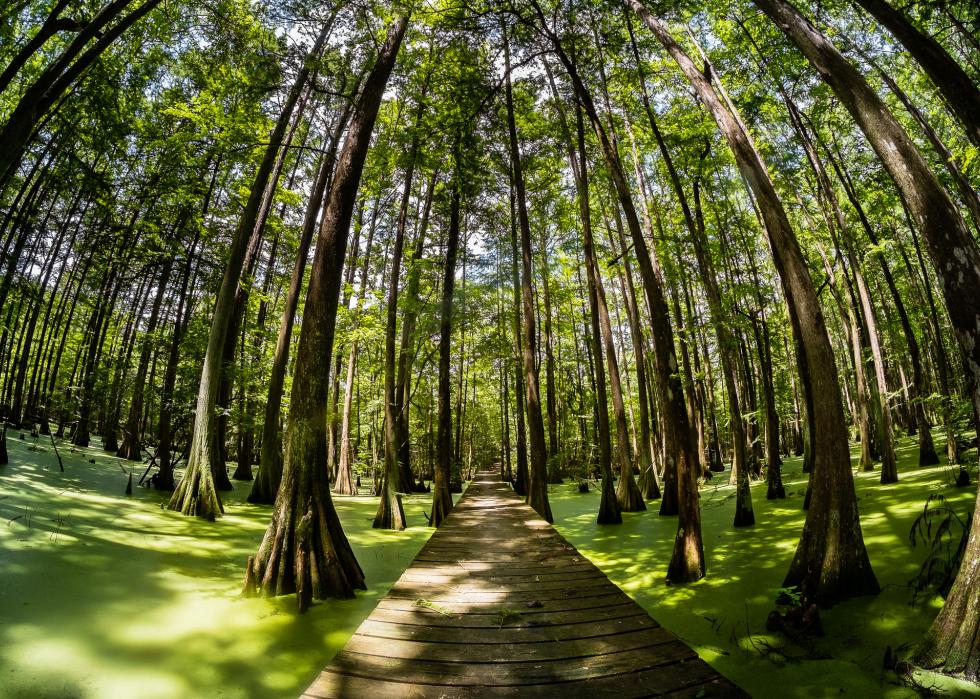 33 / 50
Louisiana: Lake Chicot Loop Trail
This extensive hiking and backpacking trail completely circles Louisiana's Lake Chicot, which means you can make the trip as long—or as short—as you like. There are multiple campsite for overnight stays or picnicking.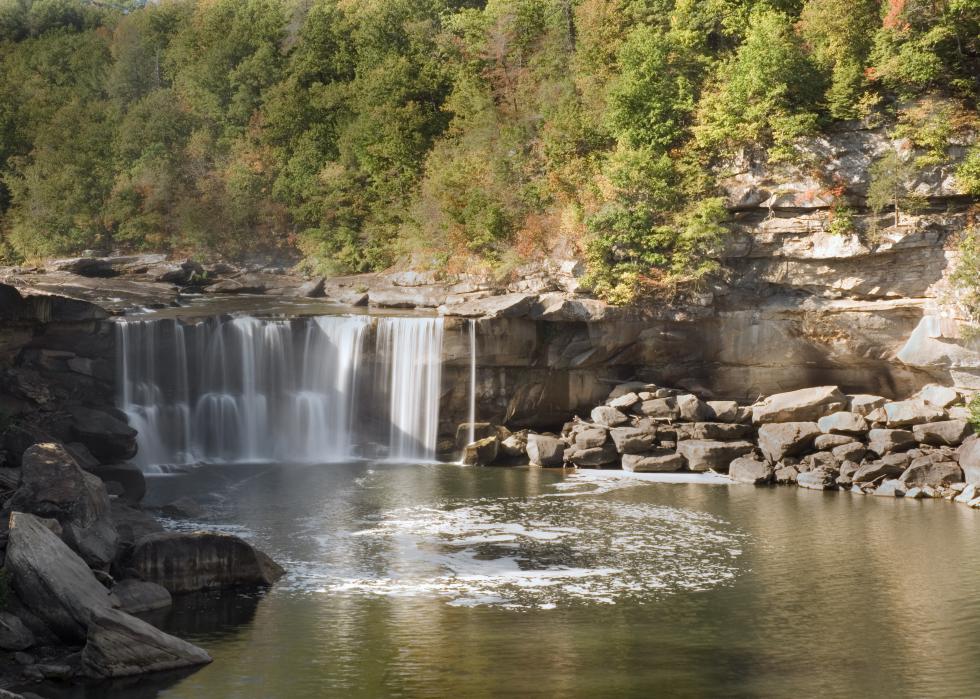 34 / 50
Michael Shake // Shutterstock
Kentucky: Dog Slaughter Falls Trail
We know, the name doesn't exactly sound endearing, but Dog Slaughter Falls Trail is a 2.2-mile out-and-back trail that ends at idyllic waterfall. For such a short hike, there are a few craggy rocks so beware if you're planning on bringing the kids along.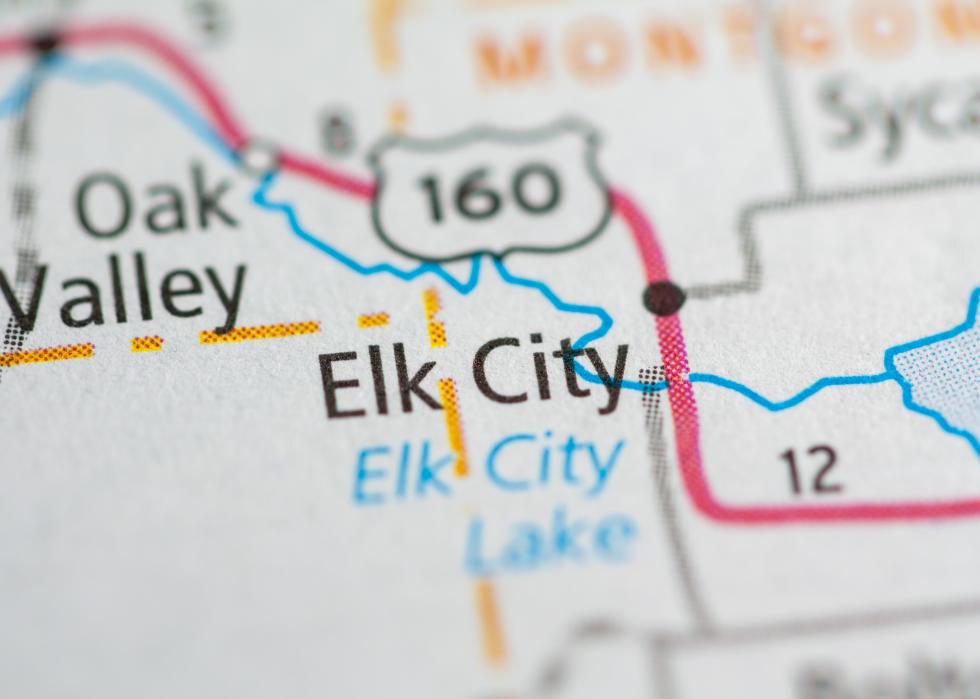 35 / 50
Kansas: Elk River Trail
You won't believe you're in the middle of Kansas on the Elk River Trail. The technical, 14.4-mile trail is marked with blue blazes and mile markers and features lots of wildlife,  terrain changes, and stream crossings. There are also plenty of primitive campsites available.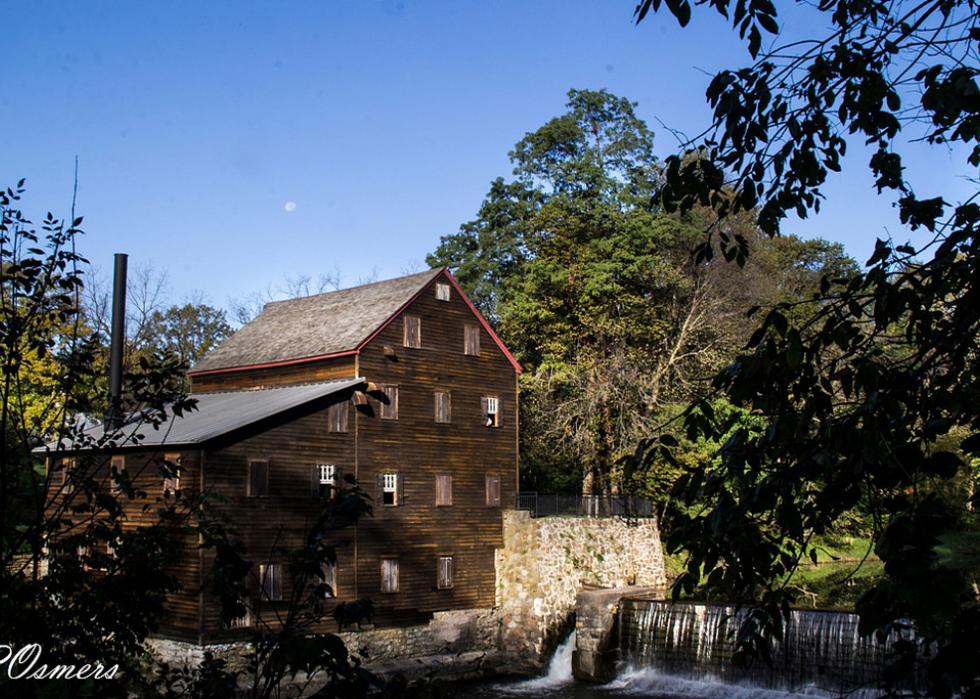 36 / 50
Iowa: Wildcat Den Trail
Wildcat Den, an underrated Iowa state park is home to an eponymous trail which happens to be the Hawkeye State's most popular. The 4-mile loop is a great mix of stairs, streams, and rock outcropping. You'll also pass by an historic 19th-century grist mill.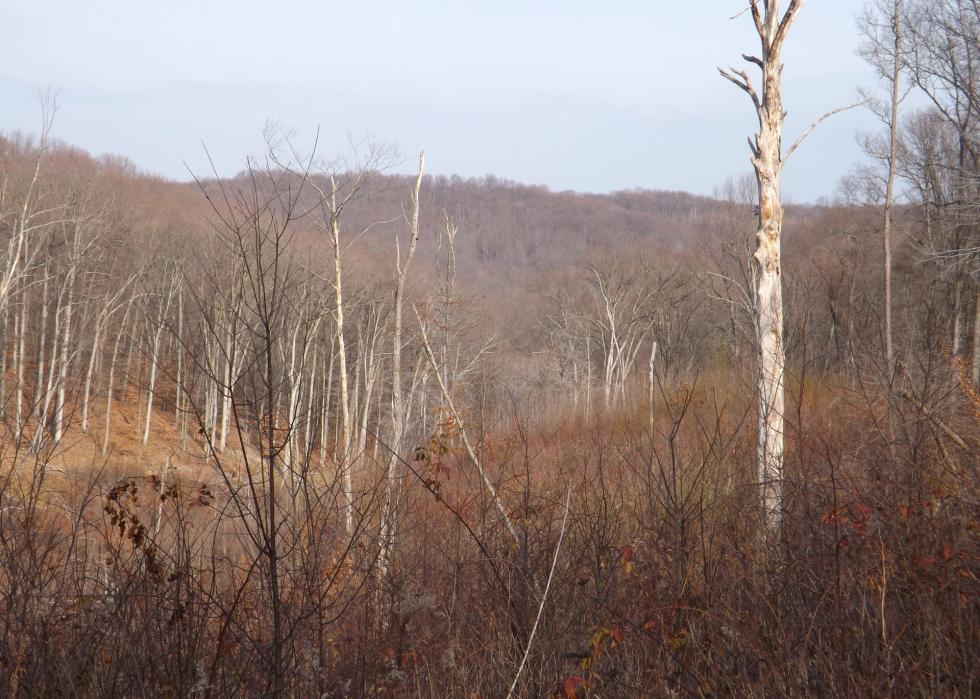 37 / 50
Indiana: Low Gap Trail
Experienced hikers will love Indiana's Low Gap Trail, a 10.3-mile journey with lots of spots for camping. Beware that part of the trail is on a gravel road and water sources are few and far between, but otherwise, the trail is well-marked and uncrowded.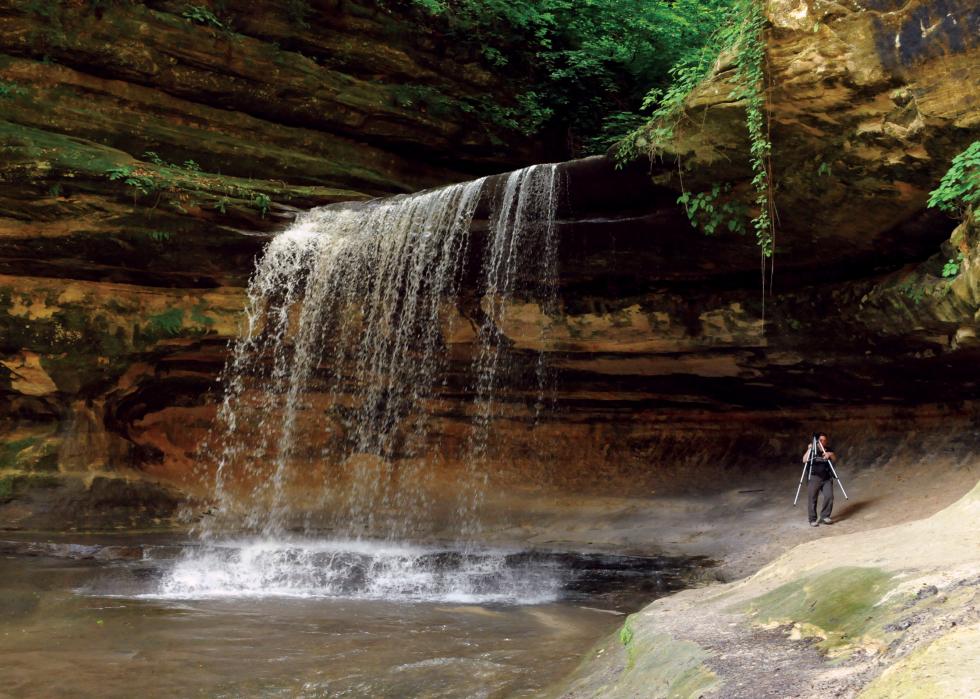 38 / 50
Courtesy of Enjoy Illinois
Illinois: Starved Rock and Sandstone Point Overlook Trail
This trail can sometimes get crowded, but the boardwalk and sand path surface makes this 4.4-mile loop good for anyone who wants a lower impact hike. In the winter months, you can easily spot eagles from the overlooks adjacent to the trail.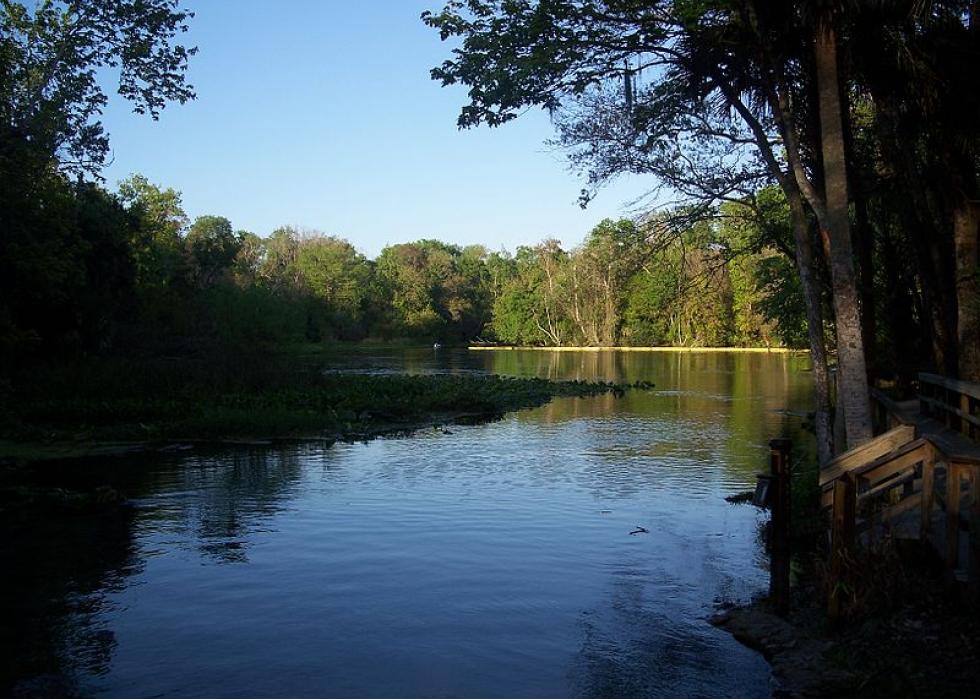 39 / 50
D. Taylor in Idaho // Flickr
Idaho: Mineral Ridge National Recreation Trail
Located near Coeur d'Alene, this 2.5-mile loop is well-maintained, with great views overlooking Beauty Bay. The trail is more difficult during the winter months, so it's best to stick to this hike from May through October.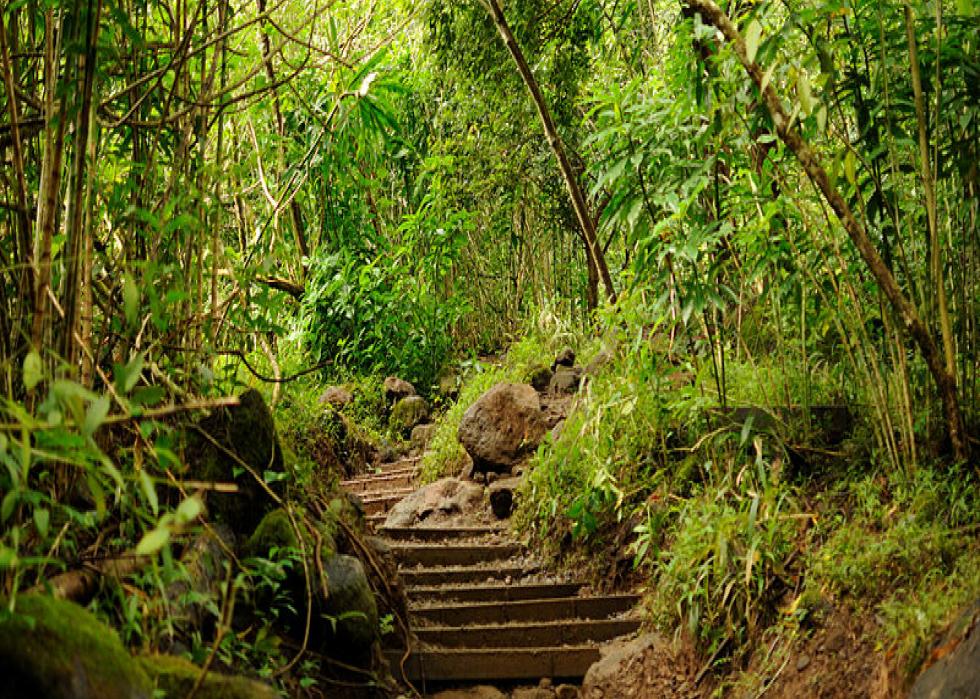 40 / 50
Daniel Ramirez // Wikimedia Commons
Hawaii: Monoa Falls Trail
Is there a bad hiking trail in Hawaii? Probably not, but there are definitely a few that stand out. The Manoa Falls Trail is only a 1.5-mile out-and-back, but its famous for its scenery. In fact, you might recognize the lush tropical rainforest from LOST and Jurassic Park. The trailhead is a quick drive from downtown Honolulu, making this a great option if your time is limited.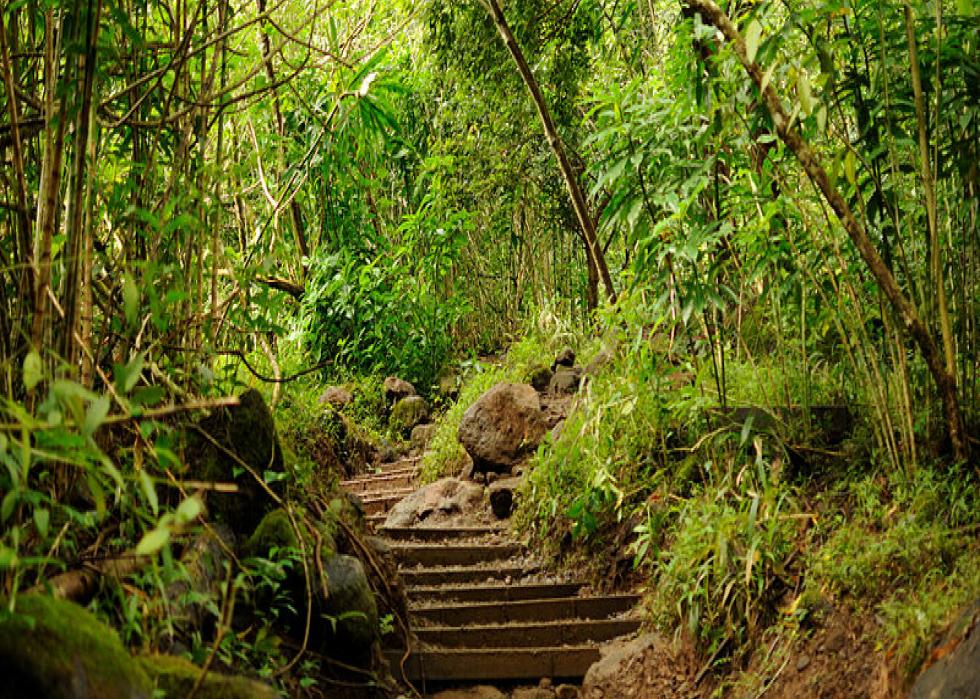 41 / 50
Daniel Ramirez // Wikimedia Commons
Georgia: Raven Cliff Falls Trail
Trek through a waterfall-filled valley to get to another one of Georgia's most beautiful waterfalls. This 4.8-mile hike near Helen, Ga., is relatively easy except for a small rock scramble near the end. The trail can get muddy after heavy rains, so wear good shoes!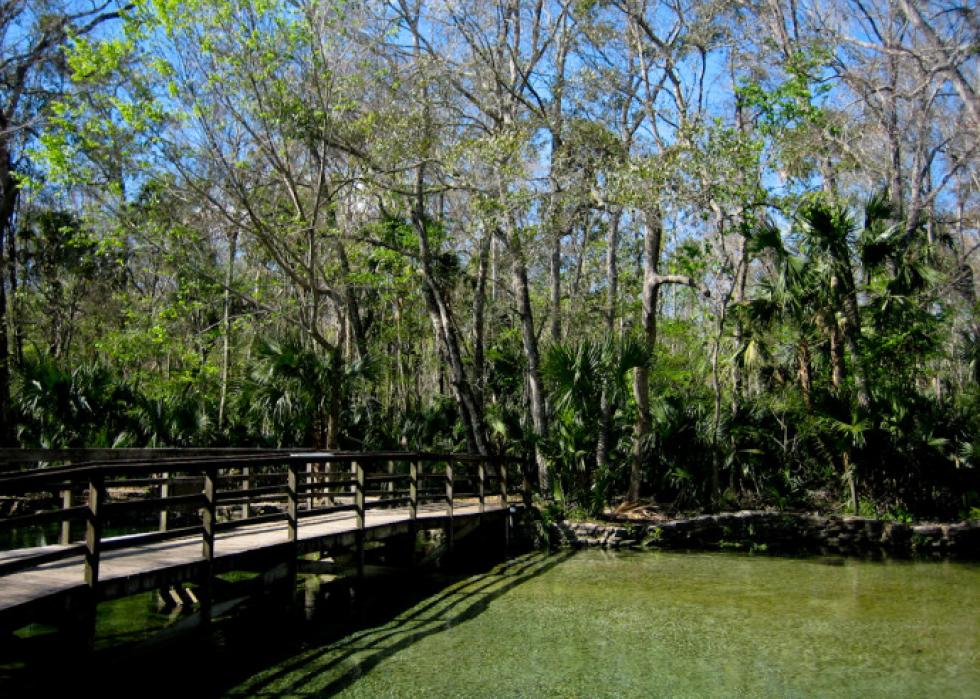 42 / 50
Ebyabe // Wikimedia Commons
Florida: Wekiwa Springs Loop Trail
This beautifully-kept trail traverses multiple Florida ecosystems over the course of one 6.4-mile hike. From dry scrub forests to quintessential wetlands, you'll be surprised to discover a hike like this so close to Orlando.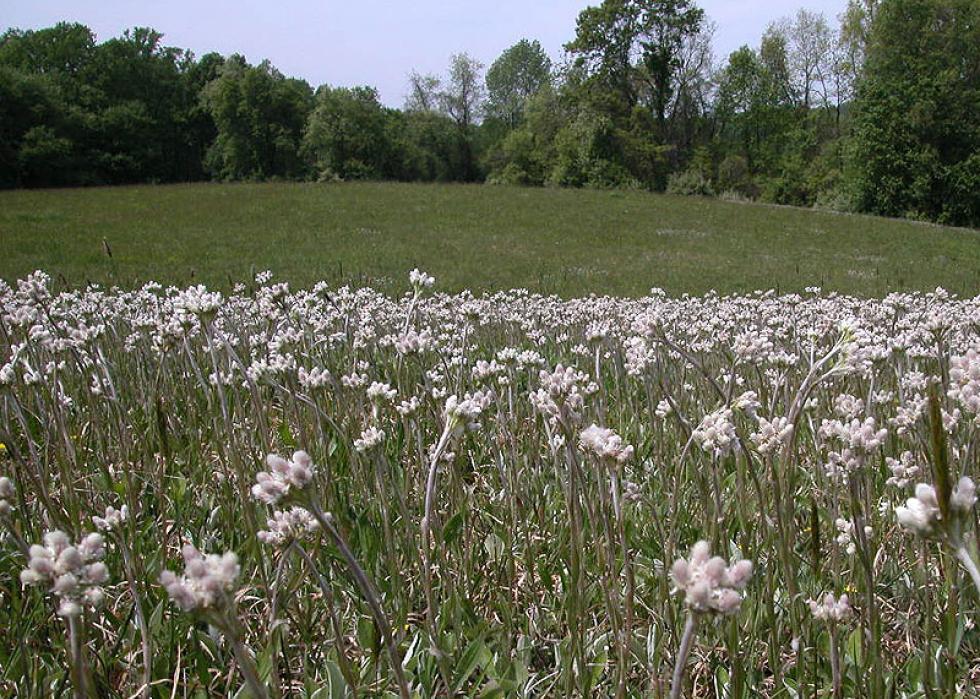 43 / 50
Jeff van Niekerk // Shutterstock
Delaware: Whitely Farms Trail
This well-marked trail makes for an easy 7.6-mile hike in White Clay Creek State Park . It's popular among trail runners and is dog-friendly. Given its flat terrain, it also makes a nice hike for kids.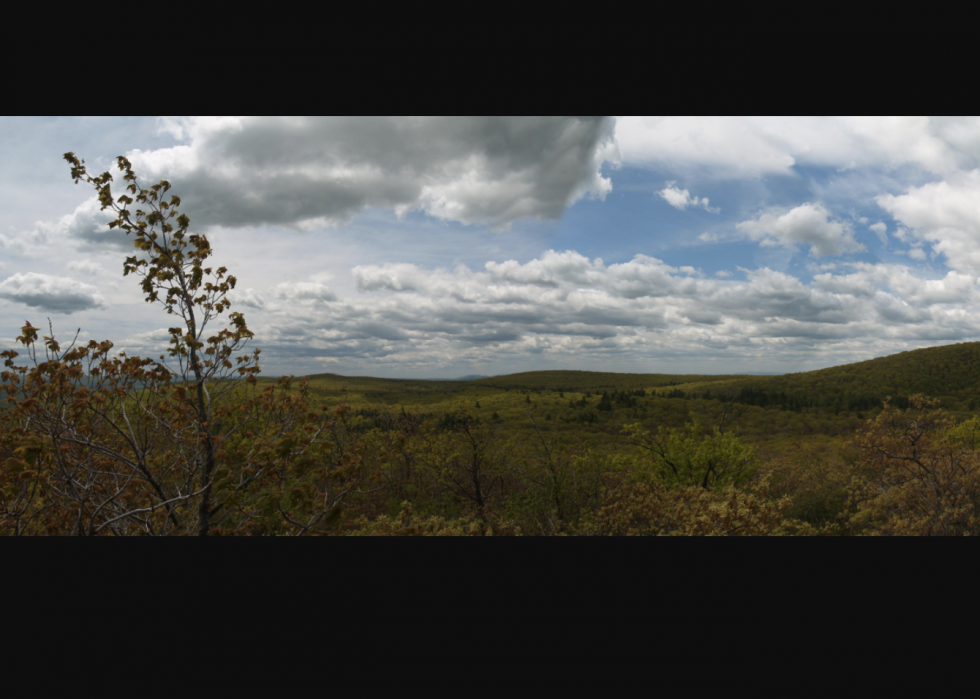 44 / 50
Wikipedia // Wikimedia Commons
Connecticut: Bear Mountain Trail
This nice day hike is a 6-mile loop with either steep ascents or descents, depending on which way you begin. Most hikers recommended starting out clockwise to avoid a sketchy climb down. If you hike in the winter months, beware of ice on the rocks!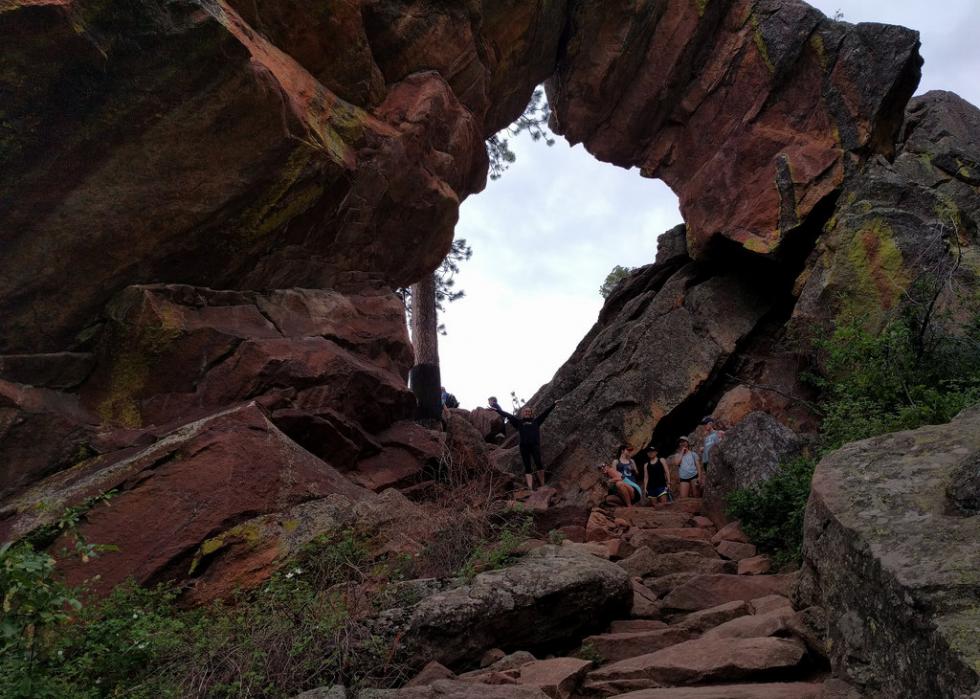 45 / 50
Colorado: Royal Arch Trail
This 3.4-mile loop near Boulder is short, but sweet. It's a tough trail and is best tackled in the summer months (when wildflowers and wildlife abound), but those who persevere end up with views of the beautiful Royal Arch.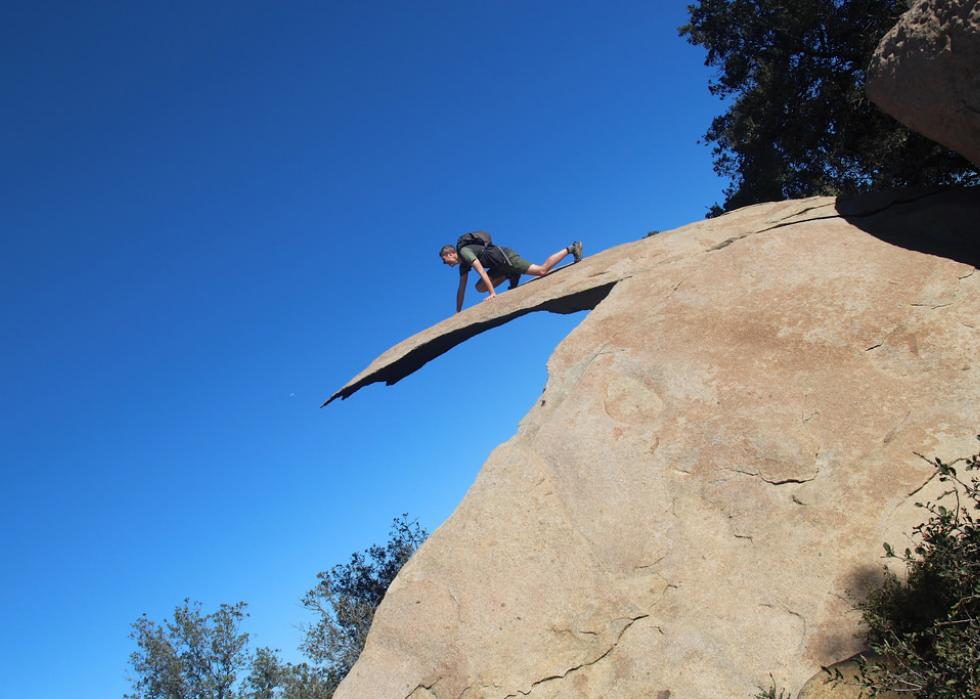 46 / 50
California: Mt. Woodson Trail
Head along San Diego County's Mt. Woodson Trail to get to the top of the summit, where you'll find Potato Chip Rock, a unique, thin rock formation. You'll also be rewarded with scenic views of the Pacific Ocean after your 7.5-mile trek.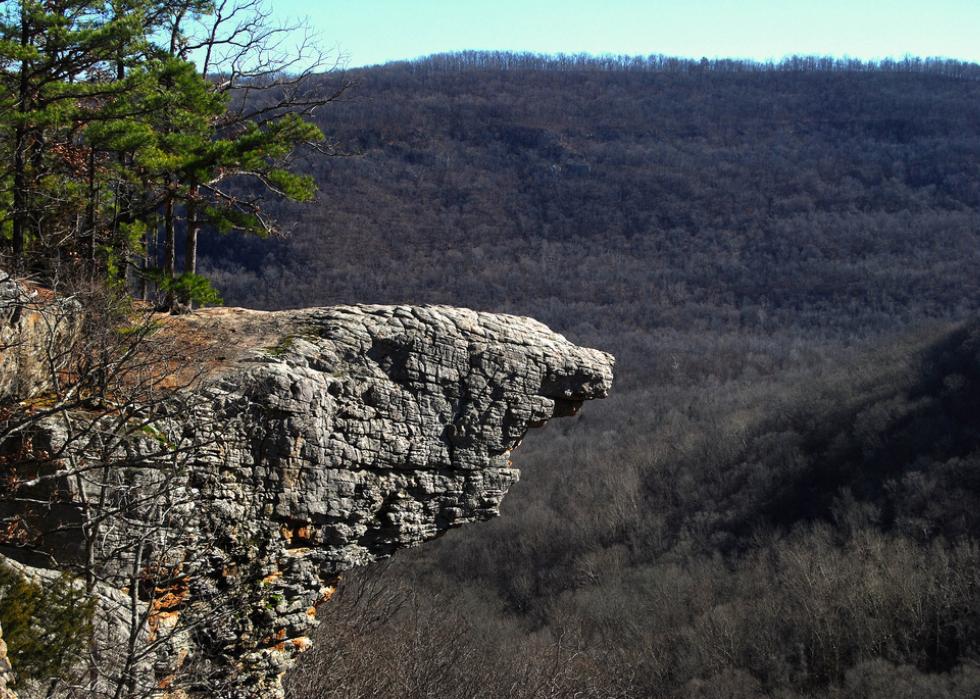 47 / 50
Noel Pennington // Flickr
Arkansas: Whitaker Point Trail
One of the shorter trails on this list, Whitaker Point (also known as Hawksbill Crag) is a relatively easy, 2.9-mile out-and-back outside of Deer, Arkansas. The hike itself is a bit rocky but worth the effort for the stunning views from the rock formation ("crag") at the end.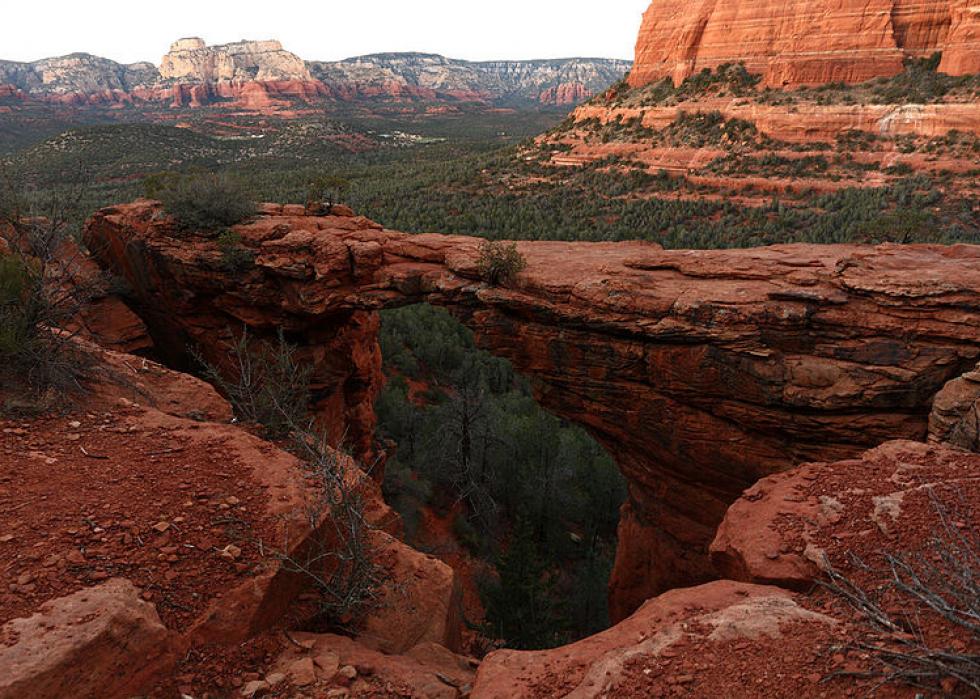 48 / 50
Matthew Field // Wikimedia Commons
Arizona: Devil's Bridge Trail
This out-and-back near Sedona is heavily trafficked, but with good reason: the 4.4-mile jaunt has awe-inspiring views of the area's famous red rocks and a natural bridge formation. It's also accessible year-round and dog-friendly.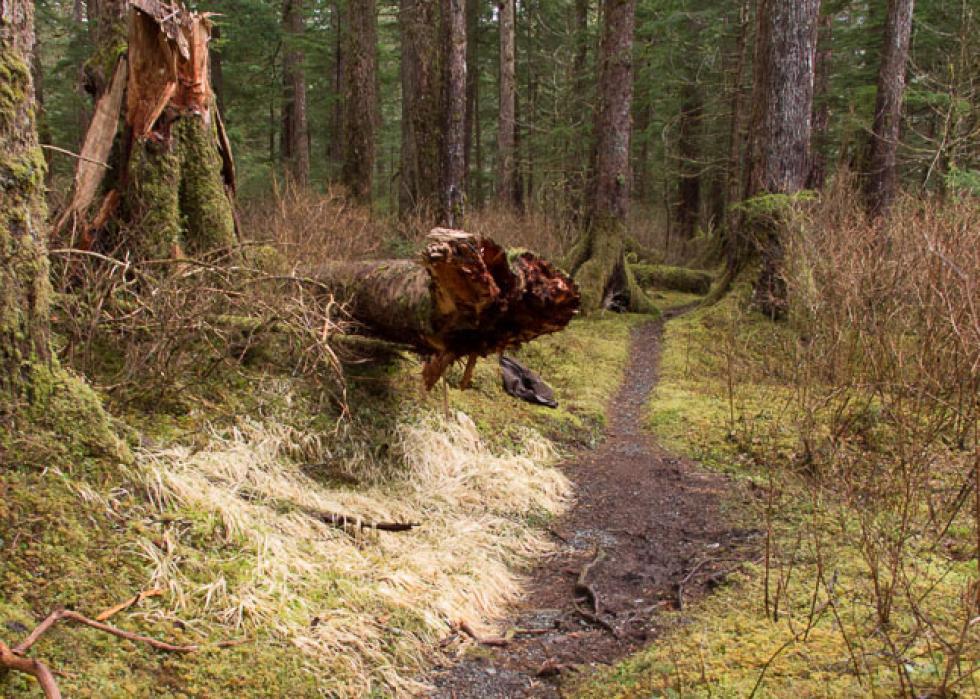 49 / 50
Courtesy of Sitka Trail Works
Alaska: Indian River Trail
It's no surprise that The Last Frontier is home to endless great hikes, but for most outdoorsy folks, Sitka's Indian River Trail is the perfect blend of challenge and tranquility. This 4.6-mile hike is punctuated by a waterfall, lush greenery, and a river overrun with fish.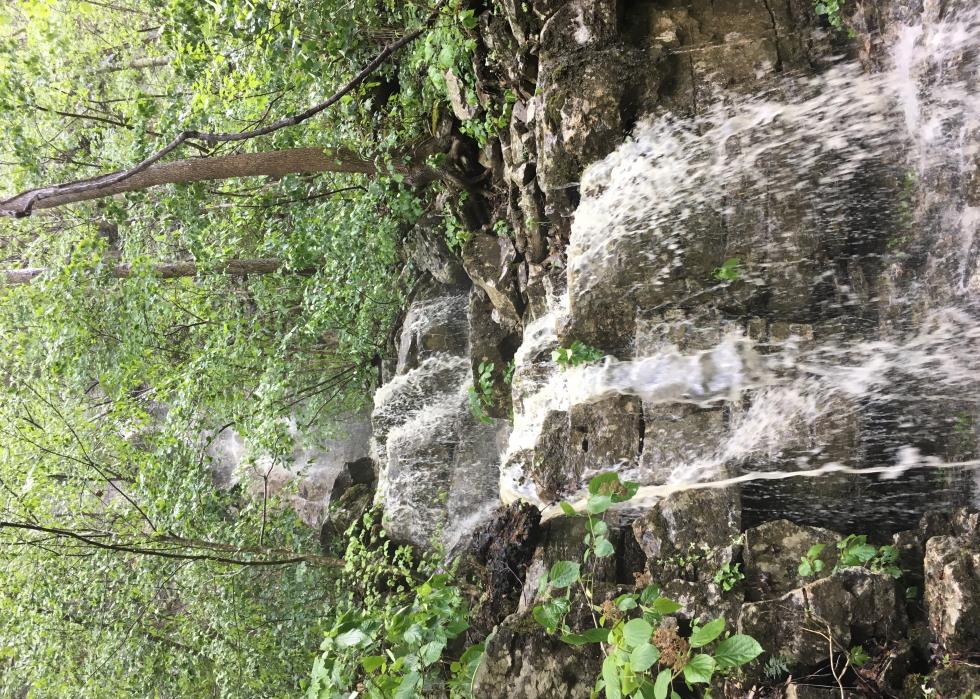 50 / 50
Fredlyfish4 // Wikimedia Commons
Alabama: Walls of Jericho Trail
This 6-mile trail in Hytop, Alabama, was voted the best trail in the state according to adventurers on AllTrails.com. With a steep elevation gain and some slippery rocks, it's not for the faint of heart—but the waterfall at the end makes it all worth it.