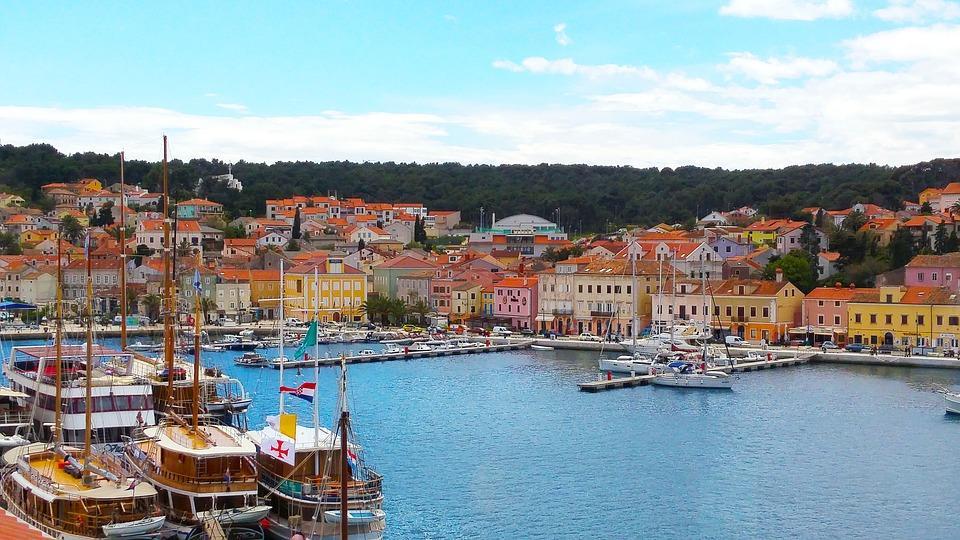 Fastest-growing countries in the world
Fastest-growing countries in the world
As medical technology advances, infant mortality rates decrease, and the world simply becomes more capable of supporting a greater number of people, populations of various countries naturally rise. In fact, a baby is born about every eight seconds, according to the U.S. Census Bureau—and that's just in the United States.
There are countless factors that might explain what's driving fast-growing countries, and sweeping generalizations certainly do not apply to every single country, nor does the growth automatically signify a positive development. Nonetheless, it's difficult to ignore the irrefutable fact that certain places are experiencing a population boom.  
Stacker looked at data from the Central Intelligence Agency World Factbook to compile a list of the 50 countries with the highest rates of population growth. Also included when available are each country's total population, urban population, poverty, gross domestic product per capita, and population distribution. The population distribution text, which offers insight into how the populations are spread out across the country, is taken directly from the World Factbook.
Read on to find out which countries across the globe are growing the fastest.
#50. Solomon Islands
Population growth rate: 1.94%
Total population: 647,581
Urban population: 23.7% of total population (3.91% annual rate of change)
Population below poverty line: No info
GDP per capita: $1,965.78
Population distribution: most of the population lives along the coastal regions; about one in five live in urban areas, and of these some two-thirds reside in Honiara, the largest town and chief port
#49. Namibia
Population growth rate: 1.95%
Total population: 2,484,780
Urban population: 50% of total population (4.2% annual rate of change)
Population below poverty line: 28.7%
GDP per capita: $5,054.77
Population distribution: population density is very low, with the largest clustering found in the extreme north-central area along the border with Angola
#48. Anguilla
Population growth rate: 1.97%
Total population: 17,087
Urban population: 100% of total population (0.9% annual rate of change)
Population below poverty line: 23%
GDP per capita: $10,265,113.83
Population distribution: most of the population is concentrated in The Valley in the center of the island; settlement is fairly uniform in the southwest, but rather sparse in the northeast
#47. Luxembourg
Population growth rate: 1.98%
Total population: 594,130
Urban population: 91% of total population (1.55% annual rate of change)
Population below poverty line: No info
GDP per capita: $106,912.63
Population distribution: most people live in the south, on or near the border with France
#46. Somalia
Population growth rate: 2%
Total population: 11,031,386
Urban population: 45% of total population (4.23% annual rate of change)
Population below poverty line: No info
GDP per capita: $591.22
Population distribution: distribution varies greatly throughout the country; least densely populated areas are in the northeast and central regions, as well as areas along the Kenyan border; most populated areas are in and around the cities of Mogadishu, Marka, Borama, Hargeysa, and Baidoa
#45. Cayman Islands
Population growth rate: 2.01%
Total population: 58,441
Urban population: 100% of total population (1.27% annual rate of change)
Population below poverty line: No info
GDP per capita: $38,500.37
Population distribution: majority of the population resides on Grand Cayman
#44. Oman
Population growth rate: 2.03%
Total population: 3,424,386
Urban population: 84.5% of total population (5.25% annual rate of change)
Population below poverty line: No info
GDP per capita: $21,005.23
Population distribution: the vast majority of the population is located in and around the Al Hajar Mountains in the north of the country; another smaller cluster is found around the city of Salalah in the far south; most of the country remains sparsely populated
#43. Jordan
Population growth rate: 2.05%
Total population: 10,248,069
Urban population: 91% of total population (2.43% annual rate of change)
Population below poverty line: 14.2%
GDP per capita: $3,950.99
Population distribution: population heavily concentrated in the west, and particularly the northwest, in and around the capital of Amman; a sizeable, but smaller population is located in the southwest along the shore of the Gulf of Aqaba
#42. Gambia
Population growth rate: 2.05%
Total population: 2,051,363
Urban population: 61.3% of total population (4.07% annual rate of change)
Population below poverty line: 48.4%
GDP per capita: $506.01
Population distribution: settlements are found scattered along the Gambia River; the largest communities, including the capital of Banjul, and the country's largest city, Serekunda, are found at the mouth of the Gambia River along the Atlantic coast
#41. Republic of the Congo
Population growth rate: 2.11%
Total population: 4,954,674
Urban population: 66.9% of total population (3.28% annual rate of change)
Population below poverty line: 46.5%
GDP per capita: $1,574.07
Population distribution: the population is primarily located in the south, in and around the capital of Brazzaville
#40. Central African Republic
Population growth rate: 2.12%
Total population: 5,625,118
Urban population: 41.4% of total population (2.52% annual rate of change)
Population below poverty line: No info
GDP per capita: $354.13
Population distribution: majority of residents live in the western and central areas of the country, especially in and around the capital of Bangui
#39. Turks and Caicos Islands
Population growth rate: 2.16%
Total population: 52,570
Urban population: 93.1% of total population (1.77% annual rate of change)
Population below poverty line: No info
GDP per capita: No info
Population distribution: eight of the thirty islands are inhabited; the island of Providenciales is the most populated, but the most densely populated is Grand Turk
#38. Djibouti
Population growth rate: 2.16%
Total population: 865,267
Urban population: 77.8% of total population (1.67% annual rate of change)
Population below poverty line: 23%
GDP per capita: $2,406.19
Population distribution: most densely populated areas are in the east; the largest city is Djibouti, with a population over 600,000; no other city in the country has a total population over 50,000
#37. Mauritania
Population growth rate: 2.17%
Total population: 3,758,571
Urban population: 53.7% of total population (4.28% annual rate of change)
Population below poverty line: 31%
GDP per capita: $1,326.30
Population distribution: with most of the country being a desert, vast areas of the country, particularly in the central, northern, and eastern areas, are without sizeable population clusters; half the population lives in or around the coastal capital of Nouakchott; smaller clusters are found near the southern border with Mali and Senegal
#36. Ghana
Population growth rate: 2.17%
Total population: 27,499,924
Urban population: 56.1% of total population (3.34% annual rate of change)
Population below poverty line: 24.2%
GDP per capita: $1,653.10
Population distribution: population is concentrated in the southern half of the country, with the highest concentrations being on or near the Atlantic coast
#35. British Virgin Islands
Population growth rate: 2.25%
Total population: 35,015
Urban population: 47.7% of total population (2.42% annual rate of change)
Population below poverty line: No info
GDP per capita: $31,272.31
Population distribution: a fairly even distribution throughout the inhabited islands, with the largest islands of Tortola, Anegada, Virgin Gorda, and Jost Van Dyke having the largest populations
#34. Bahrain
Population growth rate: 2.26%
Total population: 1,410,942
Urban population: 89.3% of total population (4.38% annual rate of change)
Population below poverty line: No info
GDP per capita: $24,005.24
Population distribution: smallest population of the Gulf States, but urbanization rate exceeds 90%; largest settlement concentration is found on the far northern end of the island in and around Manama and Al Muharraq
#33. Qatar
Population growth rate: 2.27%
Total population: 2,314,307
Urban population: 99.1% of total population (2.41% annual rate of change)
Population below poverty line: No info
GDP per capita: $71,857.36
Population distribution: most of the population is clustered in or around the capital of Doha on the eastern side of the peninsula
#32. Yemen
Population growth rate: 2.28%
Total population: 28,036,829
Urban population: 36.6% of total population (4.06% annual rate of change)
Population below poverty line: 54%
GDP per capita: $915.58
Population distribution: the vast majority of the population is found in the Asir Mountains (part of the larger Sarawat Mountain system), located in the far western region of the country
#31. Gaza Strip
Population growth rate: 2.33%
Total population: 1,795,183
Urban population: 76.2% of total population (3% annual rate of change)
Population below poverty line: 30%
GDP per capita: $1,636.60
Population distribution: population concentrated in major cities, particularly Gaza City in the north
#30. Timor-Leste
Population growth rate: 2.36%
Total population: 1,291,358
Urban population: 30.6% of total population (3.35% annual rate of change)
Population below poverty line: 41.8%
GDP per capita: $2,103.21
Population distribution: most of the population concentrated in the western third of the country, particularly around Dili
#29. Afghanistan
Population growth rate: 2.36%
Total population: 34,124,811
Urban population: 25.5% of total population (3.37% annual rate of change)
Population below poverty line: 35.8%
GDP per capita: $617.15
Population distribution: populations tend to cluster in the foothills and periphery of the rugged Hindu Kush range; smaller groups are found in many of the country's interior valleys; in general, the east is more densely settled while the south is sparsely populated
#28. United Arab Emirates
Population growth rate: 2.37%
Total population: 6,072,475
Urban population: 86.5% of total population (1.71% annual rate of change)
Population below poverty line: 19.5%
GDP per capita: $62,363.37
Population distribution: population is heavily concentrated to the northeast on the Musandam Peninsula; the three largest emirates—Abu Dhabi, Dubai, and Sharjah—are home to nearly 85% of the population
#27. Democratic Republic of the Congo
Population growth rate: 2.37%
Total population: 83,301,151
Urban population: 44.5% of total population (4.53% annual rate of change)
Population below poverty line: 63%
GDP per capita: $485.23
Population distribution: urban clusters are spread throughout the country, particularly in the northeast along the boarder with Uganda, Rwanda, and Burundi; the largest city is the capital, Kinshasa, located in the west along the Congo River; the south is least densely populated
#26. Sierra Leone
Population growth rate: 2.38%
Total population: 6,163,195
Urban population: 42.1% of total population (3.12% annual rate of change)
Population below poverty line: 70.2%
GDP per capita: $632.30
Population distribution: population clusters are found in the lower elevations of the south and west; the northern third of the country is less populated
#25. Senegal
Population growth rate: 2.39%
Total population: 14,668,522
Urban population: 47.2% of total population (3.73% annual rate of change)
Population below poverty line: 46.7%
GDP per capita: $1,094.86
Population distribution: the population is concentrated in the west, with Dakar anchoring a well-defined core area; approximately 70% of the population is rural
#24. Nigeria
Population growth rate: 2.43%
Total population: 190,632,261
Urban population: 50.3% of total population (4.23% annual rate of change)
Population below poverty line: 70%
GDP per capita: $2,071
Population distribution: largest population of any African nation; significant population clusters are scattered throughout the country, with the highest density areas being in the south and southwest
#23. Equatorial Guinea
Population growth rate: 2.44%
Total population: 778,358
Urban population: 72.1% of total population (4.28% annual rate of change)
Population below poverty line: 44%
GDP per capita: $12,937.49
Population distribution: only two large cities over 30,000 people (Bata on the mainland, and the capital Malabo on the island of Bioko); small communities are scattered throughout the mainland and the five inhabited islands
#22. Rwanda
Population growth rate: 2.45%
Total population: 11,901,484
Urban population: 17.2% of total population (2.86% annual rate of change)
Population below poverty line: 39.1%
GDP per capita: $749.32
Population distribution: one of Africa's most densely populated countries; large concentrations tend to be in the central regions and along the shore of Lake Kivu in the west
#21. Egypt
Population growth rate: 2.45%
Total population: 97,041,072
Urban population: 42.7% of total population (1.86% annual rate of change)
Population below poverty line: 25.2%
GDP per capita: $3,424.32
Population distribution: approximately 95% of the population lives within 20 kilometers of the Nile River and its delta; vast areas of the country remain sparsely populated or uninhabited
#20. Mozambique
Population growth rate: 2.46%
Total population: 26,573,706
Urban population: 36% of total population (4.35% annual rate of change)
Population below poverty line: 46.1%
GDP per capita: $464.75
Population distribution: three large populations clusters are found along the southern coast between Maputo and Inhambane, in the central area between Beira and Chimoio along the Zambezi River, and in and around the northern cities of Nampula, Cidade de Nacala, and Pemba; the northwest and southwest are the least populated areas
#19. Madagascar
Population growth rate: 2.5%
Total population: 25,054,161
Urban population: 37.2% of total population (4.48% annual rate of change)
Population below poverty line: 70.7%
GDP per capita: $421.49
Population distribution: most of population lives on the eastern half of the island; significant clustering is found in the central highlands and eastern coastline
#18. Liberia
Population growth rate: 2.5%
Total population: 4,689,021
Urban population: 51.2% of total population (3.41% annual rate of change)
Population below poverty line: 54.1%
GDP per capita: $456.39
Population distribution: more than half of the population lives in urban areas, with approximately one-third living within an 80-kilometer radius of Monrovia
#17. Iraq
Population growth rate: 2.55%
Total population: 39,192,111
Urban population: 70.5% of total population (3.06% annual rate of change)
Population below poverty line: 23%
GDP per capita: $4,916.81
Population distribution: population is concentrated in the north, center, and eastern parts of the country, with many of the larger urban agglomerations found along extensive parts of the Tigris and Euphrates Rivers; much of the western and southern areas are either lightly populated or uninhabited
#16. Cameroon
Population growth rate: 2.56%
Total population: 24,994,885
Urban population: 56.4% of total population (3.63% annual rate of change)
Population below poverty line: 30%
GDP per capita: $1,226.25
Population distribution: population concentrated in the west and north, with the interior of the country sparsely populated
#15. Guinea
Population growth rate: 2.61%
Total population: 12,413,867
Urban population: 36.1% of total population (3.54% annual rate of change)
Population below poverty line: 47%
GDP per capita: $739.74
Population distribution: areas of highest density are in the west and south; interior is sparsely populated
#14. Togo
Population growth rate: 2.64%
Total population: 7,965,055
Urban population: 41.7% of total population (3.76% annual rate of change)
Population below poverty line: 55.1%
GDP per capita: $602.26
Population distribution: one of the more densely populated African nations with most of the population residing in rural communities, density is highest in the south on or near the Atlantic coast
#13. Western Sahara
Population growth rate: 2.7%
Total population: 603,253
Urban population: 86.7% of total population (2.61% annual rate of change)
Population below poverty line: No info
GDP per capita: No info
Population distribution: most of the population lives in the two-thirds of the area west of the berm (Moroccan-occupied) that divides the territory; about 40% of that populace resides in Laayoune
#12. Benin
Population growth rate: 2.71%
Total population: 11,038,805
Urban population: 47.3% of total population (3.89% annual rate of change)
Population below poverty line: 36.2%
GDP per capita: $852.45
Population distribution: the population is primarily located in the south, with the highest concentration of people residing in and around the cities on the Atlantic coast; most of the north remains sparsely populated with higher concentrations of residents in the west
#11. Tanzania
Population growth rate: 2.75%
Total population: 53,950,935
Urban population: 33.8% of total population (5.22% annual rate of change)
Population below poverty line: 22.8%
GDP per capita: $956.61
Population distribution: the largest and most populous East African country; population distribution is extremely uneven, but greater population clusters occur in the northern half of country and along the east coast
#10. Ethiopia
Population growth rate: 2.85%
Total population: 105,350,020
Urban population: 20.8% of total population (4.63% annual rate of change)
Population below poverty line: 29.6%
GDP per capita: $756.91
Population distribution: highest density is found in the highlands of the north and middle areas of the country, particularly around the centrally located capital city of Addis Ababa; the far east and southeast are sparsely populated
#9. Zambia
Population growth rate: 2.93%
Total population: 15,972,000
Urban population: 43.5% of total population (4.23% annual rate of change)
Population below poverty line: 60.5%
GDP per capita: $1,601.55
Population distribution: one of the highest levels of urbanization in Africa; high density in the central area, particularly around the cities of Lusaka, Ndola, Kitwe, and Mufulira
#8. Burkina Faso
Population growth rate: 3%
Total population: 20,107,509
Urban population: 29.4% of total population (4.99% annual rate of change)
Population below poverty line: 40.1%
GDP per capita: $655.97
Population distribution: the population is concentrated in the central and southern parts of the country; the east, north, and southwest are less populated
#7. Mali
Population growth rate: 3.02%
Total population: 17,885,245
Urban population: 42.4% of total population (4.86% annual rate of change)
Population below poverty line: 36.1%
GDP per capita: $838.68
Population distribution: the overwhelming majority of the population lives in the southern half of the country, with greater density along the border with Burkina Faso
#6. Niger
Population growth rate: 3.19%
Total population: 19,245,344
Urban population: 16.4% of total population (4.27% annual rate of change)
Population below poverty line: 45.4%
GDP per capita: $410.07
Population distribution: majority of the populace is located in the southernmost extreme of the country along the border with Nigeria and Benin
#5. Uganda
Population growth rate: 3.2%
Total population: 39,570,125
Urban population: 23.8% of total population (5.7% annual rate of change)
Population below poverty line: 19.7%
GDP per capita: $666.92
Population distribution: population density is relatively high in comparison to other African nations; most of the population is concentrated in the central and southern parts of the country, particularly along the shores of Lake Victoria and Lake Albert; the northeast is least populated
#4. Burundi
Population growth rate: 3.25%
Total population: 11,466,756
Urban population: 13% of total population (5.68% annual rate of change)
Population below poverty line: 64.6%
GDP per capita: $295.90
Population distribution: one of Africa's most densely populated countries; concentrations tend to be in the north and along the northern shore of Lake Tanganyika in the west; most people live on farms near areas of fertile volcanic soil
#3. Malawi
Population growth rate: 3.31%
Total population: 19,196,246
Urban population: 16.9% of total population (4.19% annual rate of change)
Population below poverty line: 50.7%
GDP per capita: $326.16
Population distribution: population density is highest south of Lake Nyasa
#2. Angola
Population growth rate: 3.52%
Total population: 29,310,273
Urban population: 65.5% of total population (4.32% annual rate of change)
Population below poverty line: 40.5%
GDP per capita: $4,230.60
Population distribution: most people live in the western half of the country; urban areas account for the highest concentrations of people, particularly Luanda
#1. South Sudan
Population growth rate: 3.83%
Total population: 13,026,129
Urban population: 19.6% of total population (4.1% annual rate of change)
Population below poverty line: 50.6%
GDP per capita: $223.78
Population distribution: clusters found in urban areas, particularly in the western interior and around the White Nile