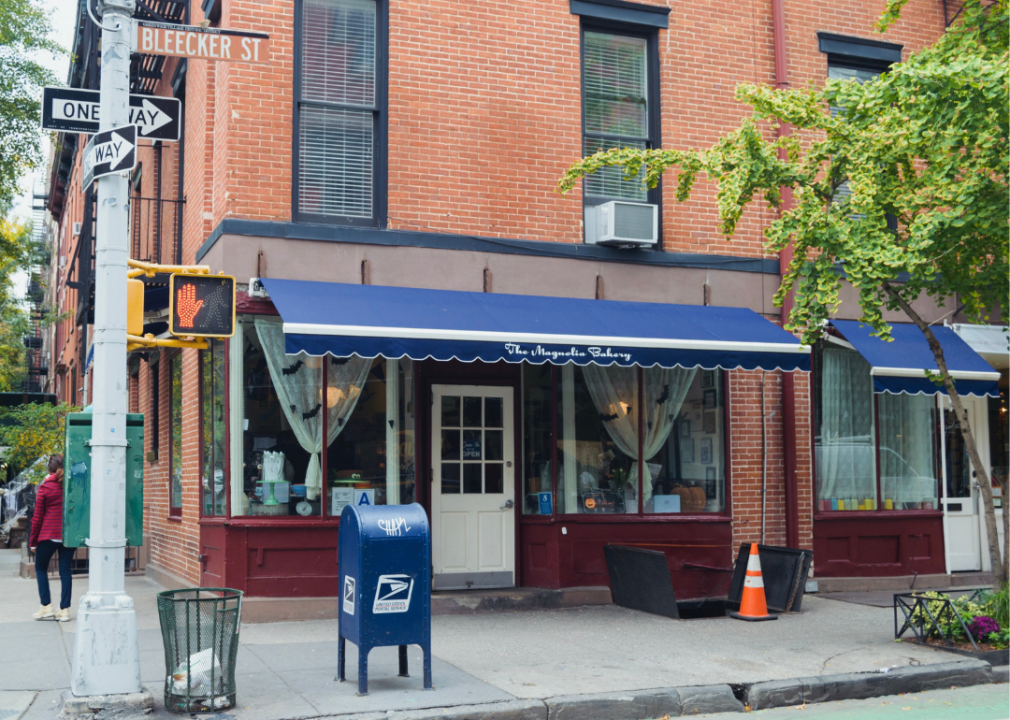 Film and TV-themed bars and restaurants to visit
Carmen Maniega // Shutterstock
Film and TV-themed bars and restaurants to visit
Whether it's upscale restaurants serving eight-course meals or neighborhood dive bars pouring cheap pints for locals, entertainment history is full of bars and cafes that became famous after appearing on-screen. Some venues are purely fictional—places like the "Central Perk" from "Friends" or the Frosty Palace from "Grease." These establishments only exist in film or on TV, though they're often recognizable household names. Producers sometimes create pop-up versions of these more popular venues for fans, sometimes in conjunction with special events. For example, there's a pop-up restaurant in Los Angeles that's currently emulating the Peach Pit from "Beverly Hills, 90210" as part of a promotion for the upcoming reboot of the show. There are similar pop-up concepts in other parts of the country for movies and TV shows like "Saved By The Bell," "Star Wars," "Stranger Things," "Breaking Bad," and others.
But fictional restaurants aren't the only venues that draw tourist crowds. Real-life establishments get used in film and TV too, and they often attract big crowds once the movies are released. Places like the Kansas City Barbeque in "Top Gun" or Cafe Lalo from "You've Got Mail" are both examples of preexisting restaurants that became famous after camera crews rolled through. Sometimes movie directors change the names of the establishments they've filmed inside (the Double R Diner in "Twin Peaks," for example, is actually called Twede's Cafe) while other times they stay true to the original name (as in Paris' Bistrot La Renaissance from Quentin Tarantino's "Inglourious Basterds.") In rare cases, the movie even gets named after the establishment as in films like "Serendipity" or "Mystic Pizza."
In honor of these restaurants and bars from motion-picture fame, Stacker put together a slideshow featuring some of the best film and TV-themed bars throughout the world. Look through the gallery to see which ones you recognize.
You may also like: 25 extreme getaways
Pat & Lorraine's Coffee Shop from 'Reservoir Dogs'
When Mr. Pink (Steve Buscemi) goes on a rant about tipping waitresses in the opening scene of Quentin Tarantino's 1992 film "Reservoir Dogs," he and his crew are sitting in a cafe called Pat & Lorraine's. The real-life coffee shop, which is located in the Eagle Rock neighborhood of Los Angeles, often caters to tourists who can sip coffee and eat comfort food amid kitsch American decor.
Cheers from 'Cheers'
In Beacon Hill in Boston, Mass., the bar where Sam Malone served up beer and cocktails was initially called the Bull & Finch Pub. After the 1980s sitcom made it famous, the bar officially changed its name to Cheers, and today it is a major Boston tourist attraction.
Elat Burger from 'The Avengers'
After the 2012 superhero film "The Avengers" ends, there's a cute bonus scene following the closing credits in which the whole crew goes out to eat shawarma at a Middle Eastern restaurant. Although not named during the scene, they were eating at Shalom Grill in Los Angeles, then called Elat Burger.
The Hitching Post II from 'Sideways'
Nestled in a small town in California's Santa Ynez Valley, the Hitching Post II is famous for being featured in 2005's Oscar-winning cult classic "Sideways." In the movie, character Maya (Virginia Madsen) works at the restaurant where Miles (Paul Giamatti) and Jack (Thomas Haden Church) hang out. It draws wine lovers who like to recite Miles' line, "I'm not drinking any f*cking Merlot!" There's even a special tour called the Sideways Wine Trail.
Tom's Restaurant from 'Seinfeld'
On Broadway and West 112th Street in New York City, Tom's Restaurant was the exterior shot of the famous Monk's Cafe in the 1990s sitcom "Seinfeld." Although the inside scenes were actually filmed on a set in Los Angeles, the restaurant—which was also the inspiration for Suzanne Vega's 1987 hit "Tom's Diner"—is still a famous stop on numerous tour buses and other attractions for fans of the show.
Smith & Wollensky from 'American Psycho'
In the 2000 psychological horror film "American Psycho," Patrick Bateman (Christian Bale) is hell-bent on getting a reservation at Dorsia but instead settles for a spot at the similarly prestigious Smith & Wollensky in New York City. The real-life upscale restaurant, on Third Avenue, serves the famous hash browns from the film.
L Street Tavern from 'Good Will Hunting'
South Boston created much of the mood of 1997's Oscar-winning film "Good Will Hunting," co-written by Matt Damon and Ben Affleck. The L Street Tavern, where Will (Matt Damon) spends time with his buddies in the film, is a real dive bar in South Boston that still draws tourists 20 years later.
Café des Deux Moulins from 'Amélie'
With a retro ambiance intended to invoke 1950s France, Café des Deux Moulins is a bustling tourist spot in Paris where fans of the feel-good 2001 film "Amélie" can see where the title character worked. The cafe offers a signature Goûter d'Amélie ("taste of Amélie") which comprises cardamom crème brûlée served with a hot beverage.
La Sirenita from 'Bridesmaids'
In the 2011 comedy "Bridesmaids," the girls go out to eat at a Brazilian steakhouse which Annie (Kristen Wiig) recommends, and they all get food poisoning as a result. The fiasco becomes the catalyst for one of the film's most iconic scenes in which the bride (Maya Rudolph) is forced to relieve herself in the middle of a busy street while wearing her wedding gown. The scene was filmed at La Sirenita in Van Nuys, Calif., which is actually a Mexican restaurant.
Timberline Lodge from 'The Shining'
In Stanley Kubrick's 1980 adaptation of Stephen King's horror novel "The Shining," the main character Jack (Jack Nicholson) spends a lot of time in the eerie hotel's Gold Room clinking glasses with the bartender Lloyd (at one point shouting that he would sell his soul "for a goddamn glass of beer.") Although the interior shots were mostly filmed in a studio in Hertfordshire, England, exterior images of the hotel and bar were captured at Oregon's Timberline Lodge. The scenic hotel draws many tourists each year and sometimes even hosts special screenings of the film.
Cicada from 'Pretty Woman'
In the 1990 movie "Pretty Woman," there's a scene where Vivian (Julia Roberts) finds herself a bit out of her element in a swanky restaurant called The Voltaire where she accidentally shoots escargot across the table. The scene was filmed on location at Los Angeles' Cicada restaurant, then called the Rex II Ristorante. Today, the establishment has a dedicated "Pretty Woman table" that fans can make special reservations for.
P. J. Clarke's from 'Mad Men'
The 1960s period TV drama about cutthroat advertising executive Don Draper (Jon Hamm) features several New York City bars during its seven-season run. However, one of the better-known venues appeared early on. In episode eight of season one, Don and Roger Sterling go to P. J. Clarke's, a real-life historical bar that famously fired up its grill "before Lady Liberty lit her torch." The bar has been a Third Avenue staple since 1884 and now has five locations in three cities.
Katz's Delicatessen from 'When Harry Met Sally'
Fans who flock to Katz's Delicatessen from "When Harry Met Sally" love to say Harry's (Billy Crystal) line "I'll have what she's having," when placing their orders. The New York cafe, which sells the famed pastrami sandwiches from the movie, hosted the 30th anniversary "fake orgasm" contest earlier this year in honor of the film.
Bella Italia from 'Twilight'
When Edward and Bella have their first date in 2008's fantasy-romance "Twilight," they go to an Italian restaurant that's aptly named Bella Italia. Like many of the places cited in both the book and its film adaptation, it is a real place in Port Angeles, Wash. The restaurant still draws fans of the vampire trilogy. However, the scene itself was shot on a set in Oregon.
Emerald City Bar from 'Grey's Anatomy'
The doctors from ABC's medical drama "Grey's Anatomy" have logged a lot of hours drinking and hanging out at the Emerald City Bar the past 15 seasons of the show. Although the fictional bar is supposed to be located in Seattle, many of the scenes were shot on location at a bar called 72 North in Pasadena. Until recently, fans could go into the bar and have a drink although it closed its doors in 2014.
Le Petit Chateau from 'Punch-Drunk Love'
In a scene where Barry (Adam Sandler) and Lena (Emily Watson) are having dinner in 2002's dark rom-com "Punch-Drunk Love," Barry leaves the dinner table to have a solitary moment of rage in the bathroom. The famous scene was filmed on location in North Hollywood at a French bistro called Le Petit Chateau, where fans of the film still sometimes flock.
Newton Food Centre from 'Crazy Rich Asians'
Numerous locations in the 2018 comedy "Crazy Rich Asians" boosted Singapore's image as a foodie destination, one of which was the Newton Food Centre. In the film, Rachel (Constance Wu) and Nick (Henry Golding) stroll through the famous outdoor street market where hawker carts serve dishes like chili crabs, satays, and curries. Since the film's release, the already well-known market experienced a surge in tourists who want to sample the famed dishes for themselves.
Nobu from 'Notting Hill'
The 1999 rom-com "Notting Hill" starring Hugh Grant and Julia Roberts features a scene in which mismatched lovers Anna Scott (Roberts) and Will Thacker (Grant) attend a lunch at Nobu, an expensive, high-end restaurant on Old Park Lane. Nobu is a real place where tourists order toro tartare with caviar or tea-smoked lamb anticucho.
Dresden Room from 'Swingers'
When Trent (Vince Vaughn) and his hipster buddies go into the Dresden Room in the 1996 cult classic "Swingers," they're serenaded by a house band duo performing classic jazz songs. Not only is this a real iconic Los Angeles venue, but the couple themselves are also actual performers who've been singing there for over 35 years. The famous Marty and Elayne still sing at the Dresden five nights a week.
Café Grumpy from 'Girls'
In Lena Dunham's HBO TV show "Girls," Ray (Alex Karpovsky) runs a coffee shop where Hannah (Dunham) works as a disgruntled barista who'd rather be writing full time. In real life, it's a coffee shop chain called Café Grumpy which has also hosted television shows such as "Blue Bloods," "The Good Wife," "Madam Secretary," and "Lipstick Jungle."
Coyote Ugly Saloon from 'Coyote Ugly'
Coyote Ugly is one of the most famous bars in movie history, primarily due to its prominent role in both the setting and the title of the film. The movie is about a young woman named Violet Sanford (Piper Perabo) who gets a job at a sultry New York City bar where the waitresses tease the male clients and perform wild stunts. While they filmed most of the interior shots on sets in Los Angeles, the bar is part of a chain of real-life saloons featured in the story adapted from an exposé in GQ magazine by Elizabeth Gilbert.
Four N 20 from 'Parks and Recreation'
JJ's Diner from the sitcom "Parks and Recreation," where Leslie Knope (Amy Poehler) loved to eat waffles, is located in Pawnee, Ind. However, tourists who want to see where scenes at the fictional restaurant were filmed can have a sandwich or famous dessert at the Four N 20 in Sherman Oaks, Calif. All the interior shots were recorded at the well-known pie house, while the exterior shots were taken at the Landmark Diner Jr. in Atlanta.
Dresdner Molkerei Gebrüder Pfund from 'The Grand Budapest Hotel'
Fans of Wes Anderson will remember Herr Mendl from "The Grand Budapest Hotel," the infamous baker behind the Courtesan au Chocolat—a pastry that was practically a character. Although the exterior shots were captured in Görlitz, Germany, the interior images were all filmed inside Dresden's famous Dresdner Molkerei Gebrüder Pfund creamery.
Baker Street Pub & Grill from 'Office Space'
One of the most beloved scenes in Mike Judge's 1999 cult classic "Office Space" is when Joanna (Jennifer Aniston) quits her job at Chotchkie's after her boss criticizes her for not wearing enough "flair." The scene was filmed at the Baker Street Pub & Grill in Austin, Texas—then called the Alligator Grill—where fans of the movie can still grab a burger or chicken sliders. The southern bar was also the site of the competing fictional food chain Flingers.
McGee's Pub from 'How I Met Your Mother'
In the TV show "How I Met Your Mother," the gang regularly hangs out at a place called MacLaren's Pub. The bottom-floor bar was inspired by a real-life establishment called McGee's Pub in midtown Manhattan where the creators of the show reportedly used to spend time. It's a huge New York City tourist draw that features things like How I Met Your Mother Mondays and a menu item called the TedMosbyIsAJerk.com.
Double Door from 'High Fidelity'
In one of the final scenes of the Nick Hornby adaptation "High Fidelity," Barry (Jack Black) delivers a triumphant and hard-earned performance of "Let's Get It On." This iconic scene was filmed at the Double Door, a large concert hall in the Wicker Park neighborhood of Chicago. The venue was temporarily closed but is anticipated to reopen in a new location in Uptown.
Antoine's Restaurant from 'JFK'
In Oliver Stone's famous presidential biopic "JFK," there's a scene where Jim Garrison (Kevin Costner) eats with members of his staff in the Large Annex Room. The scene was filmed in Antoine's Restaurant in New Orleans, one of the oldest family-run restaurants in the country. Today, tourists visiting The Big Easy can dine at the establishment which opened in 1840 and has also appeared in two John Grisham adaptations—"The Client" and "The Pelican Brief."
Holsten's from 'The Sopranos'
In the final scene of the HBO hit mobster show "The Sopranos," the title character (James Gandolfini) meets his family at Holsten's ice cream shop in Bloomfield, N.J., before the screen cuts to black. The ice cream parlor has become a fan destination and, according to its website, they often order the onion rings that Tony ate before the series' end.
Magnolia Bakery from 'Sex and the City'
In season three of "Sex and the City," Carrie and Miranda eat at the Magnolia Bakery in Greenwich Village, N.Y. The cafe, located on Bleecker and 11th, instantly became a tourist attraction and almost 20 years later, it's still one of the busiest bakeries in NYC. "It's really funny because it's just a 30-second scene where they're just sitting on the bench ... it really pushed the cupcake craze," chief baking officer Bobbie Lloyd told AM New York.
New York Bar in 'Lost in Translation'
The New York Bar, which sits on the 52nd floor of the Park Hyatt Tokyo, is one of cinema's most famous real-life watering holes after it was featured in Sofia Coppola's 2003 comedy-drama "Lost in Translation." In the film, the two main characters, Charlotte (Scarlett Johansson) and Bob (Bill Murray), meet at the five-star hotel bar which serves tourists whiskeys made famous by the film, as well as dishes like Wagyu beef and Hokkaido Akaushi sirloin steaks.